The Skógafoss Waterfall hike (also called the Skógá Trail or Waterfall Way) is one of Iceland's most underrated experiences.
This trail starts at the mighty Skógafoss waterfall and follows the Skógá River upstream for 8 km (5 miles). As you hike through this lush, green landscape, you get to see 25 more waterfalls, dramatic canyons, and glacier-capped volcanoes just off in the distance. It is a beautiful, breathtaking walk and it just might be one of your highlights on a visit to Iceland.
Skógafoss Waterfall Hike Hiking Stats
Distance: 16 km (10 miles) round trip
Elevation Gain: 500 meters
Difficulty: Easy
Length of Time: 4 to 6 hours
When to go: It is best to do this hike from June through September, when the trail is free of snow.
Important Note: Since this is an out-and-back hike, you do not need to walk the entire 16 km. Simply turn around when you want to. Even just walking 30 to 45 minutes upriver from Skógafoss gets you some amazing views and lets you leave the crowds behind.
What is Waterfall Way?
This hike goes by several names: Waterfall Way, the Skógá Trail, and the Skógafoss Waterfall Hike.
I read from several sources that 26 waterfalls can be found on the Skógá River. We didn't keep count, but I can tell you, it's a lot of waterfalls. You might think that it would get monotonous, but it doesn't. With canyons and the changing views, this is a walk that's entertaining from start to finish.
The Skógá River originates near the glaciers Eyjafjallajökull and Mýrdalsjökull. As it flows to the south coast, it drops in elevation, creating these 26 waterfalls. Skógafoss is the final waterfall before the river ends at the ocean.
This trail is also part of the spectacular Fimmvörðuháls trail. The Fimmvörðuháls trail starts at Skógafoss, follows the Skógá River along Waterfall Way, continues on to Eyjafjallajökull and Mýrdalsjökull, finally ending 25 km (15.5 miles) later in Thórsmörk. Not only do you get to see a massive number of waterfalls, but you also get to hike between two recently active volcanoes and walk on one of the youngest landscapes on the planet.
This hike was our favorite experience in Iceland and one of our favorite day hikes in the world. If you are looking for an extraordinary experience in Iceland, consider putting this on your list.
The Skógafoss Waterfall Hike
Step-By-Step Trail Guide
Skógafoss
This hike starts at Skógafoss, one of Iceland's most famous waterfalls. It's easy to visit. Simply park in the large parking lot and it's a short walk to the waterfall.
PRO TRAVEL TIP: This is a very busy spot almost all day long. However, if you get here early, you might get it all to yourself. And you really don't have to be here all that early. Our photos were taken at 8 am (on two separate days…yes, we liked Skógafoss so much that we visited it twice).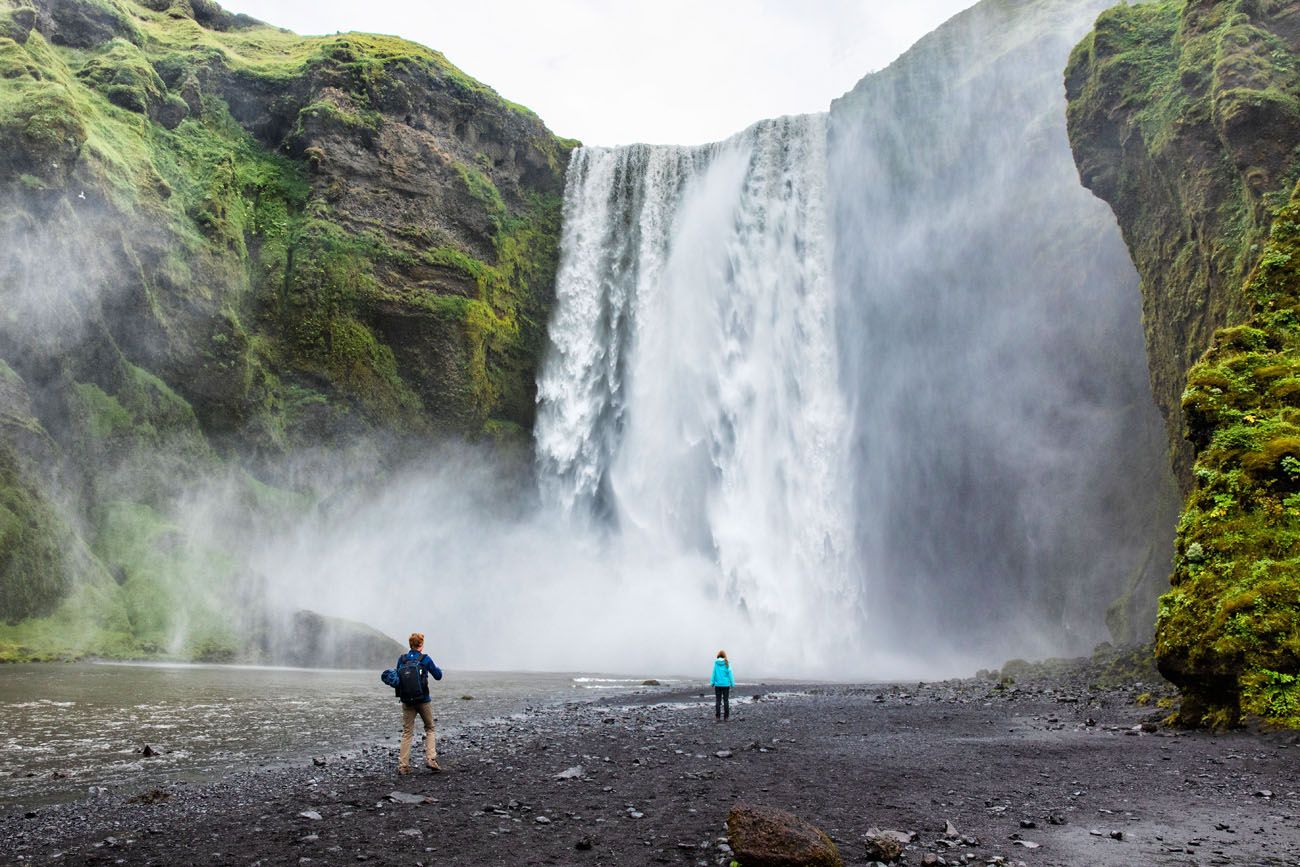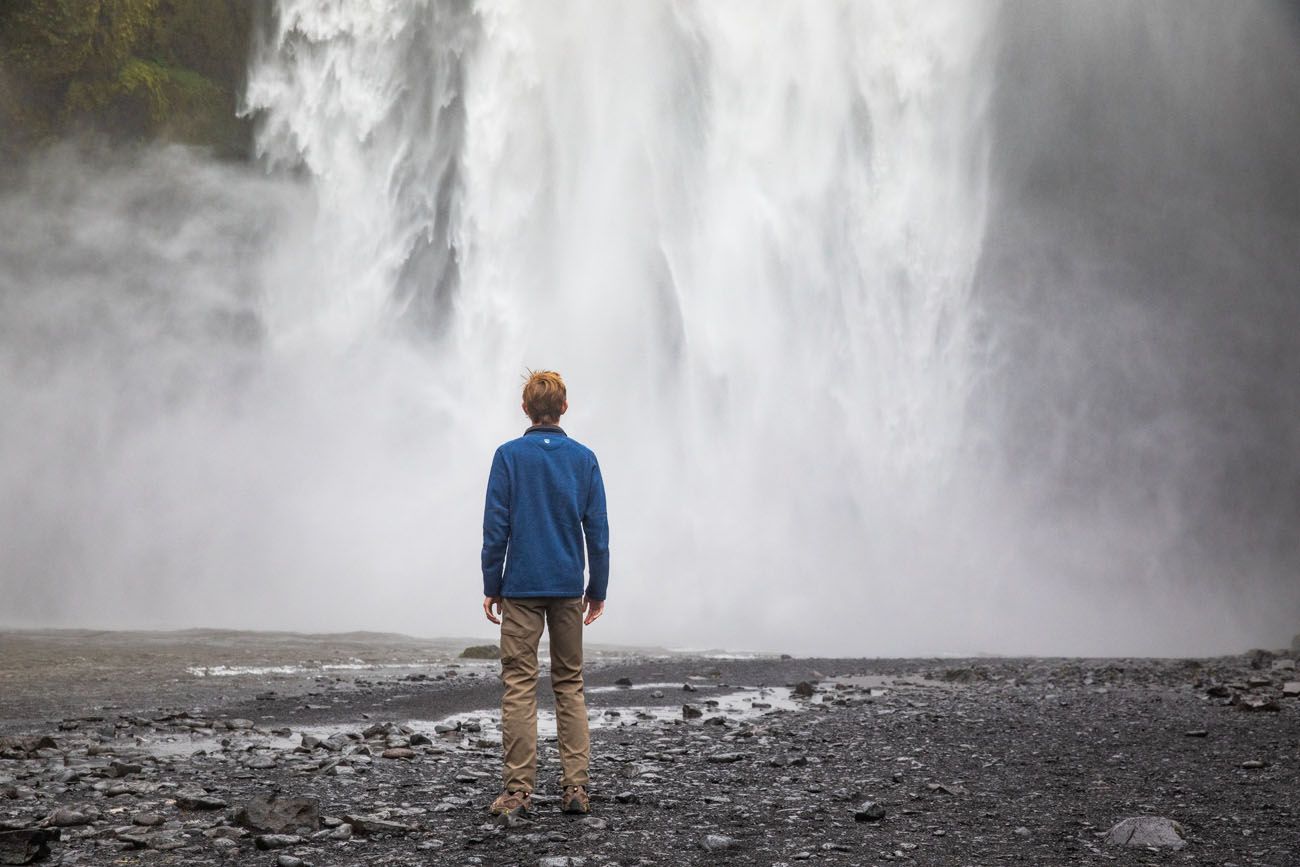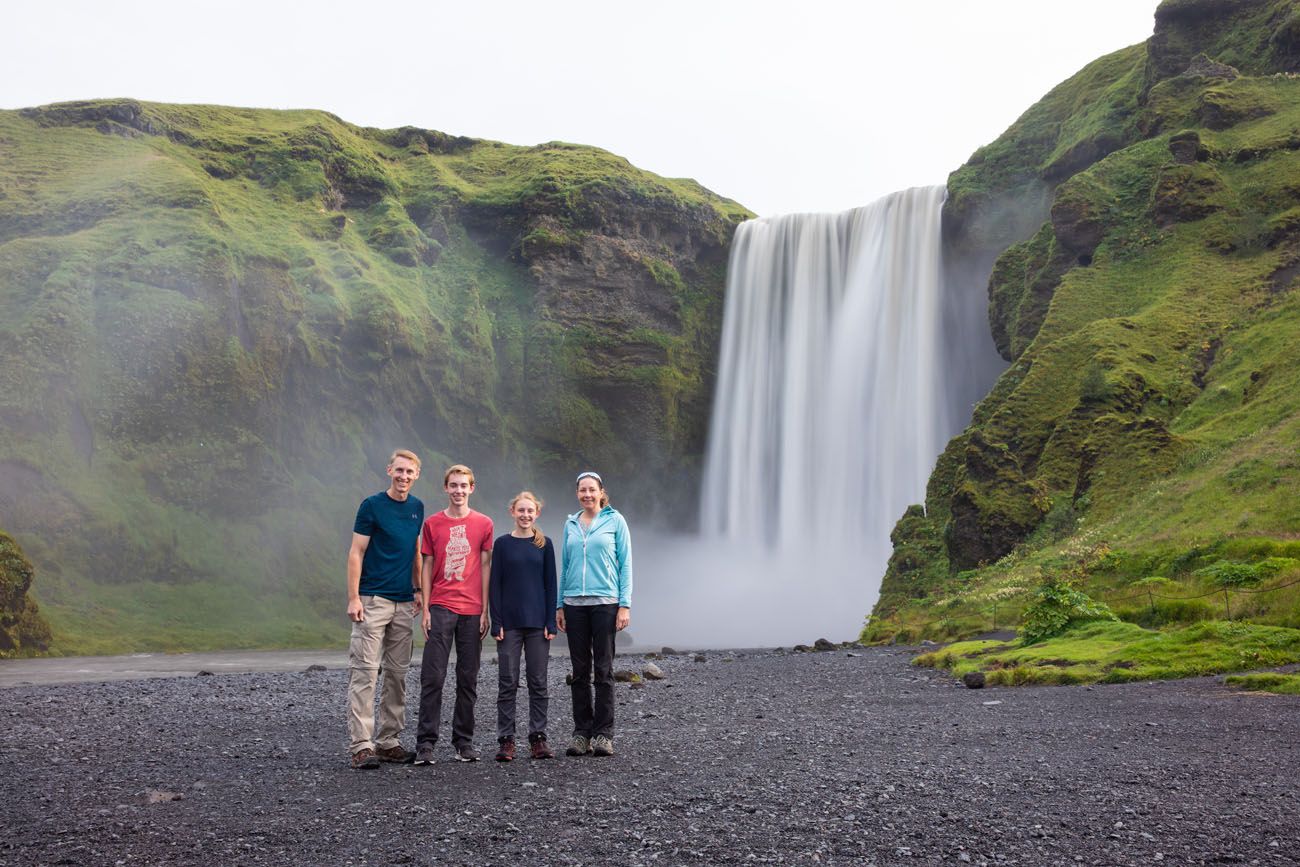 Along the Skógá River
The hardest part of the hike is getting yourself up the giant staircase that sits next to Skógafoss. Once at the top, catch your breath, enjoy the view, and get ready for a beautiful walk.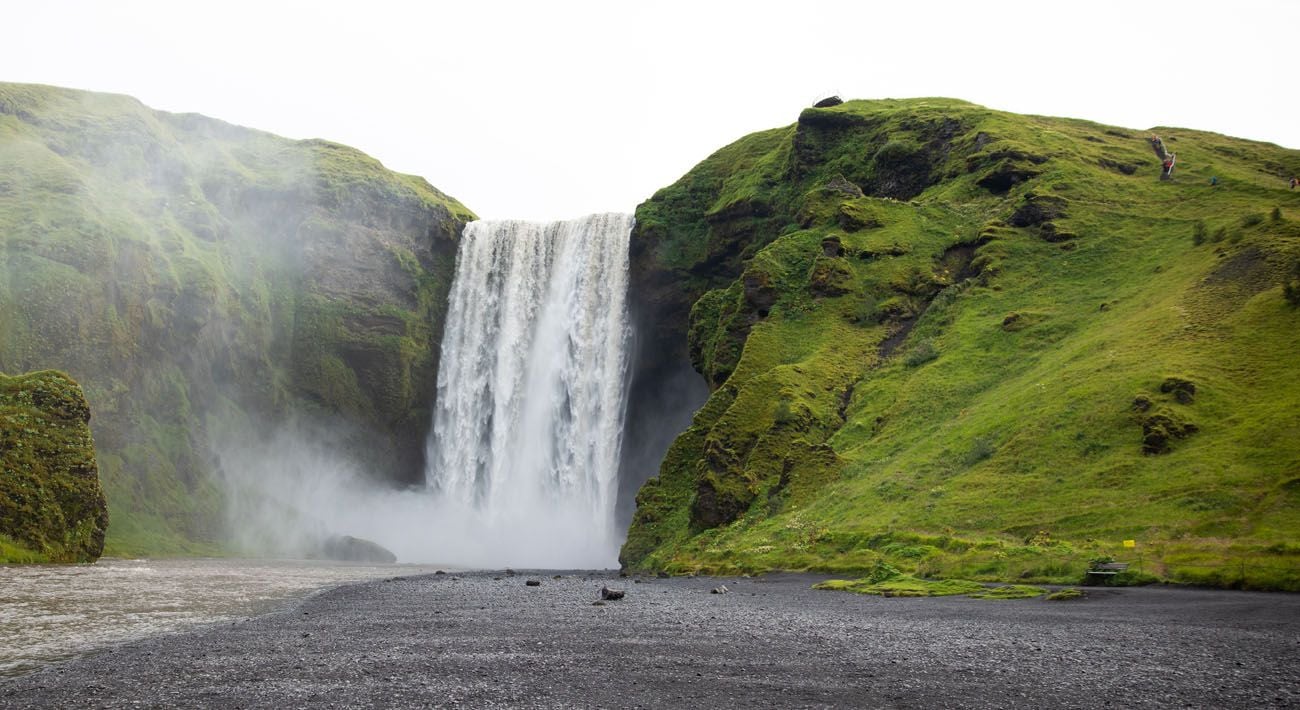 On the right side of this photo, you can see part of the trail and steps to the top of Skógafoss.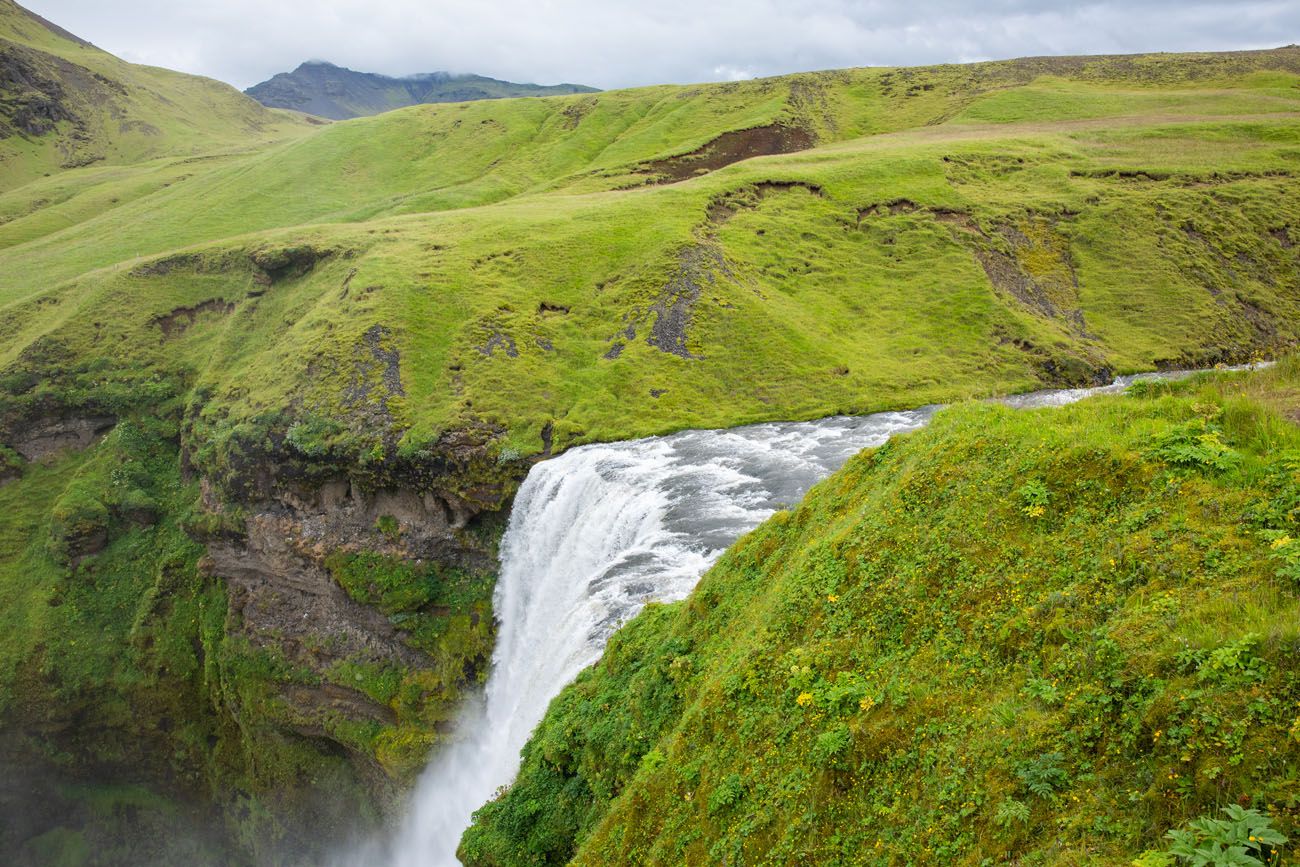 Top of Skógafoss
Most people simply enjoy the view from the top of the staircase, although a few may continue on down the trail. The farther you go from Skógafoss, the less people you will see. Plus, some of the best waterfalls and best views come later in this walk, as you will see in the photos below.
From Skógafoss to the turn-around point at the bridge, it is a steady, uphill walk. There is nothing too challenging on this walk, no giant climbs or technical sections, but just enough elevation gain that you know that you are walking uphill. Anyone of average fitness can do this hike, kids included.
Below, I am breaking this hike into sections. I have listed approximate distances and hiking times from Skógafoss. If you don't want to hike the entire trail, this will help you decide how far to go and how much time it will take you. The times and distances listed are one way only and are rough estimates.
Skógafoss to High Peaks and Cascading Falls
Skógafoss to Cascading Falls: 3 km, about 45 minutes
As you head north from Skógafoss, you are immediately treated to views of the coastline. During the summer months, the landscape is vibrantly green, almost technicolor in its brilliance.
On this first section, you get to see a few small canyons, but these are merely hints of what is to come. If you are impressed by this part of the trail, you will definitely want to keep going (it keeps getting better!).
Here is the first 3 km of the trail in photos, ending at High Peaks Waterfall and Cascading Falls.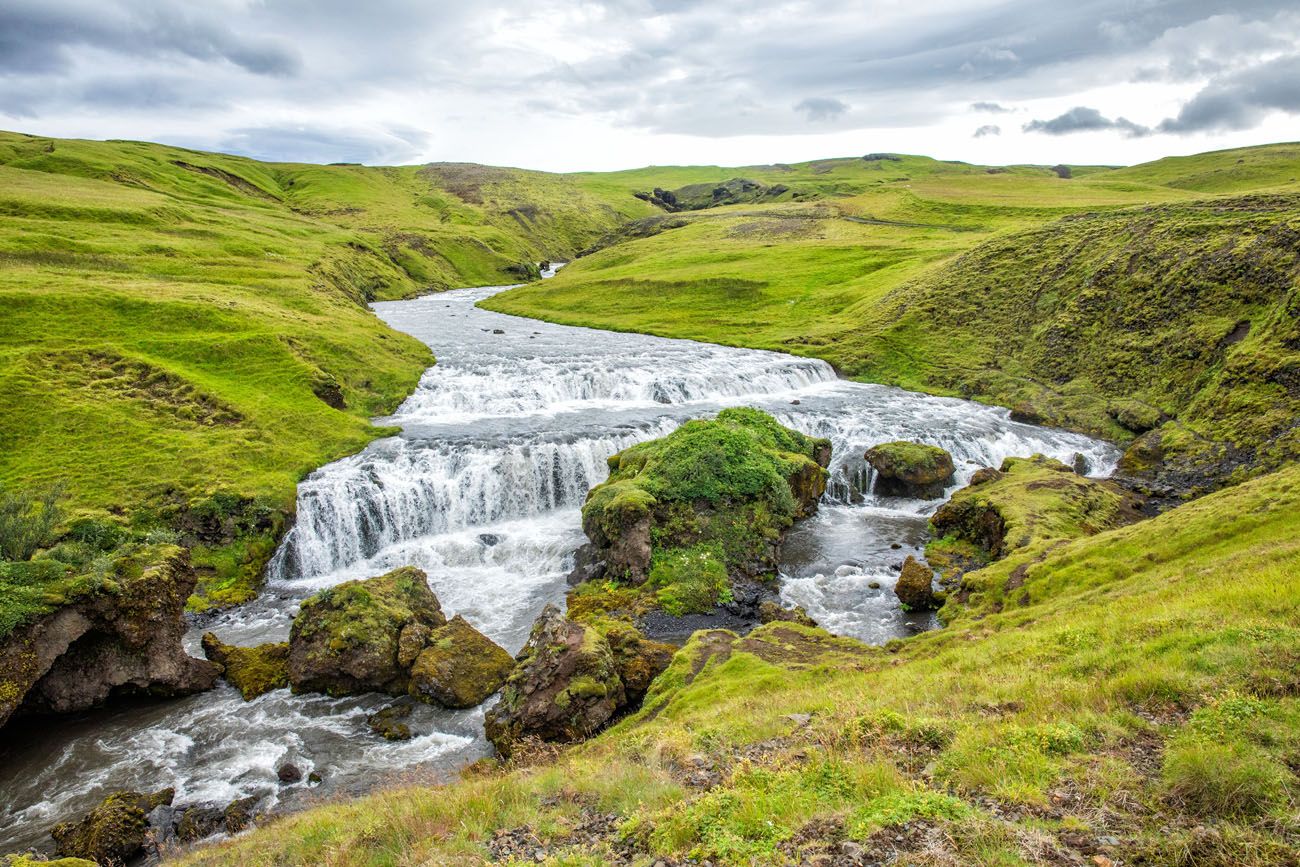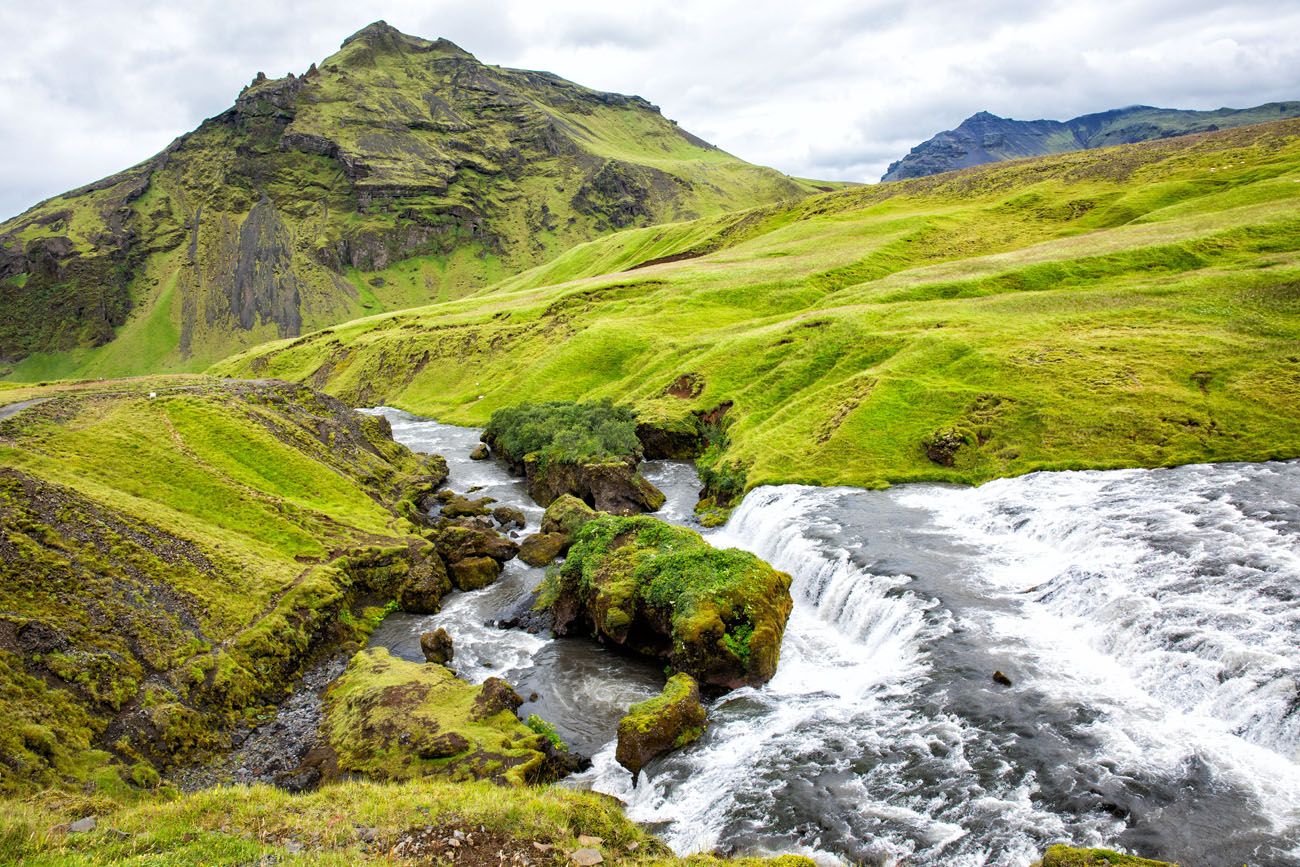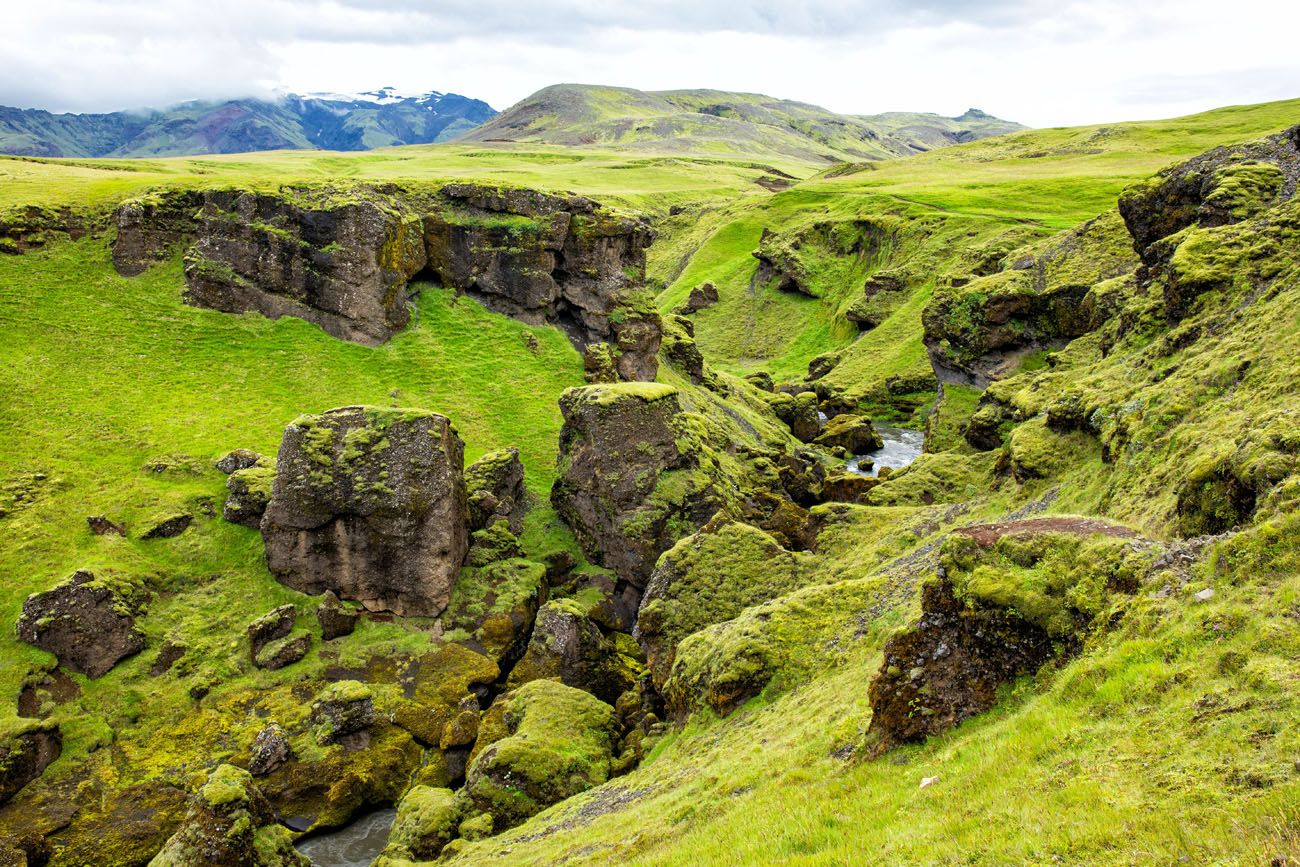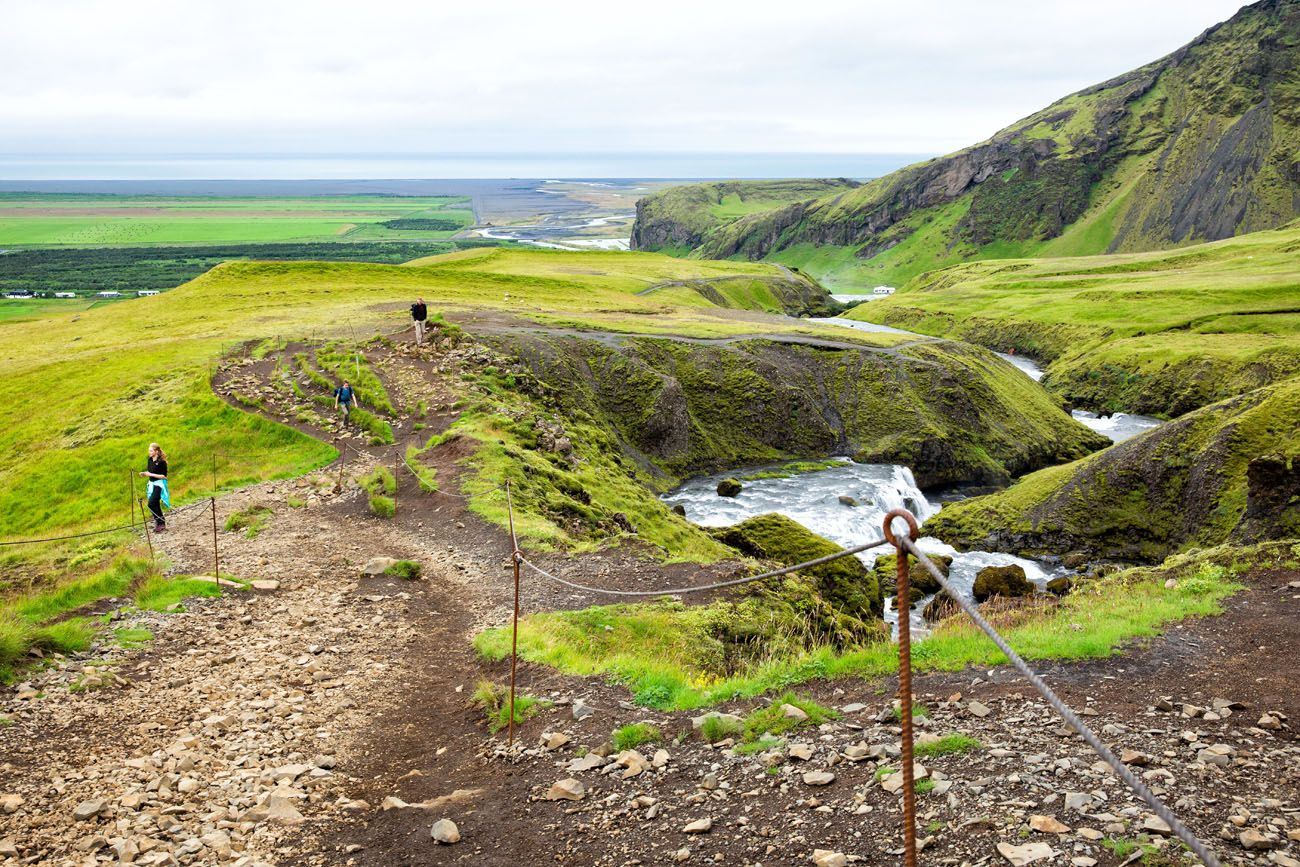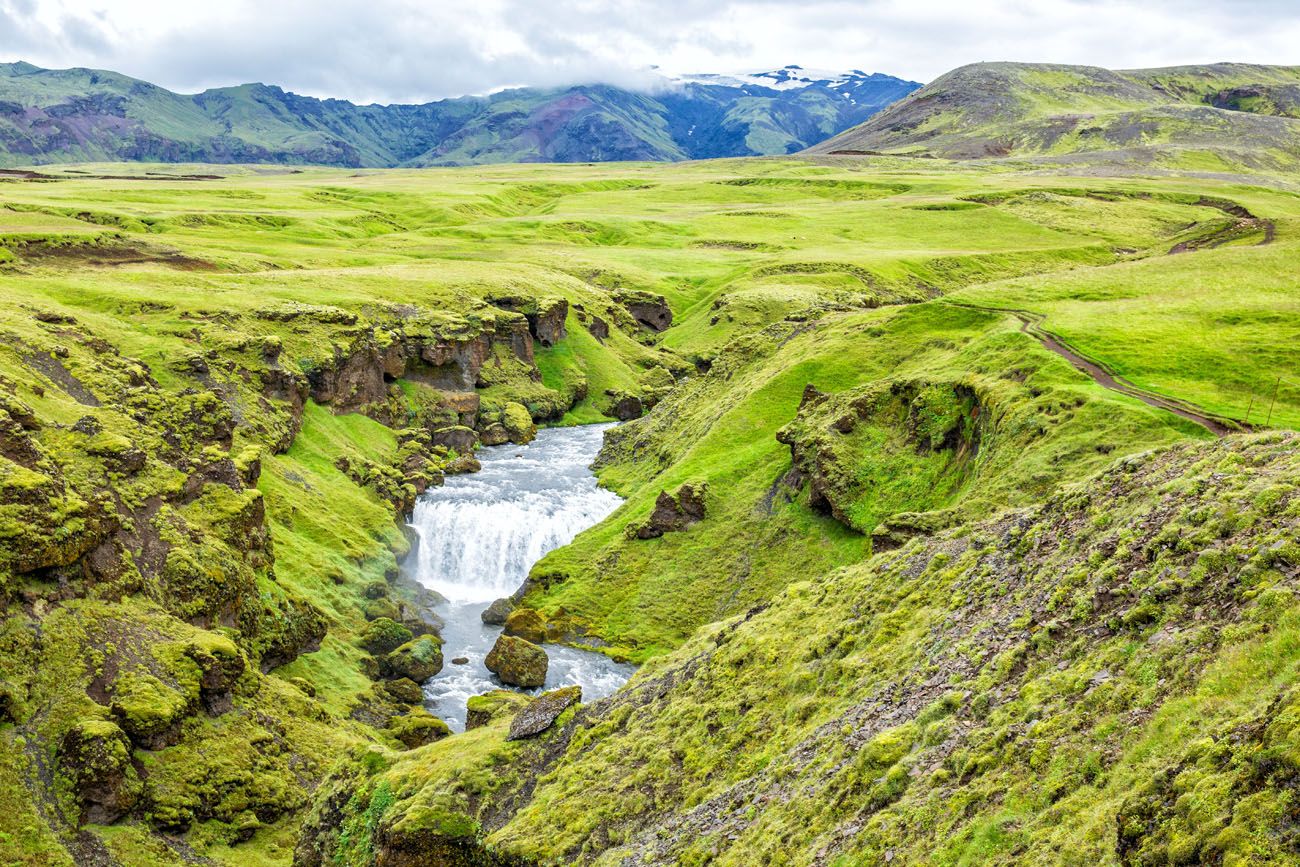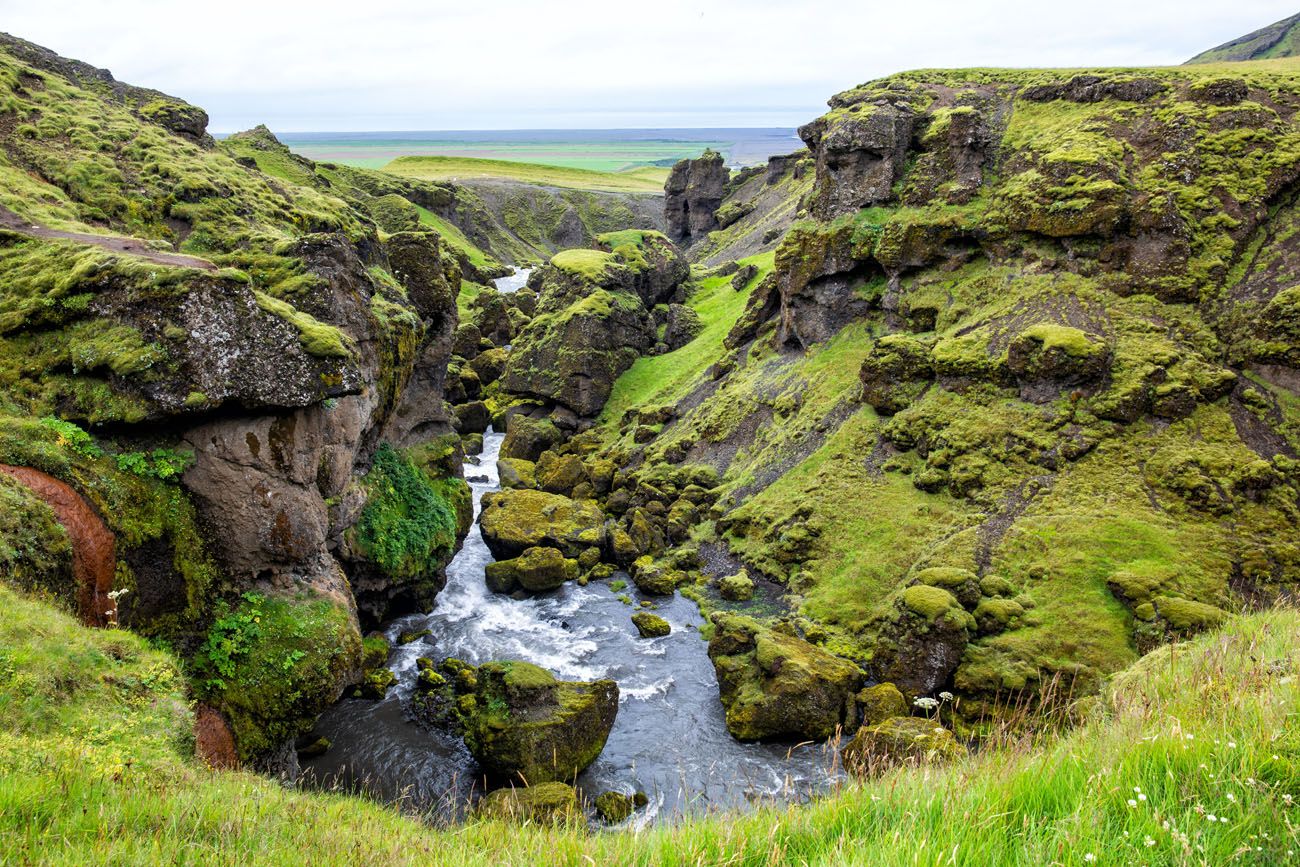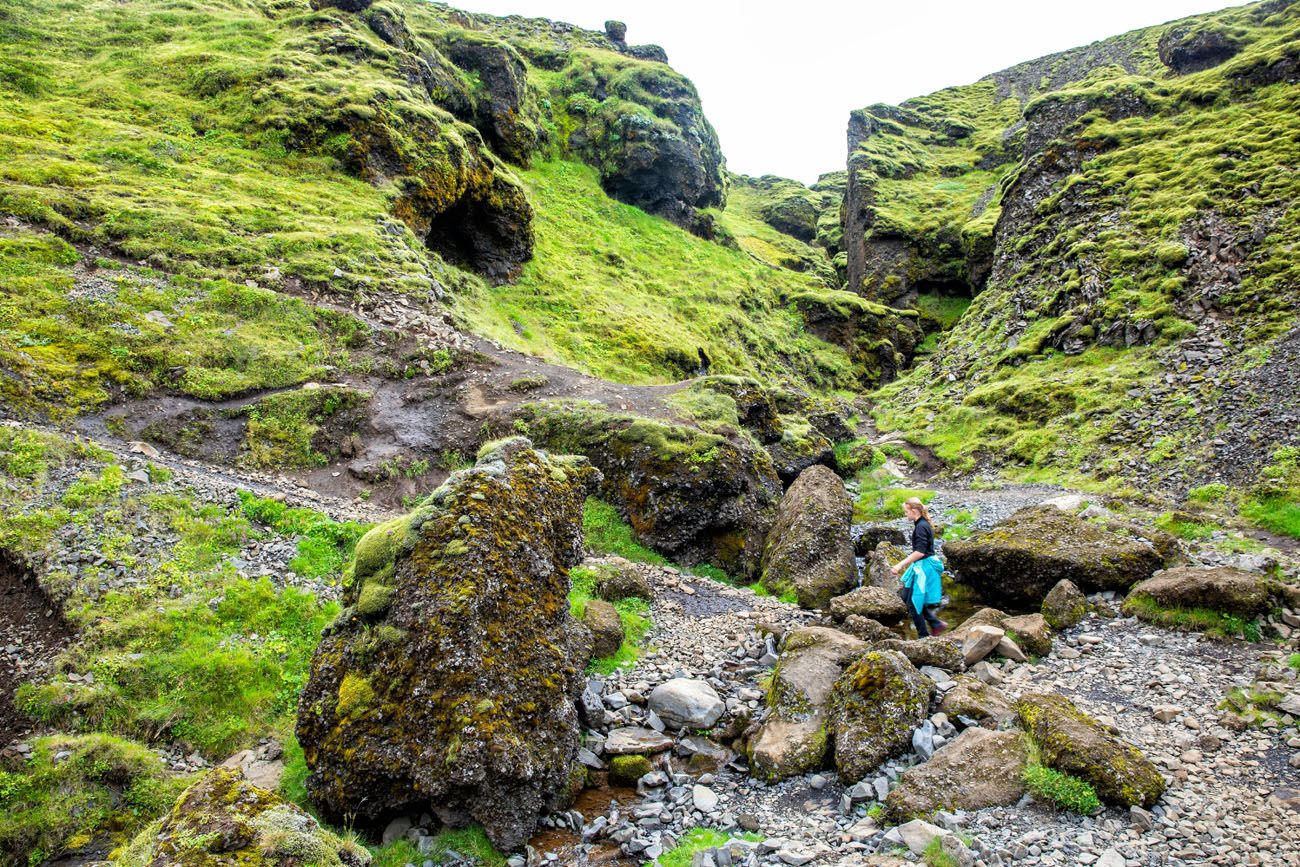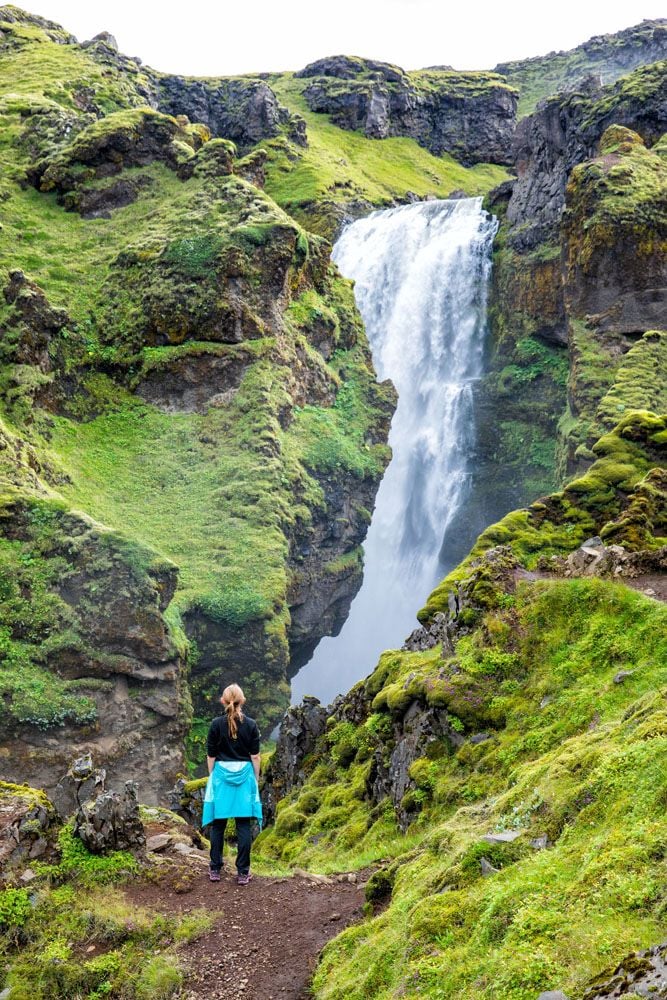 High Peaks Waterfall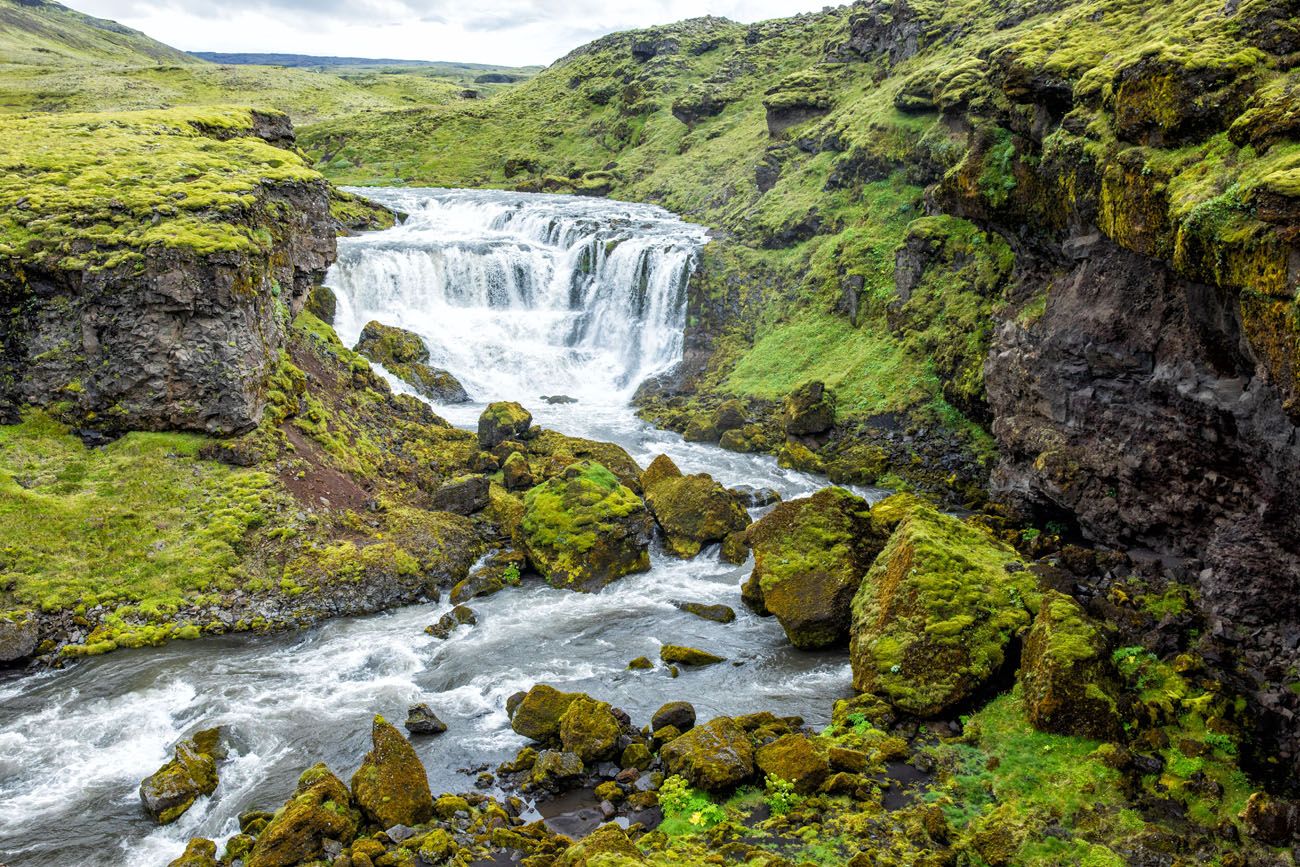 Cascading Falls
High Peaks Waterfall to Subtle Falls
High Peaks to Subtle Falls: 2.7 km, about 45 minutes
Skógafoss to Subtle Falls: 5.7 km, about 1.5 hours
This is the most dramatic section of the Waterfall Way. Hidden waterfalls, moss-covered canyons, and more beautiful views out to the coastline. It's easier to see the glaciers Eyjafjallajökull and Mýrdalsjökull, now that you are getting closer to them. And by now, there's a good chance that many people have turned around.
Trail sign to Basar, the end of the Fimmvörðuháls hike.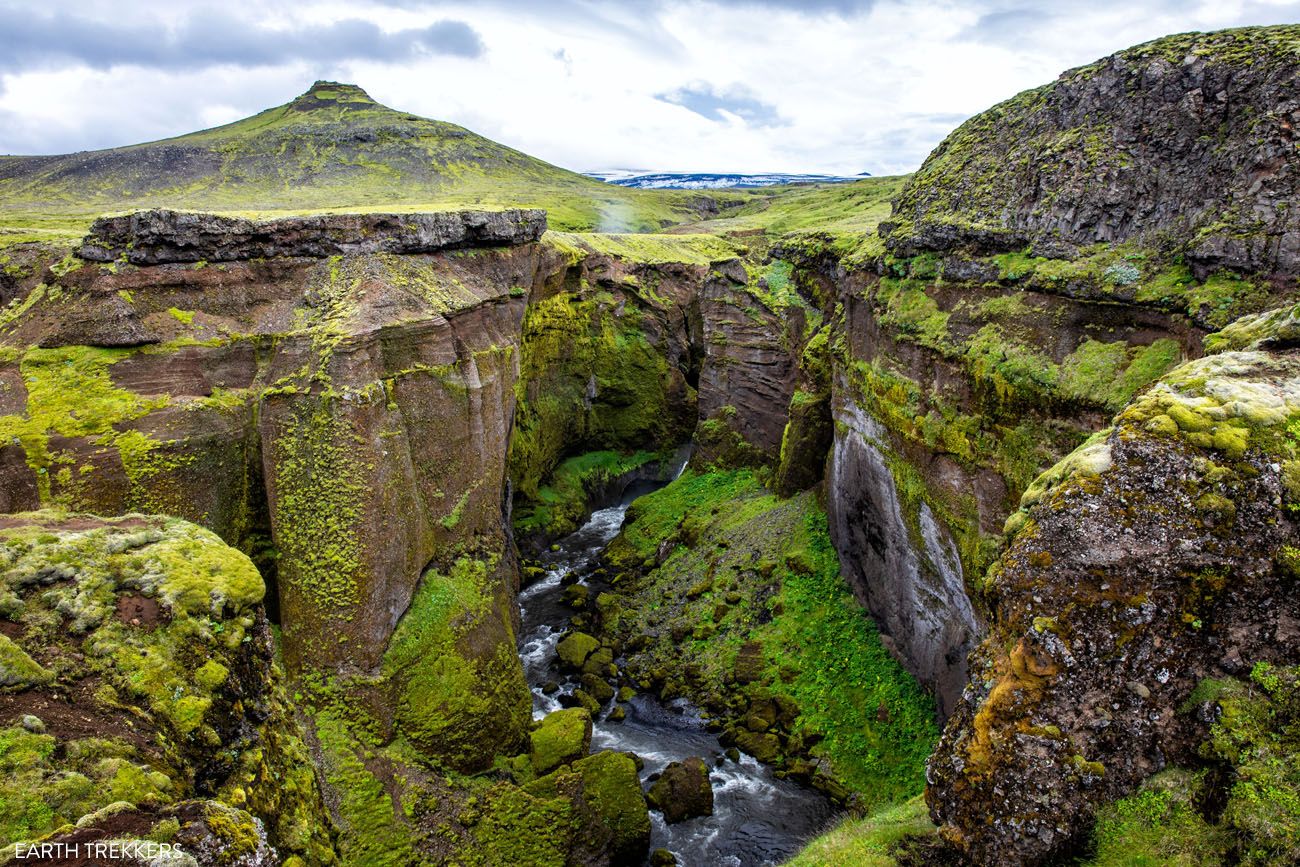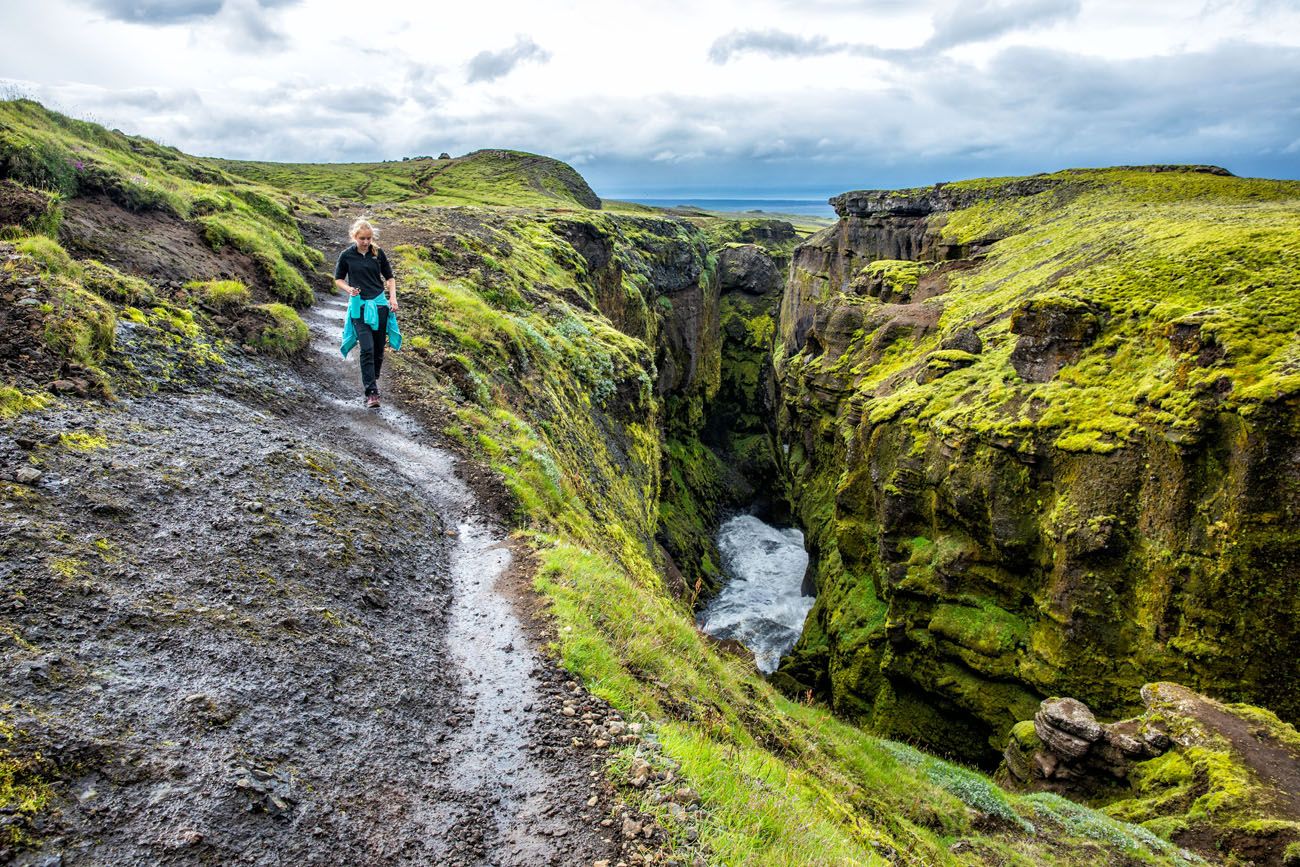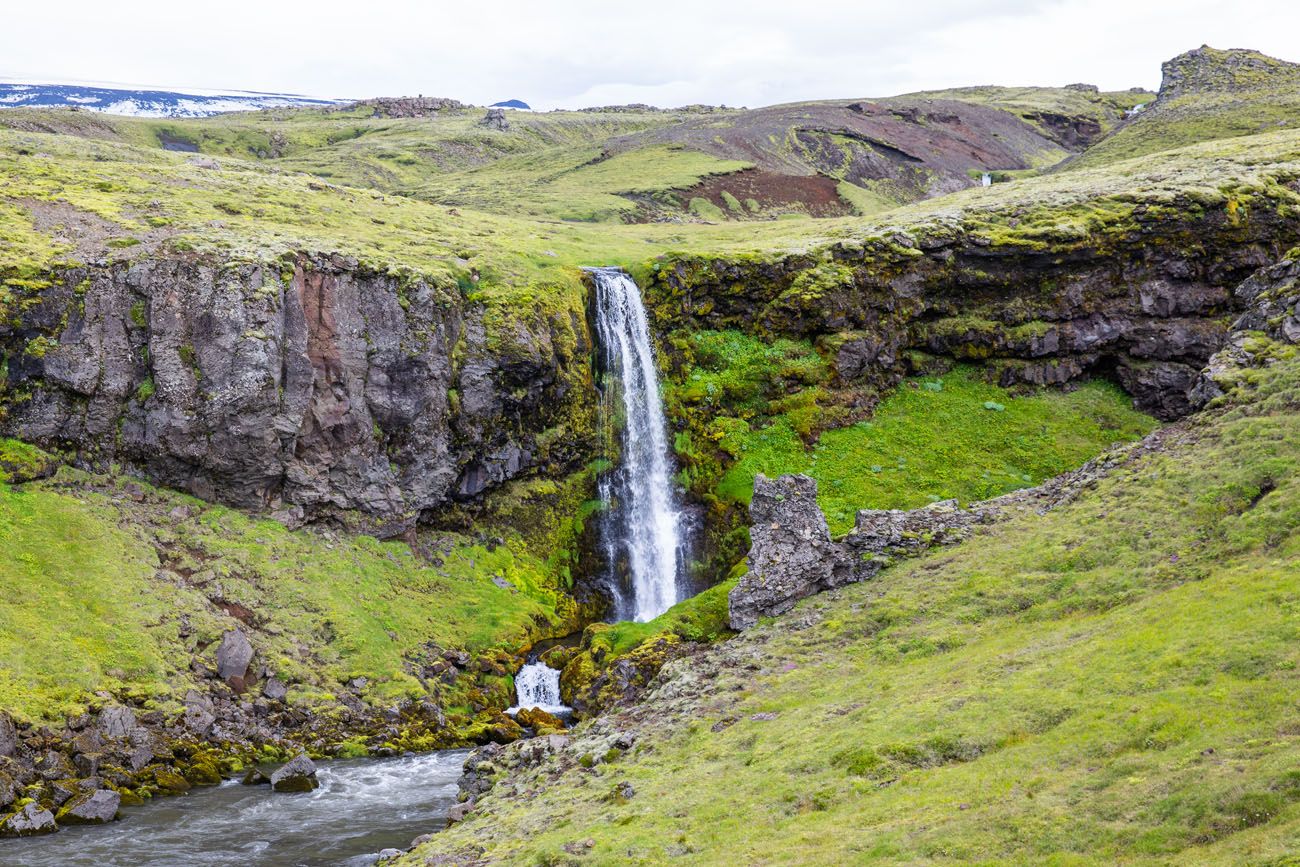 Subtle Falls
Subtle Falls to the Bridge
Subtle Falls to the Bridge: 2.3 km, about 30 to 45 minutes
Skógafoss to the Bridge: 8 km, 2 to 3 hours
This final section of the walk is probably the least exciting section. However, it's near the end of this section that you get to see one of the most impressive waterfalls on the trail, other than Skógafoss. Called Sunset Falls, this is a beautiful, double-tiered waterfall tucked away in a canyon. Sunset Falls is located near the bridge (the turn-around point), so you will have to hike almost the entire Waterfall Way to see it.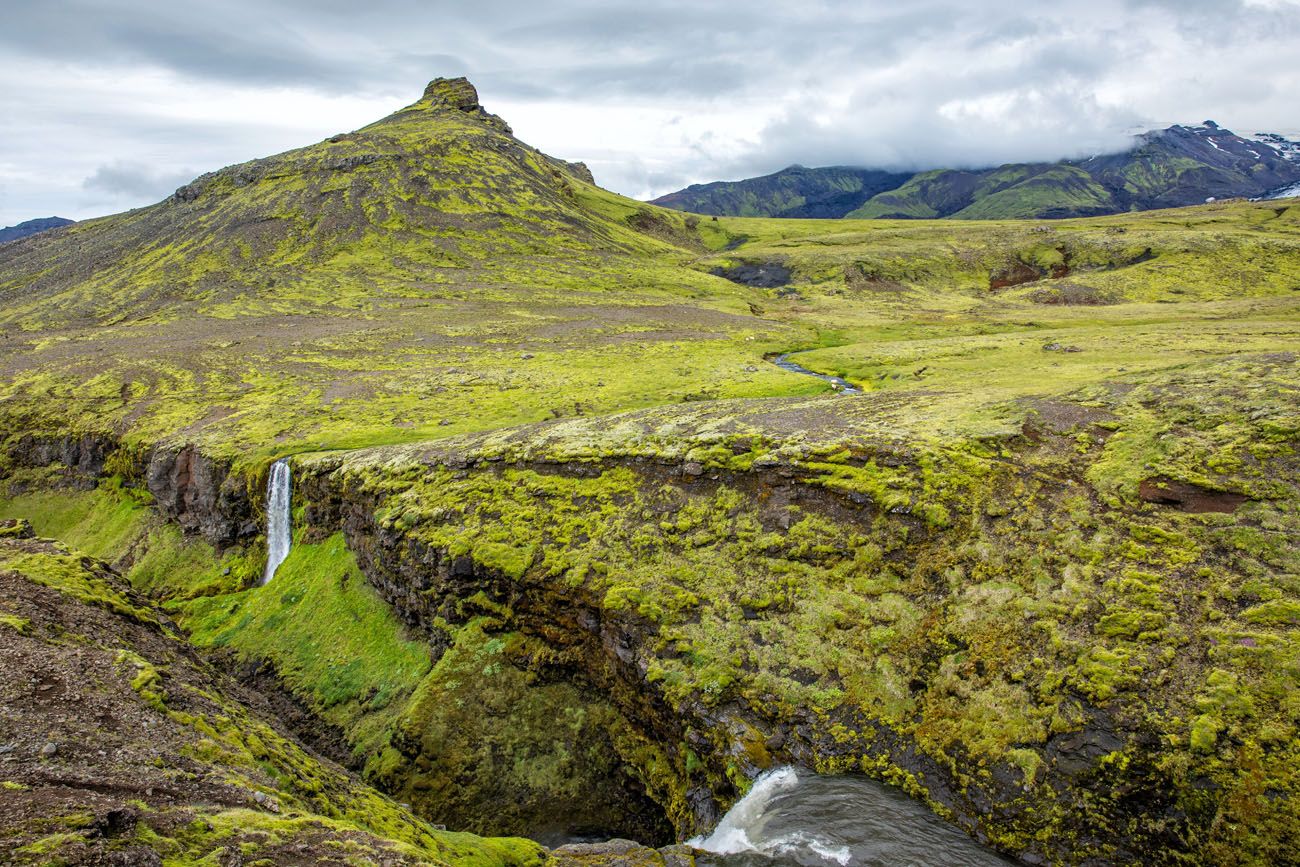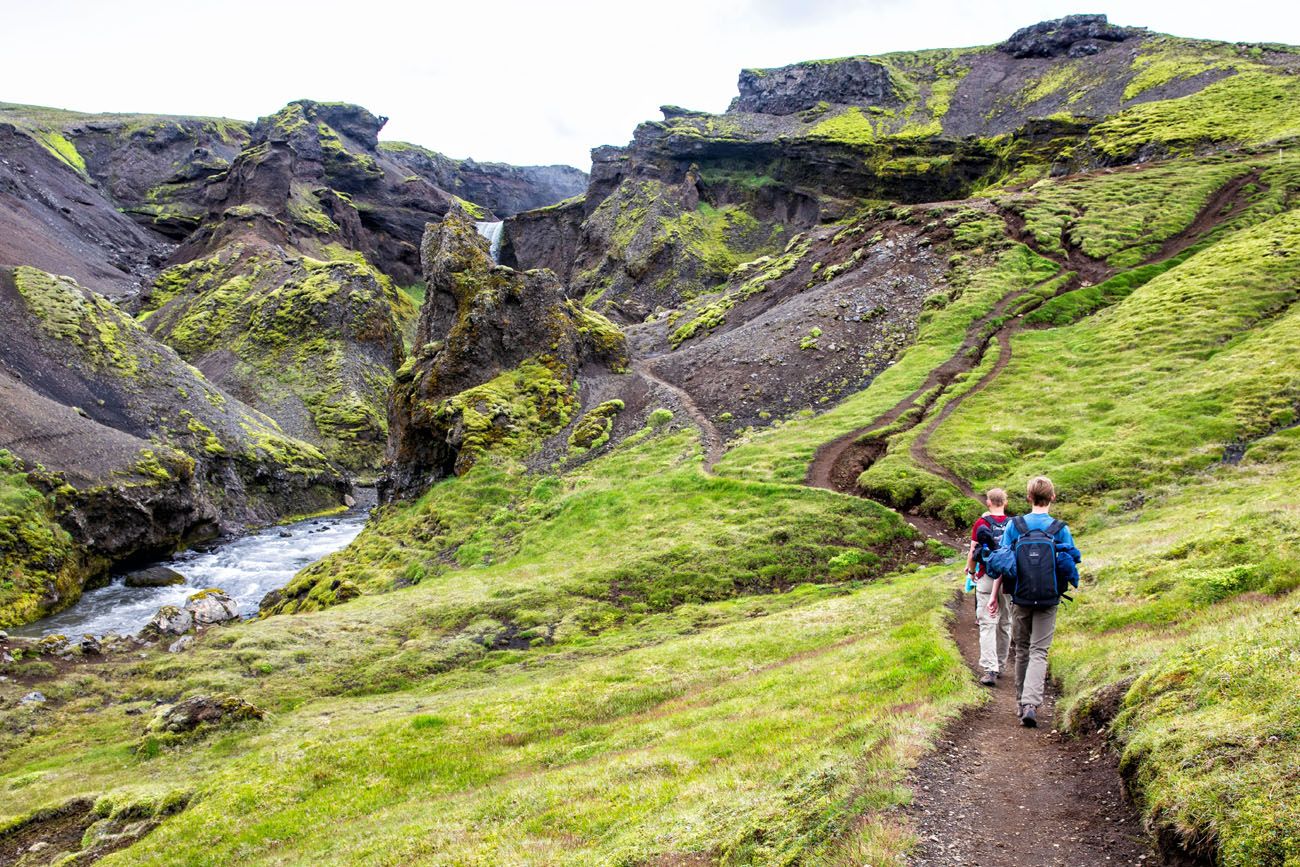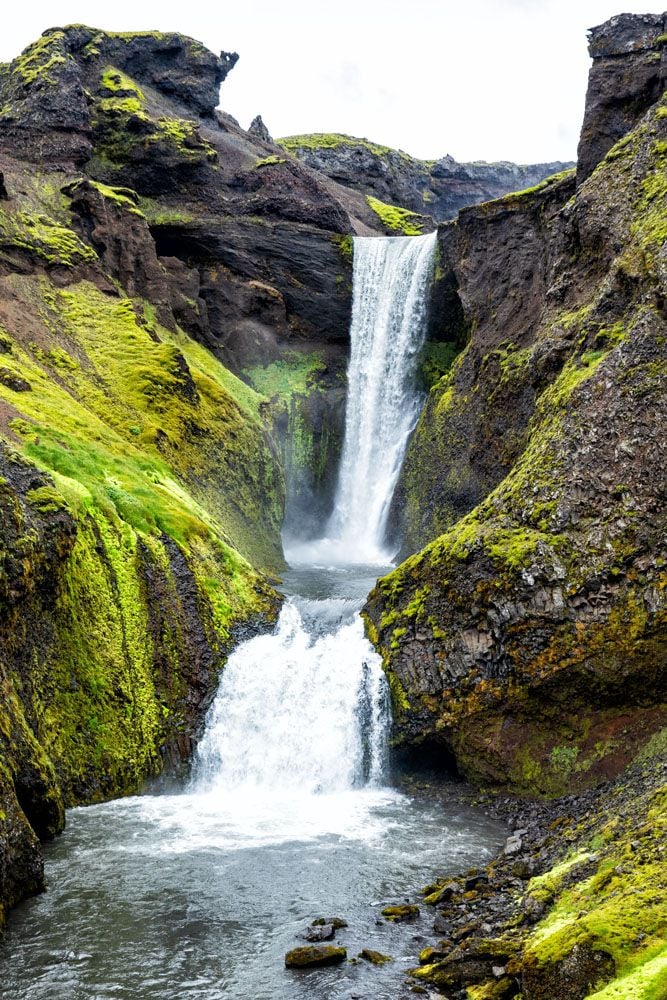 Sunset Falls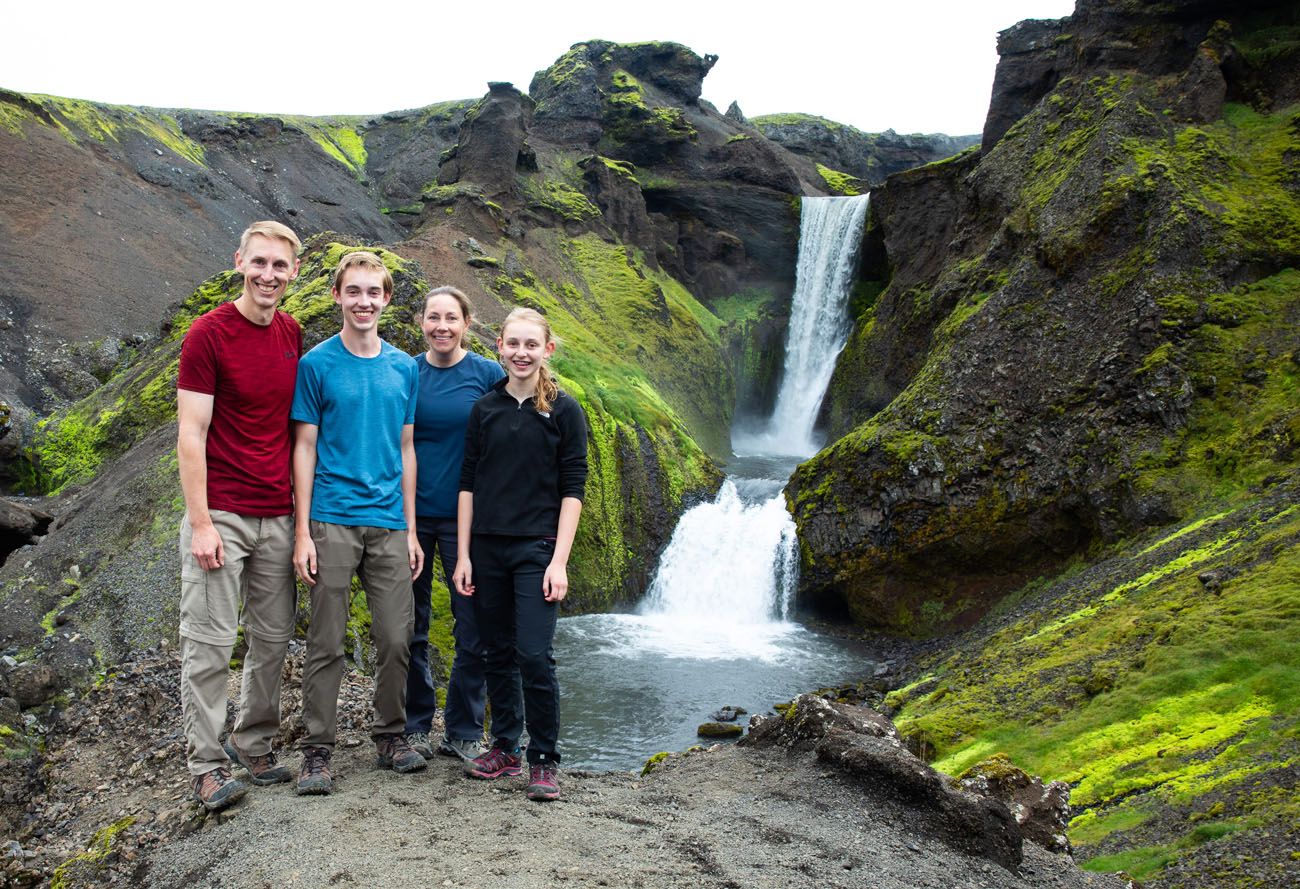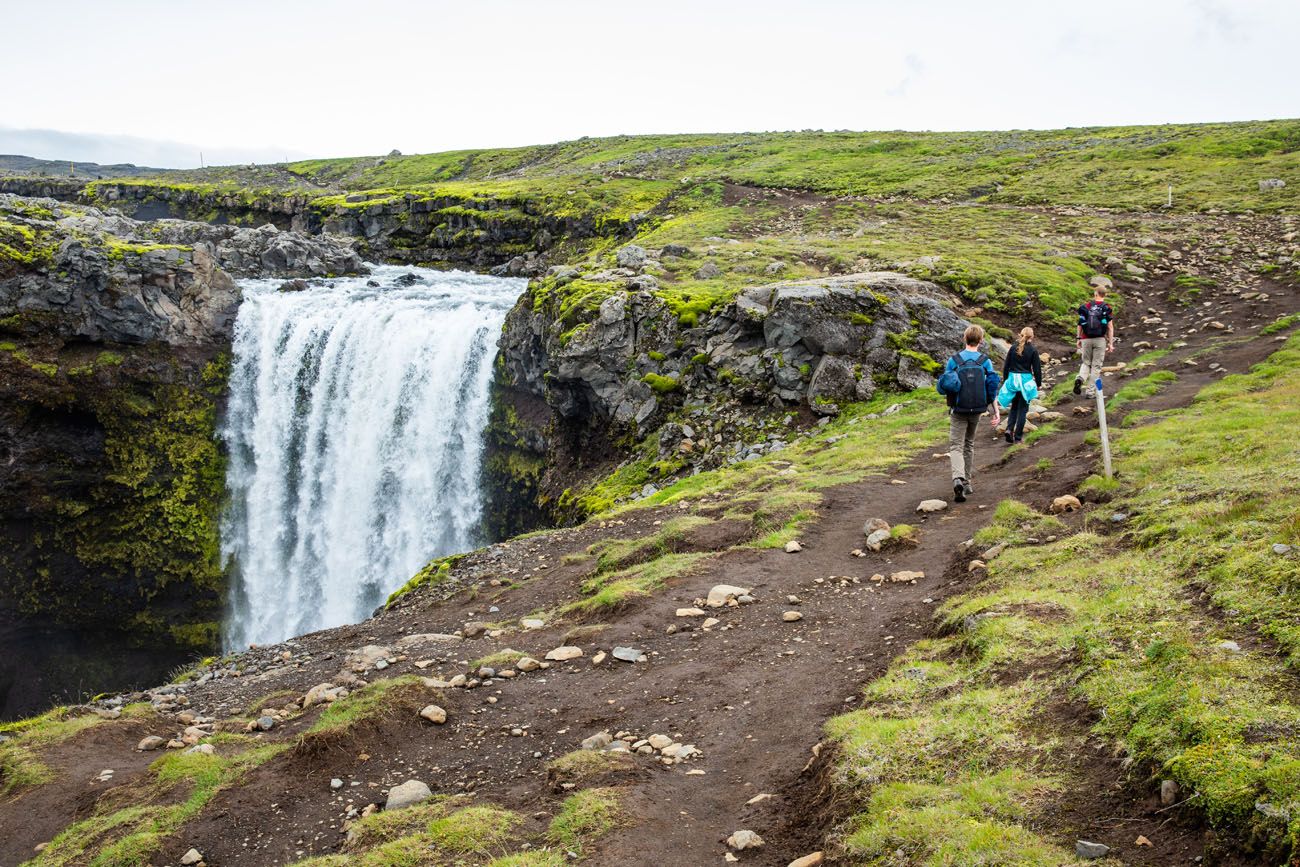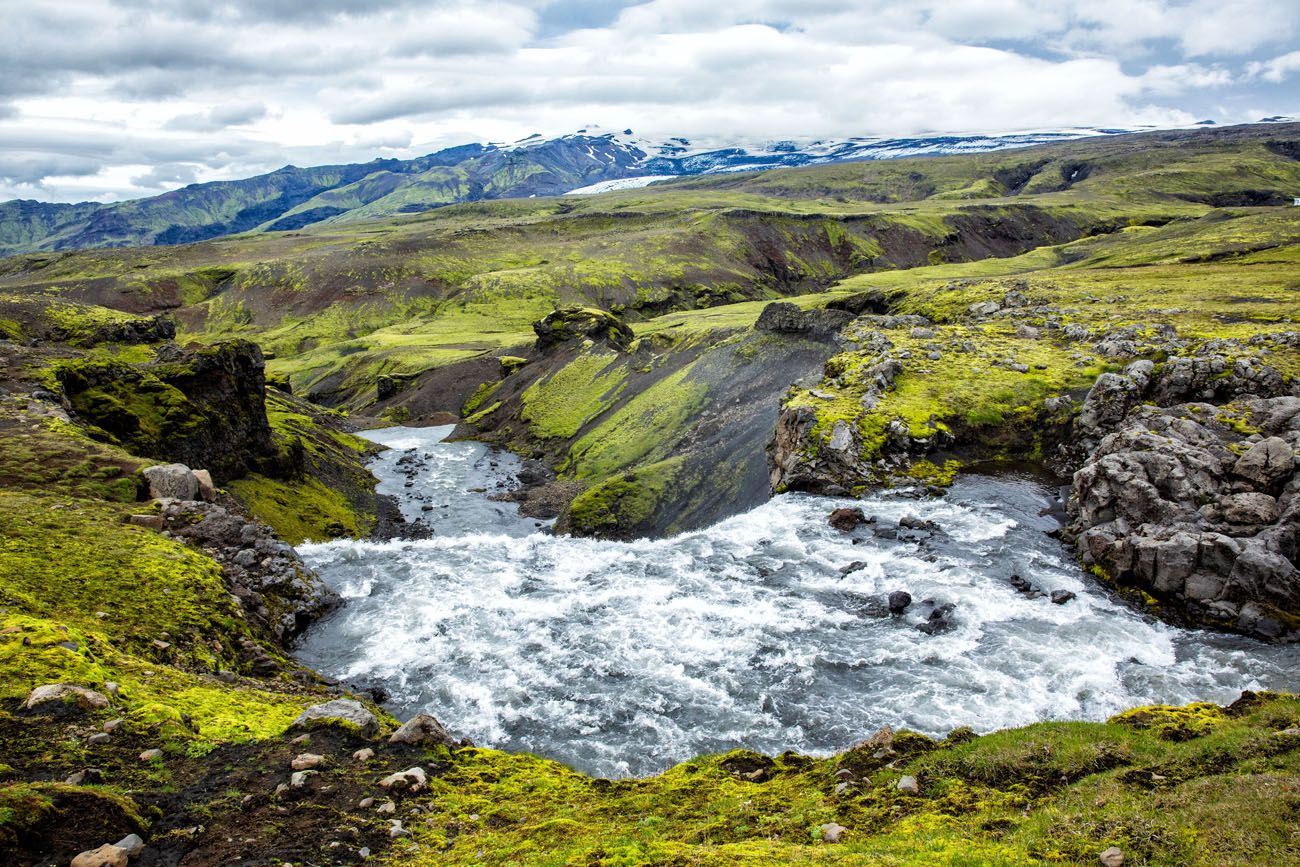 The Bridge Over the Skógá River
The turn-around point is the bridge over the Skógá River. The landscape changes here. The green vegetation begins to fade away, replaced with a gray, rocky, landscape. Not too far off in the distance are Eyjafjallajökull and Mýrdalsjökull.
If you were to keep going, you will walk on a rough, gravel road through a monotonous, gray landscape. It's the most boring section of the Fimmvörðuháls trail and you will have to hike an additional 6 km one-way to see the landscape to change again.
In my opinion, it's only worth it to keep going beyond the bridge if you have plans to hike the entire Fimmvörðuháls trail.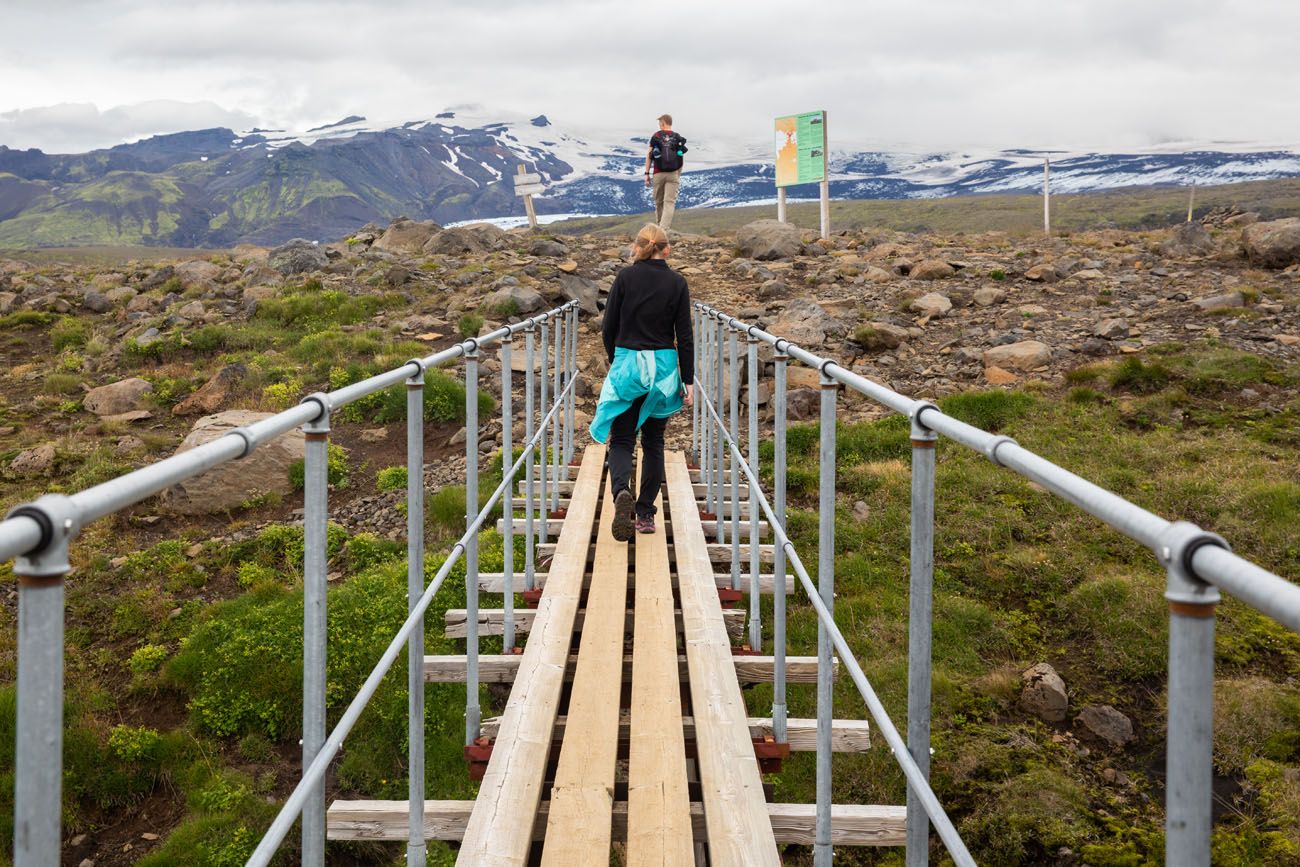 If you are curious about what it is like to keep going, don't miss our article about the Fimmvörðuháls hike.
Walking Back to Skógafoss
To get back to Skógafoss, retrace your steps along Waterfall Way. Now, it's an overall downhill walk, a nice easy stroll with repeat views of the waterfalls.
Tips to Have the Best Experience
Start early in the morning. The earlier you start, the less crowded Skógafoss and the first part of the trail will be.
Wear hiking shoes or boots. The trail can be muddy and slippery in spots, especially if is raining (or recently rained…a very likely scenario in Iceland), so a good pair of waterproof hiking shoes or boots is ideal.
There are a few sections where the trail approaches the edge of a canyon or cliff, getting within several feet of the edge. If you are hiking with young kids, don't let them wander too far away from you, particularly around the middle third of this hike.
Bring water, snacks, or even a picnic lunch.
And don't forget your camera!
What to Do Next
If you do this hike in the morning, you will still have a nice chunk of the afternoon for more exploring.
Kvernufoss Waterfall is another great waterfall to visit and it's not far from Skógafoss. This is a smaller version of Seljalandsfoss, a waterfall that you can walk behind. Park at the Skógar Museum and it's just a 10-minute walk to get to the waterfall.
Note: This waterfall is located on private property. Stay on the trail and do not litter or leave behind any trash. Even if you do not have plans to visit the Skógar Museum, you will have to pay a small fee to park here.
Gamla Fjosid (Old Cowhouse) is a great restaurant not far from Skógafoss. An old barn has been transformed into this cozy restaurant. Gamla Fjosid serves dishes sourced from its own farm, most notably, beef from its cows.
---
If you have plans about the Skógafoss waterfall hike and have any questions, comment below.
More Information for Your Trip to Iceland
ADVENTURES IN ICELAND: Iceland is full of wonderful adventures. Go off the beaten path and explore Kerlingarfjöll. Spend one day in Landmannalaugar, hike the epic Fimmvorduhals trail (one of our favorite day hikes in the world), and go glacier hiking. Learn how to put all of this together in our 10 Day Iceland Adventure Itinerary.
ICELAND ITINERARIES: There are several ways to put together a trip to Iceland. If you have 10 days, here are four different ways to spend your time in Iceland. This two week Iceland itinerary includes the entire Ring Road and main highlights of Iceland.
BEST OF ICELAND: For a list of top experiences in Iceland, don't miss our Iceland Bucket List. The South Coast of Iceland is jam-packed with wonderful sights to see. You can also photograph waterfalls, explore the Snaefellsnes Peninsula, and take your pick from a long list of hiking trails.
ICELAND TRAVEL ADVICE: First time in Iceland? Here are essential things to know about Iceland, including driving tips, sample costs, SIM cards, when to visit, and more.
MORE GREAT HIKES IN EUROPE: From thrilling trails in the Alps to easy walks along the coast, read our article 20 Best Hikes in Europe for some beautiful hiking trails to put on your travel wish list.
All rights reserved © Earth Trekkers. Republishing this article and/or any of its contents (text, photography, etc.), in whole or in part, is strictly prohibited.