One of the best ways to experience Iceland is from a hiking trail. Visit stunning waterfalls, hike through the steaming, colorful landscapes of Landmannalaugar and Kerlingarfjöll, and visit beautiful, remote destinations that you can get to only your own two feet. Here are 10 of the best day hikes in Iceland.
Every hike on this list can be done in one day or less. These hikes range from short, easy strolls to full day adventures. We have done most of the hikes but a few are still on our bucket list.
Get ready to be inspired…and have fun picking out which ones you want to do!
Note: All hiking distances are round trip.
#1 Mount Esja (Esjan)
Distance: 7 km (4.3 miles)
Difficulty: Moderate
Length of Time: 2 to 3 hours
Location: 25 km northeast of Reykjavík, about a 45-minute drive. The closest town is Mosfellsbaer.
This is one of the most popular day hikes in Iceland. Its proximity to Reykjavík and access with public transportation makes it a great option for those planning a quick stopover in Iceland.
Mount Esja is 914 meters high and from the summit you are treated to amazing views of Reykjavík and the Atlantic Ocean. The trail is open all year but it can be dangerous after a snowfall.
#2 Glymur Waterfall
Distance: 7.1 km (4.4 miles)
Difficulty: Moderate
Length of Time: 3 to 4 hours
Location: Hvalfjörður, a 1 hour drive north of Reykjavík
When to go: June through September, when there is no snow on the ground and the log is in place for the first river crossing.
At 198 meters, Glymur Waterfall is Iceland's second tallest waterfall. You can only get to it by hiking, and what a beautiful hike it is.
This hike features a walk through a cave and two river crossings. From the Bótnsá River, you will hike up along the edge of the cliffs to the final viewpoint over Glymur Waterfall. From here, the views over Iceland are spectacular.
At this point, you can either retrace your steps back to your car, or you can cross the river again and hike down the other side of the ravine.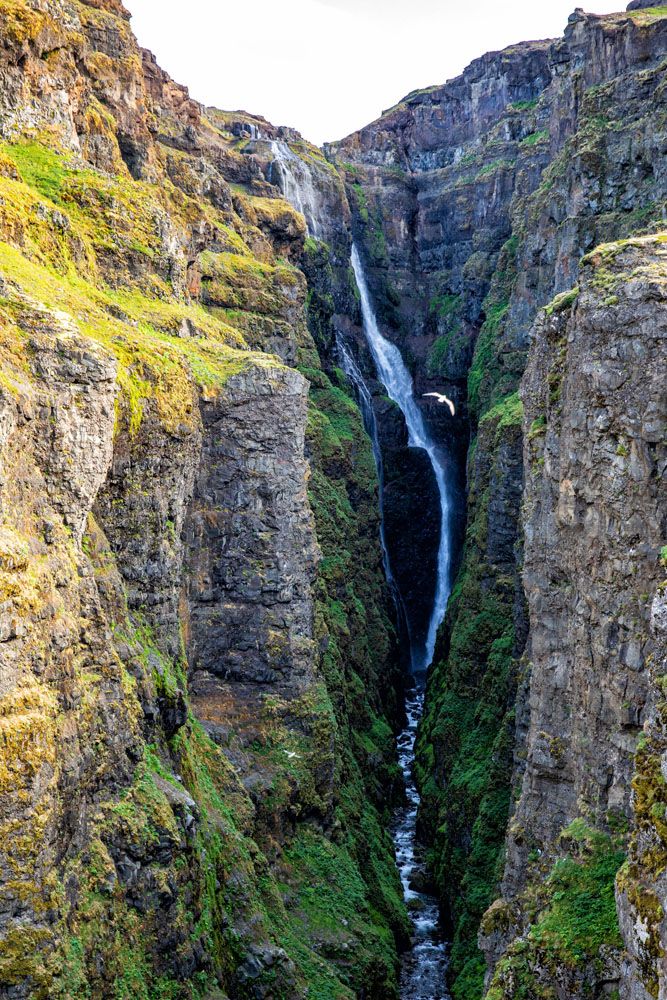 Glymur Waterfall | Best hikes in Iceland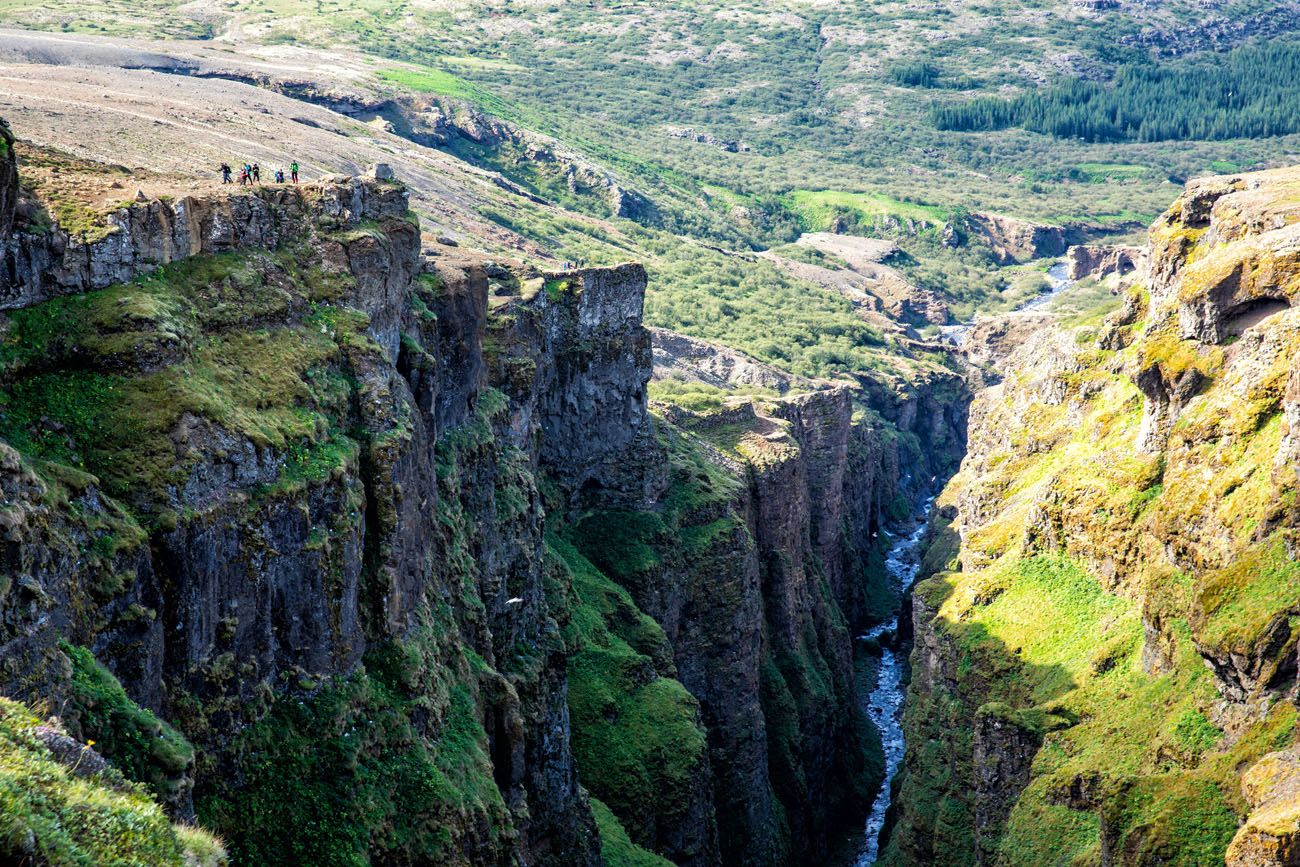 #3 The Snaefellsnes Peninsula
The Snaefellsnes Peninsula has several great day hikes to choose from. This peninsula, with its black sand beaches, lava fields, dramatic coastal cliffs, and waterfalls, is a great place to visit, either on a day trip from Reykjavík or on a road trip through Iceland.
Here are several day hikes to choose from:
Snaefellsjökull. Snaesfellsjökull is the glacier-topped volcano that is the centerpiece of Snaefellsjökull National Park. You can hike to the summit in about 8 to 10 hours. Learn more here.
Kirkjufell. Kirkjufell, with its unique arrowhead shape, is Iceland's most photographed mountain. You can hike to the top of Kirkjufell, a challenging hike that takes about 3 hours. It is a dangerous hike (two people have died in recent years) so it is best to do this with a guide.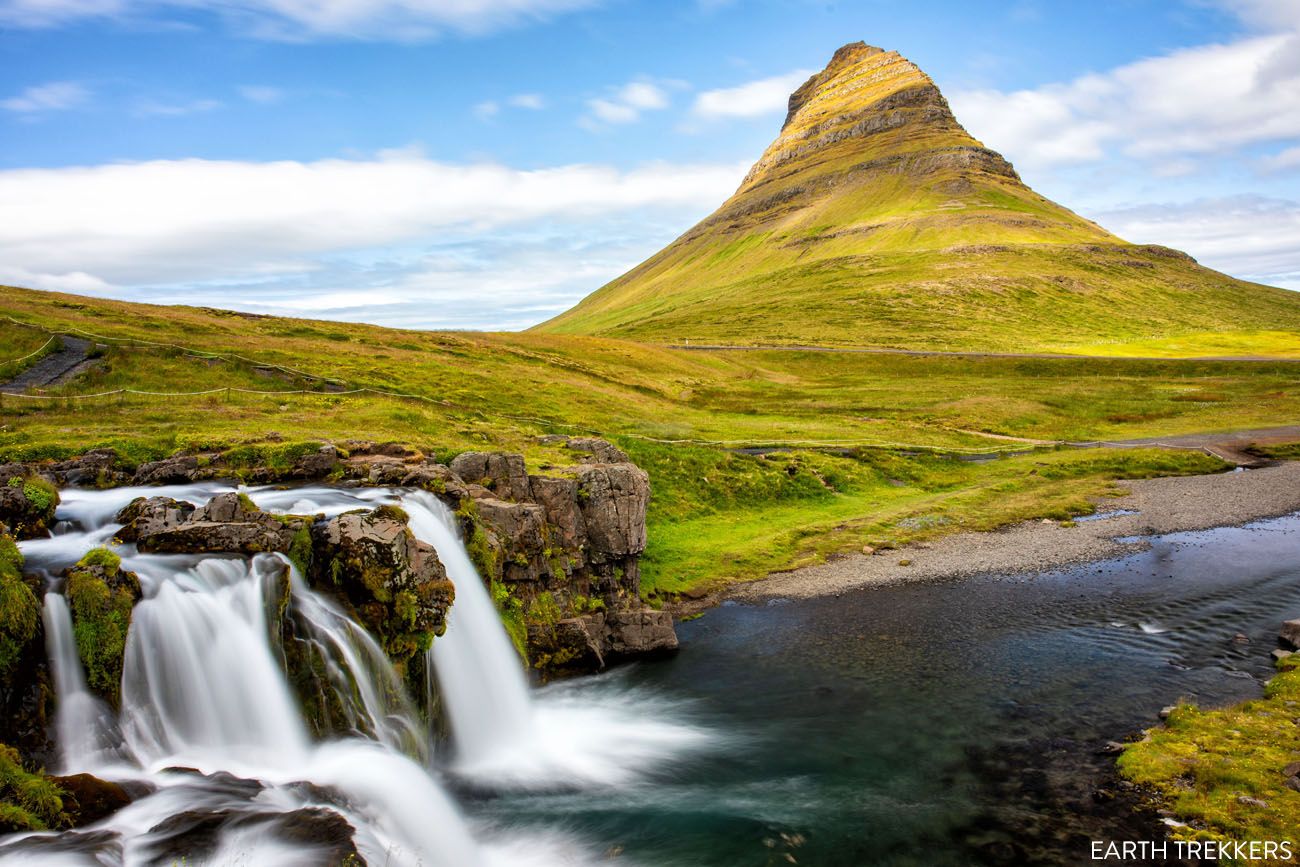 Kirkjufell | Best hikes in Iceland
Dritvik Cove. Hike along Djúpalónssandur Beach, a beautiful black sand beach until you reach Dritvik Cove. On this short, easy hike you will walk through a canyon, past the wreckage of a British trawler, and along the jagged, volcanic formations that line the coast. This hike is only 2 km round trip and great for all ages. Extend your visit and walk the boardwalk trails to the viewpoints over the beach.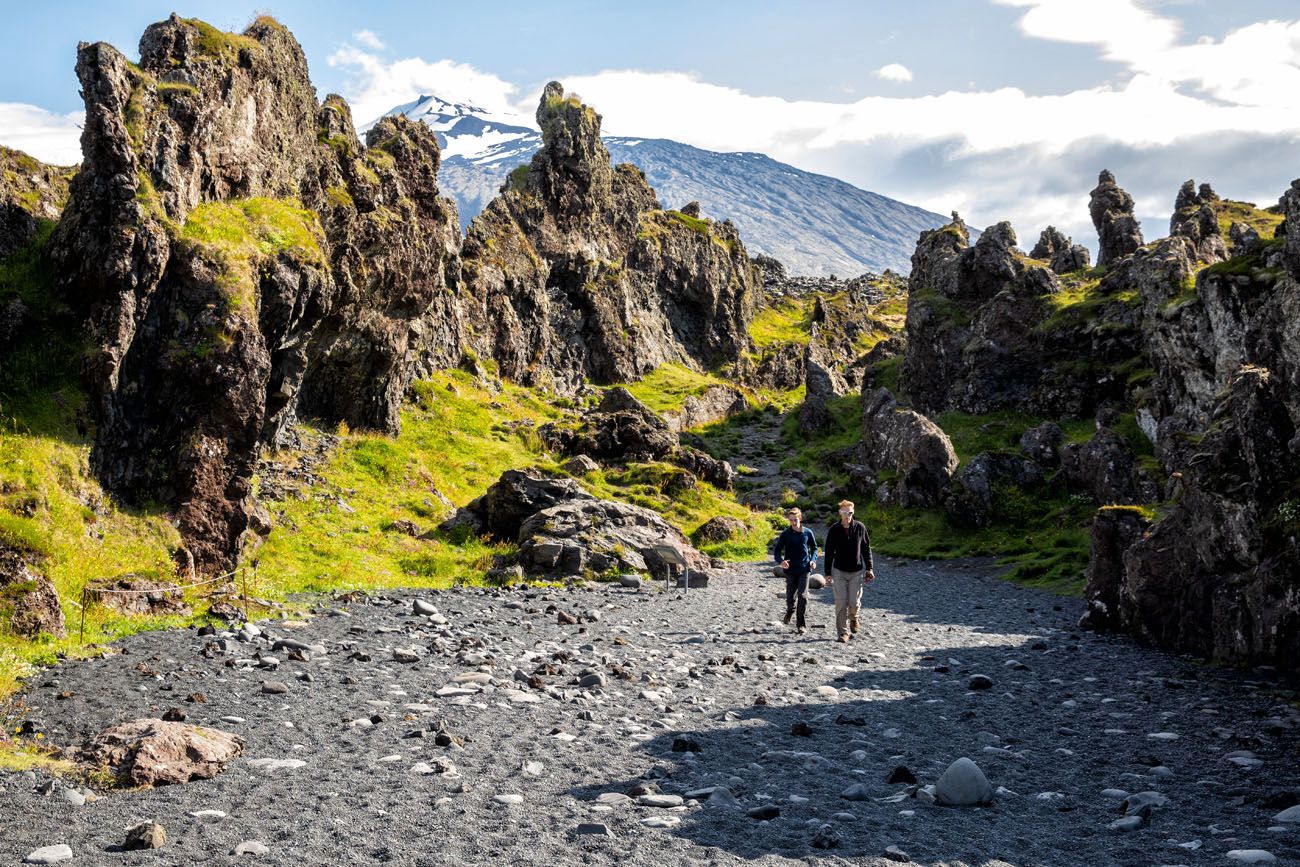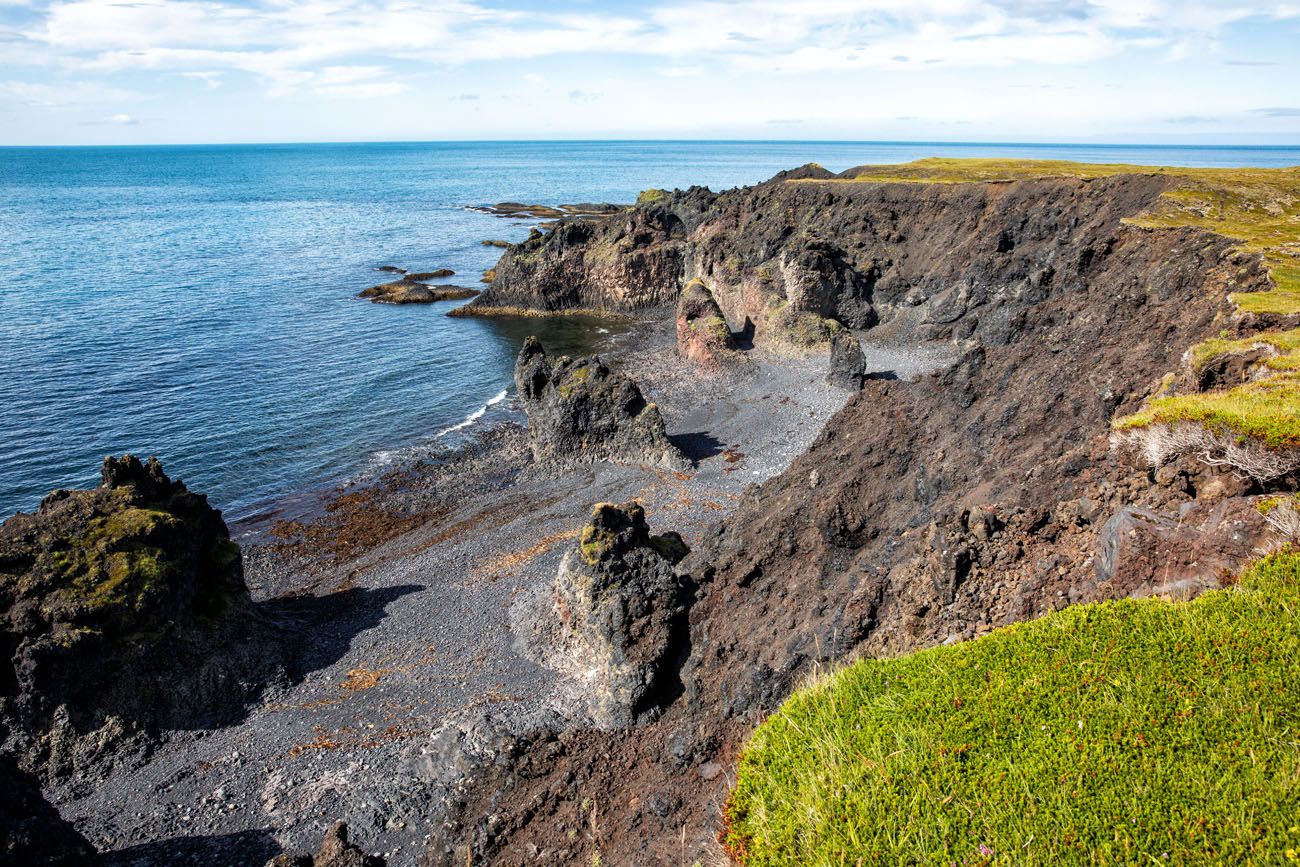 Arnarstapi Cliff Walk. This is a 1.5-mile easy, round trip hike along stunning coastal cliffs. This is one of the prettiest spots on the Snaefellsnes Peninsula. You'll see nesting birds, extraordinary views of Iceland, and Gatklettur, which is a natural stone arch. Park in the large car park in Arnarstapi, walk out to the Gatklettur viewpoint, and follow the trail along the cliffs.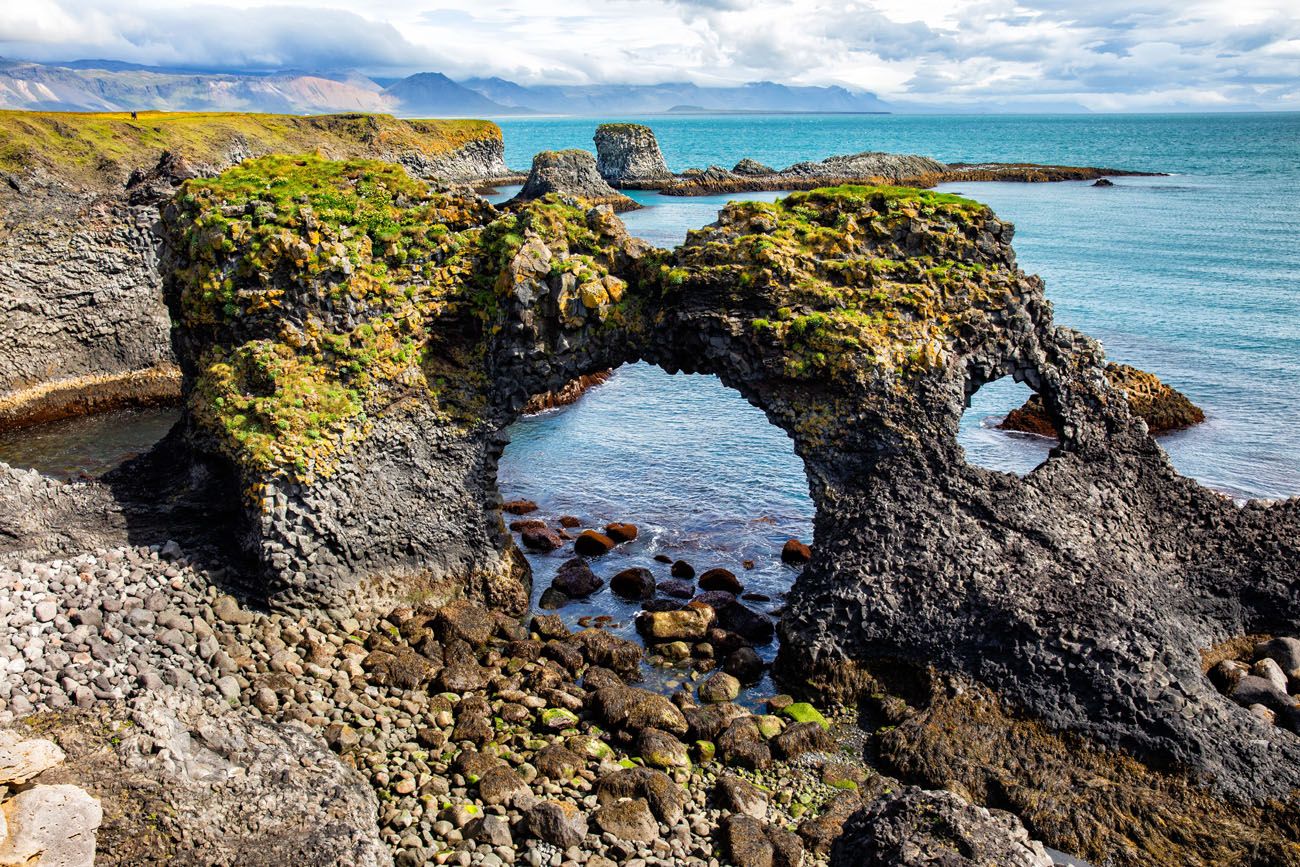 Gatklettur | Best hikes in Iceland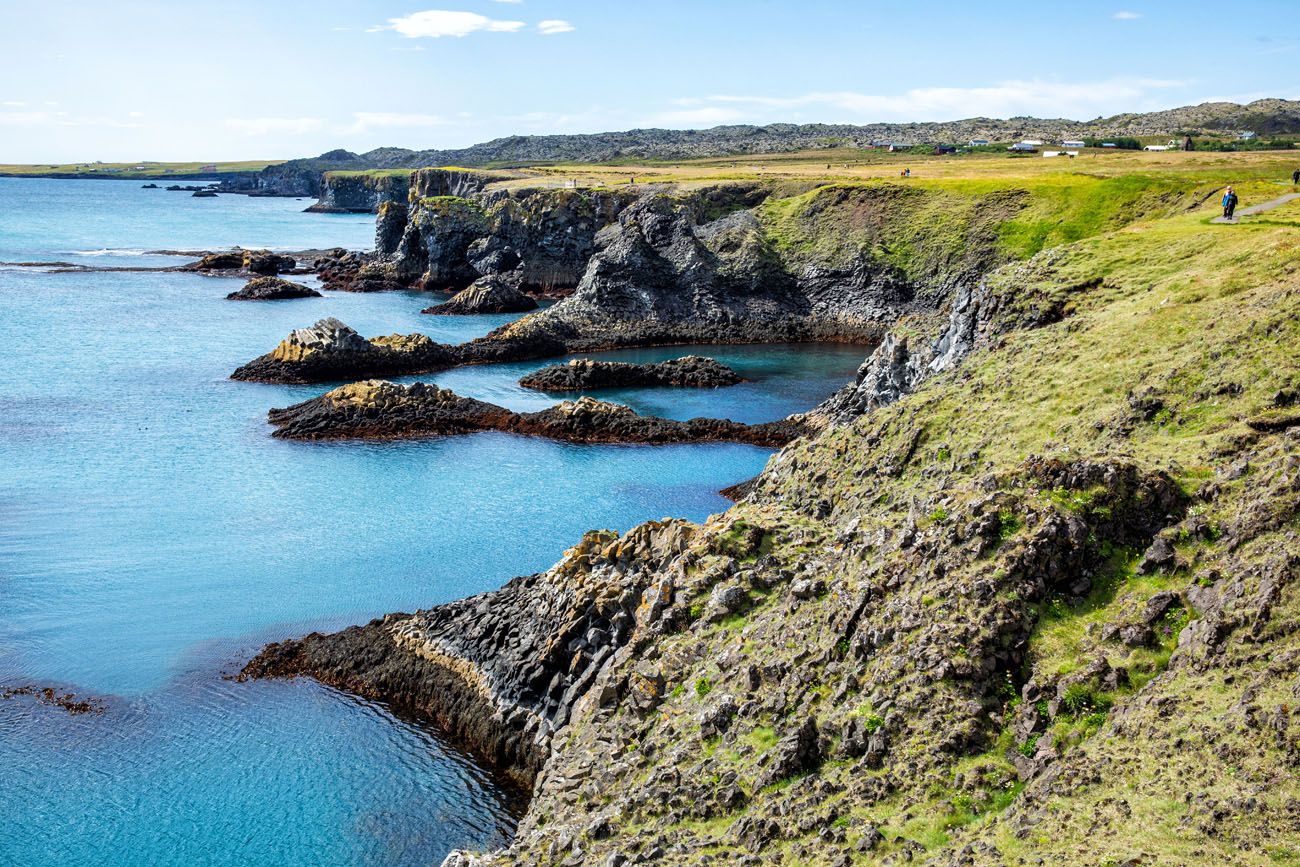 Arnarstapi Cliff Walk | Best hikes in Iceland
#4 Landmannalaugar
Some of the best day hikes in Iceland can be found in Landmannalaugar. This area is famous for its colorful rhyolite mountains, geothermal hot springs, and lava fields.
There are numerous day hikes to choose from: easy walks through fields of solidified lava, slightly more strenuous hikes on volcanic craters, and challenging day hikes where you can summit one or more mountains for the best views of Landmannalaugar.
For the ultimate hiking experience in Landmannalaugar, hike the Blahnúkúr Brennisteinsalda Loop (9.7 km, 6 miles, allow 4 to 6 hours).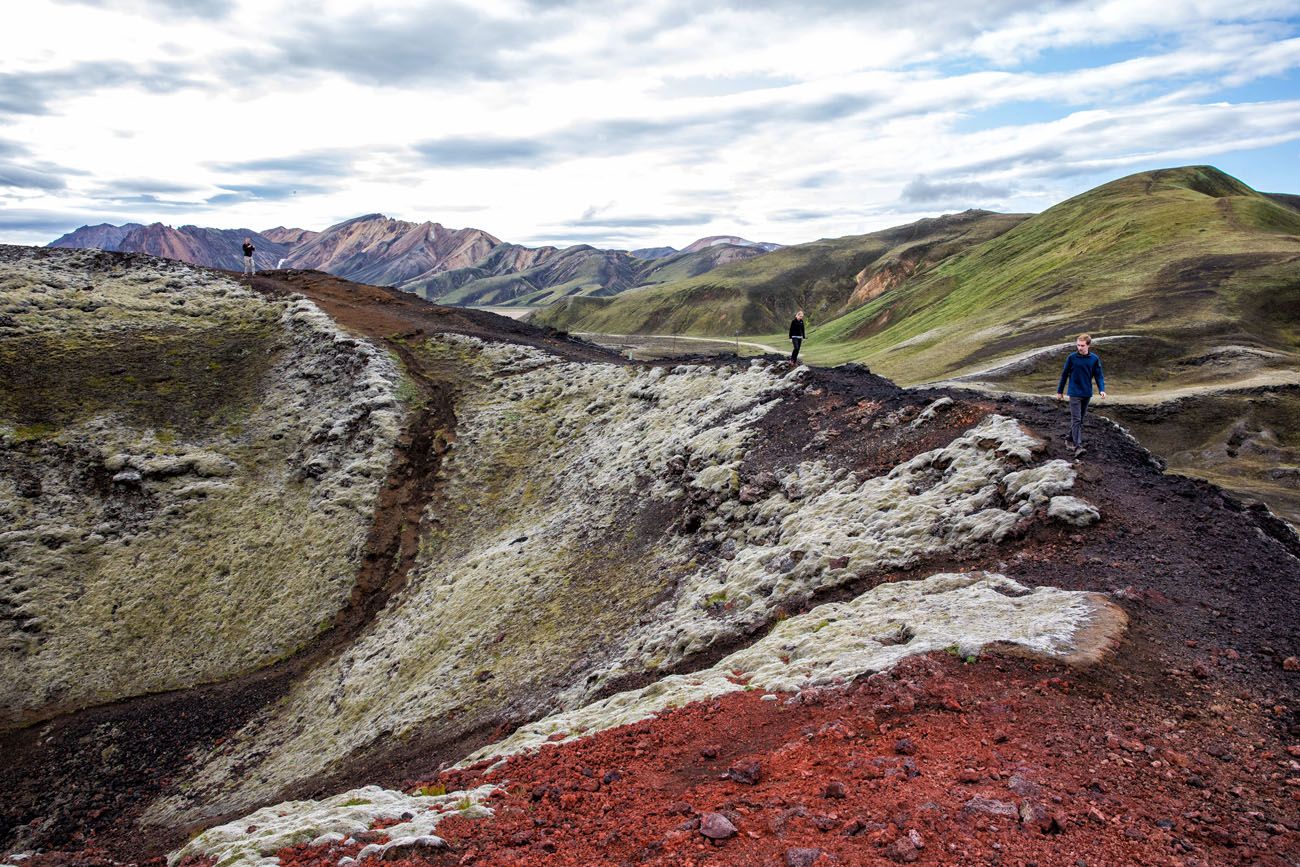 Stutur | Best hikes in Iceland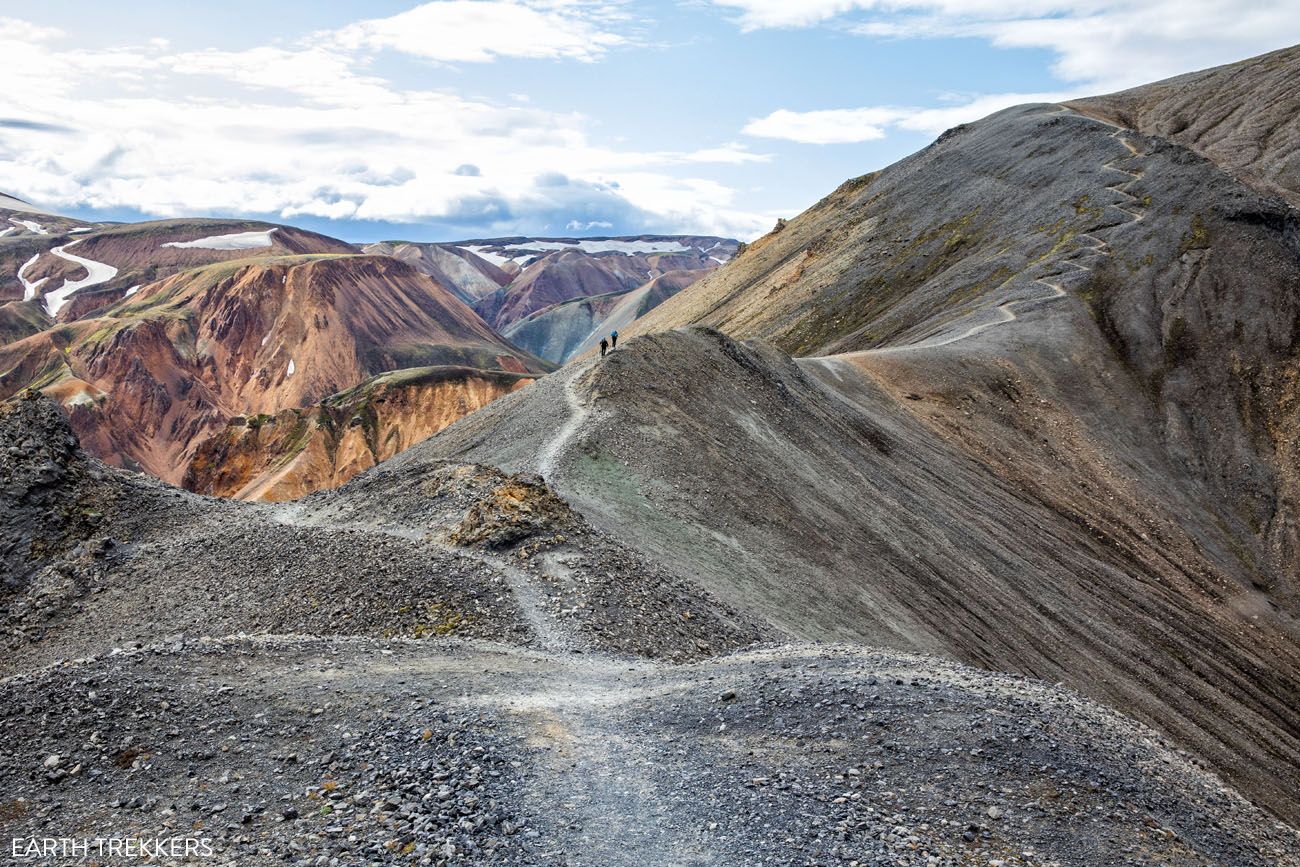 Hiking the Blue Peak | Best hikes in Iceland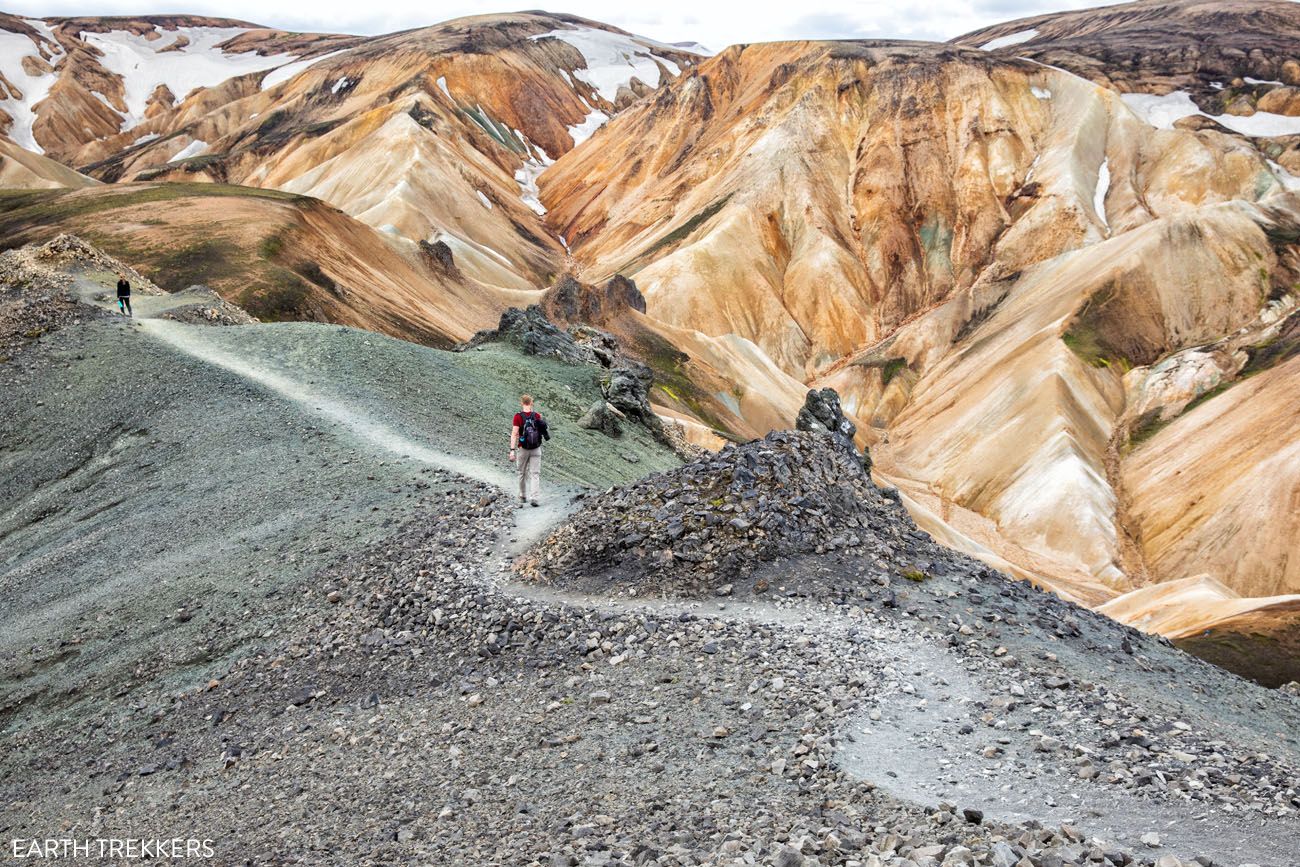 To get to Landmannalaugar you will need a 4×4 vehicle that is authorized by your rental car company to be driven on F-roads. These F-roads are open from mid-June through early September, so there is a narrow window of time that you can visit Landmannalaugar independently, without taking a Big Jeep tour.
#5 Hvannadalshnúkur
Difficulty: Strenuous, challenging
Length of Time: 12 to 15 hours
Location: Skaftafell
When to go: April through July
Do you want to summit the highest peak in Iceland?
At 2110 meters, Hvannadalshnúkur is the highest point in Iceland. You can hike to the summit of Hvannadalshnúkur on a very long day hike. No technical skills are required but you should only do this hike with an experienced guide. Much of this hike is on snow-covered trails with lots of crevasses.
Icelandic Mountain Guides offer guided hikes of Hvannadalshnúkur.
#6 Fimmvörðuháls Trail
Distance: 25 km (15.5 miles)
Difficulty: Strenuous
Length of Time: 8 to 10 hours
Location: Skogafoss to Thorsmork
When to go: Mid-June to September
If you are looking for an epic day hike in Iceland, it will be hard to top this hike.
The Fimmvörðuháls hike is one of the best day hikes we have done yet. 26 waterfalls, 1 volcano, 2 glaciers, and 3 unique landscapes…it is a truly unforgettable hike.
You will start at Skógafoss waterfall and hike upstream along the Skógá River. Along the way, you will pass 25 more waterfalls and hike through a vibrantly green landscape. Next up are the glaciers Eyjafjallajökull and Mýrdalsjökull. Now you are hiking on fresh, black, volcanic soil, on one of the youngest landscapes on the planet. At the end of the hike you enter Thórsmörk, where lime green moss covers the black rocks, creating one of the most unique landscapes in Iceland.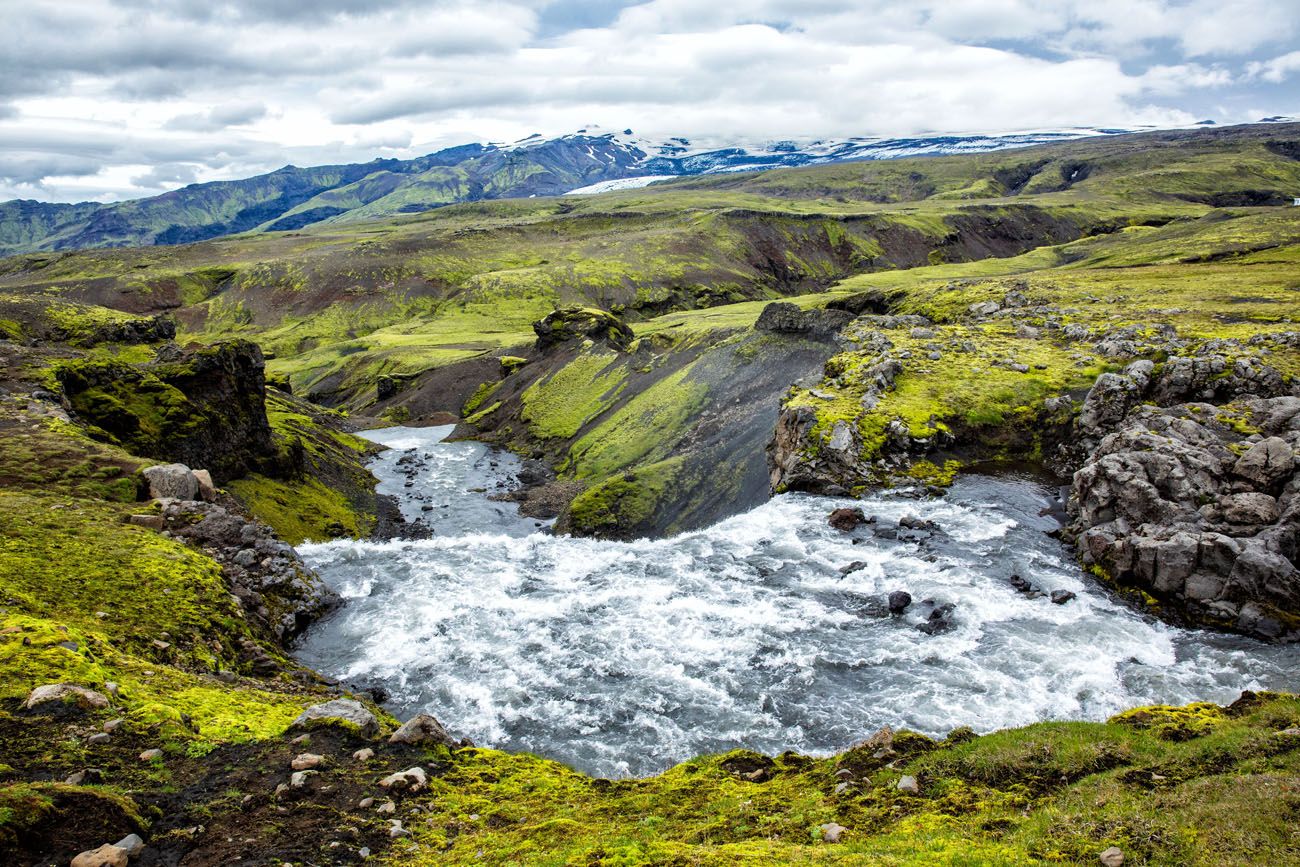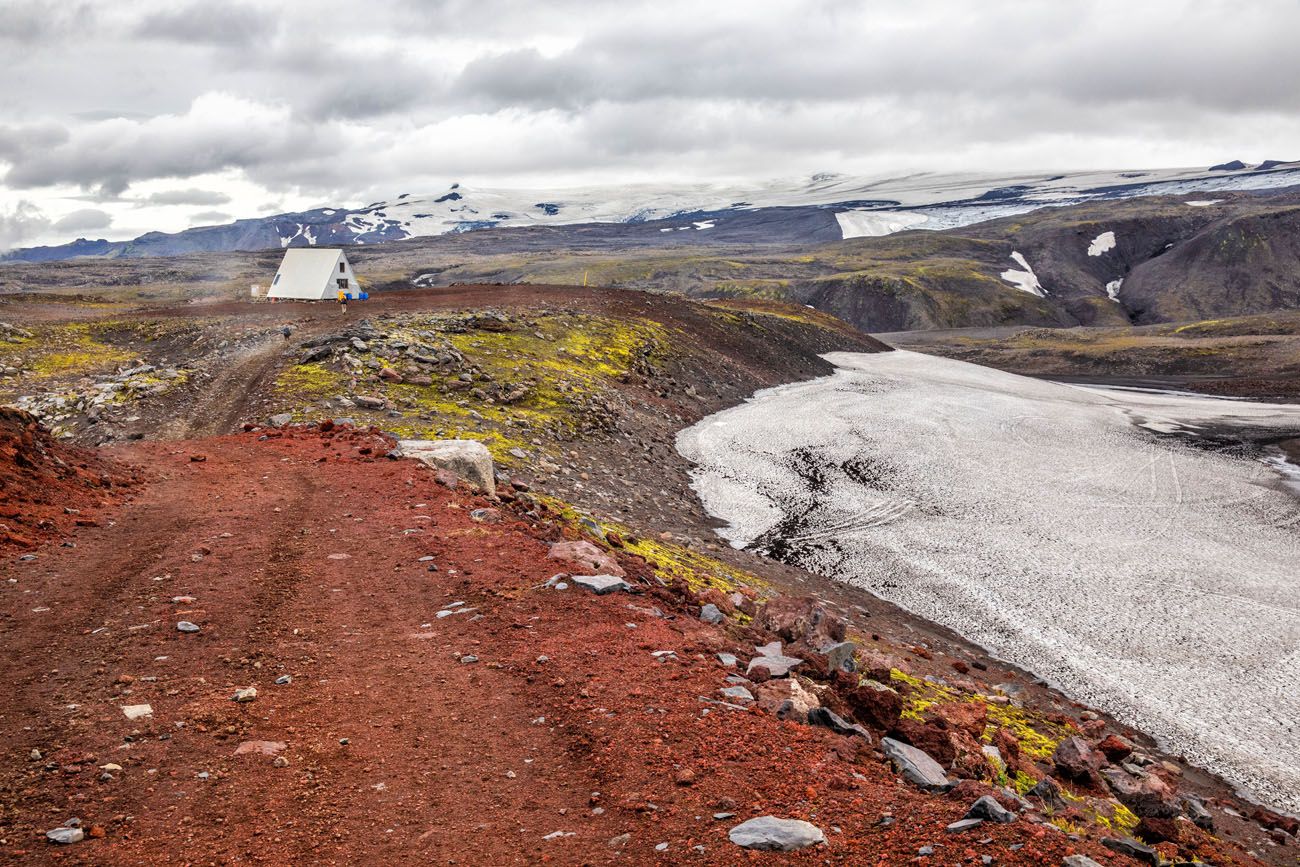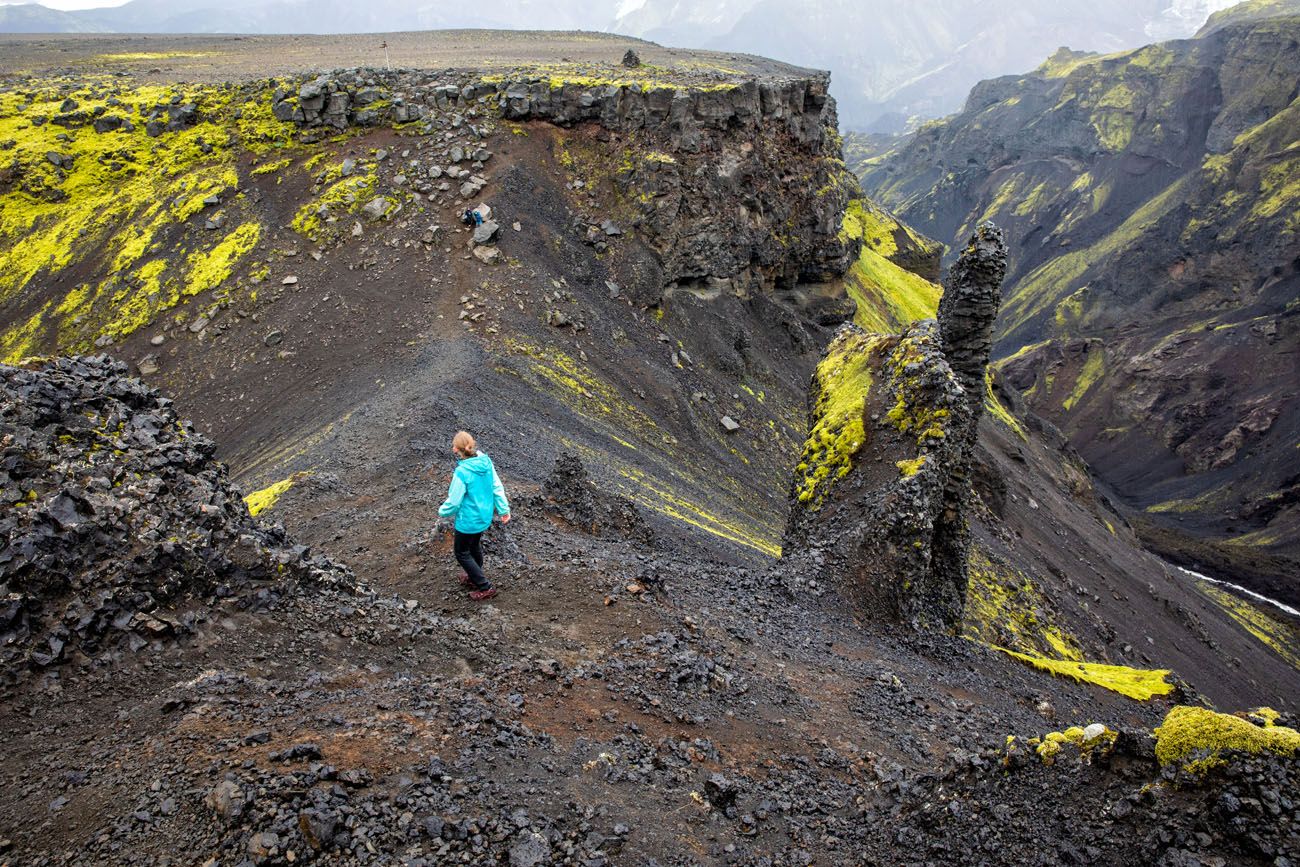 Thórsmörk | Best hikes in Iceland
This is a long day hike, at 25 km total (15.5 miles). It's also done point-to-point, so it is logistically challenging. But it is absolutely worth it if you are looking for a spectacular day hike in Iceland.
#7 Skógafoss Waterfall Trail
Distance: 16 km (10 miles)
Difficulty: Easy
Length of Time: 4 to 6 hours
Location: Skógafoss
When to go: This hike is best from June through September, when the trail is free of snow
If you want to hike part the Fimmvörðuháls Trail without the long distance and logistics, the Skógafoss Waterfall Trail is one to consider.
This hike is one of Iceland's most underrated experiences.
On this hike, you start at the mighty Skógafoss waterfall and hike upstream along the Skógá River. As you hike through this lush, green landscape, you get to see 25 more waterfalls, dramatic canyons, and glacier-capped volcanoes just off in the distance.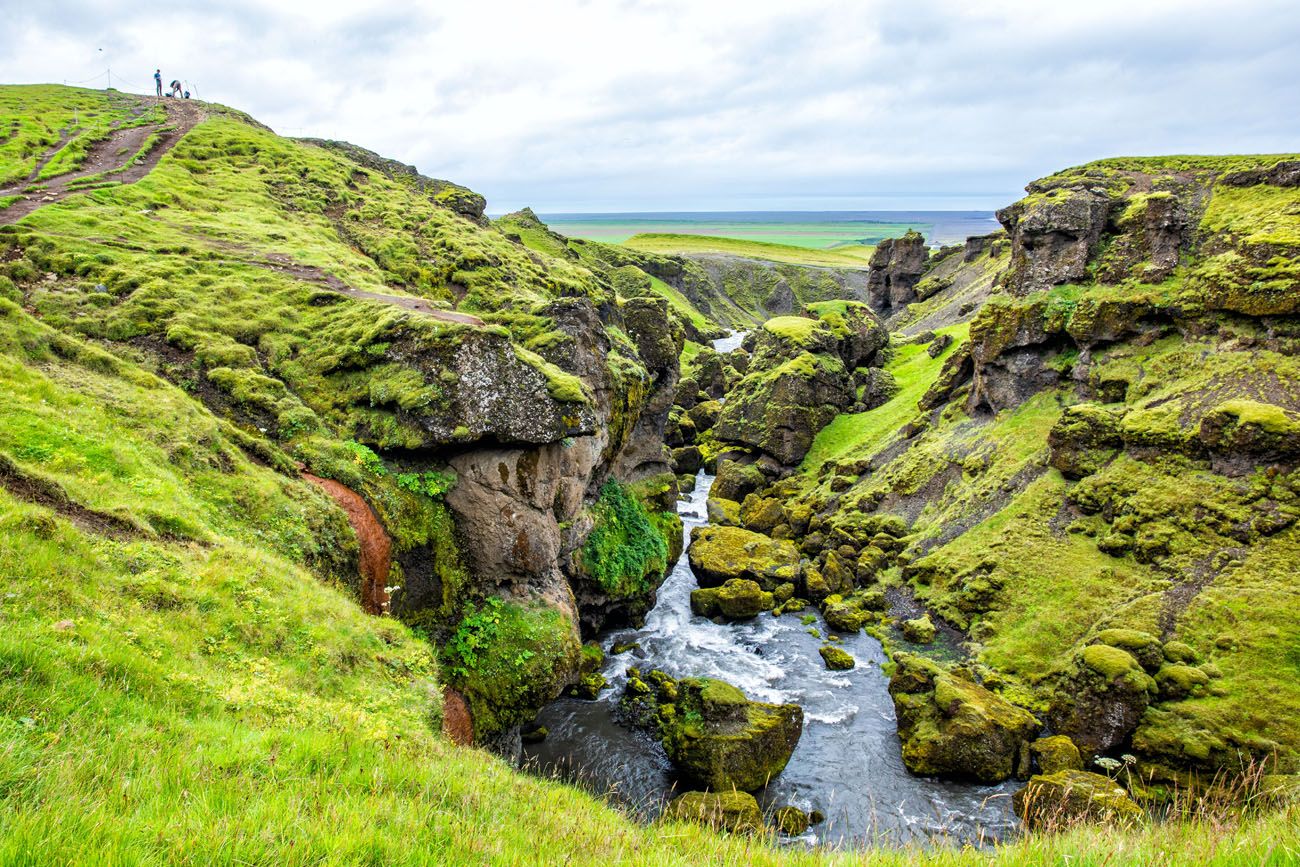 Skogafoss Waterfall Trail | Best hikes in Iceland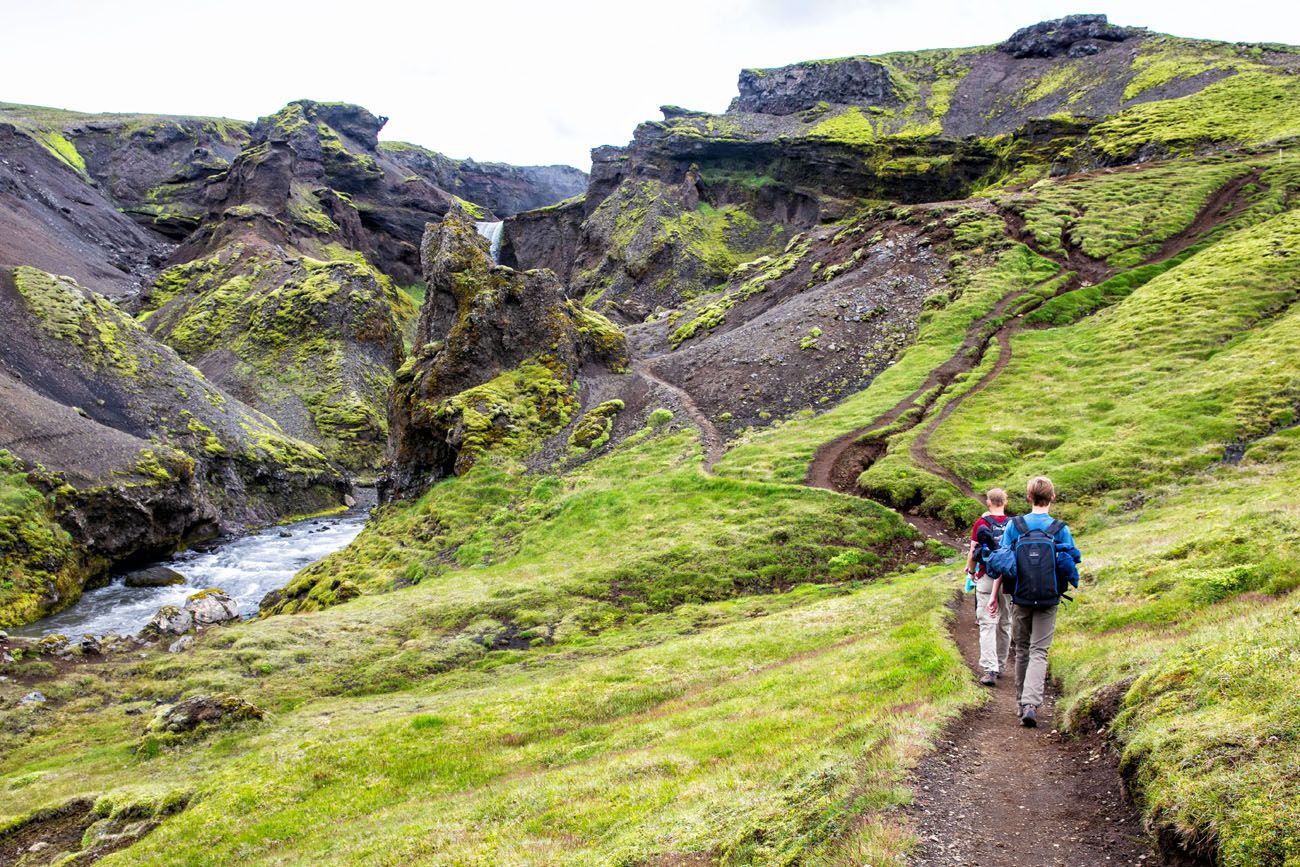 This is an out-and-back hike so you can go the entire distance (16 km, 10 miles) or simply turn around when you are ready.
#8 Dettifoss & Selfoss
Distance: 2.5 km (1.5 miles) on the east side of the river
Difficulty: Easy
Length of Time: 1 hour
Location: North Iceland; closest town is Mývatn
Dettifoss and Selfoss are two of the most popular waterfalls to visit in Iceland.
Dettifoss is one of the most powerful waterfalls in Europe. When you get close to Dettifoss, the ground literally shakes under your feet. Selfoss is a smaller, more elegant waterfall that is located upstream from Dettifoss.
You can visit Dettifoss and Selfoss from the east and west sides of the river. The west side is better equipped to handle a large volume of tourists, with a paved road, enormous parking lot, visitor center, and restrooms.
The east side viewpoints are only accessible on a dirt road. To get to the viewpoints of Dettifoss and Selfoss, you will have to do some hiking. But the views from the east side of the river are stunning, and with less visitors, this is a better experience, in our opinion.
To get to these viewpoints, it's an easy, mostly flat walk along the river. It's great for all ages and ability levels.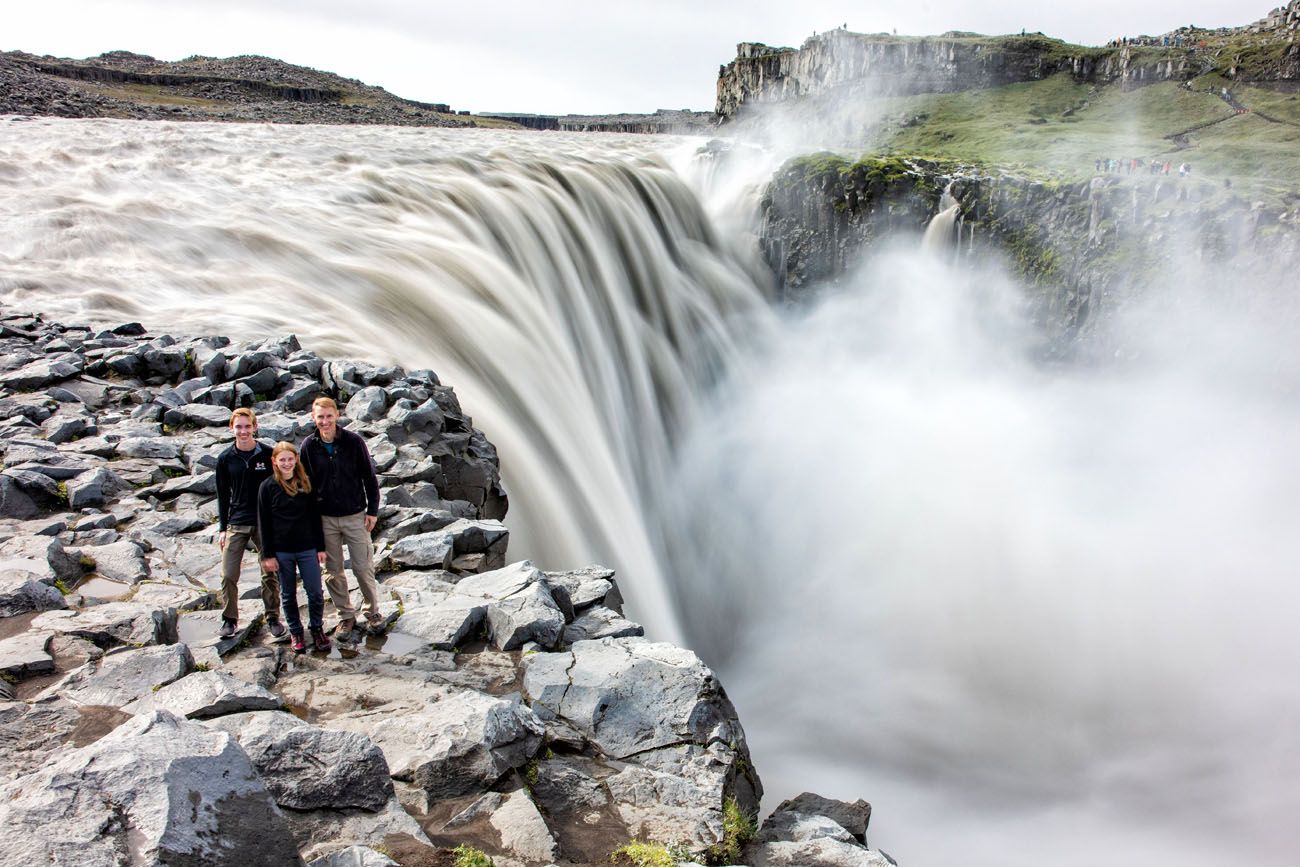 Dettifoss | Best hikes in Iceland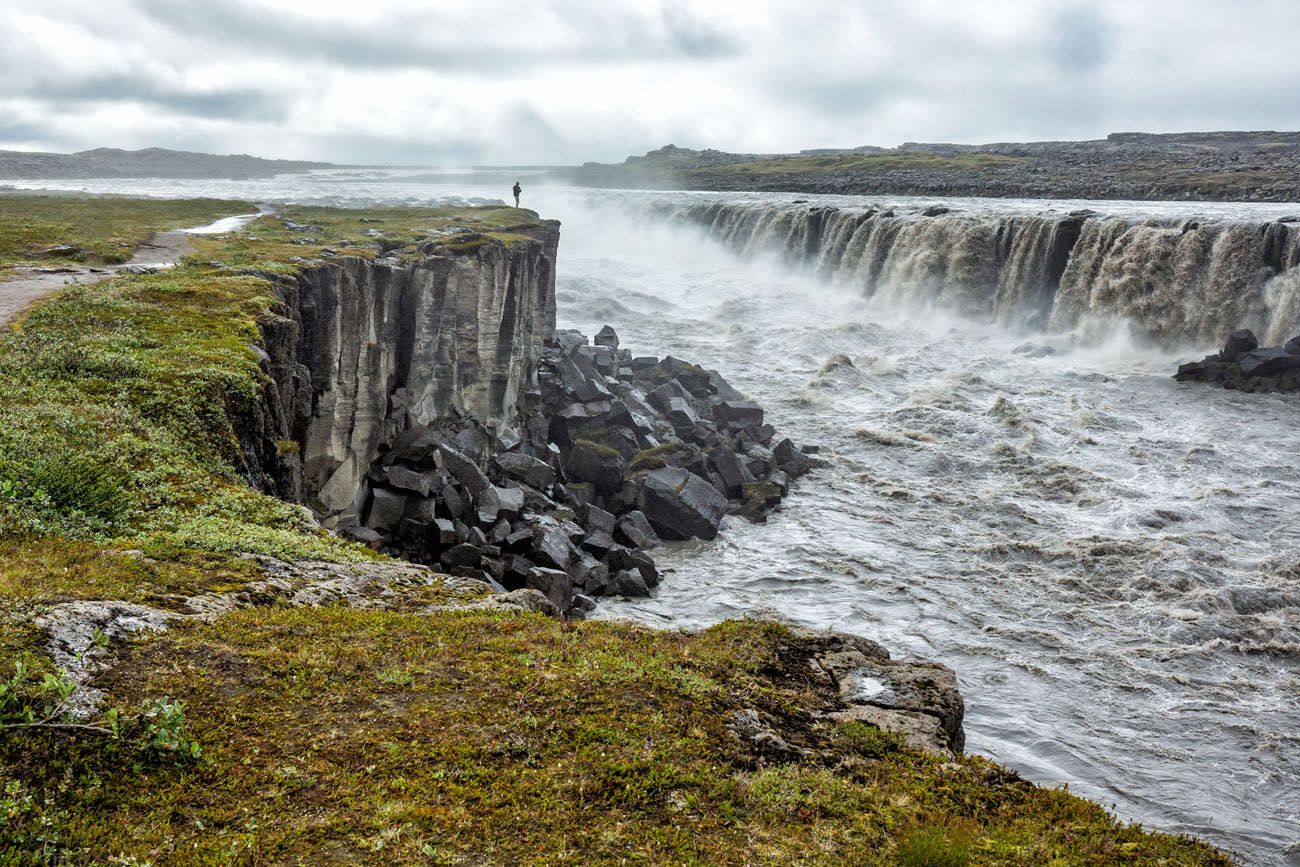 Selfoss | Best hikes in Iceland
#9 Kerlingarfjöll
Kerlingarfjöll is one of Iceland's most unique hiking and photography destinations.
This mountain range is located in the central highlands of Iceland. Tucked away in this mountain range is Hveradalir, a geothermal wonderland of boiling mud pots, steaming vents, and rainbow-colored hot springs.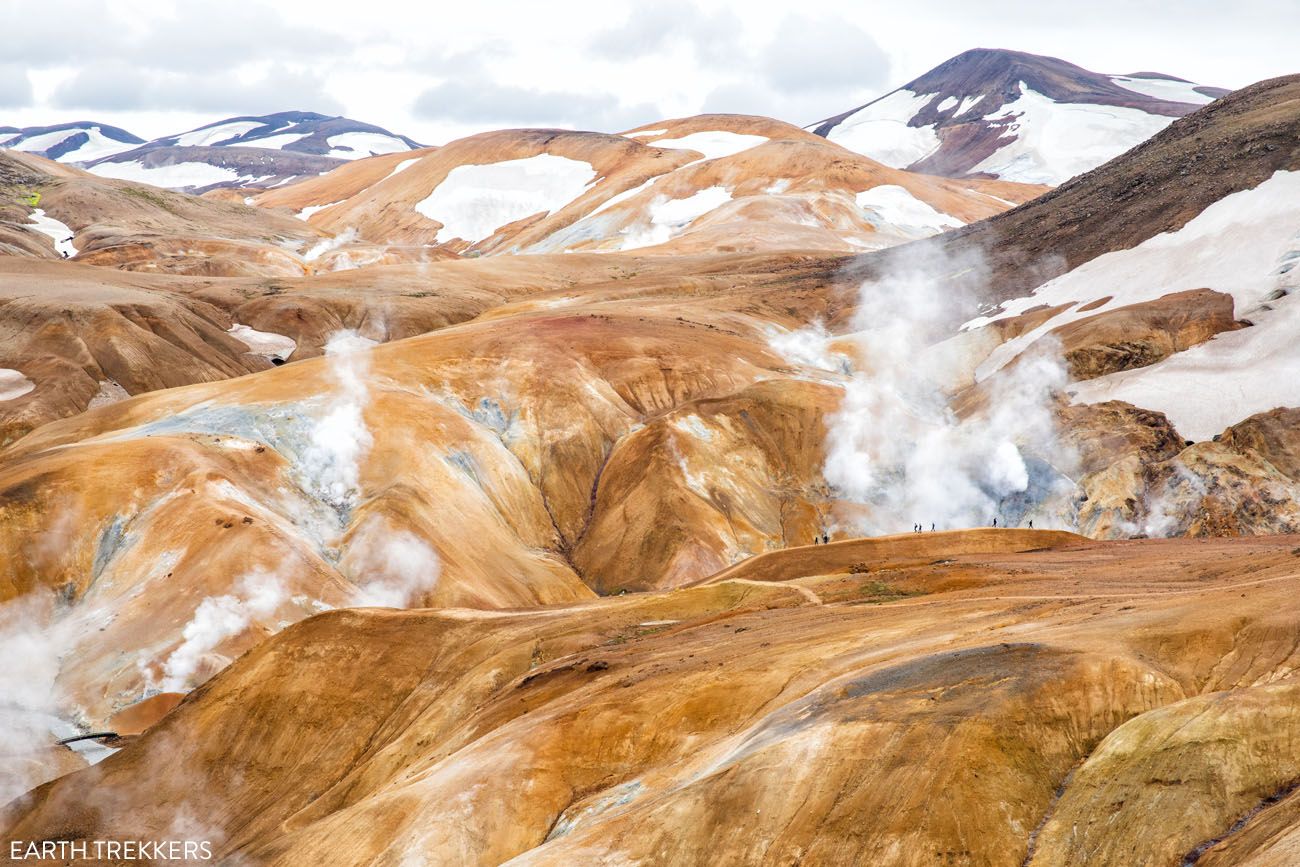 Kerlingarfjoll | Best hikes in Iceland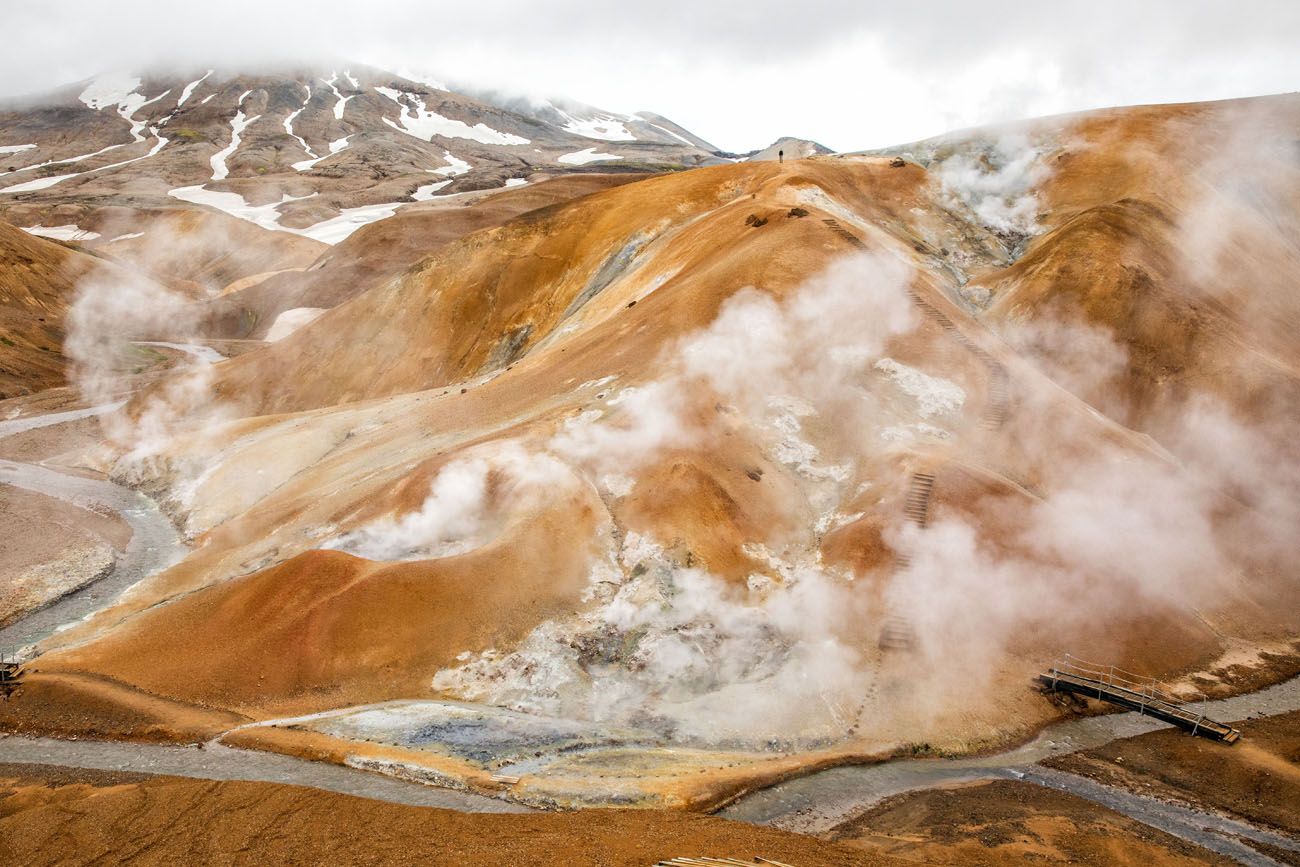 Like Landmannalaugar, you can only get here by 4×4, since the only roads that lead to Kerlingarfjöll are the rugged, gravelly F-roads.
There are two ways to hike the Hveradalir Geothermal Area. You can hike to this area from the Kerlingarfjöll Mountain Resort, a hike that is 11.5 km (7 miles) round trip and takes 4 to 5 hours. This hiking distance includes exploring Hveradalir. Or, you can drive to Hveradalir and park near the geothermal area. This shortens the hike and most people spend 2 to 3 hours exploring the area.
#10 Glacier Hike
While in Iceland, why not hike on a glacier?
Explore crevasses, walk on the crunchy, blue ice, learn how to ice climb, and even explore ice caves. Take your pick between short walks to longer, more strenuous hikes.
Glacier hiking in Iceland | Best hikes in Iceland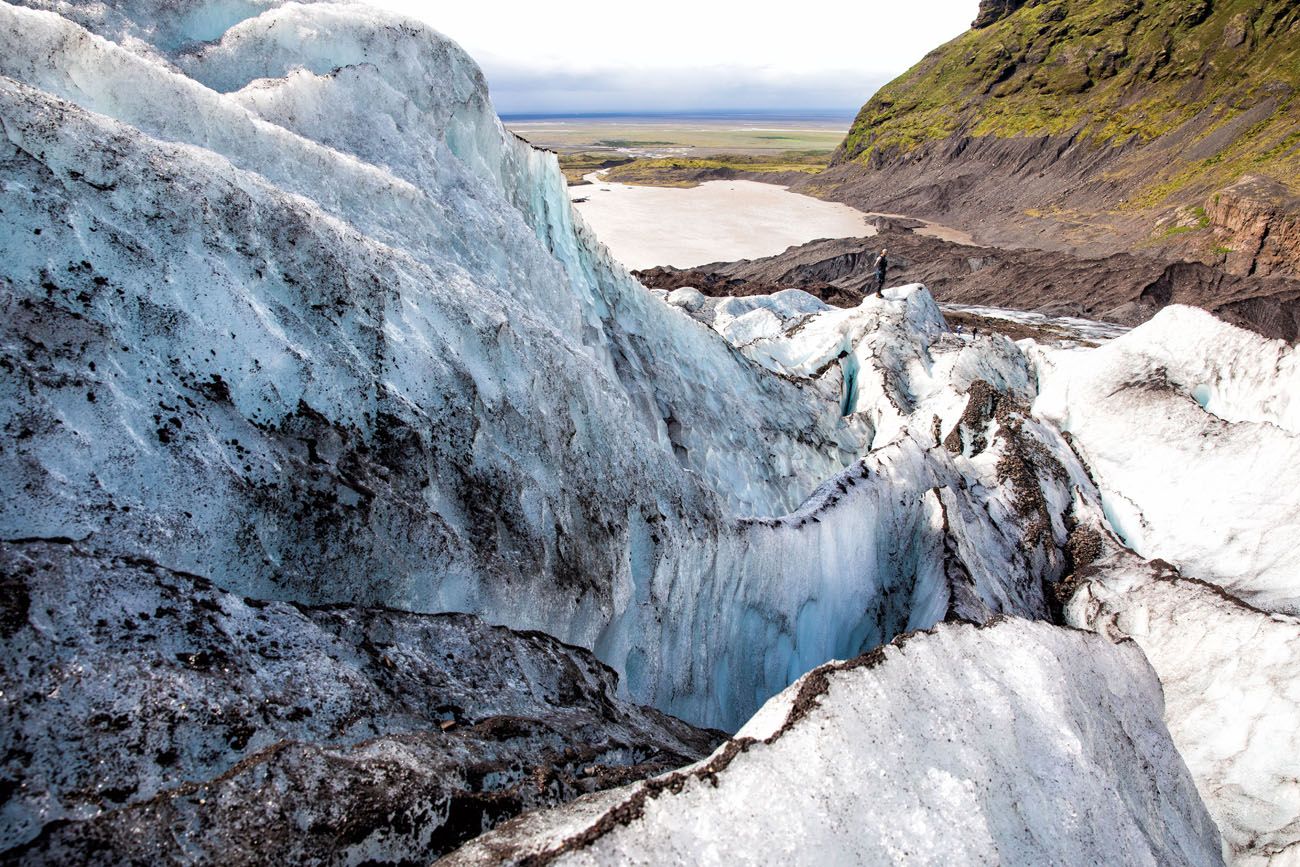 A glacier hike needs to be done with an experienced guide and there are numerous glaciers and experiences to choose from.
This was one of our favorite experiences in Iceland and we highly recommend it. Plus, a glacier hike can easily be added to your trip to Iceland, even if you only plan to visit for a few days.
Best Day Hikes in Iceland on a Map
How to Use This Map: Click the icons on the map to get more information about each point of interest. Click the star next to the title of the map to add this map to your Google Maps account. To view it on your phone or computer, open Google Maps, click the menu button, go to "Your Places," click Maps, and you will see this map on your list.
When to Go Hiking in Iceland
The best time to go hiking in Iceland is from mid-June through mid-September, when the trails and the F-roads are open. Many of the trails on this list can only be hiked in this narrow window of time.
It is possible to do several of these hikes outside of the summer months (such as Mount Esja) but you will have to keep a close eye on the weather. Snow and ice on the trail can make these hikes dangerous.
If you are visiting Iceland and plan to go hiking, mid-June through mid-September is the best time to visit.
Our Recommendations
If you are looking for an epic day hike, put the Fimmvörðuháls Trail at the top of your list.
To see some of Iceland's most unique landscapes, go hiking in Landmannalaugar and/or Kerlingarfjöll.
If you are looking for a beautiful day hike, we loved the Skógafoss Waterfall Trail.
If you only have a few days in Iceland and are looking for day trip ideas from Reykjavík, Mount Esja and Glymur Waterfall are just a short drive from the city.
For families, we recommend the short, easy trails on the Snaefellsnes Peninsula, part or all of the Skógafoss Waterfall Trail, or the short hikes to the viewpoints of Dettifoss and Selfoss.
---
What do you think are the best day hikes in Iceland? Share your experience or ask any questions you may have in the comment section below.
More Information for Your Trip to Iceland
ADVENTURES IN ICELAND: Iceland is full of wonderful adventures. Go off the beaten path and explore Kerlingarfjöll. Spend one day in Landmannalaugar, hike the epic Fimmvorduhals trail (one of our favorite day hikes in the world), and go glacier hiking. Learn how to put all of this together in our 10 Day Iceland Adventure Itinerary.
BEST OF ICELAND: For a list of top experiences in Iceland, don't miss our Iceland Bucket List.
ICELAND ITINERARIES: There are several ways to put together a trip to Iceland. If you have 10 days, here are four different ways to spend your time in Iceland. We also have a detailed 10 day itinerary that includes the highlights of Iceland, perfect if it is your first visit.
SNAEFELLSNES PENINSULA: Plan the perfect visit to the Snaefellsnes Peninsula with our Guide to the Snaefellsnes Peninsula, which covers the best things to do, where to stay and sample itineraries.
MORE GREAT HIKES IN EUROPE: From thrilling trails in the Alps to easy walks along the coast, read our article 20 Best Hikes in Europe for some beautiful hiking trails to put on your travel wish list.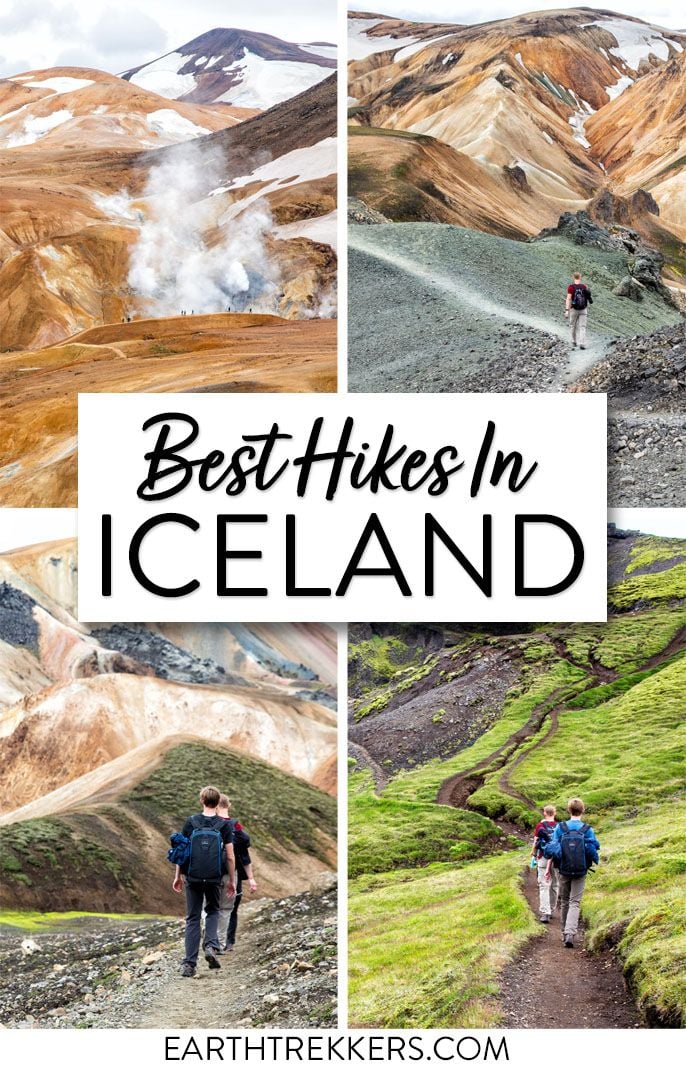 All rights reserved © Earth Trekkers. Republishing this article and/or any of its contents (text, photography, etc.), in whole or in part, is strictly prohibited.