Háifoss Waterfall is one of Iceland's most spectacular waterfalls. Located in the beautiful Þjórsárdalur valley, Háifoss makes a great detour on a road trip around the Golden Circle or during the drive out to Landmannalaugar. In this guide, we cover how to visit Háifoss, how to get here, and we let you know about several nearby destinations that are just as good (or even better) than Háifoss.
Facts About Háifoss
Háifoss is one of the tallest waterfalls in Iceland. In the early 20th century, it was believed to be the tallest waterfall in Iceland, earning it the name "high waterfall." Since that time, several taller waterfalls have been discovered in Iceland.
Currently, Háifoss is the fifth tallest waterfall in Iceland. Morsarfoss, at Vatnajökull Glacier, is the tallest in Iceland. Glymur sits in the #2 spot, and you can only get here by hiking (and what a great hike it is!!). Stigafoss and Hengifoss come in at 3 and 4, and finally, at a height of 122 meters, Háifoss takes the fifth spot.
Háifoss is formed by the river Fossá. As the river flows through the Þjórsárdalur Valley, it splits into two tributaries, forming Háifoss and the neighboring Granni waterfall.
How to Get to Háifoss
Háifoss Waterfall is located in the Þjórsárdalur Valley, a beautiful valley that sits to the east of the Golden Circle.
How to Use This Map: Click the tab in the top left hand corner of the map to view the layers (points of interest and the driving route). You can click the check marks to hide or show layers. If you click the icons on the map, you can get more information about each point of interest.

If you click the star next to the title of the map, this map will be added to your Google Maps account. To view it on your phone or computer, open Google Maps, click the menu button, go to "Your Places," click Maps, and you will see this map on your list.
It is best to add on Haifoss to your tour of the Golden Circle. It is possible to visit Haifoss on a day trip from Reykjavík, but it will be a long day with a lot of driving. From Reykjavík, it is 140 km one way and it will take roughly two hours to get here.
To get here from Flúðir, one of the main towns on the Golden Circle, it is a 64 km drive that takes just over one hour.
For most of the drive, you will be on route 32. This two-lane paved highway travels through the Þjórsárdalur Valley, past small towns and along the Þjórsá River. It is a beautiful, low-traffic drive.
From route 32, turn left onto 332. The road is labeled with the sign Laxargljúfur and directions on Google Maps simply list this road as "Haifoss." From route 32, it is a 7.2 km drive on an unpaved road to get to the car park.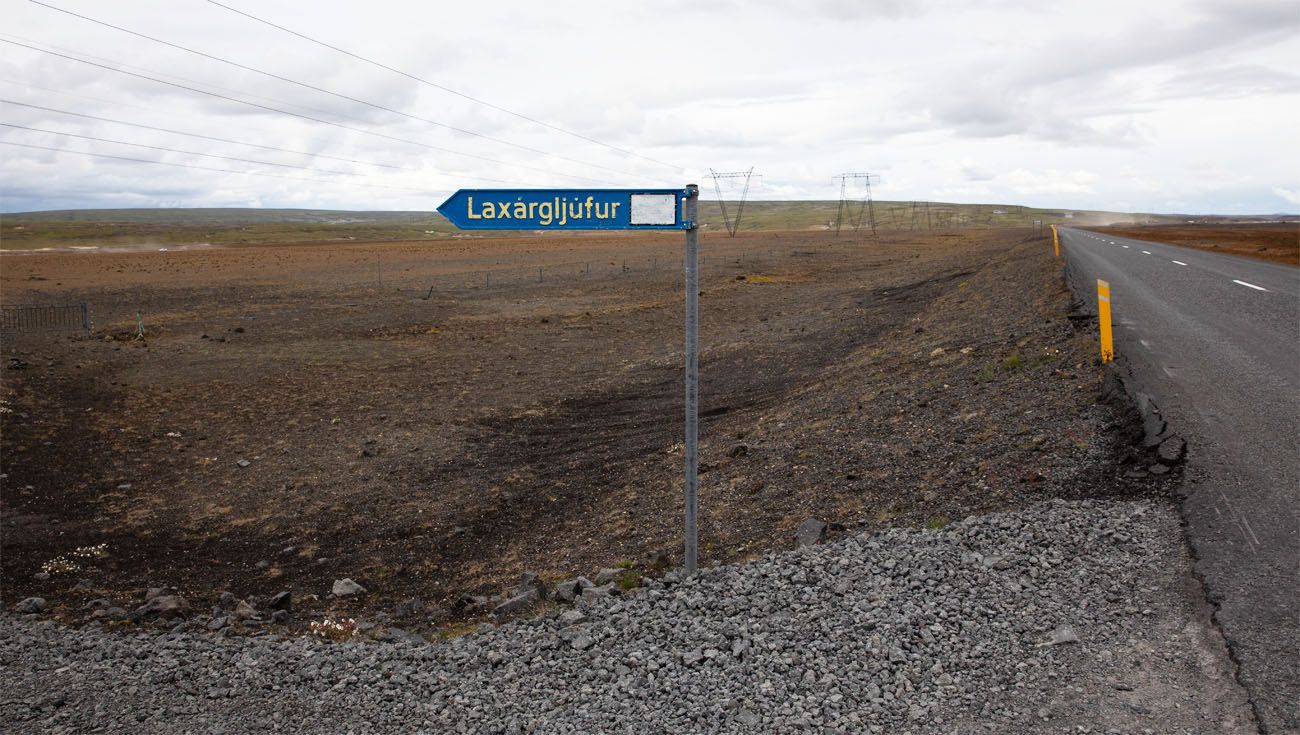 The turn off for 332, the road to Háifoss | How to visit Háifoss
Almost immediately after you turn onto route 332, the road will come to a 'T.' Turn right to continue to the Háifoss parking lot.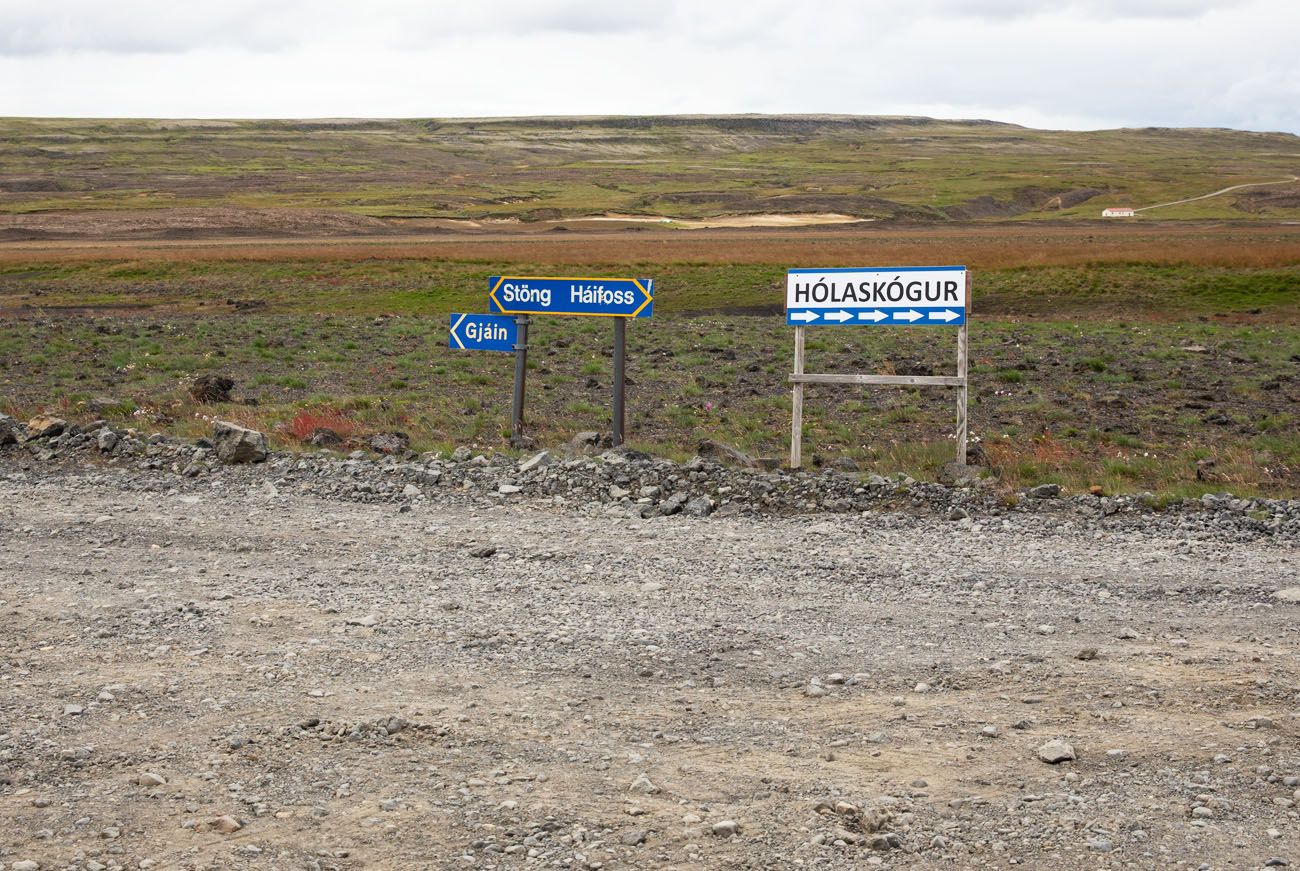 PRO TRAVEL TIP: Get updated road conditions before you go on www.road.is.
Do You Need a 4×4 to Get to Háifoss?
Technically, no. There are reports, and even other blog posts, where people write about how to get here in a car.
You should know that this is a rough, gravel road. In fact, the road is a lot rougher than it looks in photos. The gravel road to the Háifoss parking lot is much rougher than the F-roads we drove on to get to the interior of Iceland.
To drive this road, we highly recommend that you have a 4×4 that is permitted by your rental car company to be taken off-road.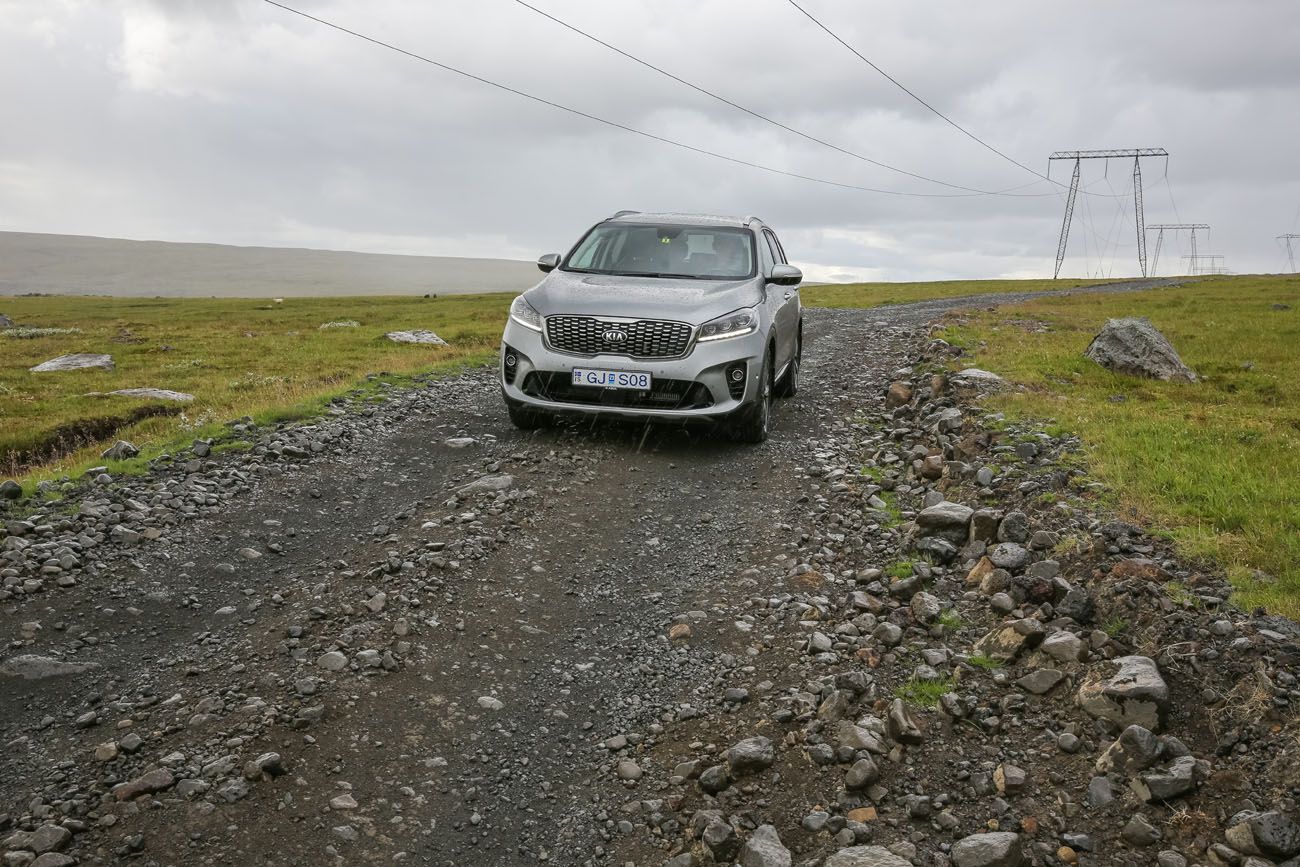 Our 4×4 on the road to Háifoss | How to visit Háifoss
We did see one small car on this road and it was really having a hard time. Most likely, you will violate the terms and conditions of your rental car agreement, should you drive a vehicle (like a car) on this road.
Having a 4×4 not only eliminates the stress of getting to Háifoss, but it also allows you to take several more spectacular detours where a 4×4 is absolutely necessary (keep reading!).
Views of Háifoss Waterfall
Now that you made it here, what can you expect?
From the parking lot, it is a very short walk to Háifoss waterfall. Walk past the information sign about Háifoss and continue along the wide, gravel trail. This trail leads to several stunning viewpoints of Háifoss and Granni waterfalls.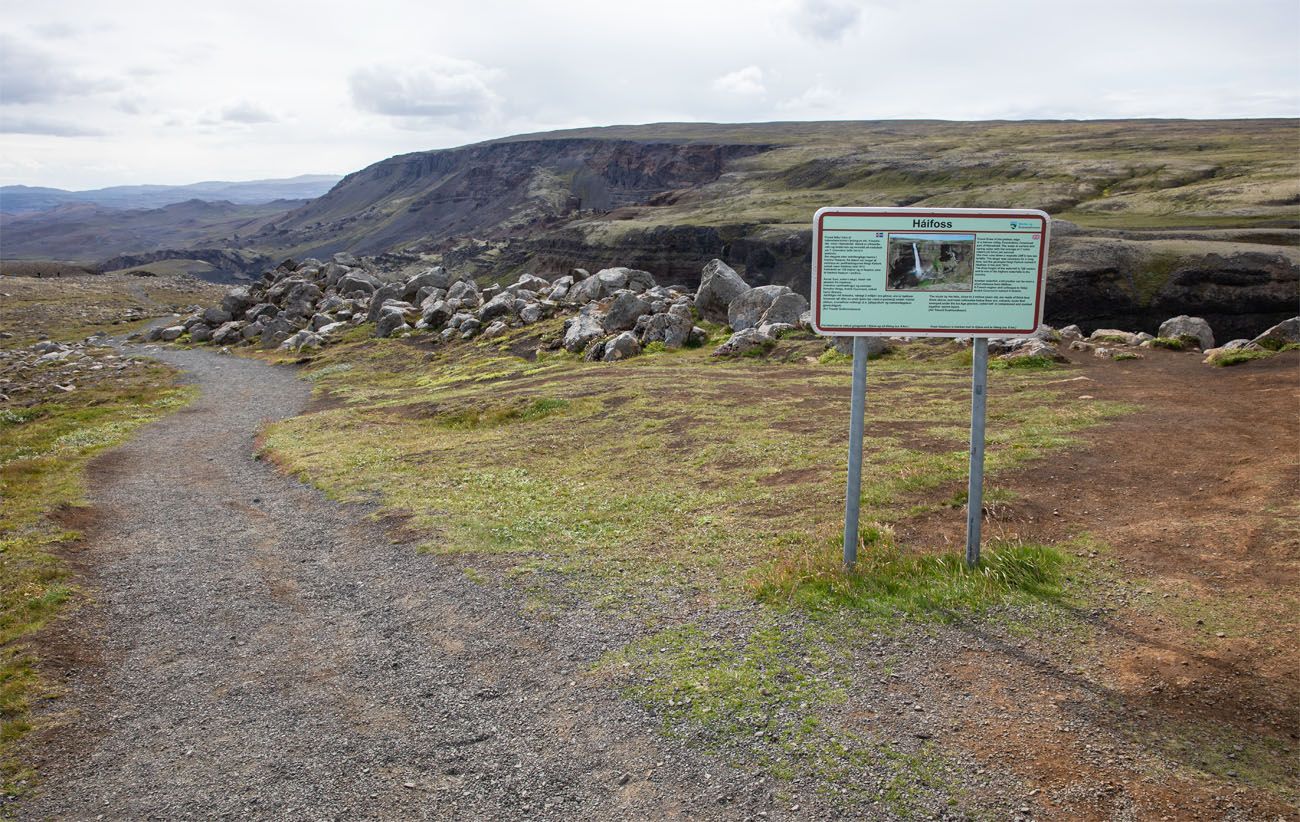 Trail to Háifoss | How to visit Háifoss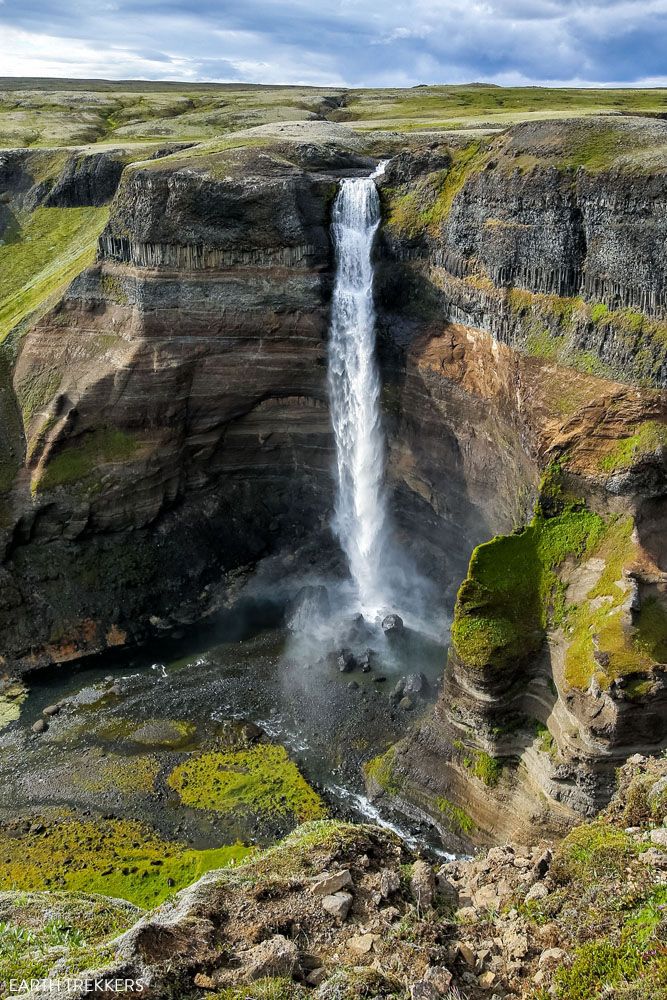 Haifoss | How to visit Háifoss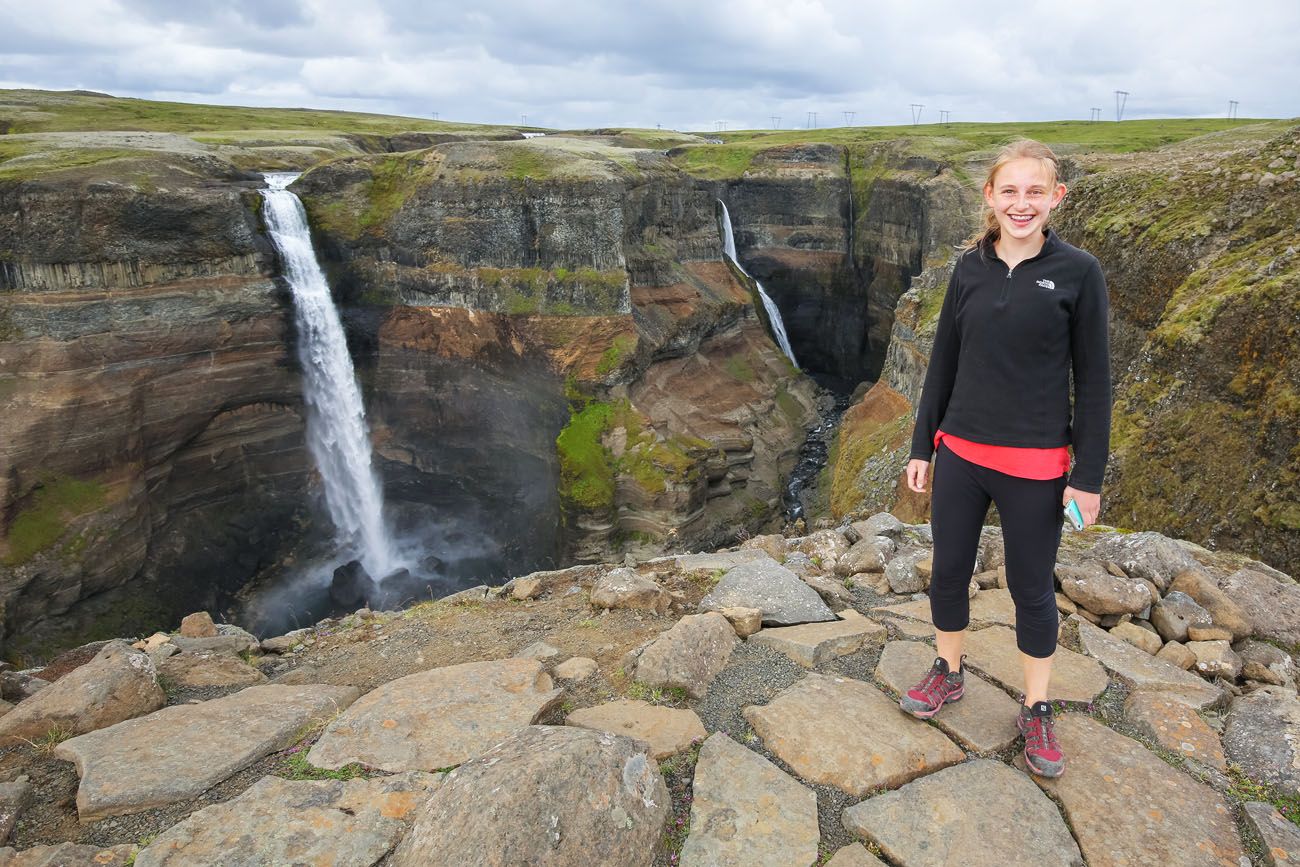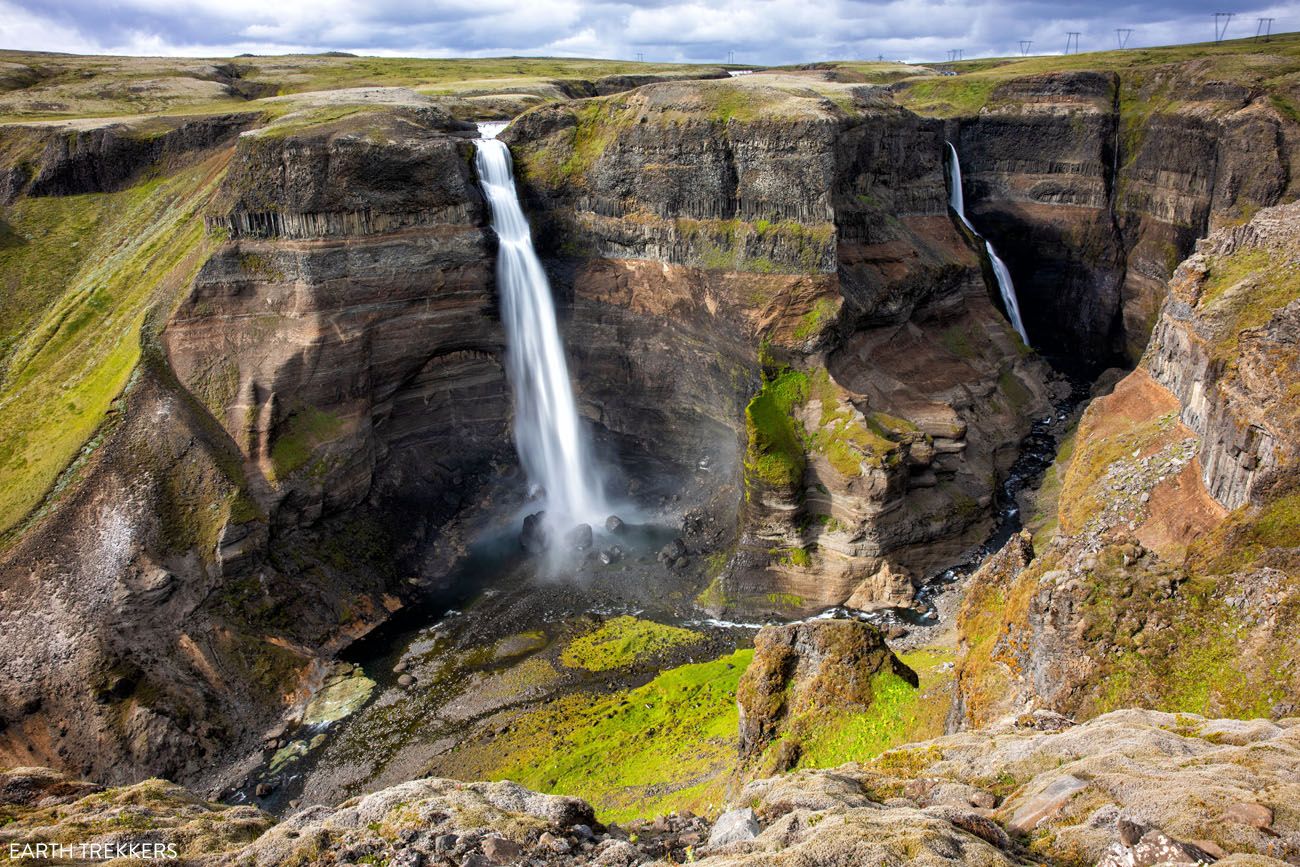 Háifoss and Granni Waterfalls | How to visit Háifoss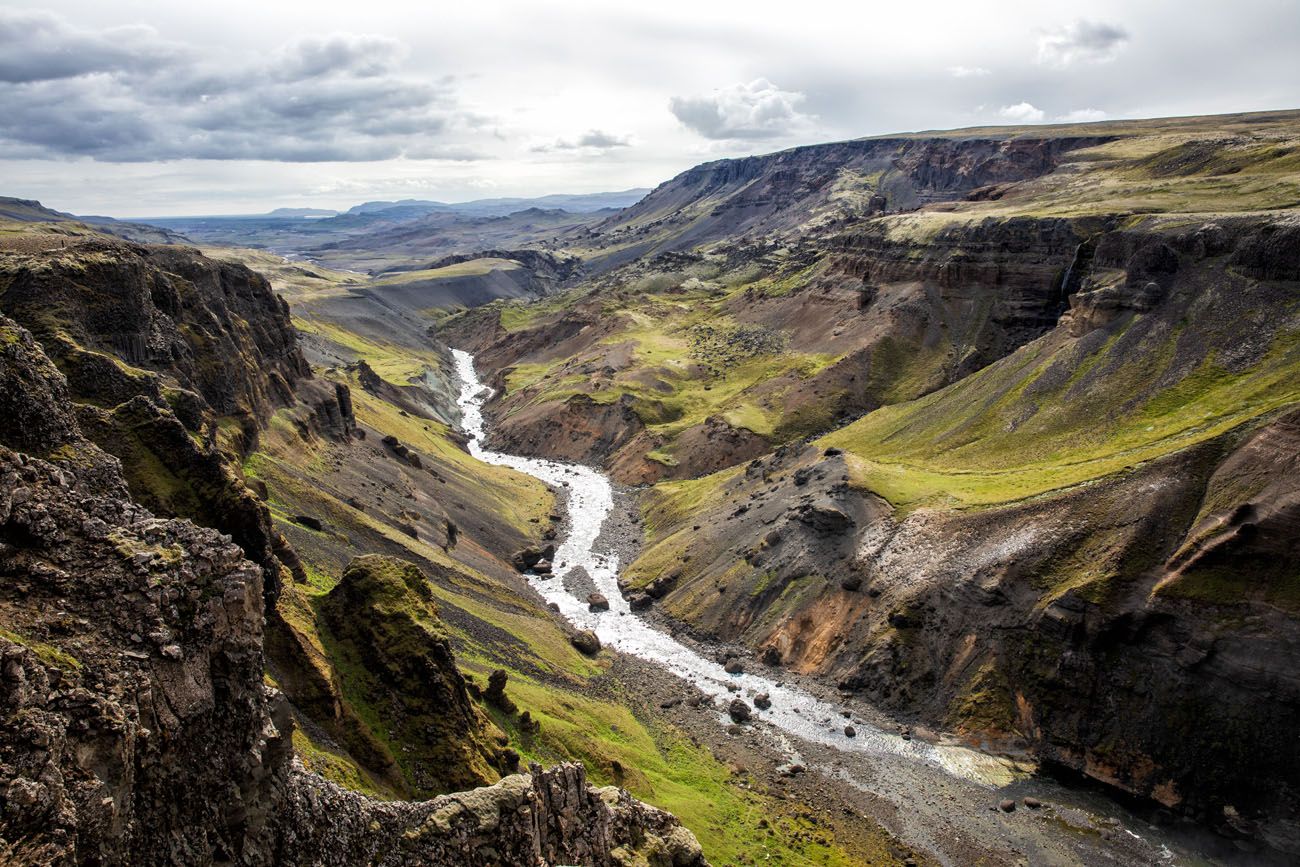 We spent approximately 30 minutes here. When we arrived, it was a beautiful, sunny afternoon. However, dark clouds rolled in and we ended up making a run for our car to escape a wicked downpour. Well, it is Iceland, right?
If you simply want to enjoy the view of Háifoss, 15 to 30 minutes is all that you need.
You have the option to hike down to the base of Háifoss waterfall. Continue down the gravel trail. The trail makes a turn back towards Háifoss once you reach the Fossá river. The hike to Háifoss waterfall adds about one hour to your visit.
Or, skip the hike and use this time to visit one (or more) nearby destinations (keep reading!).
Drone Video of Háifoss
During our visit, Tyler shot this drone video of Háifoss waterfall.
Is Háifoss Worth It?
Absolutely. This is one of the most beautiful waterfalls in Iceland. And since you can just pop out of your car and enjoy the view, it's easy to visit, as long as you have a 4×4.
Not many people venture out this way, so most likely, you'll share the view with just a few others.
But if you are still wondering if it is worth driving out this way just to see one waterfall, we have good news for you. There are several other amazing spots that you can add onto to this visit, and they are just a short drive away.
Places to Add on to Your Visit
Gjain Waterfall
This is a small waterfall that flows into a pool of water. You can get here on the same access road to Háifoss. At the split on route 332, turn left to go to Gjain.
Hjálparfoss Waterfall
This small, two-stepped waterfall is located off of route 32, just short drive from Háifoss. It is a quick visit and well worth the time since you will already be in the area.
Sigöldugljúfur
Sigöldugljúfur is one of Iceland's best off-the-beaten-path destinations. This beautiful canyon, with its wall of waterfalls, is often unknown to many visitors to Iceland. To get here, continue on route 32, away from the Golden Circle. You will drive F26 to get to Sigöldugljúfur, so you absolutely need to have a 4×4 for this visit. It takes 40 minutes to drive here from Háifoss and it is a short walk to get to the viewpoint.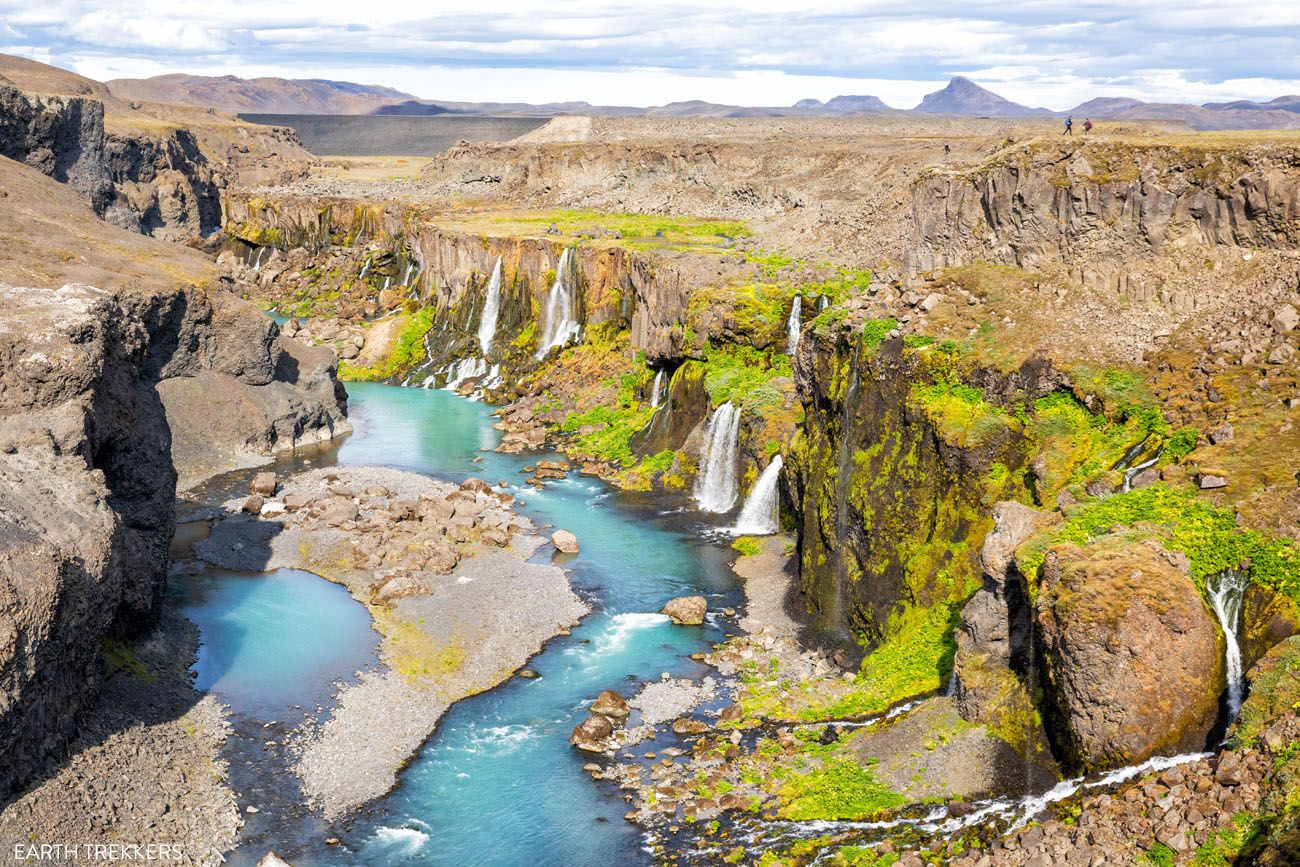 Landmannalaugar
Landmannalaugar is one of Iceland's best areas for day hikes. Geothermal hot springs, lava fields, and unique hiking trails attract adventurous travelers all summer long.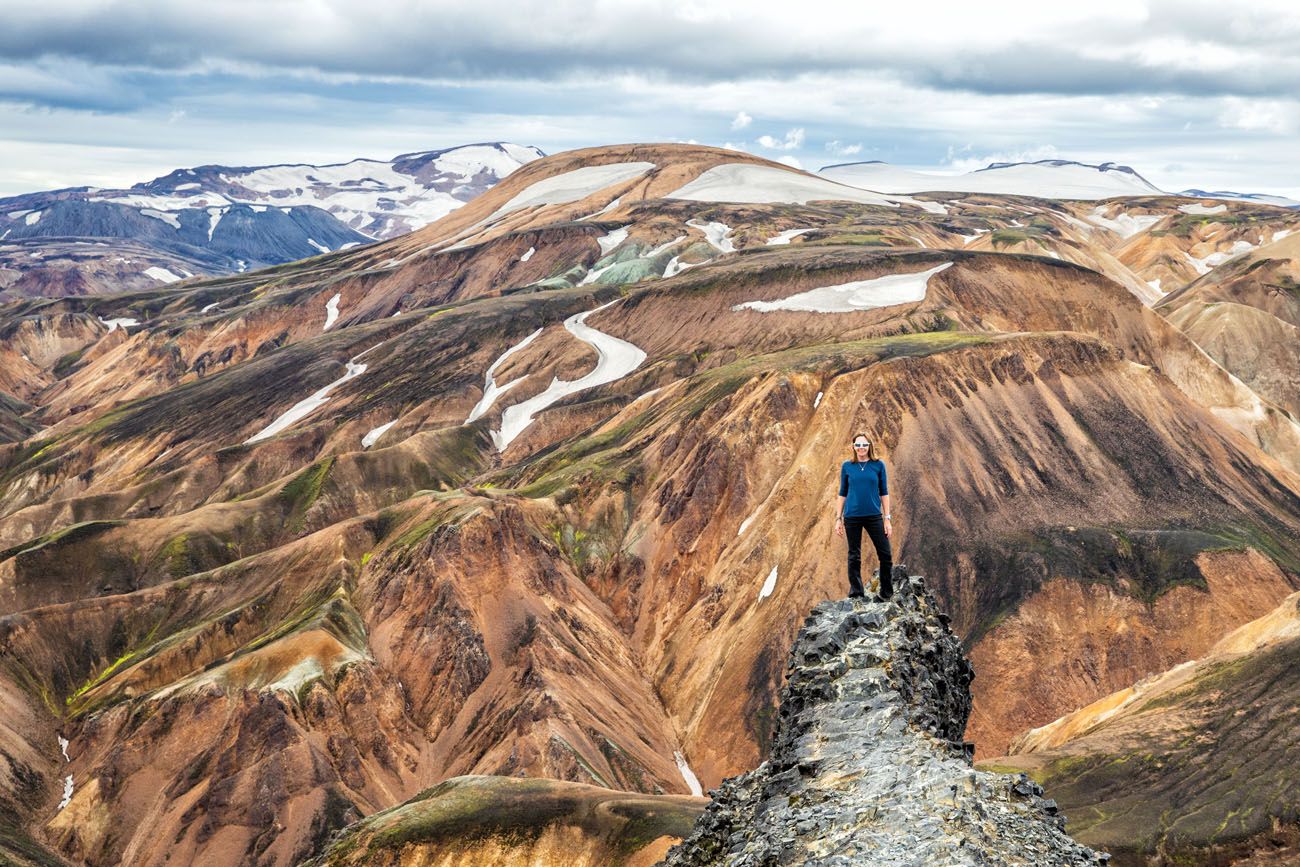 A visit to Landmannalaugar requires a full day of your time, since it is such a long drive to get here. But Háifoss and Sigöldugljúfur can easily be added on to the day, since you will drive right past both of these to get to Landmannalaugar.
Frequently Asked Questions about Háifoss
When is the best time to visit Háifoss?
The best time to visit Háifoss is from June through mid-September, when the roads are free of snow. However, this can vary year to year. F-roads and gravel roads in the Highlands are not cleared of snow, making this destination inaccessible during most of the year, unless you take a Super Jeep tour.
What makes Háifoss special?
Háifoss is one of the tallest waterfalls in Iceland. The name "Háifoss" means "high waterfall."
Do I need a 4×4 to get to Háifoss?
Technically, no. There are plenty of reports that people got to Háifoss in something other than a 4×4, but that doesn't mean it's a good idea. The road to Háifoss is very rough and rocky. Not only will you be violating your rental car agreement if you do not have a 4×4, but you risk a flat tire or getting stranded along the road. We highly recommend renting a 4×4 if you want to visit Háifoss and having a 4×4 gives you the opportunity to visit many more off the beaten path destinations, such as Landmannalaugar, Kerlingarfjöll, and nearby Sigöldugljúfur.
How long does it take to visit Háifoss?
Plan on spending 15 to 30 minutes to visit Háifoss. If you plan to hike down into the valley, add another hour.
---
If you have any questions about how to visit Háifoss, or if you want to share your experience, let us know in the comment section below.
More Information for Your Trip to Iceland
ICELAND ITINERARIES: There are several ways to put together a trip to Iceland. If you have 10 days, here are four different ways to spend your time in Iceland. This two week Iceland itinerary includes the entire Ring Road and main highlights of Iceland.
PLACES TO GO IN ICELAND: The Snaefellsnes Peninsula contains some of the most beautiful sights in Iceland. Kerlingarfjöll is located in central Iceland and a great destination to consider if you are looking for adventure, solitude, and unique landscapes. Landmannalaugar is similar, but it's easier to get to and makes a great day trip from Reykjavík and the south coast of Iceland.
SOUTH COAST OF ICELAND: The south coast is filled with some of the top sights in Iceland. Go glacier hiking, visit Skogafoss and walk the amazing Waterfall Way trail, and visit Bruarfoss. For the full list, check out our Guide to the South Coast of Iceland.
BEST OF ICELAND: For a list of top experiences in Iceland, don't miss our Iceland Bucket List. If you are a hiker, we also have a hiking guide with 10 epic day hikes to do in Iceland.
RING ROAD ITINERARY: With 7 to 10 days, you can drive the entire Ring Road and experience the highlights of Iceland. Learn how to do it in our Ring Road Itinerary.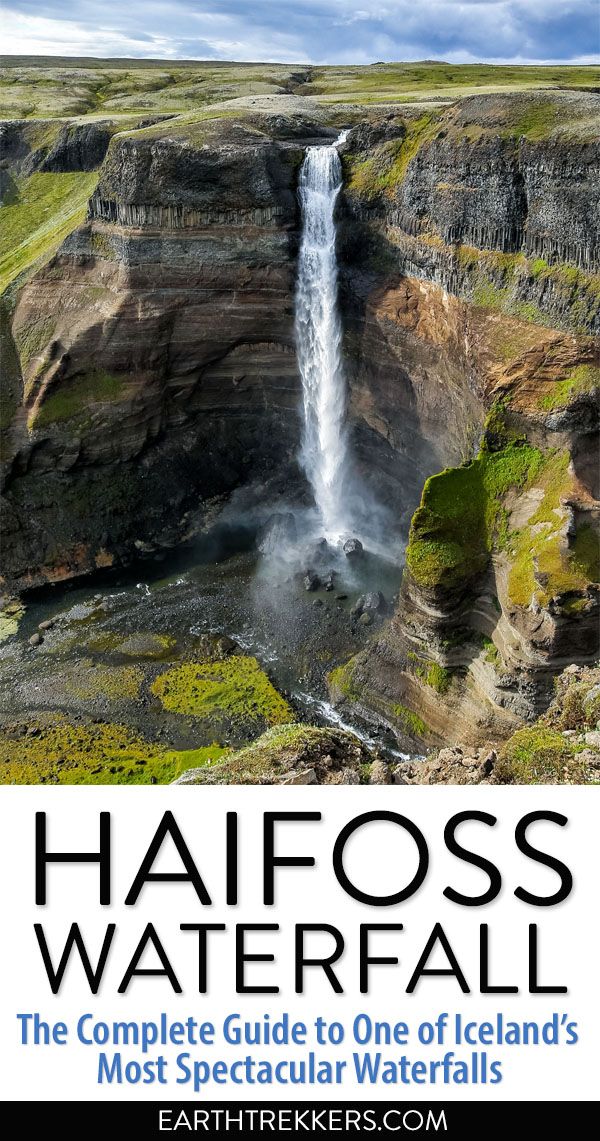 All rights reserved © Earth Trekkers. Republishing this article and/or any of its contents (text, photography, etc.), in whole or in part, is strictly prohibited.