The south coast is home to some of Iceland's most beautiful places to visit. Gorgeous waterfalls, black sand beaches, and glacier lagoons all make the list, as well as one of the most epic hiking trails in the world. Here are the best things to on the south coast of Iceland.
Everything on this list is located on the south coast of Iceland along the Ring Road. This list starts near Hvolsvöllur and ends in Höfn.
At the end of this post, I'll give you tips on how to plan your time with several itineraries to make planning your trip to Iceland easier.
Best Things to do on the South Coast of Iceland
1. Seljalandsfoss & Gljúfrabúi
Seljalandsfoss is one of the most unique waterfalls in Iceland, since it is one of the few that you can walk behind.
On a sunny day, you can capture a rainbow in the water spray. This also makes a breathtaking sunset destination in Iceland.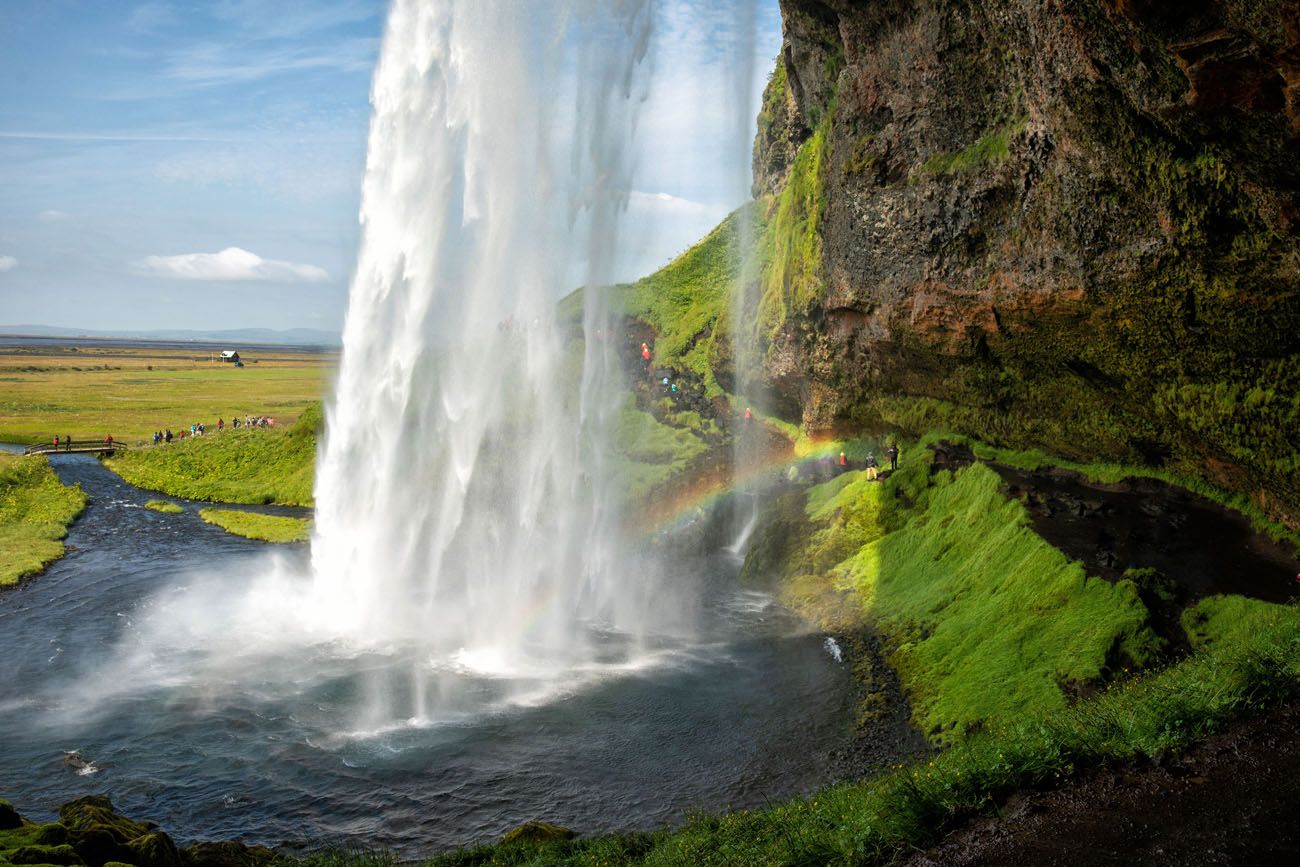 Gljúfrabúi, the hidden waterfall, is a small waterfall that is tucked away in a canyon. To see this waterfall up close, you will have to walk along stepping stones in a stream, but it's a fun experience, just as long as you don't mind the risk of getting your feet wet.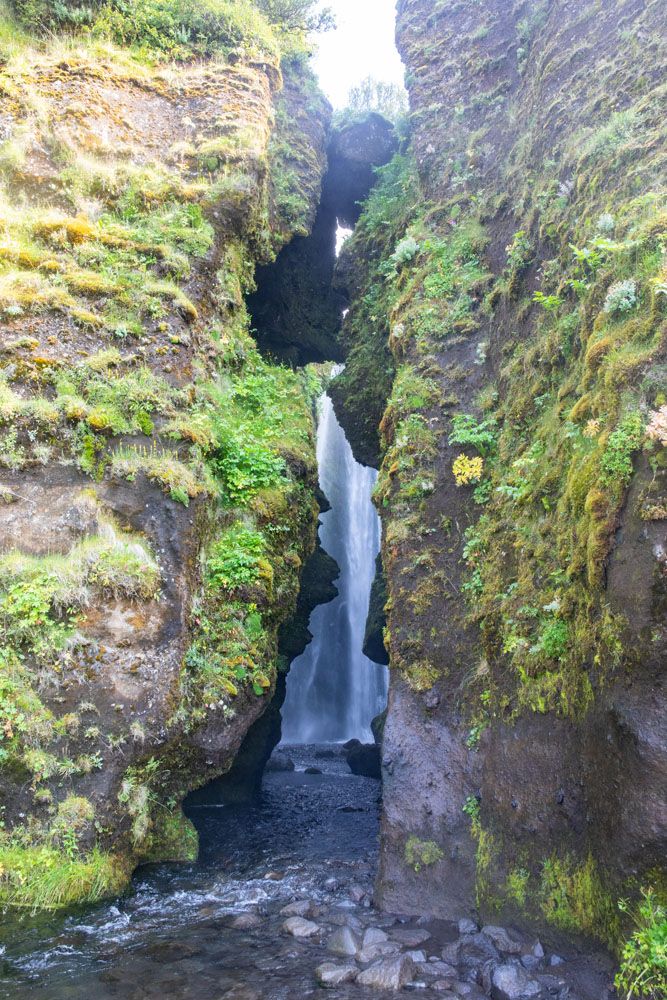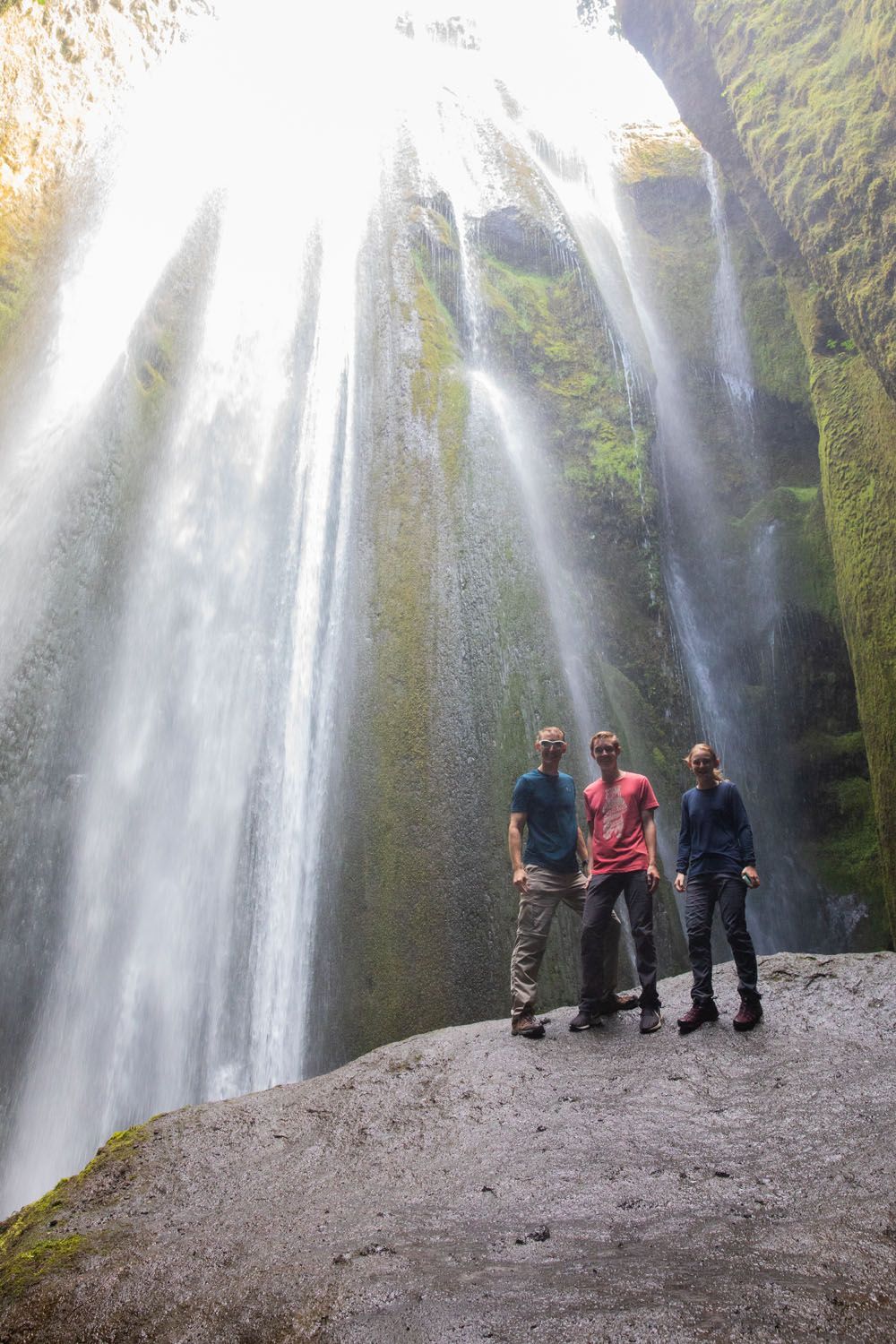 How to Visit Seljalandsfoss & Gljúfrabúi: Seljalandsfoss and Gljúfrabúi are free to visit but you will have to pay for parking (700 ISK). Park in the large parking lot and pay your fee at the ticket booth. It's very short walk to Seljalandsfoss, and then it takes about 5 minutes to walk to Gljúfrabúi. To visit Seljalandsfoss and Gljúfrabúi together, it takes 30 to 60 minutes.
2. Eyjafjallajökull
Eyjafjallajökull is a glacier-capped volcano on the south coast of Iceland. It frequently erupts, with the most recent eruption occurring on April 14, 2010. It spewed huge amounts of ash into the sky, which disrupted flights over northwest Europe for six days. The melting of the glacier cap caused lots of flooding and 800 people had to be evacuated.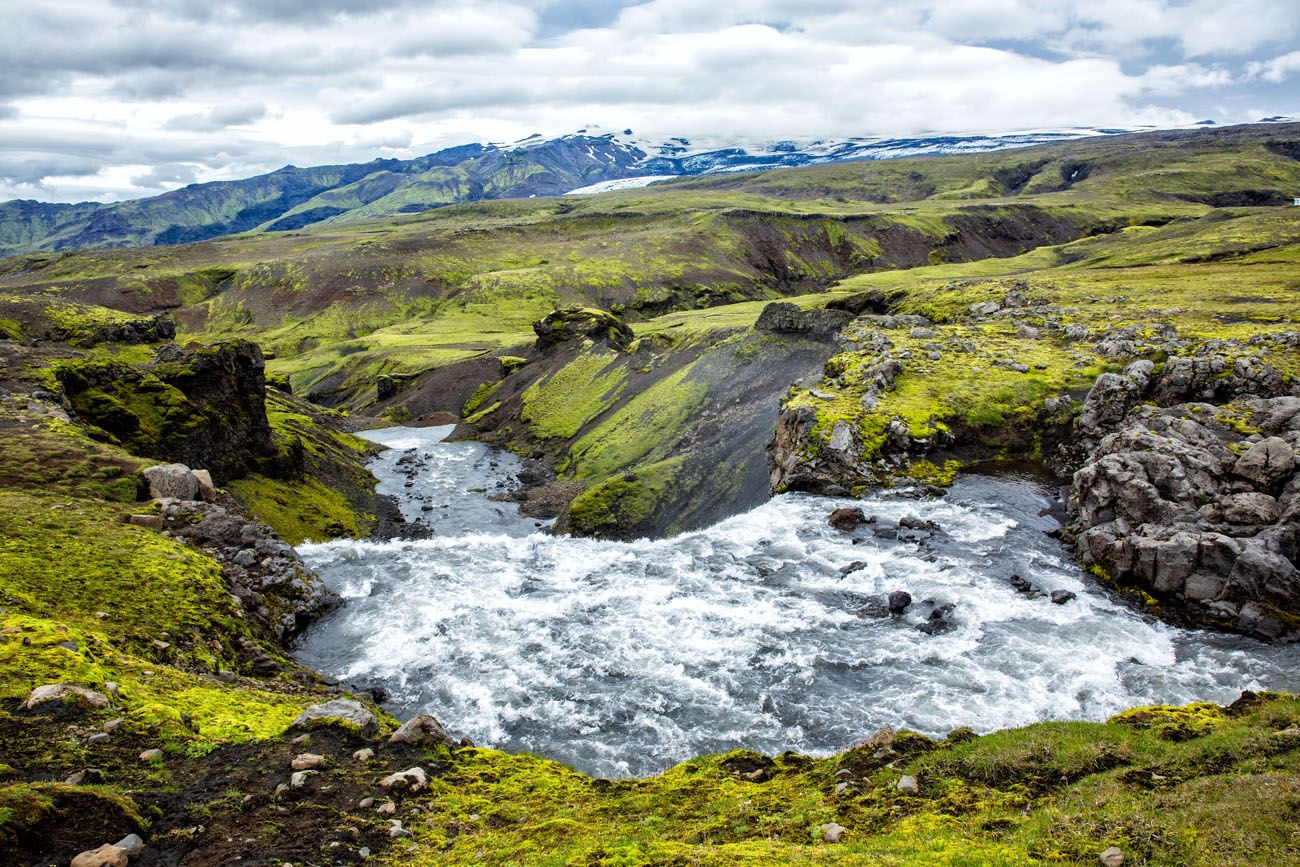 Eyjafjallajökull from the Fimmvörðuháls trail
You can see Eyjafjallajökull from the Ring Road as you drive along the south coast. For an up-close look, hike the amazing Fimmvörðuháls trail (keep reading!).
3. Skogafoss
Skógafoss is one of Iceland's most famous waterfalls. This waterfall is massive and to truly appreciate its size, you can stand right in front of it. Get here early (before 8 am) if you want a chance to take photos alone with the waterfall.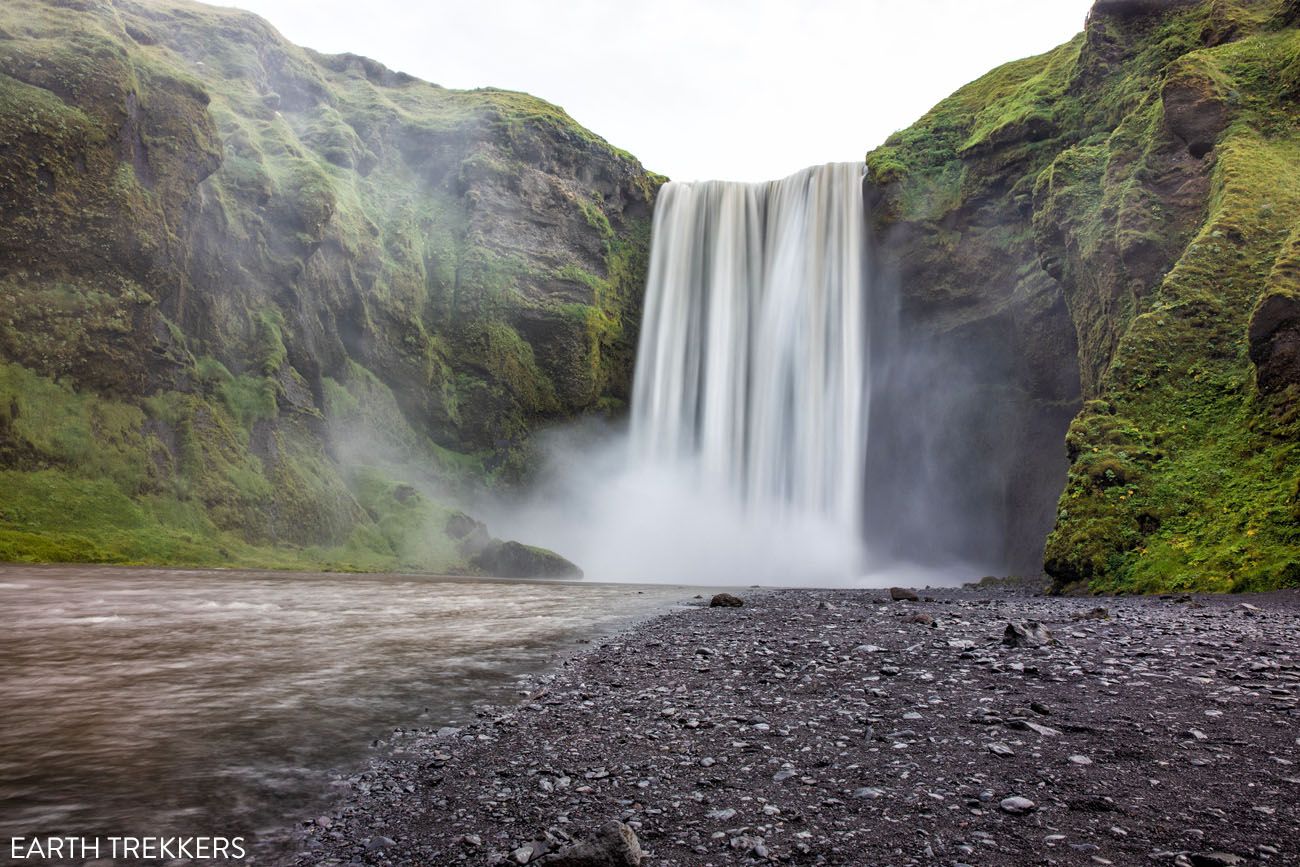 How to Visit Skógafoss: Park in the large parking lot (free!) and it's just a short walk to the base of the waterfall. Climb the long staircase if you want a view from the top of Skógafoss.
4. Skogafoss Waterfall Way
The Skógafoss Waterfall hike (also called the Skógá Trail or Waterfall Way) is one of Iceland's most underrated experiences.
This trail starts at Skógafoss and follows the Skógá River upstream for 8 km (5 miles). As you hike through this lush, green landscape, you get to see 25 more waterfalls, dramatic canyons, and glacier-capped volcanoes just off in the distance. It is a beautiful, breathtaking walk and it just might be one of your highlights on a visit to Iceland.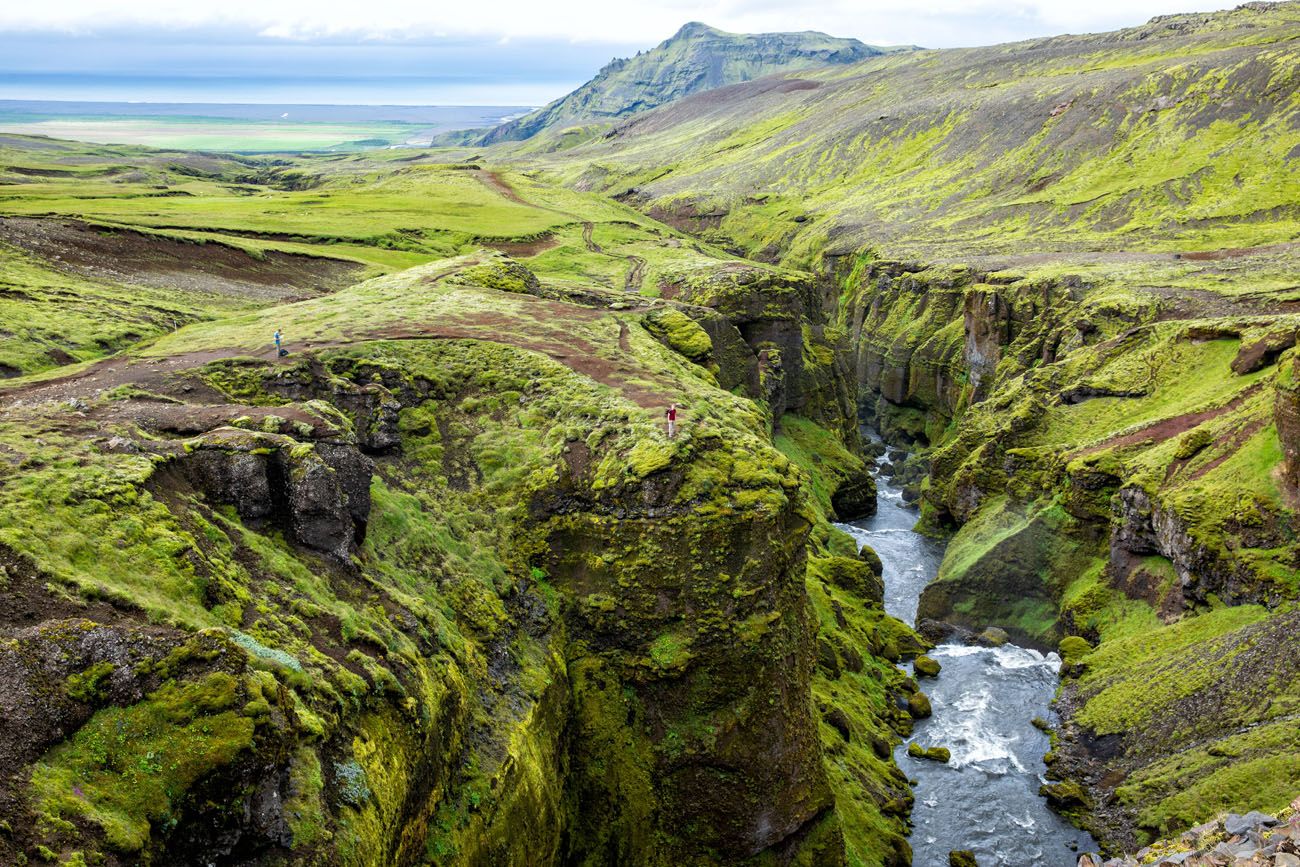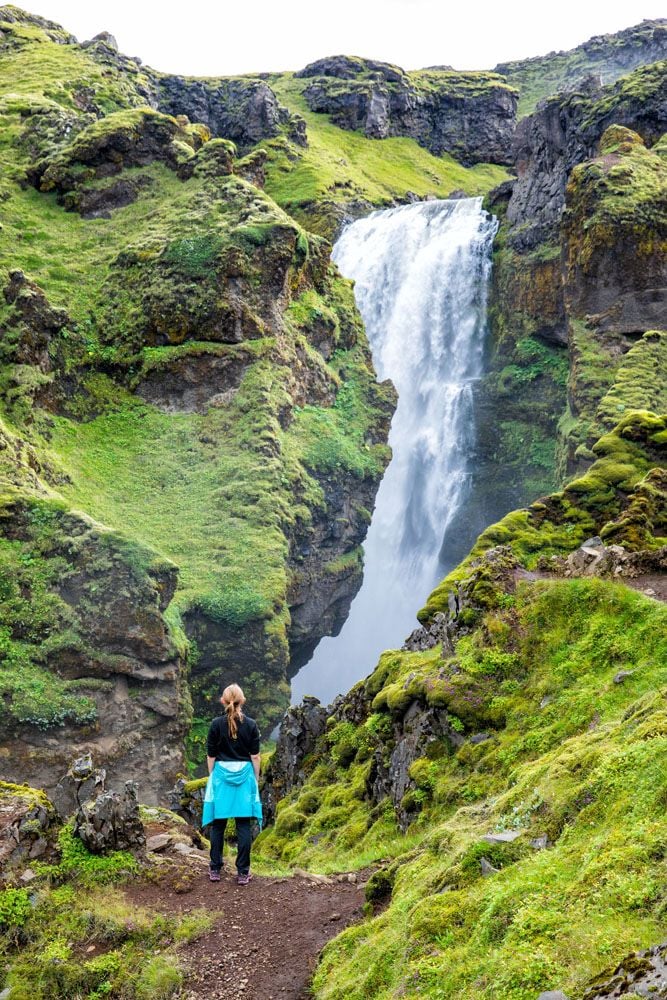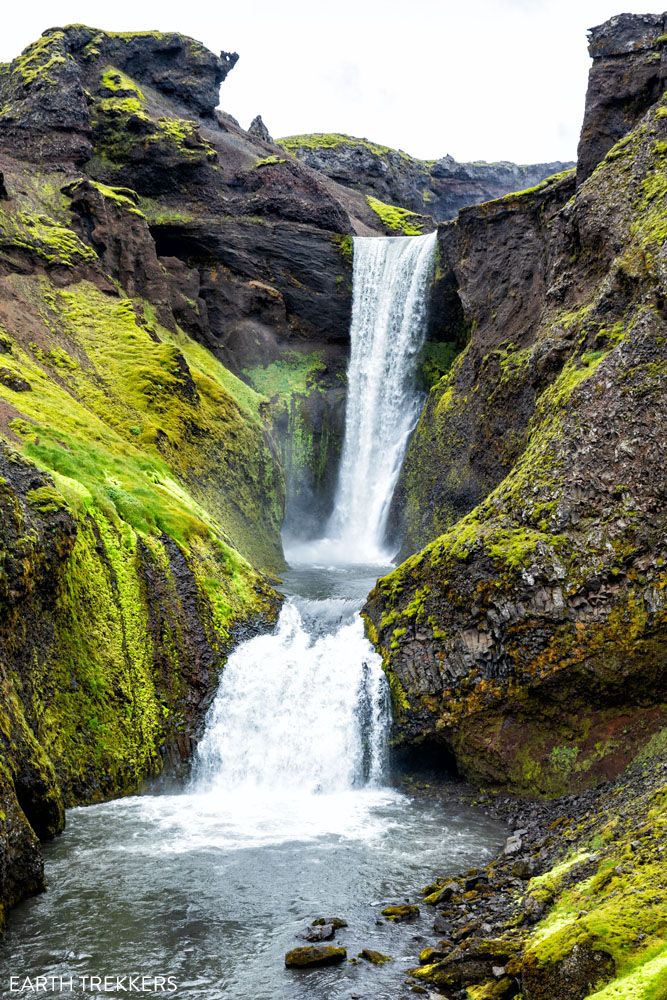 This hike is 16 km (10 miles) out-and-back and takes 4 to 6 hours of your time. However, you can simply turn around when you are ready. Just walking 30 minutes upstream takes you away from the crowds that gather around Skogafoss.
5. Fimmvörðuháls
If you like the idea of adding an epic day hike to your Iceland to-do list, look no farther.
26 waterfalls, 1 volcano, 2 glaciers, and 3 very unique landscapes…this is the amazing Fimmvörðuháls hike in Iceland.
You'll start at the mighty Skógafoss waterfall. The land is lush and green as you hike past 25 more waterfalls along the Skógá River (along Waterfall Way, mentioned above). As you approach the ice caps, the green grass fades away, leaving behind a rocky, barren landscape. From here, you hike between Eyjafjallajökull and Mýrdalsjökull, on fresh, black, volcanic soil, which is one of the youngest landscapes on the planet. Once you begin the descent into Thórsmörk, the contrast is startling. Lime green moss covers the black soil and rocks, and eventually you will hike through a forest before arriving in Básar.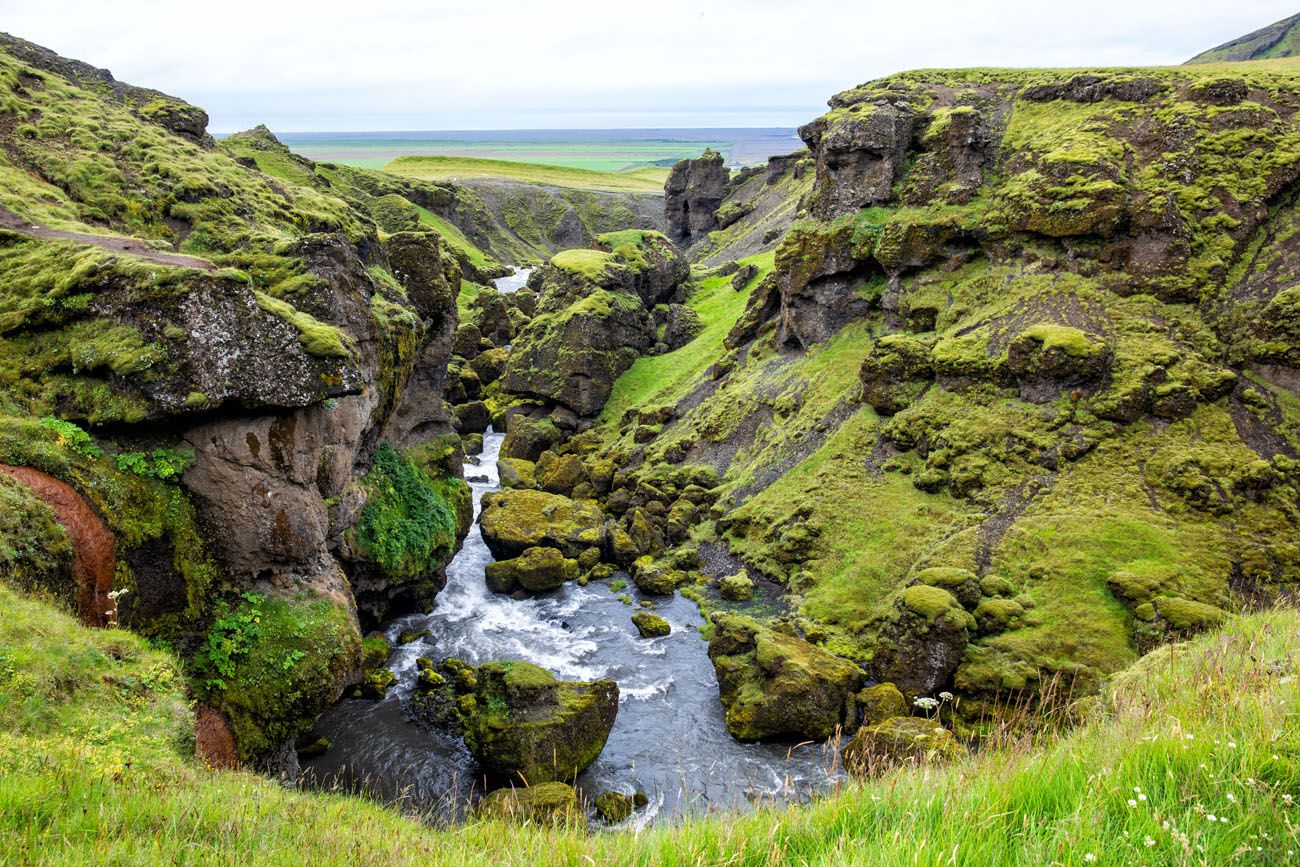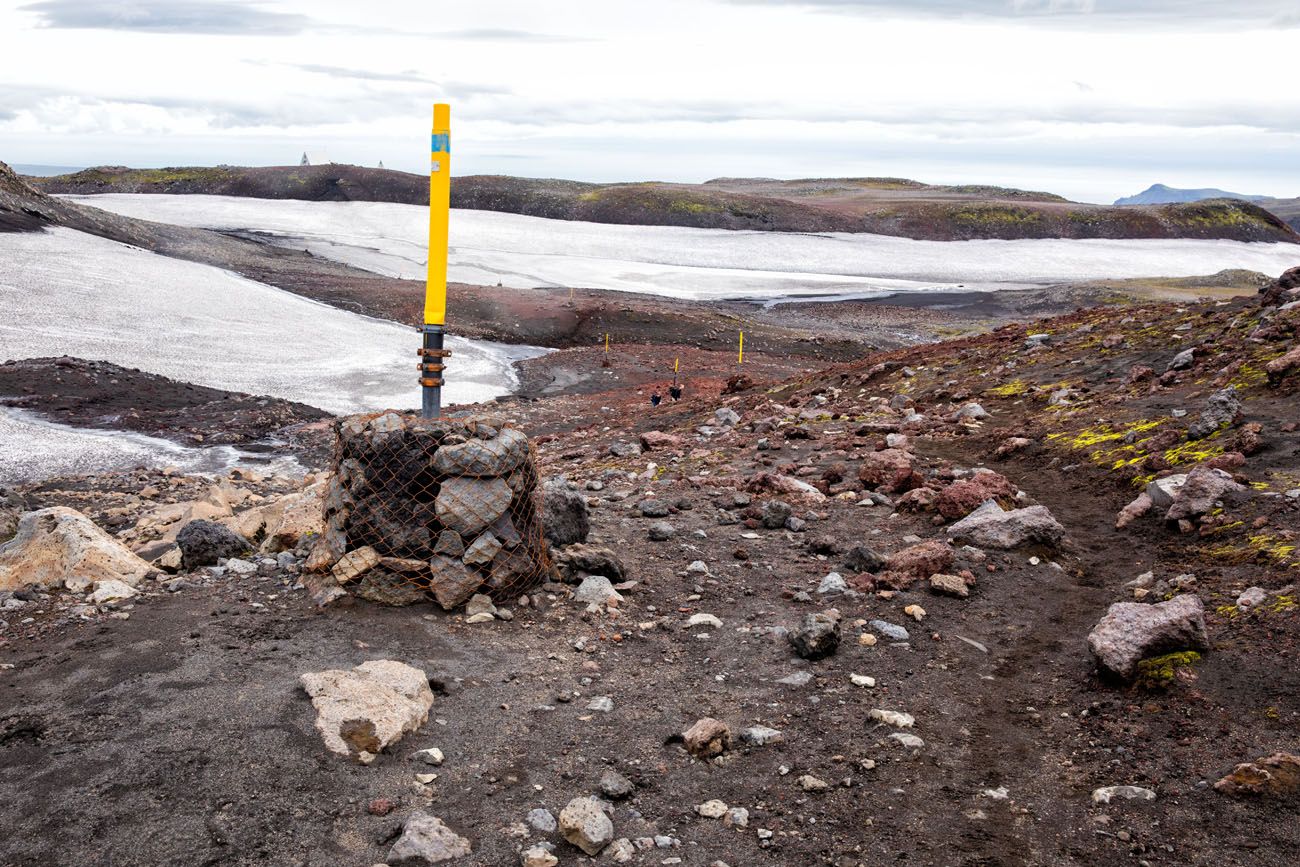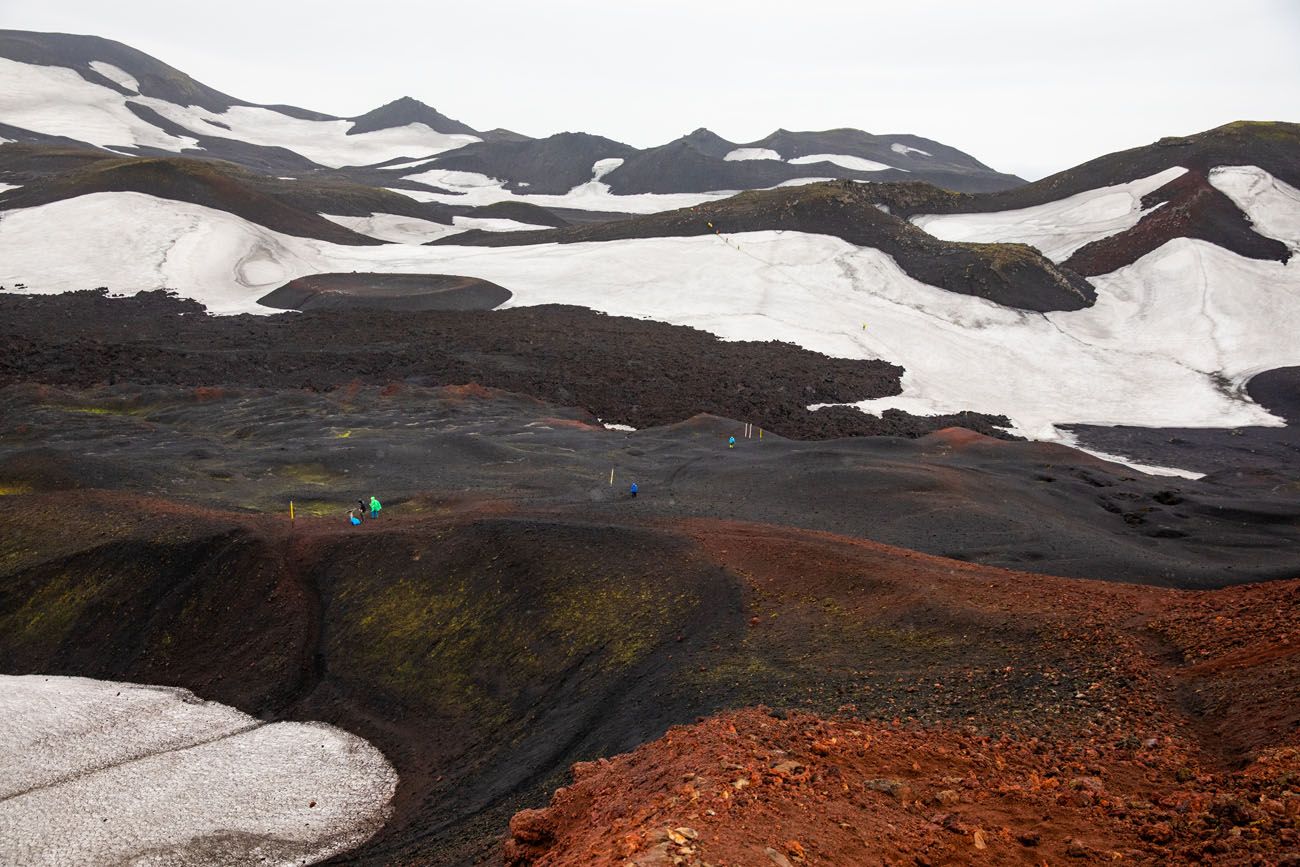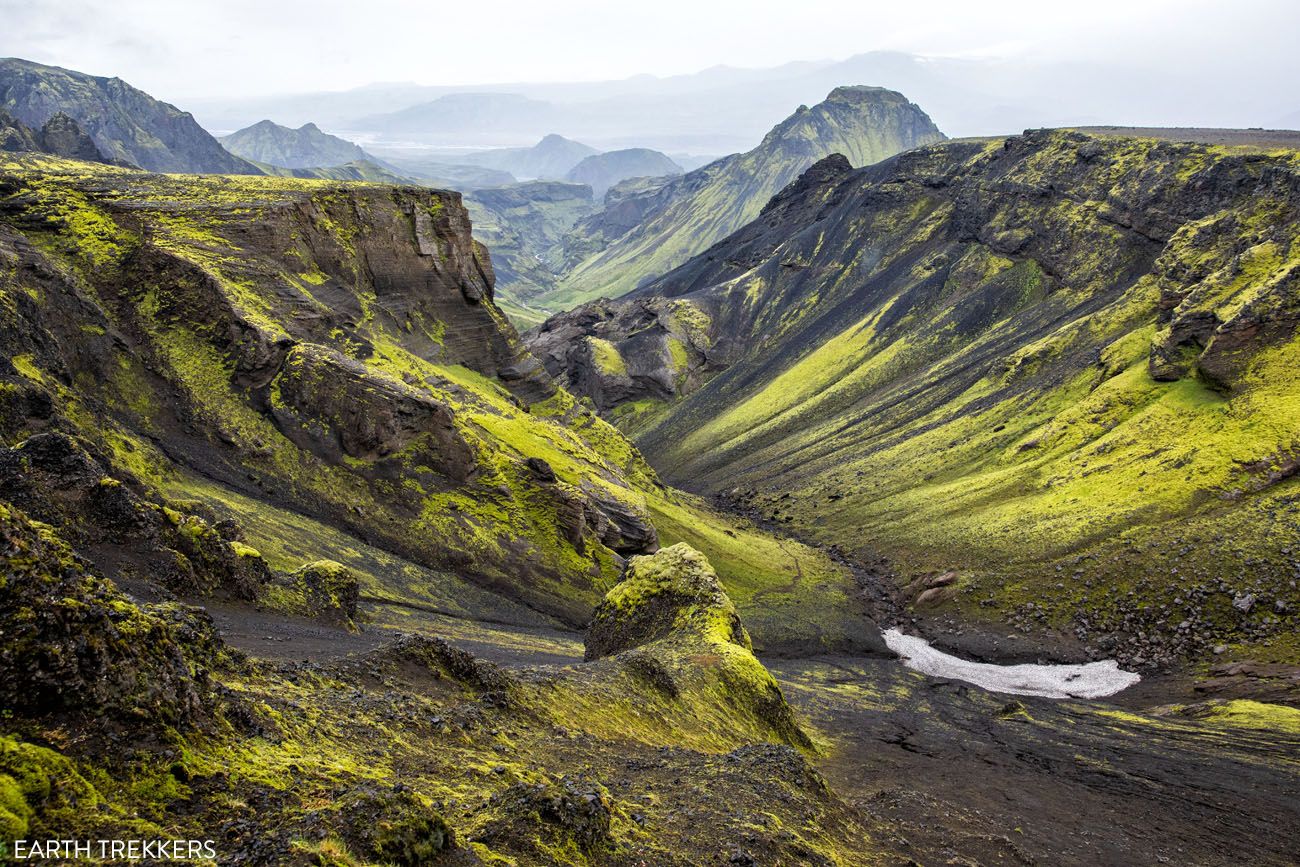 This is a long, challenging hike that is done point-to-point. The Fimmvörðuháls trail can be done as a massive day hike or as a two-day backpacking trip.
6. Kvernufoss
Kvernufoss is another beautiful waterfall in Iceland. It's similar to Seljalandsfoss in that you can walk behind it. However, it is much smaller and it is also a lot less crowded.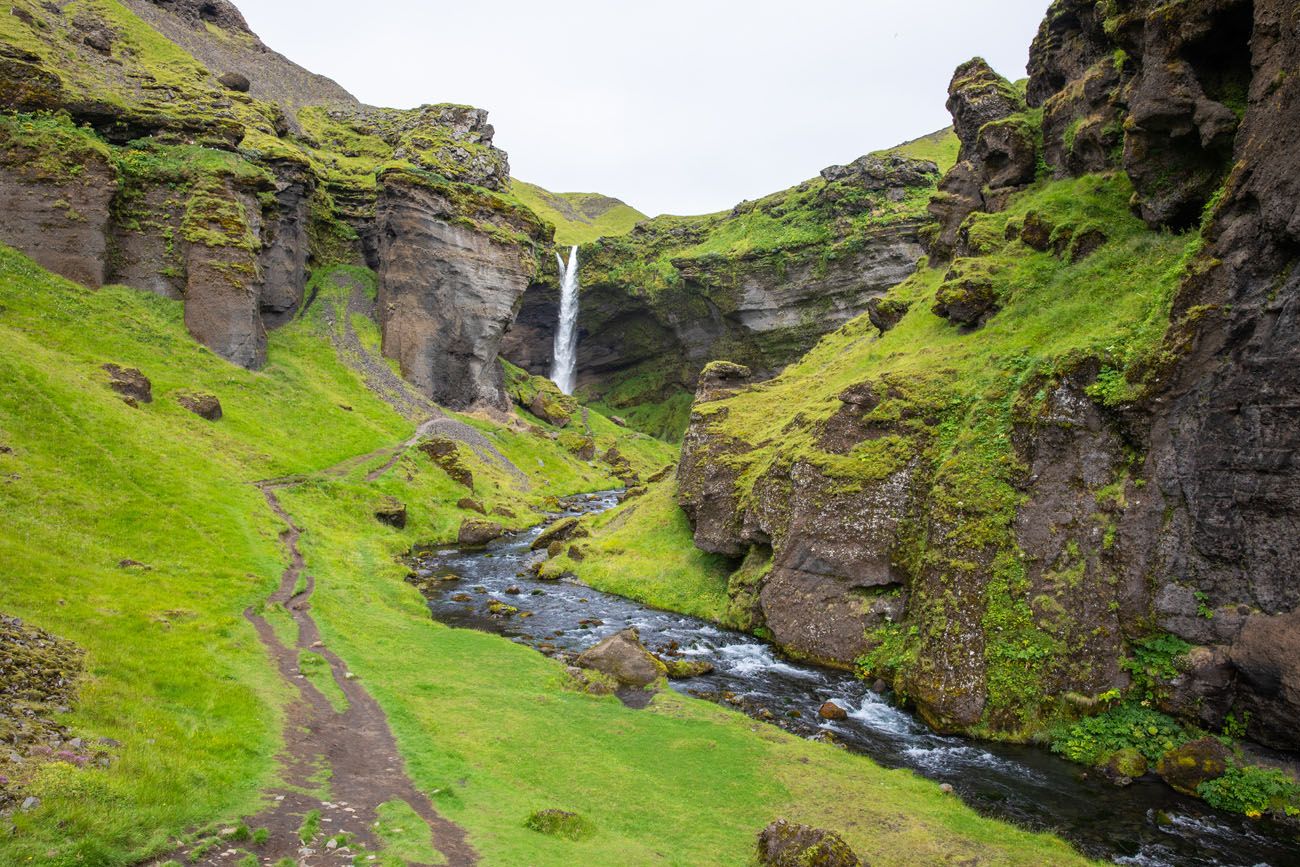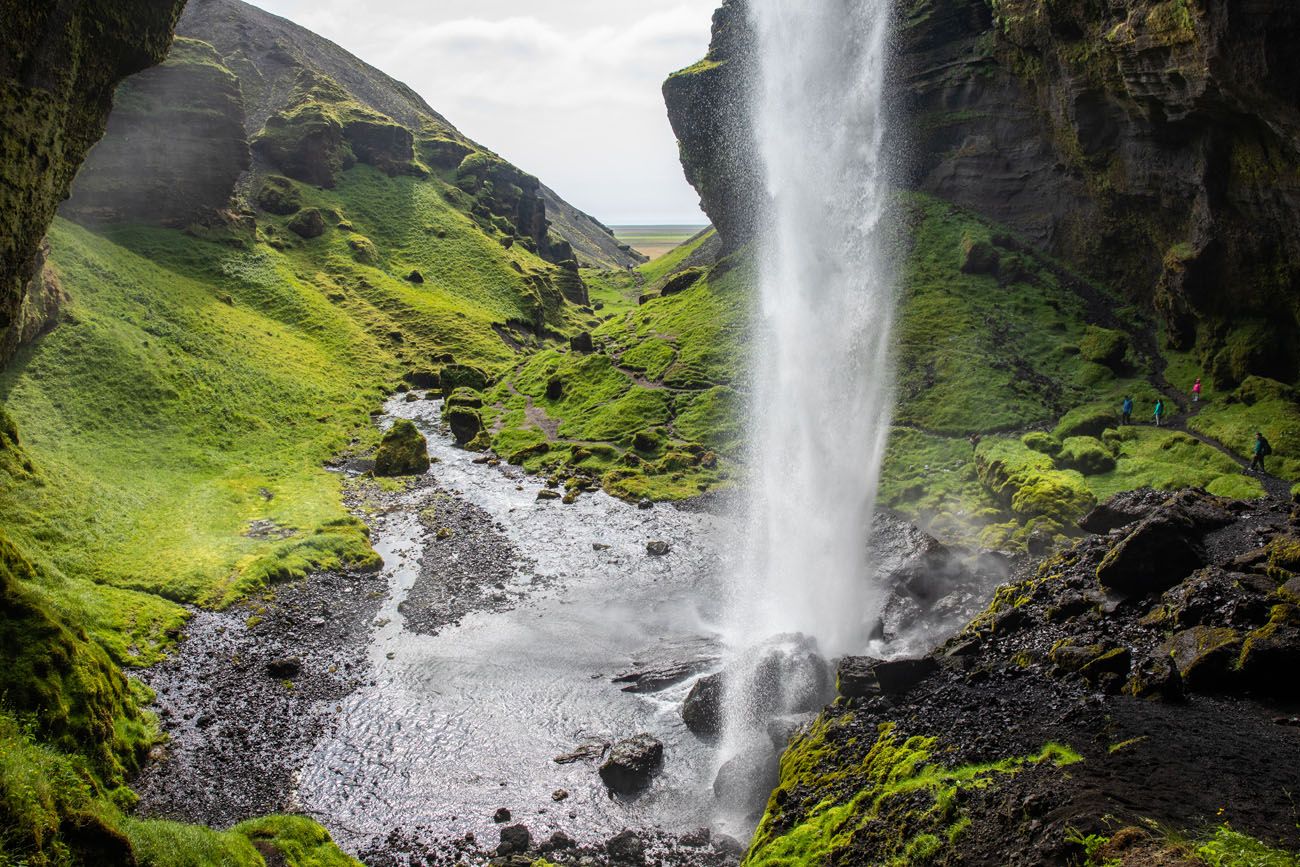 This waterfall is located on private property. Stay on the trail and do leave behind any trash.
How to Visit Kvernufoss: A visit to Kvernufoss can easily be combined with Skógafoss, since they are located near one another. Park at the Skógar Museum (you will have to pay to park here even if you do not have plans to visit the museum) and it is a 10-minute walk to get to the waterfall.
7. Solheimasandur Plane Wreck
In my opinion, this is one of Iceland's most overrated attractions and I actually recommend skipping it. But since it continues to attract huge numbers of visitors, I couldn't leave it off of this list.
In 1973, a United States Navy DC plane crashed on the black sand beach of Solheimasandur. This plane wreckage, set against the barren black beach, became one of Iceland's top photography locations.
At one point, it was a quiet, under-the-radar photography spot. To get here, it was a difficult drive on a gravel road and with a little hiking thrown in, it felt like an adventure.
Oh, but how things have changed.
Now, it's one of Iceland's most popular photography spots. It's become famous by the 1000's of photos that have been posted on Instagram and was made even more popular when it became a filming location for one of Justin Bieber's music videos.
Now, getting here is no adventure. You simply park in a parking lot on the Ring Road and walk 2 miles along flat, gravel road out to the plane wreck. It is Iceland's most boring walk. Once at the plane wreck, this is what you will see.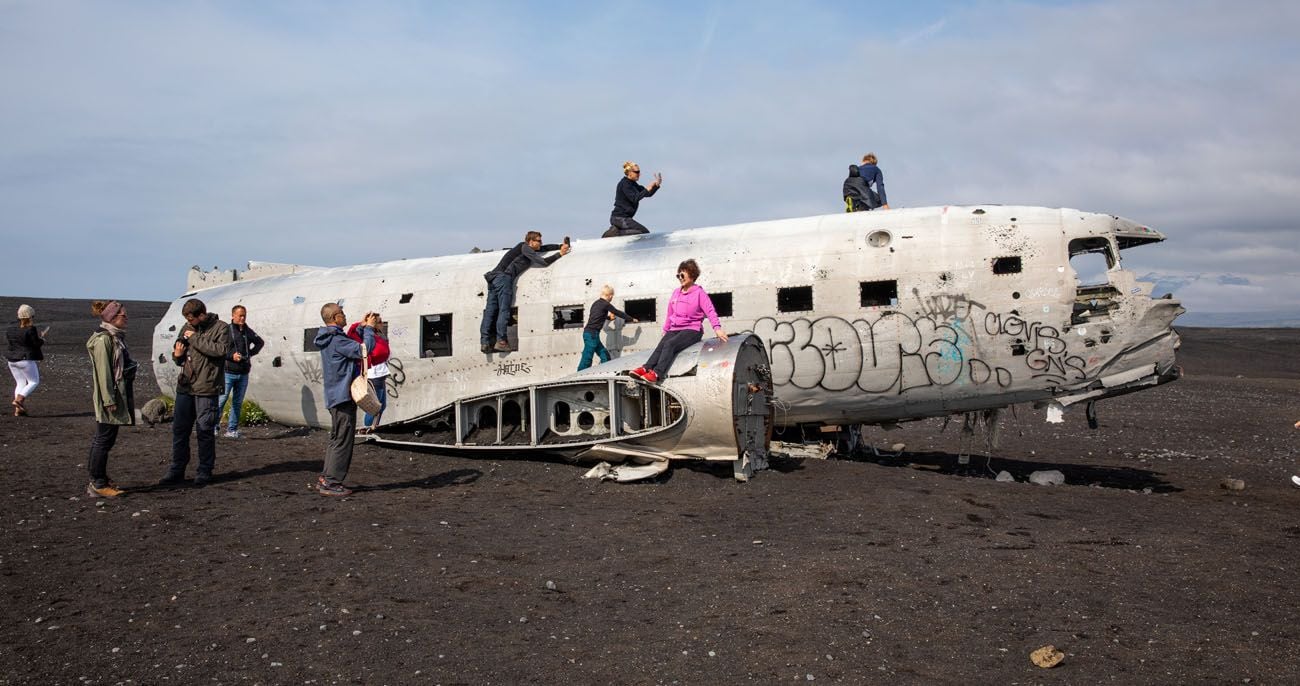 Despite the signs forbidding it, tourists climb on top of the plane, taking their photos inspired by Justin Bieber. For those who follow the rules, it can be incredibly frustrating if you want to capture a photo of the plane without tourists sitting on it.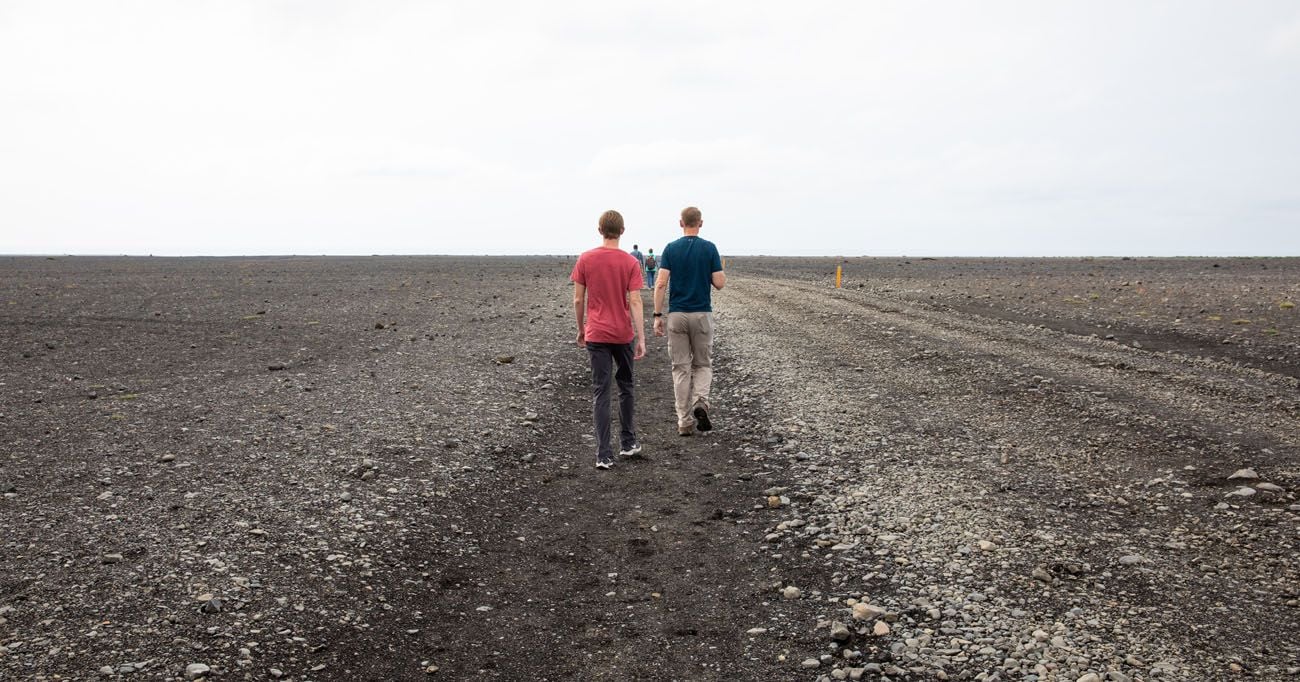 The walking trail to the plane wreck
How to Visit the Solheimasandur Plane Wreck: Park at the Solheimasandur Parking lot, right on Route 1. You can walk 4 miles round trip to the plane wreck or pay 2000 ISK (about $16) for the shuttle. A visit here lasts about 1.5 hours.
8. Solheimajökull Glacier
Solheimajökull Glacier is one of Iceland's most popular locations to go glacier hiking. It is a two-hour drive from Reykjavík, so it is a very popular day trip destination. Glacier hikes take between 3 to 5 hours and at Solheimajökull you have the option to add ice climbing.
9. Dyrhólaey Lighthouse & Arch
From the Dyrhólaey Viewpoint, which sits right beside the lighthouse, you get to see one of the most spectacular views of the south coast of Iceland. From here, you not only have an amazing view over Dyrhólaey Arch and Reynisfjara Beach, but the view along the cliffs, looking west, is unexpectedly amazing.
During the summer months, it is possible to see puffins nesting along these cliffs.
There are two viewpoints here, just a short drive from each other. For views of Dyrhólaey Arch and Dyrhólaey Beach, park in the parking lot near the lighthouse and is a very short walk to the viewpoint.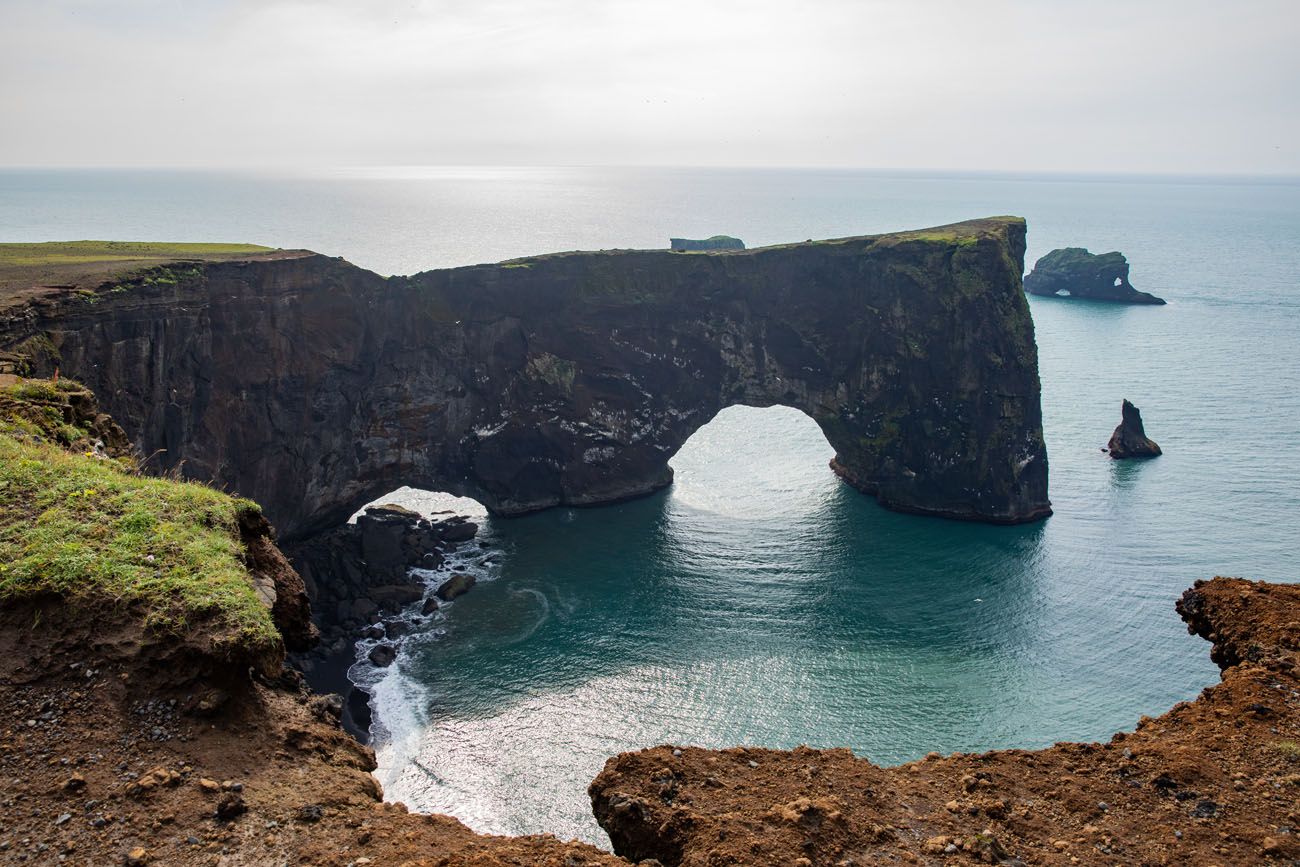 Dyrhólaey Arch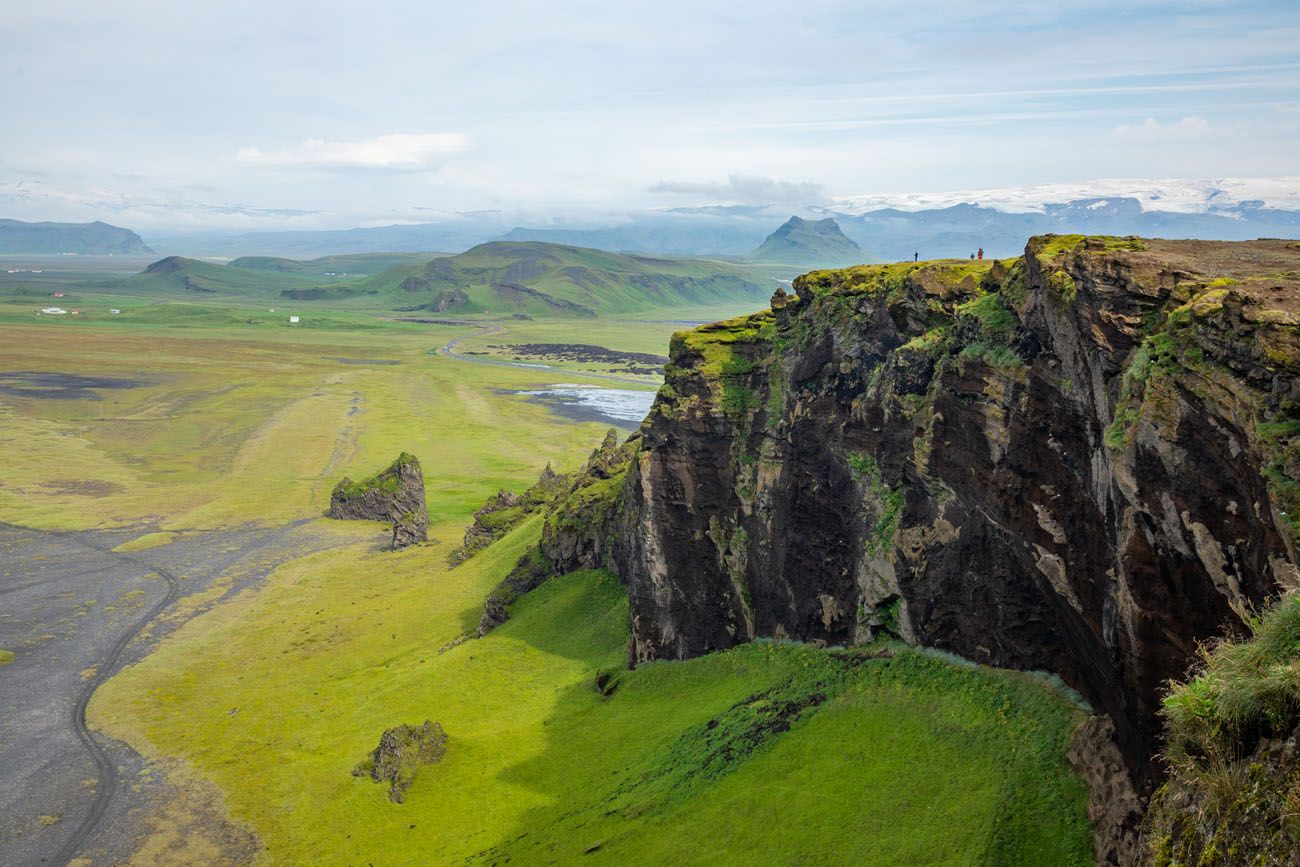 Then, hop back into your car, drive the short distance to the Dyrhólaey View Parking Lot. There are very short walking trails here that take you to several viewpoints of Reynisfjara Beach.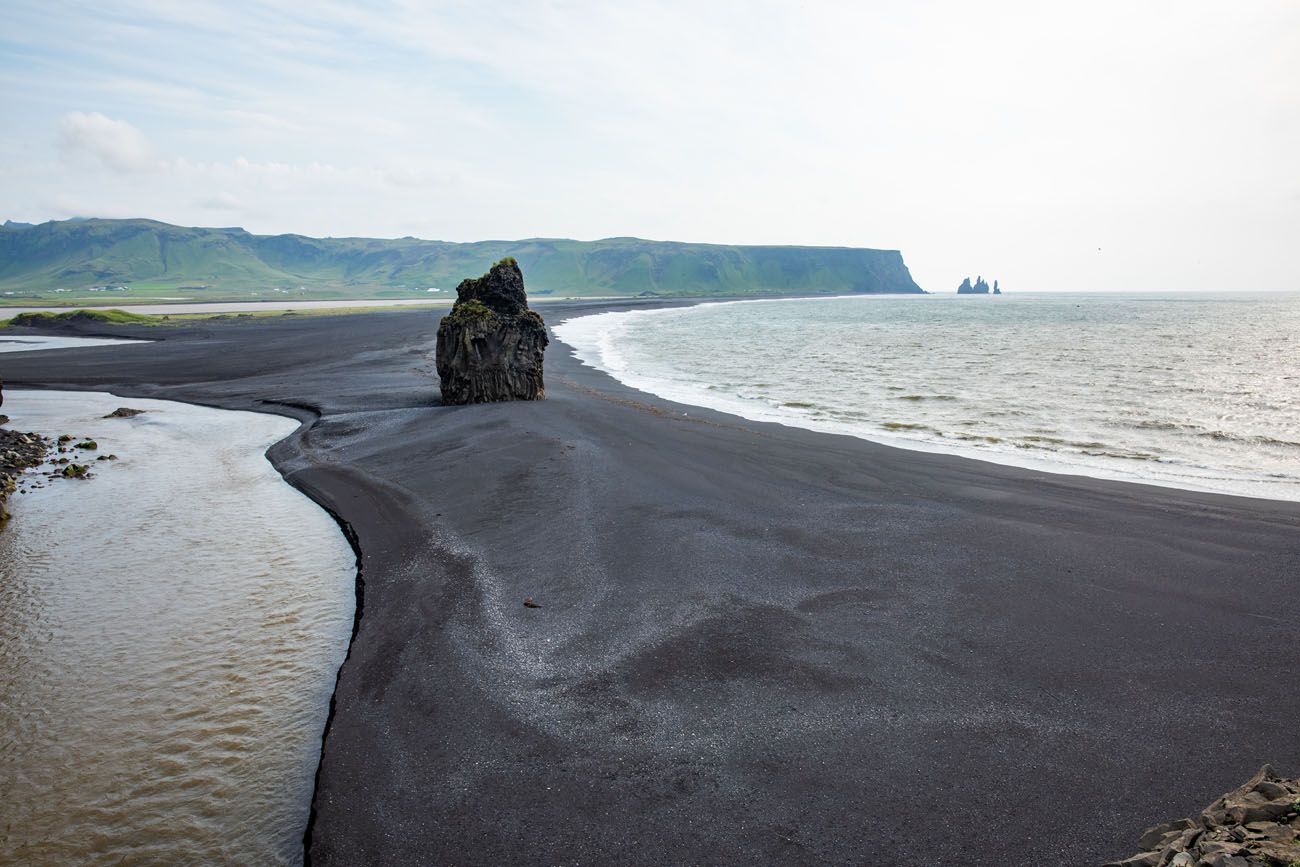 10. Reynisfjara Beach
Reynisfjara is a black sand beach on the south coast of Iceland. It is a photogenic spot, with black, basalt columns, a giant cave, and jagged, black stacks of rock that sit just off shore.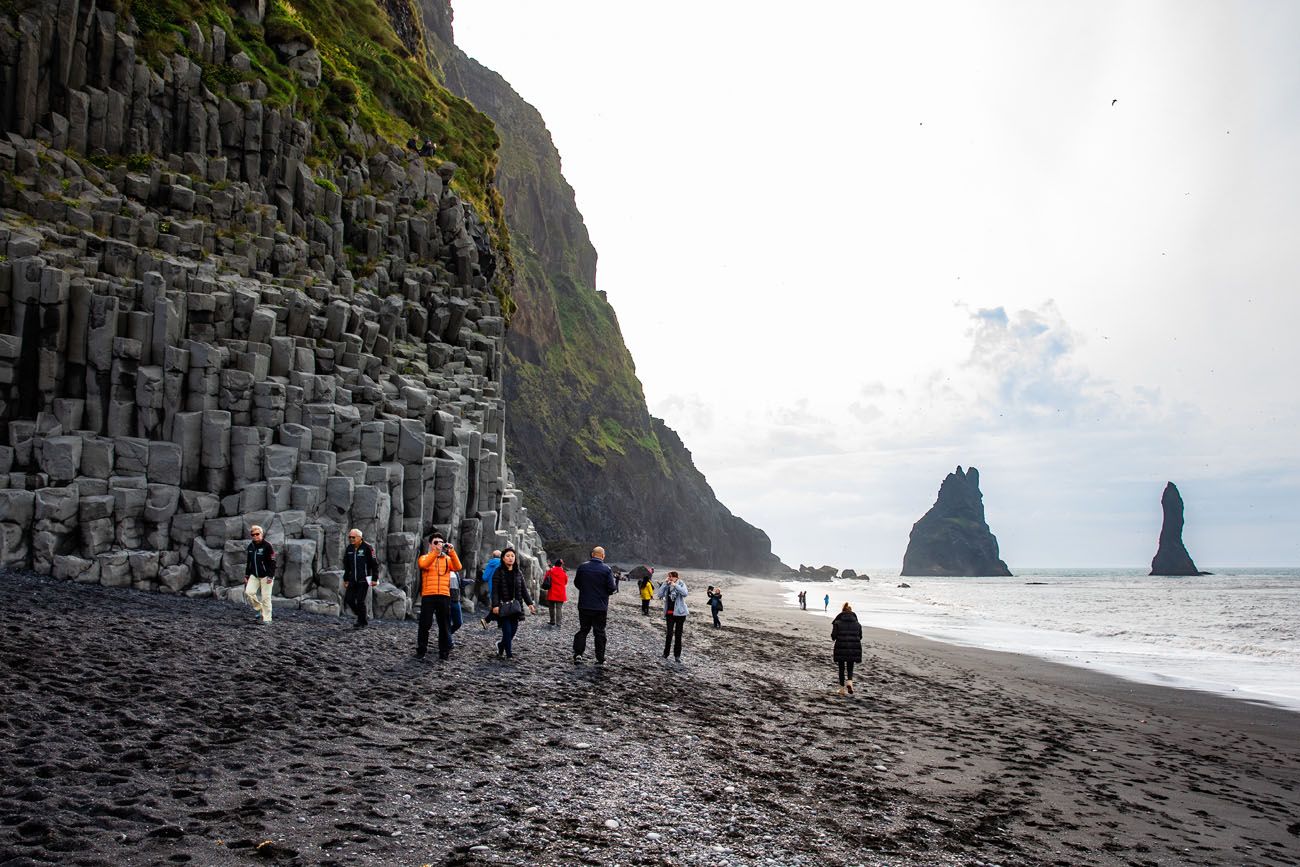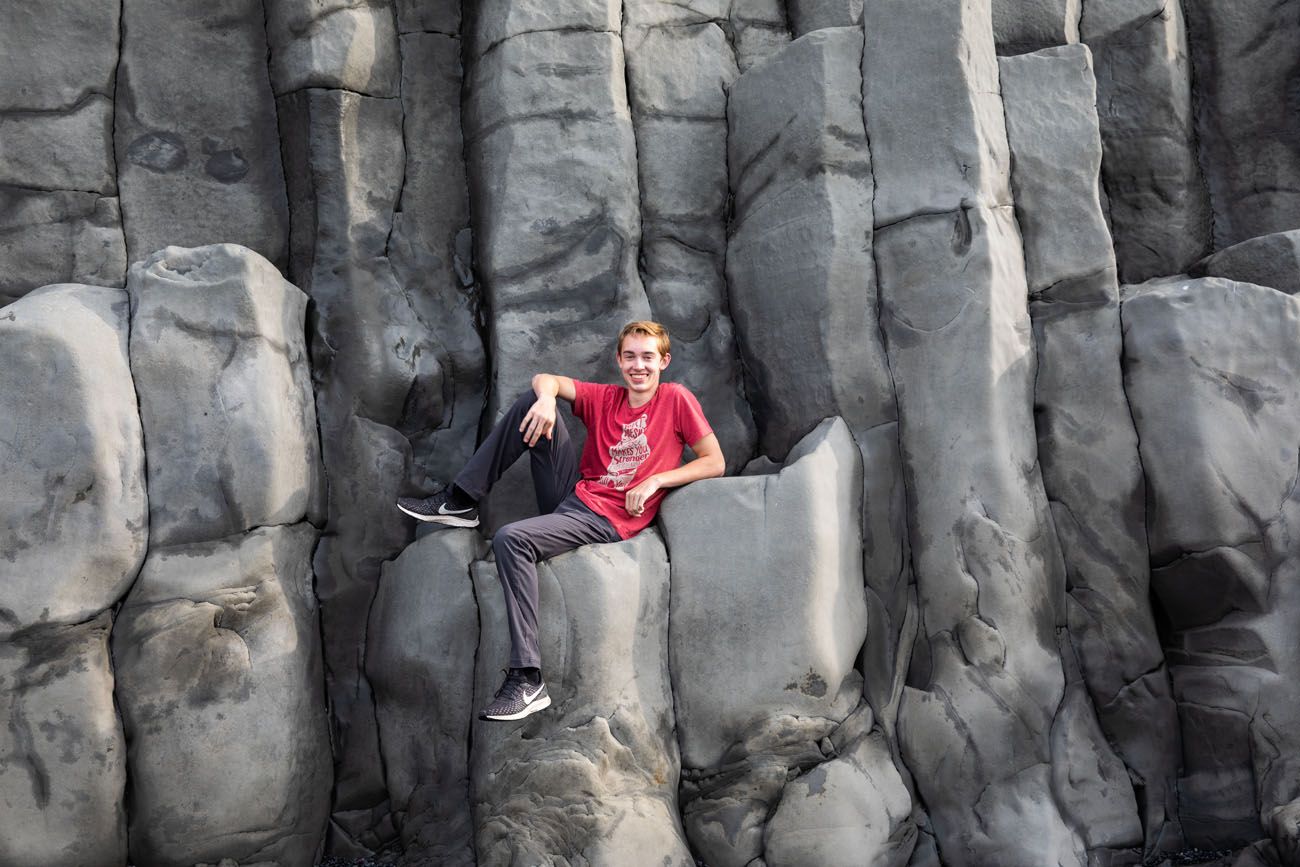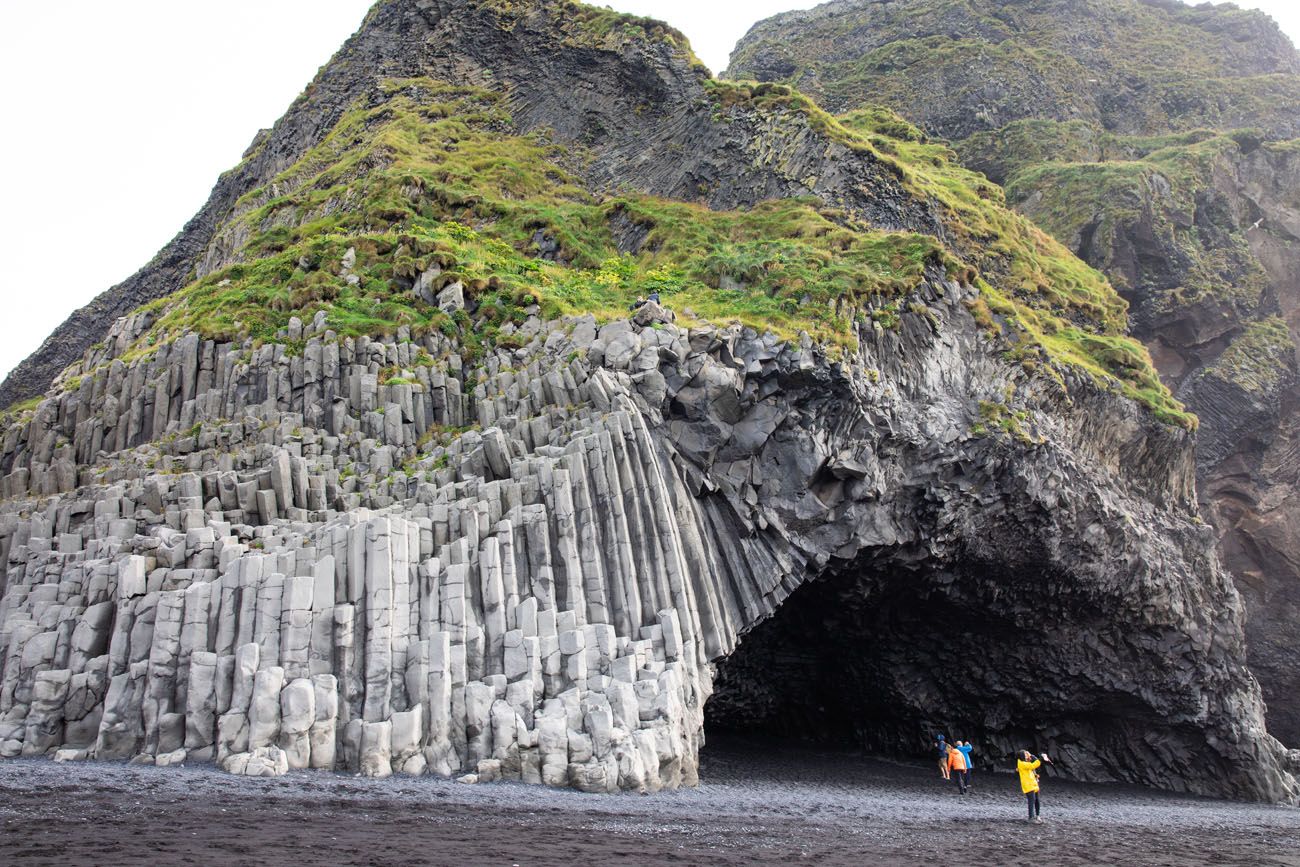 While you are here, beware of "sneaker waves." Sneaker waves are rogue waves that wash up on shore and pull unsuspecting visitors out to sea. It might sound like a joke, but just a few years ago a tourist drowned when they got too close to the waves and was pulled out into the ocean.
How to Visit Reynisfjara Beach: Park in the free parking lot. It's a short walk out to the beach. A visit here lasts about 15 minutes.
11. Vík í Mýrdal
Vík í Mýrdal (Vík for short) is the largest village on the south coast of Iceland. This is a great place to stay, since it is centrally located on the south coast. There are numerous hotels and restaurants, as well as a large grocery store and several gas stations.
12. Fjaðrárgljúfur
This tongue twister of a name means "Feather River Canyon" and it is one of Iceland's most photogenic spots. A 2 km hiking trail scales one edge of the canyon, offering great views down to the river. At one time, you could hike out onto narrow cliffs for amazing views of the canyon, but these have been roped off for safety issues.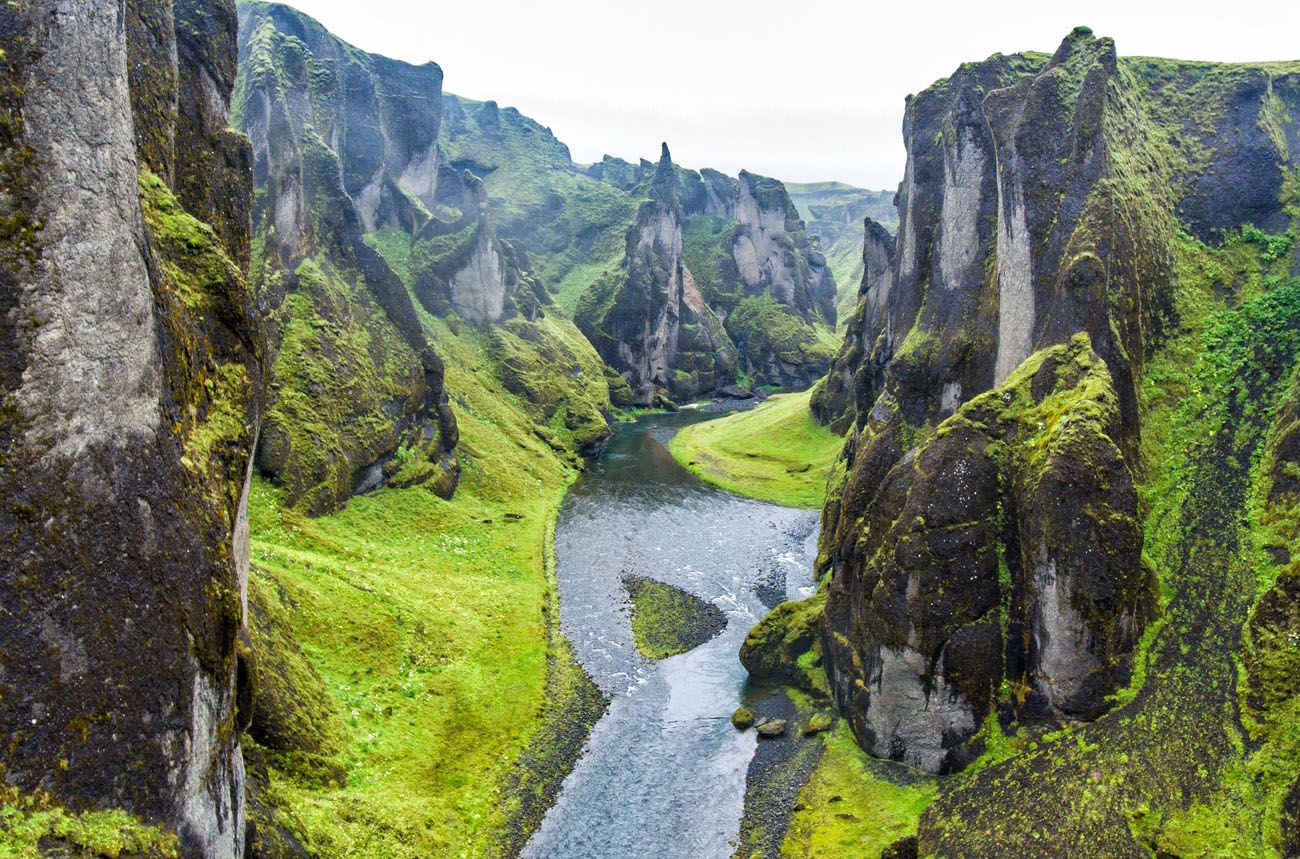 How to Get Here: To get here, you will have to drive several kilometers on a dirt road. This road is acceptable for standard cars so no 4×4 is necessary. Park in the small parking lot (free) and follow the trail along the cliffs.
13. Svartifoss
This unique waterfall inspired the design for the Hallgrimskirkja church in Reykjavík. Its thin stream of water washes over black, volcanic basalt columns, making this a very photogenic waterfall.
How to Visit Svartifoss: Svartifoss is located in the Skaftafell Nature Park and you will have to hike to get here. It is 3 km round trip and takes about an hour and a half. From the Skaftafell visitor center, it's a mostly uphill walk to the waterfall.
14. Vatnajökull Glacier
Vatnajökull glacier is the largest glacier in Europe. It is also part of Vatnajökull National Park, the largest protected area in Europe.
Vatnajökull glacier has roughly 30 outlet glaciers, which are long tongues of ice that reach out from the main glacier. The ice that floats in Jökulsárlón Glacier Lagoon and washes up on Diamond Beach originate from the Breiðamerkurjökull outlet glacier.
This glacier is one of the best places in Iceland to go glacier hiking. Since Vatnajökull is located farther away from Reykjavík, crowds tend to be lower at this glacier. Plus, there are several different outlet glaciers to hike, so that also keeps crowds low.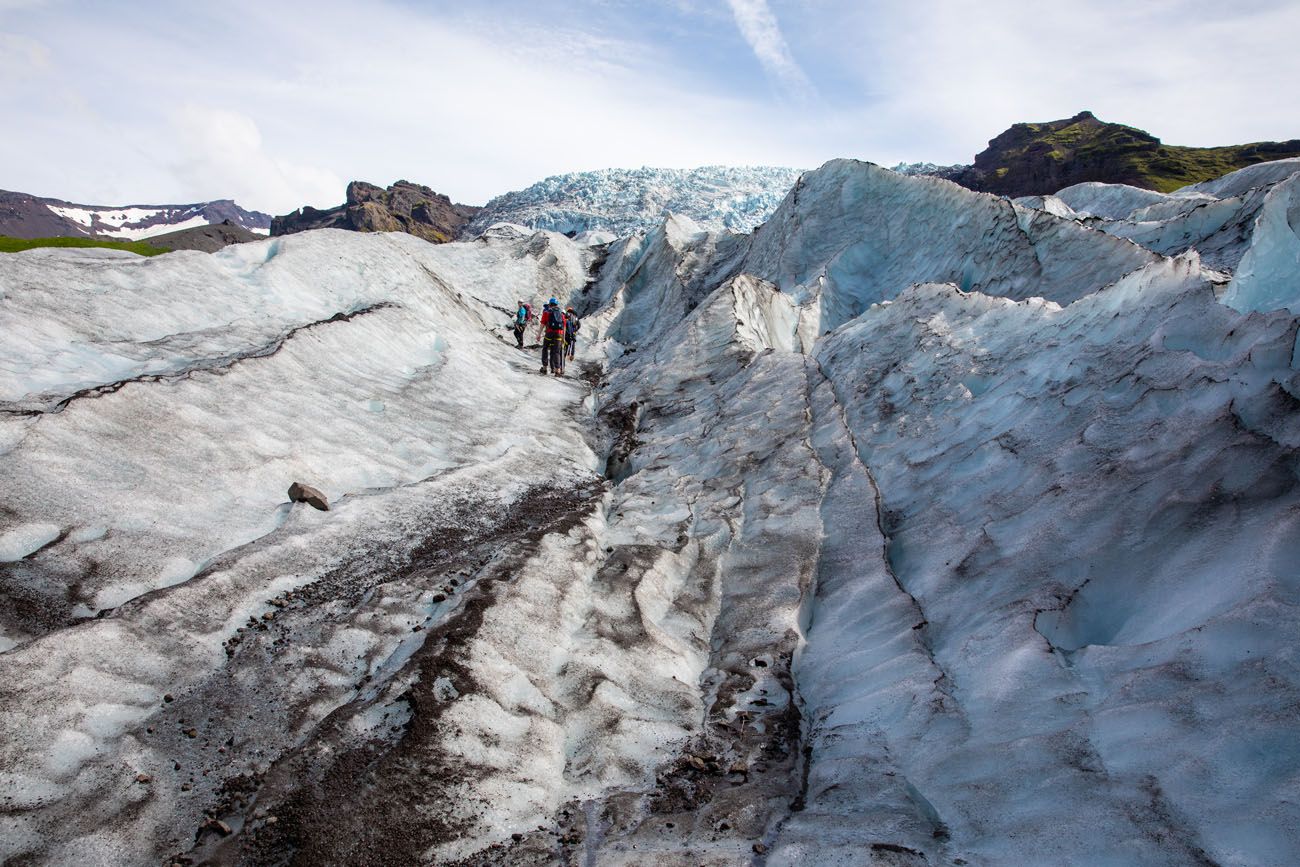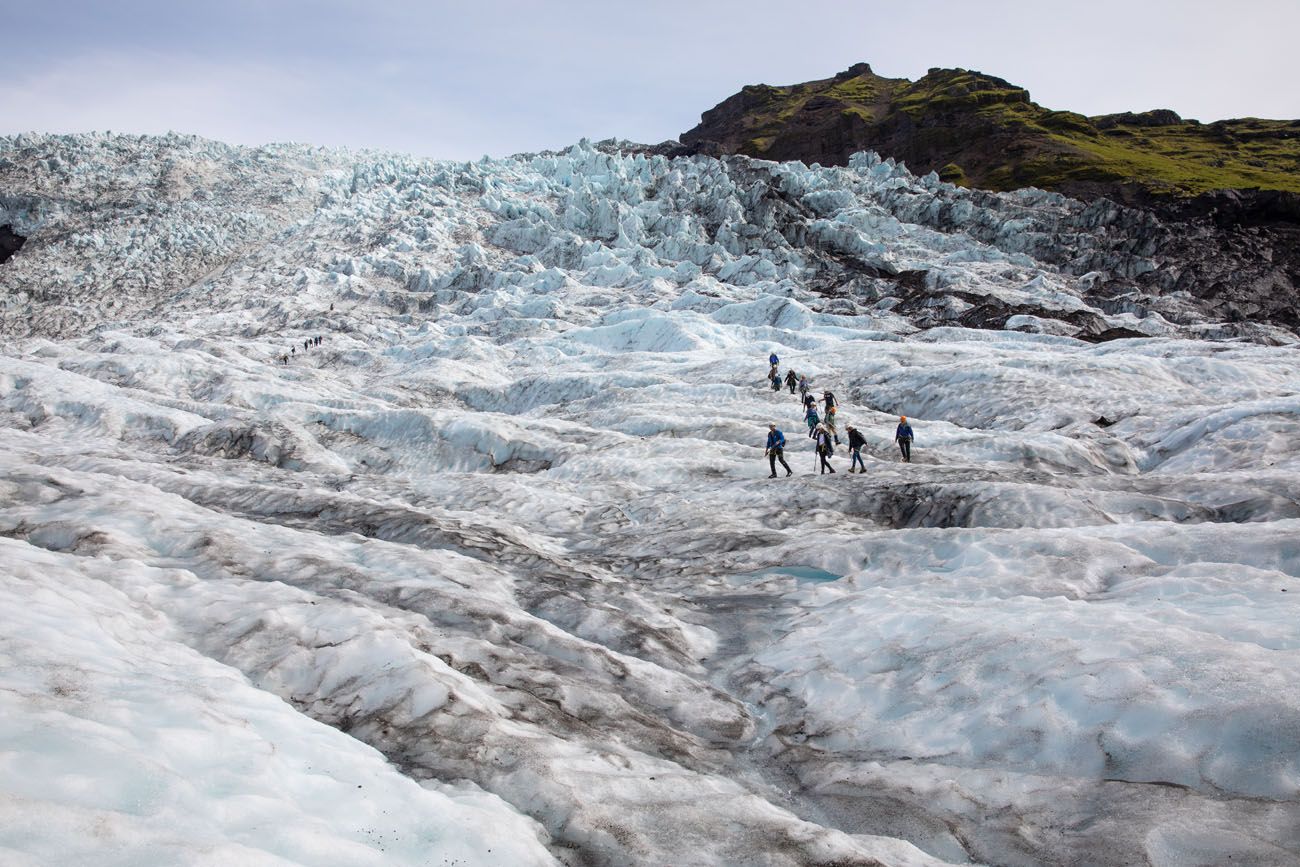 15. Hvannadalshnúkur
At 2110 meters, Hvannadalshnúkur is the highest point in Iceland. You can hike to the summit of Hvannadalshnúkur on a very long day hike. No technical skills are required but you should only do this hike with an experienced guide. Much of this hike is on snow-covered trails with lots of crevasses.
This peak is located in Vatnajökull National Park, near Skaftafell.
Icelandic Mountain Guides offer guided hikes of Hvannadalshnúkur.
16. Fjallsárlón Glacier Lagoon
This glacier lagoon is smaller and less touristy than the Jökulsárlón Glacier Lagoon (mentioned next). In our opinion, it is also more beautiful. It's quick and free to visit. There are restrooms and a restaurant here, making this a great place to take a break on your road trip along the south coast of Iceland.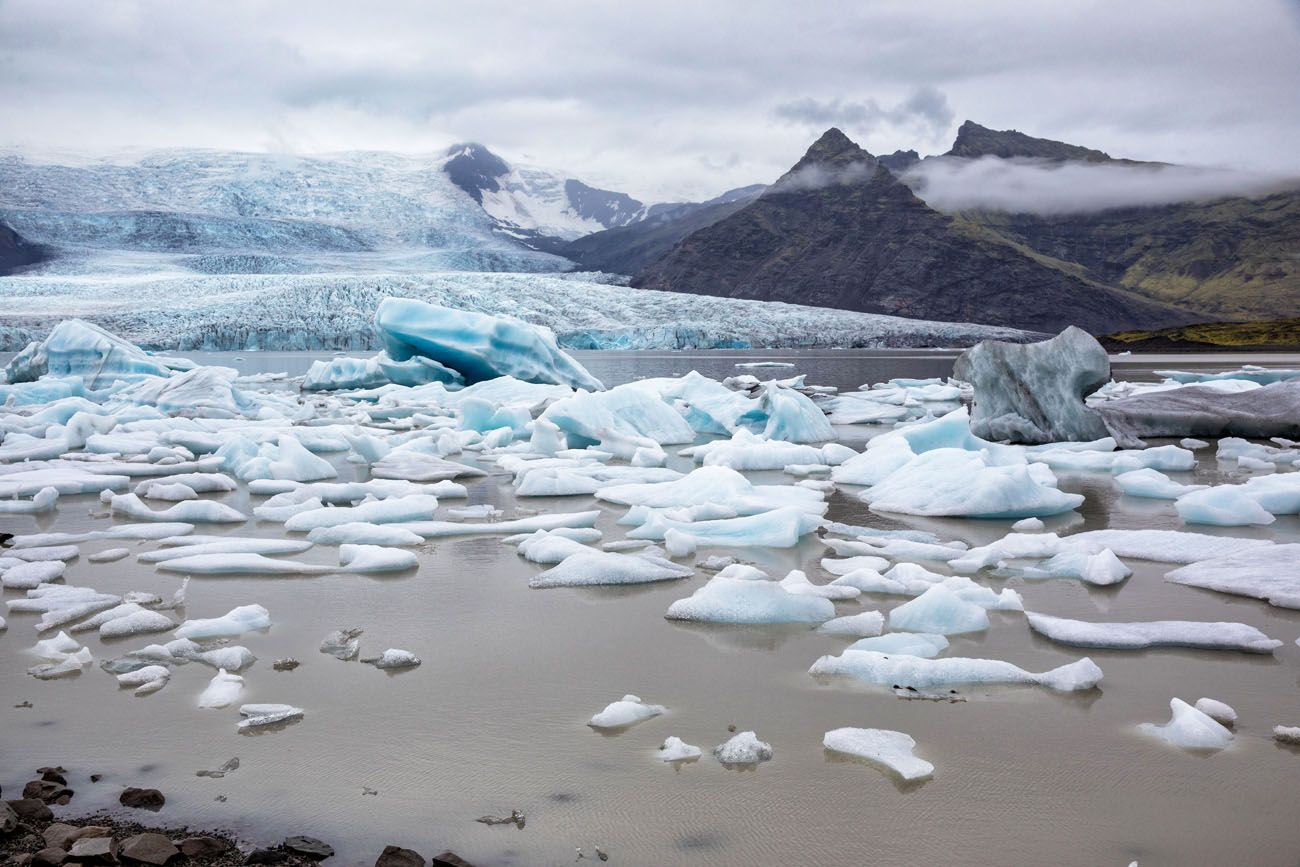 17. Jökulsárlón Glacier Lagoon
The Jökulsárlón Glacier Lagoon is a very popular spot to visit on the south coast of Iceland. You can simply drive up, park your car, and take in the view. But if you are looking for more adventure, consider taking a kayak tour or zodiac ride in the lagoon.
When we did this, it rained almost the entire time, so our photos look rather dreary. But if you get lucky and visit on a sunny day, this glacier lagoon looks astonishing. Jökulsárlón Glacier Lagoon also makes a fantastic sunset photography location.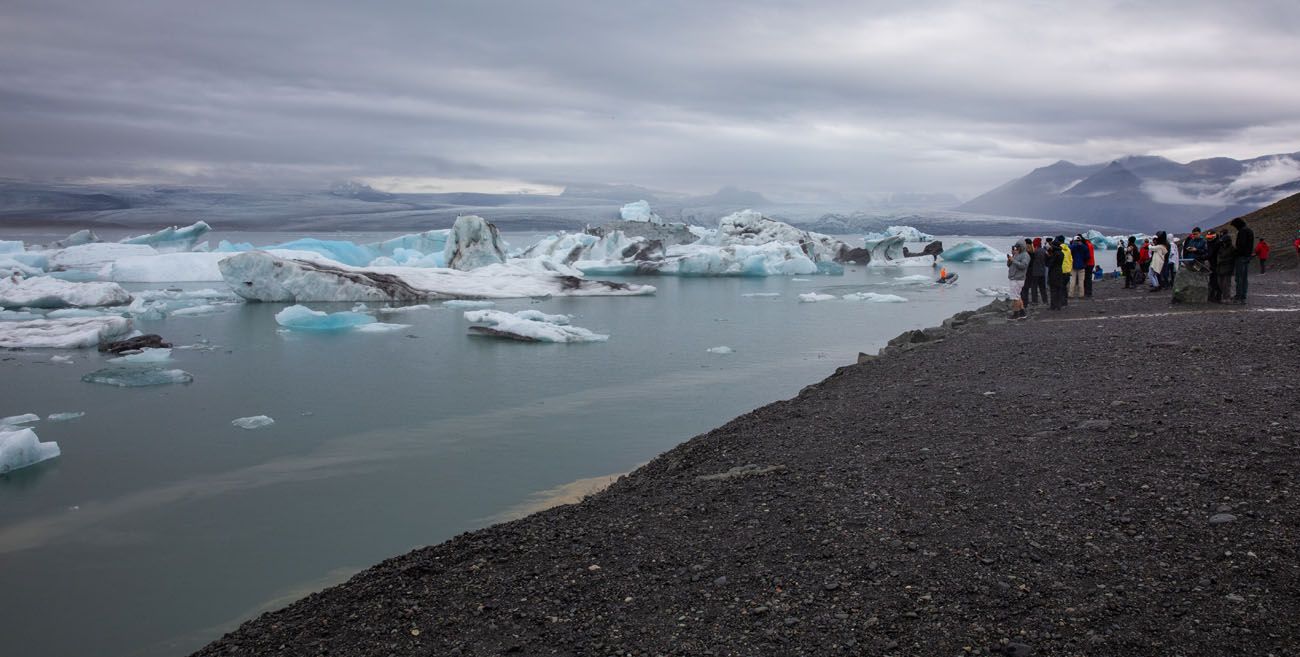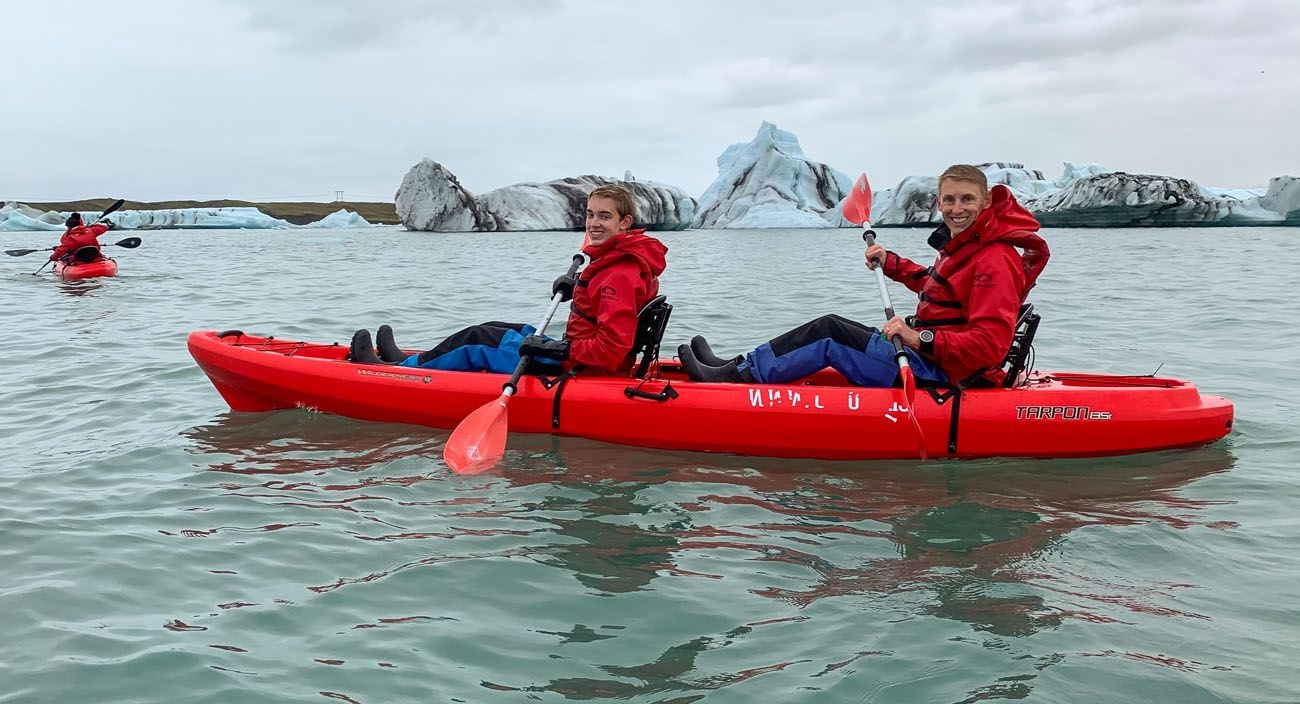 How to Visit Jökulsárlón Glacier Lagoon: Park in the large, free parking lot. The viewpoint is just a few steps from the parking lot. There are also numerous tour companies based here where you can join kayaking or zodiac boat trips on the lagoon. I recommend booking your tour in advance.
18. Diamond Beach
At the mouth of the Jökulsárlón glacier lagoon sits a strip of black sand. Chunks of ice wash up onto this black sand beach, creating one of Iceland's most unique beach experiences.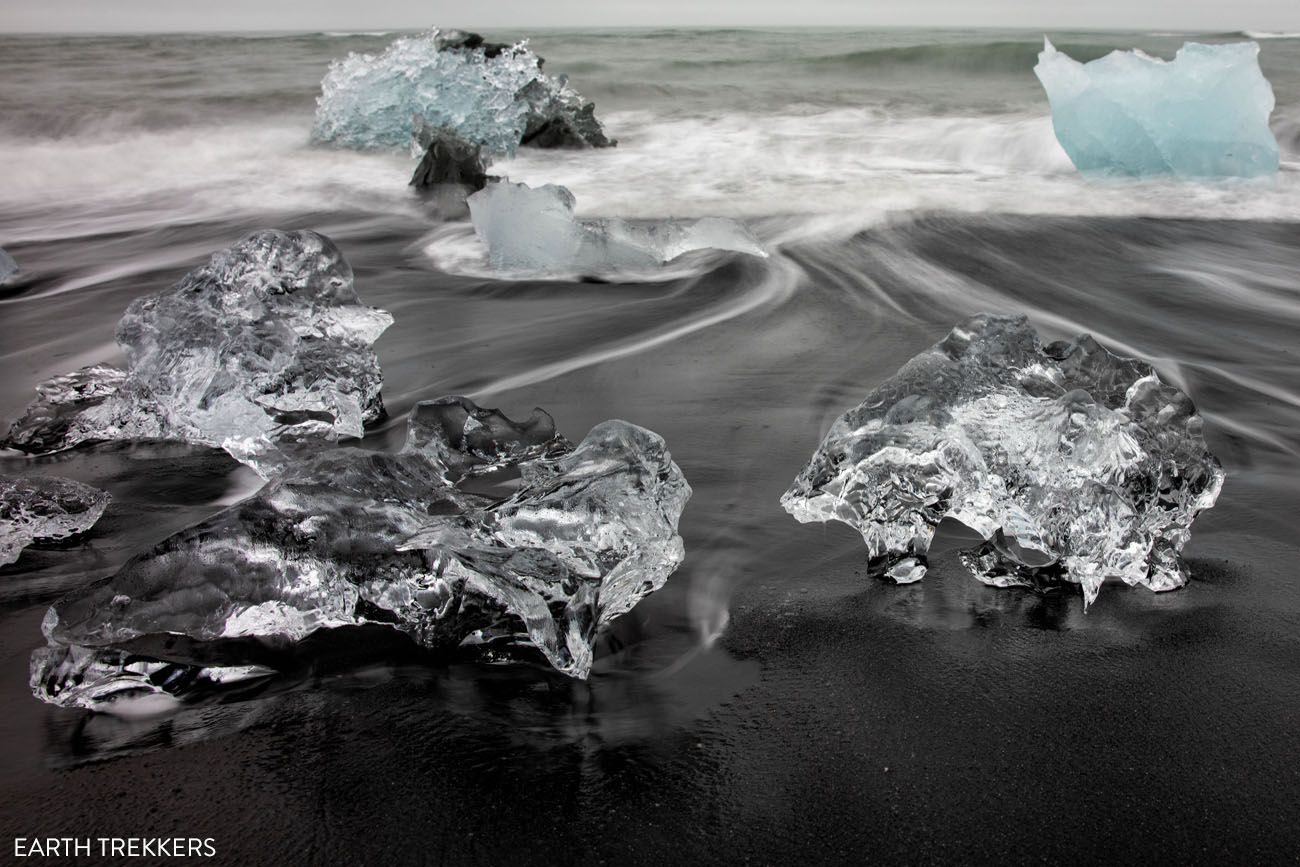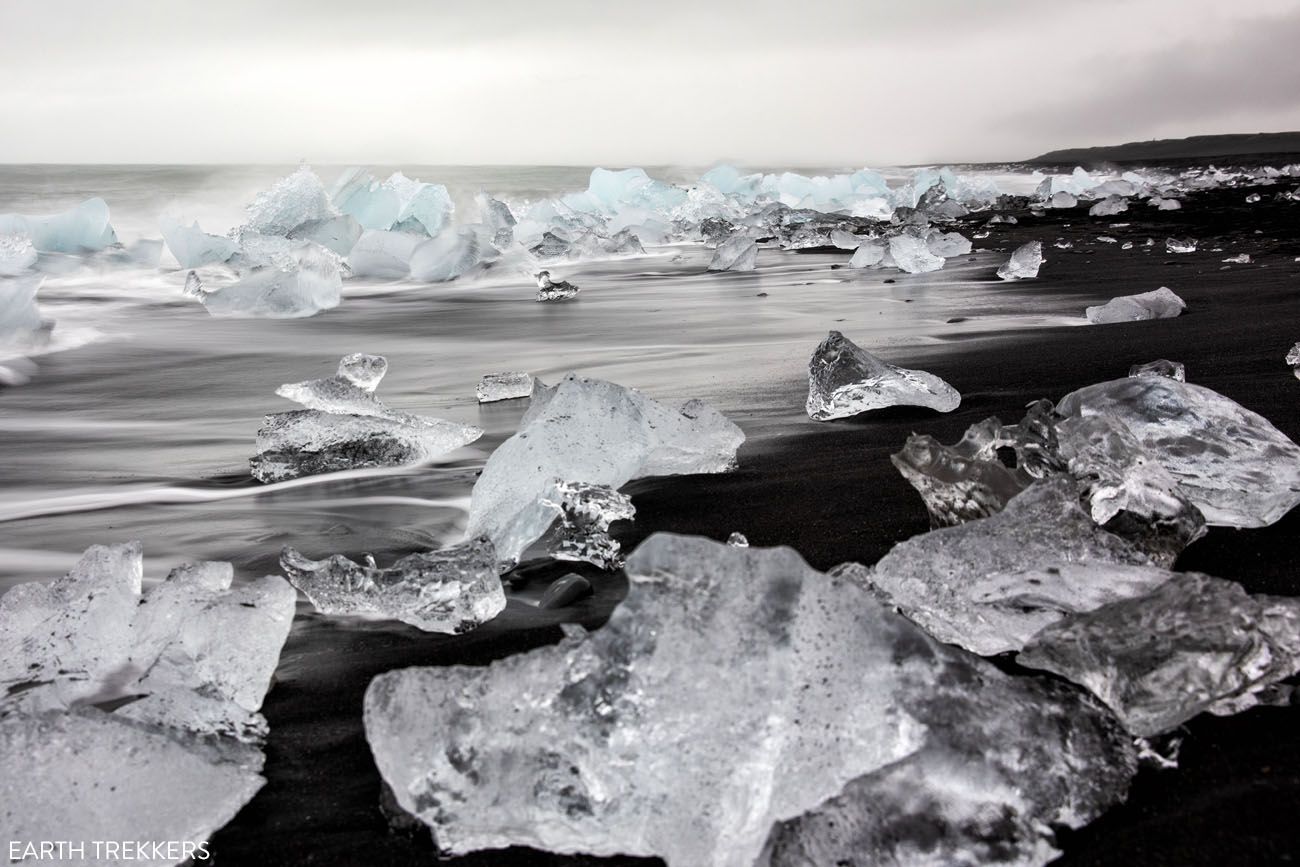 How to Visit Diamond Beach: If you look on Google, there are two parking lots for Diamond Beach, one on either side of the outlet of the Jökulsárlón glacier lagoon. These photos were taken on the west side, labeled Breidamerksandur on Google Maps (this is also labeled on our map). Parking is free and the lot is located right next to the beach.
19. Höfn
This charming town is the capital city of southeast Iceland. It is primarily a fishing village but for visitors, it is another great place to base yourself for exploring the south coast of Iceland. We spent two nights here and loved this little town.
Apotek Guesthouse and the Milk Factory are two highly rated hotels in Höfn. We had an amazing dinner at Pakkhus Restaurant but Otto Restaurant and the Ishusid Pizzeria are also great options.
20. Vestrahorn & the Stokksnes Peninsula
The Stokksnes Peninsula is a wild, photogenic spot on south Iceland.
Rising up from the sandy beach is Vestrahorn, a wing-shaped mountain that is also referred to as "Batman Mountain."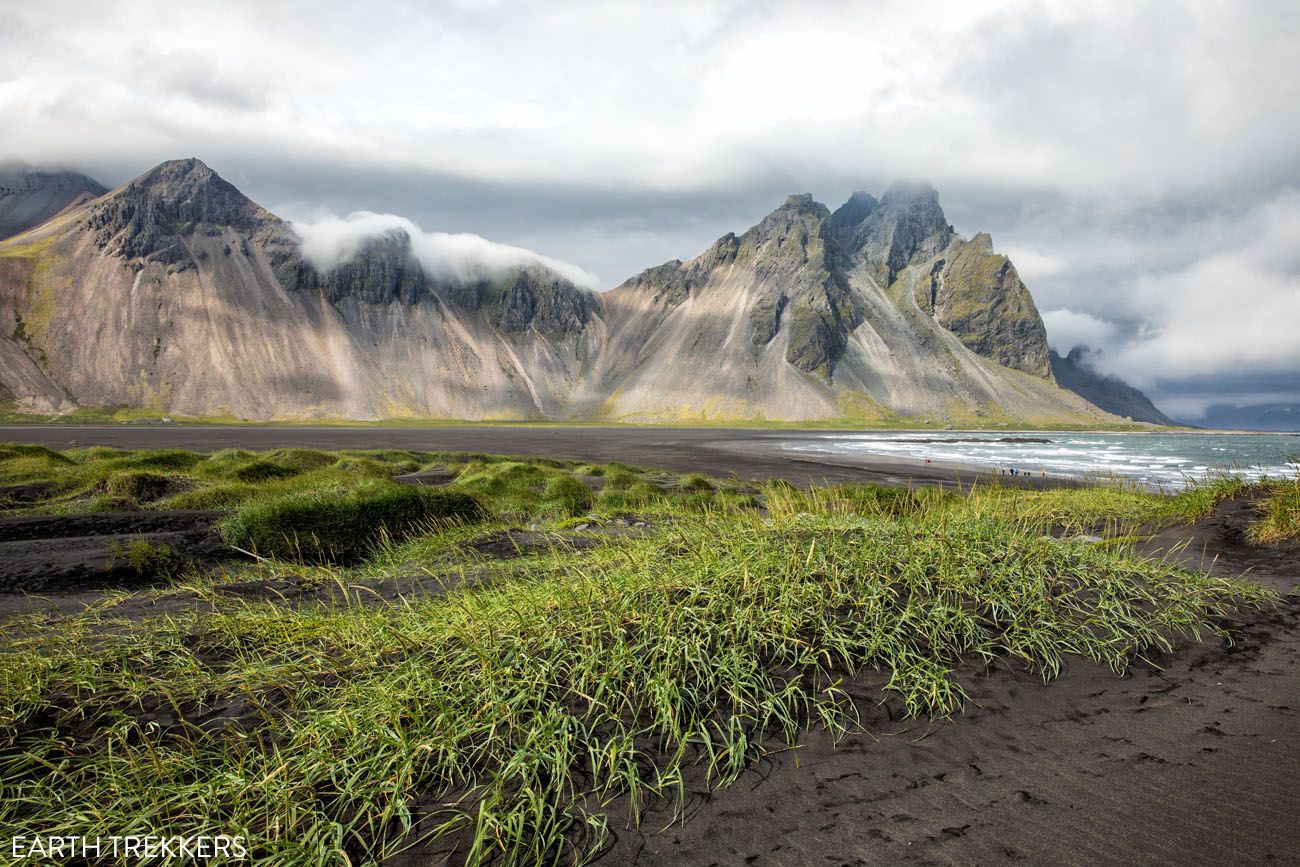 For photographers, this is one of the top spots to visit in Iceland. Capturing Vestrahorn with the ripples of sand on the beach, the bumpy sand dunes covered in grasses, and the beach at high tide, all make stunning photography material.
How to Visit the Stokksnes Peninsula: The Stokksnes Peninsula is located near Höfn on the south coast. To get access to the beach, visit the Viking Café Guesthouse. You will have to pay a small admission fee that will allow you to drive down to the Stokknes Peninsula and the beach.
South Coast of Iceland Sights: On a Map
How to Use This Map: Click the icons on the map to get more information about each point of interest. Click the star next to the title of the map to add this map to your Google Maps account. To view it on your phone or computer, open Google Maps, click the menu button, go to "Your Places," click Maps, and you will see this map on your list.
How Much Time Do You Need on the South Coast of Iceland?
If you want to see and do everything on this list, you will need a bare minimum of three days. And those three days will be packed.
One Day on the South Coast of Iceland: Focus on the waterfalls and beaches located between Hvolsvöllur and Vík. This can be done as a long day trip from Reykjavík or you can stay in Vík or in another small town on the south coast.
If you have plans to day trip to the south coast of Iceland from Reykjavík, here are several highly-rated tours:
Two Days on the South Coast of Iceland: Spend one day visiting the sights between Hvolsvöllur and Vík. On day two, visit the Jökulsárlón and Fjallsárlón Glacier Lagoons, Fjaðrárgljúfur, and Svartifoss waterfall. Consider adding on a short glacier hike. Stay in Vík or Skaftafell.
Three Days on the South Coast of Iceland: Follow our two-day itinerary above. Add on Höfn and the Stokksnes Peninsula or one of the big day hikes (Fimmvörðuháls or Hvannadalshnúkur). Sleep in Vík, Skaftafell, or near Skógar.
Four Days on the South Coast of Iceland: On day one, visit Höfn and the glacier lagoons, stay in Höfn. On day 2, visit Skaftafell, hike to Svartifoss, hike on Vatnajökull Glacier, sleep in Skaftafell or Vík (see Fjaðrárgljúfur on the way to Vík). On day 3, visit the sights between Vík and Hvolsvöllur. Sleep near Skógar. On day 4, hike the Fimmvörðuháls Trail or Waterfall Way. Sleep near Skógar (if you hiked Fimmvörðuháls) or return to Reykjavík or stay near Skógar (if you hiked Waterfall Way).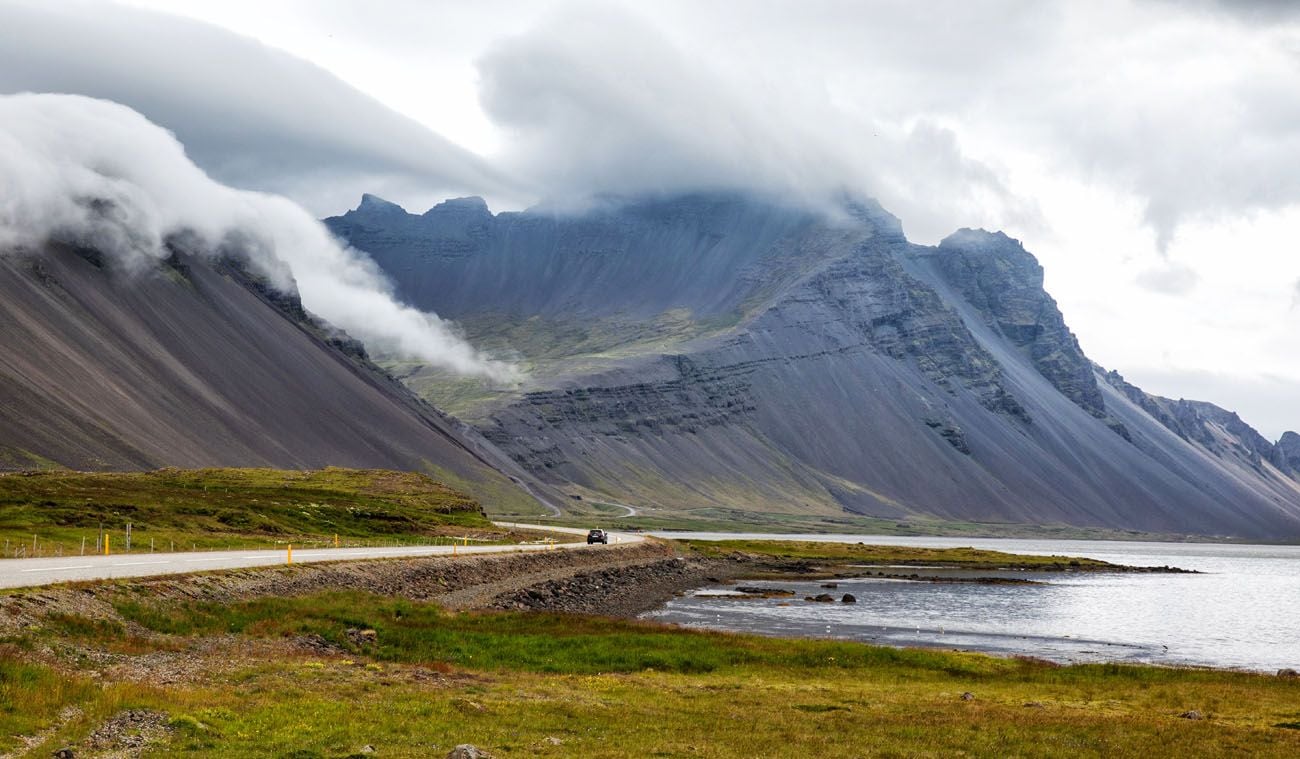 Route 1 on the south coast of Iceland
Where to Stay on the South Coast of Iceland
There are several small towns spaced out along Route 1 (the Ring Road) on the south coast of Iceland. VÍk is the largest town. With its numerous hotels and restaurants and relatively central location, this is one of the best places to make your home base. However, if you plan to spend several days on the south coast, I think it is best to stay in two places, to minimize driving time. In the east, stay in Höfn or Skaftafell. In the west, stay in VÍk or near Skógar or Hvolsvöllur.
Höfn
Apotek Guesthouse. Located in a former pharmacy, this property offers a wide range of rooms. Take your pick from single rooms, double rooms with a private bath, or quadruple rooms with a shared bathroom.
Milk Factory. This property gets rave reviews and has rooms that can accommodate 2 to 4 people. It gets its name since it is located in a former milk factory.
Seljavellir Guesthouse. This guesthouse is located outside of town on the Ring Road. What you get is a highly reviewed property for a great price. Rooms can accommodate up to two people.
Skaftafell
Hotel Skaftafell. This hotel is conveniently located in Skaftafell. Rooms can accommodate up to three people. There is an onsite restaurant and a 2nd floor bar with great views of the glacier.
The Potato Storage. This new property, with its interesting name and industrial, modern décor, gets exceptional reviews. It tends to get reserved months in advance so make your reservation as soon as possible. It is located just a short drive from Skaftafell.
Fosshotel Glacier Lagoon. This property is located between the Jökulsárlón Glacier Lagoon and Skaftafell. This is a 4-star property and offers stunning views of the mountains or the ocean.
VÍk
Hotel Kria. This nearly brand new hotel offers modern rooms with lots of amenities. This hotel is located right in Vík, within walking distance of the Kronan grocery store. Breakfast is included with your stay.
The Barn. This hostel is one of the highest rated properties in Vík. Rooms range from dormitory style rooms to family rooms that can accommodate up to 6 people. The Barn is located just outside of Vík and a great value for your money.
Black Beach Suites. Located just outside of Vík, this property offers apartments that can accommodate up to four people. Guests rave about the amazing views of the coastline, having a small kitchen in their room, and the remoteness of this property (even though you are just a short drive from Vík).
Near Skógar and Hvolsvöllur
Hotel Selja. This small hotel is located near Seljalandsfoss. It gets excellent reviews for its modern rooms and views from the hotel.
Lindartun Guesthouse. This is where we stayed and we really liked it. It is a bit out of the way, located in Lindartun, about 10 minutes south of Hvolsvöllur, but it is a good value for the money. Tyler and Kara stayed in the family room and Tim and I stayed in the bungalow which had a kitchen, living room, and one bedroom. Just outside of our door were horses. If you want to stay in a nice place, without spending a lot of money, and don't mind a little extra driving, Lindartun Guesthouse is a place to consider.
Ásólfsskáli Cottage. Located on a working cow farm, these cottages come with two bedrooms, a kitchen, and a hot tub. They can accommodate up to 7 people so this makes a great option for families. The location is excellent, between Seljalandsfoss and Skógafoss.
Seljalandsfoss Horizons. This new property is located near Seljalandsfoss waterfall. The units are two-bedroom villas that can accommodate four people. These are beautiful!
Important Links
More Information about Iceland
---
Do you have any questions about the best things to do on the south coast of Iceland? What are your favorite places to visit? Let us know in the comment section below.
You Might Also Like:
Note: This post contains affiliate links. When you make a purchase using one of these affiliate links, we get paid a small commission at no extra cost to you.
All rights reserved © Earth Trekkers. Republishing this article and/or any of its contents (text, photography, etc.), in whole or in part, is strictly prohibited.