Landmannalaugar is an area in Iceland that is famous for its colorful rhyolite mountains and epic day hikes. Geothermal hot springs, lava fields, and unique hiking trails attract adventurous travelers all summer long.
Landmannalaugar is one of Iceland's best areas for day hikes. Take your pick from short, easy trails or tougher climbs up ancient volcanos for panoramic views over the region.
And if you are looking for a multi-day adventure, Landmannalaugar is the starting point for the famous Laugavegur Trek.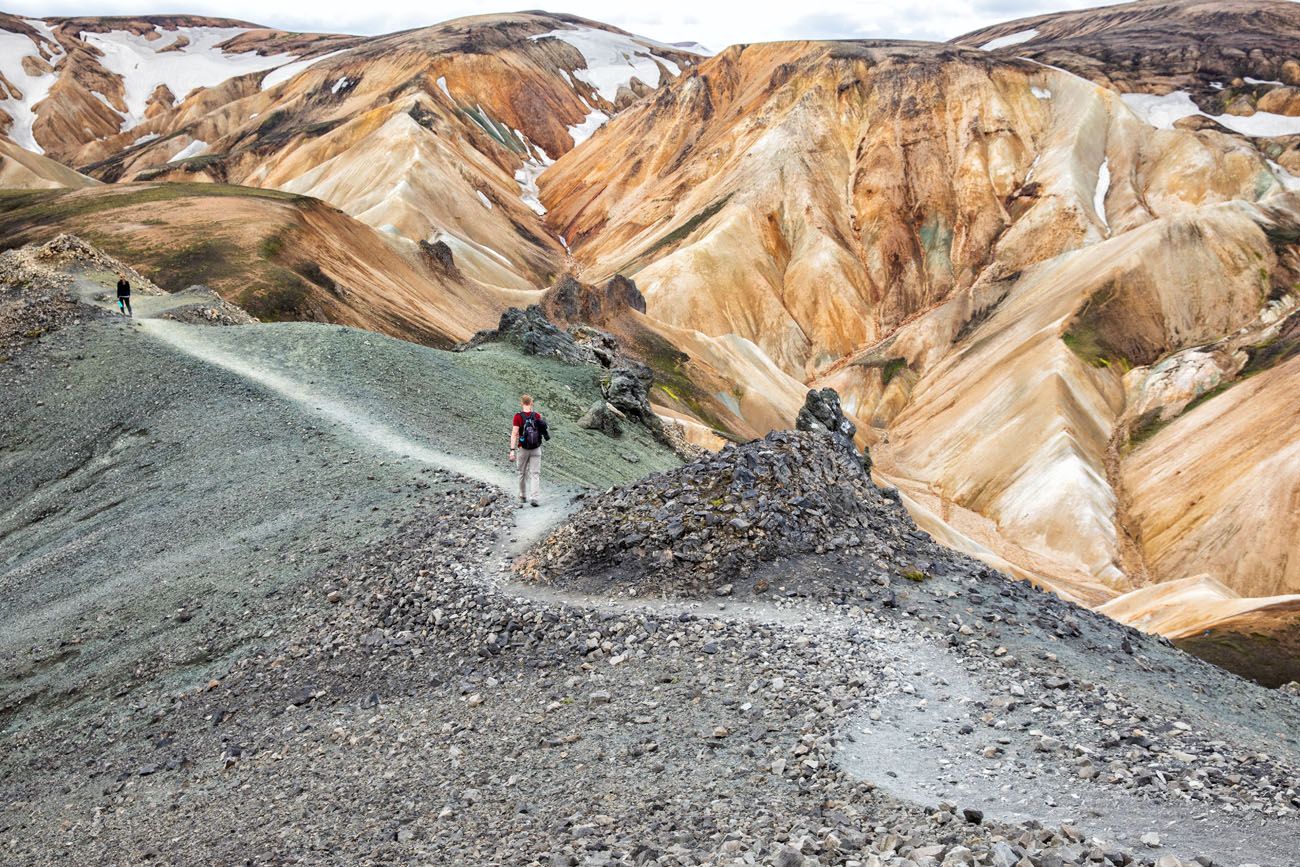 Facts about Landmannalaugar
Landmannalaugar is located in the Fjallabak Nature Reserve in the Highlands of Iceland.
The mountains and lava fields are the result of thousands of years of volcanic activity. The Laugahraun lava field, a wide expanse of jagged, black obsidian, was formed after an eruption in 1477.
One of the most memorable features of Landmannalaugar are the colorful rhyolite mountains. Rhyolite is a type of volcanic rock that is made of quartz and silica. Minerals such as iron and sulphur add extra color to the mountains. Brennisteinsalda, also called the Sulphur Wave, is a very good example of this.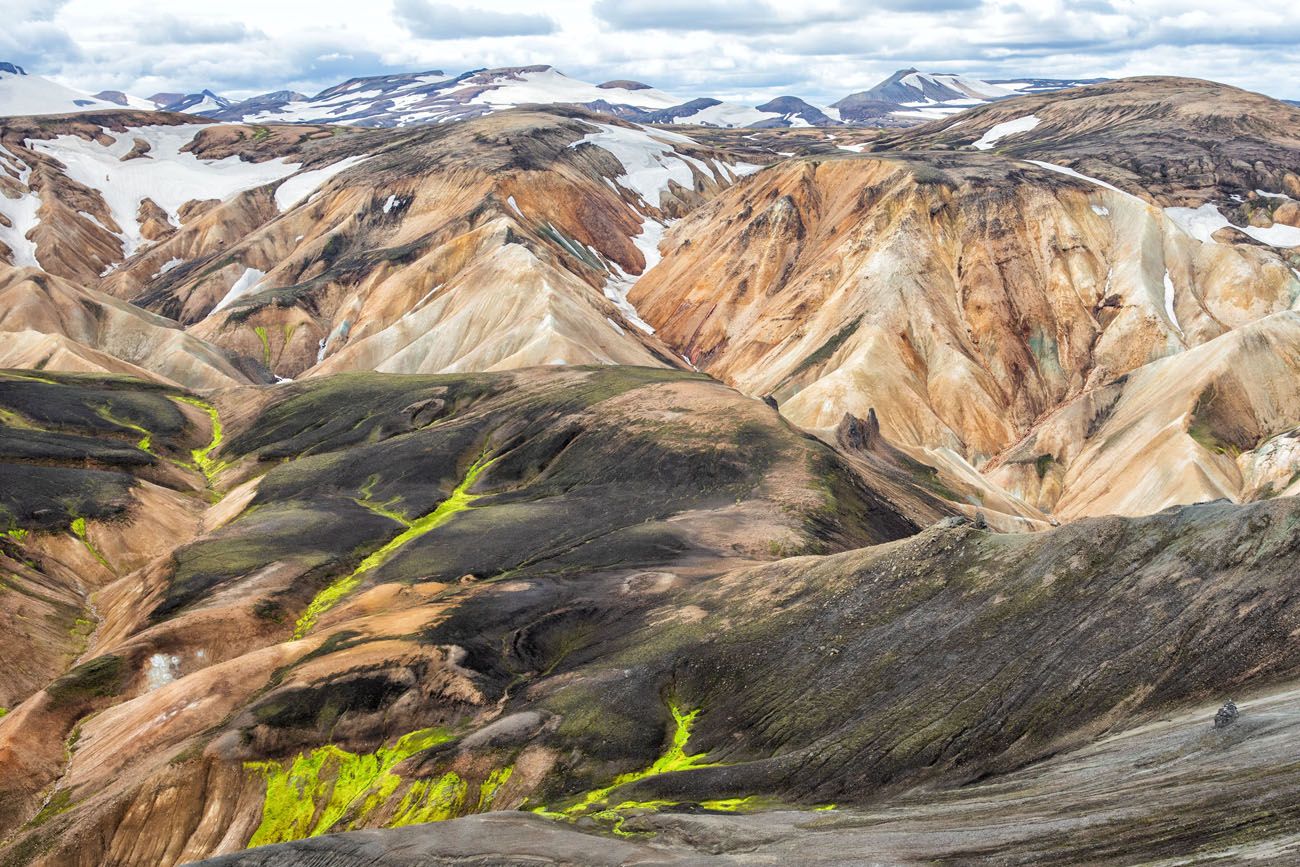 How to Get to Landmannalaugar
If you have a 4×4, you can drive to Landmannalaugar. If you do not have a 4×4, or if you do not feel comfortable driving on rough, gravel roads, you can take a bus to Landmannalaugar or join a tour.
Driving to Landmannalaugar
There are no paved roads to Landmannalaugar. To get here, you will drive on rough, unpaved roads, also called F-roads.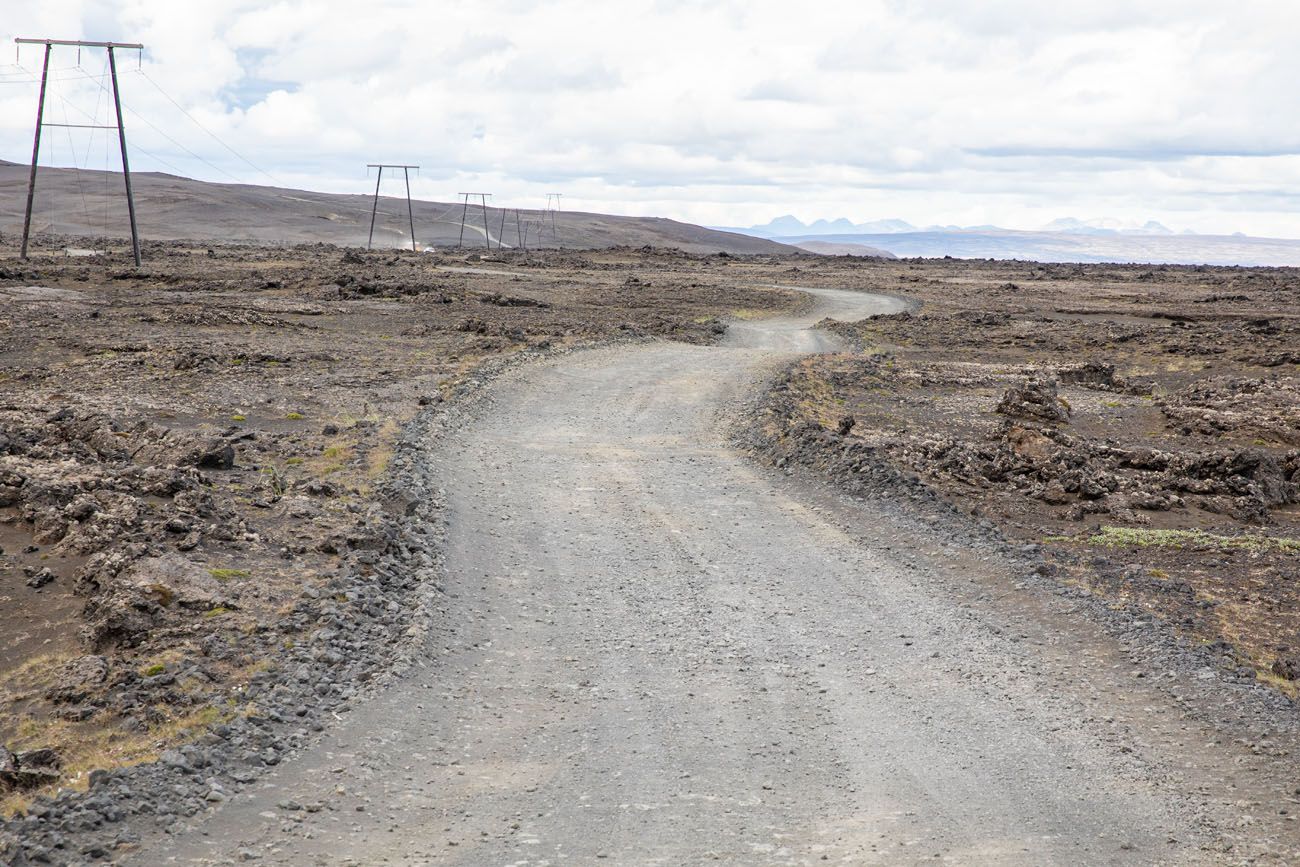 F208
In order to drive on these roads, you must have a 4×4 vehicle that is authorized by your rental car company to be driven on F-roads.
There are three routes to Landmannalaugar.
NORTH ROUTE/EASIEST: From Route 1 on South Iceland or from the Golden Circle, take route F26. Turn right onto F208 south and take this to F224 to Landmannalaugar. F26 and F208 are paved until you get to the hydroelectric station on F208. It is a rough, unpaved road for 26 km, from the hydroelectric station to Landmannalaugar.
MIDDLE ROUTE/HEKLA VOLCANO: From route 26, turn onto F225 (Landmannaleið) and take this to F208. Turn right onto F208 and then turn onto F224 to Landmannalaugar. This road is slightly rougher but you get to see Hekla volcano.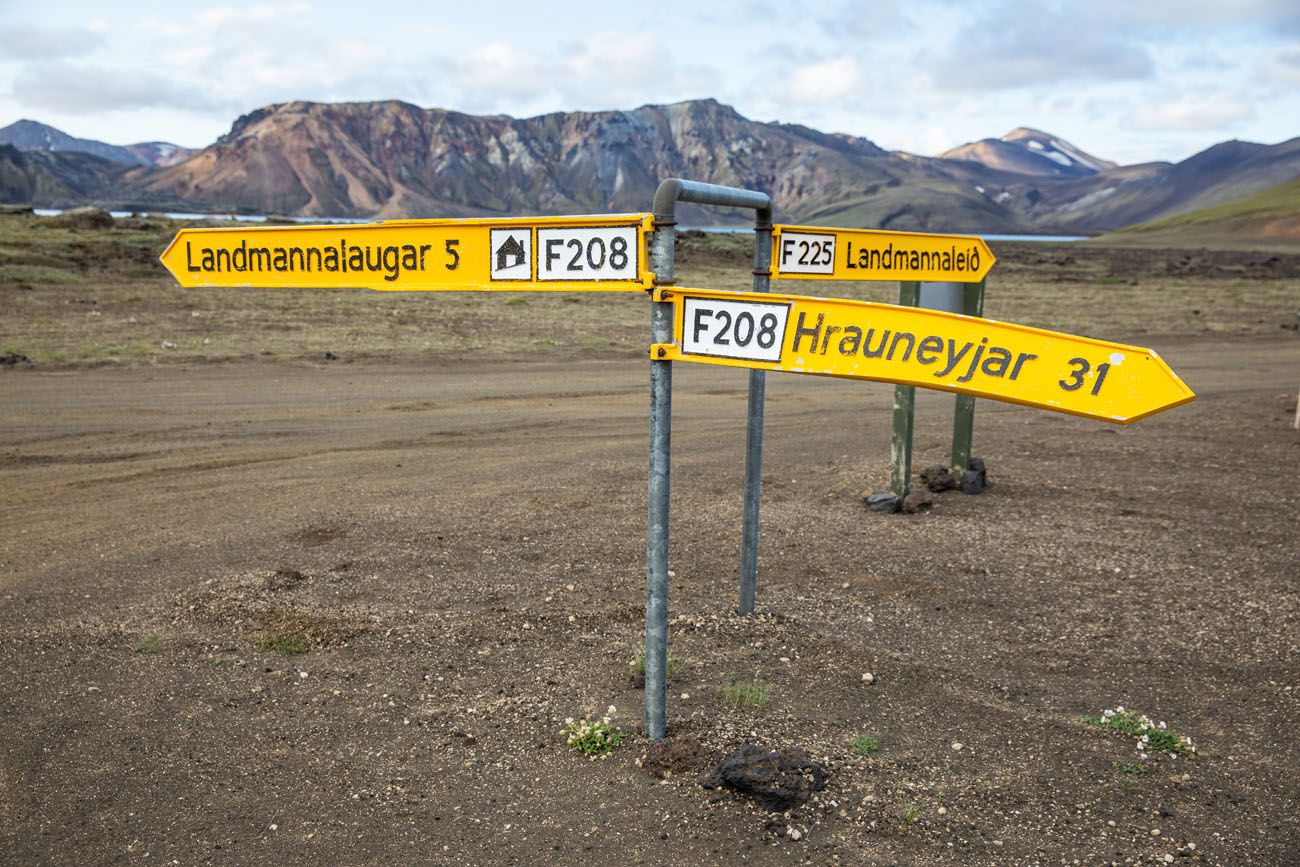 SOUTH ROUTE/MOST DIFFICULT: This route is the most difficult but some say the most scenic. From the Ring Road on South Iceland, take F208 to Landmannalaugar. This route has river crossings and rougher sections than two routes listed above.
What We Did: Since we stayed in Fludir near the Golden Circle, we drove the easiest route (F26 to F208) both ways. I highly recommend this route, not only since it is the easiest to drive, but also because you can add on a stunning waterfall along the way.
How Long Does it Take to Drive to Landmannalaugar?
If you are doing this as a day trip from Reykjavík and take the easiest route, it can take 3 hours and 15 minutes to drive to Landmannalaugar. In total, you are looking at spending six and a half hours in your car. Worth it? Absolutely, just be prepared for a long day.
Even though we stayed closer, in Fludir, it still took us two hours to drive to Landmannalaugar. But it's a beautiful drive and well worth the time to get to this unique destination.
Bus to Landmannalaugar
There are several bus companies that have routes from Reykjavík to Landmannalaugar. In general, buses run from early to mid-June through early September.
It costs roughly 8,000 ISK for a one-way bus trip from from Reykjavík to Landmannalaugar.
To get from Reykjavík to Landmannalaugar by bus, it takes just over four hours, one way. You can save some time, and money, by staying in Selfoss or Hella, which are also located on the bus route.
Click here for more information on the buses to Landmannalaugar.
PRO TRAVEL TIP: Book your bus tickets in advance. Buses can sell out so it is best to have your seat reserved ahead of time.
Landmannalaugar Tours
If you want to have your visit pre-arranged, with transportation and a guide for hiking, consider taking a tour.
Arctic Adventures offers a tour from Reykjavík that includes a hike up Mt. Brennisteinsalda, through the lava field, and up Mt. Blahnúkúr if you are doing good on time.
For more options, check out these tours.
When to Go to Landmannalaugar
The F-roads to Landmannalaugar open in mid-June and typically remain open until early September. However, this timing can change based on weather conditions.
If you plan to self drive to Landmannalaugar or use the bus, you can visit Landmannalaugar from mid-June through early to mid-September.
However, it is possible to visit Landmannalaugar year round. Join a Super Jeep tour if you want to see the area snow-covered.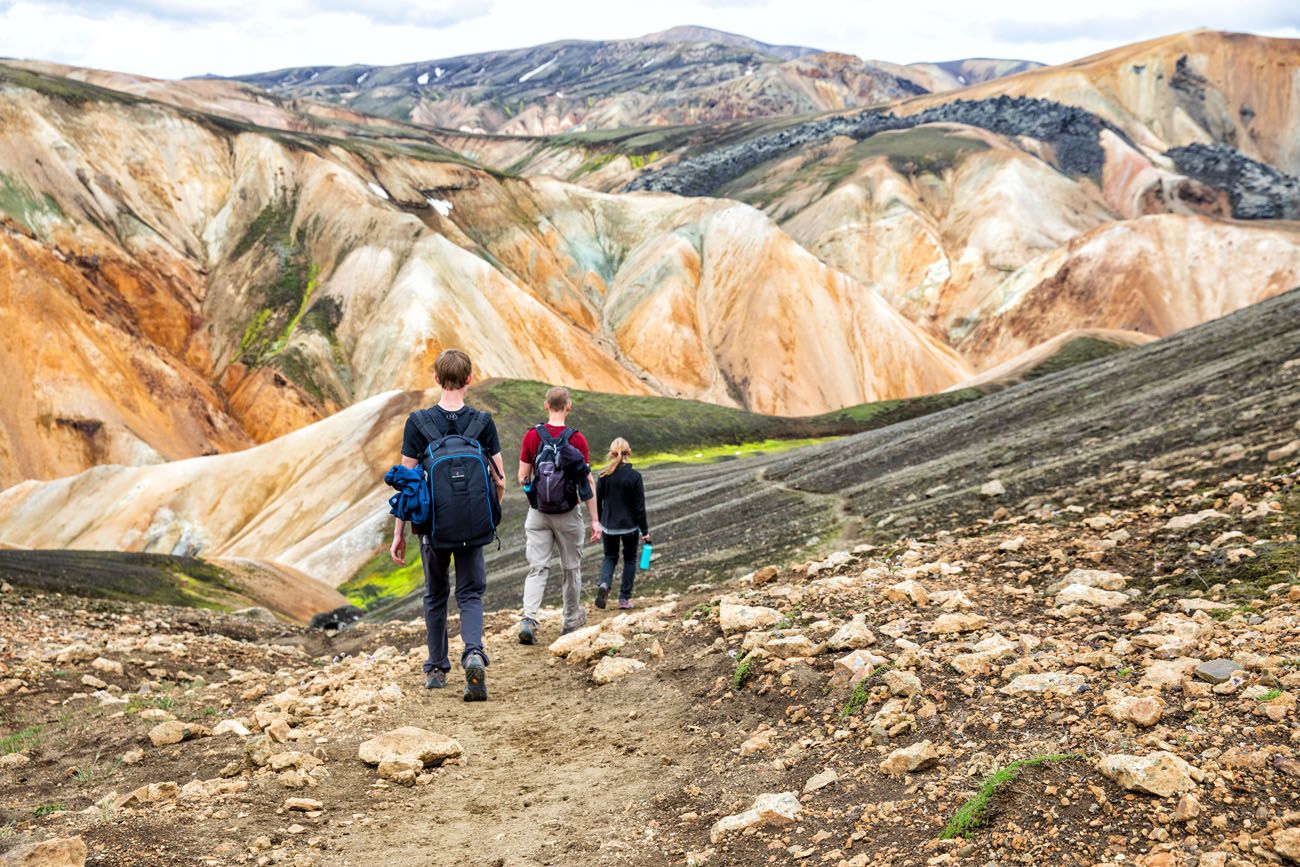 Best Things to do in Landmannalaugar
Now that you're here, what do you do?
Take your pick from a bunch of epic hikes, lounge in a hot spring, spend the night in the campsite, or start your trek along the Laugavegur trail.
People's Pool
The People's Pool is a naturally occurring hot spring located next to the Laugahraun lava field. Temperatures remain a toasty 36 to 40°C (97 to 104°F) year-round.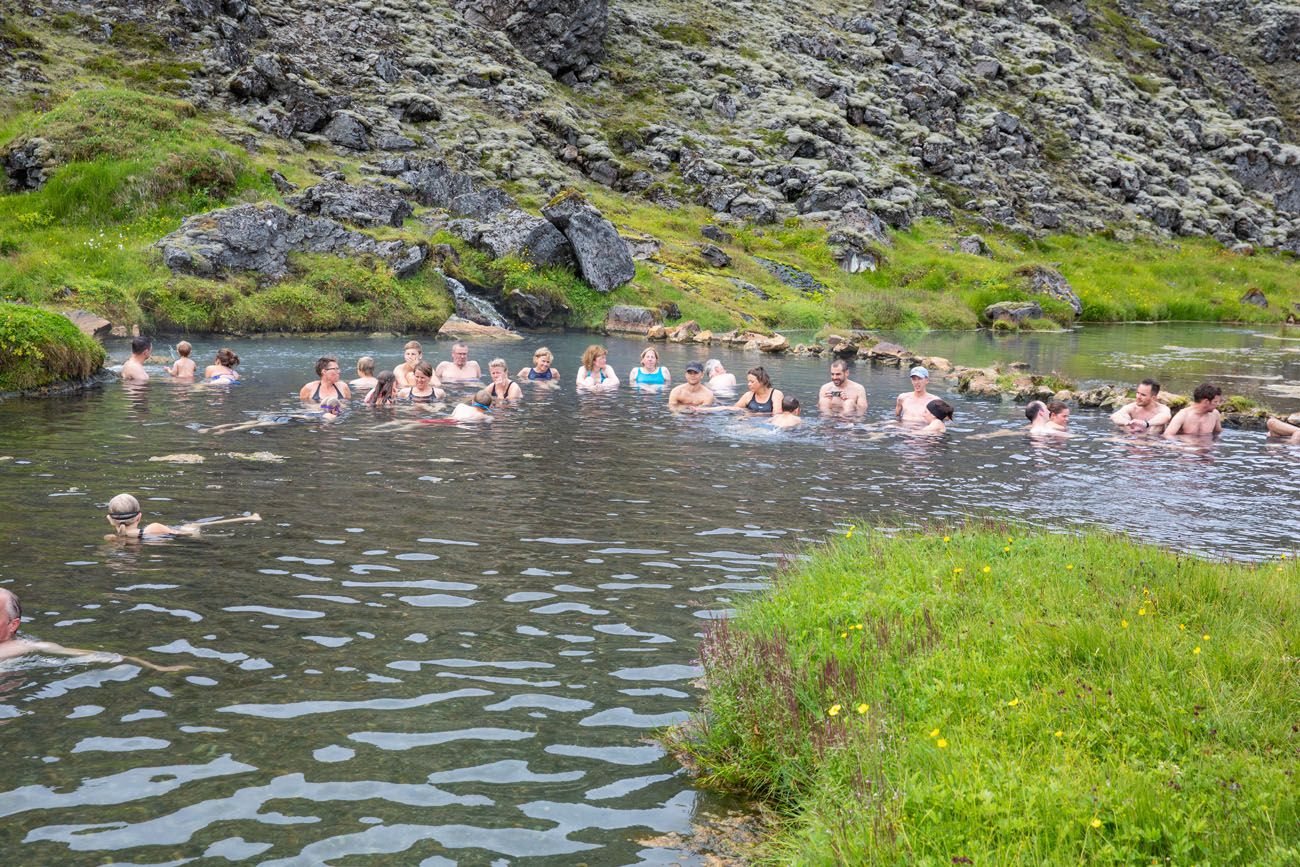 Go Hiking
The best thing to do in Landmannalaugar is to go hiking. There is no better way to get up close with these unique volcanic features. For amazing views, hike to the peak of one many mountains in the area.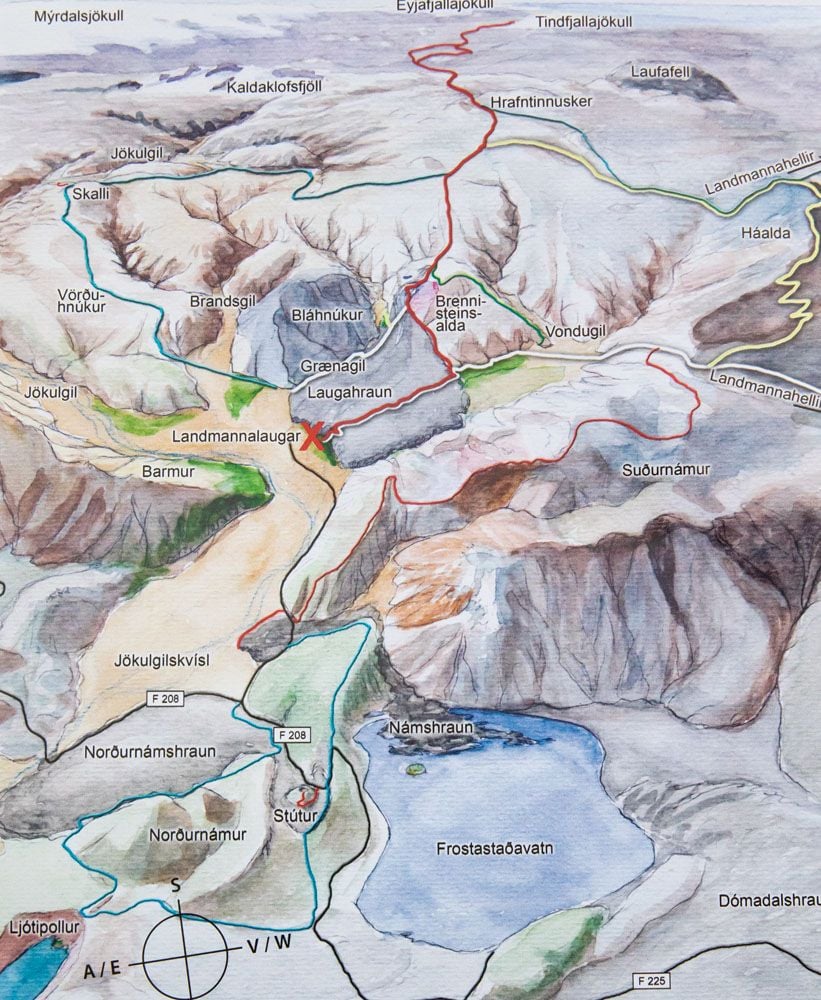 Hiking Map
Laugahraun Lava Field
Hike through a field of solidified lava. This is Landmannalaugar's most popular day hike. It's easy to do and great for all ages.
Distance: 4.3 km (2.7 miles) round trip
Length of Time: 1.5 to 2 hours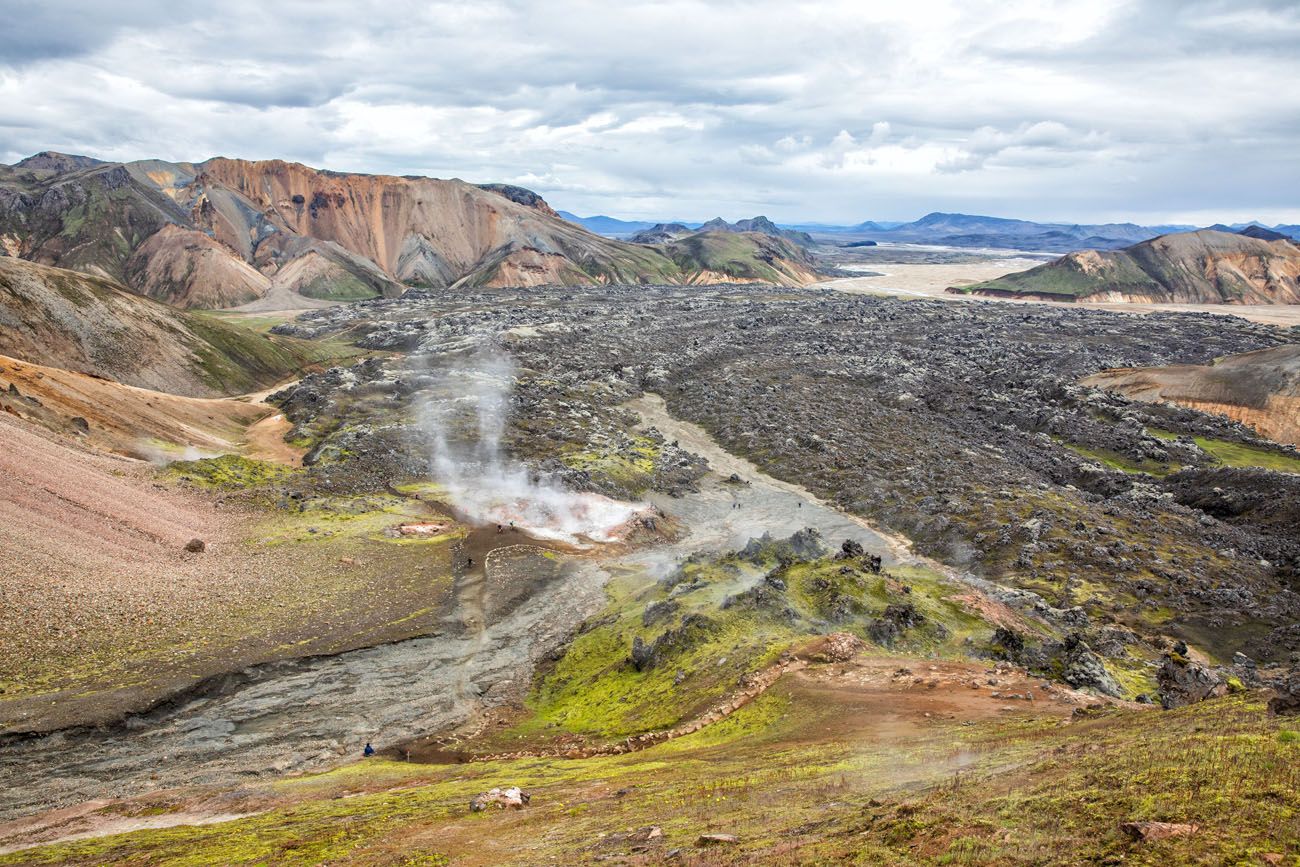 The view of Laugahraun lava field from Brennisteinsalda.
Mt. Blahnúkúr
Mt. Blahnúkúr, also called the Blue Peak, is a tough hike but it will be hard to beat the views that you get from the summit. Not only was this our favorite hike in Landmannalaugar, it was one of our favorite hikes in Iceland.
Distance: 6.1 km (3.8 miles) round trip
Length of Time: 2.5 to 3.5 hours
Learn More: How to Hike Mt. Blahnúkúr, the Blue Peak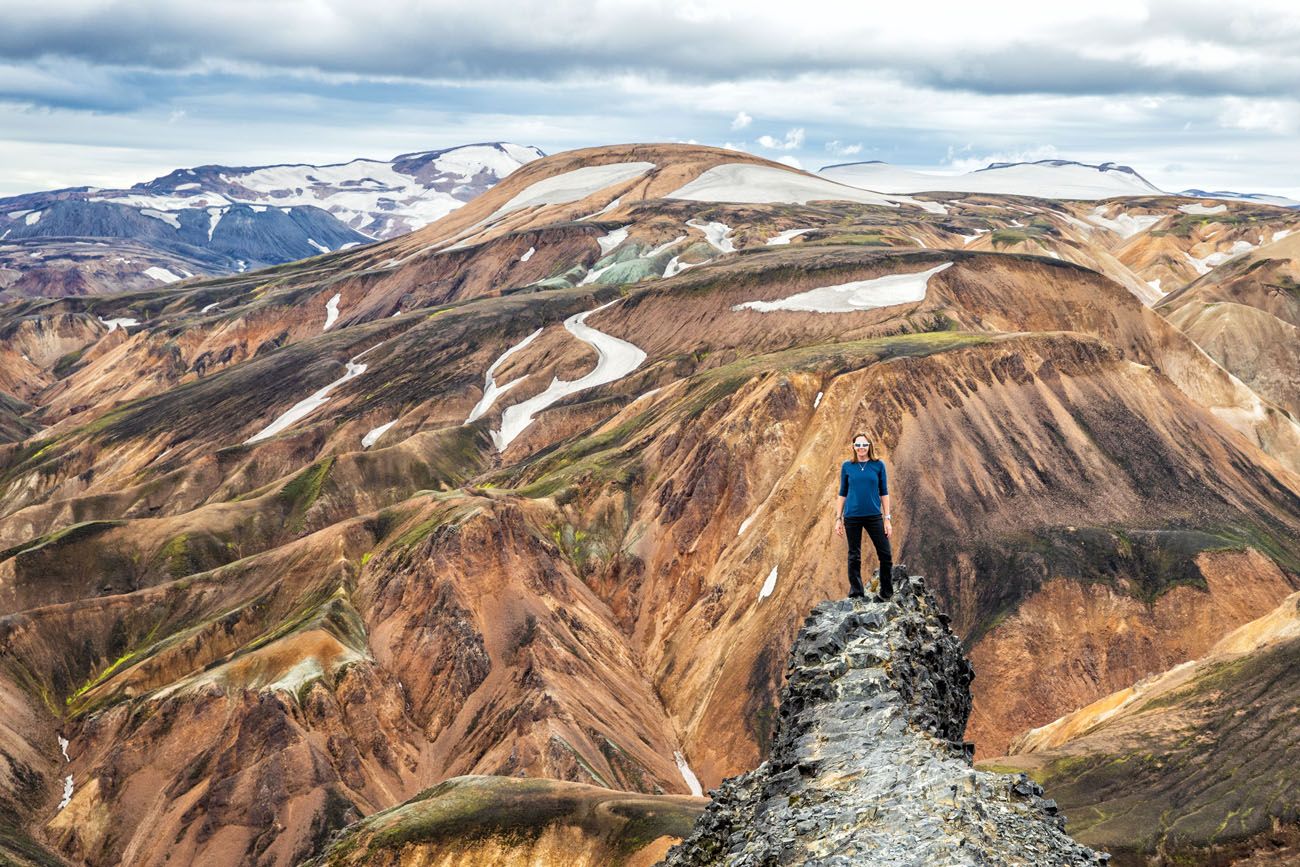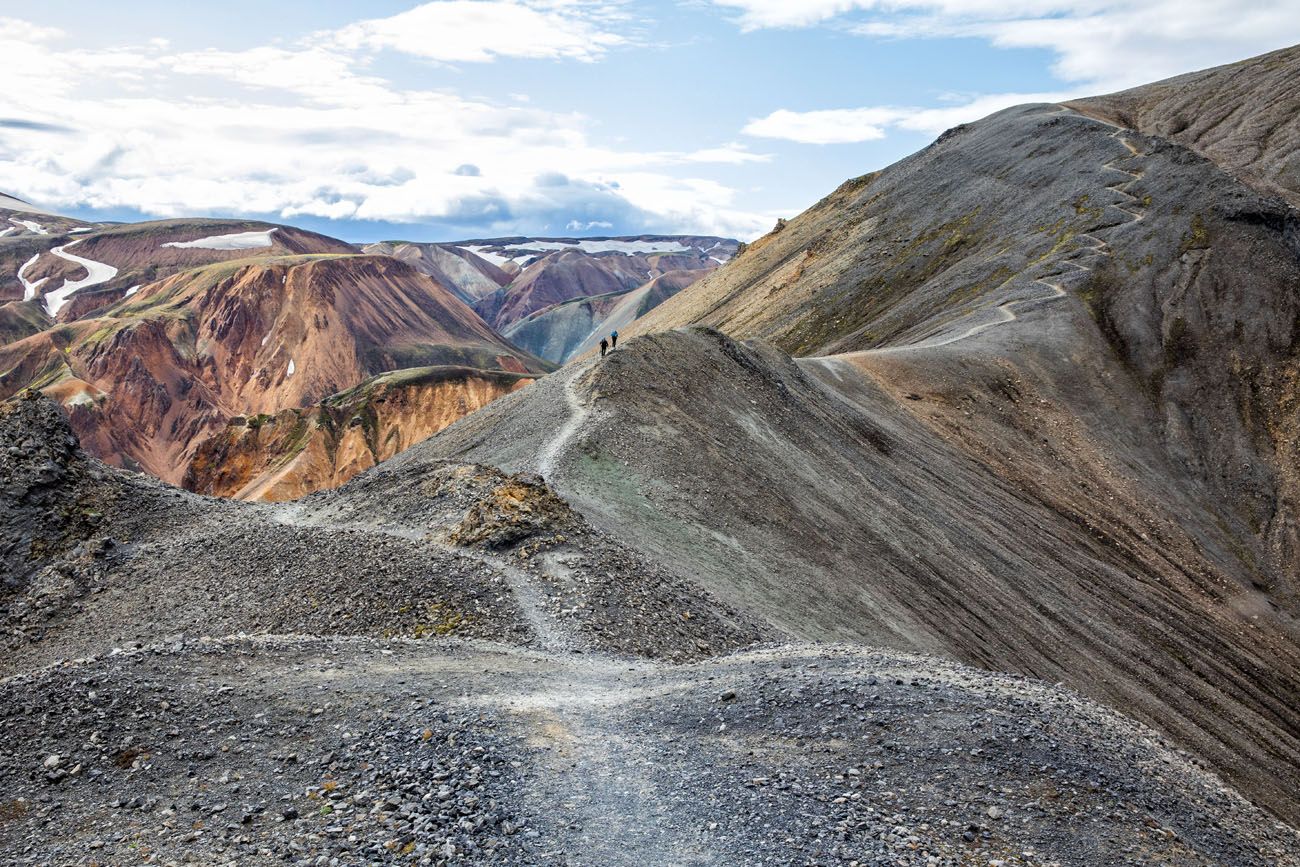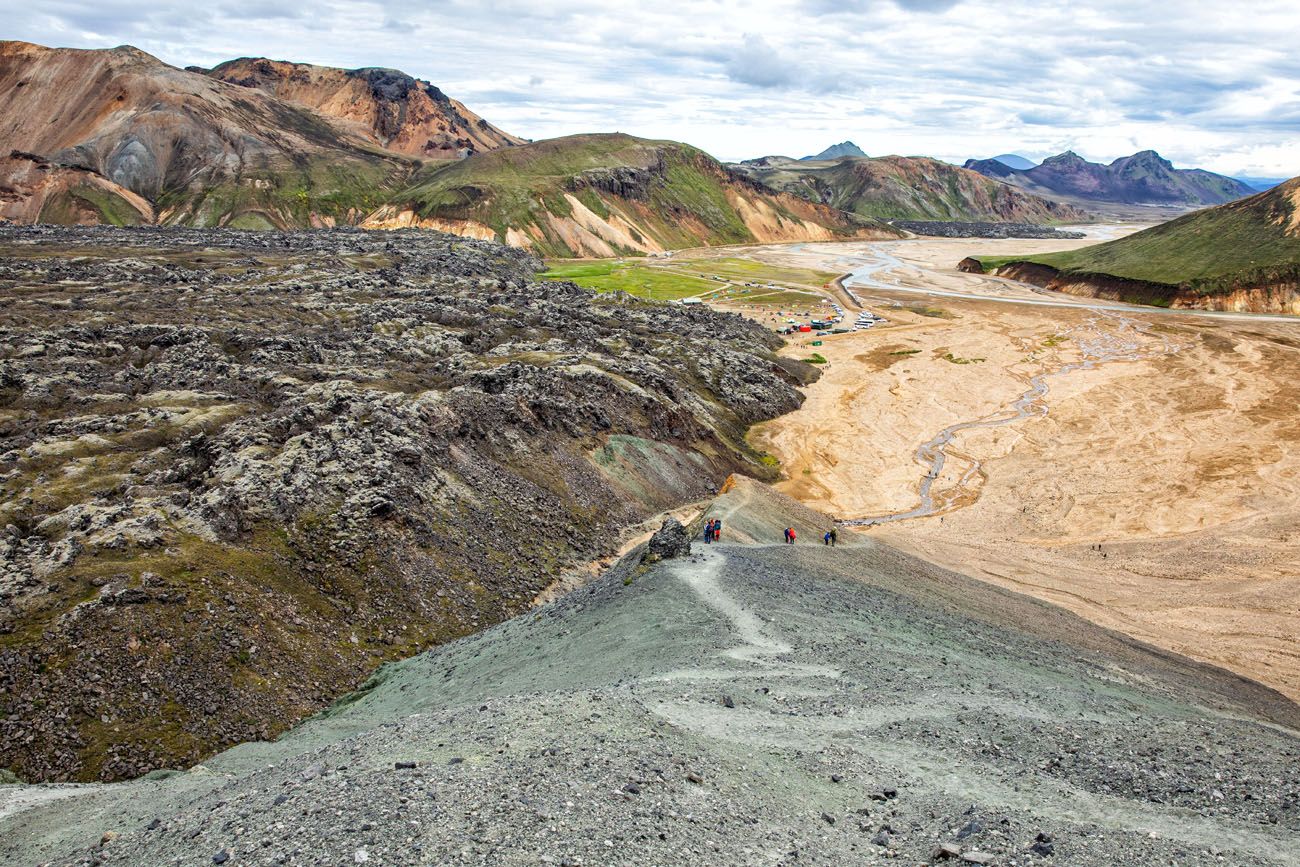 Mt. Brennisteinsalda
Mt. Brennisteinsalda, also called the Sulphur Wave, is another tough hike where you will climb to the summit of a mountain. It's a bit shorter and easier than Mt. Blahnúkúr, so if you are looking to hike to the peak of a mountain for amazing views, but aren't thrilled about a massive climb, Brennisteinsalda is a good one to consider.
Distance: 6.5 km (4 miles) round trip
Length of Time: 2 to 3 hours
Learn More: Mt. Brennisteinsalda, Hiking the Sulphur Wave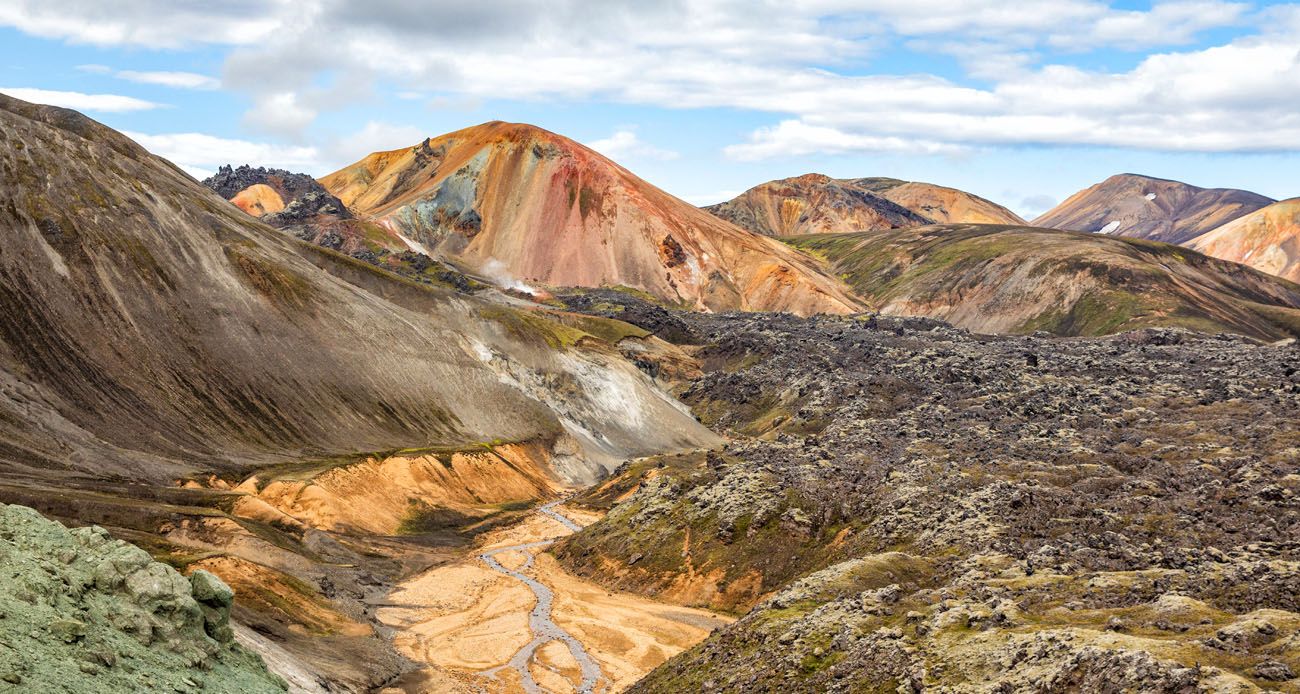 Blahnúkúr Brennisteinsalda Loop
If you can't decide between Blahnúkúr and Brennisteinsalda, why not do both? On this loop hike, experience the best of Landmannalaugar. Walk through the lava fields, past steaming fumaroles, and summit two peaks for unbelievable views over Landmannalaugar.
Distance: 9.7 km (6 miles) loop
Length of Time: 4 to 6 hours
Learn More: Hike the Blahnúkúr Brennisteinsalda Loop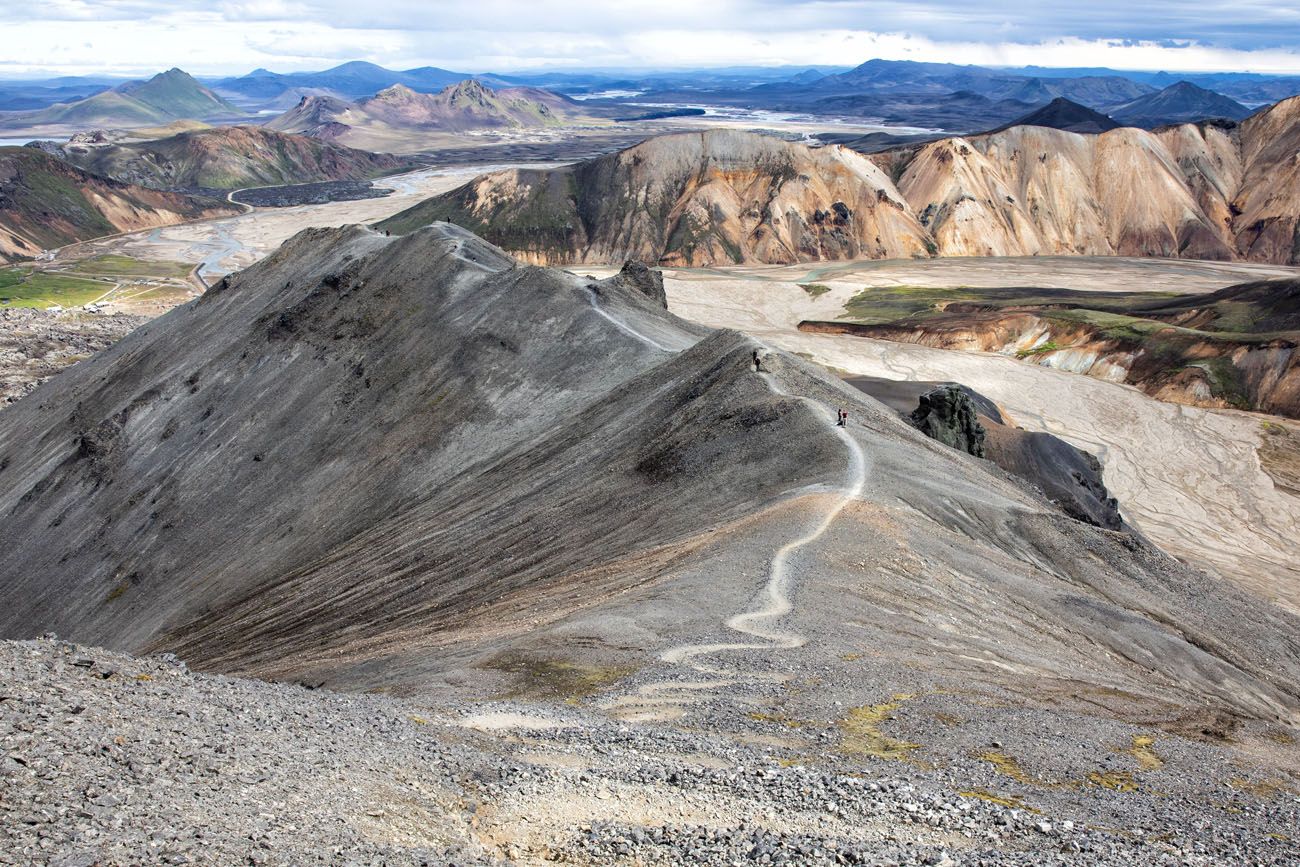 Blahnúkúr Trail
Ljótipollur
Ljótipollur, also called the "Ugly Puddle," is another popular trail where you hike around a volcanic crater. This hike is located a short drive from the Landmannalaugar campground.
Distance: 13.3 km (8.3 miles)
Length of Time: 4 to 6 hours
Stútur
Stútur is a very short hike on a volcanic crater. It takes about 30 minutes of your time and it's located right on F208 before you arrive at the Landmannalaugar campground. With soil that is deep brown and red, and with the hills covered in bright green moss, it looks vastly different here than near the Landmannalaugar campground.
Distance: 0.5 km
Length of Time: 30 minutes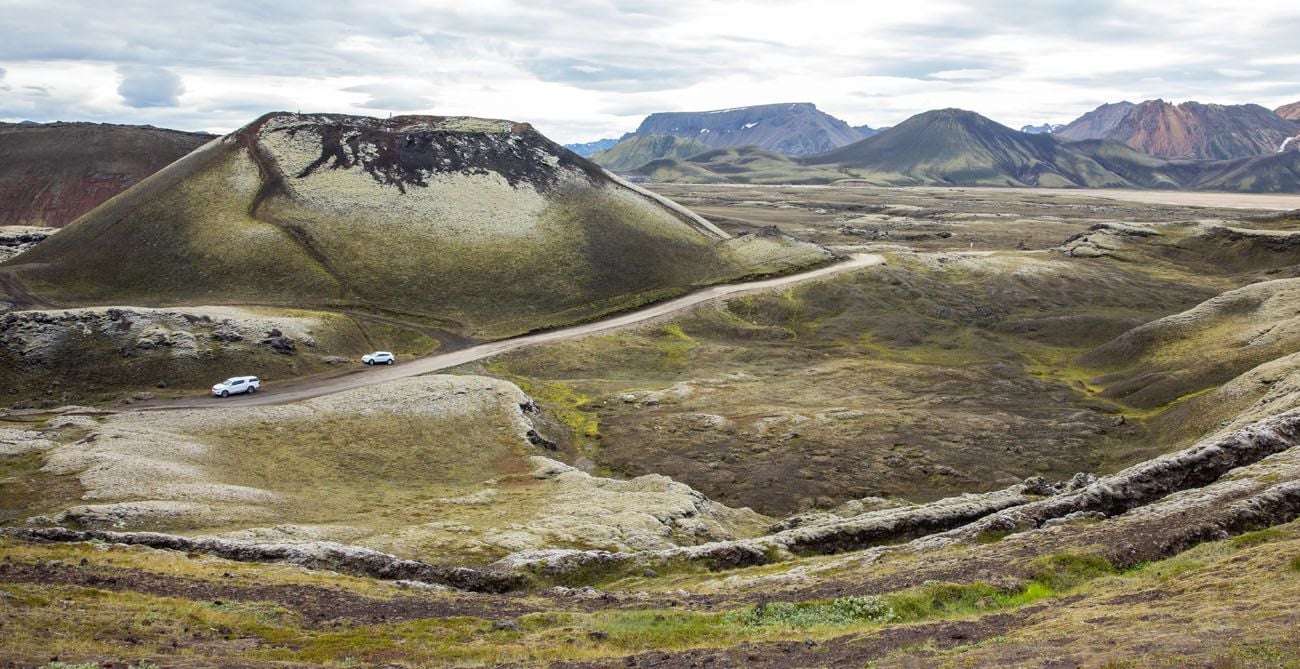 Stútur is the crater in this photo. The cars are parked along F208.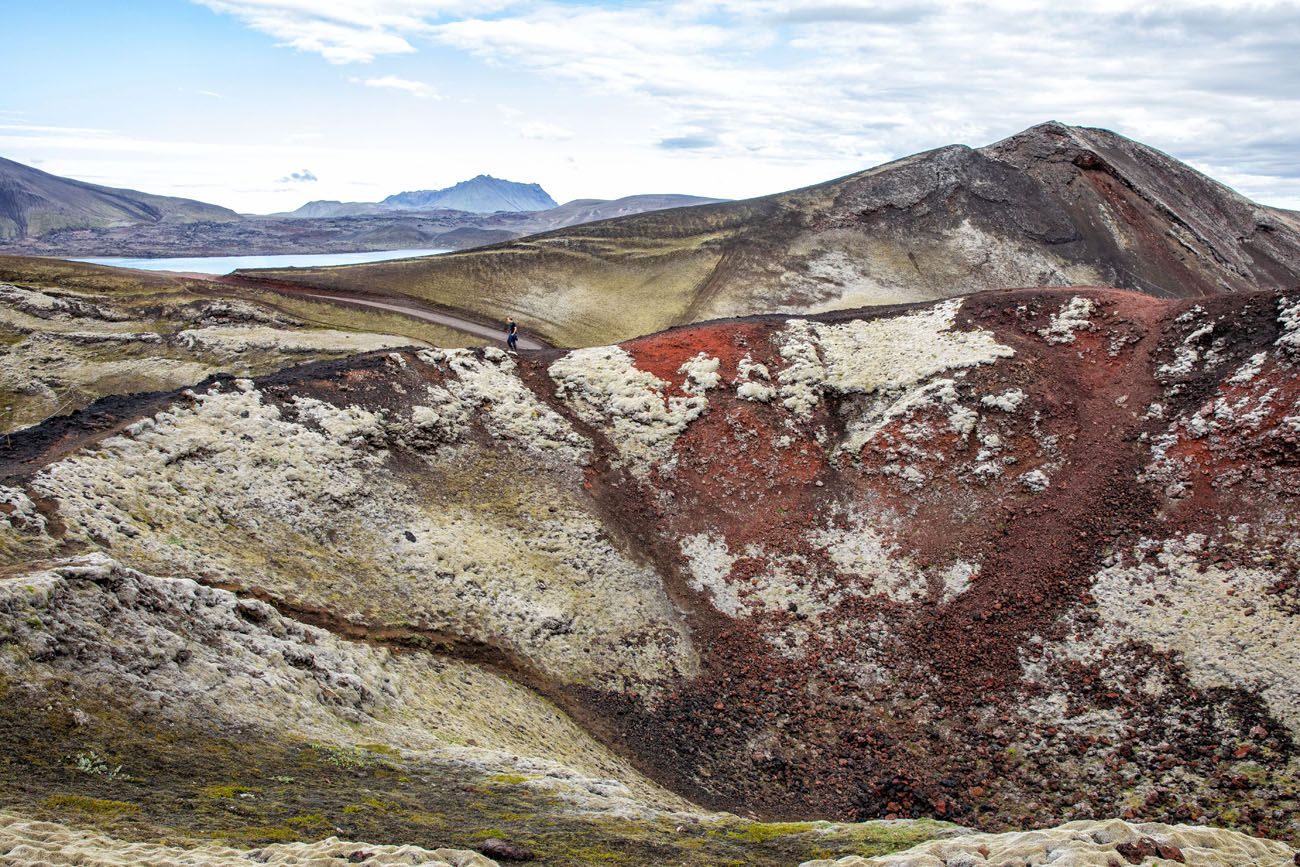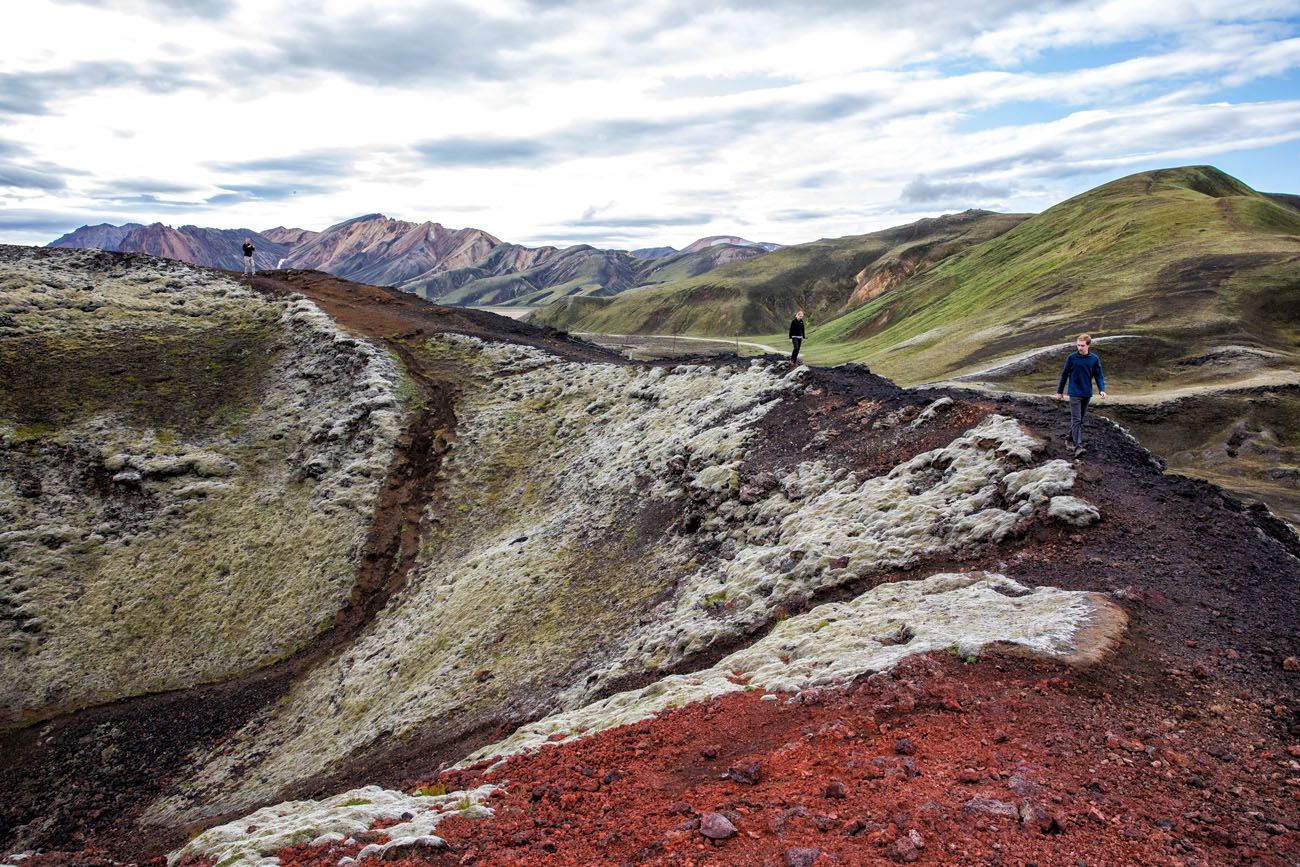 Sudurnamur
This is another tough hike that features a climb to a mountain peak. From the summit, you will have a great view over Landmannalaugar, Brennisteinsalda, the lava field, and Blahnúkúr.
Distance: 8.5 km (5.3 miles)
Length of Time: 3 to 4.5 hours
Skalli
This is the longest hike on this list. You'll leave the crowds behind as you circle around Blahnúkúr into the rust-colored mountains. On the way back to Landmannalaugar, you hike a portion of the Laugavegur Trail and hike through Graenagil canyon.
Distance: 15 km (9.3 miles)
Length of Time: 6 to 8 hours
PRO TRAVEL TIP: When you arrive in Landmannalaugar, visit the information booth for more information on day hikes and to purchase a copy of the trail map.
Laugavegur Trail
The Laugavegur Trail is a multi-day trek that spans 55 km from Landmannalaugar to Thórsmörk. Most people start in Landmannalaugar and end in Thórsmörk. It is typically done in 4 days and 3 nights, camping or staying in mountain huts along the way.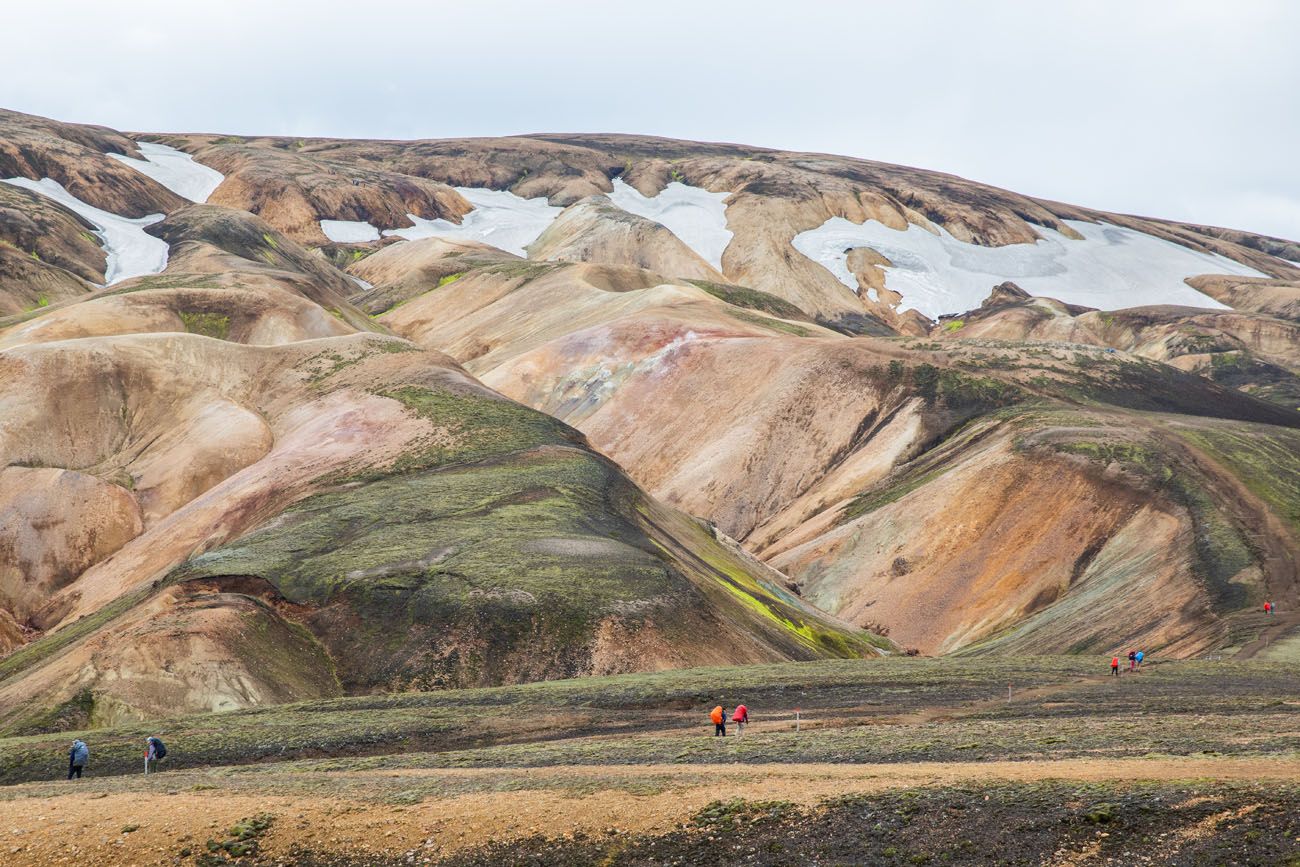 Where to Stay in Landmannalaugar
If you plan to spend the night in Landmannalaugar, you can either stay in the mountain hut or camp in the campground.
There is a two-story lodge that was built in 1969 by the Icelandic Touring Association. In this lodge there is a kitchen and numerous sleeping rooms. The lodge is open from June 15 to September 15. Make sure you book your stay well in advance.
If you plan to camp in Landmannalaugar, there is a large campground near the main lodge. It operates on a first-come first-served basis.
Click here for updated pricing and to make your reservation for the hut.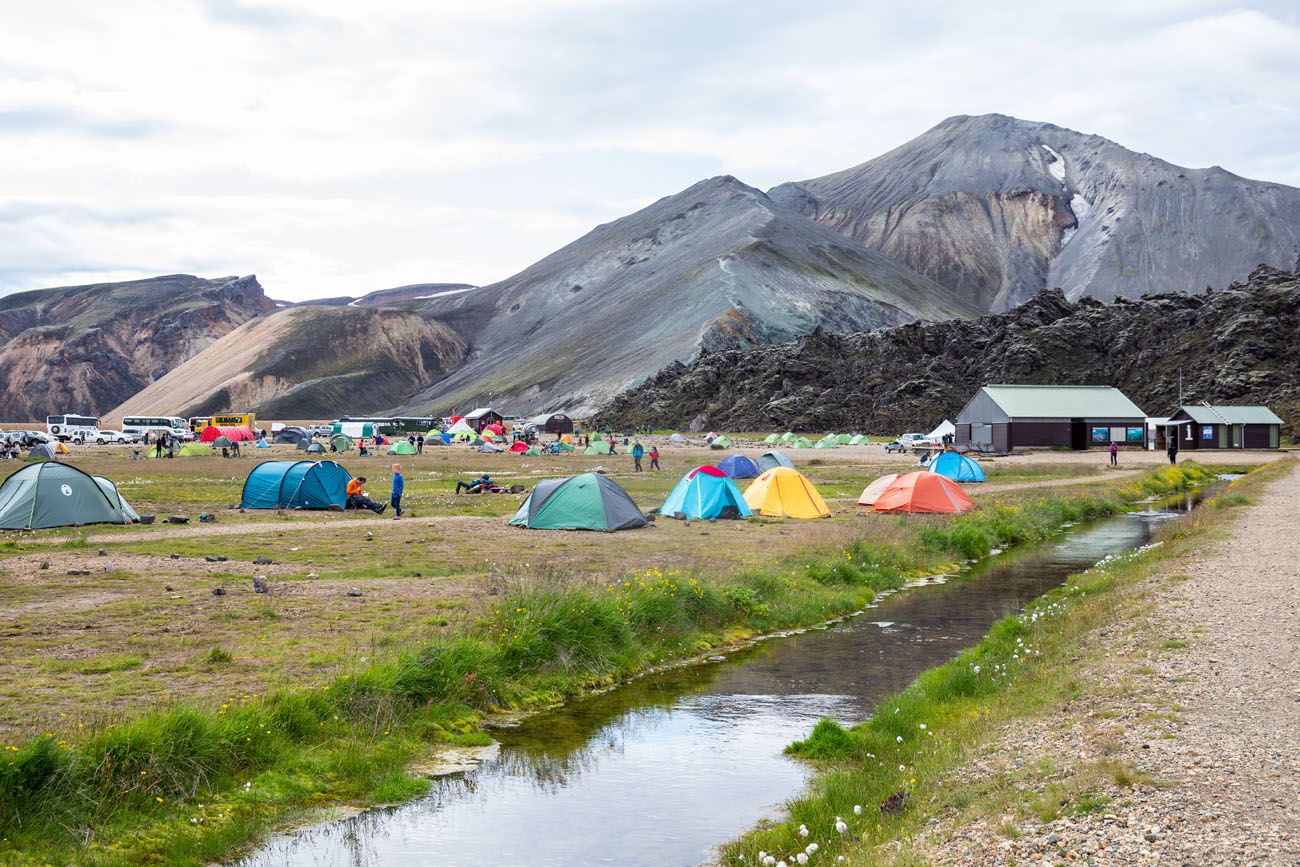 Landmannalaugar campground with Blahnukur in the background.
Services in Landmannalaugar
Parking
There are two parking areas. There is a large parking area located just before the river that runs next to the campground. If you are in a small 4×4 and/or are not comfortable driving through a river, park here. From this parking lot, it's a 0.6 mile walk to get to the campground.
To park in the lot next to the campground, you will have to cross a river. This is as close as you can get to the campground.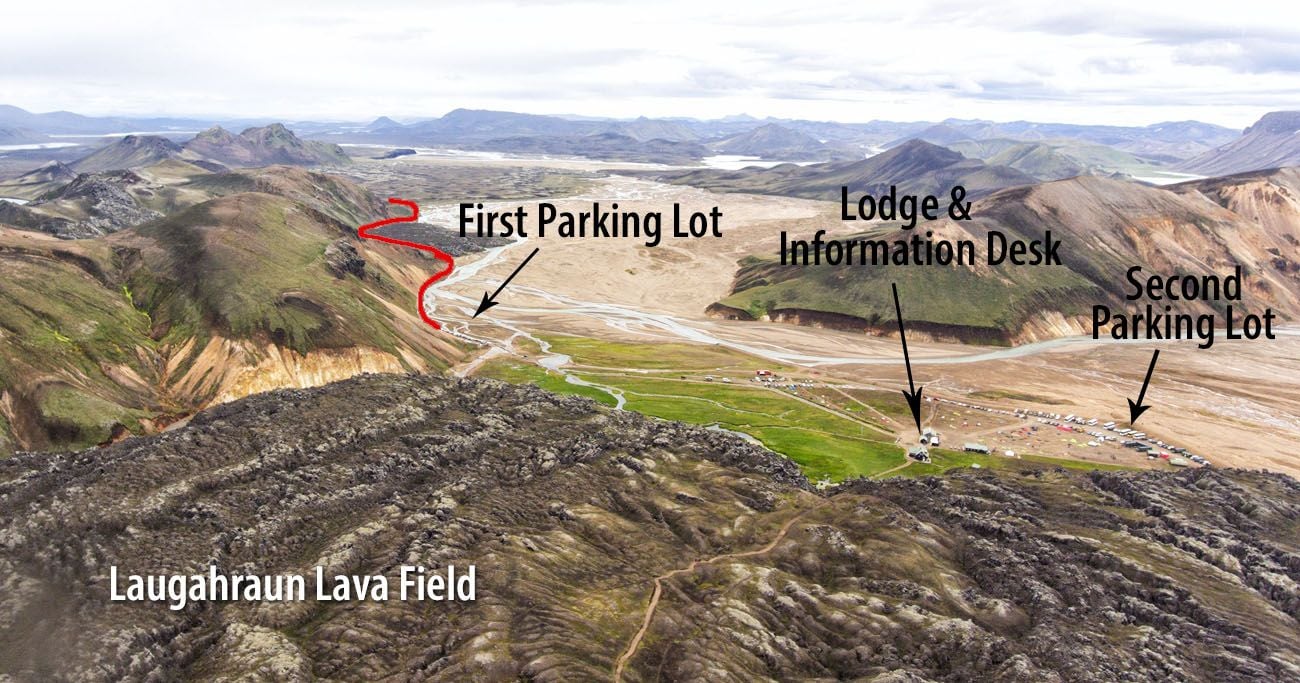 Drone photo of Landmannalaugar. The red line is F224 to the campground.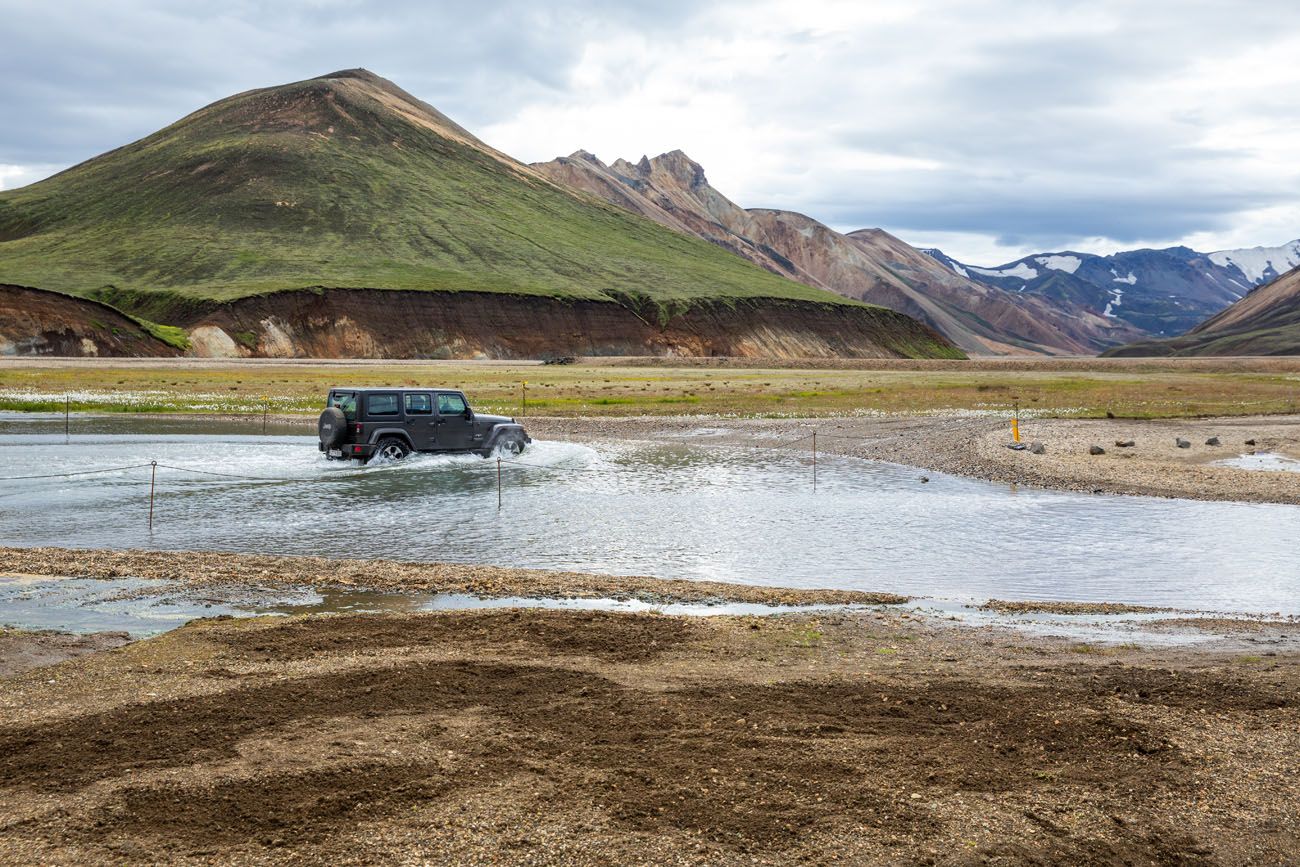 River crossing to the parking lot closest to the campground.
Bathrooms
Next to the main hut is a building with showers and toilets. To use these toilets, you will have to pay the one time fee of 2500 ISK. Pay the fee at the information booth and you will be given a wristband that gives you access to the restroom.
Food
There are no restaurants in Landmannalaugar, but there is a unique convenience store. Called the Mountain Mall, snacks and camping essentials are sold out of these green buses. We brought our own food with us, but it's nice to know that you can buy food here if necessary.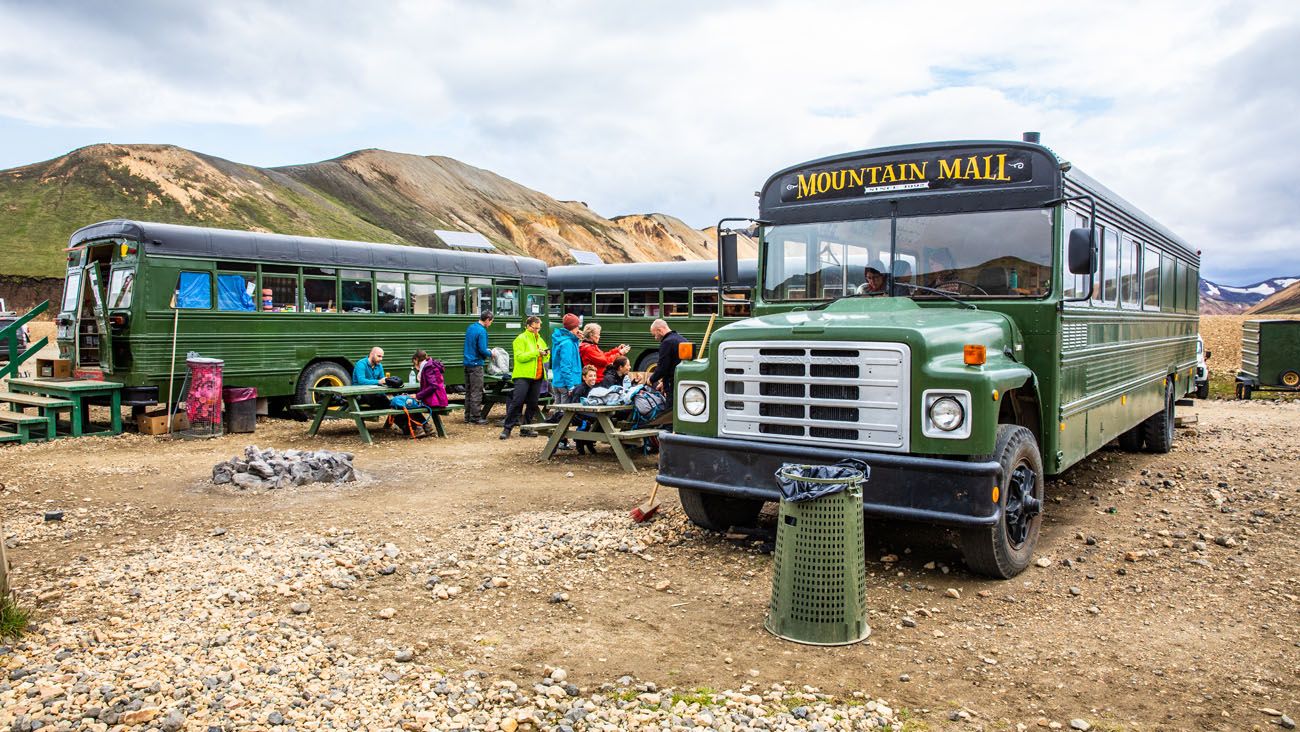 Information Desk
Located next to the building with the restrooms is an information desk. If you have any questions, or if you want to purchase a trail map, this is the place to do it. They also sell snacks here.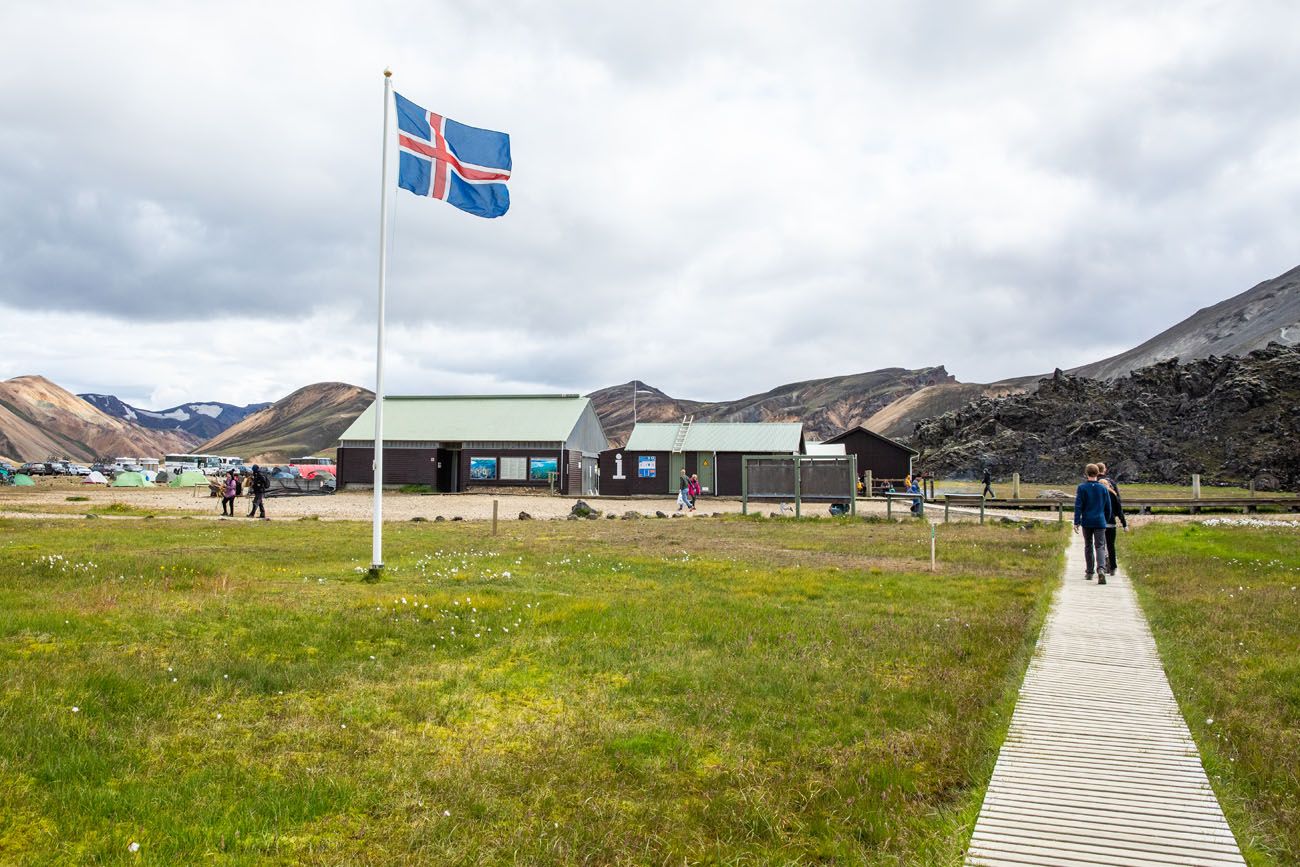 Gas/Petrol
There is no petrol station in Landmannalaugar. Make sure you have a full tank of gas before you make the drive.
What to Pack
It is chillier in Landmannalaugar than it is on the coast or on the Golden Circle. The weather can also be more unpredictable.
I recommend bring lots of layers. Long pants, a long-sleeved shirt, and a rain jacket are a must. Waterproof pants, extra layers for warmth, hats and gloves are nice to have, just in case.
Hiking shoes are a must. The trails can be wet and slippery so you will need shoes with good traction.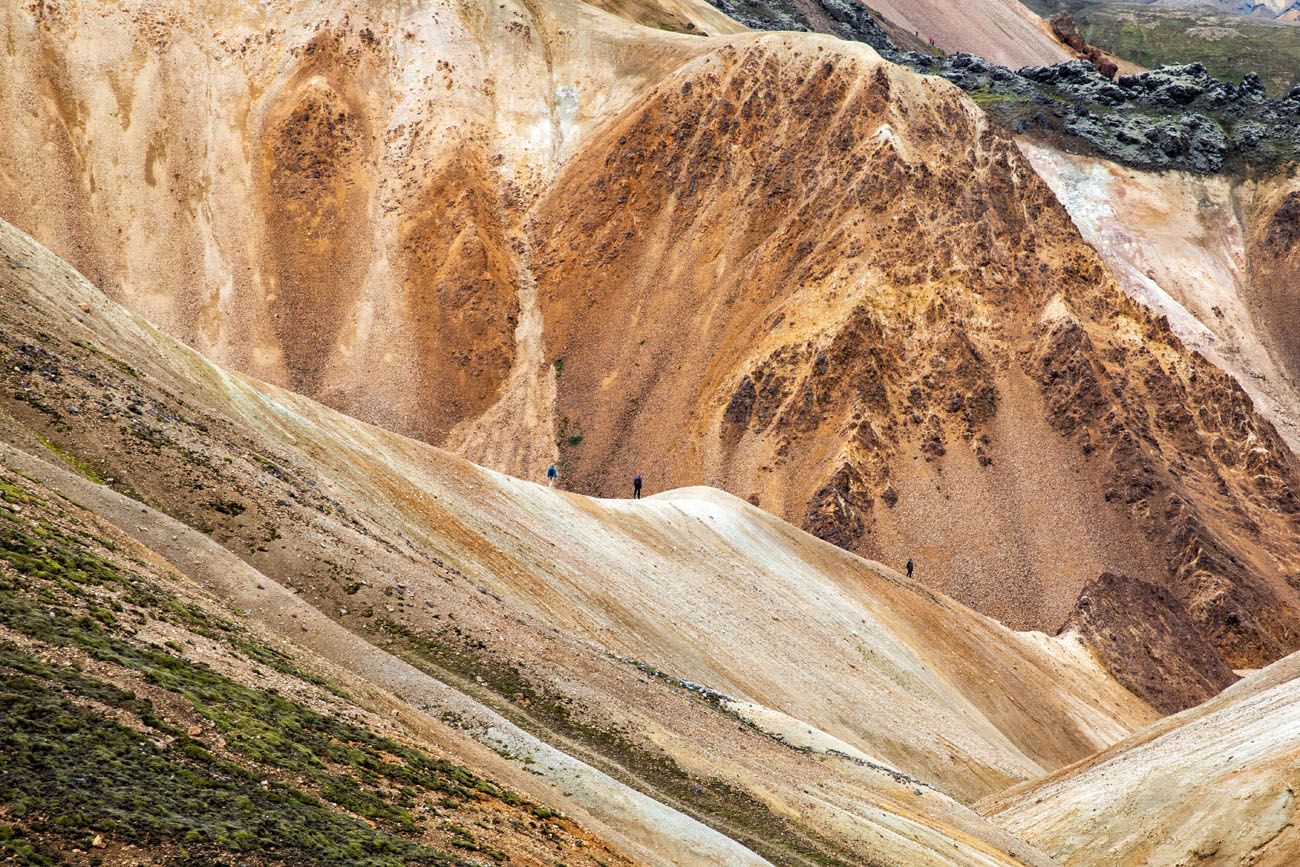 Landmannalaugar One Day Itinerary
If you are here for just one day, you have enough time to do one to two hikes. I recommend getting a very early start in the morning to get here before most of the other day trippers arrive. For more information, read our one day itinerary for Landmannalaugar.
Pick your favorite hiking trail, fill your camera's memory card with awesome photos, and relax in the hot spring before you leave.
What We Did: We drove to Landmannalaugar from Fludir. Our first stop was the very quick hike up Stútur. The bulk of our day was spent hiking Blahnúkúr and Brennisteinsalda. Since there was very limited information online, we didn't really know what we were doing. Blahnúkúr was #1 on our hiking list and then we just happened to stumble upon the hike up Brennisteinsalda. It was an amazing experience and I highly recommend doing the loop if you have the time and energy. On the drive back to Fludir, we made the short and very worthwhile detour to Sigöldugljúfur.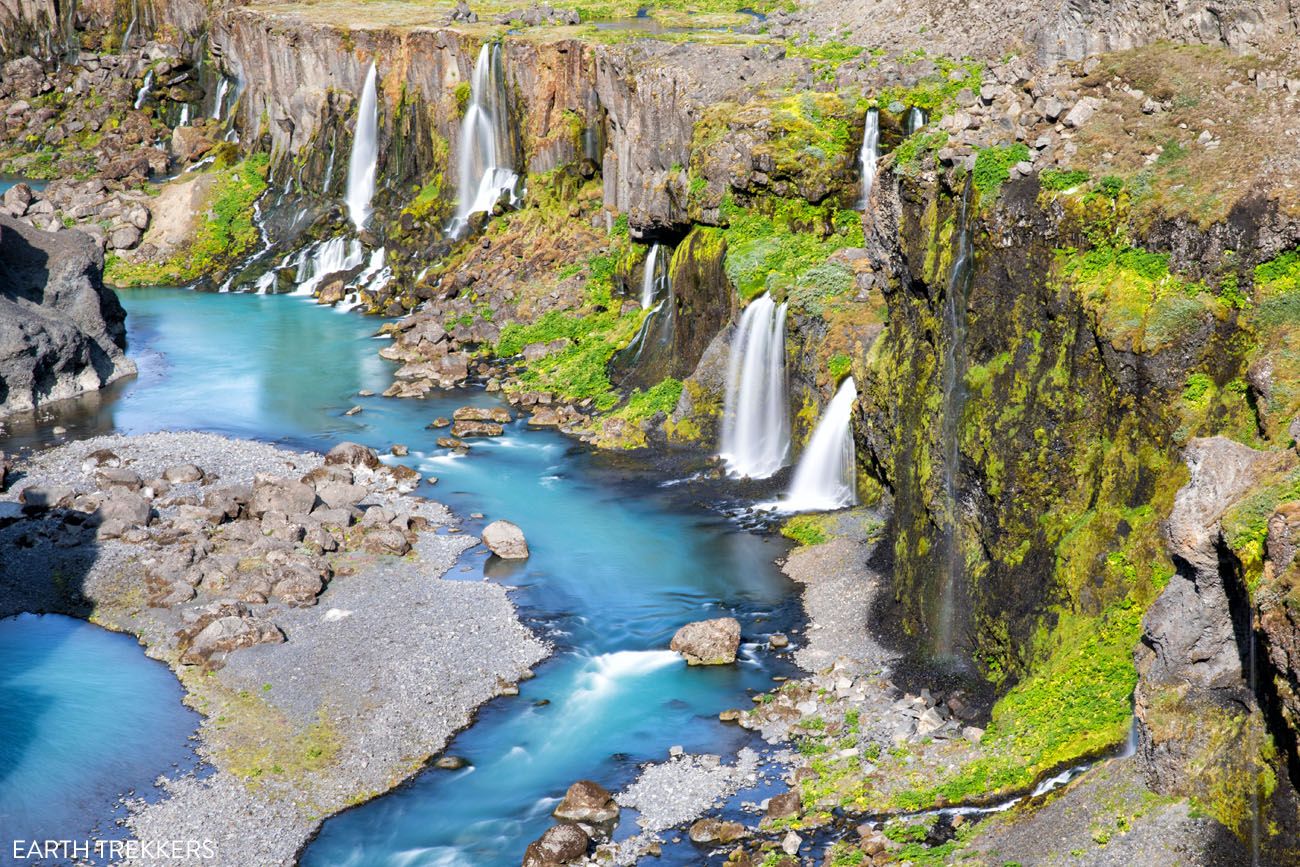 Sigöldugljufur, a canyon located on F208 north of Landmannalaugar.
Tips to Have the Best Experience
Make sure you have a full tank of gas before you drive to Landmannalaugar. There are no petrol stations here or along the F-roads.
Check the weather before you go. www.en.verdur.is is the most reliable website.
Check the road conditions before you go.
---
If you have any questions about planning a trip to Landmannalaugar, or if you want to share your experience, comment below.
More Information for Your Trip to Iceland
ICELAND ITINERARIES: There are several ways to put together a trip to Iceland. If you have 10 days, here are four different ways to spend your time in Iceland. We also have a detailed 10 day itinerary that includes the highlights of Iceland, perfect if it is your first visit. Or, if you are looking for more adventure, check out our 10 day Iceland Adventure Itinerary.
ADVENTURES IN ICELAND: One of the best ways to experience Iceland is on a hiking trail, and we have an article about 10 epic day hikes in Iceland. You can also venture to Kerlingarfjöll, go glacier hiking, and hike the amazing Fimmvörðuháls trail.
SNAEFELLSNES PENINSULA: Plan the perfect visit to the Snaefellsnes Peninsula with our Guide to the Snaefellsnes Peninsula, which covers the best things to do, where to stay and sample itineraries.
WATERFALLS IN ICELAND: Here are 20 beautiful waterfalls to visit in Iceland. We have detailed guides on how to visit Haifoss, Sigöldugljúfur, Aldeyjarfoss, Dettifoss, and Brúarfoss. You can also hike to Glymur Waterfall, one of the tallest waterfalls in Iceland.
ICELAND TRAVEL ADVICE: First time in Iceland? Here are essential things to know about Iceland, including driving tips, sample costs, SIM cards, when to visit, and more.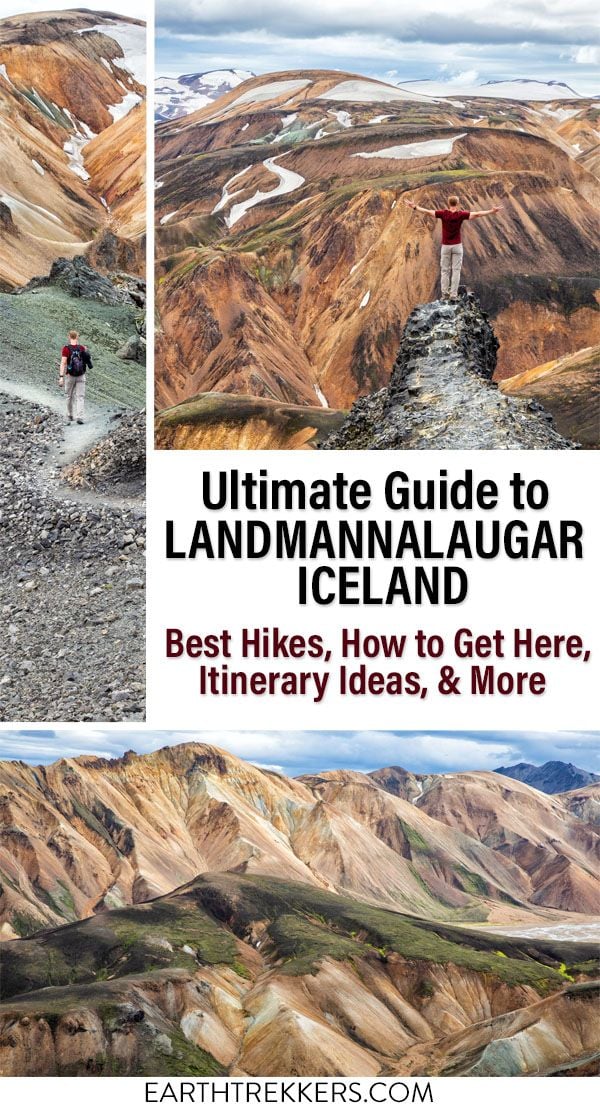 Note: This post contains affiliate links. When you make a purchase using one of these affiliate links, we get paid a small commission at no extra cost to you.
All rights reserved © Earth Trekkers. Republishing this article and/or any of its contents (text, photography, etc.), in whole or in part, is strictly prohibited.