The American Southwest is a playground for hikers, photographers, and adventurers. Fun to explore and extremely photogenic, slot canyons provide a unique hiking experience.
We have assembled a short list of some of the best slot canyons in Utah, Arizona, and Nevada. This is not an all-inclusive list, because there are tons of slot canyons in this area, but listed below are some of the most popular and the most scenic slot canyons to explore.From short, easy, scenic walks to all day technical hikes, take your pick of the slot canyons you want to explore.
What is a Slot Canyon?
A slot canyon is a narrow canyon that is formed from water rushing through rock. What starts off as a tiny crack steadily grows larger from repeat flash floods and erosion over millions of years. The end result is a narrow canyon with very high walls.
Slot canyons can be several meters wide or just one foot wide. The narrower canyons usually feature twists and turns and beautifully scalloped walls. Some canyons feature sections requiring canyoneering or rock scrambling experience while others have you hiking through a creek or standing water.
And because slot canyons are formed from rushing water, the danger of flash floods still exists today. Hikers have died because they were caught by a flash flood while in some of these canyons. Before hiking through any of these slot canyons, it is important to check the weather. If there is any rain in the area, do not enter the slot canyon. Don't become a statistic!
8 Amazing Slot Canyons to Explore
1. Antelope Canyon
Arguably the most beautiful slot canyon on this list, this is also the most popular. Located on Navajo lands, this slot canyon can only be visited on a tour.
Two different slot canyons make up Antelope Canyon and both offer very different experiences.
When people refer to Antelope Canyon, they are usually referring to Upper Antelope Canyon. With its light beams, falling sands, and high canyon walls, this is the more photogenic of the two canyons.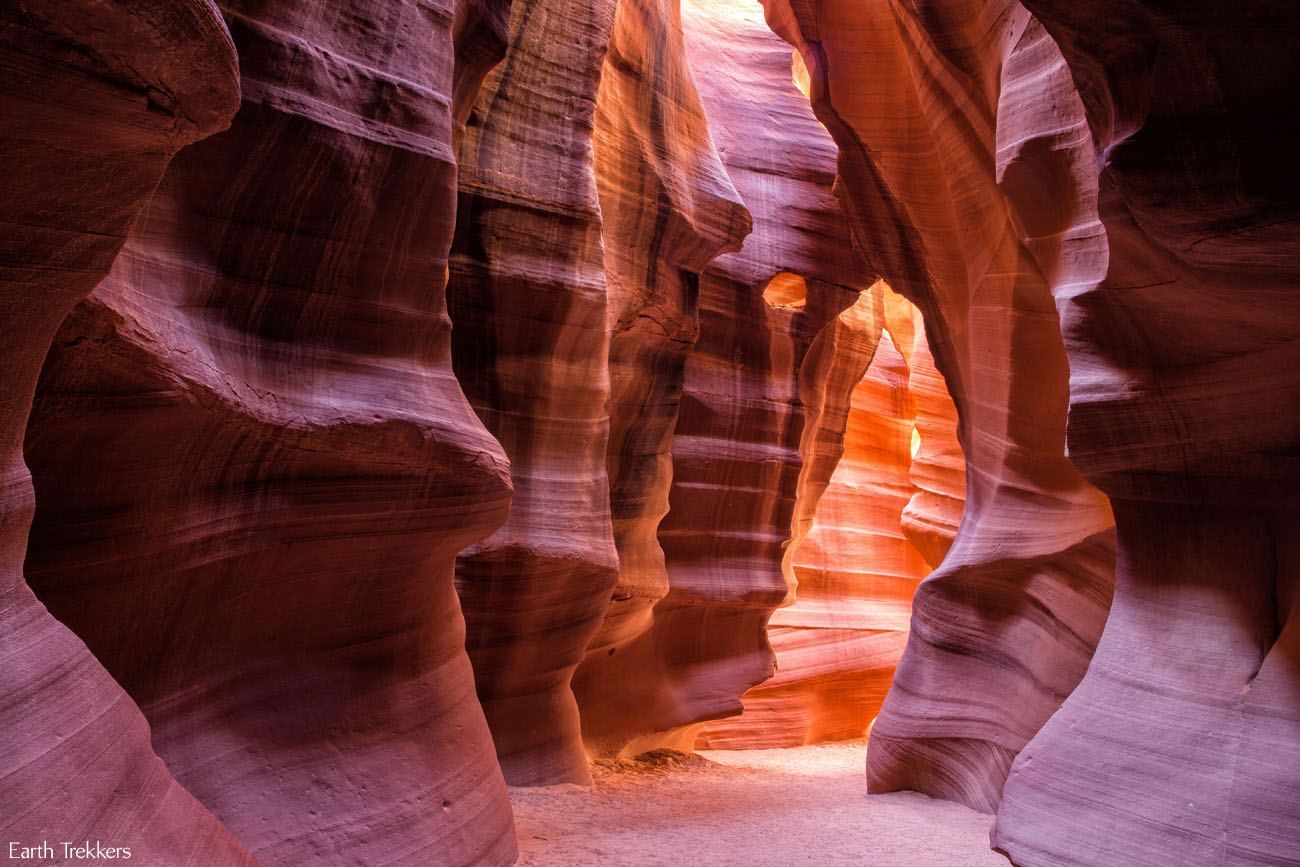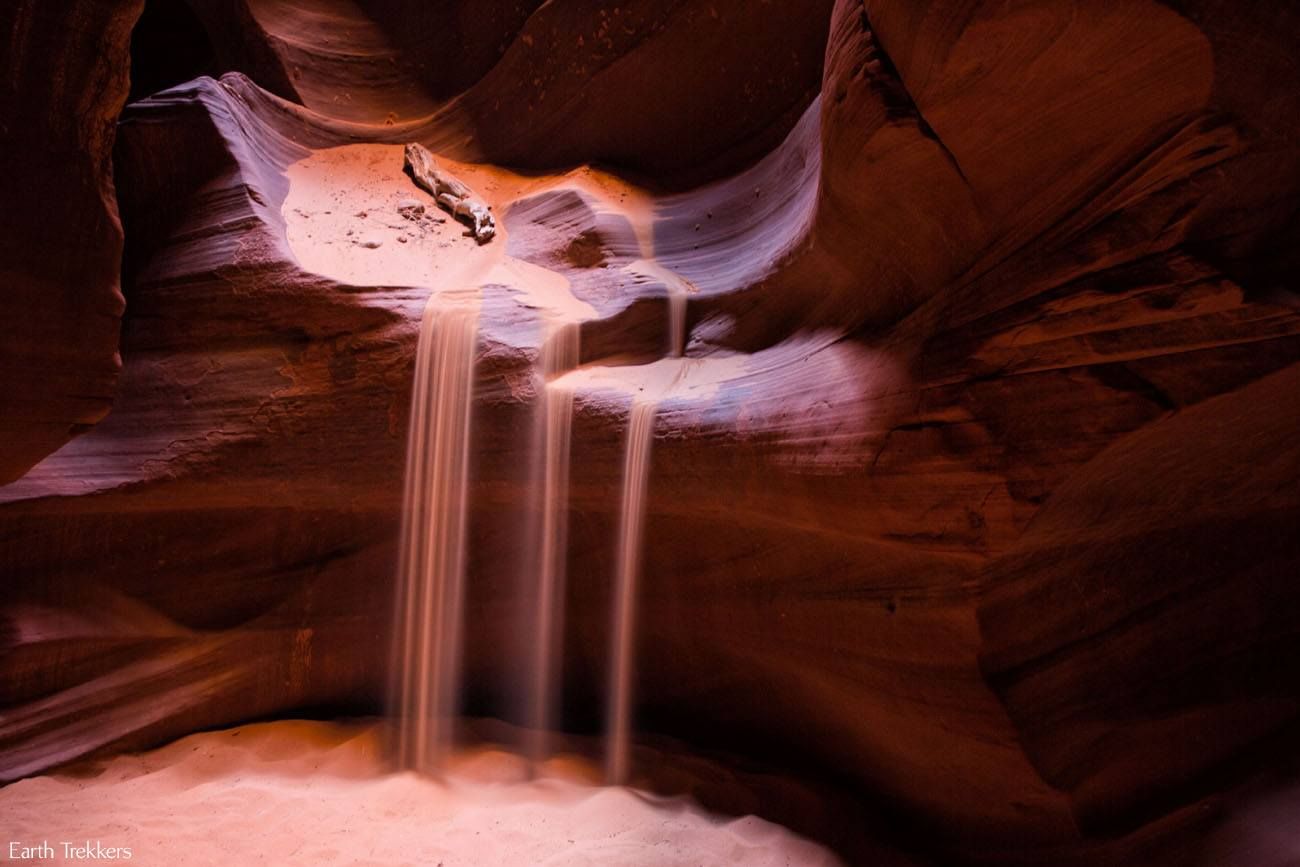 Lower Antelope Canyon is narrower at the bottom. With these narrow passageways and ladders to climb, this canyon is more fun to visit.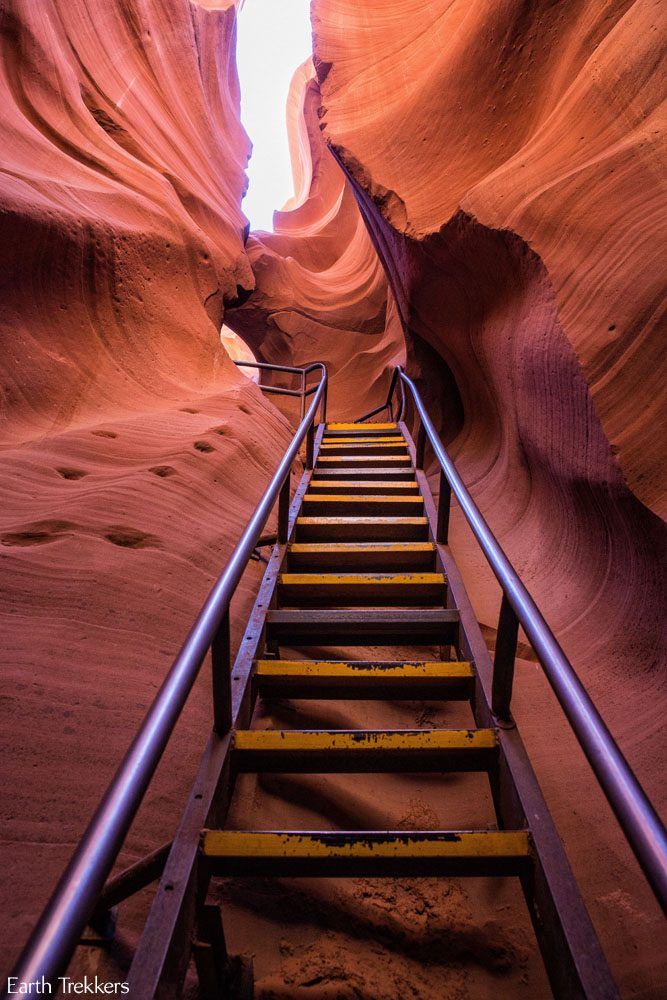 You can visit both Upper and Lower Antelope Canyon in one day. But if you only have time for one, how to you decide which one to visit? Check out our post: Should you visit Upper or Lower Antelope Canyon?
Location: Page, Arizona
Distance: Less than one mile
Difficulty: Easy
Read more: Lower Antelope Canyon: A Photographic Tour and Upper Antelope Canyon: A Journey in Photos
2. Buckskin Gulch
Buckskin Gulch is labeled as the longest slot canyon in the world, 21 miles one way. It is dark and narrow with just enough obstacles to keep things interesting.
Photo Credit: OakleyOriginals
It is possible to do this as one long day hike, going point to point, although some hikers do this in two days, camping overnight along the trail. A permit is necessary, even if you do it as a day hike.
Location: Utah-Arizona border near Kanab
Distance: 21 miles
Difficulty: strenuous (because of the distance)
3. Zebra Slot Canyon
With pink and red striped walls, this slot canyon is uniquely beautiful. Parts of the slot canyon can be challenging to hike through but your reward is seeing these extraordinary striped canyon walls.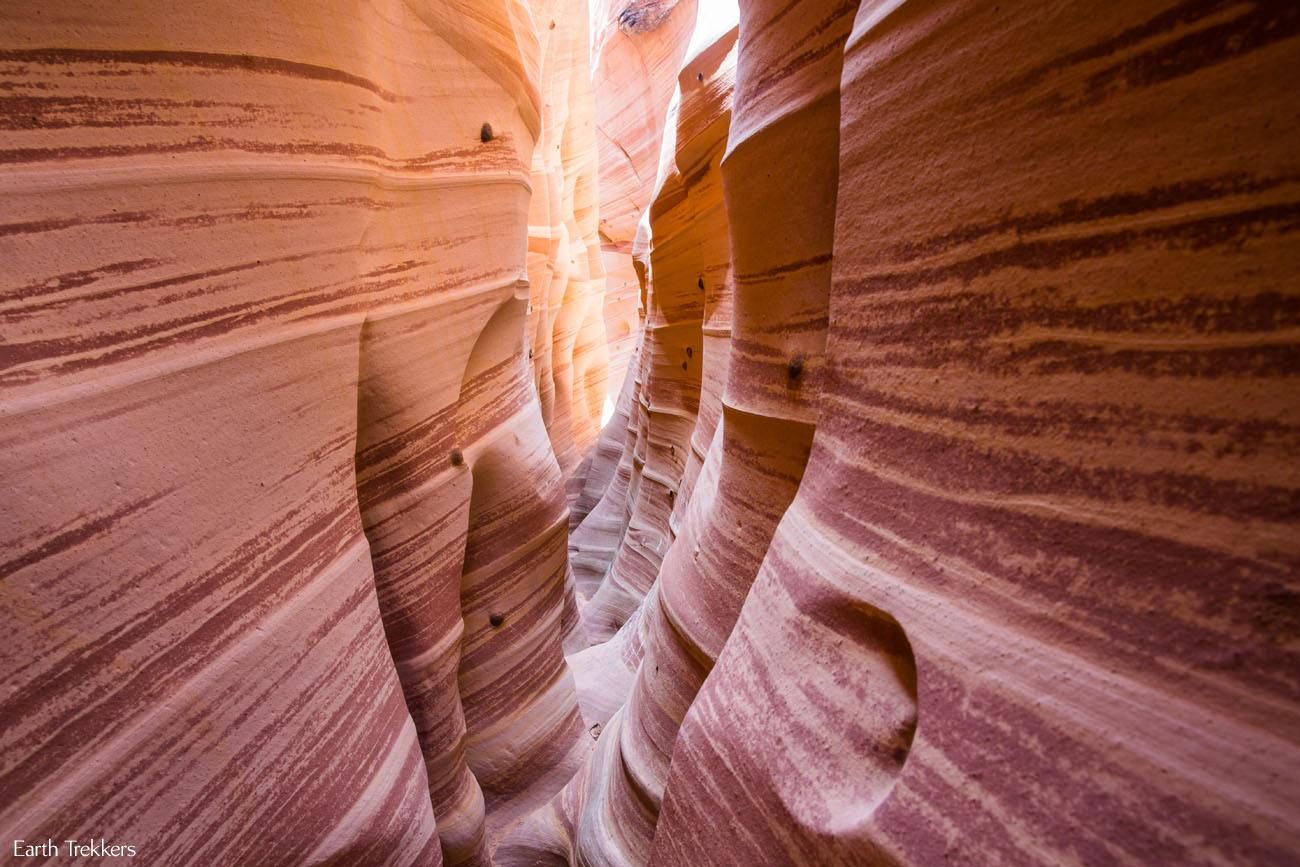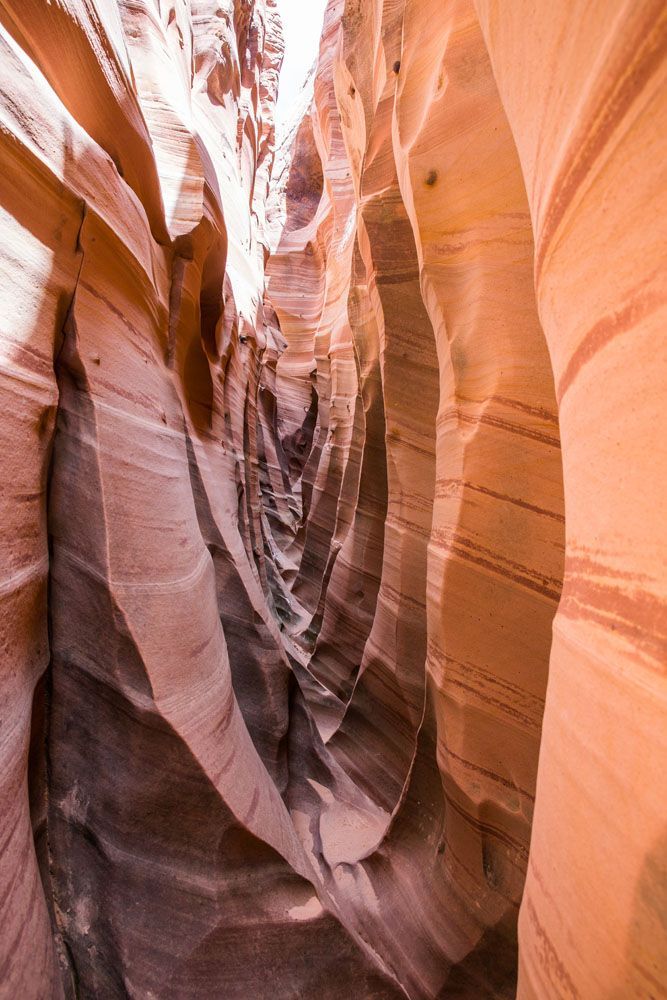 Location: Grand Staircase-Escalante National Monument on Hole-in-the-Rock Road
Distance: 5 miles
Difficulty: The trail to the slot canyon is easy; the slot canyon can be challenging
Read more: How to hike Zebra Canyon
4. Peek-A-Boo and Spooky Gulches
Located just down Hole-in-the-Rock Road from Zebra Slot Canyon are two thrilling slot canyons to explore. In terms of pure enjoyment, these are our favorites on this list.
Peek-A-Boo Gulch has several sections of challenging rock scrambling, including a 12 foot climb just to enter the canyon.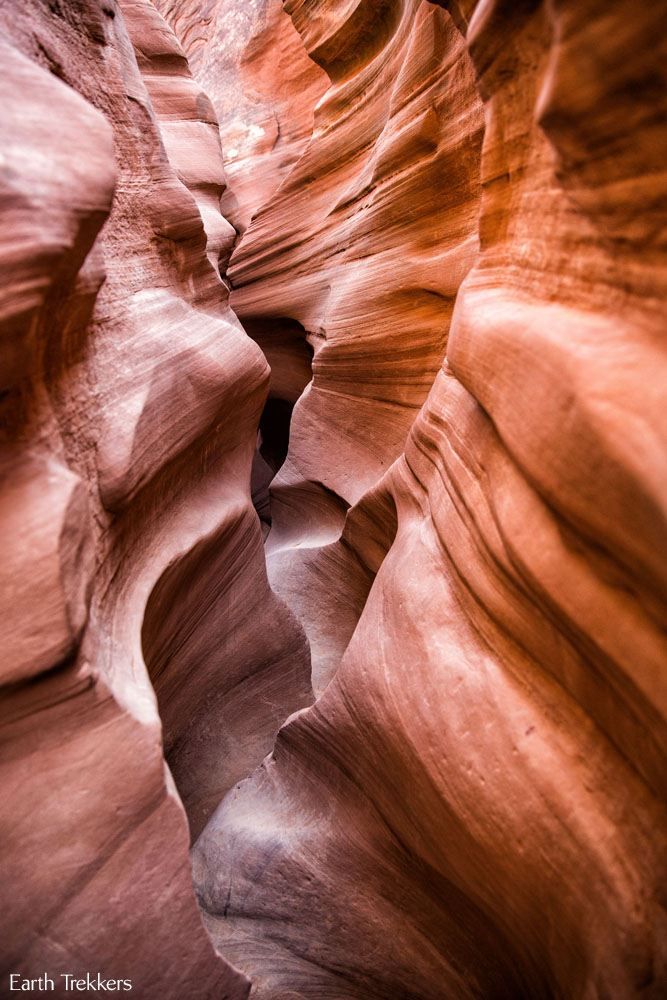 Spooky Gulch is one of the narrowest slot canyons around, only 10 inches wide in some spots! It's dark, it's mysterious, and it's fun to squeeze yourself through, just as long as you are not claustrophobic.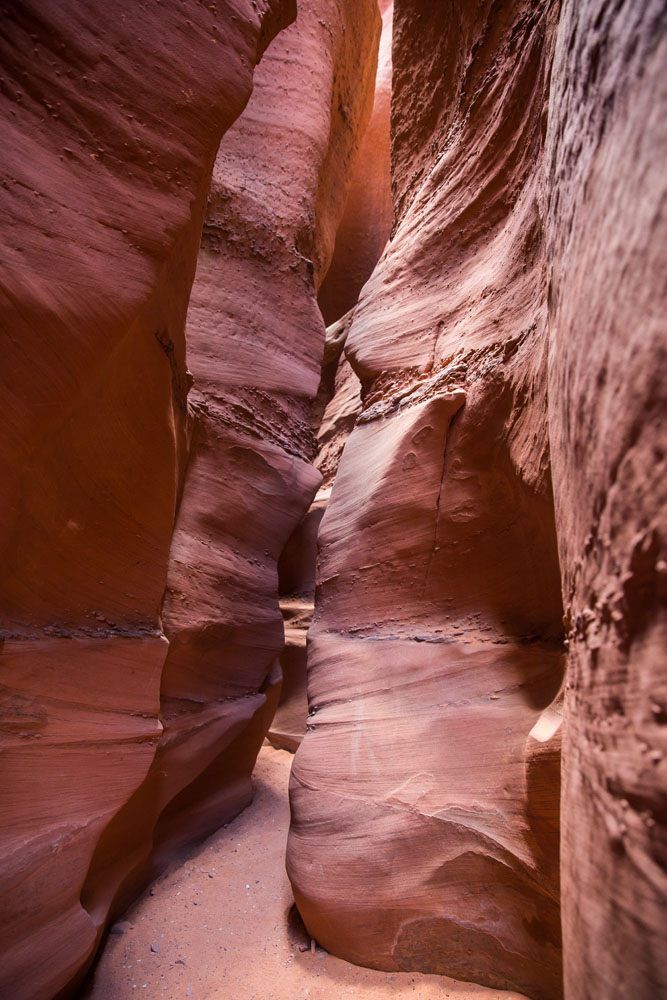 Location: Grand Staircase-Escalante National Monument on Hole-in-the-Rock Road
Distance: 3.5 miles
Difficulty: Moderate
Read more: A Photojourney through Peek-A-Boo Gulch and Spooky Gulch
5. Willis Creek
Willis Creek is pure fun. Hiking within the narrow canyon, hopping and skipping over the creek, and watching as the canyon walls steadily grow higher and higher as you head downstream is such a great experience. It's easy, it's great for all ability levels and ages, and with the creek and high canyon walls, you can stay cool (almost) even during the hotter summer months.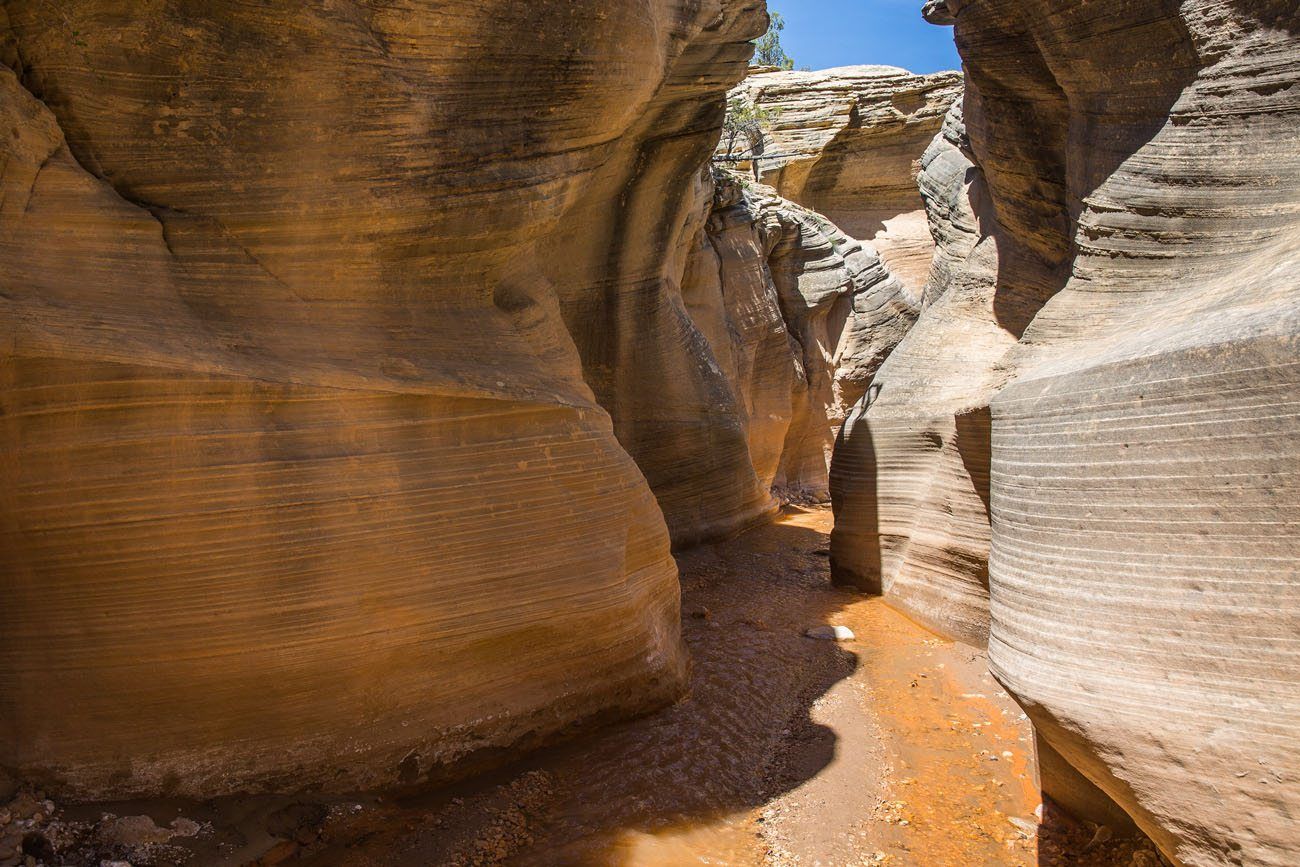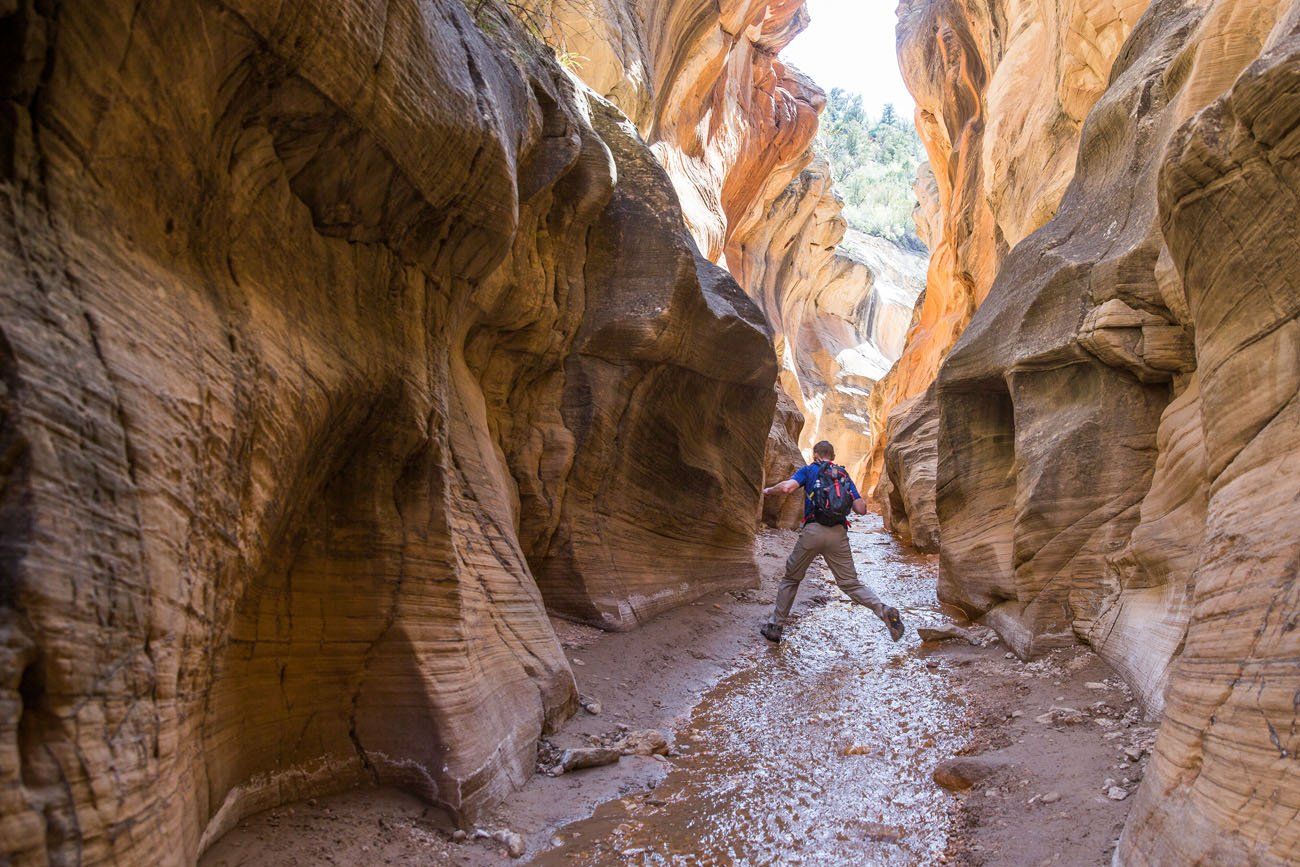 Location: Grand Staircase-Escalante National Monument, near Cannonville
Distance: 3 miles
Difficulty: Easy
Read more: Hiking Willis Creek Canyon
6. Zion Narrows
This is the quintessential slot canyon hike. It's challenging, it's breathtaking in its beauty, and it makes for a very memorable experience. For many hikers, this is a hike that makes the bucket list.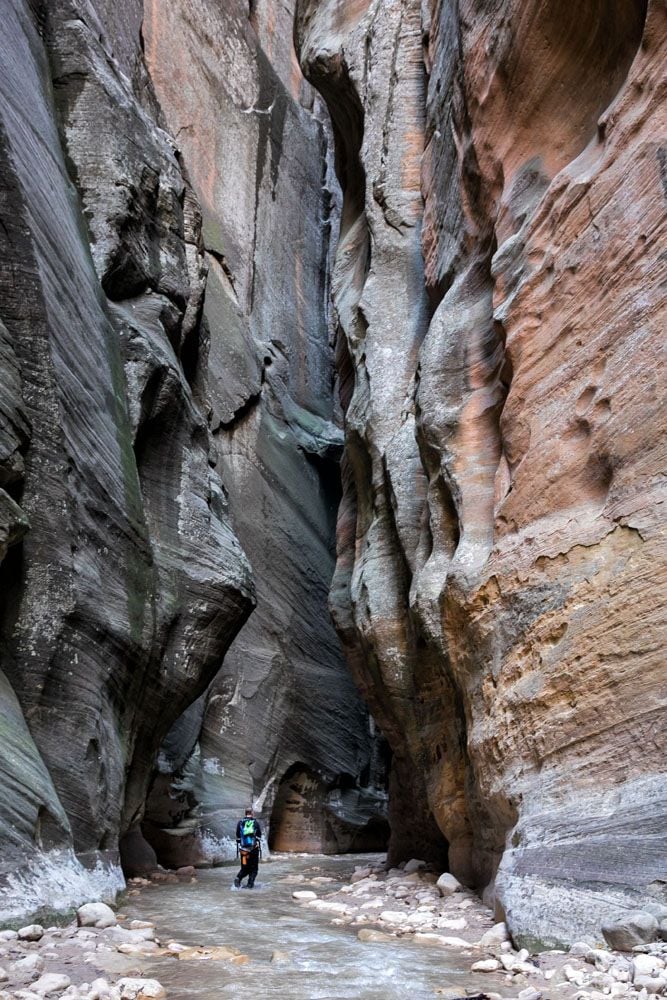 You can hike the Zion Narrows as a quick day hike, hiking from the bottom-up. You simply hike up the river as far as you want to go and turn around when you start to get tired. Or, hike the entire length of the Narrows from the top-down, either as a very long and challenging one-day hike or as a two day backpacking trip. Whatever you choose, it will be an adventure!
The Narrows is closed during the spring months while the snow is melting, creating high flow rates in the river. A permit is necessary if you want to hike the Narrows top-down.
Location: Zion National Park
Distance: 16 miles
Difficulty: Strenuous
Read more: Complete Guide to Hiking the Zion Narrows
7. Kanarra Creek
Similar to the Zion Narrows, but on a smaller scale, this makes another great slot canyon destination. For much of this hike, you will be walking in the Kanarra Creek, so water shoes are recommended. There are several obstacles along the way that require some rock scrambling or the use of ladders.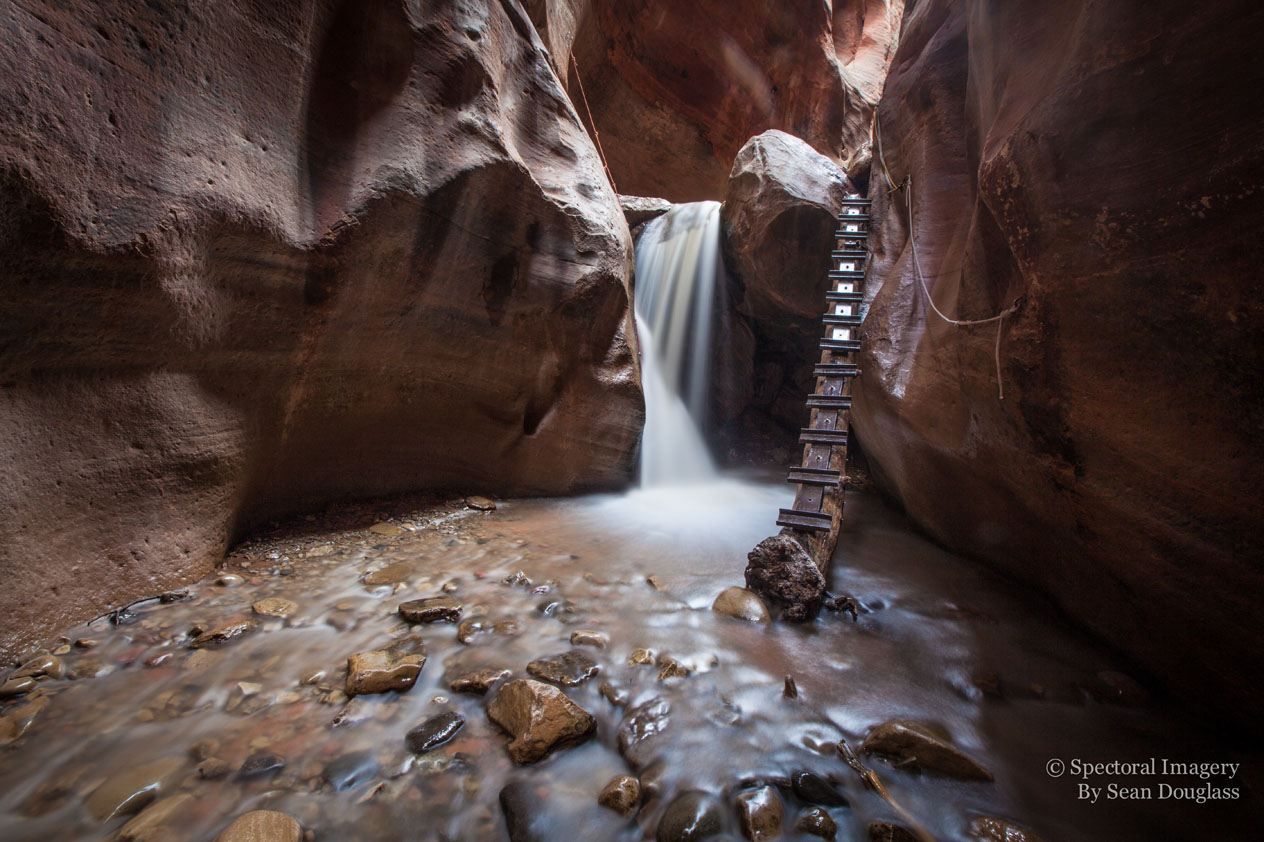 Photo credit: Dean Souglass
Location: Kanarraville, Utah
Distance: 3 to 4 miles, round trip
Difficulty: Moderate
8. Pastel Canyon
The Pastel Canyon, also called the Pink Canyon, is photogenic slot canyon to explore in Nevada. The highlight of this canyon is the pink and yellow pastel stripes that decorate the canyon.
Location: Valley of Fire, Nevada
Distance: 0.5 miles
Difficulty: Easy
Read more: Exploring the Valley of Fire
Bonus! White Domes Canyon
There is a second slot canyon to visit if you will be traveling to the Valley of Fire (the same location as the Pastel Canyon). There is a short slot canyon on the White Domes hike.
Location: Valley of Fire, Nevada
Distance: 1.25 miles
Difficulty: Easy to Moderate
Read more: Exploring the Valley of Fire
About this List
We have not hiked all of these slot canyons, at least not yet. Still on our bucket list are Buckskin Gulch and Kanarra Creek. Have you done these? Let us know about your experience in our comment section below!
---
Are you ready to go exploring? Which slot canyon is your favorite? Comment below!
You Might Also Like: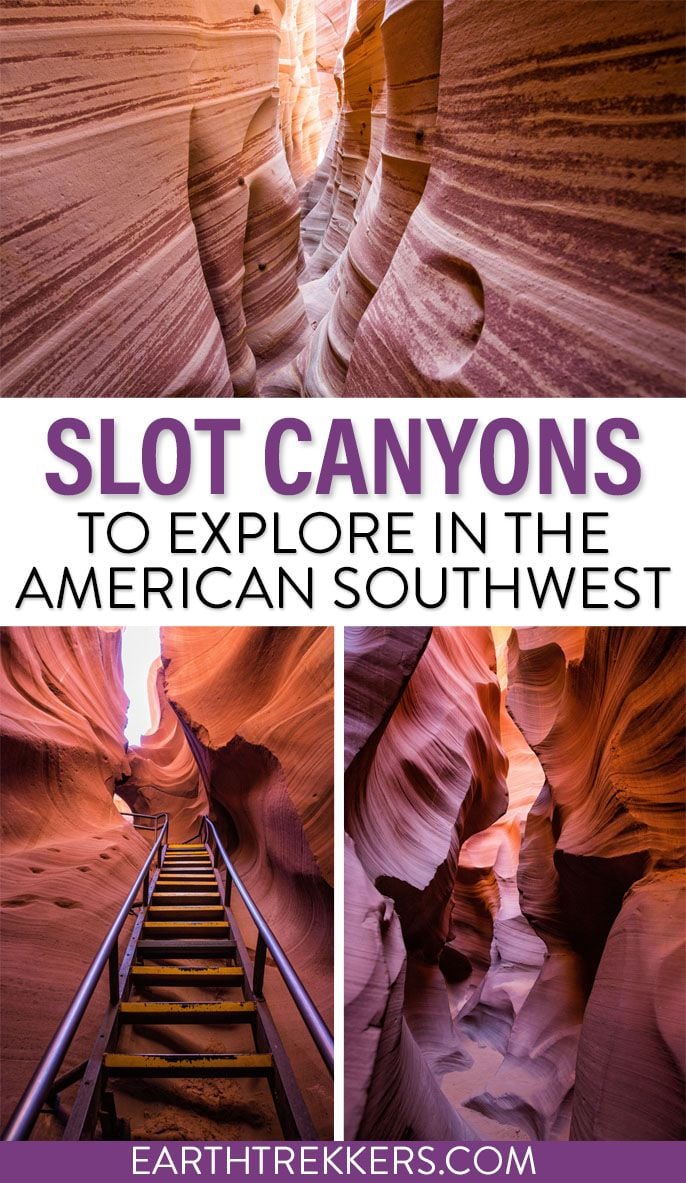 All rights reserved © Earth Trekkers. Republishing this article and/or any of its contents (text, photography, links, etc.), in whole or in part, is strictly prohibited.