Death Valley…just the name inspires a sense of wonder and mystery. With barren salt flats, towering mountains, mysterious sailing stones, shifting sand dunes, rainbow-colored mountains, and canyons to explore, there is a lot to do here. In this post, learn about the best things to do in Death Valley National Park, with suggestions on how to plan your time.
At first glance, Death Valley may appear as a desolate wasteland, but once you spend some time here, you learn that that there is whole lot more to this park than sand, salt, and scorching temperatures.
There are many wonderful things to do in Death Valley and some of them just may surprise you.
Drive out to Racetrack Playa and learn how the boulders slide across the desert landscape. Stand on the lowest part of the United States at Badwater Basin, which also holds the record for the hottest recorded temperature in the world. Hike on hills of borax, explore twisting canyons, visit a desert oasis, and slide down the sand dunes.
Please practice the seven principles of Leave No Trace: plan ahead, stay on the trail, pack out what you bring to the hiking trail, properly dispose of waste, leave areas as you found them, minimize campfire impacts, be considerate of other hikers, and do not approach or feed wildlife.
Interesting Facts about Death Valley
Can you think of a national park that has a more intriguing name than Death Valley? It's hard not to wonder how this park got its name. During the winter of 1849 – 1850, a group of pioneers got lost here. Even though only one of them died, they all thought this would be their grave, so they gave this place the name "Death Valley."
Death Valley is the hottest, driest, and lowest place in the United States.
A scorching 134°F (57°C) was recorded in Furnace Creek on July 10, 1913, the hottest temperature ever recorded on Earth.
Badwater Basin is the lowest spot in the United States, sitting 282 feet below sea level.
Less than 2 inches of rain falls in Death Valley per year. Four mountain ranges separate Death Valley from the Pacific Ocean and these mountains block the rain from falling in Death Valley.
This diverse landscape has been used in a surprisingly large number of movies, the most famous being Star Wars: A New Hope. Many of the scenes of Tatooine were filmed in Death Valley.
Death Valley is the largest US national park outside of Alaska and the fifth largest US National Park, with 3.4 million acres of land. No wonder there are so many things to do in Death Valley!
Death Valley became a national park on October 31, 1994. It is also one of four units of the Mojave and Colorado Deserts Biosphere Reserve designated by UNESCO. In 2022, 1.1 million people visited Death Valley National Park.

Best Things to Do in Death Valley National Park
Here is a list of 20 things to do in Death Valley National Park. You can see them all on a map at the end of this list.
1. Dante's View
This is one of the best viewpoints in Death Valley National Park.
Stretched out in front of you is the heart of Death Valley. Down below is Badwater Basin, the lowest point in the United States. If you look closely, you can see a road running through the valley to Badwater Basin. You will drive that road when you visit Badwater Basin.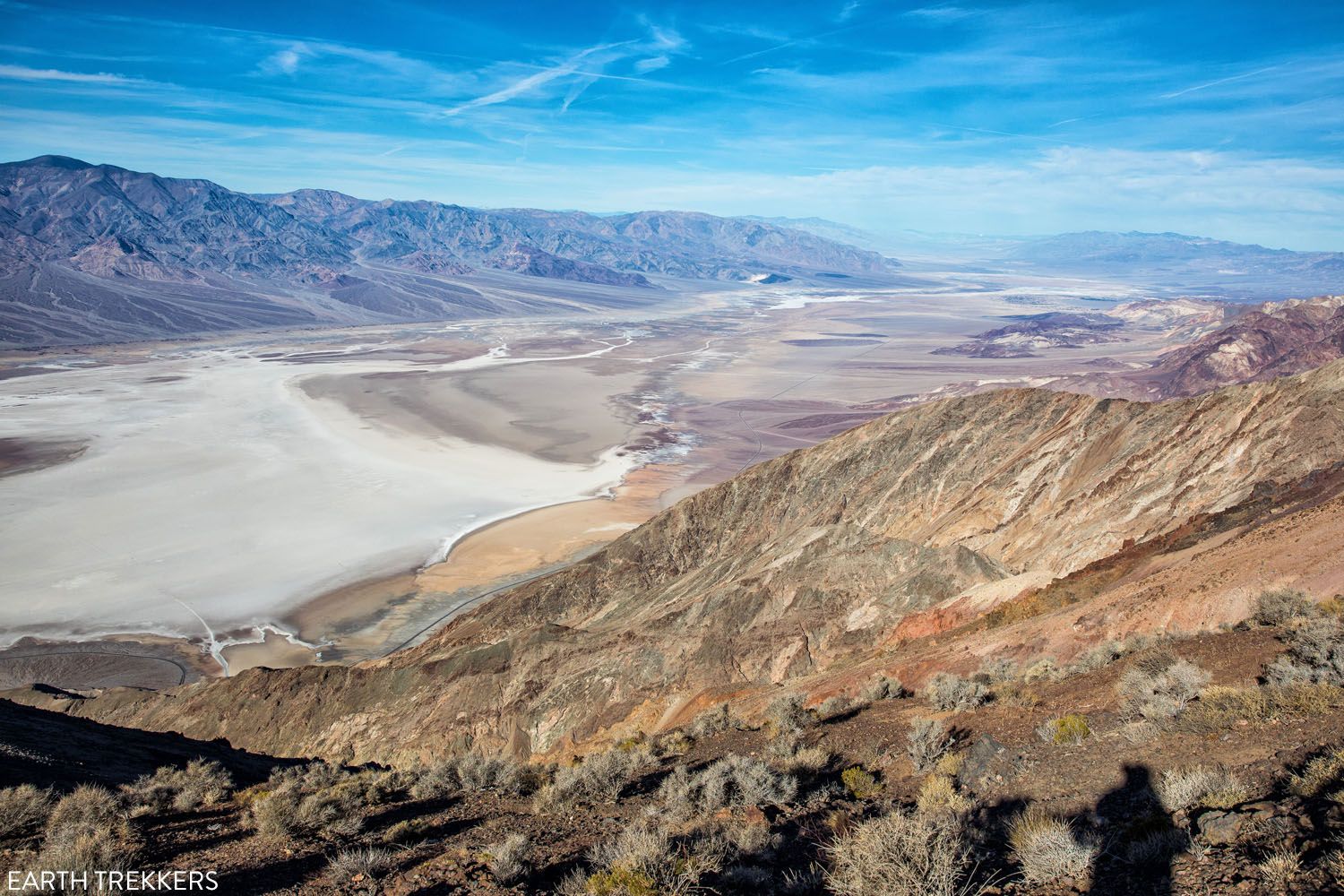 You can simply take in the view from the parking lot or you can walk the short, fun trails that lead off in both directions for a different perspective.
2. Zabriskie Point
This is another must-see viewpoint in Death Valley. From the parking lot, it's a short and easy walk to the overlook. From here, you can hike the short trails that lead out into the hills. Zabriskie Point also makes a great place to watch the sunset.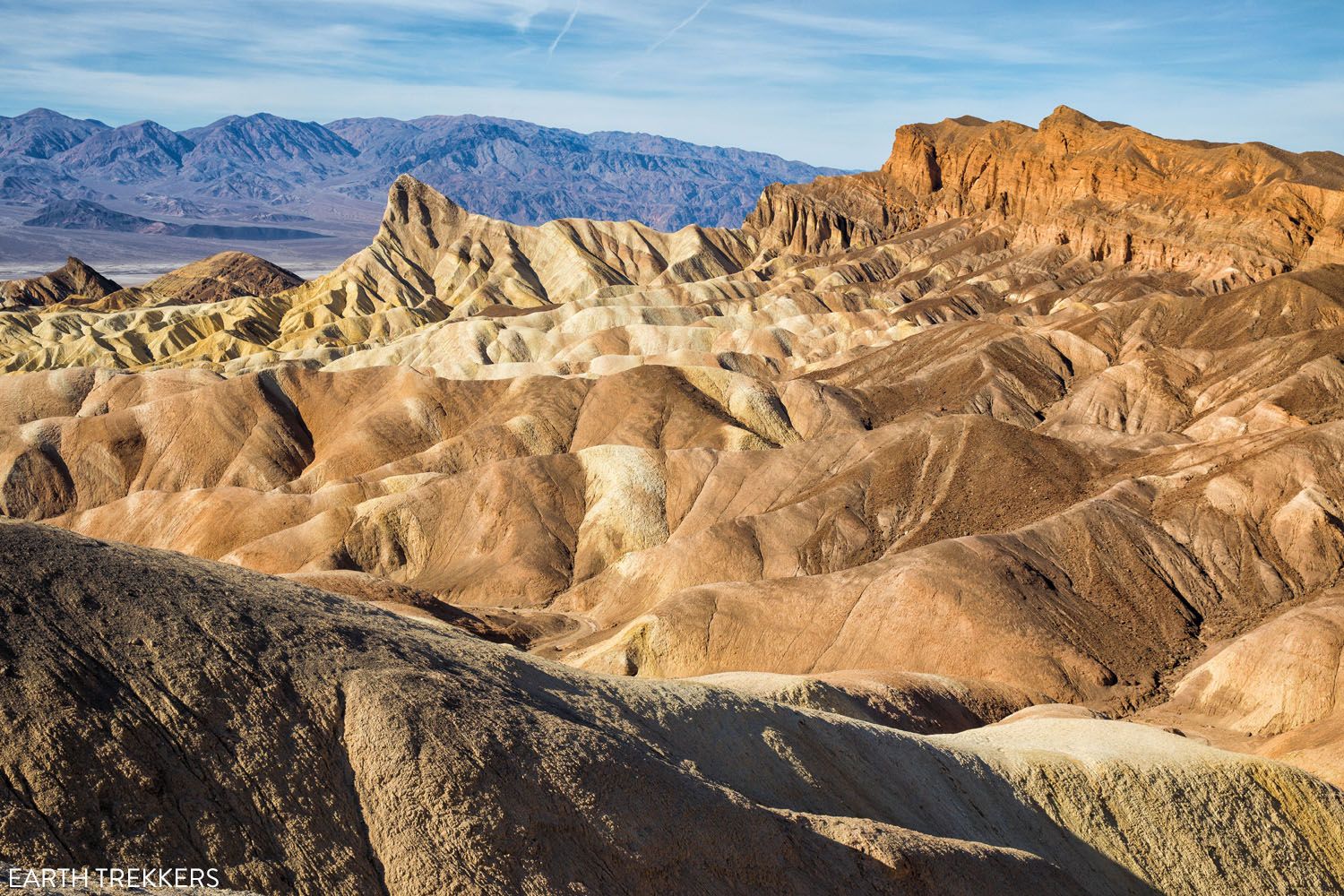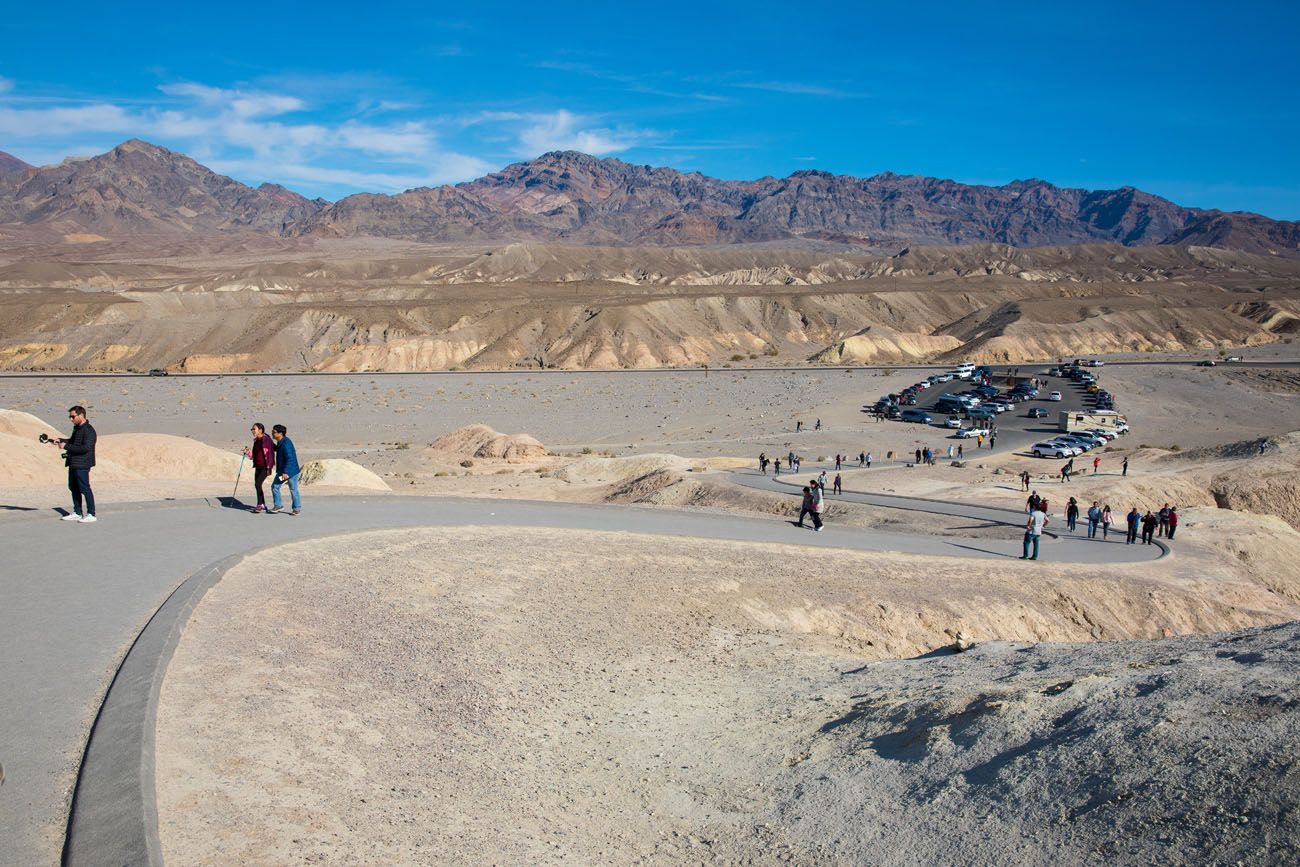 3. Badwater Basin
Badwater Basin is the lowest point in the United States, sitting 282 feet below sea level.
From the parking lot, a wide, flat trail heads out into the salt flats. This is also a very cool photography spot, with the chance to take some very unique photographs.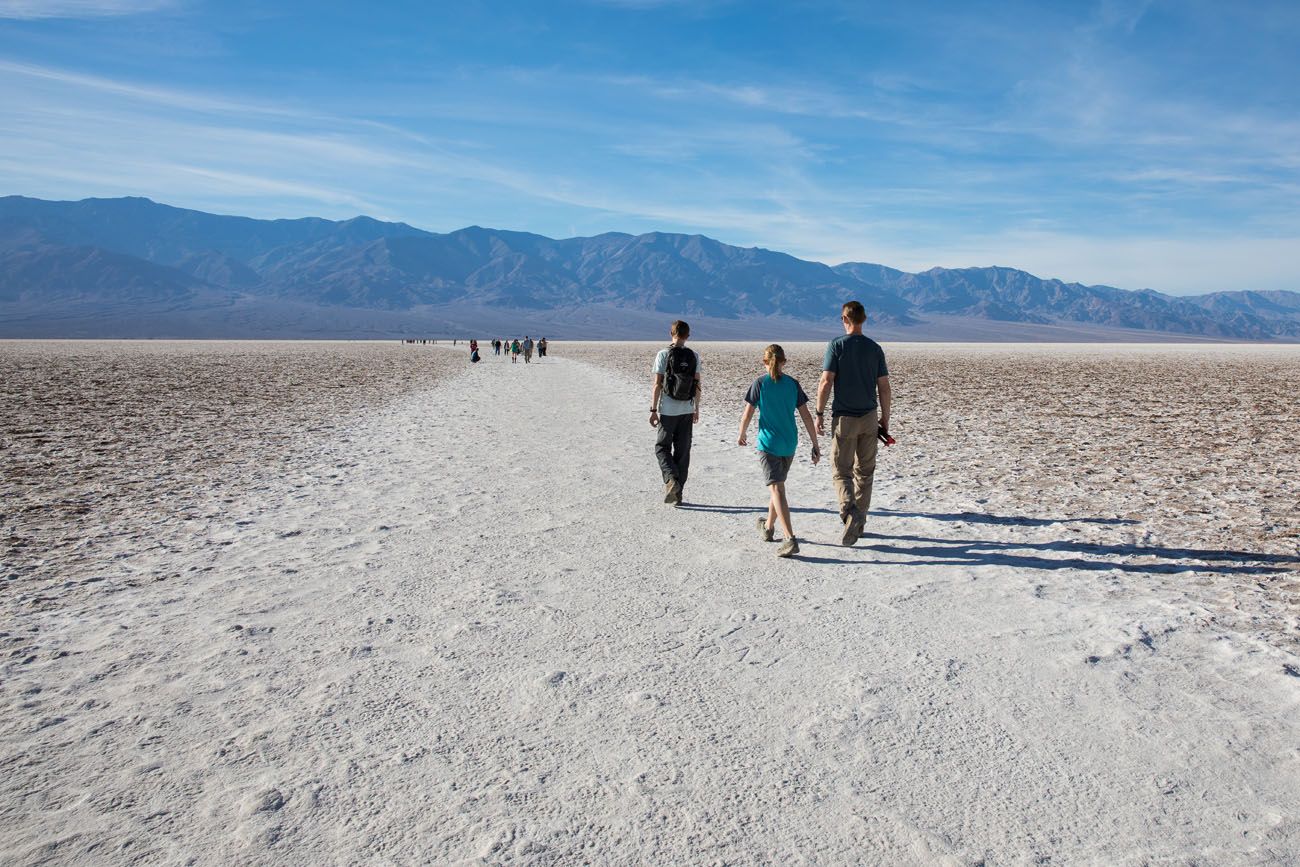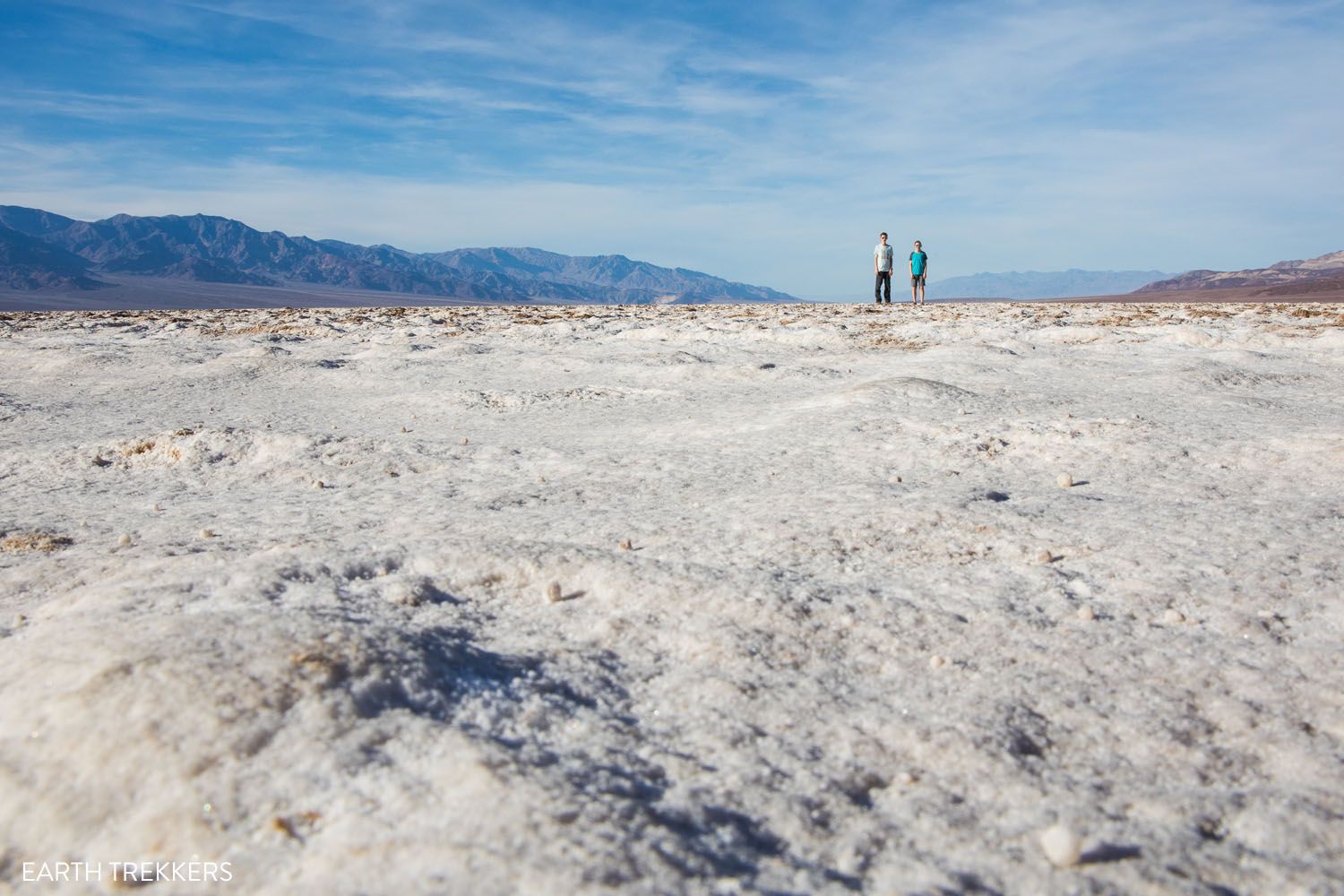 A visit here can last 30 minutes or longer, depending on how far you walk and how creative you get with your photography.
4. Devil's Golf Course
Located near Badwater Basin are lumpy salt flats that are named Devil's Golf Course. It's worth the quick stop since you can see them right from the parking area.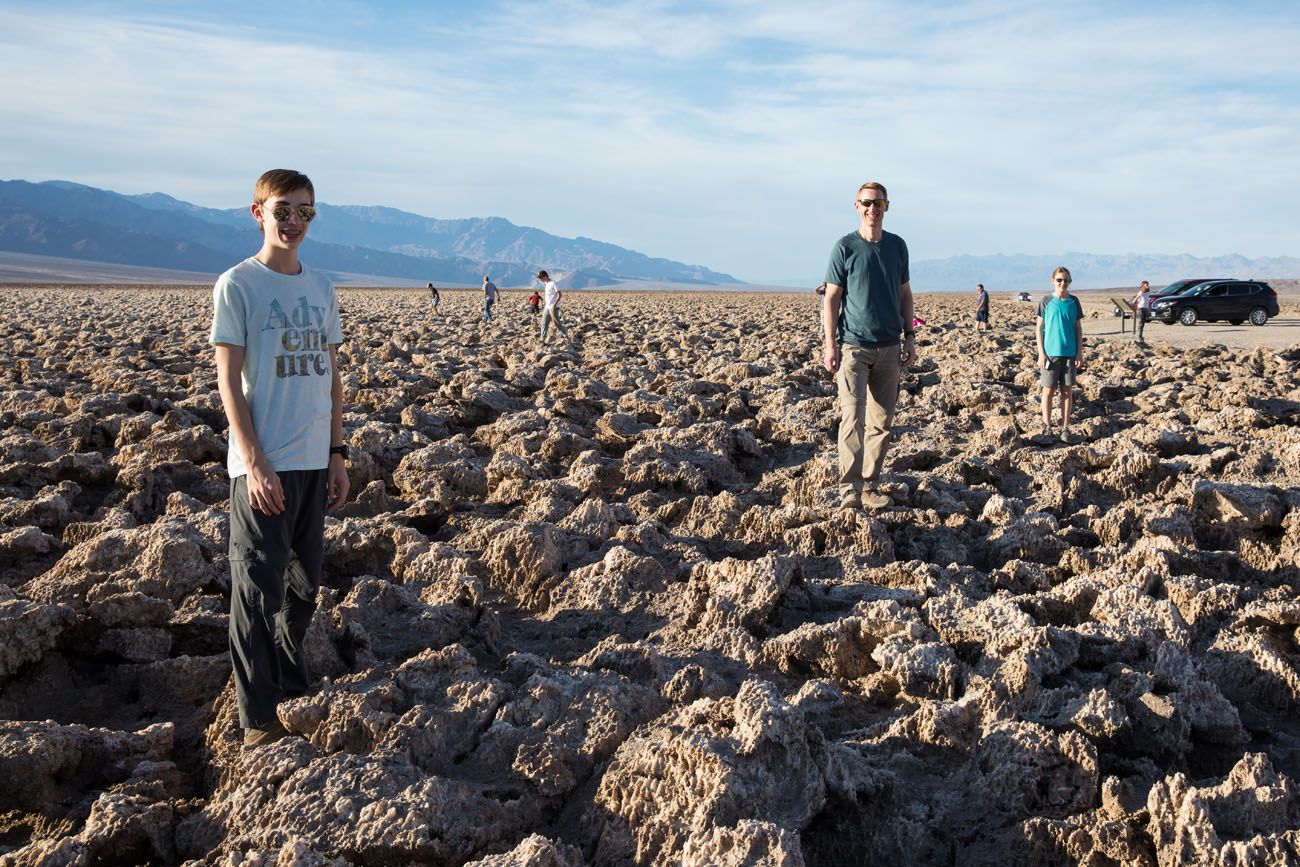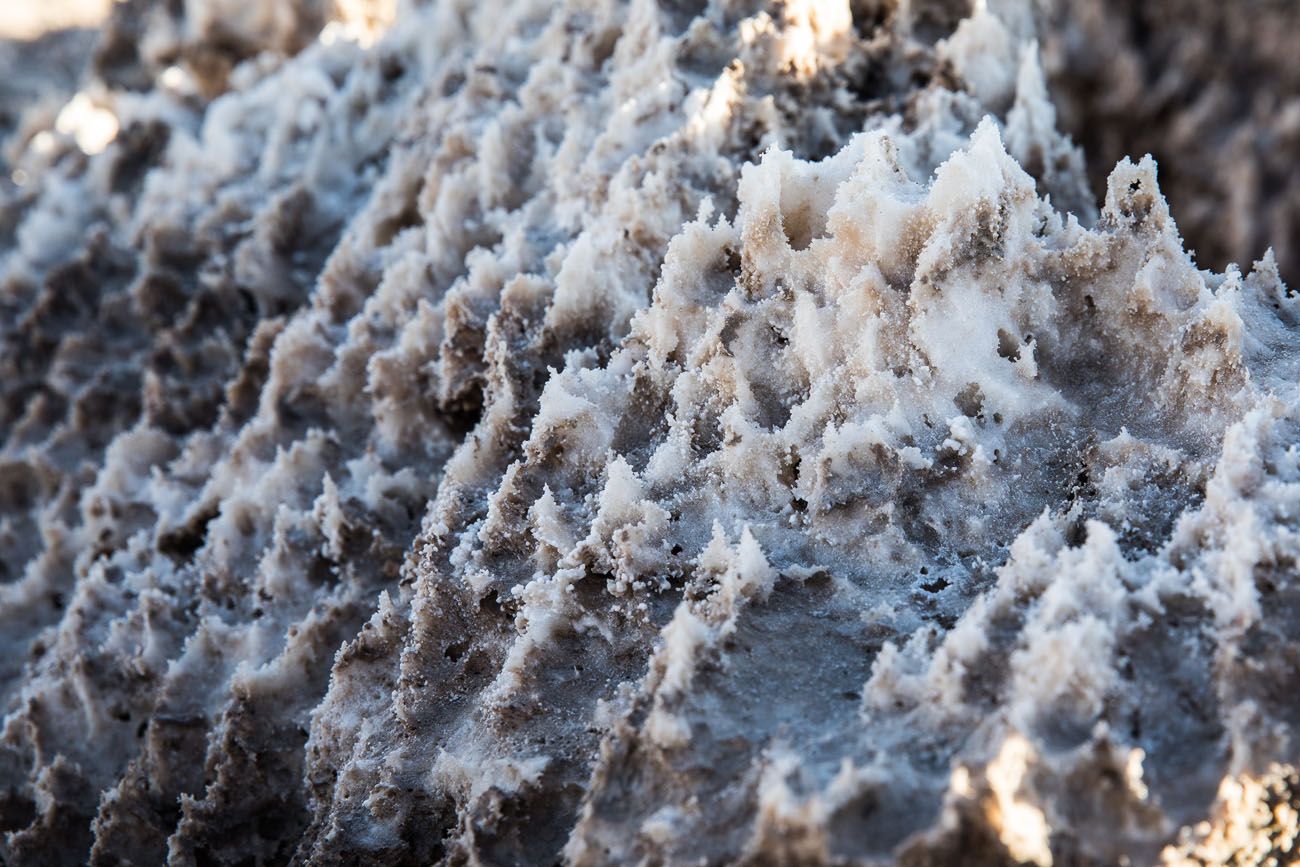 The salt crystals are very sharp, sharp enough to cut your skin or clothing, so be careful here.
If you choose to walk out onto these flats, be careful! These formations are surprisingly sharp and you can be injured. You might want to think twice before letting young kids explore this spot.
5. Artists Drive and Artists Palette
Artists Drive is a 9-mile scenic drive through one of Death Valley's very unique landscapes. This road is one-way, running from south to north.
There are many places to stop to enjoy the view and take a photo, but there are two places that I think are really worth it.
Artist's Palette is a must-see spot on Artists Drive. These pink, aqua, and purple hills are the result of the oxidation of metals in the soil. Park in the parking area if you want a close up look at these hills.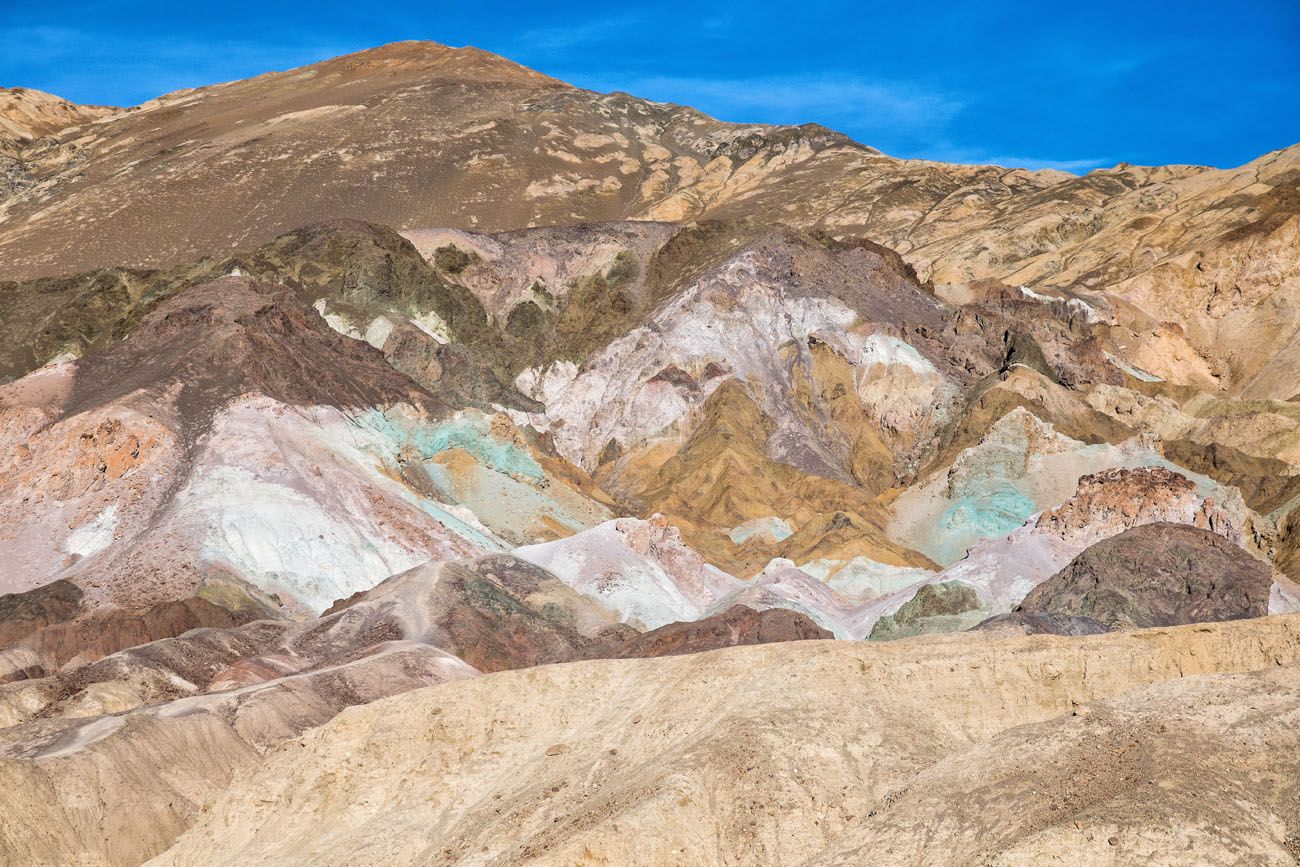 There is an unmarked, unnamed canyon that's worth a quick visit. It's located 3.4 miles into Artists Drive (0.9 miles before the Artists Palette parking lot). Park at the dip in the road and walk east into the canyon. You can spend 10 to 30 minutes exploring here. In our opinion, this was much more interesting than Natural Arch (mentioned later in this post), probably because we only saw one other family while we were here. To get into the canyon, it can be a slightly challenging climb up the first obstacle, but once you are past this, the rest is easy.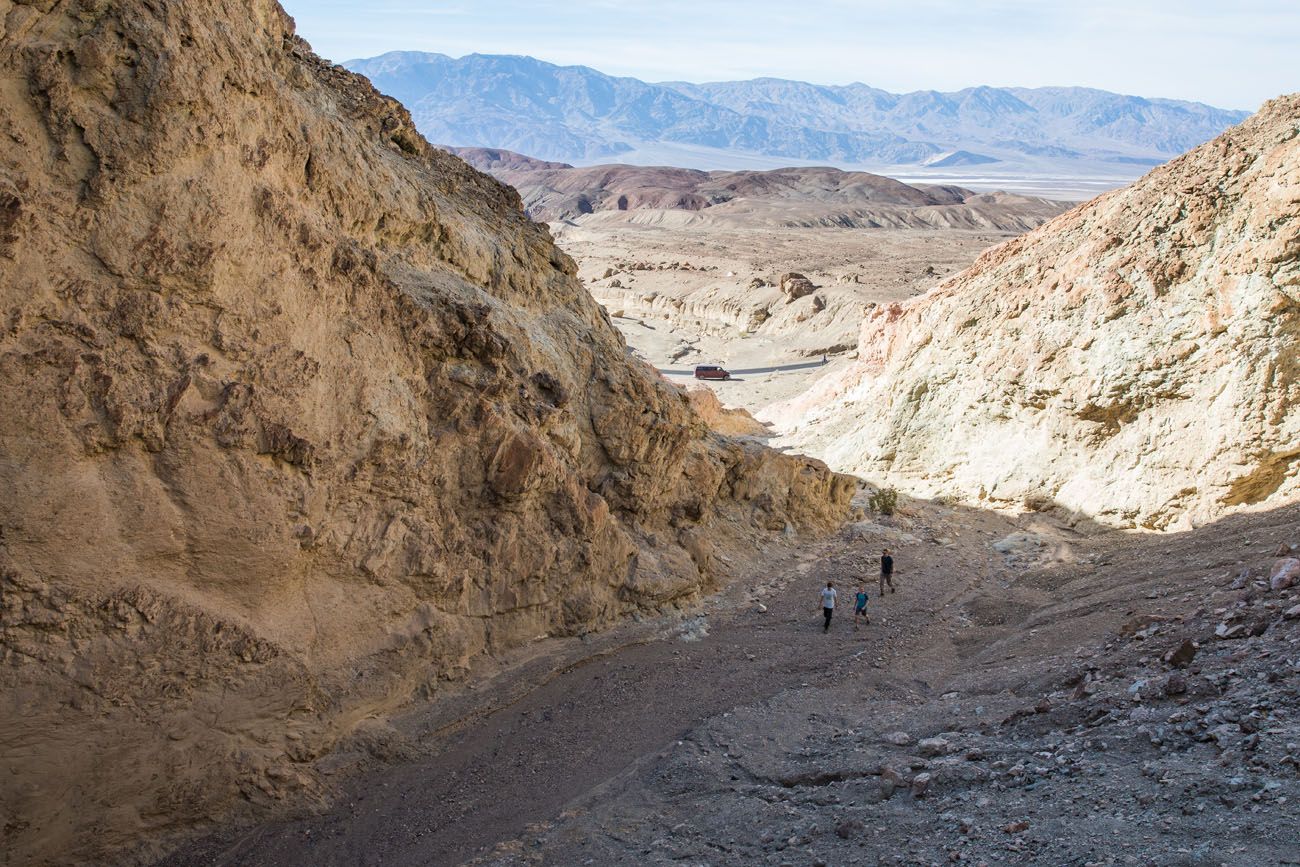 6. Golden Canyon and Gower Gulch
Distance: 4.4 miles | Difficulty: Easy to moderate | Time: 2 to 3 hours
This is a short, easy hike that offers great views of Death Valley. Hike through sandstone canyons, enjoy the view from Manly Beacon, and explore the golden mudstone hills that make this part of Death Valley look so interesting.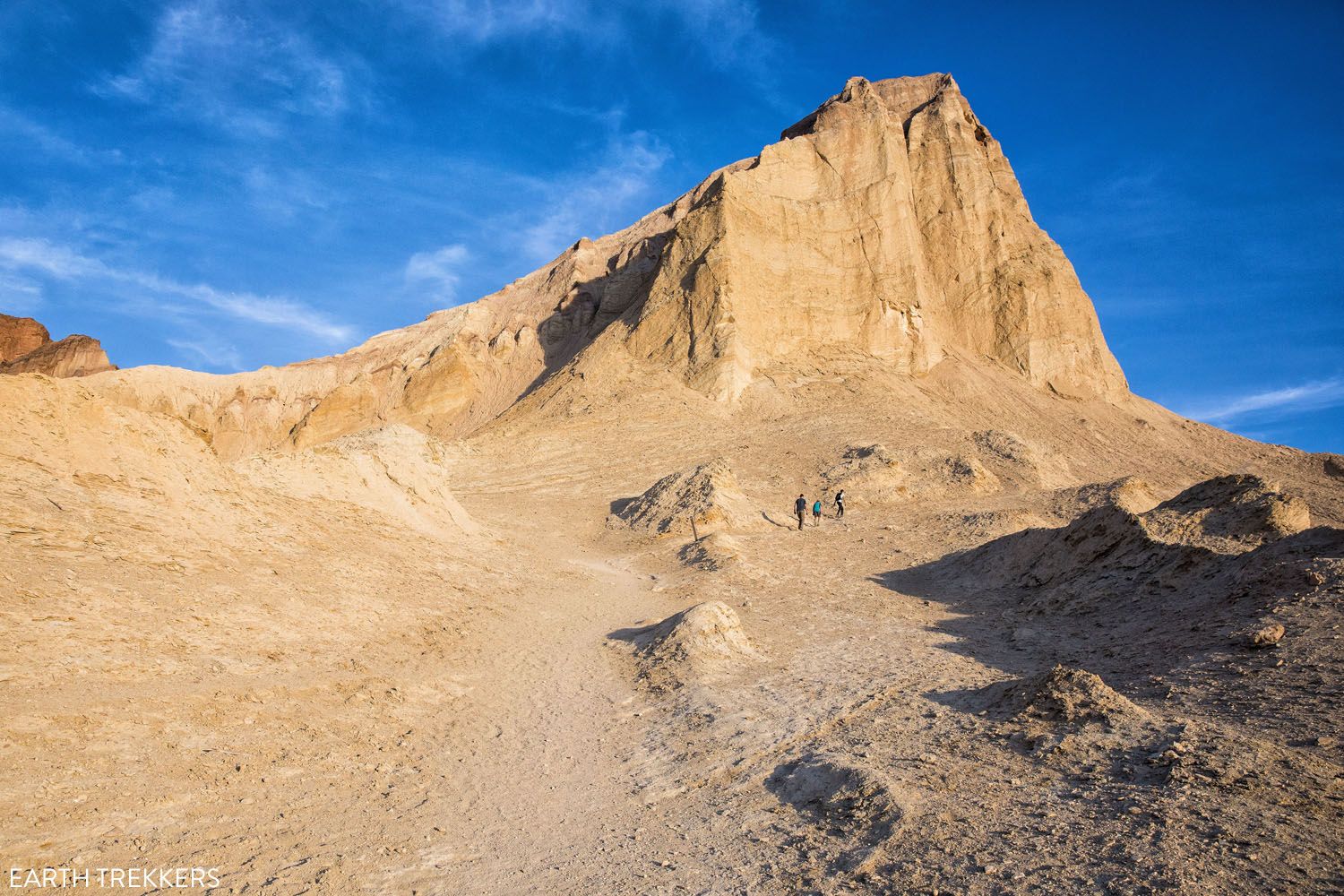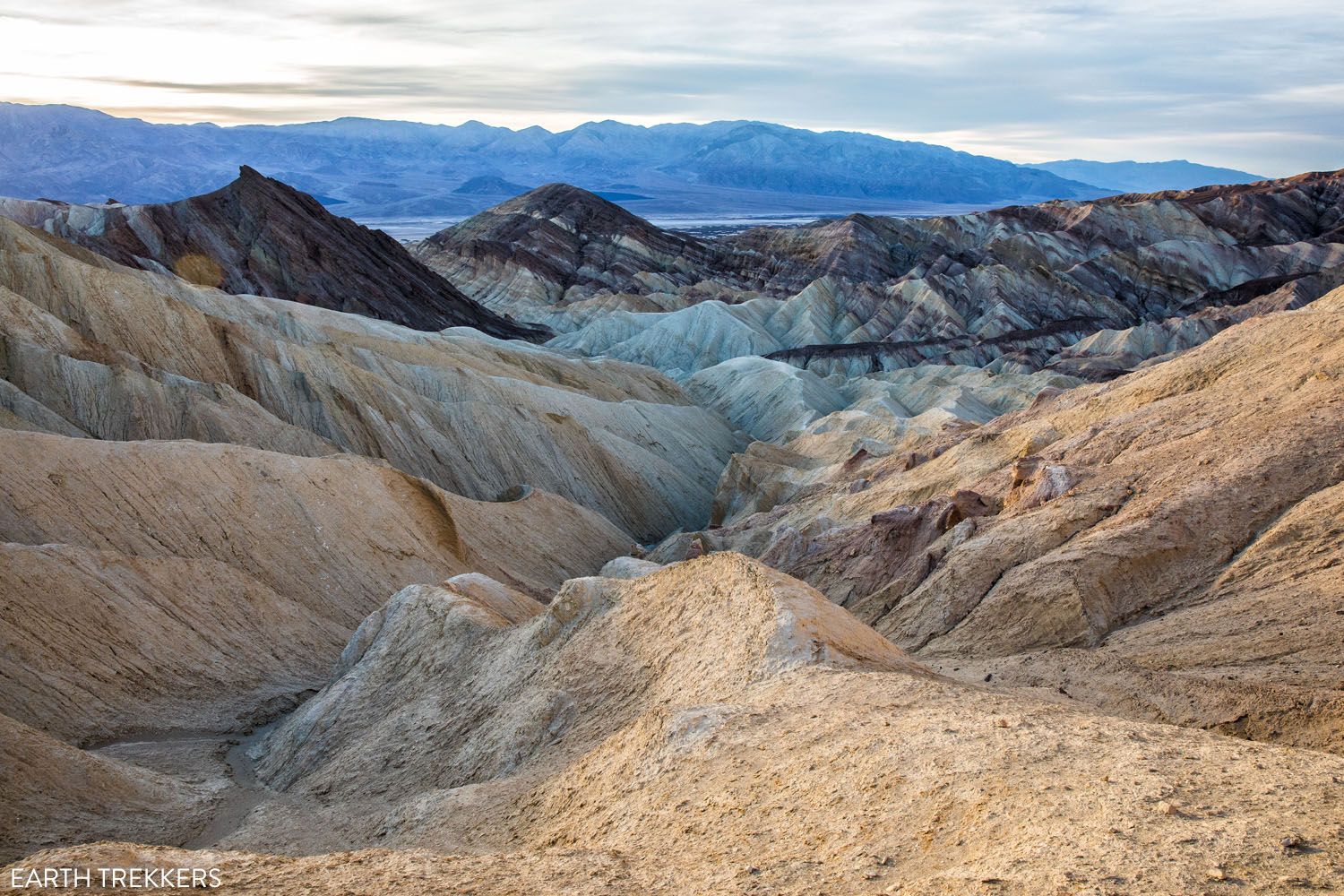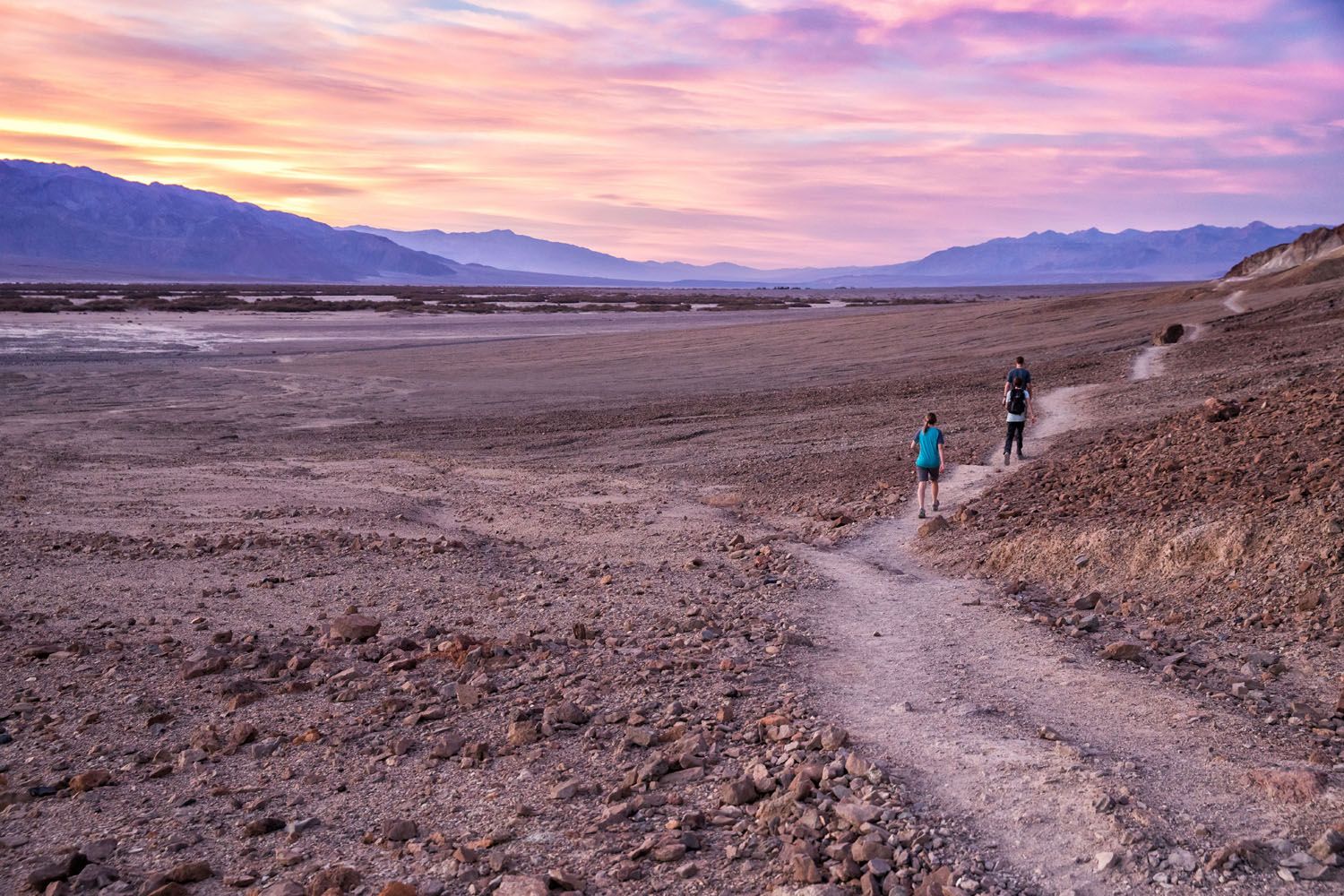 You can shorten this hike by just walking up Golden Canyon (3 miles round trip). But the most interesting part of the hike is around Manly Beacon, where you get awesome views, similar to those of Zabriskie Point, so I think it is worth doing the whole loop if you have the time and energy.
Getting Here: Park at the Golden Canyon parking lot on Badwater Road.
7. Darwin Falls
Remember I said that Death Valley is full of wonderful surprises?
Darwin Falls is a year-round waterfall in Death Valley National Park. To get here, you will hike through an oasis, a much different landscape that what you see in the rest of the park. It is a 2-mile round trip hike that takes about an hour to an hour and a half.
Darwin Falls is located in Panamint Springs on the west side of Death Valley National Park.
8. Mesquite Flat Sand Dunes
If you are visiting Death Valley with kids, this just may be the highlight of their trip to the park. Surrounded by purple mountains are sand dunes that create a natural playground for kids and a wonderfully photogenic landscape for photographers.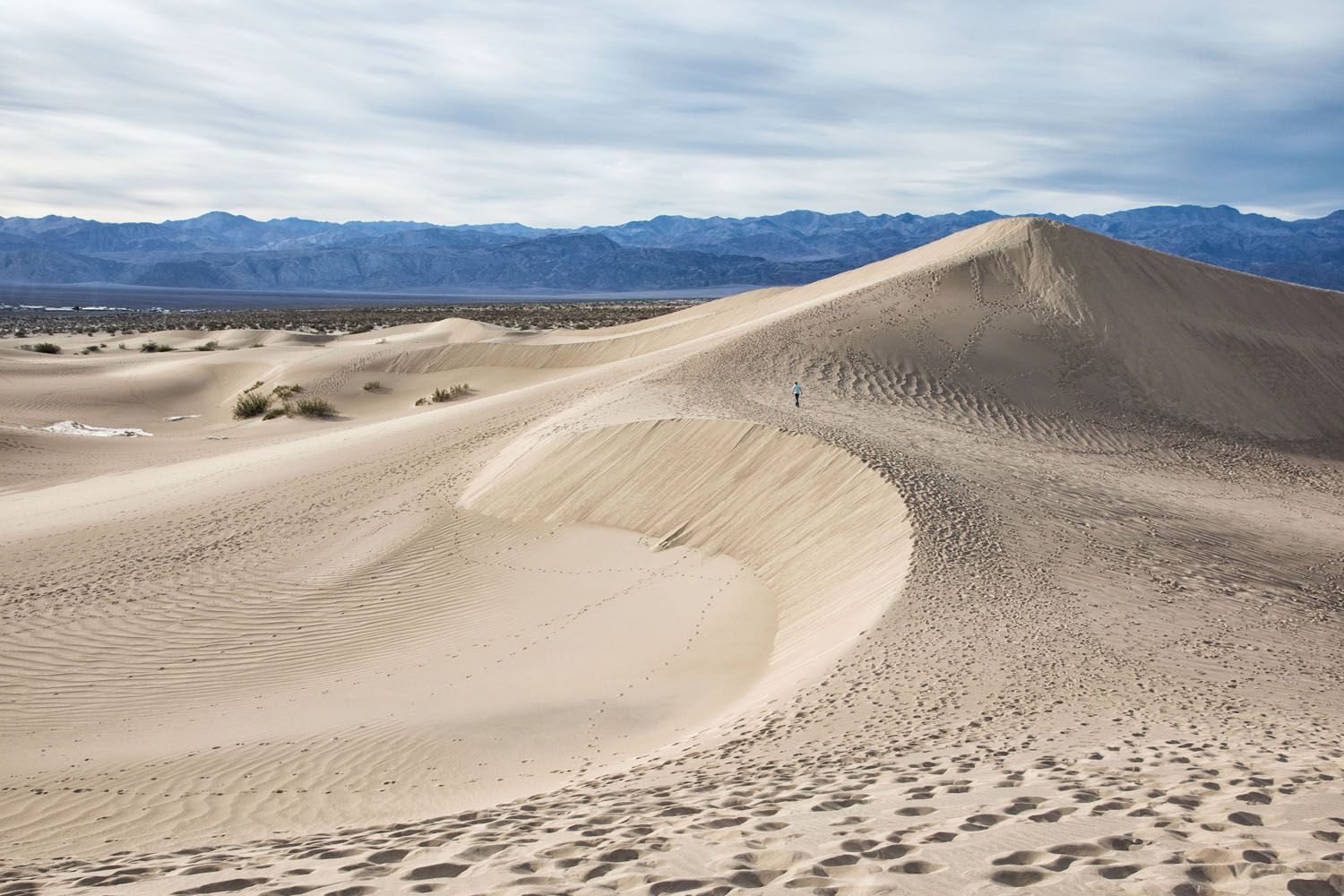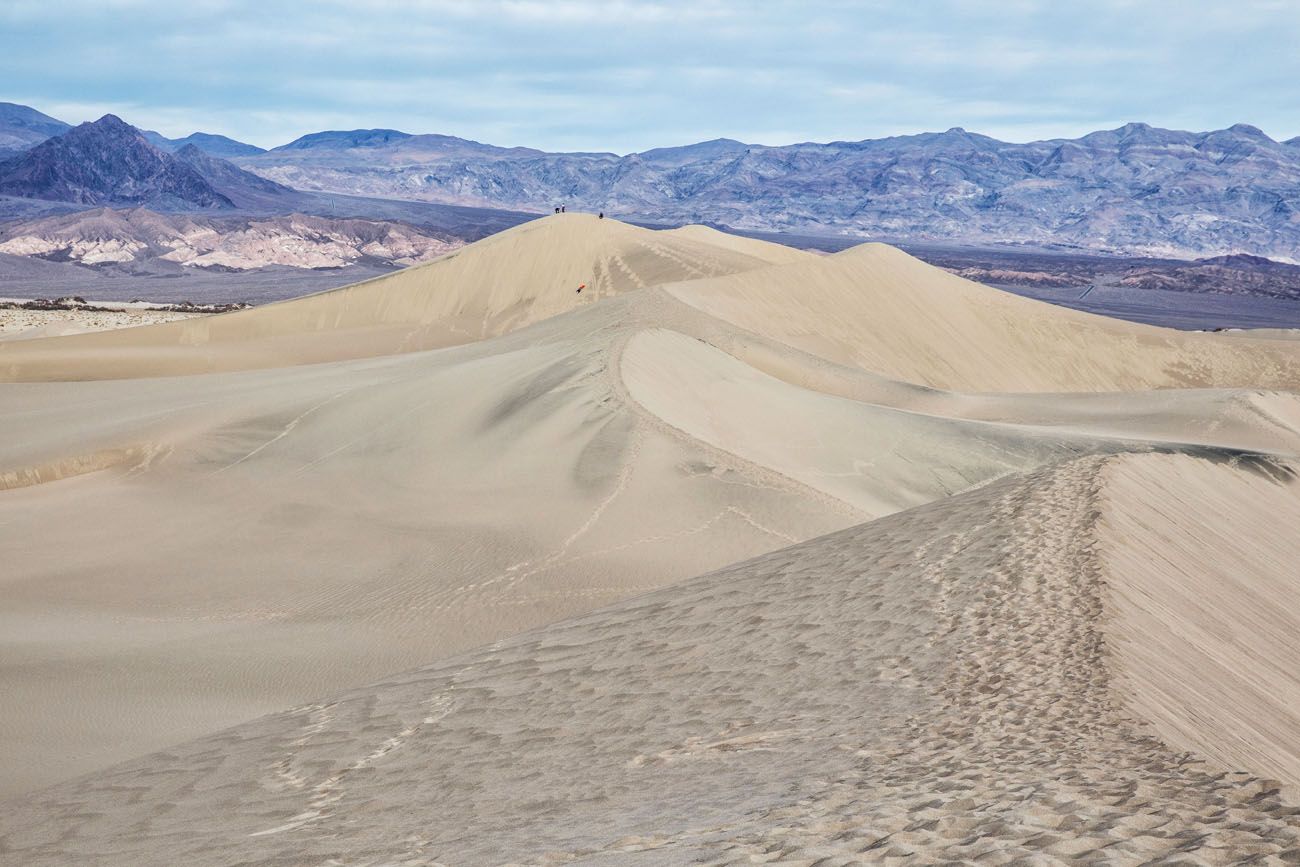 From the Mesquite Flat parking area, you can walk out into the dunes as far as you like. Walking through the loose sand is tiring, but the farther you go, the more solitude you will have on the dunes.
If you have a sandboard or sand sled, you can use it here. Snow sleds also work. Currently, I do not know of any places near Death Valley to rent sandboards.
9. Ubehebe Crater
Ubehebe Crater (pronounced oo-beh-heh-bee) is a volcanic crater in Death Valley. It is well worth a visit, especially if you have never seen a caldera before. Yes, this was once an active volcano, and the surrounding landscape is still littered with charred soil and rock.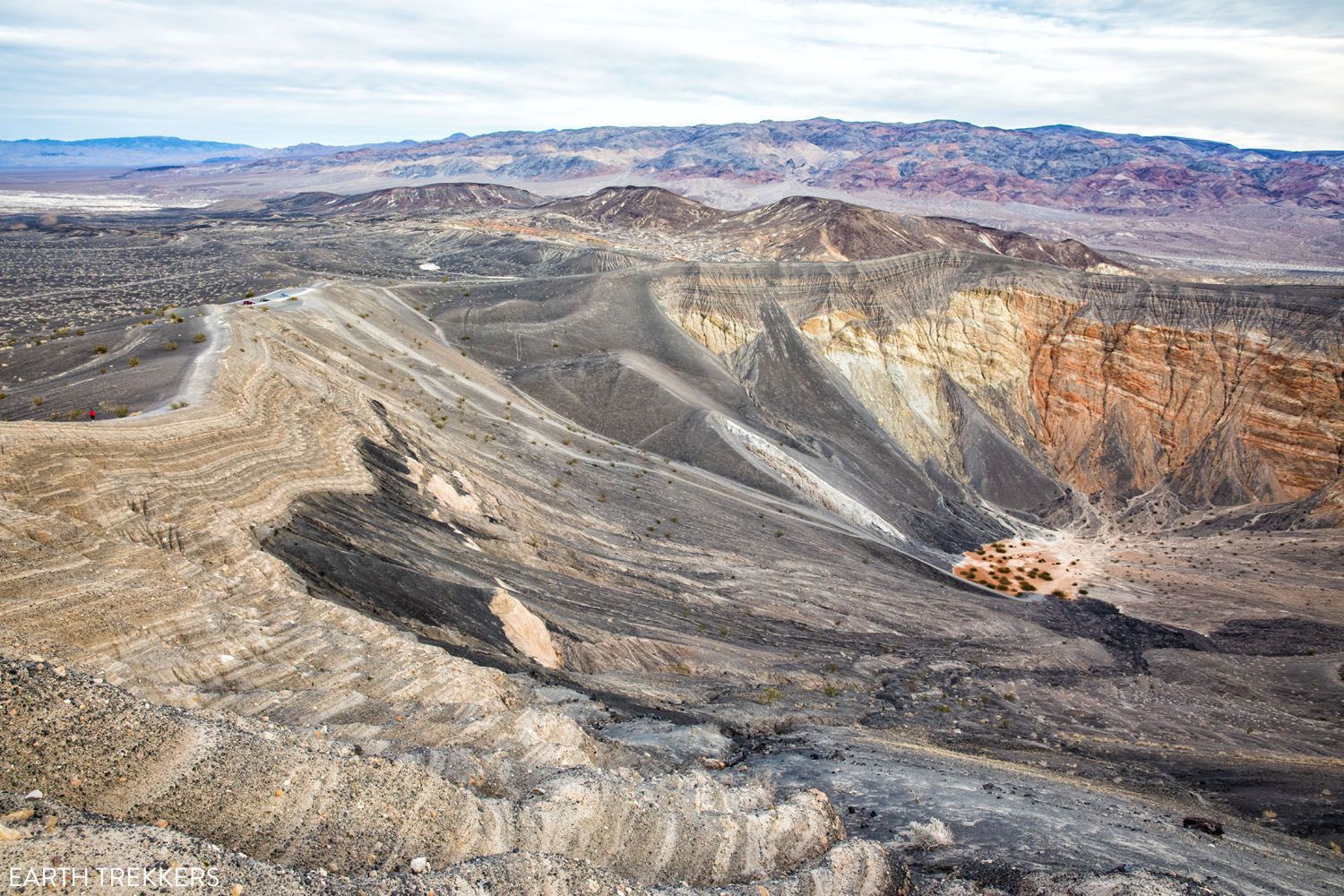 You can view the crater from the parking lot, hike down into the crater, or walk around the rim (1.5 miles).
10. Racetrack Playa
If you are looking for an adventure and the chance to see something bizarre, a visit to Racetrack Playa is one of the best things to do in Death Valley National Park.
This is the place to see those mysterious sailing stones…the large rocks that somehow glide over this dry lakebed, leaving imprinted trails behind them.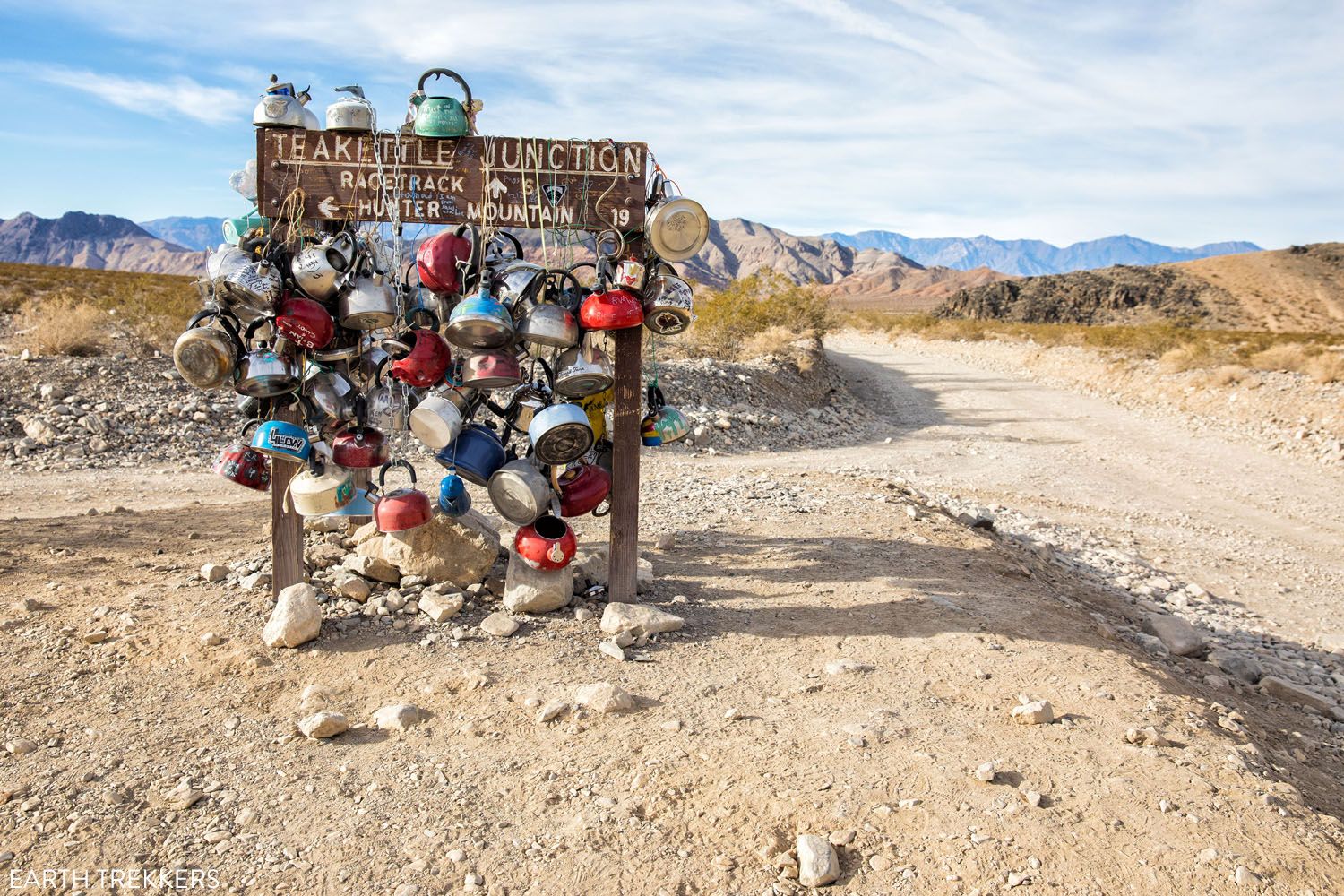 You will pass Teakettle Junction on the drive to Racetrack Playa.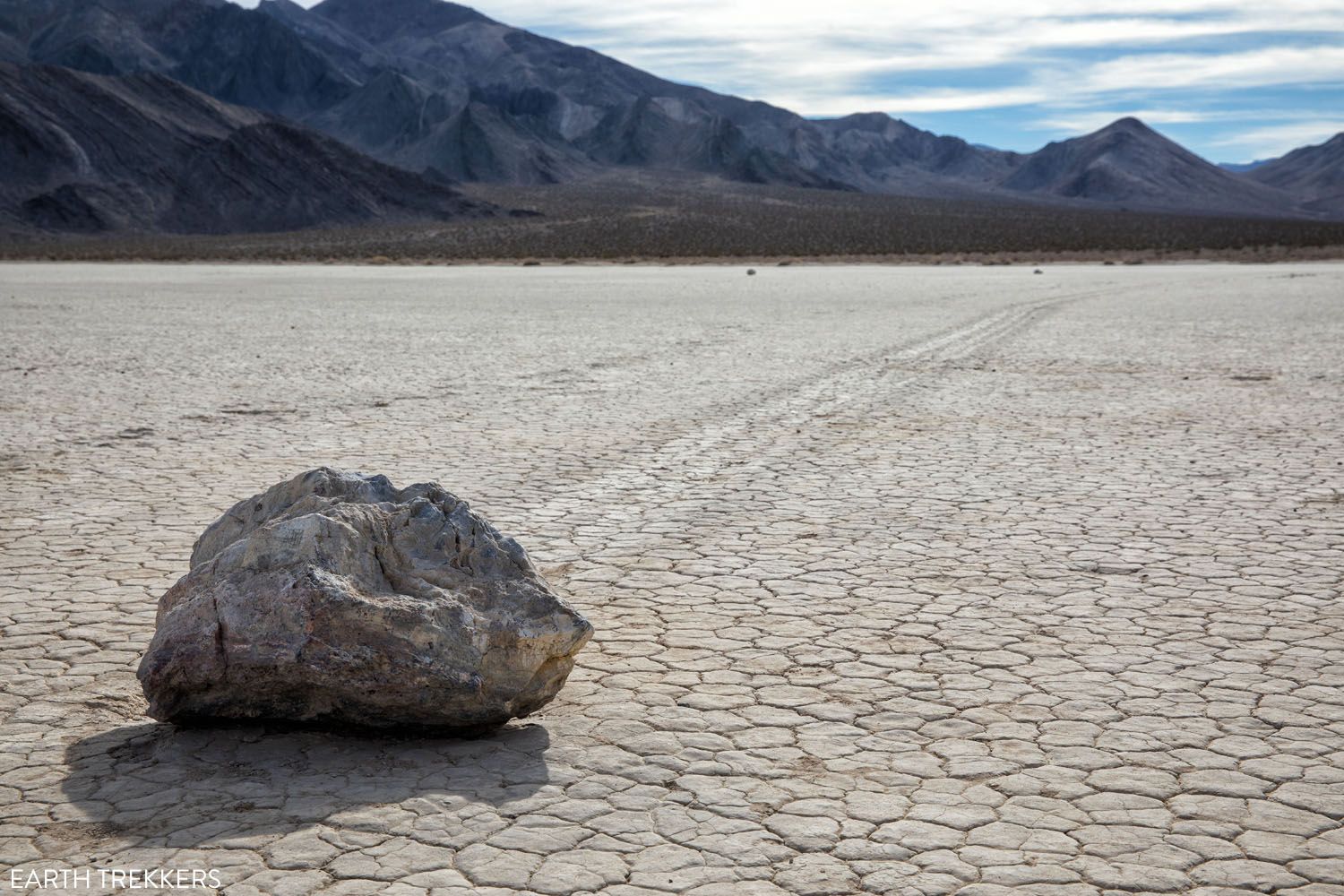 This is not a spot you can just visit on a whim. Getting here takes advance planning. The only way to get here is via long, rough, rocky roads through a remote landscape. On this excursion, the journey is part of the adventure.
To get here, you will drive 27 miles on a rough, unpaved road. You must have a vehicle with high clearance and a 4×4 is recommended. The road is covered with gravel and sharp rocks and flat tires are common.
But once here, the views, the solitude, and the chance to see the sailing stones all combine into an unforgettable experience.
11. Telescope Peak
Telescope Peak is the highest peak in the park, at 11,043 feet (3,366 meters). You can climb this peak, a hike that is 14 miles long.
From the top, enjoy the view of Badwater Basin, the lowest spot in the United States, and Mt. Whitney, the highest mountain peak in the contiguous United States (14,505 feet, 4,421 meters).
12. Scotty's Castle
Scotty's Castle, also called the Death Valley Ranch, was a "dream home" built in Grapevine Canyon. Legend has it that this castle was built on top of Death Valley Scotty's gold mine. The home was built in the 1920's but it was never completed.
Taking a tour of the castle is like taking a step back in time. Currently, Scotty's Castle is closed due to flood damage and it may not reopen until 2023 or later.
13. Mosaic Canyon
Distance: 4 miles | Difficulty: Moderate | Time: 2 to 3 hours
This is another fun hike in Death Valley. It has just enough rock scrambling and obstacles to keep things interesting. Plus, the canyon narrows and widens several times, so the views are always changing.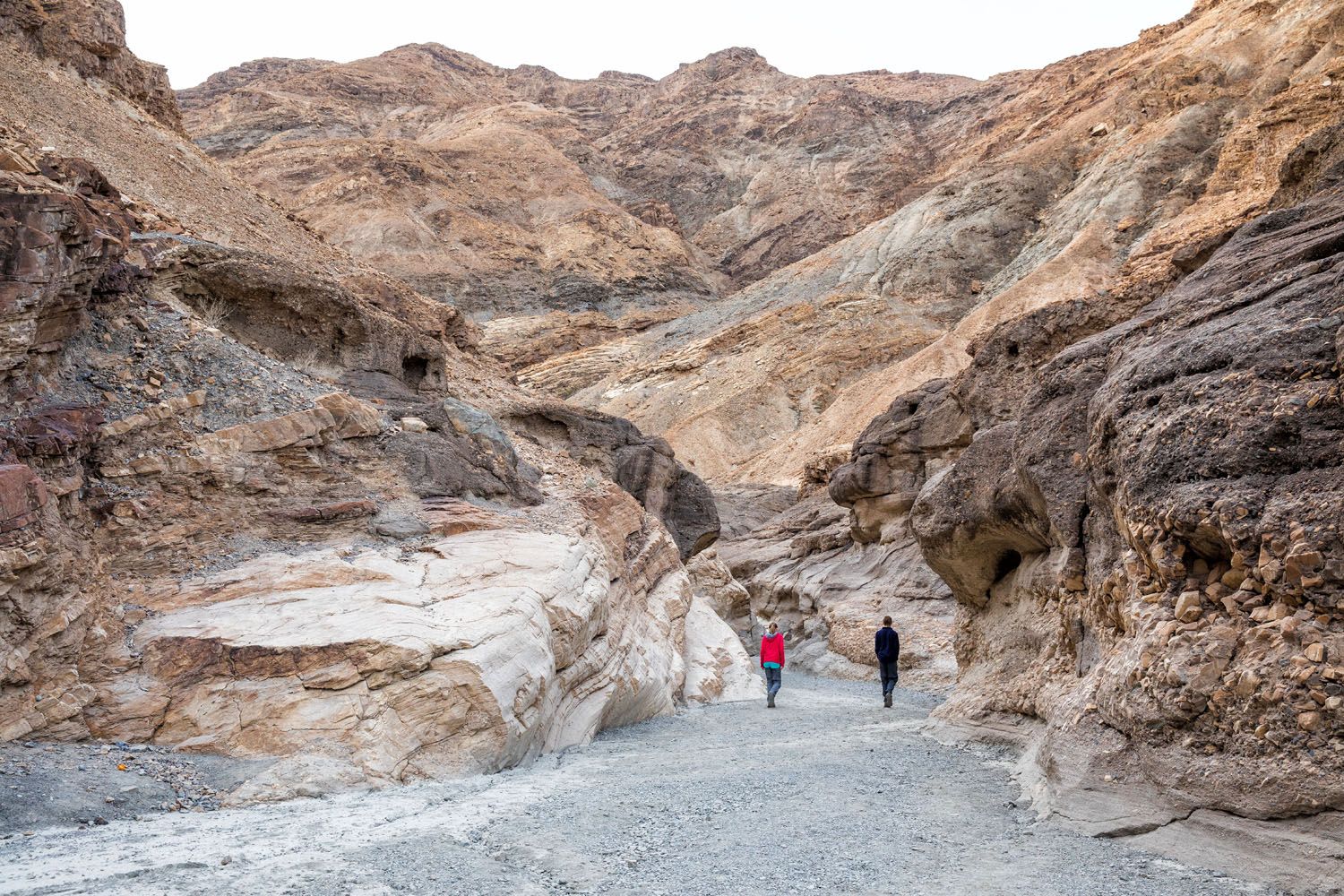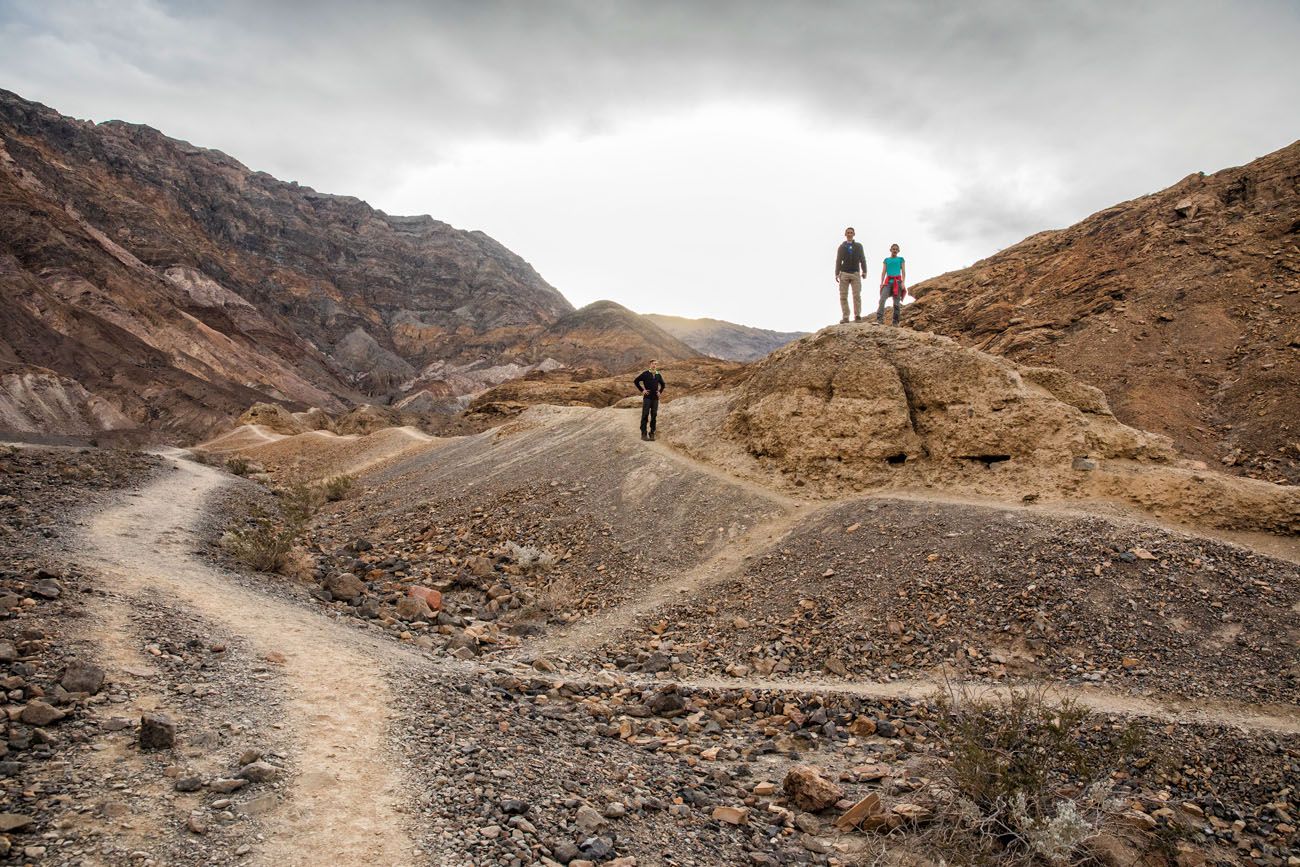 How to Get Here: This hike is located near Stovepipe Wells. You will drive 2 miles on a gravel road to get to the trailhead. The road is suitable for cars, SUV's and trucks, but buses and RV's are not recommended.
14. Grotto Canyon
Distance: 2 to 4 miles round trip | Difficulty: Challenging | Time: 2 to 4 hours
If you are looking for a challenging hike in Death Valley, Grotto Canyon may be perfect for you. Hike through narrow canyons, navigate your way up and over difficult obstacles, and enjoy this quiet, seldomly visited trail in Death Valley. This is a very adventurous hike and only those with prior hiking experience should attempt it.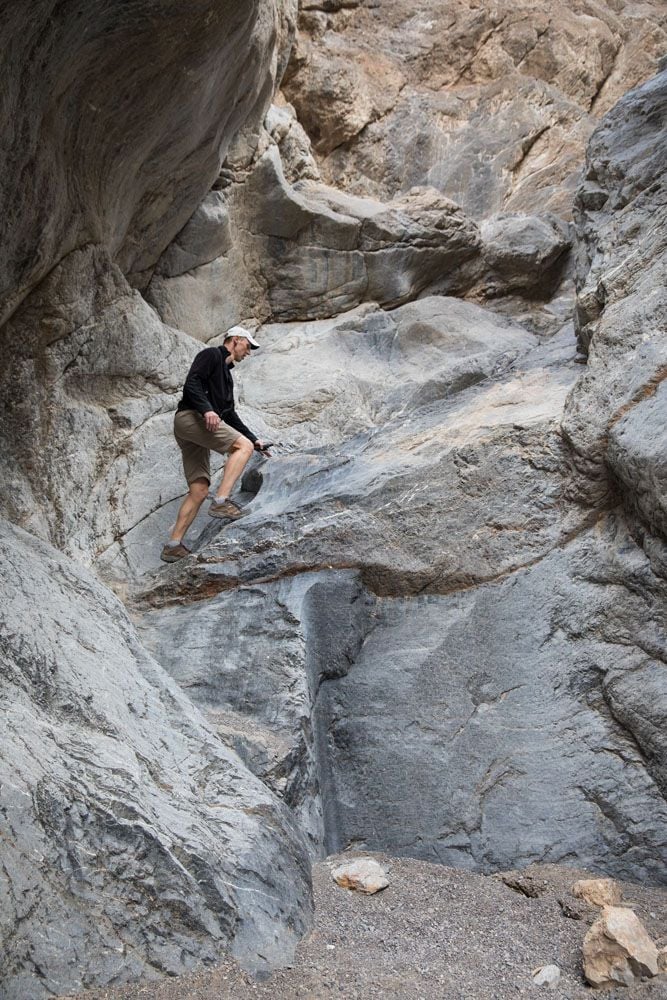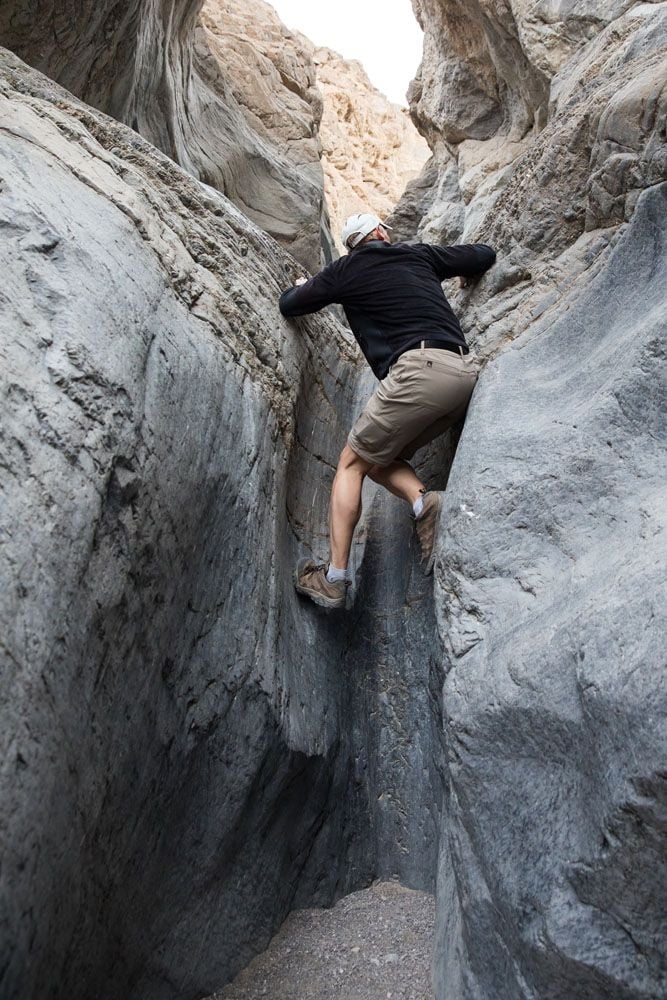 The first part of the trail goes through a canyon. There are several tricky rock scrambling sections that are a good intro of what is to come. Halfway into the canyon, an 8 foot chimney stops most hikers in their tracks. Those with excellent rock scrambling and rock climbing skills should be able to continue beyond this point to complete the hike.
15. Eureka Dunes
The Eureka Dunes are said to be the most spectacular sand dunes in Death Valley.
They are located north of Ubehebe Crater. Getting here is similar to the excursion out to Racetrack Playa: a long drive on rough gravel roads. But if you want to experience sand dunes with few visitors, this is the place to go.
16. Twenty Mule Team Canyon
Twenty Mule Team Canyon is a one-way road through yellow and white mudstone hills. Borax was mined from this area 100 years ago.
I expected this to be an unexciting waste of time. Boy, was I wrong. The landscape here is gorgeous, in a chalky, desolate sort of way. You drive through white and yellow mudstone hills with zero vegetation anywhere.
About 2/3 through the drive is a small turn-off, just big enough for several cars, that gives you access to very short hiking trails into these hills. Definitely get out and do this. The view from the tops of these hills is amazing.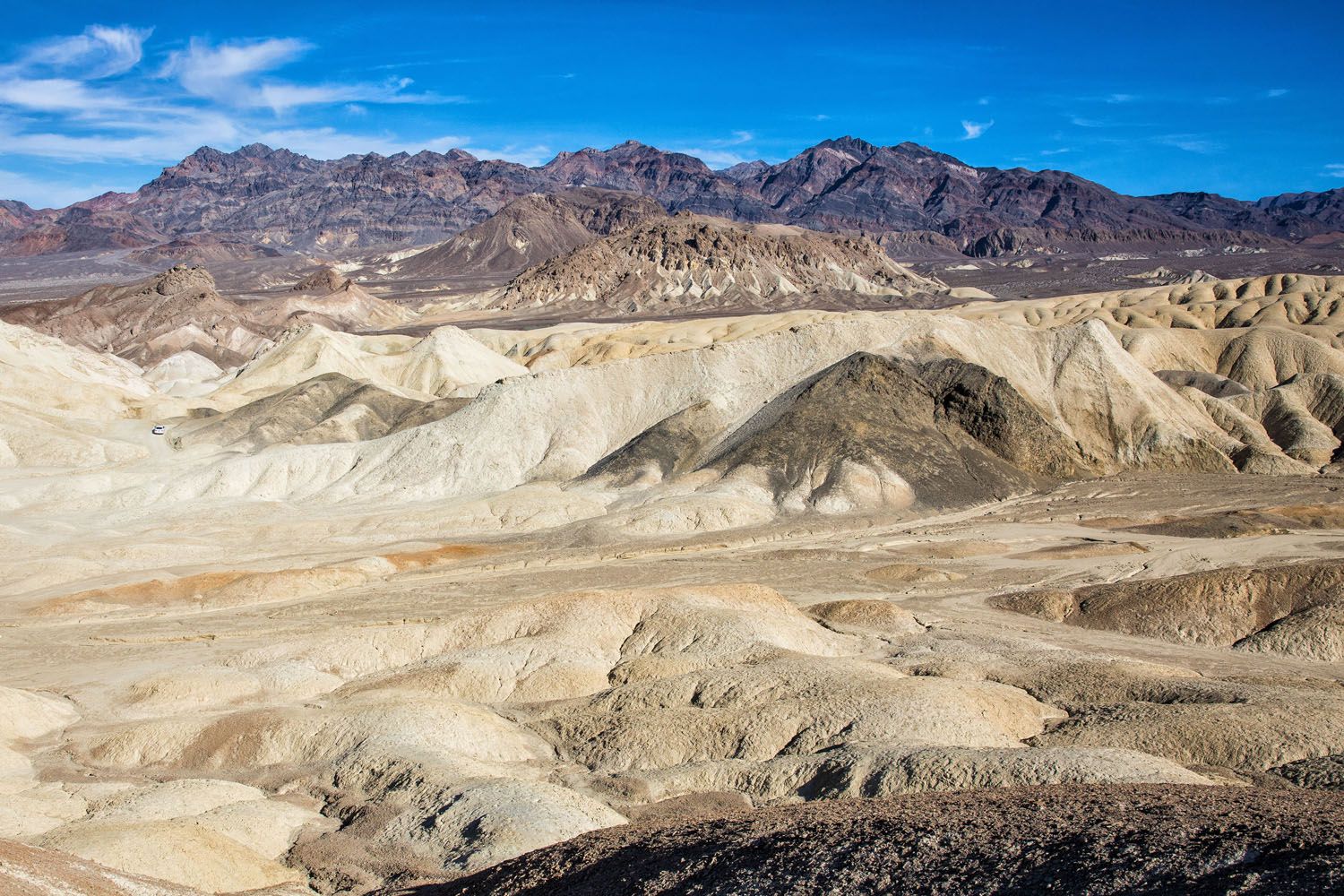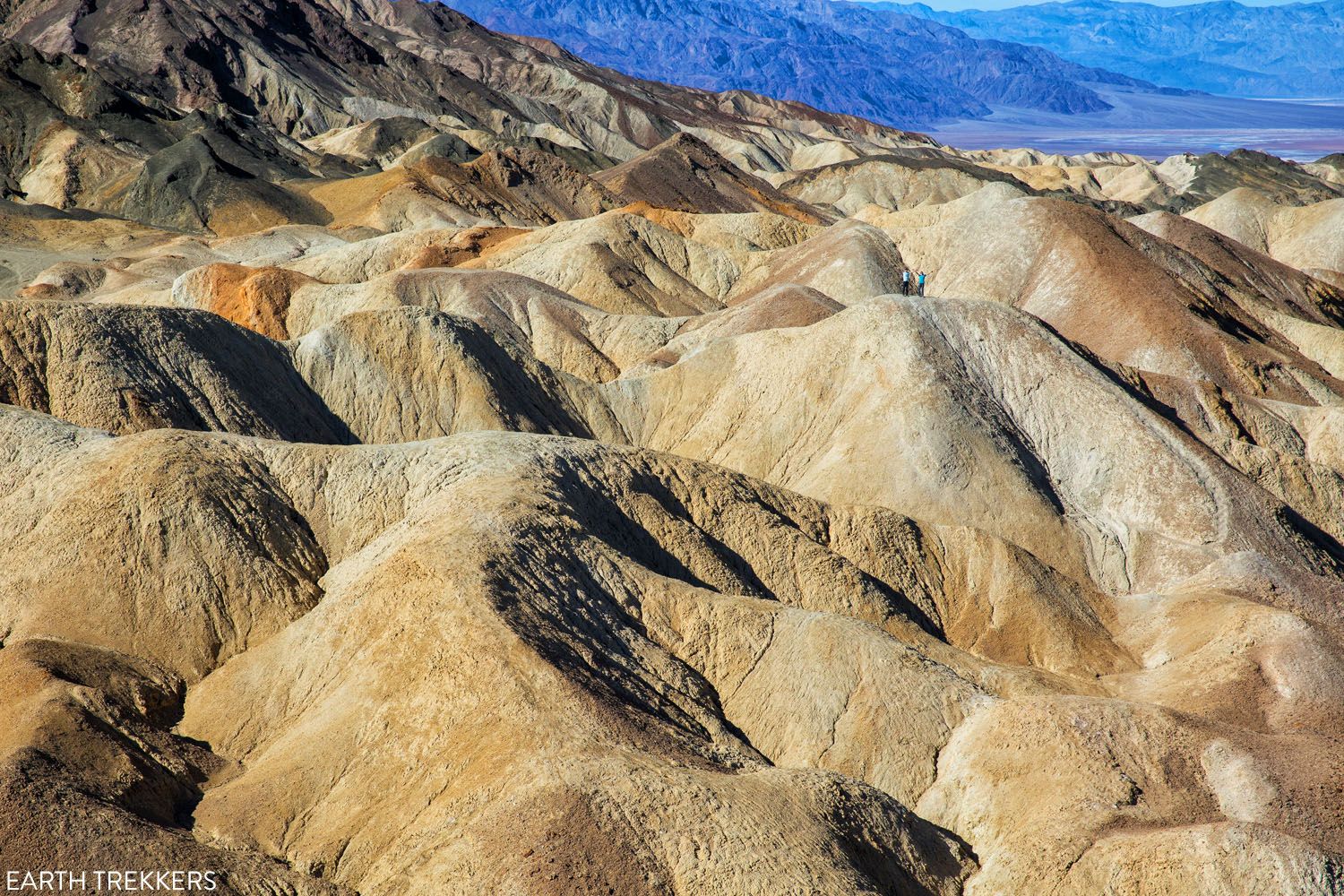 The drive through Twenty Mule Team Canyon and the short hike takes between 30 and 45 minutes.
Twenty Mule Team Canyon is located on Highway 190, 1 mile south of Zabriskie Point.
17. View the Night Sky
Death Valley has some of the darkest night skies in the United States. With its remote location far from cities and small towns, this is an amazing place to gaze up at the night sky. Badwater Basin, the Mesquite Flat Sand Dunes, and Harmony Borax Works all make great places to view the night sky.
18. Explore the Backcountry
Death Valley is the largest national park in the lower 48 states and with more than 1,000 miles of roads, many of them unpaved, there is a lot of wilderness to explore.
Racetrack Playa and Eureka Sand Dunes are two examples of backcountry experiences you can have in this park. There are many dirt and gravel roads that travel deep into the park, if you really want to get into the remote regions of Death Valley.
Drive up Aguereberry Point Road for a dramatic viewpoint of Death Valley. Explore hidden canyons, historic roads, old mines, and remote wilderness. Spend the night in the backcountry… car camping is permitted along the more remote roads.
To drive these roads, high-clearance 4WD vehicles are highly recommended. Some of these roads require prior experience driving rough roads. Learn more on the national park service website.
19. See the Superbloom
About once every ten years, Death Valley is carpeted by colorful wildflowers. Conditions have to be perfect for this to occur, which is why it is such a rare event. But to see Death Valley covered in flowers…what a magical experience that would be.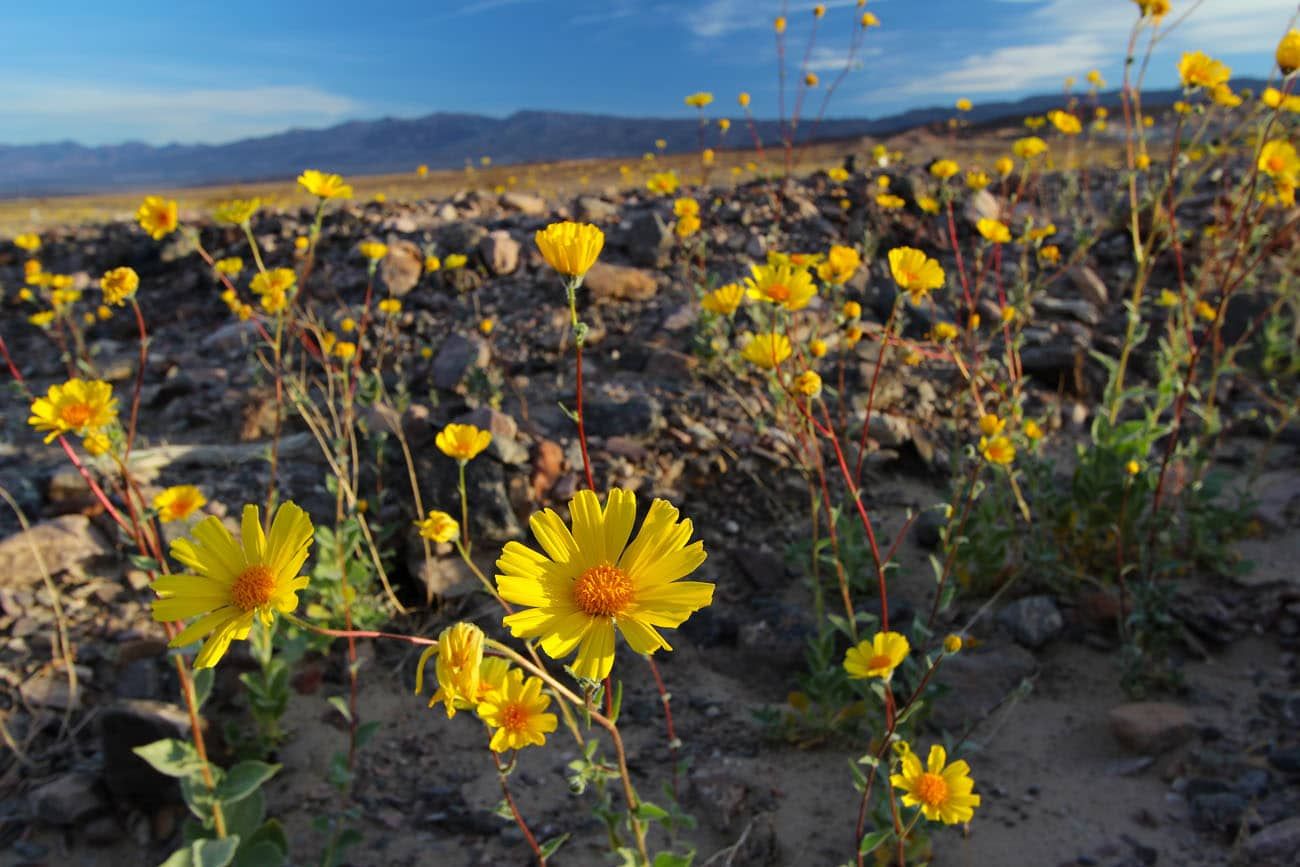 photo credit: shutterstock.com/Sean Lema
Superblooms generally happen following evenly spaced rainfalls during the winter and early spring, along with sunny skies in the spring and the absence of harsh desert winds. The last superbloom occurred in 2016. You can get predictions on the national park service website.
In lower elevations, flowers bloom from mid-February through mid-April. At the higher elevations, wildflowers bloom from early April through June.
Even if the superbloom does not occur, you will be able to see some wildflowers during the spring months, it just won't be quite as dramatic as a superbloom.
20. Natural Bridge
I have mixed feelings about putting Natural Bridge on this list of things to do in Death Valley National Park.
This is one of the most popular hikes in the park, so I couldn't leave it off of the list. However, I think that there are better hikes and places to visit in the park than Natural Bridge.
To get the Natural Bridge, it is a rather unexciting walk up a gravel trail. The arch is not all that thrilling or photogenic. This hike is 2 miles round trip and takes about an hour of your time. And there are many better ways to spend that hour, especially if you only have one or two days in Death Valley.
Visit the other viewpoints and scenic drives on this list first. Hiking Mosaic Canyon, located near Stovepipe Wells and Mesquite Flat Sand Dunes, is much more thrilling and interesting than Natural Bridge, although it is a longer hike.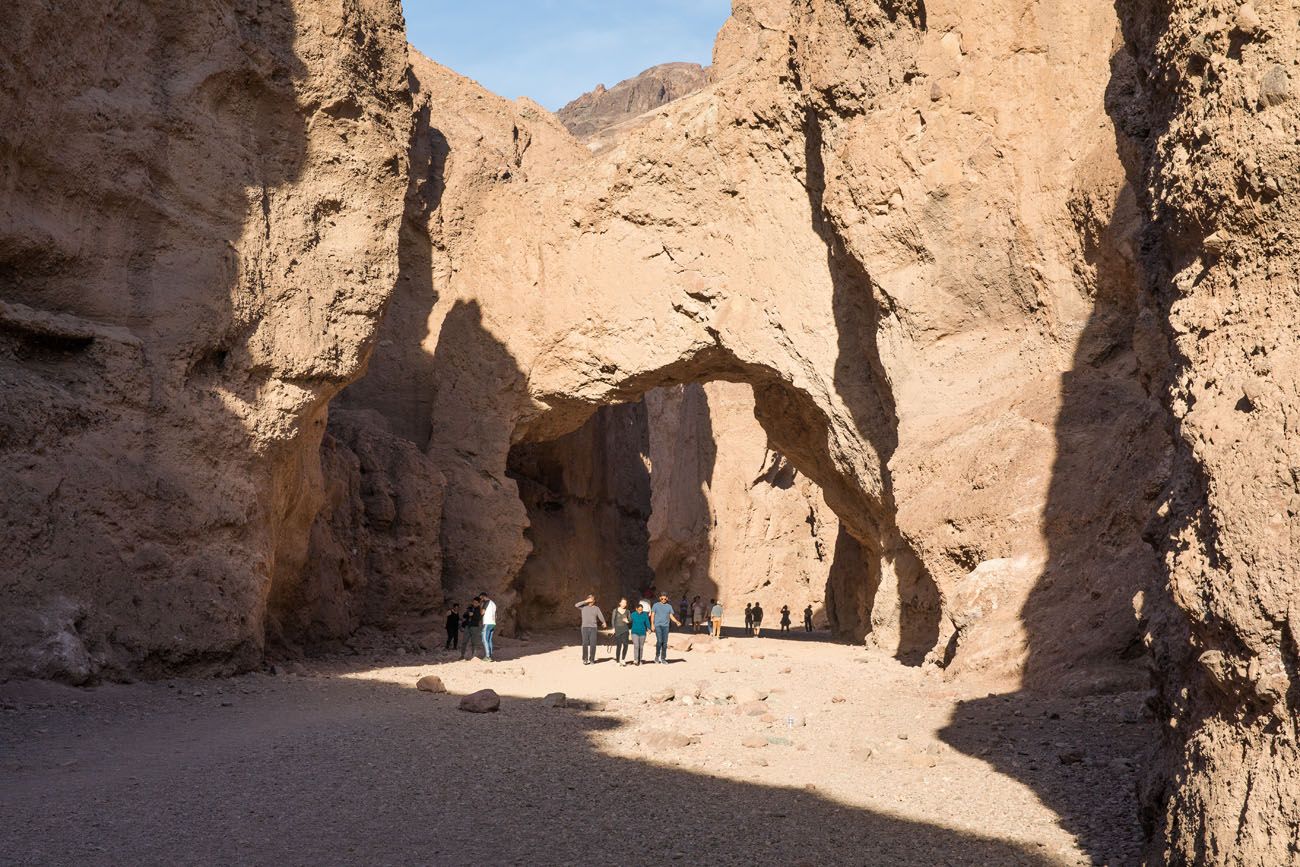 Natural Bridge
Things to do in Death Valley: On a Map
How to Use This Map: Click the icons on the map to get more information about each point of interest. Click the star next to the title of the map to add this map to your Google Maps account. To view it on your phone or computer, open Google Maps, click the menu button, go to "Your Places," click Maps, and you will see this map on your list.
How Many Days Do You Need in Death Valley?
Ideally, you need at least two days in Death Valley, although more time is better.
With two days, you can visit the highlights of the park (Badwater Basin, Zabriskie Point, Mesquite Flat Sand Dunes, Artists Drive, Dante's View, and Twenty Mule Team Canyon), hike one or two trails, and visit Racetrack Playa. To put all of this together, we have a great 2 day Death Valley itinerary.
If you like the idea of exploring the more remote regions of Death Valley, such as Eureka Sand Dunes, Telescope Peak, and driving the backcountry roads, add 1, 2, or more days to your visit.
For those with just one day in Death Valley, you can do quite a bit. In fact, Death Valley makes a great day trip from Las Vegas. Click here to learn how to plan your Death Valley day trip.
If you only have one day in Death Valley and plan to do this as a day trip from Las Vegas, here are several tours that include your transportation.
Best Time to Visit Death Valley
Springtime is the most popular time to visit Death Valley. If the valley received enough rainfall during the winter months, you get to see the legendary superbloom (usually the end of March into early April).
The winter months are another great time to visit Death Valley. Daytime temperatures are very pleasant (65 to 70°F) although it can get cold at night. There may be brief periods of rain during the winter months, and if this occurs during your visit, you may want to skip Racetrack Playa.
We visited Death Valley at the very end of December (December 29, 30, and 31). This is one of the peak times for a visit here. There are very few places to stay in Death Valley, so your accommodation needs to be booked well in advance. During winter break, viewpoints and hiking trails are more crowded than normal, but it still doesn't even come close to peak season crowds in other parks like Yellowstone and Zion.
During the summer months, be prepared for incredibly hot conditions with temperatures getting to 120°F or higher. Skip the hikes and instead drive through the park, getting out at the viewpoints.
Autumn has warm temperatures and clear skies. As the heat fades, visitors start reappearing.
Death Valley National Park appears in our Best US National Parks in January, Best US National Parks in April, and Best National Parks in December articles. For more information about the best times to visit the national parks, check out our Best National Parks Month-by-Month Guide.
Where to Stay
The Oasis at Death Valley. Located in the park, there are two units that comprise The Oasis.
The Inn at Death Valley offers the most luxury. Rooms are tastefully decorated and this property has a pool and you can even play golf at the world's lowest-elevation golf course.
The Ranch at Death Valley offers rooms at a cheaper price than the Inn. There is an outdoor swimming pool, a great place to escape the heat in the warmer months.
Stovepipe Wells is a good budget option in Death Valley. There are hotel rooms, a campground, gas station, General Store, saloon, and restaurant. The rooms are basic but clean, the Wi-Fi barely works, and the food is nothing spectacular, but we really liked it here. It's nothing fancy, but for two nights, Stovepipe Wells had everything we needed. Plus, its location is perfect, since it is a short drive to several hikes and the Mesquite Flat Sand Dunes.
Panamint Springs Resort. This property is located in Panamint Springs, on the west side of the park. Stay in the lodge, camp in the campground, and if you have an RV, there are 6 full hookup sites.
Death Valley Inn & RV Park. This property is located just outside of the park, in the town of Beatty. It's a good place to stay if you are struggling to find accommodations within Death Valley National Park.
There are also numerous campgrounds located throughout Death Valley National Park. Learn more here.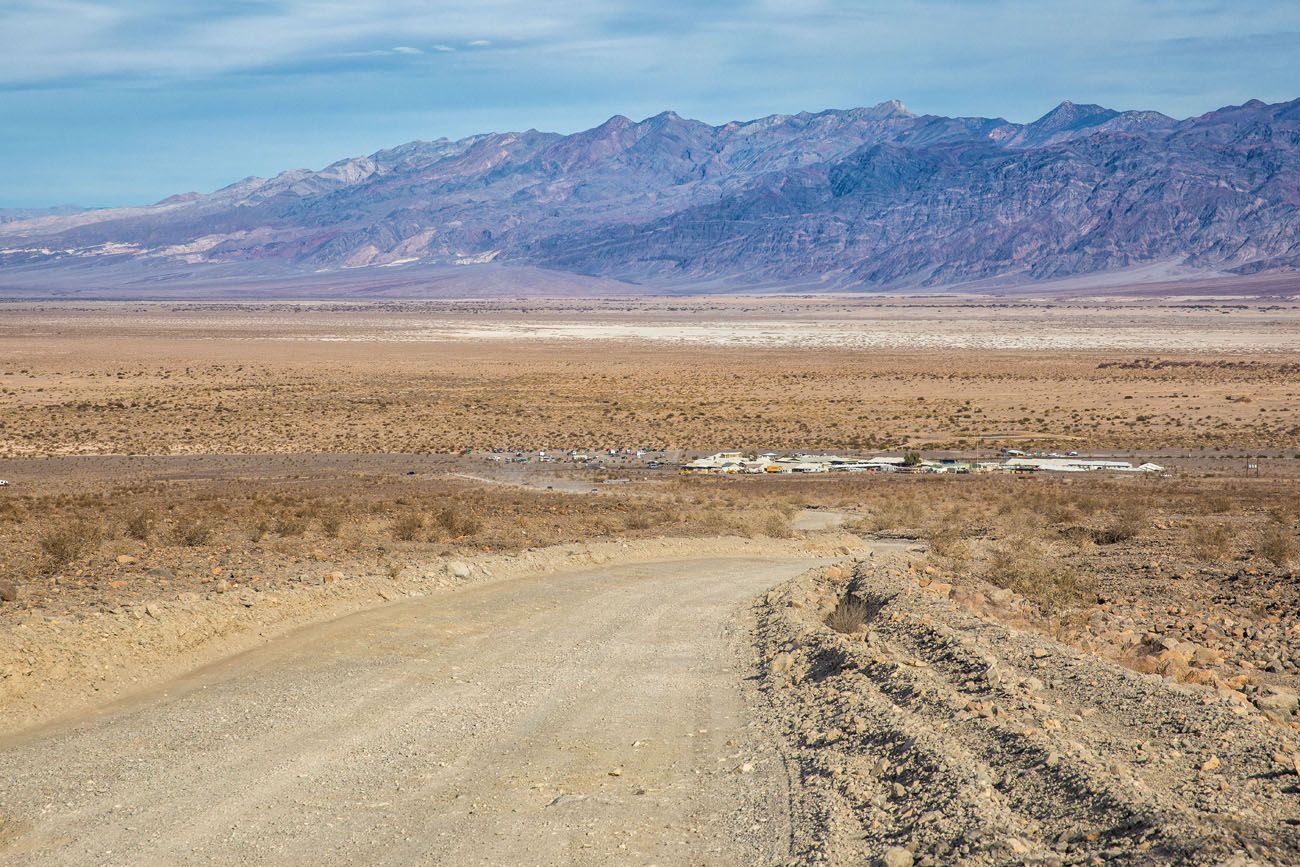 Stovepipe Wells
Where to Eat
There are a number of restaurants and general stores in Death Valley National Park.
Lunch is served at the Inn Restaurant (at The Inn at Death Valley), Date Grove Diner (at the Ranch at Death Valley) and at Panamint Springs Resort. Dinner is served at the The Inn Restaurant, Date Grove Diner, and the Toll Road Restaurant (at Stovepipe Wells).
General stores, which stock groceries, sandwiches, ice, and camping supplies, are located in Stovepipe Wells, the Oasis in Death Valley, and Panamint Springs. The Furnace Creek Visitor Center also has sandwiches and drinks.
Practical Information
Death Valley National Park is open 24 hours a day, 365 days a year.
Entrance Fee: $30 per vehicle, valid for 7 days.
Get updates on park conditions and trail and road closures on the National Park Service website.
Cellular Service. We had no cellular service during our two and a half days in Death Valley. Don't expect to be able to make telephone calls, check your email, or get on social media. Think of a visit to Death Valley as a digital detox. This is also one of the few times we recommend having a paper map. We used the National Geographic Topographic Map and it was a lifesaver!!
Fill Your Gas Tank Frequently. Fill up your tank with gas before arriving in Death Valley. Once inside the park, you can get gas at Furnace Creek and Stovepipe Wells (during our visit gas was slightly cheaper at Stovepipe Wells). Remember, if you run out of gas, you won't be able to use your phone to call for help because there is no cellular service.

---
If you have any questions about the best things to do in DeathValley National Park, let us know in the comment section below.
More Information for Your Trip to Death Valley
PLACES TO GO IN DEATH VALLEY: Get an overview of the top sights in our article Best Things to Do in Death Valley. Learn how to visit Racetrack Playa, one of the best off the beaten path experiences in the national parks. Mosaic Canyon and the Golden Canyon – Gower Gulch Loops are two hikes to add to your to do list. See all of our articles in our Death Valley Travel Guide.
SOUTHERN CALIFORNIA ROAD TRIP: Go on a road trip from Las Vegas to San Diego, visiting Joshua Tree and Death Valley National Parks, as well as Anza-Borrego Desert and the Mojave National Preserve.
YOSEMITE NATIONAL PARK: Check out our article Best Things to Do in Yosemite for important travel information, sample itineraries, and how to plan your visit. In our Half Dome Hiking Guide, learn what it takes to hike this challenging trail. We also have detailed guides about how to hike Upper Yosemite Falls and the Mist and Muir Trails.
LAS VEGAS: For information on how to visit Las Vegas, read our article Best Things to Do in Las Vegas, which also has advice on where to stay, where to eat, and how to plan your time. If you are visiting with kids or teenagers, don't miss our article Best Things to Do in Las Vegas with Teenagers.
NATIONAL PARKS: In our Guide to the US National Parks, get the full list of national parks with important travel planning information, such as things to do in the parks and sample itineraries.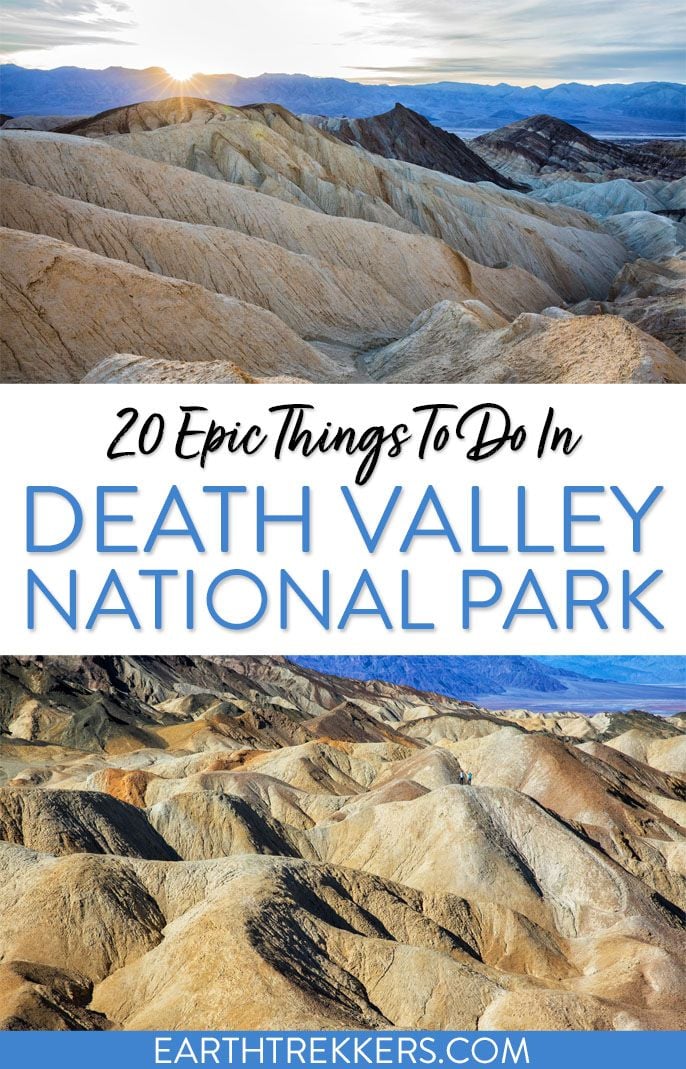 Note: This post contains affiliate links. When you make a purchase using one of these affiliate links, we get paid a small commission at no extra cost to you.
All rights reserved © Earth Trekkers. Republishing this article and/or any of its contents (text, photography, etc.), in whole or in part, is strictly prohibited.