Death Valley is the hottest, driest, and lowest place in the United States. But don't let its mysterious name and seemingly barren landscape discourage you from planning a trip here. This park is full of wonderful surprises. In this article, get the details on how to plan a Death Valley day trip from Las Vegas.
About this Death Valley Day Trip
This day trip starts and ends in Las Vegas. It's a big day, with lots of driving and a busy schedule in Death Valley. You will need to get a very early start, in order to maximize how much time you have in the park.
This day trip is perfect if you want a quick taste of Death Valley. You will get to visit the most popular viewpoints, see the Mesquite Sand Dunes, go on several short scenic drives, and walk across the Badwater Basin, the lowest point in the United States.
For this Death Valley day trip, you do not need a 4×4. A standard car is fine for this trip. You will drive on one to two gravel roads but the road conditions are suitable for a standard car.
If you like the idea of taking a day trip to Death Valley but don't have a rental car or prefer to do this with a guide, this small group tour gets very good reviews.
Road Trip Statistics
Las Vegas to Death Valley
Distance: 110 miles
Driving Time: 2 hours
Driving in Death Valley National Park
Adding up the distance that you drive in Death Valley, round trip from the pay station, here are the totals.
Total Distance in Death Valley: 140 miles
Driving Time: 3.5 hours
Death Valley to Las Vegas
Distance: 150 miles
Driving Time: 2.5 hours
Grand Total
Total Round Trip Distance: 260 miles
Total Driving Time To/From Las Vegas: 4.5 hours
Total Distance: 400 miles
Total Driving Time: 8 hours
As I said earlier, it's a big driving day and you will spend a lot of time in your car. Adding another day to your visit to Death Valley helps to balance out the long drive to and from Las Vegas. If you are curious about what you can do in Death Valley with more time, take a look at our 2 Day Death Valley Itinerary.
Below is a map Death Valley. This map includes driving directions from Las Vegas to Death Valley, as well as a driving route through Death Valley.
How to Use This Map: Click the tab in the top left hand corner of the map to view the layers (places to go and the driving routes). You can click the check marks to hide or show layers. If you click the icons on the map, you can get more information about each point of interest.

If you click the star next to the title of the map, this map will be added to your Google Maps account. To view it on your phone or computer, open Google Maps, click the menu button, go to "Your Places," click Maps, and you will see this map on your list.
Death Valley Day Trip from Las Vegas
For this itinerary, all times are approximate, to give you an idea of how to plan your time.
7 am: Drive from Las Vegas to Death Valley
Distance: 110 miles
Driving Time: 2 hours
There are two routes to choose from: NV-160 through Pahrump and Death Valley Junction or US-95 through Indian Springs and Amargosa Valley. I recommend taking NV-160 through Pahrump. Overall, it is a very scenic drive and it is slightly quicker than driving on US-95. Plus, we were told by the local people that there is a huge speed trap on US-95 near Indian Springs.
PRO TRAVEL TIP: In order to maximize your time in Death Valley (especially if you are visiting during the shorter winter days) get an early start. How early? If you leave Las Vegas at 7 am you will arrive in Death Valley at 9 am, which gives you a lot of time in the park today. However, if you don't mind an earlier start, getting on the road at 6 am gives you an additional hour of daylight.
9 am: Arrive in Death Valley
Once you arrive in Death Valley, the first thing that you will see is the park entrance sign. Take a photo, if you like, and then continue a few more minutes down the road to the pay station.
There is no park ranger booth in Death Valley. You simply park, pay your fee ($30 per vehicle, valid for 7 days) at the automated pay station, put your receipt/ticket on the dashboard of your vehicle, and then continue on your way.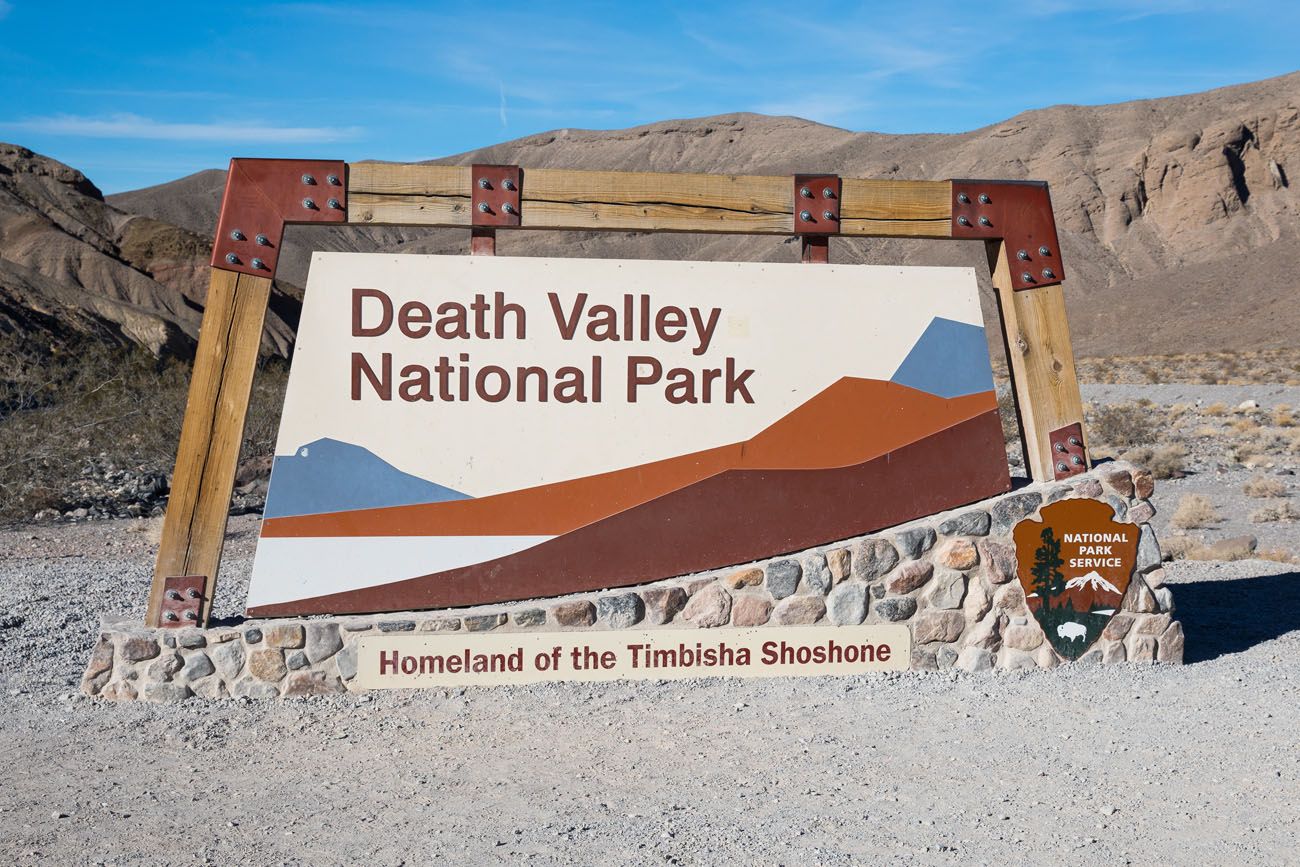 9:45 am: Dante's View
Just past the pay station, turn left on Furnace Creek Wash Road (follow signs towards Dante's View) and drive 13 miles (about 25 minutes) to Dante's view. The road gets very curvy with several switchbacks near the very end of the drive.
Enjoy the view from the parking lot and explore the trails that lead off in both directions.
Stretched out in front of you is the heart of Death Valley. Down below is Badwater Basin, the lowest point in the United States. If you look closely, you can see a road running through the valley to Badwater Basin. Later today you will drive that road when you visit the Basin.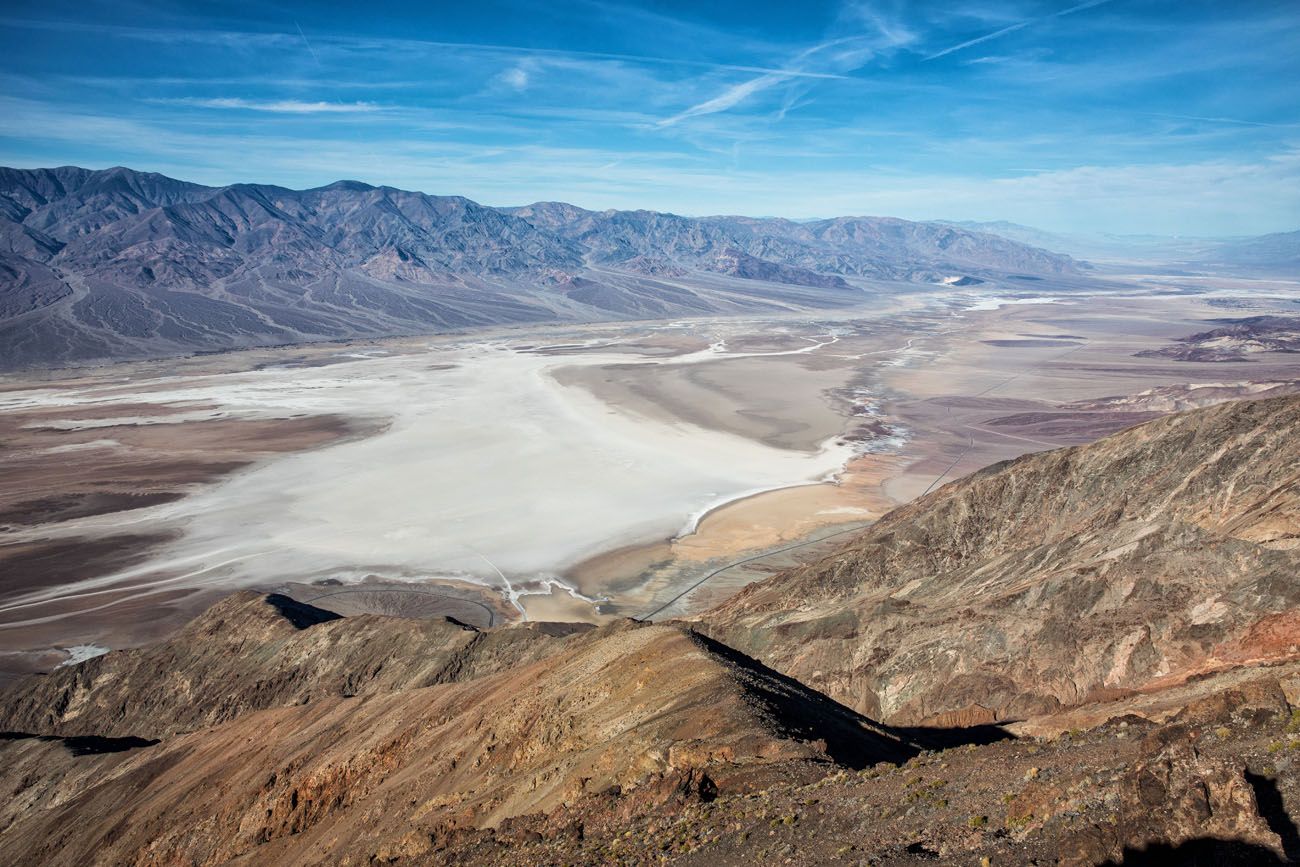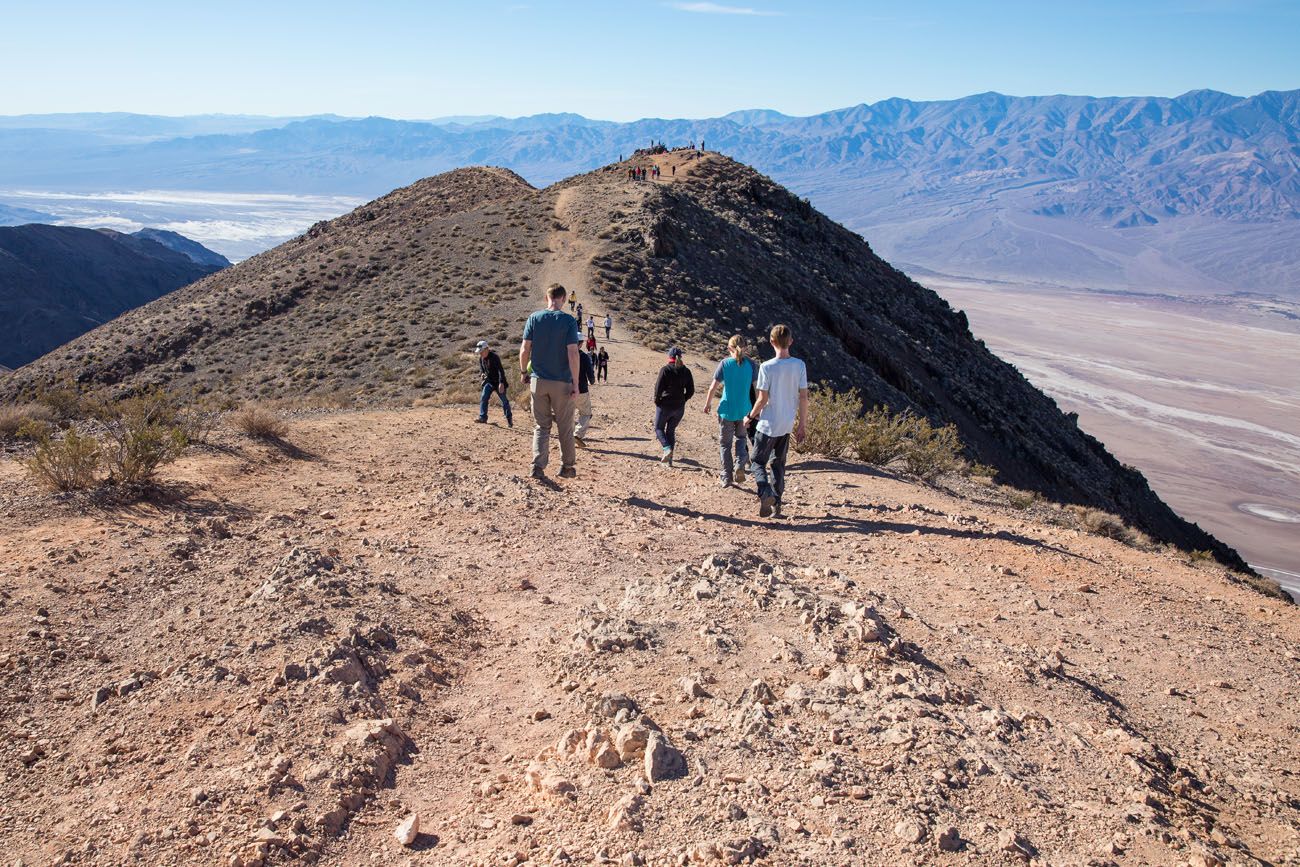 For Star Wars fans, Dante's View is the Mos Eisley overlook, featured in Star Wars: A New Hope. Death Valley was used a lot in the filming of Star Wars: A New Hope. Both Twenty Mule Team Canyon and Golden Canyon were featured, and you will visit Twenty Mule Team Canyon next.
10:30 am: Twenty Mule Team Canyon
After Dante's View, drive back to highway 190 and turn left to continue into the park. Drive 6 miles to the entrance to Twenty Mule Team Canyon. The drive from Dante's View to Twenty Mule Team Canyon takes about 45 minutes.
Twenty Mule Team Canyon is a one-way road through yellow and white mudstone hills. Borax was mined from this area 100 years ago.
I expected this to be an unexciting waste of time. Boy, was I wrong. The landscape here is gorgeous, in a chalky, desolate sort of way.
Two-thirds of the way through the drive is a small turn-off, just big enough for several cars, that gives you access to very short hiking trails into these hills. Definitely get out and do this. The view from the tops of these hills is amazing.
The drive through Twenty Mule Team Canyon and the short hike takes between 30 and 45 minutes.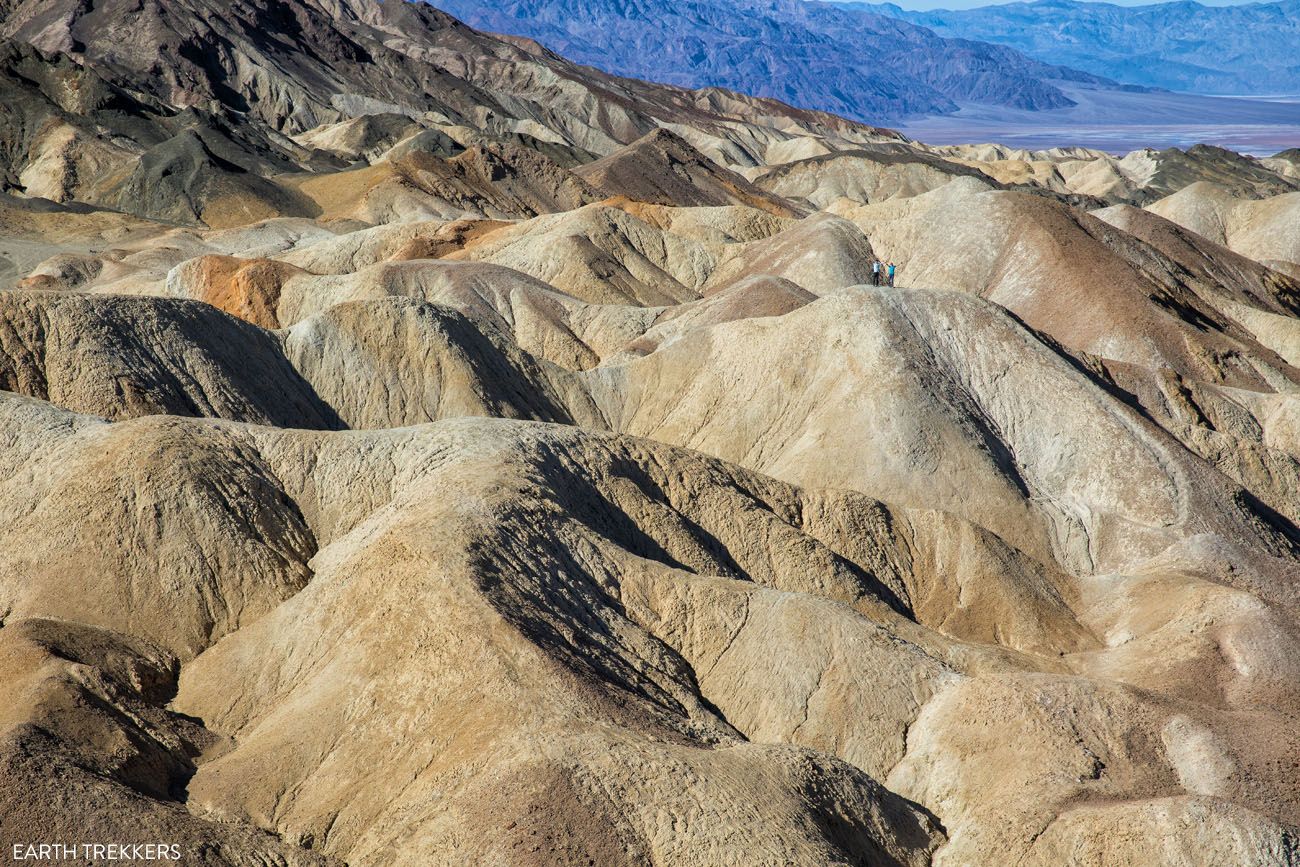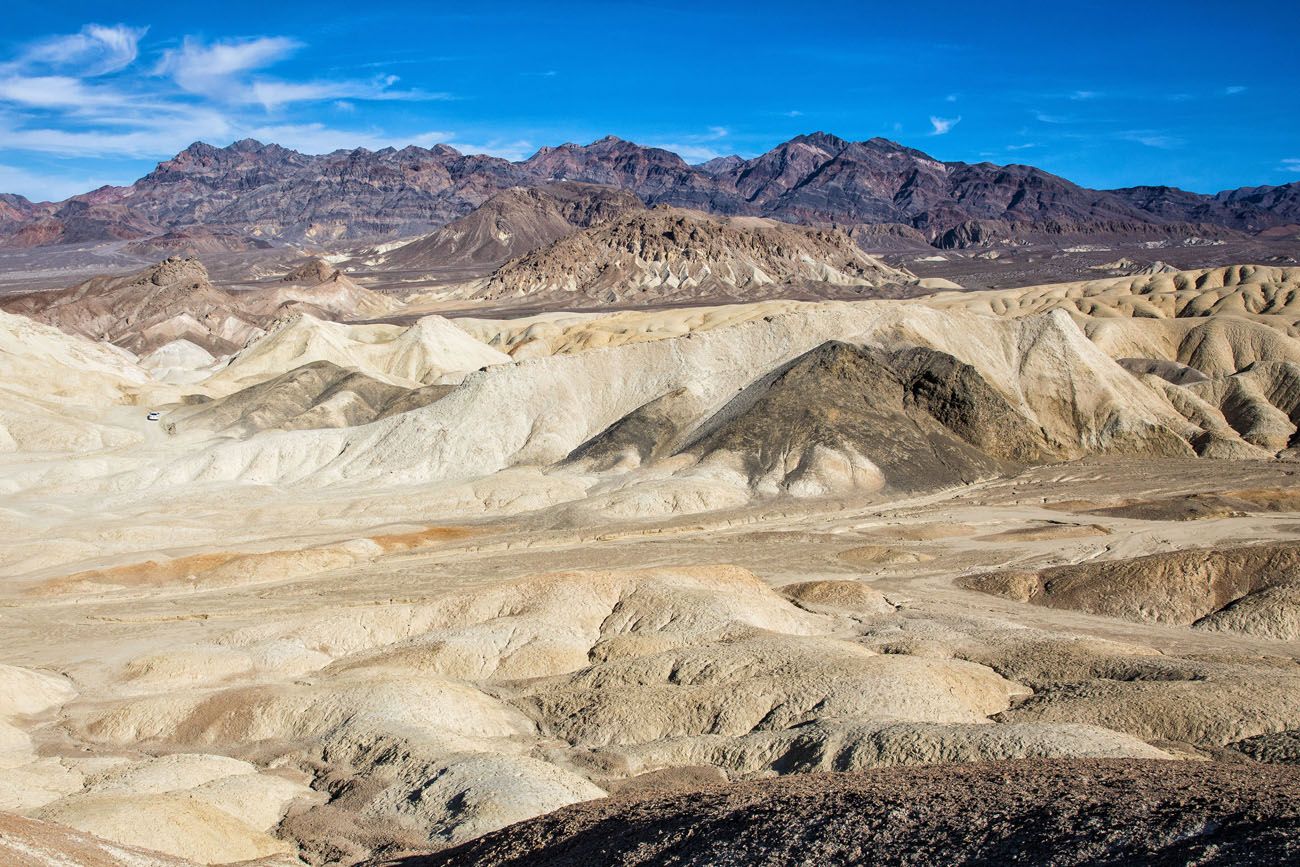 12:00 pm: Zabriskie Point
From Twenty Mule Team Canyon it is a five-minute drive to Zabriskie Viewpoint.
Zabriskie Point is another very famous, must-see viewpoint in Death Valley. You know it's popular when the parking lot is enormous and there is an asphalt trail to the viewpoint. This was the most crowded place we visited in Death Valley.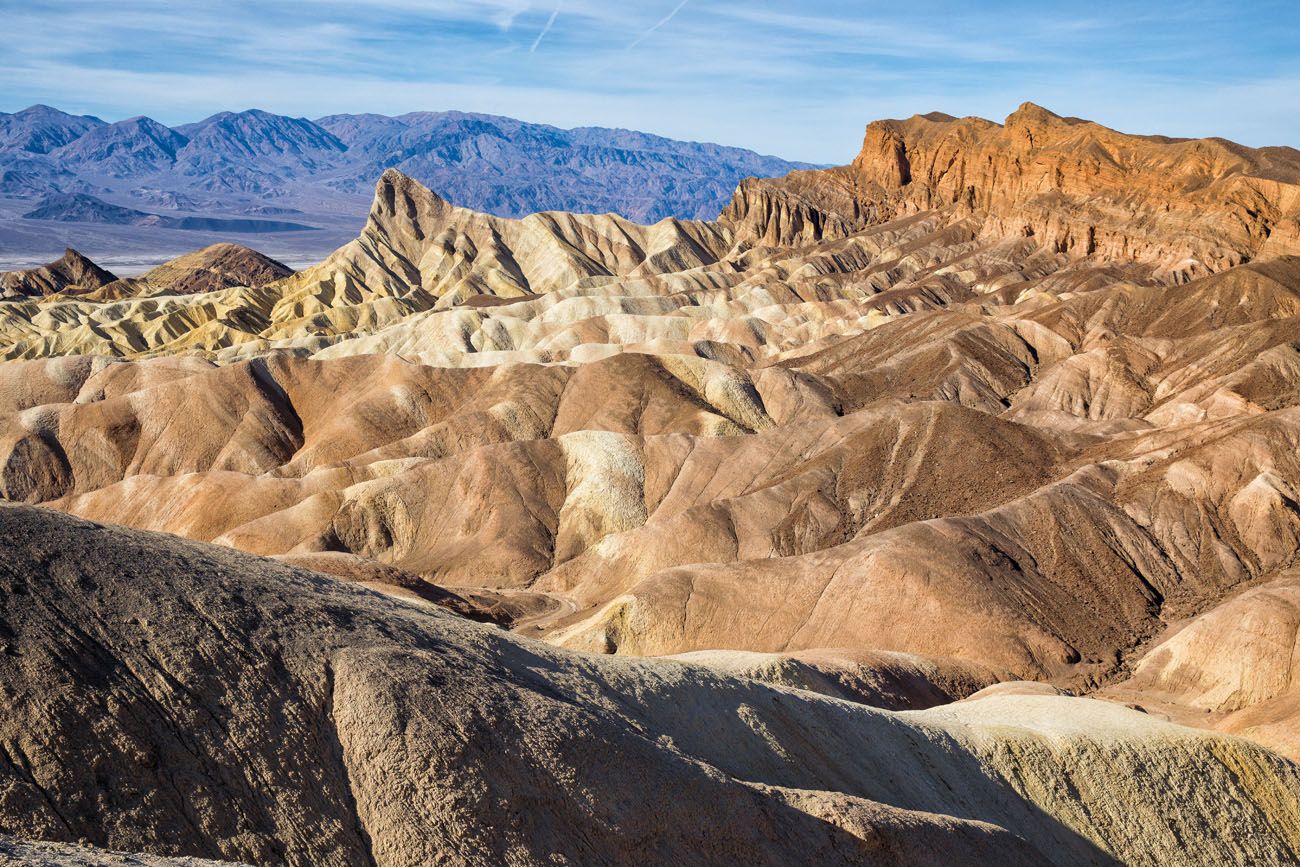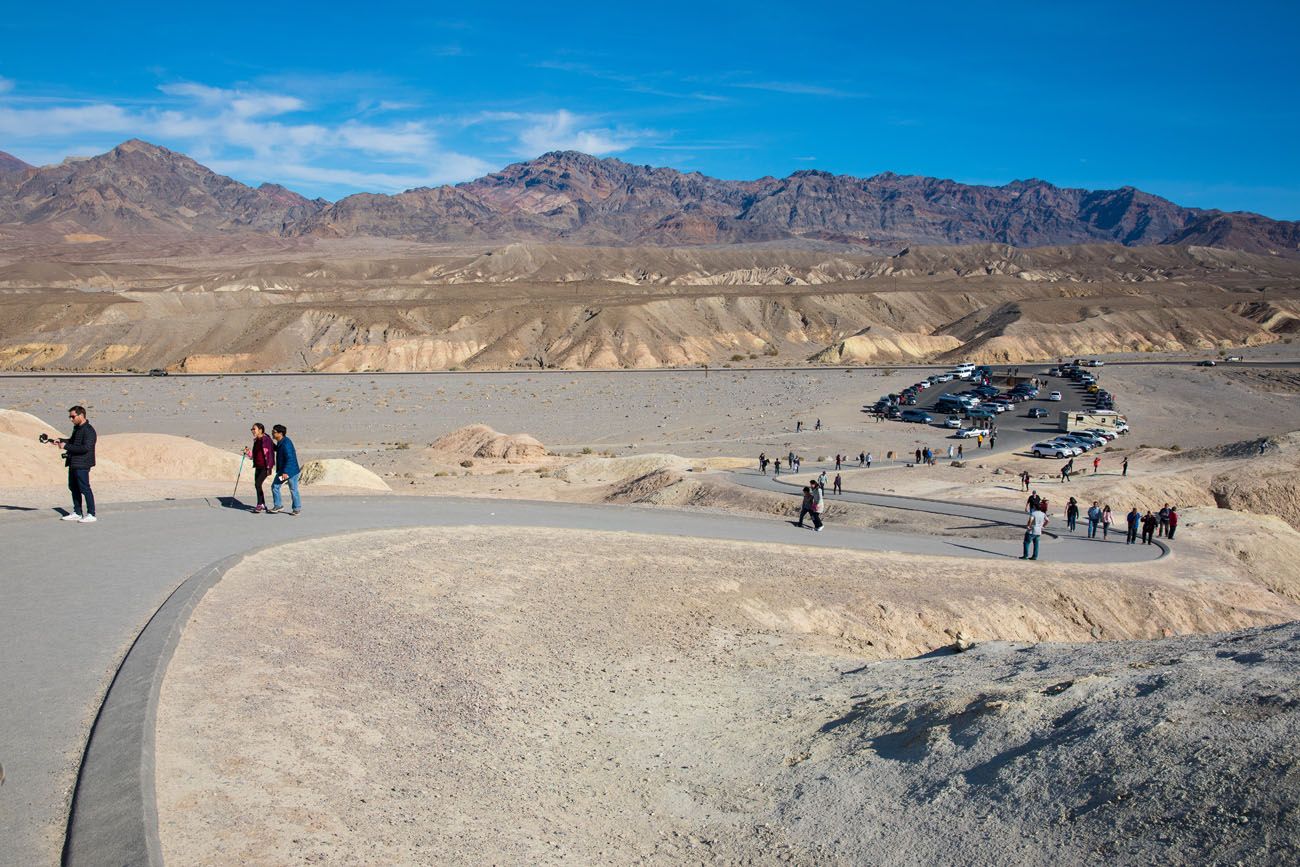 Enjoy the view but skip the hikes (you need the time to visit other places in Death Valley today). A visit here takes about 15 minutes.
12:30 pm: Lunch
Since you have such a tight schedule today, I recommend packing a picnic lunch. You can have lunch at Zabriskie Viewpoint or eat it on the drive to Badwater Basin.
There are restaurants in Death Valley, but your options are very limited. You can dine at one of the restaurants at The Oasis in Furnace Creek or you can drive one-hour round trip to Stovepipe Wells.
1 pm: Optional: Devil's Golf Course
This quick stop is worth it if you want to see the lumpy salt flats that are named the Devil's Golf Course. If you choose to walk out onto these flats, be careful! These formations are surprisingly sharp and you can be injured. You might want to think twice before letting young kids explore this spot.
We thought that the Devil's Golf Course was just OK. I think that it is worth skipping this, but since you drive right past it on the way to Badwater Basin, it doesn't add much time to your day.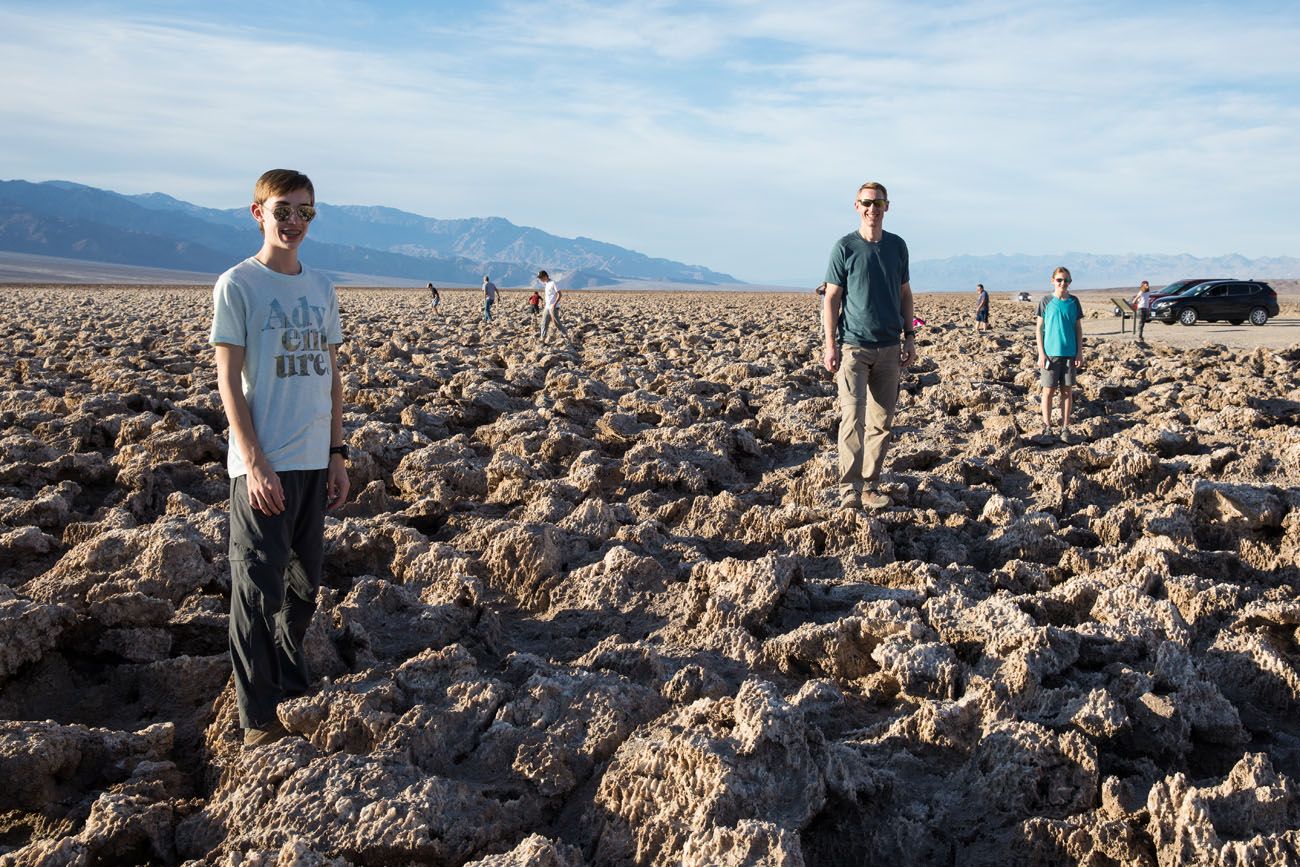 Getting here from Zabriskie Point: Drive past Furnace Creek and turn onto Badwater Road. Drive past West Side Road and then turn right onto the road to Devil's Golf Course (there will be a street sign that reads "Devils Golf Course). It's a short drive on a well-maintained gravel road to the parking lot. This entire drive is 10 miles and takes about 15 minutes.
1:30 pm: Badwater Basin
Badwater Basin is the lowest point in the United States, sitting 282 feet below sea level. Walk out onto the salt flats and enjoy this unique landscape.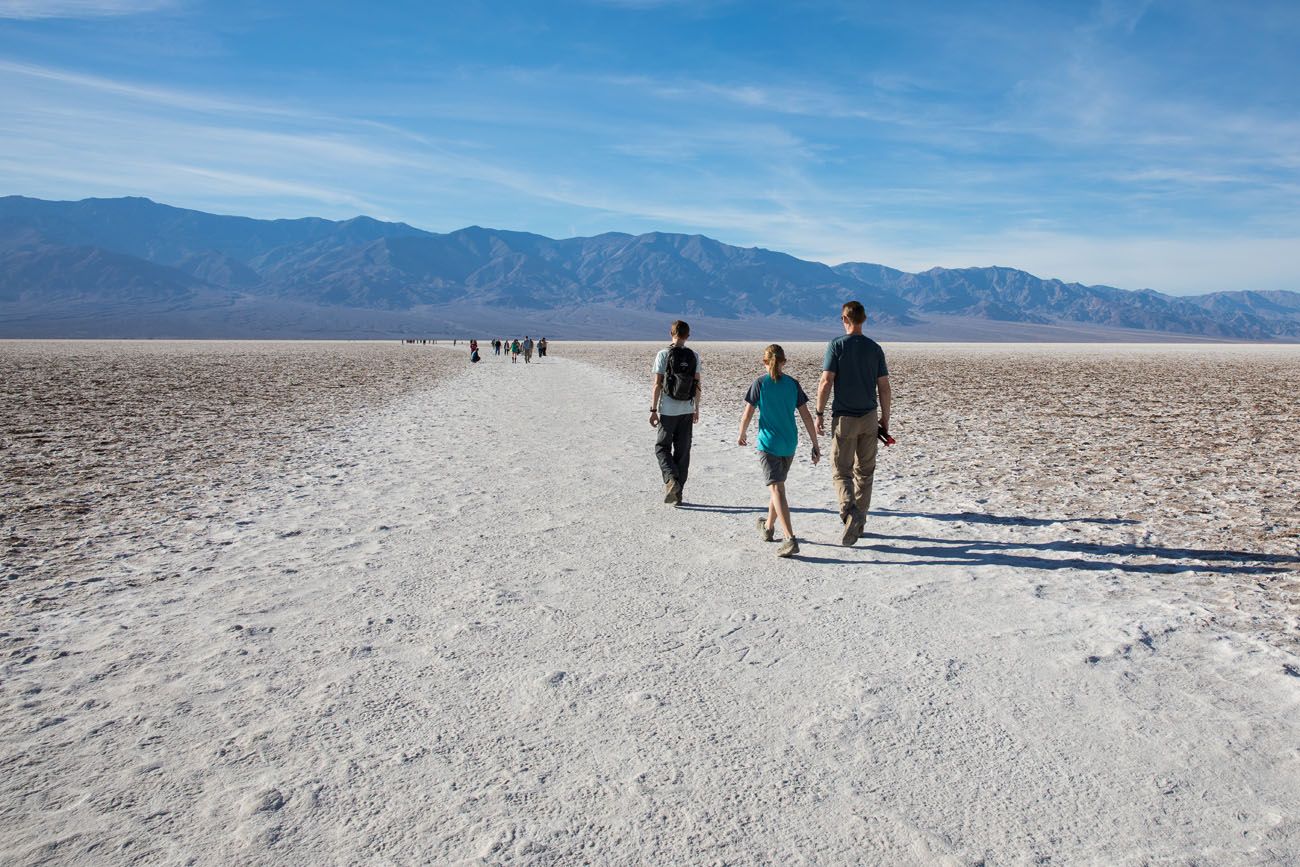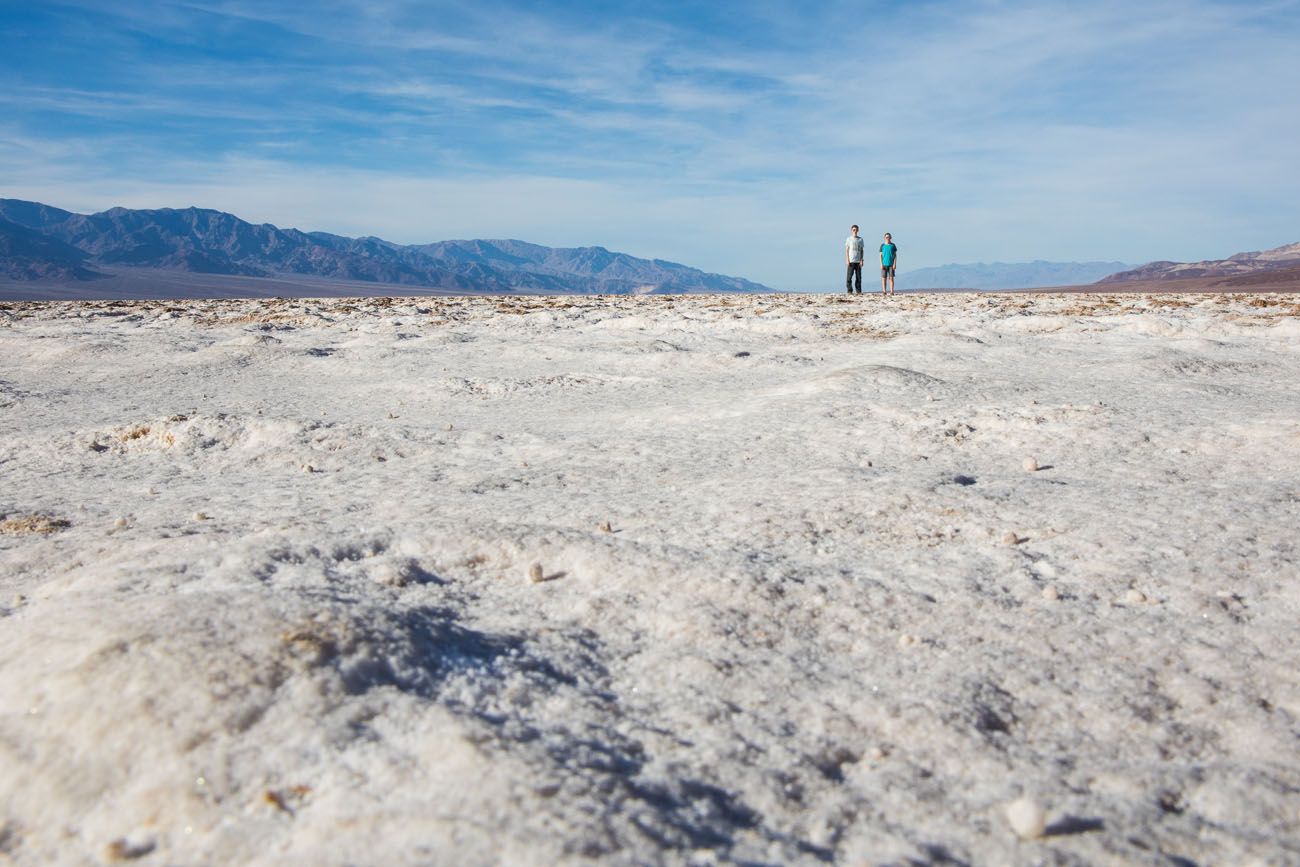 2:30 pm: Artist's Drive
This is a 9-mile scenic drive through more of Death Valley's unique landscapes. Artist's Drive is a one-way road from south to north. To get here from Badwater Basin, drive north on Badwater Road for 5 miles and turn right onto Artist's Drive.
There are many places to stop to enjoy the view and take a photo, but there are two places that we think are really worth it.
There is an unmarked, unnamed canyon that's worth a quick visit. It's located 3.4 miles into Artists Drive (0.9 miles before the Artist's Palette parking lot). Park at the dip in the road and walk east into the canyon. You can spend 10 to 30 minutes exploring here. To get into the canyon, it can be a slightly challenging climb up the first obstacle, but once you are past this, the rest is easy.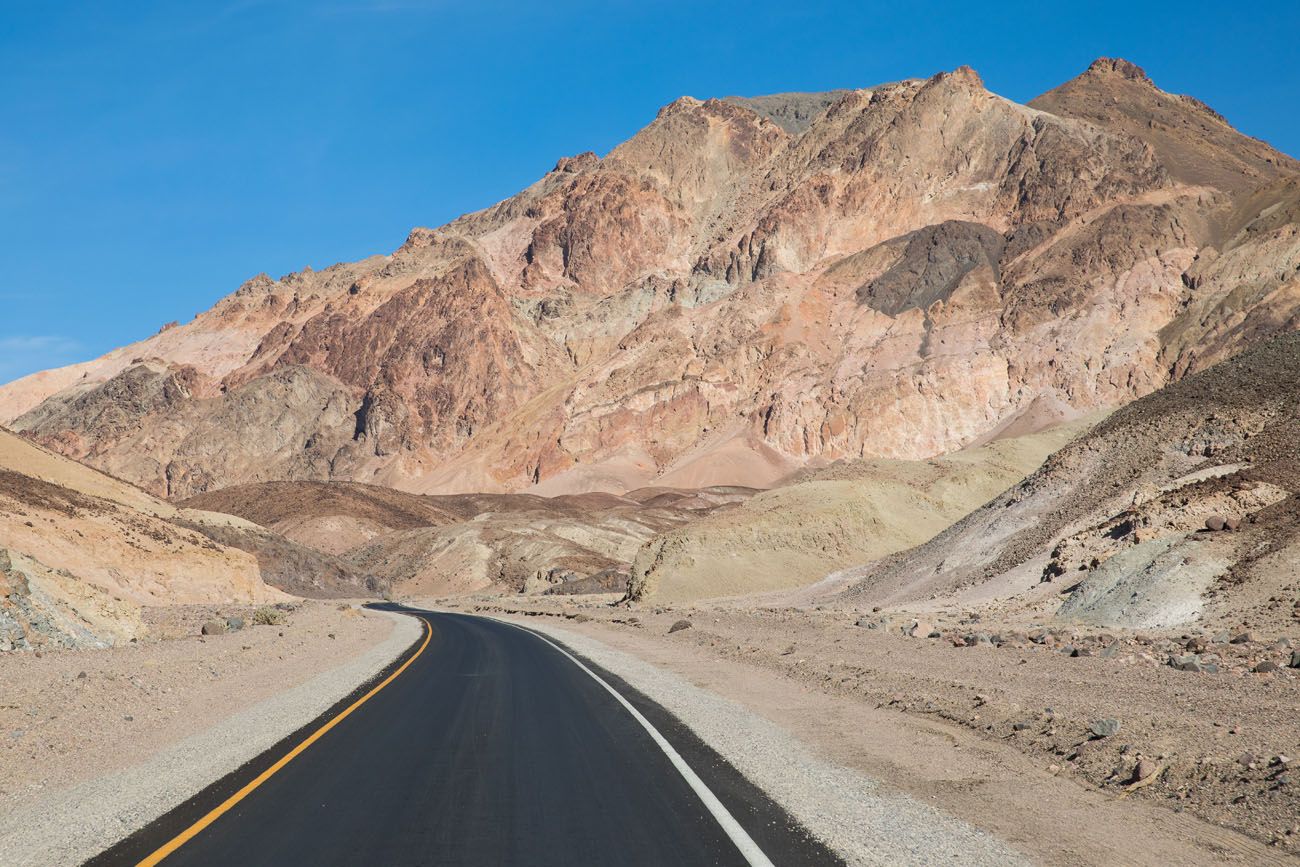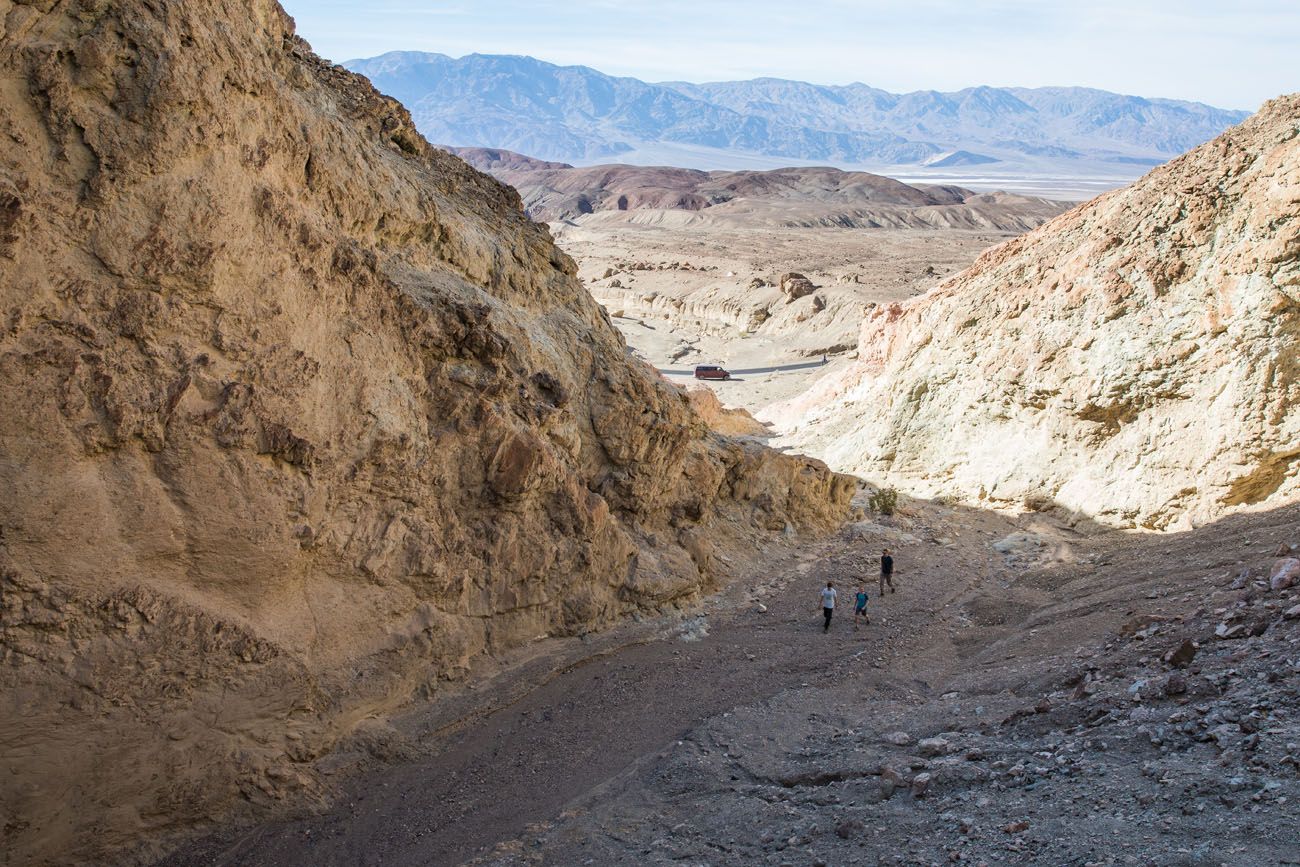 The second must-see spot on Artists Drive are the rainbow hills of Artist's Palette. These pink, aqua, and purple hills are the result of the oxidation of metals in the soil. Park in the parking area if you want a close up look at these hills.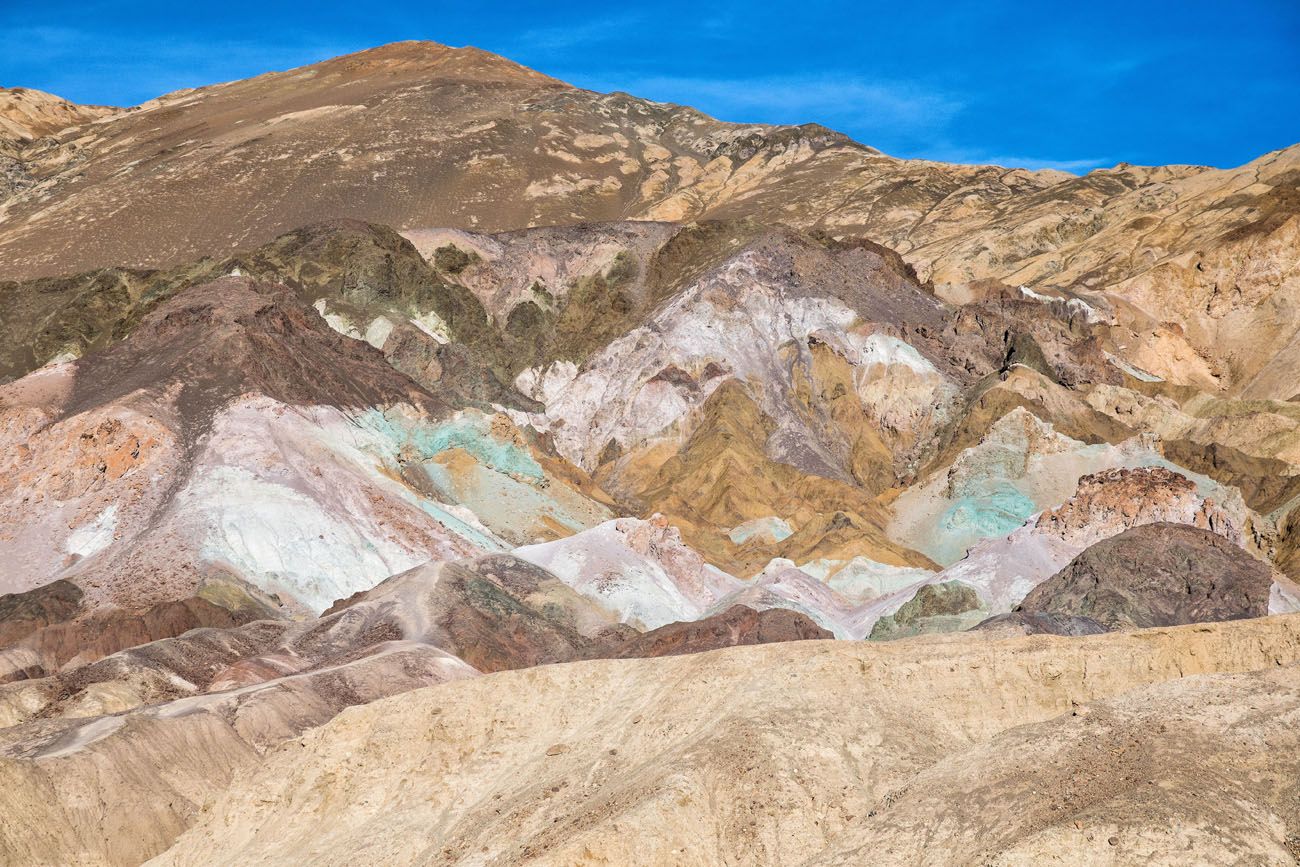 3:30 pm: Mesquite Flat Sand Dunes
The Mesquite Flat Sand Dunes are one of the most photogenic spots in Death Valley. If you are here with kids, this just may be the highlight for them. We saw many people with sleds, sliding down the steeper dunes. We also saw more young kids here than anywhere else in the park.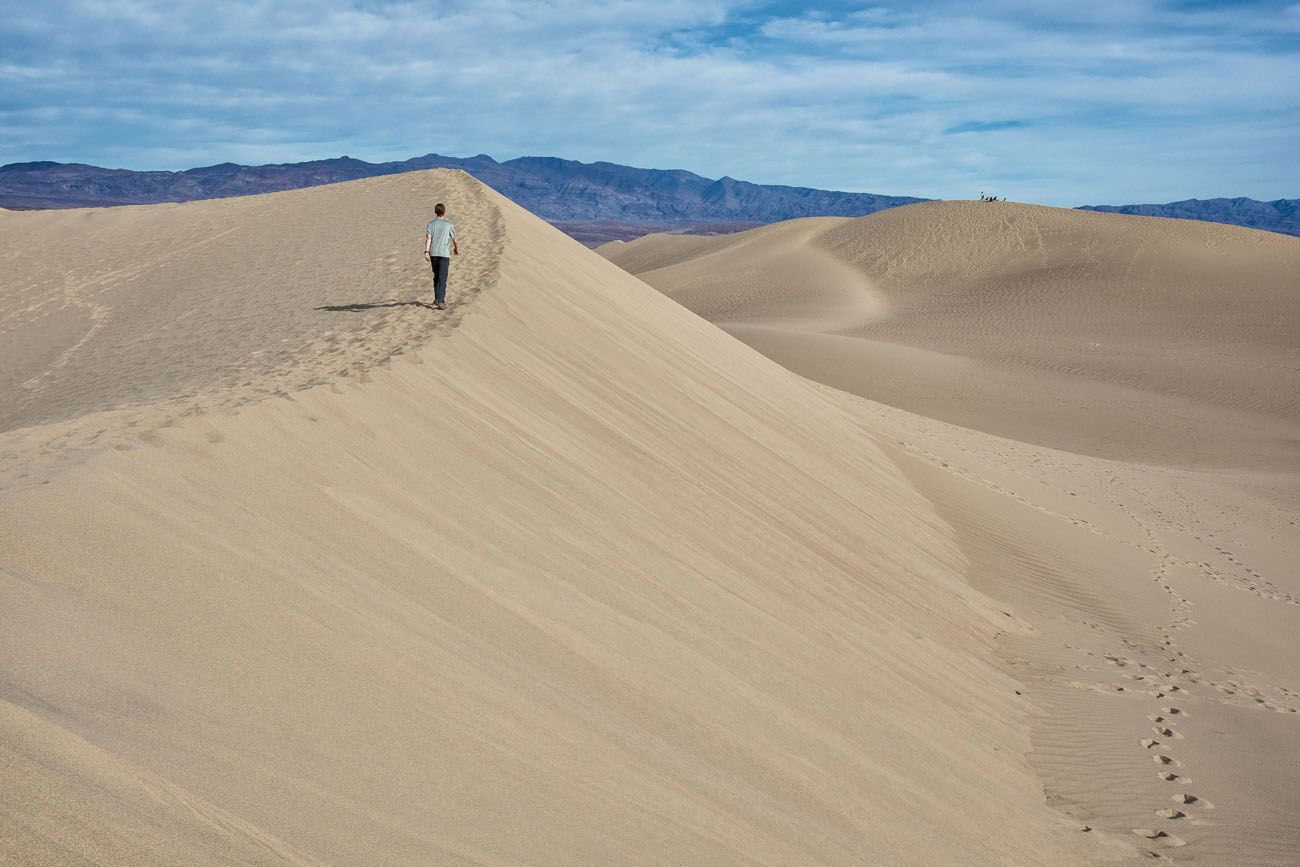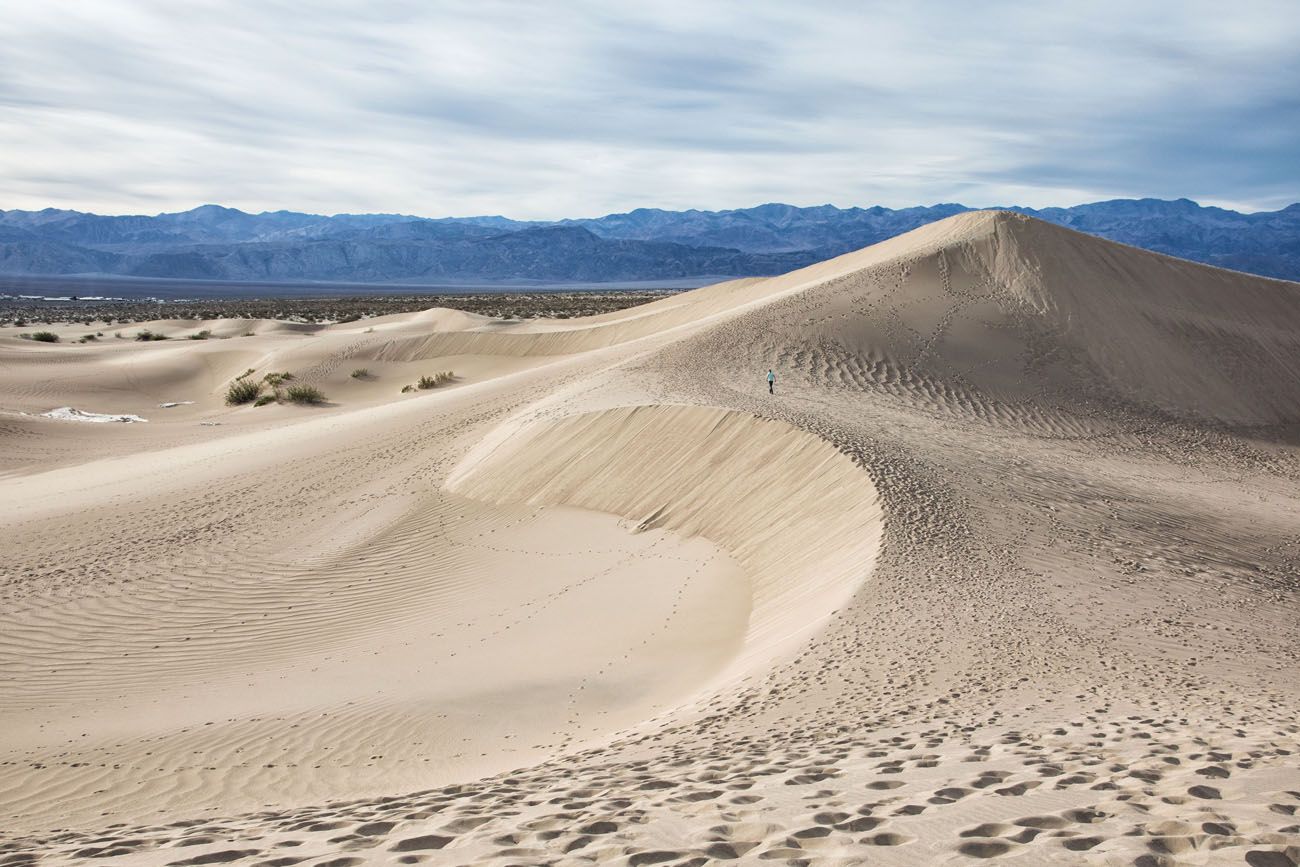 To get here from Artist's Drive, it is a 29-mile drive and it takes 30 minutes.
By the time you finish up at the Mesquite Sand Dunes it will be approaching 5 pm. During the winter months, sunset time ranges from 4:30 to 5:30 pm, depending on the month you visit. If you plan to do this Death Valley day trip in December, consider starting your day at 6 am, so you have enough daylight to visit the Mesquite Flat Sand Dunes. I also recommend skipping Devil's Golf Course…these sand dunes are amazing and not to be missed.
Return Drive to Las Vegas
From Mesquite Flat Sand Dunes, you have two routes to choose from to return to Las Vegas. Both are about the same distance but the northern route is a bit quicker.
Northern Route (150 miles, 2.5 hours): From the sand dunes, take Highway 190 and Daylight Pass Road out of the park, heading towards Beatty. From Beatty, take US-95 S to Las Vegas. This is the route that we took and I recommend it, not just because it is faster, but also because you get to see different scenery on the return drive (which might not matter much if you are doing this in the dark). Near Indian Springs, watch your speed because we were told that there is a speed trap here.
Southern Route (146 miles, 2.75 hours): Drive Highway 190 south through the park, going through Furnace Creek and Pahrump. This is the same route that you took to get to Death Valley if you followed our driving route earlier today.
With More Time
If you are visiting Death Valley during the spring, summer, or fall months (and have more daylight) or, if you blazed through this itinerary, here are a few more things to add to your Death Valley day trip.
Golden Canyon – Gower Gulch Hike
This is a great little hike through the Badlands of Death Valley. The entire loop hike is 4.4 miles in length and can take between 2 and 3 hours. You will need a several hours of daylight in order to do this entire hike. However, you can shorten it by just hiking through Golden Canyon and returning to your car the same way.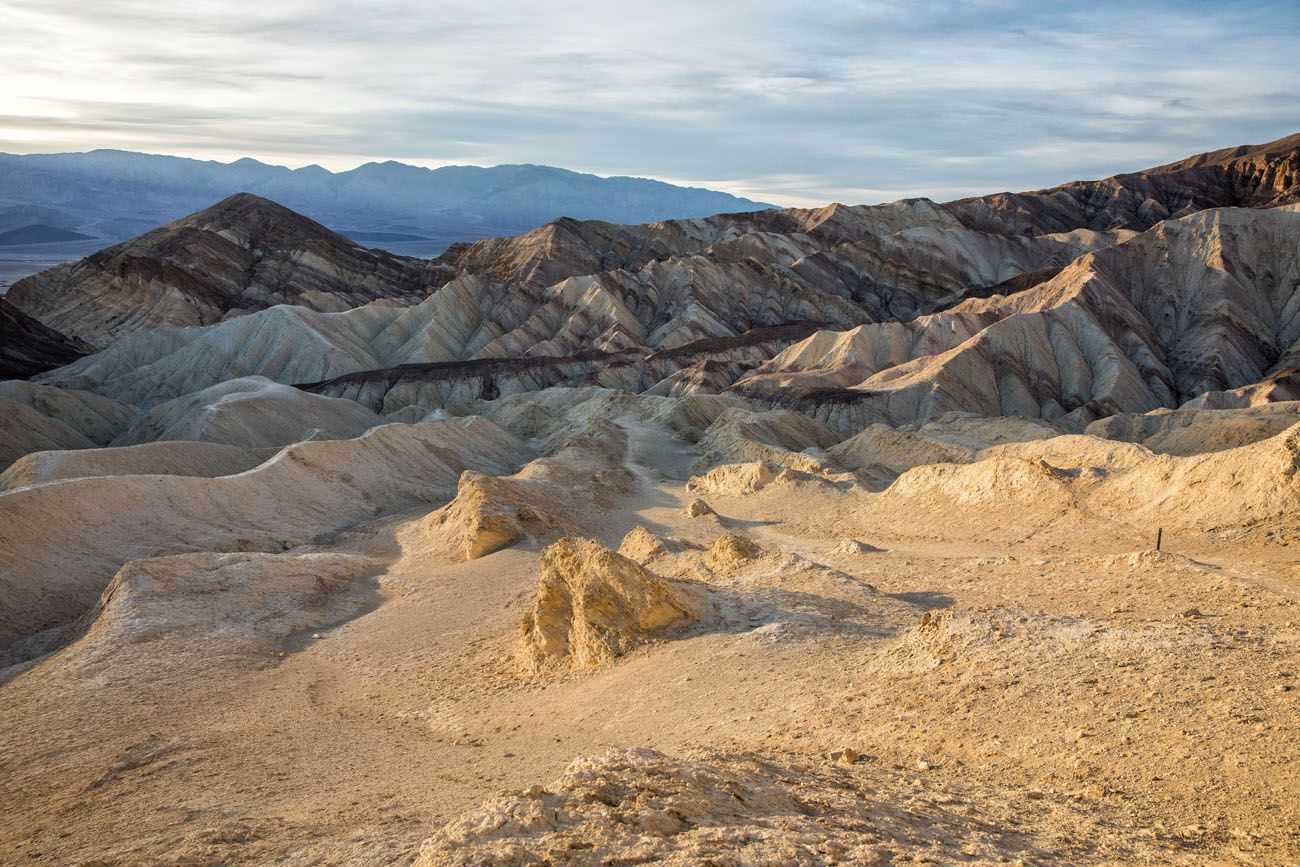 Scotty's Castle
Scotty's Castle is a mansion and ranch that has become an attraction in Death Valley. Currently, Scotty's Castle is closed indefinitely due to flood damage.
Best Time to Visit Death Valley
Springtime is the most popular time to visit Death Valley. If Death Valley received a lot of rainfall during the winter months, wildflowers bloom throughout the park (usually the end of March into early April).
The winter months are another great time to visit Death Valley. Daytime temperatures are very pleasant (65 to 70°F) although it can get cold at night. The National Park website states that the least crowded time to visit Death Valley is between Thanksgiving and Christmas.
We visited Death Valley at the very end of December (December 29, 30, and 31). This is one of the peak times for a visit. During winter break, viewpoints and hiking trails are more crowded than normal, but still don't even come close to peak season crowds in other parks like Yosemite and Zion.
You can visit Death Valley in the summer months, just be prepared for sweltering heat (temperatures in the 120's). Skip the hikes and instead drive through the park, getting out to see the viewpoints.
Autumn has warm temperatures and clear skies. As the heat fades, visitors start reappearing.
Death Valley National Park appears in our Best US National Parks in January, Best National Parks in April, and Best National Parks in December articles. For more information about the best times to visit the national parks, check out our Best National Parks Month-by-Month Guide.

Practical Information
Don't Expect to Have Cellular Service in Death Valley
We had no cellular service during our time in Death Valley. Don't expect to be able to make telephone calls, check your email, or get on social media. Think of a visit to Death Valley as a digital detox.
Before leaving Las Vegas, cache the map of Death Valley on your phone. The GPS will still work, as long as the map is cached on your phone before you arrive here.
This is also one of the few times we recommend having a paper map. We used the National Geographic Topographic Map and it was a lifesaver!!
Fill Your Gas Tank Before Entering Death Valley
Fill up your tank with gas before arriving in Death Valley. Once inside the park, you can get gas at Furnace Creek and Stovepipe Wells (during our visit gas was slightly cheaper at Stovepipe Wells). Remember, if you run out of gas, you won't be able to use your phone to call for help because there is no cellular service!
Sunrise and Sunset Times
It is very important to know the sunrise and sunset times for this Death Valley day trip, so you know how many daylight hours you will have and when it will get dark.
Click here to get sunrise and sunset times for your day of travel.
Check Conditions Before You Go
Check for road closures, trail closures, and park closures before you go on the Death Valley National Park website.
Tours of Death Valley
Finally, here are several small group tours where you can visit Death Valley on a day trip from Las Vegas.
---
If you have any questions about this Death Valley day trip, let us know in the comment section below.
More Information for Your Trip to Las Vegas & Death Valley
LAS VEGAS: For information on how to visit Las Vegas, read our article Best Things to Do in Las Vegas, which also has advice on where to stay, where to eat, and how to plan your time. If you are visiting with kids or teenagers, don't miss our article Best Things to Do in Las Vegas with Teenagers.
DEATH VALLEY NATIONAL PARK: Check out our Death Valley National Park Travel Guide for important travel information, sample itineraries, and how to plan your visit. For a list of must-have experiences, read our article Best Things to Do in Death Valley National Park.
SOUTHERN CALIFORNIA ROAD TRIP: Go on a road trip from Las Vegas to San Diego, visiting Joshua Tree and Death Valley National Parks, as well as Anza-Borrego Desert and the Mojave National Preserve.
ANZA-BORREGO DESERT: If you only have one day in the park and want to see the highlights, read our article How to Spend One Day in Anza-Borrego Desert State Park. We also have a detailed Guide to Hiking The Slot.
NATIONAL PARKS: In our Guide to the US National Parks, get the full list of national parks with important travel planning information, such as things to do in the parks and sample itineraries. You can also learn more about the national parks and get a FREE printable checklist in our US National Parks Checklist.
If this is part of a bigger road trip through the USA, visit our United States Travel Guide for more inspiration and travel planning tips.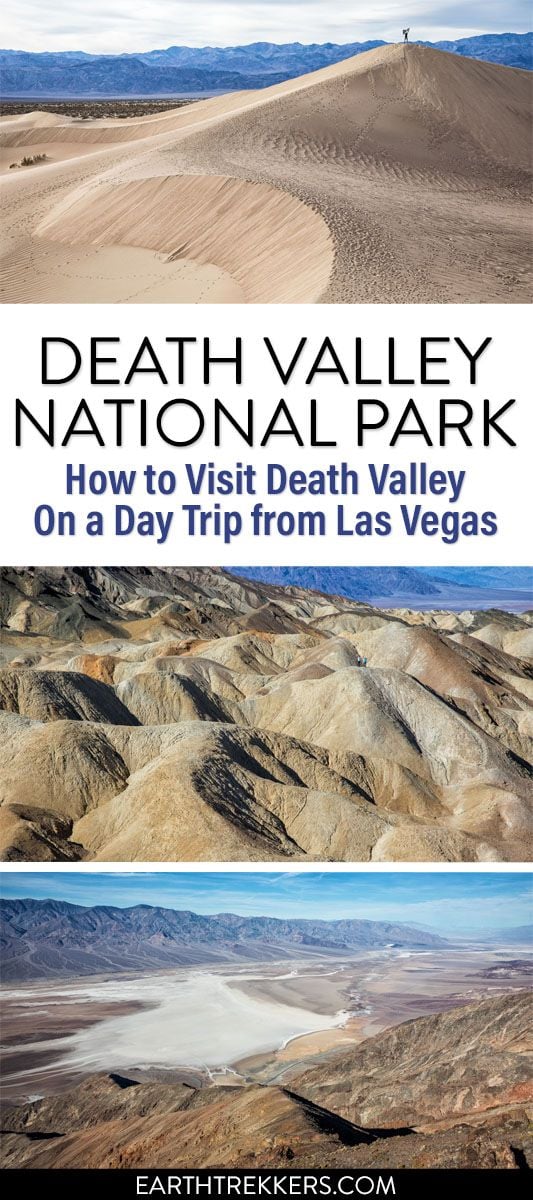 Note: This post contains affiliate links. When you make a purchase using one of these affiliate links, we get paid a small commission at no extra cost to you.
All rights reserved © Earth Trekkers. Republishing this article and/or any of its contents (text, photography, etc.), in whole or in part, is strictly prohibited.