The Cape of Good Hope is a popular excursion for visitors staying in Cape Town, South Africa. It is a beautiful spot, with unpredictable weather, baboons that will boldly try to raid your car, and adorable penguins playing in the ocean. If you are traveling to Cape Town, don't miss this amazing place!
What is the Cape of Good Hope?
The Cape of Good Hope is a promontory off of the southern tip of South Africa. It is mistakenly thought of as the southernmost point of Africa and the spot where the Atlantic and Indian Oceans meet. The true southernmost point of Africa is at Cape Agulhas, located on the Garden Route of South Africa over 200 km away.
Why is this important to know? Well, for one thing, it's nice to have your facts straight. Also, you might want to check out the true southernmost point at Cape Agulhas if you are traveling that way. Unfortunately for us, several days earlier we had driven right past it, missing our chance to see the southernmost point of Africa. Not a big deal but it would have been neat to see.
What is there to do at the Cape of Good Hope?
The best thing to do, in our opinion, is to enjoy the natural, wild beauty of this place. The Cape of Good Hope is a narrow peninsula jutting out into the ocean. With this landscape comes lots of wind and unpredictable weather. We left our apartment in Glencairn, where it was warm, bright and sunny, and just 30 km to south, the Cape of Good Hope was chilly and covered with clouds.
The coastline meeting the backdrop of clouds with occasional glimpses of the sun created a dramatic landscape. What a gorgeous place.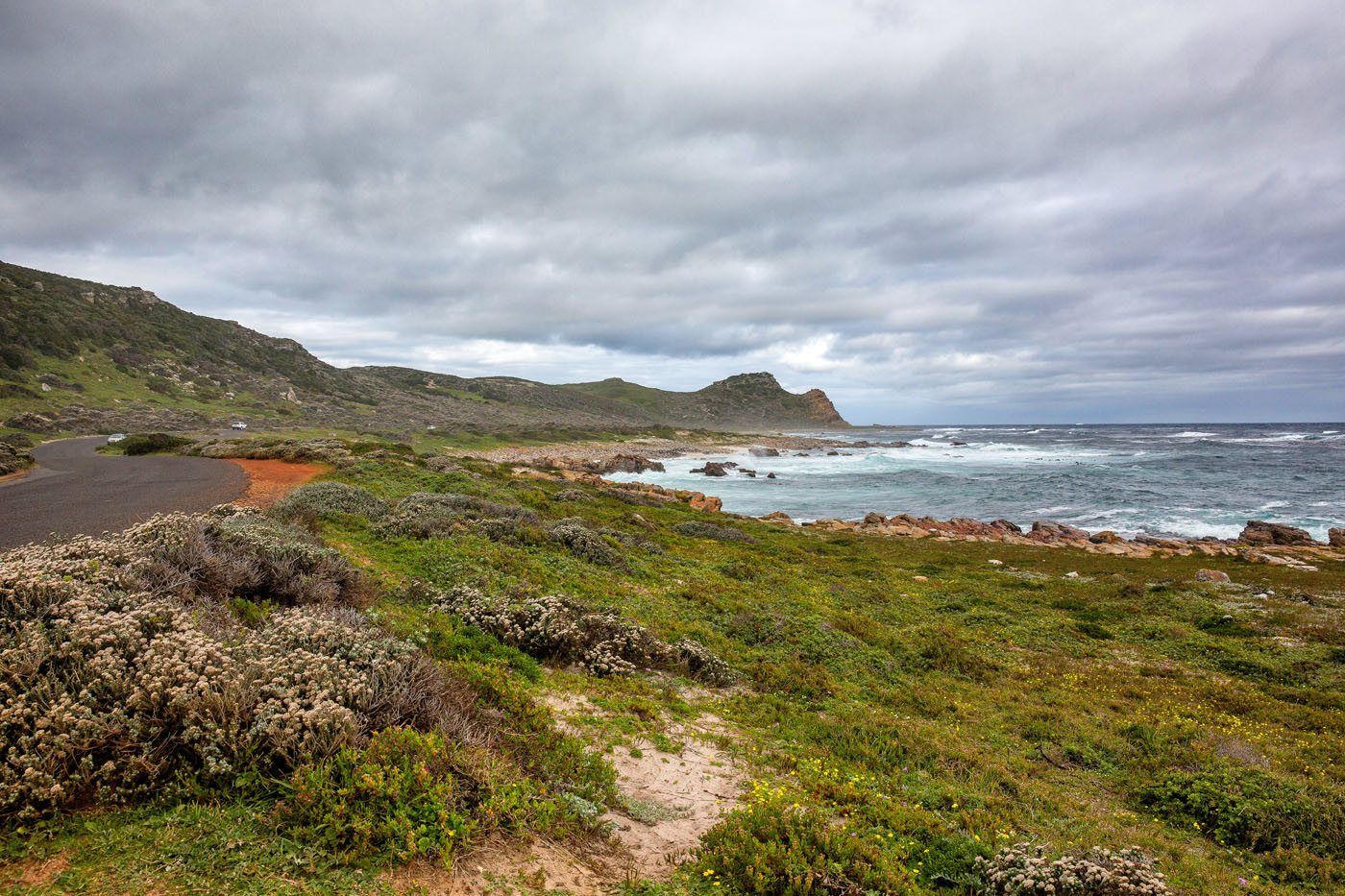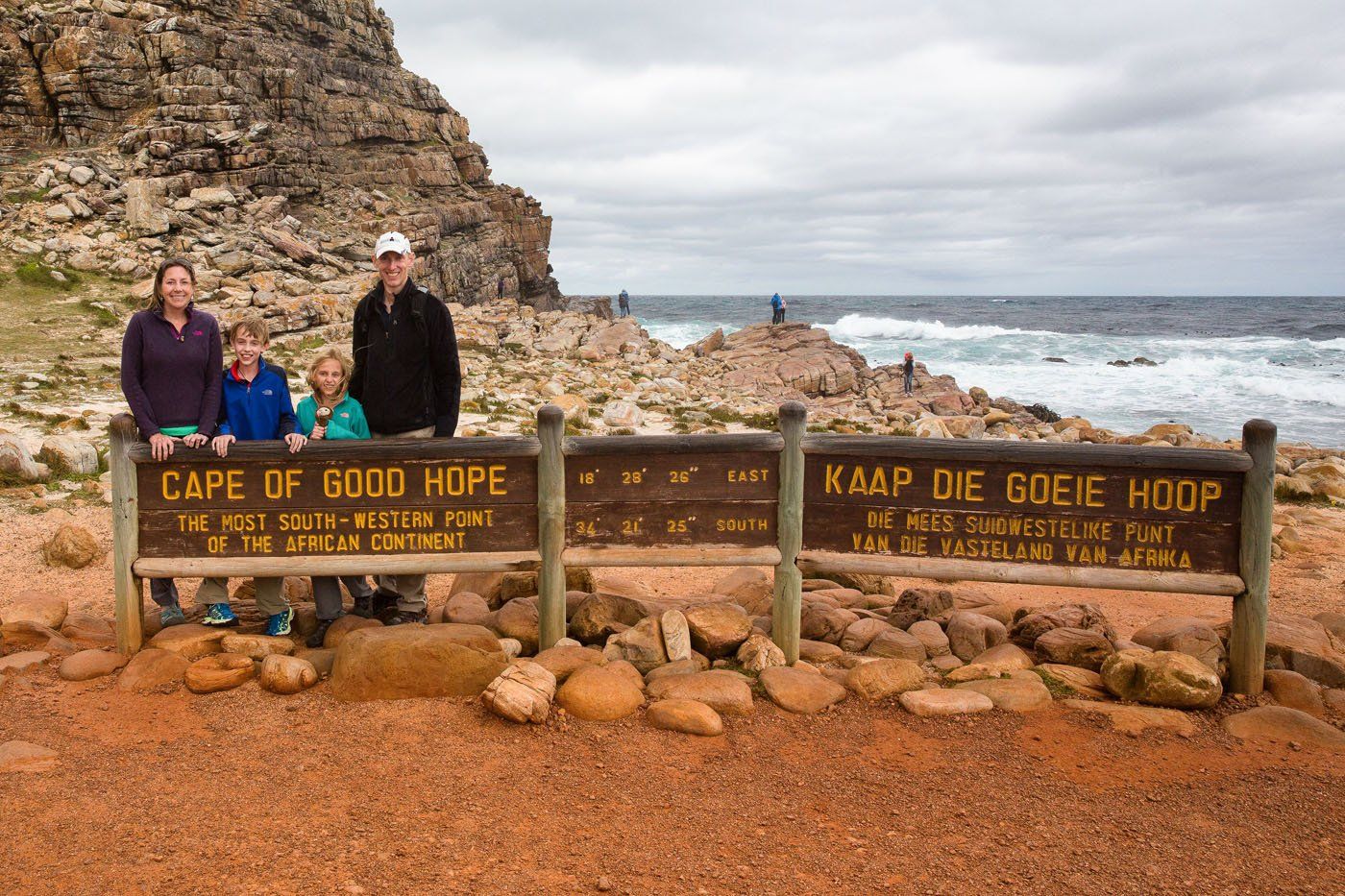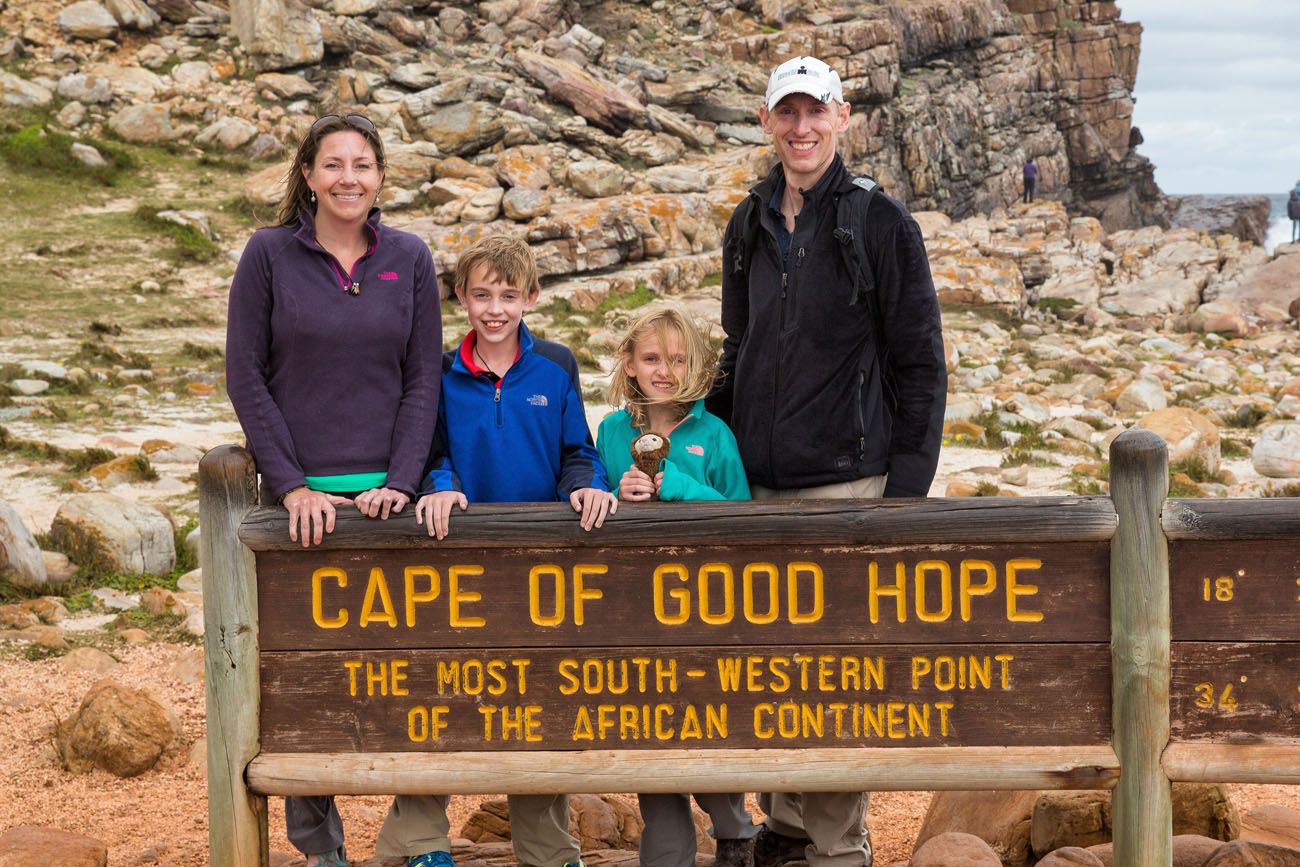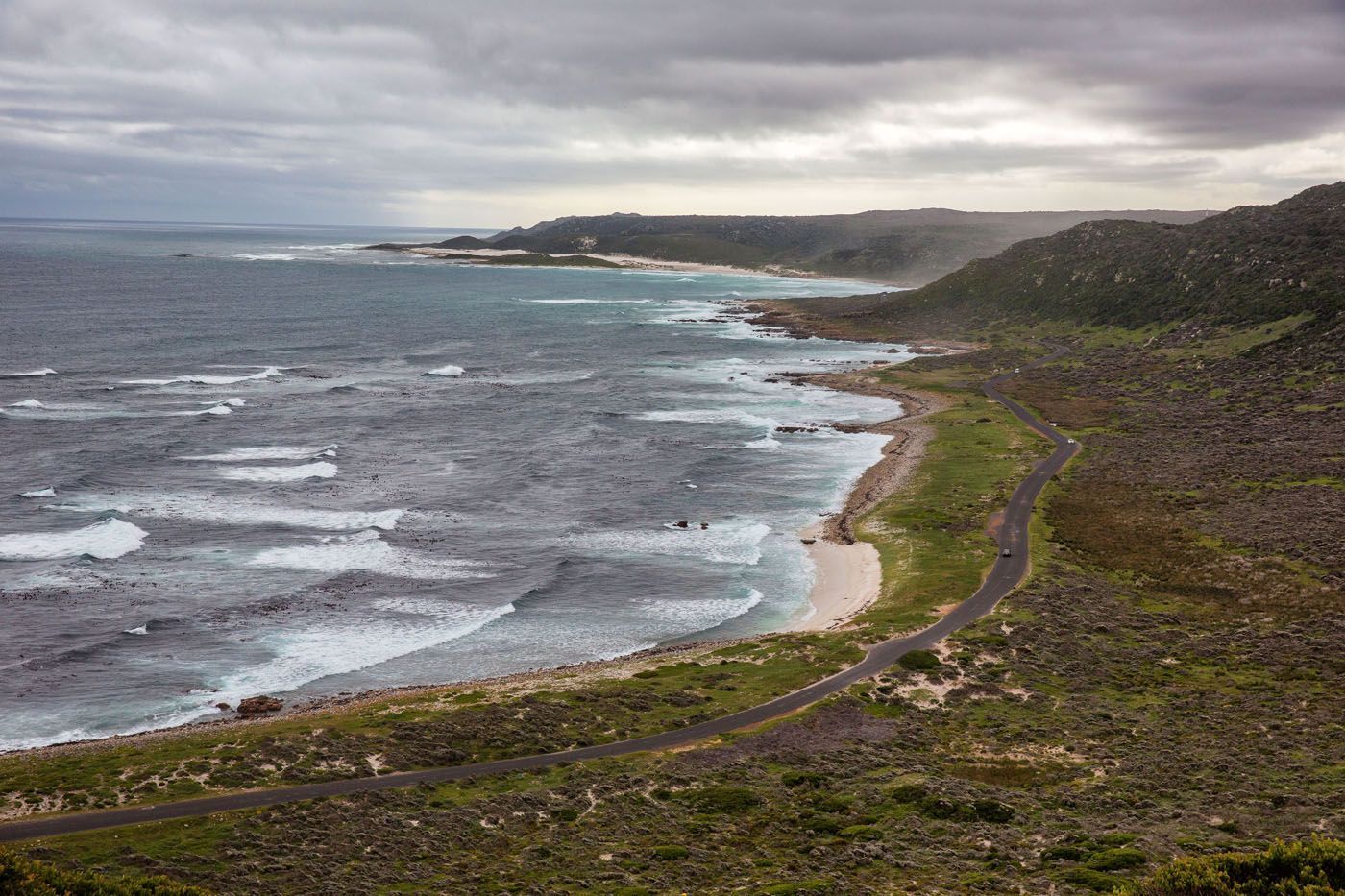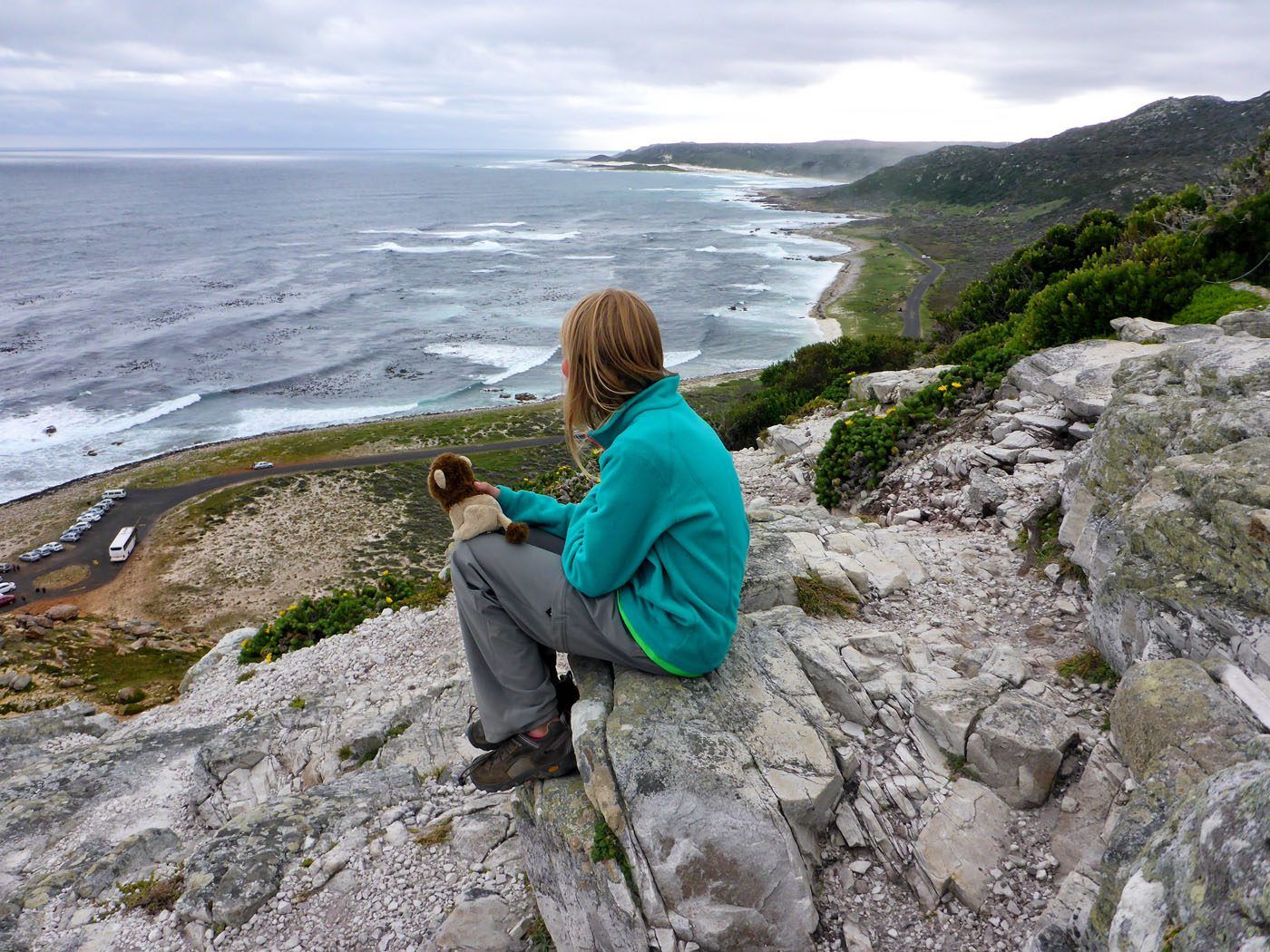 While at the Cape of Good Hope, keep an eye out for the zebra and Eland that roam here. There are 1,100 species of indigenous plants that grow here and nowhere else in the world. Furthermore, this is a great spot for whale watching during the months of June to November.
Climb up to the lighthouse for the best views over the Cape of Good Hope. There are three ways to get to the top. Along the coastline is a paved path with several long stone staircases. This route will give you the best views of the coastline. From the car park is paved path all way to the top. It's a steady climb and not very strenuous. For those who don't feel like hoofing it to the top, there is a funicular that will get you to the viewpoint. The Flying Dutchman Funicular will get you to the top in three minutes for a small fee.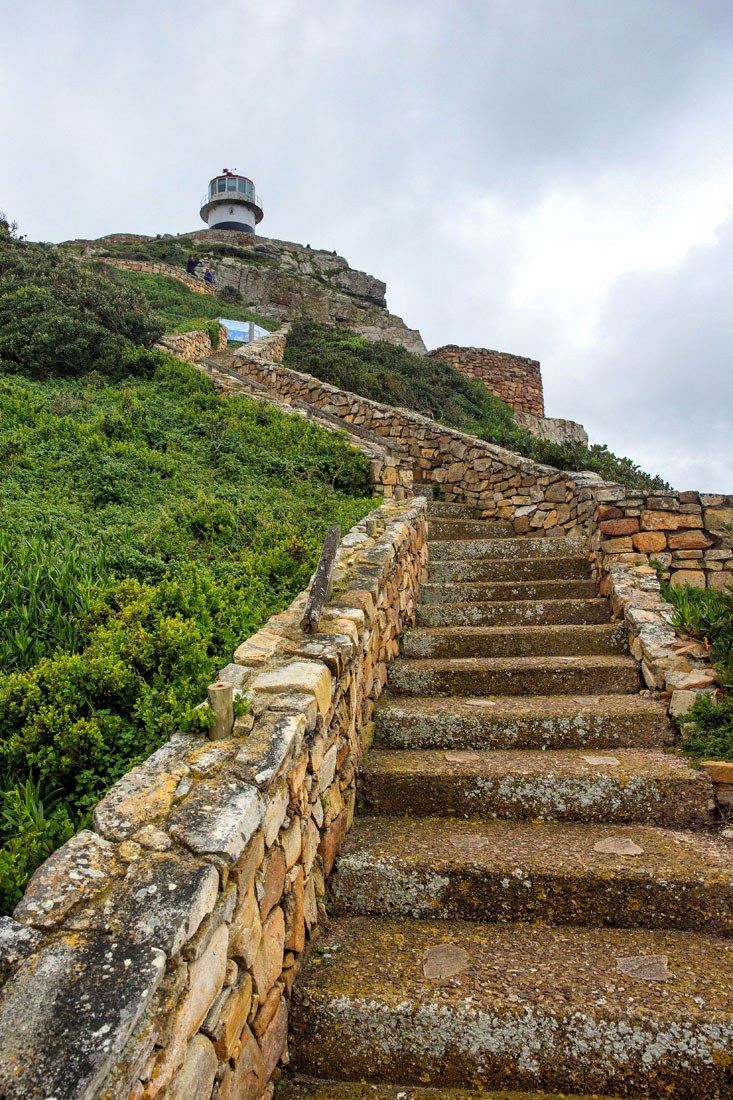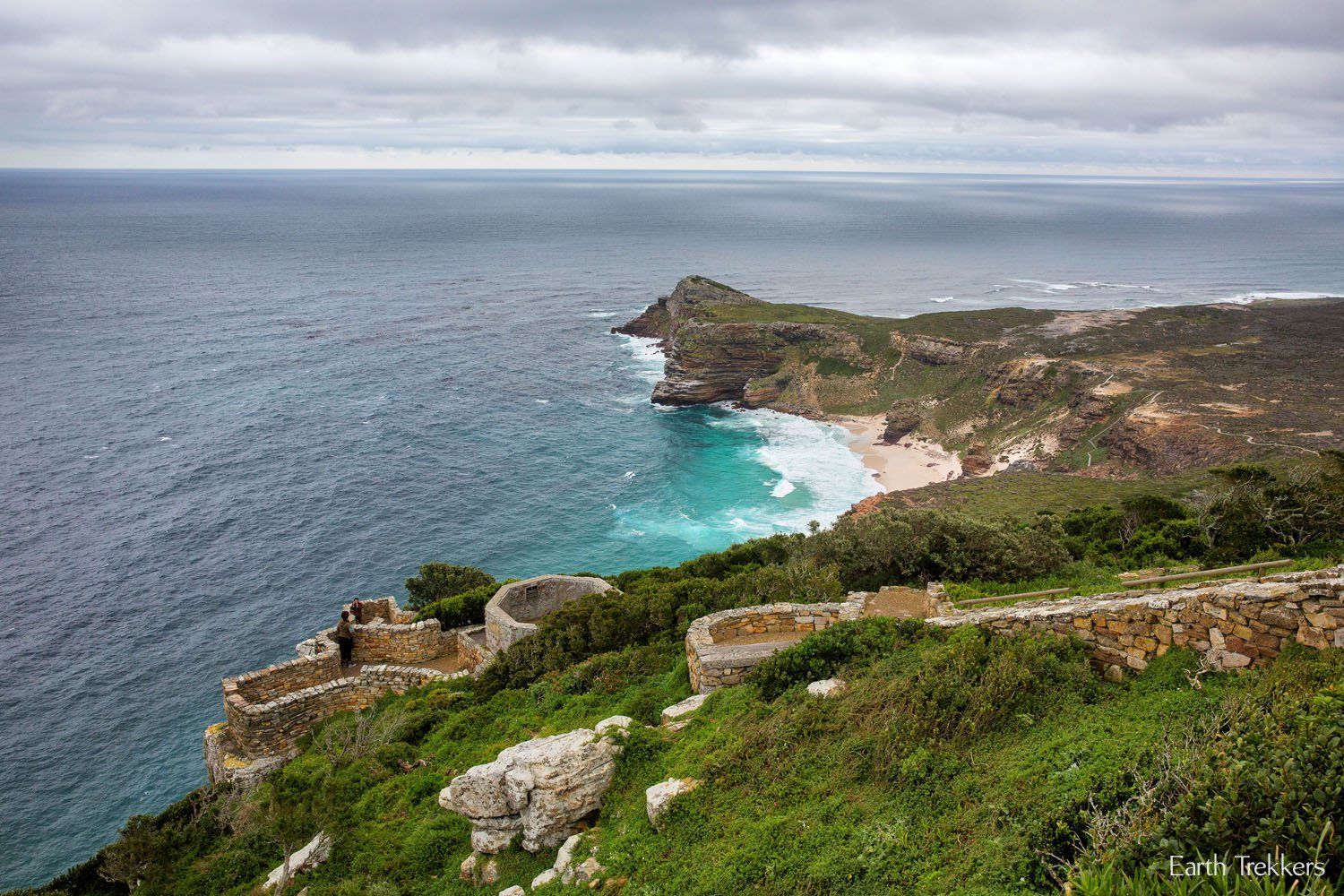 How to Get to the Cape of Good Hope
The Cape of Good Hope is located 70 km away from Cape Town. By car, it takes about an hour and a half to drive here from the city. Go by way of Chapman's Peak and Nordhoek for even more dramatic scenery.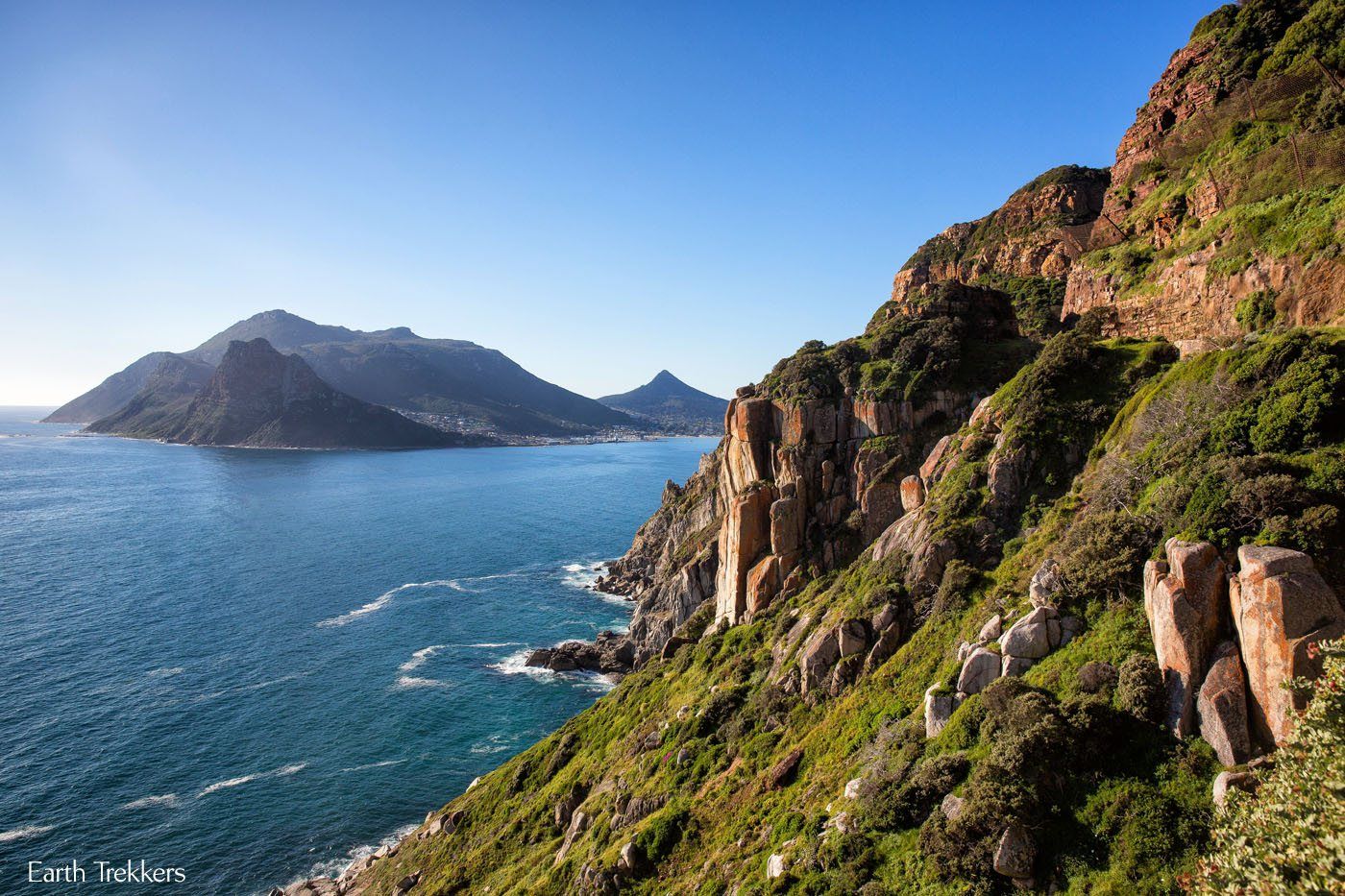 Along the way, stop at Boulder's Beach to see these cute little guys.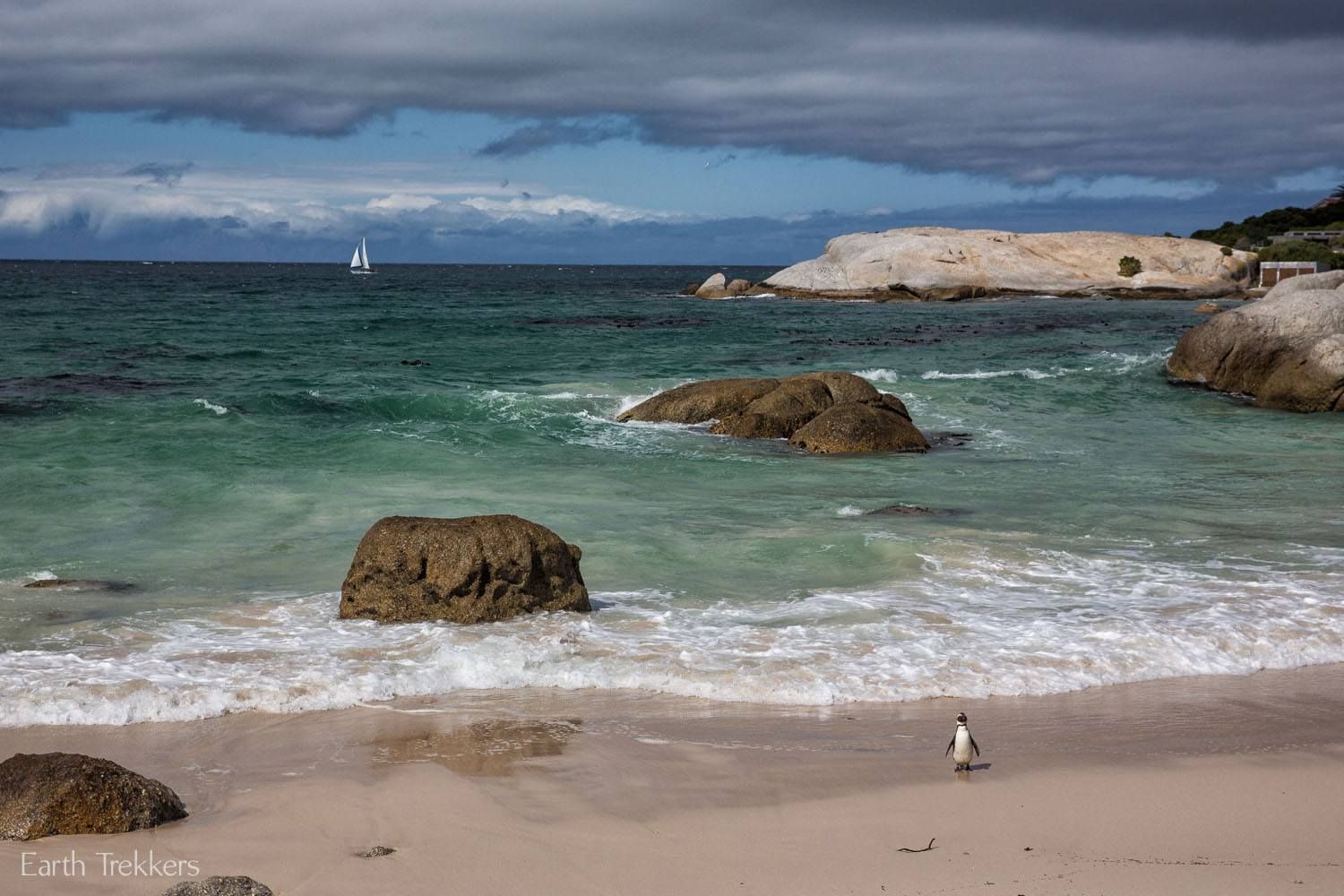 Where To Eat
Two Oceans Restaurant, located right at the Cape of Good Hope, is supposed to be fantastic (and very convenient). If you are heading back to Cape Town and are looking for a good place for dinner, we recommend Cape to Cuba in Kalk Bay. This is a funky little restaurant with good Cuban food and views of False Bay.
How Much Does it Cost?
The Cape of Good Hope is a section of the Table Mountain National Park, even though Table Mountain is located 70 km to the north. Table Mountain National Park is managed by SANParks.
Costs for visiting the Cape of Good Hope:
South Africans (with ID):
Adults: R85
Children (2 – 11 years old): R40
International Visitors:
Adults: R340
Children (2 – 11 years old): R170
For more information about hours of operation, updating pricing (including pricing for the funicular), click here.
The Green Card (only for residents of Cape Town) gives cardholders 12 free entries per year.
Watch Out for those Baboons!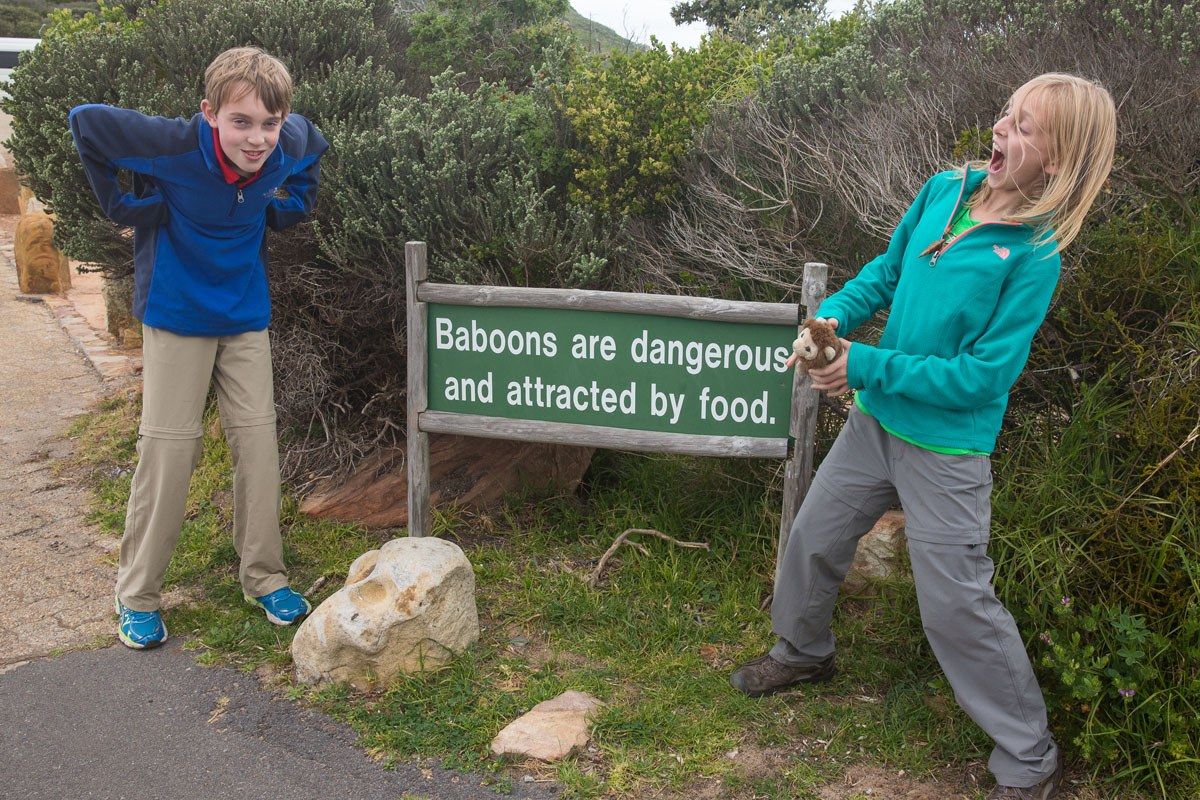 You will see signs everywhere at the Cape of Good Hope warning visitors not to feed the baboons. These little guys are very bold.
During our visit, we got stopped in traffic because a troop of baboons were playing in the road. This is not an unusual scenario in South Africa. While some baboons were in the road, their buddies were walking down the line of cars trying to open the doors. These were cars that were running and filled with people, mind you. Baboons have no qualms about reaching into your car and stealing your food…we speak from experience. But never had we seen animal behavior that was as bold as this.
We tried to capture it on video but wouldn't you know it, the baboons skipped our car. Tyler and Kara were so disappointed!!
Here's Tyler's YouTube video…check out the baboons and the Cape of Good Hope scenery.
The Cape of Good Hope makes an awesome day trip from Cape Town and it is an experience you don't want to miss.
---
More Information about South Africa
You Might Also Like: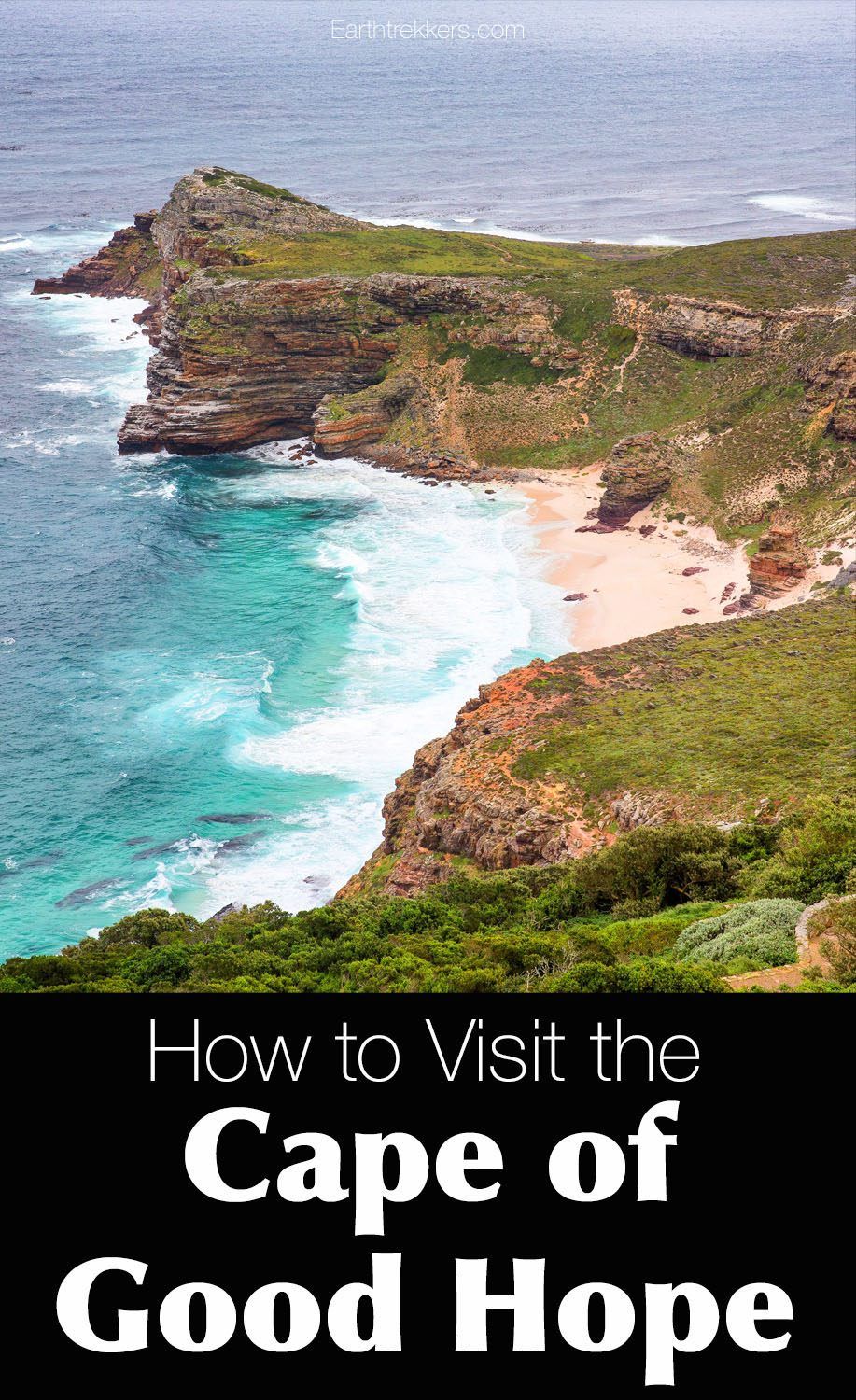 All rights reserved © Earth Trekkers. Republishing this article and/or any of its contents (text, photography, etc.), in whole or in part, is strictly prohibited.