For some more adventure and a chance to visit another country, our family of four went for a drive over the Sani Pass into Lesotho. This mountain pass, not very well known by most in the US, is a big tourism draw for South Africa. The Sani Pass is a winding dirt road that takes drivers up and over the Southern Drakensburg Mountains into the very small country of Lesotho (pronounced Le-soo-too).
Driving the Sani Pass
It can only be driven in a 4×4 vehicle. Since we had rented a Toyota Corolla to tour South Africa, we booked a tour through Major Adventures.
This excursion is an all day event. We met our driver, Elliot, at 9:30 am, the start of our adventure, in Underberg. When we did this (September 2014) Underburg and the Southern Drakensburg Mountains were in the midst of unusually cold temperatures. We awoke this morning to temps of 33° Fahrenheit and the Drakensburg Mountains received a light dusting of snow overnight. In Underberg we shopped at a discount clothing store, buying four bright and colorful yellow and green hats to keep us warm.
Elliot drove the four of us as well as two young ladies from Paris, France to the Sani Pass. Leaving from Underberg, it didn't take long until we were traveling on dirt and gravel roads, heading up and into the beautiful Drakensburg Mountains.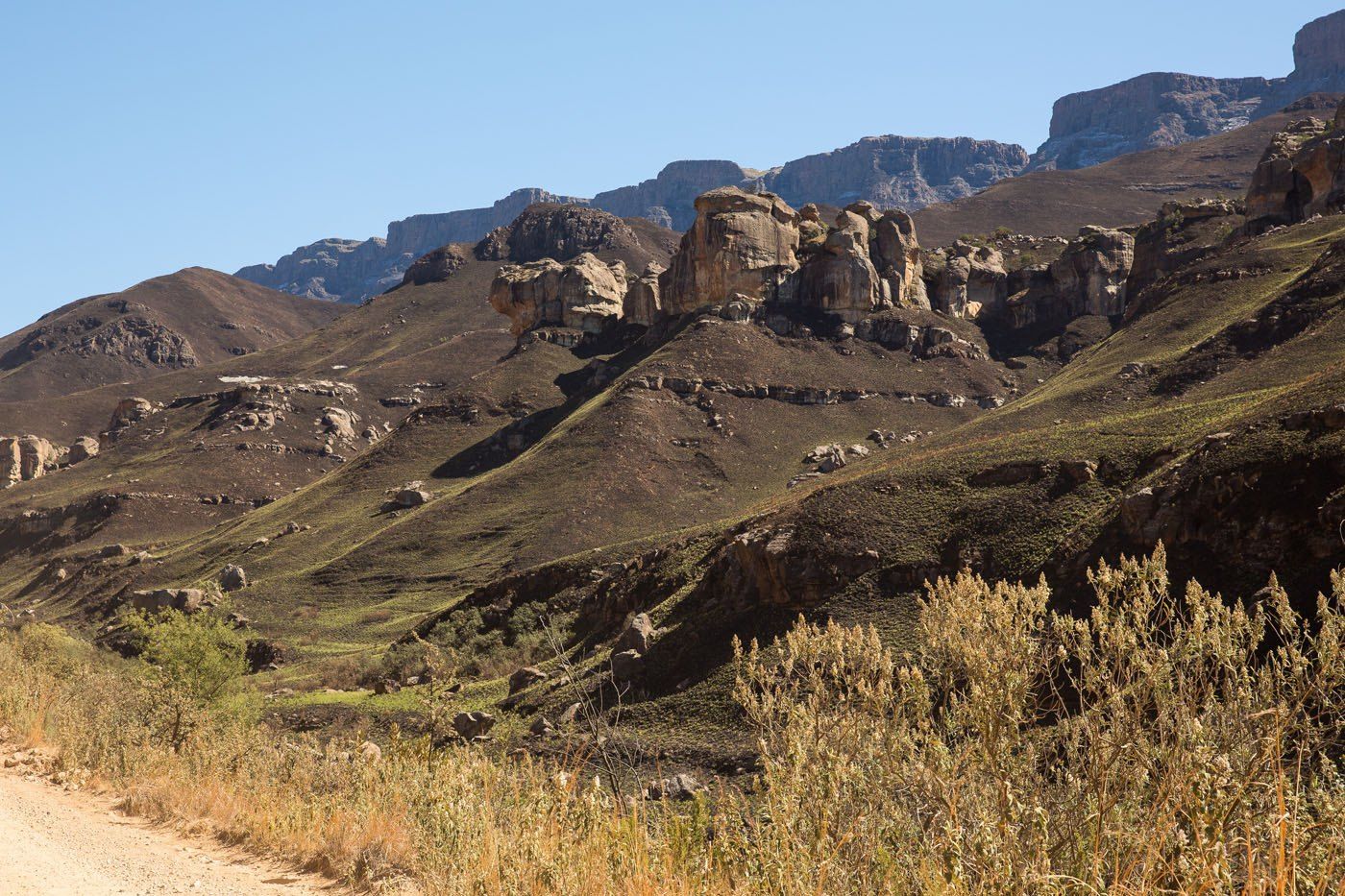 Just a short ways into our drive we arrived at the South African border post. Getting through Customs and Immigration was a quick, painless process and our drive continued. For 8 km we drove up the Sani Pass in "No Man's Land," as we had stamped out of South Africa but hadn't yet stamped into Lesotho.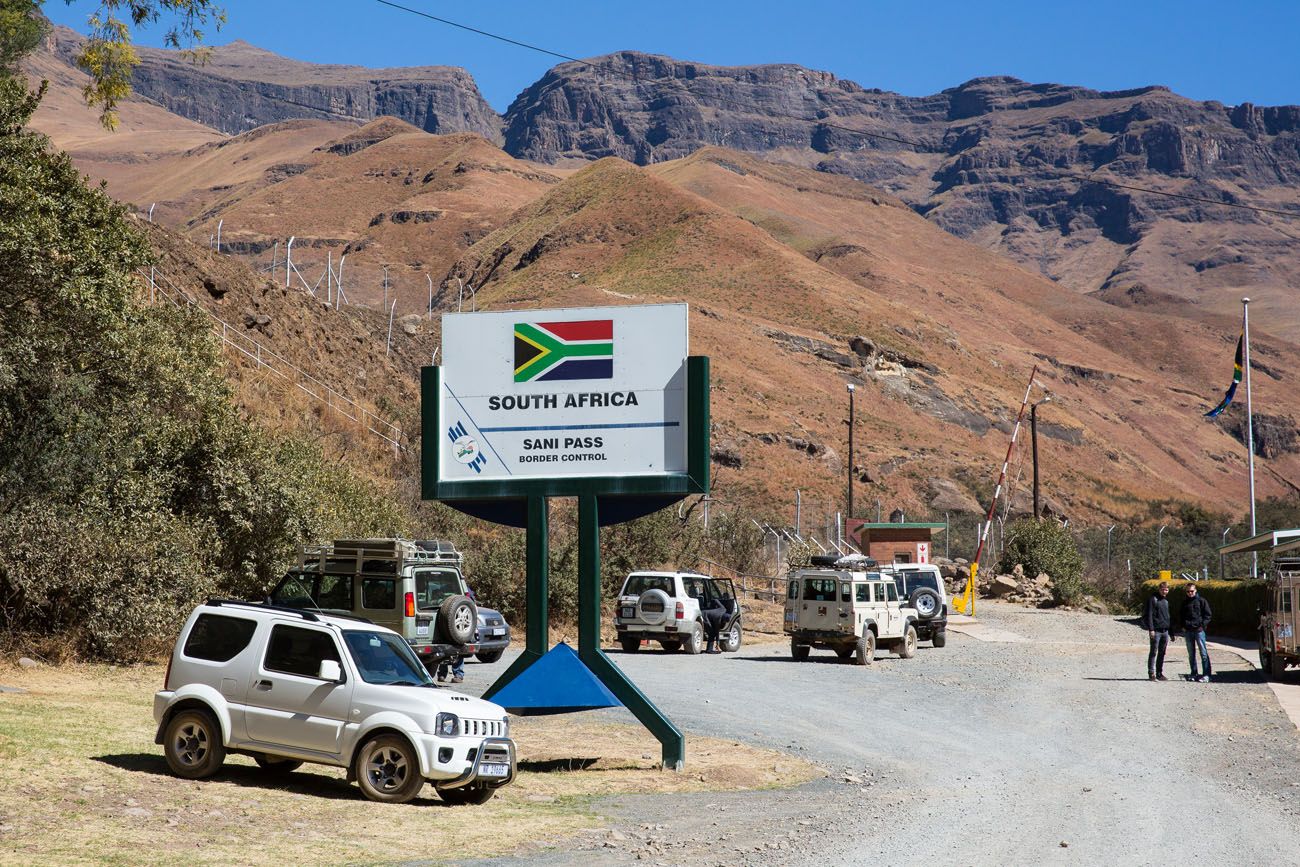 Views of the Road
Driving up the Sani Pass was a wild experience. We were driving on narrow dirt roads along the edge of the mountain. There were no guardrails and at many places the road was only wide enough for one car to pass. After traveling through many hairpin turns and stopping along the way for photos, we arrived at the top of Sani Pass and the country of Lesotho.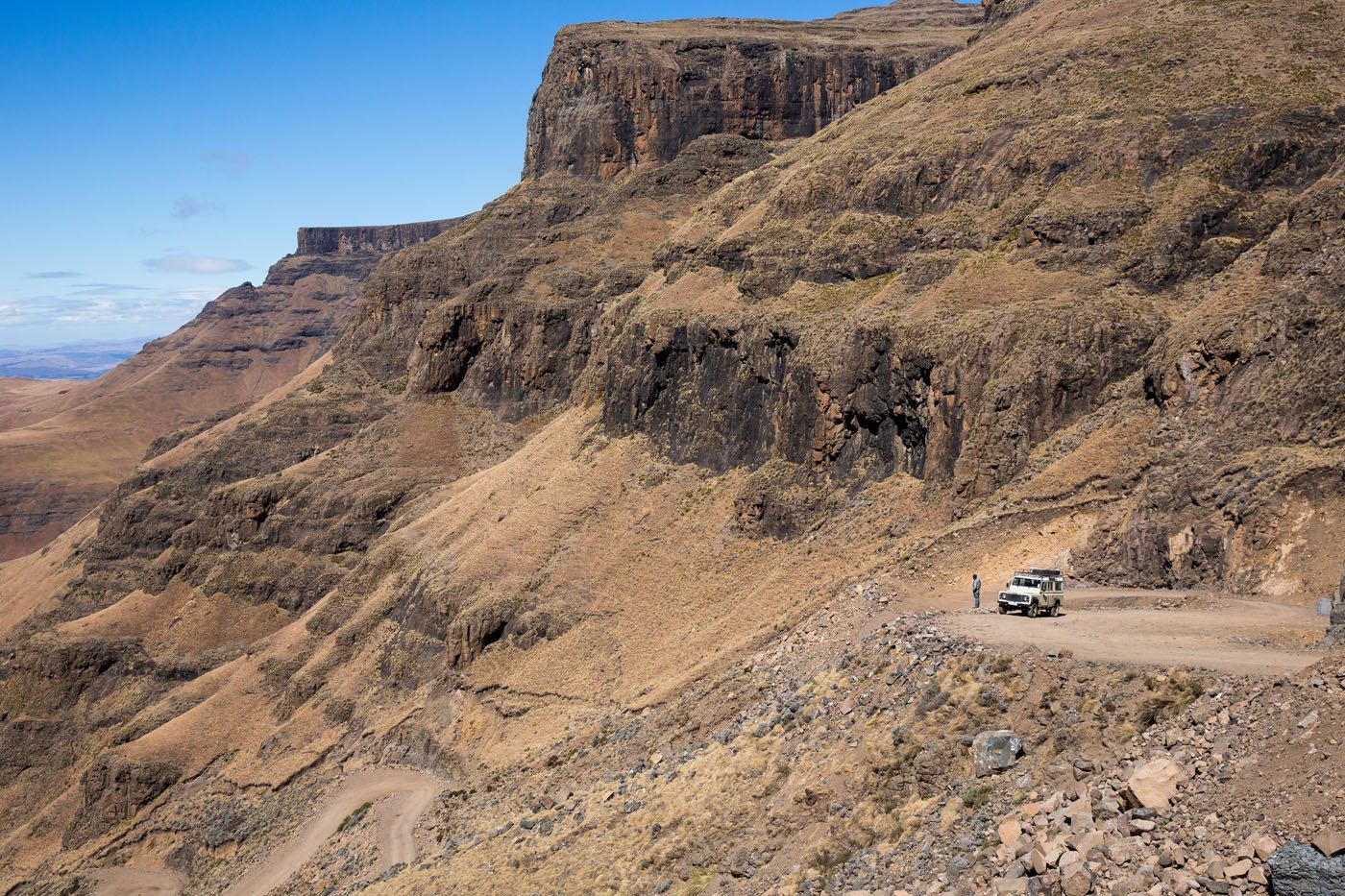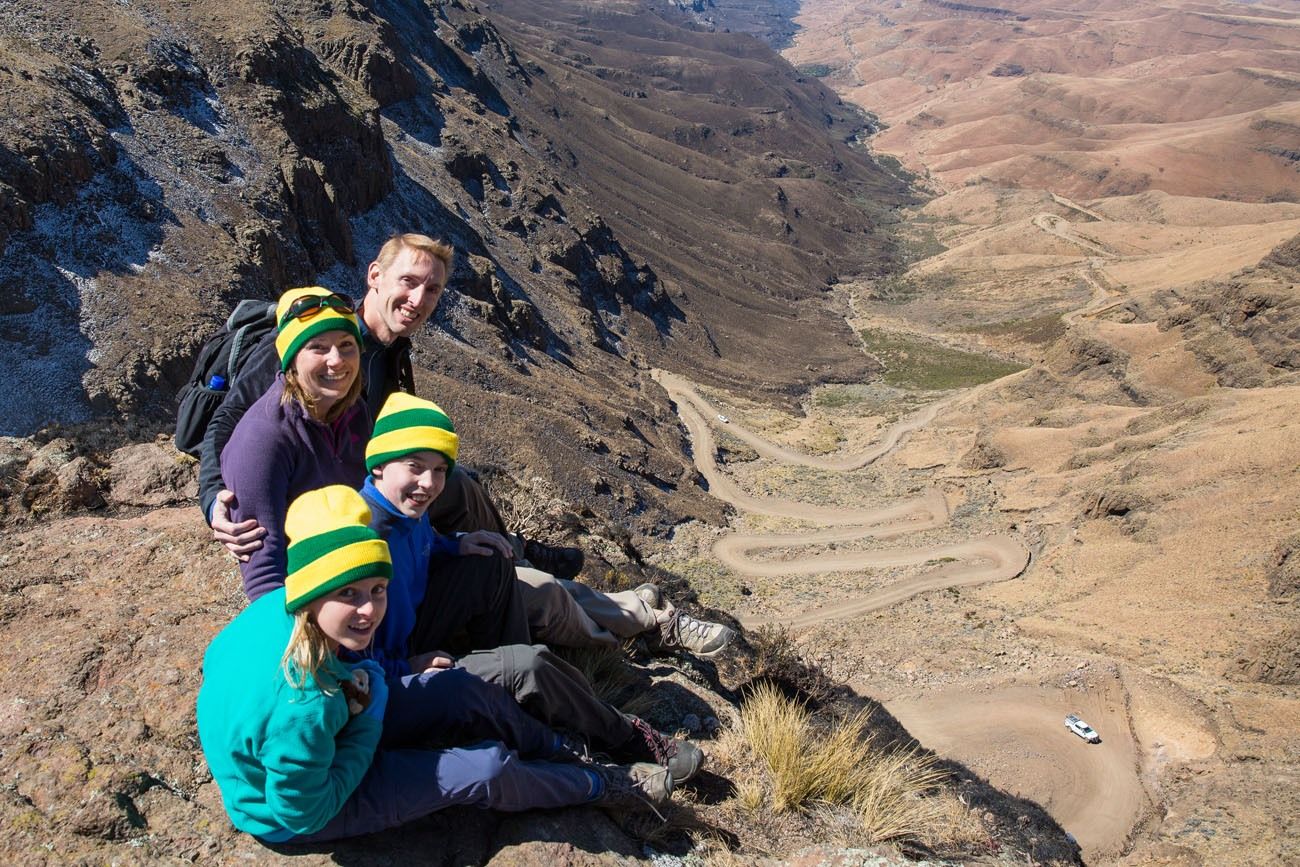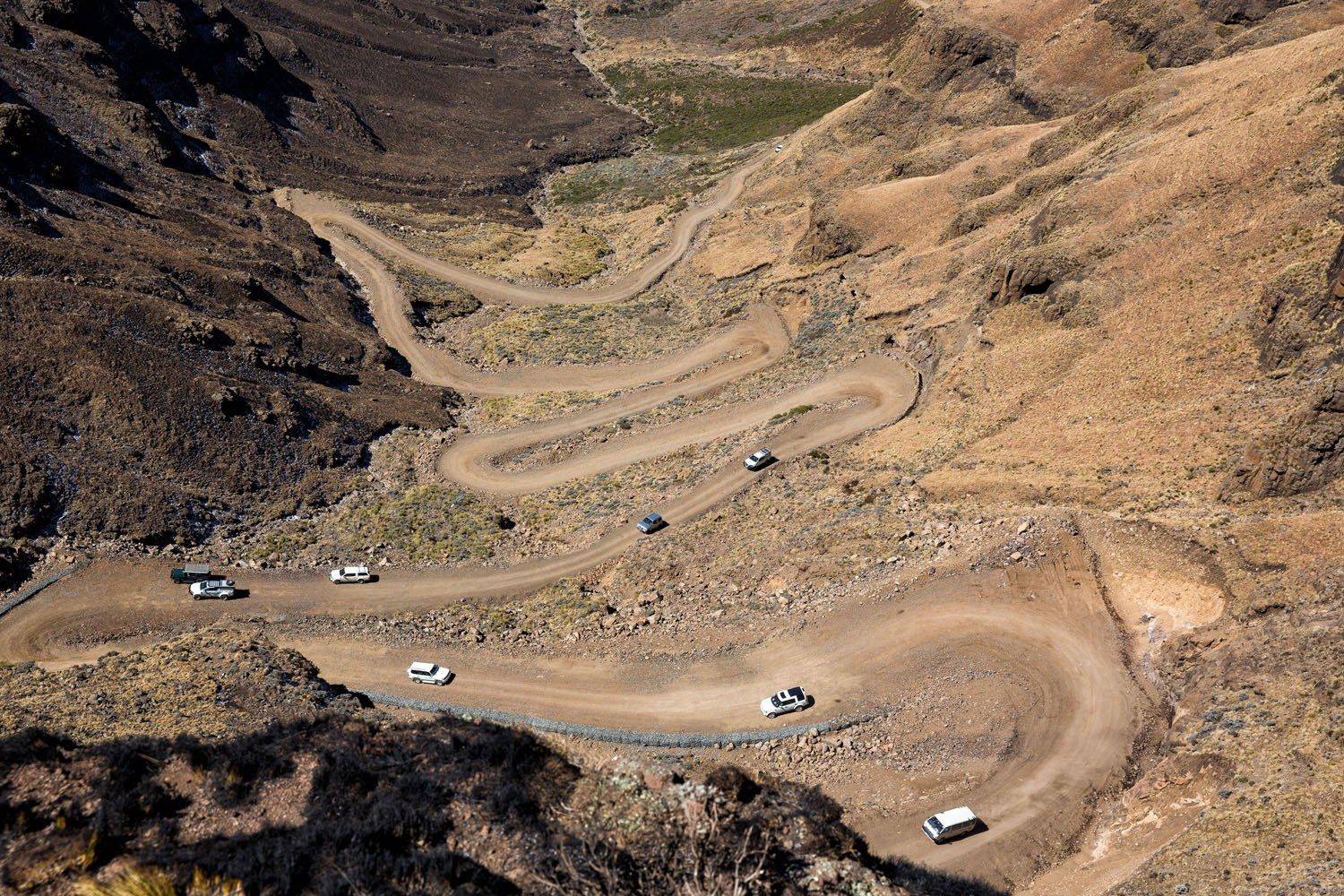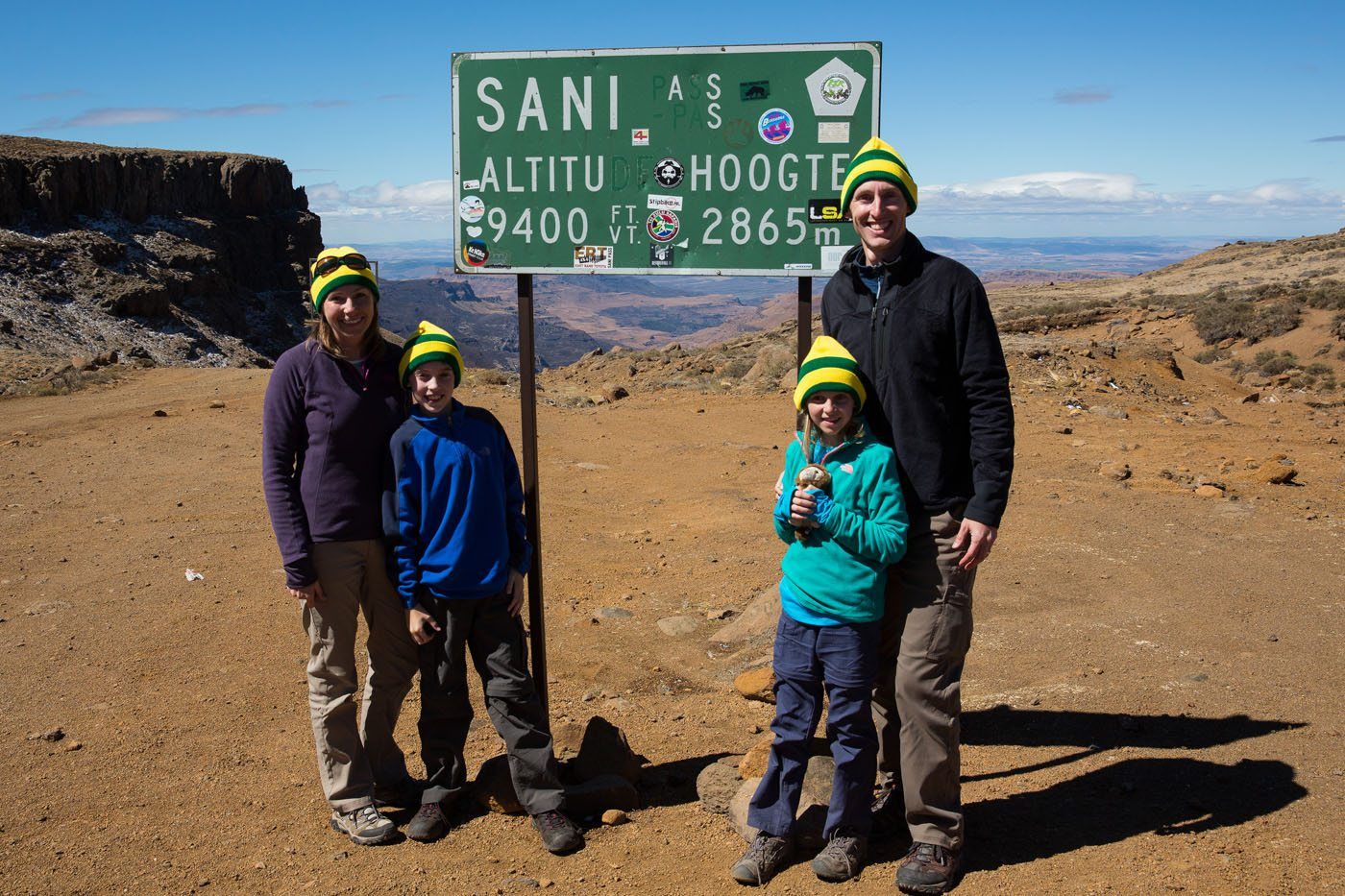 Welcome to Lesotho
Elliott took our passports to get processed in Lesotho while we took photos from the mountaintop. It was still very chilly, but the winds had calmed down and the sun helped to warm us up. We all really loved our crazy hats.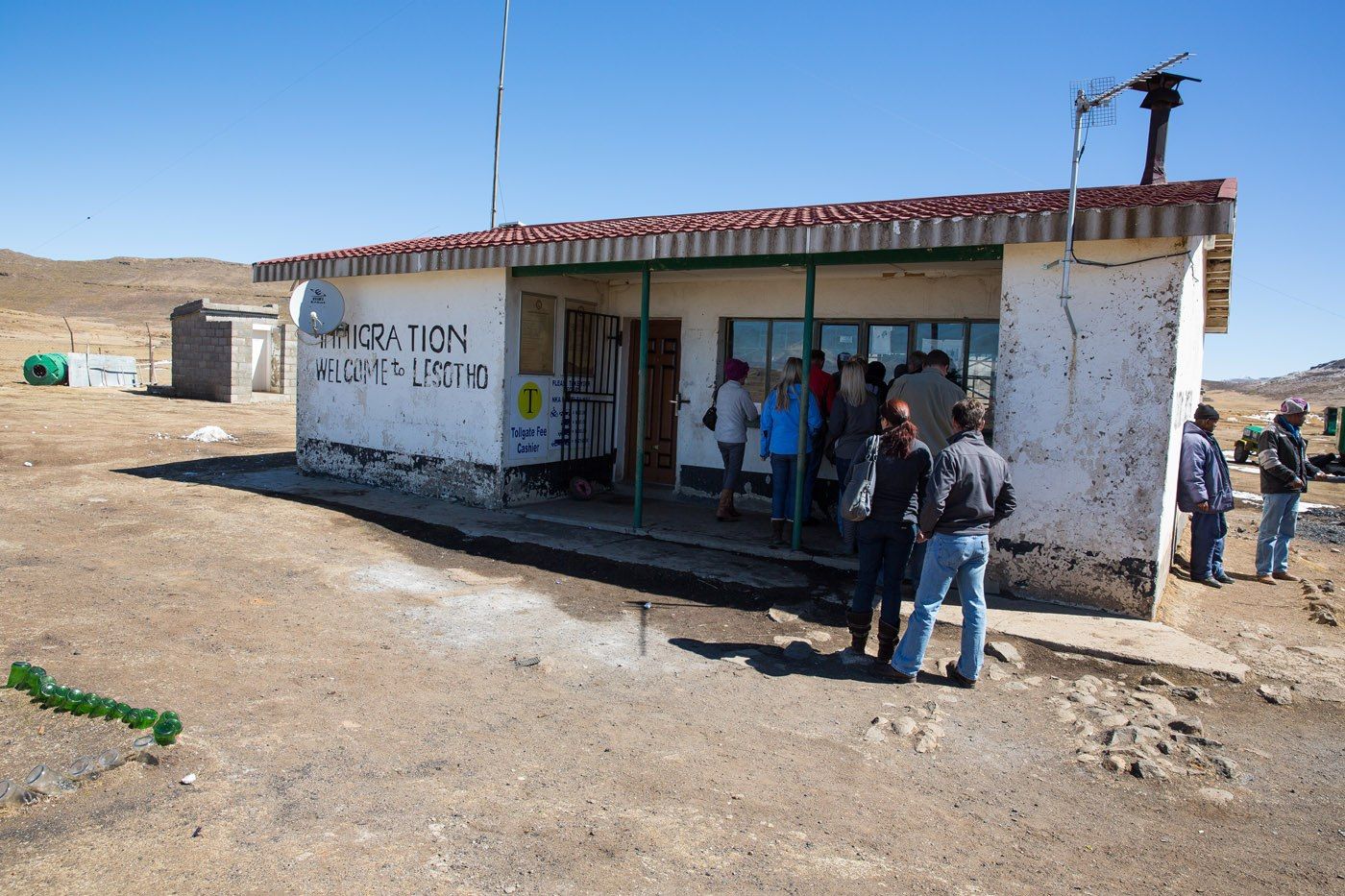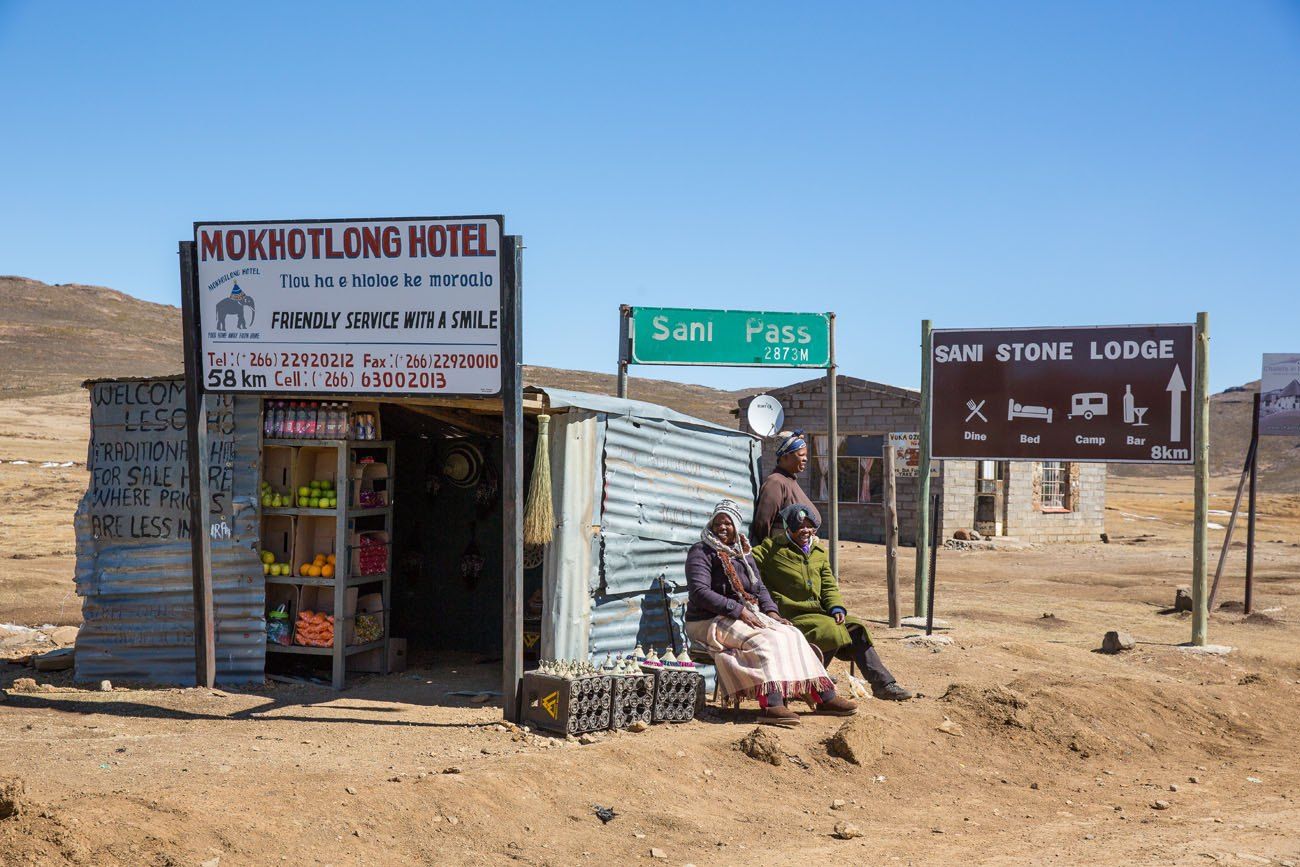 Visiting a Village in Lesotho
Before lunch, Elliott drove us a few more kilometers to a small Lesotho village. Here we learned about the mud huts, how they were built, and got to taste some bread. The bread was delicious and the hut was surprisingly warm. It has very thick walls made from mud and cow dung and the roof was made from thatched grass. A family would live in and share three huts, one for cooking, one for the husband, and one for the wife.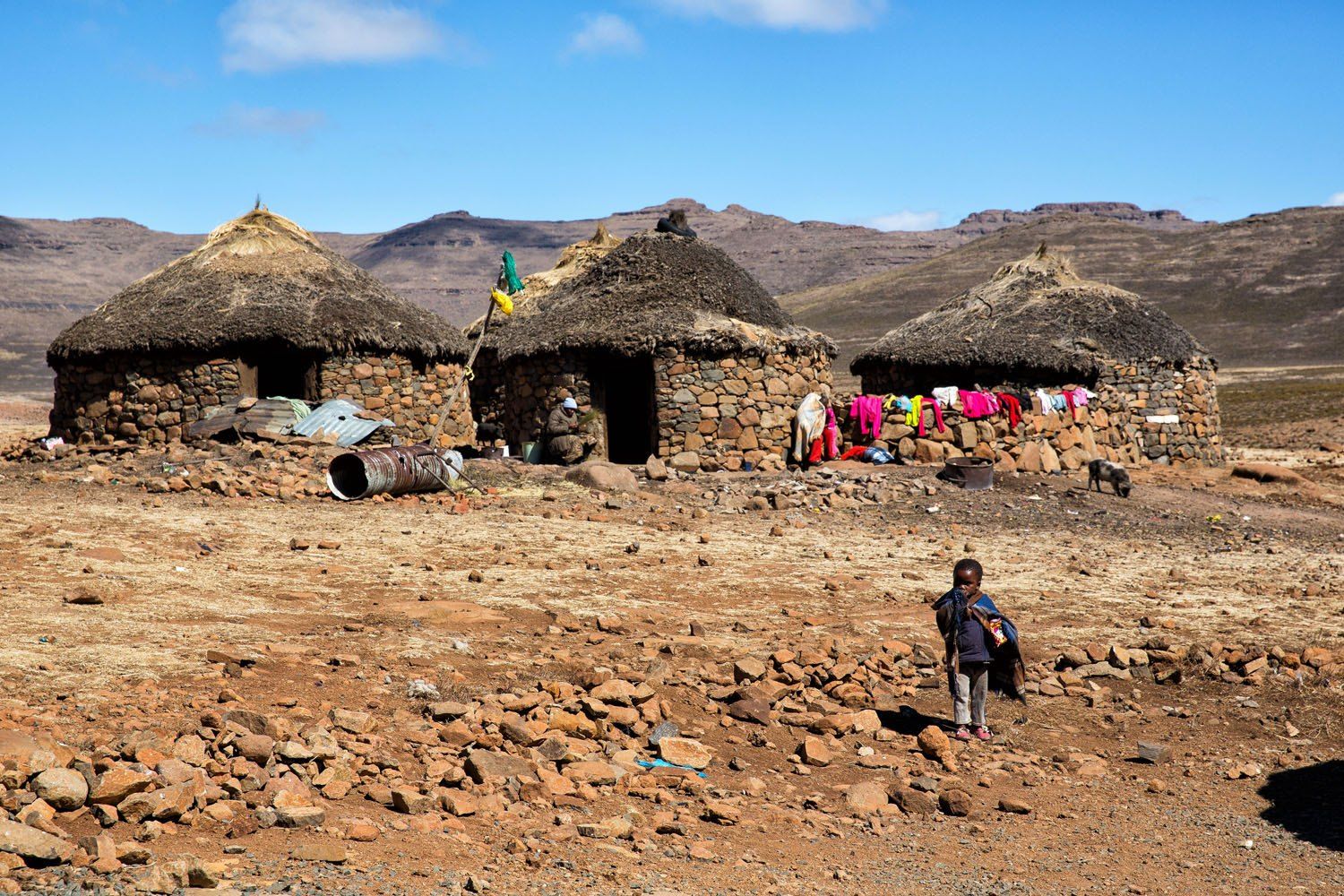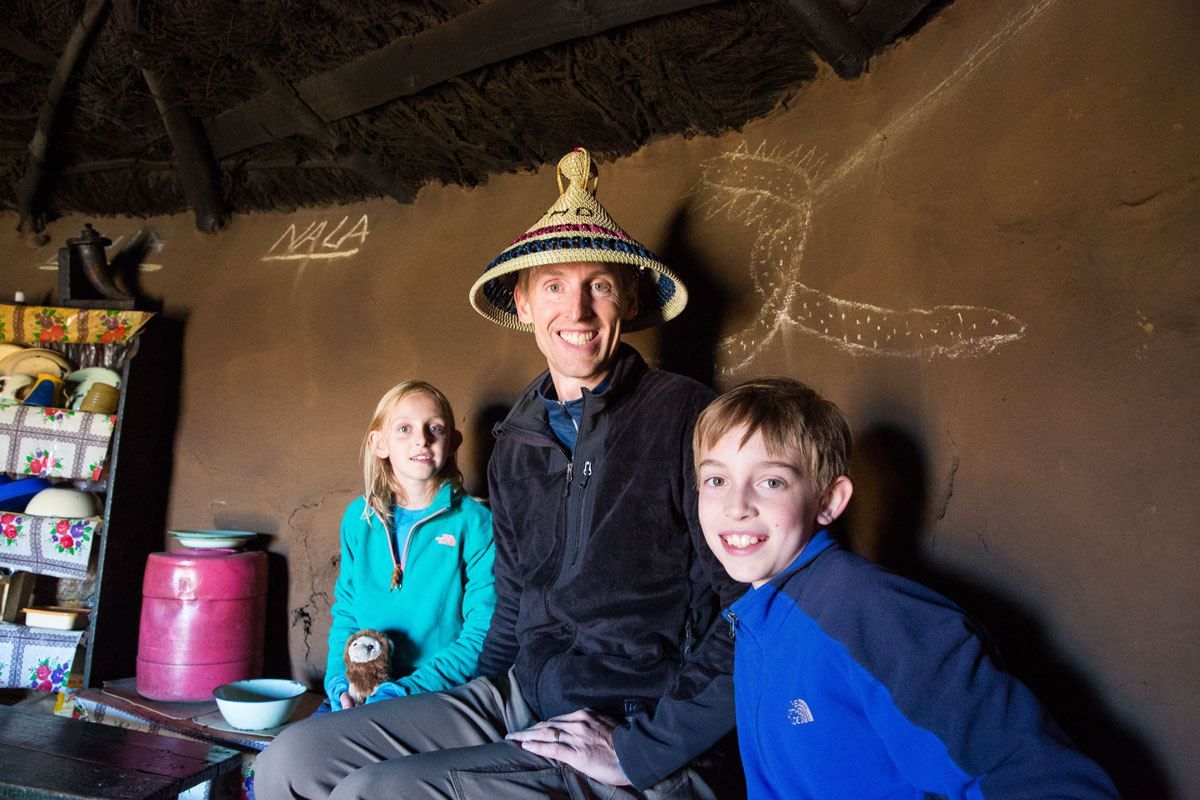 Highest Pub in Africa
We ate lunch at the Sani Pass Lodge, home to the highest pub in Africa. We ate curry chicken and sandwiches and drank Maluti Beer, a Lesotho brew. After posing for a few more photos and signing earthtrekkers.com on the wall it was time to drive back down the Sani Pass.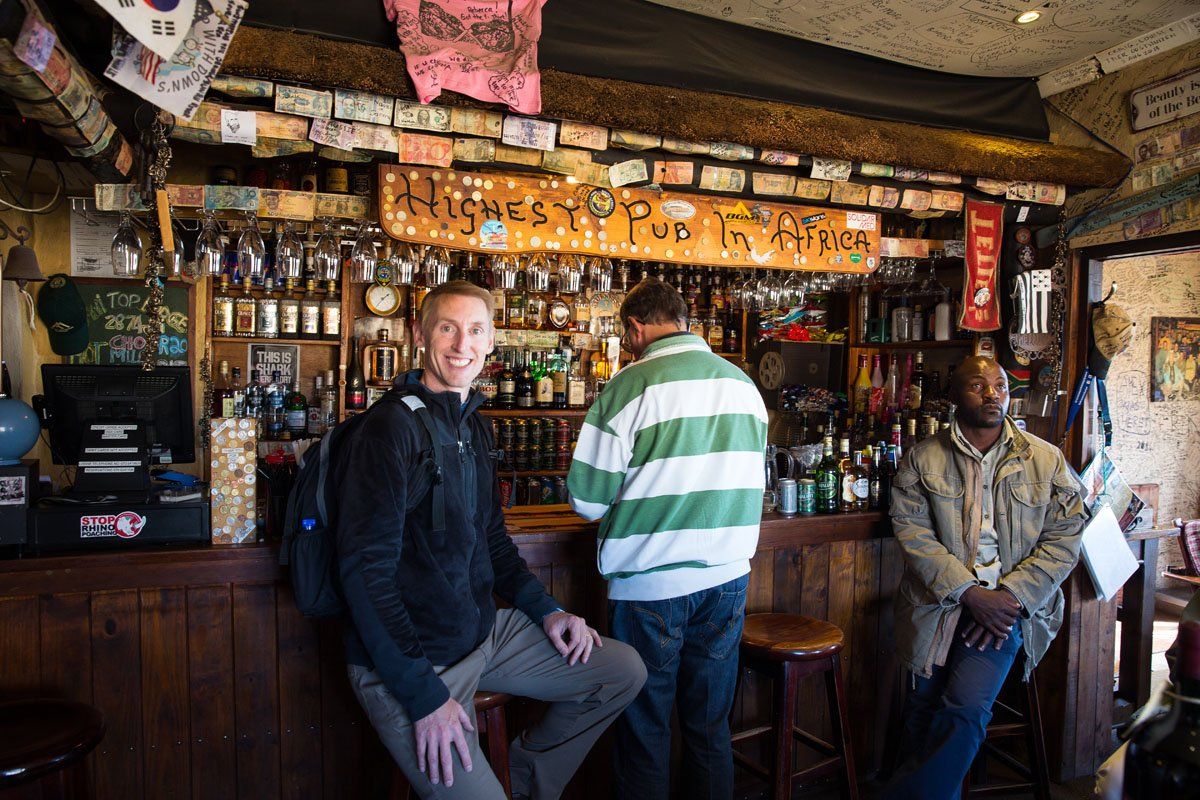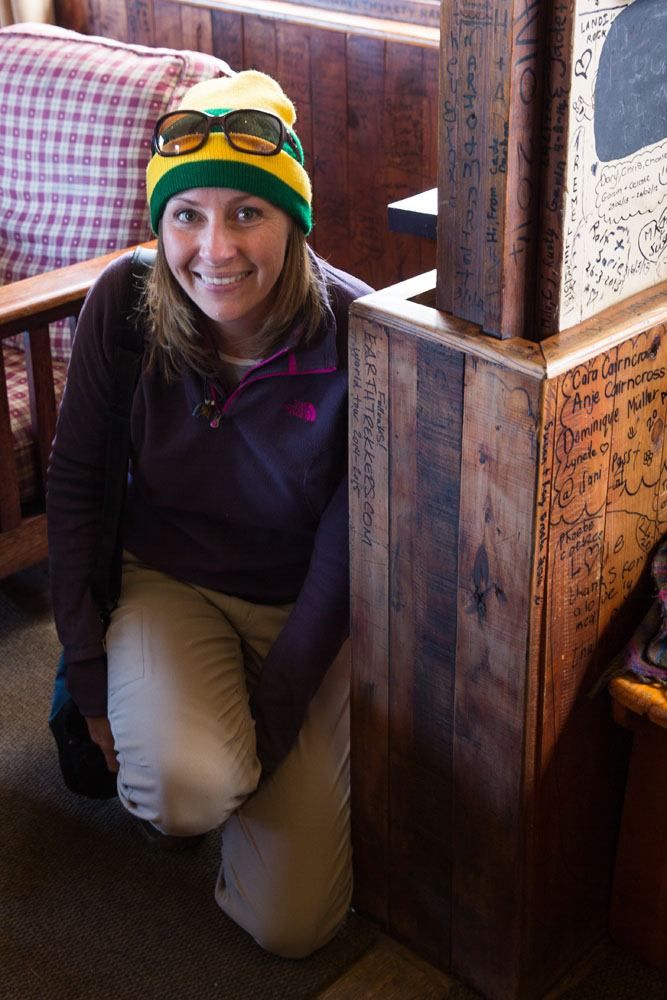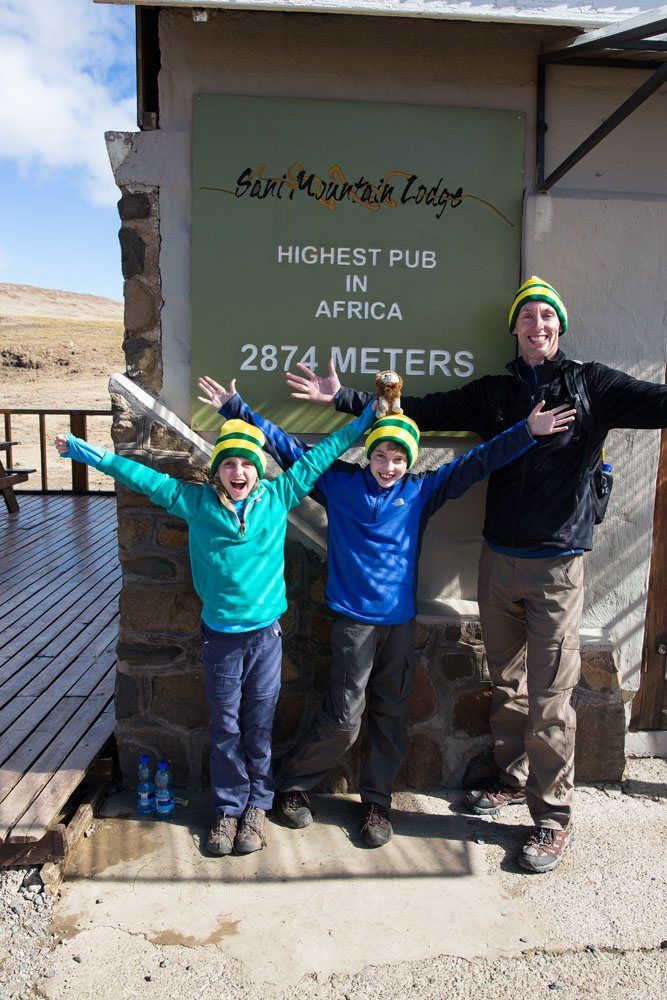 Back on the Road to South Africa
Going down was more fun than going up. Even though we were driving on the edge of the mountain we never felt unsafe. We felt like we were in very good hands with Elliott. Cars do occasionally go over the side, the most recent being a taxi van just a few weeks ago. I saw the crumpled up remains of the van sitting outside of the Lesotho Immigrations building.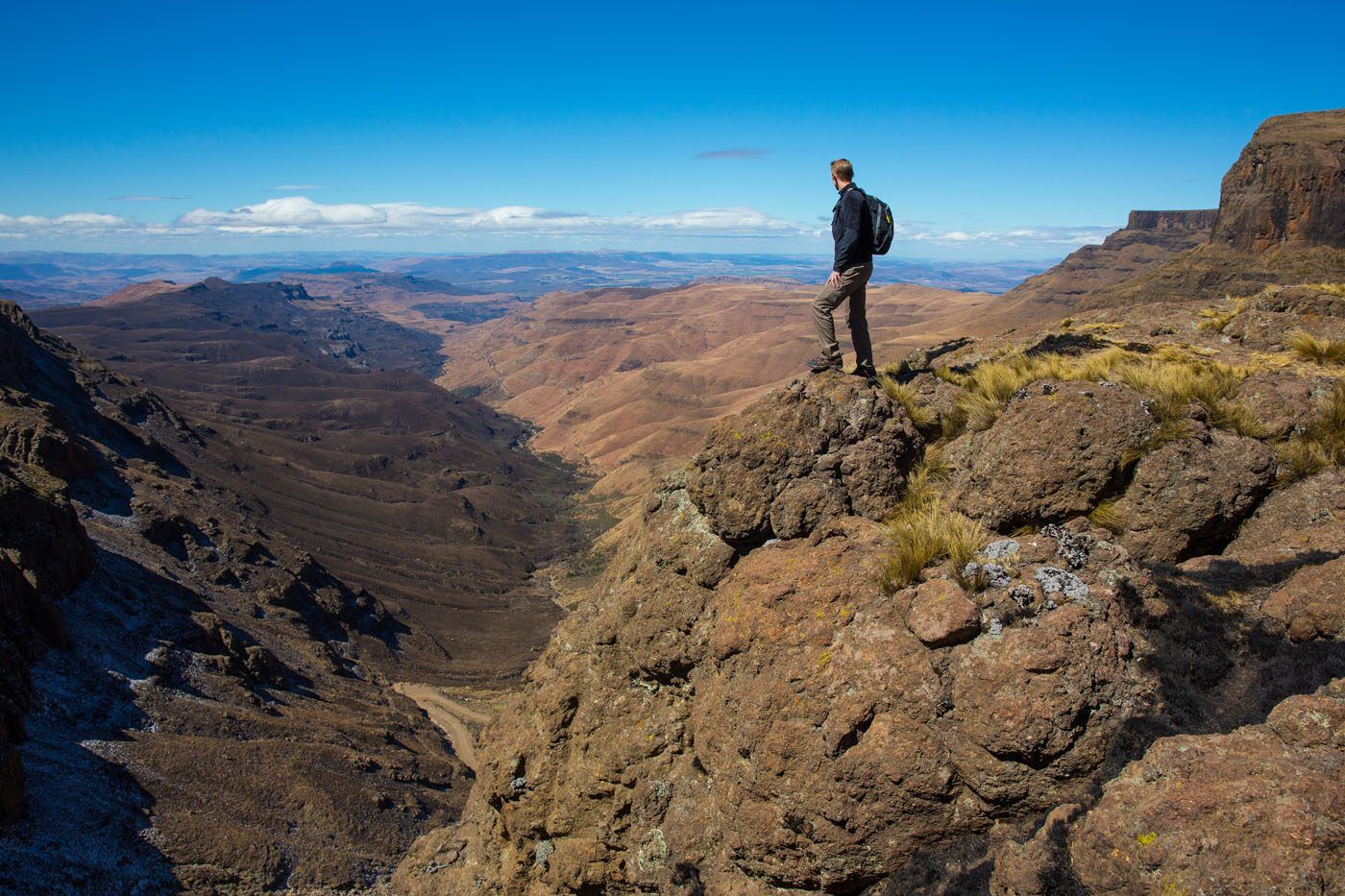 At 4:15 we arrived safely back in Underberg, South Africa. Our amazing drive over the Sani Pass into Lesotho was over, and it was a fantastic experience!
Our Tour Company
We highly recommend using Major Adventures for a tour up the Sani Pass. Making our reservation was very easy, they accept Master Card and Visa, and they run a very professional operation. Elliott, our guide, had nine years of experience driving the Sani Pass. He was a wealth of information about the history of Underberg, the history of the Sani Pass, and the Lesotho people. The four of us learned a lot more about South Africa than we were anticipating on taking this tour. This was an unforgettable experience for our family.
---
More Information for Your Trip to South Africa
You Might Also Like: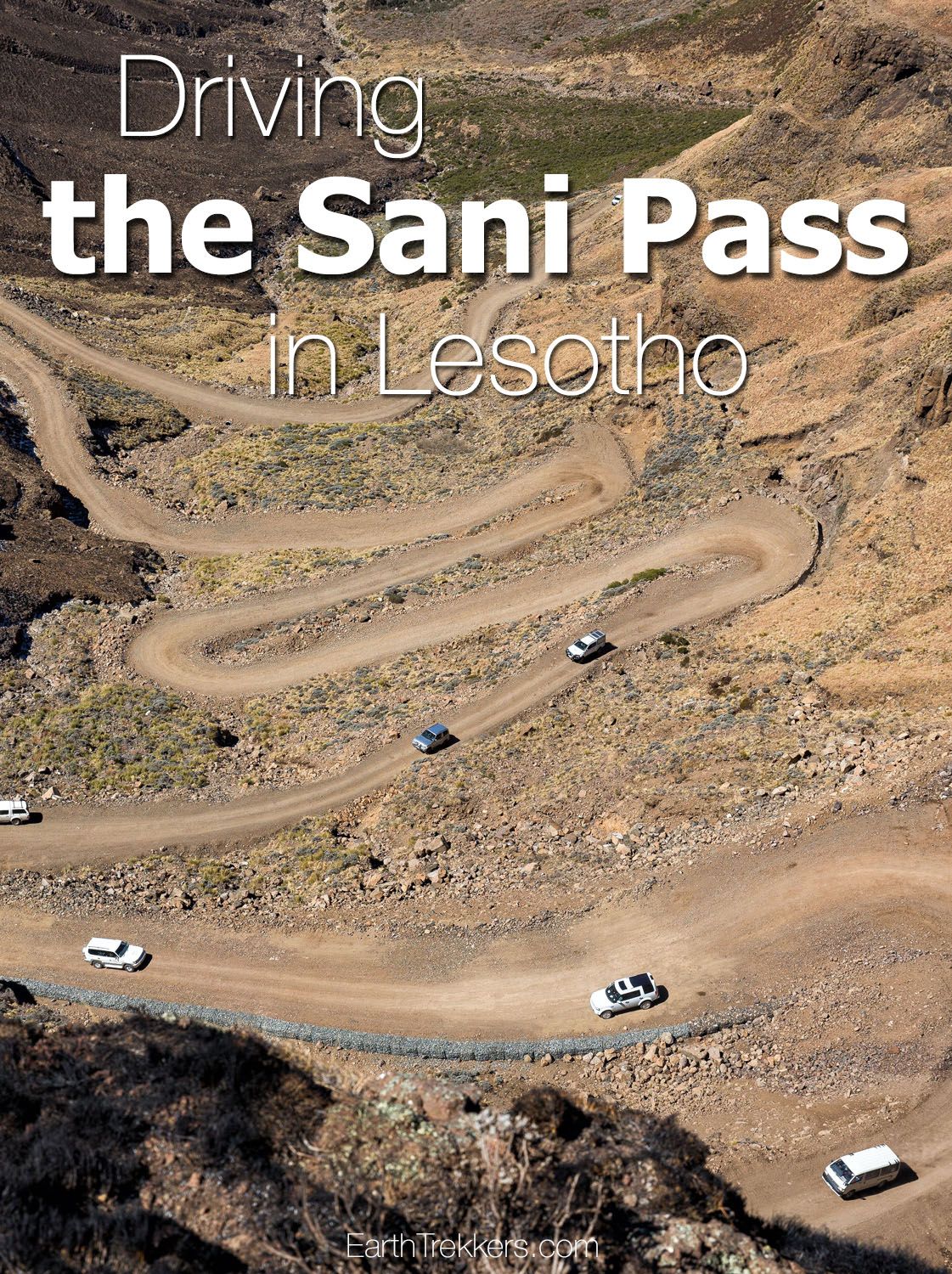 All rights reserved © Earth Trekkers. Republishing this article and/or any of its contents (text, photography, etc.), in whole or in part, is strictly prohibited.