Kruger National Park, the largest national park in South Africa, and one of the largest parks in the world, is South Africa's premiere safari destination. Spanning 200 km from north to south and 50 km from east to west, Kruger is home to the Big Five (elephant, rhinoceros, leopard, lion, and buffalo) as well as a multitude of other animals and birds.
Scattered throughout the park are rest camps, small clusters of lodges, tents and camping facilities, complete with restaurants and gift shops. Different areas of the park are known for their animal populations. For example, Satara is home to a large population of lions and Letaba is the place to see elephants.
It is recommended to stay in Kruger for a minimum of five days, in order to travel through the park, stay in several rest camps, and look for wildlife in the different areas.
Most people believe that a safari trip in Africa is out of their price range. When originally looking into "going on safari" I read that a "proper safari" would cost our family of four a minimum of $10,000 for a week or more. But with more research I learned that a budget safari is entirely possible. And this is what makes Kruger so special.
Kruger National Park as a Budget Safari Destination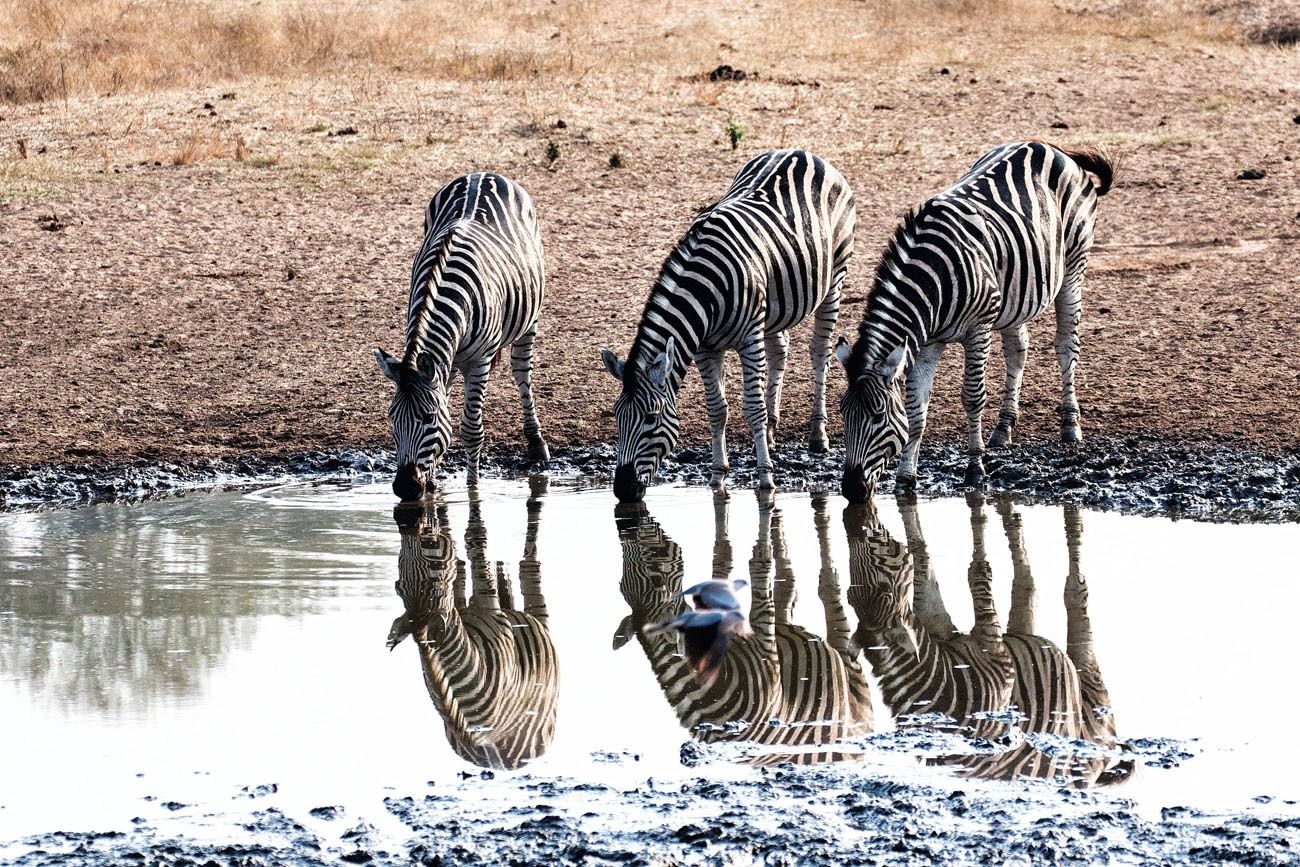 Self-Drive Safari Park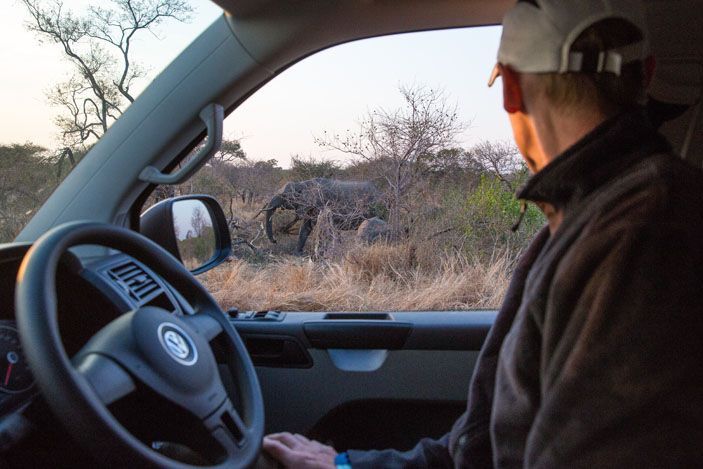 Kruger National Park is known as a "self-drive park," meaning you get in your car and drive down the road looking for lions. The roads are paved, although there are some gravel roads that can be used as well. By self-driving, costs are minimal, as you only spend money on gas and the rental car fee.
We spent 90% of our safari time in Kruger self-driving and we saw a lot! On our own we saw tons of giraffe, elephants, zebra, kudu, wildebeest, hippopotamus, baboons and impala. We also saw rhinoceros, buffalo, crocodile, and many more animals.
It may sound dangerous to be driving on your own through territory occupied by lions and leopards but we never felt unsafe. For the most part the animals just look at the cars with indifference and most of the time we were totally ignored.
Game Drives
Seeing the nocturnal animals requires going on one of the morning or evening game drives. On average, these game drives cost $25 per adult. For three hours you are driven in a safari Jeep by a Kruger guide on the inaccessible dirt roads.
Our family went on a sunset drive and a morning drive and the animals we saw were amazing. At night we spotted a pride of lions, an enormous herd of buffalo, hippos playing in the water, a porcupine, and so much more.


We hit the jackpot with the morning drive. Right after sunrise our guide spotted a pride of lions (the same pride we saw the night before) and a group of hyenas next to each other. As the lions sauntered down the road, indifferent to our presence, we snapped hundreds of photos. At times the lions were just two feet from our vehicle. It was an unbelievable experience and I felt like I was a kid on Christmas morning!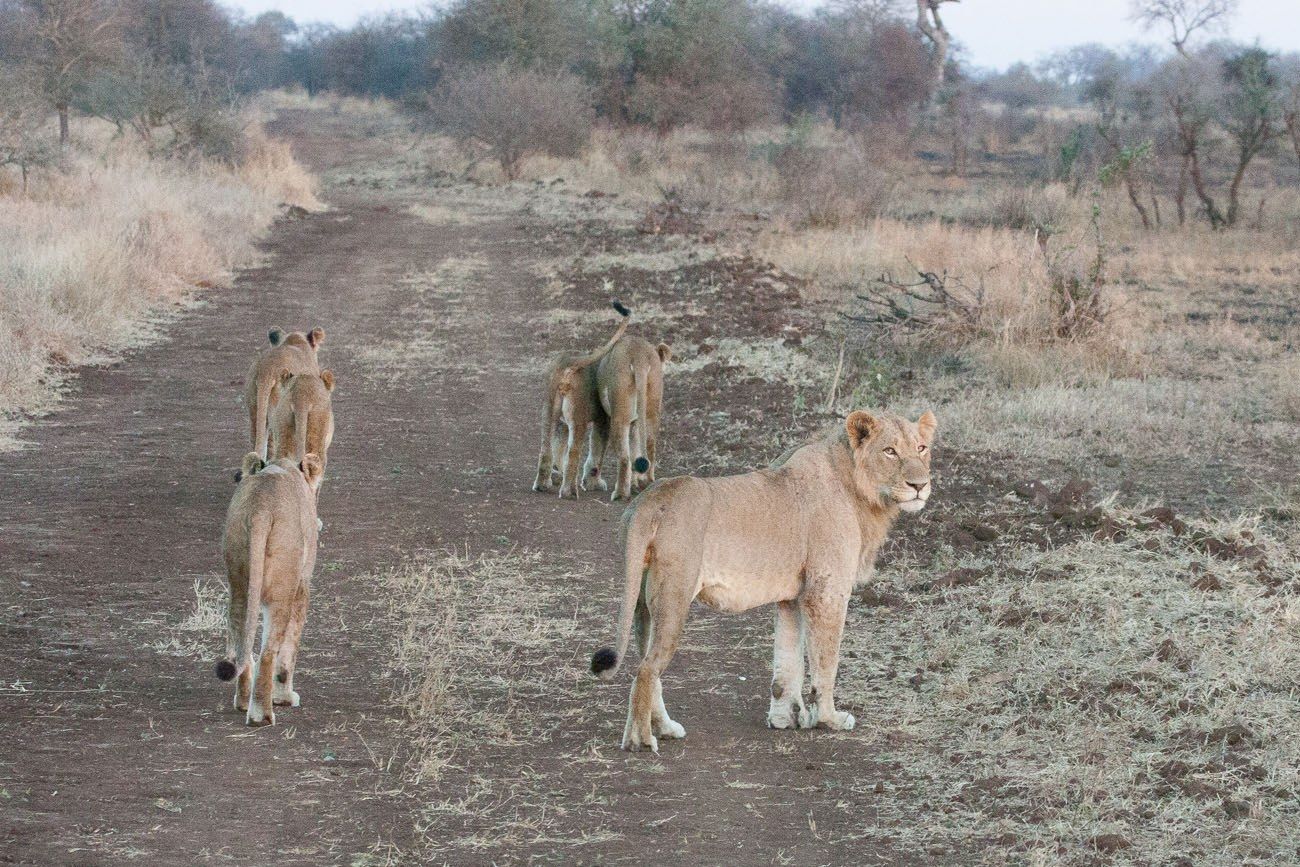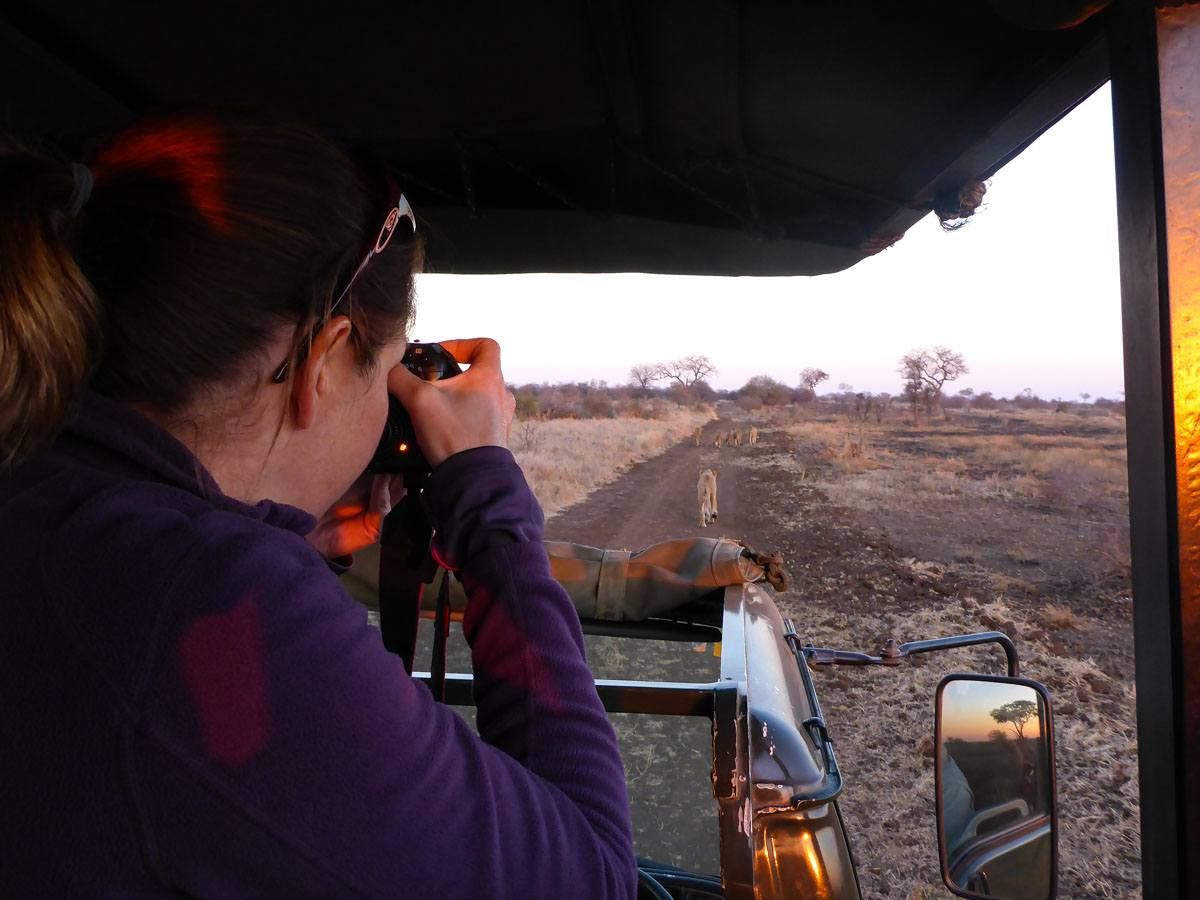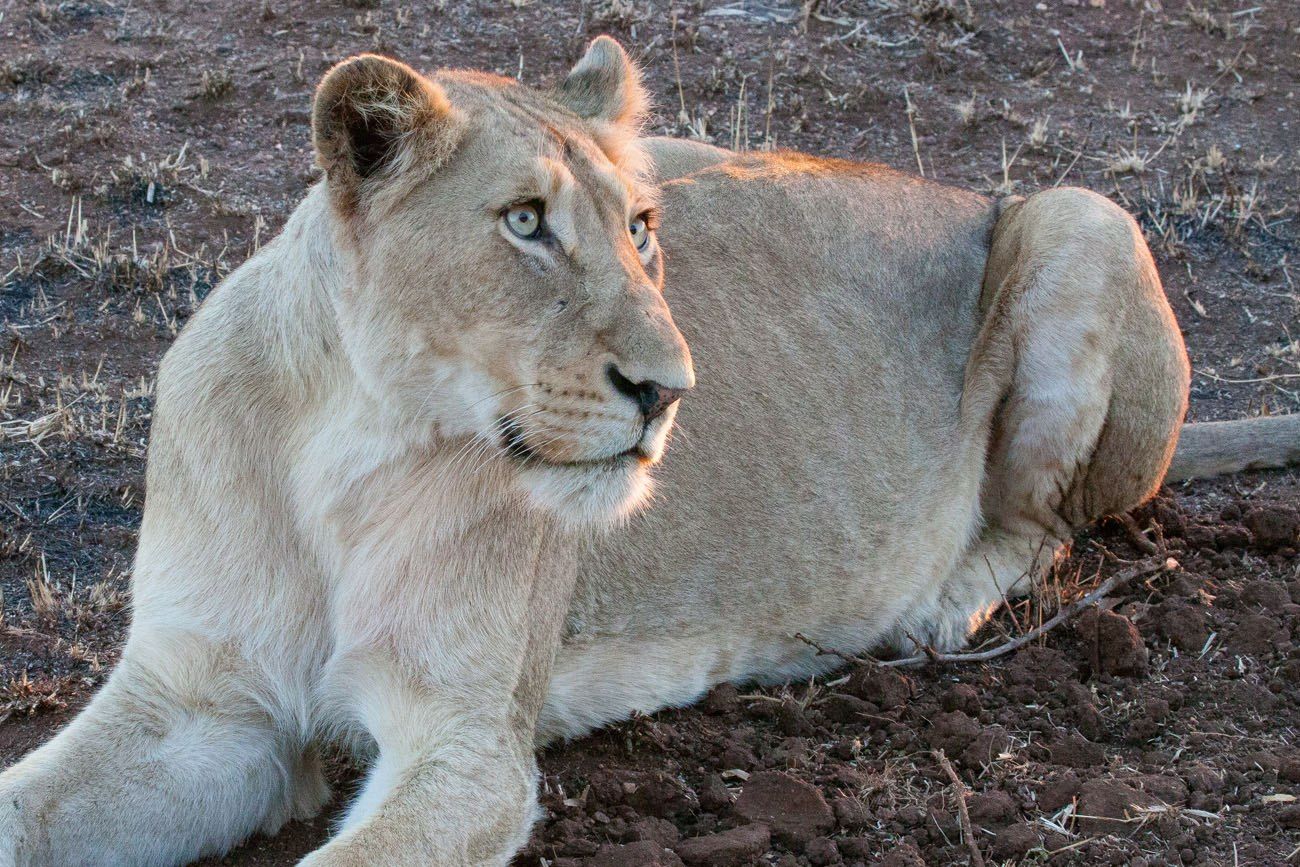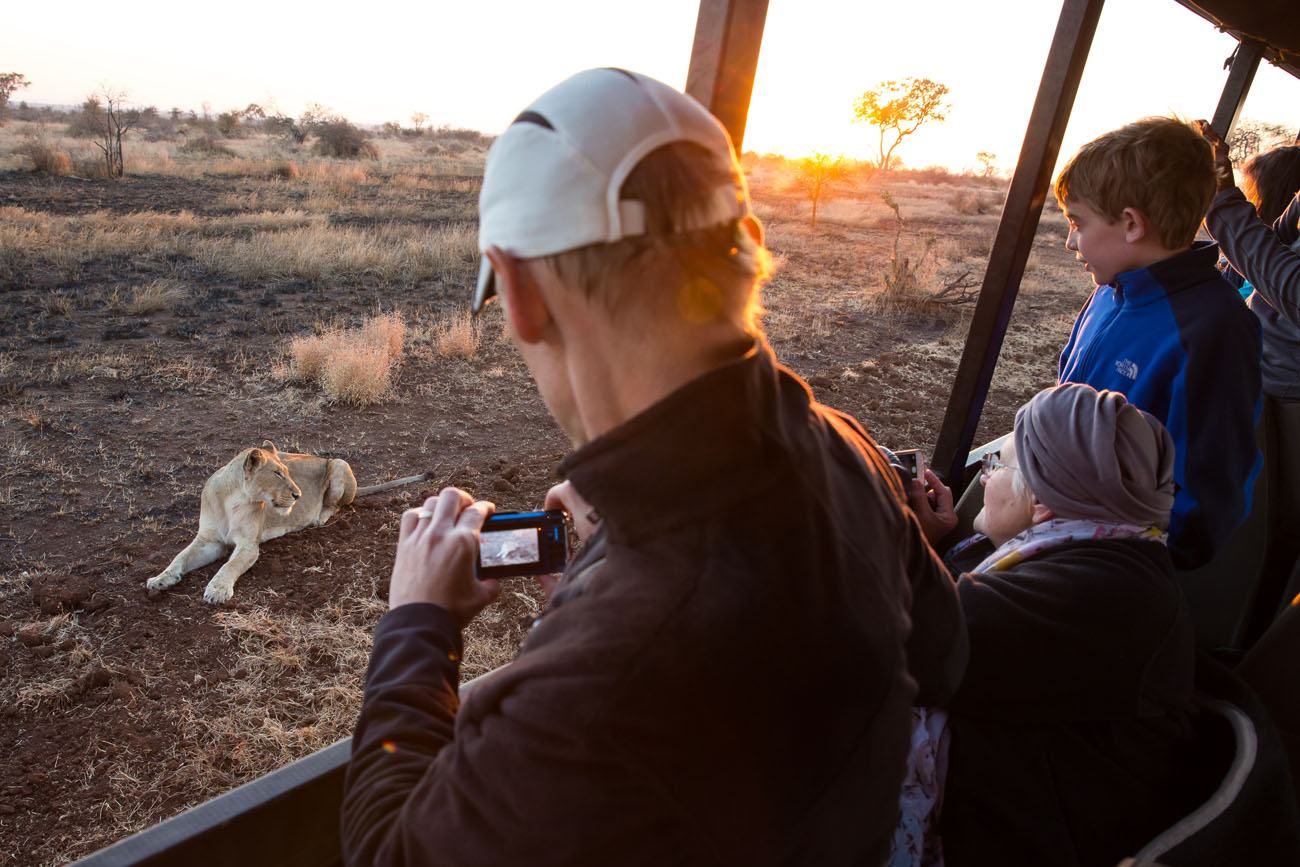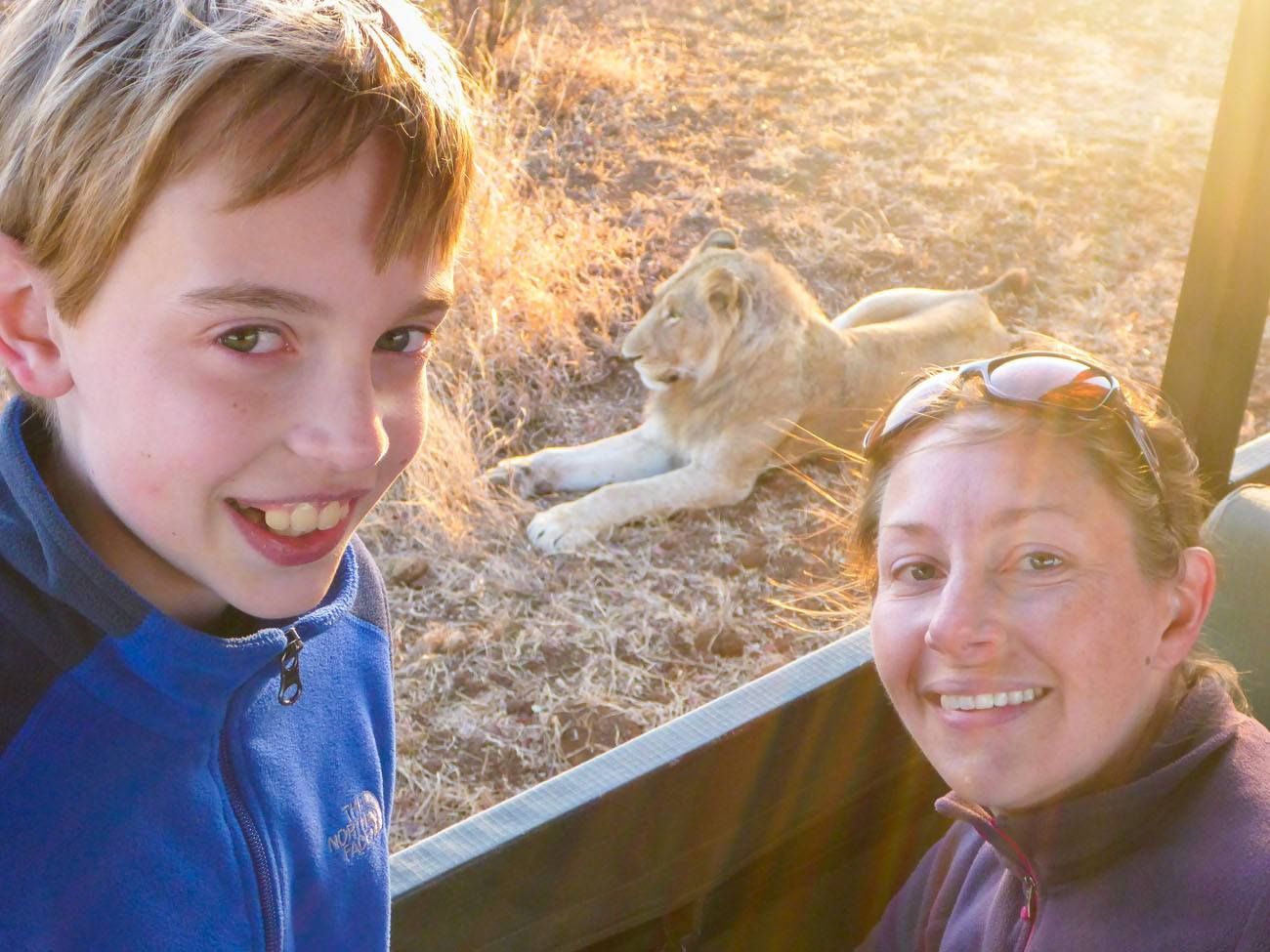 We turned back to revisit the hyenas, who were guarding over a carcass. Most likely they stole this carcass from the lions the night before. At our approach, the largest of the hyenas carried the carcass away from us, protecting it.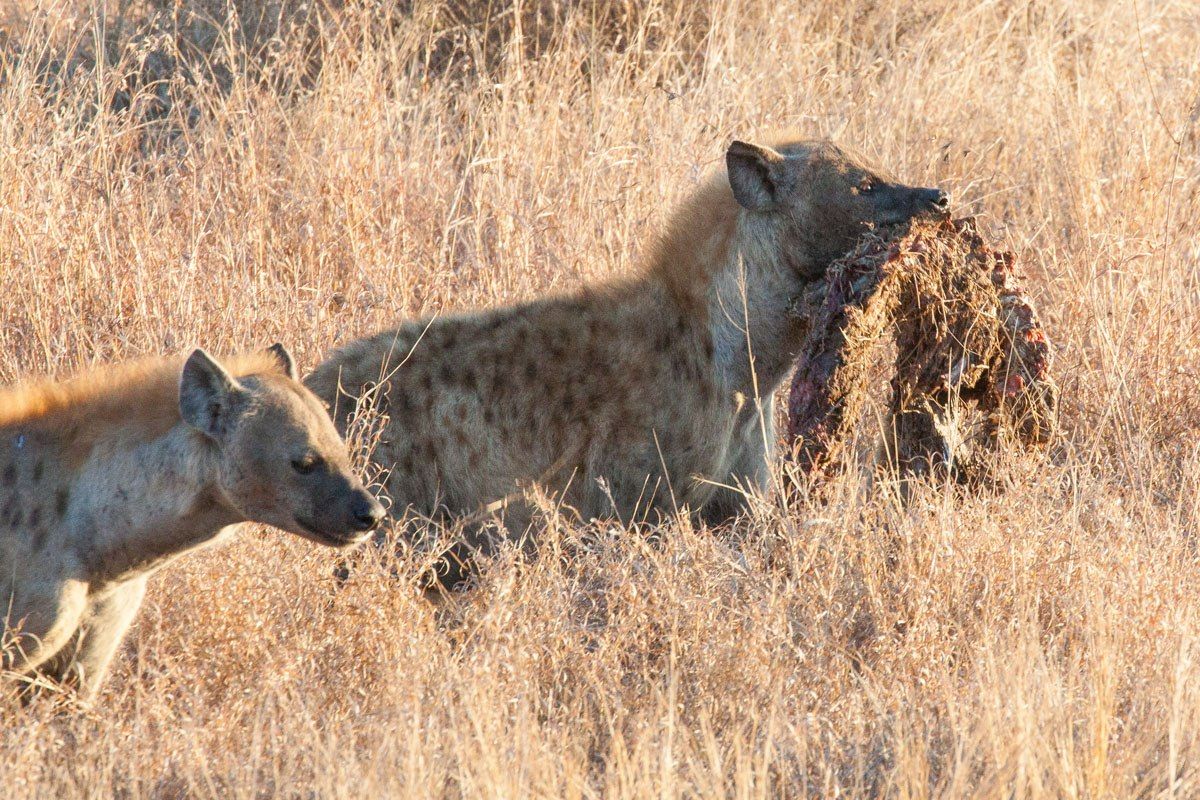 Accommodations in Kruger
Staying inside Kruger is also relatively cheap, depending on the accommodations you choose. Kruger does have luxury accommodations for those wanting a posh safari experience. We stayed in the budget safari accommodations.
We spent two nights in safari tents in Tamboti Rest Camp. Our tents overlooked the Timbavati River, where we could see elephants and hyenas, and at night we heard lions roaring off in the distance. These accommodations cost our family of four $58 per night (in 2014).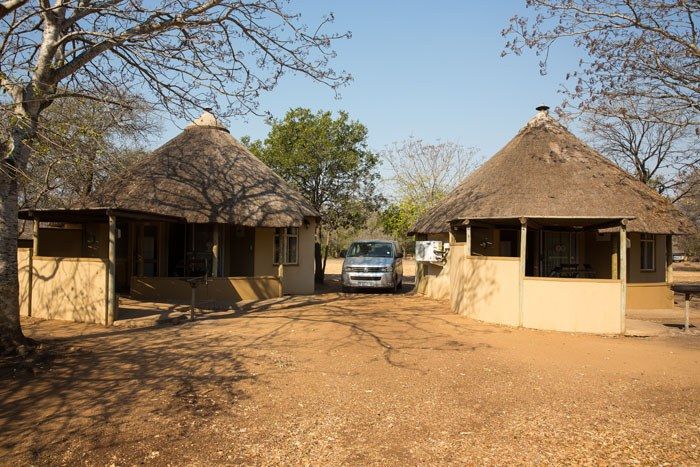 After Tamboti we spent two nights at Satara Rest Camp in rondavels, round houses with three twin beds and an ensuite bathroom. For six people (our mothers, Kathy and Valerie, were traveling with us), these two houses cost a total of $200. These were nicer accommodations than the tents which explains the increase in cost.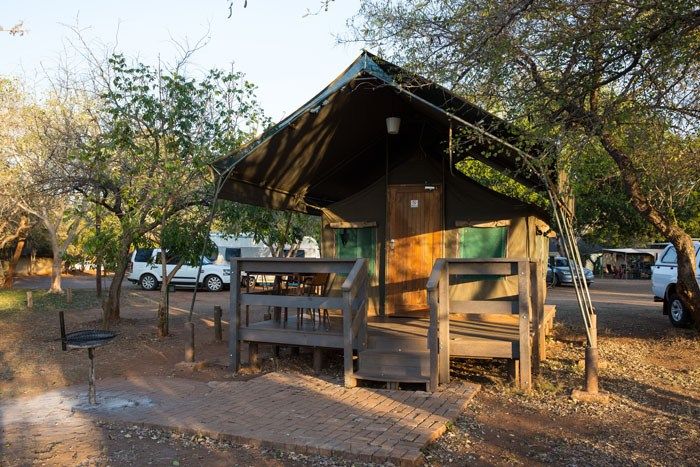 Finally, our time in Kruger ended with one night at Crocodile Bridge, again in safari tents. Once again we watched animals pass by our front door, this time hyena, buffalo, and a bush baby. For our family of four, we rented two tents at a cost of $92 per night.
Our family really liked staying in safari tents. There is something very cool about sleeping in tents in Africa and our favorite part was hearing the animals at night. I am really going to miss hearing lions and elephants outside of our door once we leave this part of South Africa.
For anyone who has a safari in Africa on their travel bucket list but thinks it's outside of their price range, take a look at Kruger National Park. We had a fabulous experience here and highly recommend it.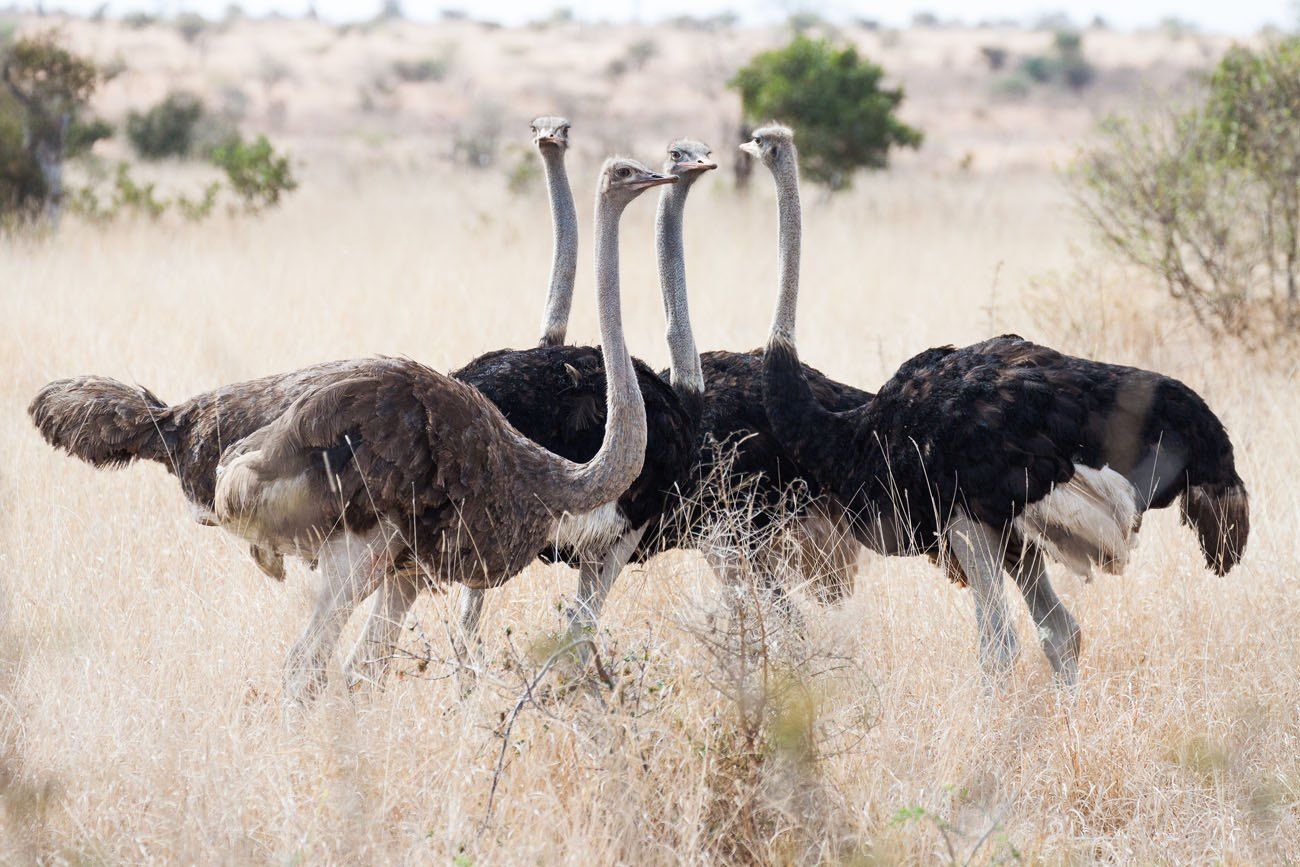 ---
More Information about South Africa
PLACES TO GO IN SOUTH AFRICA: Spend a few days in Cape Town, go on safari in Kruger National Park, journey to the Cape of Good Hope, go road tripping on the Garden Route, visit iSimangaliso Wetland Park, and explore the Drakensberg Mountains of South Africa.
PLACES TO GO NEAR SOUTH AFRICA: Chobe National Park in Botswana is one of the best places in Africa to see African elephants. Go on a road trip to Lesotho on the Sani Pass. And visit Mlilwane Wildlife Sanctuary in Eswatini.
ADVENTURE TRAVEL: Here are 50 adventures to turn your next trip into an epic travel experience.
DESTINATIONS AROUND THE WORLD: For more places to visit around the world, check out our Destinations page.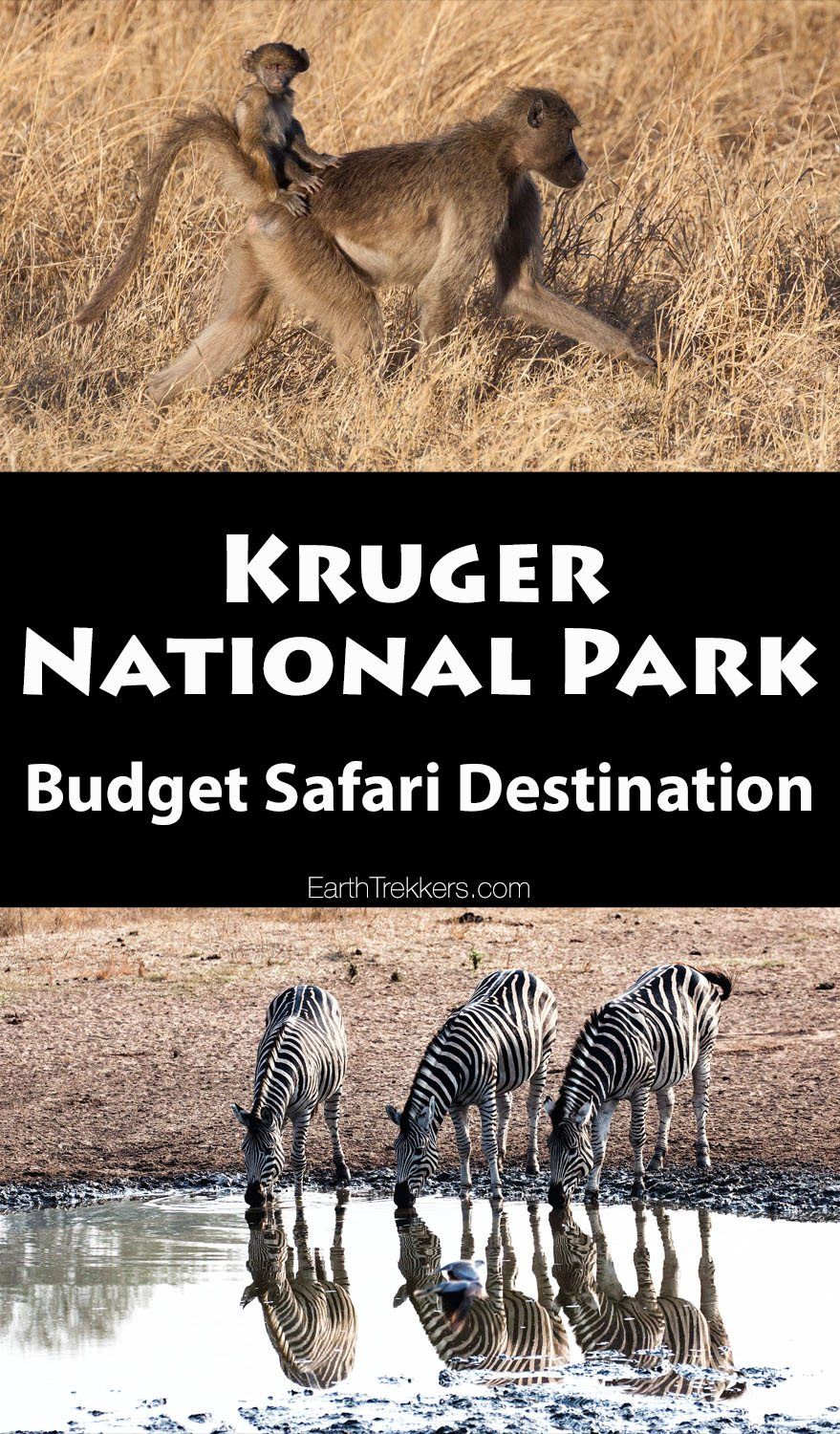 All rights reserved © Earth Trekkers. Republishing this article and/or any of its contents (text, photography, etc.), in whole or in part, is strictly prohibited.