There are several ways to get to Machu Picchu. For people short on time or for those with no desire to hike their way to the Sun Gate there is the option of arriving in Aguas Calientes by train and then taking a bus up to the main gate of Machu Picchu. But for those who desire a little more adventure there is the option to hike the Inca trail to the Sun Gate. This is the original main gate of Machu Picchu when it was used by the Incans.
The Inca Trail
The standard four day trek involves hiking for three days and then descending down into Machu Picchu on the fourth day. This is all arranged by tour companies as solo trekkers are not allowed to hike without a guide.
The shorter option is a full day hike from kilometer 104 of the Inca trail, ending at the Sun Gate in the afternoon. After spending the night in Aguas Calientes, you take a bus up the Machu Picchu and spend the day exploring this magical place. Tim and I chose the second, shorter option. There were several other places we wanted to see in Peru and our time was limited.
Reviews of the one day tour are mixed. Some people said the hike was mediocre and not worth the time. Apparently the scenery during the first two days of the four day trek are phenomenal and we would be missing this. Tim and I took our chances, scheduled the one day hike, and hoped for the best.
We made a great decision. Hiking the Inca trail, even the little we did, was awesome and remains one of our favorite travel memories.
Hiking the One Day Inca Trail to Machu Picchu
Our first day started in Ollantaytambo. Here we met the other couple we would be hiking with, Lies and Mauro. Lies was Italian, Mauro was Brazilian, but they both were living in Washington DC at the time. They could speak English, Spanish, Portuguese, and Italian. Wow! Tim and I really enjoyed hiking with them.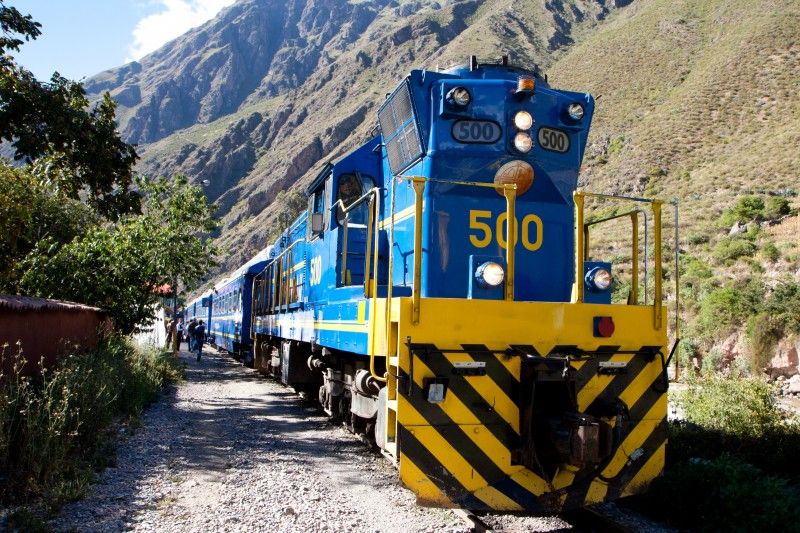 We took a one and a half hour train ride to km 104 to start our hike to Machu Picchu. This hike would take us from the Urabamba River Valley 15 kilometers up and over several mountains to our final destination of Machu Picchu.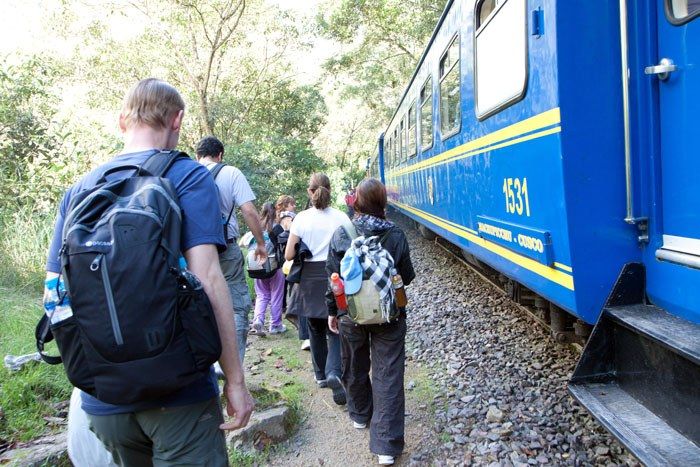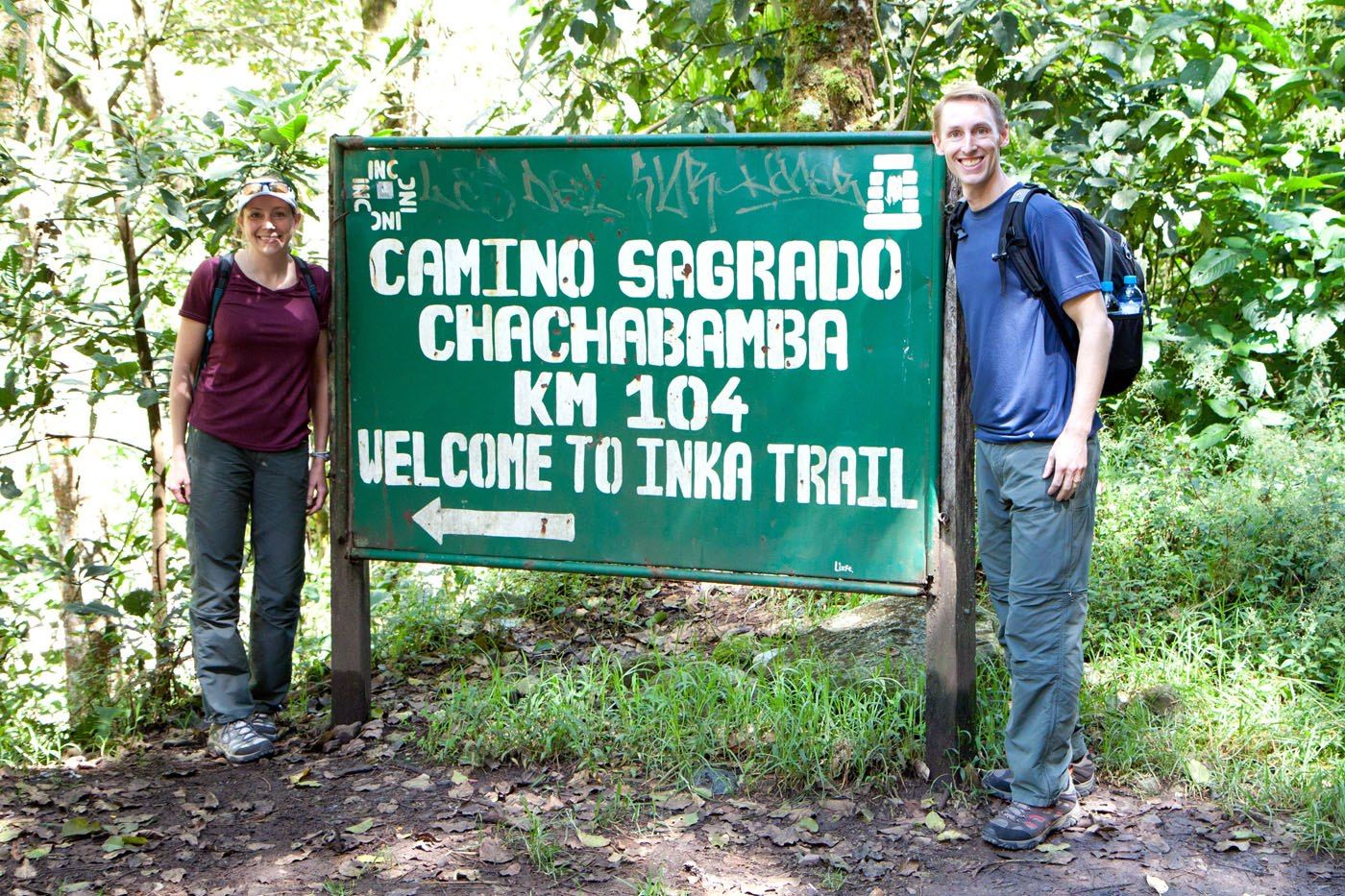 Tim and I each had a backpack filled with our bare essentials: camera, rain jackets, some toiletries, umbrella, clean clothes, and lots of water. Whatever we needed for the next two days we had to carry on our backs, so we brought the bare minimum.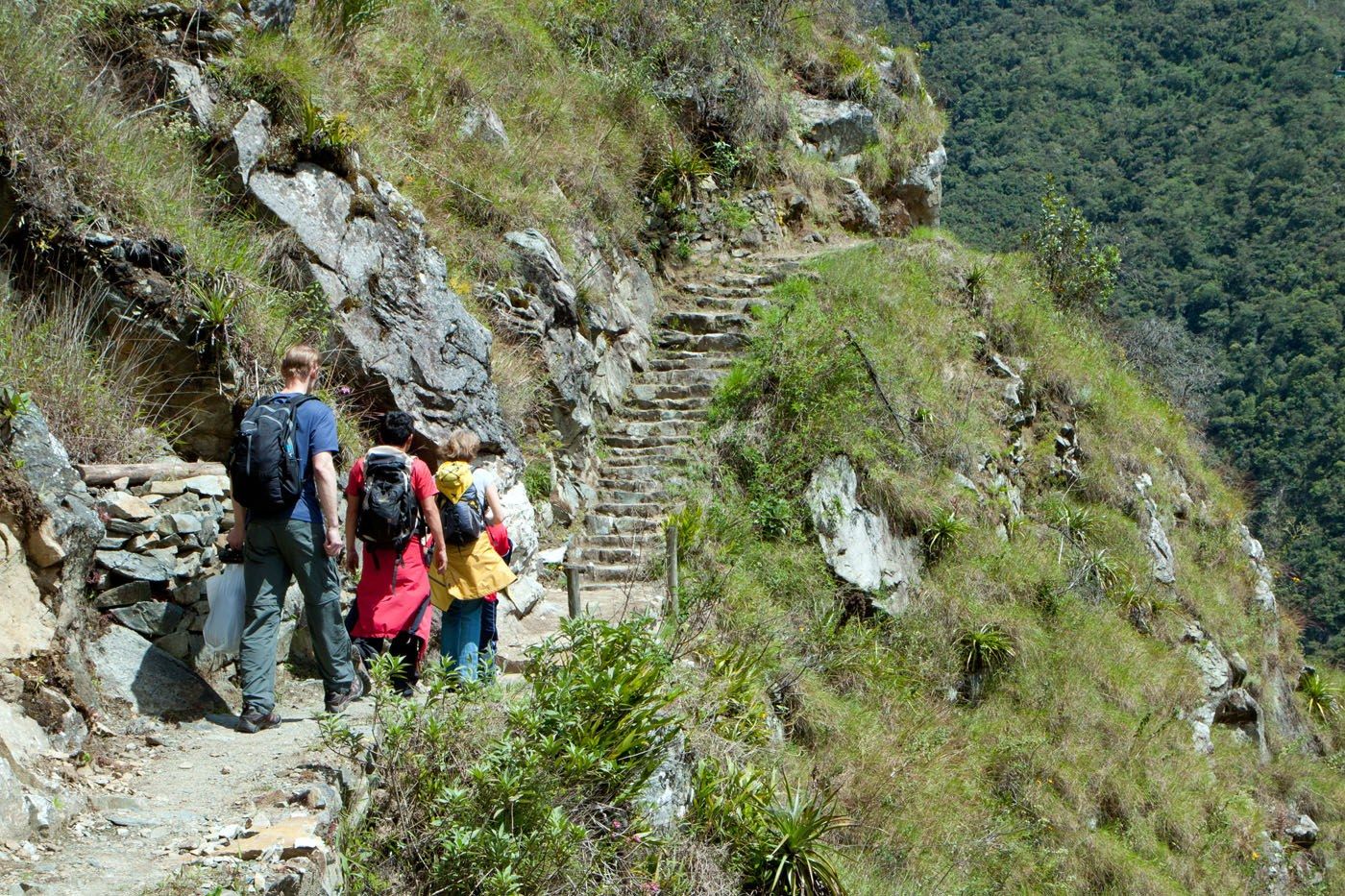 For almost three hours we hiked up Winay Wayna, an Incan site high above the valley floor. The sun was out and it was very hot. It was also all uphill. The hike was a lot of fun but a little more strenuous than we were expecting.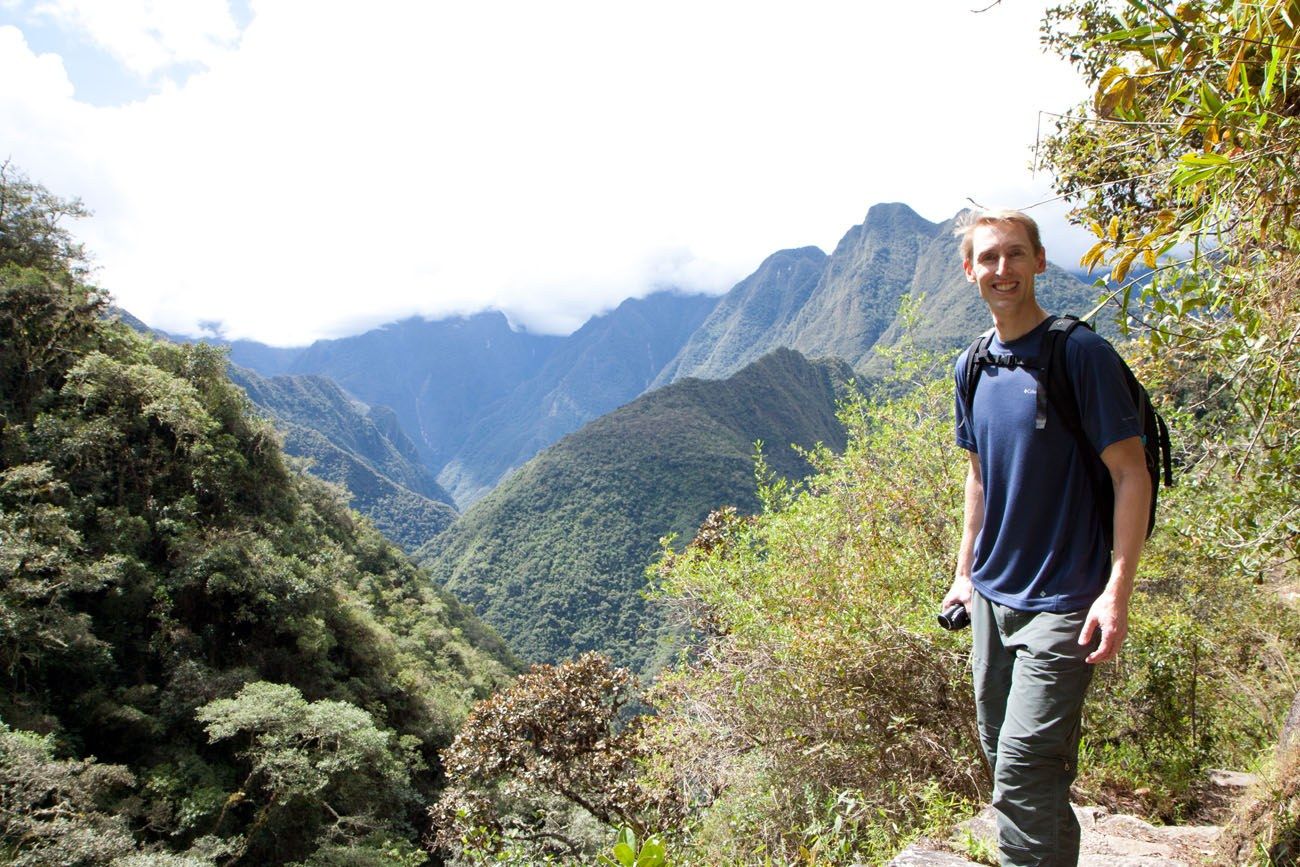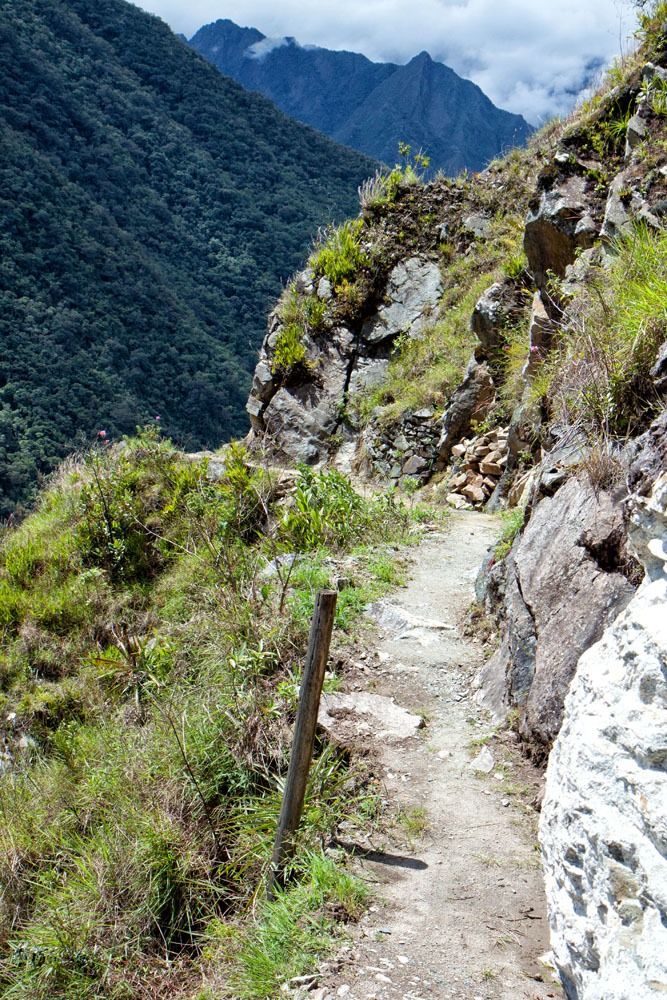 Winay Wayna
Finally, we reached Winay Wayna. This was a rest point for us. We all found a comfy rock and ate the lunch provided by Pie Experiences (our tour company). The food, surprisingly, was very good (chicken, quinoa, fruit, and chocolate covered coca leaves). Clouds were rolling in which cooled things off a lot. From here the hike got easier and by now we were only two hours from Machu Picchu.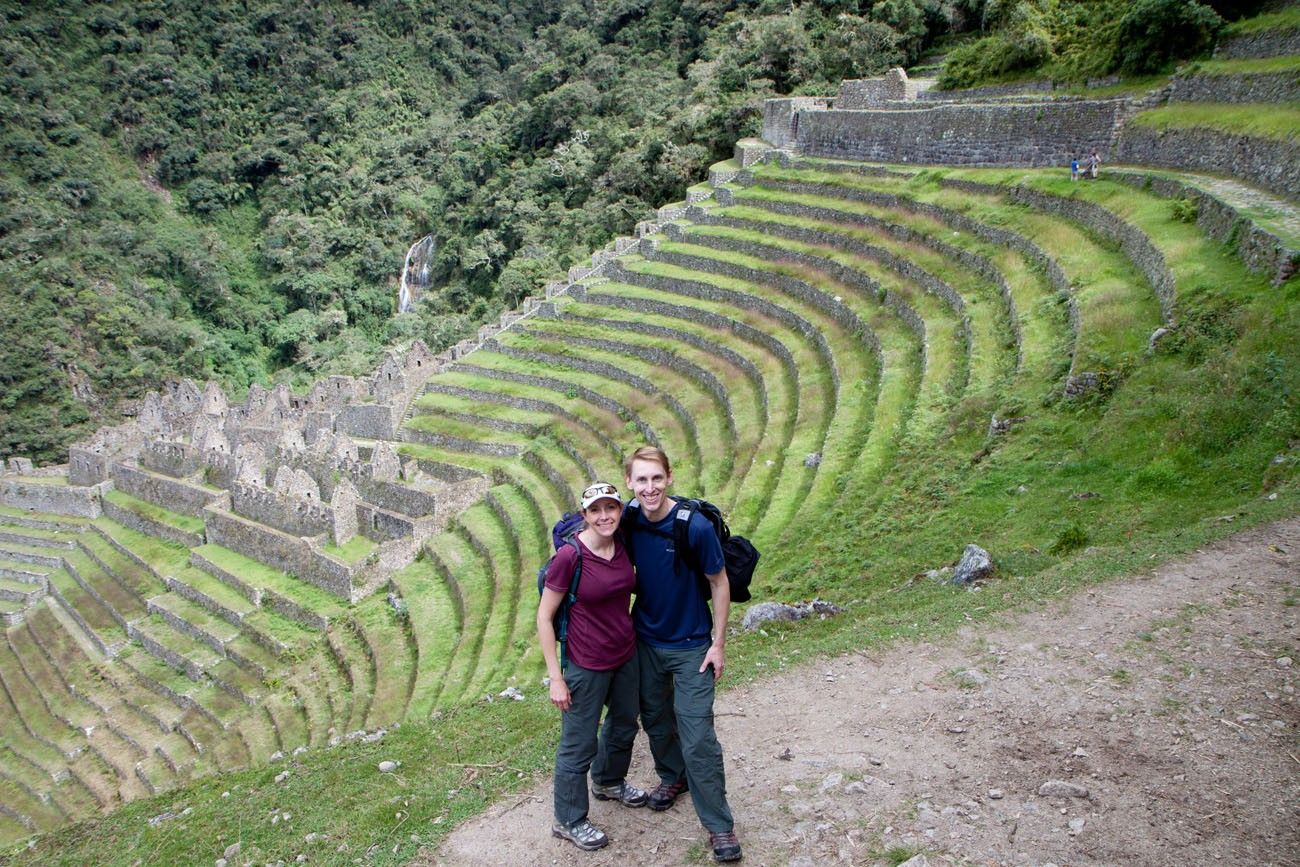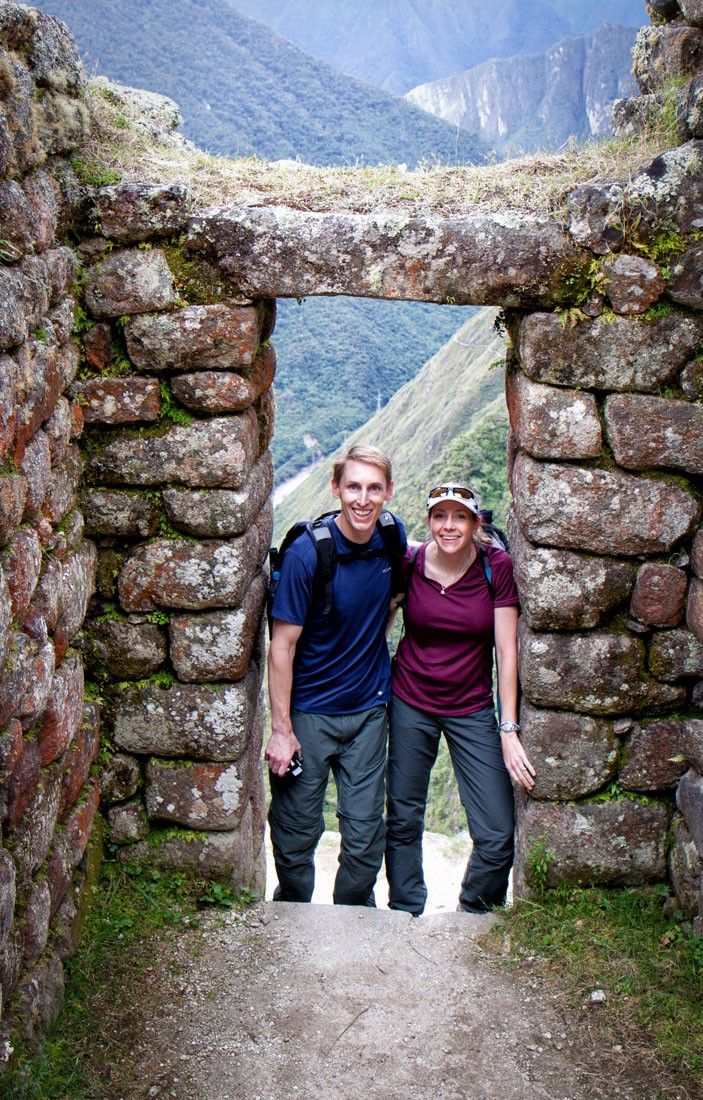 After lunch at Winay Wayna the hike continued. Now we were hiking though a rainforest, we occasionally were sprinkled on by a rain shower, and we were even lucky enough to see a rainbow.
Now we were really getting close. These are called the Monkey Steps, because you have to use your hands to climb them…unless you are Tim.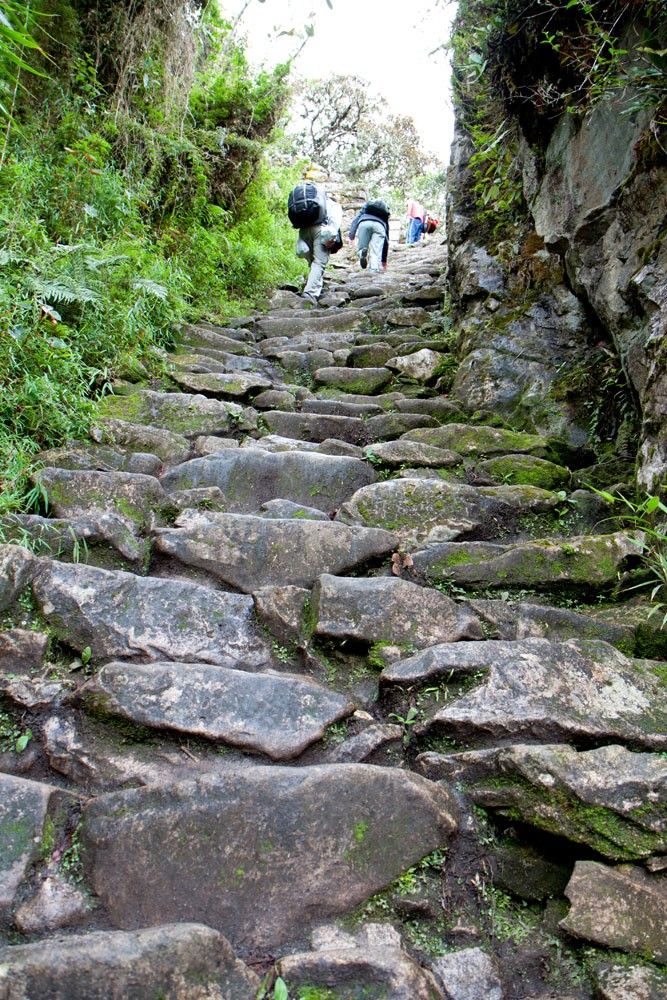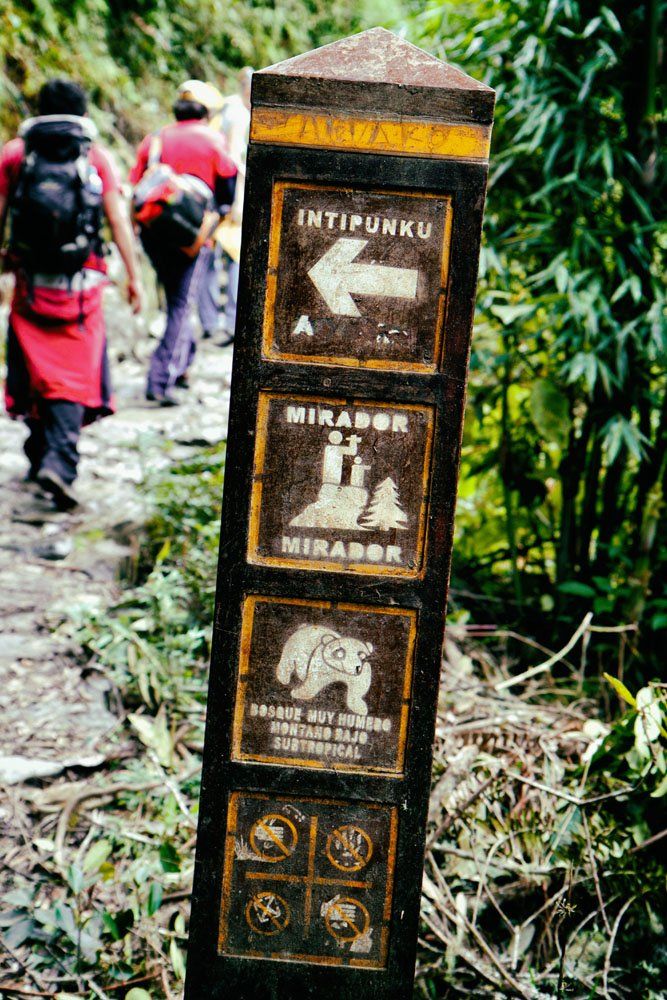 After a long ascent up yet another stone staircase and hiking along these trails the Incans make hundreds of years ago, we arrived at Intipunku (Sun Gate in Quechua). This was the moment we had been waiting for…our first view of Machu Picchu.
First View of Machu Picchu
And there it was, off in the distance, more beautiful and more awesome than any photo or video could ever show it. And to have hiked all day through these amazing mountains to this viewpoint made it even more rewarding. Machu Picchu!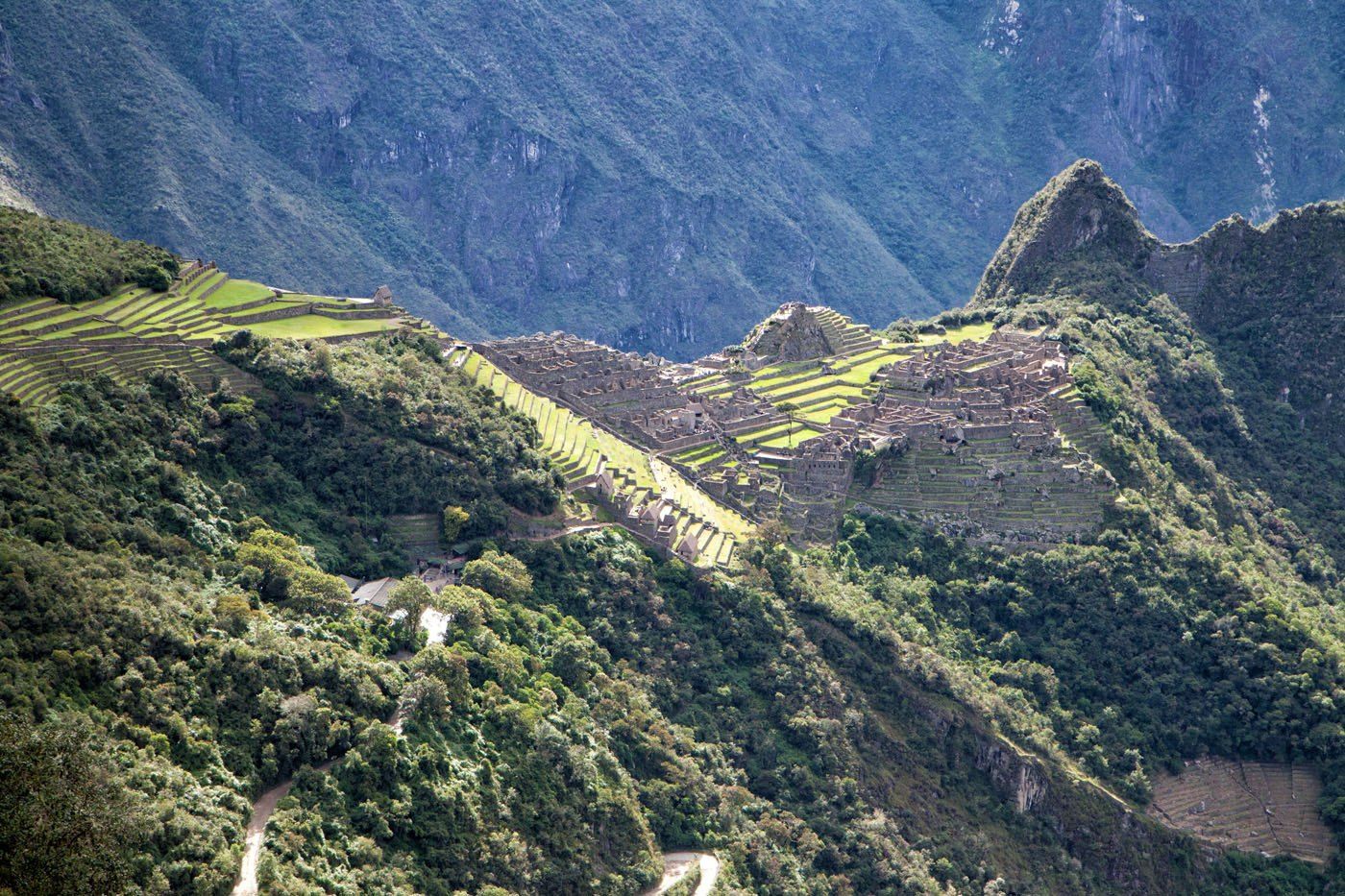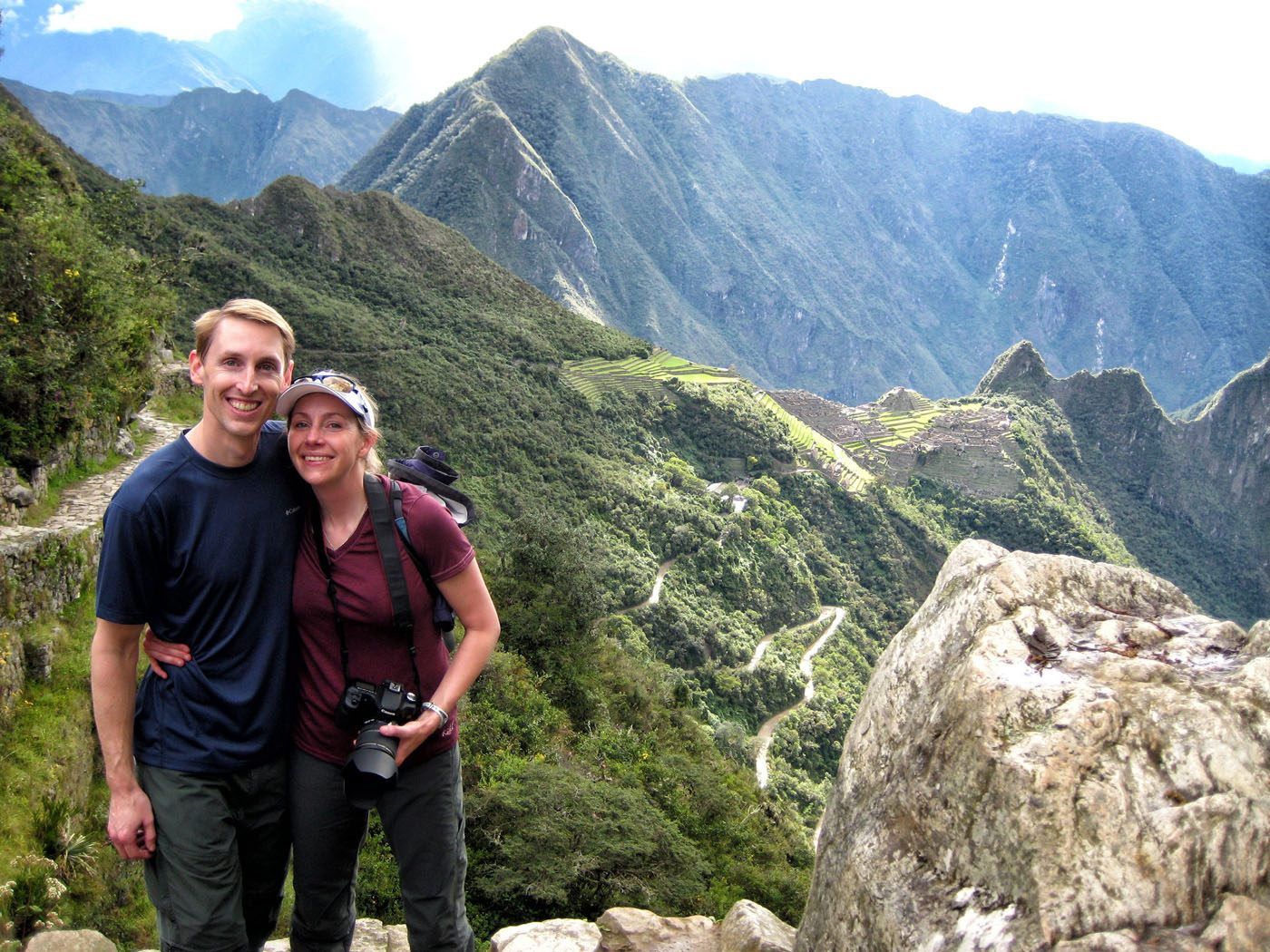 We took a break here (and a lot of photos) to just chill out and enjoy one of world's most awesome sights. Tim and I called home to the kids (who knew that we would have excellent phone service at the Incan Sun Gate) and it was so nice to hear their voices. Tyler, always very polite, wanted to know how our hike was. I knew this trip would have been a little too much for them at their ages but I still really wished Tyler and Kara were here to see this.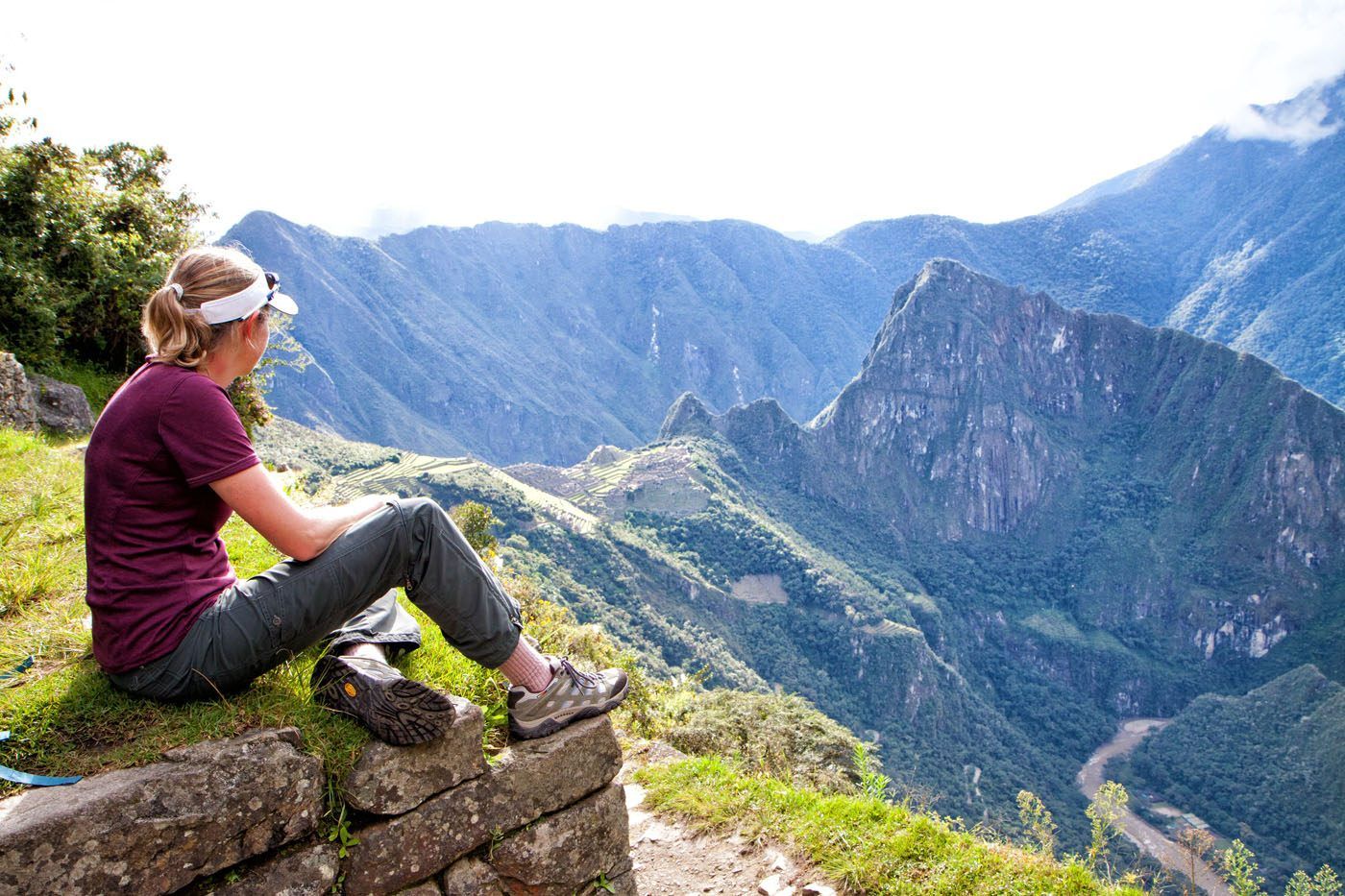 It was a forty minute walk from Intipunku down into Machu Picchu. Here we took the "postcard photo" of Machu Picchu and then it was time to go. By now it was 4:30, almost closing time. We would have all day tomorrow to explore.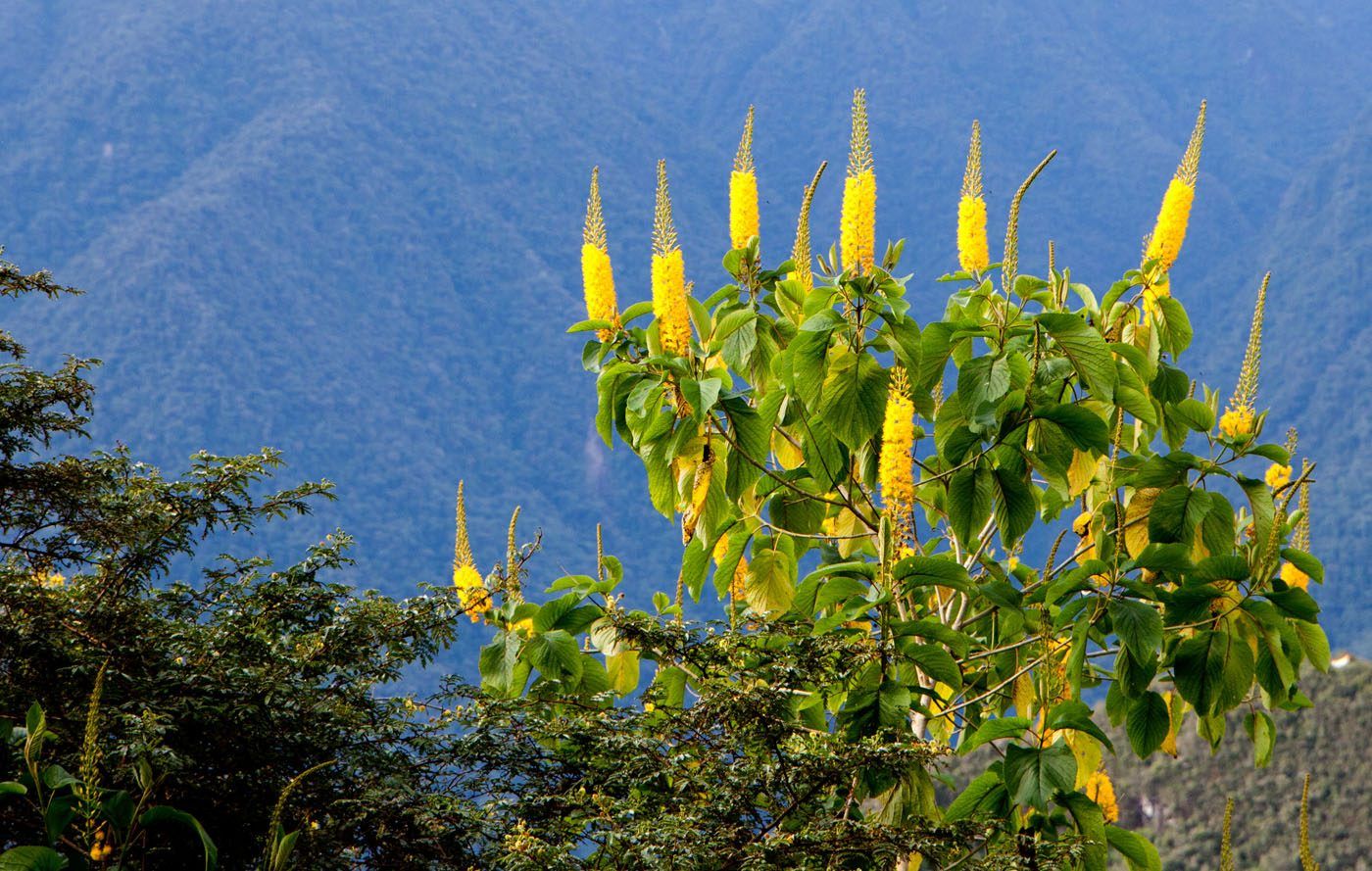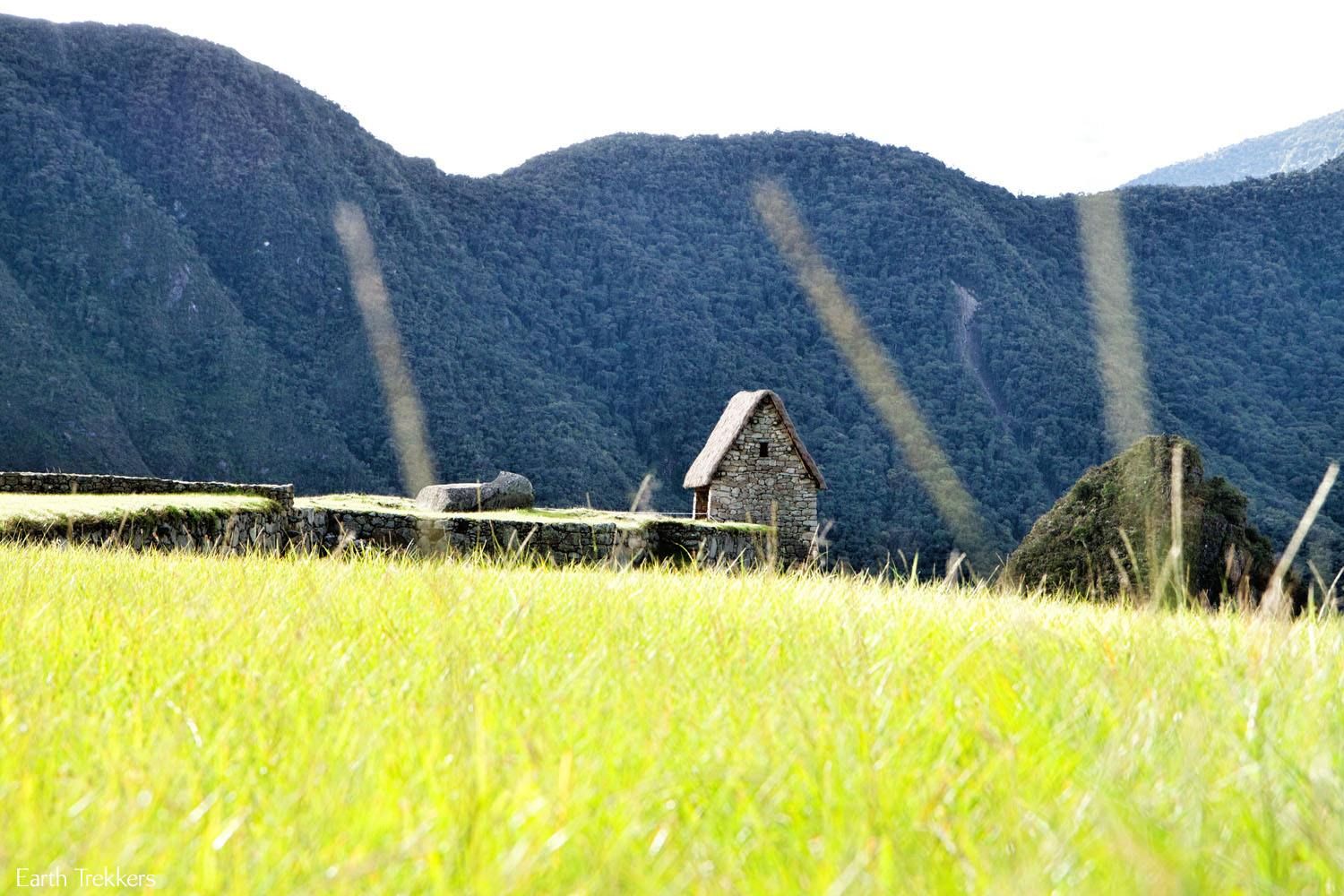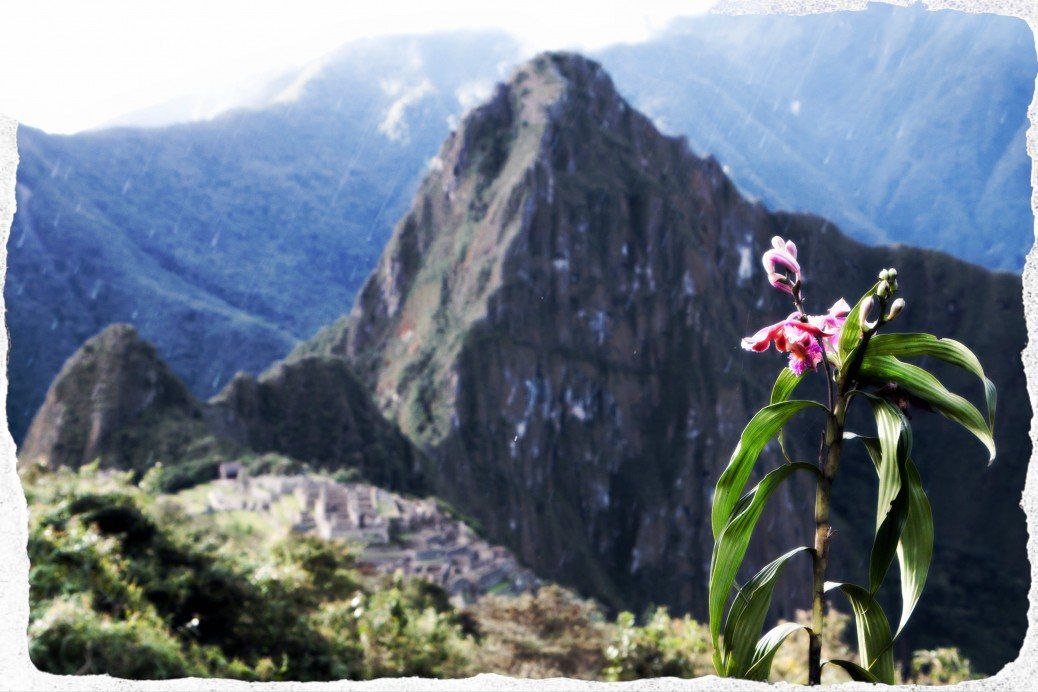 ---
More Information for Your Trip to Peru
PLACES TO GO IN PERU: Explore the Sacred Valley near Cusco, go shopping in the Pisac Market, spend the day exploring Machu Picchu, and venture into the Amazon rainforest. Learn how to put all of this together in our 10 day Peru Itinerary.
ADVENTURES IN PERU: Venture into the Amazon, go mountain biking near Ollantaytambo, and go rock climbing and zip lining in the Urabamba River Valley.
GREAT HIKES FROM AROUND THE WORLD: For more great hikes, check out our article listing the 20 Best Day Hikes in the World. See our full list in our Hiking Guide.
ADVENTURE TRAVEL: Here are 50 adventures to turn your next trip into an epic travel experience.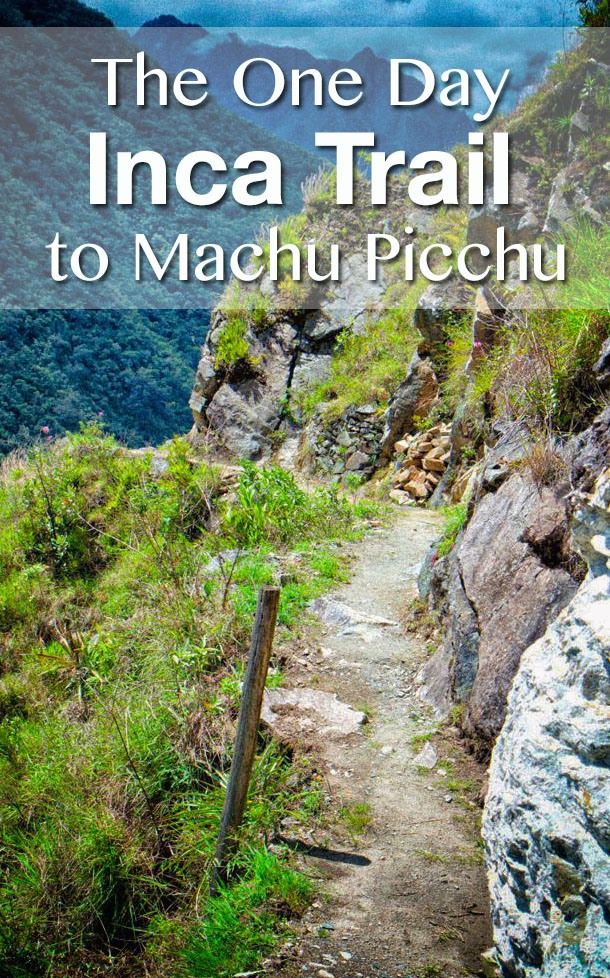 All rights reserved © Earth Trekkers. Republishing this article and/or any of its contents (text, photography, etc.), in whole or in part, is strictly prohibited.