Tim and I ended our trip to Peru in the Amazon rainforest. This would end up being quite the experience and would take us out of our comfort zone. I was now wearing a giant, hot, plaster cast on my left hand that was already beginning to disintegrate (I broke my hand mountain biking a few days earlier). Tim and I were heading into the jungle, and we didn't know what to expect, other than it was going to be very hot, very humid, and very far from home.
Getting to the Inkaterra Reserva Amazonica
It was only a 35 minute flight from Cusco to Puerto Maldonado. The two towns are not far apart but because of the poor quality of the roads it would take several days to drive from one to the other. Puerto Maldonado is a very small town in the Amazon rainforest. The air traffic control tower was a very small wooden building on stilts. Four flights a day fly into and out of Puerto Maldonado.
Tim and I stepped off of the airplane onto the tarmac and we could instantly feel the hot, muggy air. The Inkaterra staff were waiting for us. We took a short ride in an open truck, checked in at the Butterfly House, and then were driven to our boat on the Madre de Dios River.
It was a 45 minute ride by boat downstream to our hotel, the Inkaterra Reserva Amazonica.  It was a beautiful ride on the river. We were in the Amazon rainforest!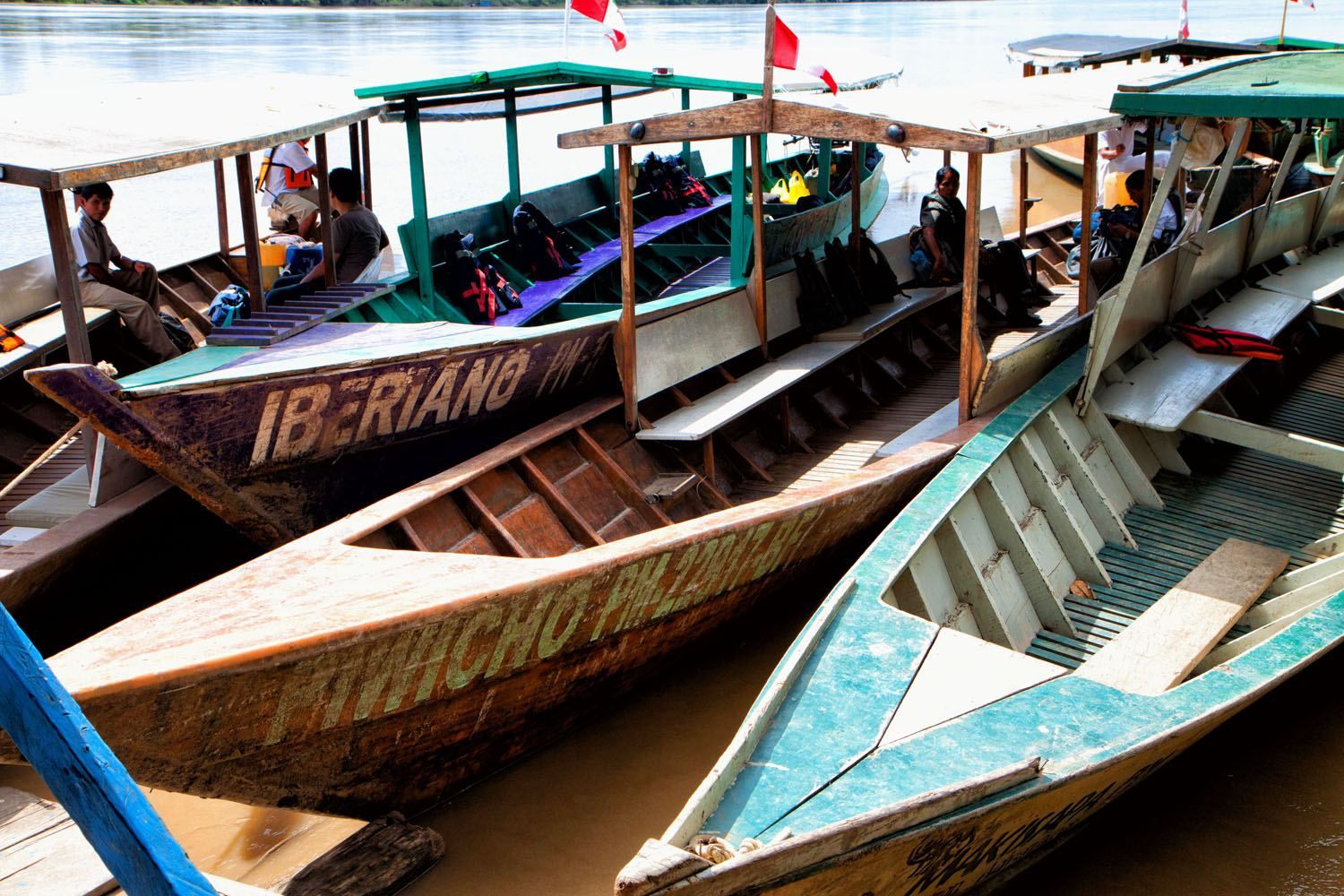 The Inkaterra was incredible. Our cabana, which was really just a very nice screened in porch, had hammocks and huge bed with mosquito netting, and a view of the Madre de Dios River. Power on the entire property was turned off between 3 and 6 pm and again during the night in order to conserve electricity. We had no cell phone connection, no TV, and no radio, so this was a very different experience for us.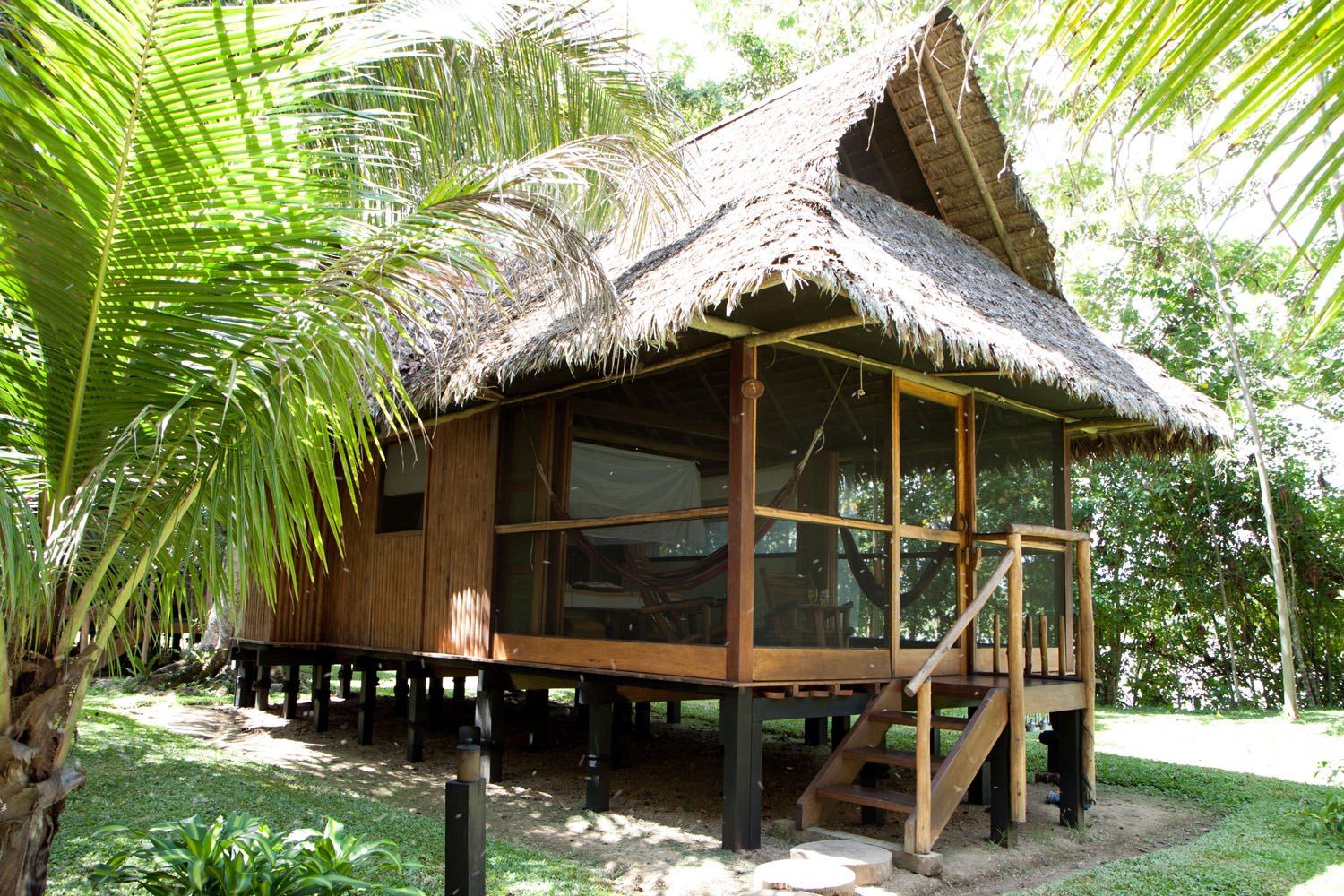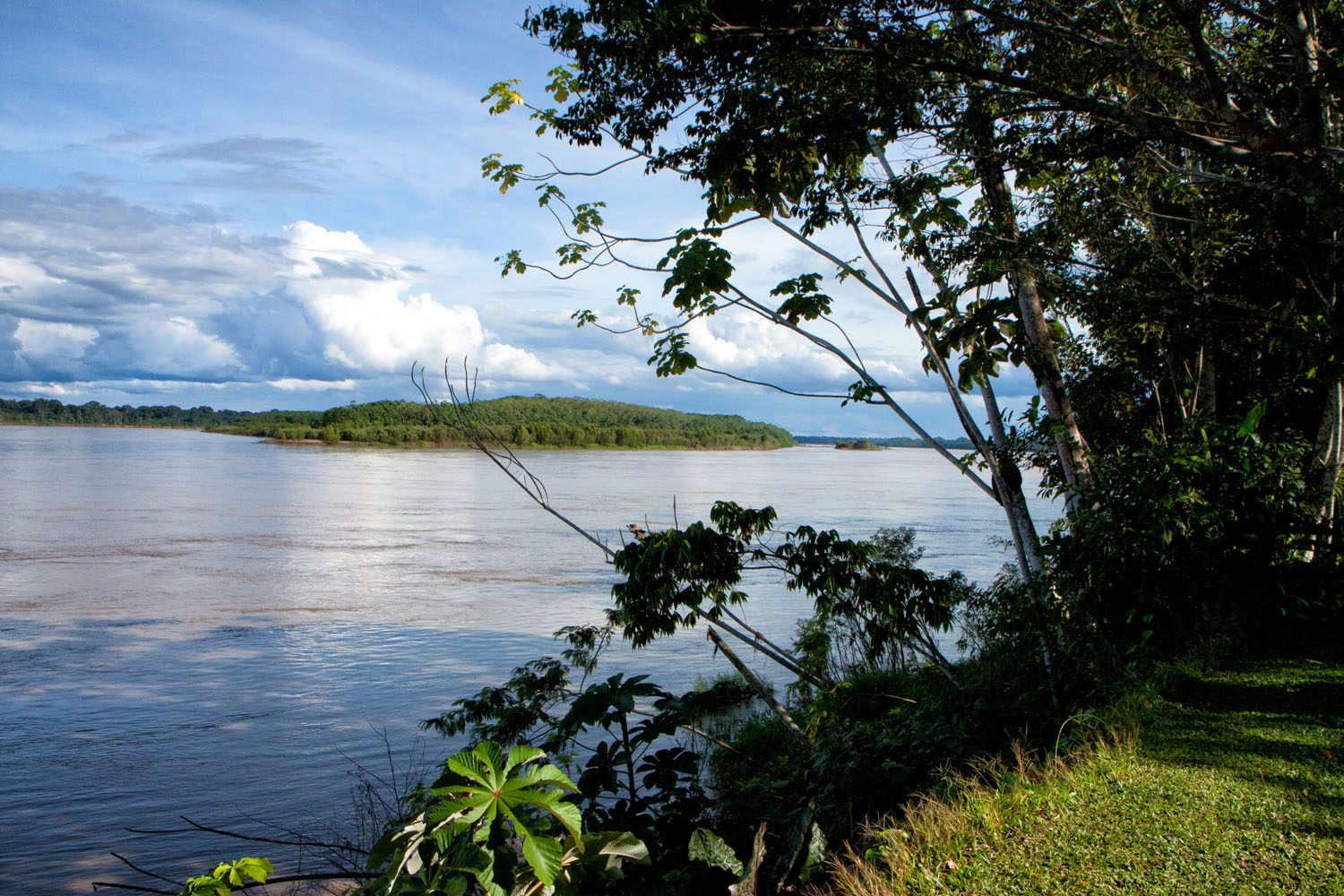 First Excursion into the Rainforest
Our first excursion was with our guide, Wilson. So, wearing our permethrin treated clothes, sunblock, and insect repellent, we went hiking into the rainforest. Wilson showed and taught us about termites, vines, trees, birds, and pygmy marmosets. It was a one hour introduction to the rainforest and an eye opener as to how hot and muggy the next two days would be.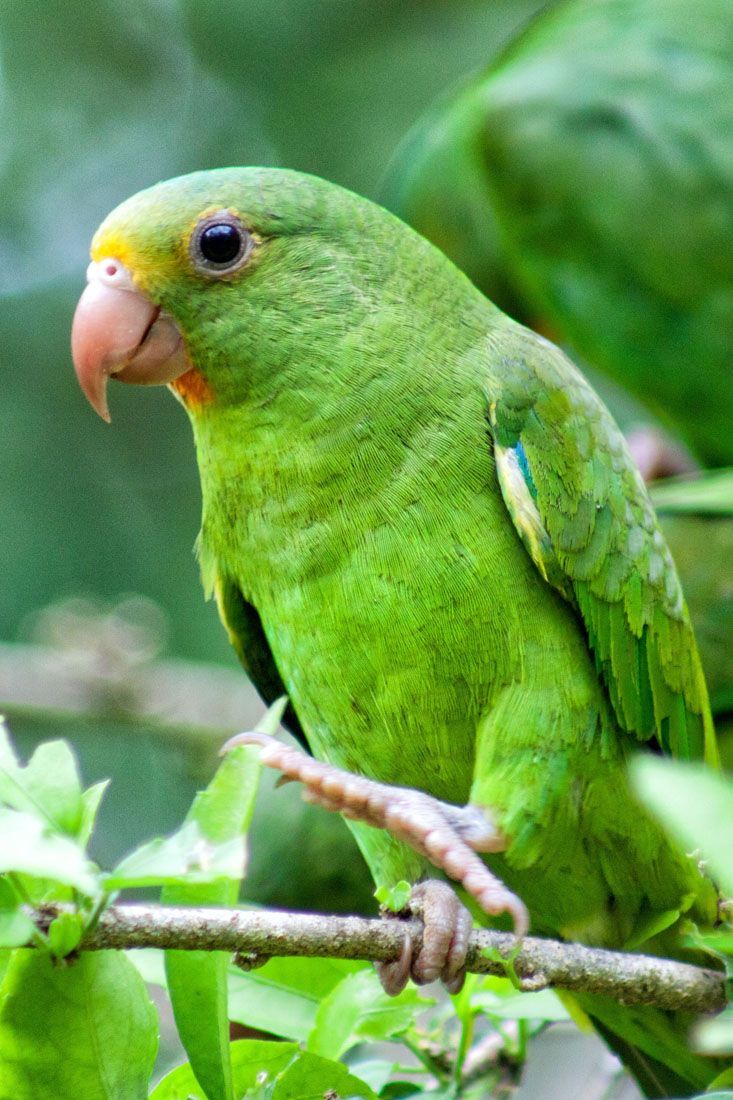 We ate dinner in the lodge. Meals became my favorite part of staying at Inkaterra. The food was always phenomenal and our waiter, Roberto, was awesome. He recognized that I was learning Spanish and he made it a point to teach me a little more Spanish at every meal. He joked, "if you don't order in Spanish, you cannot eat." He even had Tim speaking Spanish. We had so much fun!
Twilight River Excursion
Tim and I took a second excursion after dinner. We went on the Twilight River Excursion with other hotel guests. We all got into a boat and drove along the shore of the river with flashlights looking for caiman. It was wild being out on the river at night! There were no other lights for miles. We were an hour from the closest town (and a small one, at that). We were truly in the middle of nowhere.
Now it was off to bed. Tim and I took showers (we were both covered in bug spray and still very hot) and climbed into bed with our flashlights. We tucked our mosquito netting in around the bed and laid down for a good nights sleep. It would have been more romantic if we hadn't been so freaked out about turning off the flashlights. And when we did, wow it was dark! We are talking pitch dark, can't see your hand in front of your face. Hopefully we won't feel any creepie crawlies run over our legs tonight!
Our journeys continue with trekking in the Amazon Rainforest.
---
Are you planning a trip to Peru? Read all of our articles about Peru in our Peru Travel Guide.
You May Also Like: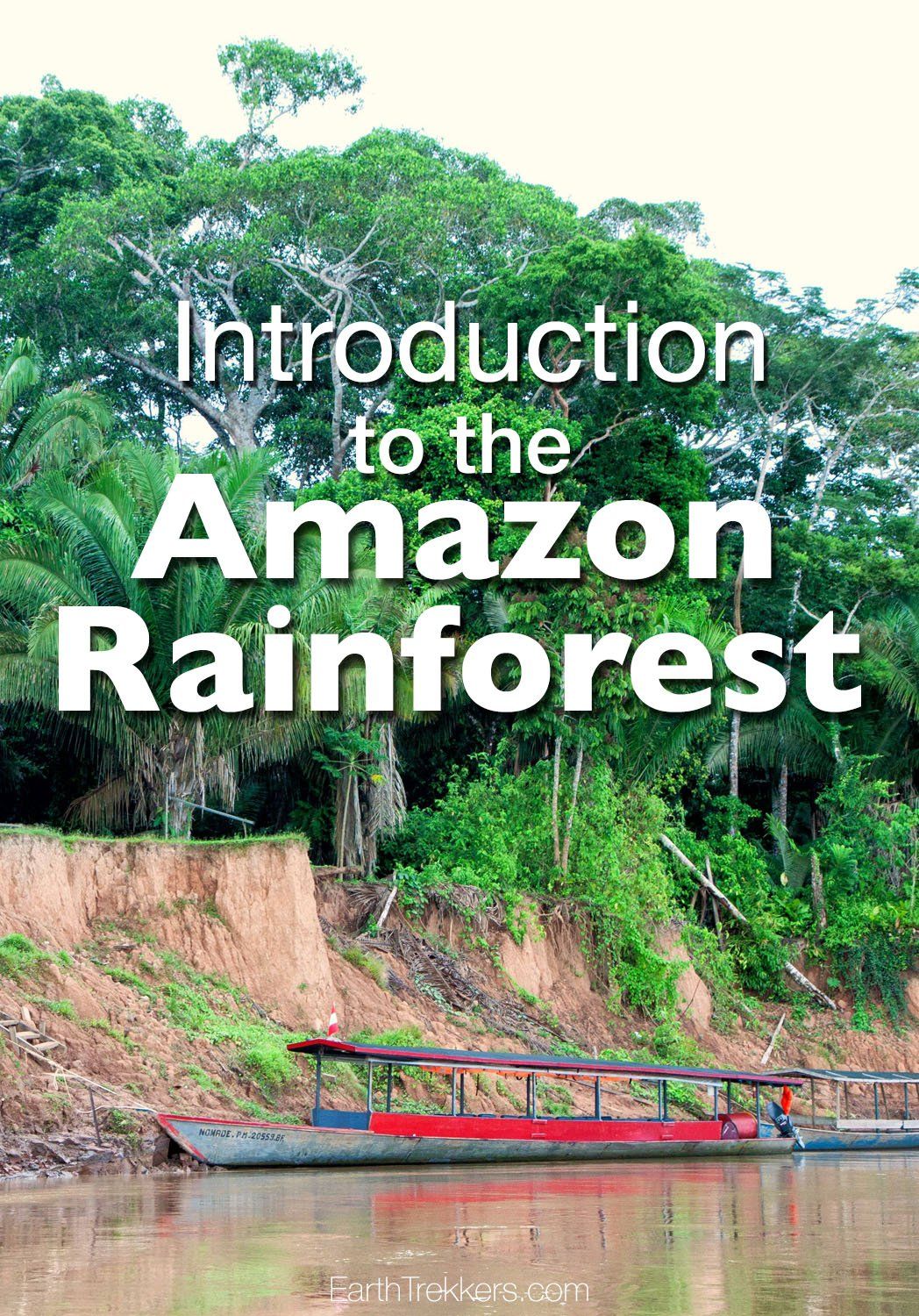 Note: This post contains affiliate links. When you make a purchase using one of these affiliate links, we get paid a small commission at no extra cost to you.