How many of you have been inspired to visit a new place just because you saw it in a movie? Movies have a way of bringing the world to our TV sets. They can be inspiring, they can be motivational, and they can make us want to go out and explore the world. Here are 15 of the best travel movies to inspire your wanderlust.
15 of the Best Travel Movies
The Secret Life of Walter Mitty
I am going to start with our favorite movie on this list. The Secret Life of Walter Mitty is brilliant in so many ways.

Walter Mitty (played by Ben Stiller) works at Life magazine and his uneventful days are filled with daydreams of heroism and adventure. When a film negative goes missing, Walter has to step outside of his comfort zone and travel to remote locations in search of the negative. His adventure takes him to Greenland, Iceland, and Afghanistan. This marvelous journey is a life changing experience for Walter, who ends up becoming a more confident person who abandons the daydreams for real-life adventures.
The movie is inspiring, lighthearted, and comedic at times. This performance is one of Ben Stiller's best, the cinematography is stunning, and the soundtrack is amazing.
---
Into the Wild
Into the Wild is based on the true story of Christopher McCandless. In 1992, McCandless, who just graduated from college, donates his $25,000 in savings to a charity and steps out into the wild. He backpacks his way around the US and ends up in Alaska. Four months after starting this journey, his remains are discovered in Alaska.
Even though it has a tragic ending, this is an inspiring, thought-provoking story. This is a story about giving up a cushy lifestyle and stepping out into the unknown and being self-reliant.
---
Under the Tuscan Sun
Have you ever traveled to a place and liked it so much you wanted to live there forever? Well, for Frances Mayes (Diane Lane), that is exactly what happens. While on a 10-day trip to Tuscany, Frances impulsively purchases an abandoned villa. This movie is filled with humor, romance, and plenty of gorgeous vistas of Tuscany. This movie will have you packing your bags for Italy.
---
The Motorcycle Diaries
The Motorcycle Diaries is a true story based on the life of Ernesto "Che" Guevara. Ernesto and his friend, Alberto Granado, hop on a motorcycle for a road trip through South America.
Filled with mishaps and adventures, it is a life-changing journey as they travel across the continent. As they encounter the social problems and inequalities of South America, Che grows from a naïve young man to the iconic revolutionary we know today.
---
The Bucket List
Carter Chambers (Morgan Freeman) and Edward Cole (Jack Nicholson) are two men recently diagnosed with terminal lung cancer. They meet and become friends while sharing a hospital room. Over the next three months, Carter and Edward share bucket list adventures around the world, including an African safari, trekking to Everest Base Camp, and flying over the North Pole.

---
The Way
The Way is another one of our favorites on this list. It is a heartwarming, inspiring story that just may have you dreaming of walking the Camino de Santiago.
Tom (Martin Sheen) travels to St. Jean Pied de Port, France to collect the body of his son (Emilio Estevez), who was recently killed in a mountain storm. To honor his son, Tom decides to walk the entire Camino de Santiago. Along the way, he becomes friends with three other travelers, each on this pilgrimage for their own personal reasons.
This is a movie about camaraderie and the self-transformation of travel. For those who are dreaming about walking the Camino de Santiago, this movie is a must-see.
---
National Lampoon's Vacation
Vacation is the hilarious tale of the Griswold's road trip across the US. Filled with mishaps and what not to do while on vacation, this movie will have you laughing out loud.
Almost as good is European Vacation, the sequel to Vacation. The Griswold's win a trip to Europe and leave a trail of destruction through London, Paris, Bavaria, and Rome.
---
A Map for Saturday
What would it be like to travel the world for a year? A Map for Saturday answers this question.
"A Map for Saturday" is a documentary about around the world travel. It is filled with interviews from other backpackers during their journey. From all stages of the trip, from first leaving your home country, to what it is like to backpack across the globe, to what it is like to finally return home, this movie covers it all.
For those with dreams of traveling around the world, this movie is a must-see. "A Map for Saturday" does a great job accurately portraying what it is really like to travel around the world, mirroring our personal experience.
---
Paris Je T'Aime
Paris Je T'Aime is a collection of 18 short movies that take place in the different arrondissements of Paris. There is an American woman on her first international trip, a young backpacker who falls in love with a vampire, and a tourist who gets involved in a conflict with a young couple in the Tuileries metro station. Some stories are better than others, some are in English, and some are in French with subtitles.
If you have a love affair with Paris like me, you will love this movie.
---
Touching the Void
This is a real-life adventure story that takes place in the mountains of Peru. Joe Simpson and Simon Yates are the first people to successfully climb Siula Grande. During their descent, disaster strikes. Simpson falls a short distance, breaking his leg. This is an amazing story of survival and the dangers that go with mountaineering.
---
Eat Pray Love
After a series of stifling relationships, Liz Gilbert (Julia Roberts) takes a one-year sabbatical from her job to travel the world. Her journey takes her to Italy, India, and finally to Bali.
Honestly, I felt the story to be a bit cheesy, particularly the love story element in the movie. But I have to admit that I watched this movie numerous times while planning our around the world trip. I loved seeing images from Italy, India, and Bali and dreaming of being in these same spots one day.
---
Everest
Everest is a movie that dramatizes the real-life climbing disaster that occurred on Mount Everest in 1996. It is based on the book Into Thin Air by Jon Krakauer.
The first part of the movie, from Kathmandu through the trek to Everest Base Camp, is our favorite part. The actual trail to Base Camp was used in the filming of the movie. This movie brings back such wonderful memories for us.
If you have trekked to Everest Base Camp or have plans to do so one day, this movie belongs on your must-see list.
---
I Dreamed of Africa
The first time I saw this movie I was overcome with an overwhelming desire to visit Africa. The cinematography is gorgeous, filled with the amazing landscapes and wildlife of Africa.
Kuki Gallman (Kim Basinger) leaves her luxurious life in Italy for a rugged existence in Kenya. She lives on a ranch with her husband and son, braving storms, poachers, and wild animals. Hers is a story of adventure, beauty, and personal loss. This is a tragic story, one that will leave you heartbroken in the end, but it is one that is filled with the dangers and the beauty of Africa.
---
Lord of the Rings & The Hobbit Trilogy
To see the gorgeous landscapes of New Zealand, put any of the Lord of the Rings or the Hobbit Trilogy movies on your list. With an epic storyline and breathtaking landscapes, the Hobbit Trilogy and the Lord of the Rings each make a great series for movie marathons.
---
Planet Earth
Planet Earth is a masterpiece. Witness the amazing diversity of this planet, from the deepest oceans to the highest mountains to the driest deserts. It's gorgeous, it's educational, and it's perfect for all ages.
---
Did we miss anything? What is your favorite travel movie? Comment below!
You Might Also Like: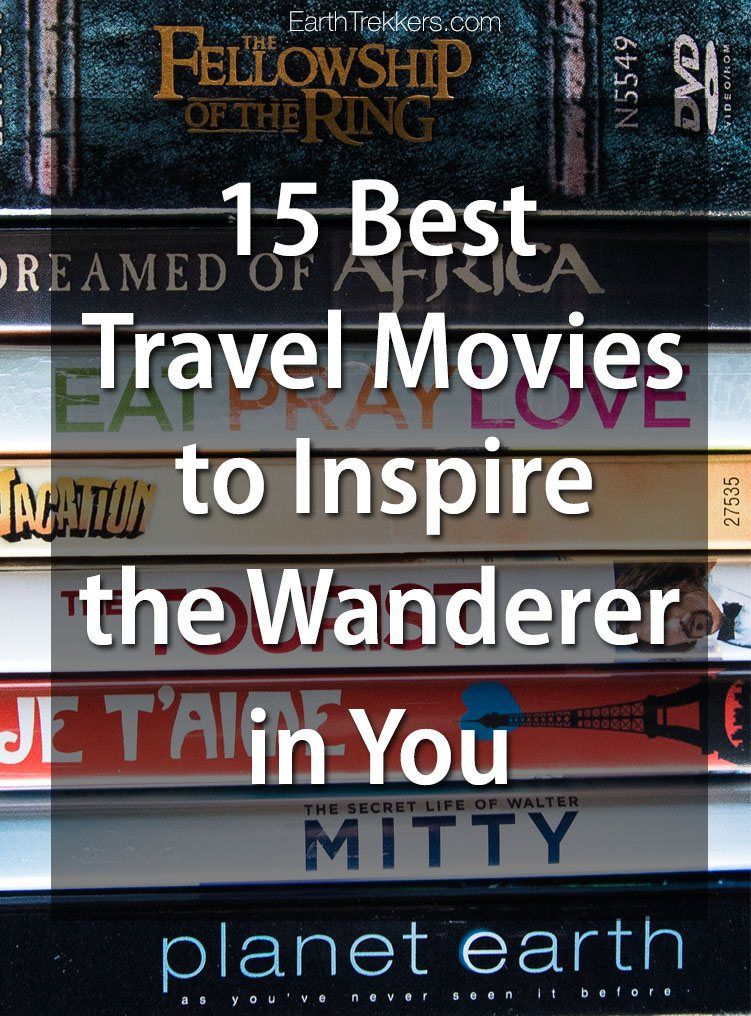 Note: This post contains affiliate links. When you make a purchase using one of these affiliate links, we get paid a small commission at no extra cost to you.
All rights reserved © Earth Trekkers. Republishing this article and/or any of its contents (text, photography, etc.), in whole or in part, is strictly prohibited.