Tim and I spent the day rock climbing and zip lining with Natura Vive in the Urabamba river valley of Peru. This was one of our favorite activities during our trip to Peru.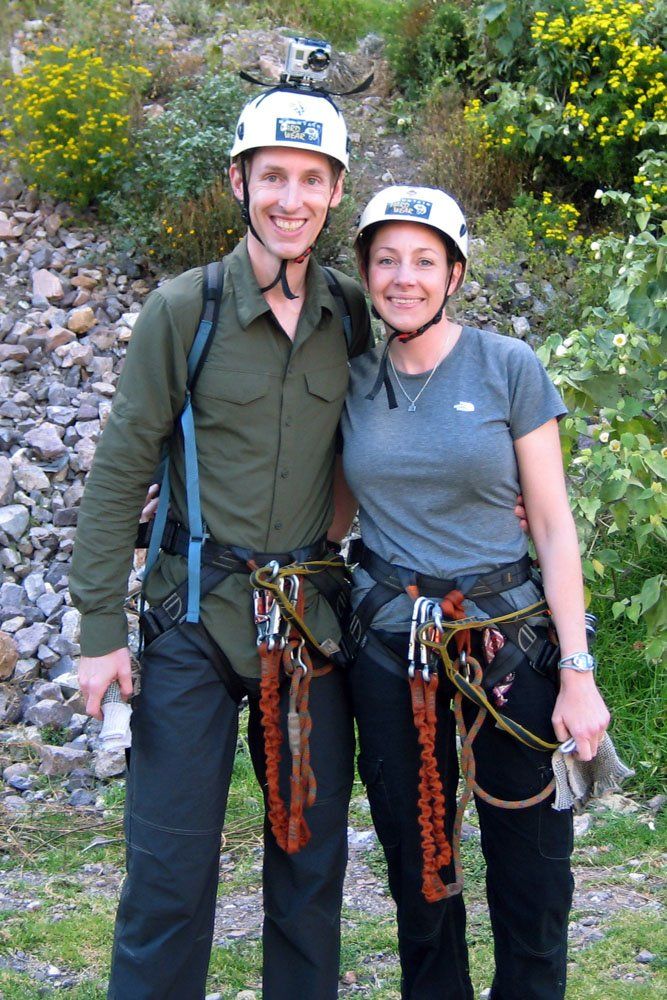 Jorge and Alfredo picked us up at our hotel in Ollantaytambo and drove us to the site where we would rock climb and zip line. We put on our harnesses and started ascending up the rocky face of the mountain.
Bolted into the walls were the metal rungs of a ladder, also known as a via ferrata (Italian for "iron way"). We climbed these ladders, the occasional rock wall, and even walked across a tight rope halfway up the mountain. Climbing was the best part of the day. About every twenty feet we had to detach and then reattach our two carabiners on our harness to the cable attached to the mountain. This kept us safe but also added a lot of time to the climb.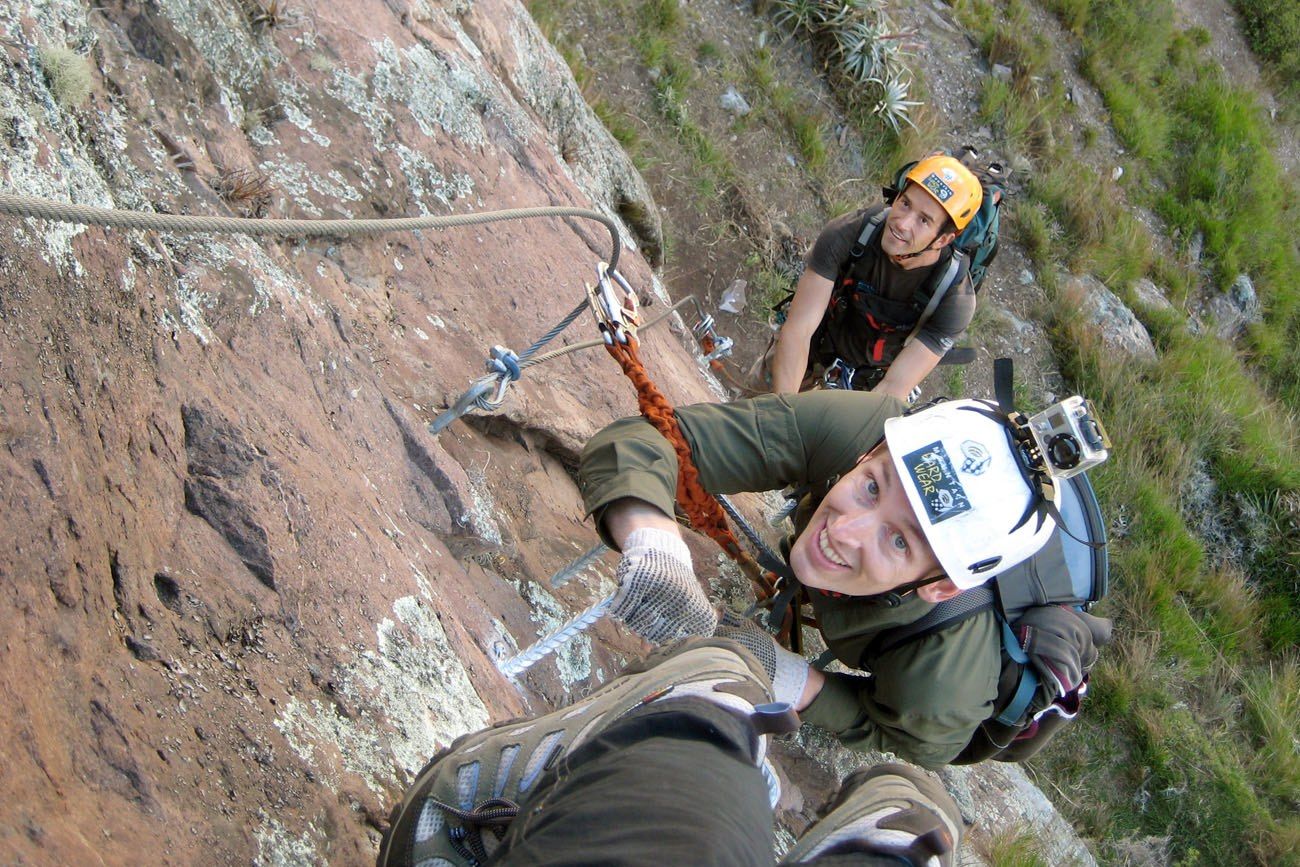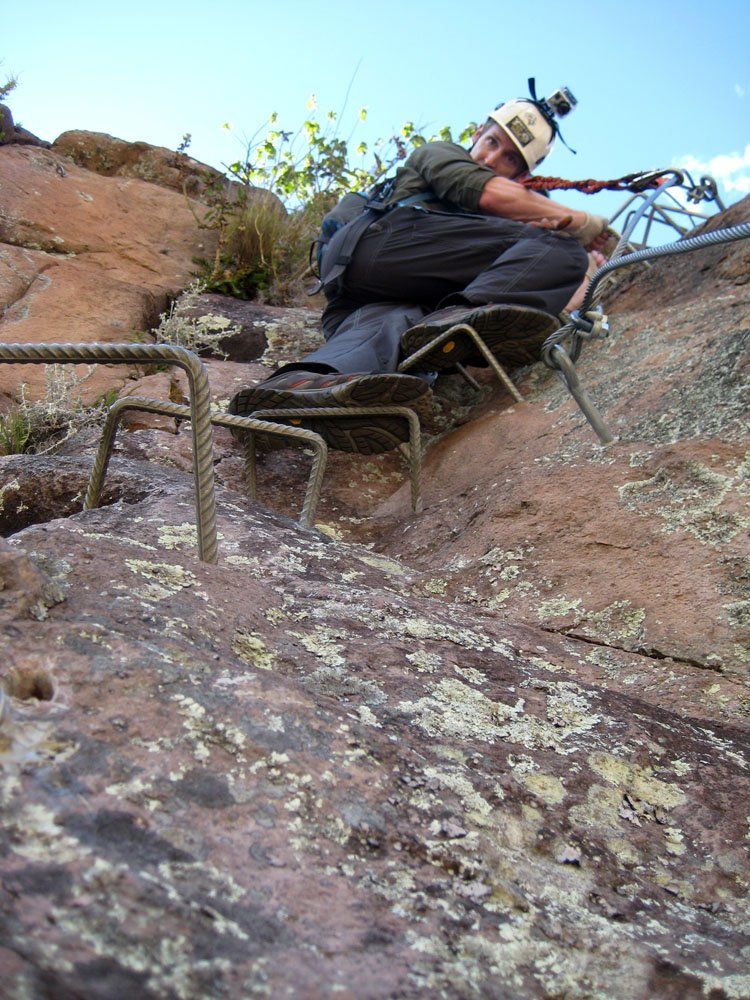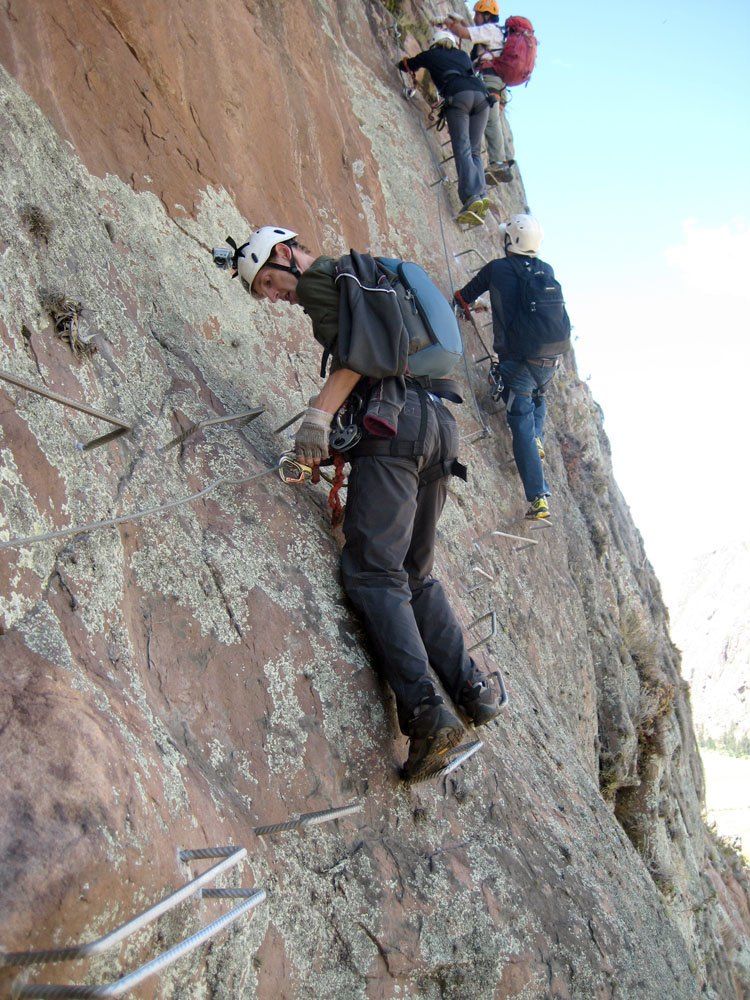 Tim and I had such a great time. We always felt very safe, and some parts of the climb were just challenging enough to keep it fun. After about an hour and a half of climbing, lots of photos, and a quick snack, it was time to zip line.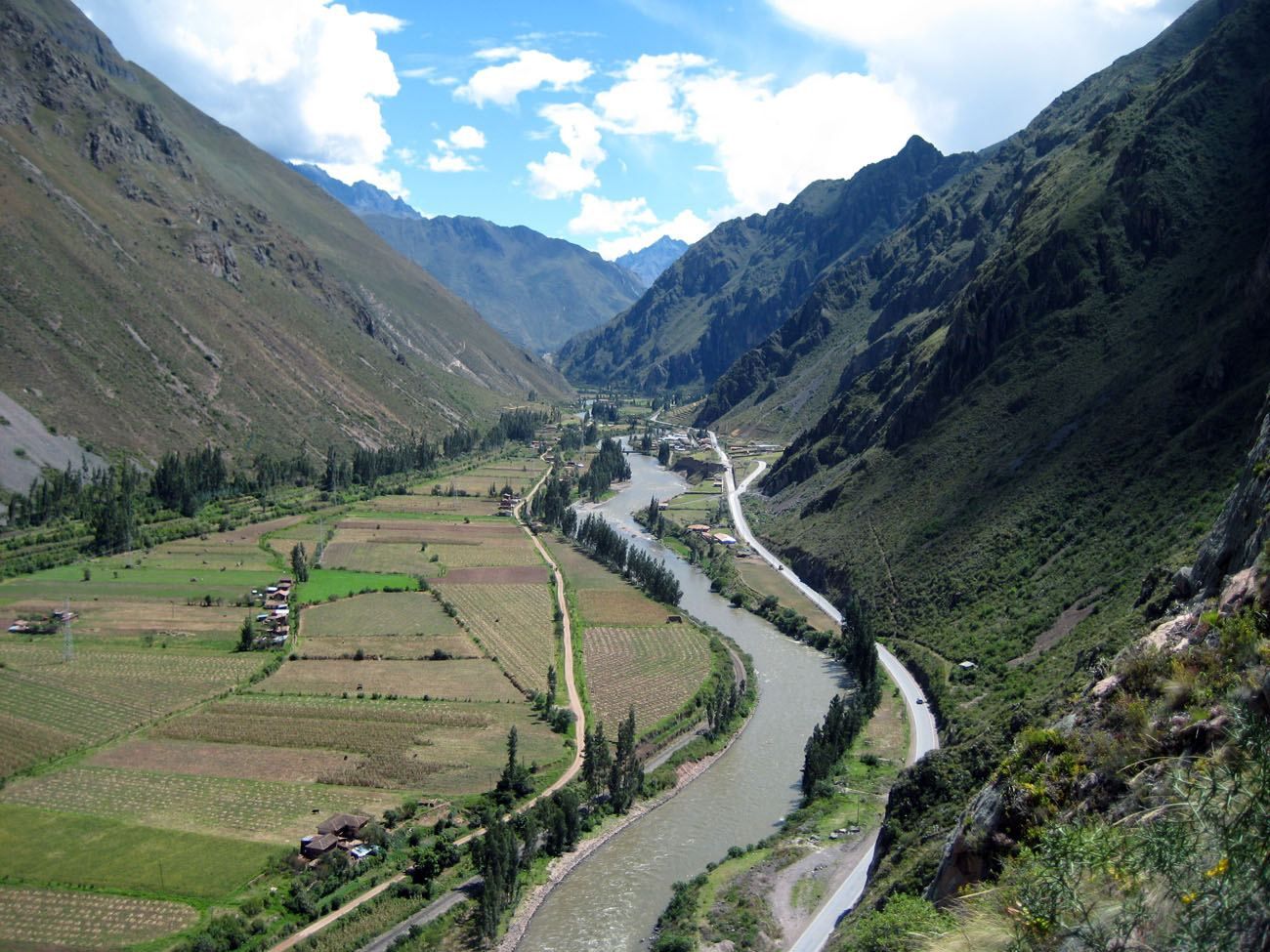 This was our first time zip lining. Tim and I enjoyed it but we both thought that climbing the via ferrata was the best part of the day. We descended back down the mountain on four different zip lines. One time Tim and I went tandem, which sounds fun, but I thought it was very uncomfortable (the weight of Tim's legs wrapped around my legs really hurt my back).
The zip lines brought us down the mountain but we still had 100 meters to the bottom. We rappeled this last 100 meters down the mountain. This was also a first for me and Tim. It definitely felt strange holding a rope and walking backwards down the mountain. You really had to trust your guide. Tim and I both got down without a problem and without freaking out, which some people do.
About Natura Vive
Since our visit to Peru, Natura Vive has added 3 Skylodge Adventure Suites, glass capsules attached to the mountain high above the Urabamba River Valley. Each capsule has a bed and private bathroom. Could you imagine sleeping hundreds of feet off of the ground in a glass capsule? Sounds pretty cool to me! Visit Natura Vive's website for more information.
---
About this Trip: We visited Peru in April 2012, touring Machu Picchu, the Sacred Valley, and the Amazon.
---
More Information for Your Trip to Peru
MACHU PICCHU: Explore Machu Picchu in photos and learn what it is like to hike to Machu Picchu in one day (a great option for those short on time but still want to enter Machu Picchu through the Sun Gate).
PLACES TO GO IN PERU: Explore the Sacred Valley near Cusco, go shopping in the Pisac Market, spend the day exploring Machu Picchu, and venture into the Amazon rainforest. Learn how to put all of this together in our 10 day Peru Itinerary.
ADVENTURE TRAVEL: Here are 50 adventures to turn your next trip into an epic travel experience.
TRAVEL BLOGGING: This website started with a trip around the world and has become one of the most popular travel sites on the internet. Learn more about what it is like to run this website in our article My Life as a Travel Blogger.
All rights reserved © Earth Trekkers. Republishing this article and/or any of its contents (text, photography, etc.), in whole or in part, is strictly prohibited.