Ponte dei Salti is a medieval-style bridge that is located in the Verzasca Valley in southern Switzerland. It looks like something right out of a fairytale, this double-arched bridge that spans a crystal clear, aquamarine river. Right around the corner is the tiny town of Lavertezzo, and with its stone buildings and church, complements the bridge perfectly.
On a hot, summer day, the Verzasca River is a great place to go for a swim. If you are looking for more adventure, you can walk on the hiking trail that follows the Verzasca River upstream. Go far enough and you could have a swimming hole all to yourself.
A visit to Ponte dei Salti and the Verzasca Valley makes a great summer day trip. Here's how to do it.
About Ponte dei Salti
Ponte dei Salti is a medieval style bridge that spans the Verzasca River. The bridge was originally built in the 16th century, partially demolished in 1868, and rebuilt in 1960.
The bridge is located next to the town of Lavertezzo. Before our visit, I knew to expect a photogenic bridge and a gorgeous river (that was our main reason for a visit here), but I was totally unprepared for just how beautiful and unique Lavertezzo is. With its stone buildings and 18th century church, this town almost steals the show.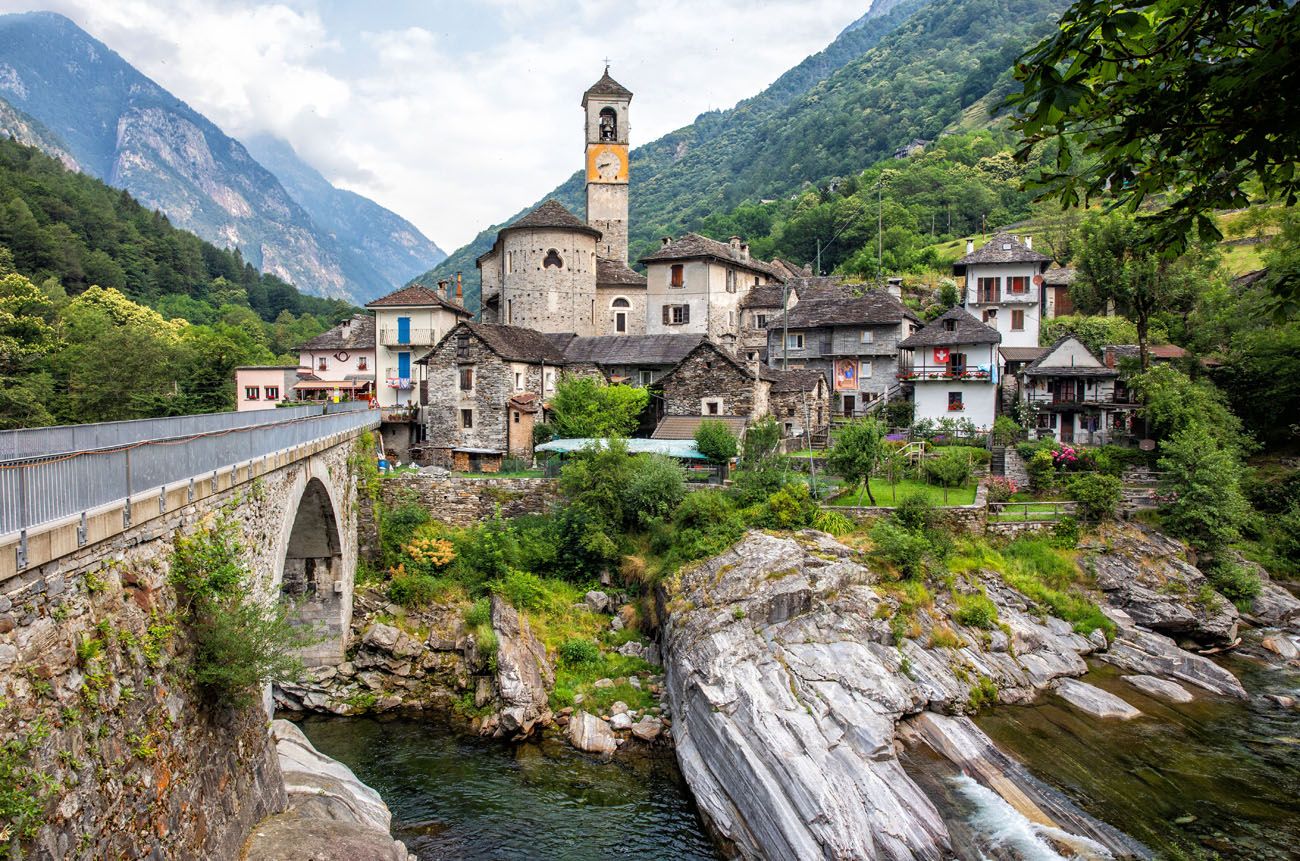 The water in the Verzasca River is snow melt from the nearby Alps. That means the water is COLD! There are numerous warnings posted about hypothermia, so this river is best for quick dips to cool off, rather than long, leisurely soaks in the water.
The current can also be very strong. There are several sections that are safe for swimming, but be aware of fast, strong currents. Take notice of the warning signs that are frequently posted along the river.
The river water is a crystal-clear aquamarine color. This is a popular spot for scuba diving. We saw two scuba divers during our visit and they were fully decked out in wetsuits and cold weather gear to help keep them warm while submerged in the water.
If you are really daring, you can jump into the river from the bridge. In English, Ponte dei Salti means "jump bridge."
Ponte dei Salti is the starting point for numerous hikes in the area. Later in this article I'll let you know more about a short, easy hike that we did that can easily be added onto your day.
How to Get to Ponte dei Salti & the Verzasca Valley
Ponte dei Salti is located in Ticino, an Italian-speaking region in southern Switzerland.
Getting here by car is the easiest and most convenient option, but you can get here by public transportation as well.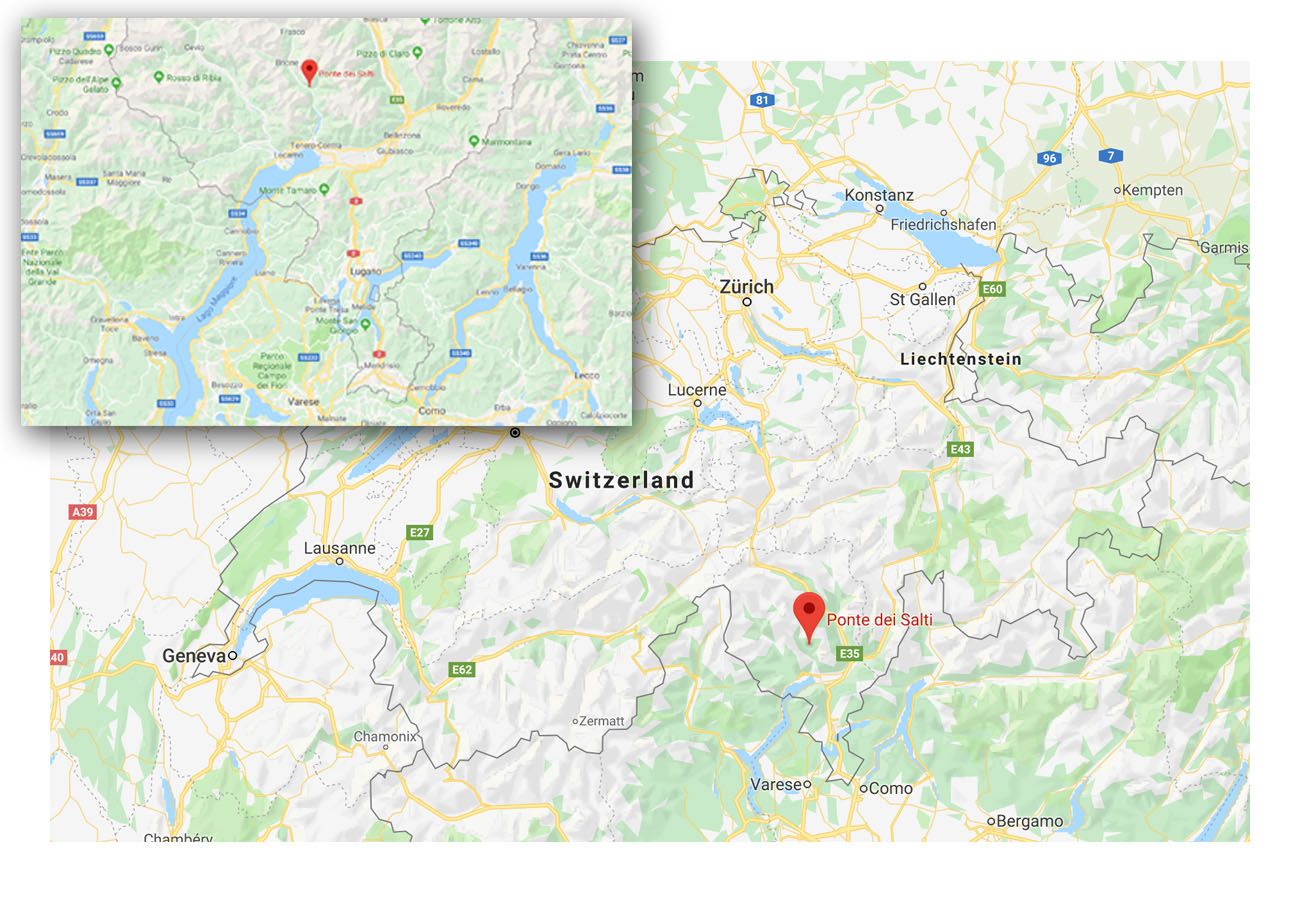 By Car
Here are driving distances and times from nearby locations:
Lugano:

60 km, 1.25 hours

Locarno:

22 km, 30 minutes

Zurich:

200km, 3 hours

Como, Italy:

80 km, 1.5 hours
There is a small parking lot right next to the bridge in the town of Lavertezzo. You have to pay to park here. To do so, cross the street to the automated pay booth, pay your fee, and display your ticket in your car window.
When we did this in 2019, there was a 3-hour maximum. We paid 6 CHF for 3 hours.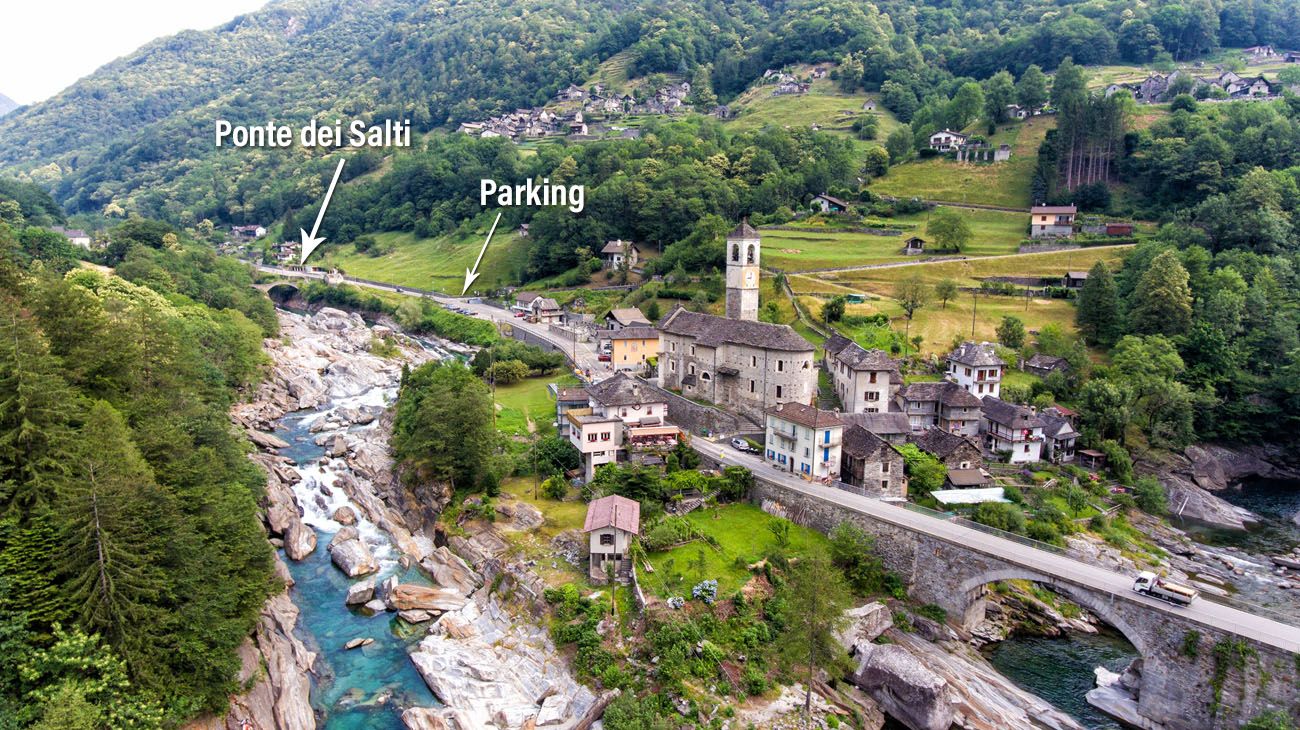 Drone photo of Lavertezzo and Verzasca River.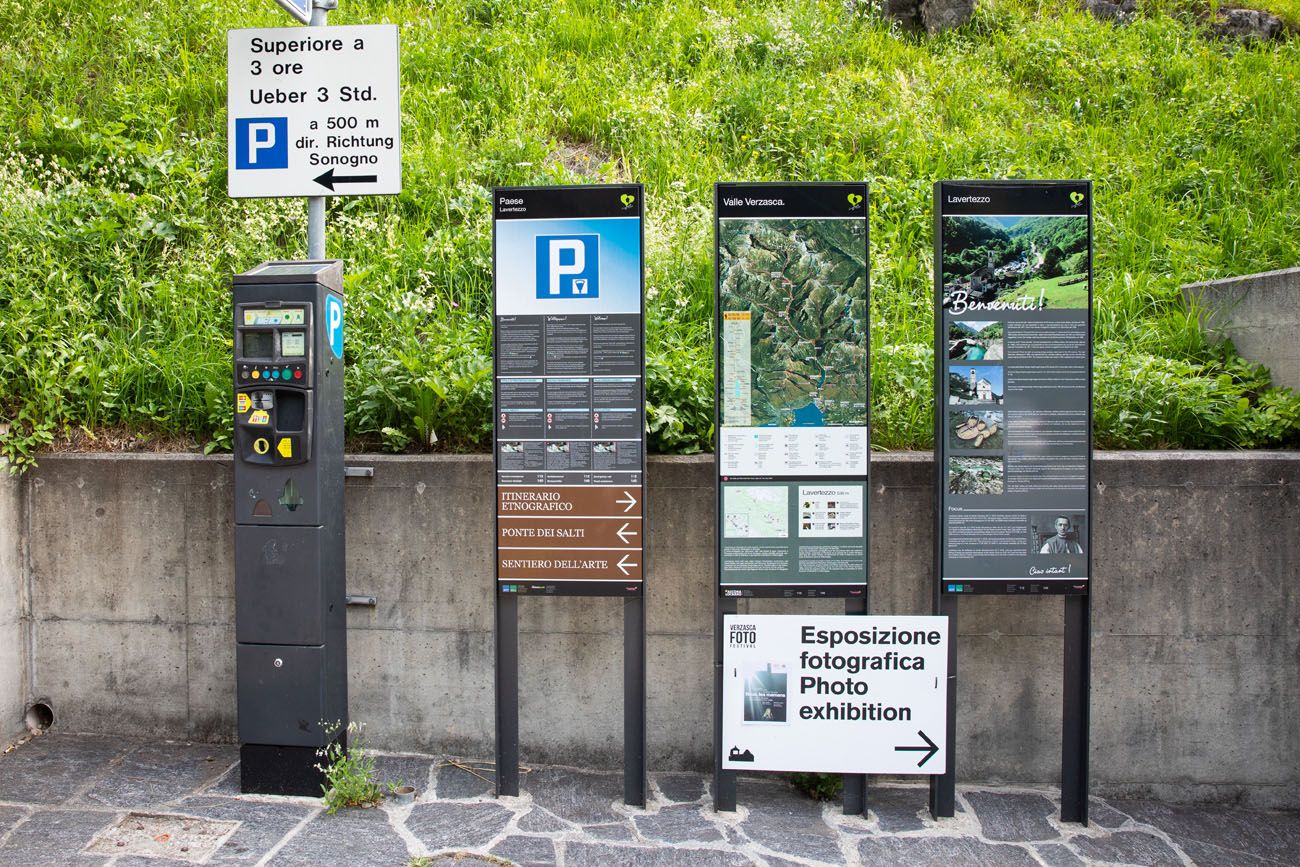 If this parking lot is full when you get here, you might be able to find additional parking along the main road. Lavertezzo is tiny so it may be very difficult to find parking here.
There is a sign at the automated ticket machine that states that there is additional parking 500 meters up the road. You can also park here for longer than 3 hours. We did not drive up the road so I do not know how large this parking lot is.
PRO TRAVEL TIP: If you are arriving by car, I recommend getting here early (by 9 am) to make sure you get a parking space.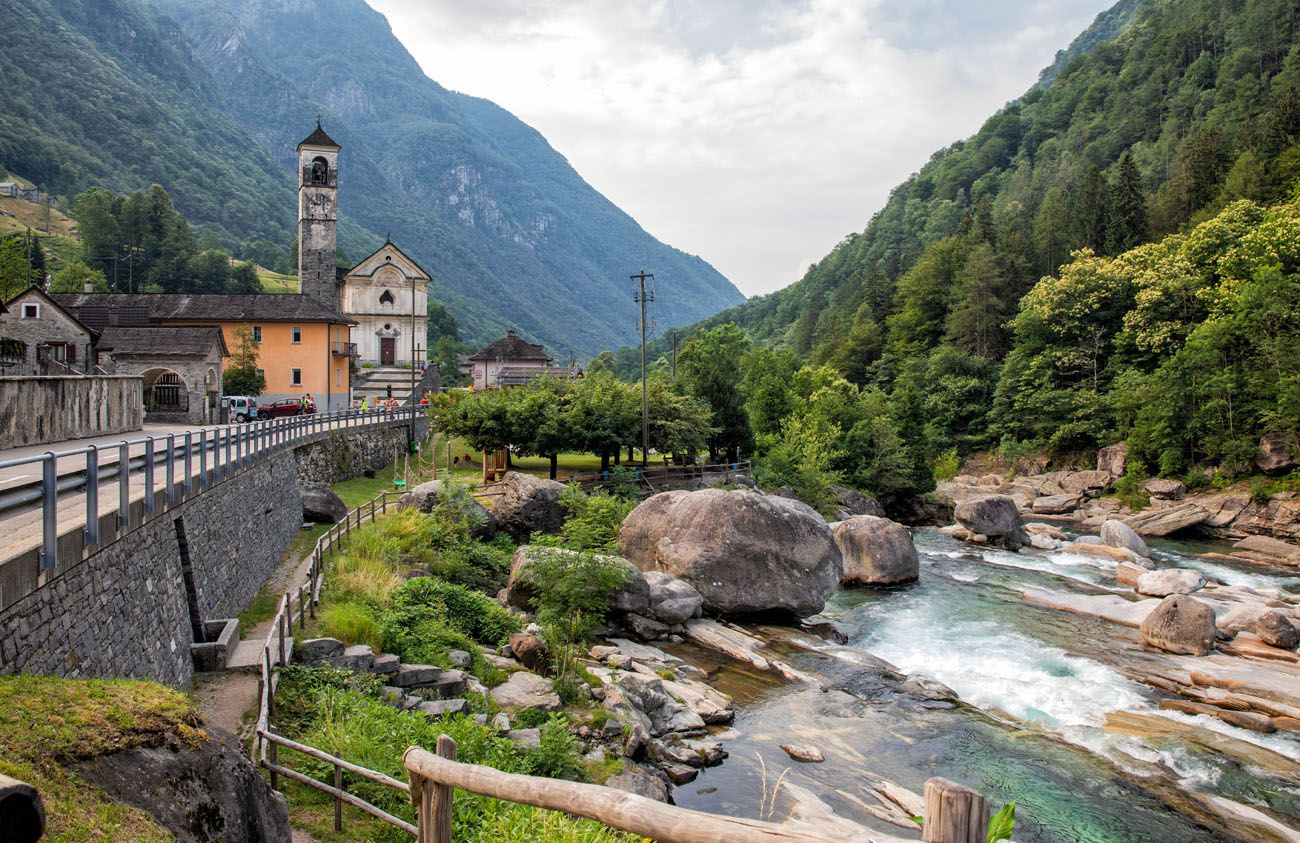 View of Lavertezzo and the Verzasca River from the parking lot.
By Bus
The 321 Post Bus connects Locarno and Tenero to the Verzasca Valley. To visit Ponte dei Salti, get off at the Lavertezzo stop. The bus runs all year. Click here to learn more.
By Train
The closest train station is Tenero, which is located near Locarno. From Tenero, take the 321 Post Bus to Lavertezzo.
Visiting Ponte dei Salti
The bridge is free to visit and open 24 hours a day.
Once you make it to Lavertezzo, have fun walking across the bridge and on the rocks along the river. If it is a warm day, hang out by the river for a few hours, go for a swim, and sunbathe. This is also a great place for a picnic lunch.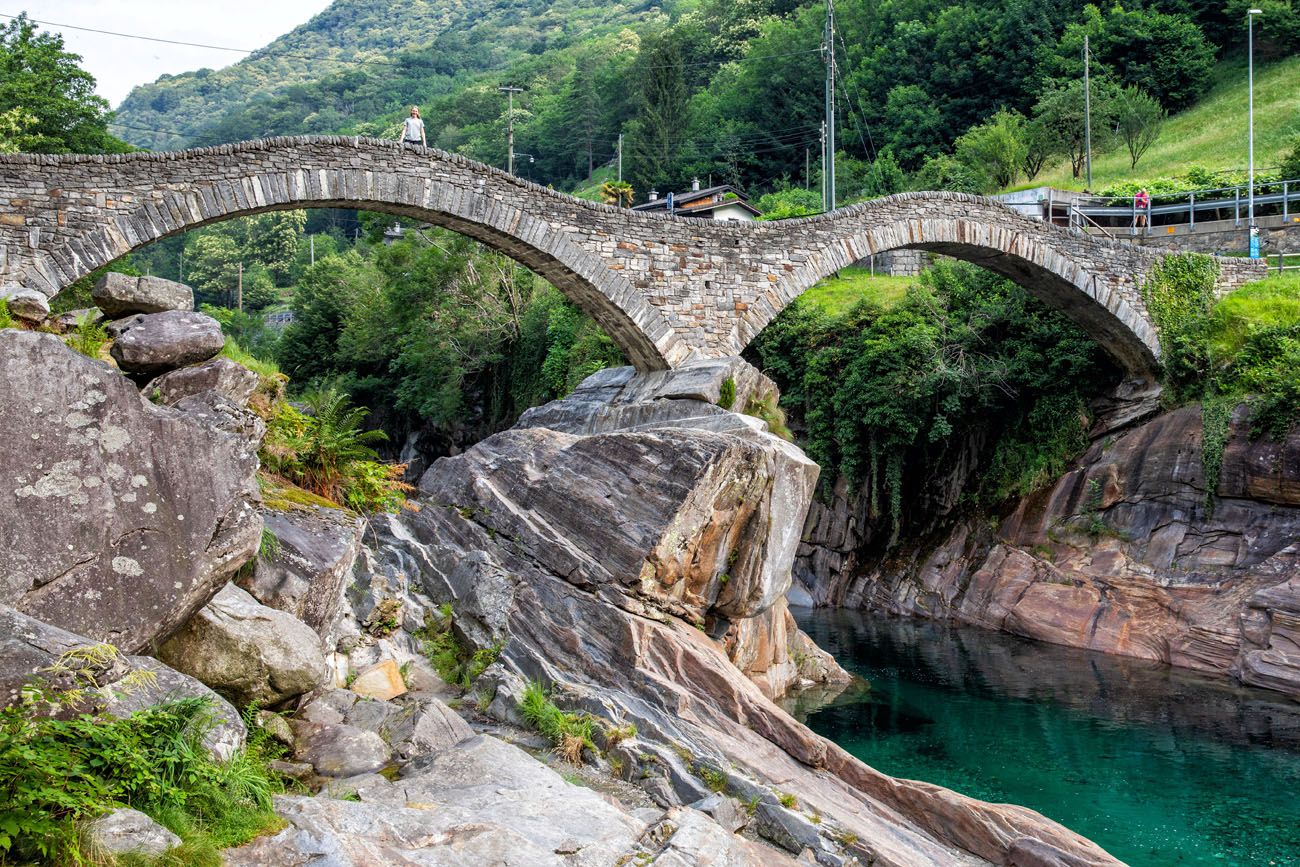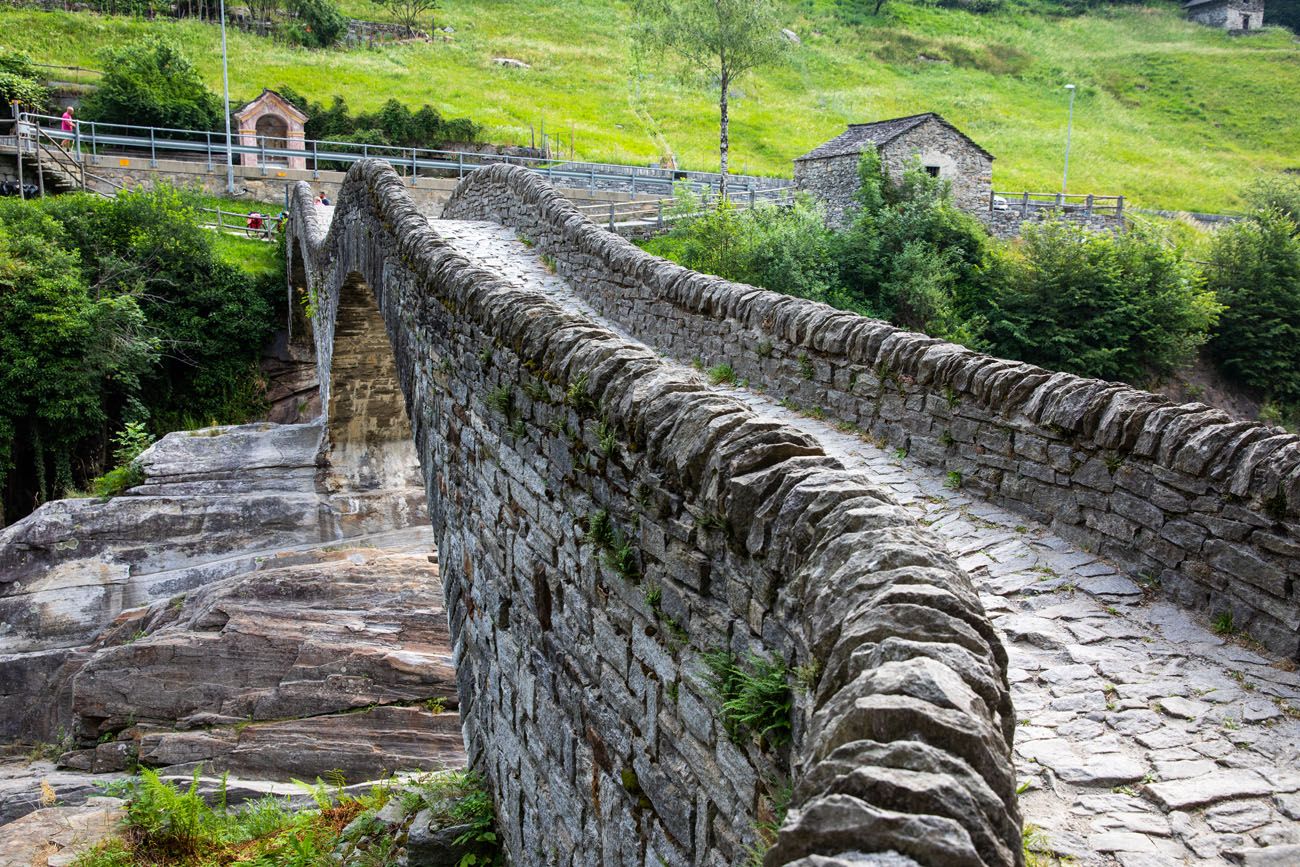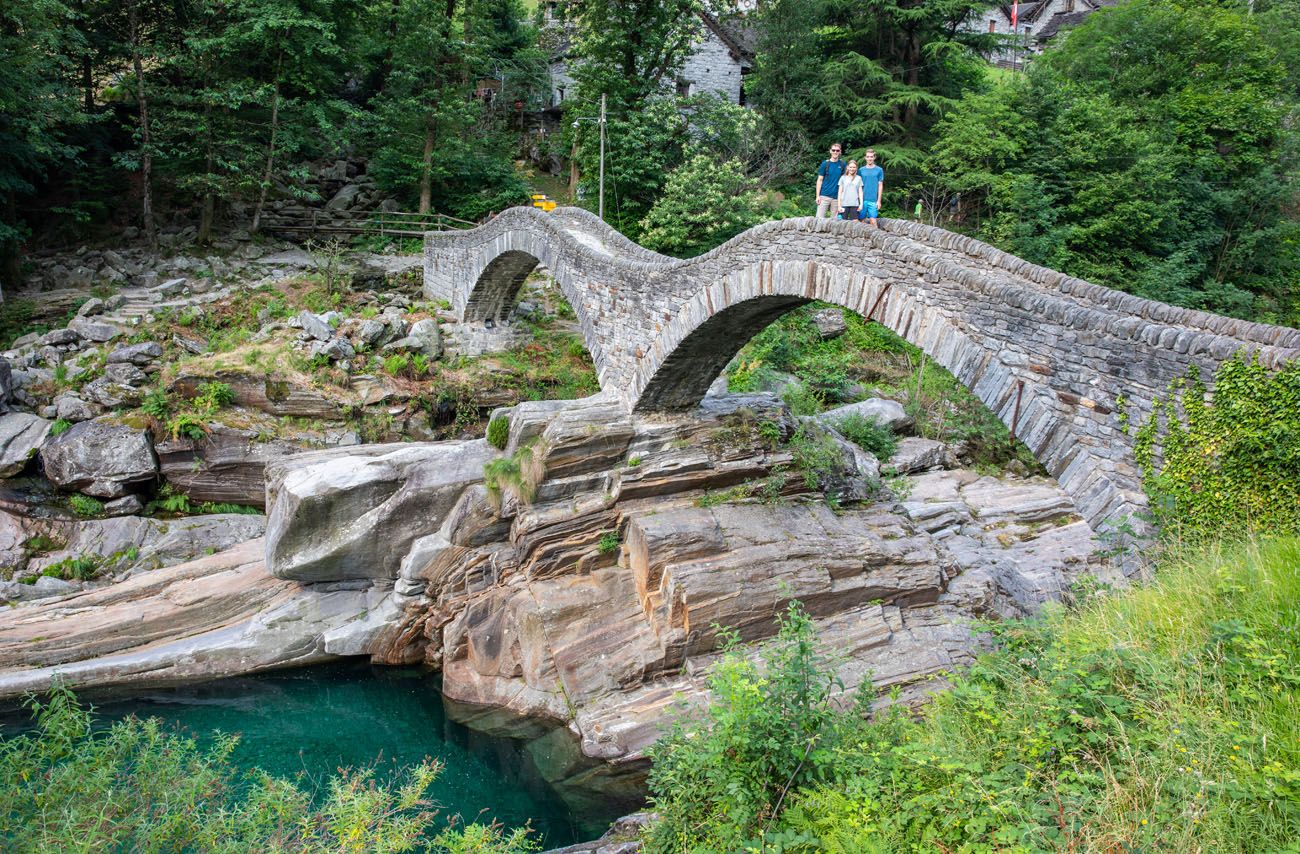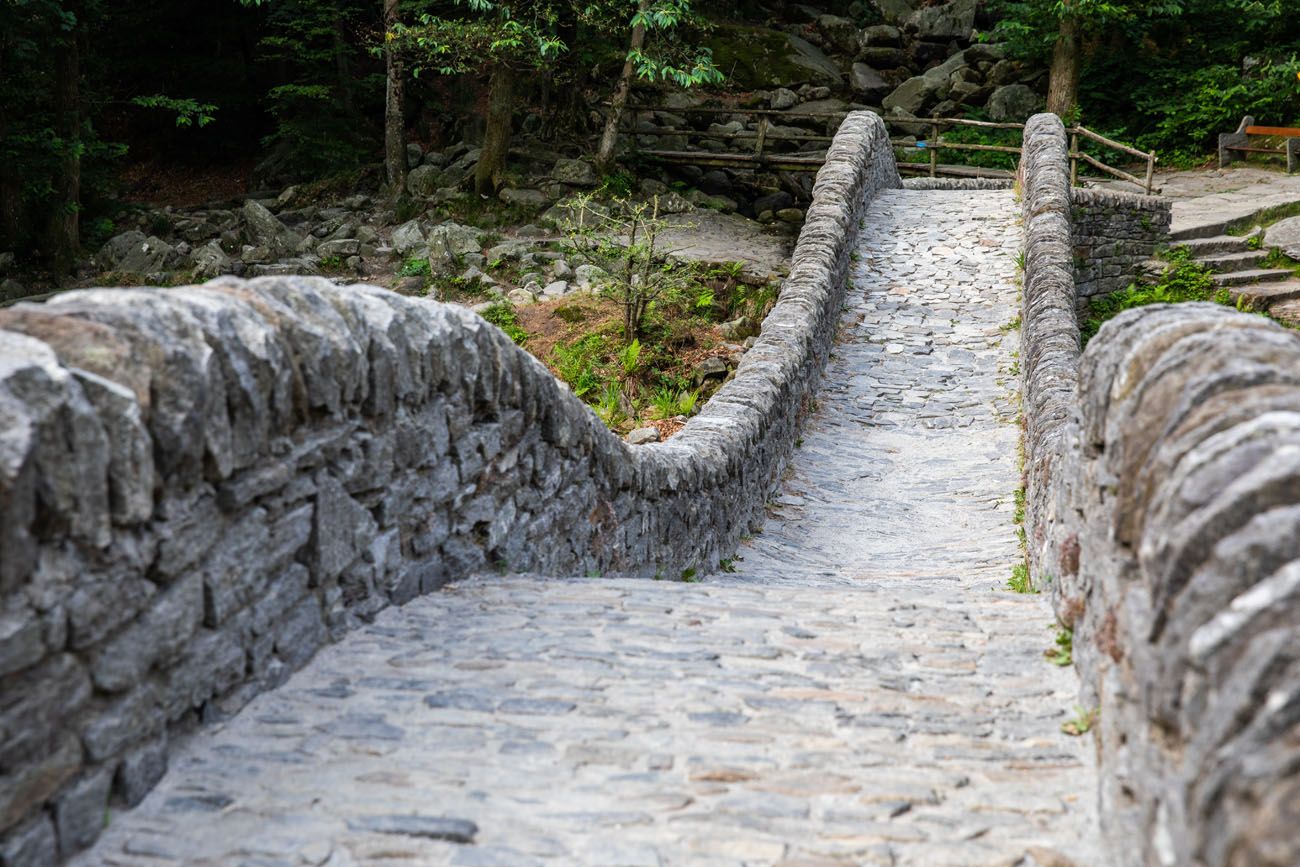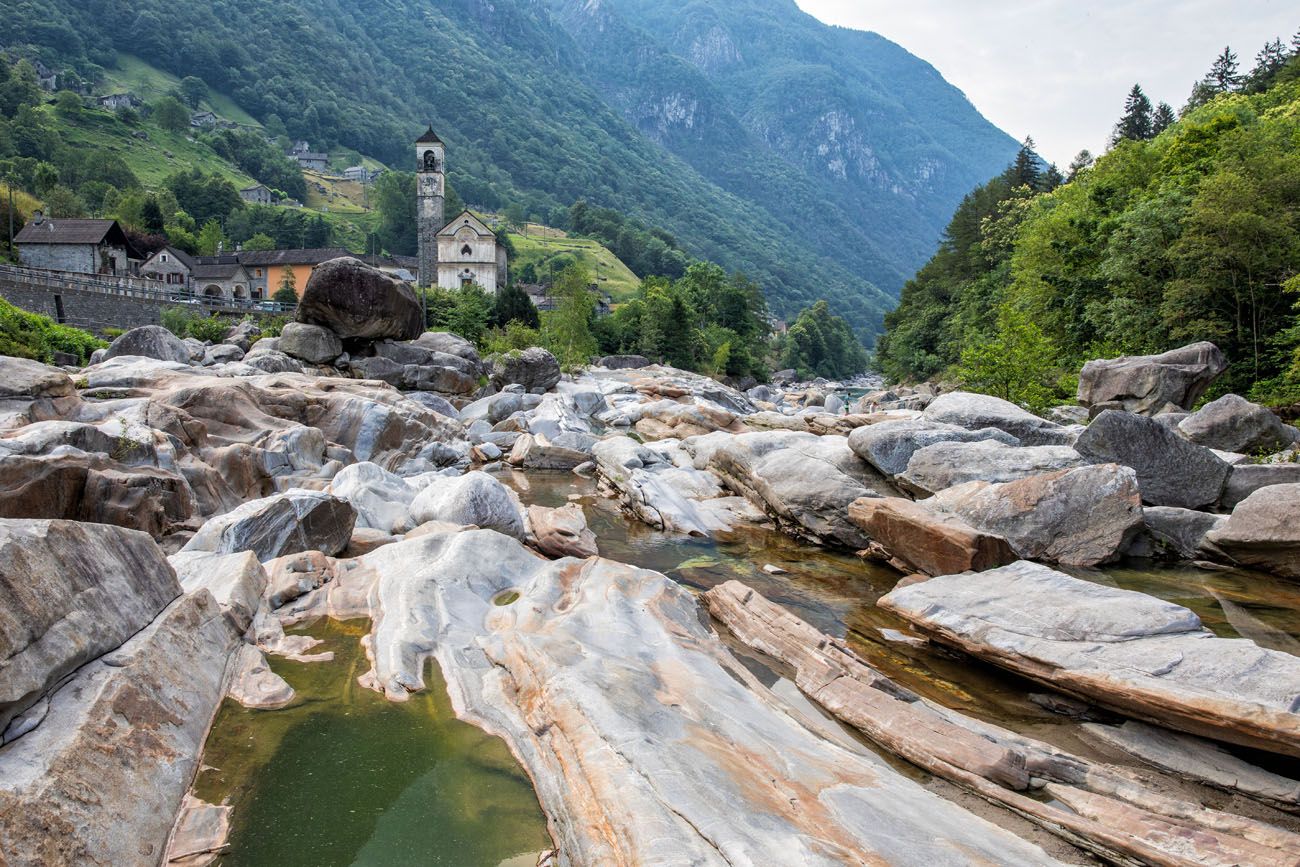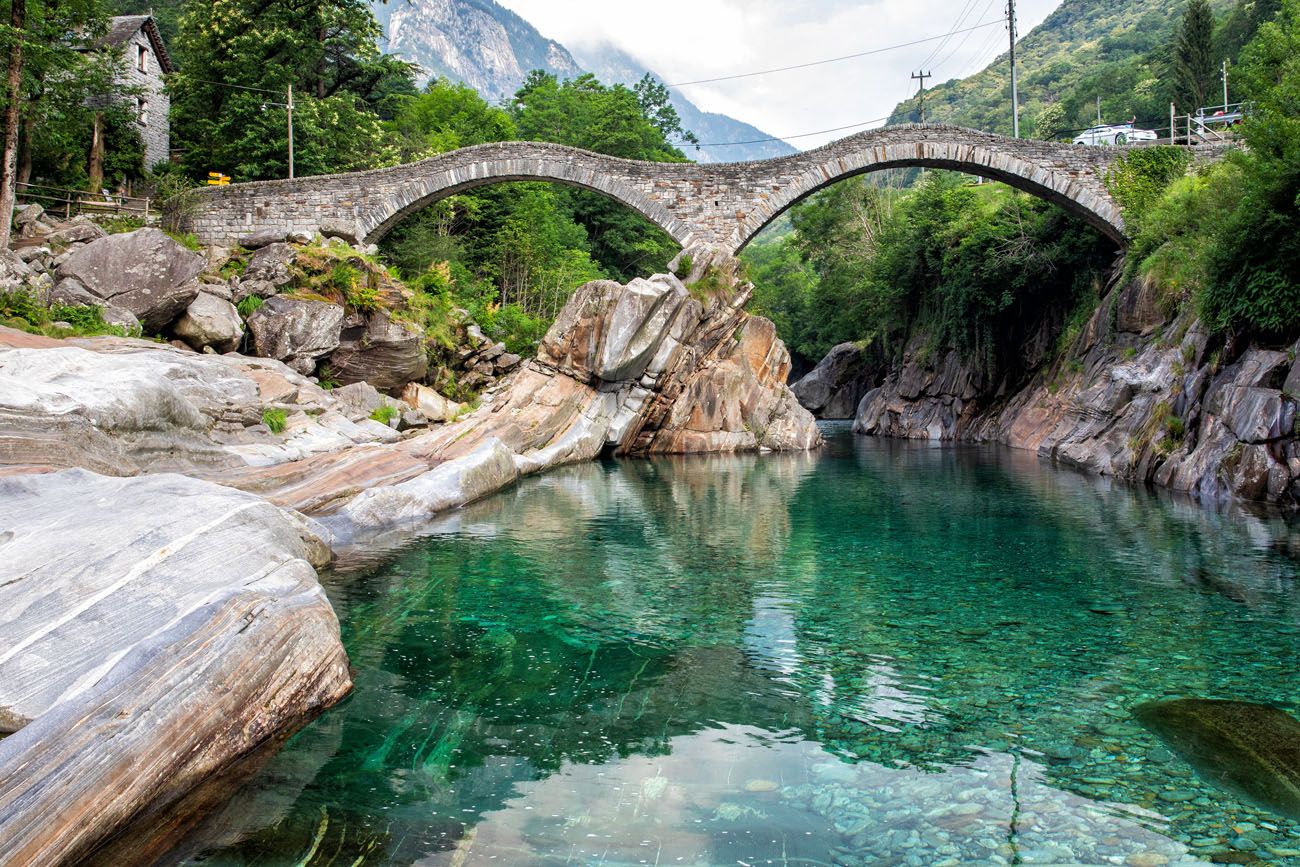 Ponte dei Salti is a popular place so expect it to get crowded. If you want to escape the crowds, go farther downstream or consider going on a short hike, like we did.
Hiking along the Verzasca River
To escape the crowds and walk along the beautiful Verzasca River, you can hike along a shaded hiking trail that follows the river upstream. It's mostly flat, it's easy, and along the way there are places for picnics, to go swimming, and to enjoy the views.
Go as far as you like and when you are ready, turn around and head back to the bridge.
To get on the trail, cross Ponte dei Salti to riverbank opposite Lavertezzo and the road. Look for the bright yellow trail sign. You will head north (turn right off of the bridge) and follow the signs for #74 towards Piano, Motta, and Sonogno.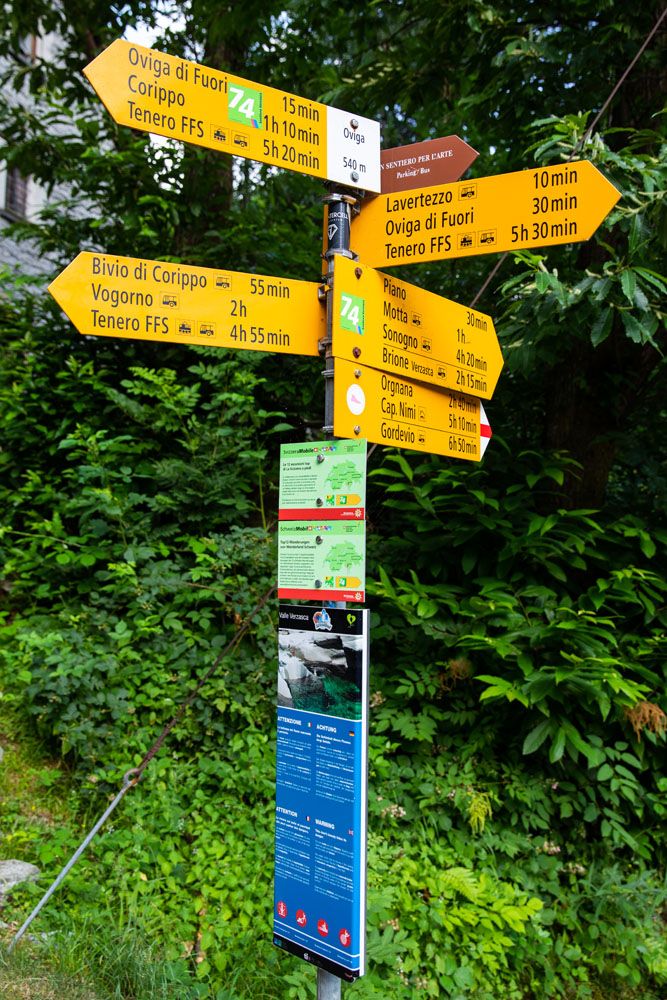 When you get started, the river should be on your right (and stay on your right until you turn around to walk back to the bridge).
The trail is easy to follow and well-marked. It's mostly a dirt trail that heads up and down over small hills in the woods.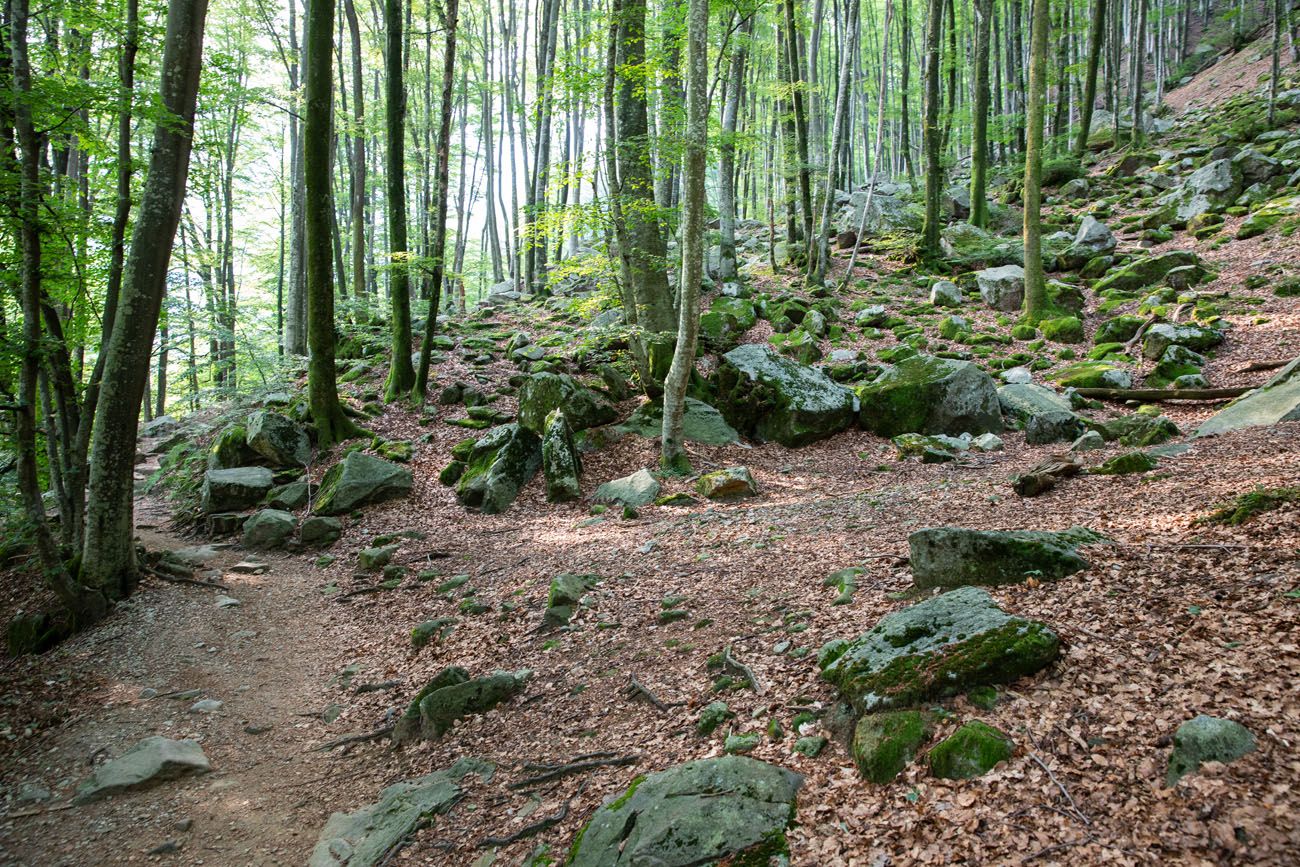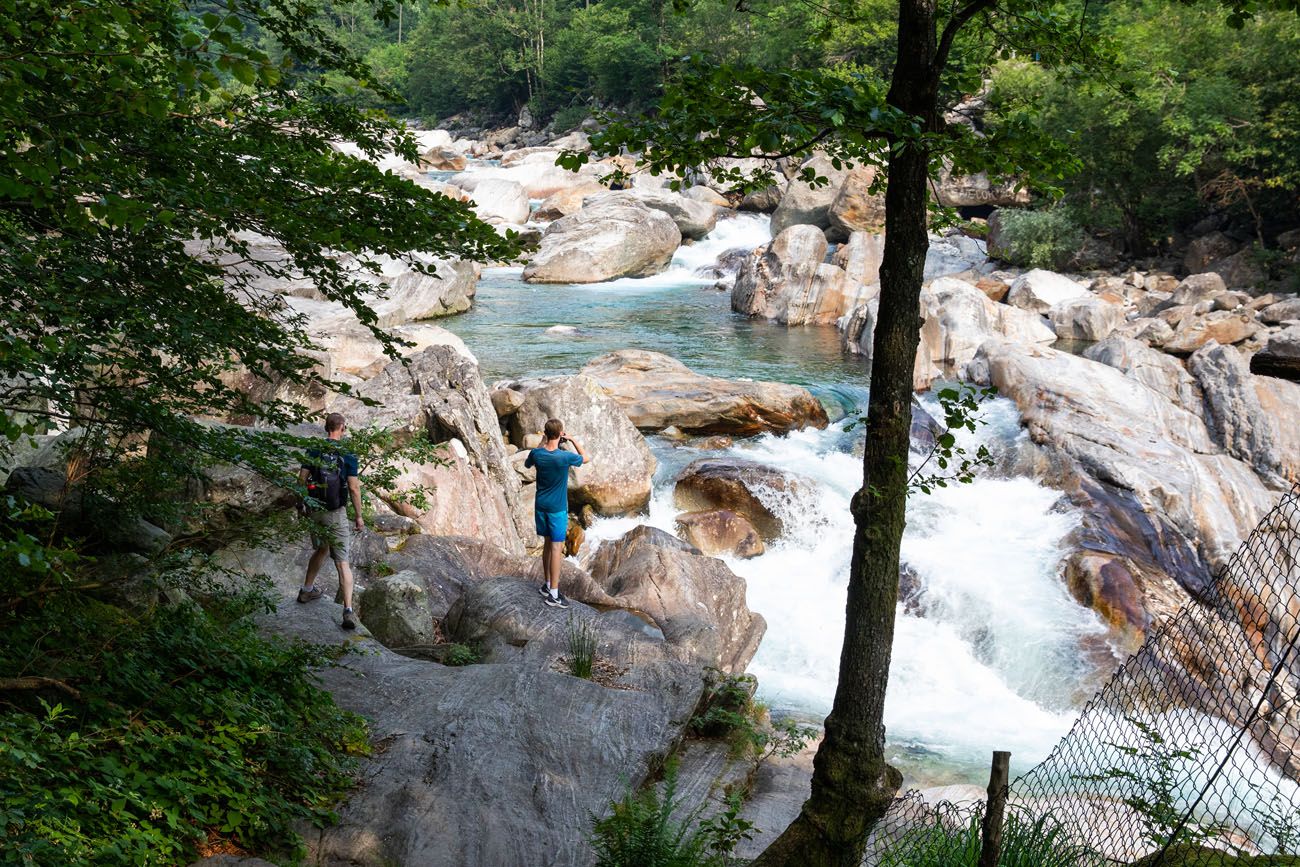 Along the way, there are "swimming pools," areas where the river gets wider and slower, making it safe for swimming. We stopped at one of these pools and had a great time hopping in and out of the water.
It really is COLD! It took us all some time to completely get into the water. And it's amazing just how quickly our feet and legs would get numb. The warnings about hypothermia are no joke!
From Ponte dei Salti, it took us 15 to 20 mintes to walk to this swimming spot.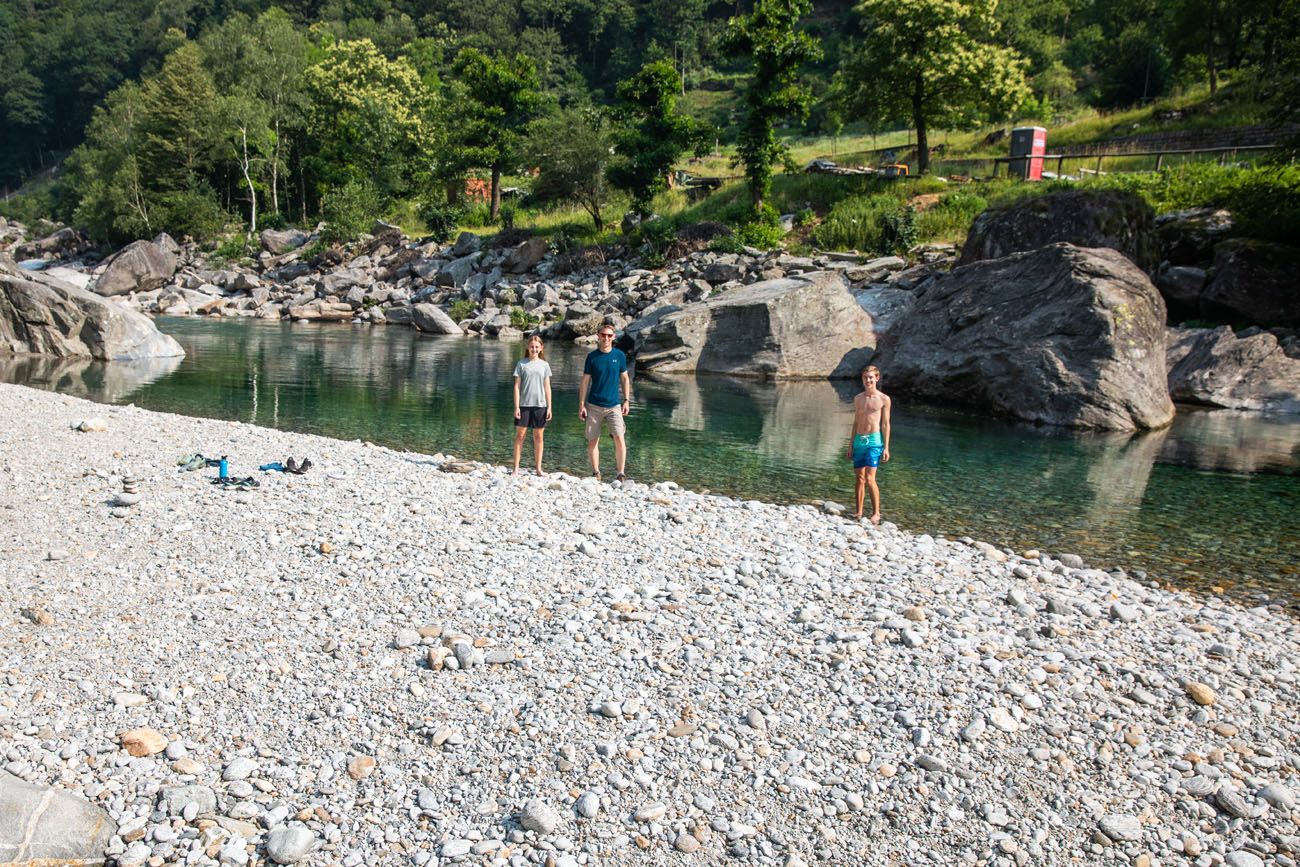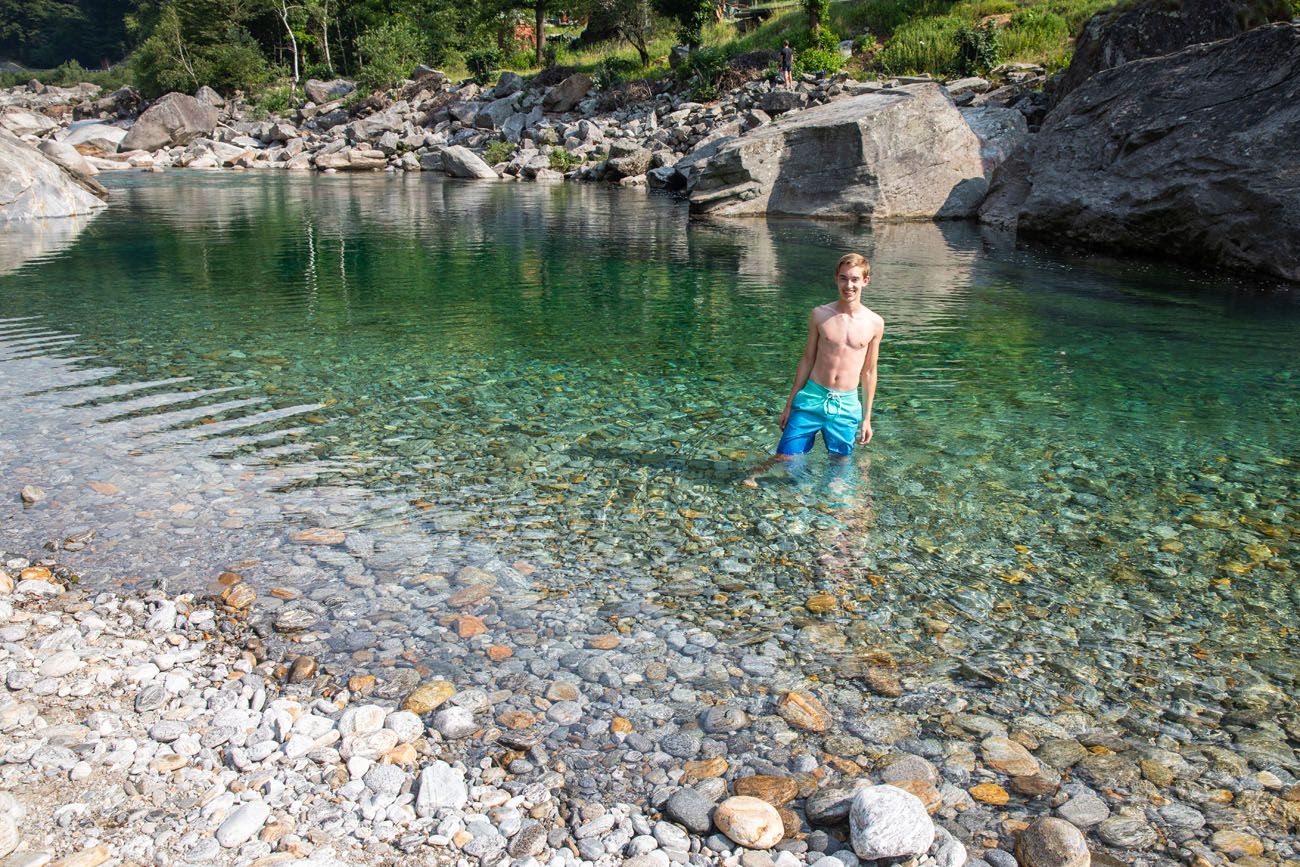 Want to See More?
Check out our video about Ponte dei Salti, which includes drone clips and aerial views of the bridge.
Tips to Have the Best Experience
Heed the warning signs about the fast moving currents in the Verzasca River. It's generally safe to swim right around Ponte dei Salti, but where the river narrows, the current picks up and it can be very dangerous in these sections.
Get here early, by 9 am, to enjoy the bridge and the river without too many other people.
Bring sunscreen, snacks, towels, and your camera…and enjoy your day!
What We Did
We visited Ponte dei Salti in early July on a day trip from Lugano. After spending the morning in Lugano, we visited Ascona, a colorful little town on Lake Maggiore, before driving back to Lugano.
---
If you have plans to visit Ponte dei Salti and have any questions, or if you want to share your experience, comment below!
More Places to Go in Switzerland
LUGANO: For more information about Lugano, read our article about the Best Things to Do in Lugano. We also have a guide to the best day trips from Lugano.
SWITZERLAND ITINERARY: If your visit to Ponte dei Salti is part of a bigger trip to Switzerland, check out our Switzerland Itinerary, which has suggestions on what to do if you have 7 days, 14 days, or even longer.
JUNGFRAU REGION: What exactly is the Jungfrau region? Find out in our Guide to the Jungfrau Region, which includes maps and important travel planning information. We also have articles about the best things to do in the Jungfrau region as well as the top hikes in the Jungfrau region. The Eiger Trail and Schynige Platt to First are our favorite hikes. Learn how to combine Jungfraujoch and the Eiger Trail into one awesome experience.
LAUSANNE: Lausanne is another beautiful Swiss city with lots of great things to do and it also is a great home base for day trips in the area, such as Gruyères and Montreux, Vevey and Chateau de Chillon.
ZERMATT: In Zermatt, don't miss the hike from Gornergrat to Riffelberg. For more ideas on what to do, read our article Best Things to Do in Zermatt. For more alpine views, learn how to visit Matterhorn Glacier Paradise (and find out if it is worth it) and how to climb Breithorn.
LUCERNE: Learn how to spend one perfect day in Lucerne with a trip to Mt. Pilatus.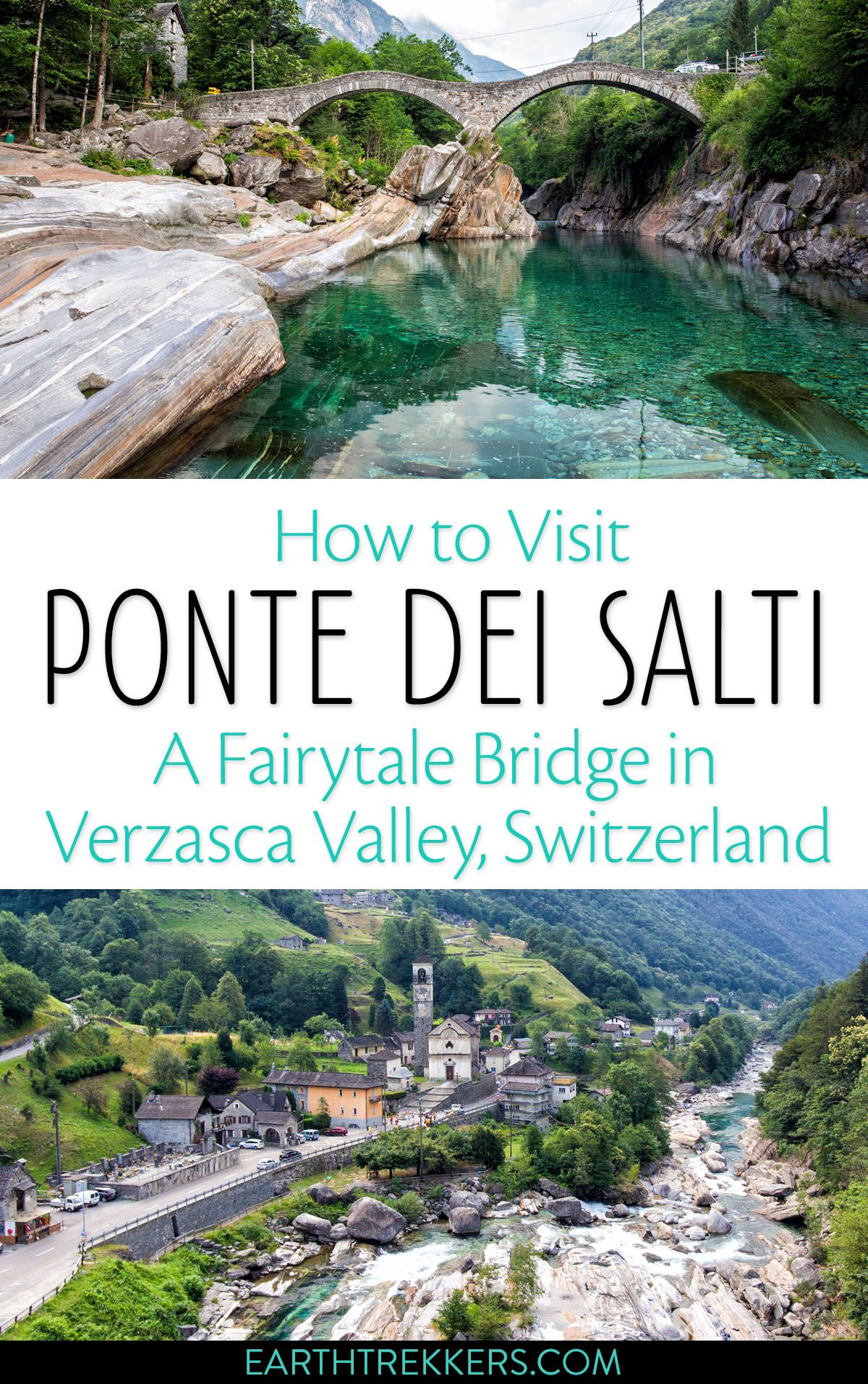 All rights reserved © Earth Trekkers. Republishing this article and/or any of its contents (text, photography, etc.), in whole or in part, is strictly prohibited.