Sitting on the shore of Lake Geneva is Lausanne, a charming city that is located in French-speaking Switzerland. With a colorful old town and numerous world-class museums, this is a delightful city to add to your tour of Switzerland.
With one day in Lausanne, you have enough time to visit the highlights. If you have more time, this city makes a handy home base to explore this side of Switzerland.
Big, bustling Geneva, which is located one hour by train from Lausanne, may be a more popular pick for many visitors. Having been to both, the charm, the small size, and the beautiful setting of Lausanne makes it a much nicer place to stay, in our opinion.
In this article, learn about the best things to do in Lausanne, get ideas for some amazing day trips, and get the details on how to plan your visit.
I do my best to keep the hours of operation and pricing up to date for each attraction, however, these can change at any time. I recommend getting updated hours and pricing for your dates of travel. The link to the official website is provided for each site.
Interesting Facts About Lausanne
Lausanne is the capital city of the canton of Vaud. It is the 4th largest city in Switzerland.
The shores of Lake Geneva are sometimes referred to as the Swiss Riviera. One of the best things to do in Lausanne is to take a day trip to the other small towns that dot the shore of the lake. These include Montreux, Vevey, and Château de Chillon.
Lausanne is home to the International Olympic Committee (the IOC), the authority responsible for organizing the Summer and Winter Olympics.
INTERESTING FACT: Lausanne has a 28-station metro system, making it the smallest city in the world to have a rapid transit system.
Best Things to Do in Lausanne
1. Explore the Old Town
Filled with picture-perfect cobblestoned streets and colorful buildings is the old town of Lausanne. This small area is filled with shops and restaurants, so it is the perfect place to explore without a set itinerary.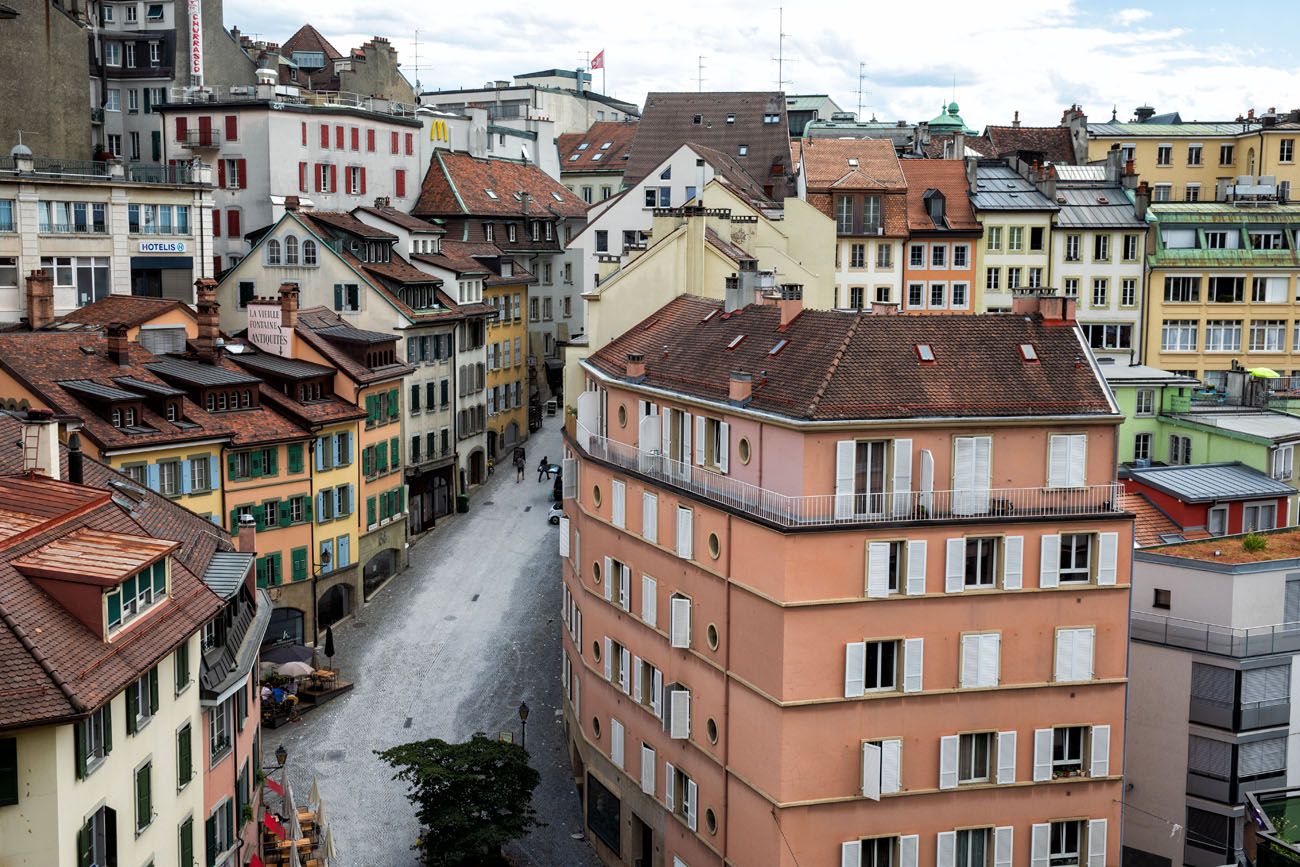 Lausanne Old Town | Best Things to Do in Lausanne
The Escaliers du Marché is a popular photo spot in Lausanne. This long, cobblestoned flight of stairs leads from Place de la Palud to the cathedral.
2. Place de la Palud
Place de la Palud is a lovely square that is located within the old town of Lausanne. Grab a drink or a bite to eat in one of the restaurants that line the square.
The centerpiece is the Fountain of Justice, Lausanne's oldest fountain. Behind the fountain is a mechanical clock that shows animated scenes of the local history every hour between 9 am to 7 pm.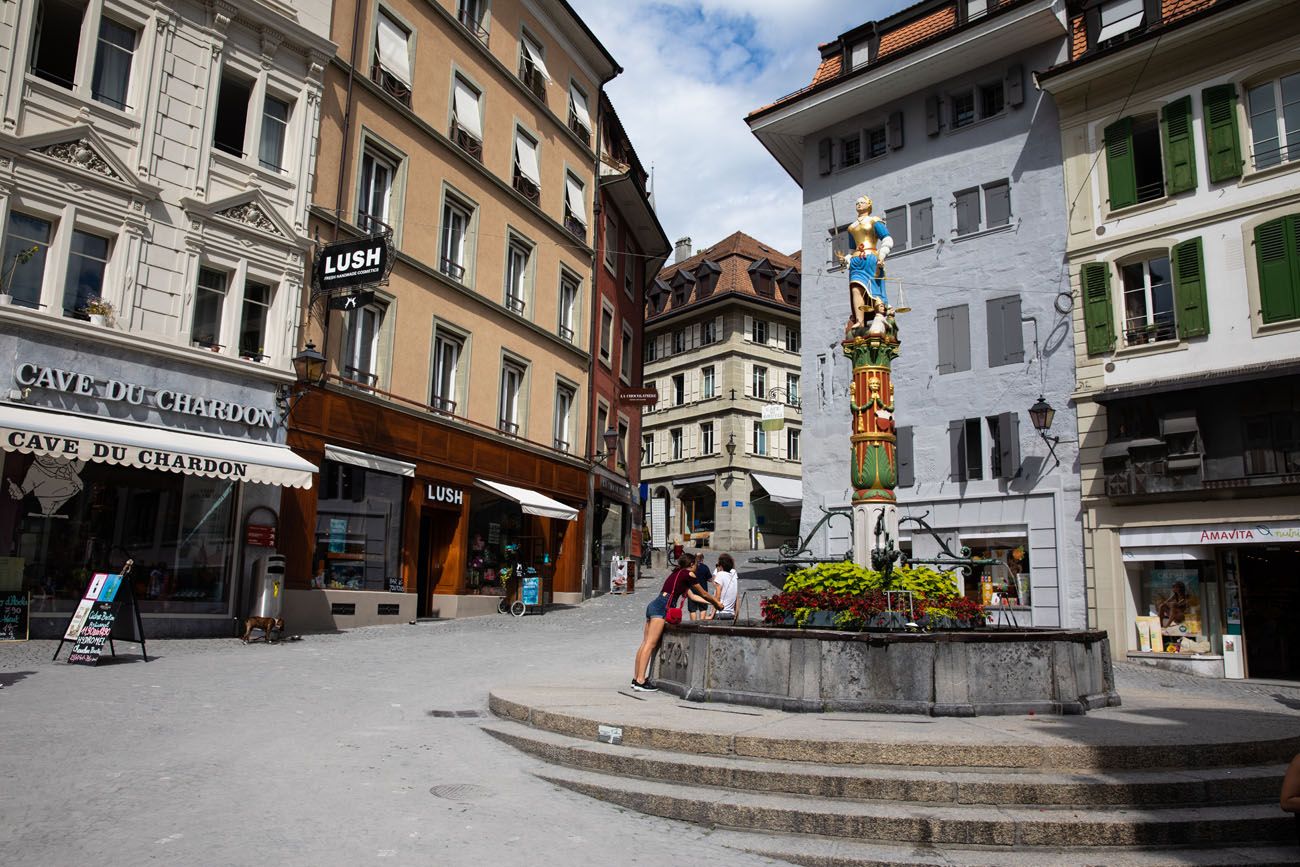 Place de la Palud | Best Things to Do in Lausanne
3. Lausanne Cathedral (Cathedrale de Lausanne)
A visit to this Gothic cathedral, which is also referred to as the Cathedral of Notre Dame of Lausanne, is one of the best things to do in Lausanne.
This cathedral dates back to 1170. When the cathedral was first built, it was filled with ornate decorations and statues. During the Protestant Reformation, these decorations were covered, the statues were removed, and the stained-glass windows are replaced with plain ones. In the 20th century, the painted interior decorations were restored.
Website: Get updated hours and pricing here.
For the best view of Lausanne, climb the 224 steps to the top of the bell tower.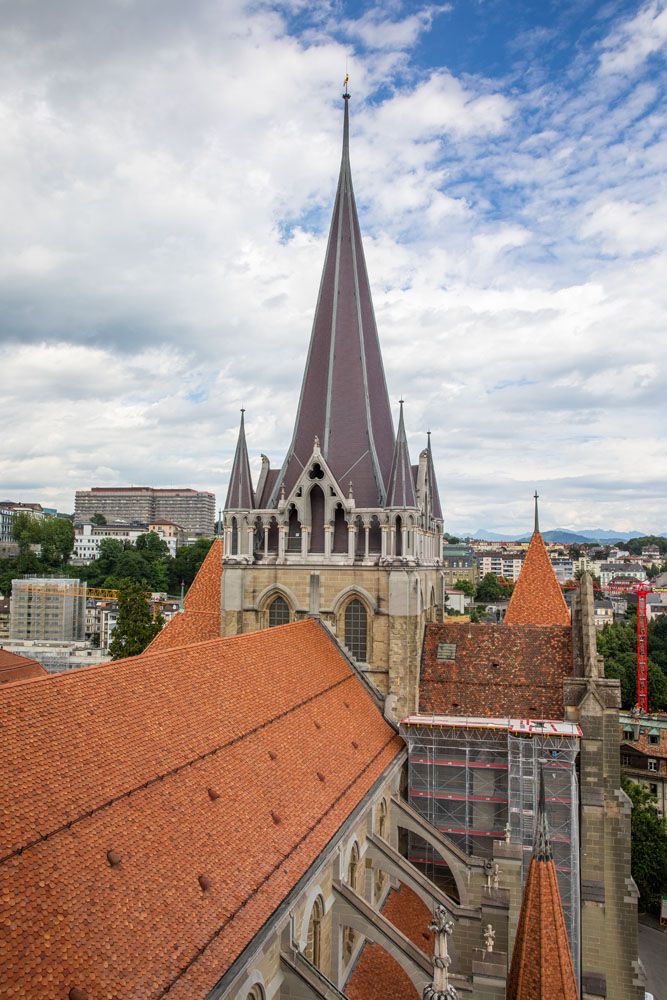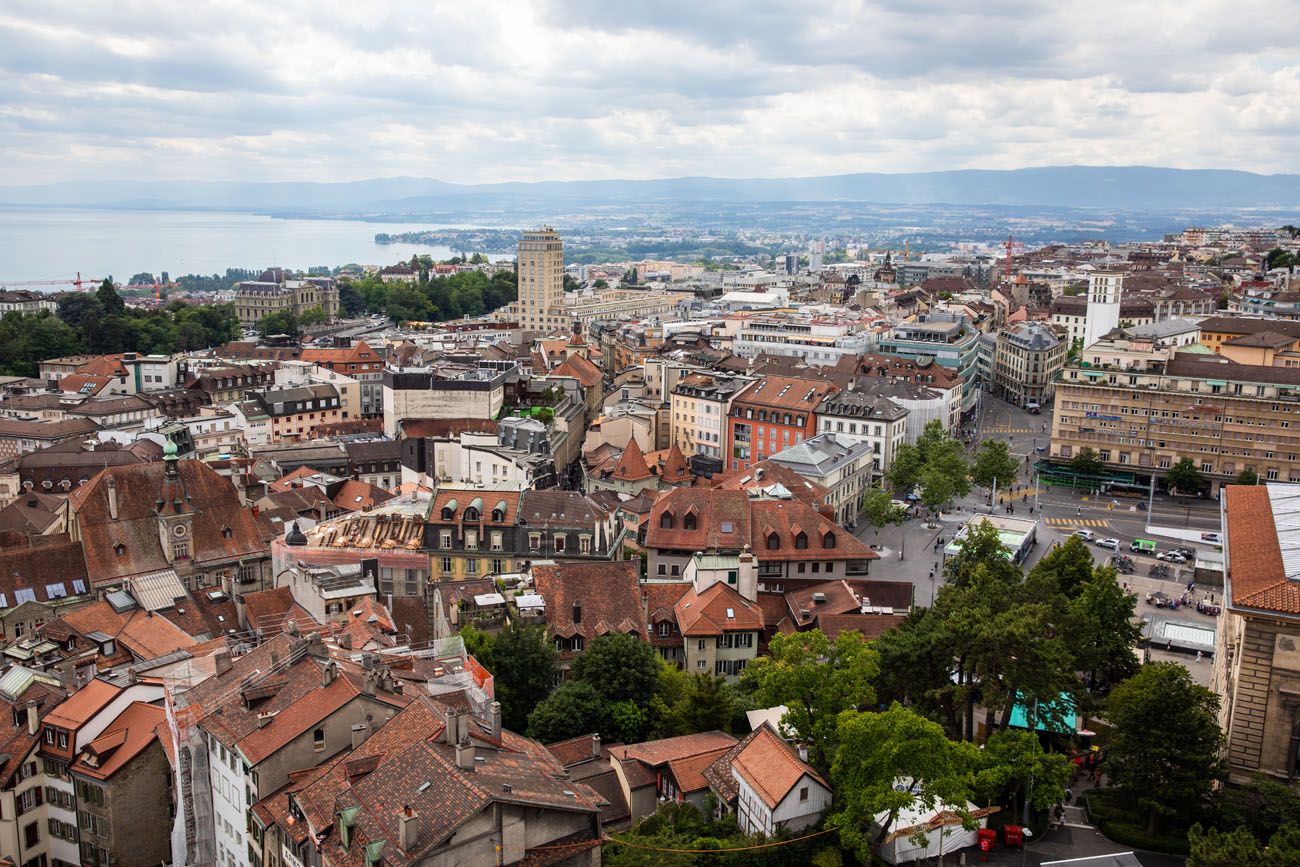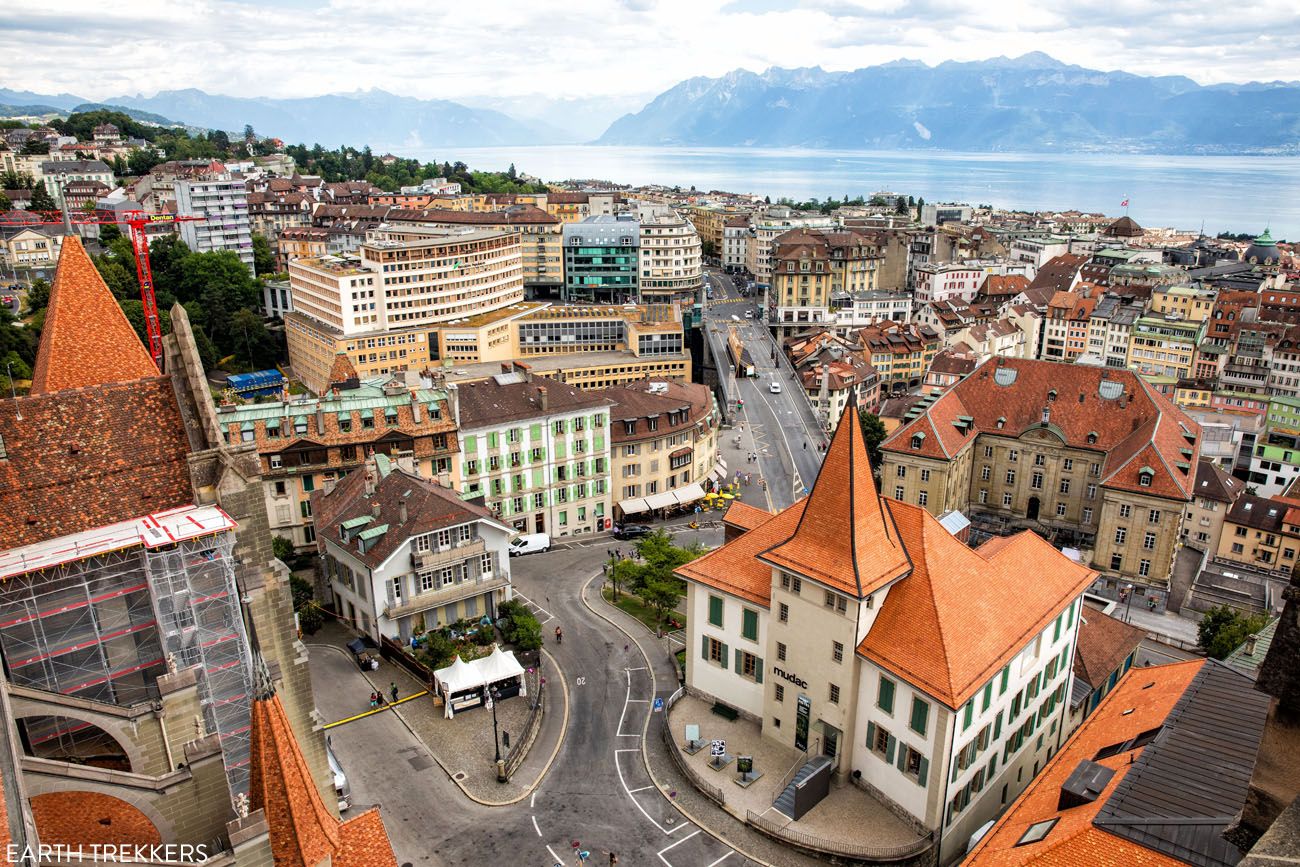 View from the Lausanne Cathedral | Best Things to Do in Lausanne
4. Olympic Museum (Musee Olympique)
This museum, which opened in 1993, is the largest archive of Olympic Games in the world. It is filled with interactive exhibits, short films, and Olympic artifacts. The highlight for us was the room filled with all of the Olympic torches.
This is a great museum to bring the kids. The interactive exhibits and the various hand-eye coordination games will keep them busy and interested for hours.
Olympic Museum | Best Things to Do in Lausanne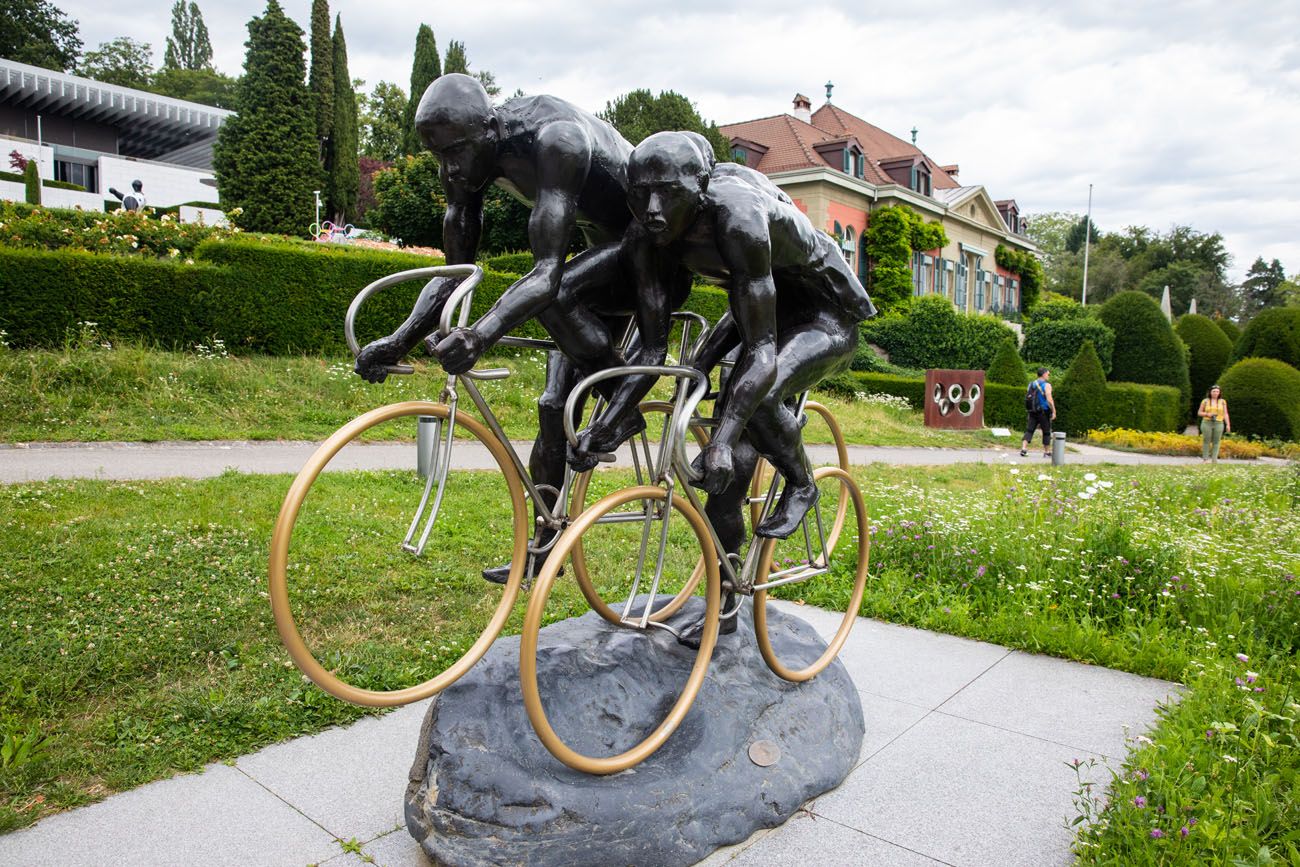 Website: get updated pricing and hours on the official website
5. Stroll along Ouchy Promenade
Take a stroll along Lake Geneva at Port d'Ouchy. For 1 km, the tree-lined Ouchy Promenade meanders along the shore. Enjoy the views of the lake, go for a swim, or rent a paddle boat.
Ouchy Promenade | Best Things to Do in Lausanne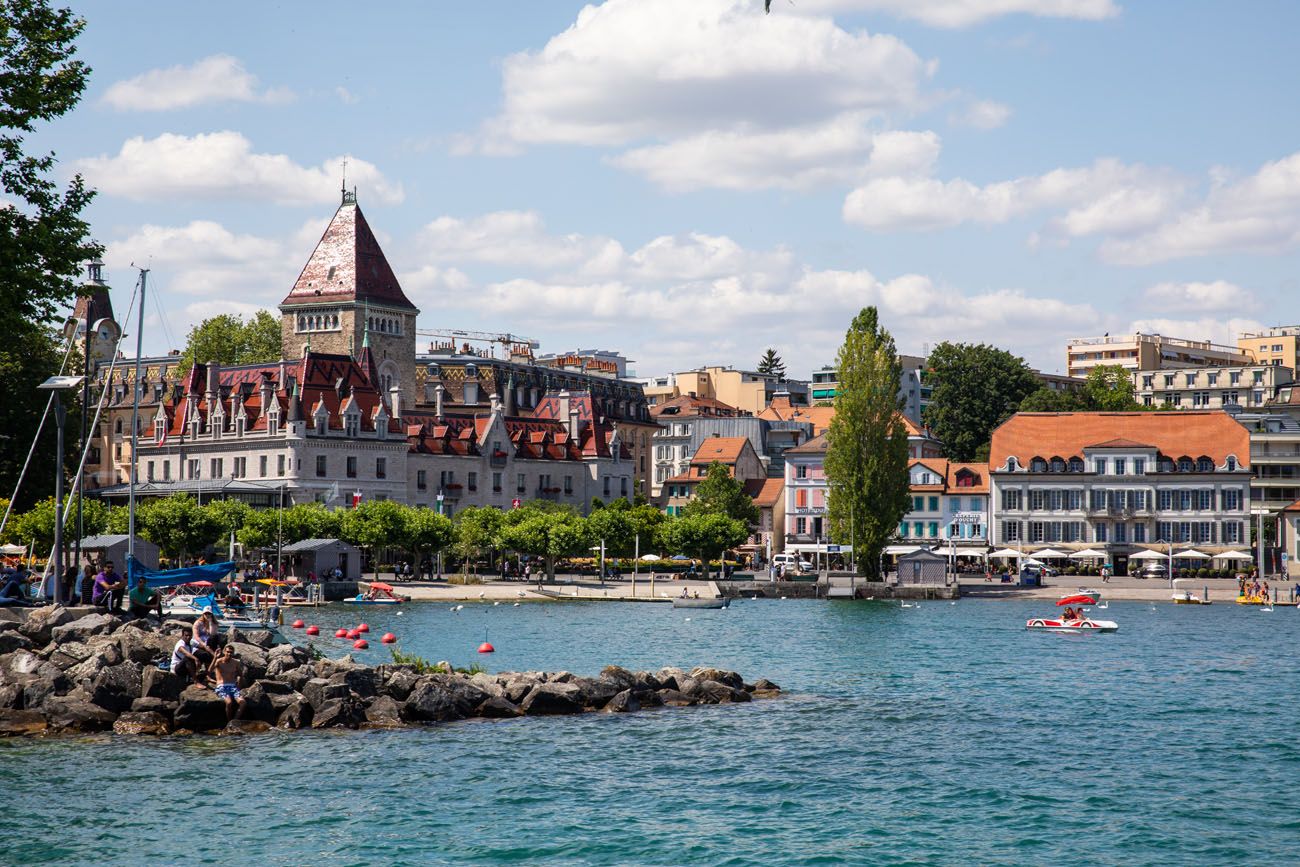 Chateau d'Ouchy, a 12th century castle that is located in the port, is where the peace treaty between Greece, Turkey, and the Allies was signed in 1923.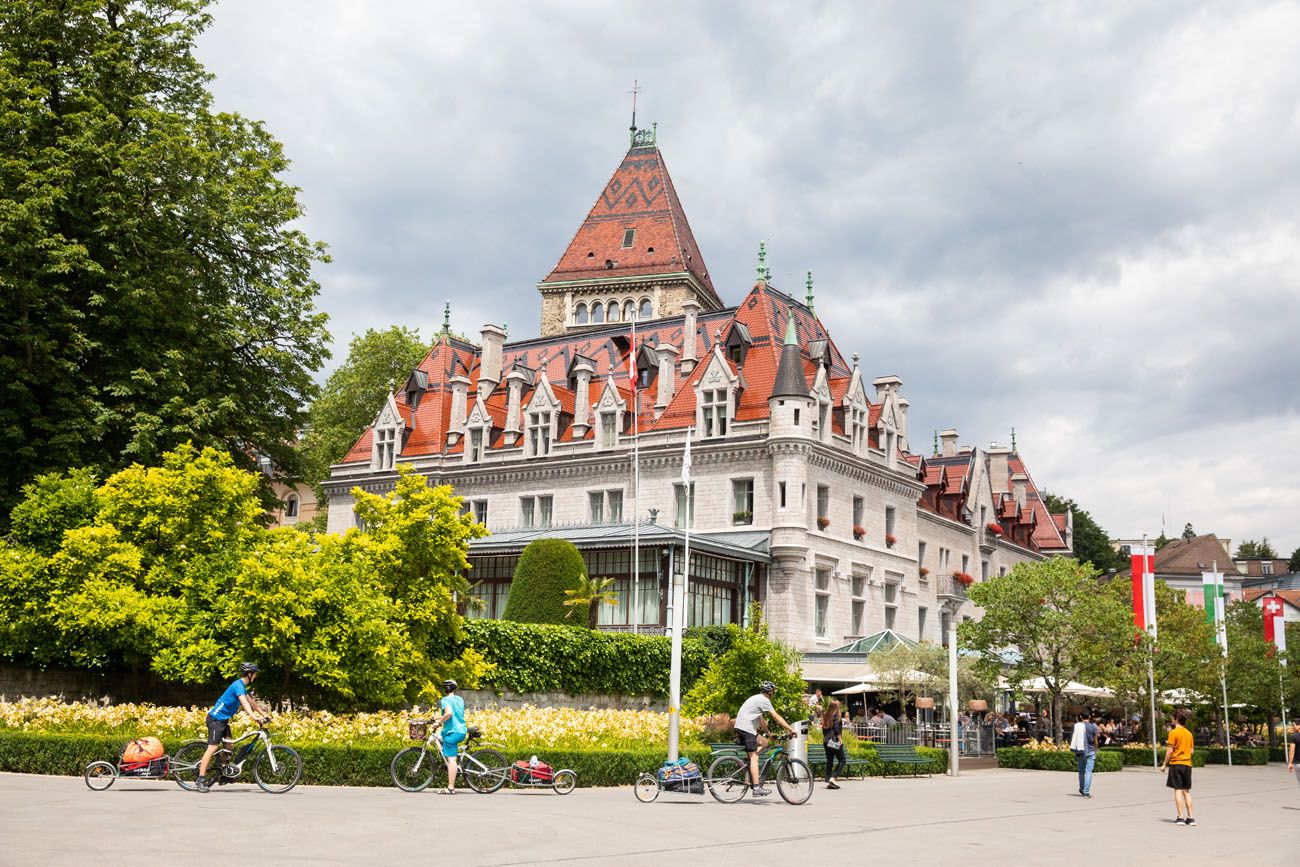 Port d'Ouchy is also where you will board the boats that cruise on Lake Geneva.
6. Cruise Lake Geneva
There are several options if you like the idea of getting out on Lake Geneva. You can either take a boat to Vevey or Montreux, a great day trip idea, or hire a private boat to take you around the lake.
Lake Geneva Cruise Lines offers group and private tours of Lake Geneva. Click here to visit their website and see what they have to offer.
The General Navigation Company (GCN) operates boats that transport travelers from Lausanne to Château de Chillon, Montreux, Vevey, Nyon, and Morges. They also offer gourmet cruises.
When we visited Montreux and Vevey from Lausanne, we took a GCN boat from Vevey back to Lausanne. It is a beautiful way to travel. Along the way you get to see the terraced Lavaux vineyards, a UNESCO World Heritage Site.
Click here to learn more about the GCN cruises.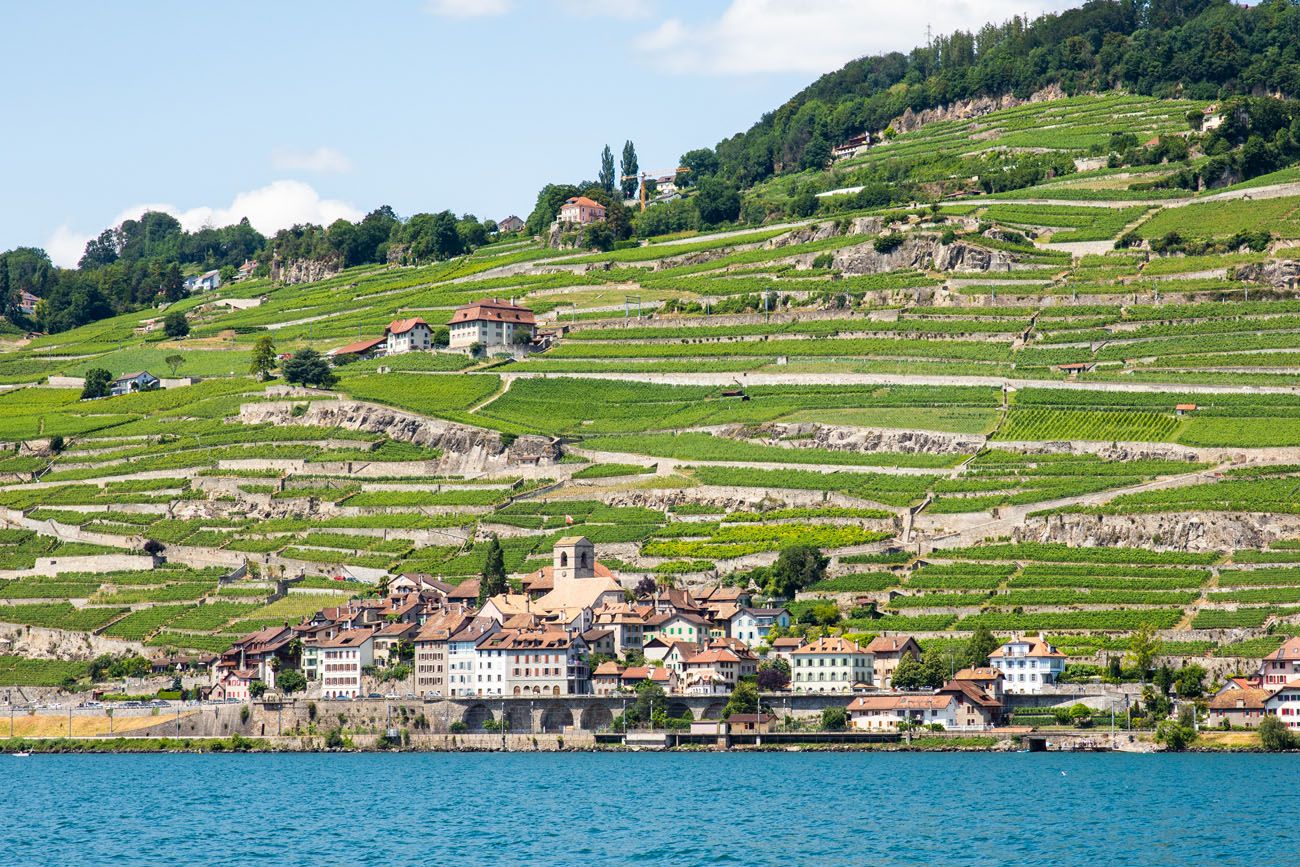 Lavaux Vineyards | Best Things to Do in Lausanne
7. Collection de l'Art Brut
This museum contains works of art by "untrained" artists: criminals, psychiatric patients, and orphans. The artwork is imaginative, unconventional, and a bit bizarre.
Website: Get updated hours and pricing here.
8. Hermitage Foundation
This famous art museum has no permanent exhibitions. Instead, this museum features continually changing temporary exhibitions, so there is always something new to see here.
The museum is located in an opulent manor house that was built in the mid 19th century. Not only is the museum a joy to visit but the views over Lake Geneva from here are wonderful.
Website: Get updated hours and pricing here.

9. Take in the View from Sauvabelin Tower
Located in the hills on the outskirts of Lausanne is Sauvabelin Tower. For sweeping views over Lausanne and Lake Geneva, climb the twisting staircase to the top of the tower.
The tower is free to visit. It is located in a park (Bois de Sauvabelin) in the hills behind Lausanne. Sallaz is the closest metro stop. You can combine a visit here with the Hermitage Foundation since they sit close to one another.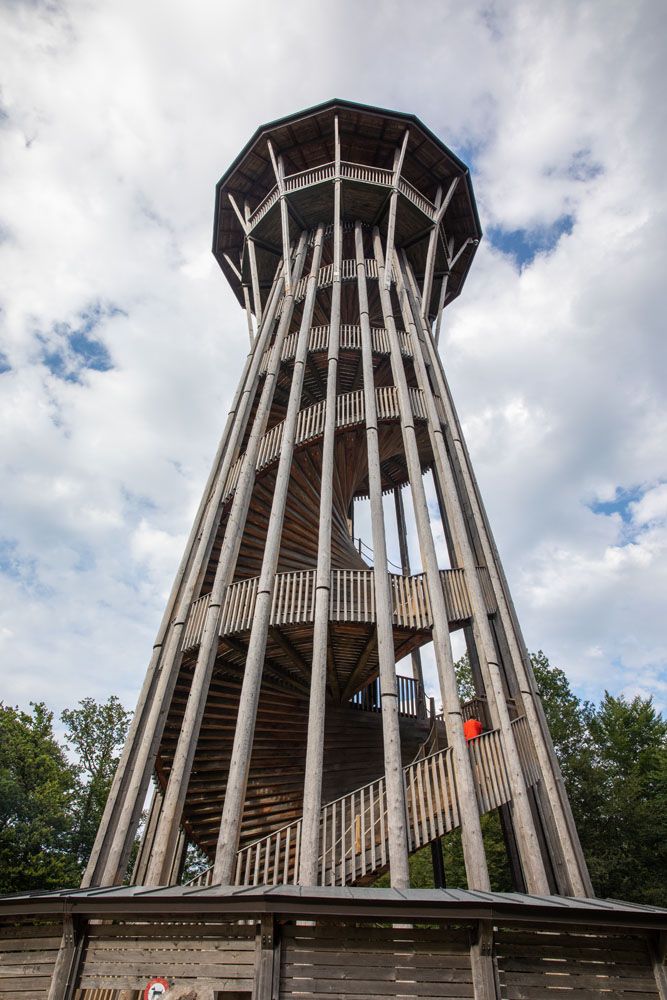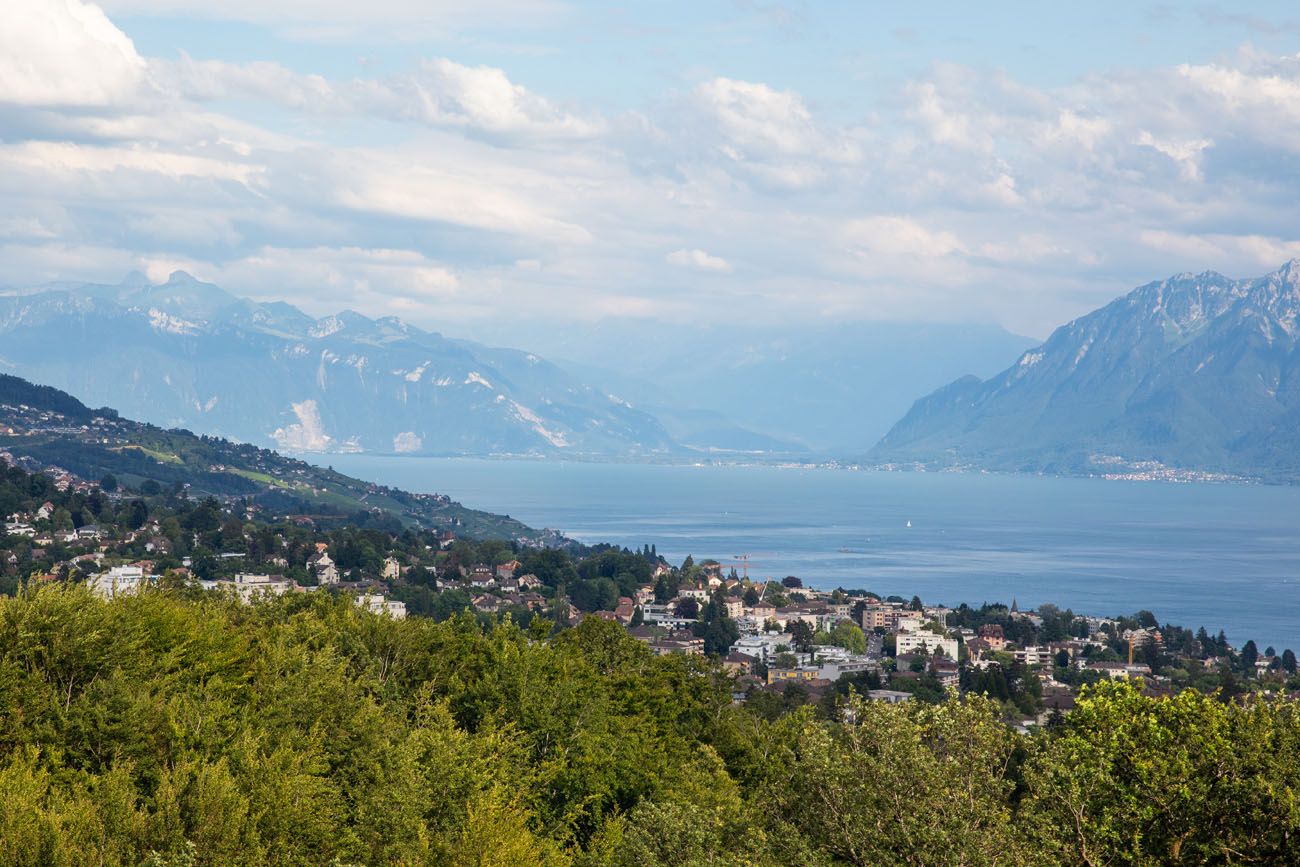 PRO TRAVEL TIP: It's a beautiful view from here, but if you only have time for one viewpoint in your sightseeing schedule, our top pick is the from the bell tower of the Lausanne Cathedral.
10. Take a Day Trip from Lausanne
There are a lot of wonderful day trips that you can take from Lausanne. Here are five great ideas.
Château de Chillon. This medieval castle began as a Roman outpost. It later became a castle and was used by the House of Savoy to control the road from Burgundy to the Great Saint Bernard Pass. Since the end of the 19th century it has been open to tourism. According to the official castle website, this is Switzerland's most visited historic monument.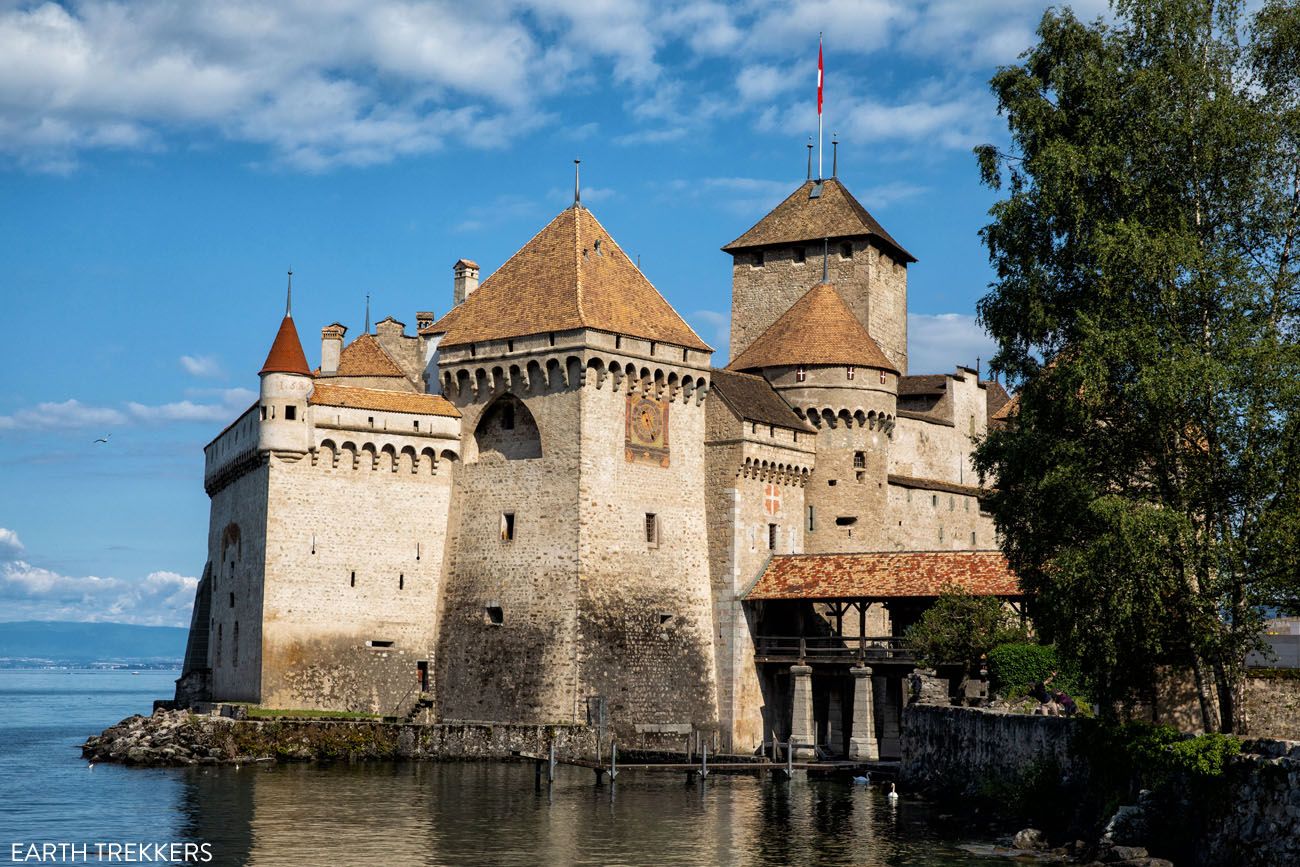 Château de Chillon | Best Things to Do in Lausanne
Montreux and Vevey. Montreux and Vevey are two towns located next to each other on the eastern shore of Lake Geneva. Once every 20 years the Winegrower's Festival (Fête des Vignerons) comes to Vevey. The most recent festival was in 2019. Every July, Montreux hosts a jazz festival. Artists like Queen, Deep Purple, and the Dubliner's have all recorded music in Montreux. One of the most popular things to do in Montreux is to take a selfie with the statue of Freddie Mercury.
Gruyères. Located in the idyllic, rolling hills of French-speaking Switzerland sits Gruyères, a picture-perfect medieval town. Cheese, chocolate, and beautiful cobblestoned streets attract visitors all year round. Get all of the details on how to plan your visit in our Guide to Gruyères.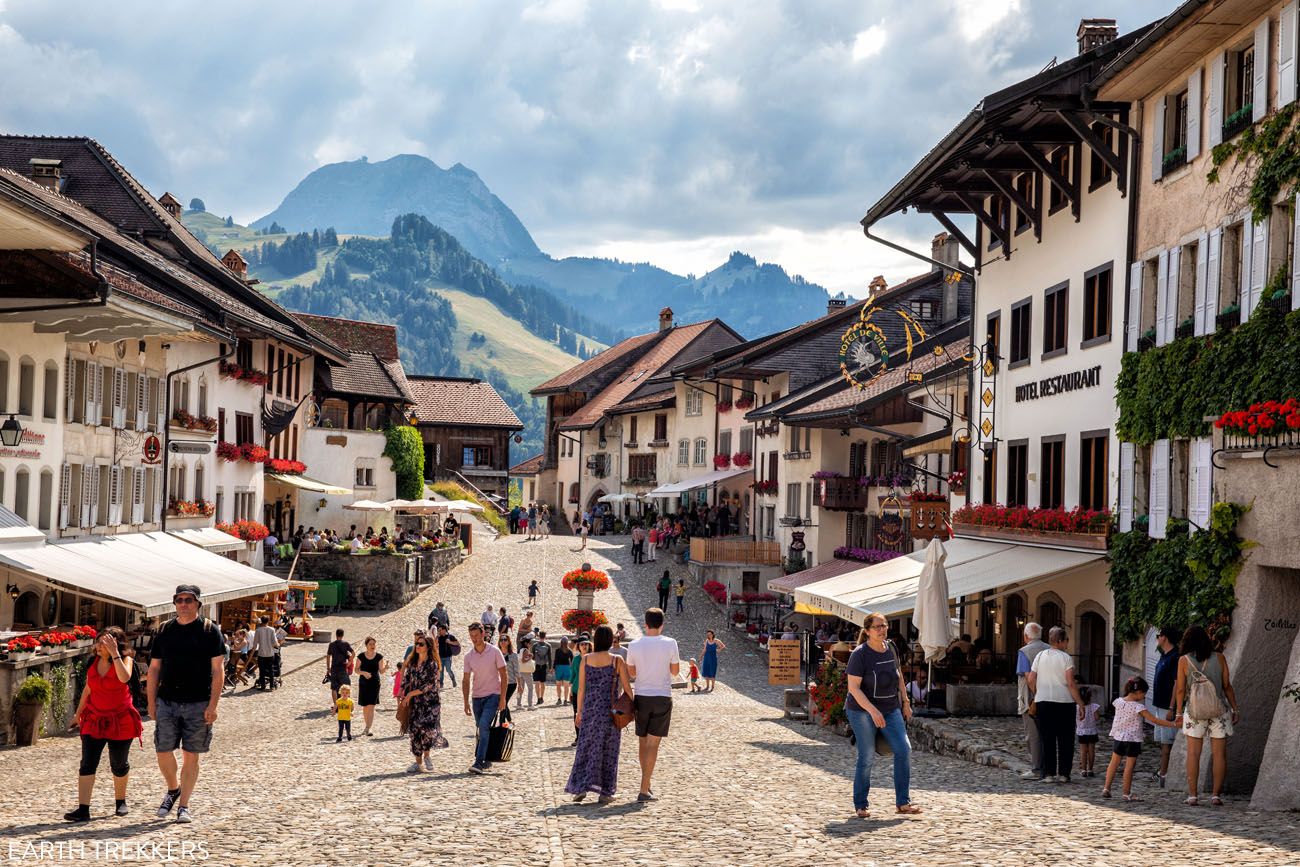 Gruyères
Hike the Gastlosen. The Gastlosen is a chain of limestone mountains that look very similar to the Dolomites of Italy. For 11 km, the trail loops around these magnificent, jagged mountains and you are treated to sweeping views of Switzerland. If you are looking for a beautiful hike that can easily be done on a day trip from Lausanne, put the Gastlosen on your list.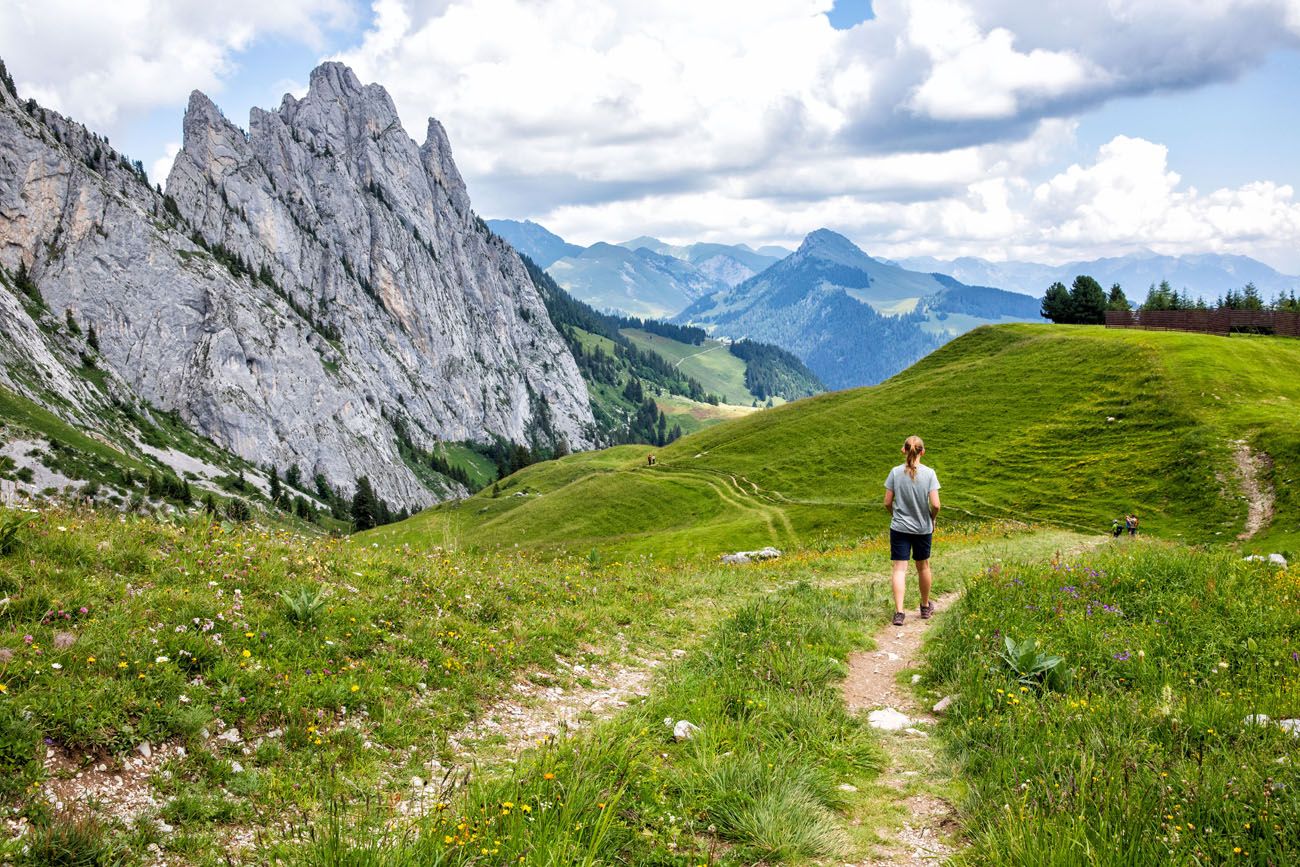 Hiking the Gastlosen
Lavaux Vineyards. Stretching between Lausanne and Montreux are the terraced vineyards of Lavaux, a UNESCO World Heritage Site. You can walk or bike the 32 km footpath through the vineyards. Or, take this tour from Lausanne.
Things to Do in Lausanne on a Map
How to Use This Map: Click the icons on the map to get more information about each point of interest. Click the star next to the title of the map to add this map to your Google Maps account. To view it on your phone or computer, open Google Maps, click the menu button, go to "Your Places," click Maps, and you will see this map on your list.
How to Get Around Lausanne
There are two areas in Lausanne where you will spend most of your time: in the old town and along the lakefront. Both of these areas are small and compact so you will get around on foot.
It takes about 30 minutes to walk from the old town to Port d'Ouchy and the Ouchy Promenade.
To save your steps, and your time, take advantage of the handy metro system. Lausanne-Flon is the main metro stop in the old town and the station where the two metro lines of Lausanne intersect. Within just a matter of minutes, you can travel from Lausanne-Flon, in the old town, to Ouchy-Olympique, located near the lake shore.
Mobilis Card: If you stay at a hotel in Lausanne, you get a Mobilis Card, which covers your public transportation fees (the metro and the bus). It is paid for by your hotel tax.
If you do not have a Mobilis Card, you get free transportation if you have a Swiss Travel Pass. Otherwise, you can purchase tickets from the machines in the metro stations and on the bus.
Where to Eat
Restaurant de l'Hotel de Ville Crissier. This 3-star Michelin restaurant was rated the best restaurant in the world in 2016 by La Liste. For many foodie travelers, this is a bucket list destination.
Anne-Sophie Pic au Beau-Rivage Palace. This is another top culinary pick in Lausanne. Dine on French food in a 2-star Michelin restaurant operated by a 3-star Michelin chef.
Brasserie Saint-Laurent. For delicious French food in the heart of Lausanne, this is a top pick. It's a favorite among travelers-in-the-know and locals.
Ciao Trattoria. This restaurant, which is located just a few blocks of the Ouchy-Olympique metro station near Ouchy Promenade, is a highly rated Italian restaurant. We ate here twice and had a great experience both times. If you are looking for a good Italian restaurant this is our top pick.
Pz Pizza. If you are looking for a quick, cheap eat in the old town, Pz Pizza gets great reviews.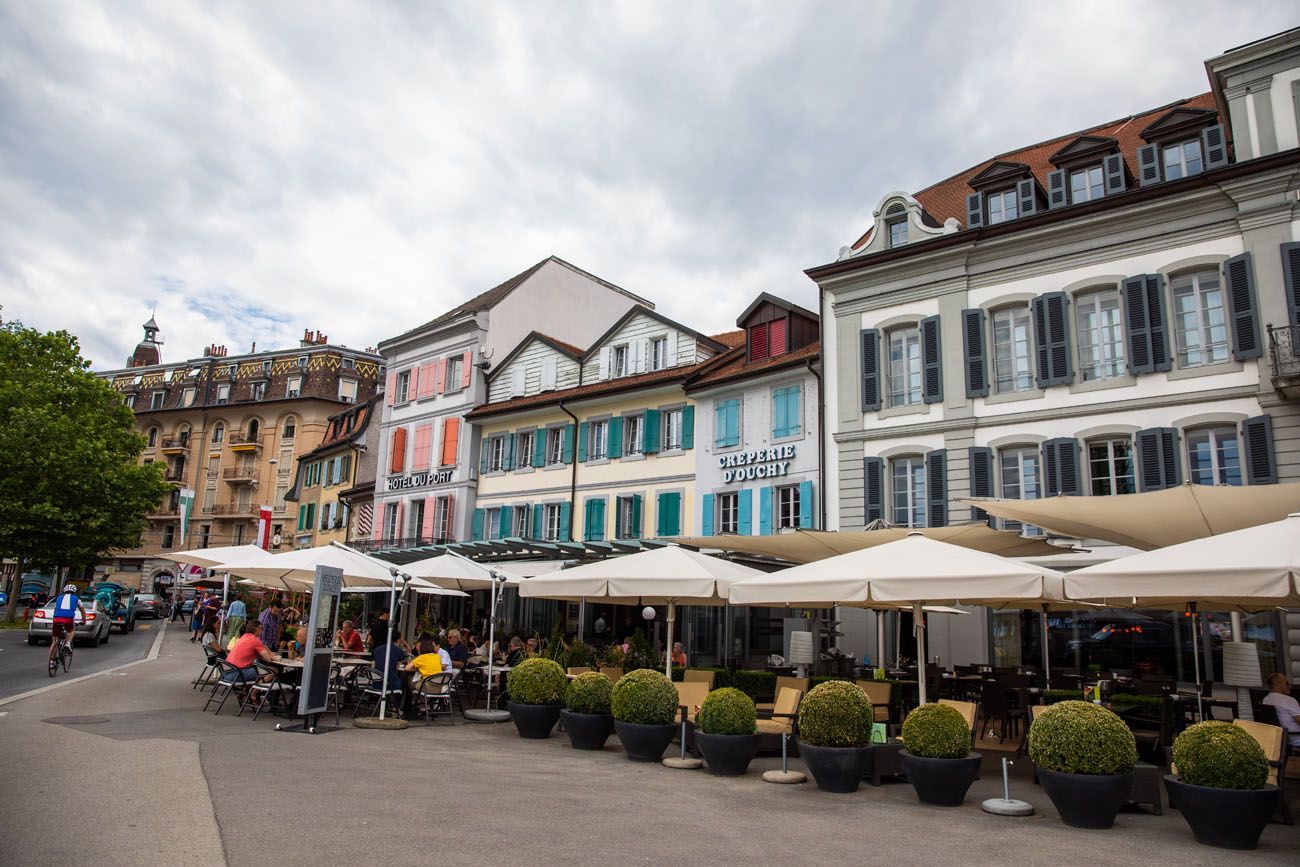 Buildings at Port d'Ouchy | Best Things to Do in Lausanne
Where to Stay in Lausanne
LUXURY: Beau-Rivage Palace. This elegant hotel gets accolades for being one of Europe's top picks for service and quality. It is located on the shore of Lake Geneva, so rooms offer breathtaking views across the lake.
UPSCALE: Hotel Angleterre & Residence. This hotel has a great location, on the shore of Lake Geneva and just a short walk from the Ouchy-Olympique metro station. This is where we stayed and had a nice experience. The staff was a bit snooty but the rooms are very nice, we loved the location and having access to a pool during the warm summer days.
MID-RANGE: Hôtel des Voyageurs Boutique. This hotel has a great location, right next to the Flon metro station in the heart of Lausanne. It was renovated in 2005 and is set inside of an Art Deco building. Some rooms can accommodate up to four people.
BUDGET: Ibis Lausanne Centre. If you are looking for a budget hotel, this one gets decent reviews and has a convenient location in the city center.
---
If you have any questions about the best things to do in Lausanne or how to plan your visit, let us know in the comment section below.
More Places to Go in Switzerland
SWITZERLAND ITINERARY: If your visit to Lausanne is part of a bigger trip to Switzerland, check out our Switzerland Itinerary, which has suggestions on what to do if you have 7 days, 14 days, or even longer.
LUGANO: Lugano is located in southern Switzerland. This city is another great place to stay for day trips in Switzerland and you can easily day trip to Lake Como and Bellagio.
LUCERNE: Learn how to spend one perfect day in Lucerne with a trip to Mt. Pilatus.
ZERMATT: In Zermatt, don't miss the hike from Gornergrat to Riffelberg. Another popular hike is the trail to Hörnlihütte. For more ideas on what to do, read our article Best Things to Do in Zermatt.
JUNGFRAU REGION: If you are planning a trip to the Jungfrau region, check out our Guide to the Jungfrau Region, which includes maps and important travel planning information and our Jungfrau Itinerary, which has itinerary suggestions for one day to one week. We also have a separate article about the best things to do in the Jungfrau region. Get more information on where to stay in the Jungfrau region, how to visit Jungfraujoch, and how to add on the thrilling Mürren Via Ferrata to your visit.
EUROPE TRAVEL INSPIRATION: For more great ideas on where to go in Europe, check out our article 30 Beautiful Places to Visit in Europe and the 20 Best Hikes in Europe. You can also get more travel ideas in our 10 Days in Europe itinerary guide, which has 10 great itineraries for your next trip to Europe.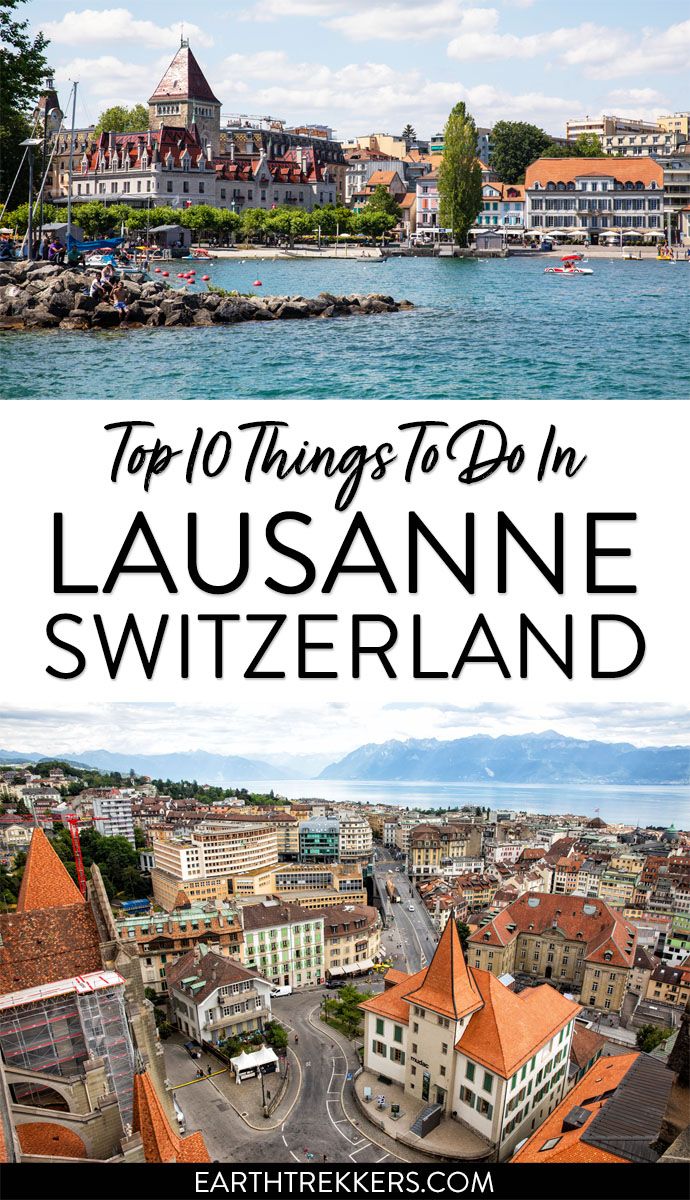 Note: This post contains affiliate links. When you make a purchase using one of these affiliate links, we get paid a small commission at no extra cost to you.
All rights reserved © Earth Trekkers. Republishing this article and/or any of its contents (text, photography, etc.), in whole or in part, is strictly prohibited.