Surrounded by mountains and lining the shore of an enormous lake, Lugano is a city with a beautiful setting. Located in the Italian-speaking Ticino canton of Switzerland, this city is a wonderful blend of Italian, Swiss, and Mediterranean influences. Yes, you may be in Switzerland, but it looks and tastes a lot more like Italy.
With one day, you have enough time to visit the highlights of Lugano. If you have more time, Lugano makes a great home base to explore southern Switzerland. In this article, read about the best things to do in Lugano, with advice on where to eat and where to stay.
Best Things to Do in Lugano
Monte Brè
For one of the best views of Lugano, ride the funicular to the top of Monte Brè. Once at the top, dine at one of several restaurants, go hiking or mountain biking, or simply enjoy the view.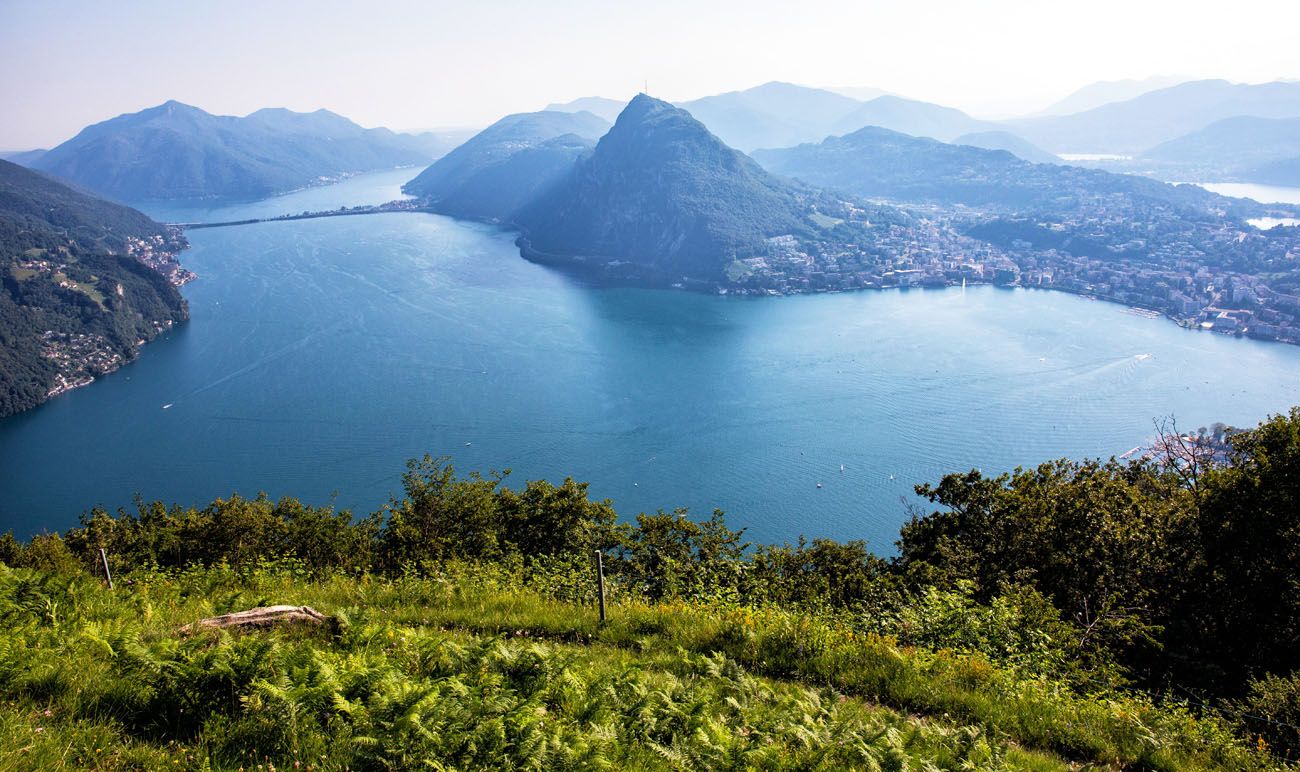 View from Monte Brè | Best things to do in Lugano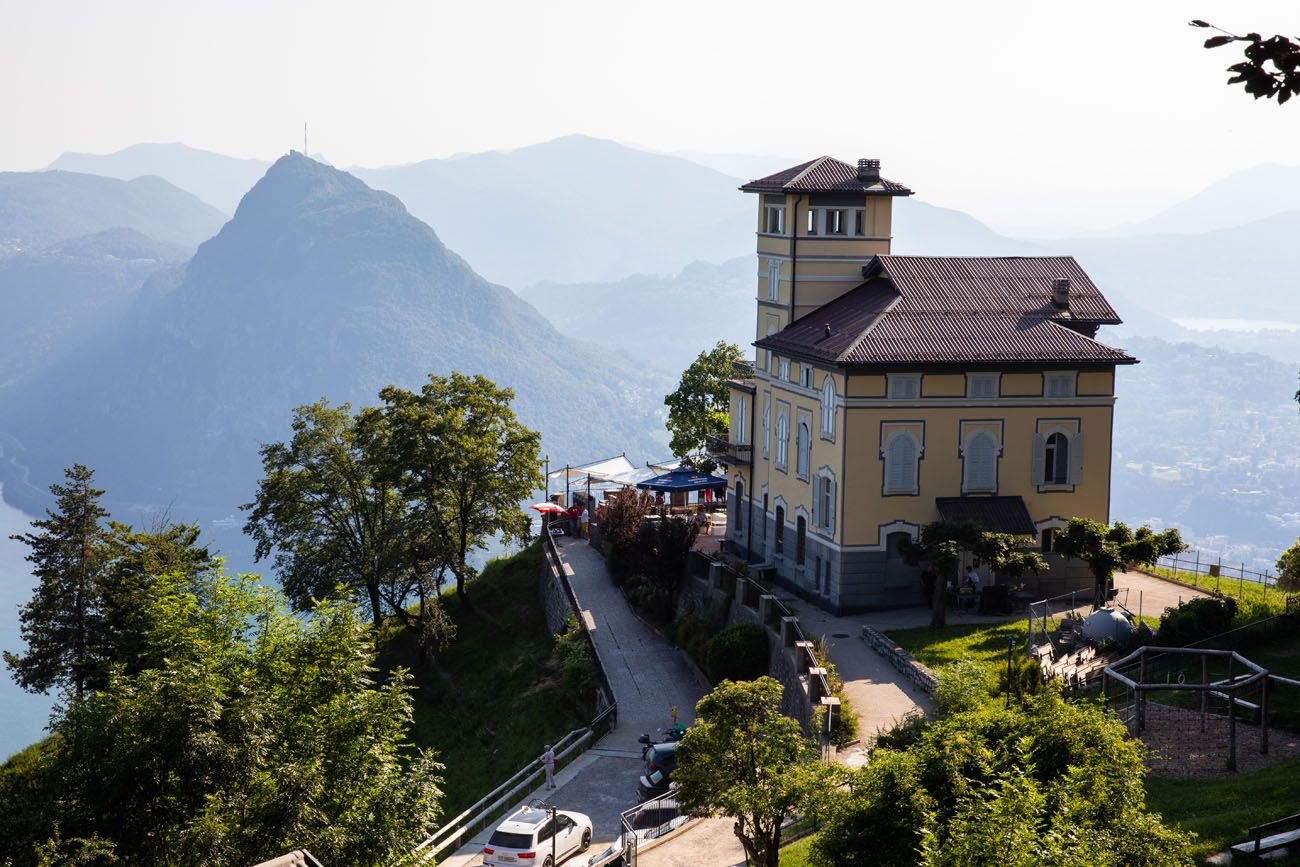 There are two restaurants on top of Monte Brè. Restaurant Vetta has an outdoor terrace with the best view from the peak of Monte Brè, however the food here gets poor reviews. Osteria Funicolare also has an outdoor terrace with a nice view and good food. We ate dinner here and had a very nice experience.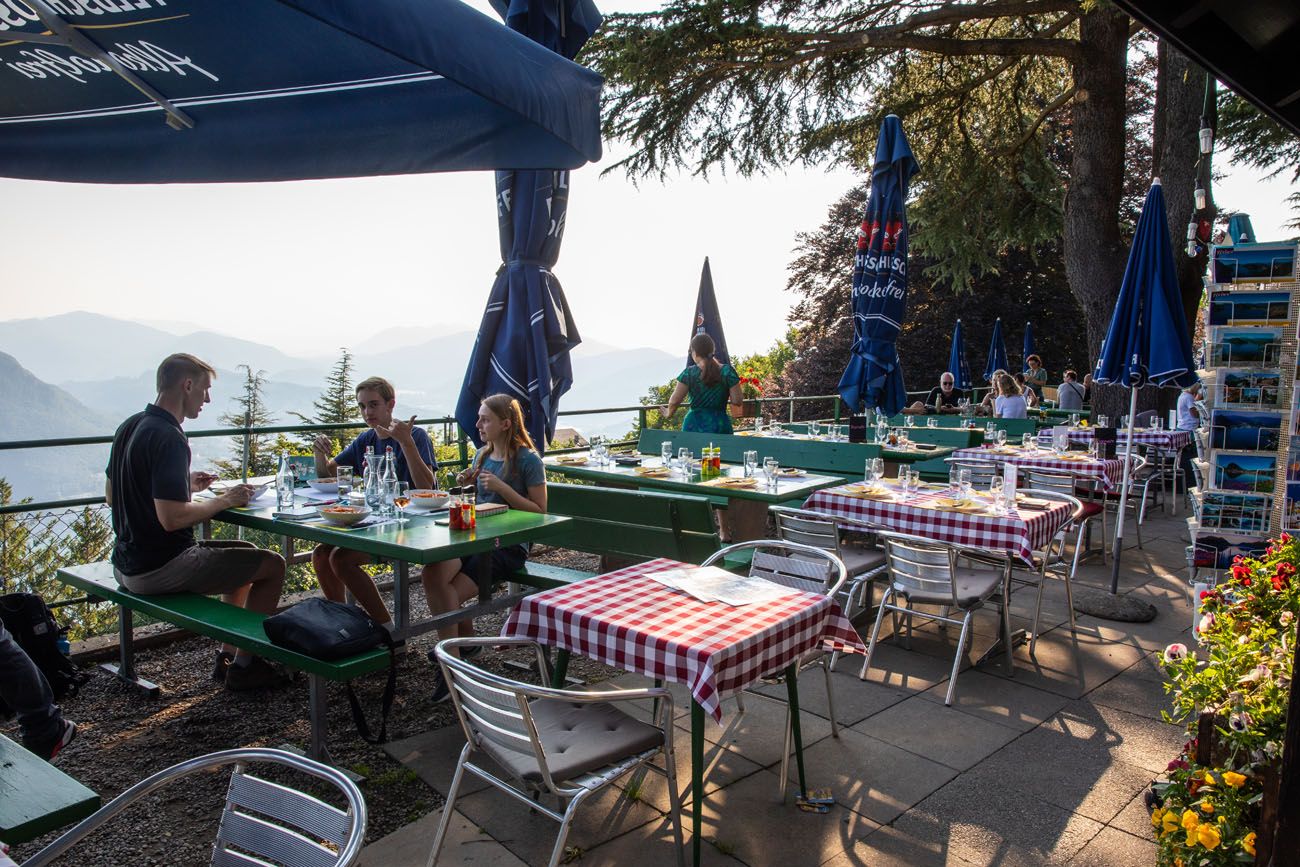 Getting Here: The funicular station is labeled Cassarate on Google Maps. To get here, you can walk across the waterfront or ride bus line 2 to the Cassarate Monte Brè stop.
Monte Brè Funicular: The funicular runs every 15 minutes, from 7 am to 9 pm, longer hours in the summer. For more information, including pricing and a link to the timetable, click here.
Cruise Lake Lugano
One of the best things to do in Lugano is to get out on the lake. There are many different ways to experience Lake Lugano. Take a scenic round-trip cruise from town, use the ferry to hop from point to point along lake Lugano, or ride the ferry to Gandria and walk back to town from here.
Ideas on how to spend a few hours, or more, on Lake Lugano:
Cruise round trip from Lugano: If you cruise to Ponte Tresa and back to Lugano, this takes roughly 4 hours.
Visit Gandria: In the afternoon, cruise to Gandria, have dinner, and cruise back to Lugano.
Gandria and the Olive Trail: Cruise to Gandria and walk back to Lugano on the Olive Trail
Swissminiatur: Cruise to Melide, visit Swissminiatur, and take the boat or the bus back to Lugano
Campione d'Italia: This is an enclave of Italy that is entirely surrounded by Switzerland. You can see it from the ferry or disembark here for a quick visit.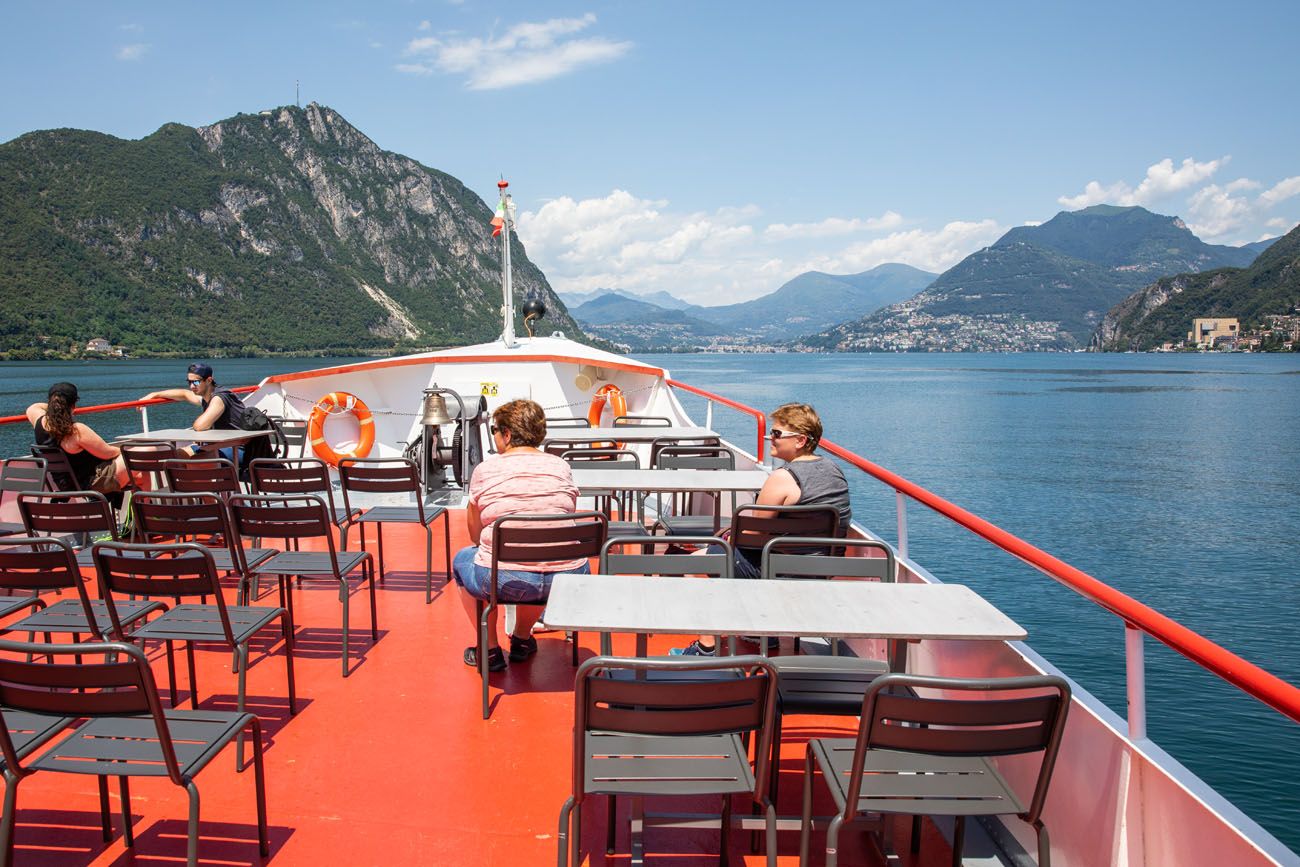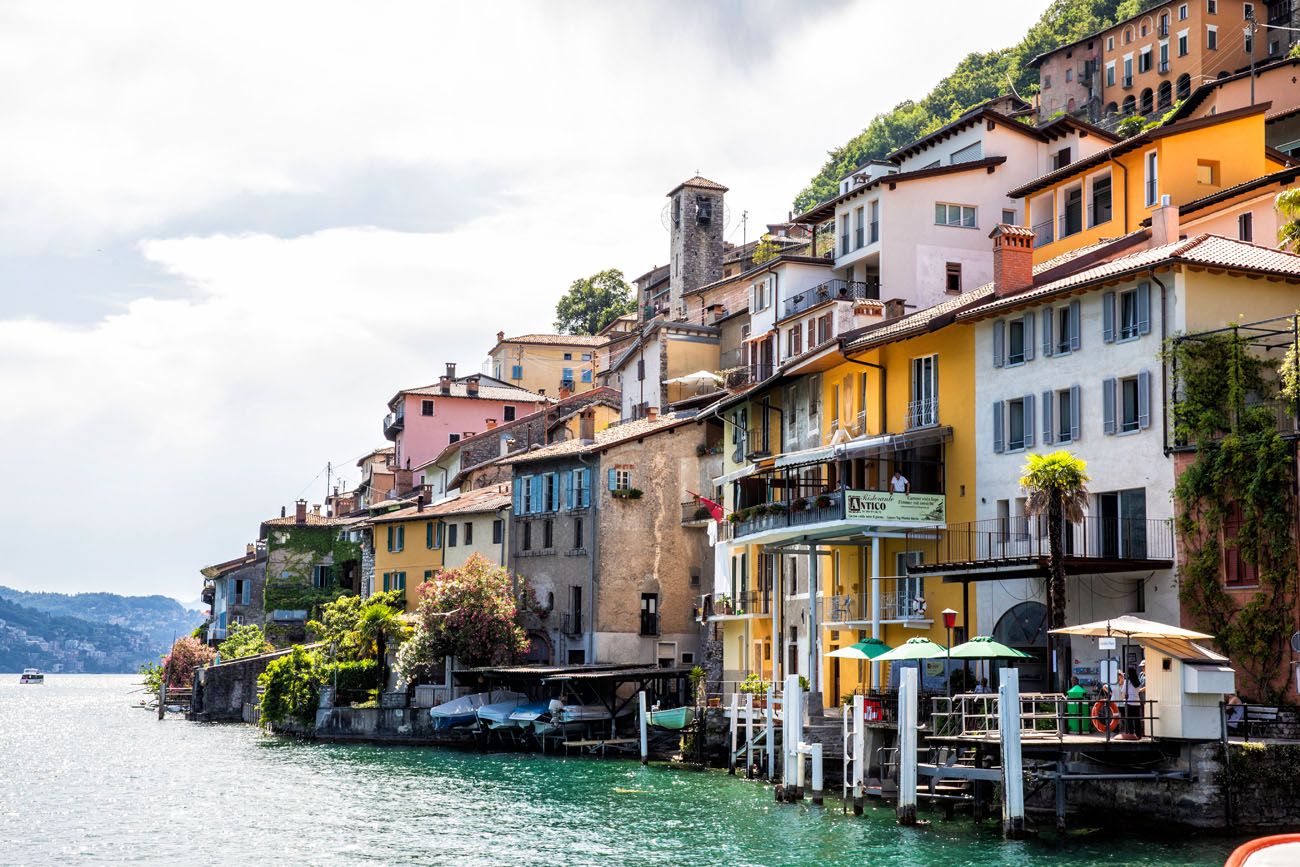 Gandria | Best things to do in Lugano
Here is the link to the official website which lists the ferry schedule. It's complicated, since each boat has a slightly different route and timetable. As for purchasing tickets, you can do so online in advance, at the ticket booths at each port, or on board the boat. If you are not sure which ferry to take, I recommend speaking with the staff at the ferry port.
What We Did: We took the bus to Monte San Salvatore, hiked to Carona and then to Melide, and rode the boat back to Lugano, seeing Campione d'Italia along the way. We ended the day with a second round-trip ferry ride to Gandria.
Olive Grove Trail
The Olive Grove Trail is a walking trail along Lake Lugano that connects Gandria and Castagnola. It is 3.4 km in length and easy to walk. Along the way, enjoy the view of the lake and learn about the olive tree and its cultivation from informational panels.
To walk this one way, you will need to ride the ferry. You can do this walk in either direction. From Castagnola, which is located at the east end of Lugano, walk to Gandria, have lunch or dinner, and ride the ferry back to Lugano. Or, cruise to Gandria and then walk back to Lugano via the Olive Grove Trail.
PRO TRAVEL TIP: Before visiting Gandria, check the hours for the restaurants. We had very bad timing, visiting Gandria when most restaurants were closed for the day (on a Tuesday).
Hermann Hesse Museum
Hermann Hesse was a German-born poet who received the Nobel Prize in literature in 1946. His most famous works include Steppenwolf, Damien, Siddhartha, and The Glass Bead Game. This museum, dedicated to Herman Hesse, is located in the Camuzzi House, where he lived from 1919 to 1931.
Learn more on the museum's official website.
Piazza della Riforma
This is Lugano's main square and a popular site for festivals, markets, and concerts. This is a busy, bustling spot and during our visit a stage was being set up for an upcoming concert.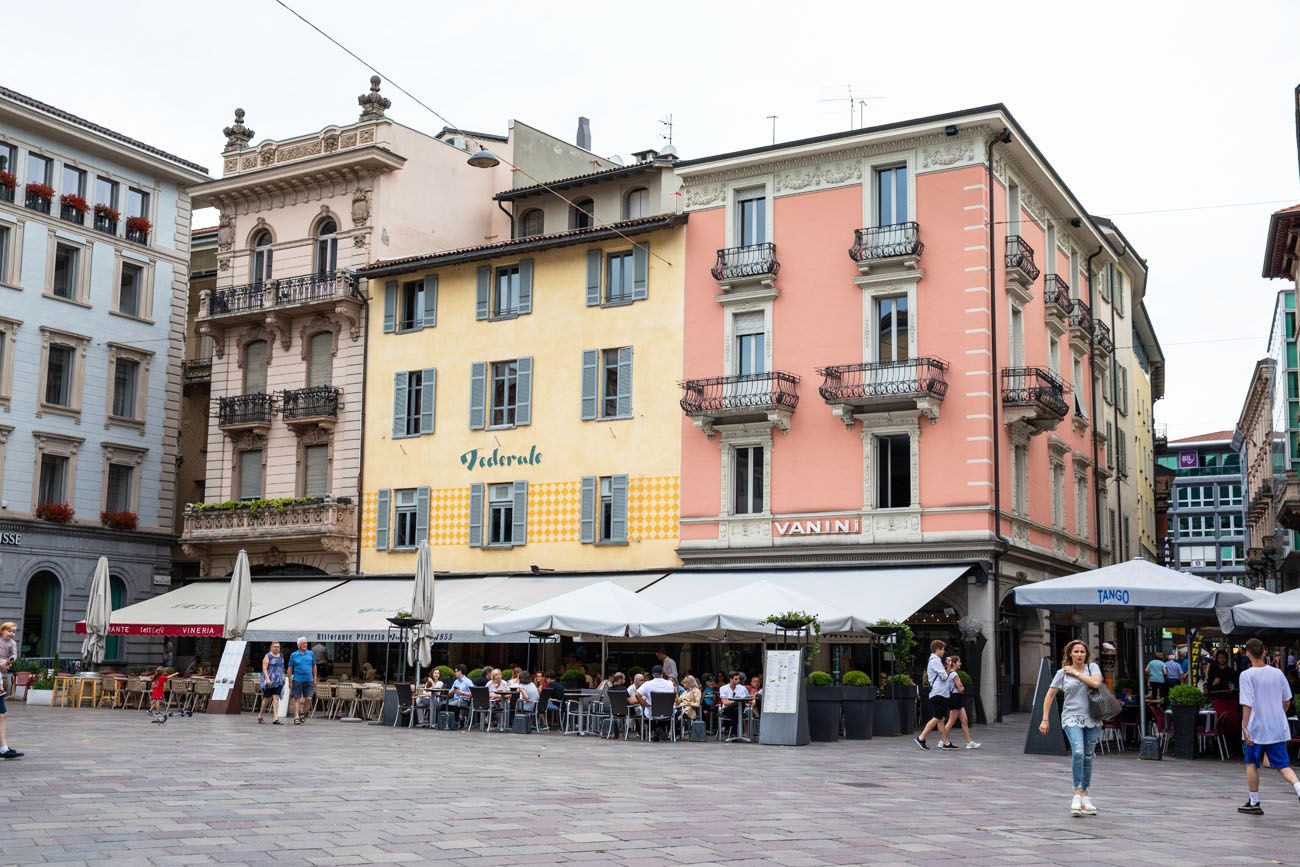 Piazza della Riforma | Best things to do in Lugano
Monte San Salvatore
Monte San Salvatore is another great spot for a bird's eye view over Lugano. In fact, we all enjoyed this view more than from Monte Brè. Not only can you look out over Lake Lugano but on a clear day, you can also see the snow-capped Swiss Alps to the north.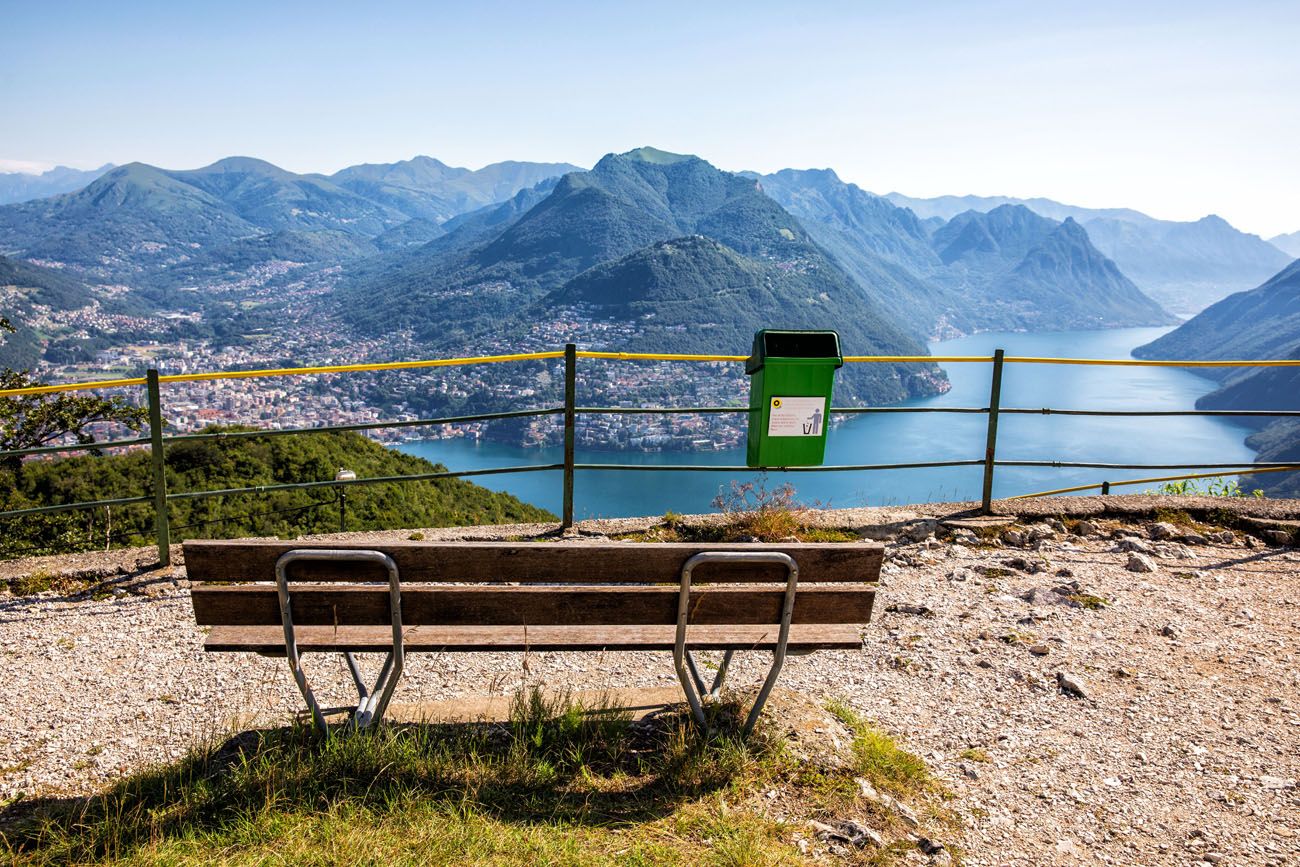 View from Monte San Salvatore | Best things to do in Lugano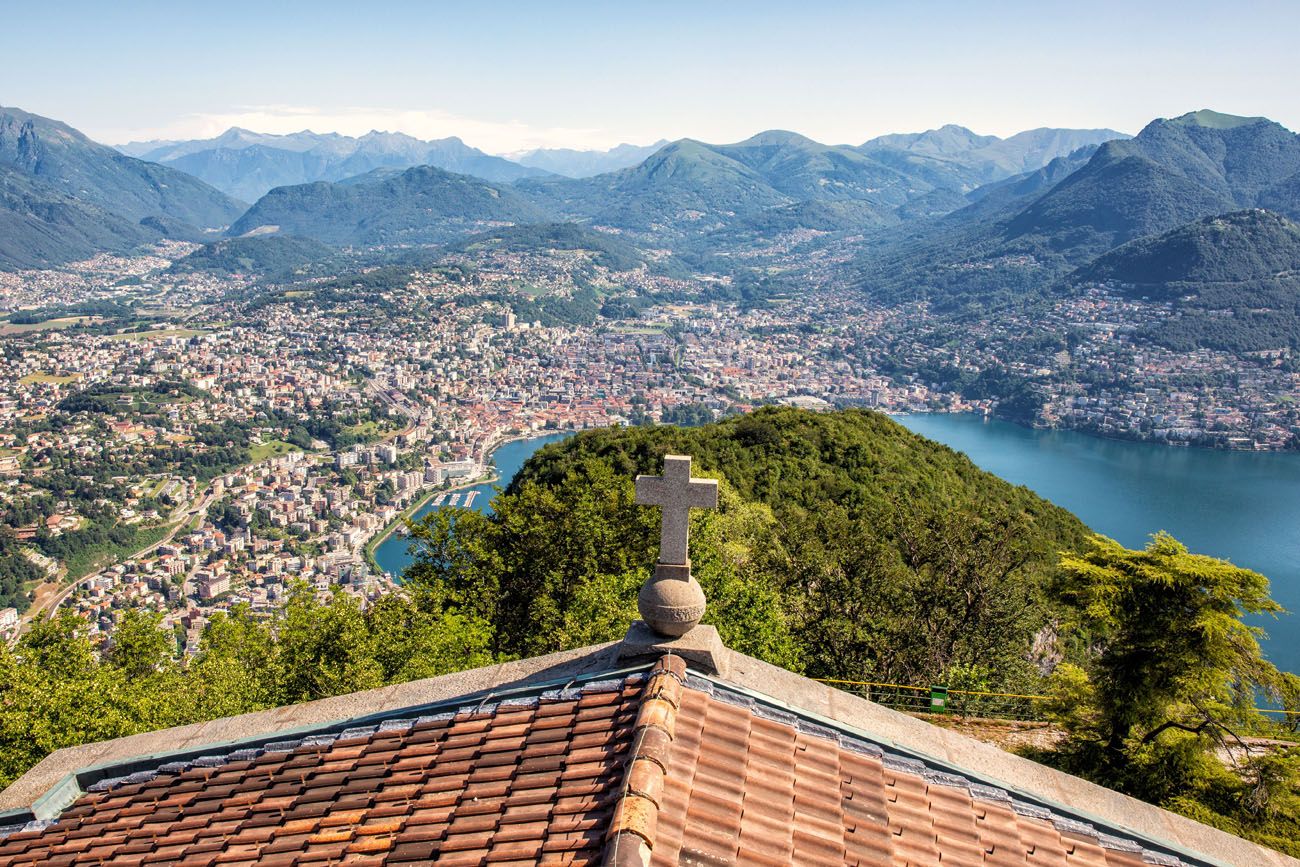 To get here, ride the funicular to the top. The funicular station is located in Paradiso. From the city center of Lugano, it is a 20-minute walk or you can take bus line 1. For the timetable and updated pricing of the funicular, click here.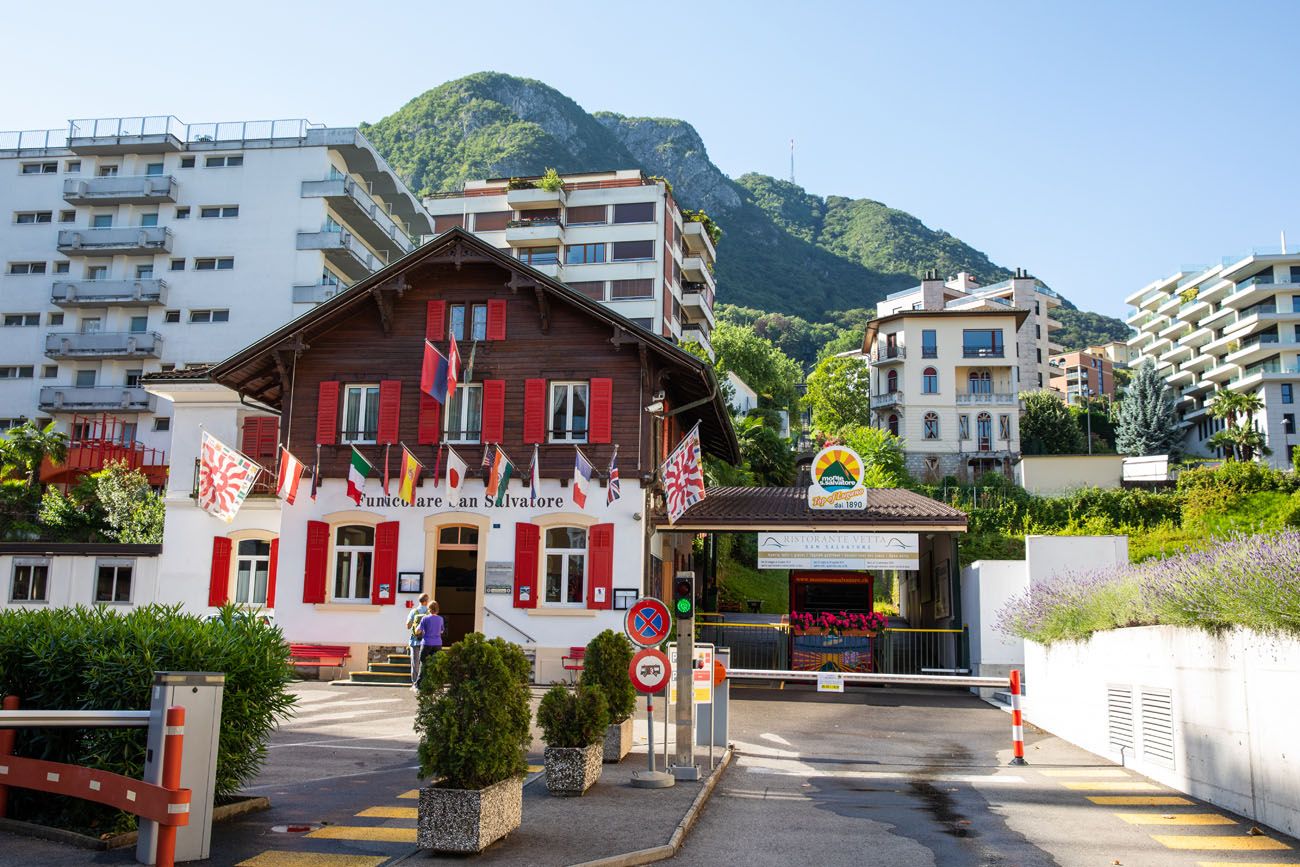 Funicular station in Paradiso | Best things to do in Lugano
From the top, enjoy panoramic views of the area. You can simply spend 30 to 60 minutes here, to walk to the viewpoints for the views. There is a restaurant with a terrace if you want a meal with a view. For those looking to be more active, numerous hiking trails start on top of Monte San Salvatore.
Hiking to Carona and Melide
Carona is small, quiet town with narrow, cobblestoned streets. From the peak of Monte San Salvatore, it is an easy, 1 hour and 20-minute walk to get here. Most of the walk is through a forest although you will walk through a very small, colorful town named Ciona.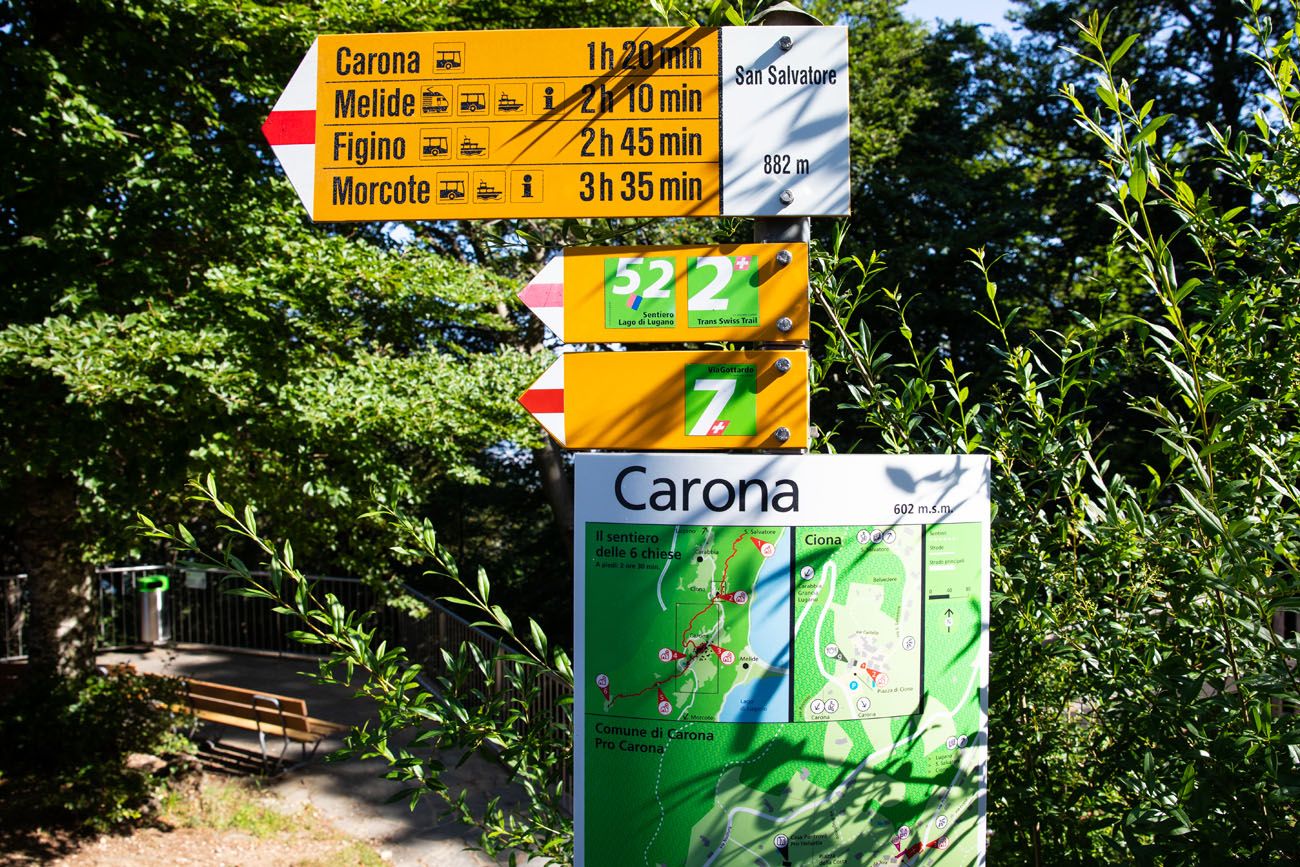 Trail sign on Monte San Salvatore | Best things to do in Lugano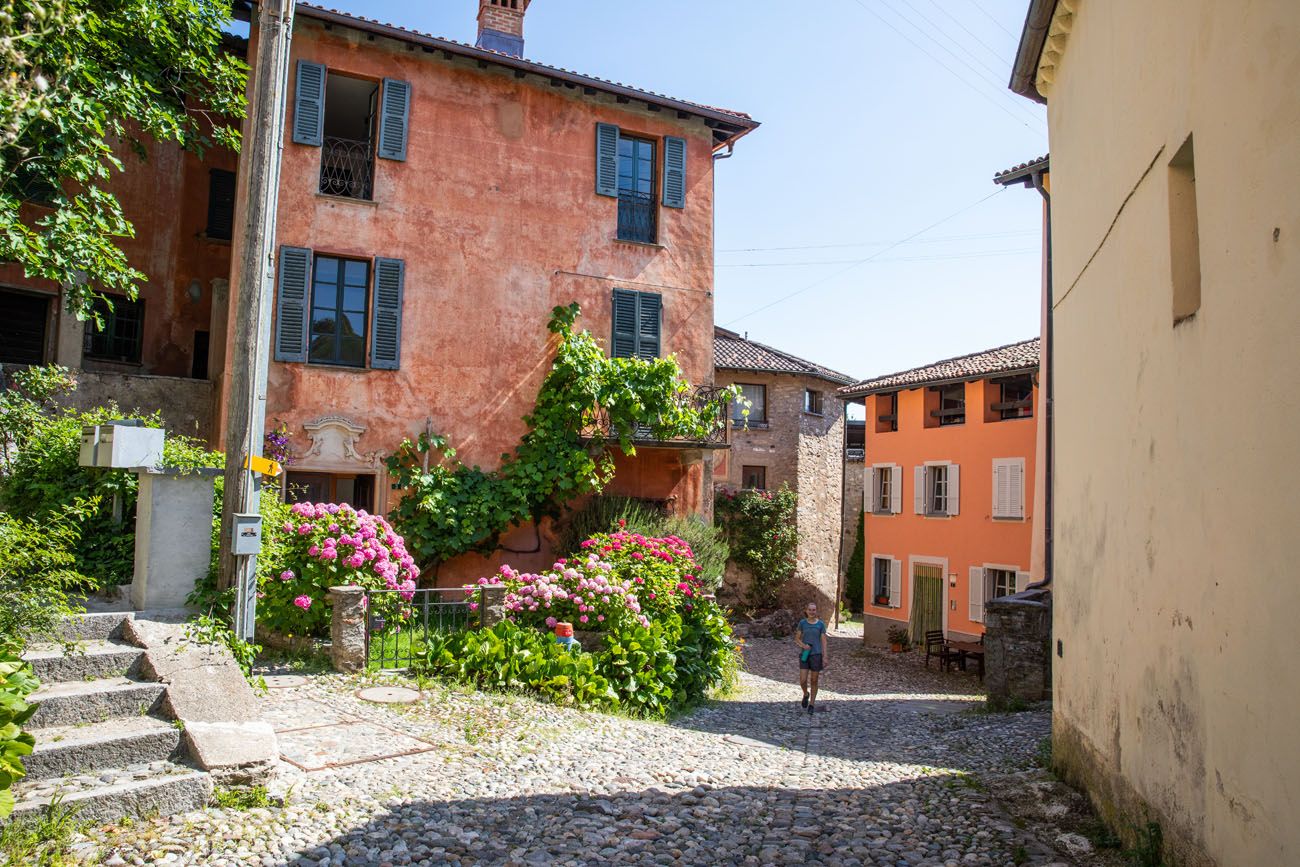 Walking through Ciona, a small town you walk through on the way to Carona.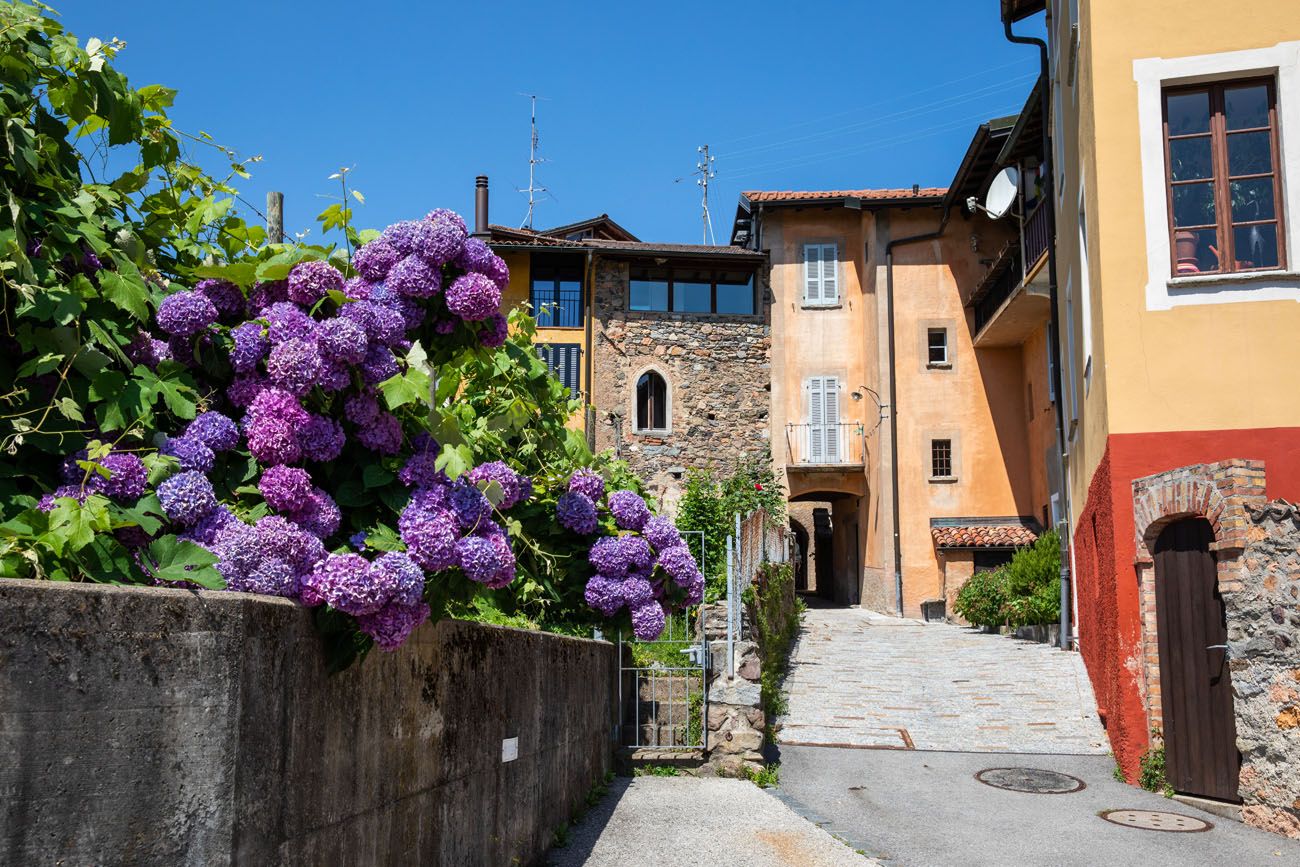 Carona | Best things to do in Lugano
Once in Carona, there are several restaurants where you can have lunch. Retrace your steps back to Monte San Salvatore (now it will be a slightly uphill walk) or continue to Melide, which sits at the base of San Salvatore. This part of the walk takes 45 minutes and it is a steep downhill walk through the forest. It's not all that exciting, but you will end near Swissminiatur. Visit Swissminiatur and then take the ferry to Lugano.
PRO TRAVEL TIP: Bring lots of water if it is a warm day and use the restroom on Monte San Salvatore before you start this walk. Even though you will pass through two towns on this walk, they are small and do not have public restrooms, at least, not from what we saw. Also, restaurants do not open until noon or later. If you start this hike early, you could arrive in Carona before the restaurants open. We got some snacks at a convenience store in town, not wanting to wait an hour for the restaurants to open.
We walked from Monte San Salvatore to Melide. We enjoyed Carona but didn't really think the walk to Melide was worth it. To catch the ferry back to Lugano, we had to wait an hour and a half. There's not much to do in Melide, unless you want to visit Swissminiatur. If we did it again, we would return to Monte San Salvatore from Carona and ride the funicular back to Paradiso.
Parco Civico-Ciani
This 63,000 square-meter park is located on the shore of Lake Lugano. Villa Ciani is the centerpiece amidst walking trails, manicured lawns, flower beds, and trees from around the world.
San Lorenzo Cathedral
To get to San Lorenzo Cathedral, it's an uphill walk from the city center, but from the terrace in front of the cathedral you get a nice view of Lugano. Step inside this Roman Catholic cathedral to see frescoes from the 14th century.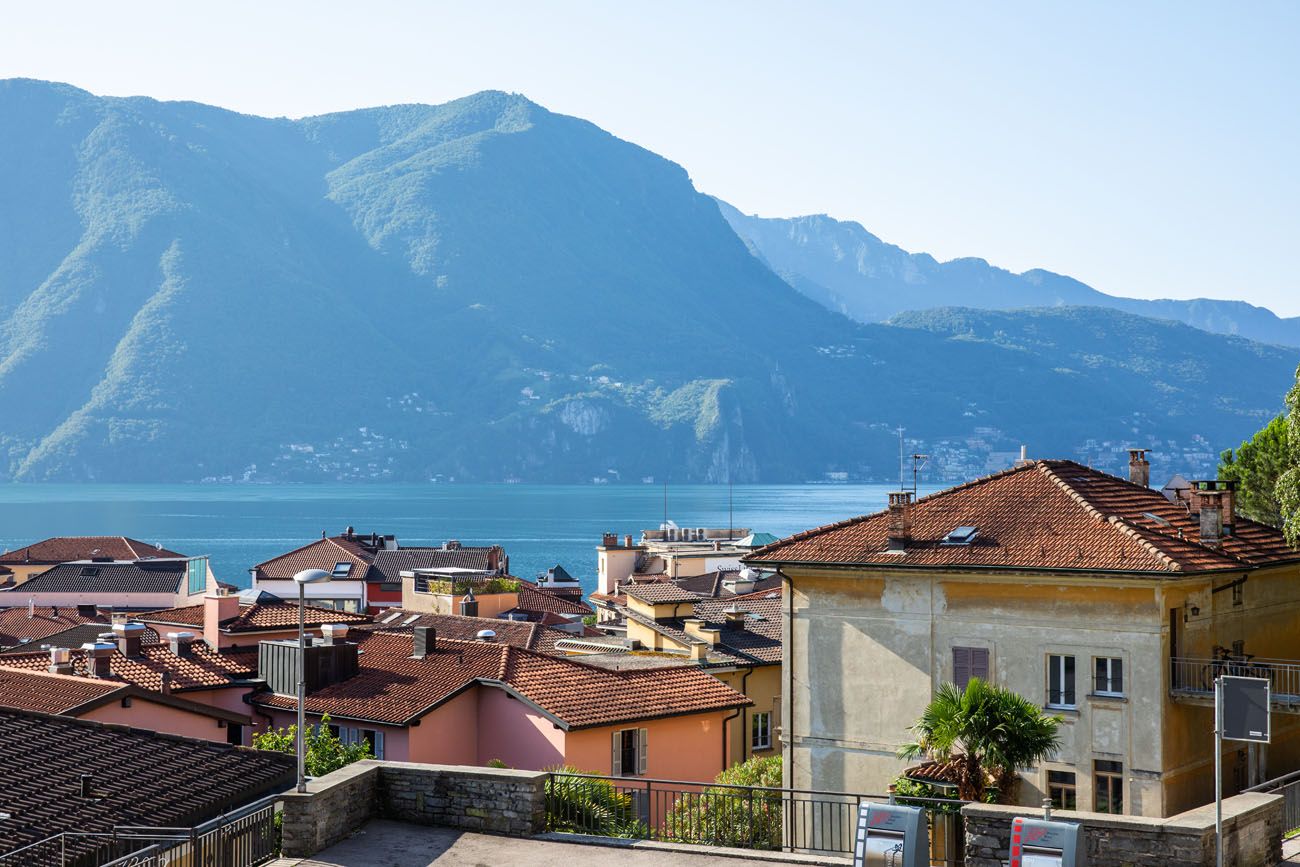 View from San Lorenzo Cathedral | Best things to do in Lugano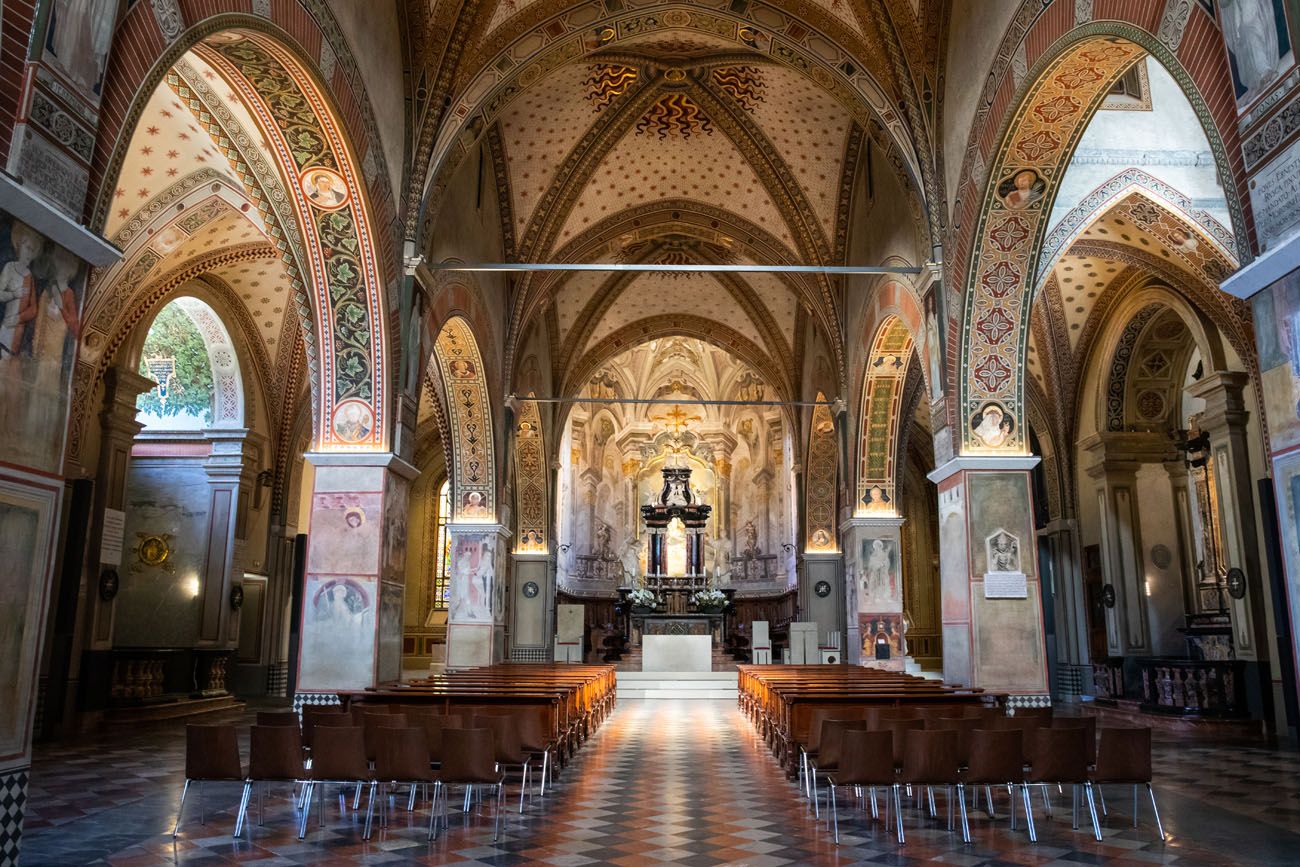 San Lorenzo Cathedral | Best things to do in Lugano
Chiesa di Santa Maria degli Angeli
This church contains the most famous fresco of the Italian Renaissance in Switzerland, the Passion and the Crucifixion of Christ, by Italian artist Bernardino Luini. The church is located on Lake Lugano just a short walk from Piazza Riforma.
Swissminiatur
If you are visiting Lugano with kids, don't miss Swissminiatur. This small park is a miniature version of Switzerland, complete with miniature trains, the Swiss Alps, and famous landmarks.
Website: For directions on how to get here, pricing, and updated hours, visit the official website.
Best Things to Do in Lugano: On a Map
How to Use This Map: Click the tab in the top left hand corner of the map to view the layers (best things to do, where to eat, and where to stay). You can click the check marks to hide or show layers. If you click the icons on the map, you can get more information about each point of interest.

If you click the star next to the title of the map, this map will be added to your Google Maps account. To view it on your phone or computer, open Google Maps, click the menu button, go to "Your Places," click Maps, and you will see this map on your list.
How to Get Around Lugano
Most places in Lugano are within walking distance, however, you can save your steps and use the public bus.
In the center of town, there is a large bus station (it is labeled Lugano, Centro on Google Maps and we have it marked on our map at the beginning of this article). From here, you can catch the buses to take you to the Monte Brè funicular and to Paradiso. There are maps and lots of signs in this station so finding the correct bus is easy. Plus, the entire station is under cover, so if it is a rainy day, you can stay dry while you wait.
Here is the link to the Lugano public bus website.
Where to Eat
The food in Lugano is a wonderful blend of Swiss and Italian, with an emphasis on Italian. Pasta, pizza, and red wine makes it onto many of the menus here.
Ristorante Trattoria Galleria. This slightly pricey restaurant serves Italian pastas and seafood. It is located near the center of town, tucked away in a gallery. You can dine outside, under the cover of the galleria. We ate here and it was our favorite dining experience in Lugano. Click here to see the menu.
Grotto Morchino. This highly-rated restaurant serves Swiss and Italian food in a cozy atmosphere. People rave about the Osso Bucco and chestnut cake. This restaurant can be difficult to get to. It is located near Paradiso on the side of Monte San Salvatore. Closed Mondays. Click here to see the menu.
Osteria Funicolare. For a meal with a view, ride the funicular to the top of Monte Brè and have lunch or dinner at Osteria Funicolare. If you want a table with a view, make your reservation in advance.
Ristorante le Bucce di Gandria. This is one of the highest rated restaurants in and around Lugano. It is located in Gandria, so to get here you will need to take the ferry, but once here, dine on Italian food and enjoy views of the lake. This is where we wanted to eat but they were closed during our visit (closed Monday and Tuesday). Click here to learn more.
Ristorante Arte al Lago. This is the only Michelin-starred restaurant in Lugano. It's also the most expensive restaurant on this list. From the terrace, enjoy breathtaking views of Lake Lugano and dine on dishes that specialize in fish and seafood from the lake. Open Tuesday to Saturday. Click here to see the menu.
La Fermata. If you just want a good burger and fries, go to La Fermata. It is located near Parco Civico-Ciani and the funicular up to Monte Brè.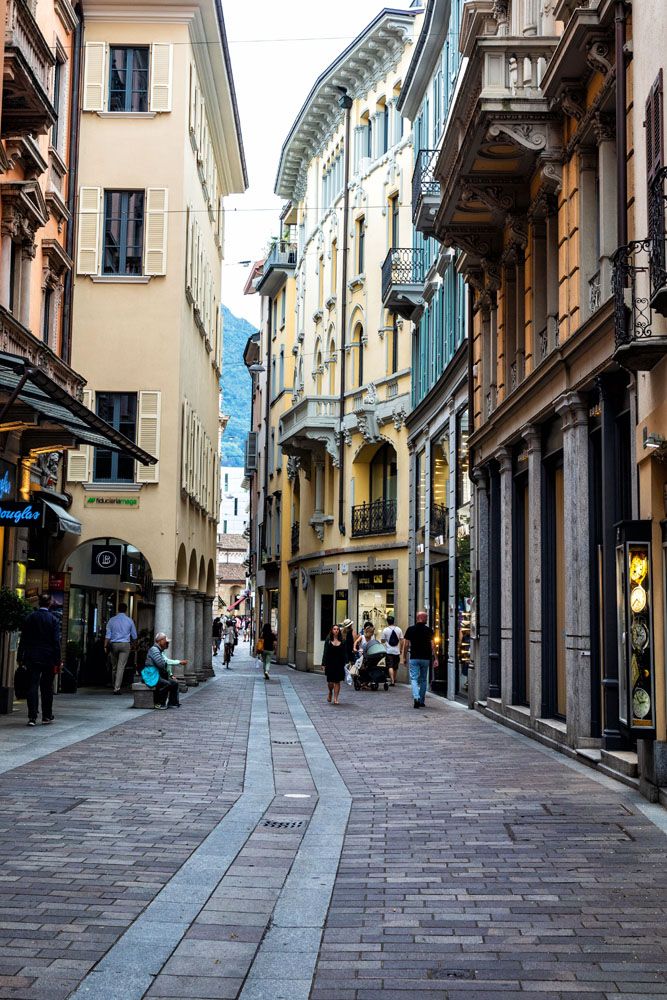 Via Nassa | Best things to do in Lugano
Where to Stay
LUXURY: The View Lugano. This hotel has it all…fabulous views of the lake, beautiful rooms, an onsite restaurant, an indoor swimming pool and a fitness area. All rooms have balconies with views of the lake. E-bikes and electric smart cars are available free of charge. Plus, with its perfect location, you are within walking distance of the top sights in the Lugano.
UPSCALE: Hotel City Lugano. This is where we stayed and I can't say that we had the best experience. In fact, this hotel looks and feels more like a mid-range hotel than a 4-star hotel. We spent four nights here in early July, right at the end of the European heat wave of 2019. The air-conditioners in our two rooms barely worked. We spoke to the staff numerous times and we were told that this has been an ongoing problem with no solution in the works. If you plan to visit Lugano in the summer months, look elsewhere. However, the rooms are large, the breakfast is great, and the hotel is located in a quiet neighborhood, so I think it makes a nice option during the cooler months of the year, or once they get the A/C fixed.
MID-RANGE: Continental Parkhotel. This hotel is located next to the train station and is within walking distance of Lake Lugano. All rooms have air-conditioning and soundproofing. Rooms can accommodate two people and rooms on the higher floors have views of Lake Lugano.
APARTMENT: Modern Apartment in Lugano. If you are looking for an apartment that can accommodate up to six people and gets great reviews, this is one to consider. It is located outside of the city center so this is best if you will have a car (they offer free parking).
BUDGET: Lugano Savosa Youth Hostel. This hostel is located outside of the city center, but you get an outdoor pool, a large garden, volleyball, badminton, and table tennis. Some rooms have a private bath and some rooms have a shared bath. All guests get free use of the public transportation.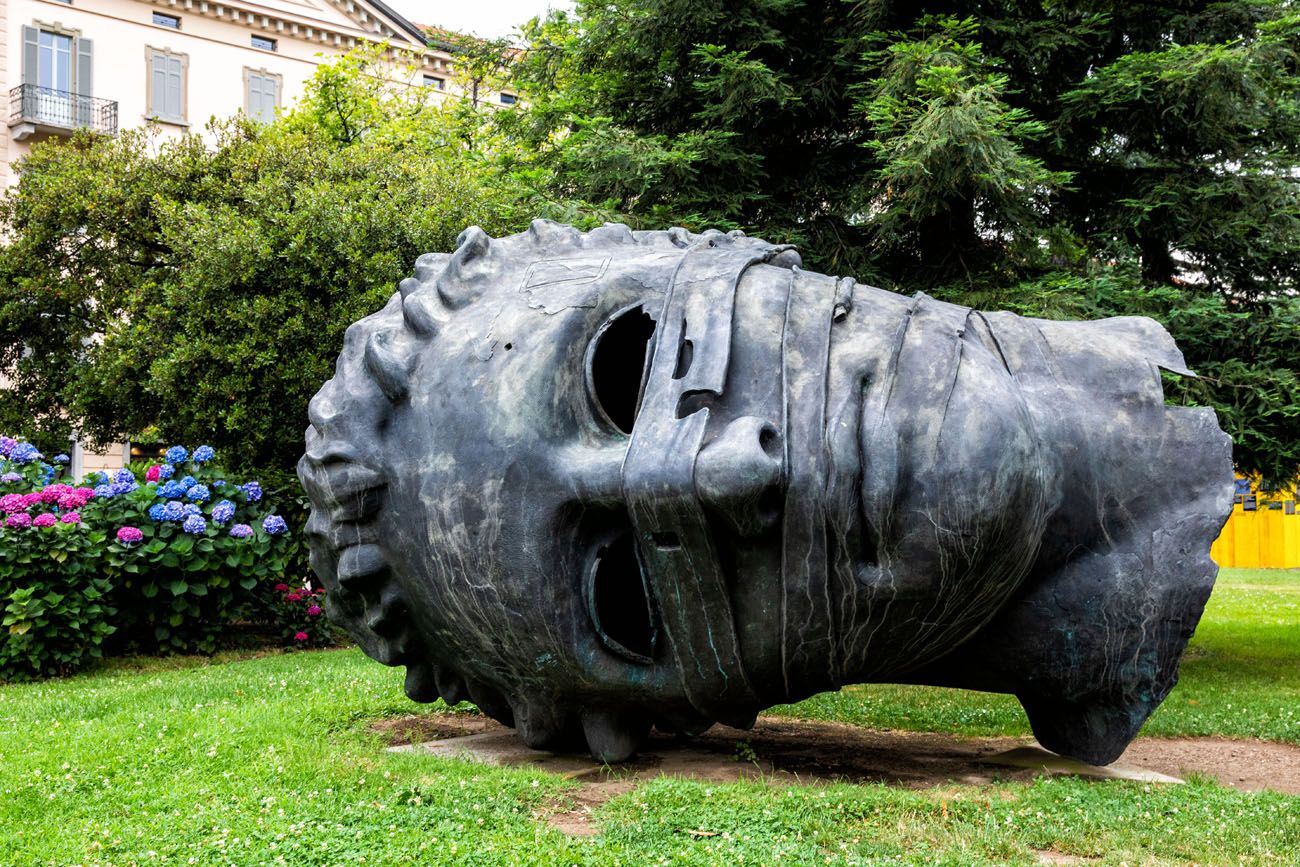 Eros Bendato by Polish sculptor Igor Mitoraj. You can see this at Piazza Indipendenza.
Day Trip Ideas from Lugano
With one full day, you can visit most of the sites listed in this post. If you have more time, Lugano makes a great home base for exploring southern Switzerland and even parts of northern Italy.
Here are great day trip ideas from Lugano:
Visit Ponte dei Salti and the Verzasca Valley
Visit Monte Tamaro
Hike the Monte Tamaro – Monte Lema Traverse
Visit the UNESCO World Heritage castles in Bellinzona
Enjoy the view from the top of Monte Generoso
Take a day trip to Milan, Italy
Spend a day on Lake Como
Explore Ascona and Locarno, two towns on Lake Maggiore
Walk across the Tibetan Bridge in Monte Carasso
For full details on these day trips, read our article about the best day trips from Lugano.
---
If you have plans to visit Lugano and have any questions, let us know in the comment section below.
More Places to Go in Switzerland
SWITZERLAND ITINERARY: If your visit to Lugano is part of a bigger trip to Switzerland, check out our Switzerland Itinerary, which has suggestions on what to do if you have 7 days, 14 days, or even longer.
LAUSANNE: Lausanne is another beautiful Swiss city with lots of great things to do and it also is a great home base for day trips in the area, such as Gruyères and Montreaux, Vevey and Chateau de Chillon.
BEST OF ZERMATT: Get started with our article Best Things to Do in Zermatt. Learn how to plan your visit with our Zermatt Itinerary, which has suggestions for how to spend your time if you have 1, 2, 3 or more days in Zermatt.
JUNGFRAU REGION: What exactly is the Jungfrau region of the Bernese Oberland? Find out in our Guide to the Jungfrau Region, which includes maps and important travel planning information. We also have articles about the best things to do in the Jungfrau region as well as the top hikes in the Jungfrau region. A visit to Jungfraujoch is one of the most popular experiences in the Jungfrau region, but is it worth it? Riding to cable car to Schilthorn and the Mürren Via Ferrata were two of our favorite experiences in this part of Switzerland.
ZÜRICH: For things to do on a quick visit, check out our article One Day in Zürich.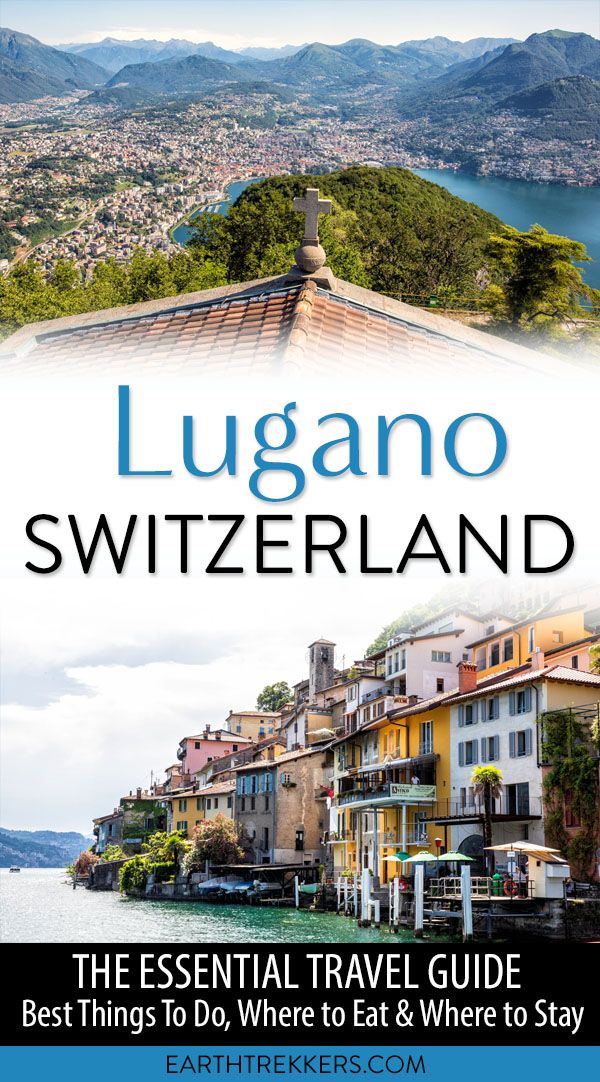 Note: This post contains affiliate links. When you make a purchase using one of these affiliate links, we get paid a small commission at no extra cost to you.
All rights reserved © Earth Trekkers. Republishing this article and/or any of its contents (text, photography, etc.), in whole or in part, is strictly prohibited.