Petrified Forest National Park beat all of my expectations. I imagined a barren desert with a few colorful hills, some ancient, petrified stumps, and soaring temperatures in the early summer. Instead, we were treated to the colorful, uniquely beautiful hills of the Painted Desert, giant, petrified trees that puzzle the mind, and the chance to walk backcountry trails without another person in sight.
Visiting Petrified Forest National Park is like taking a step back into time. The petrified logs date back hundreds of millions of years, to a time when this land was once lush and fertile. These trees fell and became the mineralized versions of their original forms even before dinosaurs walked the earth.
Petrified Forest National Park is small so you really only need one day to explore it. In this article, learn the best things to do in Petrified Forest National Park, how to manage your time, where to stay, and more.
About Petrified Forest National Park
Petrified Forest National Park is located in Arizona. From here, it takes roughly 3 to 3.5 hours to drive to Phoenix and the Grand Canyon.
There are two sections to Petrified Forest National Park. The park gets its name from the petrified wood that is scattered throughout the park. The highest concentration of this wood is in the southern section of the park.
In the northern half are the colorful hills of the Painted Desert.
The main road, Petrified Forest Road, starts in the north at Route 40 and ends 28 miles later at Route 180. You can start in the north and work your way south, or vice versa.
Petrified Forest National Park is not open 24 hours a day. At the north and south ends of the park are entrance gates. If you arrive before or after operating hours you will not be able to enter the park.
Hours vary by season. For most of the year, the park opens at 8 am and closes at 5 pm. Get updated hours of operation here.
In 2022, Petrified Forest National Park received 505,000 visitors. That may sound like a lot, but compare that to Yosemite, which received 3.7 million visitors and Great Smoky Mountain National Park, which received over 13 million visitors!
During our visit in mid-June, this park felt delightfully uncrowded. We literally hiked 3 miles round trip on a hiking trail and saw not one other person.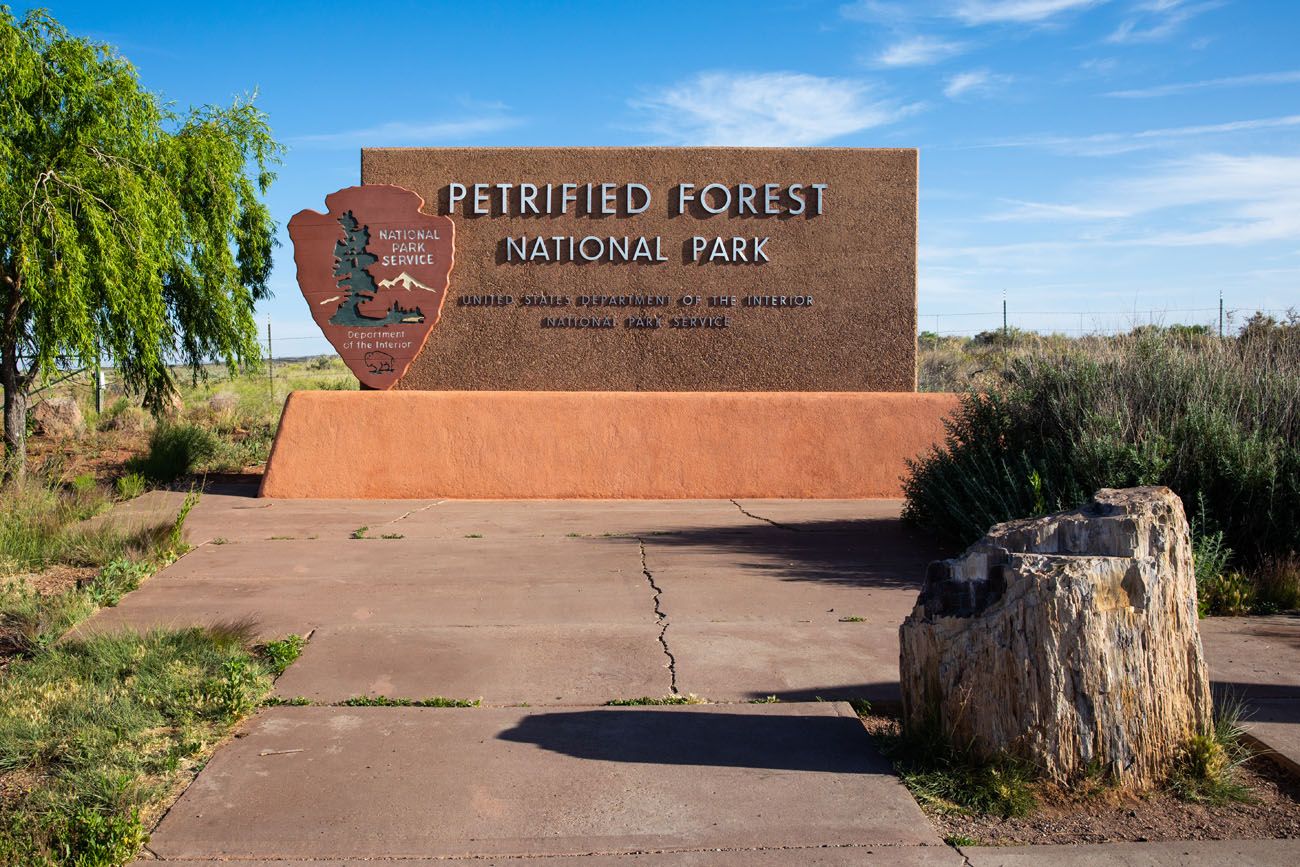 What is Petrified Wood?
The fallen, petrified trees that give this national park its name date back to 225 million years ago.
At that time, this area was located near the equator on the giant supercontinent of Pangaea. After the enormous trees fell, they were buried in the river channels. The river water that saturated the trees contained minerals. These minerals slowly formed quartz crystals, which replaced the organic material of the trees.
60 million years ago, tectonic movements of the Earth's crust lifted up the Colorado Plateau. As the land was uplifted, layers of rock were eroded away, unearthing these petrified trees.
When you look at these ancient trees, you can still see the rings, but instead of wood, you are looking at colorful quartz crystals. Iron, manganese, and carbon add color to the petrified wood.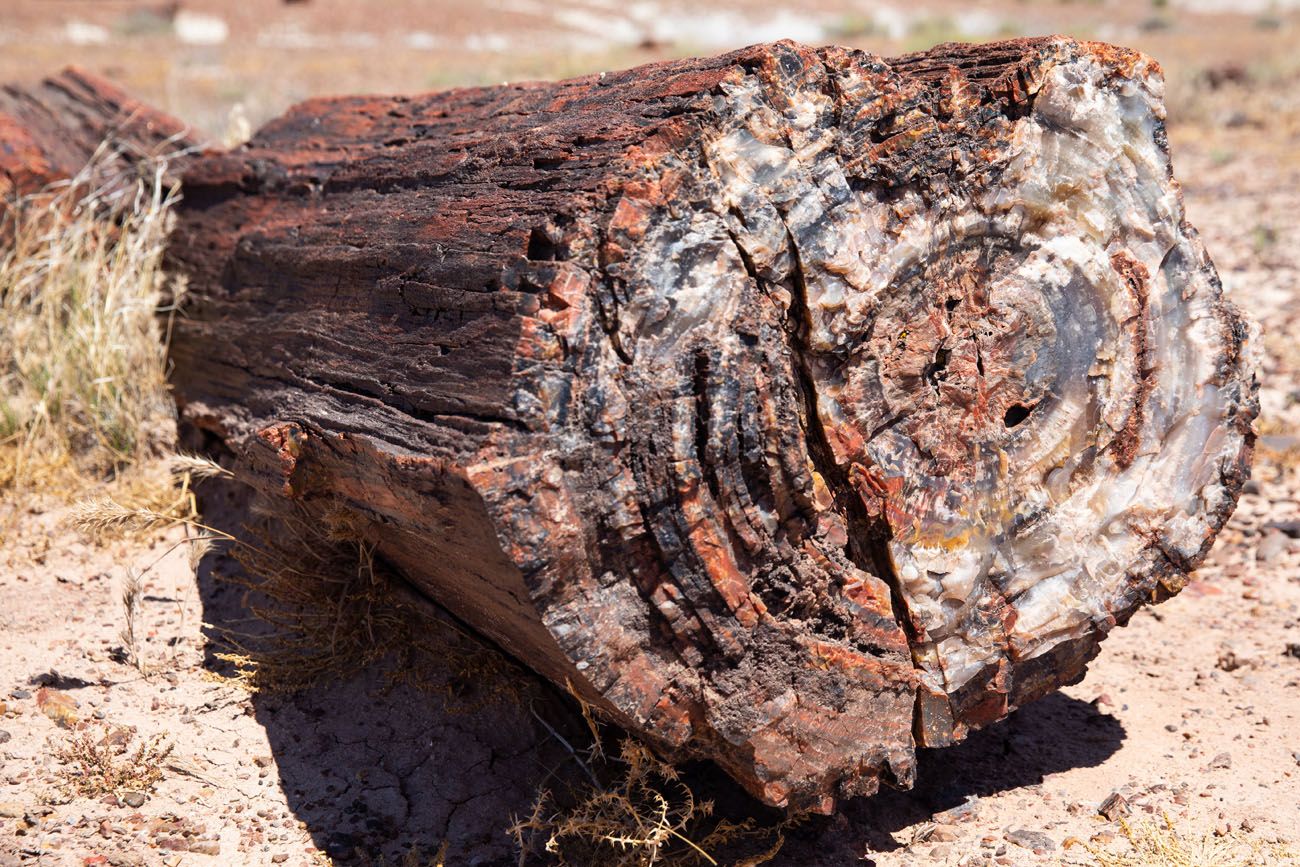 It's absolutely amazing. This petrified wood still resembles the structure of the trees. You can clearly see rings and the bark, but it is shiny and crystallized and very, very heavy.
Important! Please do not take the petrified wood out of the park. It's tempting, because it's so beautiful. However, it is estimated that up to 12 tons of petrified wood is illegally removed from the park each year. If you really want to take home a souvenir, visit one of many petrified wood shops located between the park and Holbrook. This wood comes from private land so it can legally be sold.
Best Things to Do in Petrified Forest National Park
This list is organized by location, starting in the north at the main visitor center and ending at the southern entrance gate. At the end of this section, we give our recommendations for the top experiences in the park.
How to Use This Map: Click the icons on the map to get more information about each point of interest. Click the star next to the title of the map to add this map to your Google Maps account. To view it on your phone or computer, open Google Maps, click the menu button, go to "Your Places," click Maps, and you will see this map on your list.
Tiponi Point
This is a very quick stop and your first look at the painted desert hills. This viewpoint is located just past the Visitor Center.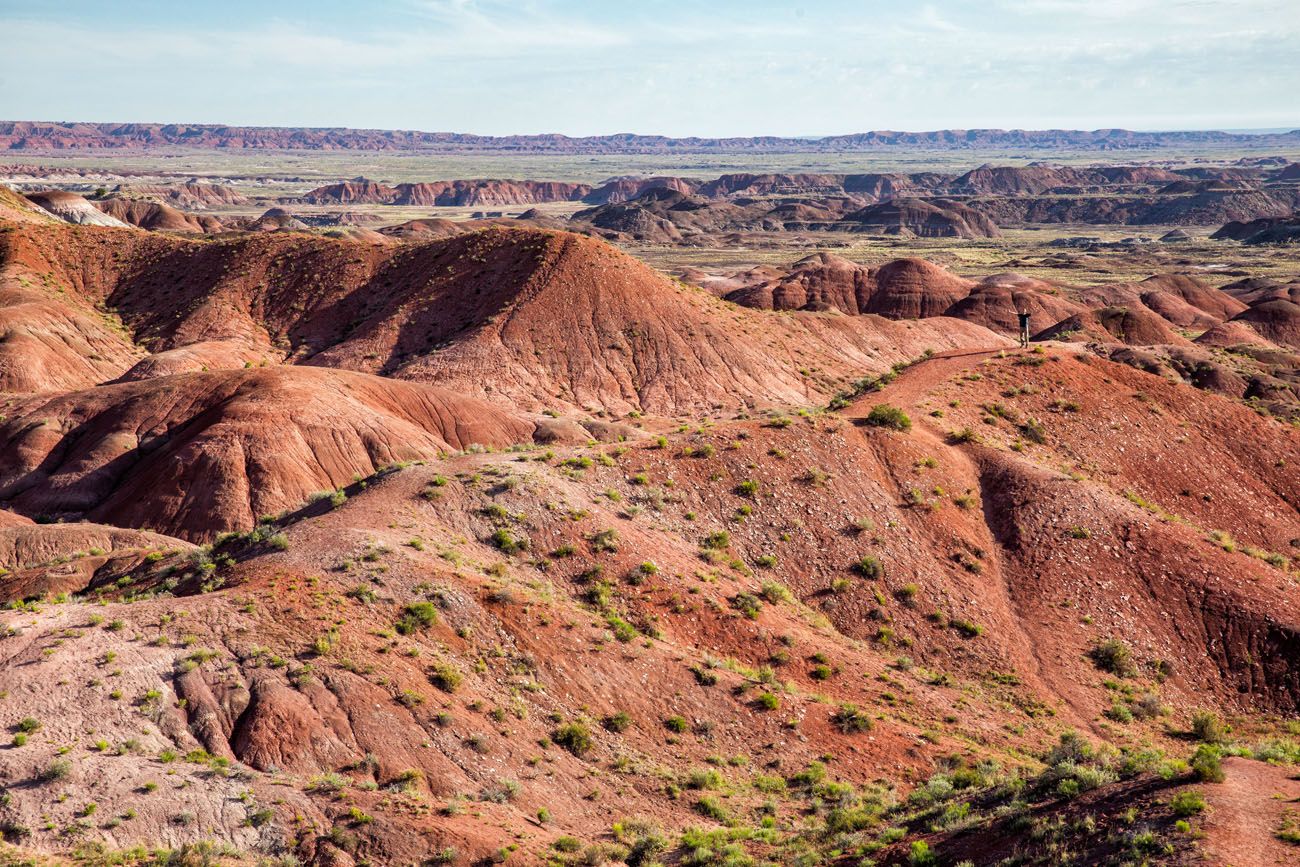 Painted Desert Rim Trail
This short walking trail (1-mile out and back) starts at Tawa Point and turns around at the Painted Desert Inn and Kachina Point. It's relatively flat and gives you some nice views over the painted desert.
This trail really just follows alongside the road. If it's hot or if you want to save some time, skip the trail and drive to Tawa Point and Kachina Points instead. You will still get the best of the views without the effort (although really not much effort is necessary for this easy trail).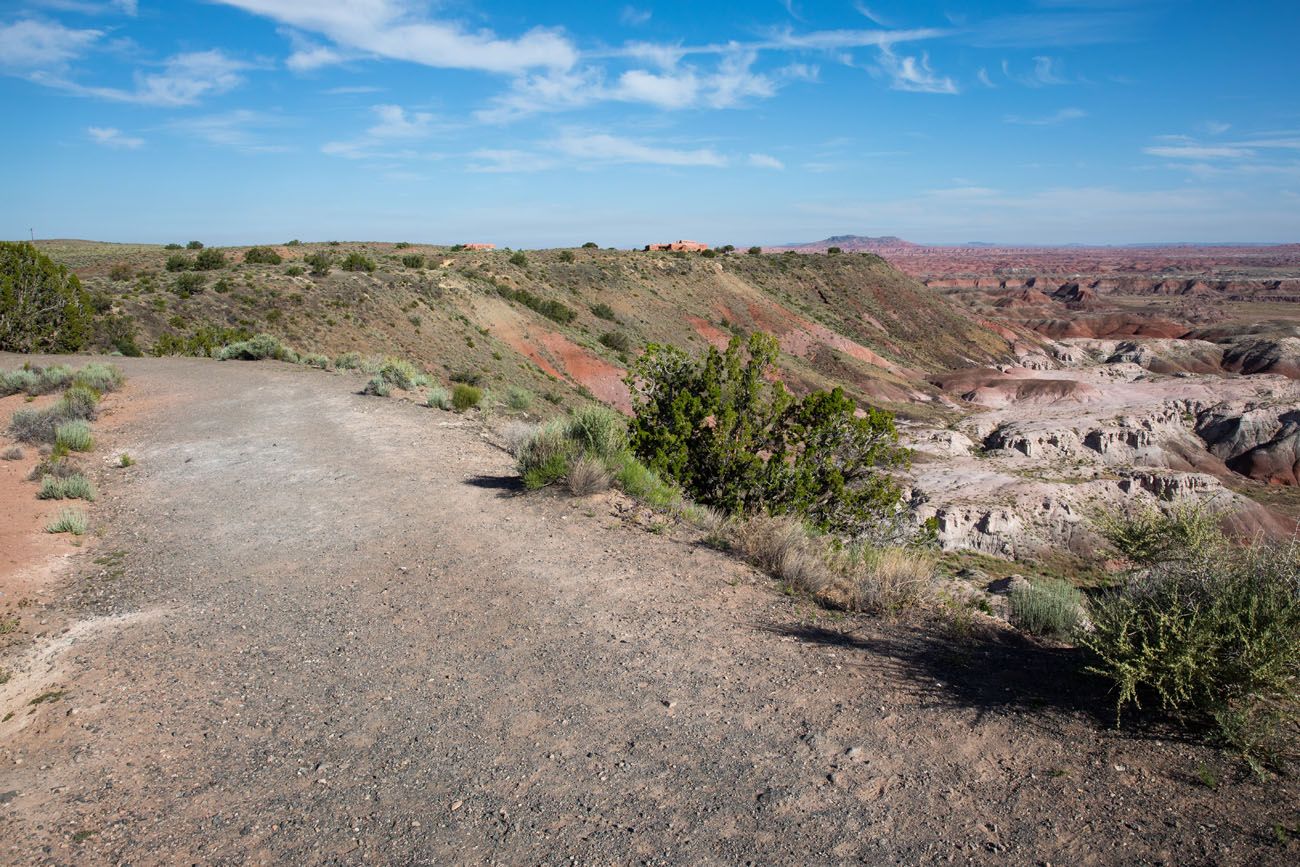 Desert Rim Trail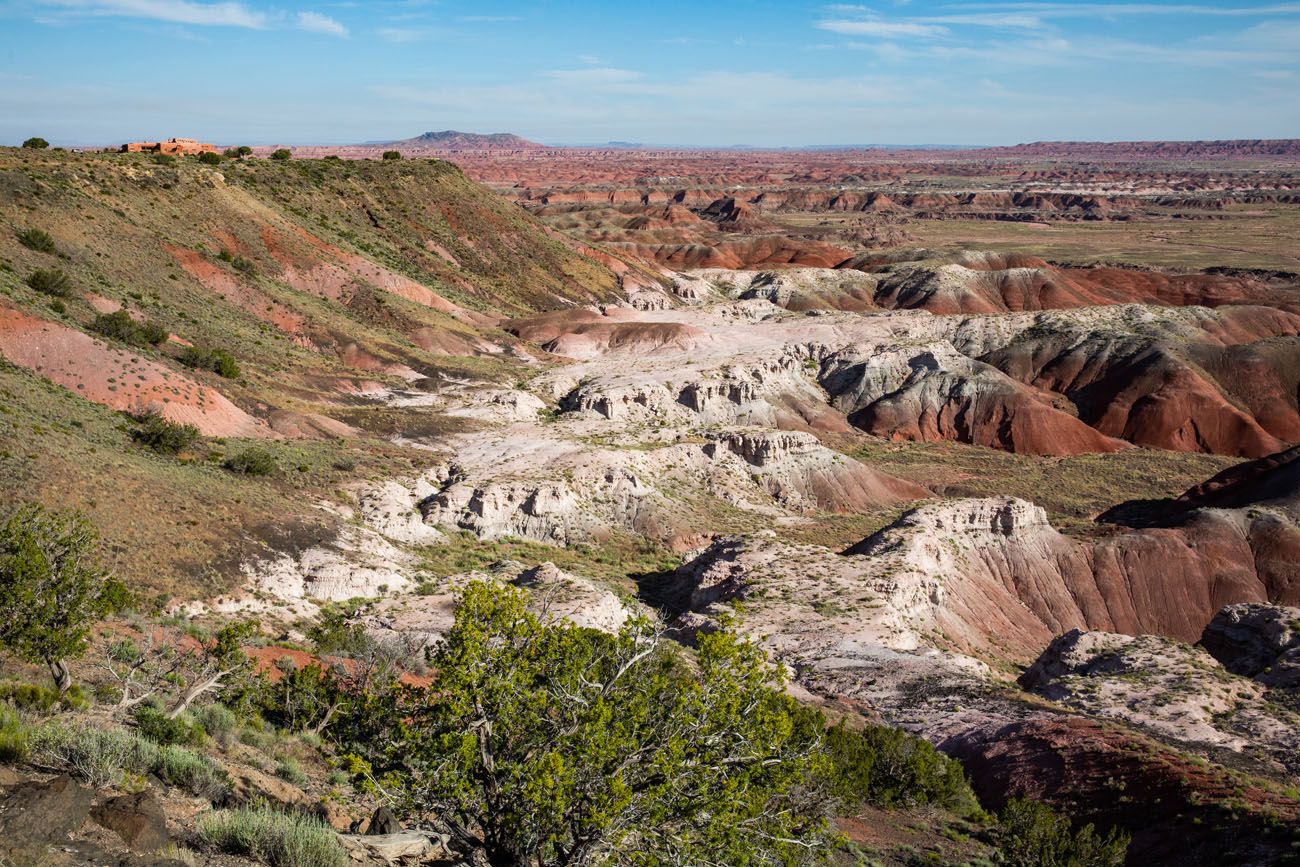 Tawa Point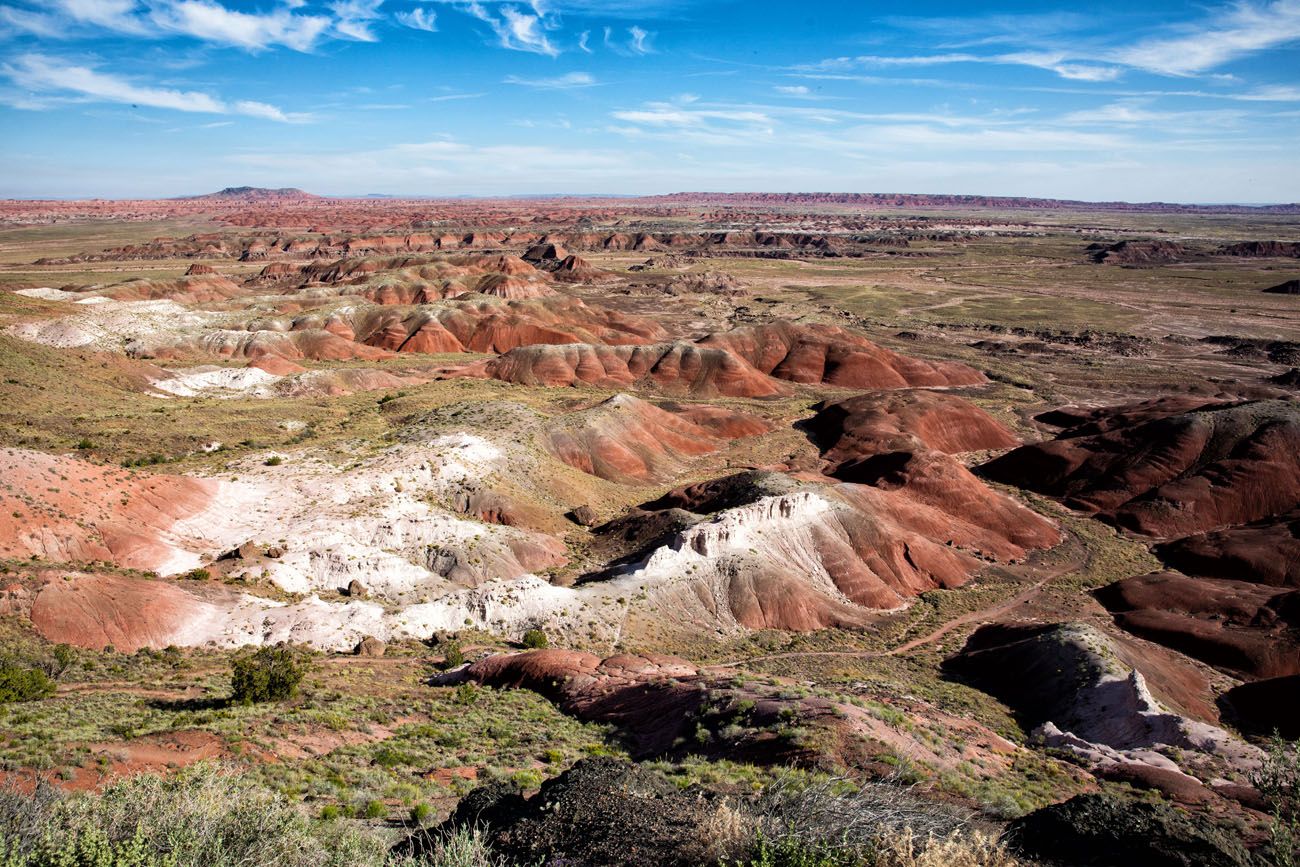 Kachina Point
Painted Desert Inn
This national historic landmark dates back over 100 years. It was once a hotel and restaurant. Now, it is a museum about Route 66.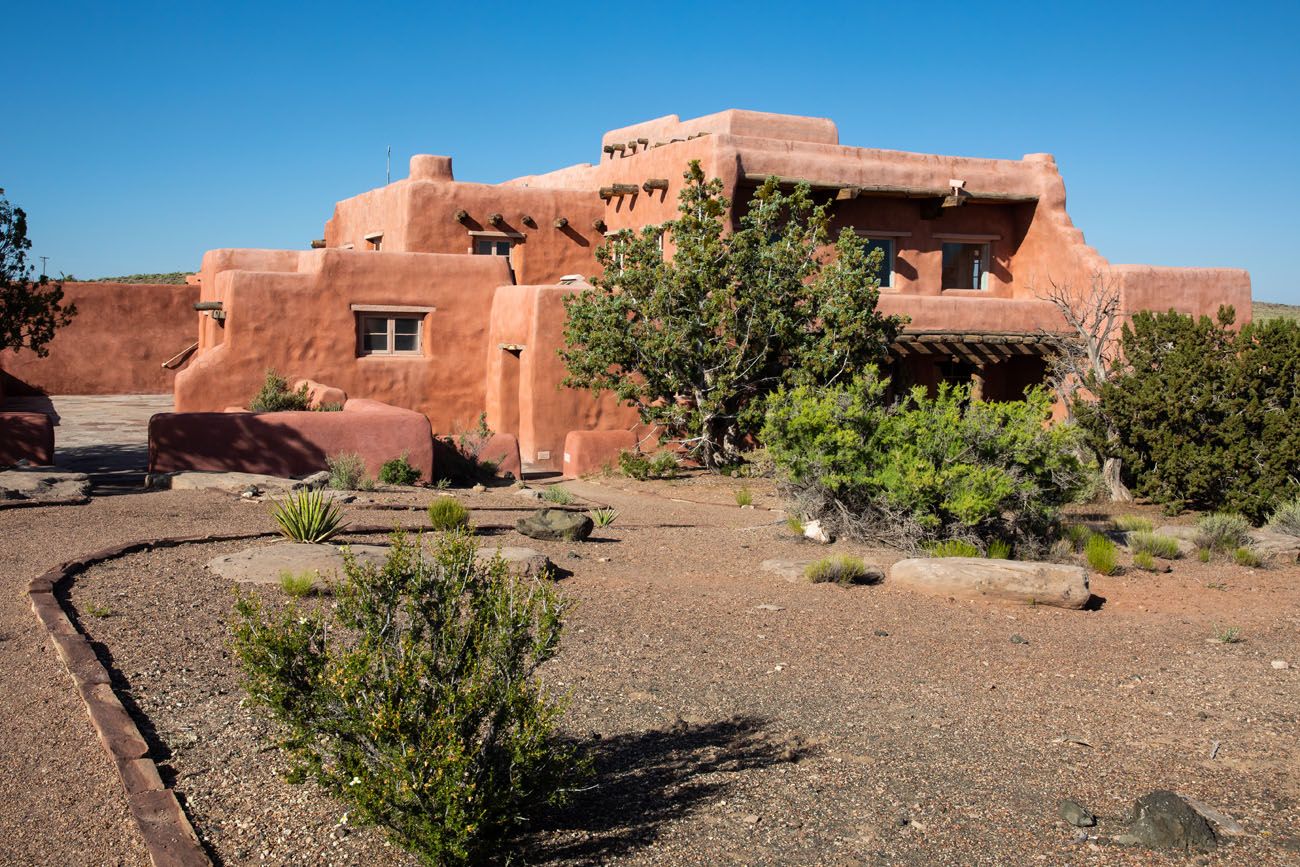 Route 66 and the Old Studebaker
Just before Petrified Forest Road crosses over Route 40 you will see the small car park for the old Studebaker. From here, you can also see the old roadbed of Route 66 and a line of old telephone poles.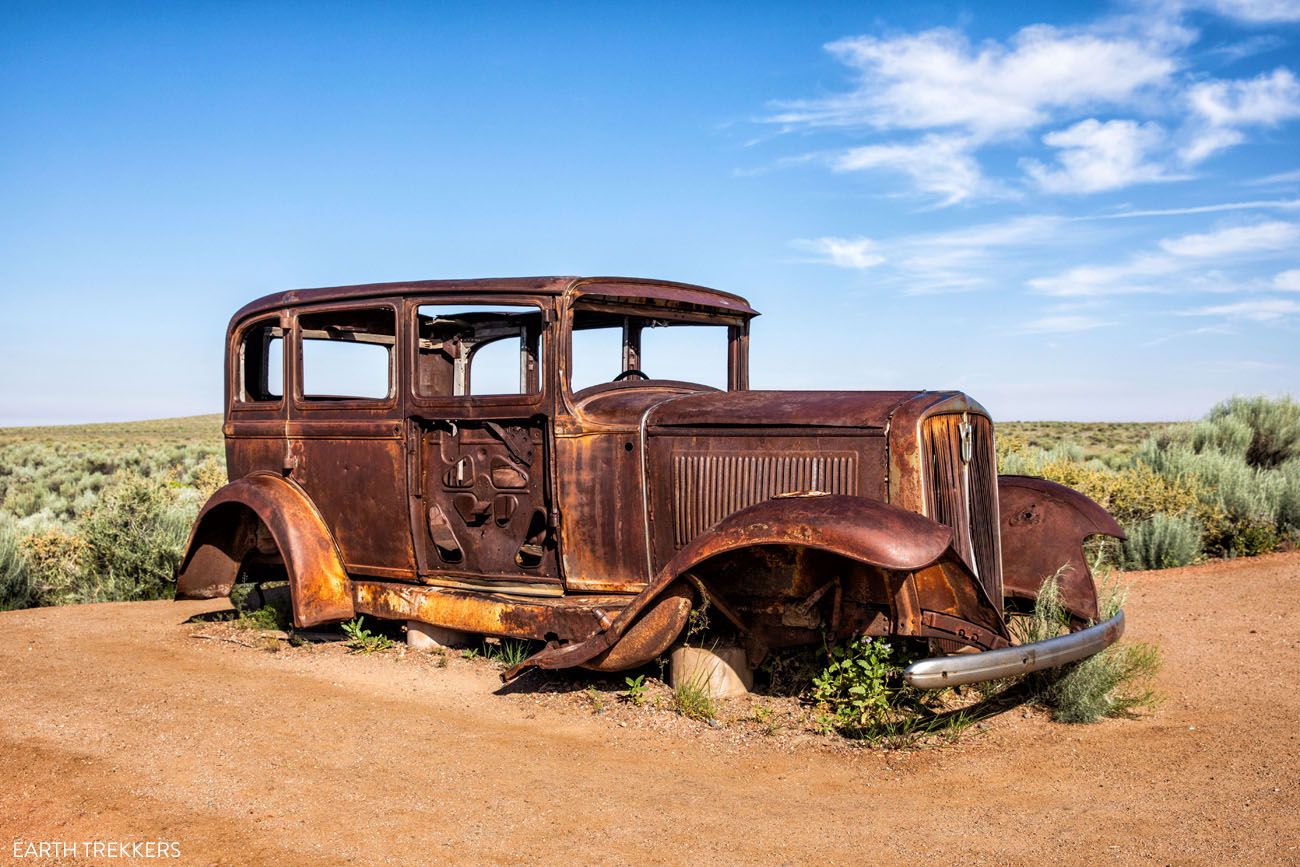 This point is marked as "Route 66" on Google Maps.
Puerco Pueblo
Over 700 years ago, about 200 Pueblo people built a village at this site. You can still see the foundations of their buildings.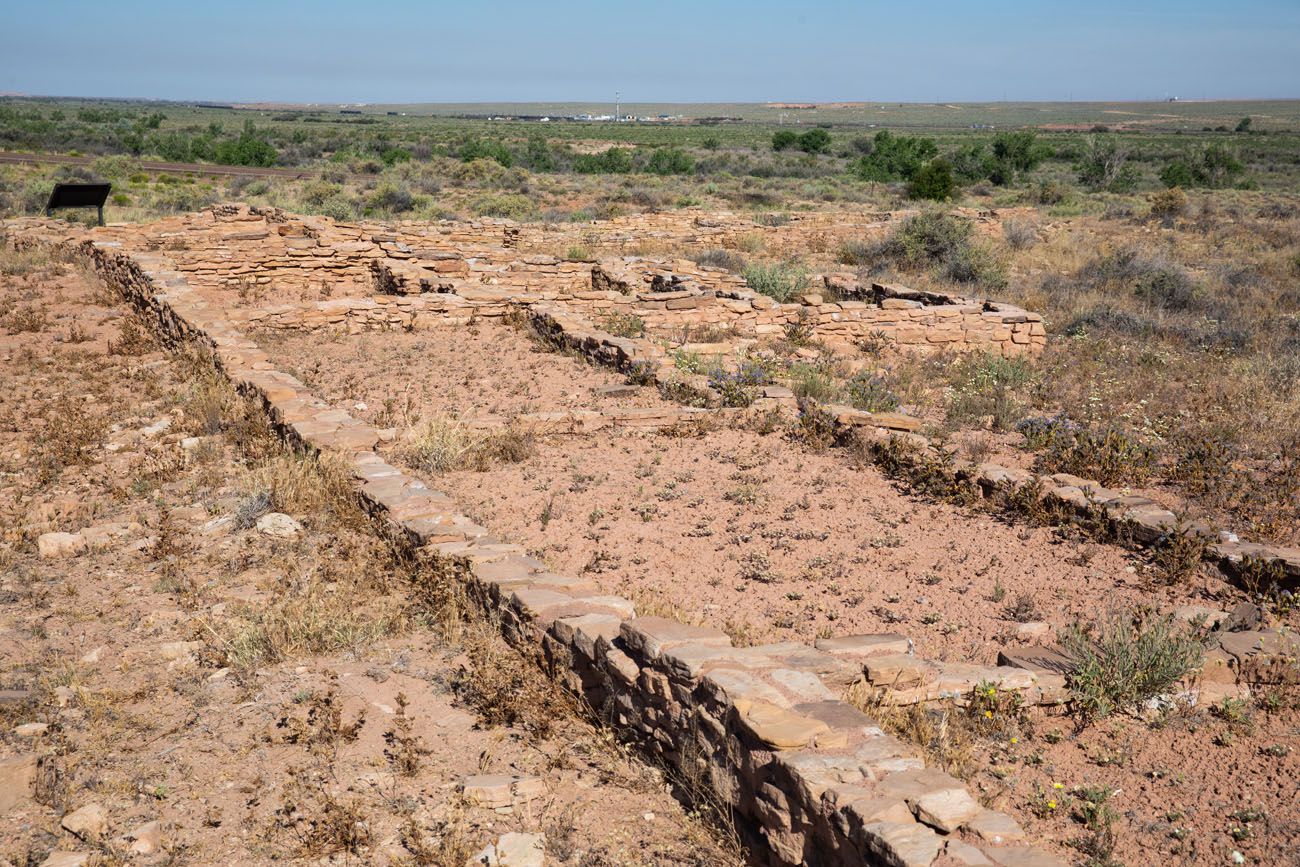 It's a short easy walk from the car park to these excavations.
Newspaper Rock
Just down the road from Puerco Pueblo is Newspaper Rock. Over 600 petroglyphs made by the Puebloan people cover the rocks in the area.
You can only see the petroglyphs from an overlook and you are not permitted to leave the trail here for a closer look.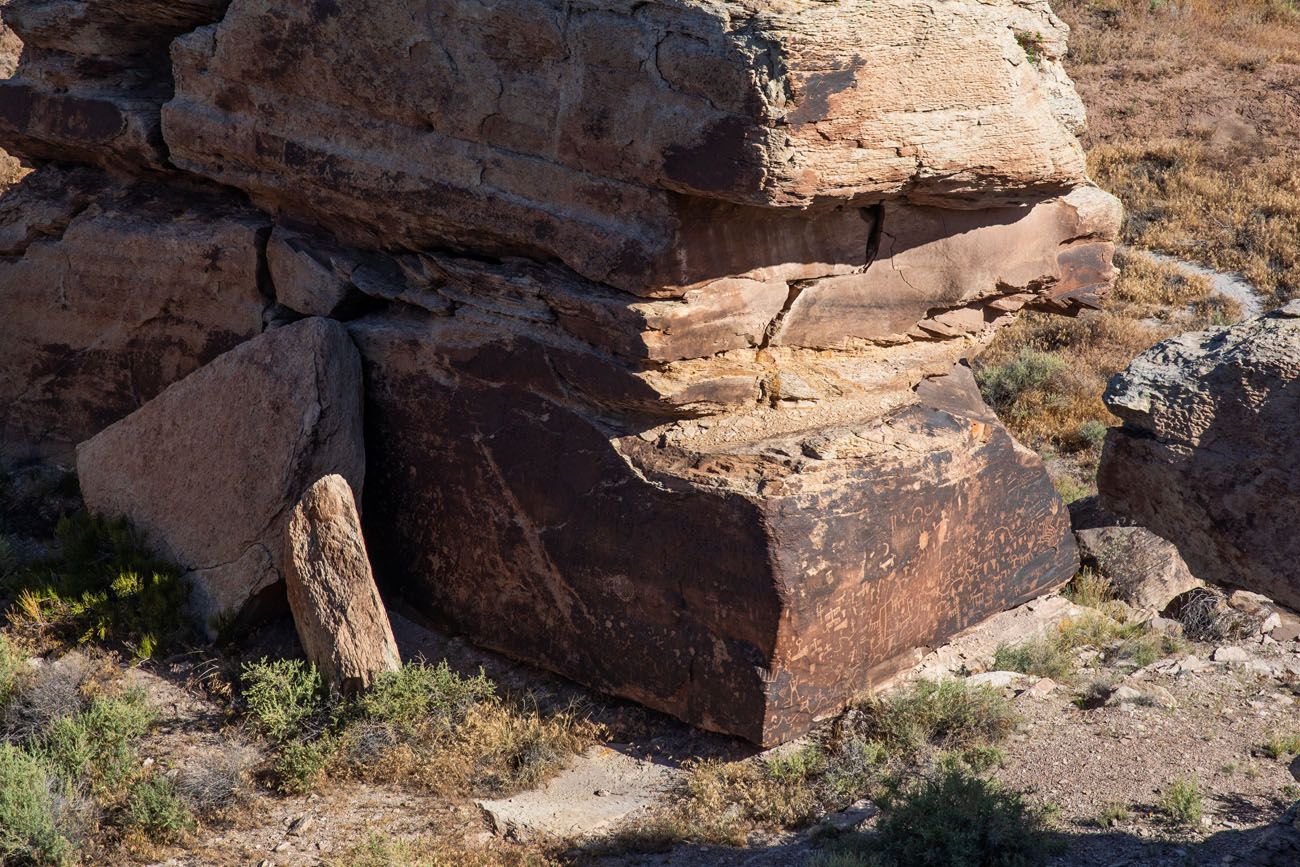 The Tepees
As you continue down Petrified Forest Road you will pass through one of the most unique and colorful parts of the park, the Tepees. The road twists and turns through these zebra-striped mountains.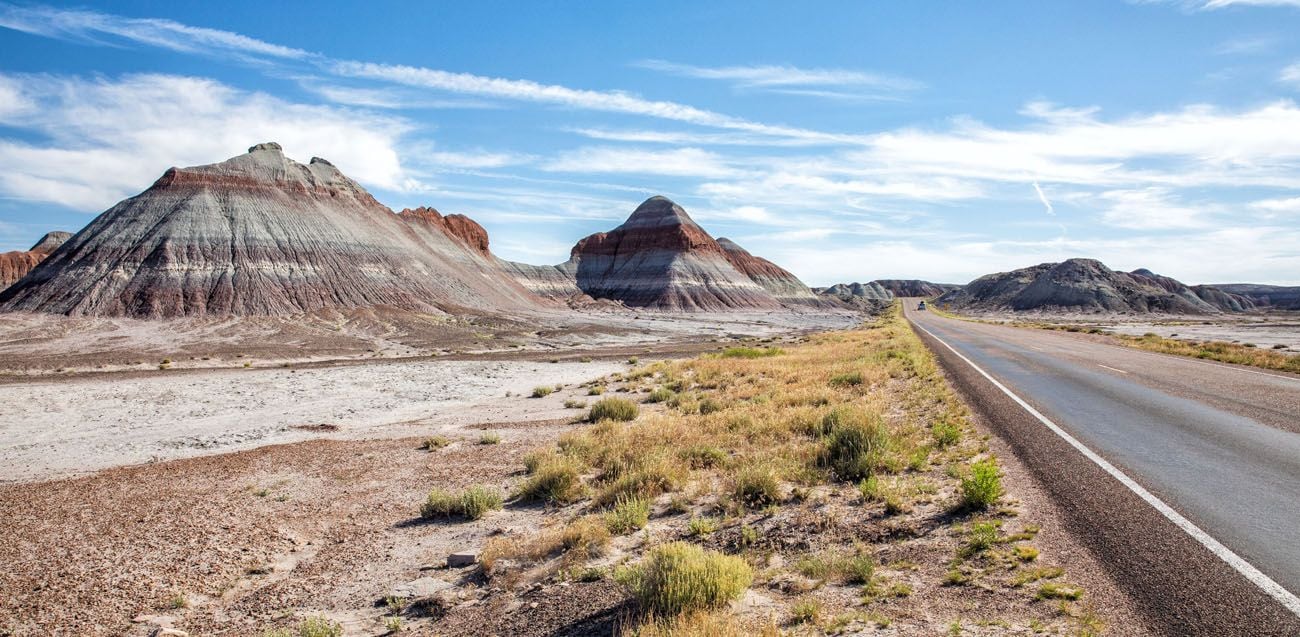 Blue Forest Hike
This was our favorite experience in Petrified Forest National Park.
The Blue Forest Trail is one of several off-the-beaten-path hikes in the park. It is 3 miles round trip and takes you through the Blue Mesa area of the park.
The trail is easy to moderate. However, route-finding skills are necessary since the trail is not well-marked.
This is a beautiful section of Petrified Forest National Park. In this small section of badlands, the hills are striped with blues, pinks, grays, and purple colors. The trail climbs and dips through these hills and the views constantly change. Along the way, you can see quite a bit of petrified wood scattered over the hills.
On the day we did this hike, we had the trail all to ourselves. The entire way. It was wonderful.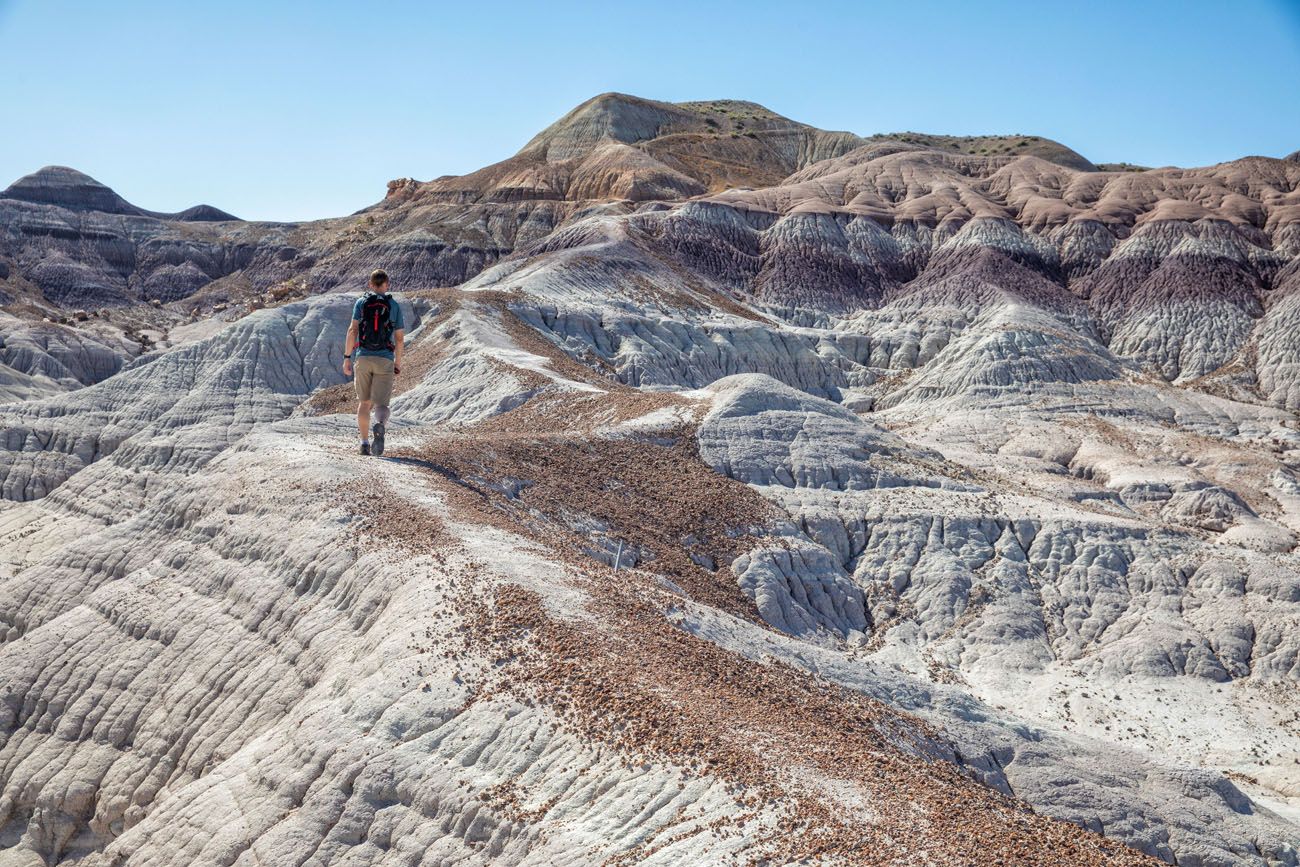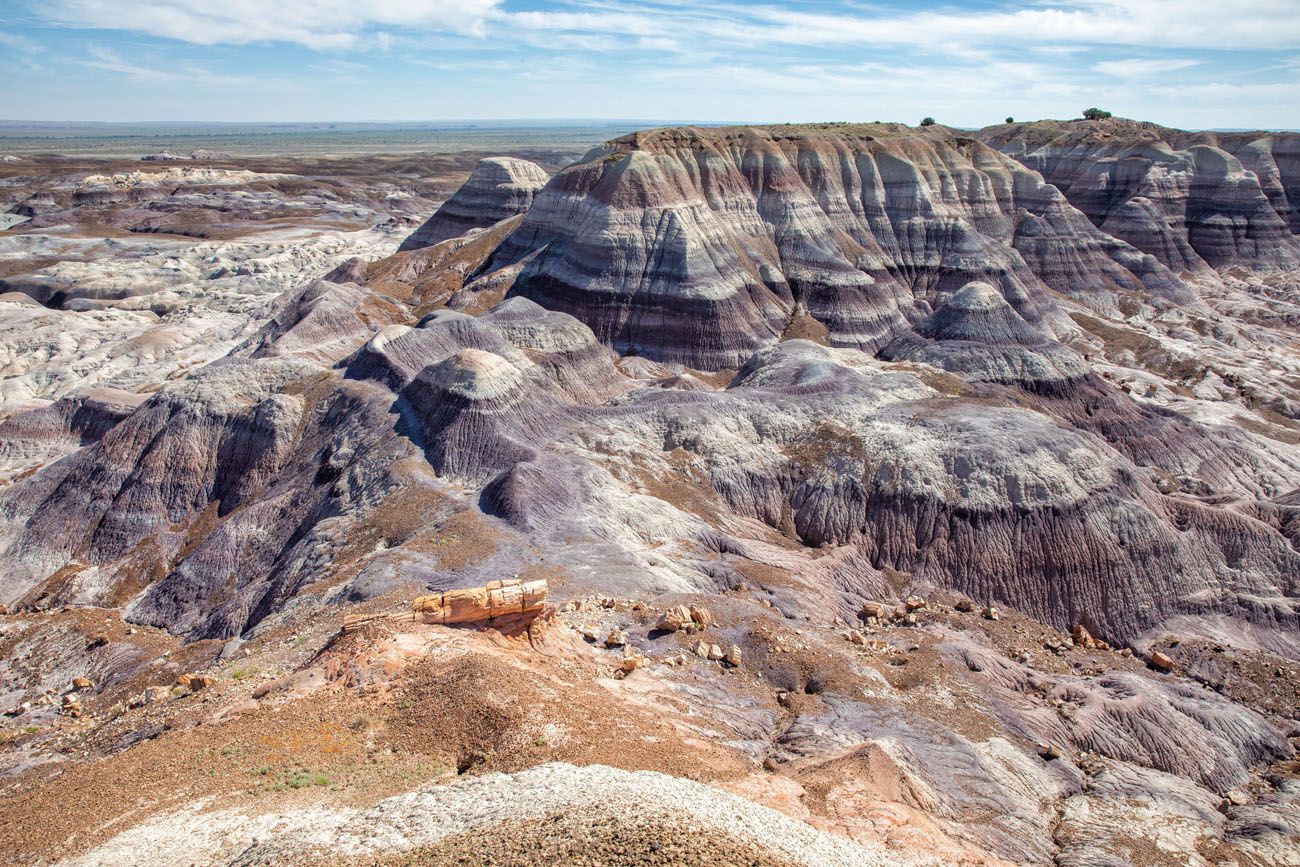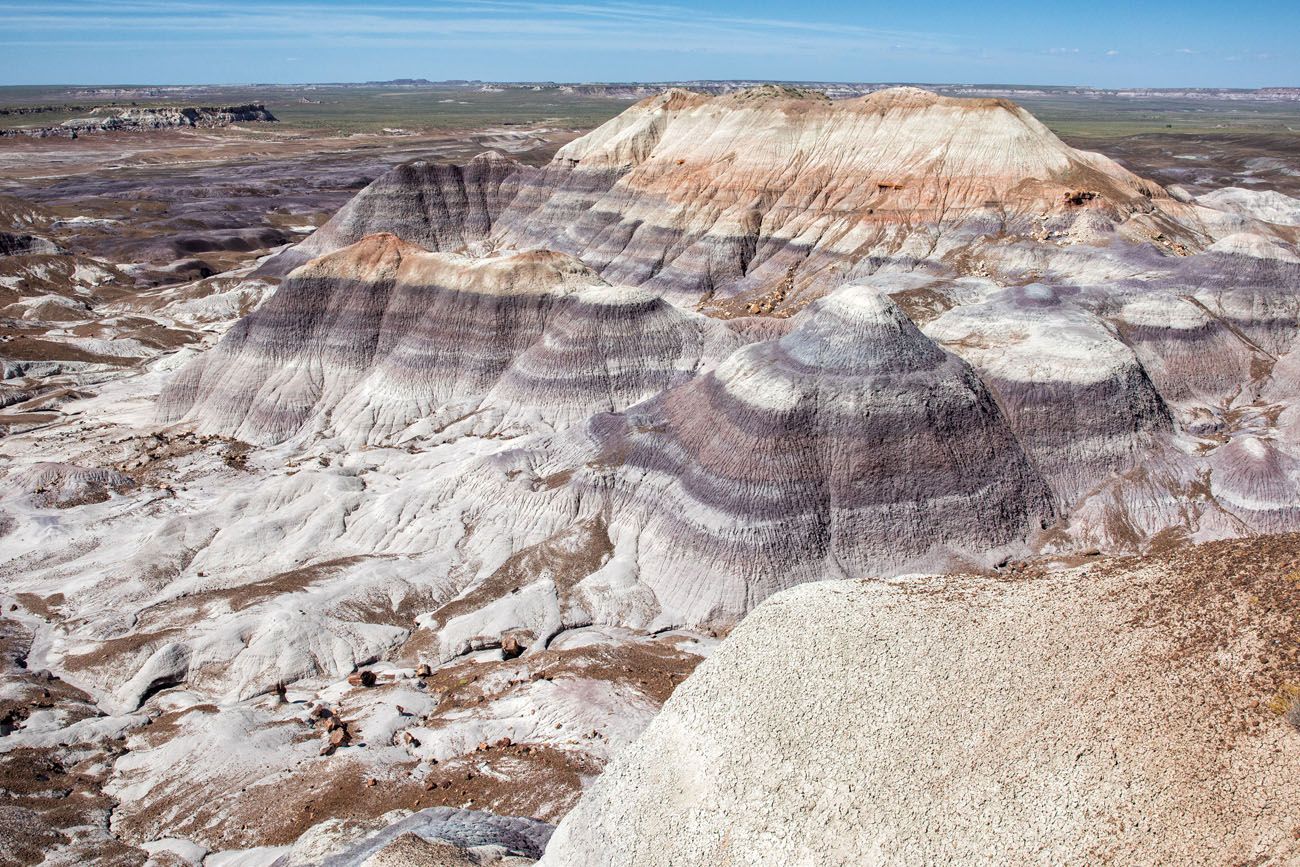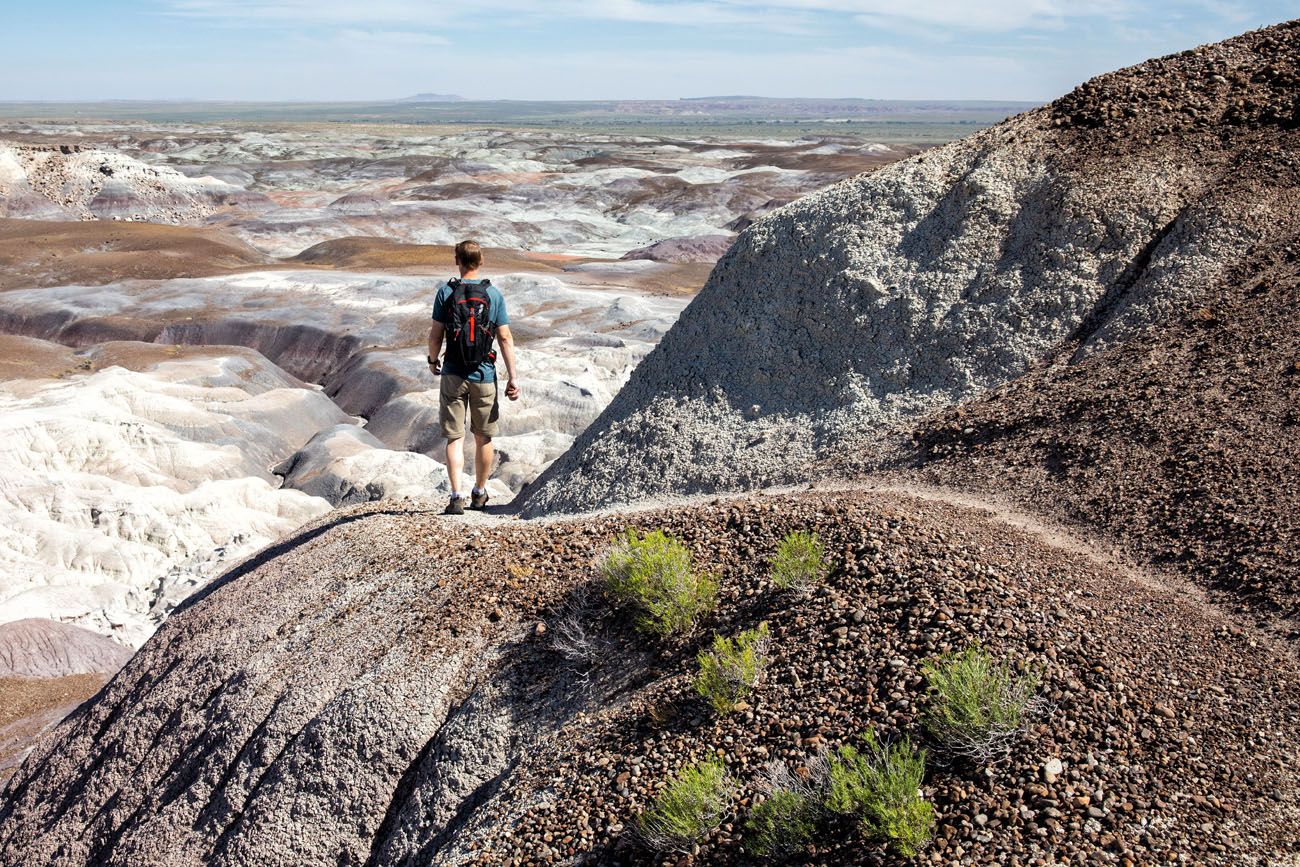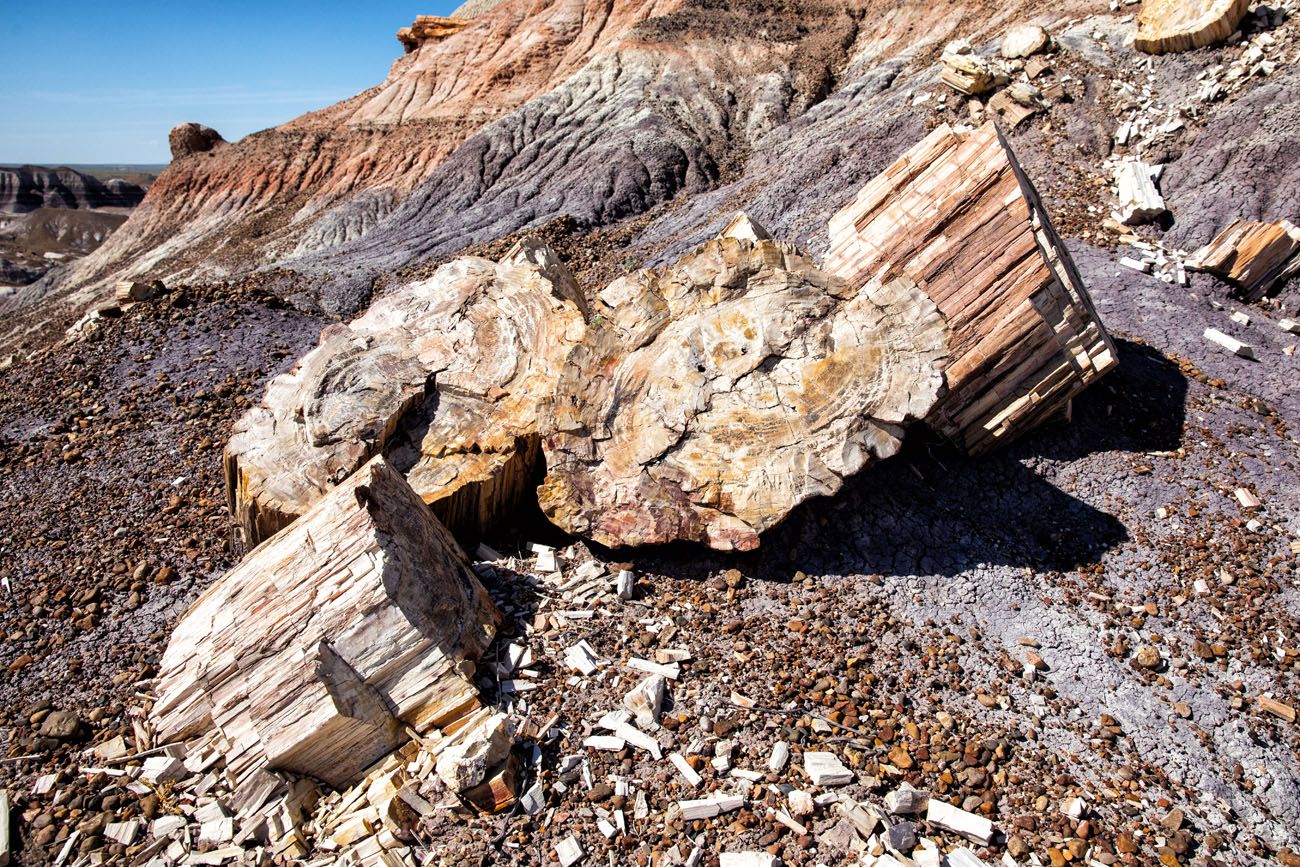 How to do this: Park in the small parking lot on Petrified Forest Road that is located just south of the Teepees (GPS Coordinates: 34.943144, -109.777760). The National Park Service has an excellent article about the Blue Forest Trail.
PRO TRAVEL TIP: The Blue Forest Trail is just one of several off-the-beaten-path hikes in the park. Another popular, off-the-beaten-path hike is the Jasper Forest Trail. For more ideas, visit the National Park Service website.

Blue Mesa Trail
The Blue Mesa Trail is a 1-mile loop through the Blue Mesa area of the park. With a paved path and a large, well-marked car park, this is a very popular thing to do.
In fact, many visitors list this walk as one of the best things to do in Petrified Forest National Park.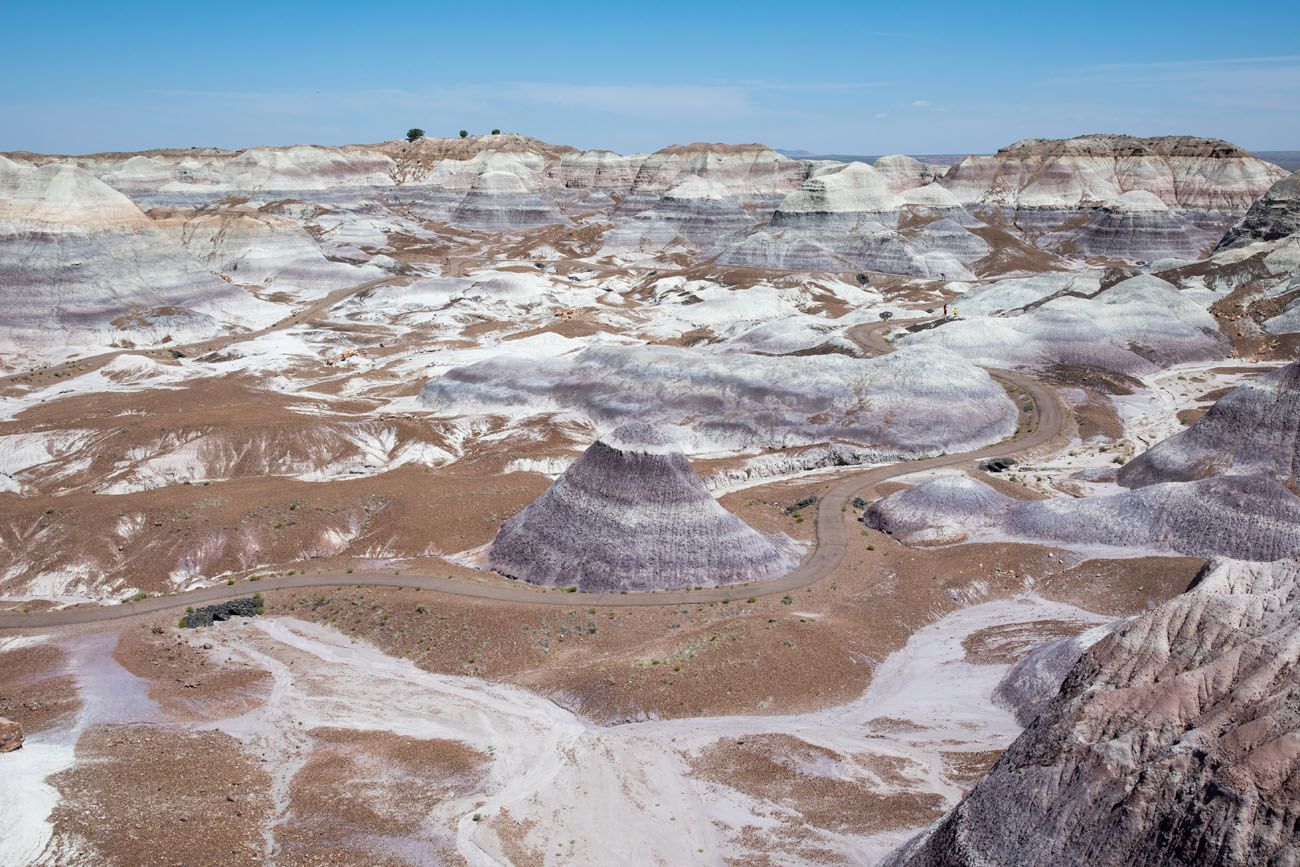 Overlooking the Blue Mesa Trail.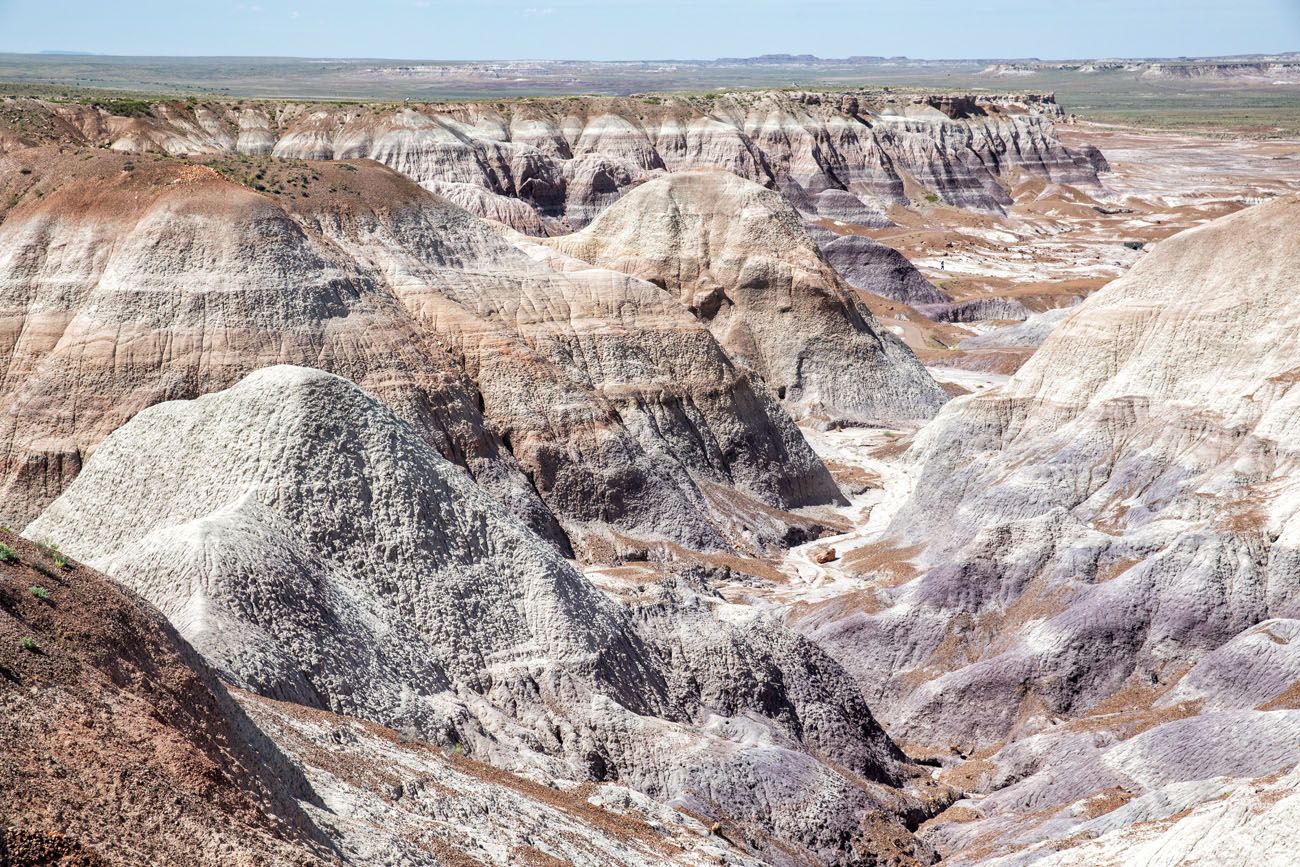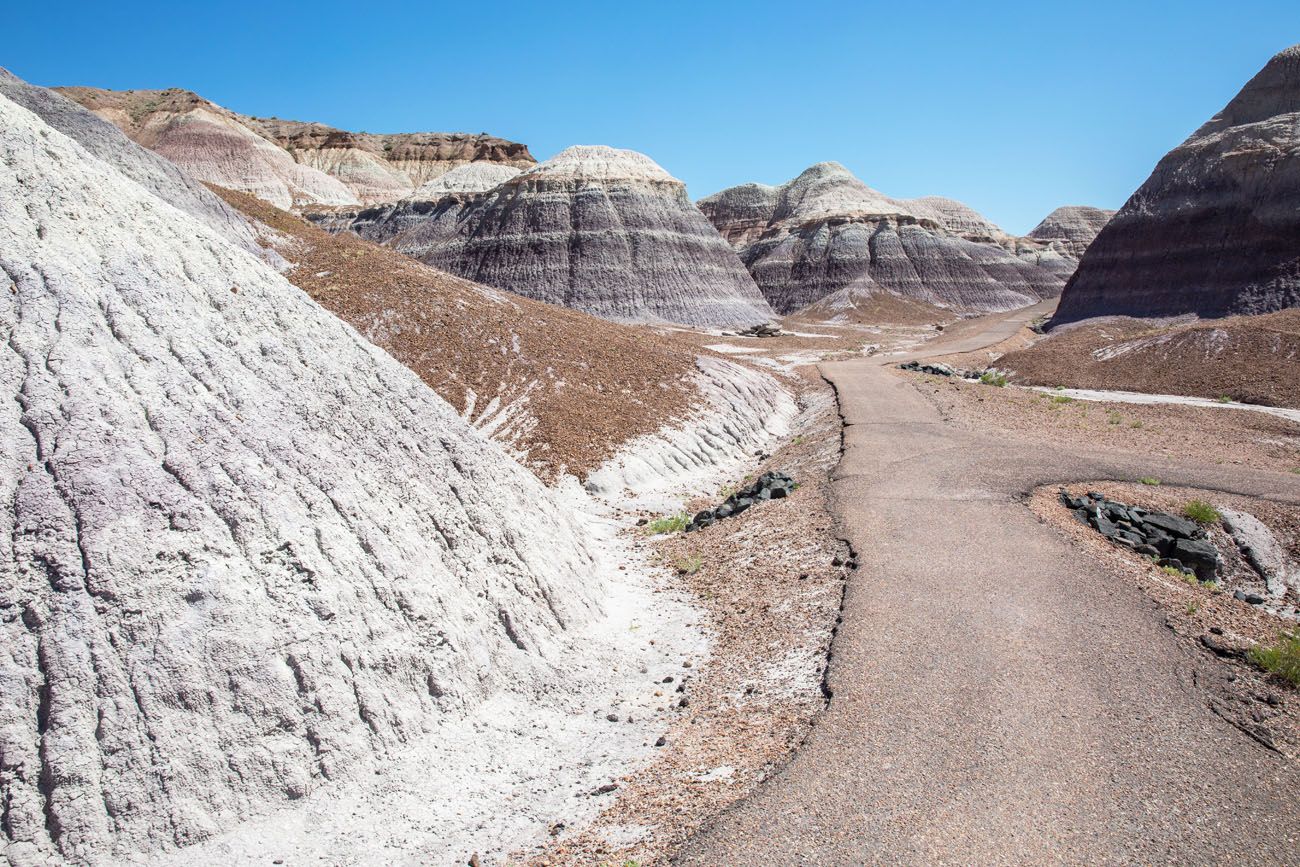 We walked both the Blue Forest Trail and the Blue Mesa Trail. Both walks give you a very similar experience, so if you are short on time, pick one or the other. If you don't mind a longer walk, the Blue Forest Trail is worth going the longer distance. The crowds are lower and the scenery is better, in my opinion.
Getting Here: Turn onto Blue Mesa Scenic Road. This road is 3.5 miles long. There are several very nice viewpoints along this road. The Blue Mesa Trail starts on the loop section of this road.
PRO TRAVEL TIP: If you choose to hike the Blue Forest Trail instead of the Blue Mesa Trail, it is still worth driving the Blue Mesa Scenic Road. The viewpoints are wonderful and our favorite viewpoint was just past the car park for the Blue Mesa Trail.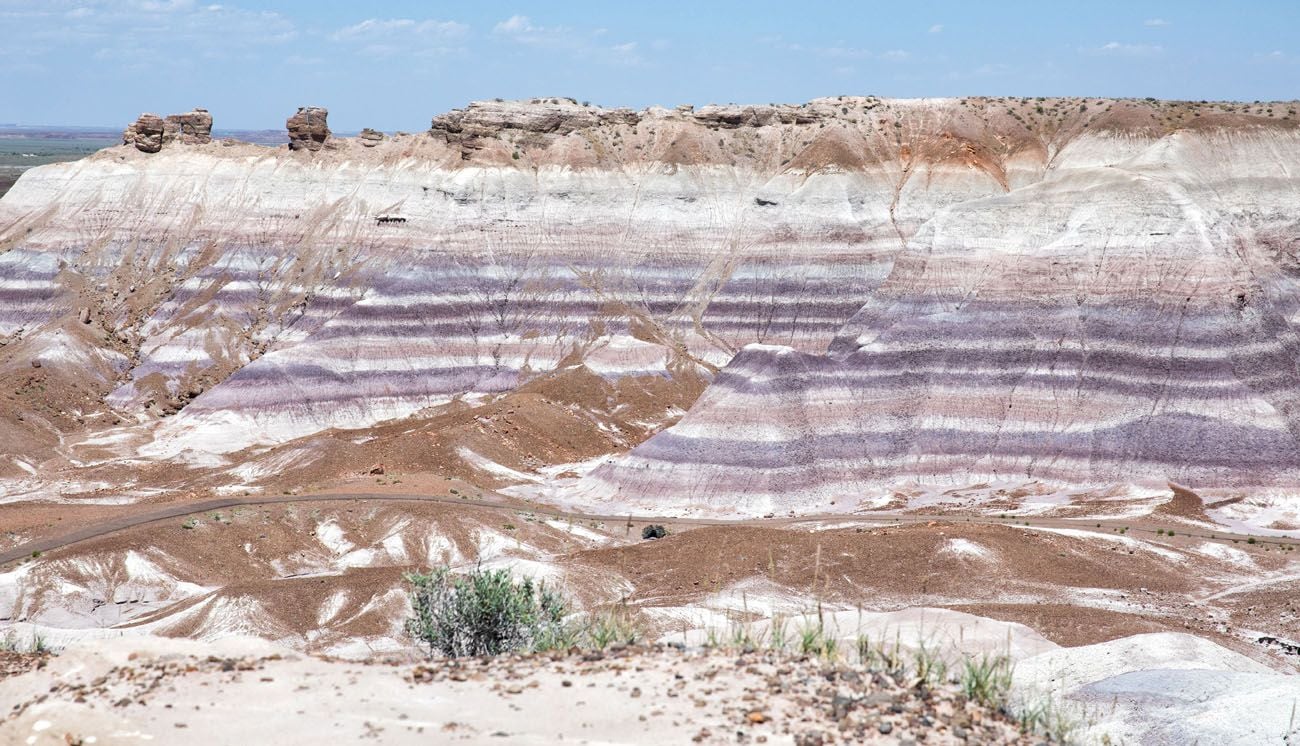 Another view from Blue Mesa Road.
Jasper Forest Overlook
This viewpoint overlooks Jasper Forest, one of the largest collections of petrified wood in the park.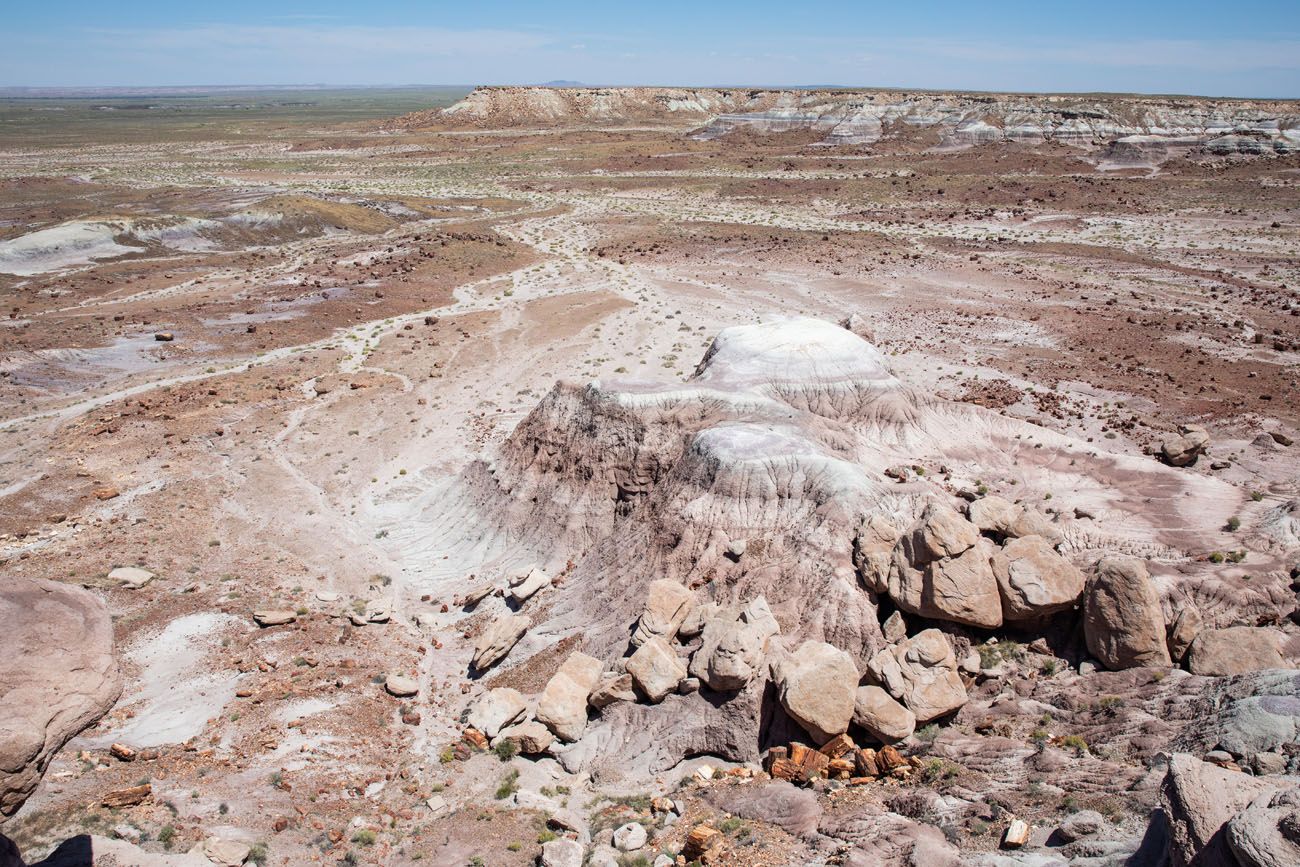 Another off-the-beaten-path hike, called the Jasper Forest Trail, starts from this same point. We walked a half mile of this trail before turning around. We liked this walk, but not nearly as much as the Blue Forest Trail.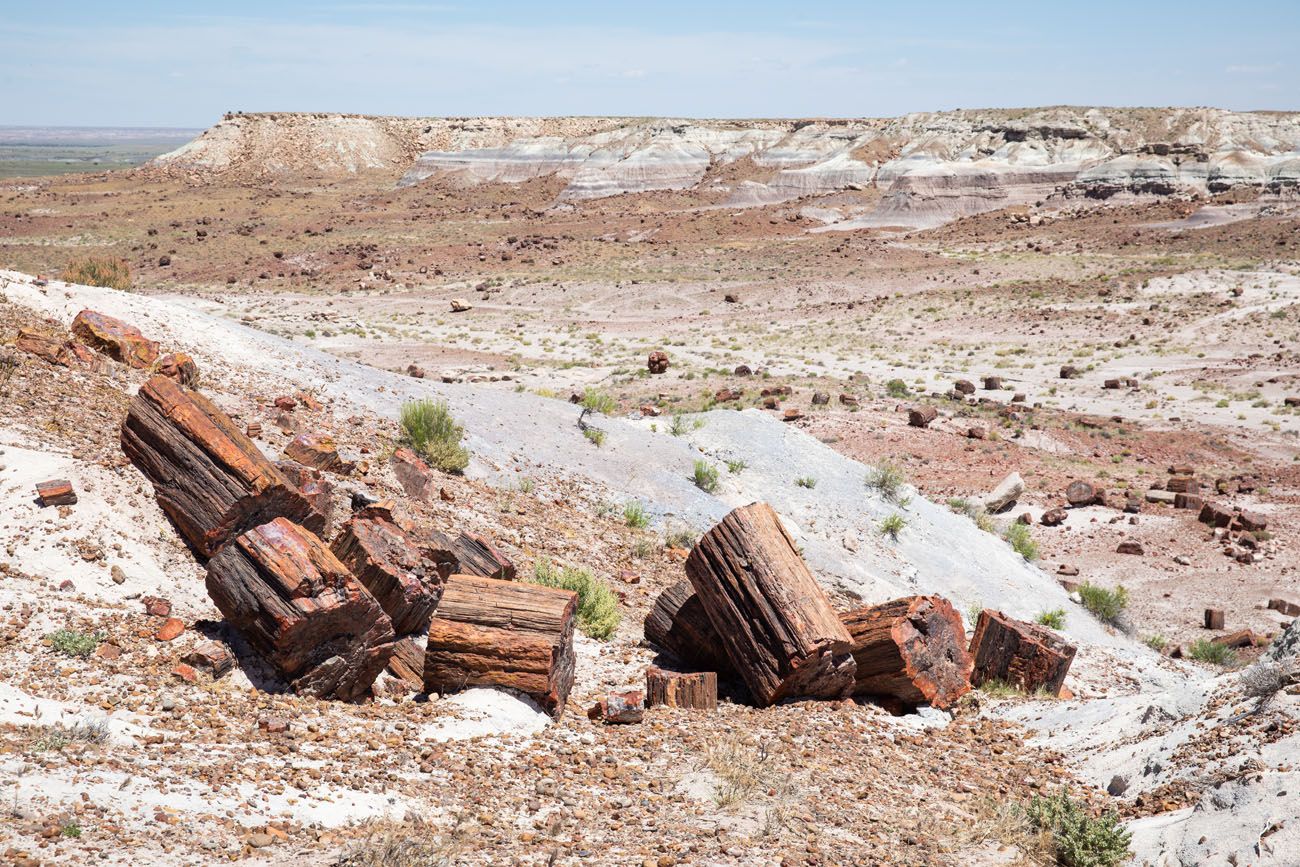 Crystal Forest
This is one of the best places in the park to see petrified wood. On this 0.8-mile loop walk you will get right up to giant, petrified logs.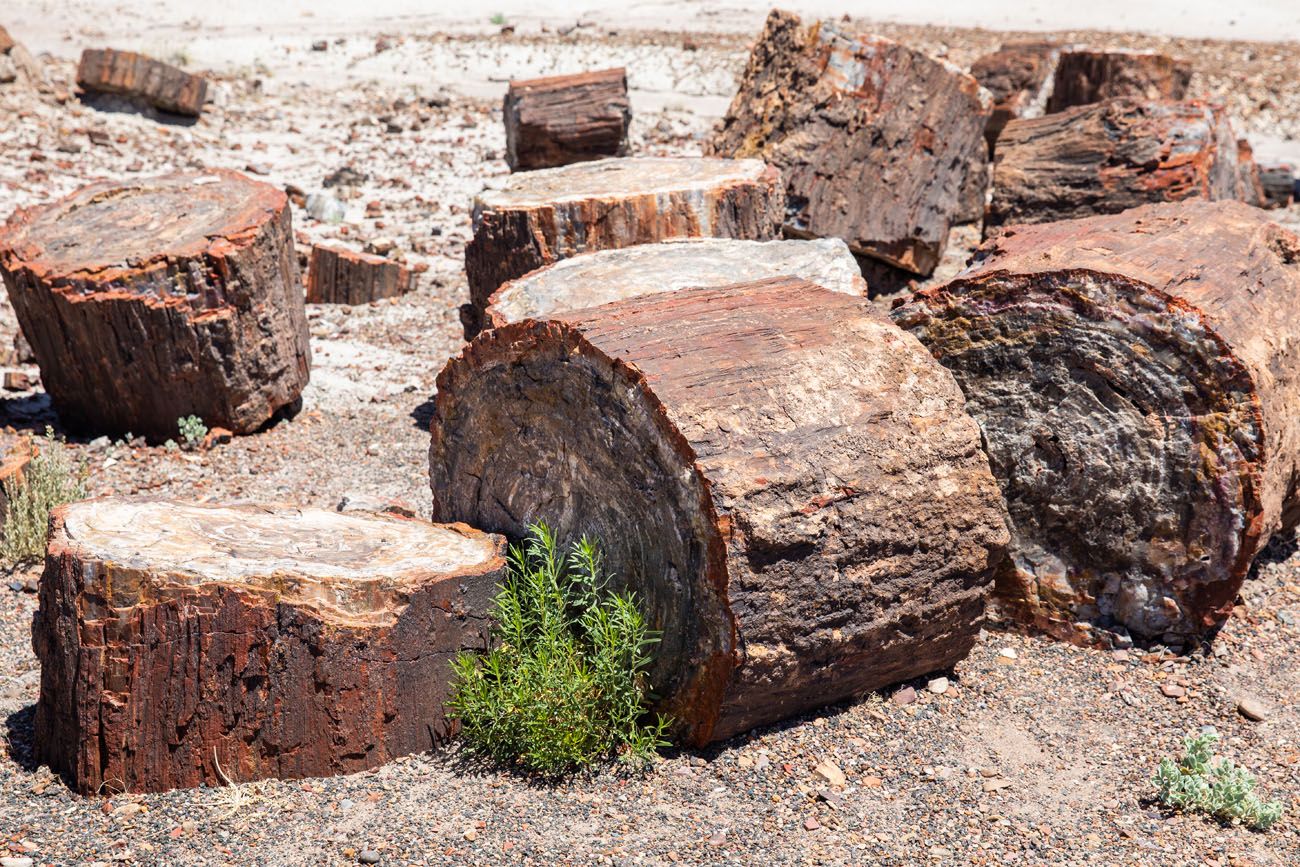 Long Logs Trail & the Agate House
The Agate House is a pueblo house that was built 700 years ago out of petrified wood. To get here, it is 2 miles round trip from the parking lot near the Rainbow Forest Museum.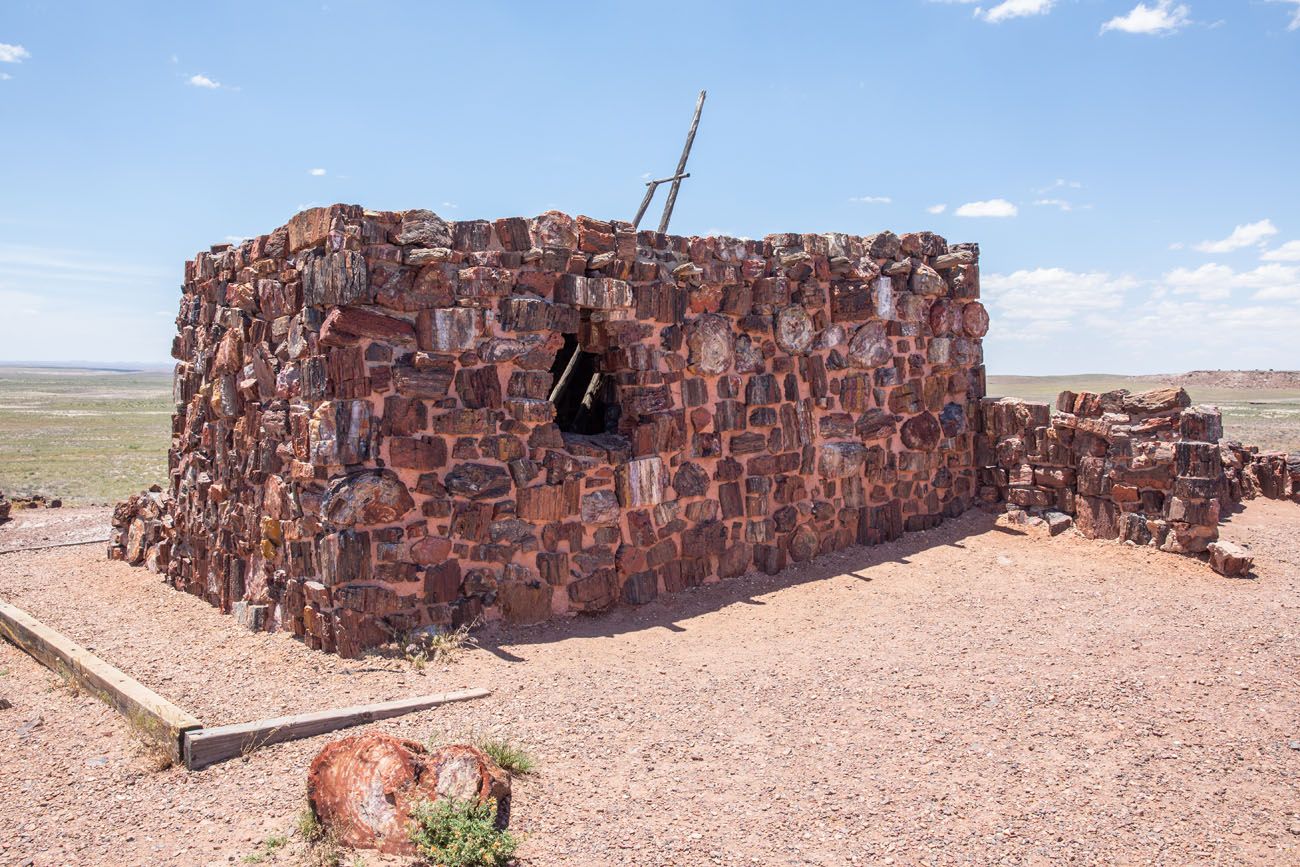 The Long Logs Tail loops around a field that contains some of the longest petrified trees in the park. To get here, it is a 1.6 mile walk from the parking lot near the Rainbow Forest Museum.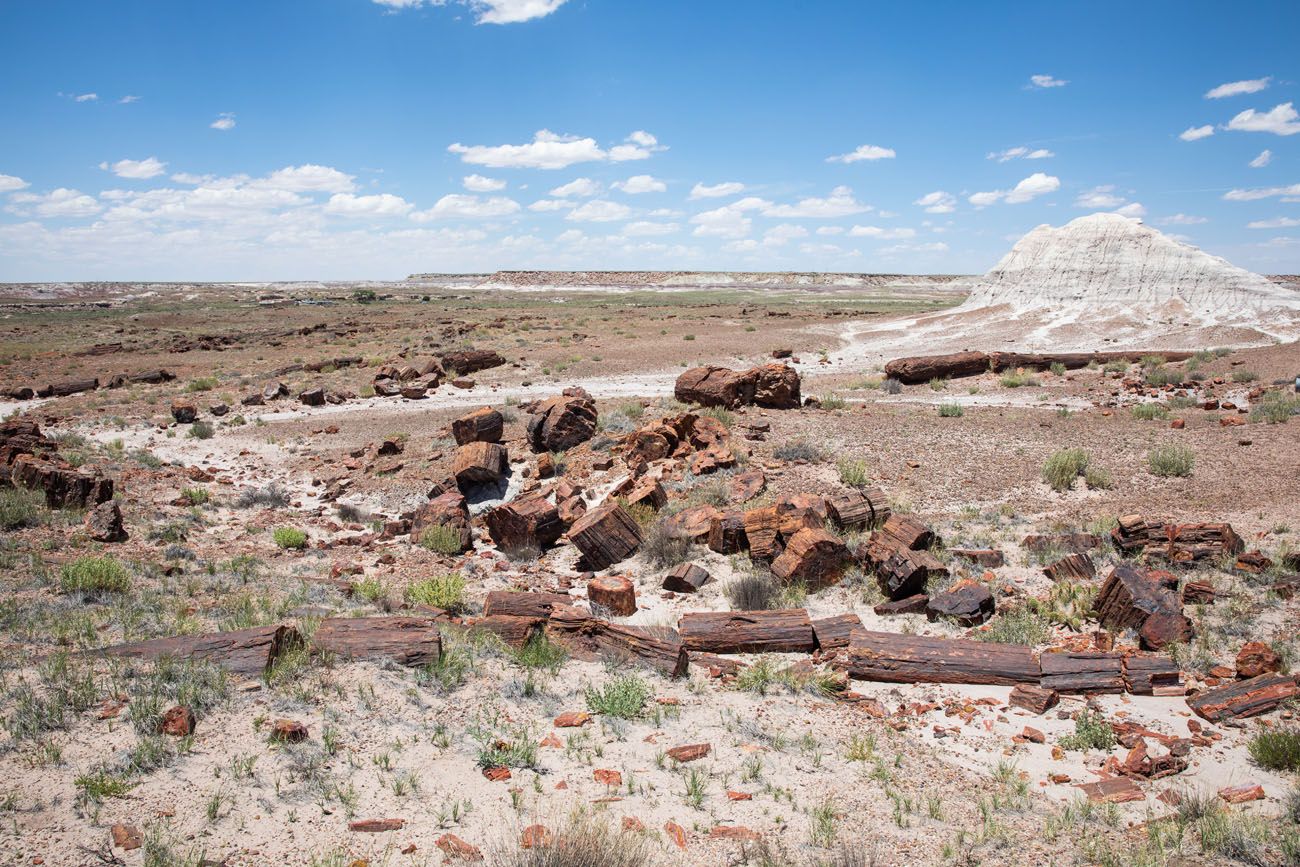 You can put both loops together for roughly a 3.25-mile total walk. Budget 1.5 hours.
This was the least thrilling thing we did in the park.
If you visit the Giant Logs and Crystal Forest, visiting the Long Logs might be repetitive, unless you are really fascinated by these ancient trees. It's a long, boring walk out to the Agate House and it can be very hot in the summer months.
Giant Logs Trail
This 0.4-mile trail loops around some of the largest logs in the park. You can walk the entire loop or head right for the enormous log lying on its side behind the Rainbow Forest Museum (just look for groups of people having their photos taken).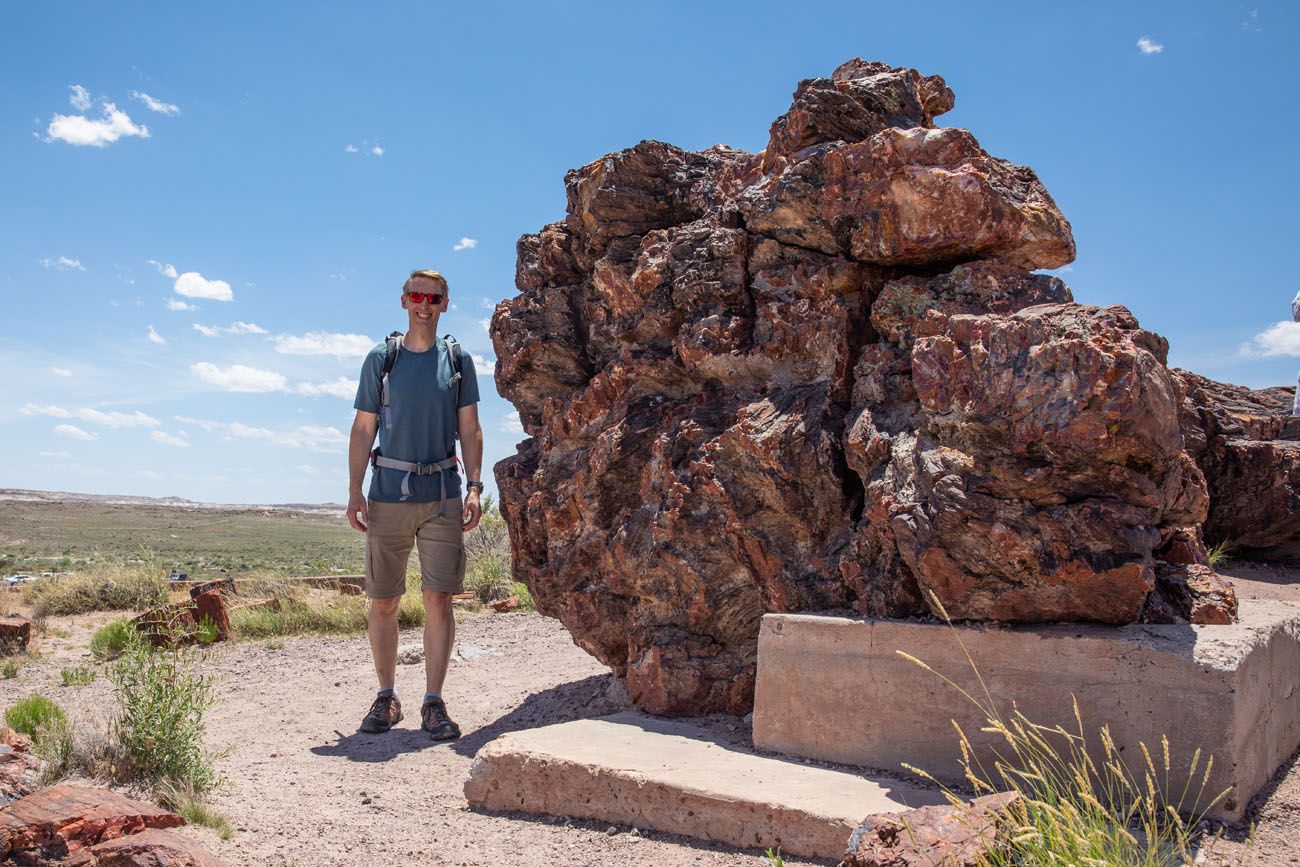 Rainbow Forest Museum
This small building serves as a visitor center and museum. Learn more about petrified wood and tour the exhibits on dinosaurs. This is the last stop in the park before exiting the southern entrance.
Top Experiences In Petrified Forest
If you are short on time, or only want to see the highlights, here are our top 6 spots to visit in Petrified Forest National Park:
Hike the Blue Mesa Trail or Blue Forest Trail
Viewpoints on Blue Mesa Scenic Road
Crystal Forest Loop
The Tepees
Giant Logs Trail
Viewpoints along the Painted Desert Rim Trail
Plan Your Visit
Cost: $25 per vehicle for a 7-day pass
Hours: 8 am to 5 pm but vary by season. Click here for updated hours. Closed Thanksgiving and Christmas. The park observes Mountain Standard time and does not observe daylight savings time.
While in Petrified Forest National Park, please practice the seven principles of Leave No Trace: plan ahead, stay on the trail, pack out what you bring to the hiking trail, properly dispose of waste, leave areas as you found them, minimize campfire impacts, be considerate of other hikers, and do not approach or feed wildlife.
Best Time to Visit Petrified Forest
During the summer months, expect hot, dry temperatures. Daily high temperatures June through August range from 90 to 100°F. It doesn't get quite as hot here as in Phoenix since Petrified Forest National Park sits at an elevation of 5,400 feet. July through September is the "monsoon" season, when quick but violent thunderstorms can drop a lot of rain at once.
During our visit in early June, the daytime high hit 84°F with a low temperature of 57°F.
Spring and fall are the best seasons to visit the park. Daytime temperatures are warm with little rainfall. The winter months are chilly but daytime highs can linger in the 50's, nice weather for hiking and short walks.
How to Get Here
The best way to visit Petrified Forest National Park is on a road trip. Here are driving distances and times from nearby destinations:
Phoenix, Arizona: 212 miles, 3.5 hours

Flagstaff, Arizona:

115 miles, 1.75 hours

Tucson, Arizona:

260 miles, 5 hours

Grand Canyon:

200 miles, 3 hours

Monument Valley:

192 miles, 3.25 miles

Albuquerque, New Mexico:

210 miles, 3 hours

Where to Stay
There are no accommodations inside of the park. However, with a permit, you can camp in Petrified Forest National Park. Learn more here.
Holbrook is the closest town to the park. This was once a thriving town back in the glory days of Route 66. Several of the older hotels, motels, and restaurants still remain. You can also take your pick from chain hotels like the Best Western and Days Inn.
Here are a few options.
Brad's Desert Inn. This quirky, full-of-character motel is located right on historic Route 66. This was our first pick, but with complaints about slow Wi-Fi, we chose the Days Inn (Tim had to work during our visit so he was dependent on good Wi-Fi).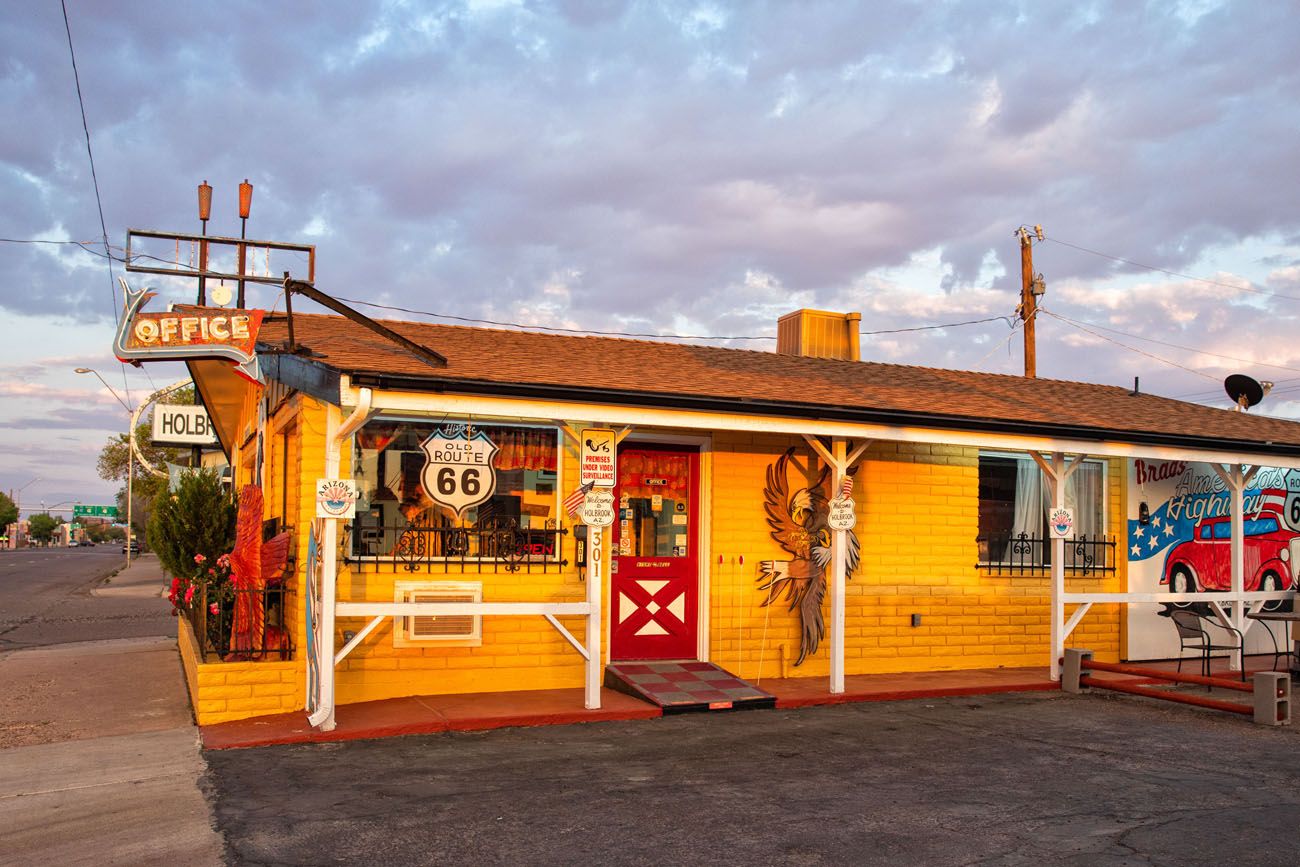 Days Inn. This is where we stayed. It's nothing fancy but it checked all of our boxes: clean, quiet, with decent Wi-Fi. I have no complaints and would stay here again on a future visit.
La Quinta Inn & Suites. This is the newest hotel in town and gets very good reviews on Booking.com. If you are traveling as a family, this is a great place to consider because the suites accommodate over five people.
Petrified Forest National Park in One Day
One day is all the time you need to visit the park. Ideally, get a start at or near opening time, especially if you plan to visit during the hot, summer months.
If you can, spend the night in Holbrook and then spend the following day inside the park. You can tour the park in either direction, but we chose to start in the north and work our way south. It worked well for us.
Petrified Forest Road, the road that runs north-south through the park, is 28 miles long. It takes roughly one hour to drive this road, without allowing time for stops.
Less than half a day: If you simply drive through the park and stop at the viewpoints, you can visit Petrified Forest National Park in just a few hours.
Half Day or more: If you add in the Blue Mesa Trail or Blue Forest Trail, your visit will last roughly a half day.
Half to Full Day: If you do everything that we list in this article, it will take most of the day, depending on how quickly you move.
From 9 am to 5 pm, you can get food at the Painted Desert Diner, which is located next to the visitor center at the north entrance. However, I recommend bringing snacks or a picnic lunch so you don't have to backtrack to this diner, especially if you start at the north entrance.
You can also get food in Holbrook, but it takes 30 minutes to drive from the park to Holbrook, so your lunch break will take an hour plus the time you need to eat.
We started right at 7 am and did everything on this list by the early afternoon. We had a very late lunch in Holbrook (at Romo's Restaurant) before driving on to our next destination, the Grand Canyon.
Historic Route 66
It's worth a quick drive through Holbrook to see the quirky shops, restaurants, and hotels that still line the road.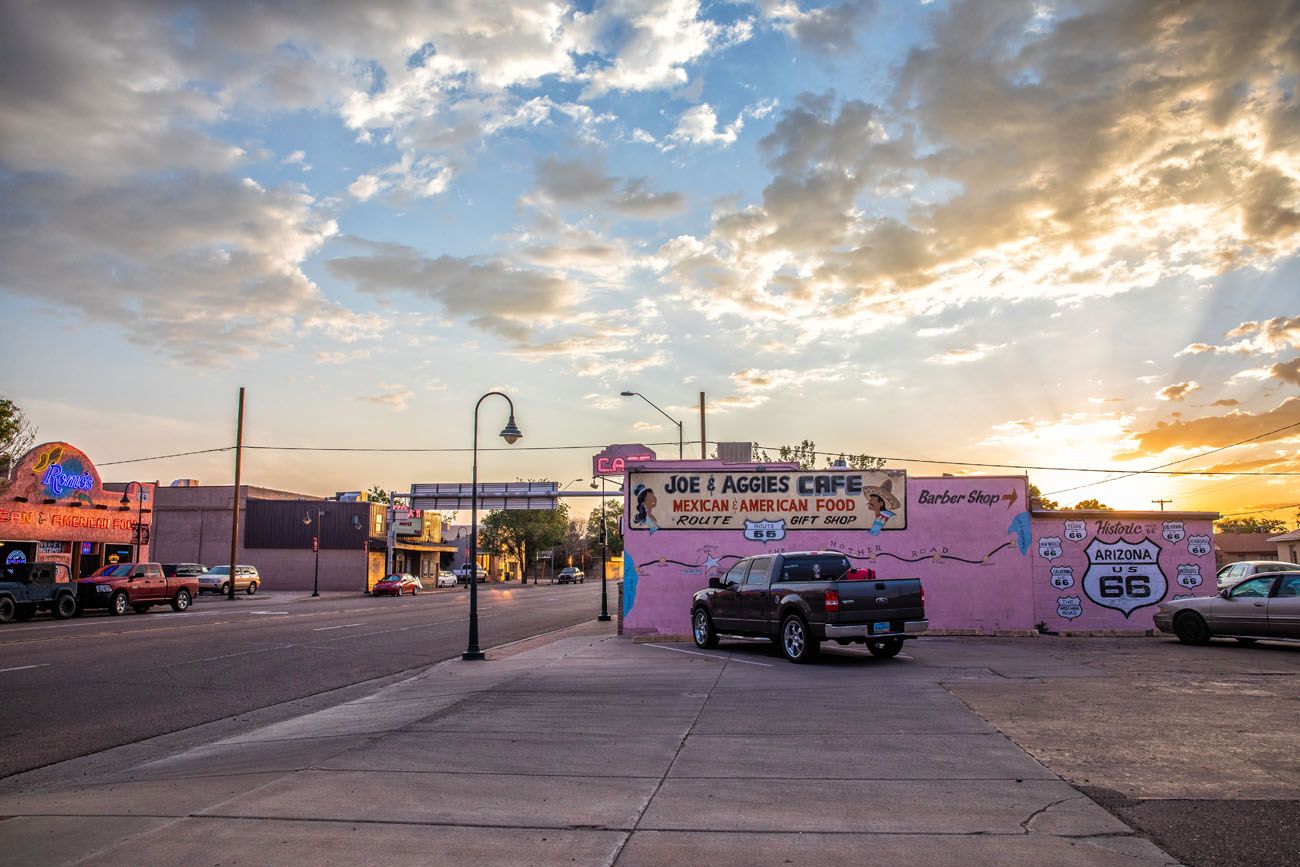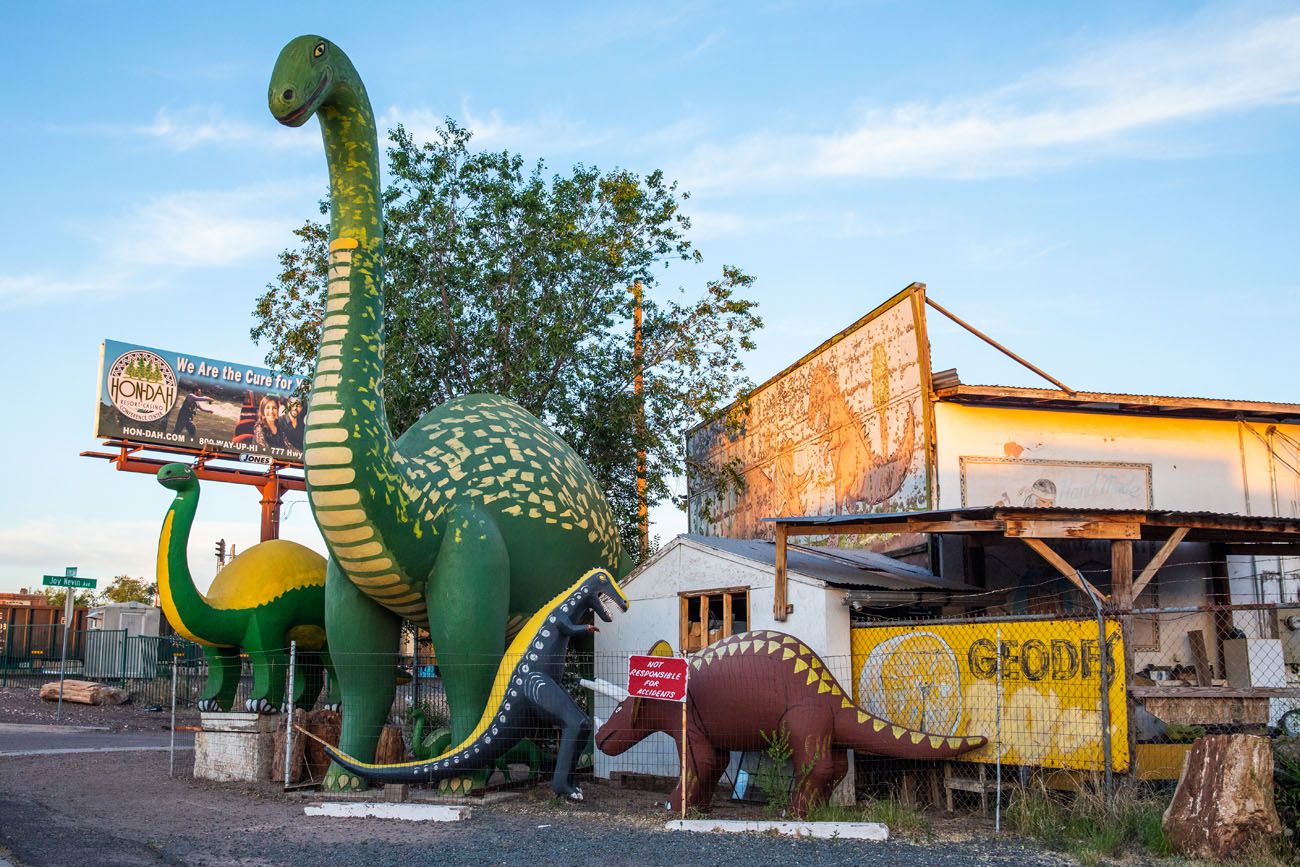 Before You Go
Visit the National Park Service website for updates in the park and to check for trail and/or road closures.
---
If you have any questions about Petrified Forest National Park or want to share your experience, comment below!
More Information for Your Trip to Arizona
PLACES TO GO IN ARIZONA: Go hiking in Sedona, visit Saguaro National Park, explore Monument Valley, photograph Antelope Canyon, and visit the South Rim of the Grand Canyon. Learn how to put all of this together in our Arizona Road Trip Itinerary.
MONUMENT VALLEY: Learn what there is to do and how to plan your visit in our Guide to Monument Valley. We also have articles on what to expect on a Monument Valley Sunrise Tour and what it is like to hike to Teardrop Arch.
ANTELOPE CANYON: Journey through Upper Antelope Canyon and Lower Antelope Canyon in photos. If you only have time for one, don't miss our article Should You Visit Upper or Lower Antelope Canyon?
GRAND CANYON: Check out our guides to the Best Things to Do on the South Rim, how to spend one perfect day in the Grand Canyon, and which South Rim viewpoints are the best ones to visit. For amazing views of the Grand Canyon, check out our guide to the Grand Canyon Helicopter Tours.
NATIONAL PARKS: In our Guide to the US National Parks, get the full list of national parks with important travel planning information, such as things to do in the parks and sample itineraries. You can also learn more about the national parks and get a FREE printable checklist in our US National Parks Checklist.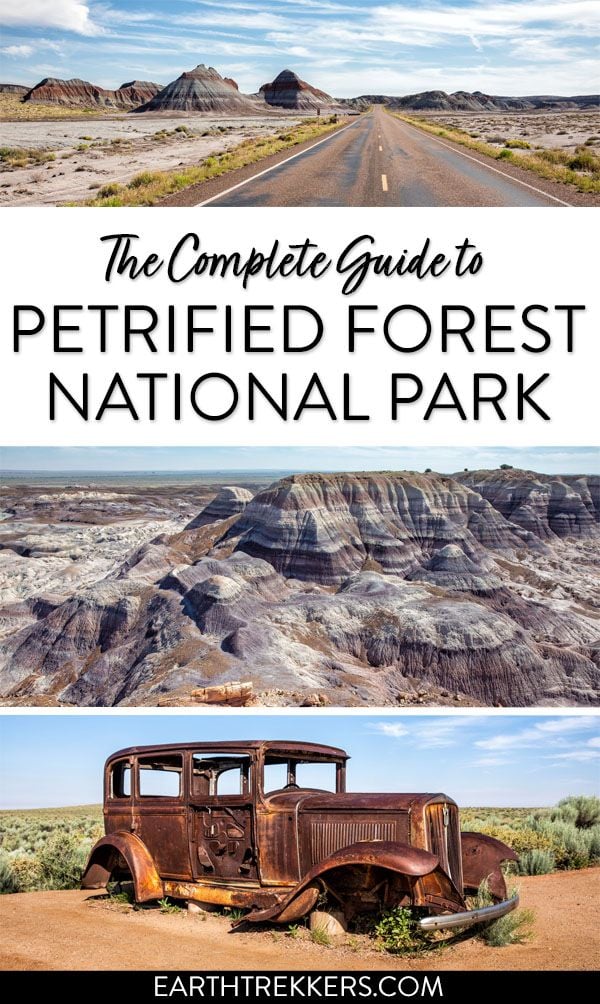 Note: This post contains affiliate links. When you make a purchase using one of these affiliate links, we get paid a small commission at no extra cost to you.
All rights reserved © Earth Trekkers. Republishing this article and/or any of its contents (text, photography, etc.), in whole or in part, is strictly prohibited.