In central Arizona, miles and miles of trails criss cross through red rocks and spectacular desert landscapes, creating an outdoor playground for hikers and mountain bikers. Venture into the desert on a 4x4, visit cultural heritage sites, go wine tasting, slide down a waterfall, and watch as the sky turns brilliant shades of orange, red, and pink, when the sun sets at the end of the day.
The town of Sedona is home to gourmet restaurants, boutique shops, and numerous hotels and bed and breakfasts. There are also several smaller nearby towns that also make great places to stay and to visit, such as the Village of Oak Creek and Cottonwood.
This wonderful mix of outdoor adventures, shopping, restaurants, and accommodations creates an ideal vacation getaway, for all ages and interests.
In this guide, learn what there is to do in and around Sedona, get advice on where to stay and where to eat, and learn how to plan your perfect itinerary.
Sedona is located in Arizona. To get to Sedona, it is about a 2-hour drive from Phoenix and a 2-hour drive from the South Rim of the Grand Canyon.
Red Rock Pass: To hike many of the trails in Sedona, you will need to purchase a Red Rock Pass. The revenue from this pass is used to maintain the trails and National Forest areas. This pass costs $5 per day or $15 for one week and can be purchased at the trailheads. Learn more here.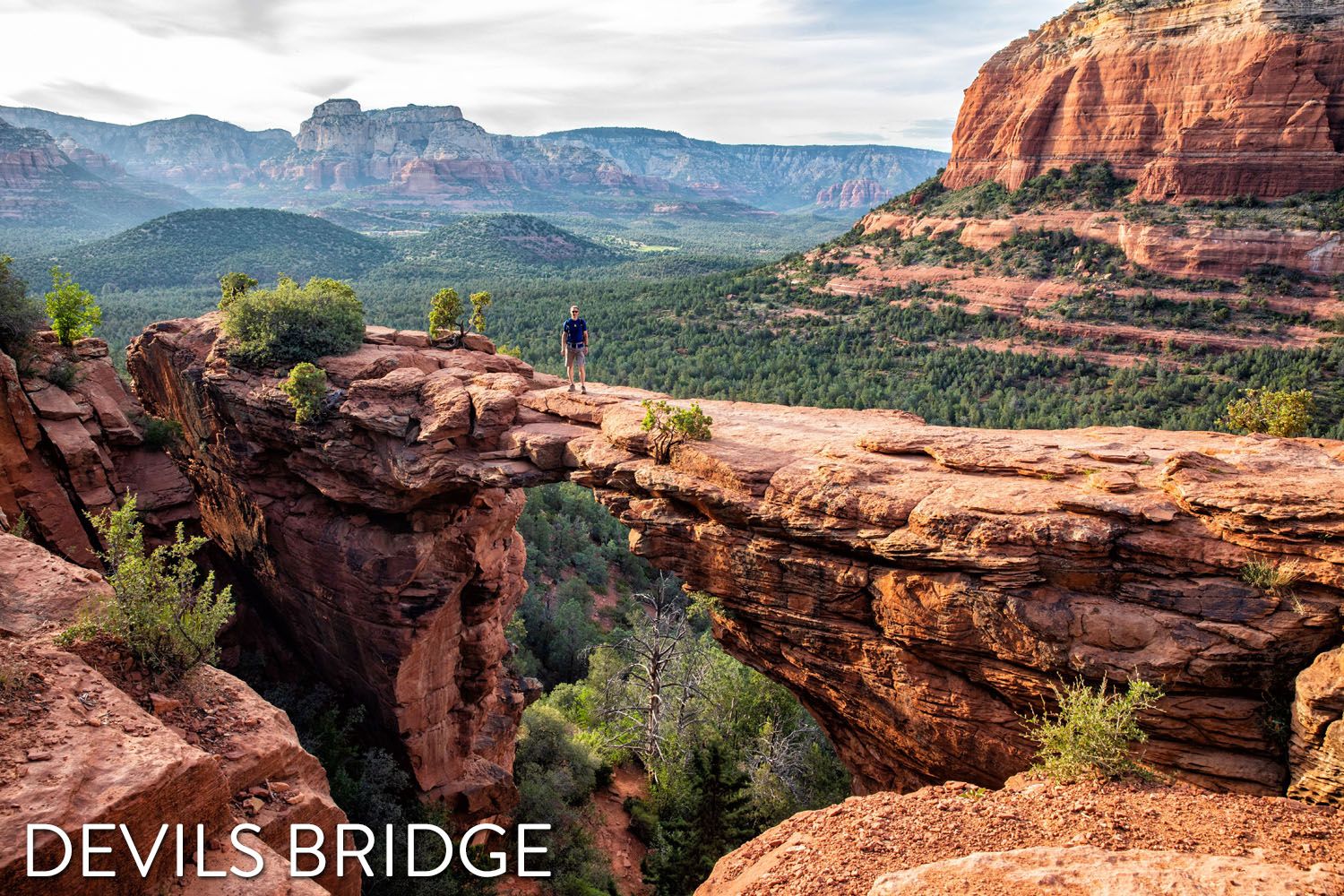 Top Experiences in Sedona
Go Hiking. In Sedona, you can hike through canyons, to hidden caves, natural arches and vortexes, and you can hike to the top of some of the highest mountain peaks. The list of hikes is long, so long that you could literally spend weeks here and never run out of new areas to explore. We list the top hikes in Sedona later in this guide.
Drive Red Rock Scenic Byway. This byway travels through some of the most recognizable natural landmarks in Sedona. It's just 8 miles long and runs past Bell Rock and Cathedral Rock.
Explore the 4WD Roads. Like hiking trails, 4WD roads criss cross through the desert landscapes. Broken Arrow is the most famous, but the Outlaw Trail, Soldier Pass, and Diamondback Gulch also make great options.
Go Mountain Biking. This is another great way to explore Sedona. You can bring your own bike, rent one in town, or join a mountain bike tour.
Go Shopping at Tlaquepaque Arts and Crafts Village. This collection of Mexican-styled buildings is home to over 50 boutique arts and crafts shops, as well as a few great restaurants.
Chapel of the Holy Cross. This Roman Catholic Chapel is one of Sedona's most recognizable landmarks. Take a look inside, attend mass, and enjoy the view from the terrace.
Visit the Palatki and Honanki Heritage Sites. These cliff dwellings were inhabited by the Sinagua people from 1,100 to 1,400 AD. Both sites contain the remains of ancient buildings and pictographs.
Watch the Sunset from Airport Mesa. This viewpoint, which overlooks the town of Sedona and Thunder Mountain, is one of the best spots to watch the sunset.
Visit the Sedona Vortex Sites. The vortex sites are energy centers that are thought to facilitate meditation, mind and body healing, prayer, and creative thinking. Airport Mesa, Cathedral Rock, Boynton Canyon and Bell Rock are the four main vortices.
Get a Psychic Reading. At the Center for the New Age, take your pick from psychic clairvoyant readings, tarot readings, aura photos, couples' readings, dream interpretations, and chakra alignments. 
Visit the Amitabha Stupa and Peace Park. This quiet, serene park is a wonderful place to visit. A visit here feels like you are transported to the east, where stupas abound in countries such as Bhutan, Myanmar, and Nepal. The Buddhist Amitabha Stupa is a place for prayer and meditation for everyone, regardless of religious affiliation.
Cool Off at Slide Rock State Park. This swimming spot is a great place to cool off in hot weather. Kids, and kids at heart, will love sliding down the waterfalls into the shallow pools of water.
Bell Rock and Courthouse Butte Loop. This 4-mile hike winds around two of Sedona's most famous natural landmarks. Add on the climb up Bell Rock for an even better experience.
Cathedral Rock. Hike and rock scramble your way to the top of Cathedral Rock. From the saddle between the sandstone spires, the views are spectacular.
Devils Bridge. This uber-popular hike tops the list for many visitors to Sedona. It's just 2-miles round trip and this trail takes you to a bridge of sandstone, one of the most photographed spots in Sedona.
Airport Loop Trail. From this 3-mile loop, you can look out at Sedona's most famous landmarks, including Cathedral Rock, Bell Rock, Courthouse Butte, Munds Mesa, Thunder Mountain, and the town of Sedona.
Soldier Pass. On this popular hike, visit the Seven Sacred Pools, hike past a sinkhole named Devil's Kitchen, and visit the Soldier Pass cave.
Brins Mesa + Soldier Pass Loop. This loop combines the Soldier Pass Trail and the Brins Mesa Trail into one big hike (about 6 miles round-trip).
Boynton Canyon Trail. This is the longest and one of the most challenging trails on this list (7.5 miles). Hike through beautiful Boynton Canyon, take in the view from the Boynton Vista Trail, and visit a hidden cave.
The Birthing Cave. This short, relatively easy hike ends at a small cave that is fun to photograph.
Bear Mountain. This tough trail takes hikers to the top of one of the tallest peaks in Sedona. From the peak, you are rewarded with panoramic views of the red rocks of Sedona as well as the San Francisco Peaks near Flagstaff.
West Fork Trail. On this 6-mile hike, walk along Oak Creek. This is one of the best hikes to do in Sedona on a hot day, since you are under the shade of trees for most of the way.
How Many Days Should You Spend in Sedona?
As many as possible. 😉
The list of things to do is so long that you can spend one week in Sedona, hiking one to two trails a day, and never run out of new places to explore. We know, because we have done it.
If you love hiking, we recommend spending at least three days in Sedona. This gives you enough time to pick five or six hikes from Sedona's long list of hiking trails, sample a few restaurants, and catch a few sunsets.
If hiking isn't your thing, then you can see the best of Sedona in one to two days.
For families, Sedona makes a great weekend getaway. I think 2 to 3 days is the perfect amount for families with young kids, even longer if your kids are older and like to hike.
Best Time to Visit Sedona
The best time to visit Sedona is during the spring and fall months, when the weather is warm. Daily temperatures range from 60 to 80 degrees Fahrenheit. This is the busiest time to visit Sedona, so expect higher hotel prices, big crowds, and difficulty finding a parking space at the trailheads.
In the summer, Sedona is HOT. Limit your hikes to the early morning and the end of the day. Midday, visit Slide Rock State Park, Oak Creek Canyon, or stay at a hotel that has a pool. August is the wettest month to visit Sedona since this is "monsoon season," when rain falls during short, intense thunderstorms.
In the winter, the weather is cool but snow is rare. The average daily high is in the mid-50's (Fahrenheit) getting down to the 30's at night.
Where to Stay in Sedona
When visiting Sedona, the most convenient place to stay is in the town of Sedona. From here, it is just a short drive to most of the hiking trails, shops, and restaurants.
However, in recent years, Sedona has become an expensive place to visit. If you are traveling on a budget or want to stay in a location that is a little quieter and less touristy, the Village of Oak Creek and Cottonwood are two nearby towns that are worth looking into.
Get hotel recommendations in Sedona, the Village of Oak Creek, and Cottonwood in our Sedona Hotel Guide.
Where to Eat
Ending the day with a great meal is one of Sedona's best experiences. There is a long list of restaurants to try but here are few of our favorites:
Mariposa: Latin-inspired grill with great views of Sedona
Elote Café: Highly rated restaurant that serves Mexican and southwestern dishes
The Hudson: Great food and the view from the outdoor patio is awesome
Cucina Rustica: Dine on Italian food in a beautifully decorated restaurant
Saltrock Southwest Kitchen: Our favorite spot to get margaritas in Sedona
Vino Di Sedona: Live music, wine, and small plates of food
Picazzo's Healthy Italian Kitchen: One of our favorite lunch spots
Molé: This underrated restaurant serves great street food tacos and sangria
USA Road Trip Ideas
If you are planning a trip through the American Southwest, we have several road trip itineraries that include Sedona and the top sights in Arizona.
With 10 days in the American Southwest, visit Sedona, the Grand Canyon, Monument Valley, and continue to Utah, where you will visit Zion, Bryce Canyon, and Grand Staircase-Escalante National Monument.
On an Arizona road trip, visit Sedona and spend time in Monument Valley, Antelope Canyon, and three national parks: Grand Canyon, Saguaro, and Petrified Forest.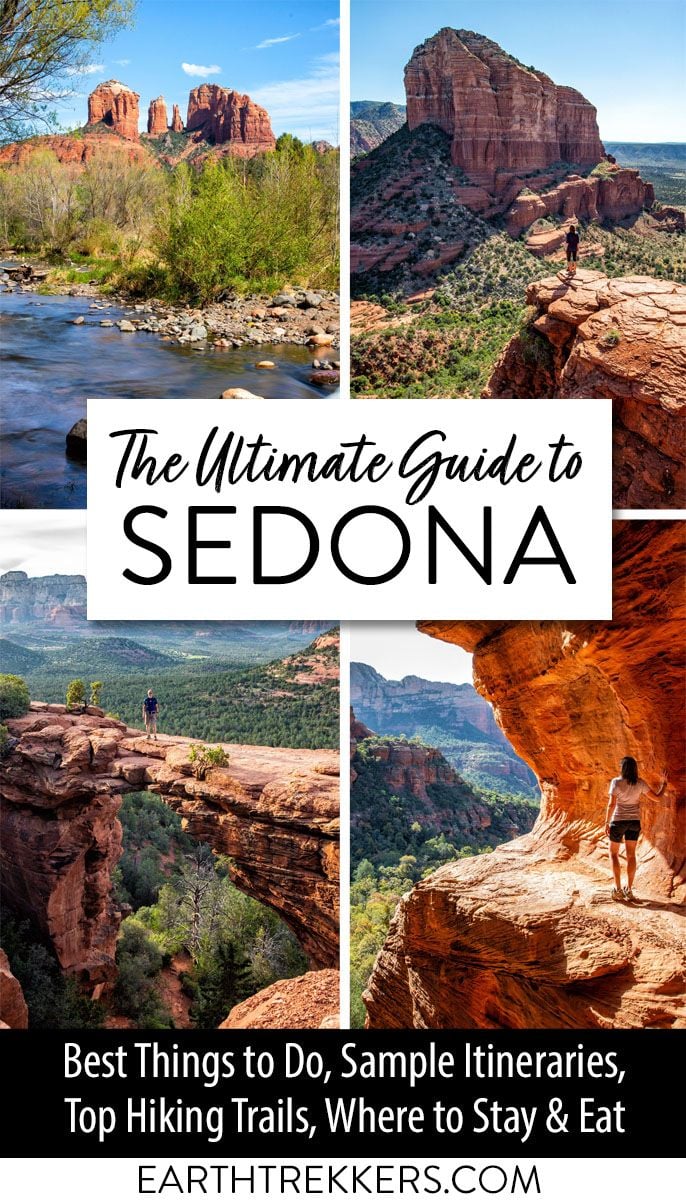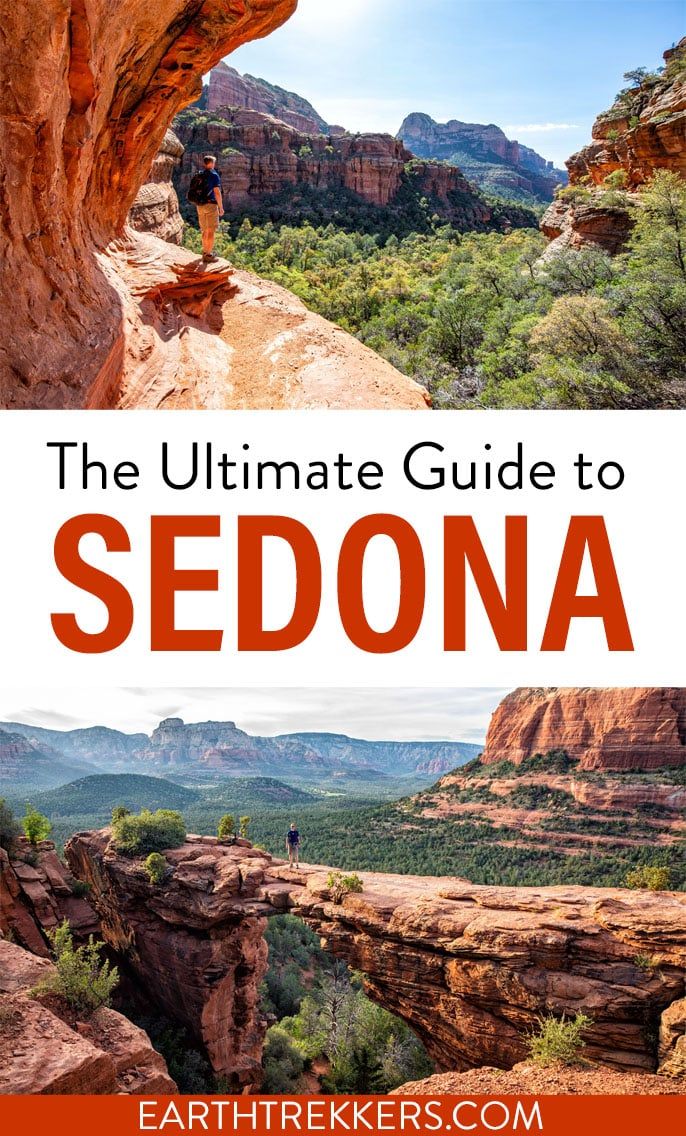 Note: This page contains affiliate links. When you make a purchase using one of these affiliate links, we get paid a small commission at no extra cost to you.