Bear Mountain is one of the tallest peaks in Sedona. From the top, you are rewarded with panoramic views of the red rocks of Sedona as well as the San Francisco Peaks near Flagstaff.
Getting here is a challenge. This is a short hike, just 5 miles round trip, but the elevation gain is huge. The trail alternates between relatively short, flat sections punctuated with steep, strenuous climbs on a very rocky, uneven trail.
During the summer months, it can get very hot. There is no shade on the trail so bring your sunscreen, your hat and lots of water.
But if you like the idea of high mountain views over Sedona on a less trafficked trail, this is a hike to consider.
Bear Mountain Hiking Stats
Distance: 5 miles round trip
Total Ascent: 1,800 feet
Difficulty: Strenuous
Time: 4 to 6 hours
Location: West Sedona
Red Rock Pass: You will need to purchase a Red Rock Pass to do this hike. The pass costs $5 per day or $15 for one week. The pass can be purchased at the fee machine at the trailhead (credit cards only). If you have an America the Beautiful Pass, you can use this rather than purchasing a Red Rock Pass.

Bear Mountain Elevation profile
Please practice the seven principles of Leave No Trace: plan ahead, stay on the trail, pack out what you bring to the hiking trail, properly dispose of waste, leave areas as you found them, minimize campfire impacts, be considerate of other hikers, and do not approach or feed wildlife.
How to Hike Bear Mountain
Step-By-Step Trail Guide
Getting to the Trailhead
Bear Mountain is located northwest of the town of Sedona. To get here it is a 20-minute drive.
On Google Maps, the parking lot is listed as Bear Mountain Trail – Oski Approach/Doe Mountain Parking. The lot is located on Boynton Pass Road. There is a pit toilet here.
Park in the car park. To get on the Bear Mountain Trail, cross the street and you will see the trailhead.
Important! If you take the trail that starts directly from the car park, you will hike up Doe Mountain. Make sure you cross the street to the trail to Bear Mountain. Step over the small gate and you should see a sign confirming that you are on the Bear Mountain Trail.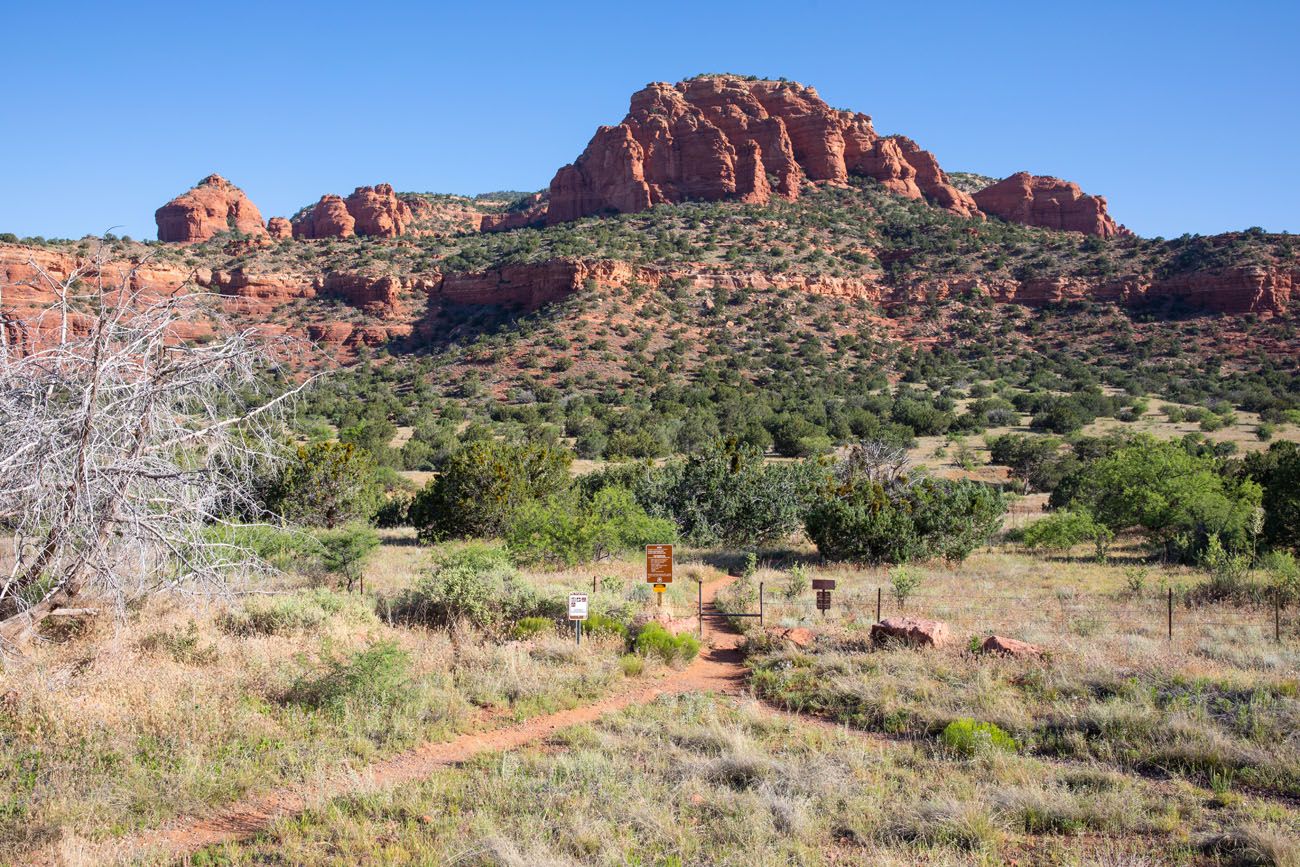 The view of the trail and the first climb of the hike from Boynton Pass Road.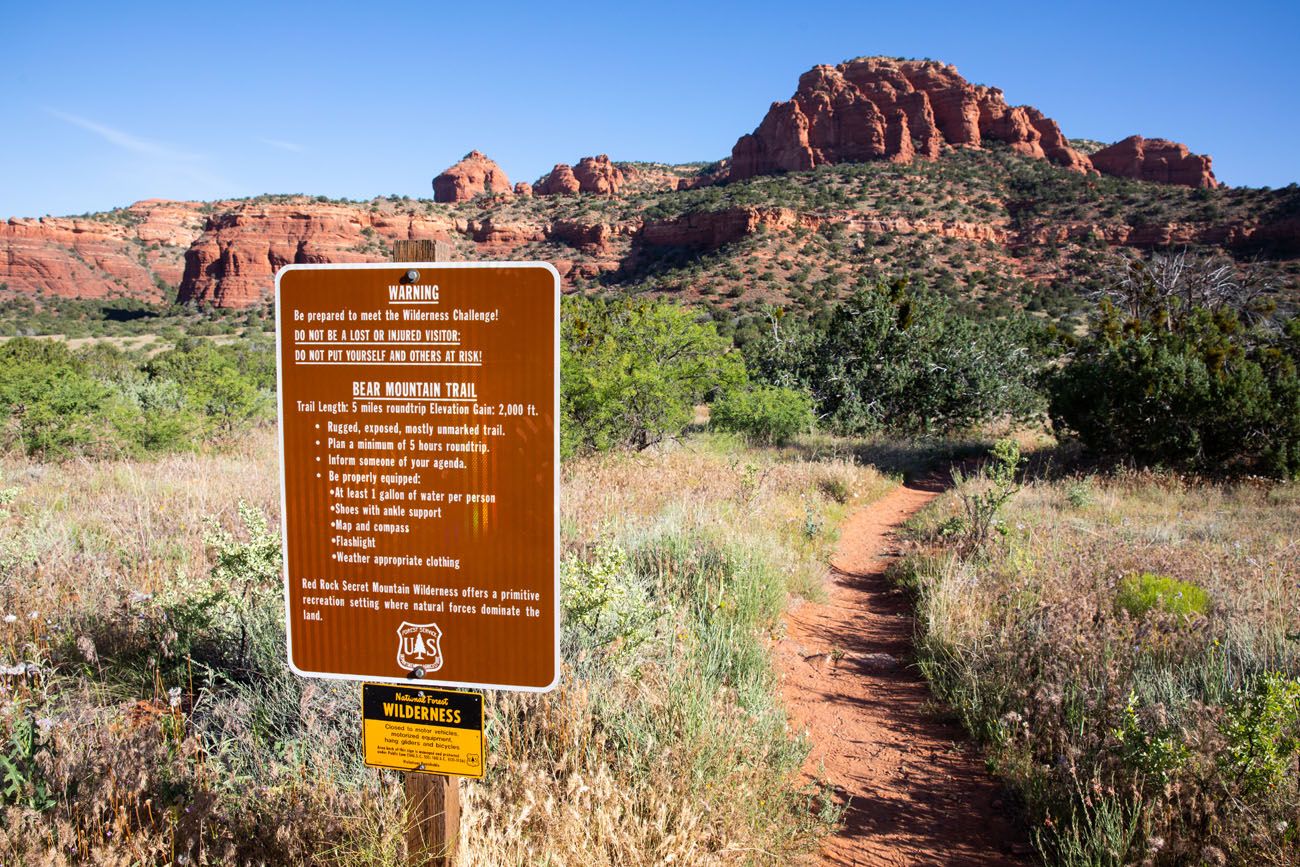 Hiking the Bear Mountain Trail
From the trailhead, the hike doesn't look too bad. But you can't see Bear Mountain, at least not yet. It's hidden behind that chunk of rock right in front of you.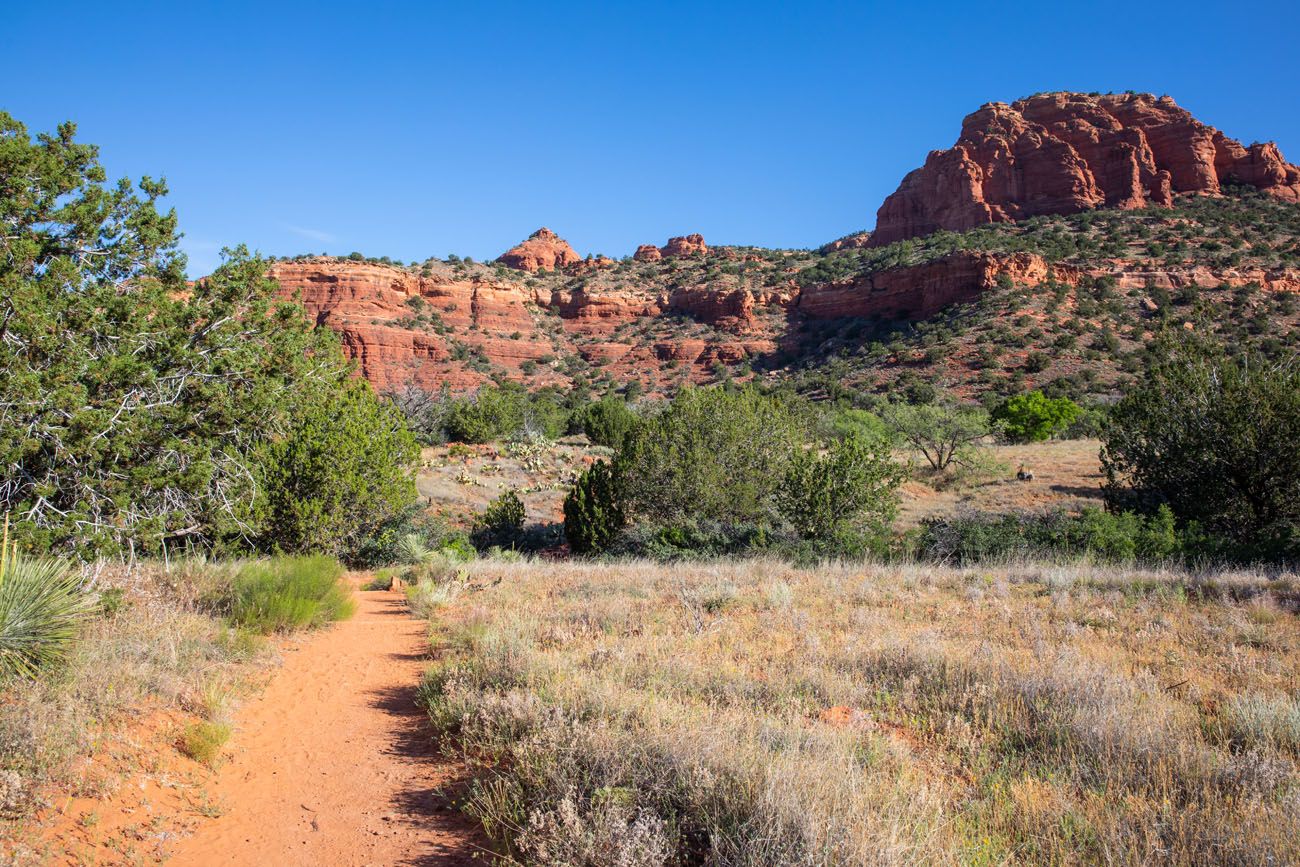 The climb up that first hill is a nice introduction as to what to expect for the next several hours. There are four steep, exhausting, thigh-killing climbs on this hike. In between, the trail levels out or even heads downhill.
HIKING TIP: The trail is marked with white-painted hash marks spaced out every 10 to 20 feet. Make sure you can always see these. In some sections, if you don't pay attention, it's easy to wander off of the trail.
Essentially, the trail steadily gains elevation, all the while passing sandstone rocks, juniper trees, and cacti. Colorful, small lizards constantly dart across the trail. Along the way, pause to catch your breath and enjoy the view. The higher you go, the better the views get.
The summit is a bit disappointing. A small, metal sign marks the end of the trail. Enjoy the panoramic views that you worked so hard for and then return to your car the same way.
Bear Mountain Trail in Photos
Here are photos of the hike in order from start to finish.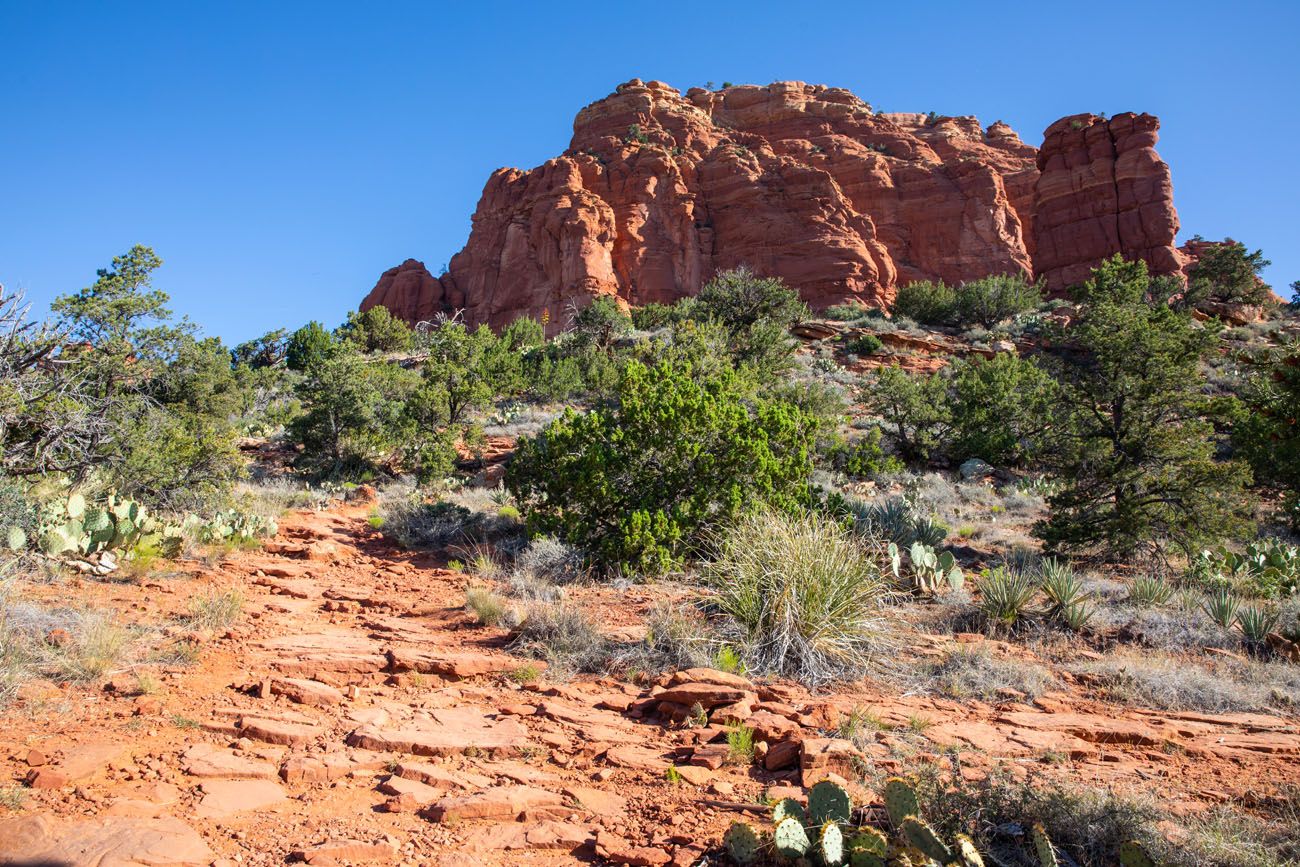 The first climb of the hike. This one is not too bad.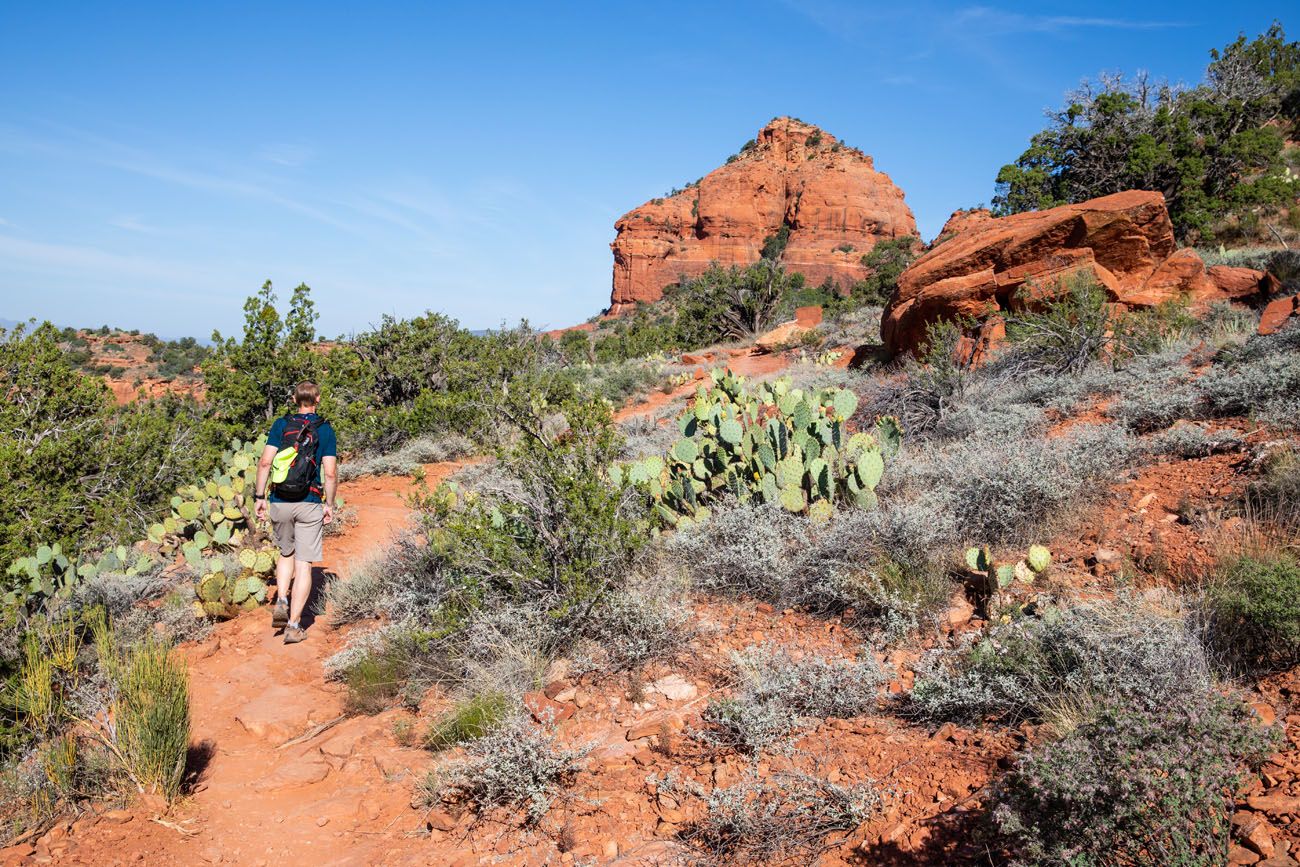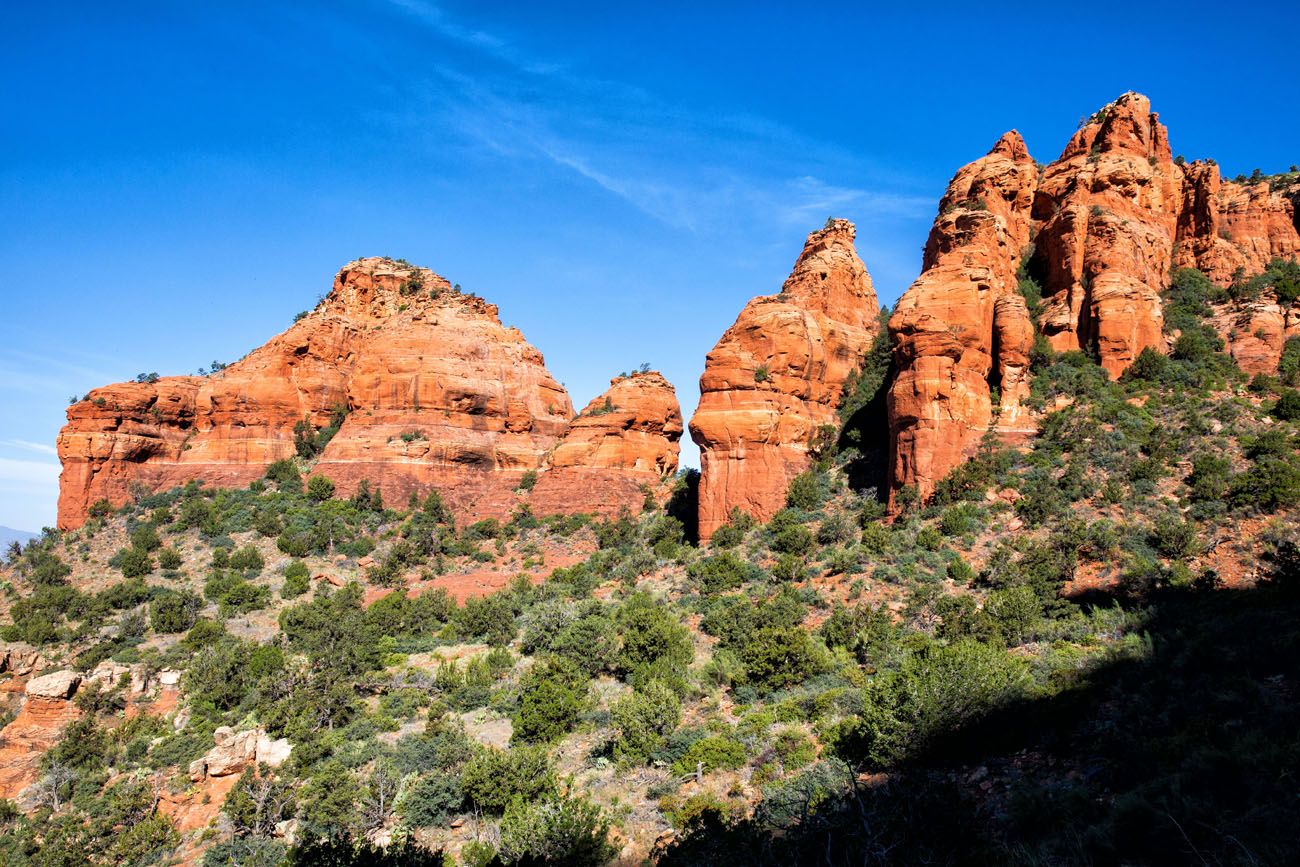 A view of the red rocks from the trail.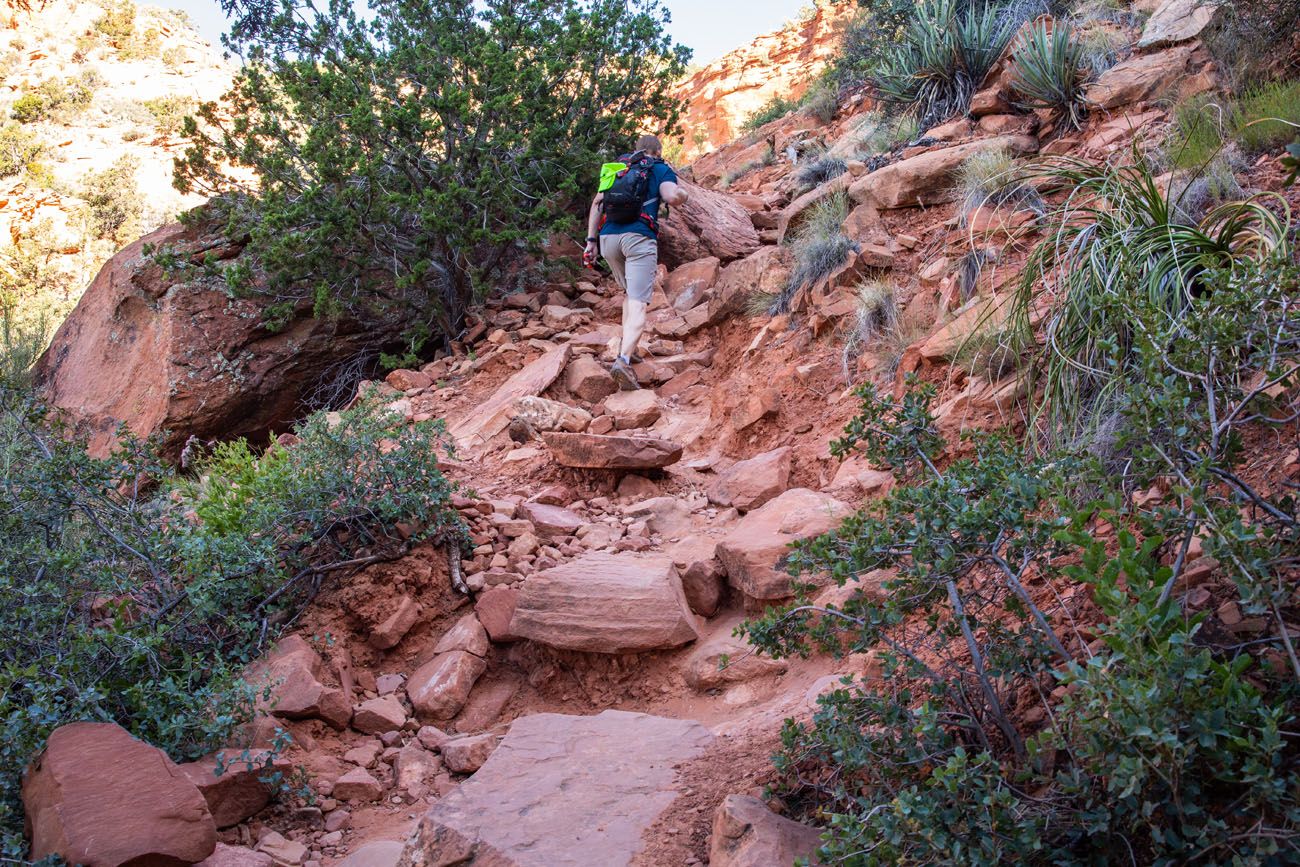 As the trail wraps around the western side of the first hill we were treated to a short stretch of shade. But this photo gives you an idea what much of the hiking trail looks like.
The view from the top of the second climb of the hike. Way off in the distance are Bell Rock, Courthouse Butte, and Cathedral Rock.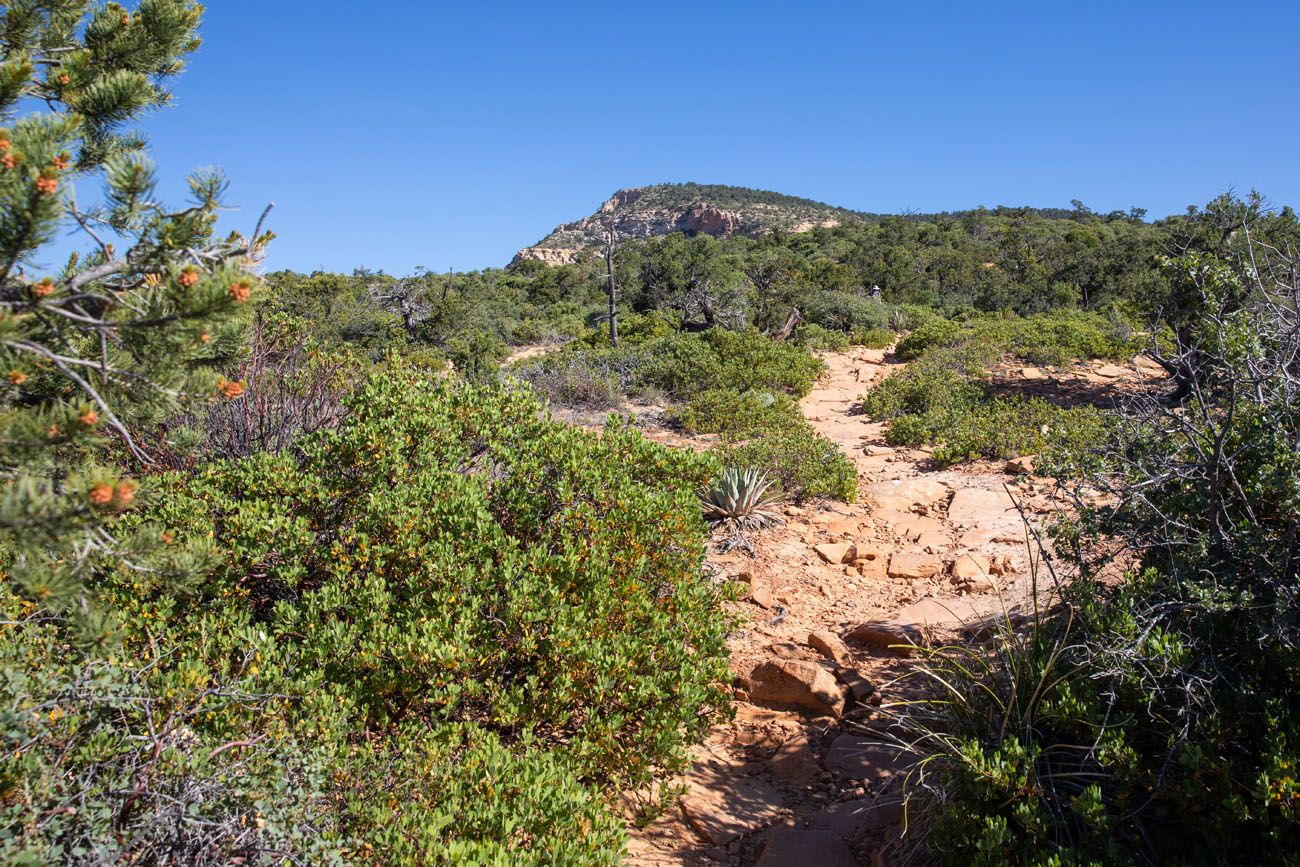 The trail levels off, at least for a short distance, after the second climb.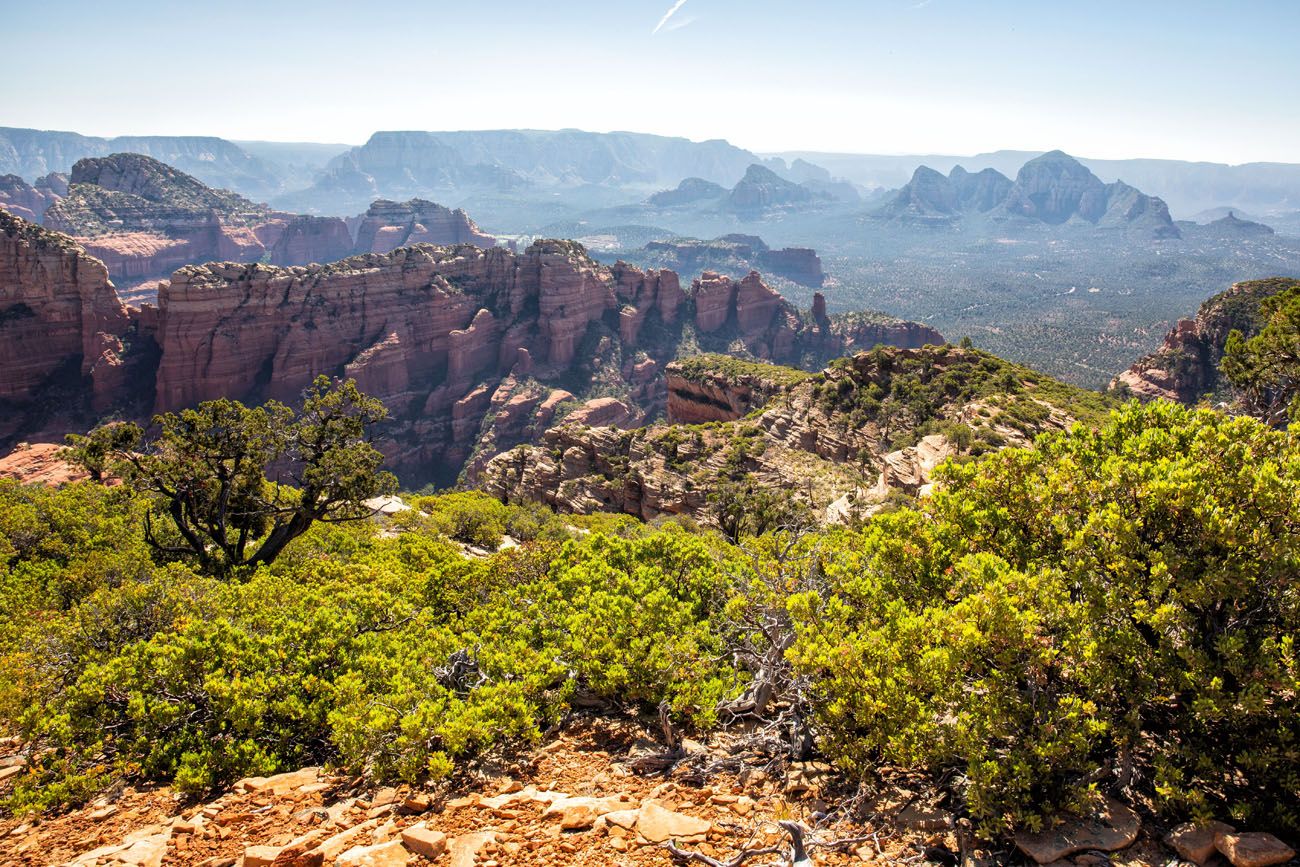 Another view from the trail. Unfortunately, if you do this hike in the morning to avoid the hot midday temperatures, Sedona could still be hazy, as you are looking east towards the sun.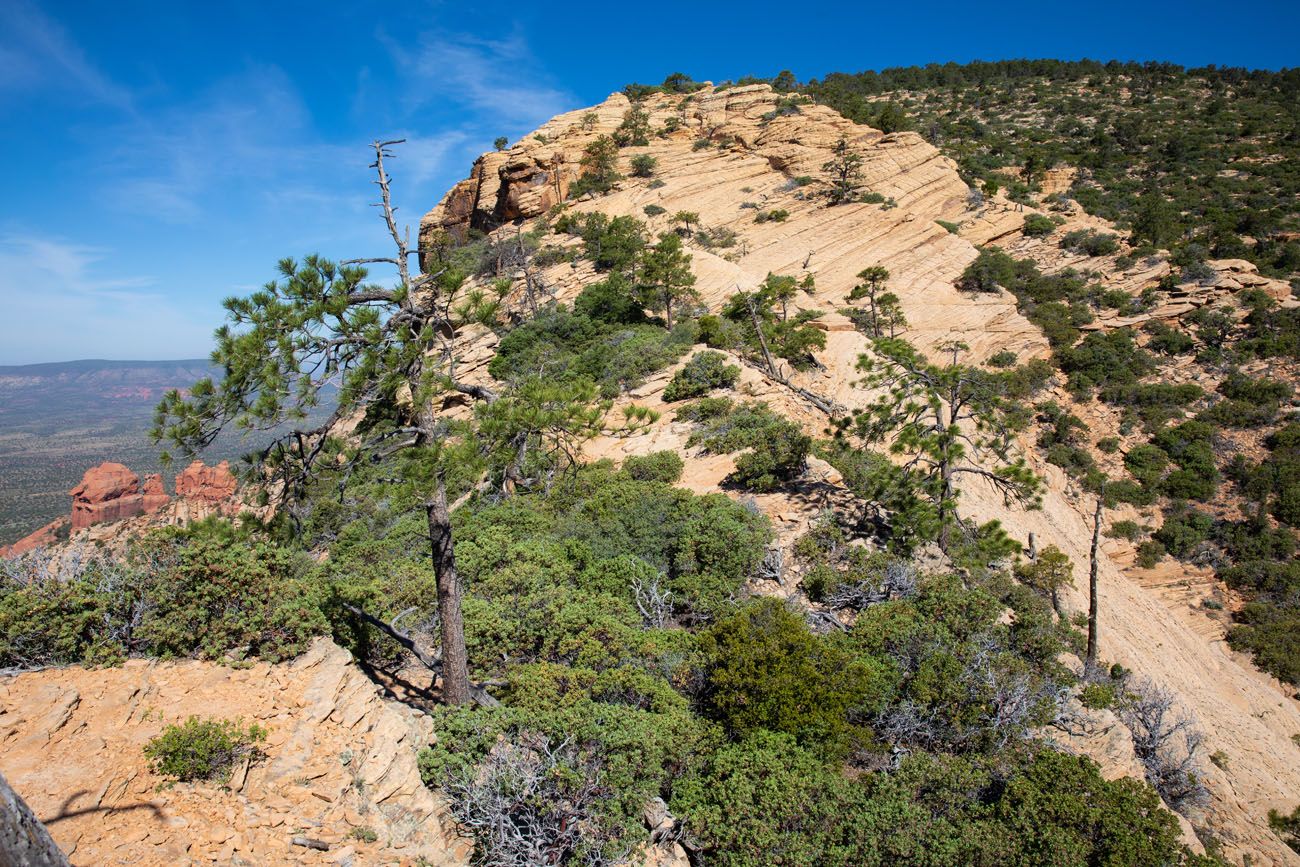 From here, you hike up and around the bald rock to Bear Mountain, which is just behind it.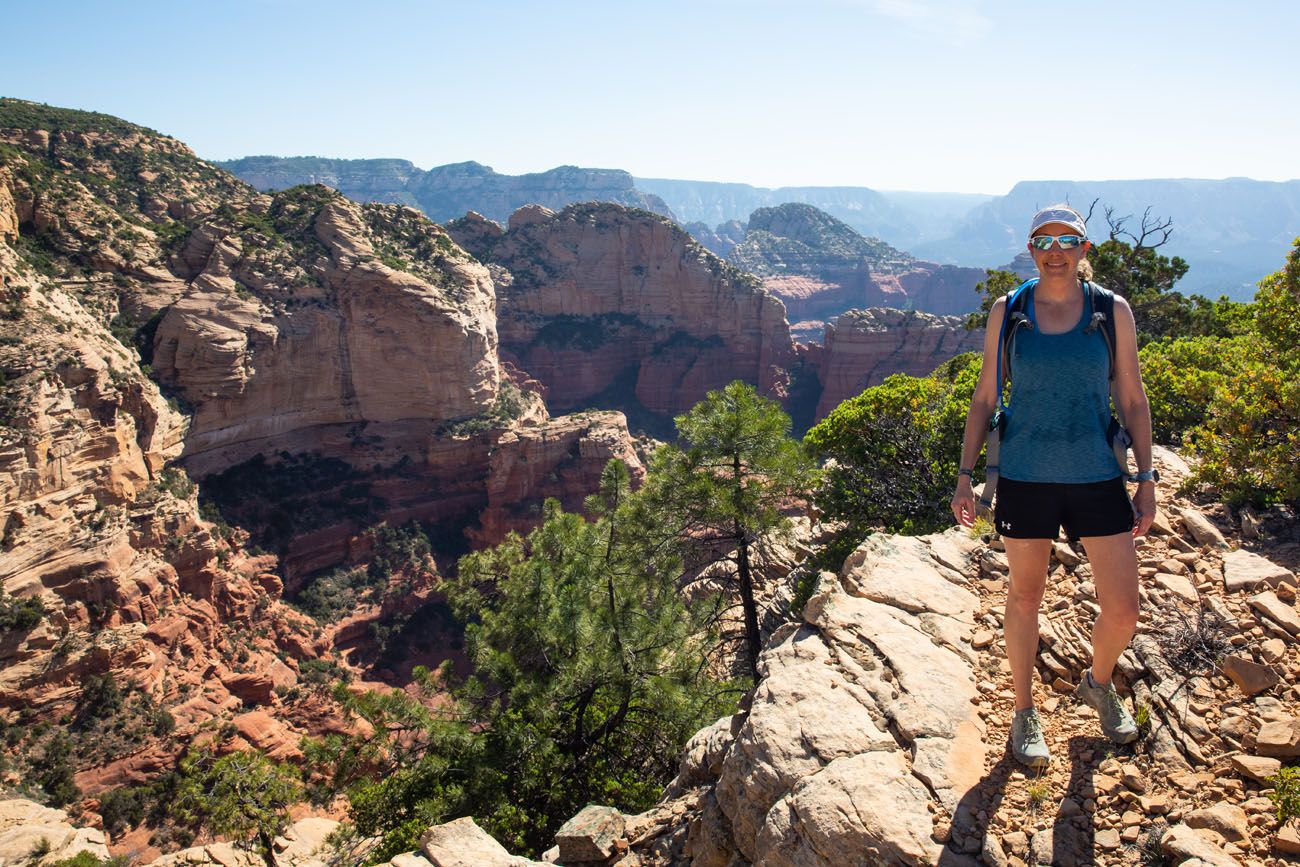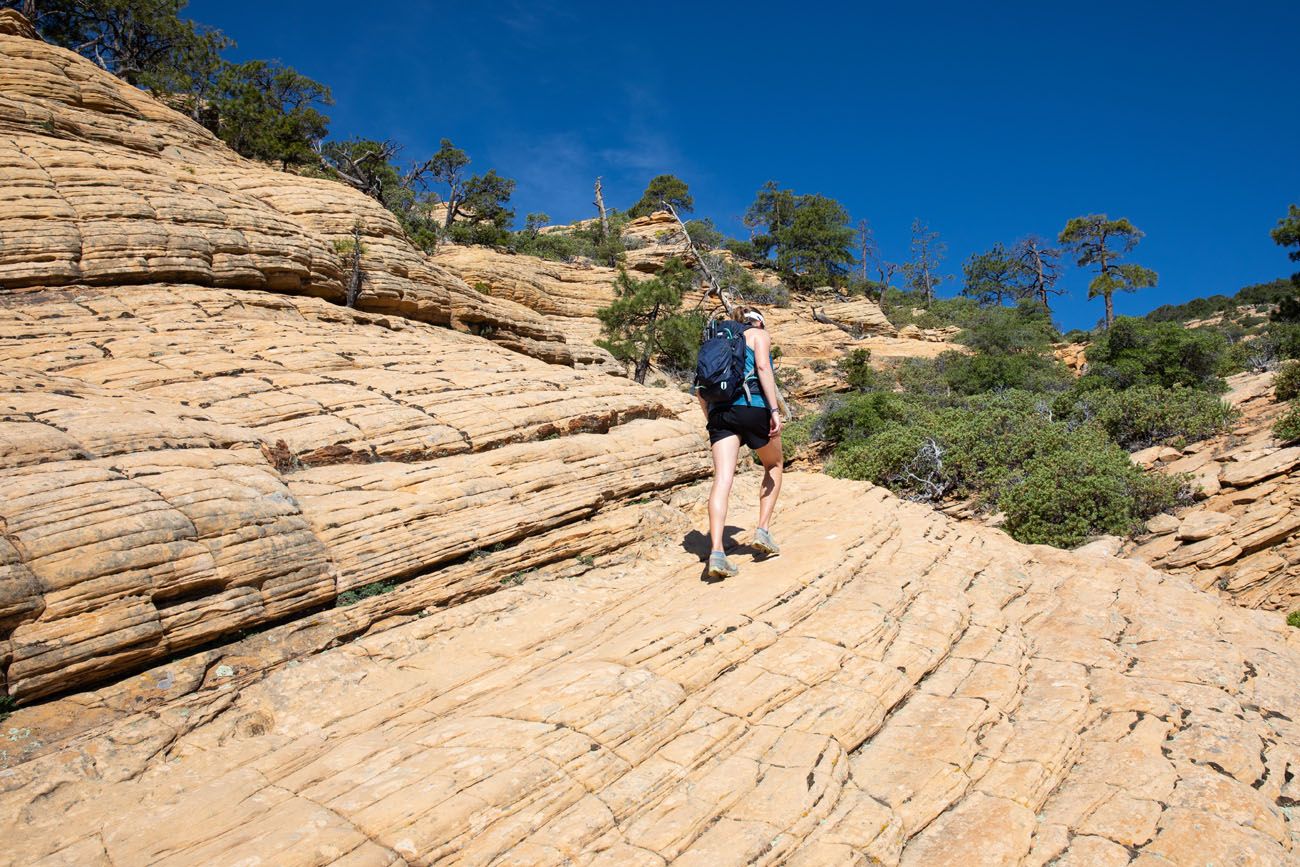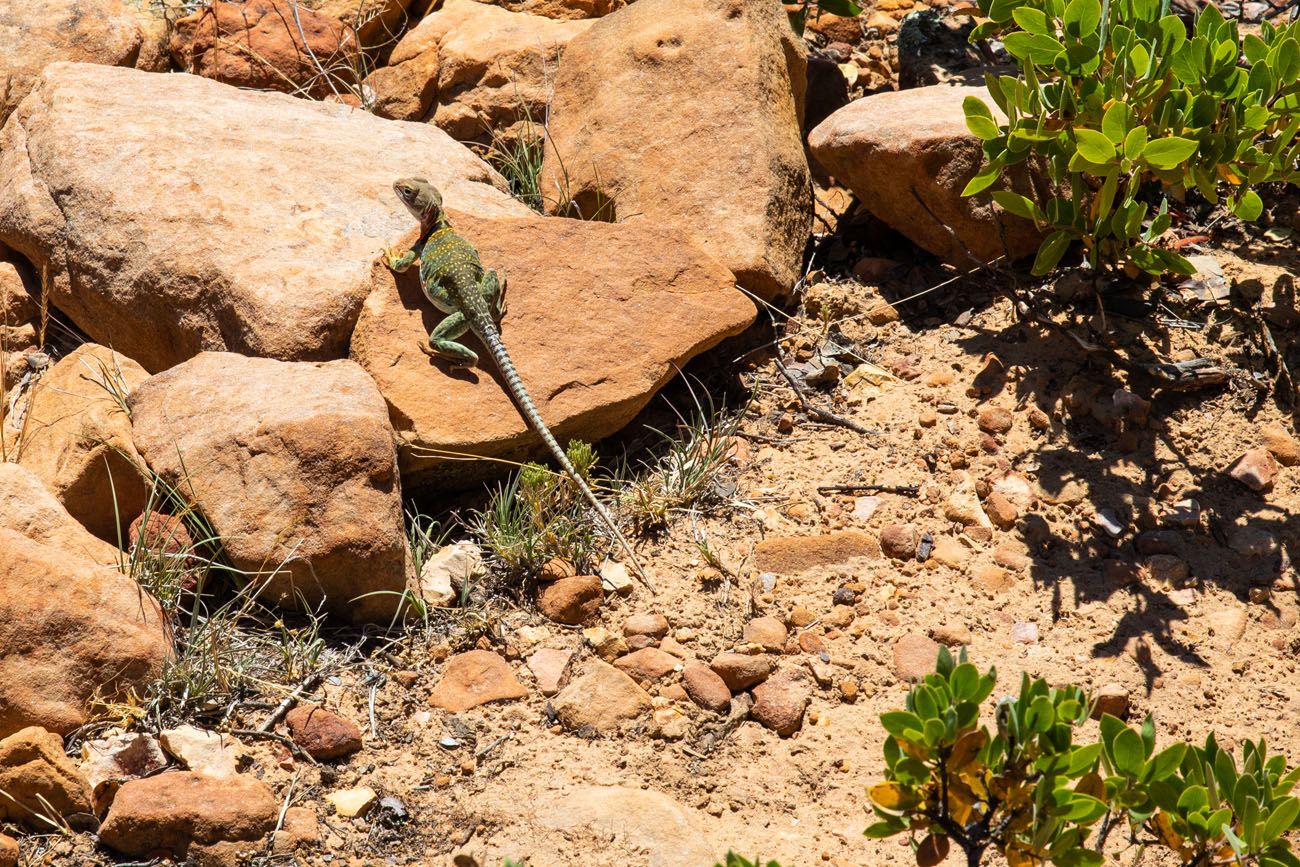 One of hundreds of lizards along the trail.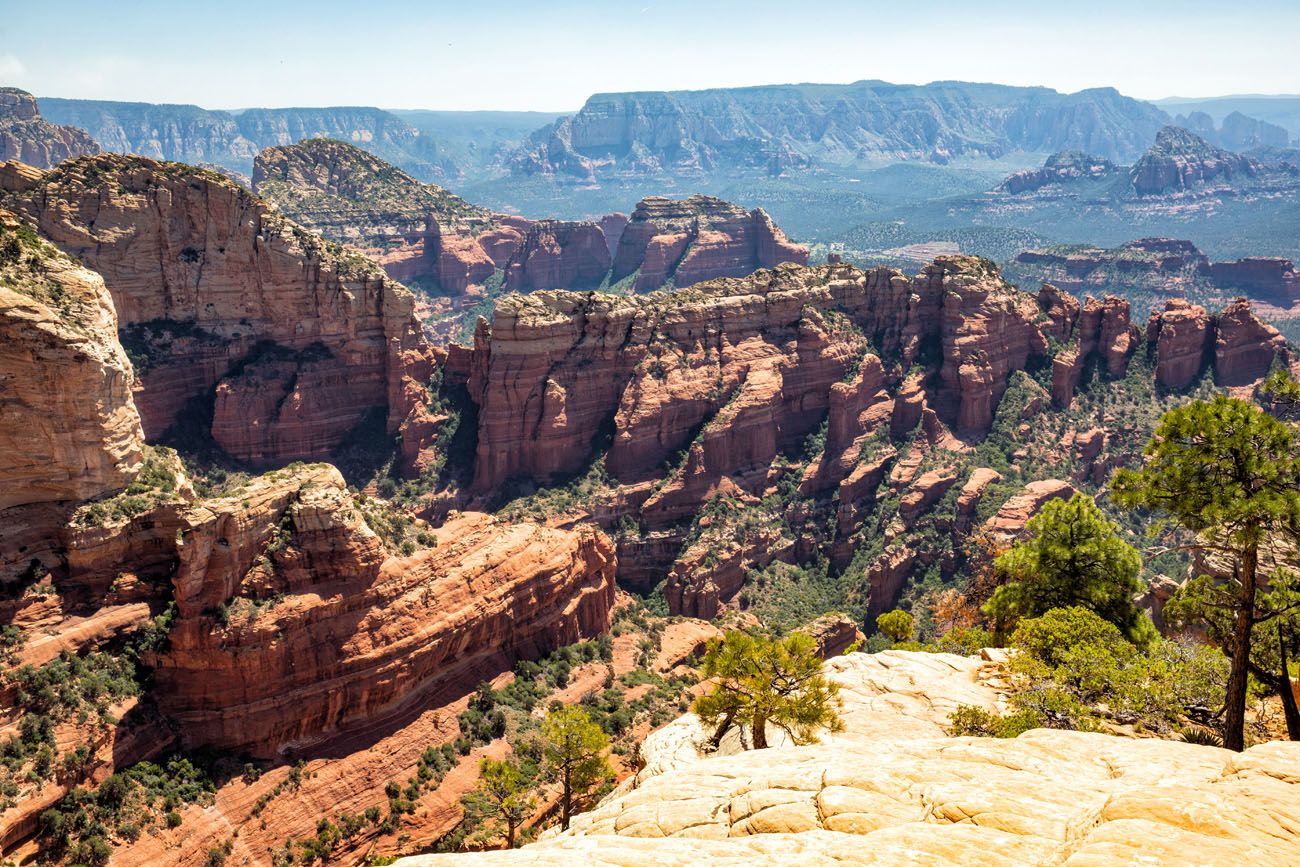 Just before the summit you get a nice view of more red rocks.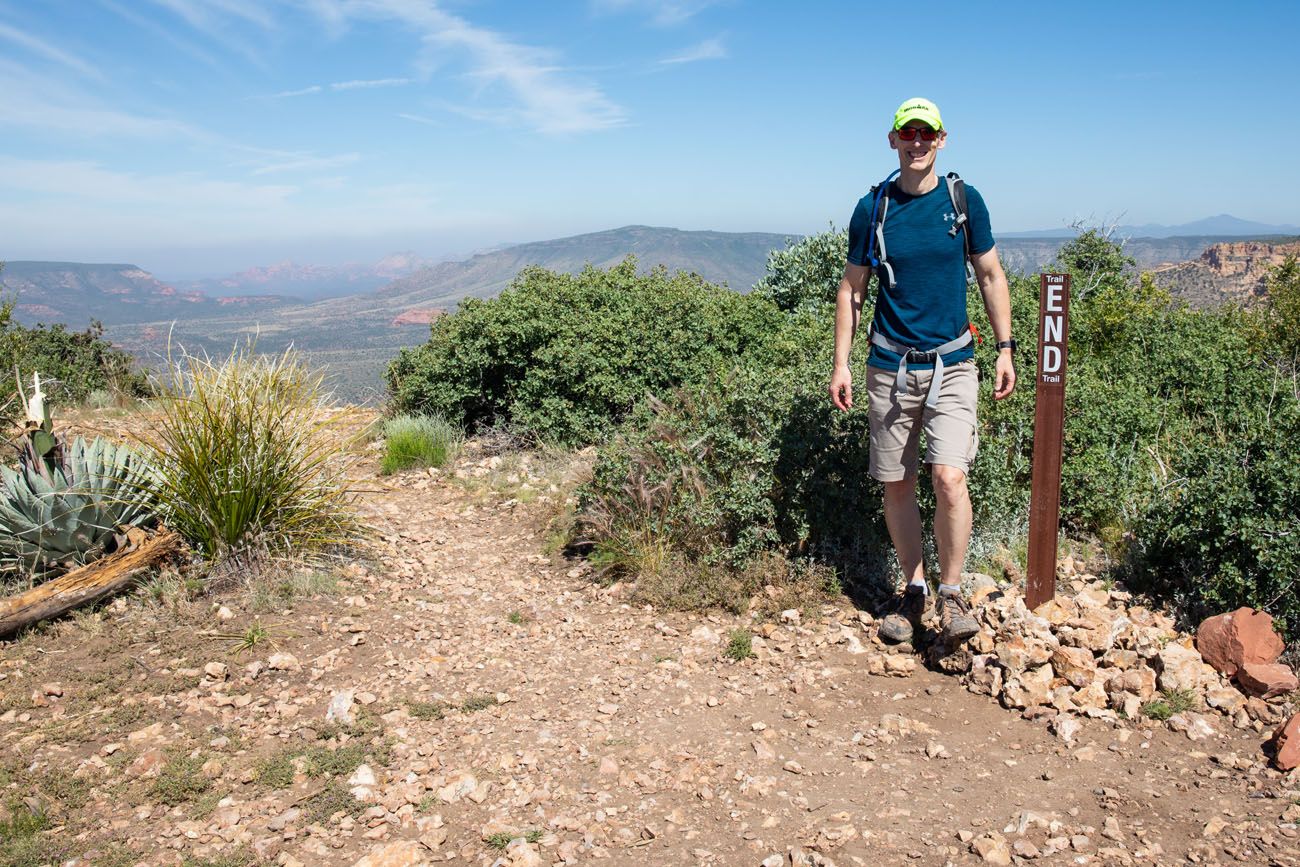 Summit of Bear Mountain.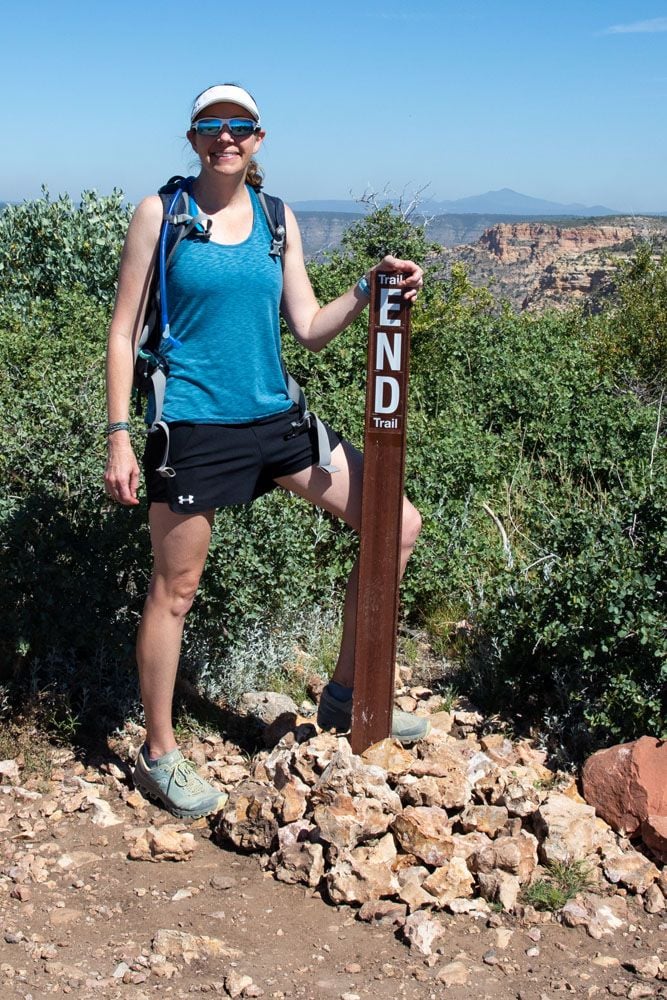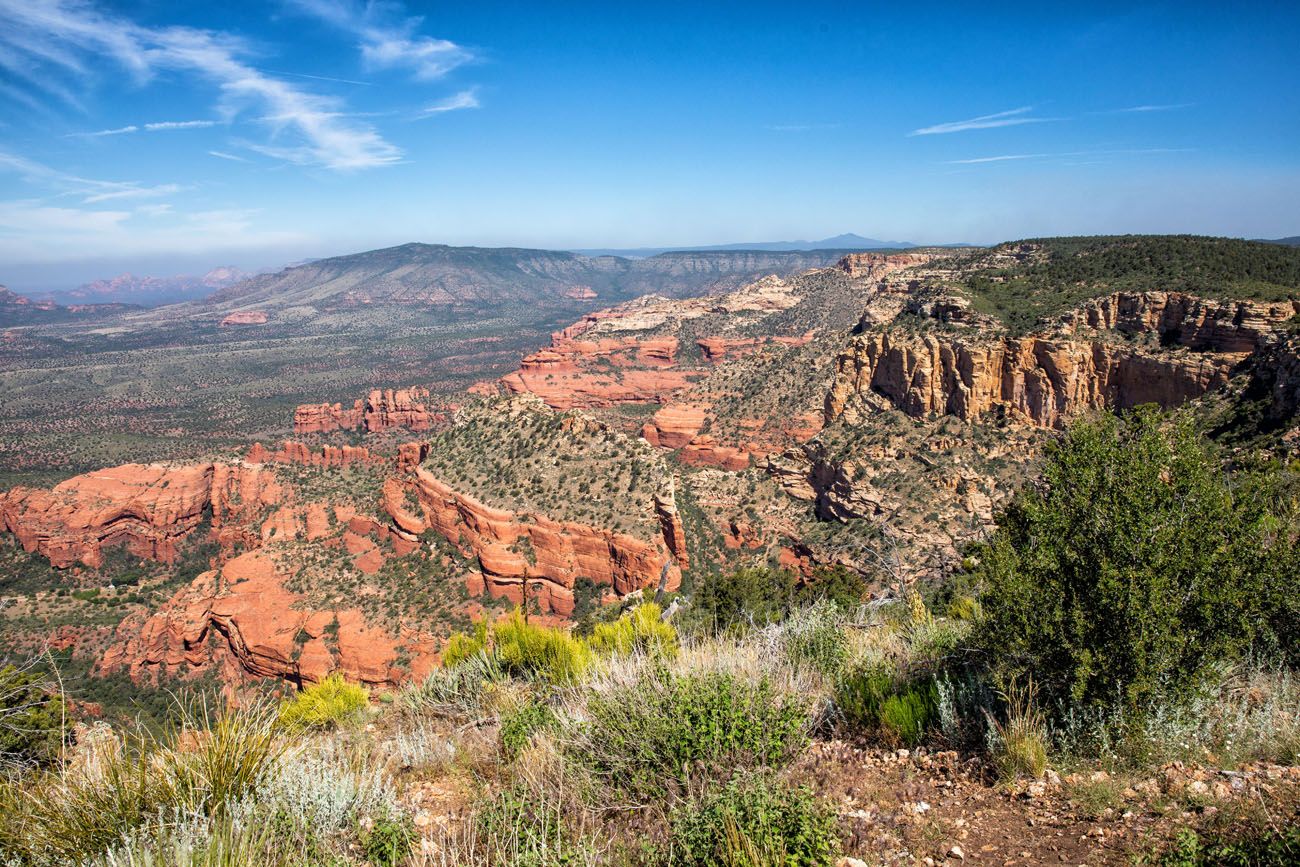 View from the summit looking northwest.
Our Thoughts on the Hike
On our first visit to Sedona, we had limited time (really just 24 hours) so we picked two hikes to do: Devils Bridge and Bear Mountain.
We chose Bear Mountain because from everything I read online, people rave about the amazing views. And honestly, we also chose it because it was one of the hardest hikes in the area and we like that kind of thing.
However, just 48 hours before hiking the Bear Mountain Trail, Tim and I hiked the Grand Canyon rim-to-rim in one day. It's a massive hike and our legs were still sore and we were still running low on energy.
Honestly, we did not enjoy this hike as much as we thought we would. Yes, the views are great, but they aren't jaw-dropping, like so many other hikers have described them. And this is a tough hike. For me, the view from the final summit was not quite worth the exhausting climb to get there.
But that's just my opinion. You can see the views in our photos and decide if this hike is worth it for you.
In hindsight I wish that we had picked a different trail. We have since returned to Sedona and hiked many more trails. Cathedral Rock, Brins Mesa, and Boynton Canyon are some of our favorite hikes in Sedona.
Before traveling to Sedona, I purchased the book Sedona's Top 10 Hikes. Along with this guide and some online research, Tim and I picked out our hikes. This handy little guide is filled with colorful photographs, maps, and interesting facts about Sedona.
Where We Stayed
We stayed at a wonderful bed & breakfast called A Sunset Chateau. This is a beautiful property located just outside of the town of Sedona. On property is a pool, hot tub, and a lush garden filled with tropical plants and trees. For many more recommendations, read our Sedona hotel guide.
More Information on Sedona
SEDONA: Get links to all of our articles in our Sedona Travel Guide. To help you plan your visit, we also have guides to the best things to do in Sedona, the best hikes in Sedona, and how to plan the perfect Sedona itinerary.
HIKES IN SEDONA: Some of the top trails in Sedona include Devils Bridge, Bell Rock and Courthouse Butte, Cathedral Rock, and the Brins Mesa – Soldier Pass Loop. For more ideas, read our guide to the Best Hikes in Sedona.
SEDONA 4WD ROADS: One of the best things to do in Sedona is to drive the 4WD roads. Here are six 4WD roads in Sedona to choose from and a detailed guide on how to drive Broken Arrow, the most popular 4WD experience in Sedona.
SEDONA ITINERARY: To help you plan your time, check out our One Day in Sedona Itinerary and Sedona Itinerary Ideas for 1 to 6 days.
---
Do you have plans to hike Bear Mountain Trail? Comment below if you have any questions or if you want to share your experience.
More Information for Your Trip to Arizona
ARIZONA ITINERARY: If you have 10 days in Arizona, learn how to visit the Grand Canyon, Sedona, Monument Valley, Antelope Canyon, and Saguaro and Petrified Forest National Parks in one amazing road trip.
GRAND CANYON: Check out our guides to the Best Things to Do on the South Rim, how to spend one perfect day in the Grand Canyon, and which South Rim viewpoints are the best ones to visit. For amazing views of the Grand Canyon, check out our guide to the Grand Canyon Helicopter Tours.
ANTELOPE CANYON: Journey through Upper Antelope Canyon and Lower Antelope Canyon in photos. If you only have time for one, don't miss our article Should You Visit Upper or Lower Antelope Canyon?
SAGUARO NATIONAL PARK: Plan your visit to Saguaro with our Guide to Saguaro National Park.
MORE GREAT HIKES IN THE USA: From hikes to the tallest peaks to beautiful coast trails, read our Guide to the Best Day Hikes in the US National Parks. If you prefer to keep your hikes short and sweet, read our guide to the Best Short Hikes in the National Parks.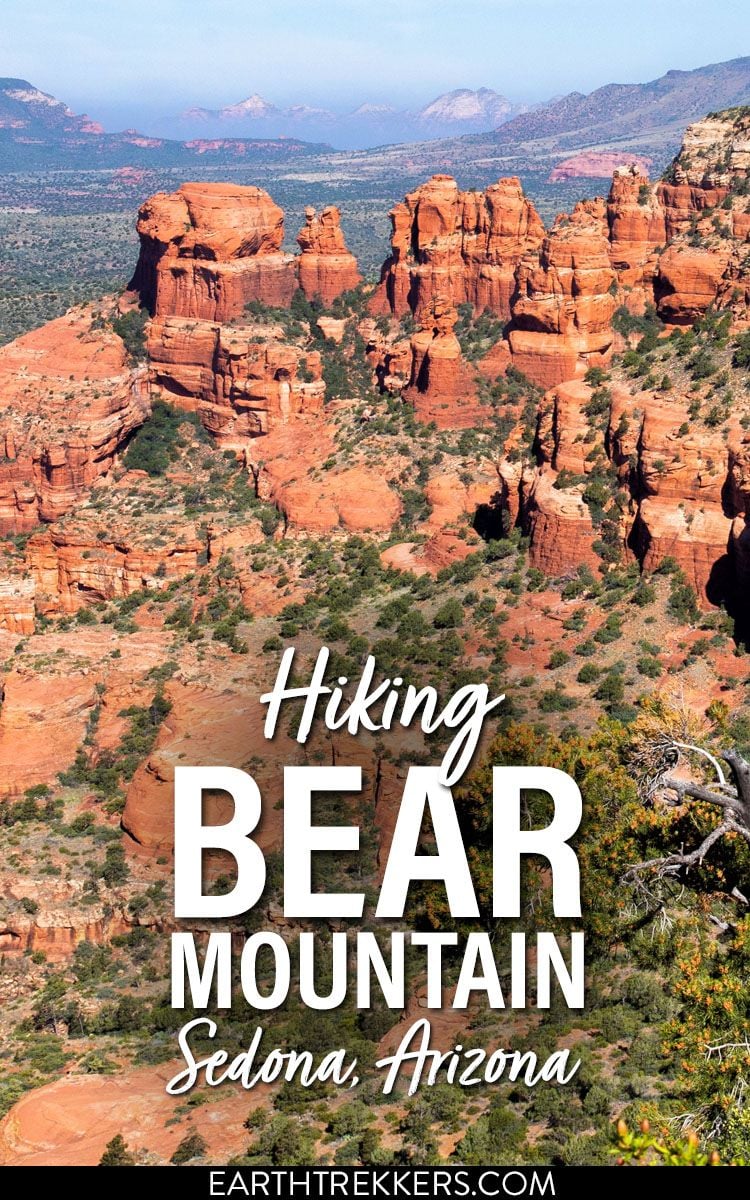 Note: This post contains affiliate links. When you make a purchase using one of these affiliate links, we get paid a small commission at no extra cost to you.
All rights reserved © Earth Trekkers. Republishing this article and/or any of its contents (text, photography, etc.), in whole or in part, is strictly prohibited.