Hiking to Cathedral Rock is an essential experience in Sedona. This hike is short and sweet, and with some rock scrambling and jaw-dropping views, it's tons of fun from start to finish.
Cathedral Rock is one of the most popular hikes in Sedona. Do not expect solitude on this trail. This experience is much more about the climb up Cathedral Rock and the reward of panoramic views.
During the busy season, getting a parking space can be the most challenging part of this hike. There is one prime location, on Back O Beyond Road, that fills in the early morning hours. Fortunately, there are several other ways to get to Cathedral Rock. I cover all of your options in this post.
Let's get started.
Cathedral Rock Hiking Stats
These hiking stats and the trail guide that follows are for the Cathedral Rock hike if you start at the parking lot on Back O Beyond. Later in this post, I cover more parking and hiking options if you aren't able to get a parking space here.
Distance: 1.2 miles round-trip
Total Ascent: 700 feet
Difficulty: Moderate
Length of Time: 1 to 2 hours
Location: South Sedona
Trailhead: Cathedral Rock Trailhead on Back O Beyond Road
When to Go: All year. The best time is the spring and fall, when temperatures are mild, but expect big crowds. During the summer, expect very hot temperatures but lower crowds. In the winter, temperatures can get below freezing but crowds are also lower.
Red Rock Pass: You will need to purchase a Red Rock Pass to do this hike. The pass costs $5 per day or $15 for one week. The pass can be purchased at the fee machine at the trailhead (credit cards only). If you have an America the Beautiful Pass, you can use this rather than purchasing a Red Rock Pass.
Please practice the seven principles of Leave No Trace: plan ahead, stay on the trail, pack out what you bring to the hiking trail, properly dispose of waste, leave areas as you found them, minimize campfire impacts, be considerate of other hikers, and do not approach or feed wildlife.
Map of the Cathedral Rock Hike
Below is a map of the Cathedral Rock hike. This map shows the main Cathedral Rock Trail, as well as the three different routes to Cathedral Rock that start at other trailheads (covered later in this article). Each hiking route is a different layer, so click the tab in the top left hand corner to view the different layers and select and de-select the different routes.
How to Use This Map: Click the tab in the top left hand corner of the map to view the layers (trailheads and the hiking routes). You can click the check marks to hide or show layers. If you click the icons on the map, you can get more information about each point of interest.

If you click the star next to the title of the map, this map will be added to your Google Maps account. To view it on your phone or computer, open Google Maps, click the menu button, go to "Your Places," click Maps, and you will see this map on your list.
Hiking to Cathedral Rock
Step-By-Step Trail Guide
Parking at Back O Beyond Road
The Cathedral Rock Trailhead is located on Back O Beyond Road. There are two lots here which sit side by side. Between these two lots, there is enough room to accommodate roughly 45 cars.
We did this hike in early April 2021. At 6:15 am, we got one of the last parking spaces in the second lot. To get a space, you will need to get here extremely early.
According to a recent visitor, the Back O Beyond parking lot is closed from 7 am to 5:30 pm from Thursday through Sunday. During this time, the only way to access this parking lot is via the Sedona Shuttle.
Even from Monday through Wednesday, try to get here be 7 am. If you arrive later, after 7:30 am, you could get lucky and snag a parking space from someone who just completed the hike. But this lot is located on a residential road, and starting mid-morning, a police officer was directing traffic at the entrance onto Back O Beyond Road, turning away hiking traffic. We saw this on two separate mornings…Back O Beyond Road was closed except for those who live on this road.
So, if you plan to do this hike, get here very early or plan to ride the Sedona Shuttle.
At this trailhead, there is a toilet and a machine where you can purchase your Red Rock Pass.
Hiking up Cathedral Rock
From the Cathedral Rock Trailhead, this hike is essentially a climb/rock scramble up onto Cathedral Rock. The trail ends at a saddle between two of the giant sandstone spires where you will have 360° views.
The climb starts almost as soon as your feet hit the trail. At first, it's gradual, as you hike up onto the bottom layer of Cathedral Rock. The trail is marked by the large wire baskets of rocks. Follow these, or the line of people in front of you.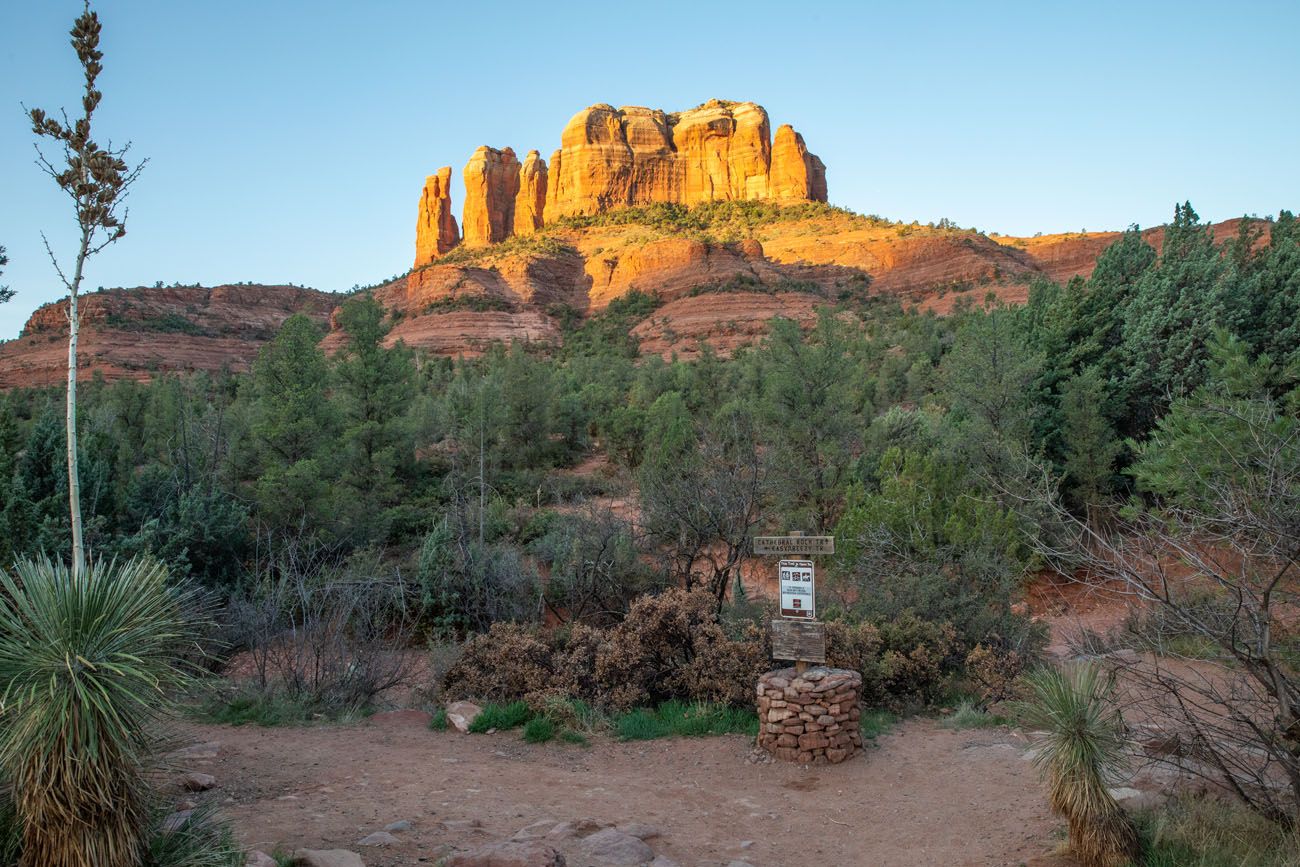 Cathedral Rock Trail just past sunrise.
Once you hike over the first level of sandstone slickrock, the trail gets steeper. For the rest of the hike, it's a moderate hike up the different levels of rock. You will use your hands and you will do some rock scrambling. If you are here with kids, they will love this hike.
Even with the elevation gain and the rock scrambling, there are no ledges or major drop-offs on this part of the hike. The only place on this trail that you have any really exposure is at the end, when you are standing on the saddle. But this saddle is wide enough that if you have a fear of heights, you still should be fine.
Here are photos from the hike up Cathedral Rock.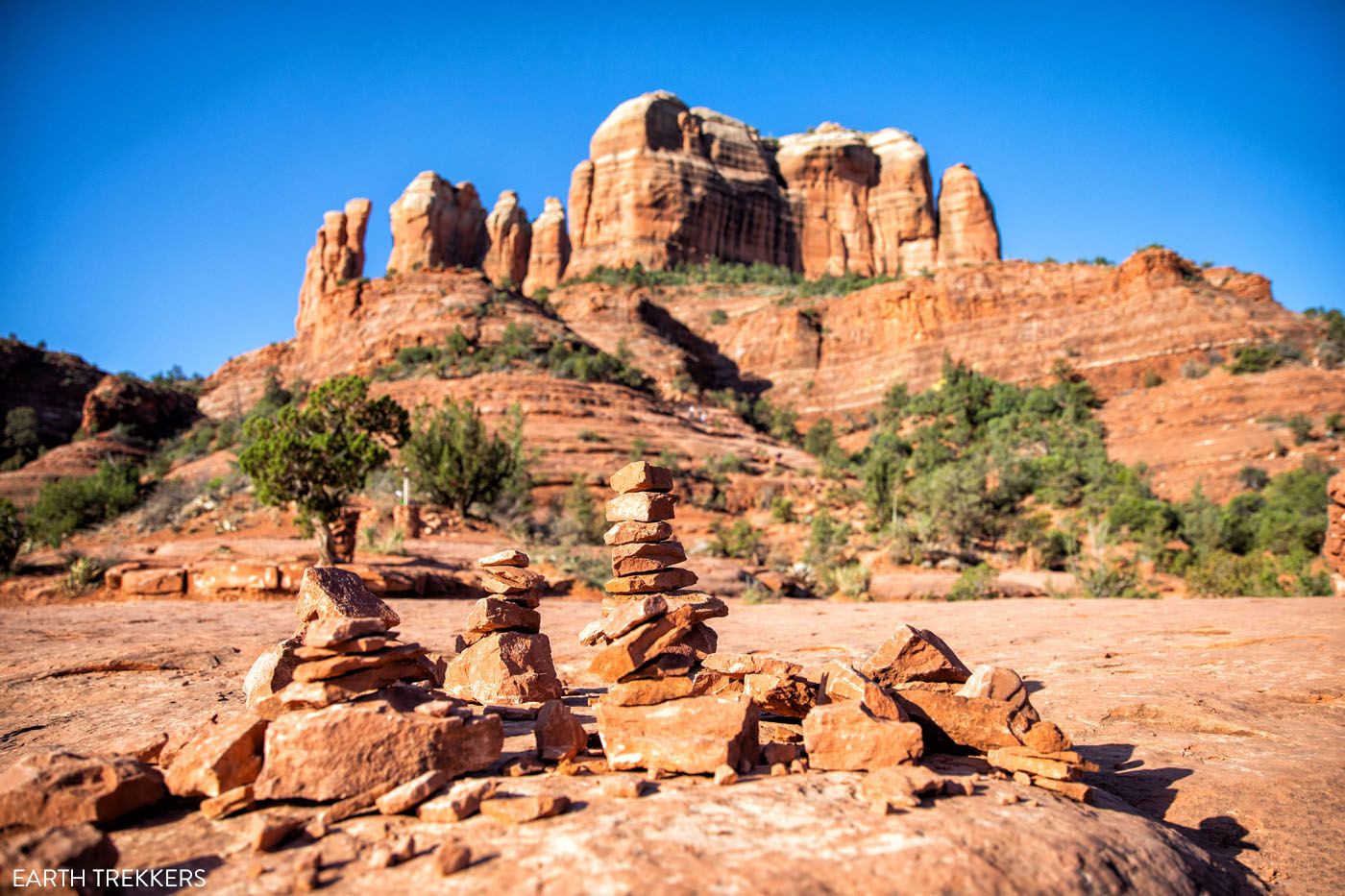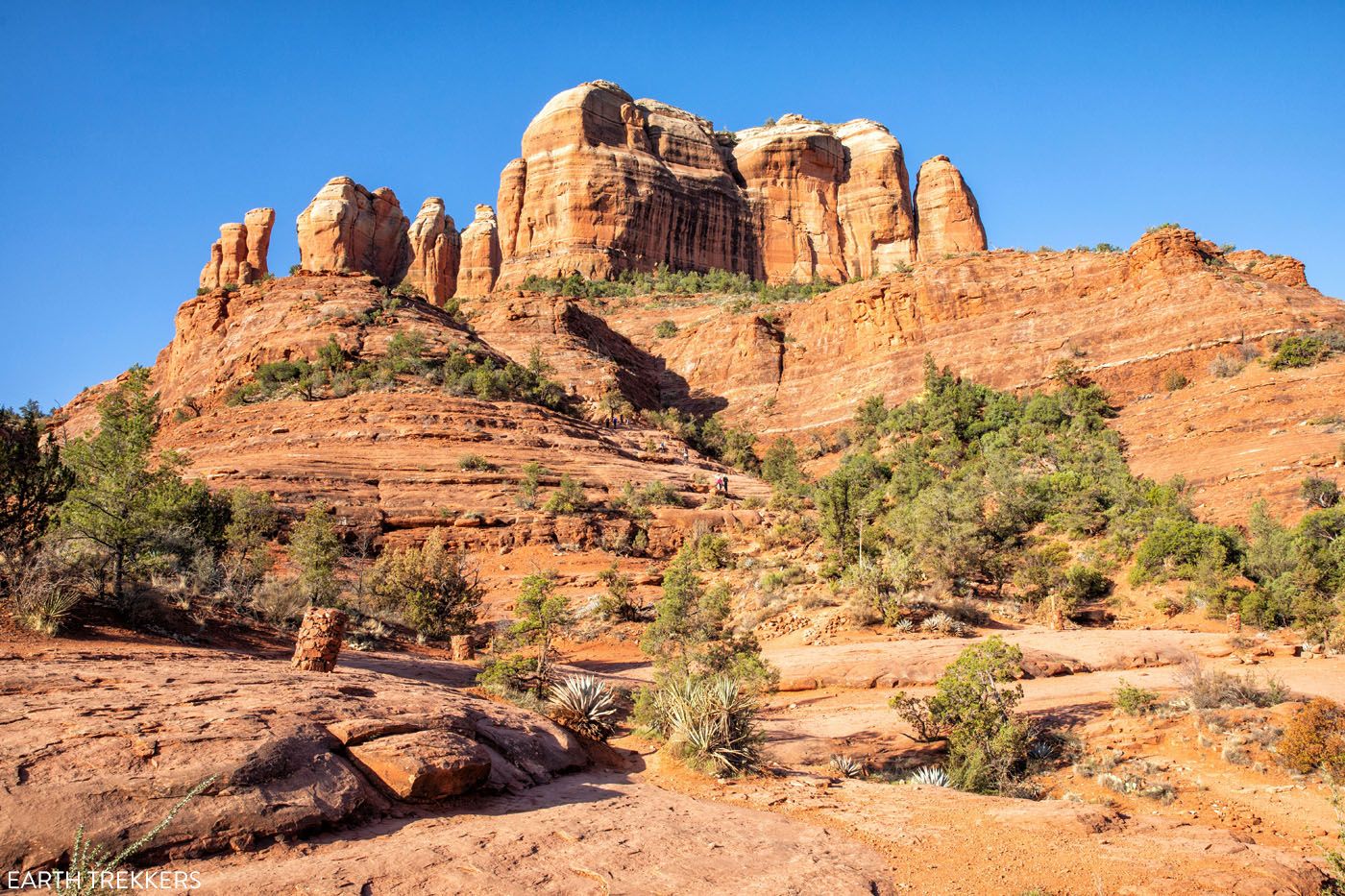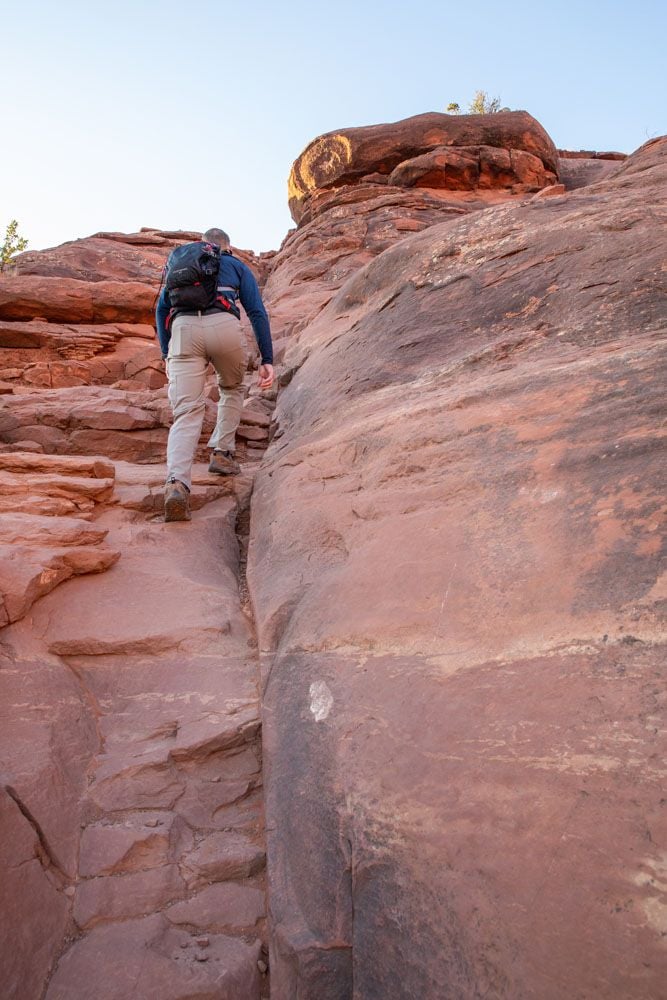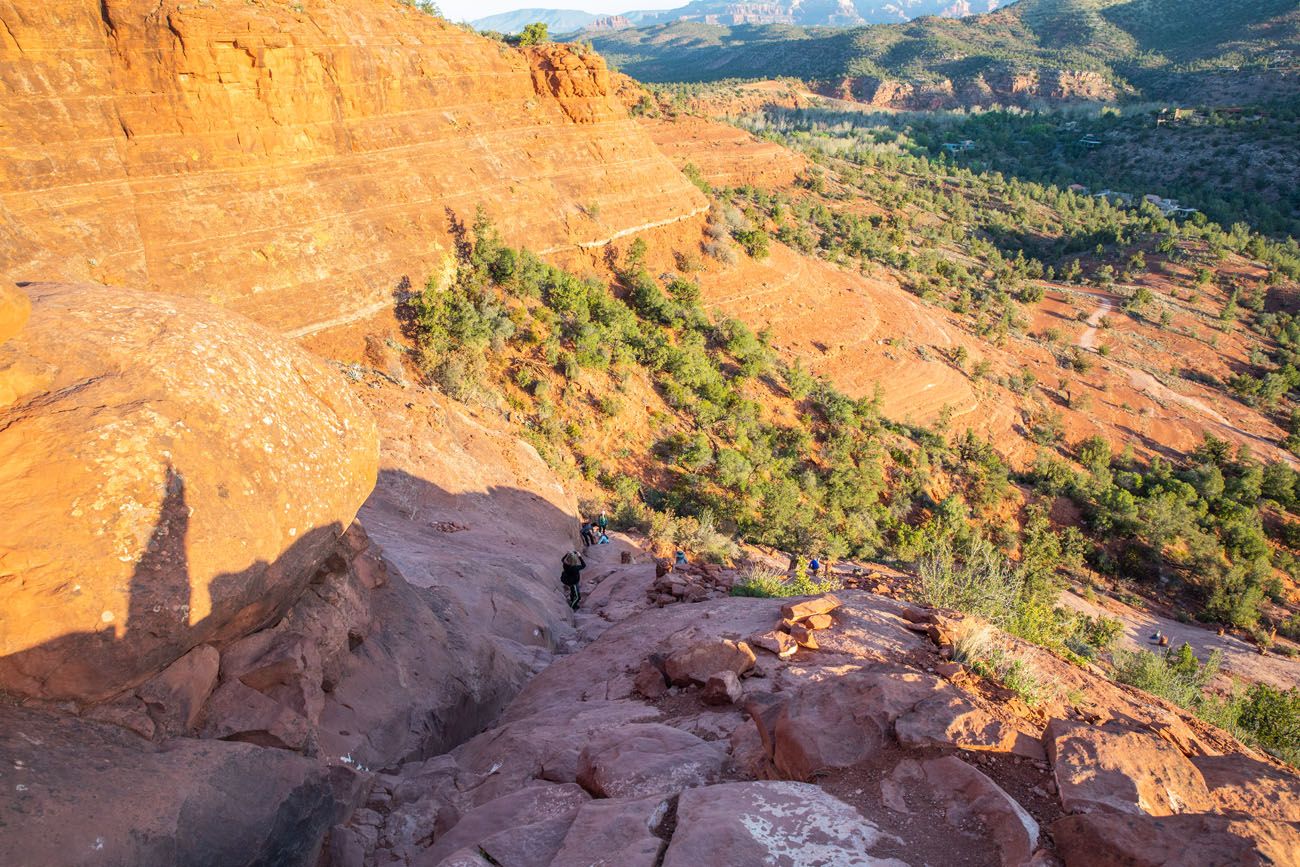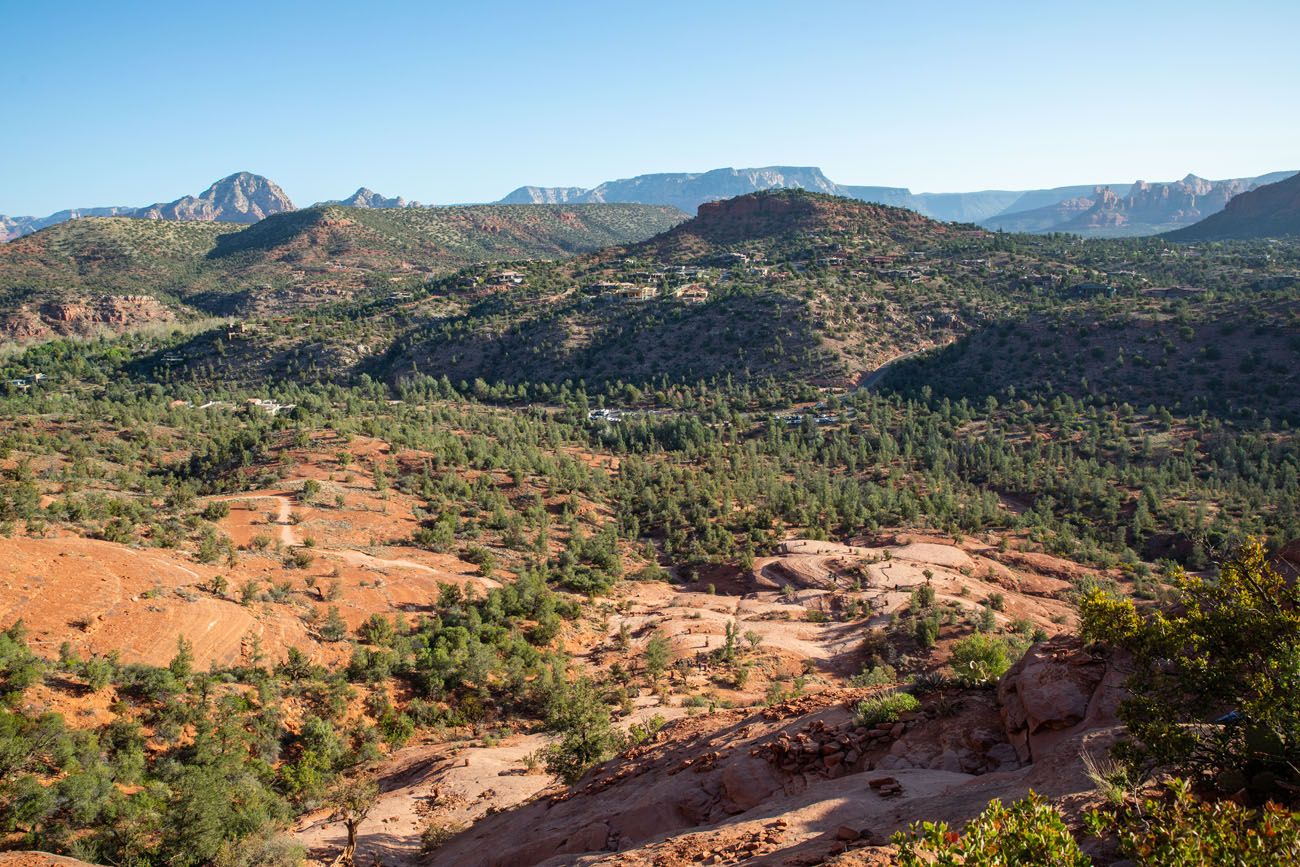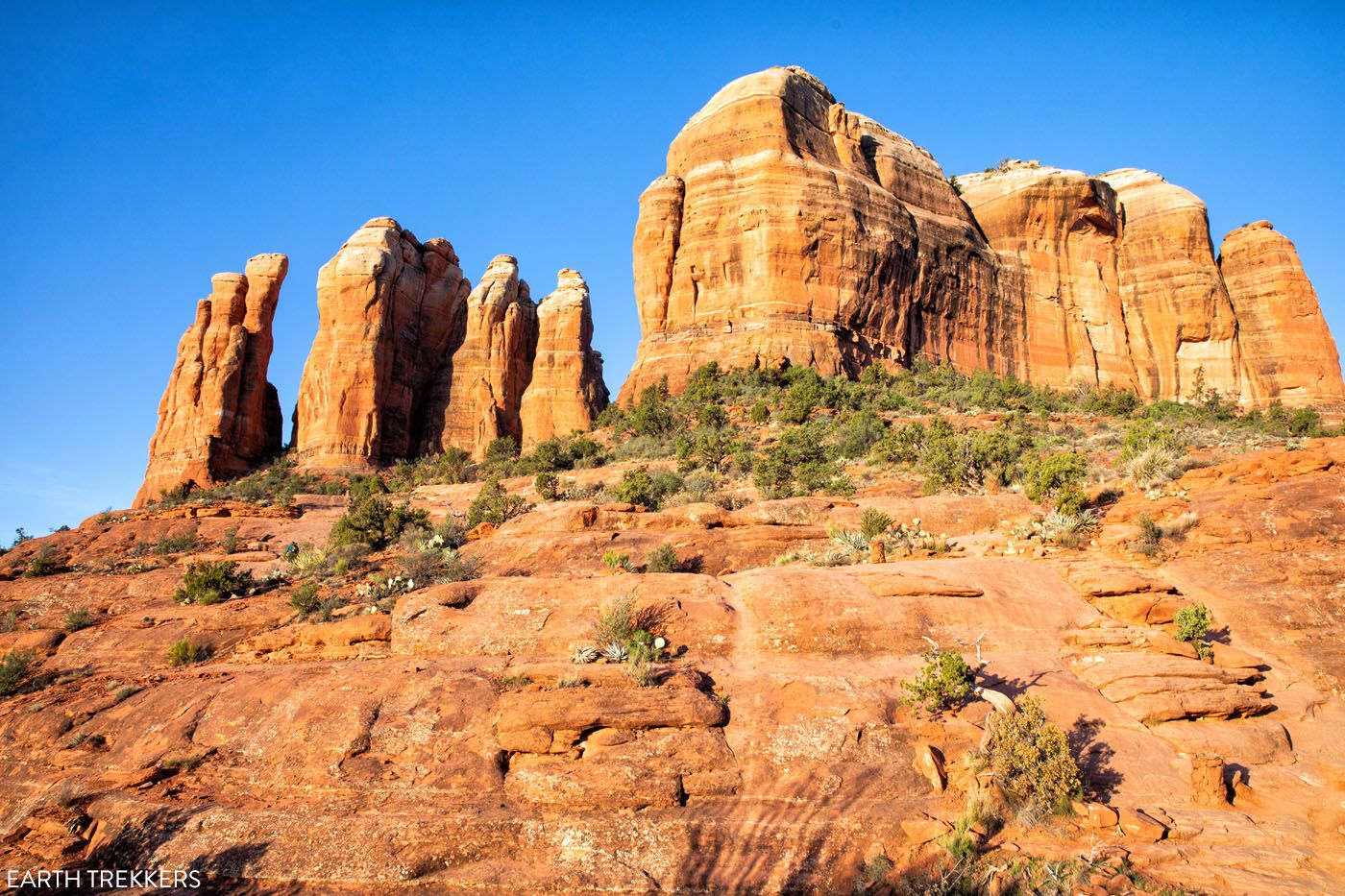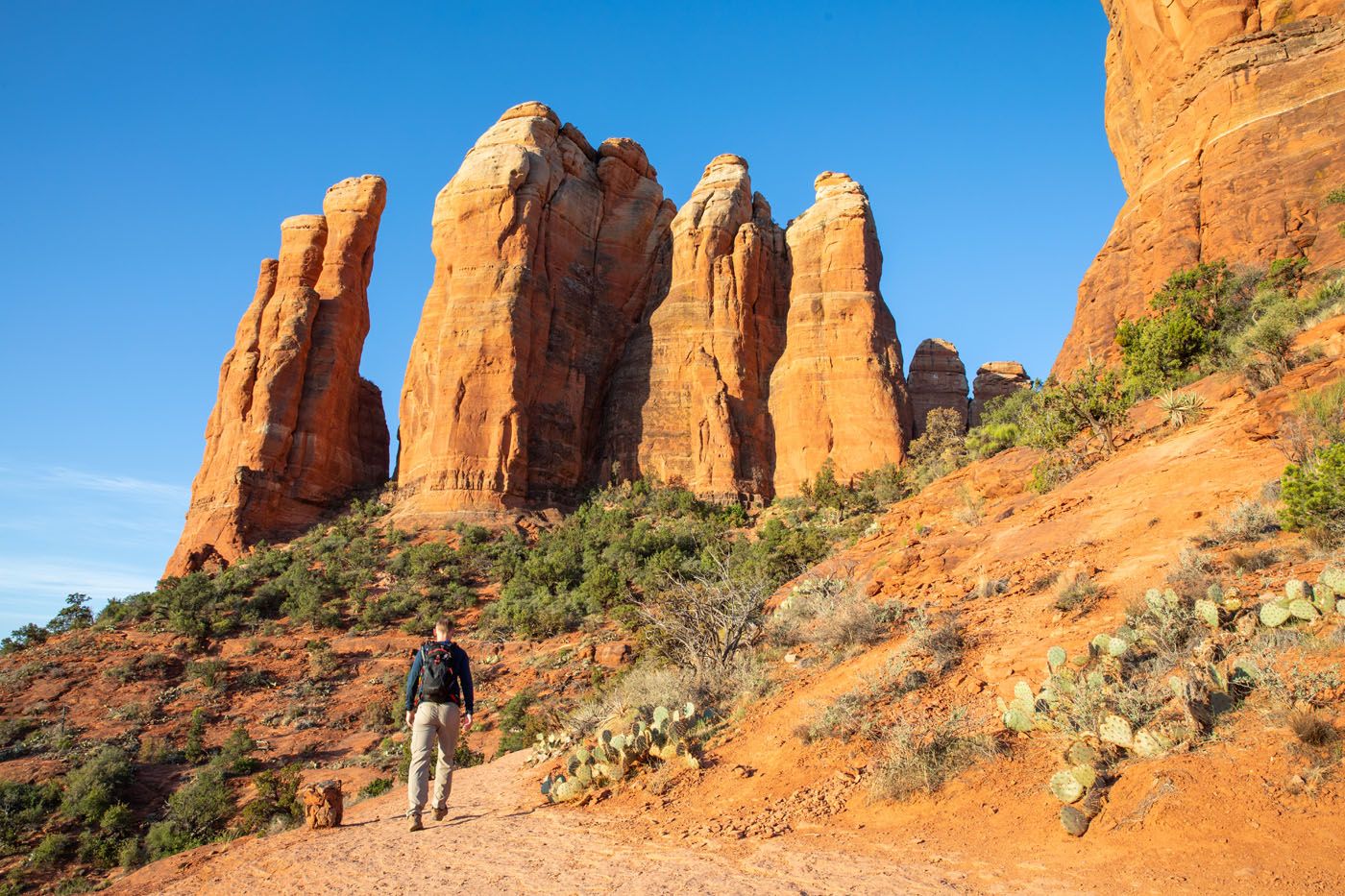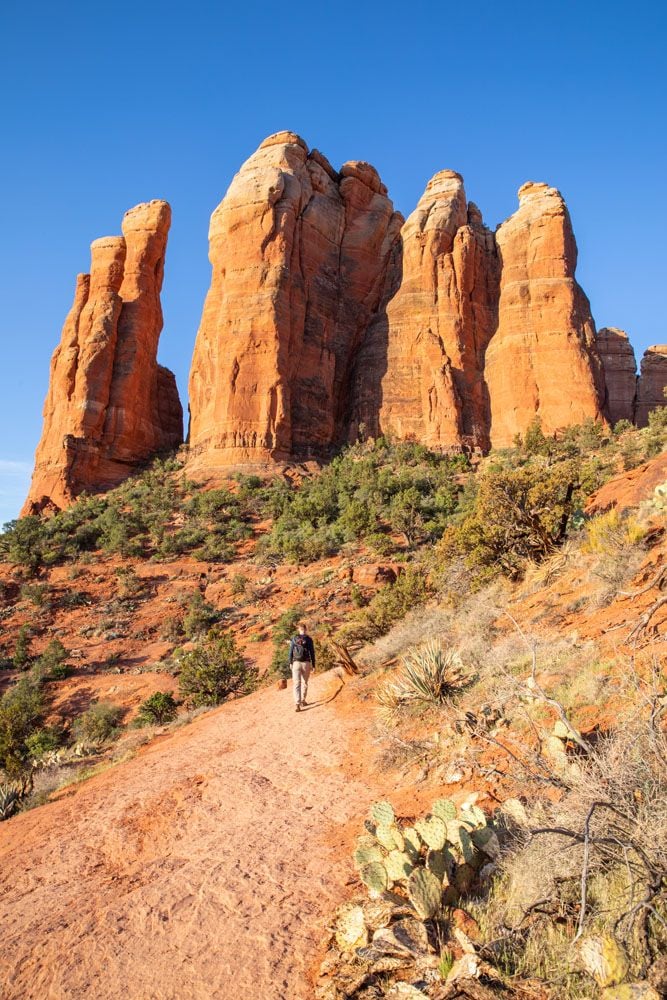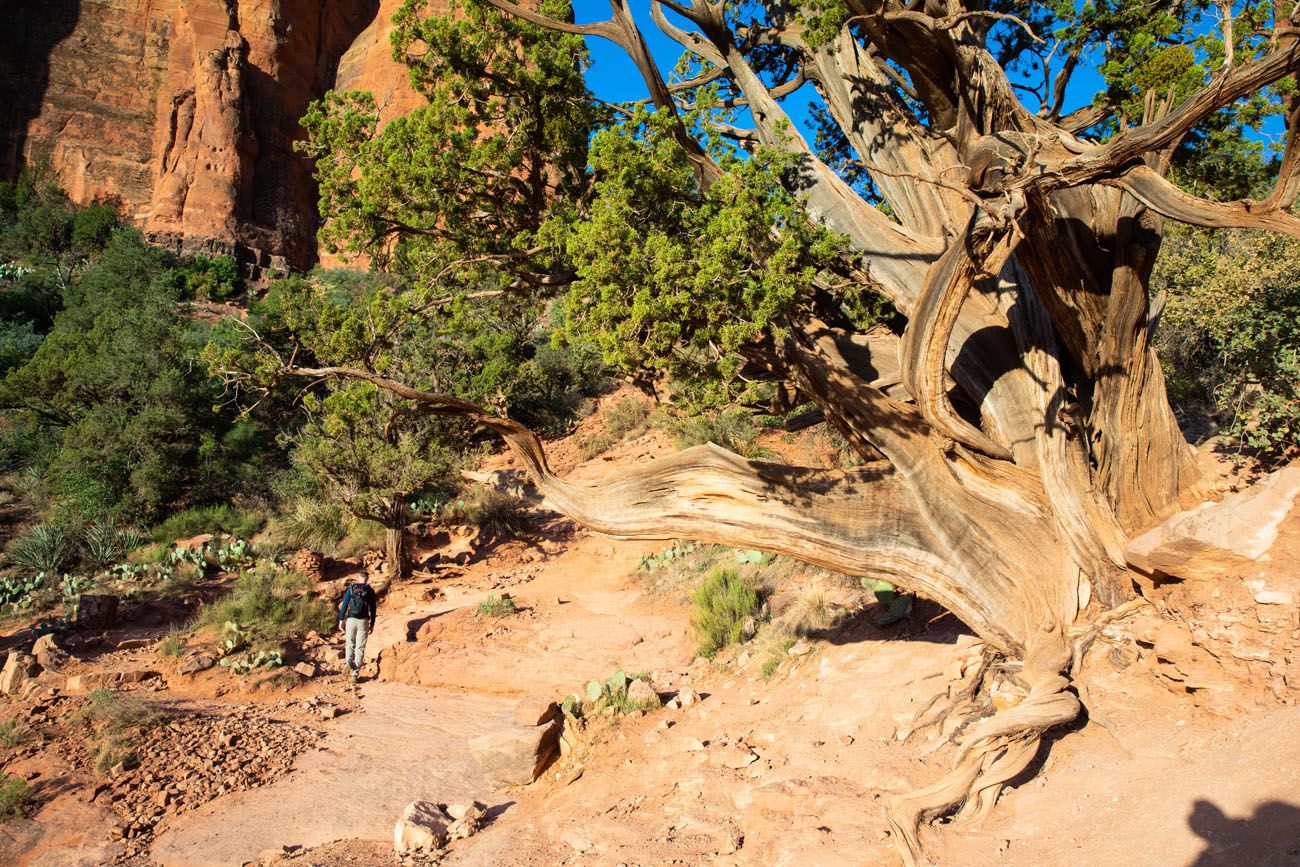 When you get to this juniper tree you know you are getting close to the end of the trail.
The trail ends at a wide saddle. There is an End of Trail sign at this point, letting you know you made it. From here, turn around and enjoy the view.
For a great photo, walk out along the saddle to the right and have someone on the saddle take your photo. Note: This trail is about 5 feet wide with a drop-off on one side, so if you have a fear of heights or are doing this with kids, you might want to skip this photo-op.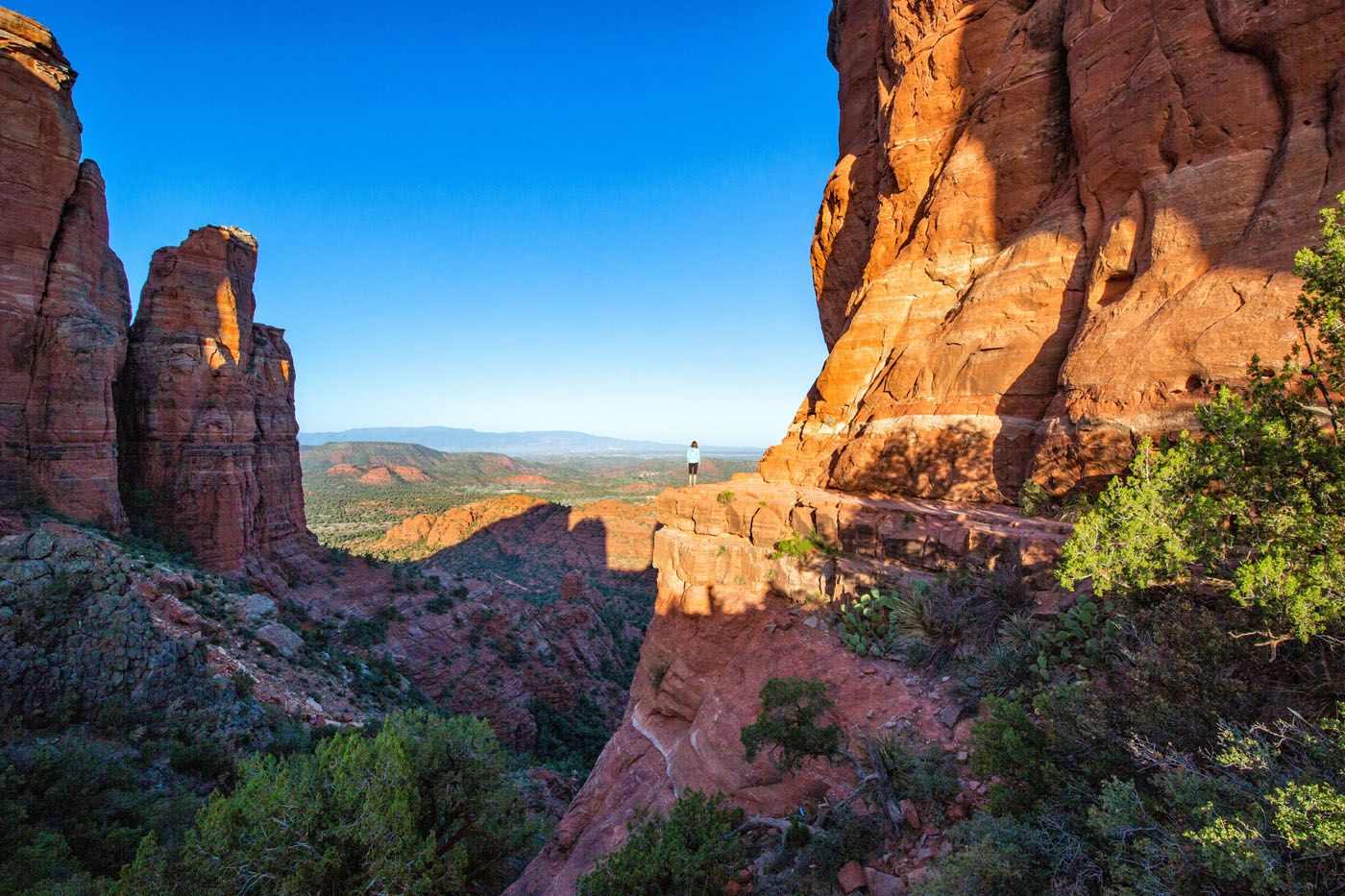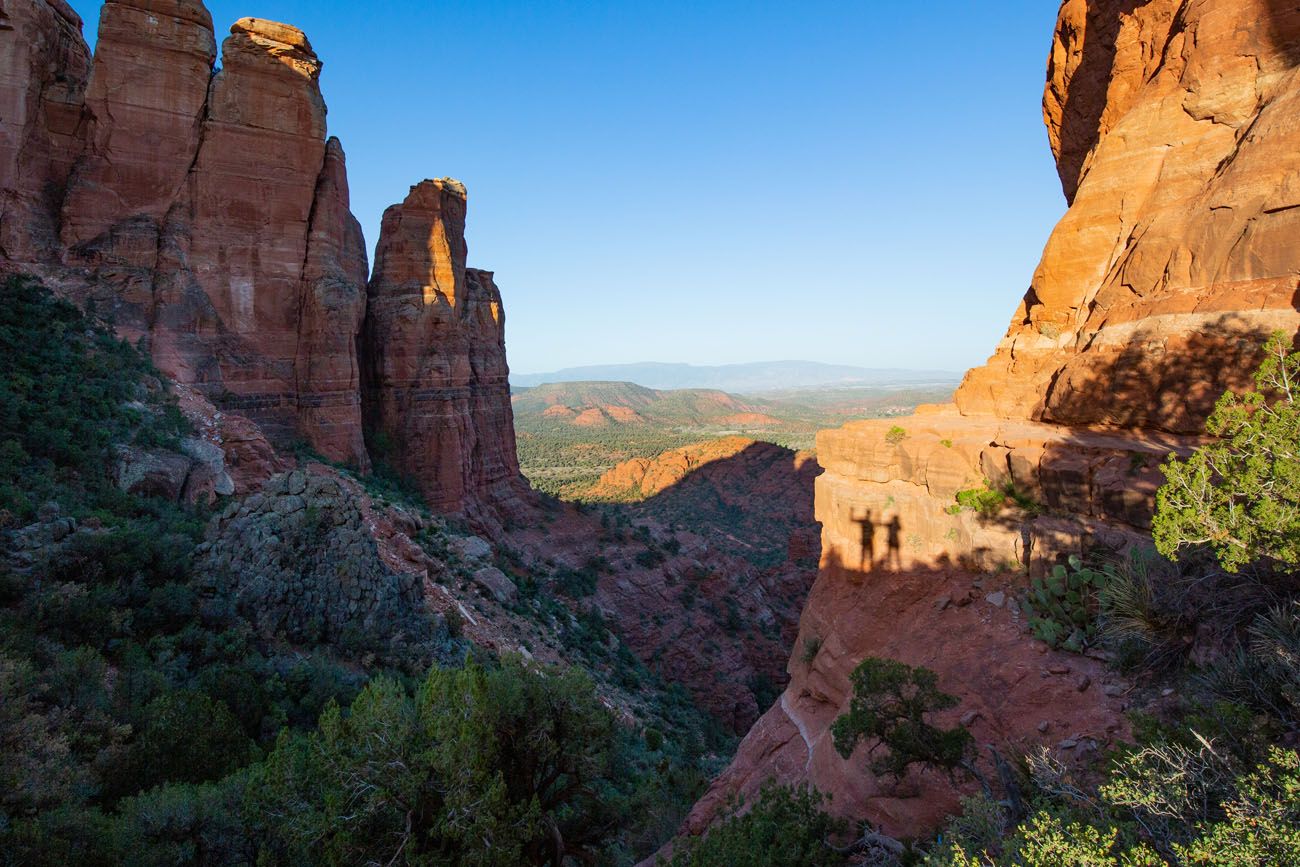 Early in the morning you can capture your shadow on the rock.
To complete the hike, retrace your steps back to your vehicle.
Alternate Routes to Cathedral Rock
Sedona Shuttle
There is now a shuttle that drops hikers off at the Cathedral Rock Trailhead. The shuttle is free and runs from 6:30 am to 6 pm. Park at the SR 179 Park and Ride. Get more information on the official website.
Cathedral Rock from the West
You can also hike to Cathedral Rock from the west. There are two different trailheads here, Red Rock Crossing and the Baldwin Trail.
Red Rock Crossing
Park at the Crescent Moon Picnic Site. If the water levels are low, cross Oak Creek to the opposite side and follow this along the creek, heading in the direction of Cathedral Rock. The trail changes names from Red Rock Crossing to the Templeton Trail and heads around the north side of Cathedral Rock, eventually joining the Cathedral Rock Trail from the Back O Beyond parking lot.
This hike is 4 miles round trip, has 1,000 feet of elevation gain, and takes 2 to 4 hours.
Note: If you want to photograph Cathedral Rock, there are several great spots from the Crescent Moon Picnic Site where you can capture Cathedral Rock and Oak Creek in one photo.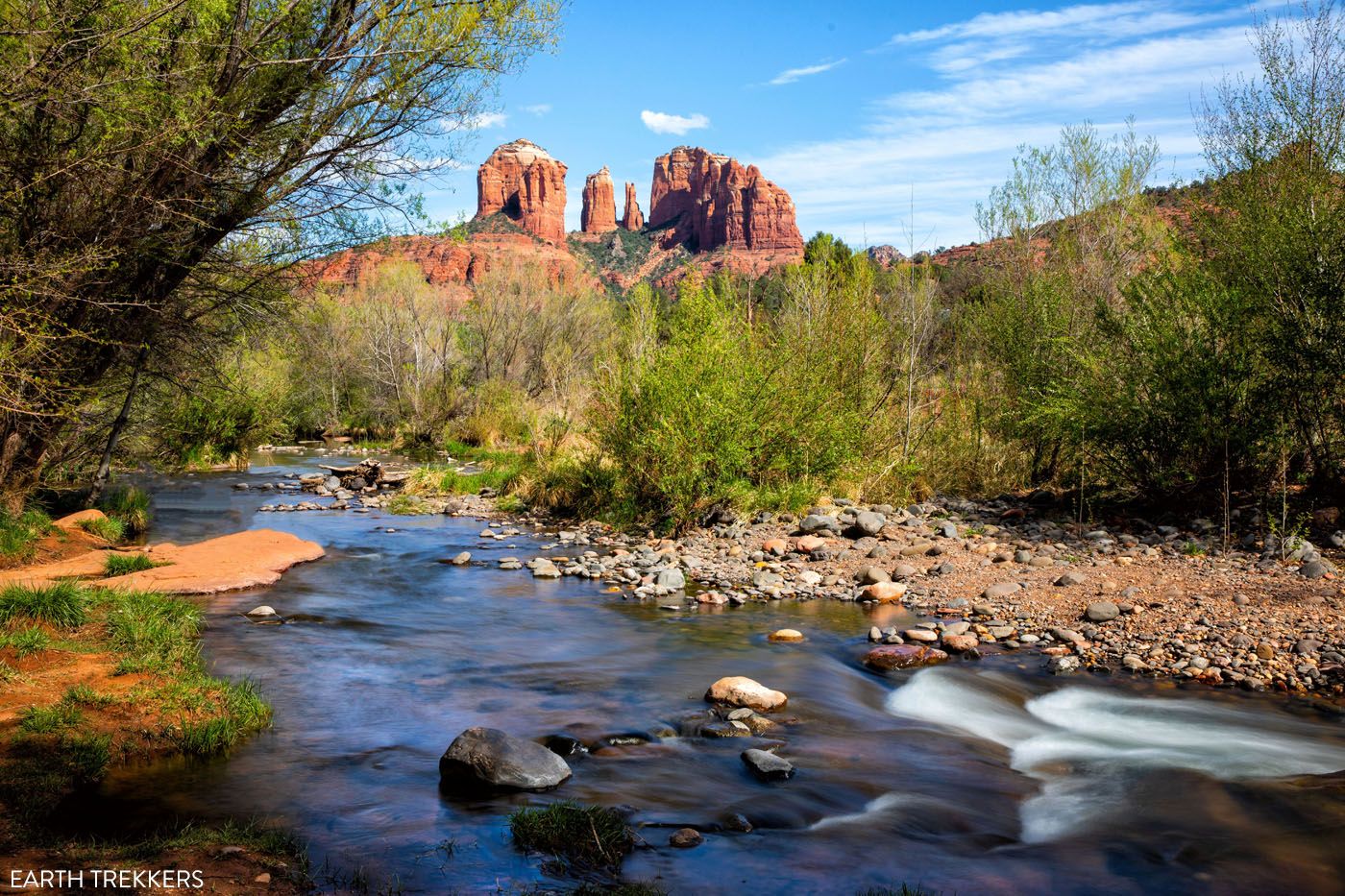 To visit the Crescent Moon Picnic Site, you will pay an $11 entrance fee. They are open from 8 am to dusk.
PRO TRAVEL TIP: To get to the Crescent Moon Picnic Site, it is a LONG drive from Back O Beyond Road (10 miles, 40 minutes), since you drive up to Sedona and enter the picnic site from the west. This hike is best in the afternoon, when the west side of Cathedral Rock is illuminated by the afternoon sun.
Baldwin Trail
The Baldwin trailhead is located on Verde Valley School Road, which is in the Village of Oak Creek. The final mile is on a well-graded gravel road that is suitable for all vehicles. There is a toilet here as well as machines to purchase your Red Rock Pass.
From the Baldwin Trailhead, take the trail north to Red Rock Crossing, continue on the Templeton Trail along the north side of Cathedral Rock, and then you will hike up the Cathedral Rock Trail. This hike is 4 miles long, has 1,000 feet of elevation gain, and takes 2 to 4 hours.
We were at this parking lot at 8 am on a Saturday and there were still a bunch of parking spaces remaining, so this makes a great option if you are struggling to get a spot at Back O Beyond Road. From the Back O Beyond Parking lot, it is a 9 mile drive that takes 20 minutes to get here.
Note: There was a sign posted on the road at Verde Valley School Road next to the Baldwin Trailhead that stated only local traffic was permitted past this point. If you want to hike Red Rock Crossing from the end of this road, park in the Baldwin Trailhead lot and walk down the road to this point. It's just 0.2 miles one-way.
Yavapai Vista Point
Yavapai Vista Point is located on Highway 179, just a short distance from Back O Beyond Road (2.3 miles, 7 minute drive). This is a large parking lot, but since it is an "overflow" lot for many hikes in the area (including Bell Rock), you still need to get here relatively early. I recommend getting here no later than 9 am, but even earlier is better.
The downside of parking here is the long walk to Cathedral Rock. There are multiple trails that lead to Cathedral Rock but the Hermit Trail –> Templeton Trail –> Cathedral Rock Trail is the shortest. This hike is 6 miles round trip with 1,100 feet of total ascent. The hike is mostly flat until you get to Cathedral Rock.
You can also take the Slim Shady Trail to the Templeton Trail. The distance is about the same but there is slightly more elevation gain on the Slim Shady Trail.
Our Recommendation
If you have your heart set on hiking Cathedral Rock and you couldn't get a spot at Back O Beyond Road, starting at the Baldwin Trailhead is our first choice as an alternate starting point. It's a longer drive but a shorter hike (than starting at Yavapai Point) and you get to see Cathedral Rock both from the west and the east. Starting at Yavapai Vista Point works if you don't mind a longer hike.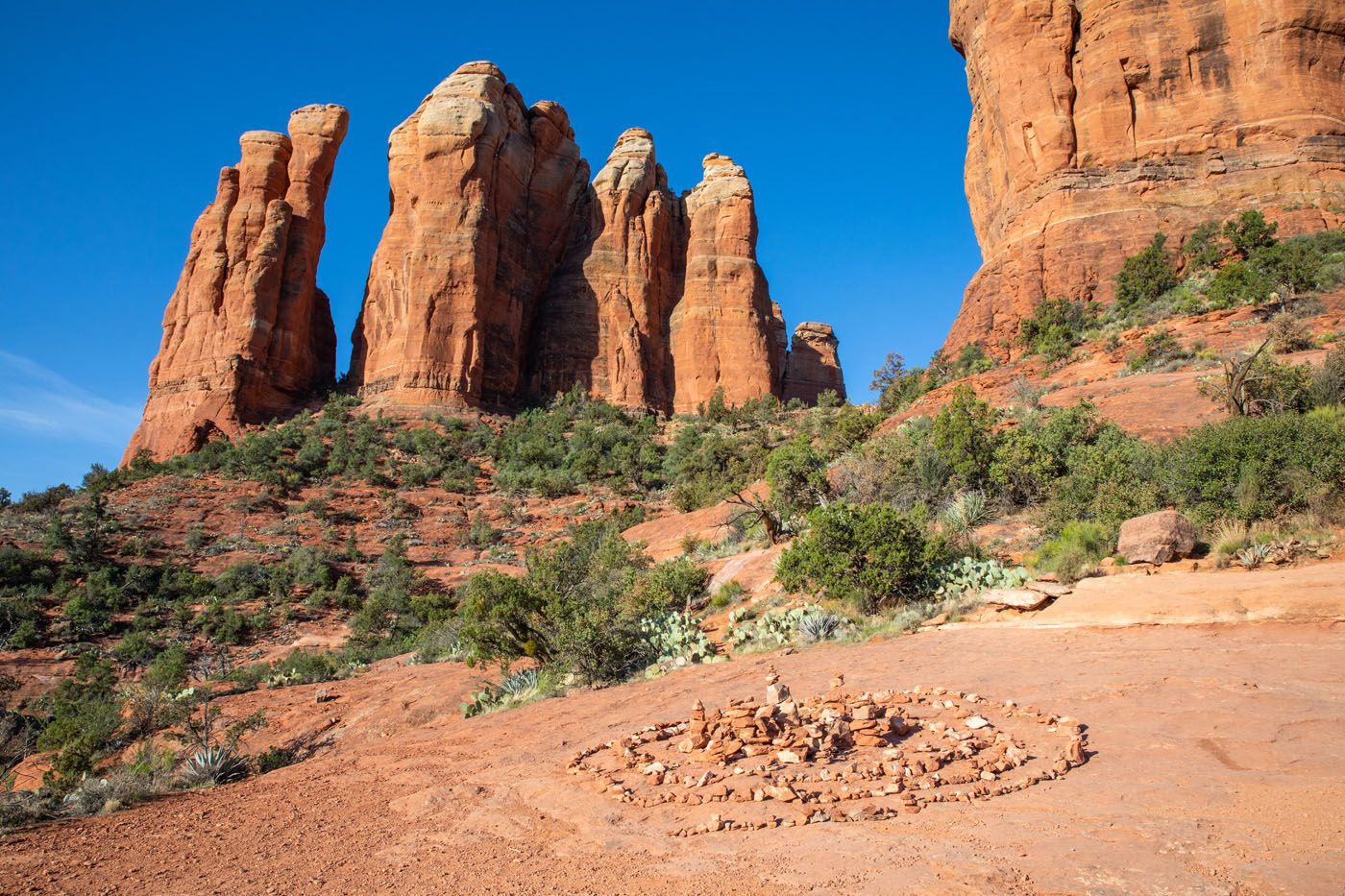 Tips to Have the Best Experience
The best times for photography are at sunrise and sunset. Our photos were taken just past sunrise. If you plan to hike Cathedral Rock from the west (from the Baldwin trailhead, Red Rock Crossing, or the Crescent Moon Picnic Site), this is best in the afternoon.
To get a parking space at the Cathedral Rock Trailhead on Back O Beyond Road, get here early, ideally by 6 am, especially during the peak travel season.
Leave No Trace. Practice the seven principles of Leave No Trace. This includes packing out what you bring to the hiking trail, be considerate of other hikers, and staying on the trail.
What to Bring on the Hike
Hiking shoes. You can get by with a good pair of walking shoes or running shoes for this hike. However, hiking shoes are ideal, since the extra traction will make the rock scrambling section of this hike much easier.
Water and snacks. Bring at least 1 liter of water in the summer.
Sunscreen, hat, and sunglasses. There is no shade on this trail.
Camera. Even a smartphone will do.
If you are new to hiking or are curious about what you should bring on a hike, check out our Hiking Gear Guide. Find out what we carry in our day packs and what we wear on the trails.
---
If you have any questions about hiking to Cathedral Rock, or if you want to share your experience, let us know in the comment section below.
More Information for Your Trip to Sedona
SEDONA: To learn what there is to do in Sedona, read our article Best Things to Do in Sedona. To help you plan your time, check out our One Day in Sedona Itinerary and Sedona Itinerary Ideas for 1 to 6 days. For links to all of our Sedona articles, check out our Sedona Travel Guide.
HIKES IN SEDONA: Some of the top trails in Sedona include the Soldier Pass Trail, Boynton Canyon, Bear Mountain, the Birthing Cave, and Devils Bridge. For more ideas, read our guide to the Best Hikes in Sedona.
SEDONA 4WD ROADS: One of the best things to do in Sedona is to drive the 4WD roads. Here are six 4WD roads in Sedona to choose from and a detailed guide on how to drive Broken Arrow, the most popular 4WD experience in Sedona.
PLACES TO GO IN ARIZONA: Go hiking in Sedona, visit Saguaro National Park and Petrified Forest National Park, explore Monument Valley, photograph Antelope Canyon, and visit the South Rim of the Grand Canyon. Learn how to put all of this together in our Arizona Road Trip Itinerary.
ARIZONA ITINERARIES: If you are looking for road trip ideas through Arizona, we have a couple of good ones. See the highlights of Arizona in our 10 Day Arizona Itinerary, visit the Grand Canyon and Utah's Mighty 5 in our Two Week American Southwest Itinerary, and visit parts of Arizona, Las Vegas, and southern Utah in our 10 Day American Southwest Itinerary.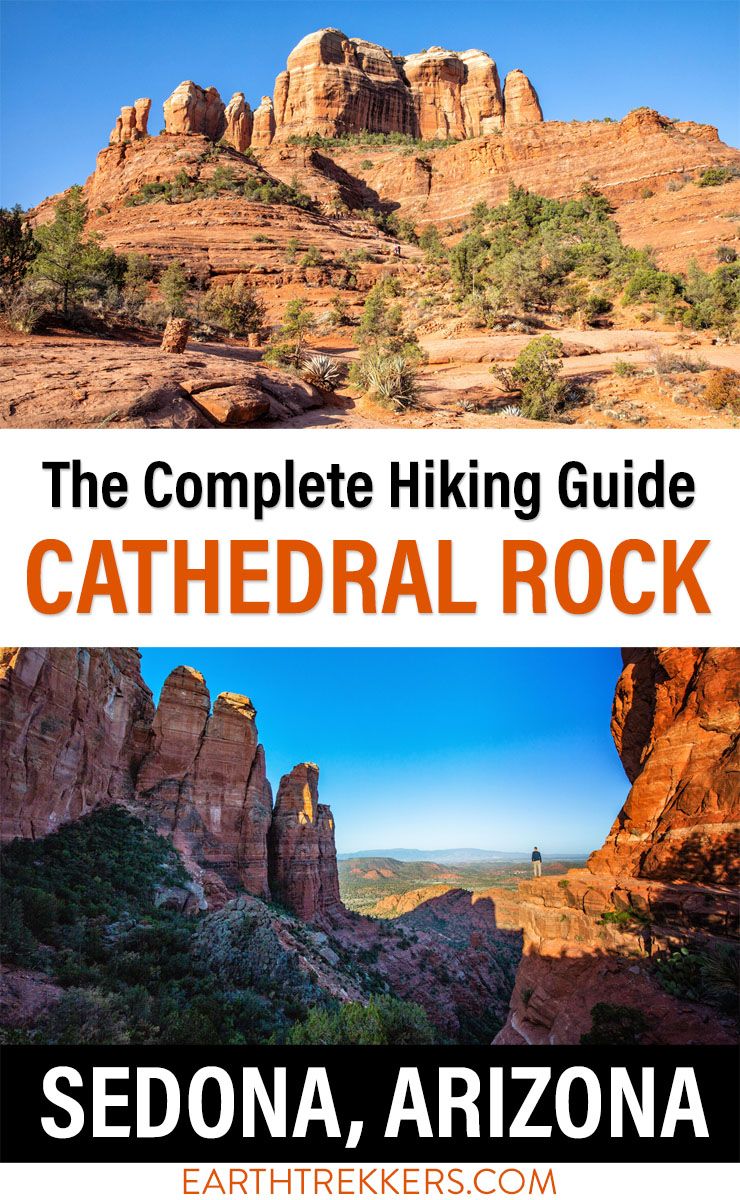 All rights reserved © Earth Trekkers. Republishing this article and/or any of its contents (text, photography, etc.), in whole or in part, is strictly prohibited.