One of the best ways to explore the desert landscapes and red rock scenery is to drive the 4WD roads in Sedona. These roads range from easy to difficult and take you to stunning overlooks and through remote terrain. They are lots of fun to drive and offer a unique experience if you are looking for something to do in Sedona.
To drive these roads, you will need a high-clearance 4×4 vehicle. For the more adventurous roads, having extra lift and/or skid plates is necessary. You can drive your own vehicle, rent one in Sedona, or join a tour. We rented a Jeep Rubicon from Barlow Adventures for 3 days. Their service is impeccable and we highly recommend them.
In this article, I cover six of the most popular 4WD roads in Sedona, with details on how to do this on your own or join a tour.
4WD Roads in Sedona
These trails are listed in order, starting with the easiest and ending with the most challenging and thrilling trail.
Below is a map of the 4WD roads in Sedona. The only route on that is not on this map is Broken Arrow since it is not on Google. However, I have a detailed map of Broken Arrow in our article about this trail.
How to Use This Map: Click the tab in the top left hand corner of the map to view the layers (points of interest and the driving routes). You can click the check marks to hide or show layers. If you click the icons on the map, you can get more information about each point of interest.

If you click the star next to the title of the map, this map will be added to your Google Maps account. To view it on your phone or computer, open Google Maps, click the menu button, go to "Your Places," click Maps, and you will see this map on your list.
Schnebly Hill Road
Distance: 12 to 17 miles
Time: 2 to 3 hours
Difficulty: Easy to adventurous
Thrill Factor: Low
Location: East of Uptown Sedona
Schnebly Hill Road starts next to Uptown Sedona and heads east. This very rough, rocky road has several interesting landmarks to visit along the drive. At the Schnebly Hill Vista, you can return to Sedona or add on the Volcanic Rim Loop. This drive is easy until you get to the Volcanic Rim Vista. The optional Volcanic Rim Loop is rated as adventurous.
The Schnebly Hill Road starts at the end of the paved Schnebly Hill Drive. For almost 6 miles, it climbs up a mesa. The further you go, the better the views.
At mile 4.0, get out and stretch your legs, enjoy the break from being jostled around, and walk out to the Merry-Go-Round. This rock formation offers scenic views of the valley you just drove through. It is also where Elvis Presley sings "Dominic" in the 1968 film Stay Away, Joe.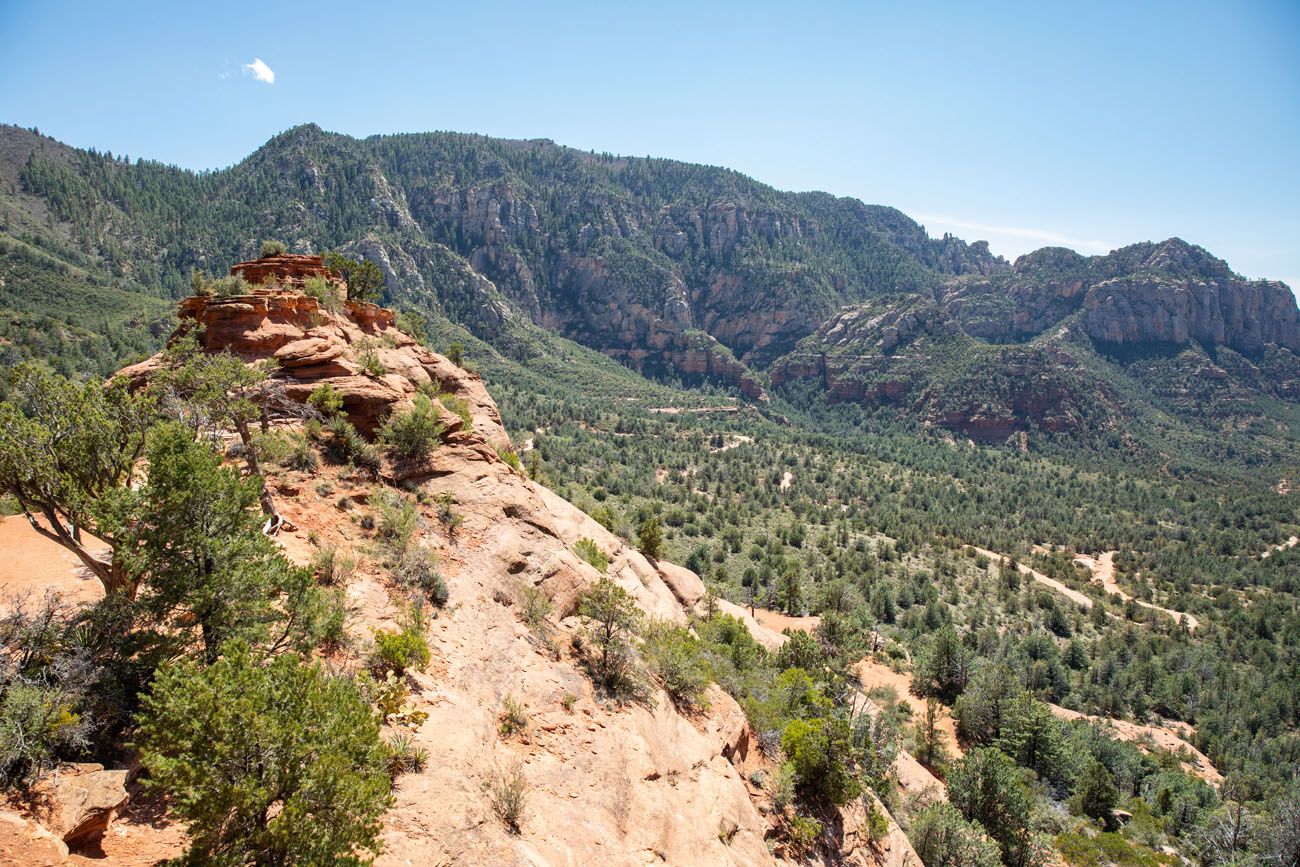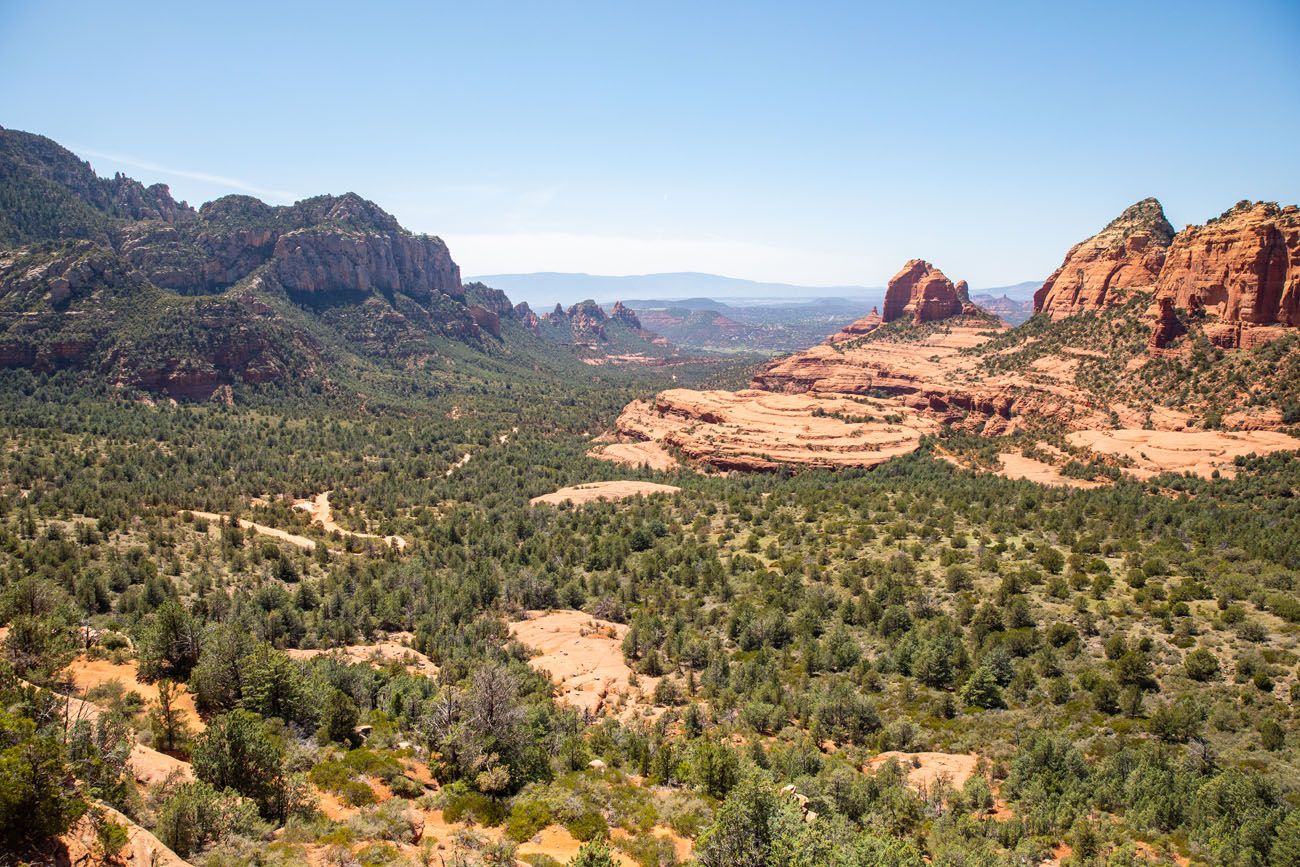 View from the Merry-Go-Round
We noticed that the Pink Jeep Tours turned around here. We kept going, wanting to see view from Schnebly Hill Vista, although by this point, we were very tired of this road and were counting down the minutes until we were done this drive. I really didn't like this one.
At 5.7 miles, you reach Schnebly Hill Vista. Here is the view.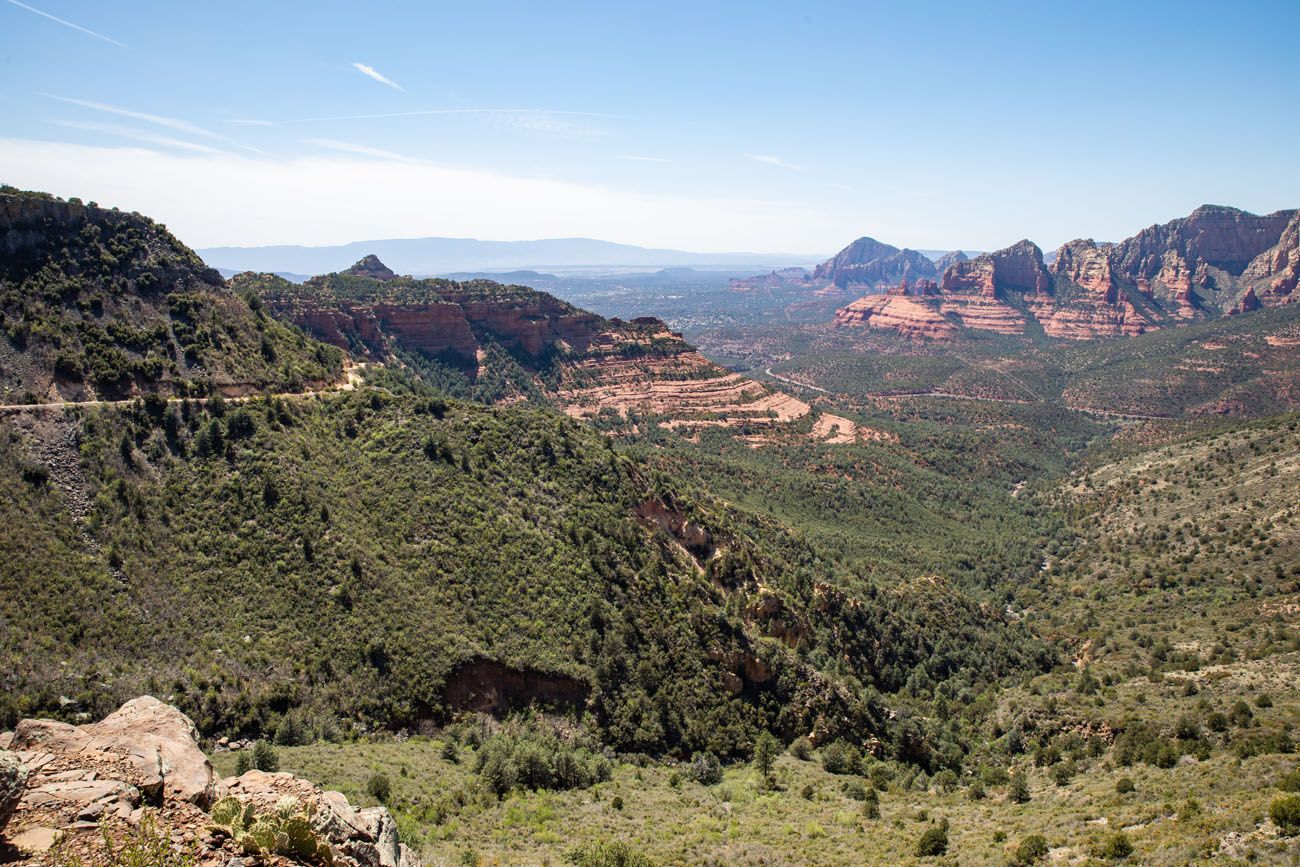 At this point, you can add on the Volcanic Rim Loop. This road is 3 miles long, rated as adventurous, and rougher than Schnebly Hill Road. We skipped this experience, but from what we were told, it offers more great views over the valley.
To get back to Sedona, you can drive back down Schnebly Hill Road, or drive east to Flagstaff and return on the highway.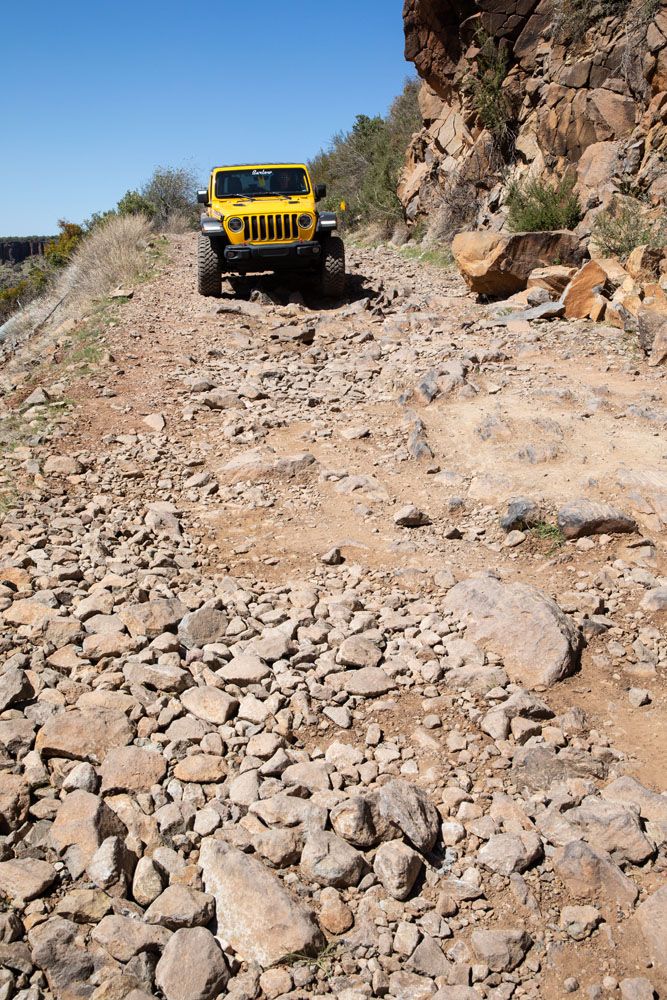 Another view of Schnebly Hill Road.
This is our least favorite drive on this list. The road is incredibly rough, at least when we did this in April 2021. The trail is literally one long boulder field. It is not technical, but you will be jostled and rattled for almost the entire drive. In our Jeep, screw tops opened up on their own, our cooler popped open, and I ended the drive with a headache.
If you want to see these views, or if you like the idea of adding on the Volcanic Rim Loop, it might be worth it. But I think it is worth doing the other drives on this list first, and coming back to this if you still have more time.
Dry Creek Basin
Distance: 11 miles
Time: 2 hours
Difficulty: Easy
Thrill Factor: Low
Location: West Sedona
This road is only worth it if you want to hike Devils Bridge, hike to Vultee Arch, or visit a historic cabin, the Van Deren Cabin.
There is nothing thrilling about this drive. For the first few miles, you will be sharing the drive with a long line of hikers on their way to Devils Bridge. Dry Creek Basin is not particularly scenic and there are no obstacles or challenging spots to spice things up a bit.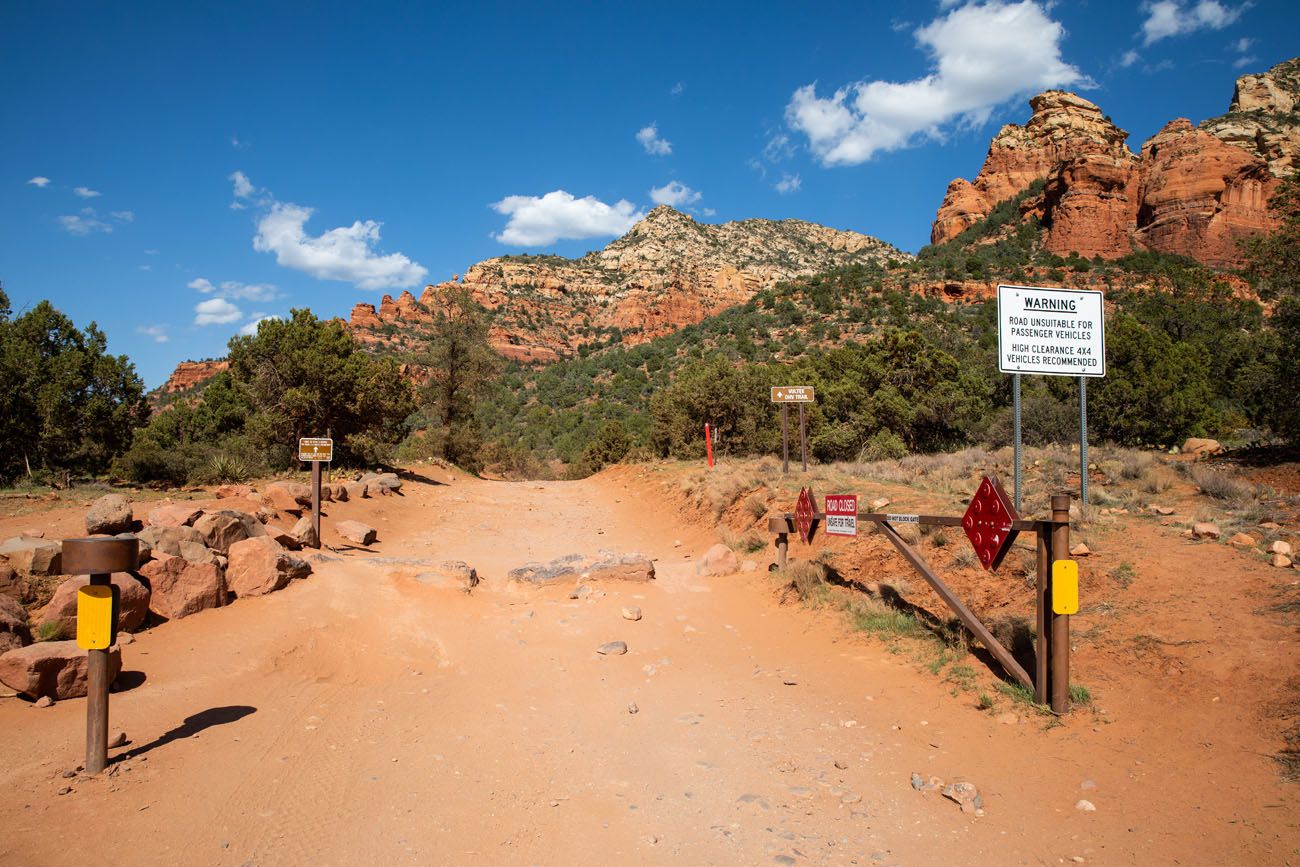 The start of Dry Creek Basin
However, if you have plans to hike Devils Bridge, put this drive on the top of your list. The trailhead for Devils Bridge is located at the 1.6 mile point on this road. From the trailhead, the hike is just 2 miles round trip. You get to skip the crazy parking situation at Dry Creek Road and the long, dusty walk along this 4WD trail.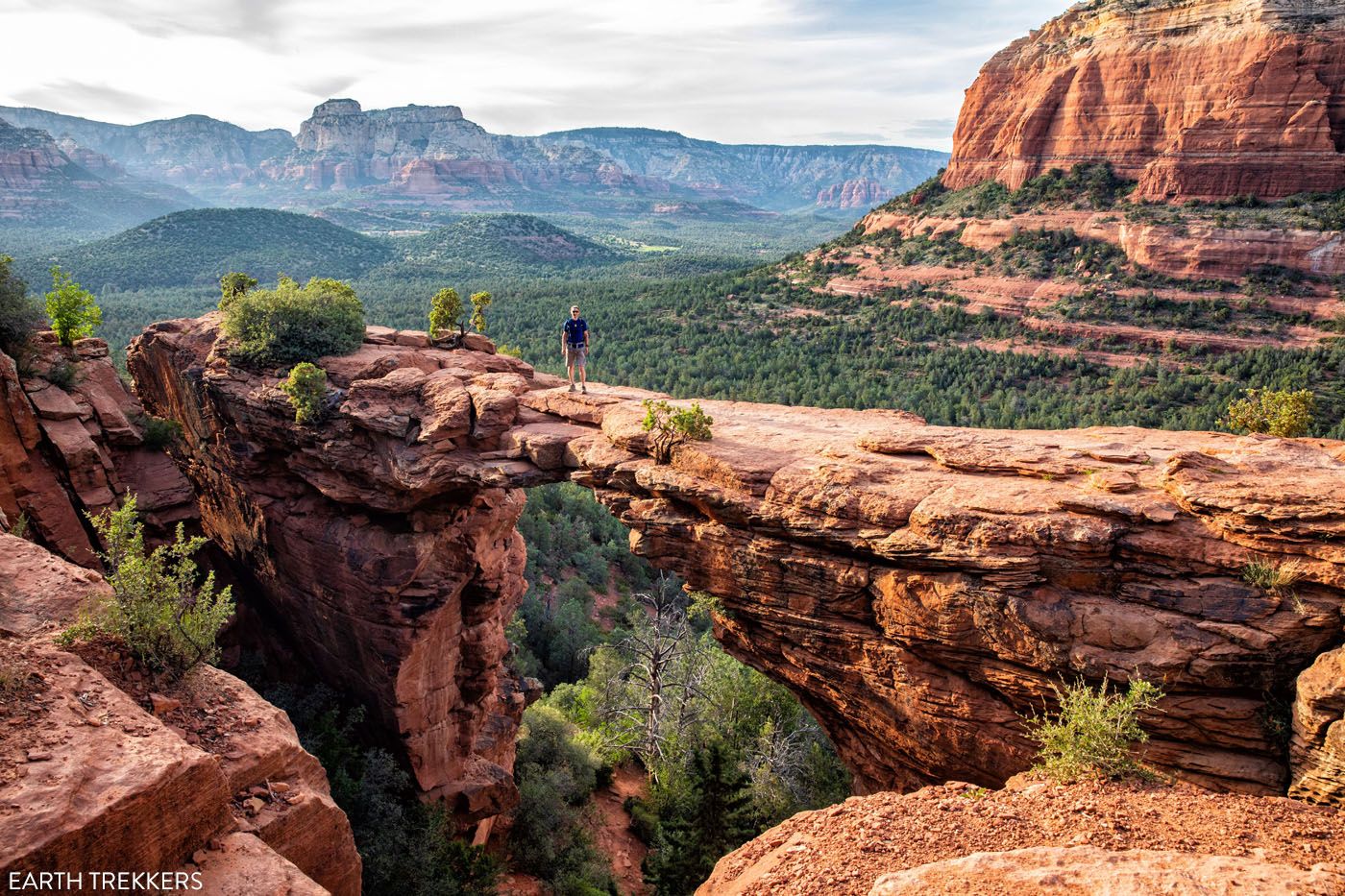 Devils Bridge
At 2.6 miles, take a left turn to visit the Van Deren Cabin. You will cross a creek basin and then wind around to parking for the cabin.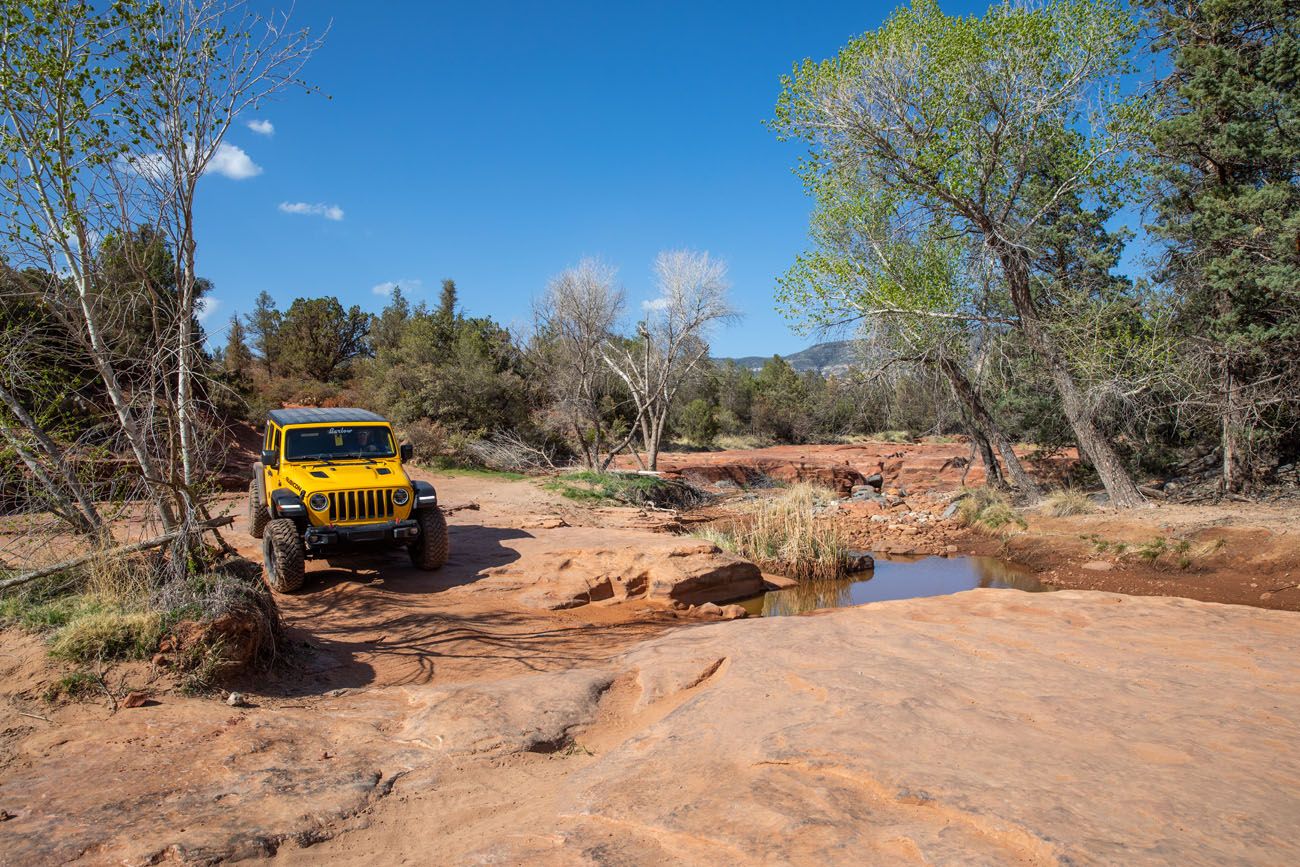 Dry Creek Basin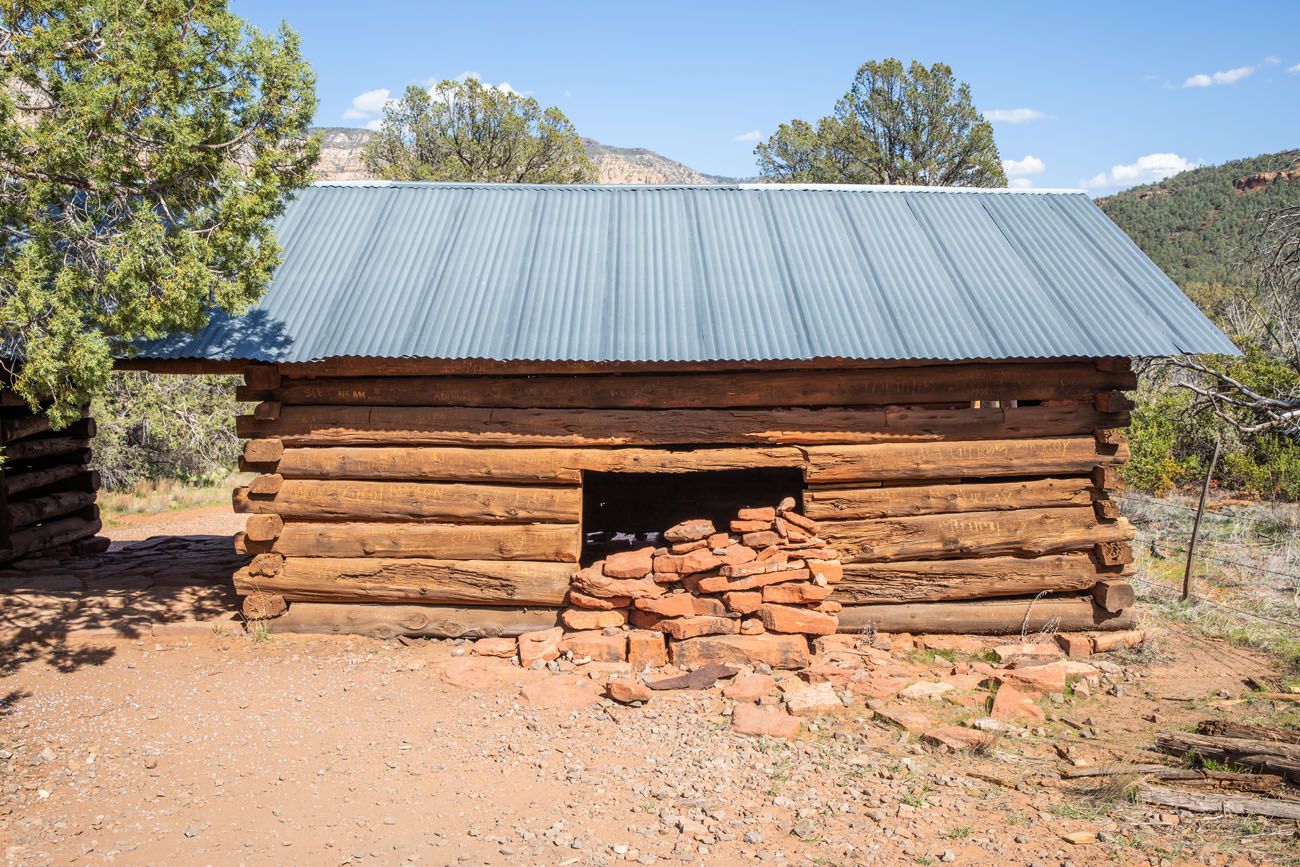 Van Deren Cabin
The Vultee Arch trailhead is located at the end of Dry Creek Basin. This hike is 3.6 miles round trip and takes you to a natural arch.
Outlaw Trail
Distance: 6.4 miles
Time: 2 hours
Difficulty: Moderate
Thrill Factor: Low to medium
Location: West Sedona
This is a beautiful point-to-point drive. The views are wonderful and this is much more fun to drive than Schnebly Hill and Dry Creek Basin. This is a good warm-up for the more challenging and thrilling 4WD roads in Sedona that are on this list.
Even though this drive is point-to-point, you will end up making a loop, combining this with FR 525. I recommend adding on the visit to the Honanki Heritage Site, which are Sinagua ruins that date back to blah.
We drove the Outlaw Trail starting at the Honanki Heritage Site. As you drive south, you get sweeping views across the desert and to the red rock hills of Sedona. There are several places along the drive to stop and enjoy the view.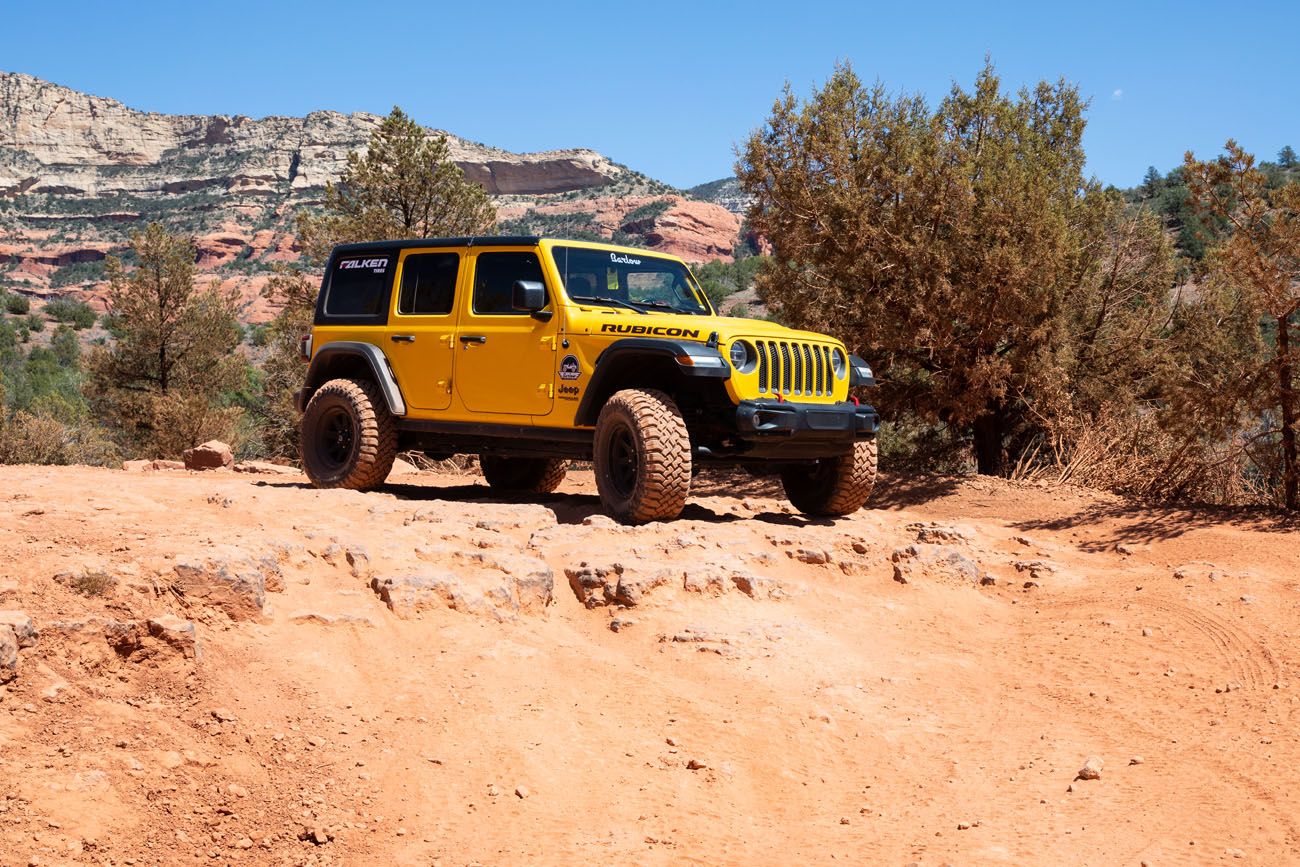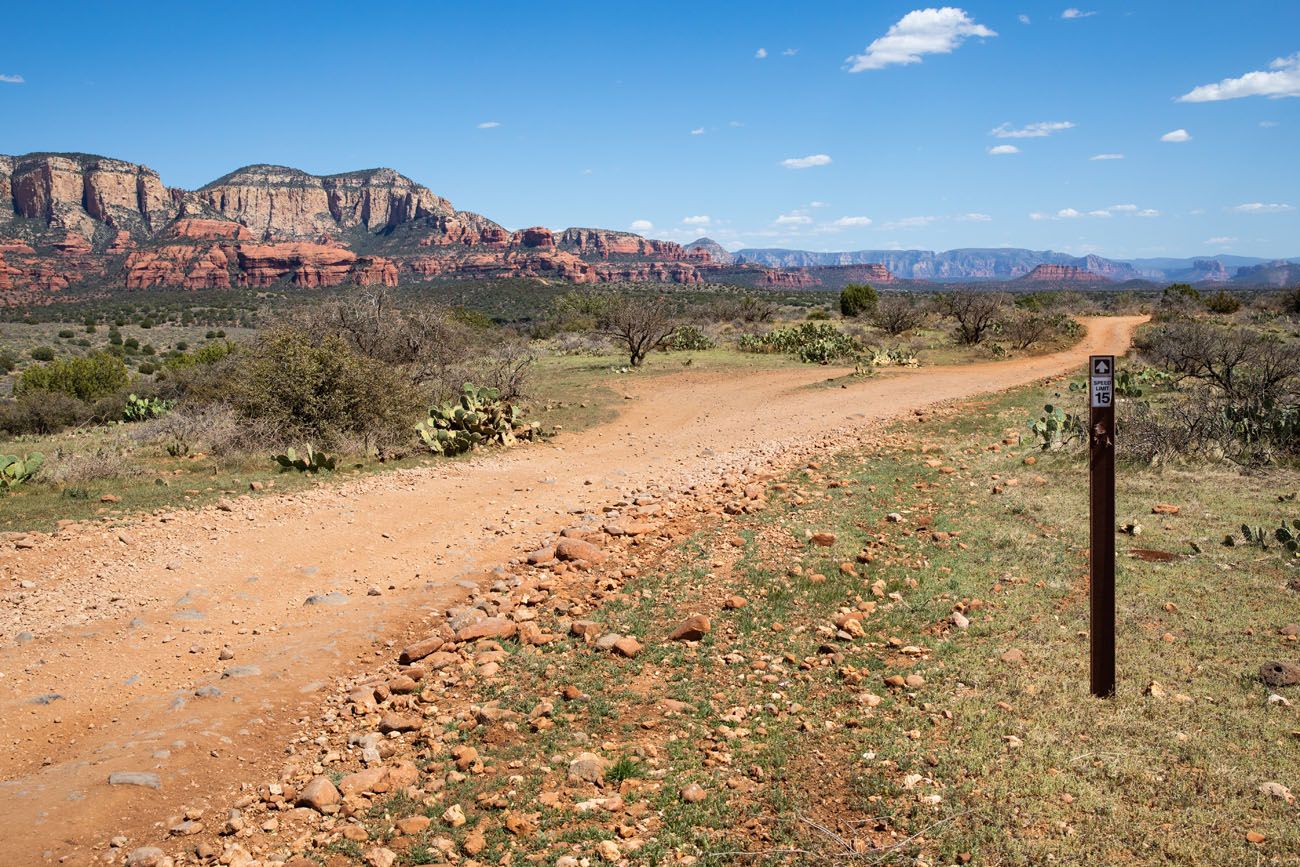 Diamondback Gulch
Distance: 6.1 miles
Time: 2 hours
Difficulty: Adventurous
Thrill Factor: Medium
Location: West Sedona
Diamondback Gulch is located near the Outlaw Trail so I recommend combining these two together. Drive the easier Outlaw Trail first and end with the more thrilling Diamondback Gulch.
Diamondback Gulch is a point-to-point 4WD road in Sedona. You can drive it in either direction, but to minimize two-way traffic on the trail, it's best to start on Boynton Pass Road and end at Red Canyon Road FR 525.
This drive is more about big descents and climbs rather than having knock-out views. The views are very nice at several points along this drive, but what you will remember most are the almost roller coaster-like section of hills along the drive.
The first few miles of the drive are easy and take you through a flat desert landscape and past a ranch. The drive gets more challenging and thrilling once you pass the cattle chute.
At 4.3 miles you get to Diamondback Gulch. This is a series of big descents and big climbs. At times, the road is very steep. The boulders and drop-offs along these steep sections are what make this road challenging to drive.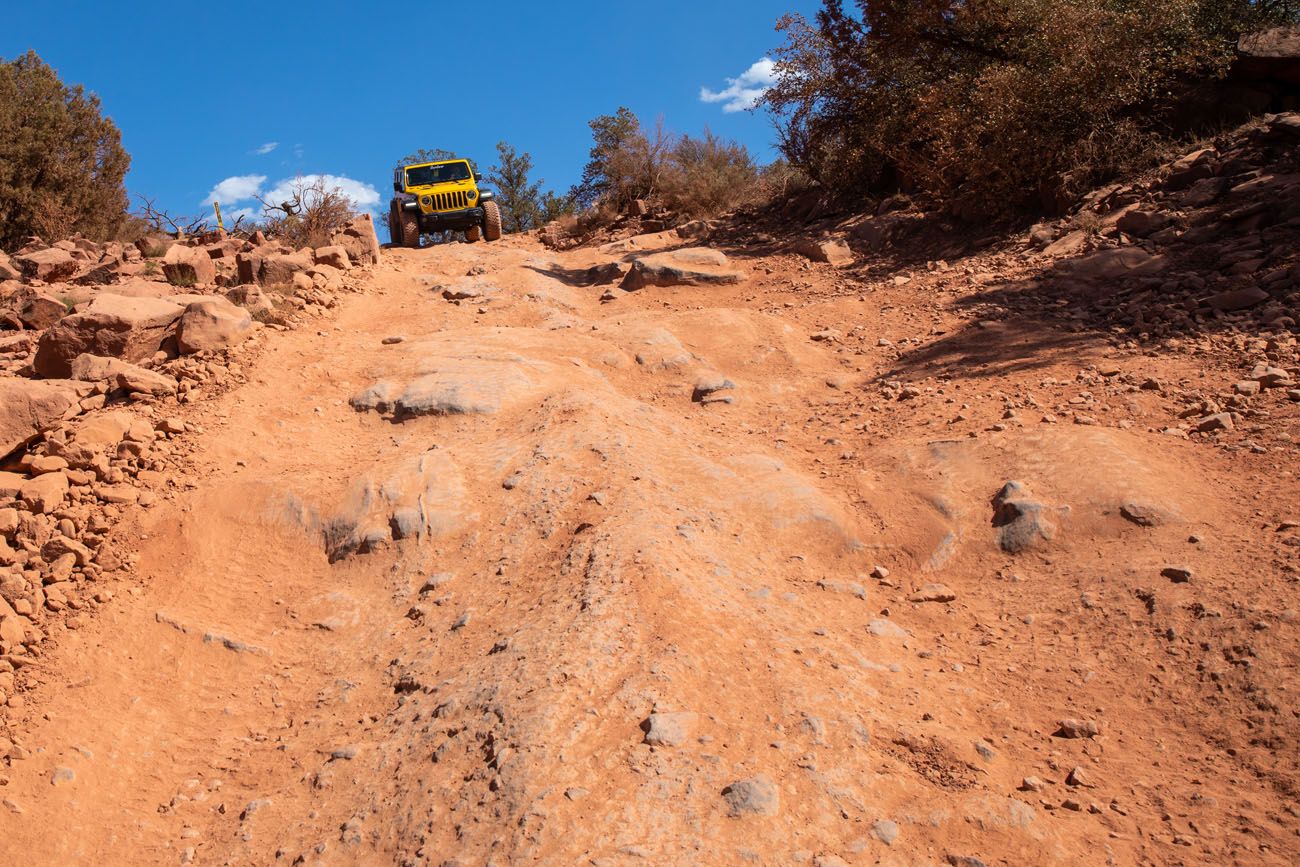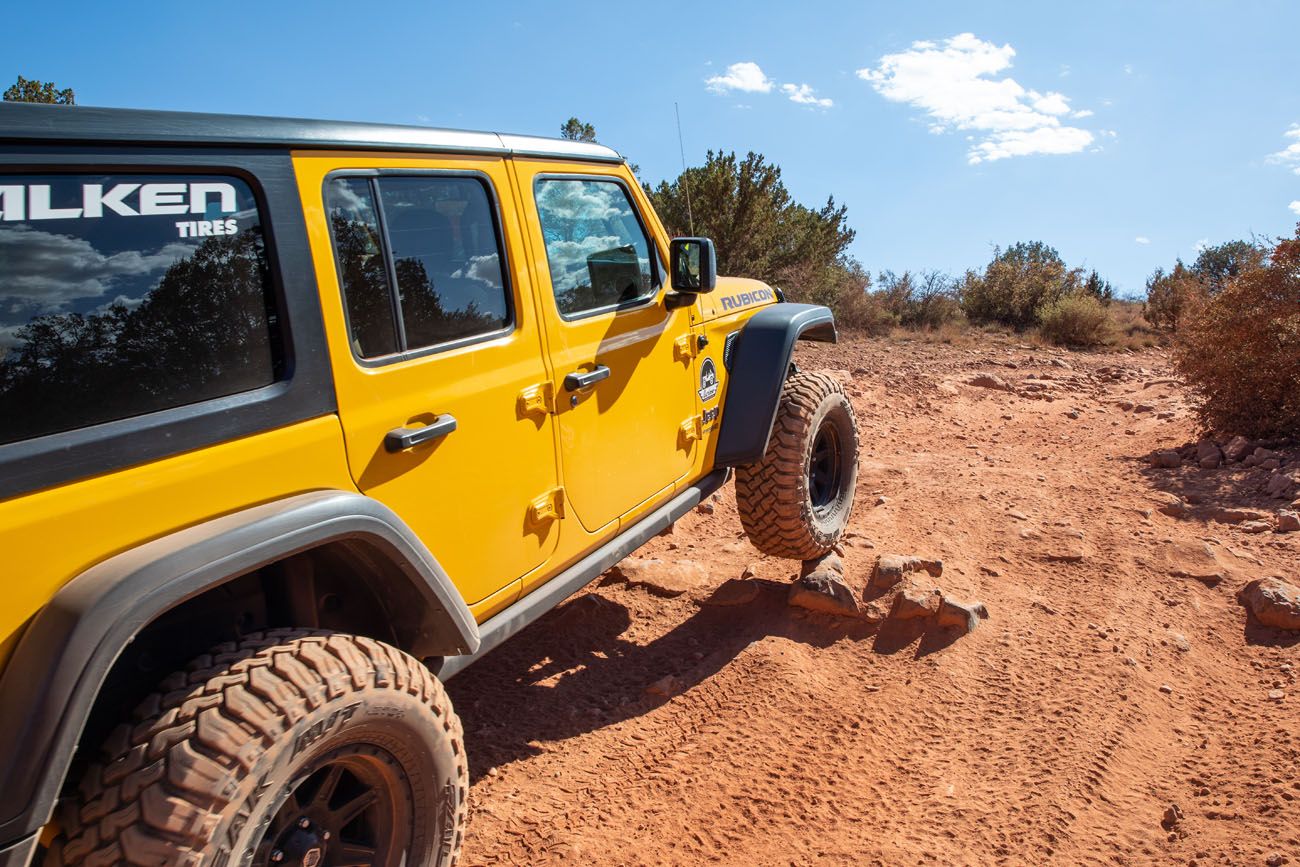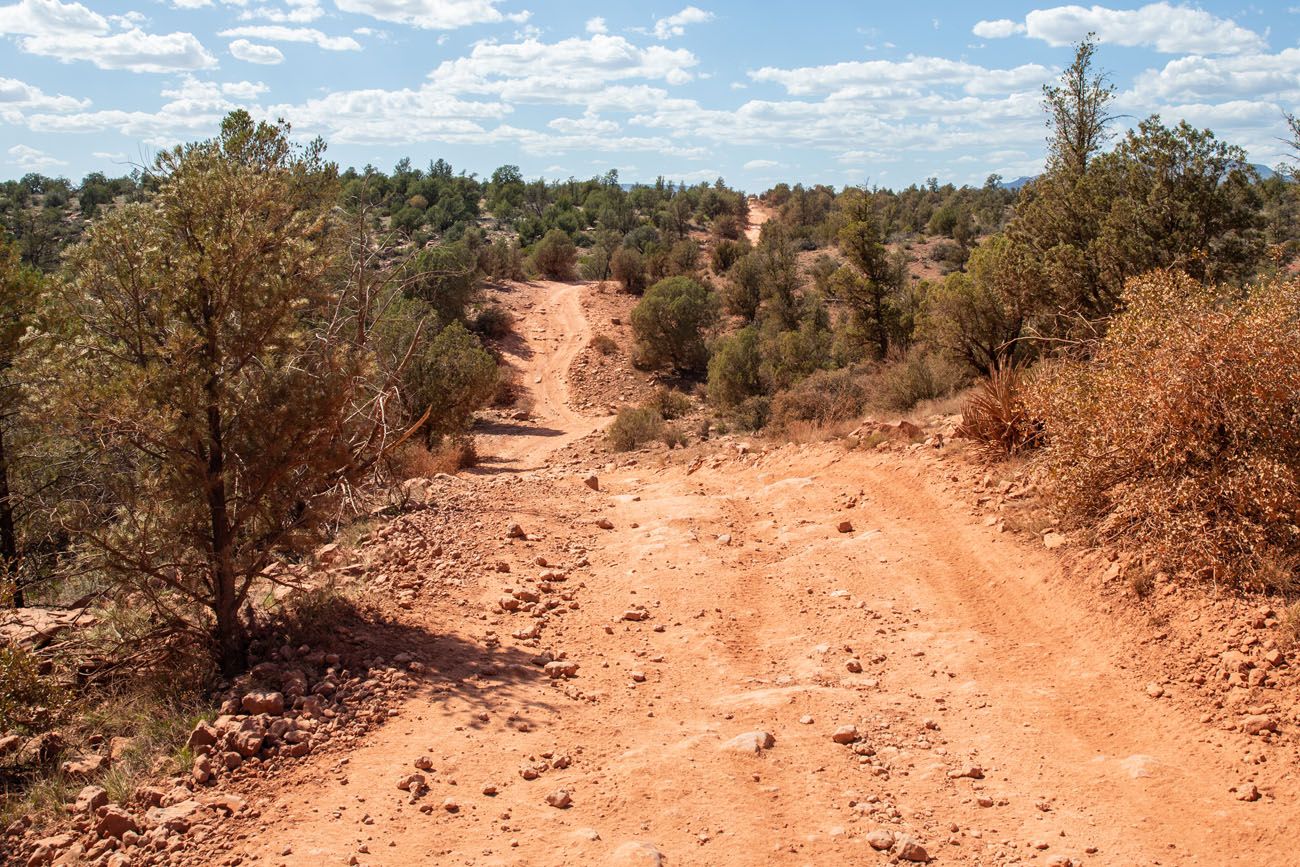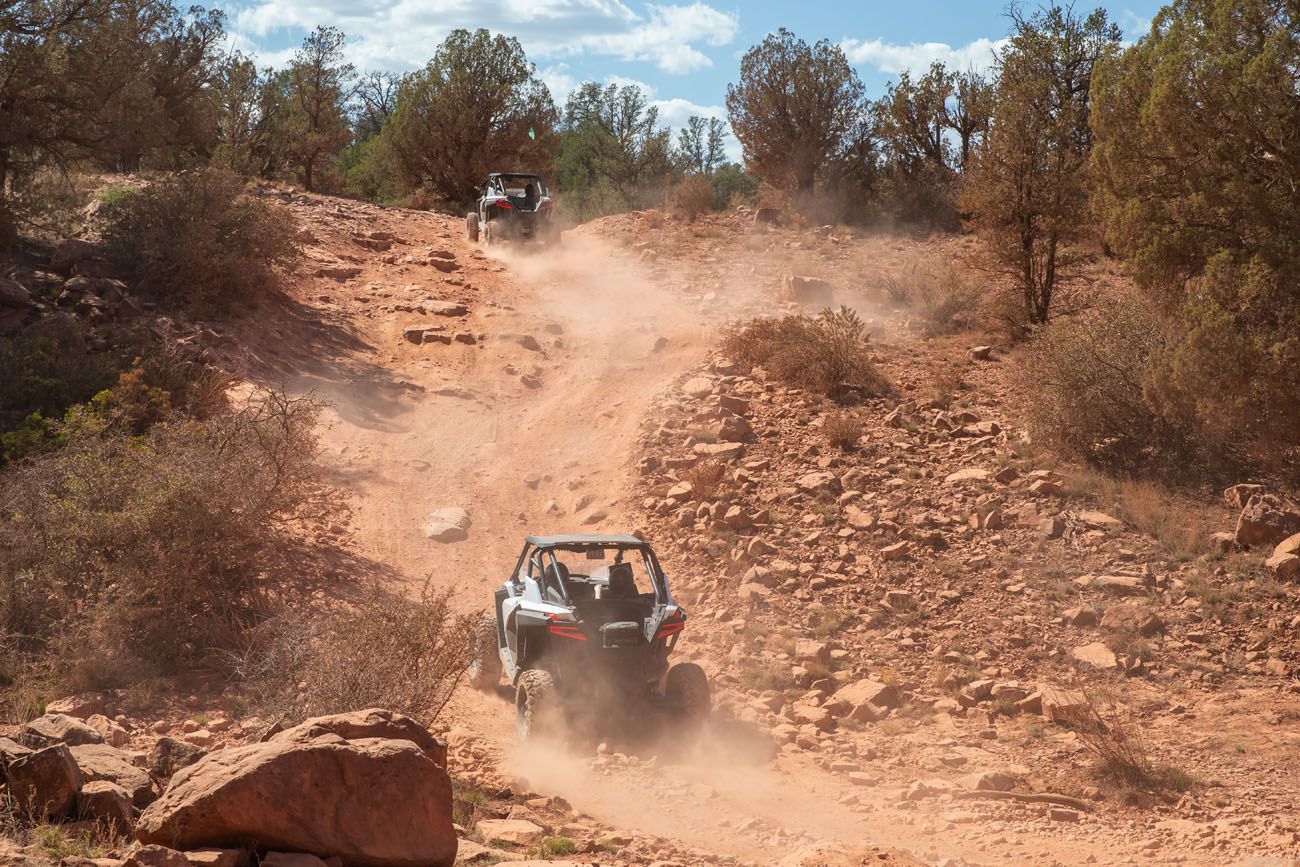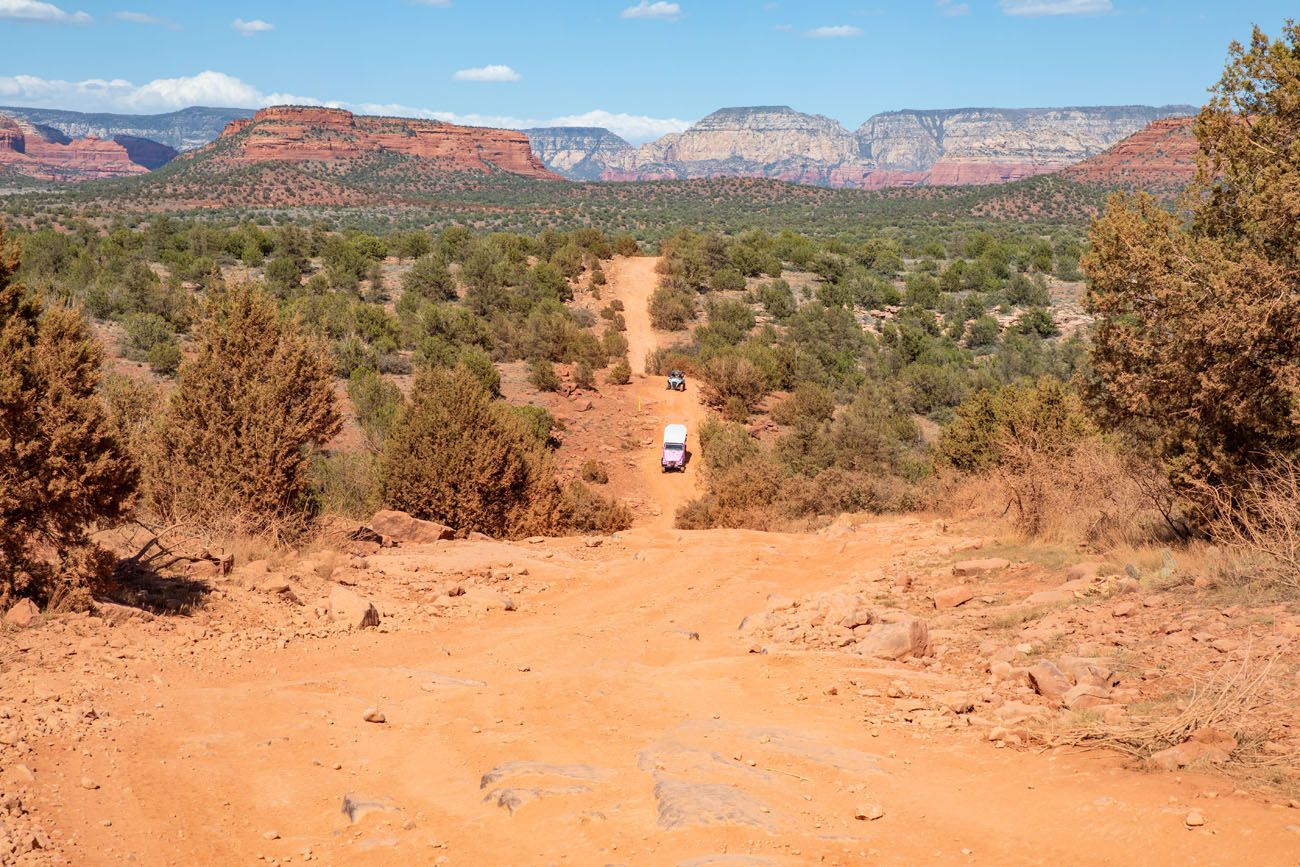 At the peak of the hills, pull over, turn around, and look back at the mesas and buttes. It's a beautiful view and you get to see the series of rolling hills you just maneuvered.
Soldier Pass Road
Distance: 2.4 miles
Time: 1.5 hours
Difficulty: Moderate to adventurous
Thrill Factor: Medium to high
Location: West Sedona
Tim and I loved this super short drive. Why? Along the drive, you can stop at several scenic viewpoints: the Seven Sacred Pools and Devil's Kitchen. This is a permitted road, so only 12 vehicles are allowed on this road per day, and you just might have it to yourself. And there are just enough obstacles, rocks, and ledges to climb that it is fun from start to finish.
Soldier Pass Road heads parallel to the very popular Soldier Pass hiking trail. On this drive, you get to drive to two of the main landmarks along the hike, and you can see them right from your vehicle.
The drive starts at the Soldier Pass trailhead. This parking lot is only open from 8 am to 6 pm. At all other times it is gated and locked, so you need to do this drive between 8 am and 6 pm.
Drive to the far end of the parking lot. With your permit, you are given the combination to open the gate. Make sure you lock it behind you.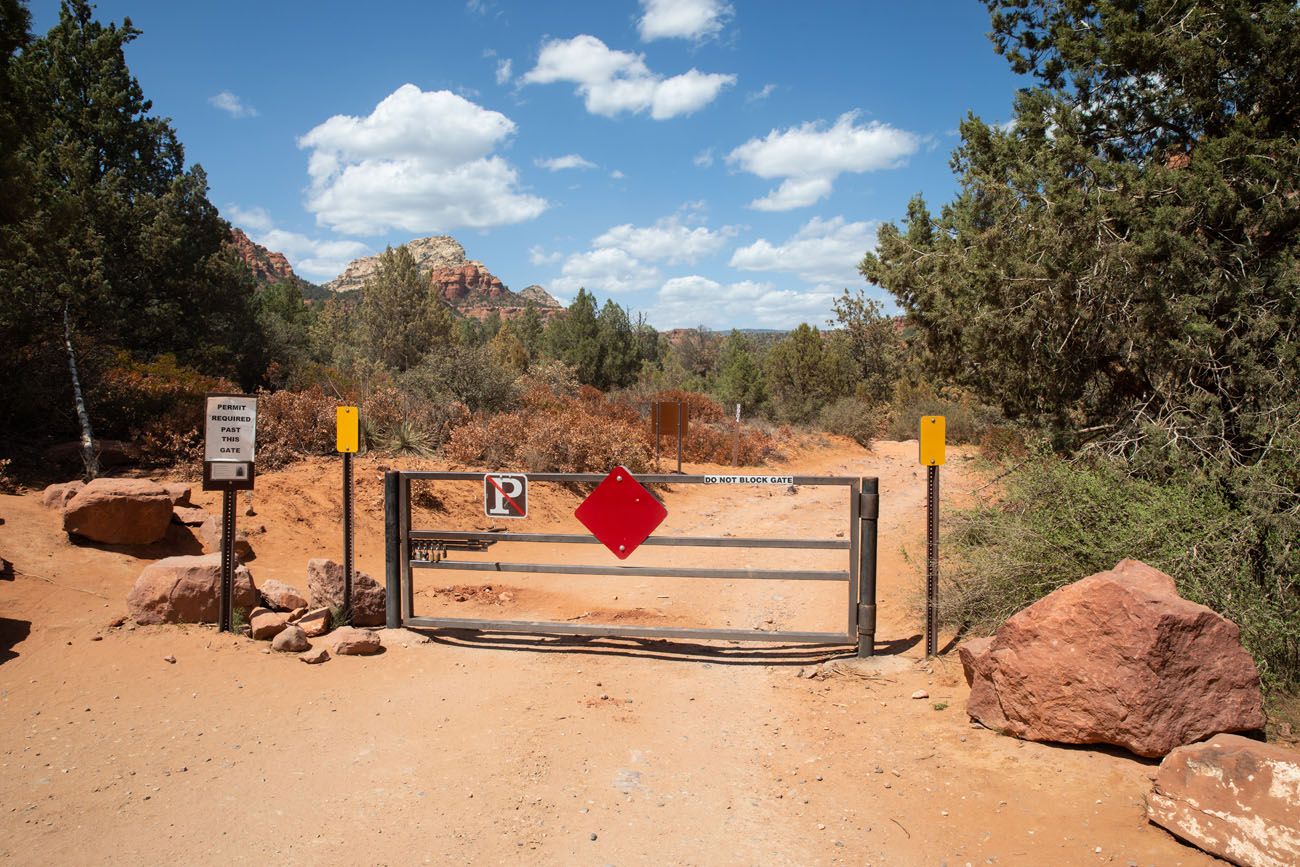 To start the drive, you will first cross over a series of enormous rocks. This is just a preview for what is to come.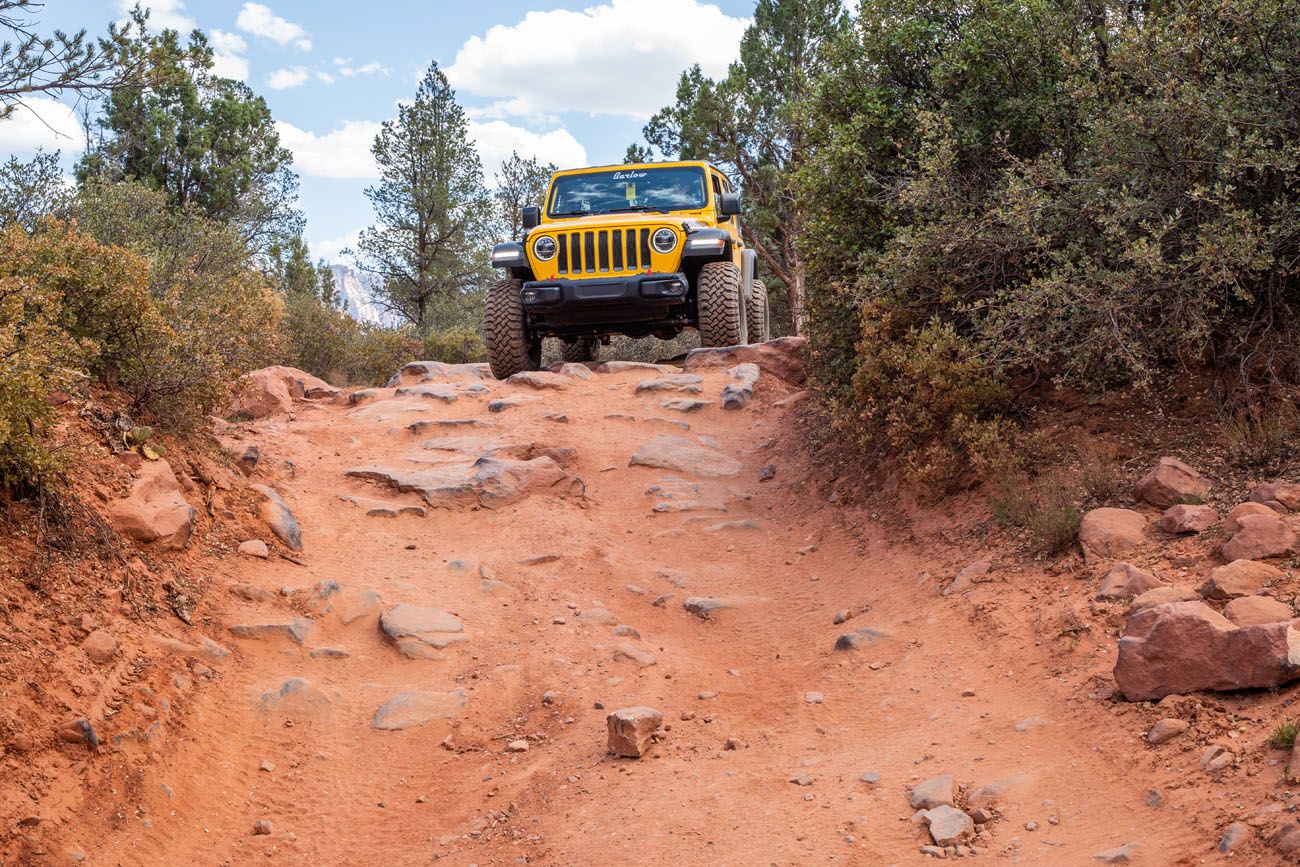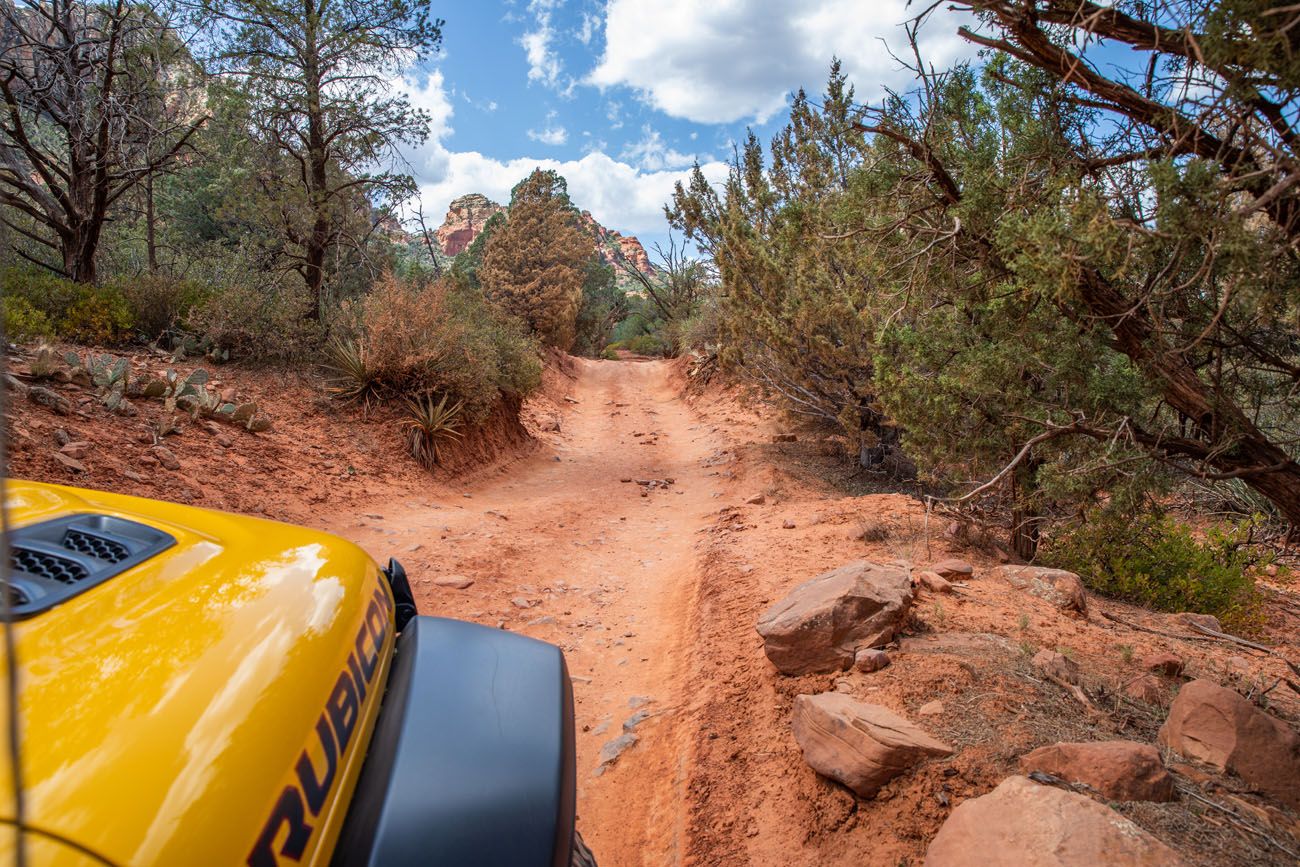 It's a very short drive to the first detour to Devil's Kitchen, which is a large sinkhole that is located along the hiking trail. You can drive right up to it but it's worth getting out of your vehicle to peer down into the sinkhole.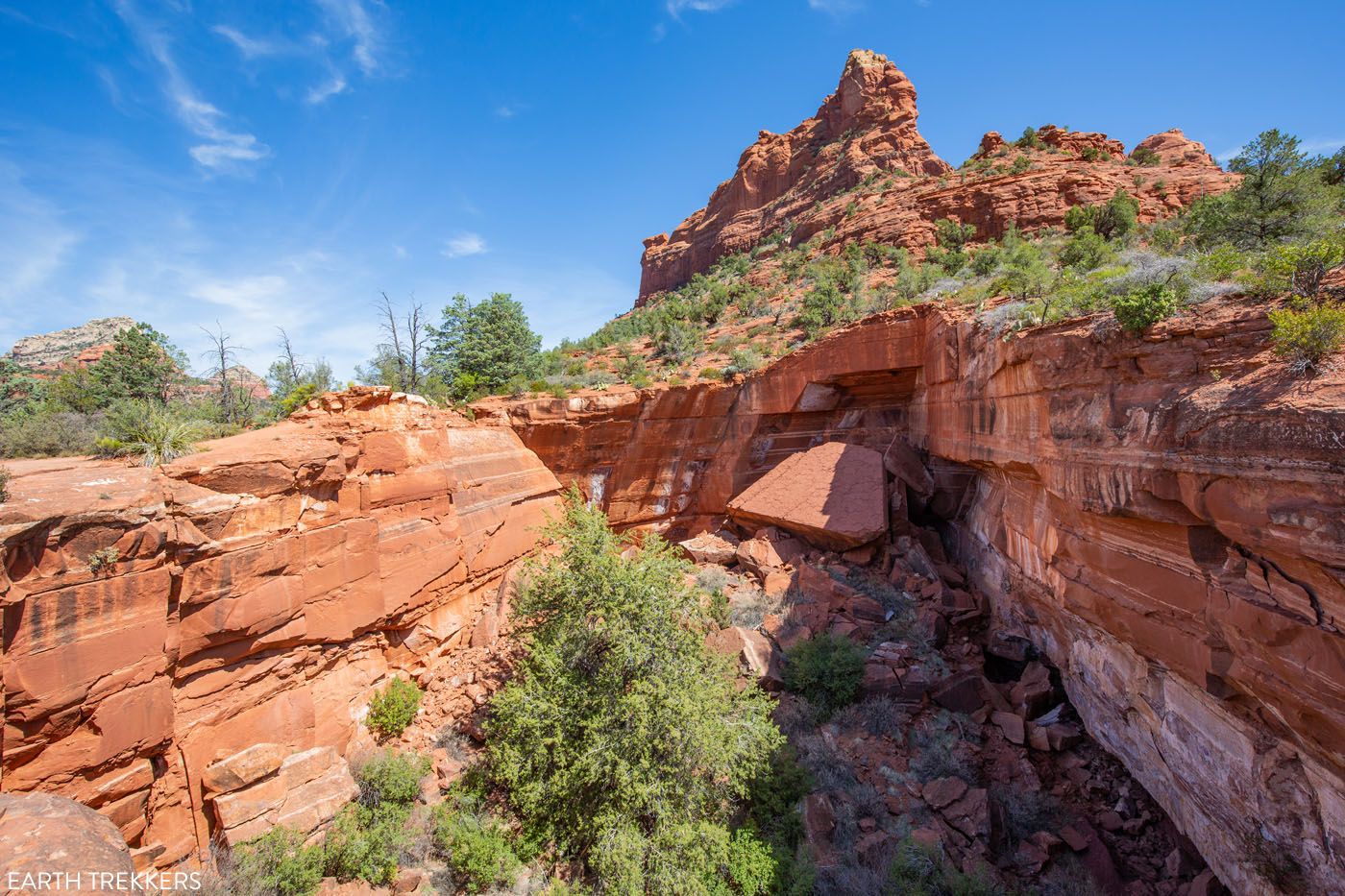 Devil's Kitchen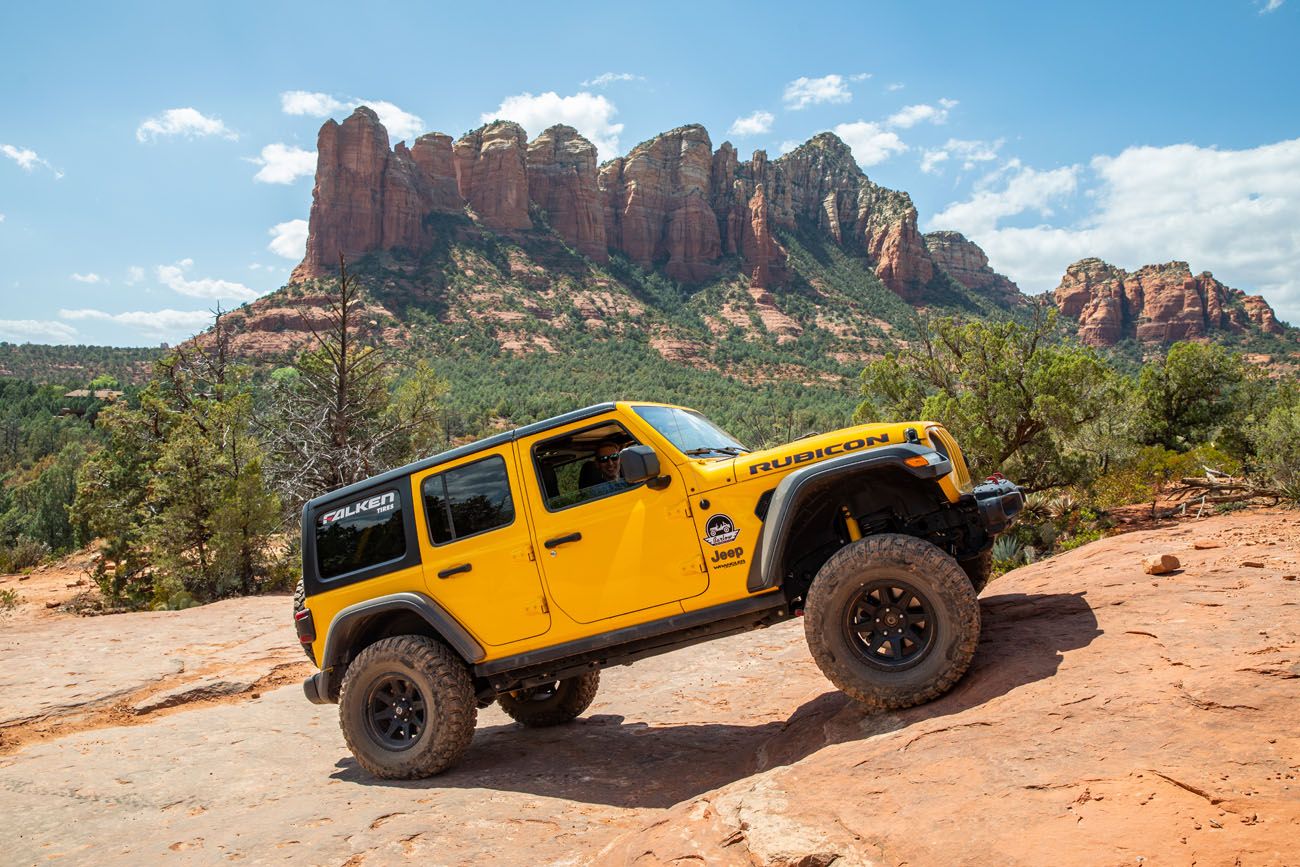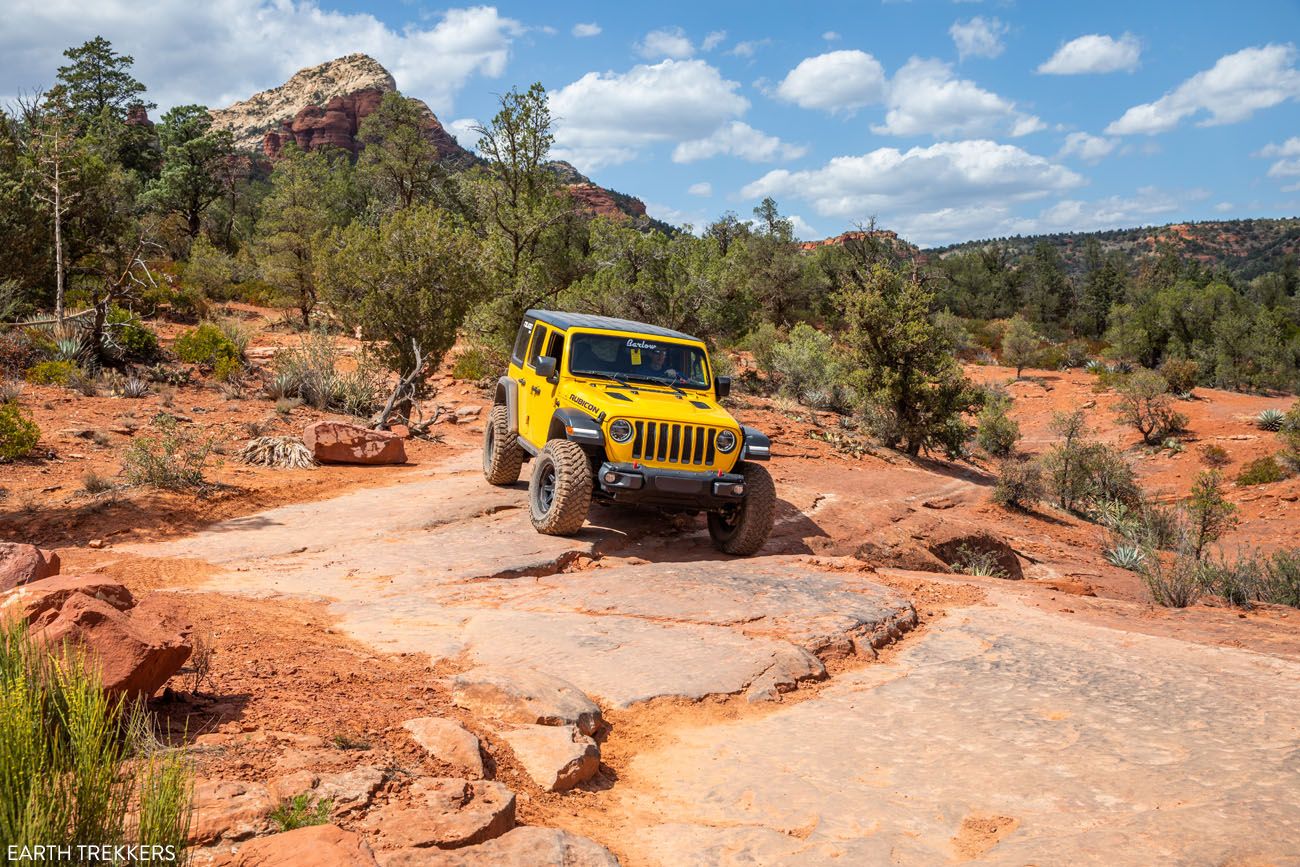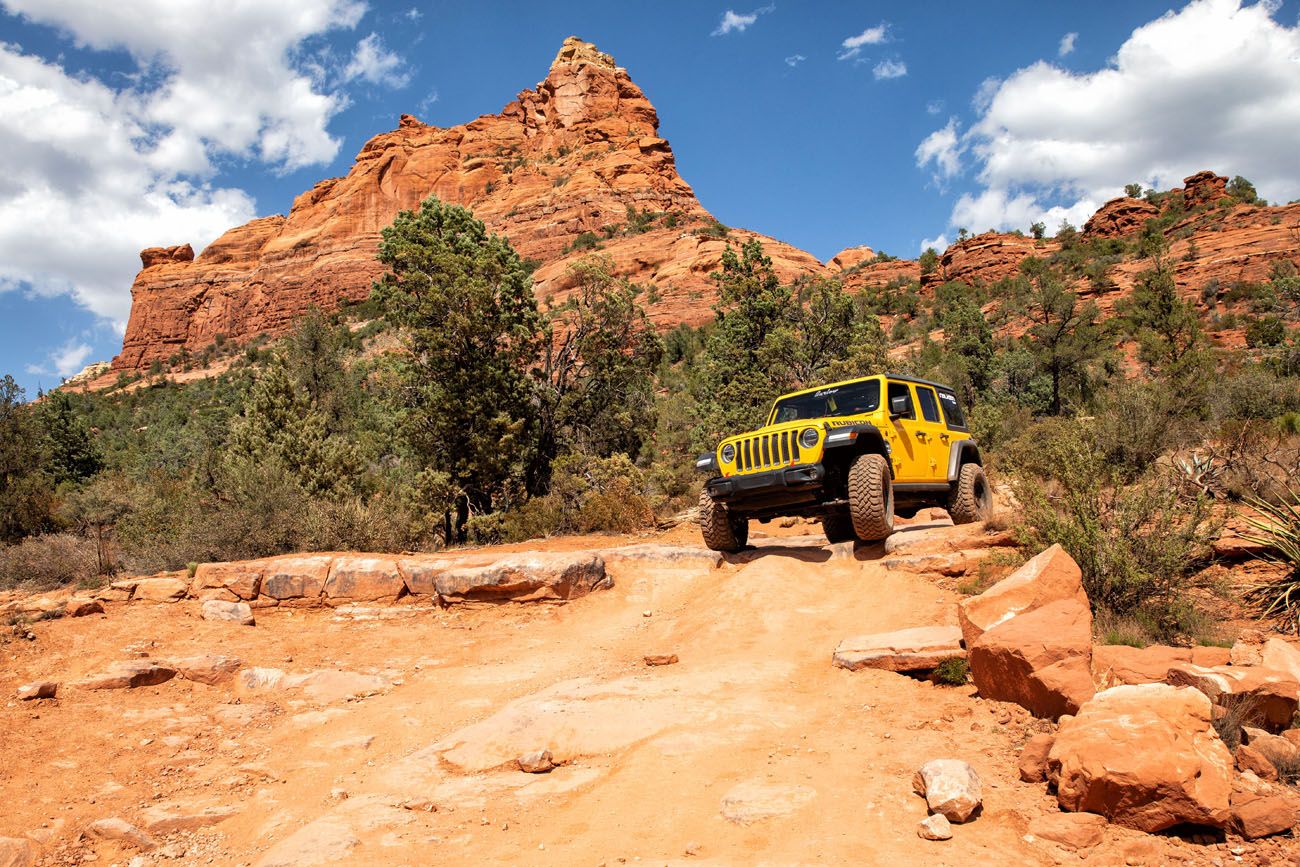 The second detour takes you to the Seven Sacred Pools. Depending on recent rainfall, some or all of these pools may be filled with water.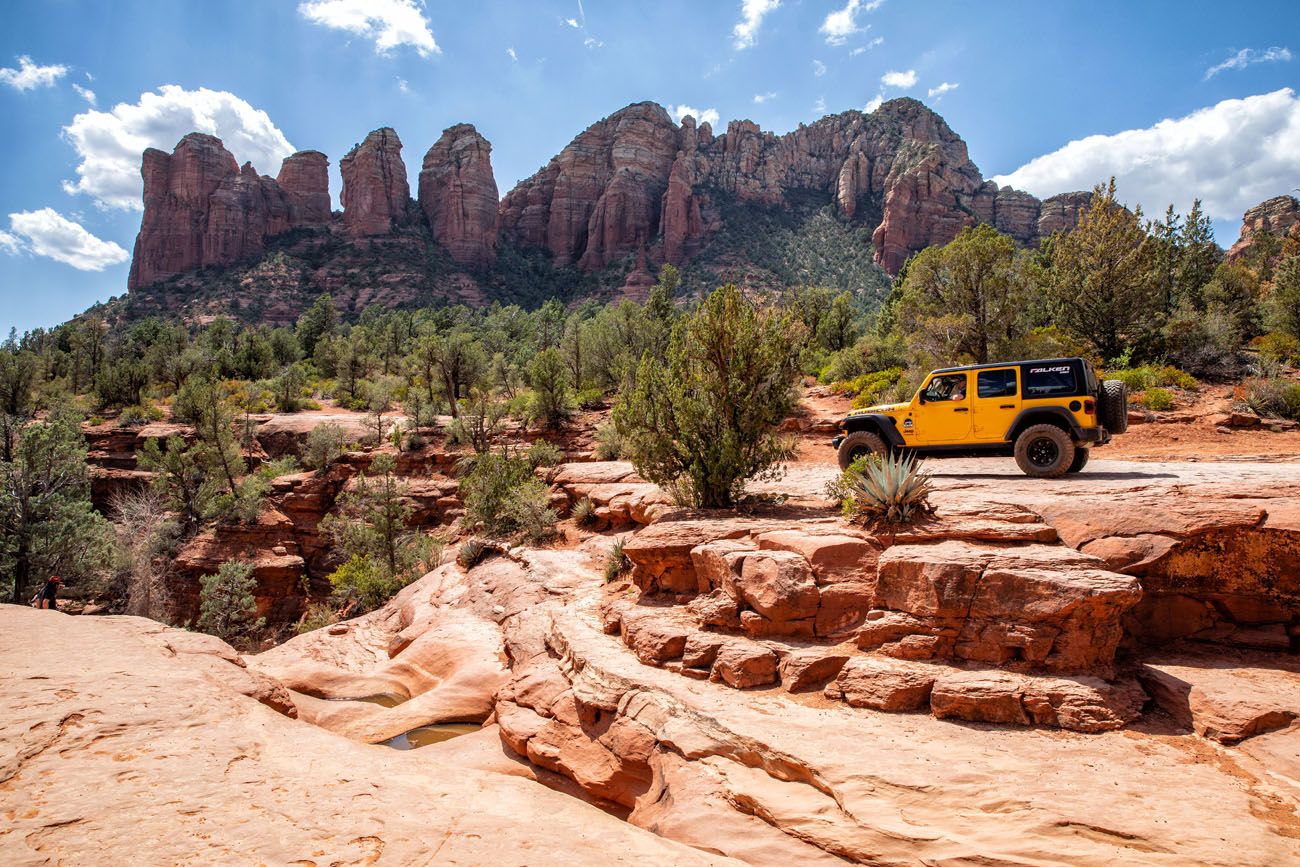 The Soldier Pass Road dead-ends at a round-about. From here, it's a quick 1 mile drive back to the starting point.
You must have a permit to do this drive. 12 are awarded each day and you can get your permit on Recreation.gov.
It's not unusual to see hikers on this road who have stumbled off of the hiking trail. Keep an eye out for hikers during this drive.
Broken Arrow
Distance: 4 miles
Time: 2 hours
Difficulty: Adventurous/Very Hard
Thrill Factor: High
Location: East Sedona
Broken Arrow is the most thrilling 4WD road in Sedona. Not only is it extremely fun to drive but the views along the trail are amazing. This is a technical drive so prior experience is a must.
On this drive, you will get to enjoy the view from Chicken Point, circle around Mushroom Rock, and descend down a rocky, steep hill appropriately named "The Stairs." Test out your 4WD skills on The Slide, hike out to Submarine Rock, and have fun on one of the best 4×4 trails in Arizona.
Rather than going through the entire route here, here is the link to our very detailed article, with LOTS of photos, on how to drive Broken Arrow.
But for a little inspiration, here are some photos from the trail.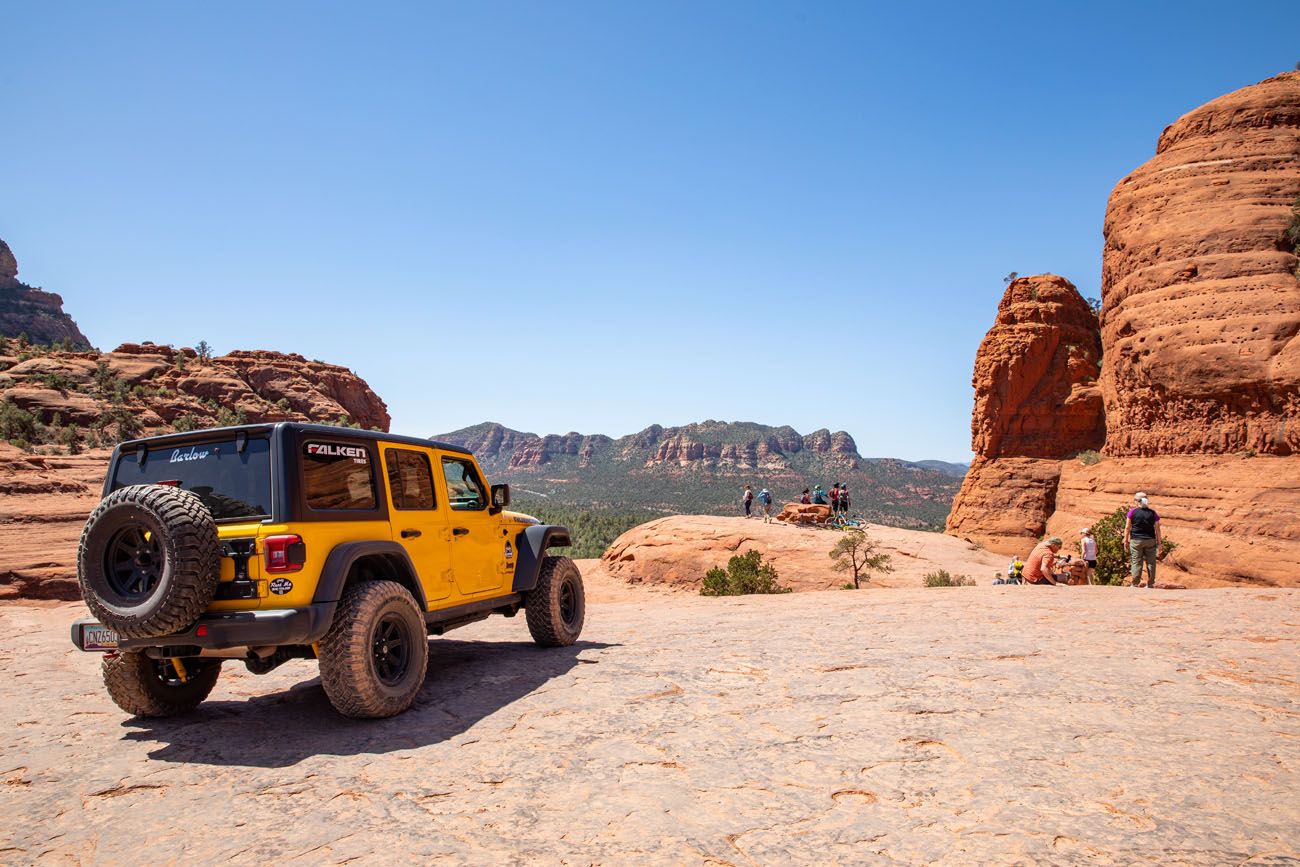 Chicken Point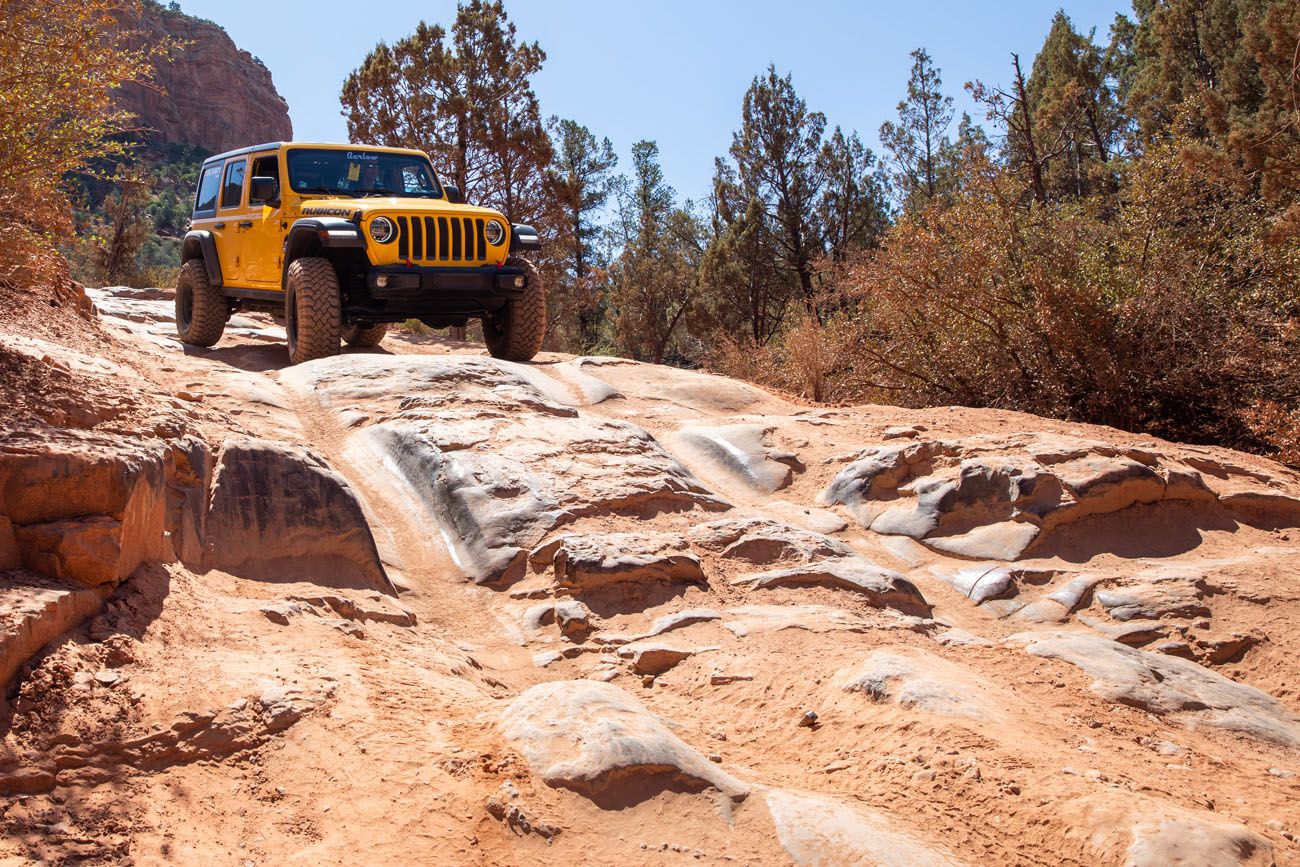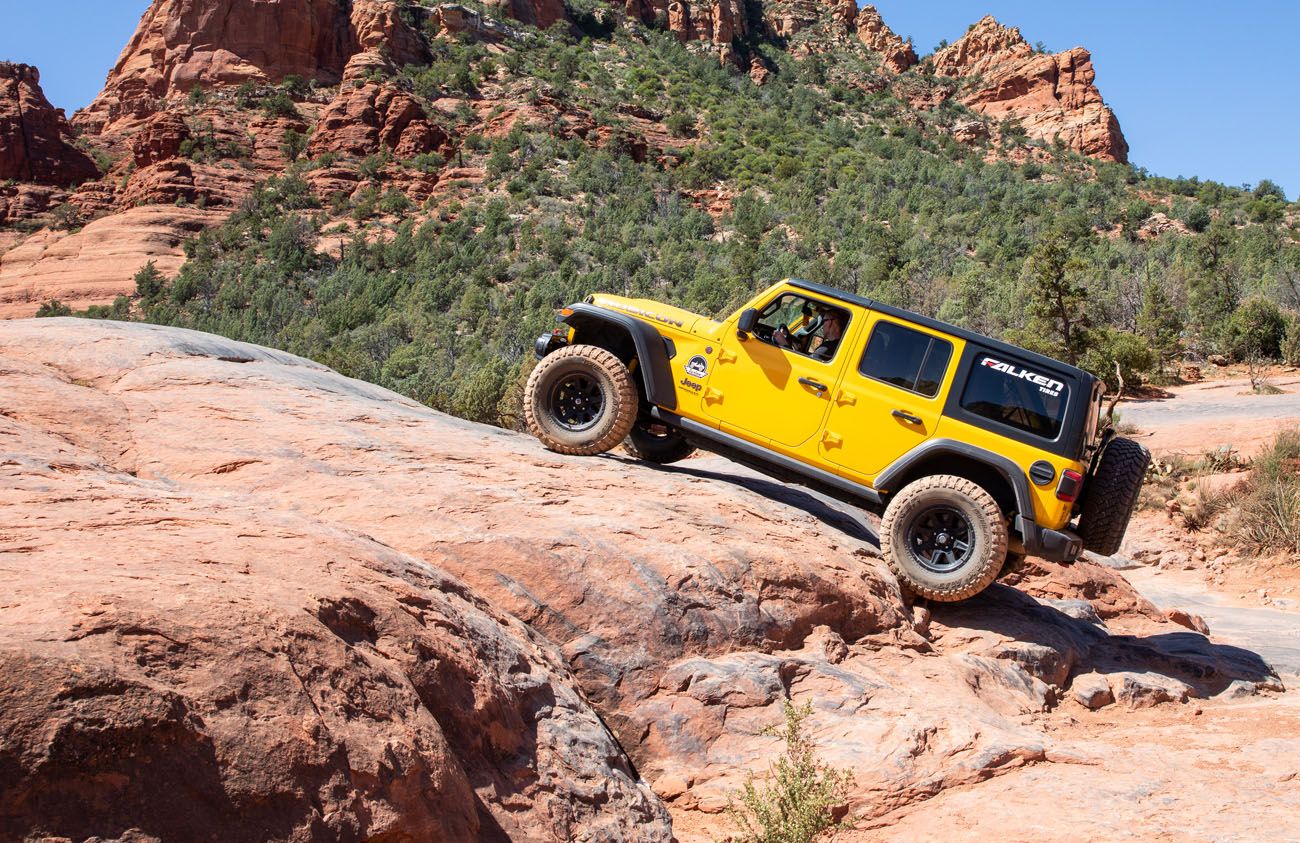 The Slide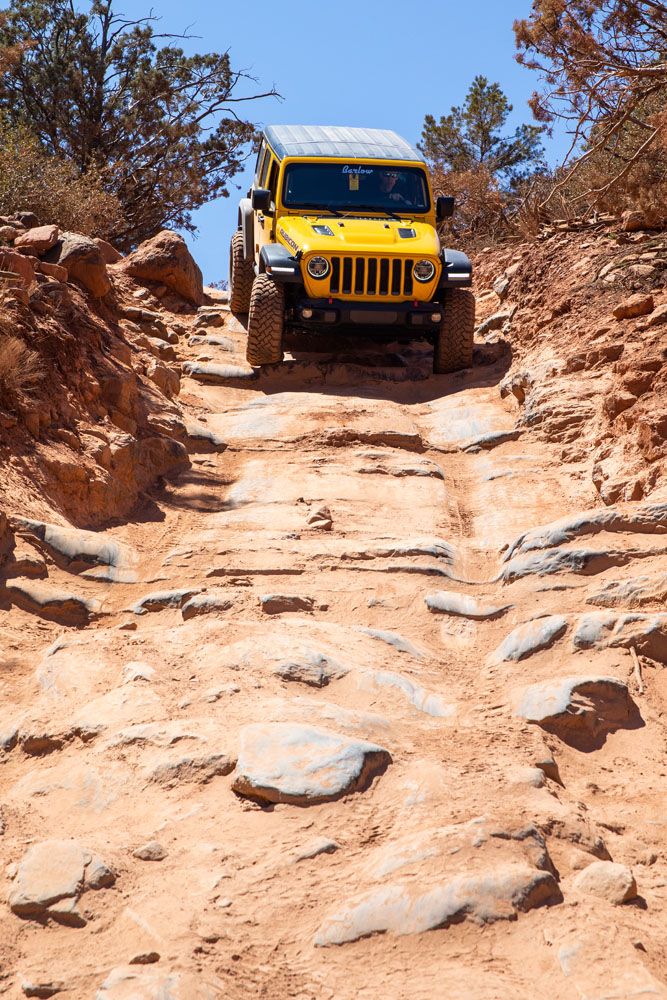 The Stairs
Our Experience & Recommendations
The Broken Arrow Trail was our favorite 4WD road in Sedona. However, Soldier Pass, with its light traffic (we were the only vehicle on the road when we did this), fun obstacles, and cool landmarks like Devil's Kitchen and the Seven Sacred Pools, was a close second. Tim also had tons of fun driving Diamondback Gulch.
We rented our Jeep for three days, driving two roads each day. Spacing them out kept things interesting and from getting too repetitive. We would hike in the morning, get lunch, then spend the afternoon on the 4WD roads in Sedona. For our long visit, this worked very well. But it is expensive renting a Jeep for 3 days.
If you only have one day, you can do Broken Arrow, Soldier Pass, and Diamonback Gulch all on the same day. Start with Diamondback Gulch, the least technical of these three roads. The thrill factor just goes up, as you then drive Soldier Pass and end with Broken Arrow.
If you have two days, add on the Outlaw Trail. I also recommend driving Dry Creek Basin and hiking Devils Bridge. This super popular hike is worth it, especially if you can start right at the trailhead. Go early in the morning or late in the day (after 4 pm), for lower crowds.
What Type of Vehicle Do You Need?
If you want to drive these 4WD roads in Sedona, you will need a high-clearance 4WD vehicle. With roads such as Schnebly Hill, the Outlaw Trail, and Dry Creek Basin, you will do just fine in a stock vehicle without extra lift. However, for roads such as Diamondback Gulch and Broken Arrow, extra lift is necessary.
We rented a Jeep Rubicon from Barlow Adventures in Sedona. Our Jeep handled the hills, rock climbs, and ledges like it was nothing. We highly recommend Barlow Adventures, not only because their Jeeps are in excellent condition, but also because they provide maps and detailed instructions on how to drive these roads.
Renting a Jeep is not cheap. Prices are roughly $300 per day. We rented a Jeep for three days, driving two of the 4WD roads per day. With one day, you can drive 3, maybe 4 of these roads. Just be aware that these roads are rough and rocky and stringing three to four drives together, and the bouncing that is involved, could leave you with a nice headache at the end of the day.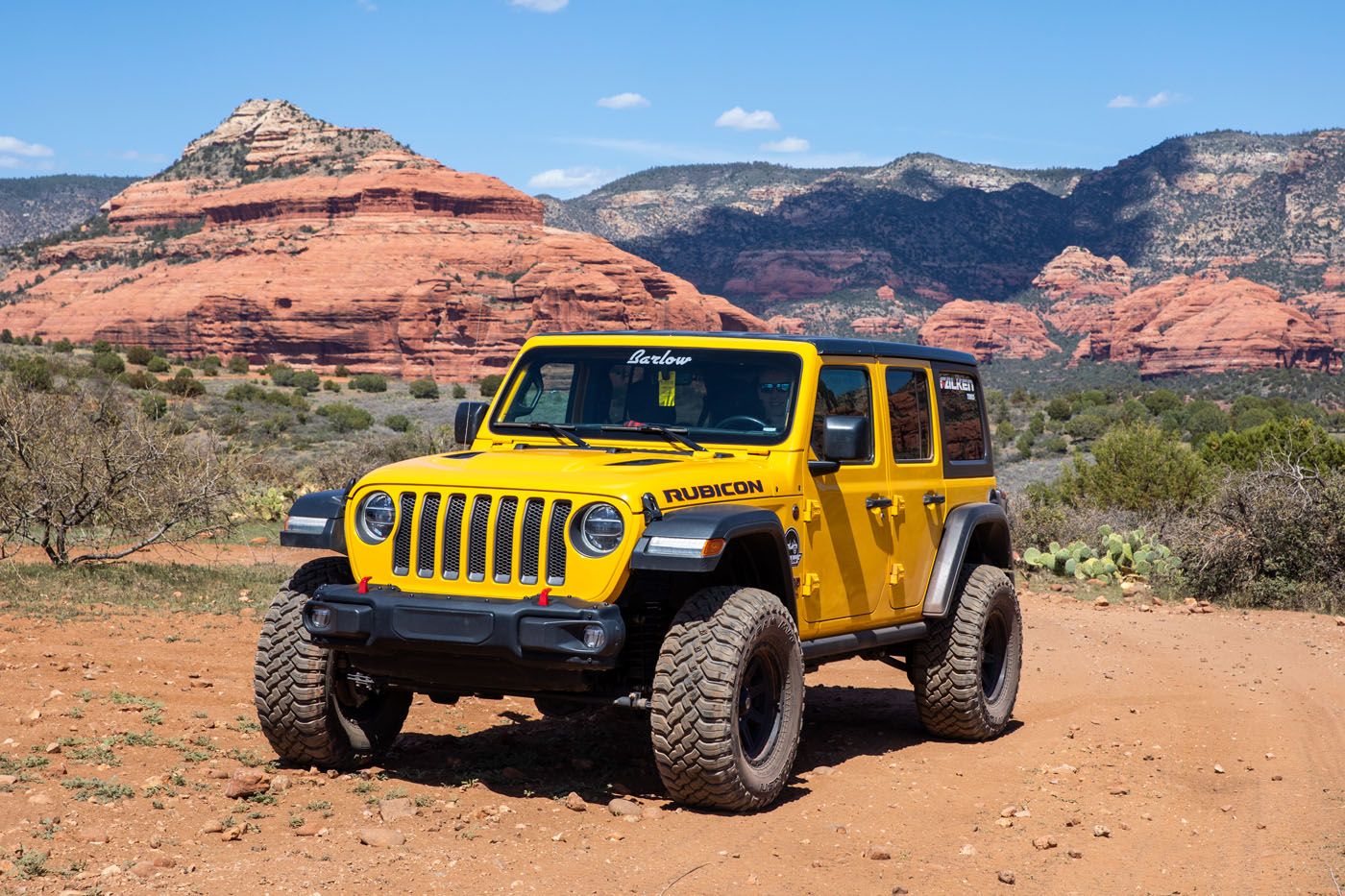 Our Jeep, "Daisy"
You can also rent an ATV and drive these roads. ATV's are more expensive than renting a Jeep from Barlow. We did not do this, so I cannot speak from experience, but the ATV's look like lots of fun. Just prepared to get dusty and dirty. You will wear a helmet and without A/C, it can be hot, even with the breeze.
There are numerous companies in Sedona that rent ATV's. The prices start just over $400 for a vehicle that carry two people. The price goes up from here for a bigger vehicle or more features.
If you don't want the expense of renting a Jeep or ATV, or the responsibility of driving these roads, there are many Pink Jeep Tours to choose from.
Tips to Have the Best Experience
Never leave the official 4WD road. Don't shortcut the roads or widen the roads. This damages the fragile desert landscapes.
Along all of these roads, there are frequent pull-offs where you can let oncoming traffic pass.
Vehicles driving uphill always have the right-of-way. Before starting any of the major ascents and descents, scout the road for oncoming vehicles first.
Before you go, get updates on the weather. Some roads may be impassable when wet.
Know your driving skills. Make sure you are comfortable maneuvering a vehicle over rough rocky surfaces. And make sure you are comfortable ascending and descending narrow rough roads in reverse in case you come across oncoming vehicles.
Know how to change a tire…just in case.
---
If you have any questions about these 4WD roads in Sedona, or if you want to share your experience, let us know in the comment section below.
More Information for Your Trip to Sedona
SEDONA: To learn what there is to do in Sedona, read our article Best Things to Do in Sedona. To help you plan your time, check out our One Day in Sedona Itinerary and Sedona Itinerary Ideas for 1 to 6 days. For links to all of our Sedona articles, check out our Sedona Travel Guide.
HIKES IN SEDONA: Some of the top trails in Sedona include the Soldier Pass Trail, Boynton Canyon, Bear Mountain, the Birthing Cave, and Devils Bridge. For more ideas, read our guide to the Best Hikes in Sedona.
PLACES TO GO IN ARIZONA: Go hiking in Sedona, visit Saguaro National Park and Petrified Forest National Park, explore Monument Valley, photograph Antelope Canyon, and visit the South Rim of the Grand Canyon. Learn how to put all of this together in our Arizona Road Trip Itinerary.
ARIZONA ITINERARIES: If you are looking for road trip ideas through Arizona, we have a couple of good ones. See the highlights of Arizona in our 10 Day Arizona Itinerary, visit the Grand Canyon and Utah's Mighty 5 in our Two Week American Southwest Itinerary, and visit parts of Arizona, Las Vegas, and southern Utah in our 10 Day American Southwest Itinerary.
WHITE RIM ROAD: The White Rim Road is a 100 mile road that loops around the Island in the Sky District of Canyonlands National Park. It is one of the best national park experiences. Learn how to plan your trip in our Guide to the White Rim Road and how to spend one day on the White Rim Road.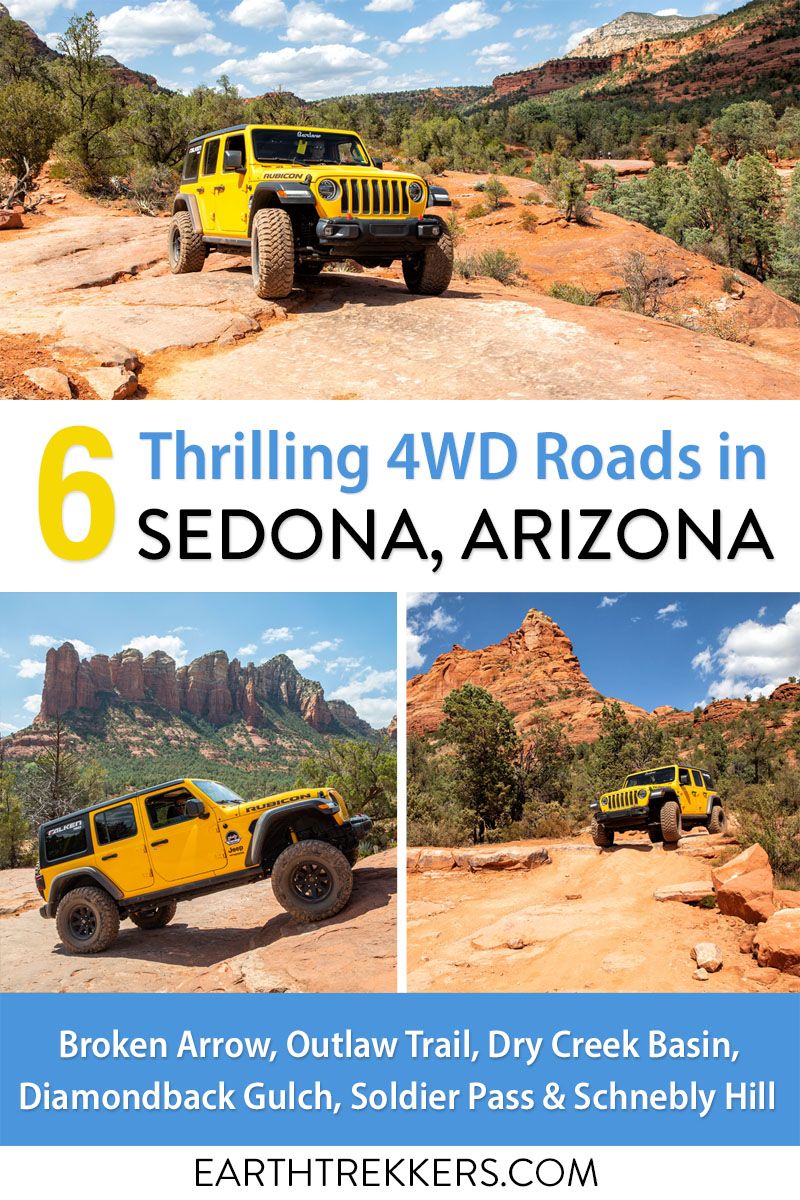 Note: This post contains affiliate links. When you make a purchase using one of these affiliate links, we get paid a small commission at no extra cost to you.
All rights reserved © Earth Trekkers. Republishing this article and/or any of its contents (text, photography, etc.), in whole or in part, is strictly prohibited.