Devils Bridge is a wonderful hike in Sedona. With an easy hiking trail, beautiful red rock scenery, and of course, the chance to have your photo taken on top of Devils Bridge, this hike makes the top of the list for many visitors to Sedona.
This is one of the most popular trails in Sedona so be prepared to share it with a lot of people. But it's worth it if you want your photo on top of this iconic red rock arch.
Devils Bridge Hiking Stats
Distance: 2 miles with a 4×4; 4.2 miles without a 4×4
Length of Time: 1 to 3 hours
Elevation Gain: 400 to 500 feet
Difficulty: Easy with one short section of steps/rock scrambling
Location: West Sedona

Elevation profile of the round trip hike from the Mescal Trailhead.
Please practice the seven principles of Leave No Trace: plan ahead, stay on the trail, pack out what you bring to the hiking trail, properly dispose of waste, leave areas as you found them, minimize campfire impacts, be considerate of other hikers, and do not approach or feed wildlife.
How to Hike to Devils Bridge
Step-By-Step Trail Guide
There are several different ways to start this hike.
You have four different options for starting this hike:
Dry Creek Road to the Devils Bridge Trailhead (you must have a high-clearance 4×4)
Park at Dry Creek Road Parking Lot
Take the Sedona Shuttle to the Dry Creek Parking Lot
Park at the Mescal Trailhead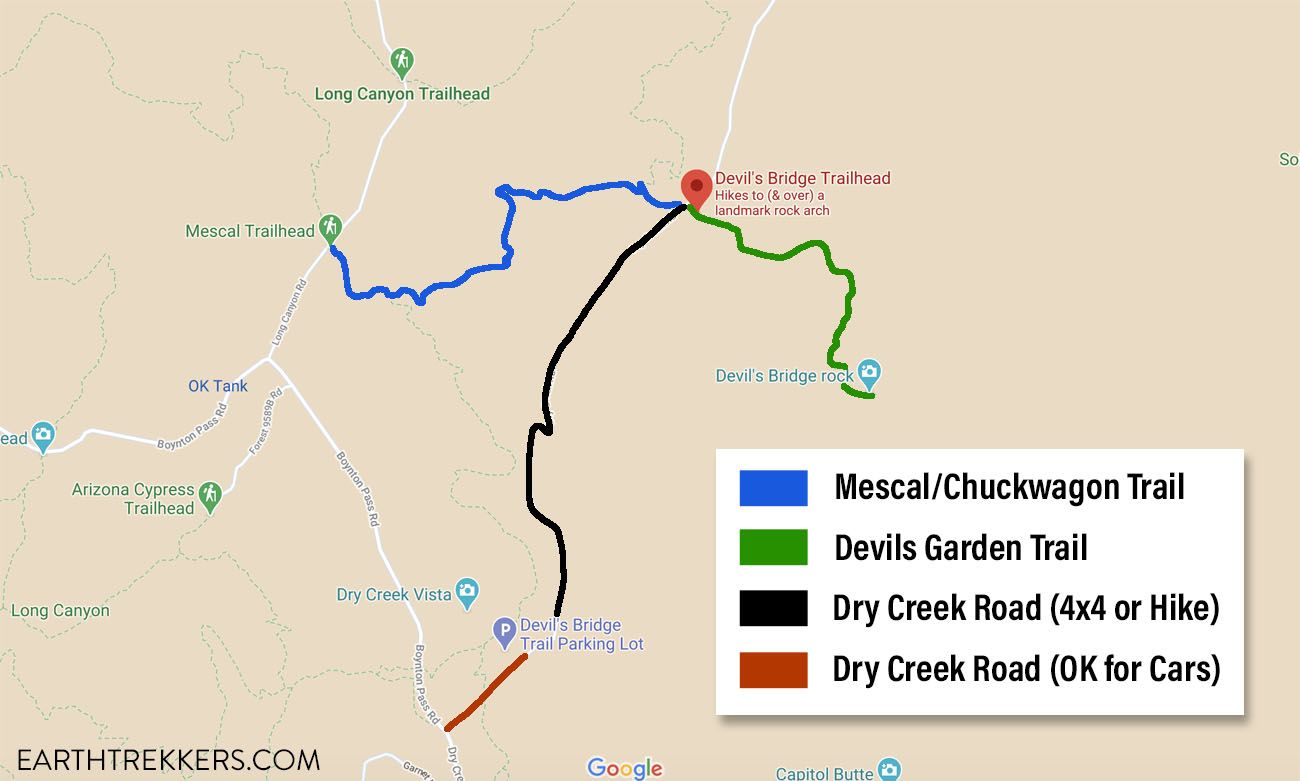 Map of the hiking trails and 4×4 roads to Devils Bridge.
Getting to the Trailhead with a 4X4
With a 4×4, you can drive and park directly at the Devils Bridge trailhead. This makes the hike 2 miles round trip.
To get to the car park, you will have to drive on Dry Creek Road. Drive past the paved parking lot and continue down the very rocky dirt road for 1.3 miles until you get to the parking lot for Devils Bridge.
You must have a high-clearance 4WD to drive this road. There are several large rocks that you have to clear to even drive onto the road (see the photo below). And once on the road, it is extremely rocky and rough. We drove this road in a Jeep Rubicon (which we rented from Barlow Adventures in Sedona) and it had no issues at all on this road.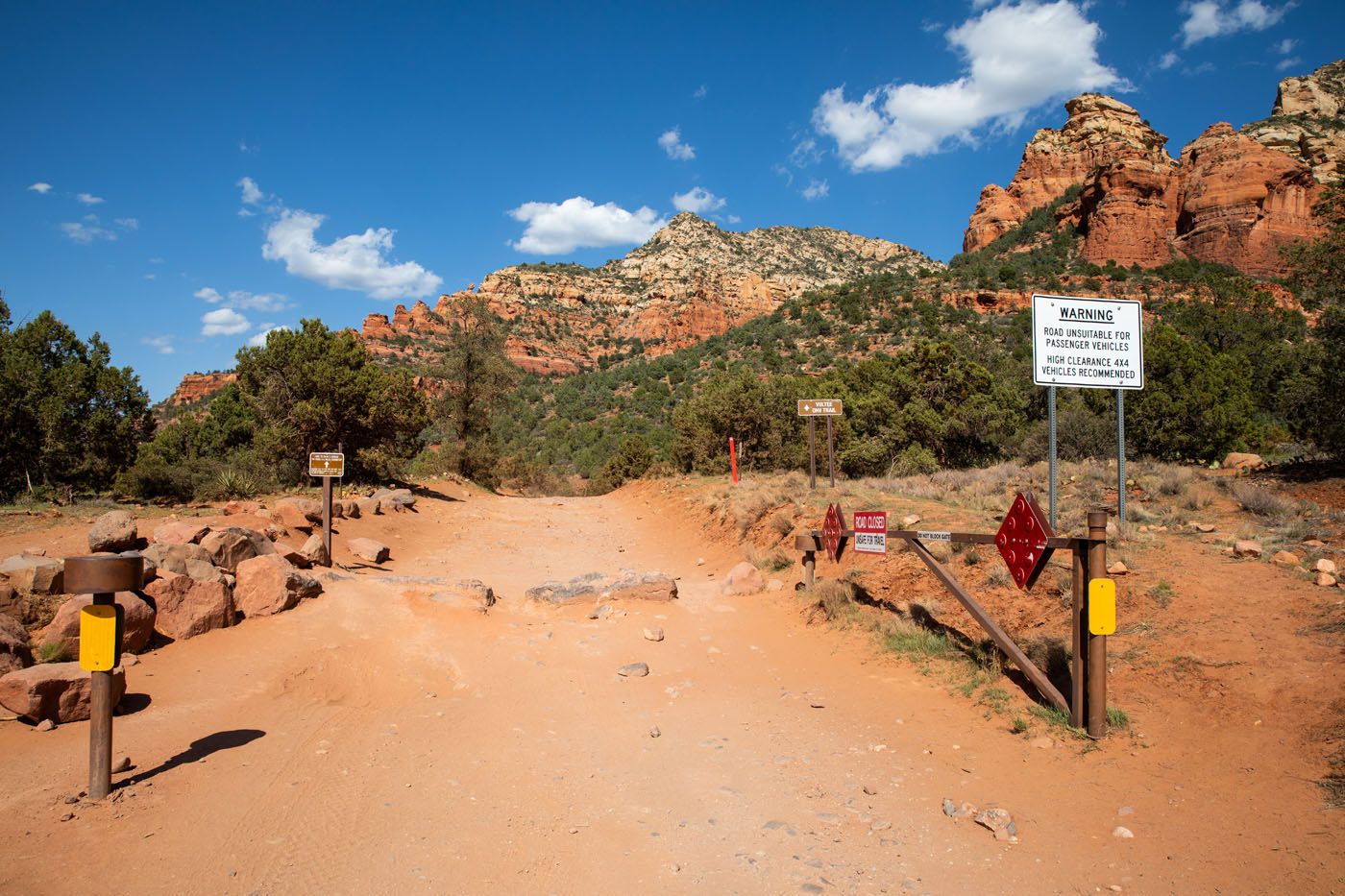 This photo makes those rocks look deceptively small. You must have a high-clearance 4WD vehicle to drive this road.
Getting to the Trailhead without a 4×4
Without a 4×4, there are three ways to get to the Devils Bridge Trail.
Dry Creek Road Parking Lot
You can drive down Dry Creek Road for a very short distance, park in the paved parking lot for the Dry Creek Vista Trail, and walk along the dirt road until you get to the Devils Bridge trailhead. This makes your hike 4.6 miles round trip, with most of that on a boring, dusty dirt road.
As you walk down Dry Creek Road, you will get passed by 4WD vehicles and Pink Jeep tours. It will be a dusty, hot walk with very little shade. There is nothing scenic about this road. For a more scenic option, and a slightly shorter walk, start at the Mescal Trailhead.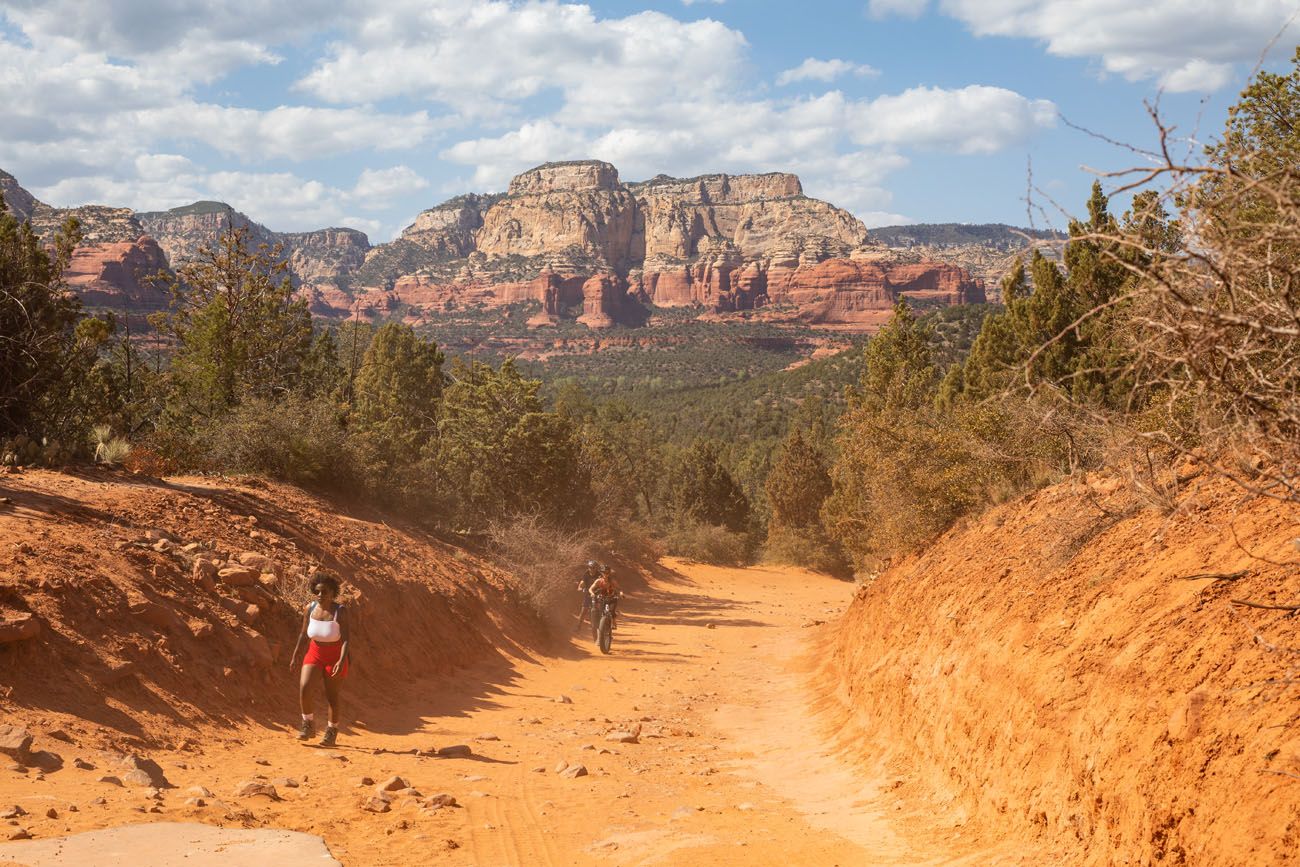 Dry Creek Road
IMPORTANT: Unless you get here before 7 am, you most likely will not get a parking space at the Dry Creek parking lot. By 7:15 am, we have seen cars already spilling out onto Boynton Pass Road. The later you get here, the farther away you will have to park, and your 4.6 mile hike can easily turn into a 5+ mile hike, and most of this will be on roads. I recommend getting here by 7 am or waiting for the late afternoon. Or, take the Sedona Shuttle.
Here are photos taken of the overflow parking for the Dry Creek Road parking lot on April 13, 2021 at noon.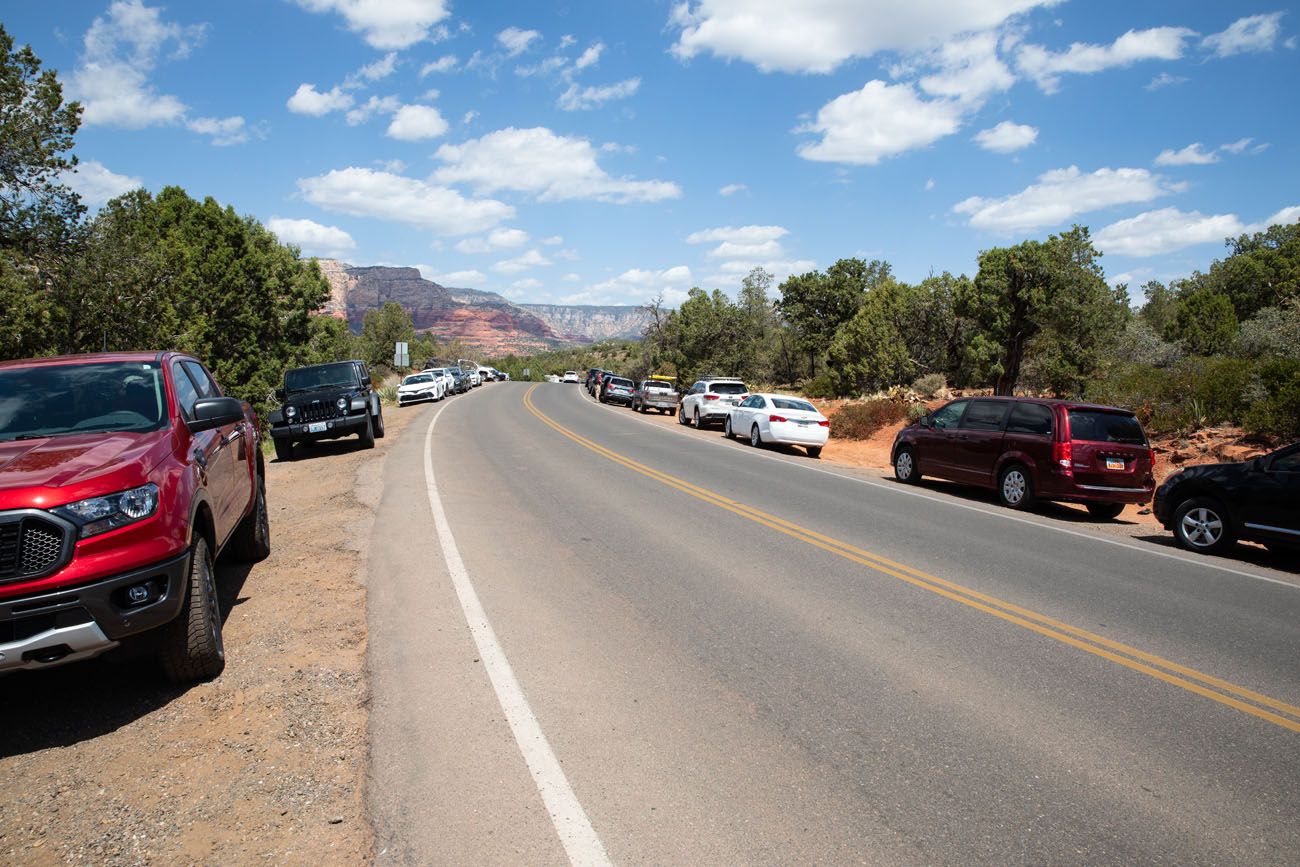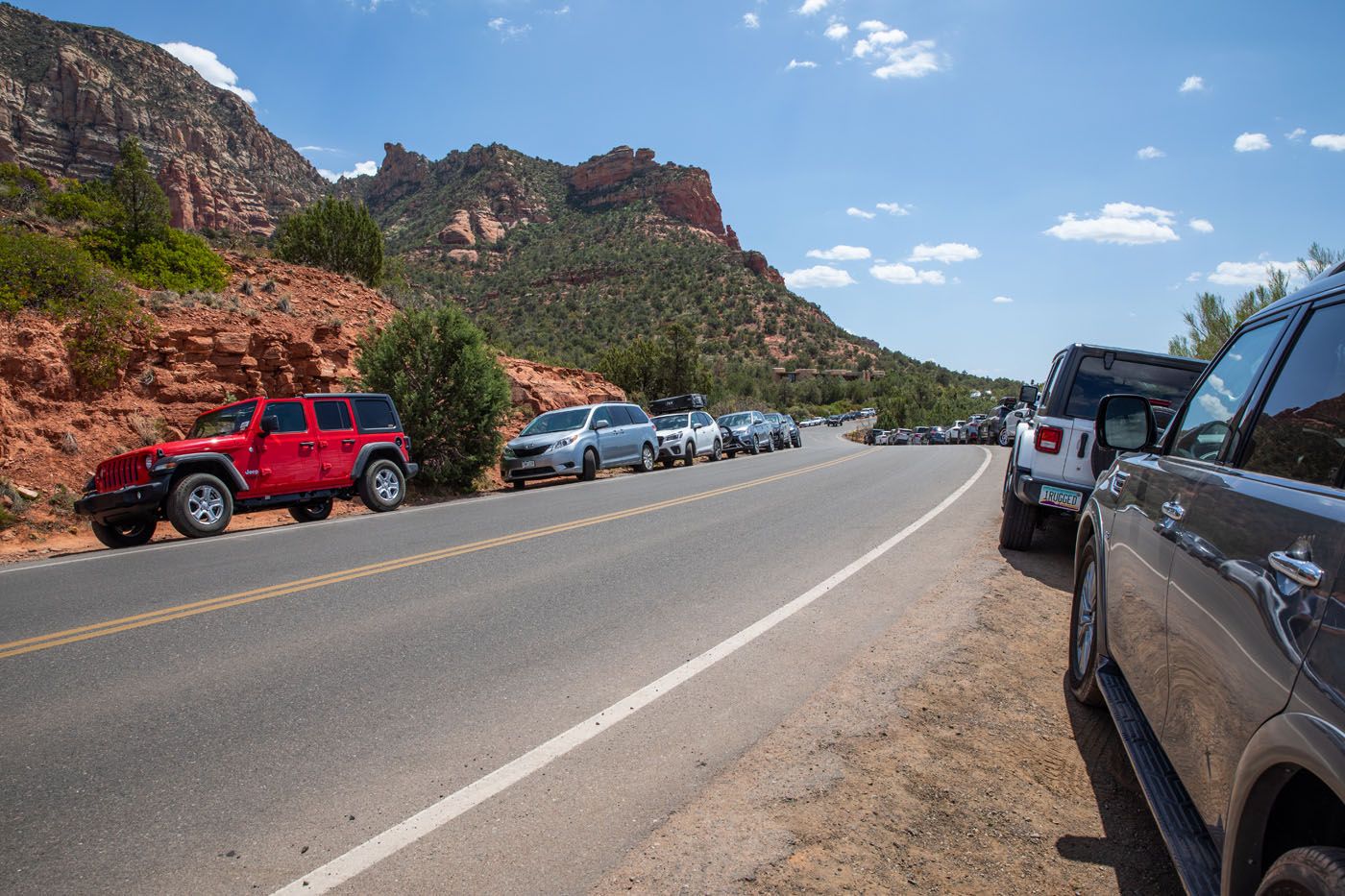 Sedona Shuttle
There is a brand new shuttle that now drops hikers off at trailhead at the Dry Creek Road parking lot. The shuttle is free and runs from 8 am to 6:30 pm. For the full schedule and route, visit the official website.
Mescal Trailhead
Another option is to park in the parking lot for the Mescal Trailhead. This is how we did this hike. This small lot is located on Long Canyon Road. From here, you walk one mile on a singletrack trail until you get to the Devils Bridge Trail. This is a mostly flat trail through beautiful desert scenery. It is also a mountain bike trail so stay alert for bikers. But if you don't have a 4×4, this is a very nice walk to the "official" Devils Bridge trail. Doing it this way makes your hike 4.2 miles round trip.
PRO TRAVEL TIP: I highly recommend hiking to Devils Bridge from the Mescal Trailhead than the Dry Creek parking lot. Not only is it a slightly shorter walk, but it is much nicer than walking down a hot, dusty road. It doesn't take long to check this parking lot for an empty space.
We did not have a 4×4 so we started at the Mescal Trailhead. The next part of this article describes the trail from the Mescal Trailhead to the Devils Bridge Trail.
On the Mescal/Chuck Wagon Trail
From the parking lot on Long Canyon Road, follow the Mescal Trail into the woods. In just a short distance, the Mescal Trail ends. You now hike the Chuckwagon Trail until you get to Dry Creek Road.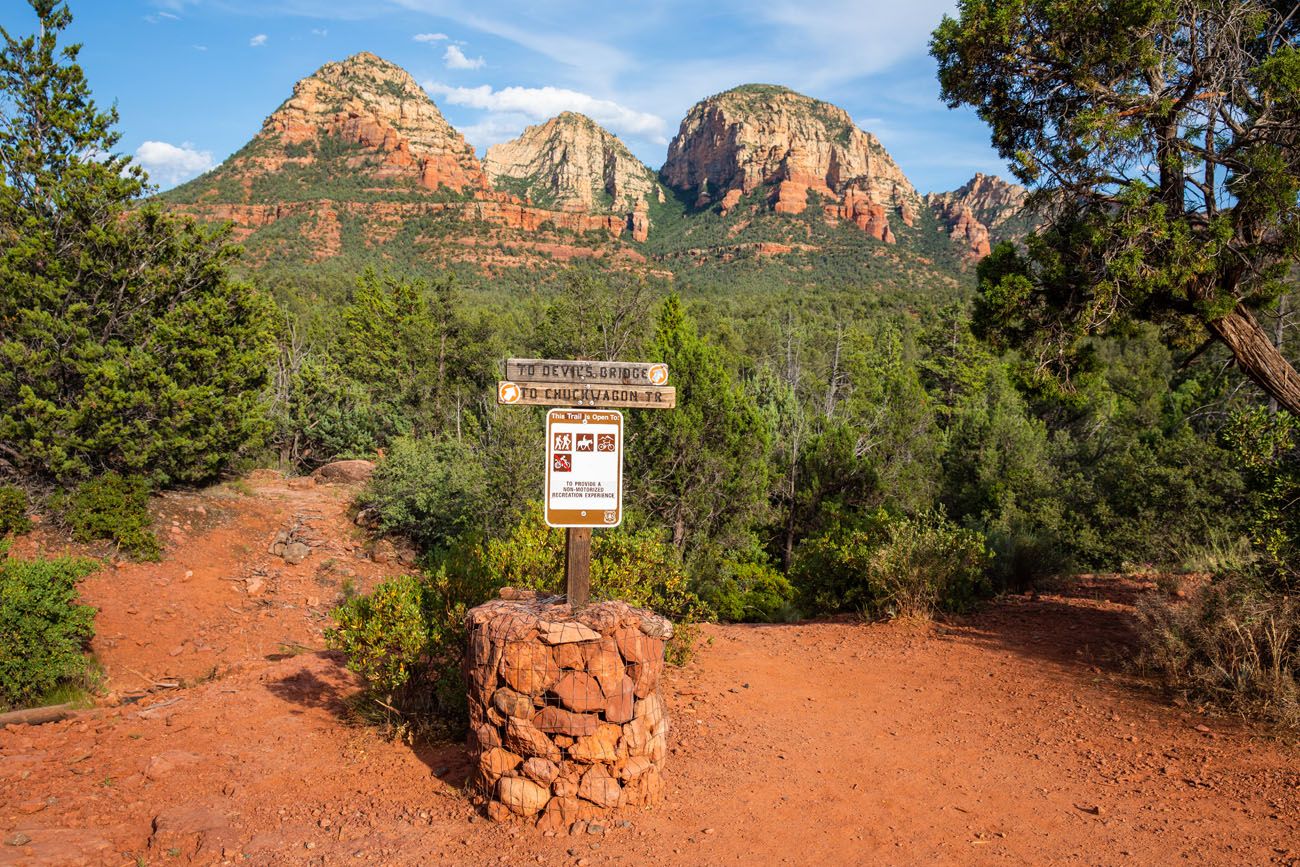 This trail winds its way through short sections of forest and up and down small hills. The scenery here is beautiful. Cacti and yucca plants line the trail and off in the distance are the red rock mountains of Sedona. Tim and I loved this section of the hike.
The trail is very easy to follow. Along the way, there are signs marking the trail.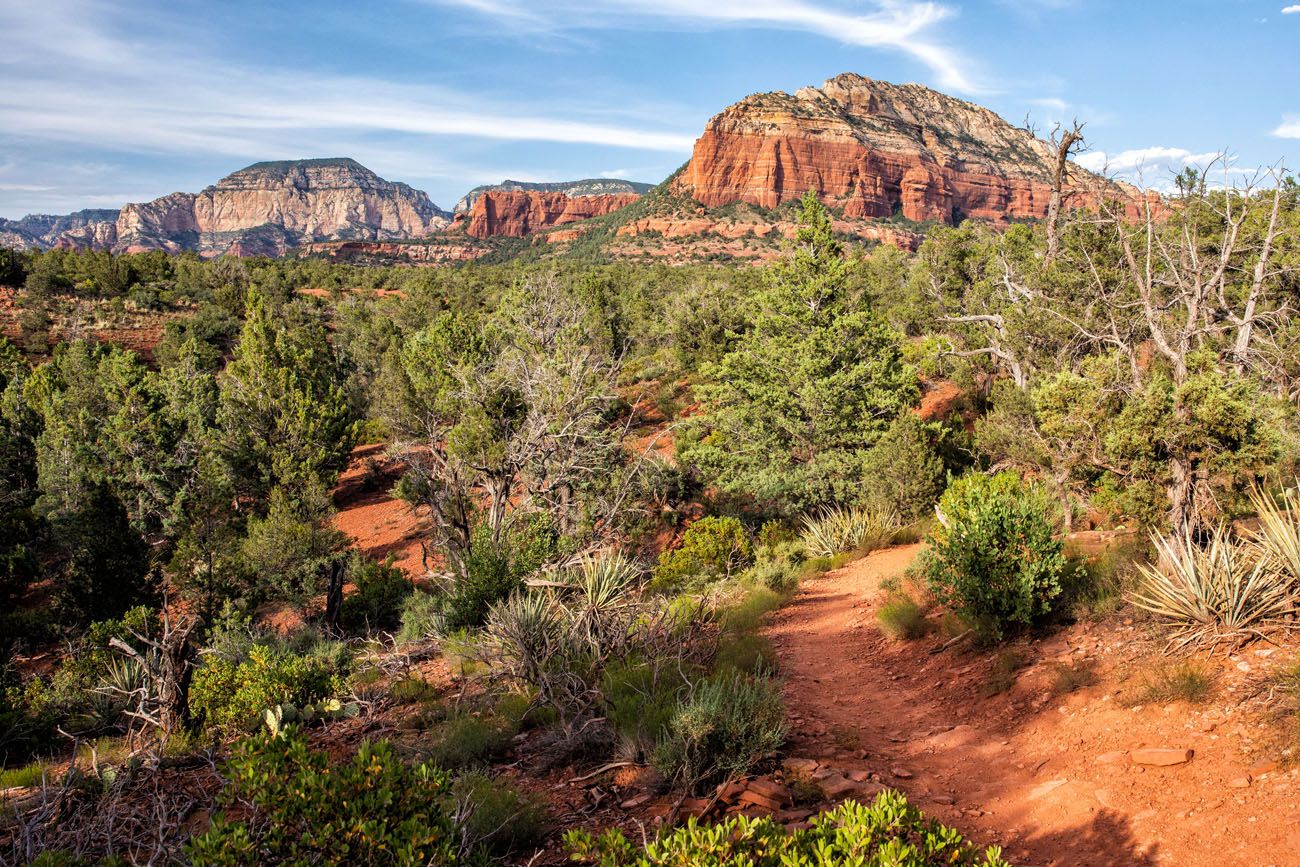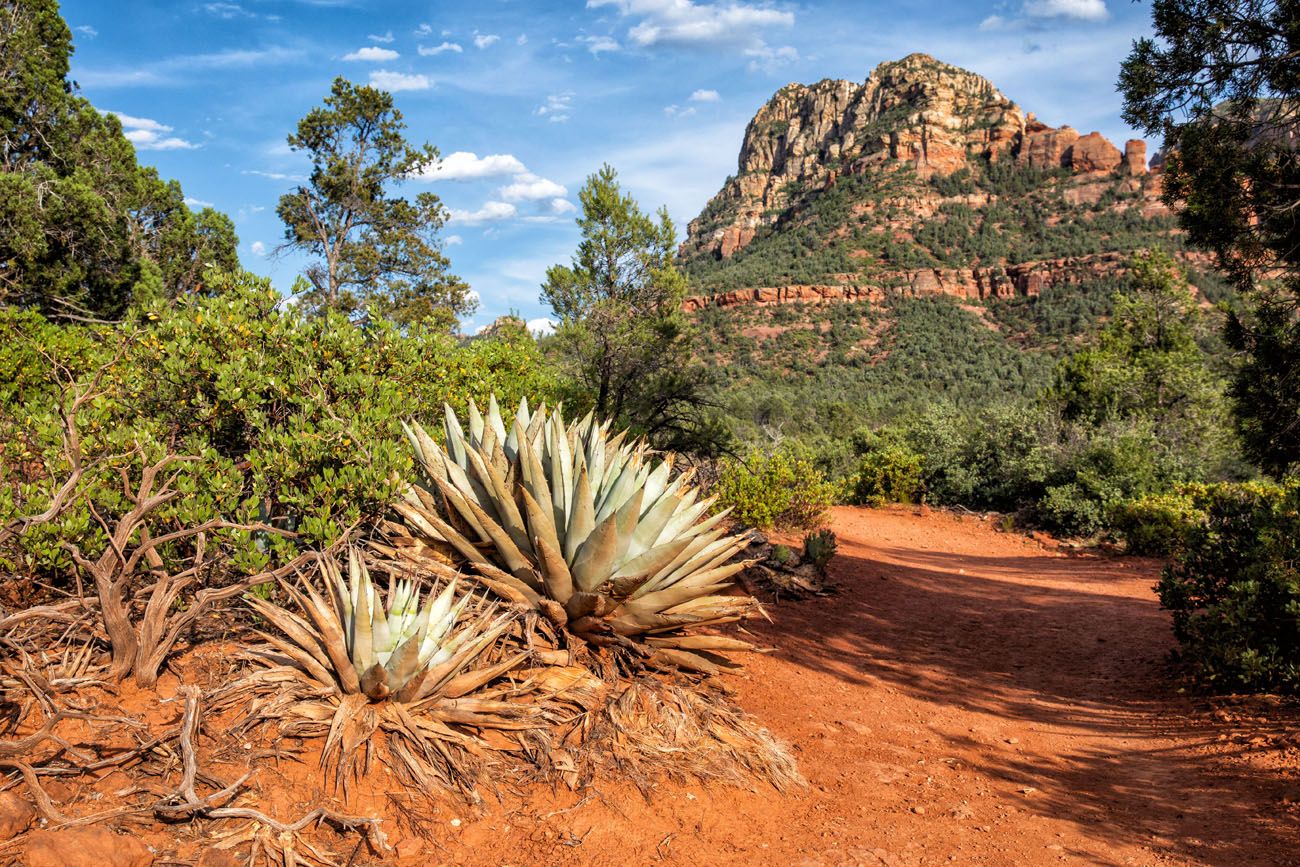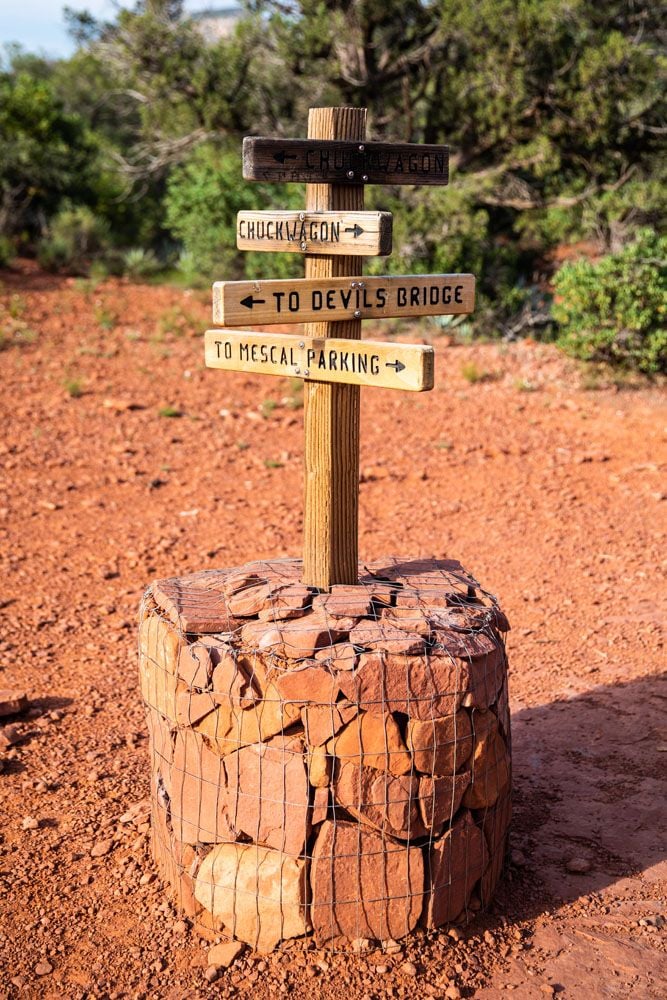 PRO TRAVEL TIP: The Chuckwagon Trail is also used by mountain bikers. Stay on the lookout for bikers and give them room to pass should you meet one along the hike.
Just before reaching Dry Creek Road, the Devils Bridge trail branches off of the Chuckwagon Trail. There is a sign marking this spot so you shouldn't miss it. Then you cross Dry Creek Road and pass through the parking lot for Devils Bridge.
On the Devils Bridge Trail
From the parking lot for Devils Bridge it is just one mile to the bridge (2 miles round trip).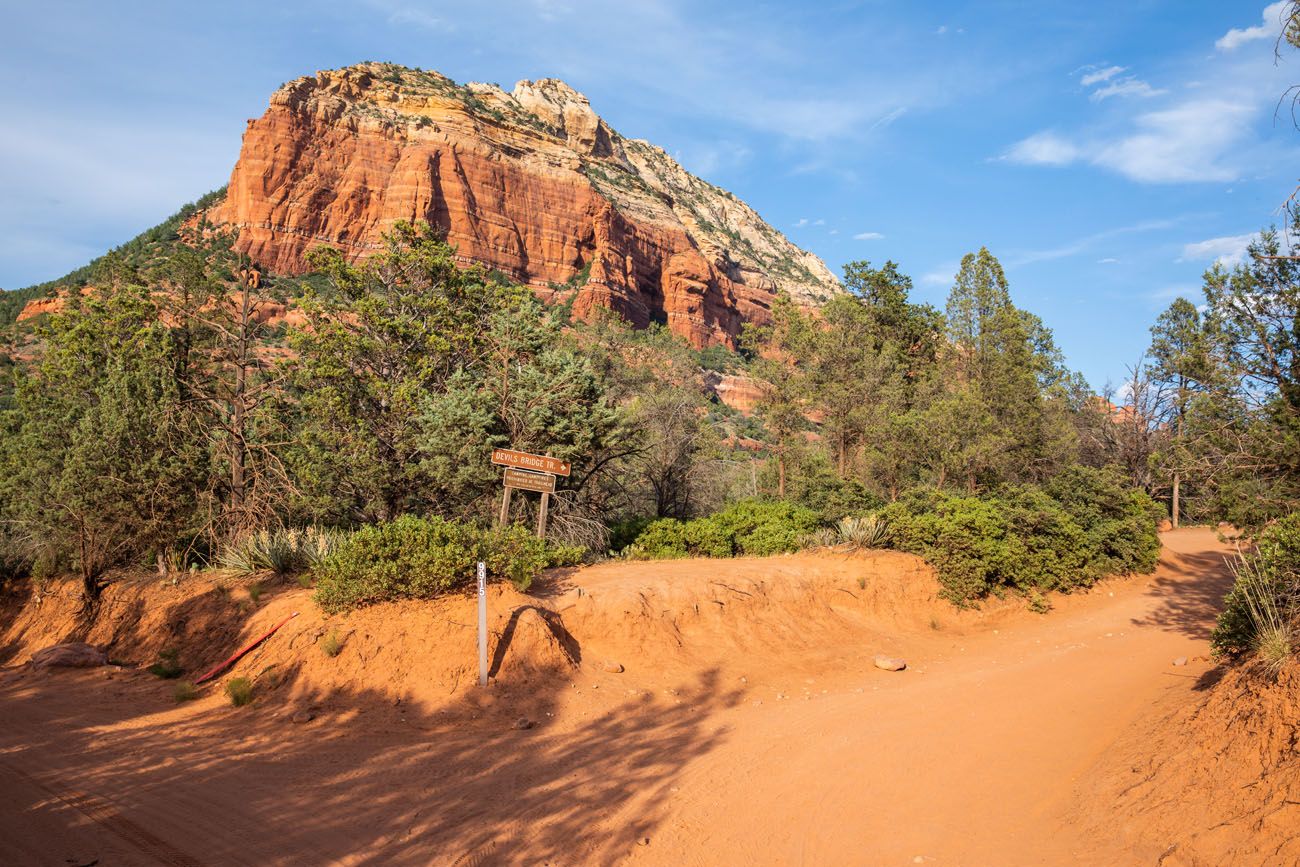 Dry Creek Road and the turn off for the Devils Bridge parking area.
At first the trail is very wide, the remains of an old access road.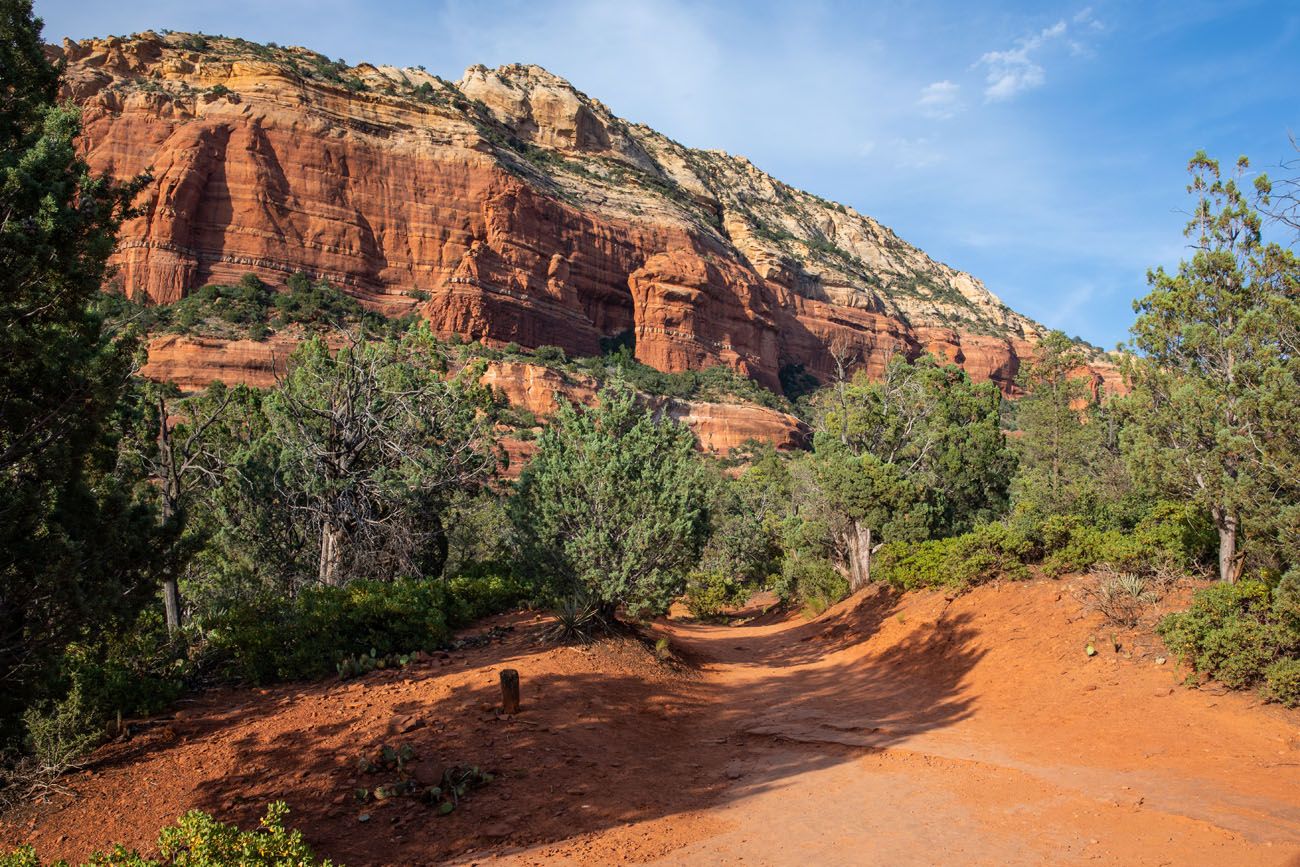 Along the way, if you look up at the rocky mountain in front of you, you might be able to see the balanced rock. It looks tiny from here and I zoomed in quite a bit with my camera to get this photo.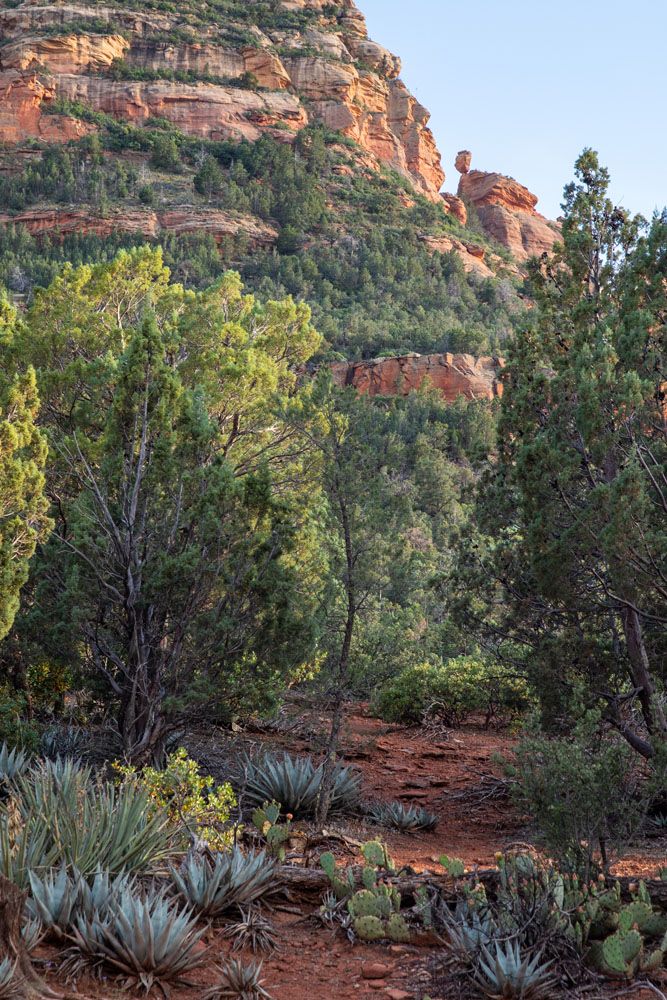 The trail narrows and then at the very end, climbs up to the base of the mountain. You will hike up several sets of steep, rocky steps and in some spots may even need to do some rock scrambling. This section does not last long and the good thing is that it ends right before Devils Bridge.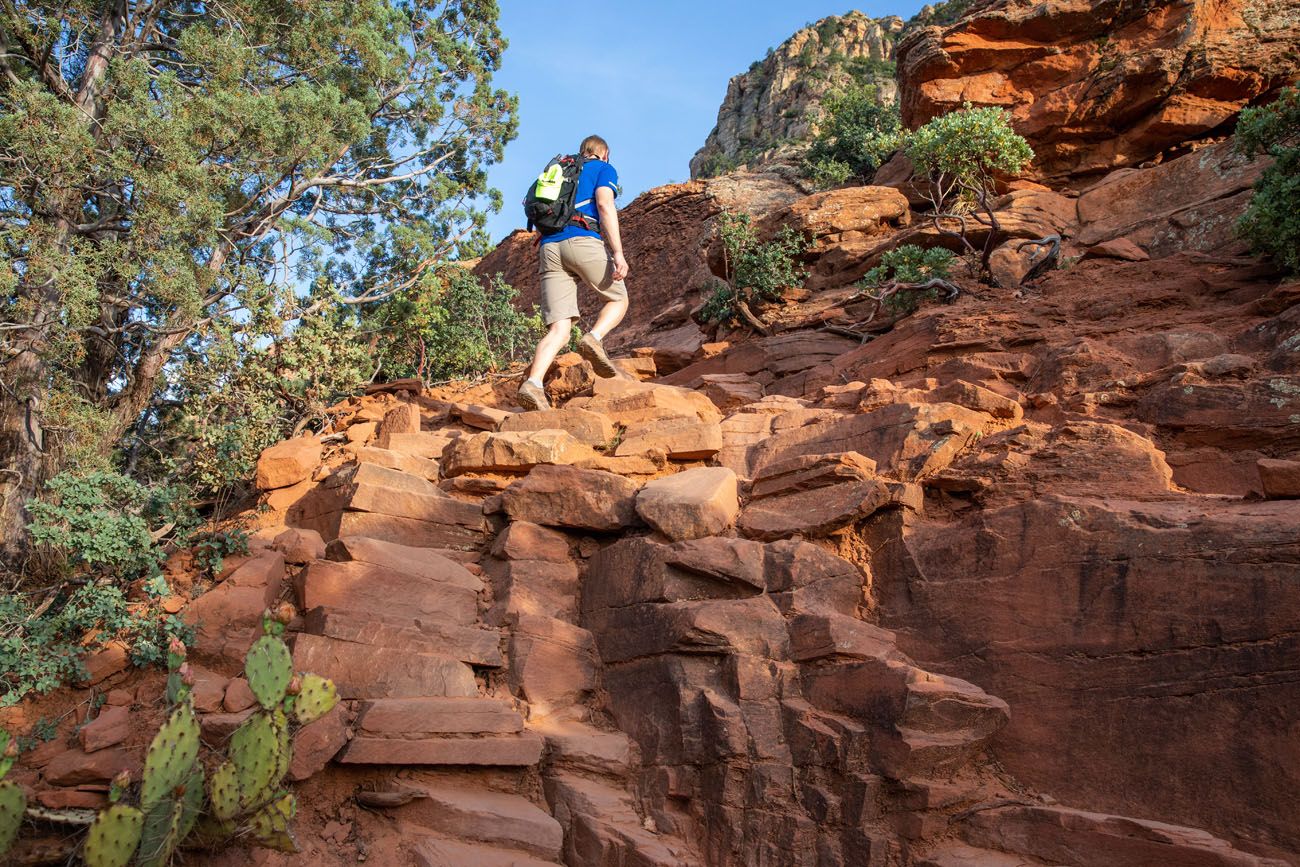 There is a wide, flat viewing area next to the bridge. This is the perfect spot to rest, enjoy the view, and wait to have your photo taken.
Note: In April 2021, we heard reports that people were waiting at least one hour to have their photo taken on Devils Bridge.
During the busier times of day, expect to wait to have your photo taken on the arch. This is one of the most popular hikes in Sedona so the chance that you will have the bridge all to yourself is slim.
We did this hike in the early evening in June. Tim and I started late not only to avoid the crowds but to also avoid the midday heat. We saw one mountain biker on the Chuckwagon Trail and a handful of people at Devils Bridge. Actually, I was delightfully surprised at how few people there were here. We did this hike June 2019.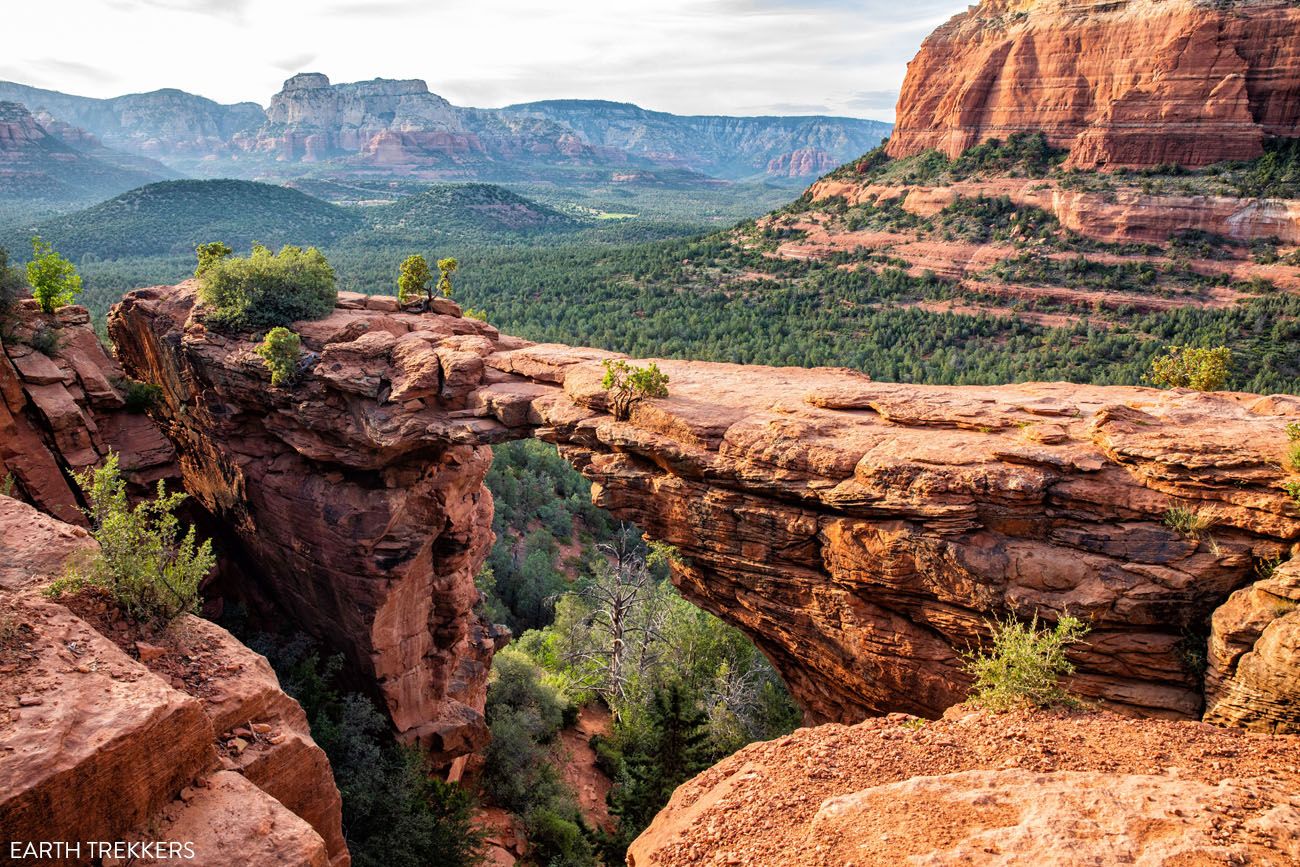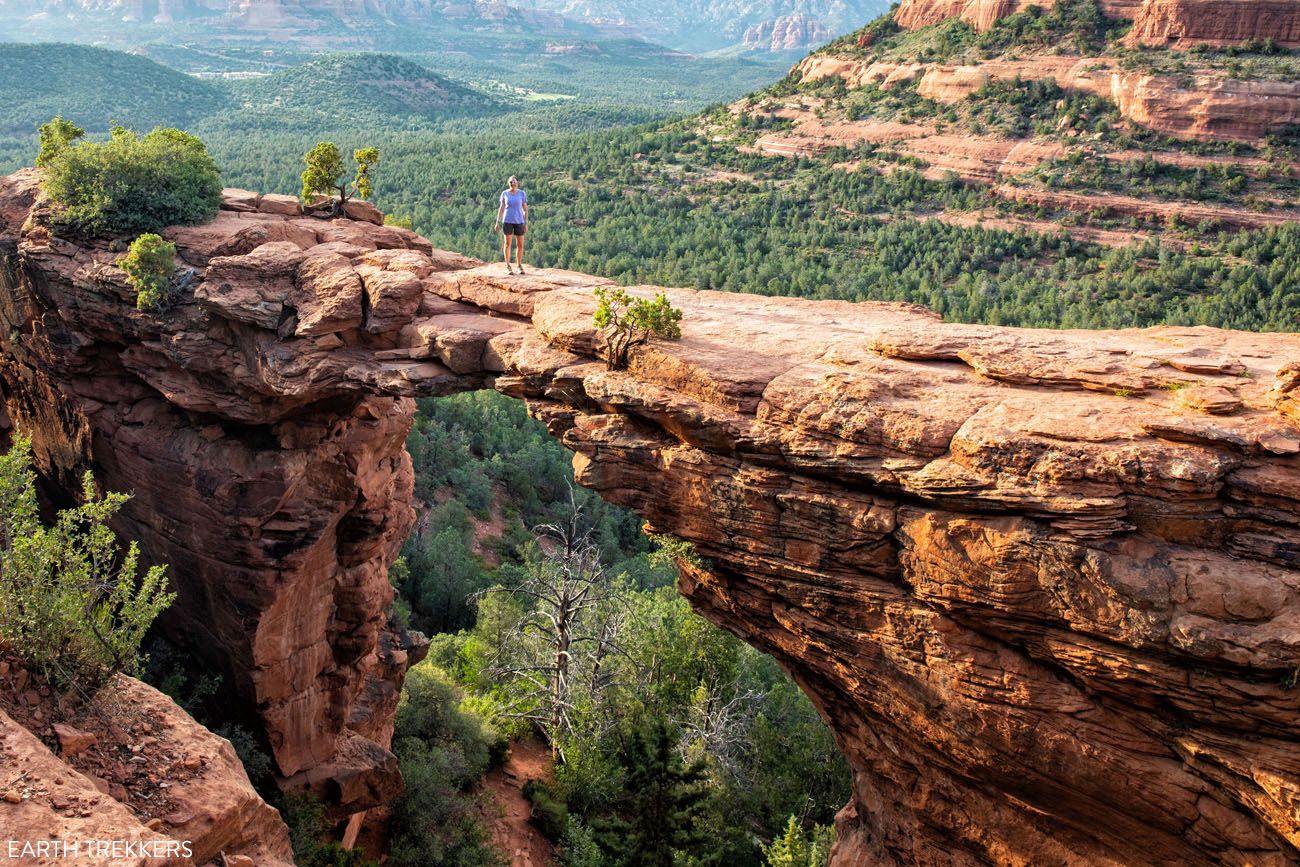 Thoughts on the Hike
Tim and I loved this hike. It's quick, it's easy, and seeing Devils Bridge is awesome.
Kids can do this hike. We saw several kids about 8 years old on the trail. Of course, keep an eye on young kids when at the viewpoint for Devils Bridge because there is a big drop-off here. However, the viewpoint is very wide and there is plenty of room to safely sit back and enjoy the view without getting too close to the edge.
Before traveling to Sedona, I purchased the book Sedona's Top 10 Hikes. Along with this guide and some online research, Tim and I picked out our hikes. This handy little guide is filled with colorful photographs, maps, and interesting facts about Sedona.
We have now visited Sedona multiples times. Check out our Sedona Travel Guide to learn how to plan your visit to Sedona and for more great hikes to do, read our post Sedona Hiking Guide.
If you are new to hiking or are curious about what you should bring on a hike, check out our Hiking Gear Guide. Find out what we carry in our day packs and what we wear on the trails.
Tips for the Devils Bridge Hike
If you are visiting Sedona during peak season (spring and fall), I recommend getting here very early or waiting for the late afternoon to do this hike. Get here by 7 am to get a space at the Mescal Trailhead or the Dry Creek Parking lot. Or, wait until 4 pm to do this hike (there are usually spaces at the Mescal Trailhead at 3:30 to 4 pm). In late afternoon, the lighting is great for photos and there is a good chance that the trail will be relatively empty. Our photos were taken in the late afternoon in June.
Check the Mescal Trail parking area for a space before joining the overflow parking on Boynton Pass Road. It's a much nicer experience if you can avoid the walk on Dry Creek Road.
Rent a high-clearance 4WD and drive right to the trailhead. There are lots of other fun 4×4 roads to drive in Sedona…if you are looking for more adventure.
Help Keep this Post Updated. If you recently hiked Devils Bridge, how was your experience? How did you do it and did you have to wait in line for a photo? Your comments can help out future hikers. Let us know in the comment section below. Thanks!
Where We Stayed
We stayed at a wonderful bed & breakfast called A Sunset Chateau. This is a beautiful property located just outside of the town of Sedona. This property has a pool, hot tub, and a lush garden filled with tropical plants and trees.
Get more hotel recommendations in our article Where to Stay in Sedona: Best Hotels for Your Budget.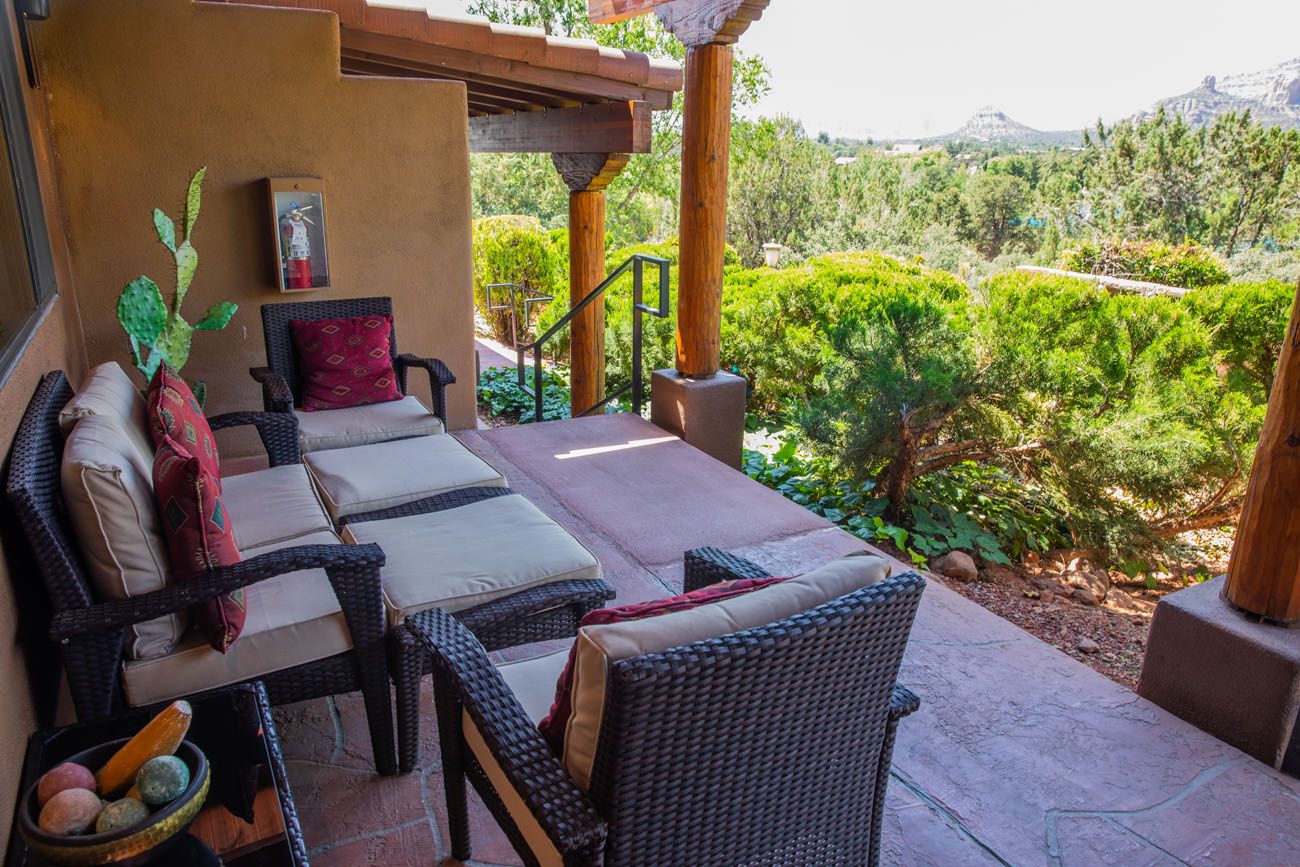 ---
If you plan to hike Devils Bridge and have any questions, or if you want to share your experience, comment below!
More Information for Your Trip to Sedona
SEDONA: To learn what there is to do in Sedona, read our article Best Things to Do in Sedona. To help you plan your time, check out our One Day in Sedona Itinerary and Sedona Itinerary Ideas for 1 to 6 days. For links to all of our Sedona articles, check out our Sedona Travel Guide.
HIKES IN SEDONA: Some of the top trails in Sedona include the Soldier Pass Trail, Boynton Canyon, Bear Mountain, and the Birthing Cave. For more ideas, read our guide to the Best Hikes in Sedona.
PLACES TO GO IN ARIZONA: Go hiking in Sedona, visit Saguaro National Park and Petrified Forest National Park, explore Monument Valley, photograph Antelope Canyon, and visit the South Rim of the Grand Canyon. Learn how to put all of this together in our Arizona Road Trip Itinerary.
ARIZONA ITINERARIES: If you are looking for road trip ideas through Arizona, we have a couple of good ones. See the highlights of Arizona in our 10 Day Arizona Itinerary, visit the Grand Canyon and Utah's Mighty 5 in our Two Week American Southwest Itinerary, and visit parts of Arizona, Las Vegas, and southern Utah in our 10 Day American Southwest Itinerary.
MORE GREAT HIKES IN THE USA: From hikes to the tallest peaks to beautiful coast trails, read our Guide to the Best Day Hikes in the US National Parks. If you prefer to keep your hikes short and sweet, read our guide to the Best Short Hikes in the National Parks.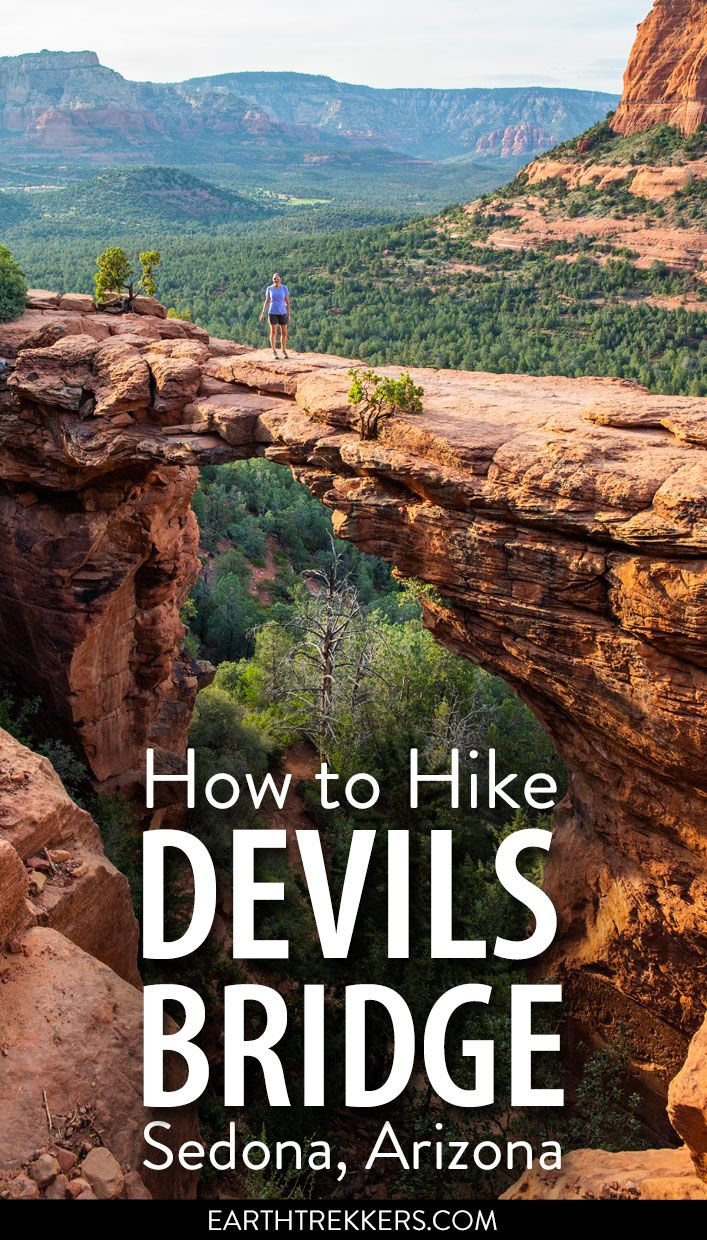 Note: This post contains affiliate links. When you make a purchase using one of these affiliate links, we get paid a small commission at no extra cost to you.
All rights reserved © Earth Trekkers. Republishing this article and/or any of its contents (text, photography, etc.), in whole or in part, is strictly prohibited.