If you are traveling to Berlin and want to see something weird, put Teufelsberg on your list. Teufelsberg is an abandoned listening station used during the Cold War that is now covered with graffiti.
A visit here is eerie, historical, at times unnerving, and even beautiful.
What is Teufelsberg?
Teufelsberg is German for Devil's Mountain. Nowadays, Teufelsberg refers not only to this hill, but also the abandoned listening station that sits on top of it.
This hill was not always here. While the Nazis were in power, a military-technical college was built at this site. Following the war, the Allies tried to destroy it using explosives, but the buildings were so sturdy that they could not be demolished. One thing Berlin did have was tons of rubble. This rubble was trucked in, creating this manmade hill.
Just imagine what that looked like. A huge mountain of post war rubble and debris, 80 meters (260 feet) high. This was now the highest point in Berlin.
The mountain of rubble was planted with trees and even a ski jump was added.
Today, you would never know that it was created less than a century ago. Now Teufelsberg is a forested hill, a maze of walking and mountain biking paths, with an abandoned, somewhat eerie looking structure sitting on top of it.
In 1961, the US and British realized the advantage of being this high over Berlin. They installed the structures that still stand today: four radomes that give Teufelsberg its characteristic appearance. Men were stationed around the clock to eavesdrop on East German and Russian communications during the Cold War.
These radomes operated until the fall of the Berlin Wall in 1989. Since 1989, ownership of Teufelsberg has changed hands several times. All the while, graffiti artists have snuck onto the property, making this an unconventional work of art.
Now, visitors can legally tour Teufelsberg. Of course, this is a much different experience than visiting Museum Island or the Berlin Wall Memorial, but it is still an important piece of Berlin history.
How to Get to Teufelsberg
I visited Teufelsberg on my own. Tim was working in Berlin so I had the day to go sightseeing on my own. When I first read about Teufelsberg in the book Atlas Obscura, it seemed fascinating, in a weird, is it really going to be that good? kind of way.
Getting to Teufelsberg is not easy. If you take the S-Bahn, expect to do a lot of walking, most of that up the forested hillside of Teufelsberg. Having your own car is the most convenient way to get here, but you may also be able to use Uber.
From Grunewald station, I walked northwest towards Teufelsberg. At first I walked through a forested park and then through a very small residential area. After crossing Teufelsseechaussee Road, I walked up on asphalt and dirt trails on the Devil's Mountain.
The trail dumped me out right against a fence with an abundance of signs warning people not to climb the fence or sneak through. There are a lot of people who try to sneak into Teufelsberg for free, without paying the entrance fee.
I followed the fence to the left, and eventually came to the entrance to Teufelsberg.
If you don't want to hiking up the hillside, you can also get to Teufelsberg on this guided tour.
So, What's It Like?
A visit to Teufelsberg is mysterious, shocking, thrilling, and it even feels a bit adventurous. Even though I paid an entrance fee, there is something about being here that feels forbidden.
And it's almost like you can pick up the old Cold War vibe. I mean, come on, this is an abandoned spy station. US officials sat here, listening in on the Russians and East Germans. And then once the Berlin Wall fell, everyone packed up and left.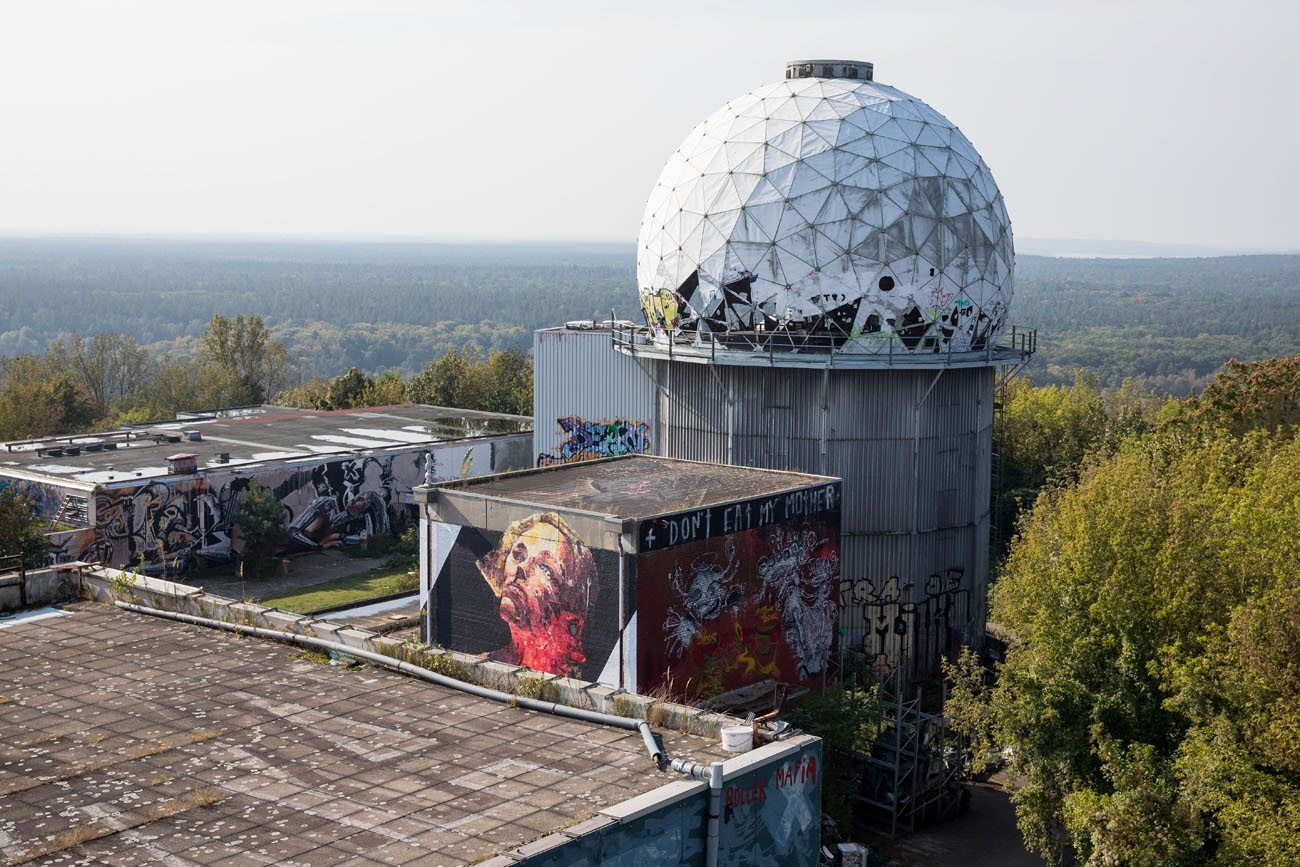 Now, the radomes are in tatters, graffiti covers everything here, even the plant life, and the buildings are crumbling and decrepit. This place just feels forlorn.
But at the same time, it is bright, it is colorful, it keeps you on your guard, and this is one place in Berlin that is never boring.
Teufelsberg in Photos
I visited Teufelsberg on a Thursday morning and there were just a handful of other people here.
You can take a guided tour of Teufelsberg or just wander through it on your own.
At first, I wandered through what looked like several levels of an abandoned warehouse, all covered in graffiti. On the top level were several of the radomes, now covered in colorful graffiti.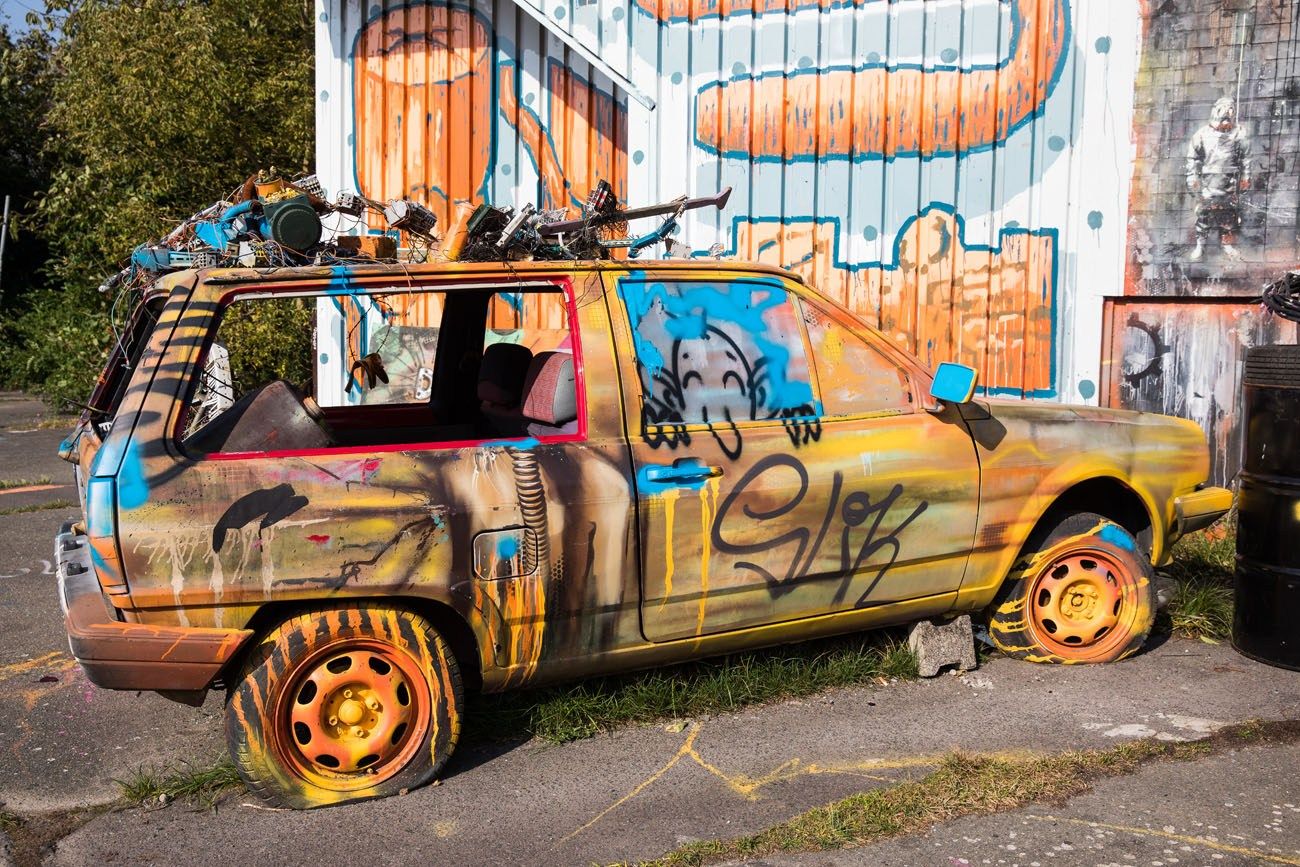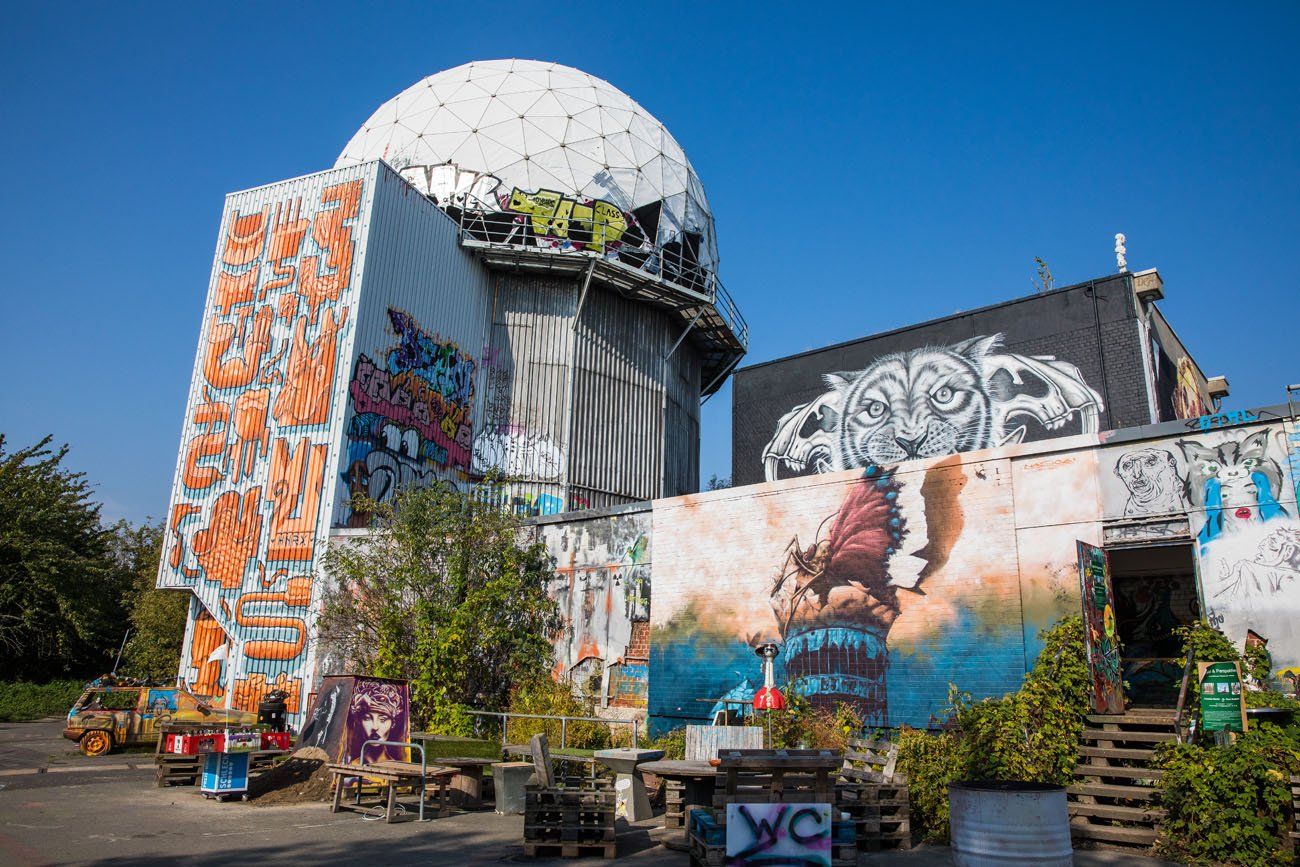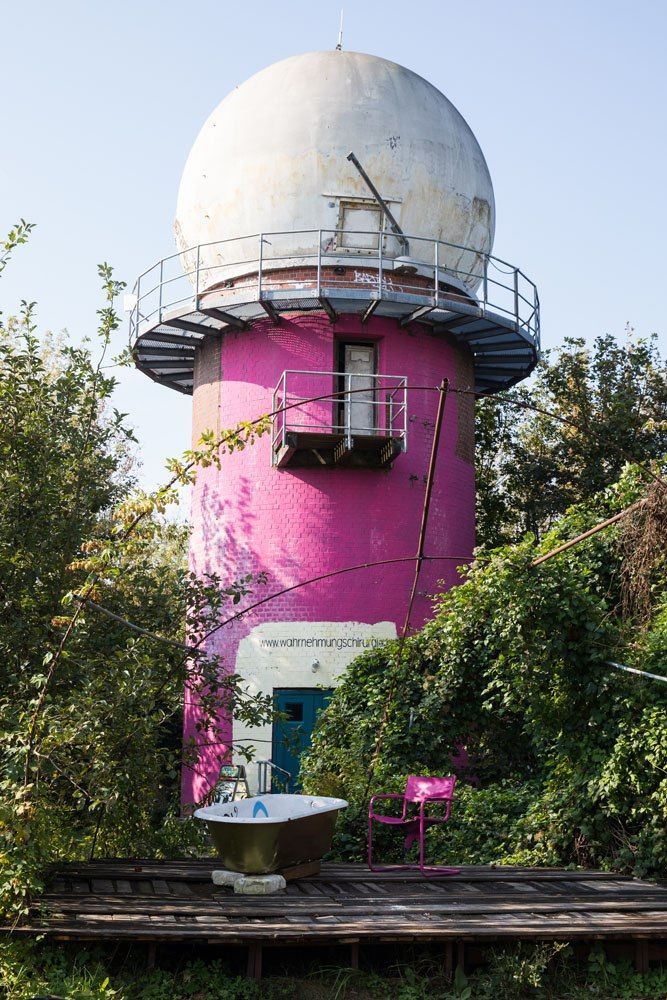 The views out to Berlin are nice, but one thing that is apparent is just how far away from the city center Teufelsberg sits. It did feel like I was far away from the city.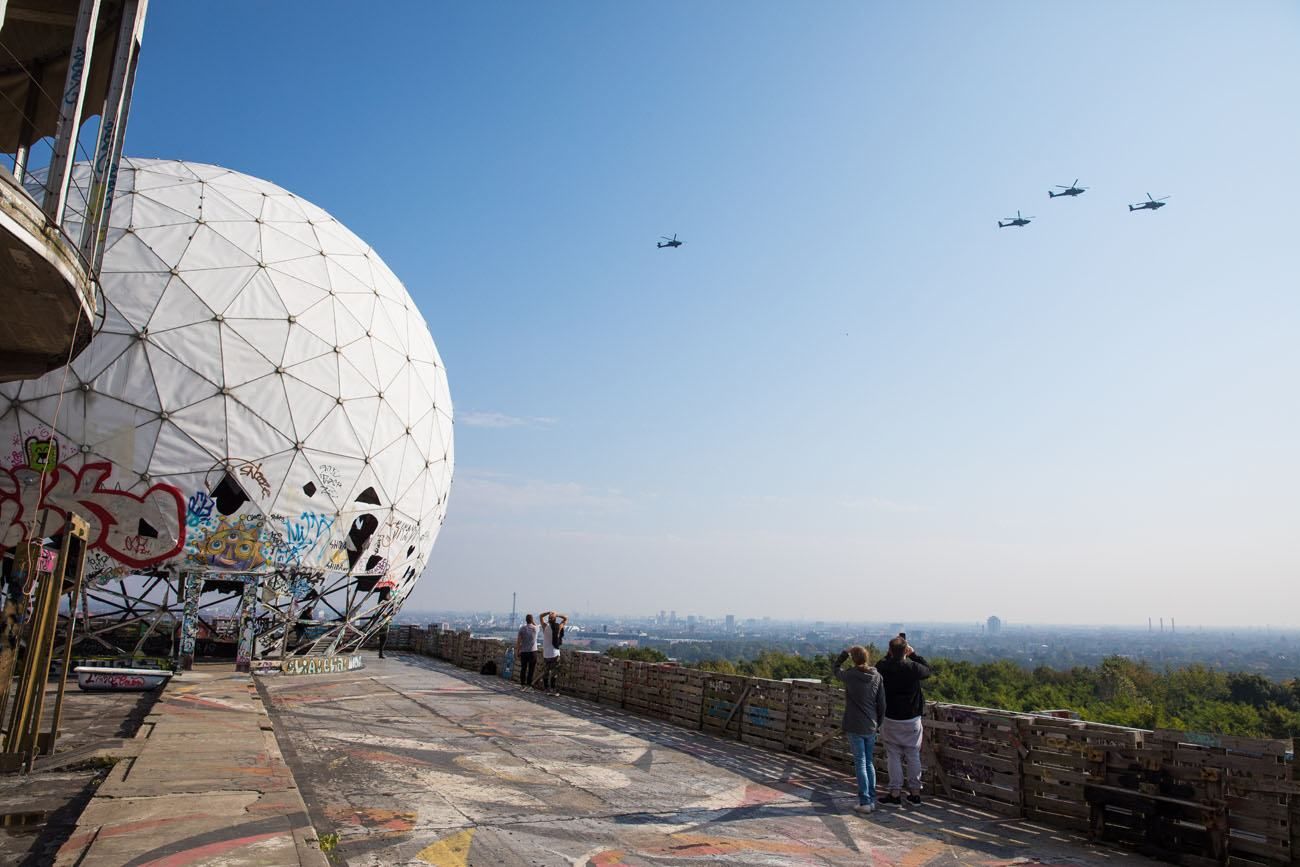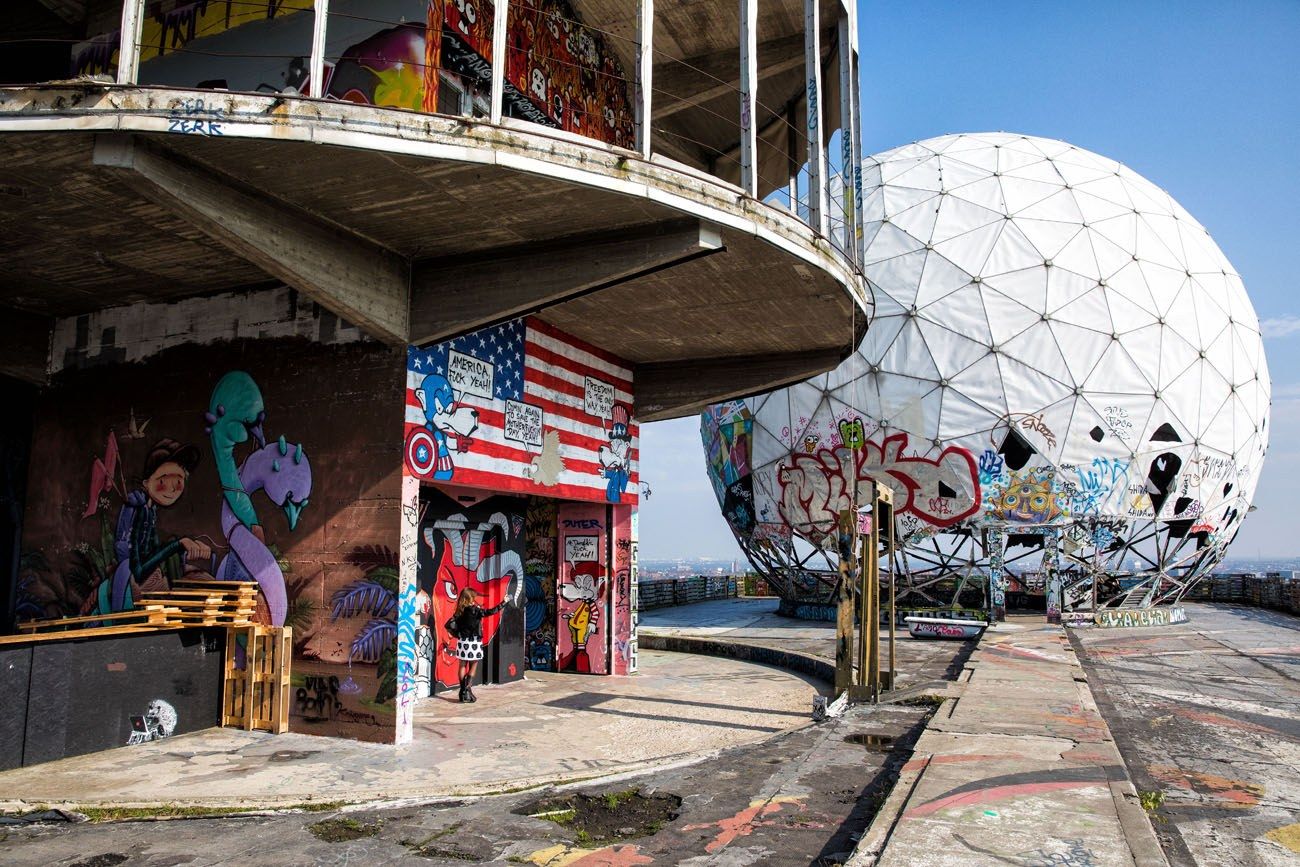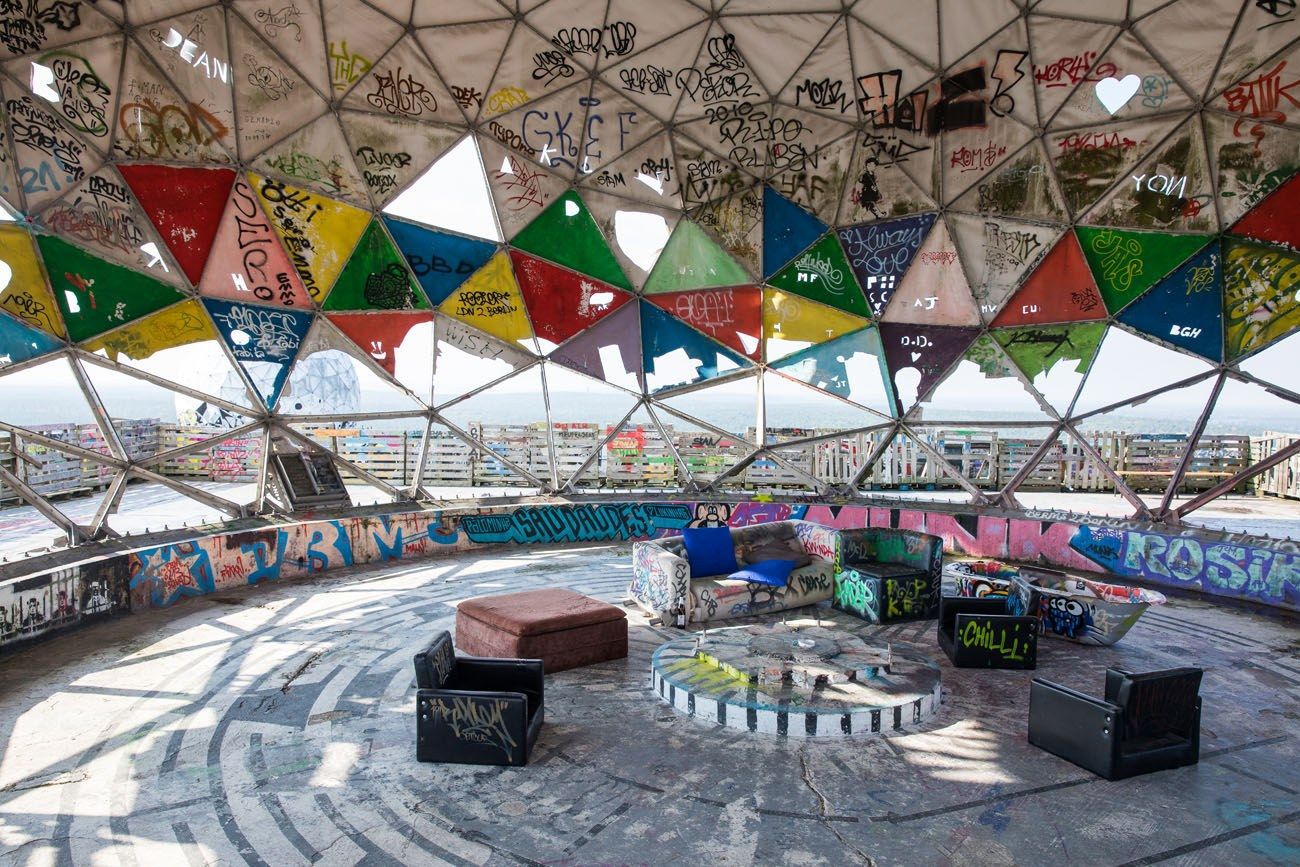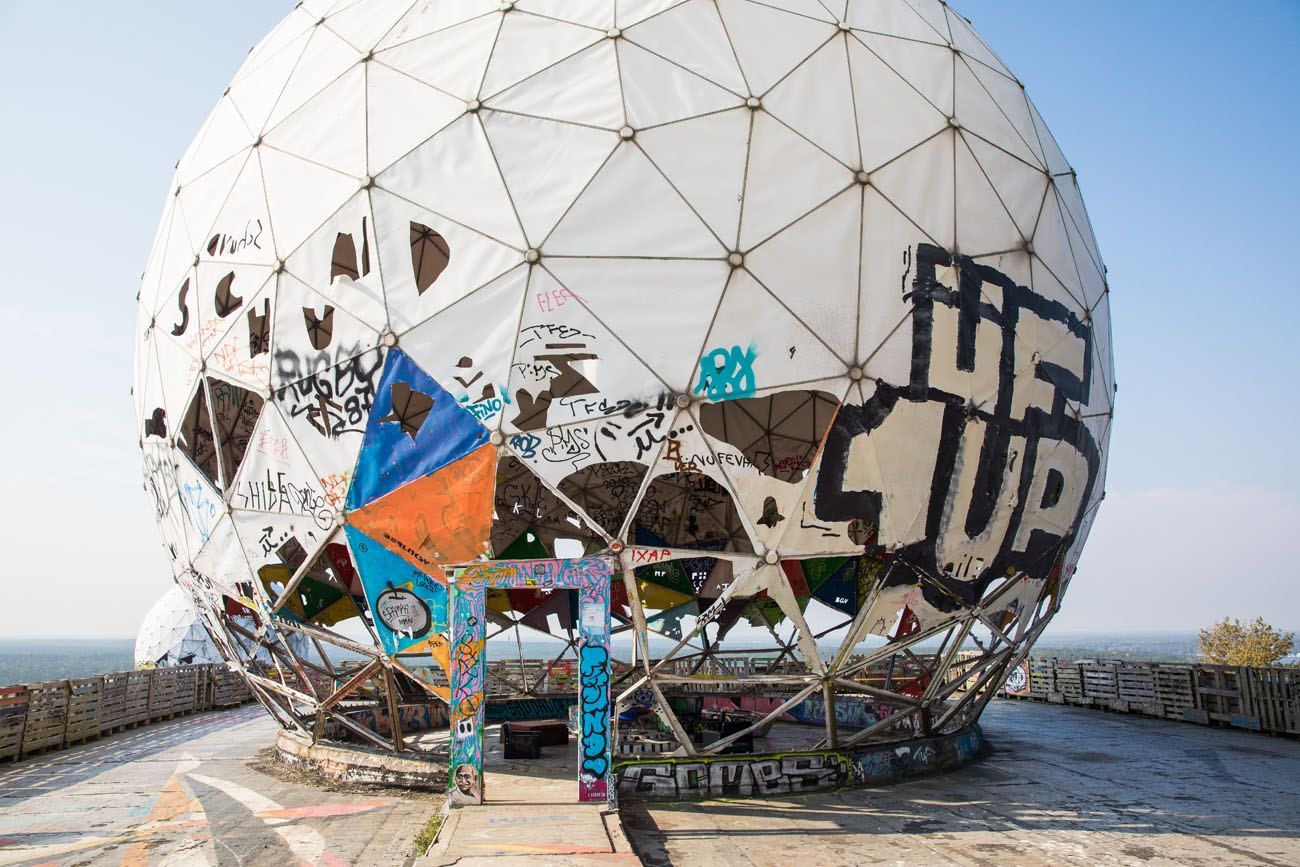 You can see Teufelsberg from the Berlin city center on a clear day. Late in the day, while Tim and I toured the Reichstag building, we could see the old, white domes of Teufelsberg, way off the distance. Even from the Berlin city center it looks just as eerie as when I was right here, walking through it.
And yes, it is eerie. It made my skin crawl a little too, and I am not exactly sure why.
To get up into the highest radome, I had to walk up over five flights of stairs in the pitch black. Talk about making your skin crawl! Using the flashlight on my iPhone, I started up the stairs, questioning if this was a good idea. Sure, there are other visitors here, but something about walking up a dark staircase covered in graffiti all by myself just did not seem right. It made me feel uneasy, but I was also curious about what was at the top of those stairs!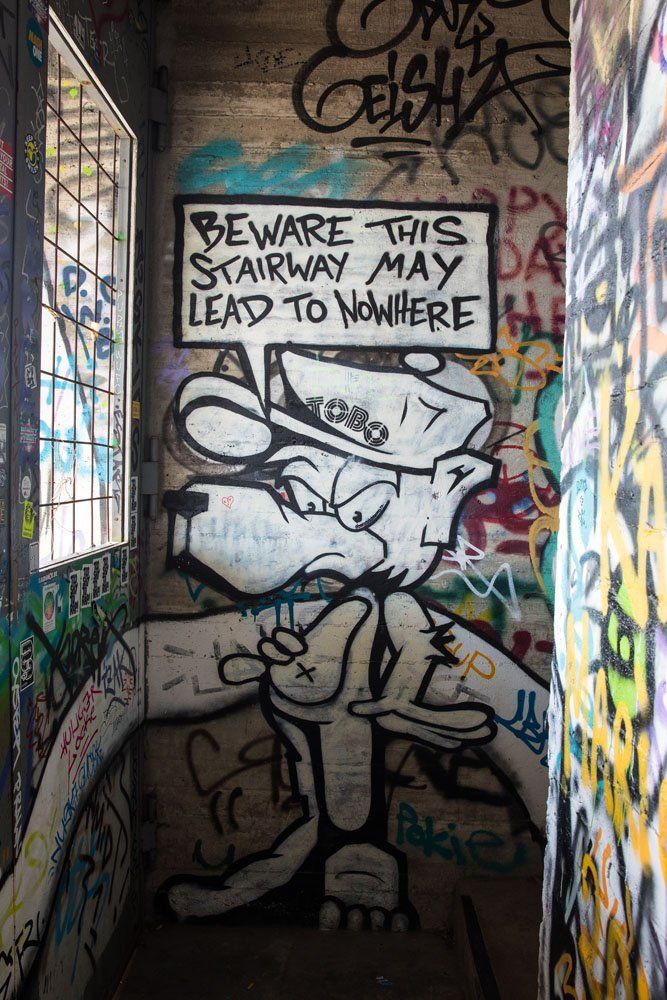 The largest, coolest dome, that's what was at the top. The panels of this dome were all intact. Graffiti, yes, more creepy graffiti, covered the walls of the dome. But the neatest part about being inside of this dome is the strange, echoing acoustics. Any sound, even the smallest sound, caused a series of echoes inside of the dome. It was wild!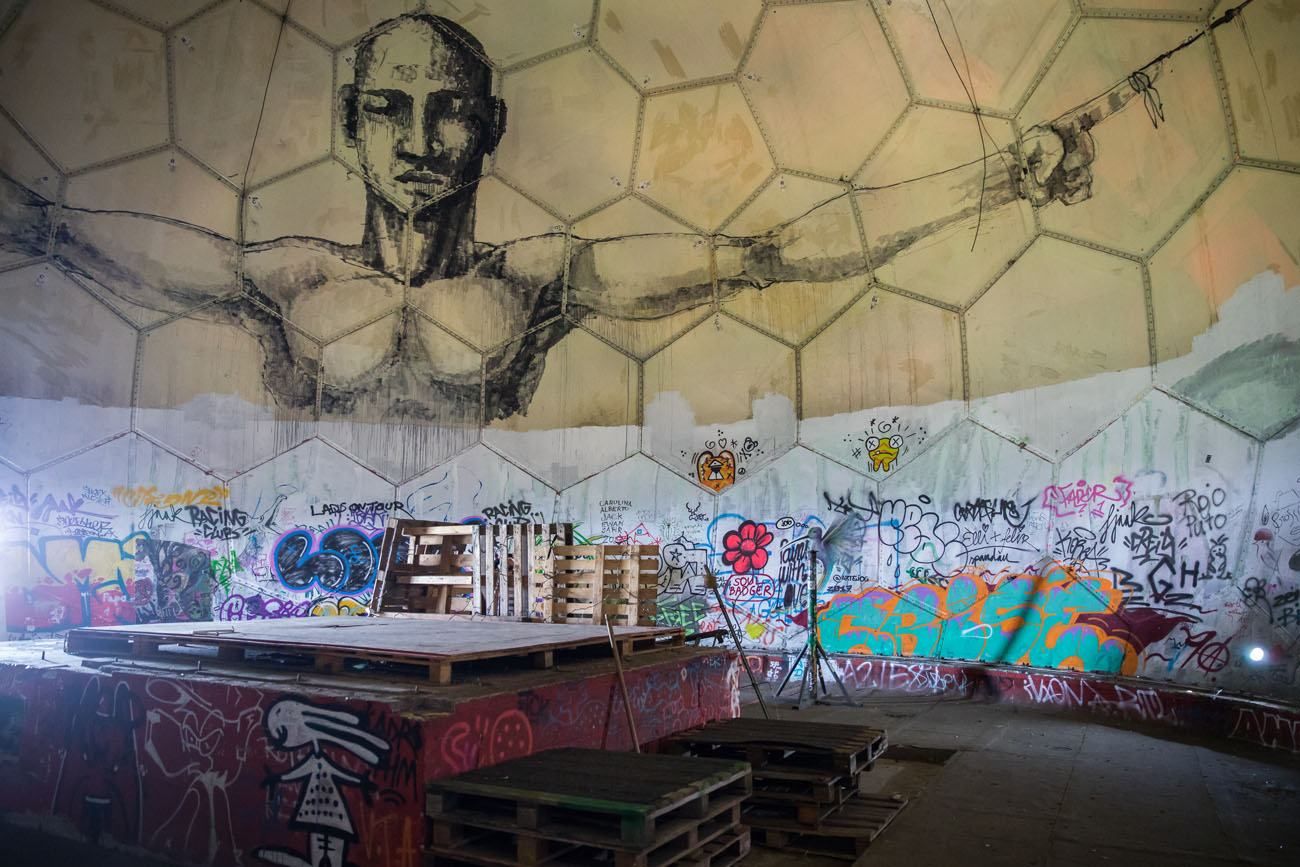 It took me about 45 minutes to walk through all of the sites. I am so glad I made it out here to see this. What an interesting experience in Berlin!
More Facts about Visiting Teufelsberg
You'll Either Love It or You'll Hate It
From reading other reviews of Tuefelsberg, you'll either love it or hate it. There seems to be no in-between. Those who love it, do so for the weirdness of it, the history, and the street art. Those who hate it think it's just a tourist trap. I fall into the category of those who love it. Hopefully, by reading this post, if you think you'll hate it, now you can skip it. But if this interests you, give it a chance. I enjoyed this much more than I expected to.
How to Get Here
Underground: Take the S-Bahn to Grunewald. From the platform, I walked northwest on Neuer Schildhornweg, through a small, residential community, and turned right onto an unnamed road that took me to Teufelsseechaussee. I crossed this road and took the trails in the forest up to Teufelsberg. The trails are a mix of asphalt and dirt surfaces. These trails appear on Google Maps, so you can use this for guidance on the walk from the train station to Teufelsberg. But as long as you keep heading up, you will reach the main site. It sits at the highest point of the hill.
Once I got to the fence, I followed it to the left until I got to the main entrance. It took me about 30 minutes to walk from Grunewald Station to the main entrance.
Note: I read (after I did this) that wild boars roam the mountain. I never saw them, but be on the lookout for wild boars if you choose to this route. These trails are also used by mountain bikers, so be on the lookout for them, as well.
By car: There is a road that leads right to the main entrance. Put "Teufelsberg" into Google Maps and follow the directions to get here. It costs €5 to park here.
Uber: We used Uber several times while in Berlin, but never to get here. This may be a good option if you do not have a car or are not up for a long walk in the woods to get here.
By Tour: This 2-hour tour includes your transportation to and from Teufelsberg and a small group guided tour of the listening station. This makes it very easy to visit Teufelsberg since it includes transportation.
Entry Fee and Hours
Entrance Fee: €8
Hours: 11 am to sunset
Click here to visit the official website. It's a good idea to get updated hours and pricing before you go.
Also in the Area
There are a few things nearby if you do not mind walking.
Gleis 17 (Platform 17 Memorial). Sitting adjacent to Grunewald Station is Gleis 17, the site where many Jews were deported from Berlin to the concentration camps. It's nothing more than a plaque at an old train platform, but it can be a deeply moving experience.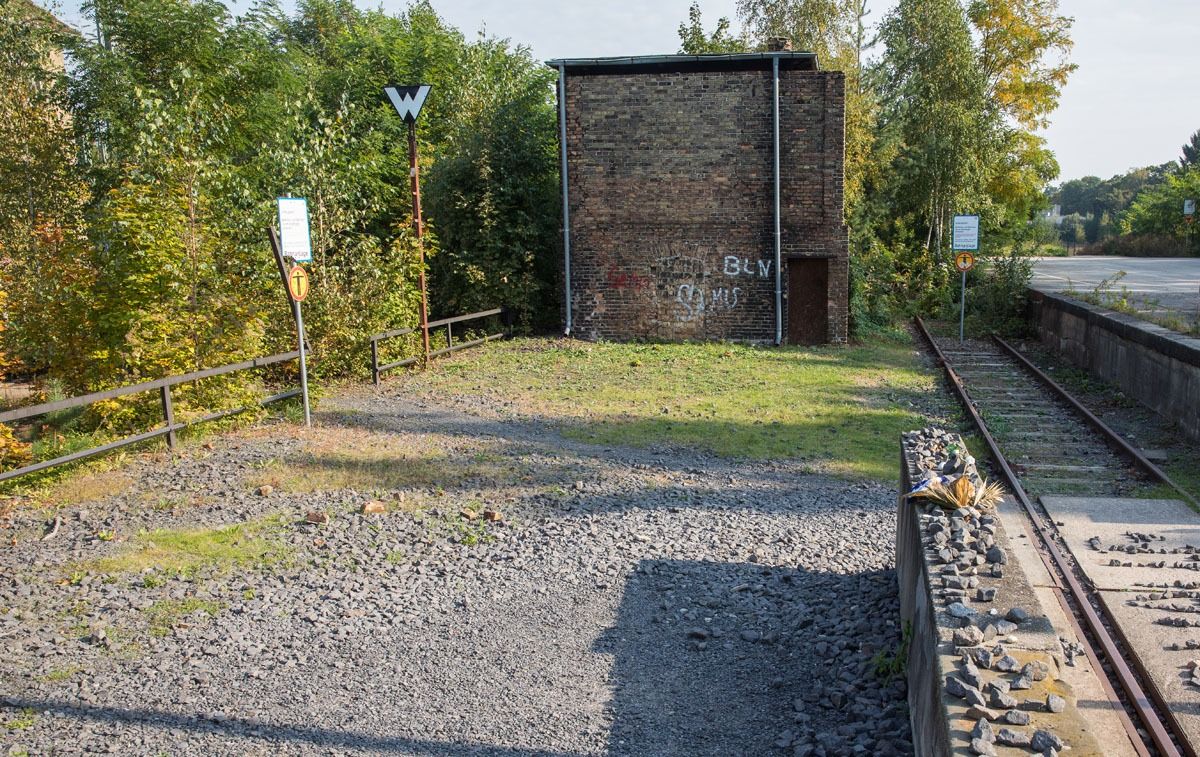 Olympiastadion. This is the stadium used during the 1936 Olympics. It's also still in use today. To get here, I went north from Teufelsberg, walking downhill on the forested trails. After walking through a residential area, I walked up Flatowallee to get to the stadium. It costs €11 to enter the stadium, which looks surprisingly modern inside. There is a U-Bahn and an S-Bahn station nearby to take you to your next destination.
More Abandoned Berlin
Do you like the idea of visiting abandoned sites in Berlin? Then this website is for you: Abandoned Berlin. There are many sites in and around Berlin, old, abandoned World War II sites that can be visited. This is a fascinating website if you want to learn more.
For more weird, alternative sites to visit while traveling, check out Atlas Obscura. This book is filled with unique sites around the world, and this is how I first heard of Teufelsberg. It's an interesting, off-the-beaten-path travel guide to add to your collection.
If you like the idea of visiting Teufelsberg, you can also take a 3-hour off the grid street art tour of Berlin and a small group "hidden backyards tour" of Berlin.
Note: My visit, and these photos, are from our trip to Berlin in 2017. This post is updated on a regular basis.
---
Does Teufelsberg look like a place you want to visit? If you have any questions or advice, comment below!
More Information for Your Trip to Germany
BERLIN: Start with our article Best Things to Do in Berlin for a big list of things to do in the city. Plan your visit with our 5 Day Berlin Itinerary.
SAXONY, GERMANY: In Saxony, visit the fairytale bridge called Rakotzbrücke and the amazing Bastei Bridge. Put both of these together, plus the town of Görlitz, into a big day trip from Berlin.
BAVARIA, GERMANY: Take an amazing 10 day road trip in Bavaria, visiting Munich, Neuschwanstein, Berchtesgaden, Salzburg, Innsbruck, and drive the Romantic Road in Germany.
NETHERLANDS: Learn how to spend 2 perfect days in Amsterdam and the best things to do in Amsterdam. We also have a guide on Where to Stay in Amsterdam and how to visit Haarlem, Utrecht, and The Hague.
MORE CITIES AROUND THE WORLD: Visit more cities around the world with our guides to Rome, Paris, New York City, London, Barcelona, and Athens.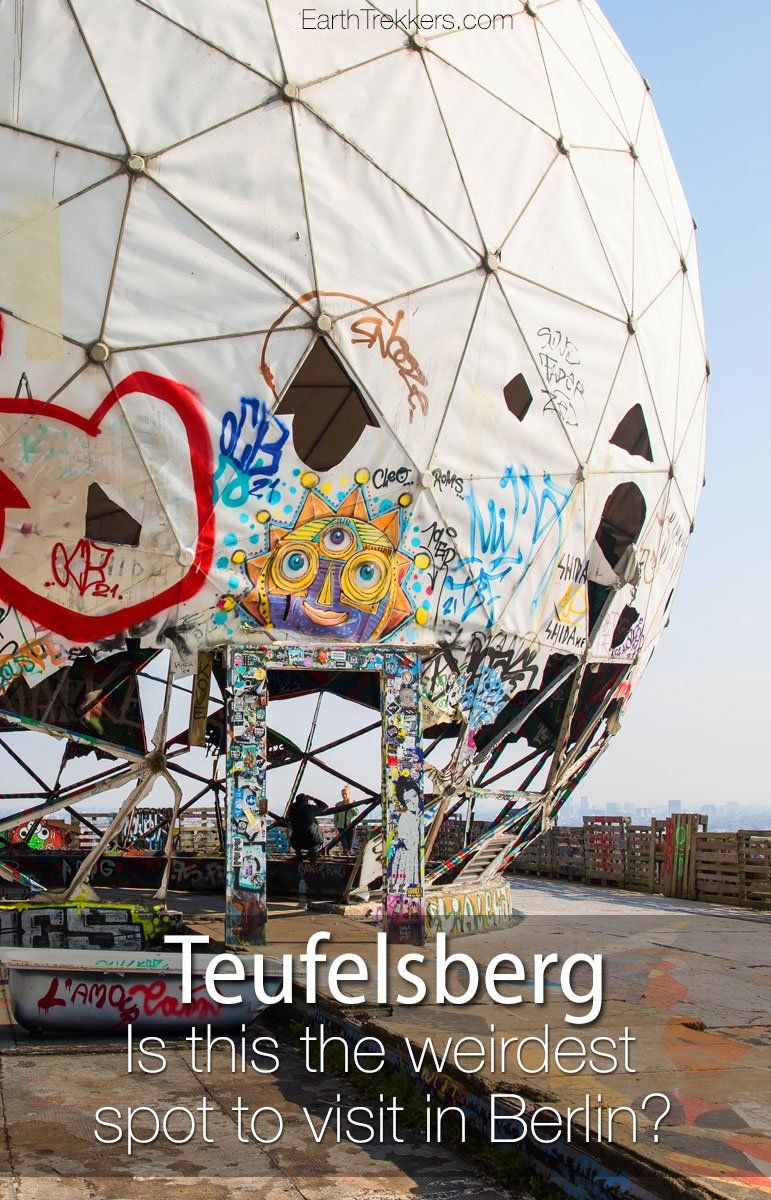 Note: This post contains affiliate links. When you make a purchase using one of these affiliate links, we get paid a small commission at no extra cost to you.
All rights reserved © Earth Trekkers. Republishing this article and/or any of its contents (text, photography, etc.), in whole or in part, is strictly prohibited.