Germany is a country that appears on many travelers' bucket lists. And why not? It has fairytale castles, beautiful Bavaria, Oktoberfest, and amazing cities to visit. But have you ever heard of Görlitz?
We hadn't. At least not until we planned a trip to Berlin.
I "discovered" Görlitz when I was searching for unique day trip ideas from Berlin. Colorful photos of this town, slightly resembling the Polish cities of Wroclaw and Krakow, caught my eye. And just like that, Görlitz was added to our German road trip adventure.
About Görlitz, Germany
Görlitz is a small town in Saxony, Germany. It is the easternmost city in Germany. Görlitz sits on the bank of the Lusatian Neisse River and just on the other side of the river is Zgorzelec, Poland. Zgorzelec was part of Görlitz until 1945.
As you can see on a map, Görlitz is not really near anything, which is why it makes such a great travel destination. If you are the sort of person who likes to get away from the crowds and explore hidden gems, then Görlitz is your kind of place.
But Görlitz does have a claim to fame. If you watched "The Grand Budapest Hotel," "The Book Thief," or Quentin Tarantino's "Inglorious Bastards," then you have seen Görlitz. This town was a filming location for all of these movies. For "The Grand Budapest Hotel," a vacant department store was redecorated and used as the filming location for the hotel.
Görlitz in Photos
If you are wondering if Görlitz is worth it, check out these 17 photos that show just how beautiful this town (and Zgorzelec) is.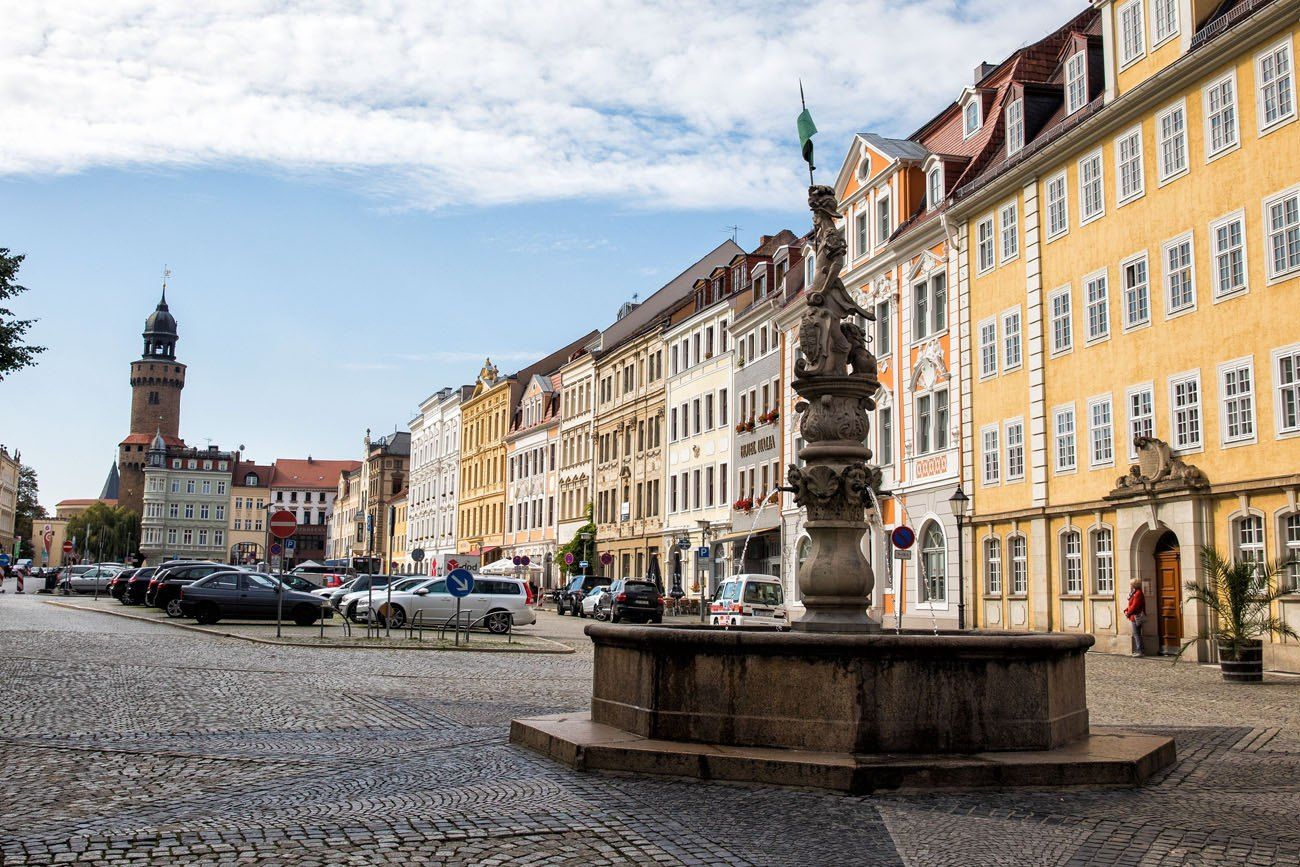 Upper Market Square (Obermarkt)
Looking down Hainwald Street.
A street cafe near Lower Market Square.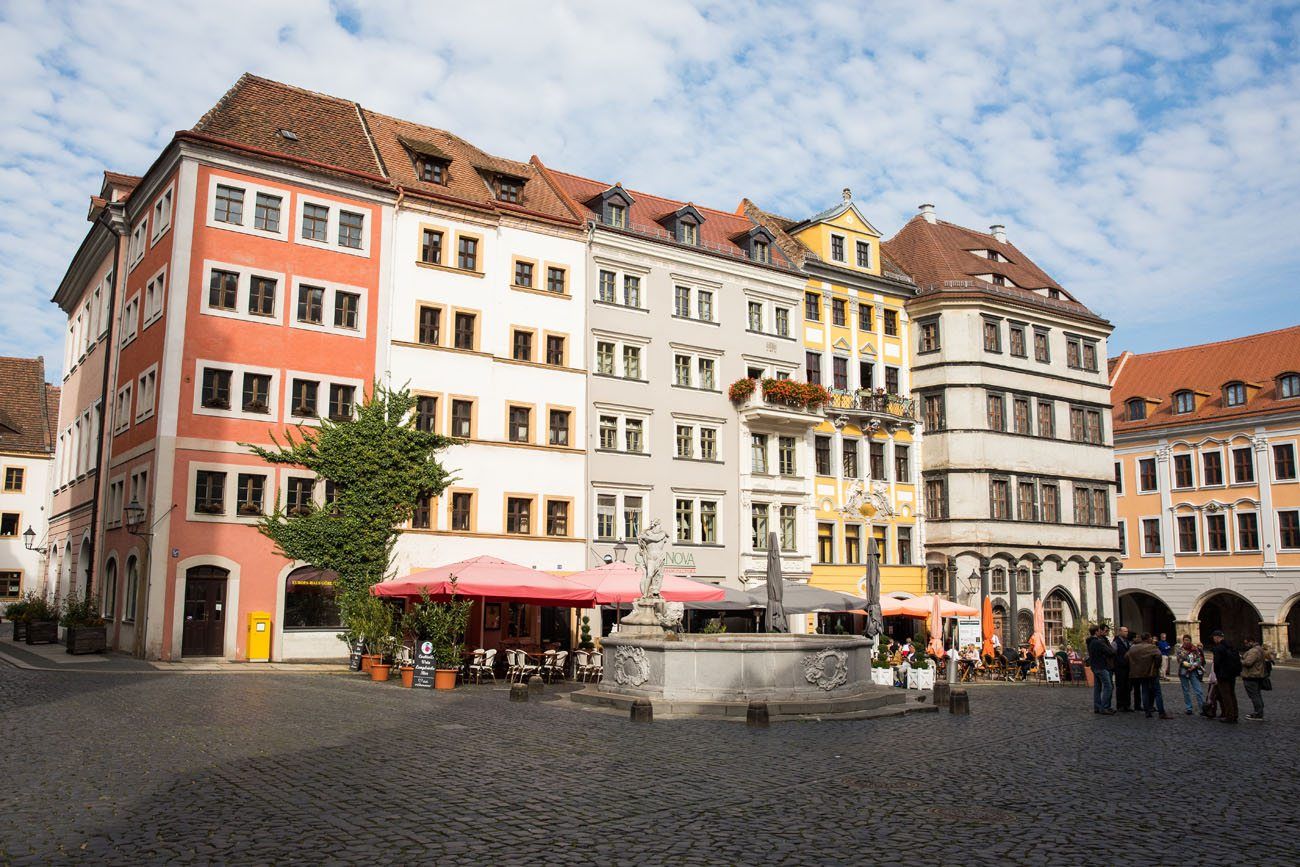 Lower Market Square (Untermarkt)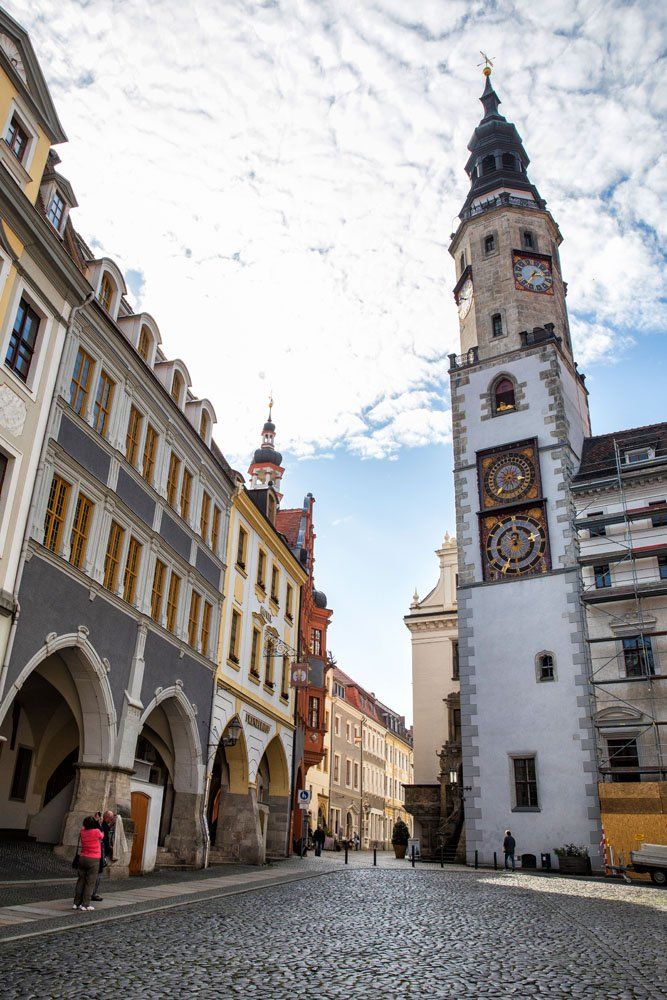 Rathausturm and Lower Market Square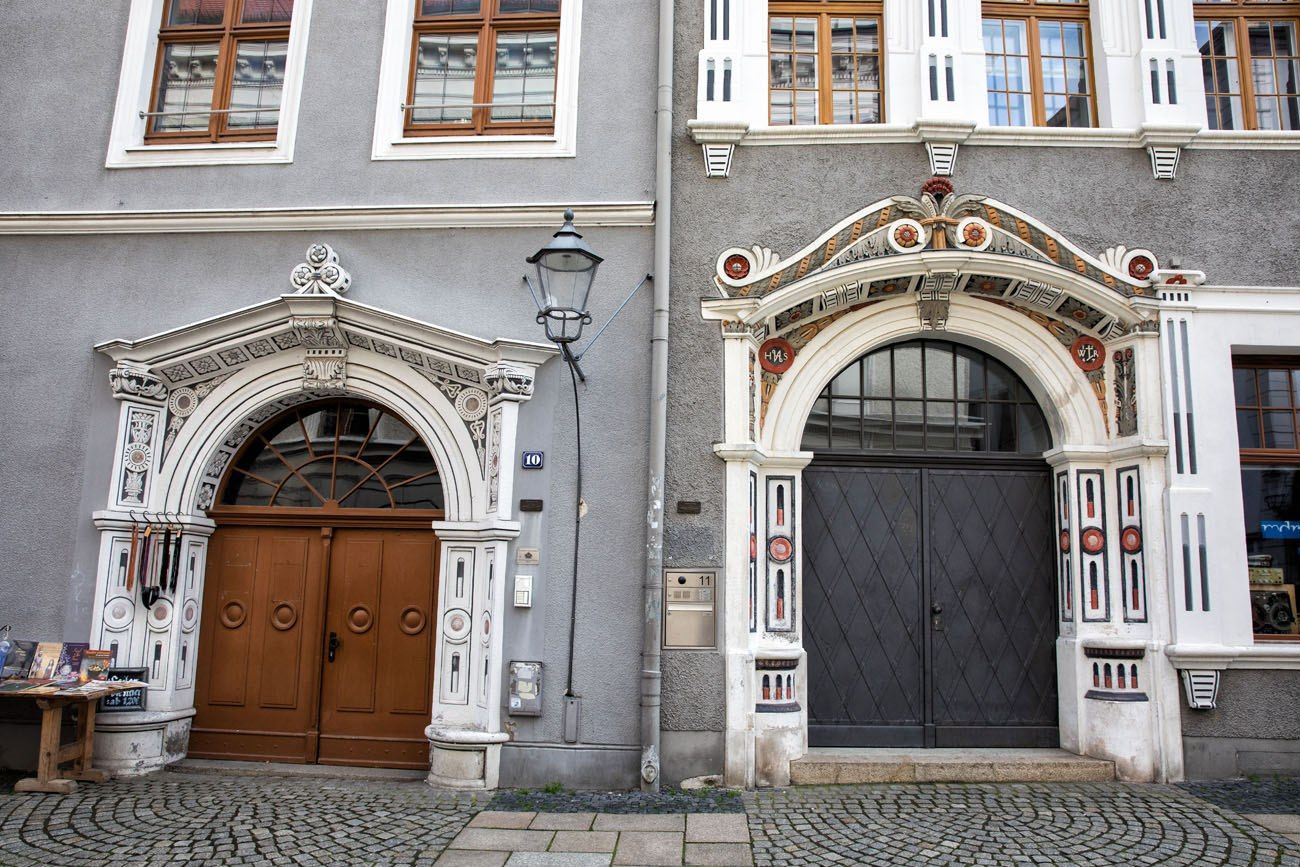 We saw beautiful doors like these throughout the town.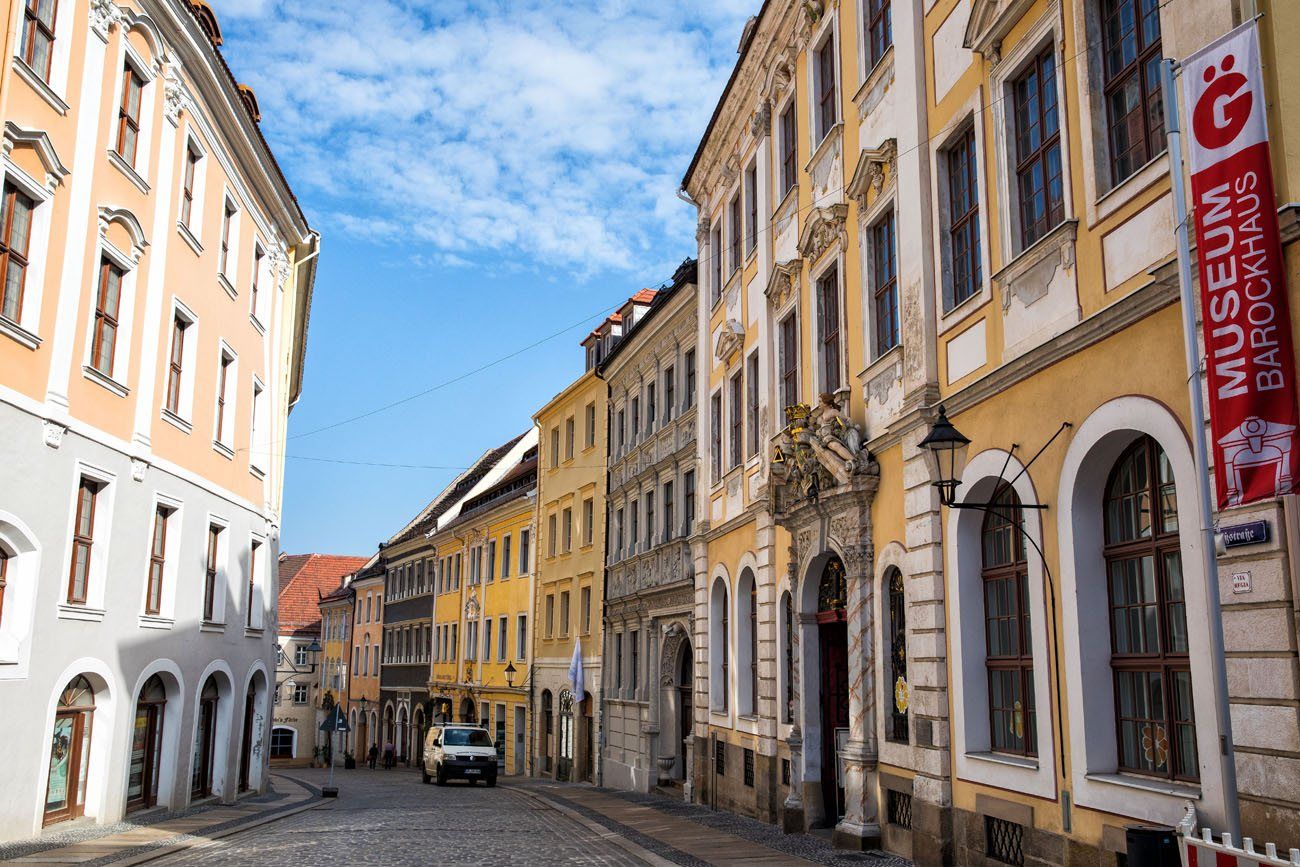 We also saw many streets like these, lined with colorful buildings.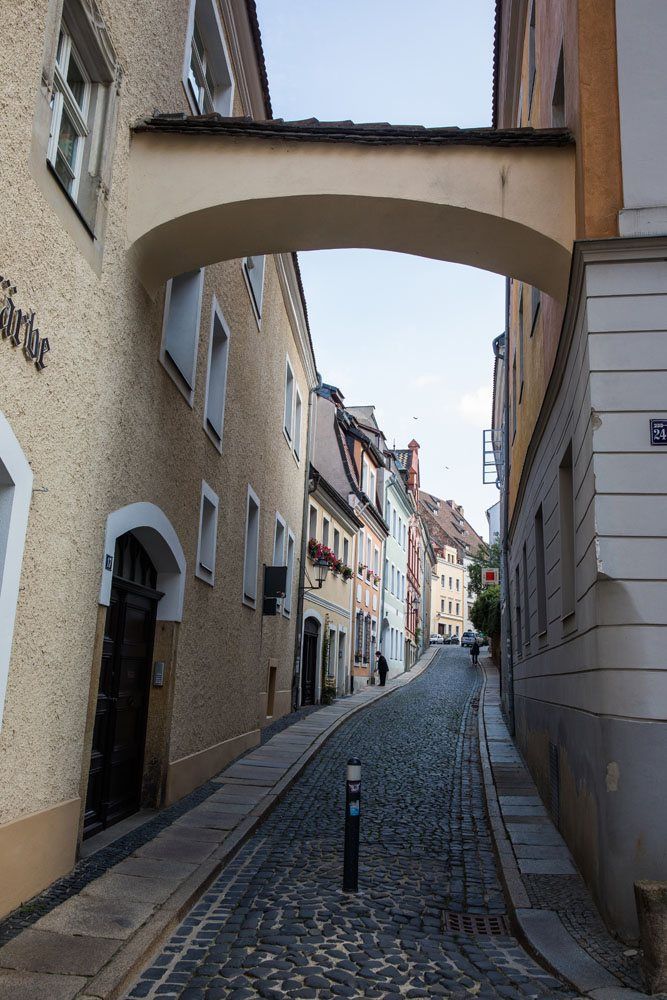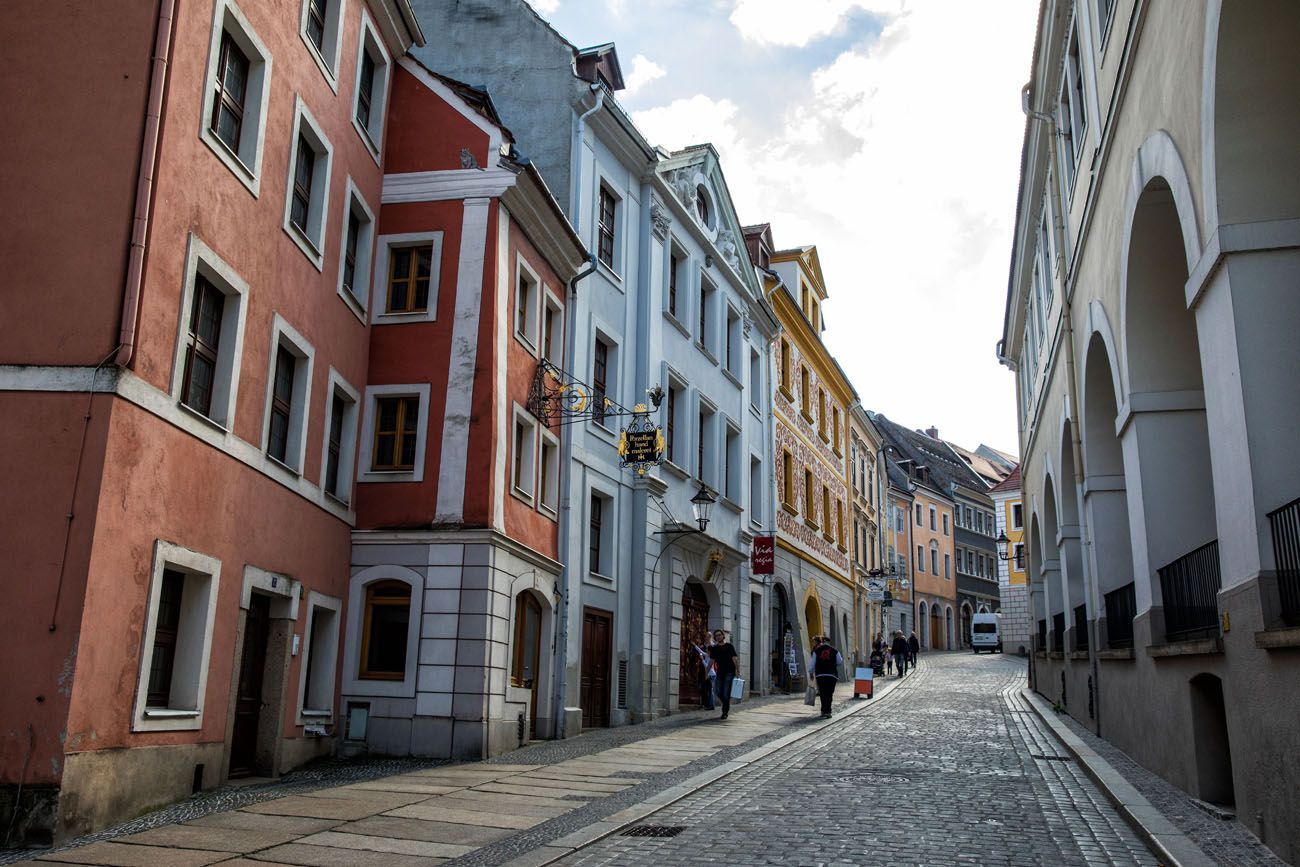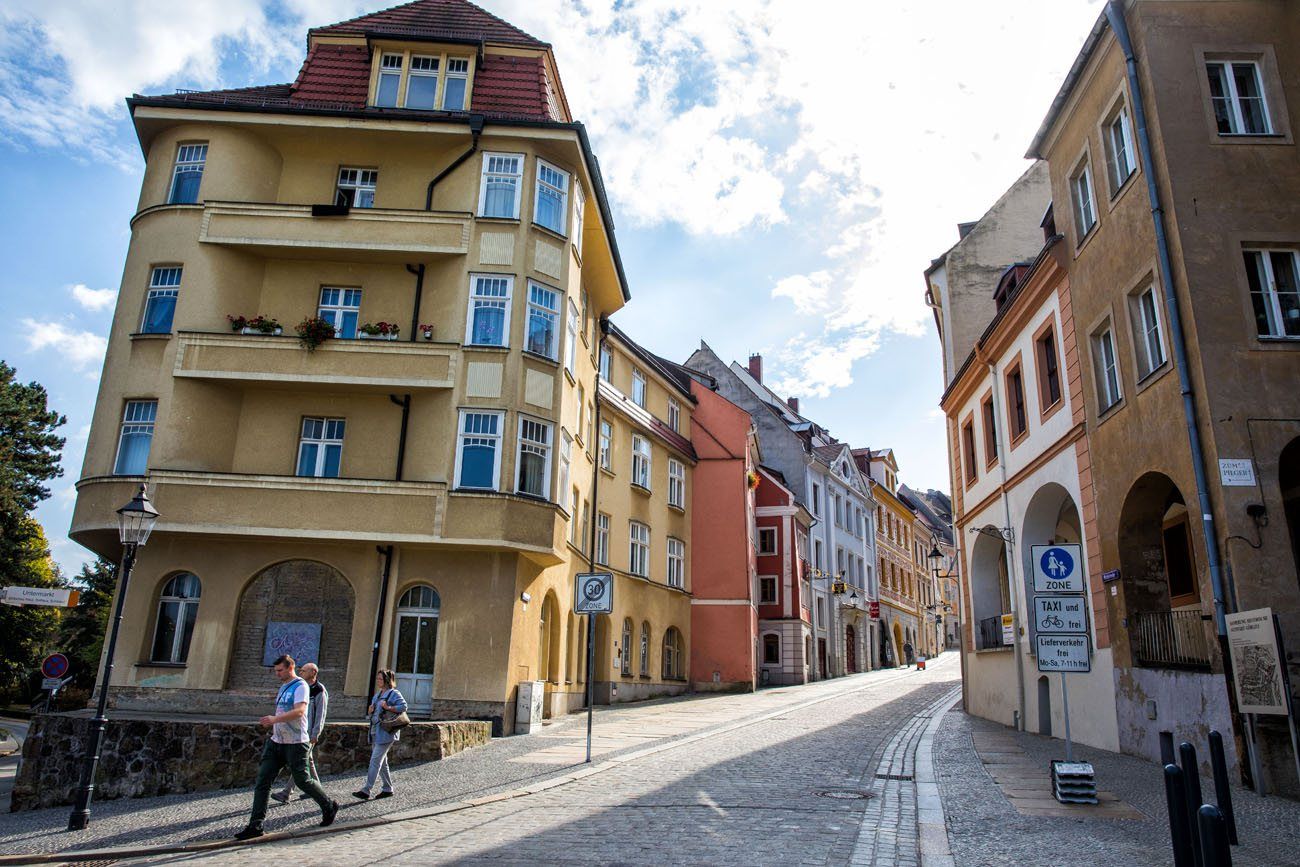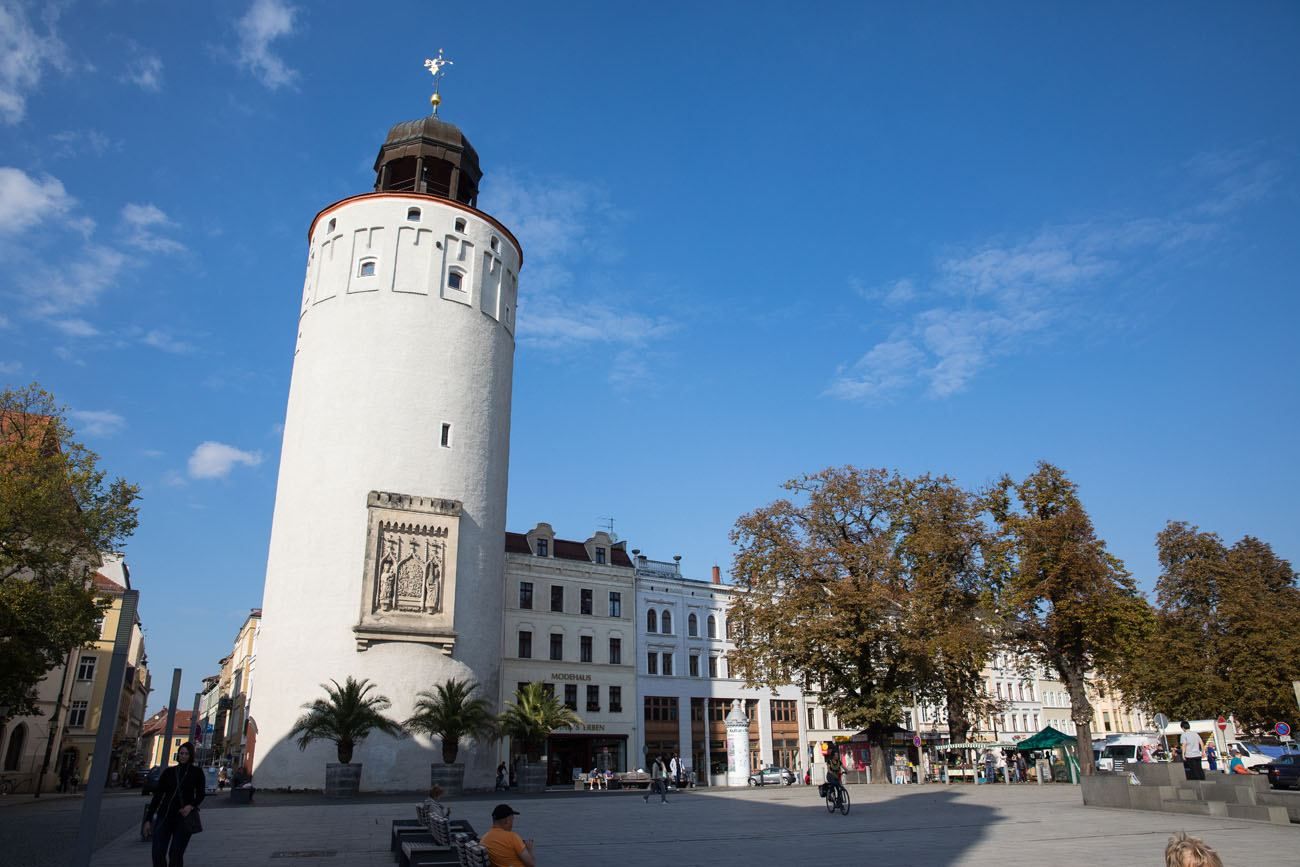 This is the Fat Tower (Dicker Turm). You can climb this tower for views over the city.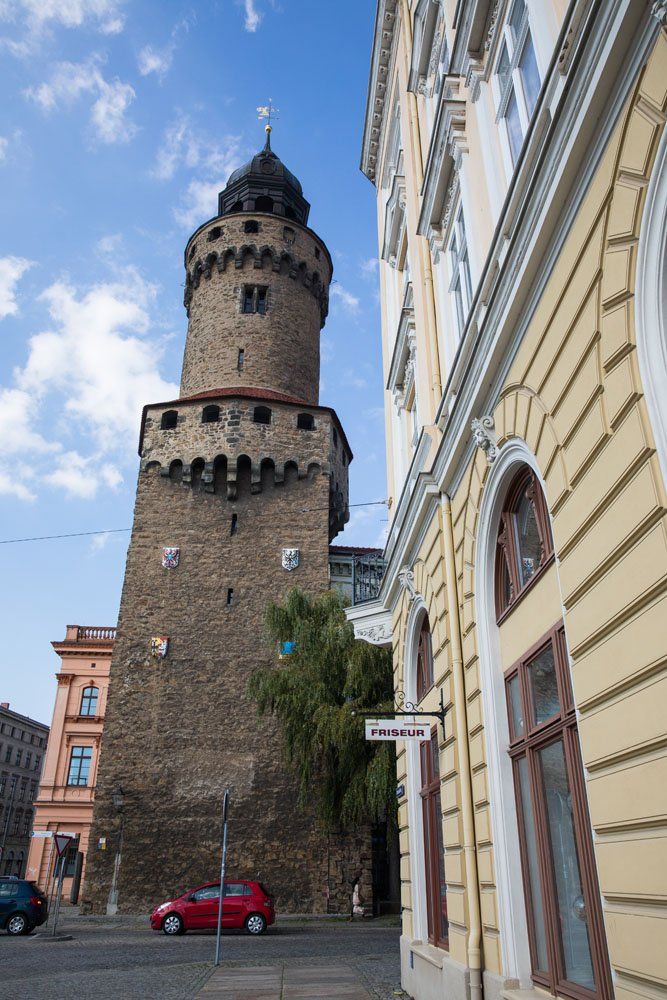 For another view over the city, you can climb Reichenbach Tower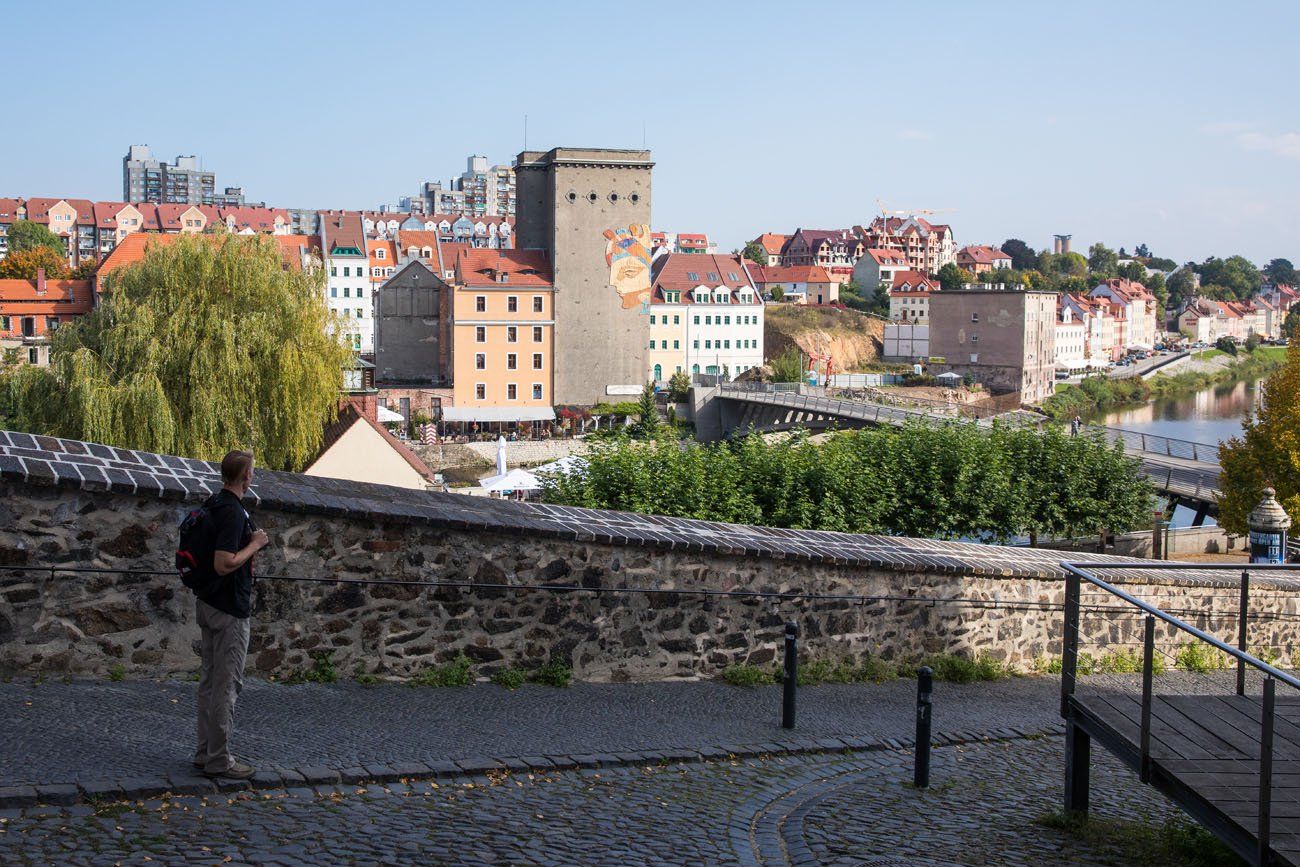 Looking across the Lusatian Neisse River to Zgorzelec, Poland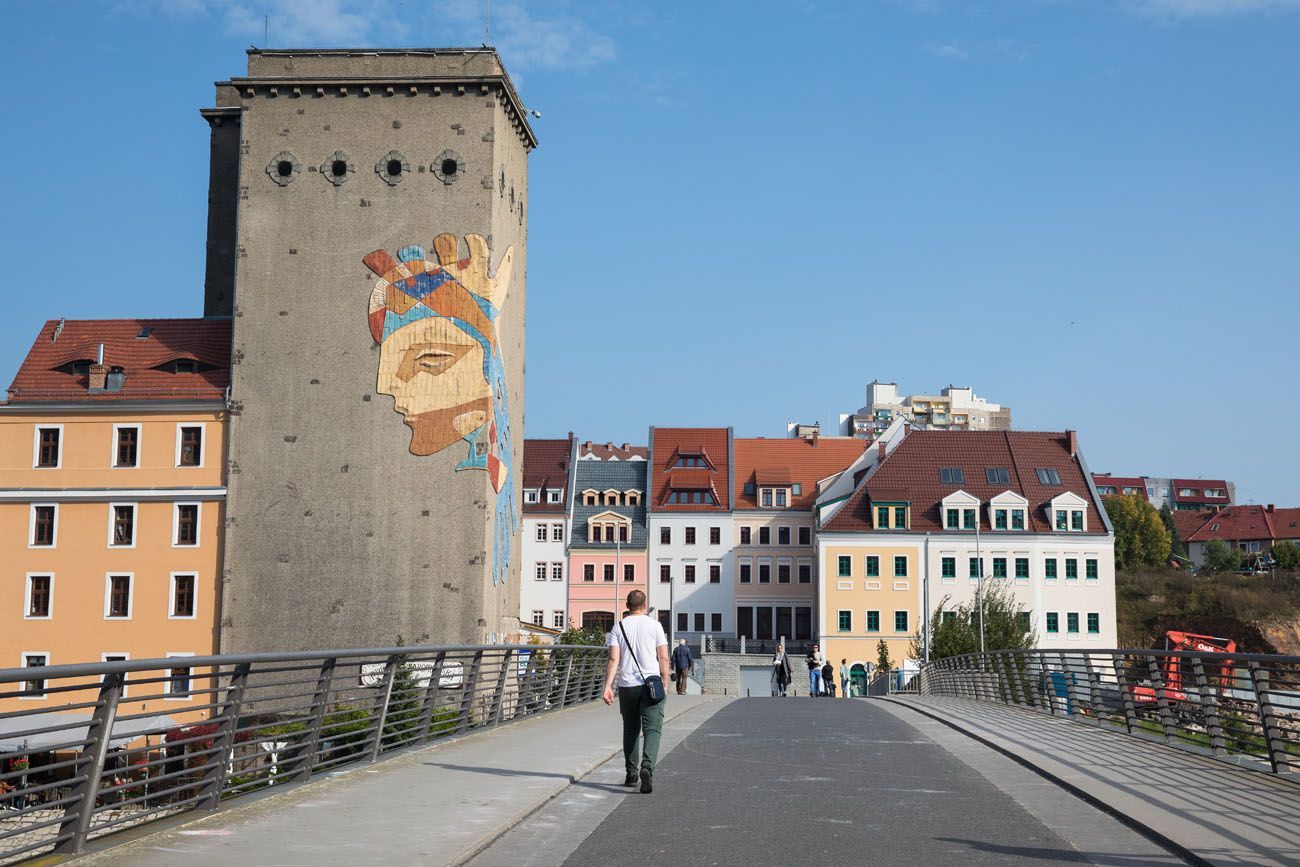 Walking across the bridge into Poland.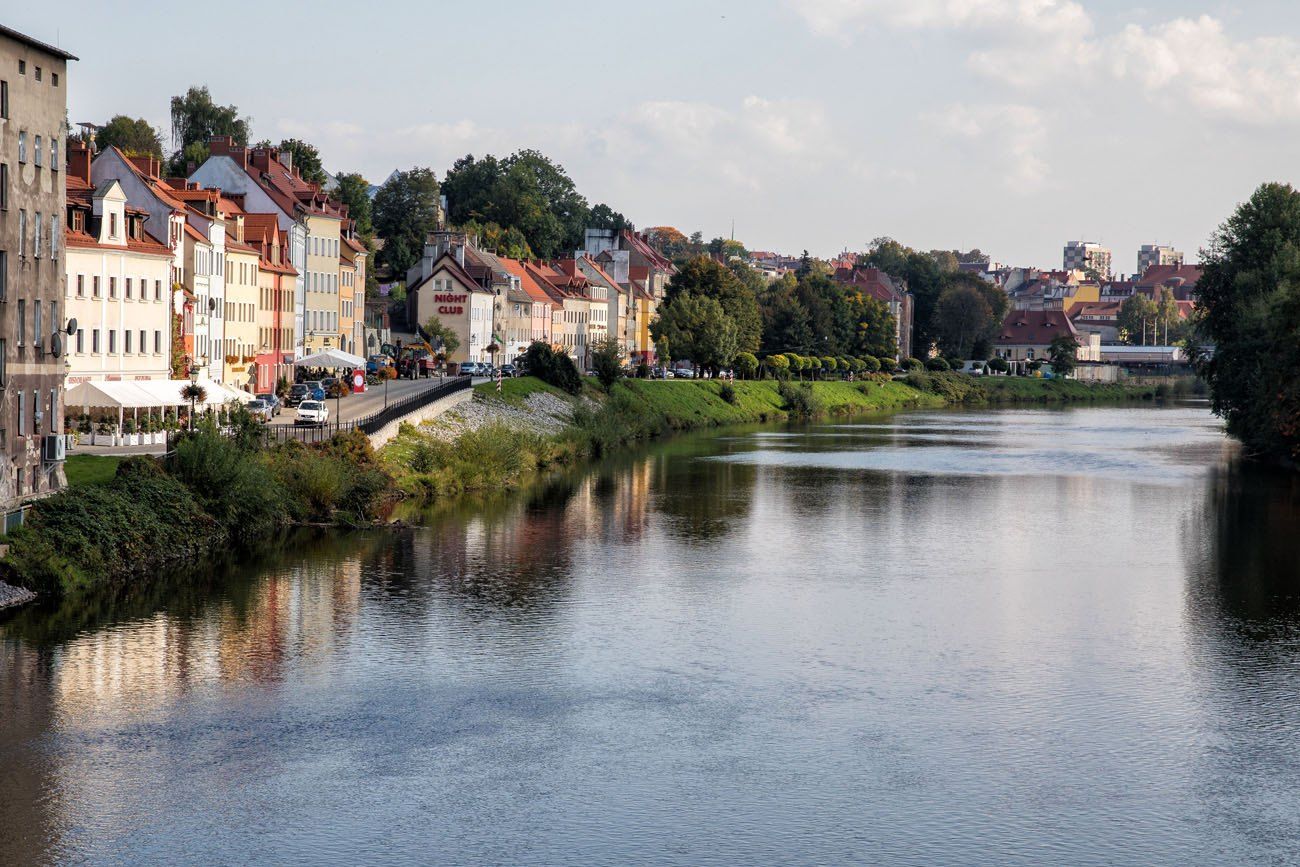 A view of the Lusatian Neisse River and Zgorzelec from the bridge.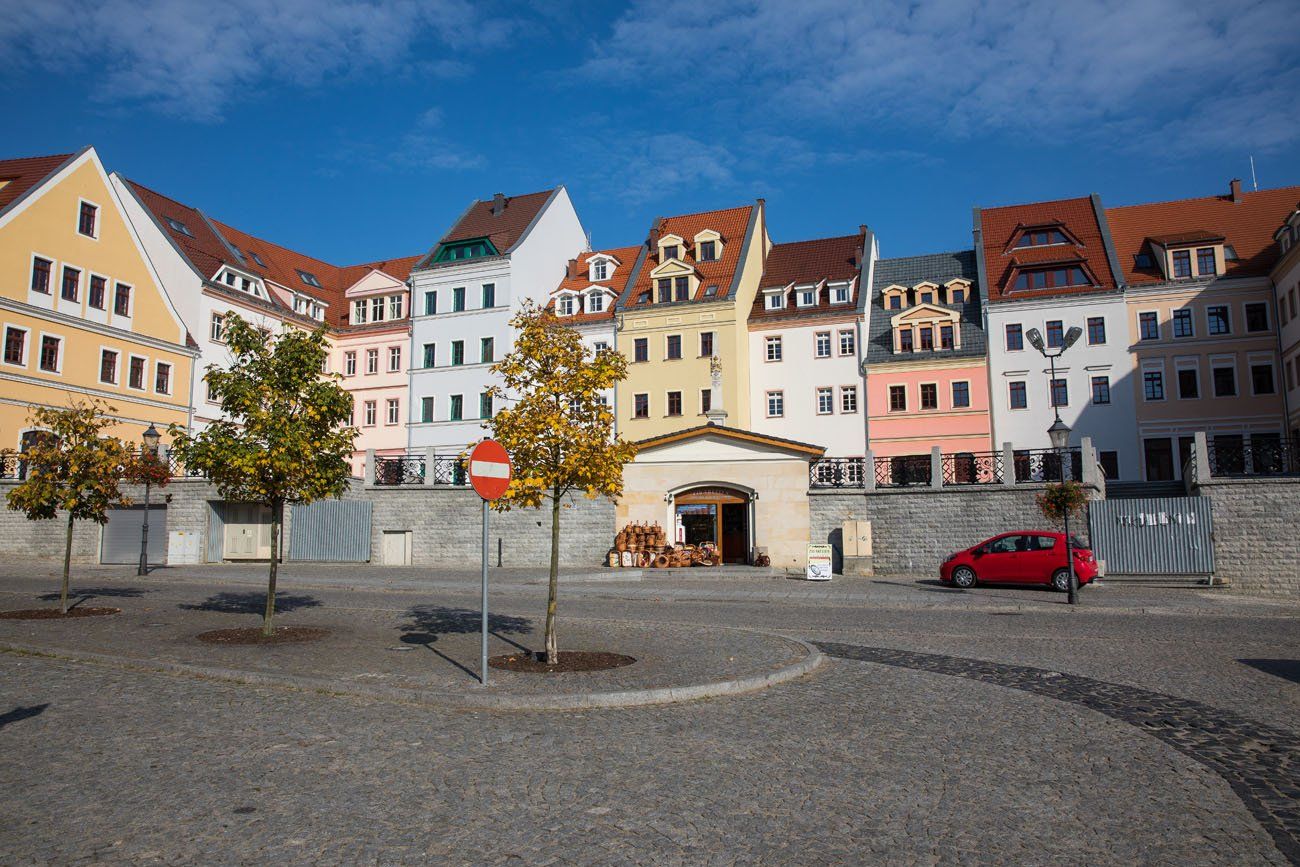 Zgorzelec also has rows of colorful buildings.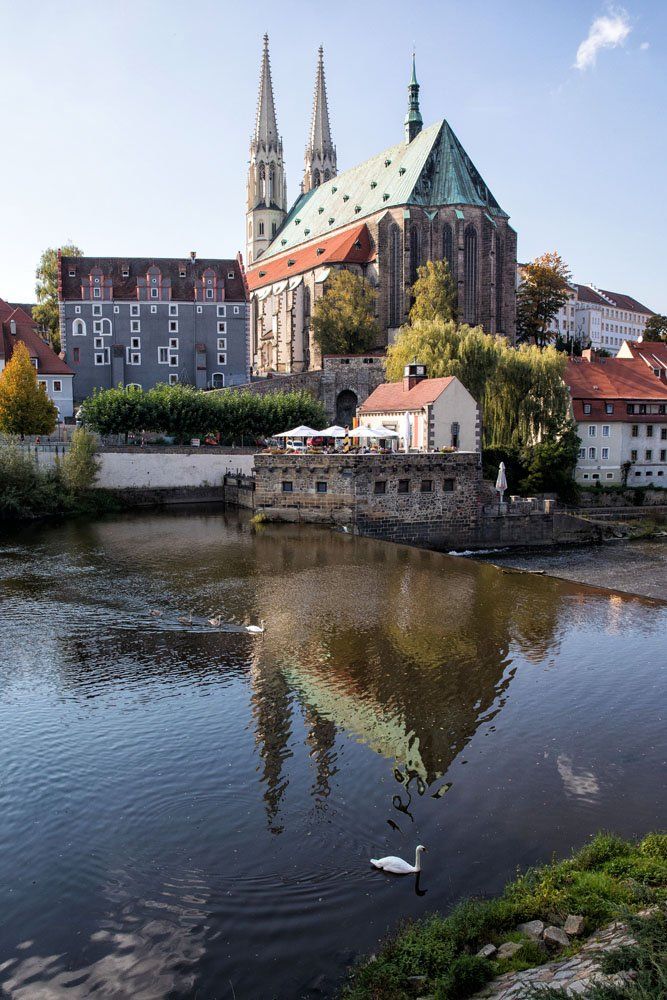 From Zgorzelec, this is the view towards Görlitz and St. Peter and Paul Church.
How to Get to Görlitz
From Berlin
By car: 3 hours, 280 km
By bus: Flixbus offers direct service between Berlin and Görlitz
By train: 2h 40min with a transfer in Cottbus, visit bahn.de
From Dresden
By car: 1h 15min, 110 km
By bus: 1h 30 min with Flixbus
Train: 1h 30min, visit bahn.de
It can be a little tricky driving through Görlitz, with its maze of narrow one-way streets. I recommend parking in the parking garage on An der Frauenkirche (labeled Parkhaus Citycenter Frauentor on Google Maps).
Görlitz is small, so you can wander through it in just a half a day, perfect for a day trip from Dresden or Berlin.
About Our Experience
Tim and I visited Görlitz as part of a full day road trip from Berlin. We rented a car and drove first to Rakotzbrücke, a very unique bridge just one hour from Görlitz. We ate lunch in Görlitz, spent some time wandering the city streets, and then drove west to the Bastei. This is another awesome bridge with a spectacular location. From the Bastei, we drove back to Berlin, arriving around 9 pm.
---
More Information for Your Trip to Germany
BERLIN: Start with our article Best Things to Do in Berlin for a big list of things to do in the city. Plan your visit with our 5 Day Berlin Itinerary and what to expect on a visit to Teufelsberg.
SAXONY, GERMANY: In Saxony, visit the fairytale bridge called Rakotzbrücke and the amazing Bastei Bridge. Put both of these together, plus the town of Görlitz, into a big day trip from Berlin.
POLAND: Visit Krakow, Gdansk, and Warsaw. Learn how to put these three cities together into an amazing 10 Day Poland Itinerary.
TRAVEL PHOTOGRAPHY: For more information about the camera gear we carry, check out our Travel Photography Gear Guide. And tips and tricks for taking great photos in our article How to Take Better Photos while Traveling.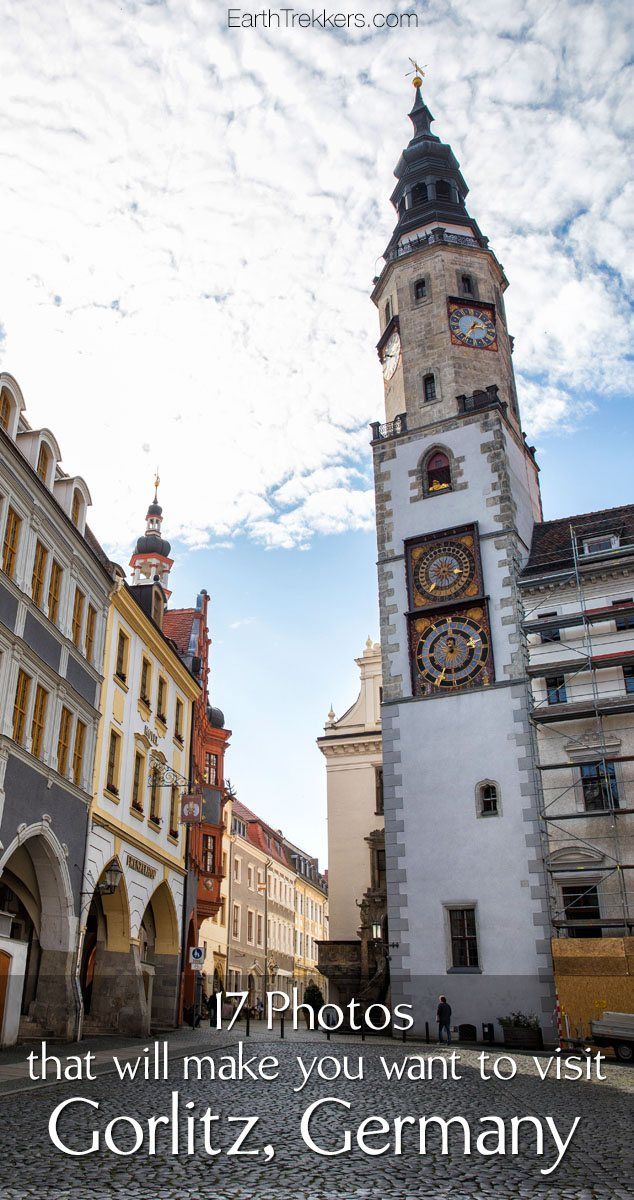 All rights reserved © Earth Trekkers. Republishing this article and/or any of its contents (text, photography, etc.), in whole or in part, is strictly prohibited.