Why go to Germany? This is the land of fairytale castles, beer, charming towns, and cities packed with history. There is something here for everyone. For families there is Bavaria, with wonderful Garmisch-Partenkirchen, Neuschwanstein (Cinderella's castle), and adventures at the foot of the Alps. Couples can cruise the Rhine River and drive the Romantic Road. Those in search of adventure can climb Zugspitze or go hiking in Berchtesgaden. Germany is a country that we loved on our first visit and look forward to visiting again.
Germany Stats
Official Language: German
Population: 83 million
Capital City: Berlin
Currency: Euro
Power Outlet: Type C, E and F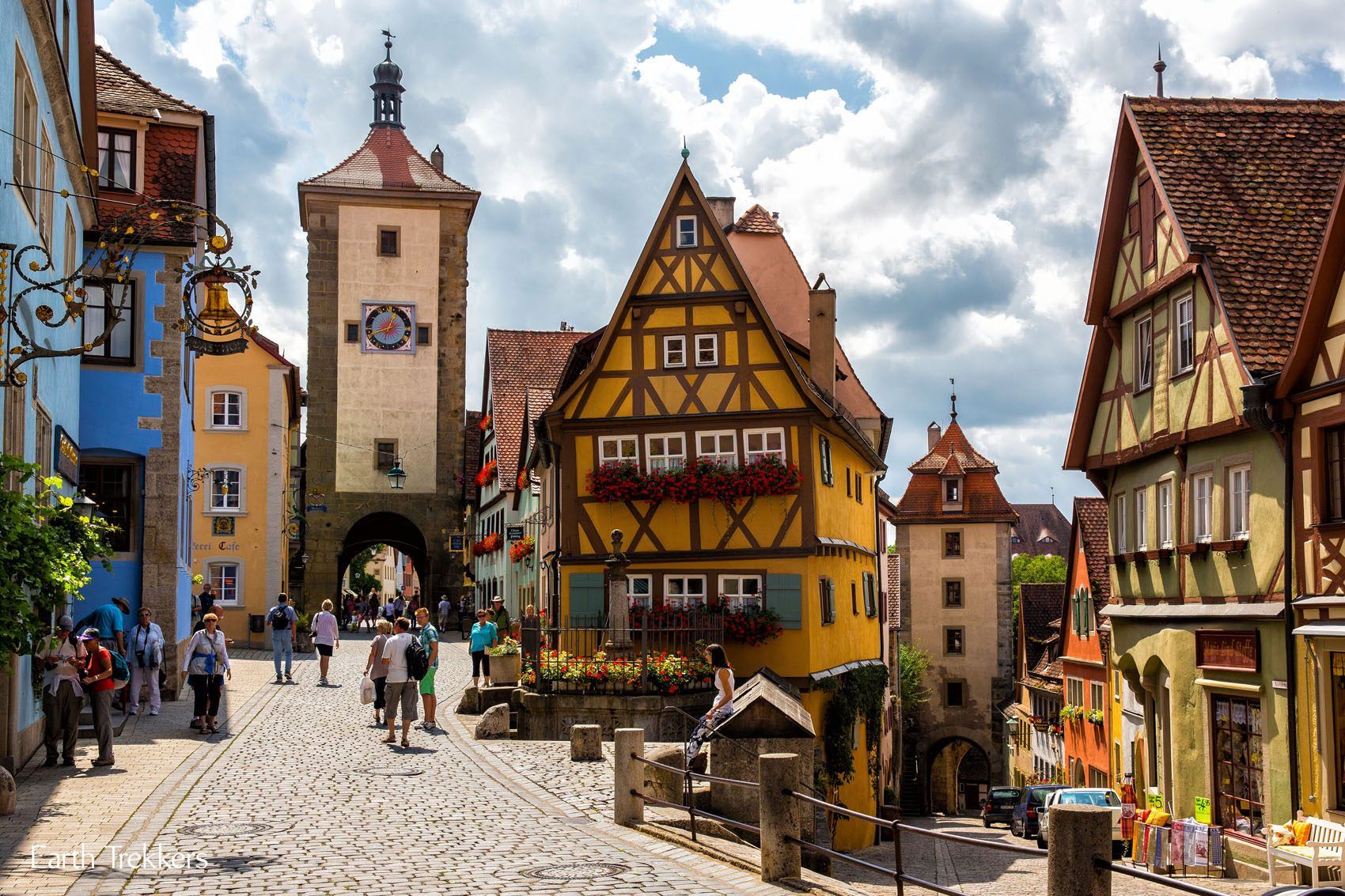 With the Alps to the south and idyllic towns dotting its hillsides, Bavaria is a beautiful and romantic destination. On this Bavaria itinerary, view the Alps from Germany's highest peak at Zugspitze, tour King Ludwig II's storybook castle Neuschwanstein, learn about WWII history in Munich and Berchtesgaden, and even take day trips into Austria. 
Learn about the best things to do in Berlin and how to plan your time.
Explore this picturesque corner of Germany, with fairytale bridges and beautiful cities.
Europe Travel Inspiration & Practical Info
Do you dream of visiting world-class cities like Paris, Barcelona, or Venice? Or would you rather hike the Alps, go on a scenic train ride, explore the beautiful beaches and coastal towns in southern Europe, visit fairytale towns and castles, island hop in Greece, or go on an unforgettable road trip in northern Europe?
In this article we list 25 ways to spend one week in Europe. 
Berlin. Berlin is the capital of Germany and its largest city. Popular places to visit are the Berlin Wall, the Brandenburg Gate, and the Reichstag Building.
Bavaria. This is one of Germany's most popular places to visit, for good reason. Sitting at the base of the Alps, this is the place to go to tour charming towns, castles (the most famous being Neuschwanstein), and to get a view of the mighty Alps.
Munich. Munich is the capital city of Bavaria. It is a beautiful city with lots to do. Cycle through the Englischer Garden, drink beer at the Hofbrauhaus, visit Dachau Concentration Camp, or tour the BMW Museum.
Oktoberfest. This is the largest beer festival in the world. Oktoberfest takes place in Munich during the last two weeks of September. In 2019, Oktoberfest will be September 21 to October 6.
Romantic Road. The Romantic Road is a scenic drive through Bavaria. Starting in Fussen in the south, most people take several days to slowly drive north to Wurzburg, hopping from town to town along the way. Rothenburg is the most scenic and the most popular town on the route. For those with little time to spare, the entire Romantic Road can be driven in one day.
Cologne. Located on the Rhine River, many people travel here to see the Cologne Cathedral, Germany's most visited landmark.
Rhine River Cruise. Cruising on the Rhine River is a great way to tour the towns of Germany. Many people extend their journey by starting in Amsterdam or continuing on the Danube River to Budapest.
Zugspitze. This is Germany's highest mountain. Accessible by cable car, this is great for people of all ages. For those who love hiking and rock climbing, it is possible to take several days and climb to the peak of Zugspitze.
Black Forest. This southwestern area of Germany is covered with thick forests. The scenery is stunning but this area is also packed with natural hot springs. This is the place to come for healing waters and relaxation.
Berchtesgaden. Located in the southeastern corner of Germany, Berchtesgaden is surrounded on three sides by Austria. Visit Hitler's Eagles Nest, gaze upon gorgeous Lake Konigsee, and take a day trip to Salzburg, Austria.