Tim and I spent three days touring the Sacred Valley of Peru. This area is filled with historical Incan sites, stunning landscapes, quaint villages, and colorful, friendly people. Here are some of our favorite photos from these three days.
Sacsaywaman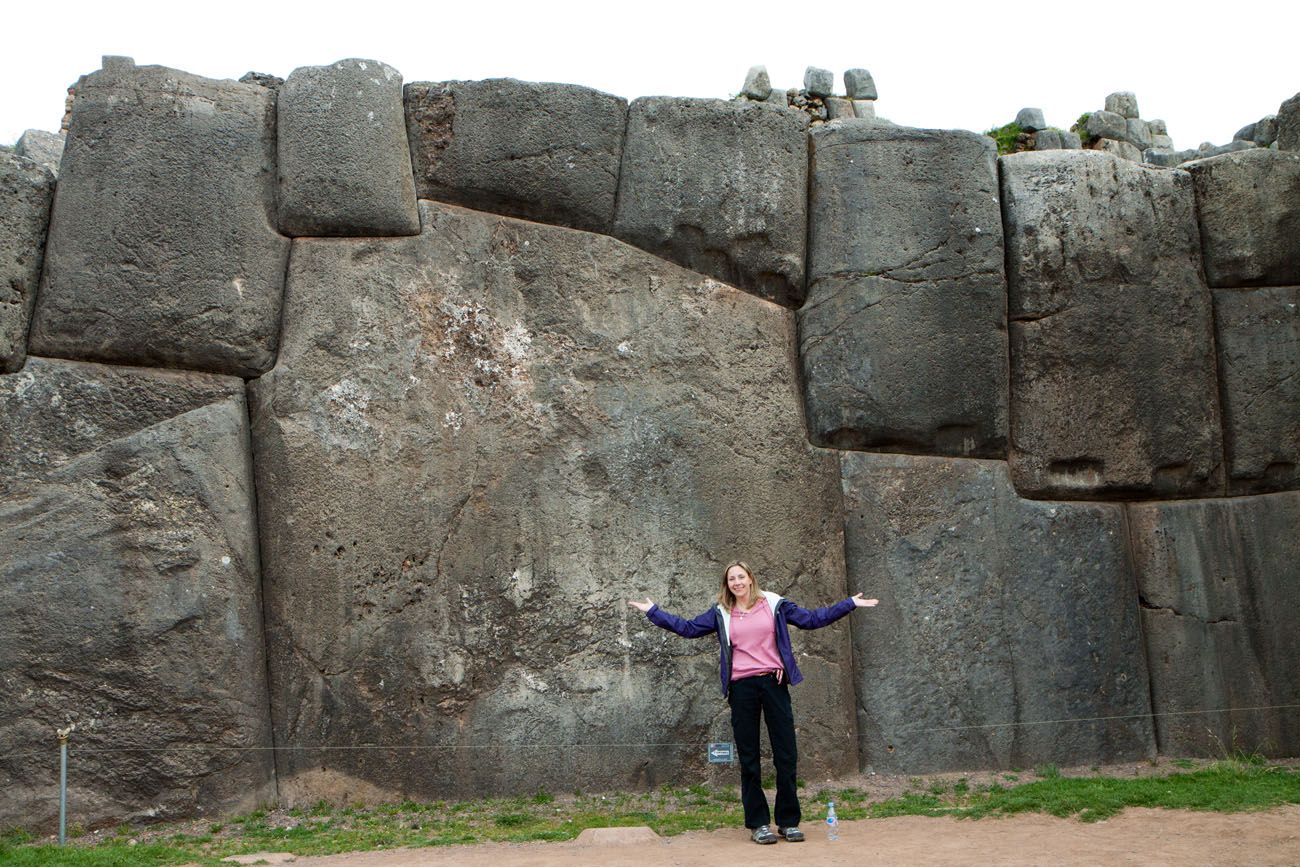 Tim is standing in front of the Incan fortress of Sacsaywaman. It was the site of a 10 month battle between the Spanish and the Incans in the 1500's that the Spanish eventually won.
What is so impressive about Sacsaywaman is how the gigantic stones were carved so perfectly by the Incas and then put together like a jigsaw puzzle. These stones are enormous, some being much taller than Tim, with the largest stone weighing more than 126 tons! How did the Inca, having only the technology of copper and stone tools, carve and fit these gigantic rocks together so perfectly?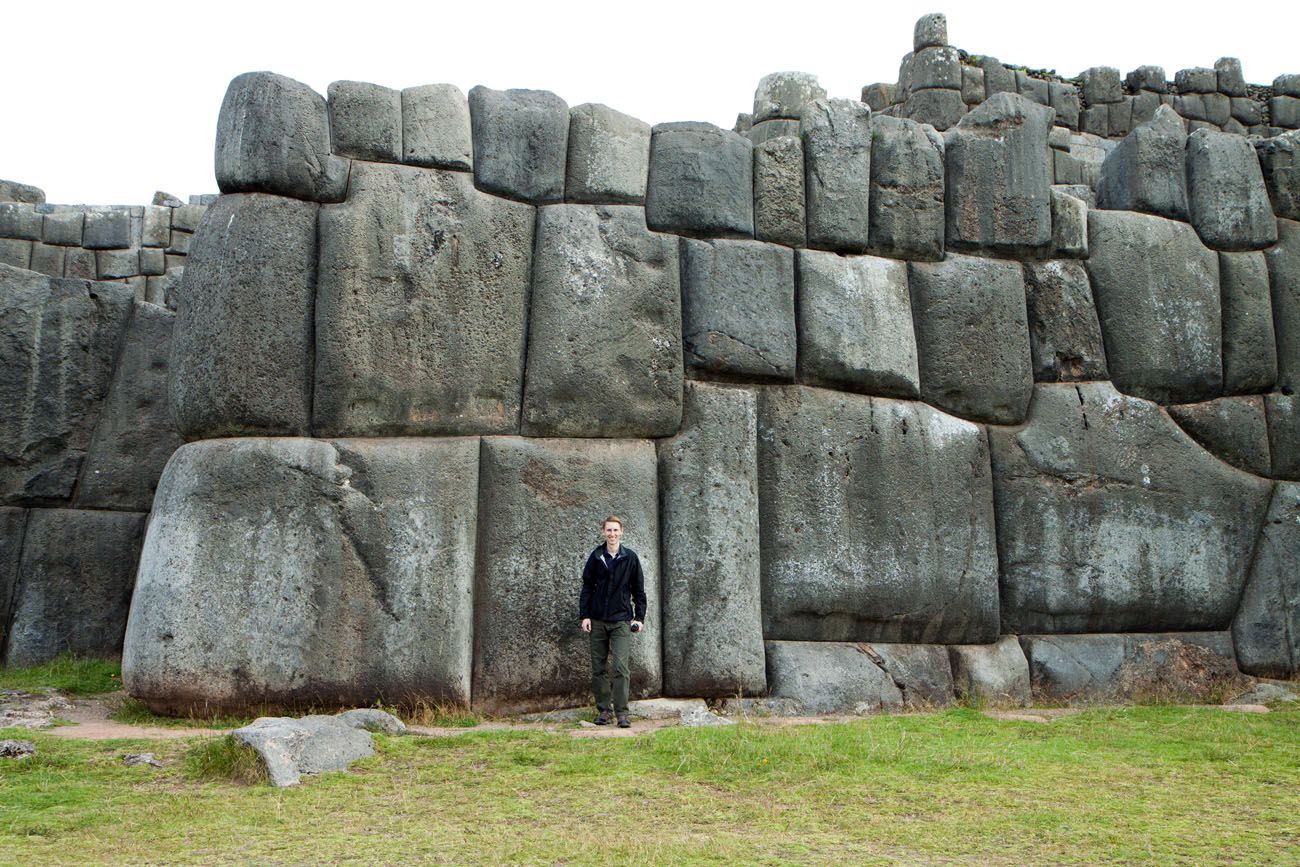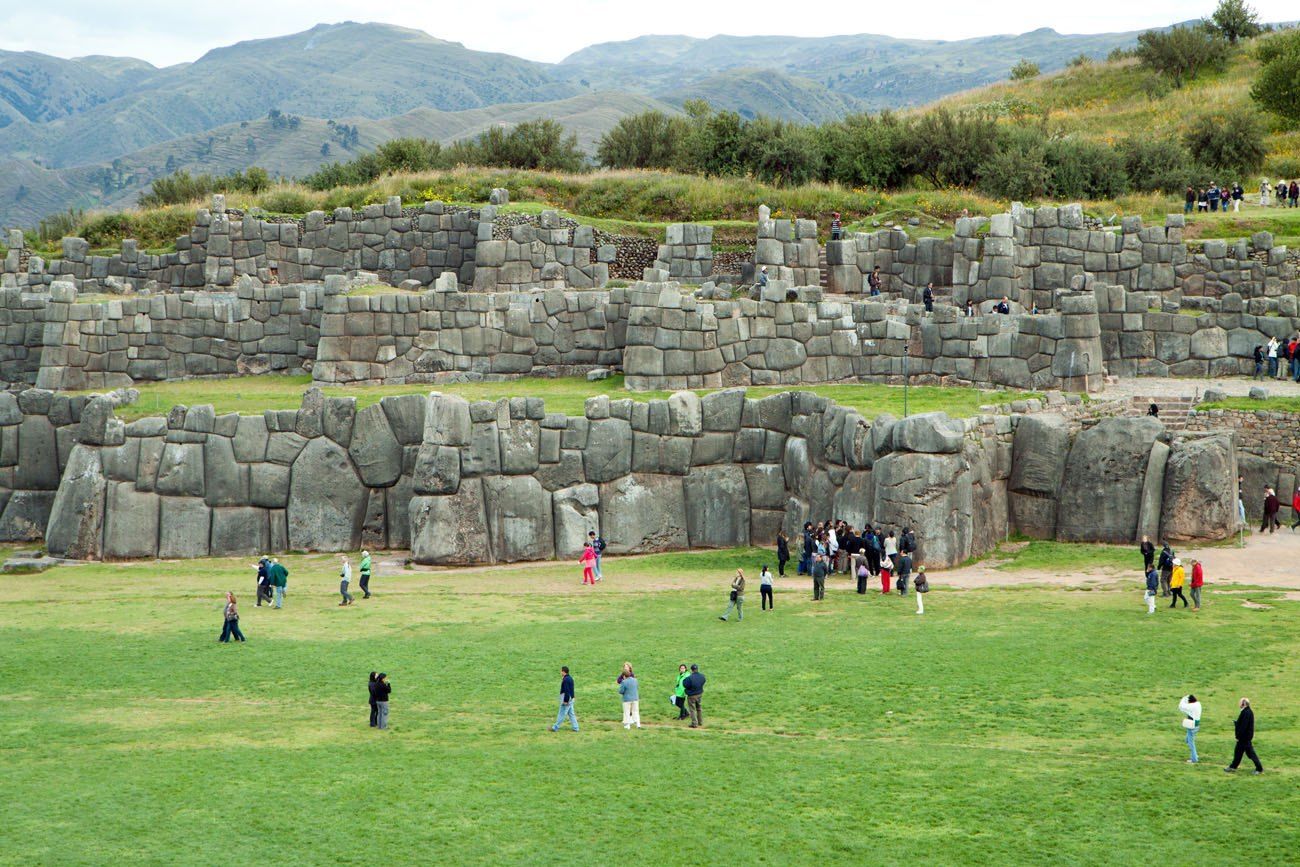 The pronunciation of Sacsaywaman is almost identical to "sexy woman," which of course was great joke material for Tim.
Overlooking Cusco from Sacsaywaman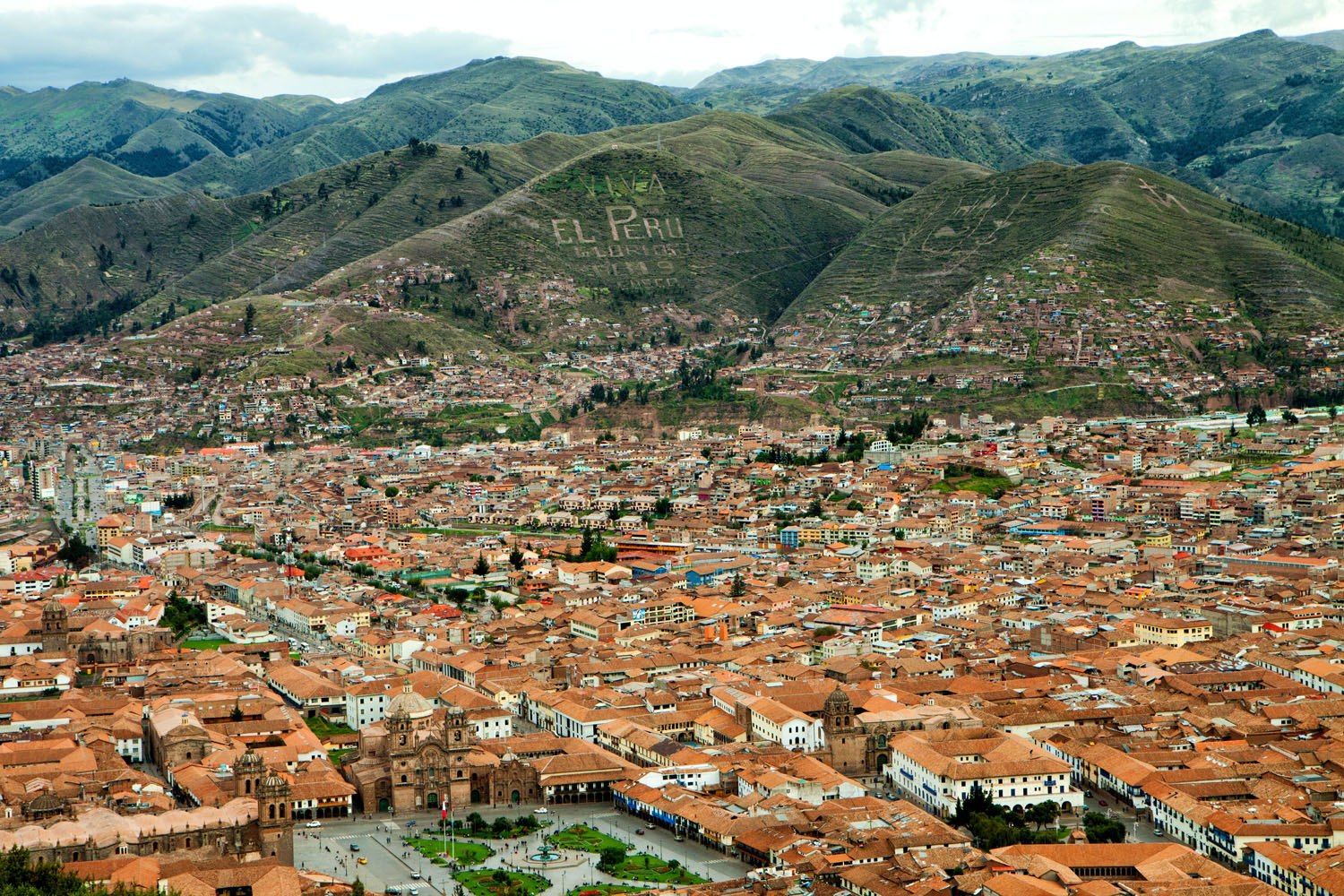 From Sacsaywaman we had great views over the city of Cusco. In the bottom of the photo is the Plaza de Armas, the main square in the center of town.
Cusco
Tim and I spent several nights in a hotel in Cusco within walking distance of the Plaza de Armas. This was a great place for shopping and dining. Our favorite place to eat in Cusco was Cicciolina's, which is located a few blocks from the Plaza. Tim and I ate here twice and they serve the very best pisco sours.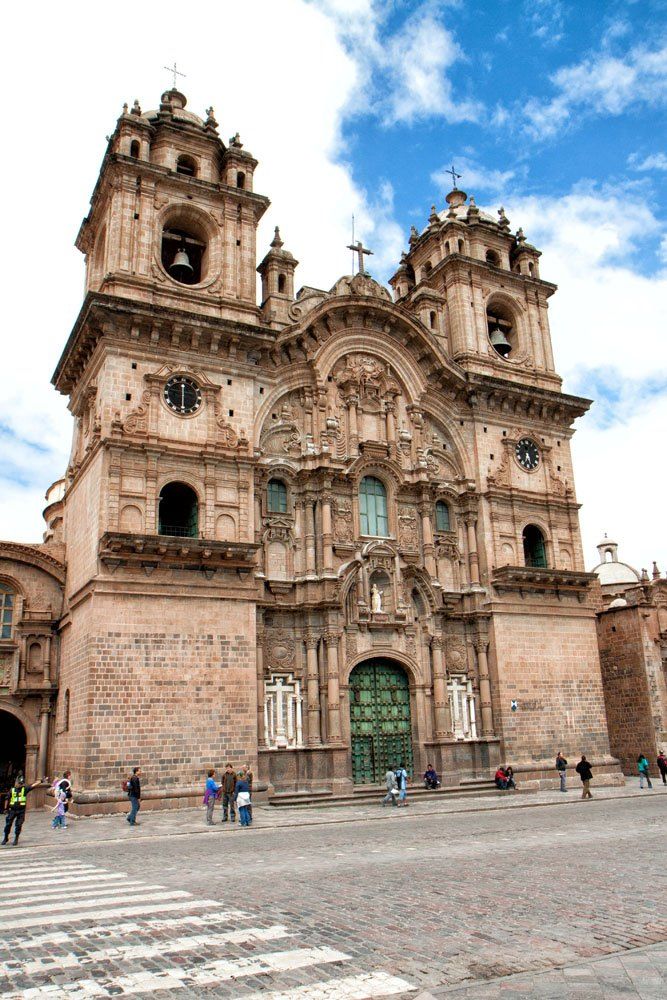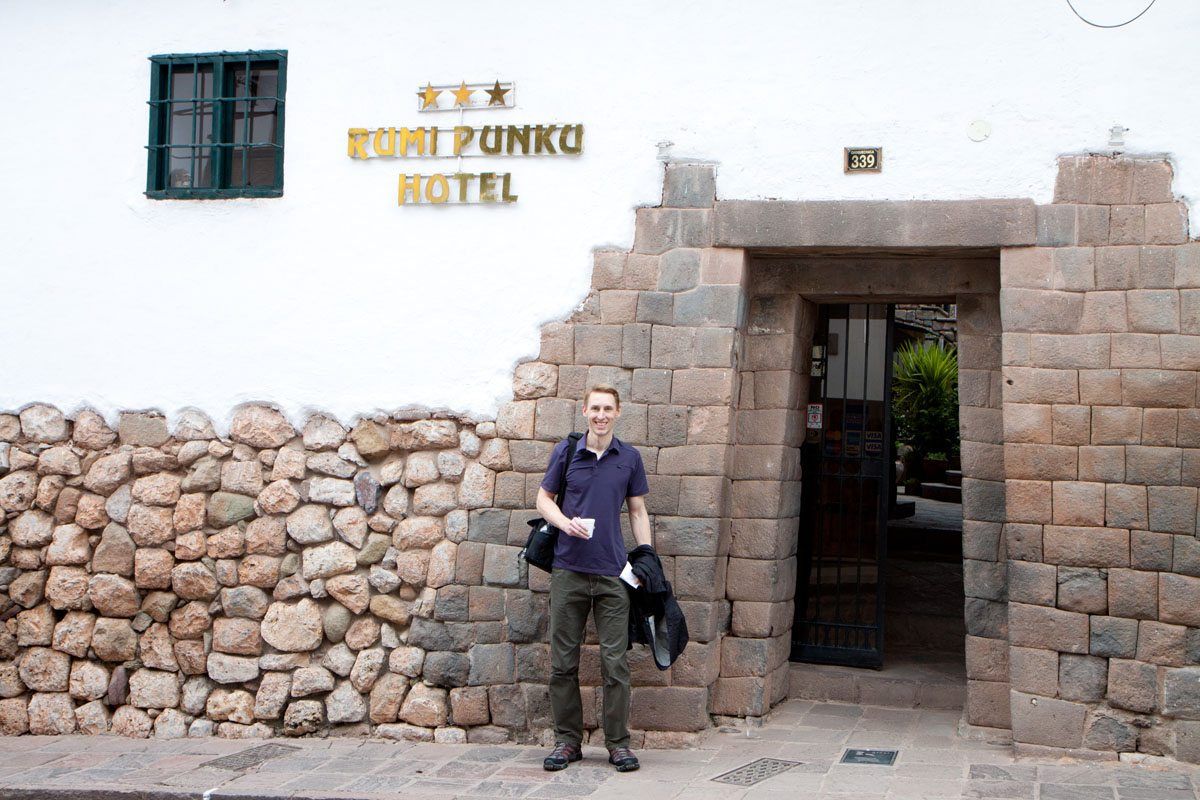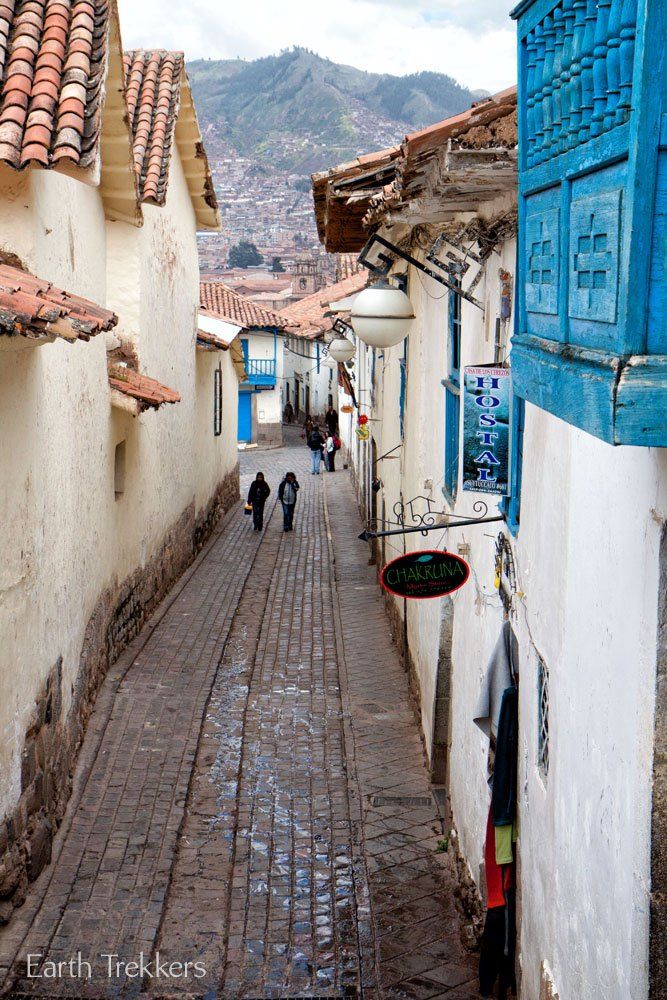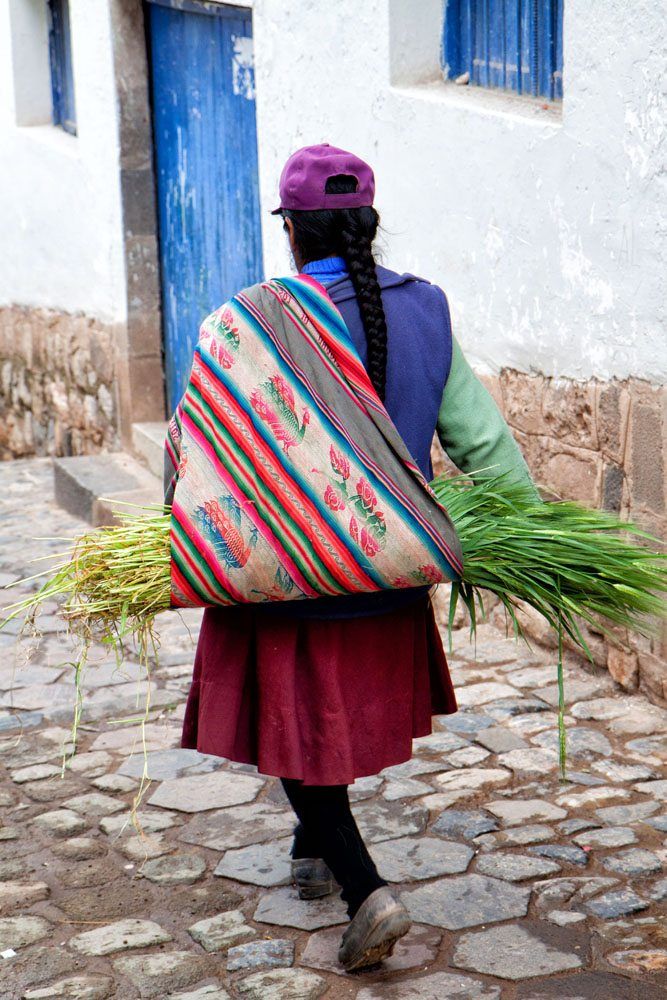 Weaving Lesson in Chinchero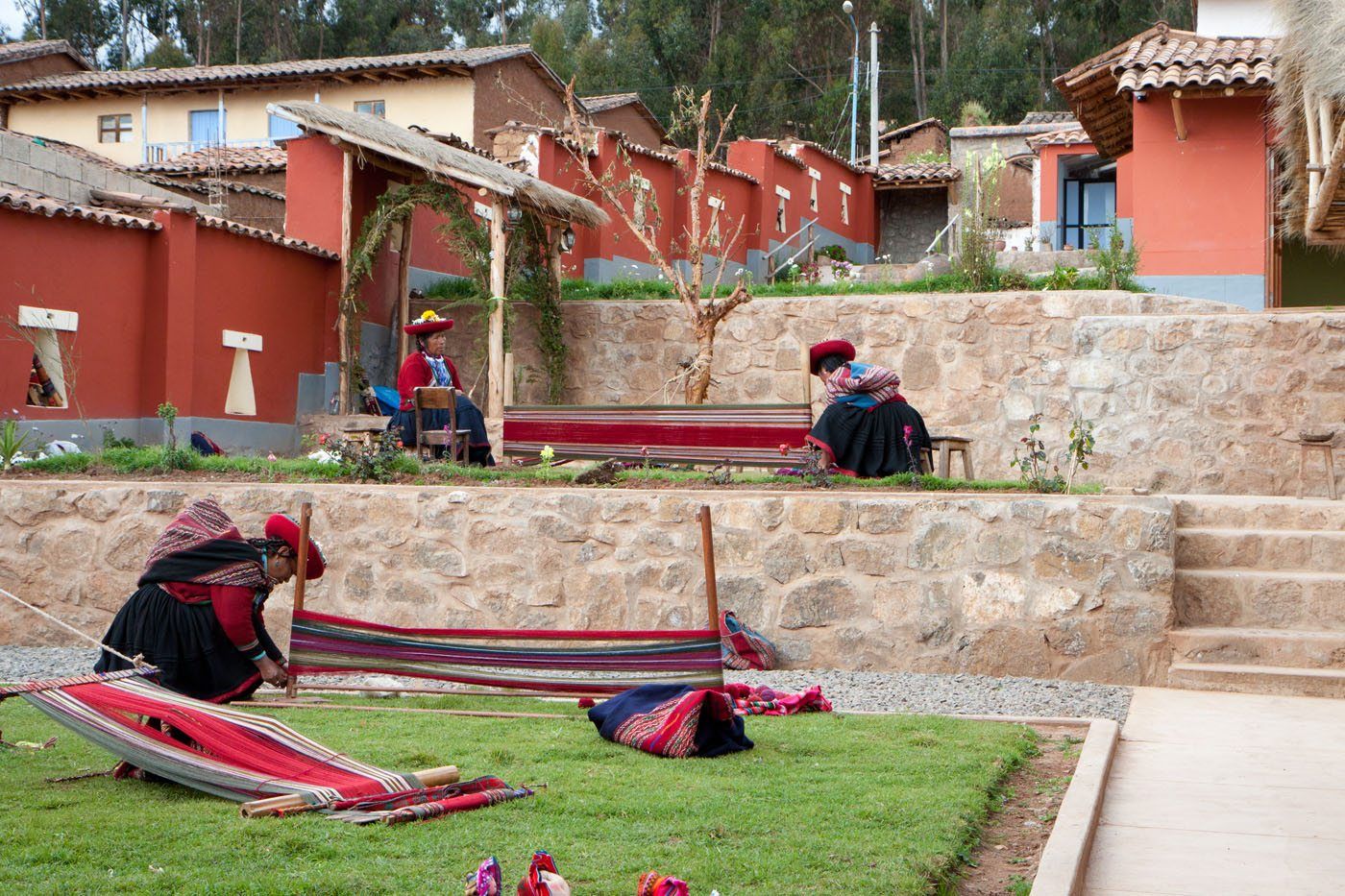 Tim and I received a one hour lesson in Chinchero about weaving. We were served coca leaf tea, sat on benches covered in alpaca fur, and listened while our guide, who spoke surprisingly good English, taught us all about the process of making and dying wool yarn.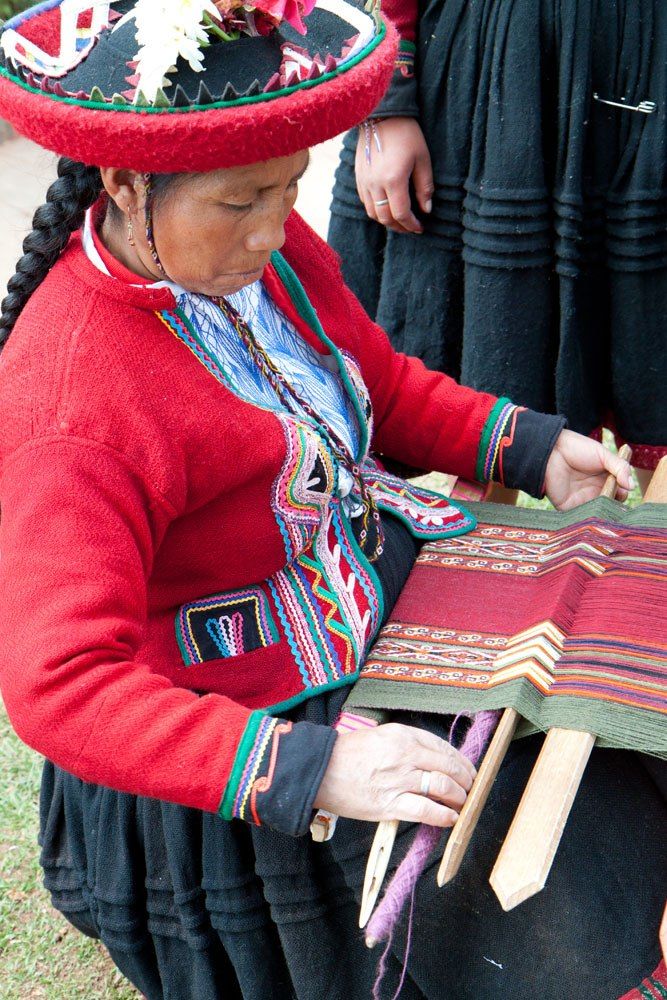 The women were very enthusiastic about showing us their crafts. We, of course, felt obligated to make a purchase. They had a huge amount of alpaca blankets, woven bags, and hats and gloves to choose from.
This lady, who also taught us about weaving, loved seeing our kids' toys. Tim and I started traveling with Tyler's R2-D2 and Kara's Rainbow Dash during our first trip to Europe in 2008. We have been taking pictures of these toys and posting them online as we travel so Tyler and Kara could follow us (and their toys) as we visited important places. Anyway, this lady offered to have her photo taken with R2-D2 and Rainbow Dash. She was giggling and so cute. She had no idea who R2-D2 was or anything about the movie "Star Wars." This may be one of the neatest photos with the kids' toys yet.
Driving to Ollantaytambo
As we drove from Chinchero to Ollantaytambo we passed by this souvenir stand with an amazing view over the Urabamba Valley. This part of Peru is gorgeous.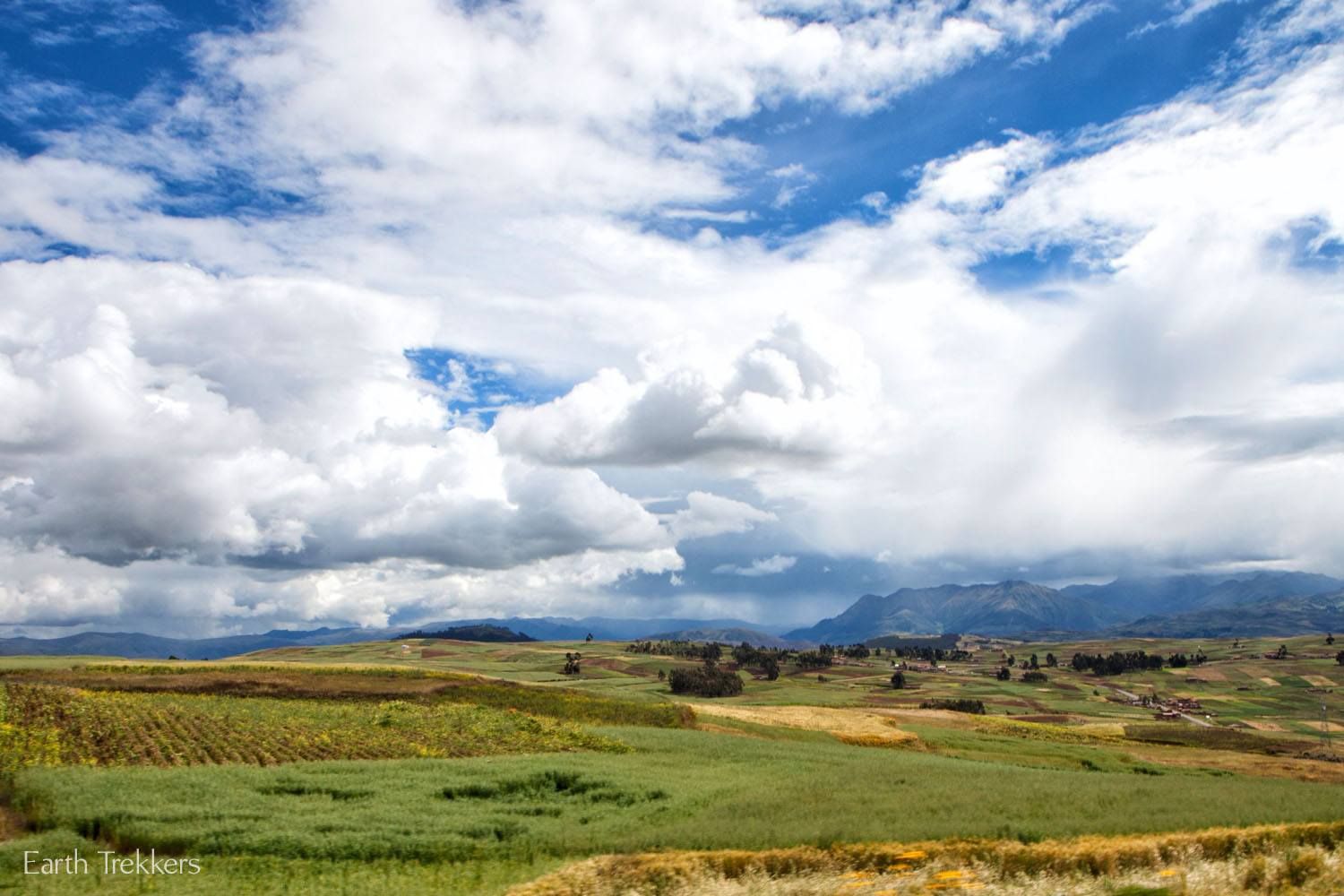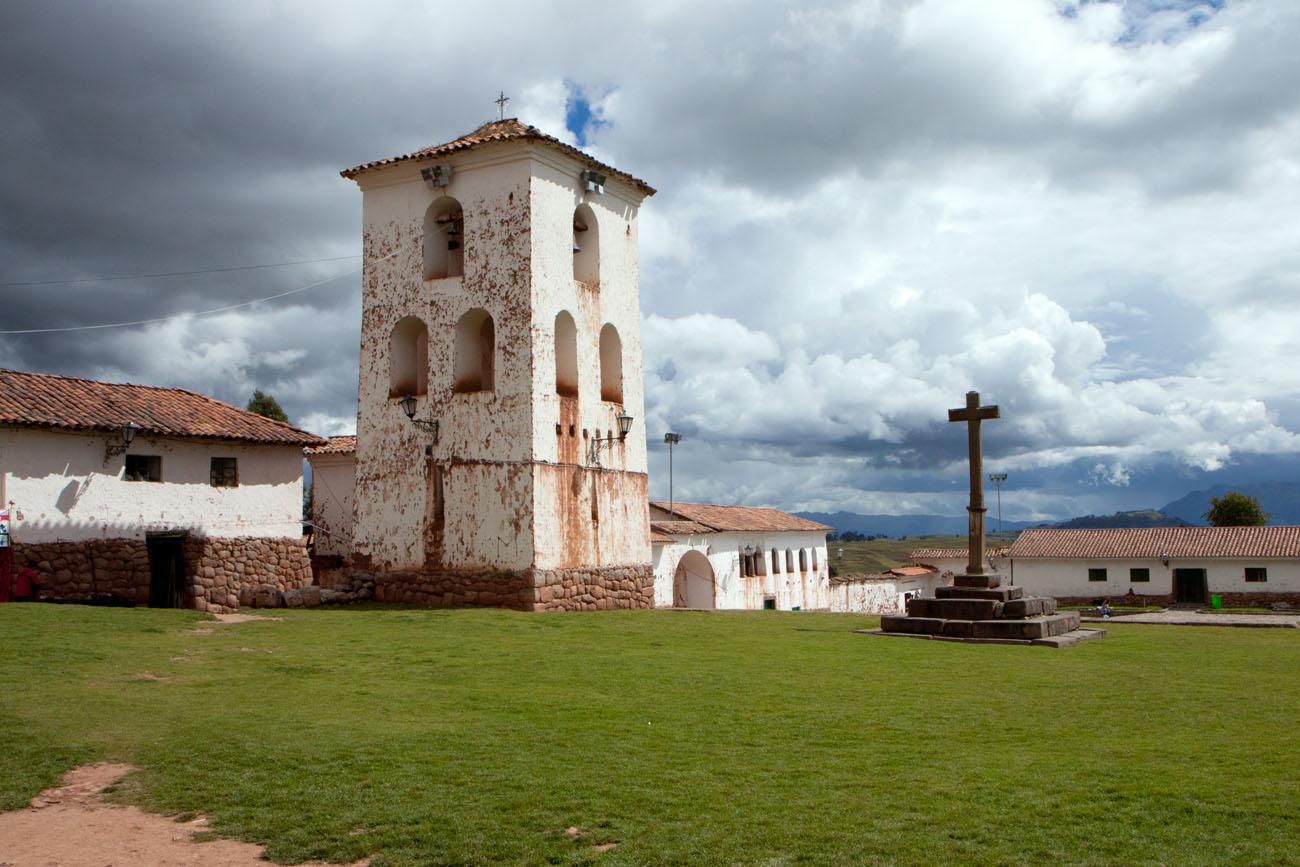 Ollantaytambo
Tim and I stayed in Ollantaytambo for one night before catching the train the Machu Picchu. Ollantaytambo was our favorite town in Peru. It is a quaint, unassuming town at the foot of the mountains and located on the Urabamba River. Ollantaytambo is the last town on the way to Machu Picchu from Cucso, and most people skip right over this place on their quick day trip from Cusco. It is worth spending at least one night here. And "Ollantaytambo" is just the best name ever!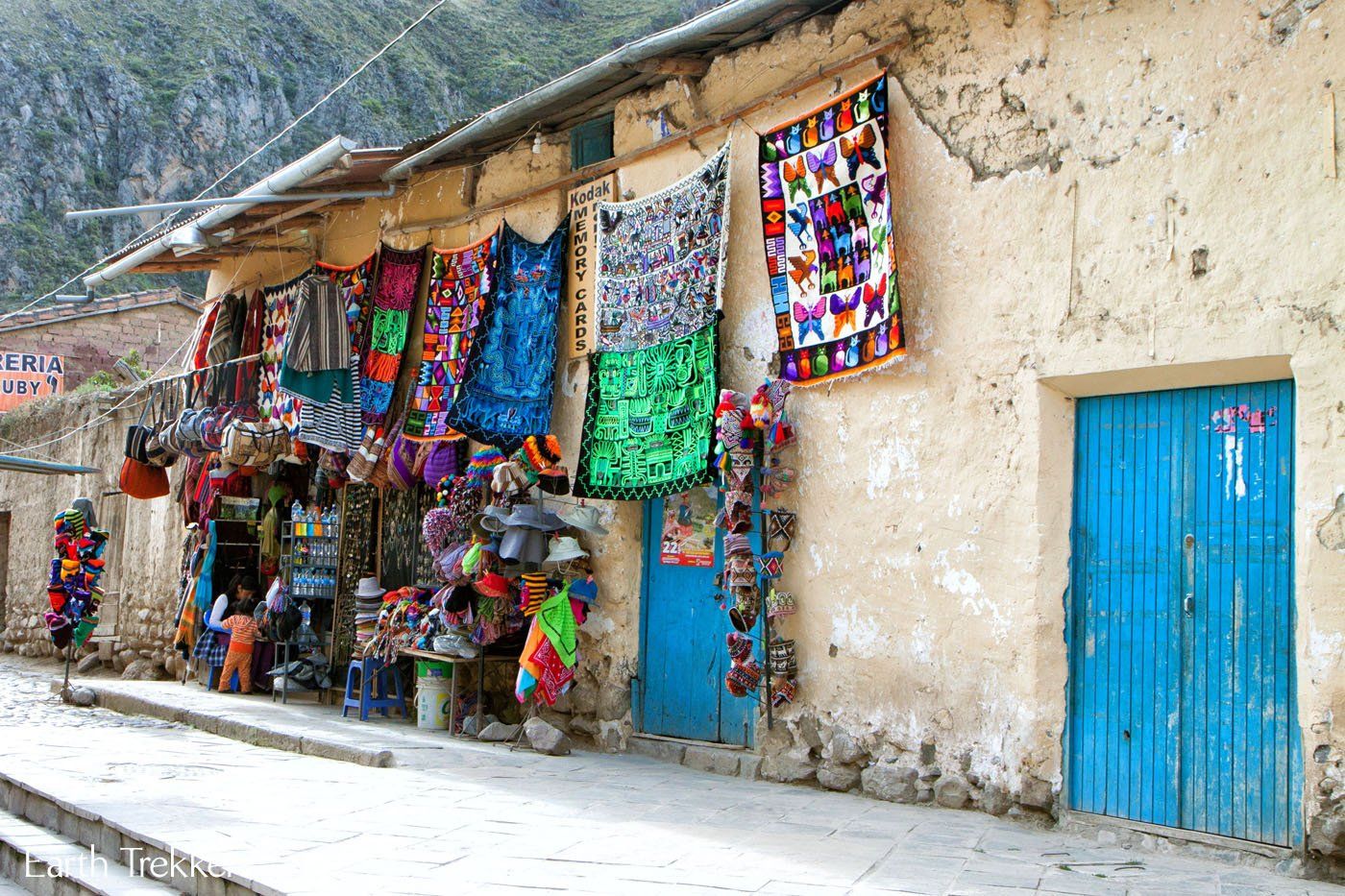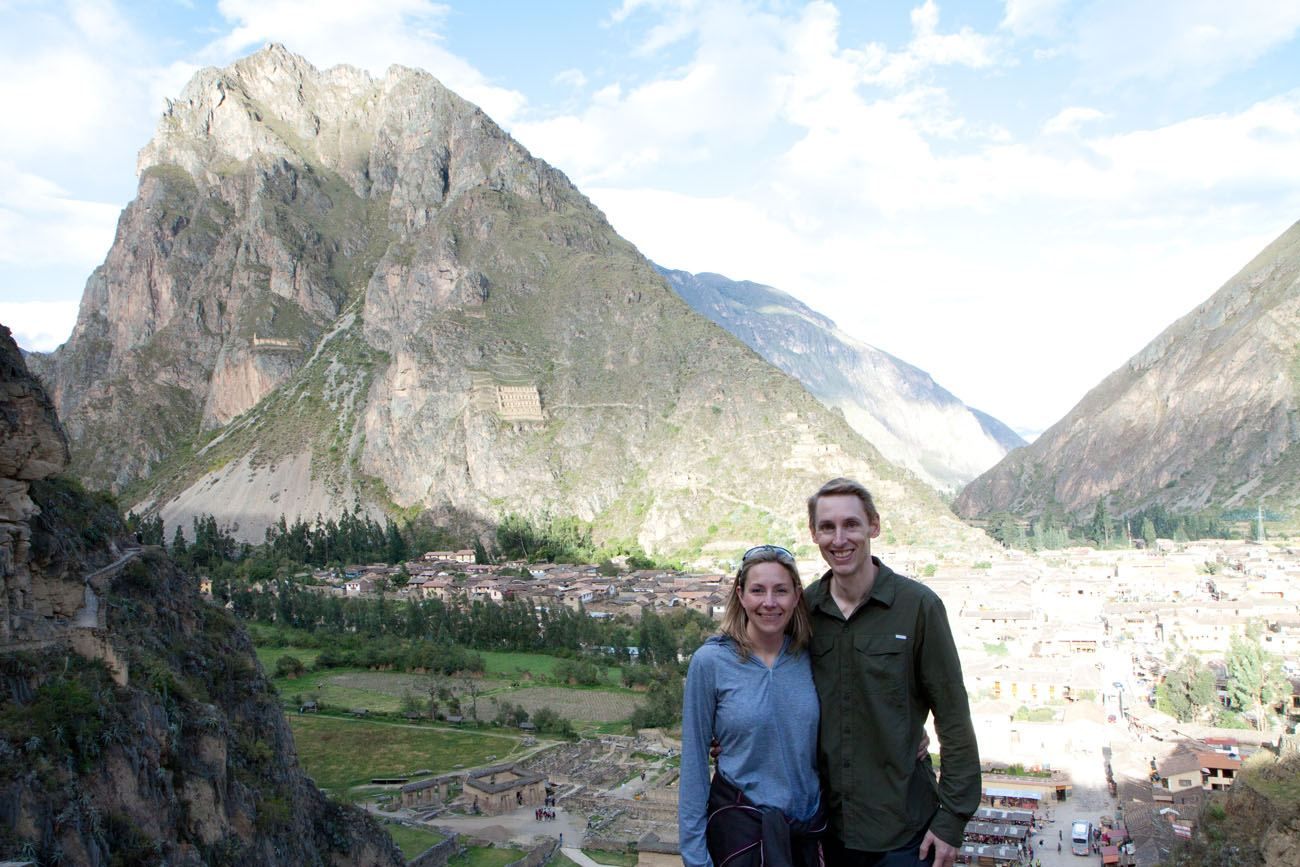 Tim and I ascended hundreds of steps to the top of the fortress. We had a great time exploring, taking pictures, and overlooking Ollantaytambo.
---
More Information for Your Trip to Peru
MACHU PICCHU: Explore Machu Picchu in photos and learn what it is like to hike to Machu Picchu in one day (a great option for those short on time but still want to enter Machu Picchu through the Sun Gate).
ADVENTURES IN PERU: Venture into the Amazon, go mountain biking near Ollantaytambo, and go rock climbing and zip lining in the Urabamba River Valley.
PERU ITINERARY: In this 10 Day Peru Itinerary, visit Cusco, walk the one day Inca Trail to Machu Picchu, explore Ollantaytambo and the Urabamba River Valley, and journey into the Amazon. It's a trip of a lifetime!
TRAVEL AROUND THE WORLD: Learn more how to plan a trip around the world in our Around the World Travel Guide. You can also read our 13 Month Around the World Itinerary and a recap about our around the world trip.
Are you planning a trip to Peru? Read all of our articles about Peru in our Peru Travel Guide.
All rights reserved © Earth Trekkers. Republishing this article and/or any of its contents (text, photography, etc.), in whole or in part, is strictly prohibited.