Estes Park is the gateway into Rocky Mountain National Park. This small town is home to numerous hotels and restaurants, making it the perfect home base for exploring the Rocky Mountains. But if you need a break from exploring the national park, there are a bunch of fun things to do in town.
In this post, we cover the best things to do in Estes Park, with advice on where to eat and where to stay.
Best Things to Do in Estes Park
Visit the Stanley Hotel
The Stanley Hotel is a historic hotel located in Estes Park. It opened in 1909 as a resort for upper class travelers and as a health treat for those with tuberculosis. Nice combination of visitors, right?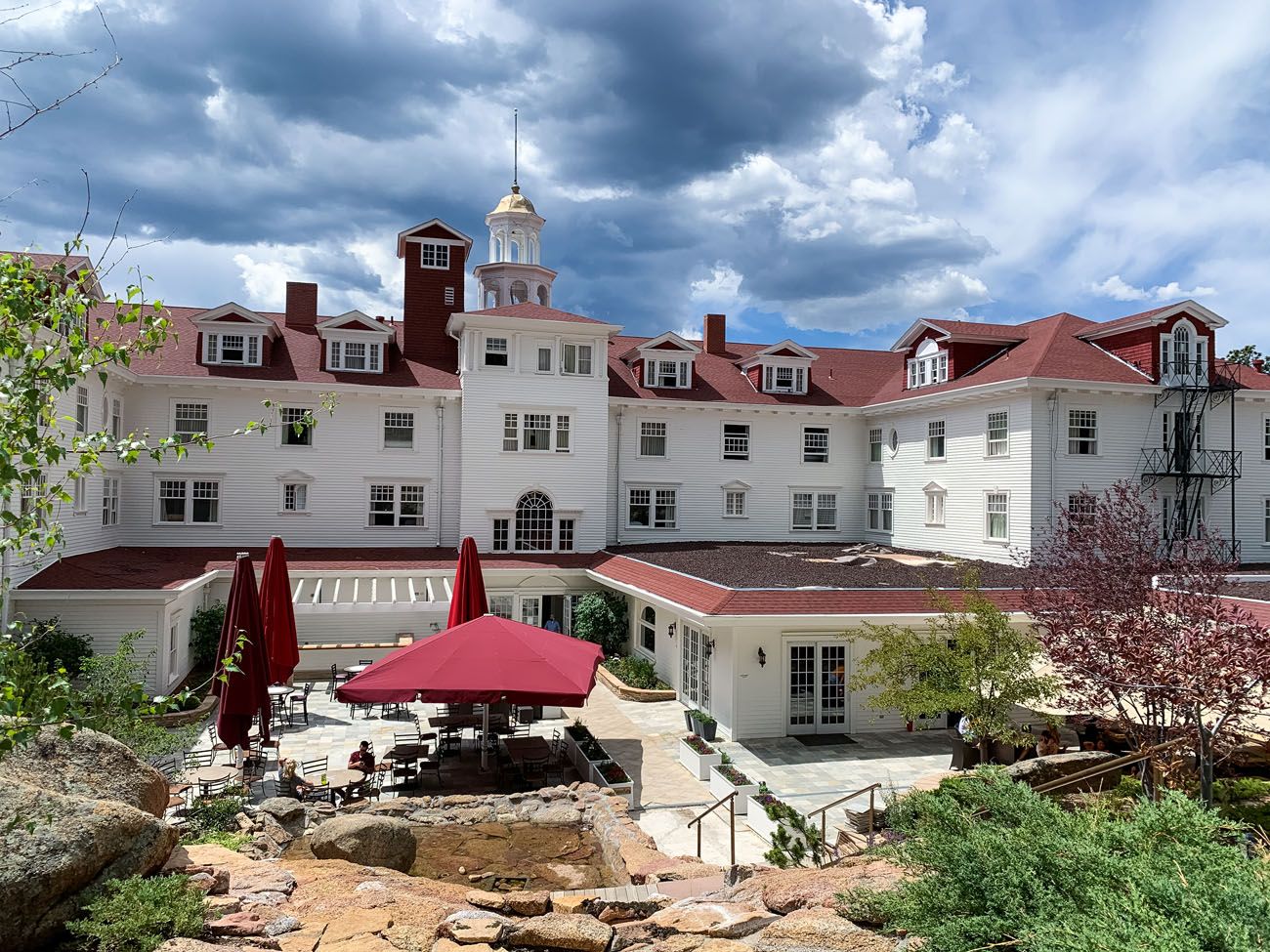 The Stanley Hotel's real claim to fame is its link to Stephen King's novel The Shining. In 1974, Stephen King and his wife Tabitha spent one night in this hotel. His stay in room 217, his visit to the bar, and the Stanley Hotel's remote location, all formed the perfect ingredients in Stephen King's mind for his next bestselling novel, a thriller which takes place in the fictional Overlook Hotel.
You can learn more about the history of the Stanley Hotel on a tour of the property, which is offered daily. For pricing details and to schedule your tour, visit the Stanley Hotel website.
A nice way to end the day is a visit to the Whiskey Bar & Lounge. We can vouch that the drinks are great, and so is the food.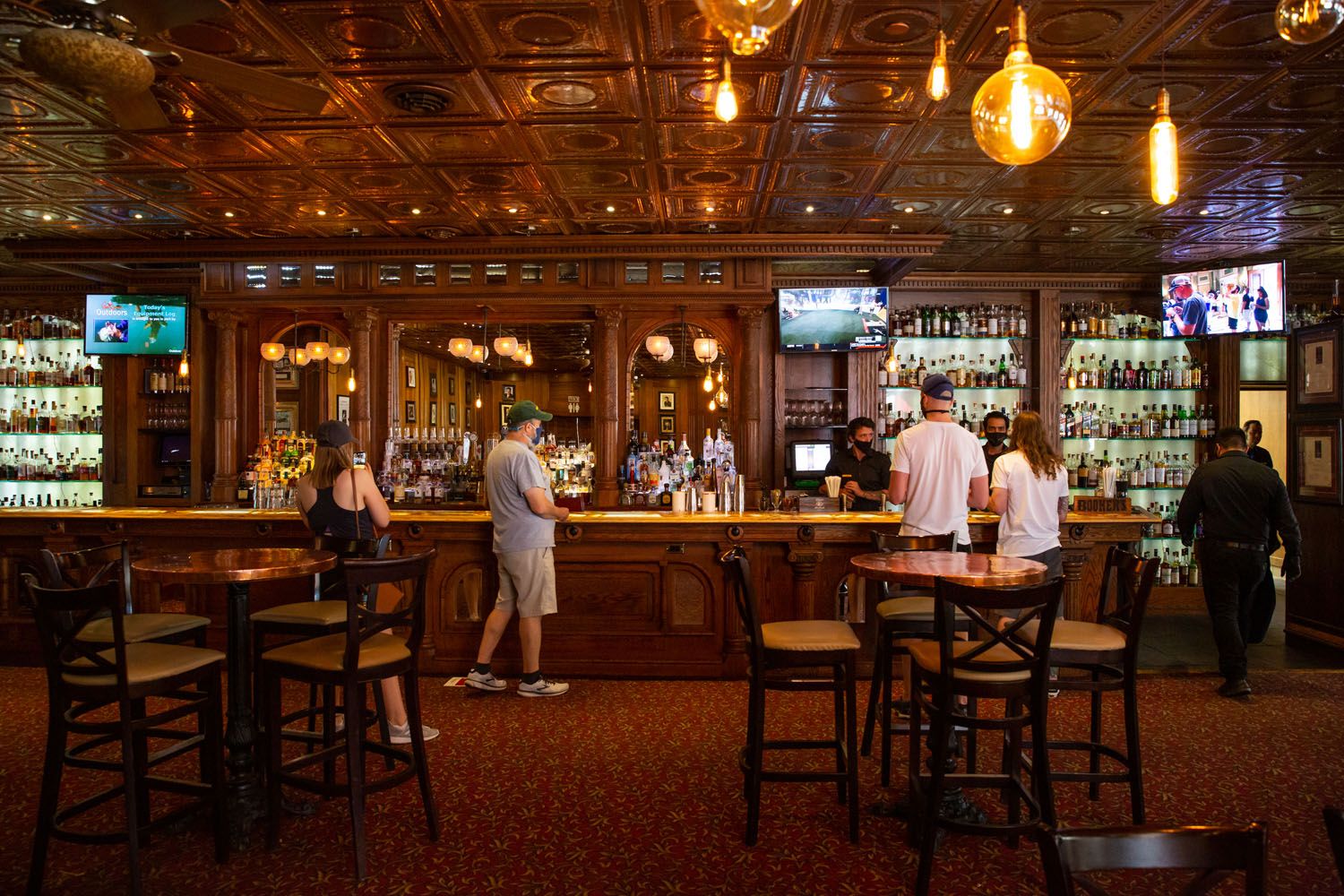 Ride the Aerial Tramway to Prospect Mountain
For a bird's eye view over Estes Park, ride the Aerial Tramway to the peak of Prospect Mountain. The best time to ride the tram is in the early morning and the late afternoon, when crowds and the threat of thunderstorms are low.
Learn more, including prices and hours, on the official website.
Hike the Kruger Rock Trail
For more aerial views of Estes Park, hike the Kruger Rock Trail. This hike is 4 miles round trip and also offers great views of Rocky Mountain National Park. There is a $10 car fee to enter Hermit Park.
Spend Some Time on Lake Estes
This is a great spot to take a break from the heat in the summer months. At the Estes Park Marina, you can rent kayaks, canoes, stand-up paddle boards, and paddle boats. If you want to go fishing, you can rent a motorized boat or bring your own.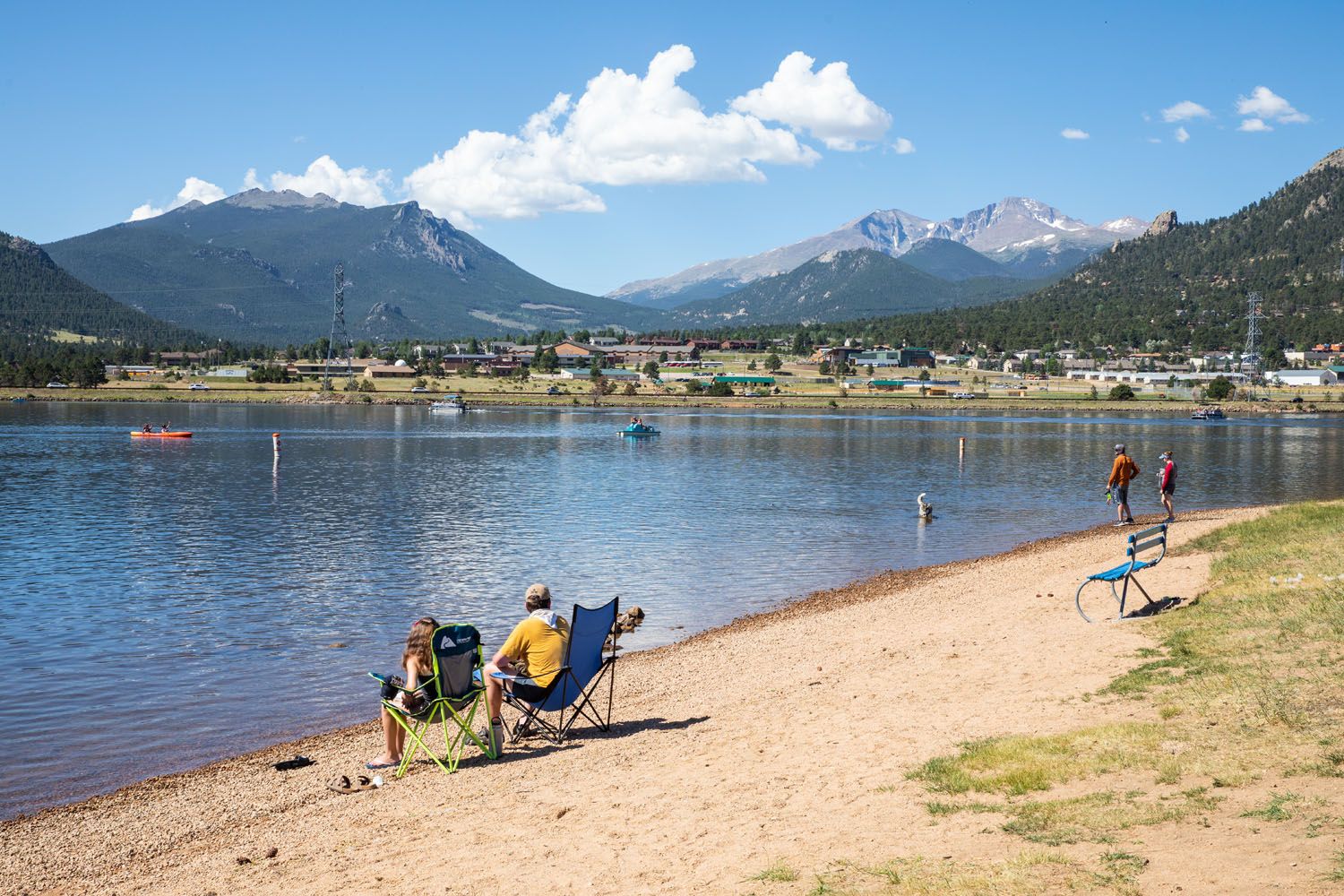 The Lake Estes Marina is open from May through early October. For information on pricing and hours, click here.
Downtown Estes Park
Lining the streets of Elkhorn Avenue are souvenir shops, restaurants, and clothing stores. The sidewalks along this city street become very crowded in the afternoons during the summer months.
For a quieter experience, you can take a stroll along the Riverwalk. A paved trail runs behind the shops and restaurants on Elkhorn Avenue, along the Big Thompson River.
Drive the Peak to Peak Scenic Byway
This 55-mile scenic drive starts in Estes Park and heads south along the eastern edge of Rocky Mountain National Park and Colorado's Front Range. This road traverses mountain peaks and goes through several historic towns before ending in Central City.
The Peak to Peak Byway is one of Colorado's best scenic drives. If you have plans to head south after your visit to Estes Park, this is a beautiful drive.
Estes Park Ride-A-Kart
This family fun center has mini-golf, go-karts, bumper boats, an arcade, batting cages, and a trampoline…making this a great place to take your kids. This park is open May through October. Click here for pricing and hours.
Visit a Winery, Brewery, and/or a Distillery
Snowy Peaks Winery and Tasting Room offers their own handcrafted wines along with wines from some of Colorado's boutique wineries. In addition to tastings and wine flights, you can also purchase gourmet cheeses, chocolates, and jam.
Elkins Distilling Company. Elkins Distilling Co. distills whiskey right in Estes Park. The distillery and tasting room are located near Lake Estes. Come in for a tasting, a craft cocktail, or souvenirs.
Rock Cut Brewing Company. This craft brewery is a great place to end the day after exploring Rocky Mountain National Park. They do not serve food but there is a food truck parked right outside of their patio. Tim and I had a flight of beer while we ate Mexican food from the food truck and it was one of our best meals in Estes Park.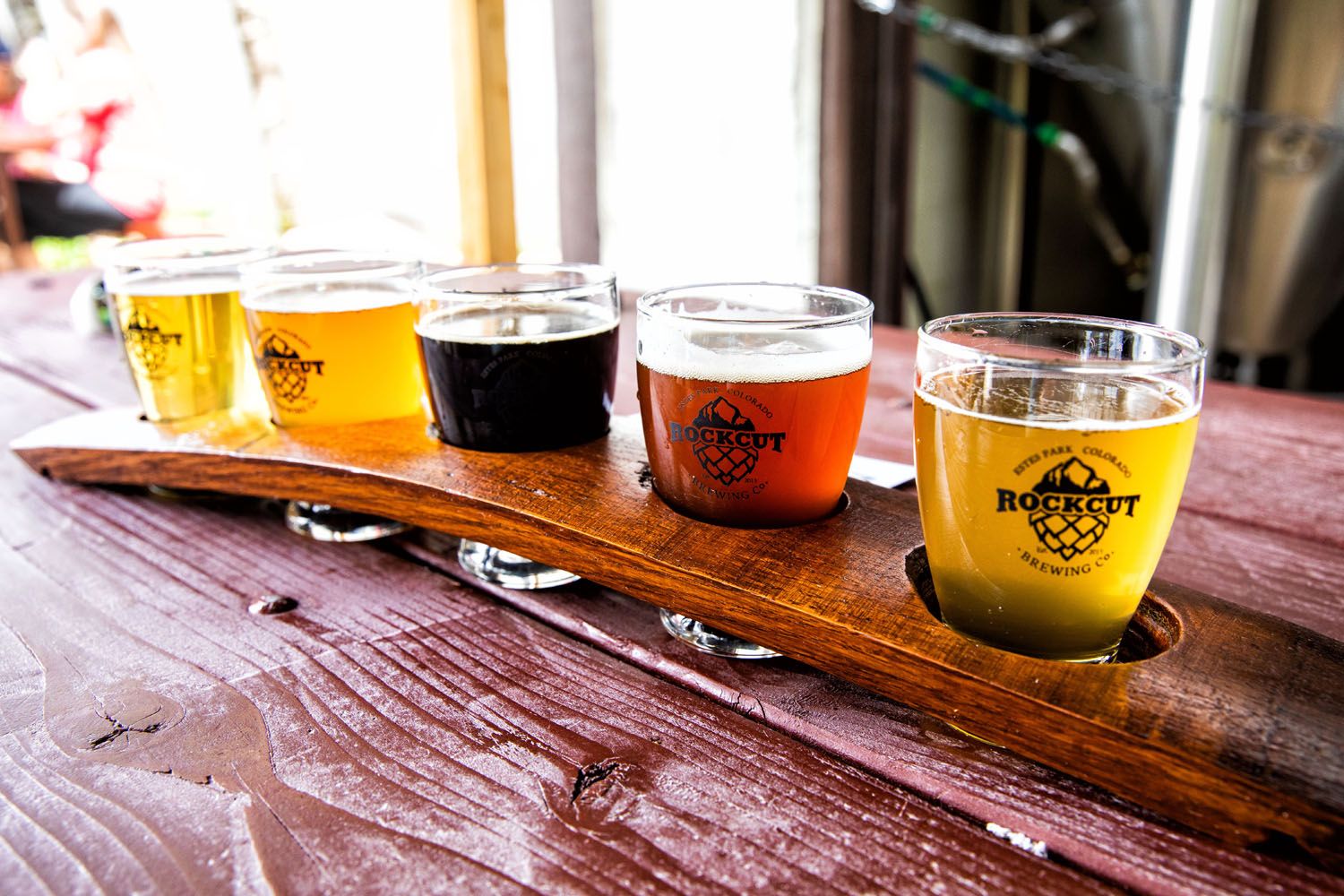 Rocky Mountain National Park
Of course, you can't go to Estes Park without visiting Rocky Mountain National Park. Drive Trail Ridge Road, hike the trails, and see how many elk you can spot. To learn what to do and how to plan your time, take a look at these articles:
Top 10 Things to Do in Rocky Mountain National Park
The Perfect Rocky Mountain National Park Itinerary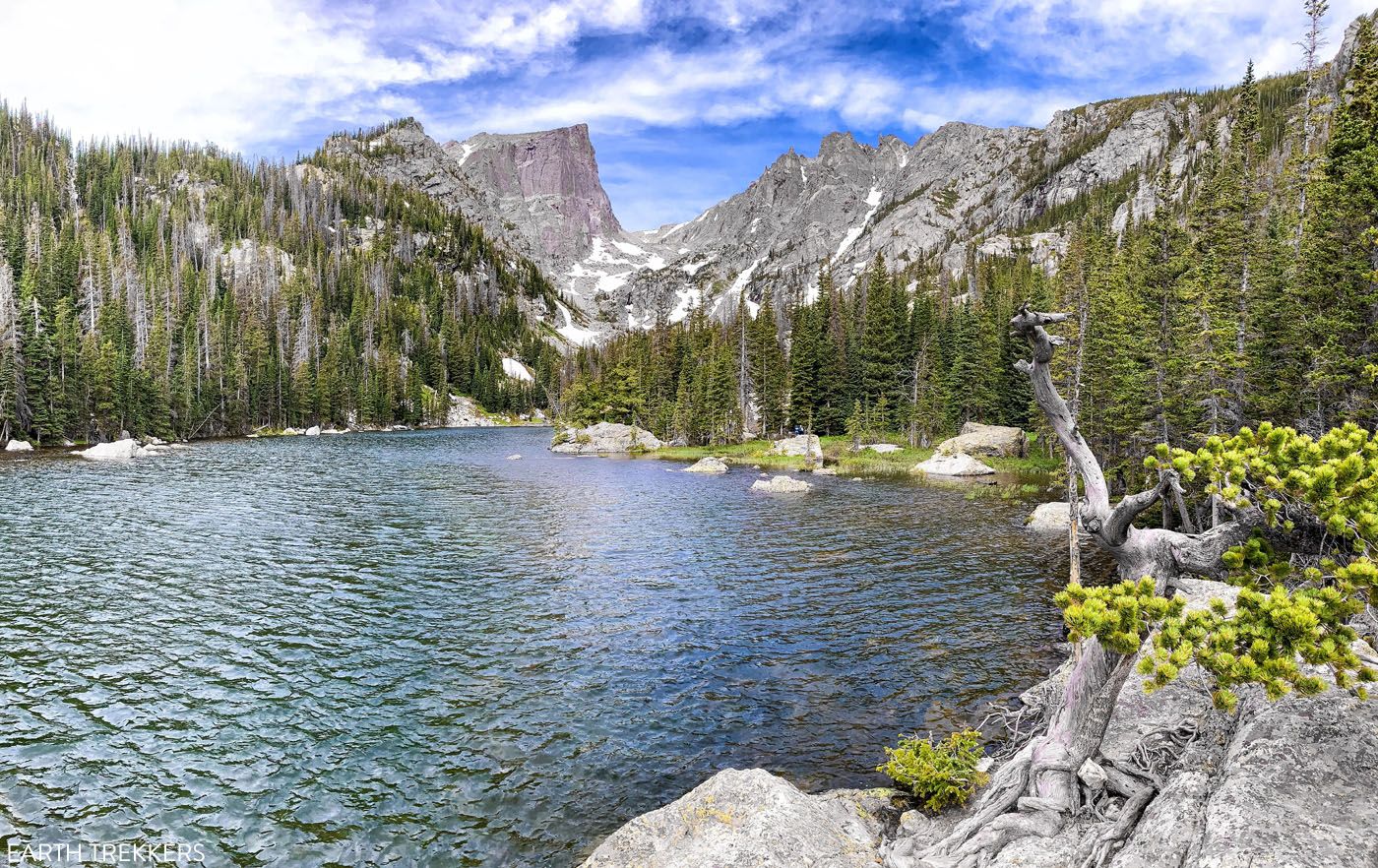 Dream Lake in Rocky Mountain National Park
Where to Eat in Estes Park
There is a long list of restaurants in Estes Park. You can find almost anything here…burgers and sandwiches, pizza, Mexican, Indian, Italian and even Nepalese. We spent one week in Estes Park and ate at quite a few of these restaurants. Here are our top picks in Estes Park.
Rock Inn Mountain Tavern. This is our favorite restaurant in Estes Park and I highly recommend it. The bison meatballs, the hickory smoked bison sandwich, and the Greens & Grains bowl are amazing. The drinks are pretty good, too.
Antonio's Real New York Pizza. The pizza is fantastic and so are the garlic knots. This restaurant is just a short drive from Ride-A-Kart and what kid wouldn't love to play mini-golf and have pizza for dinner?
The Egg of Estes. If you want breakfast or brunch, this is one of the highest rated breakfast joints in Estes Park. They also serve sandwiches, so if you finish early in Rocky Mountain National Park, this is a good place to get lunch.
Nepal's Café. This was another one of my favorite restaurants in Estes Park but I am a huge fan of Indian food. It's a tiny restaurant but you can sit outside on the patio. I'd go back again just for the Masala Chai tea, but everything we had was fantastic.
Dunraven Inn. If you want Italian food, this is the place to go. Located in the Estes Park Resort, this restaurant offers dinner with a view over Lake Estes. I recommend making a reservation because this restaurant was always busy.
Ed's Cantina & Grill. This restaurant serves decent Mexican and southwestern food.
Smokin' Daves BBQ & Brew. If you like barbecue, this is the place to go in Estes Park. This restaurant gets rave reviews and was always very busy.
And you can also dine at Rock Cut Brewing Company, Snowy Peaks Winery, and the Whiskey Bar in the Stanley Hotel.
Overlooking Estes Park from the trail to Gem Lake.
Where to Stay in Estes Park
UPSCALE: The Stanley Hotel. This historic hotel is one of the top places to stay in Estes Park.
The Stanley Hotel offers a wide range of rooms. The rooms within the main hotel building get mixed reviews. Some visitors complain of noise and hot temperatures in the summer (there is no air conditioning). The Aspire rooms are higher-end, modernly decorated rooms but many people state that they are overpriced for what you get.
I recommend staying at The Residences. Take your pick from one, two, three, and four bedroom houses that come equipped with a full kitchen. Each residence is individually managed, so some are better than others. We stayed in a 3-bedroom house, #402, and it was perfect. Plenty of room, good WiFi, nice furnishings, and beautiful views from our balcony. I highly recommend this particular residence.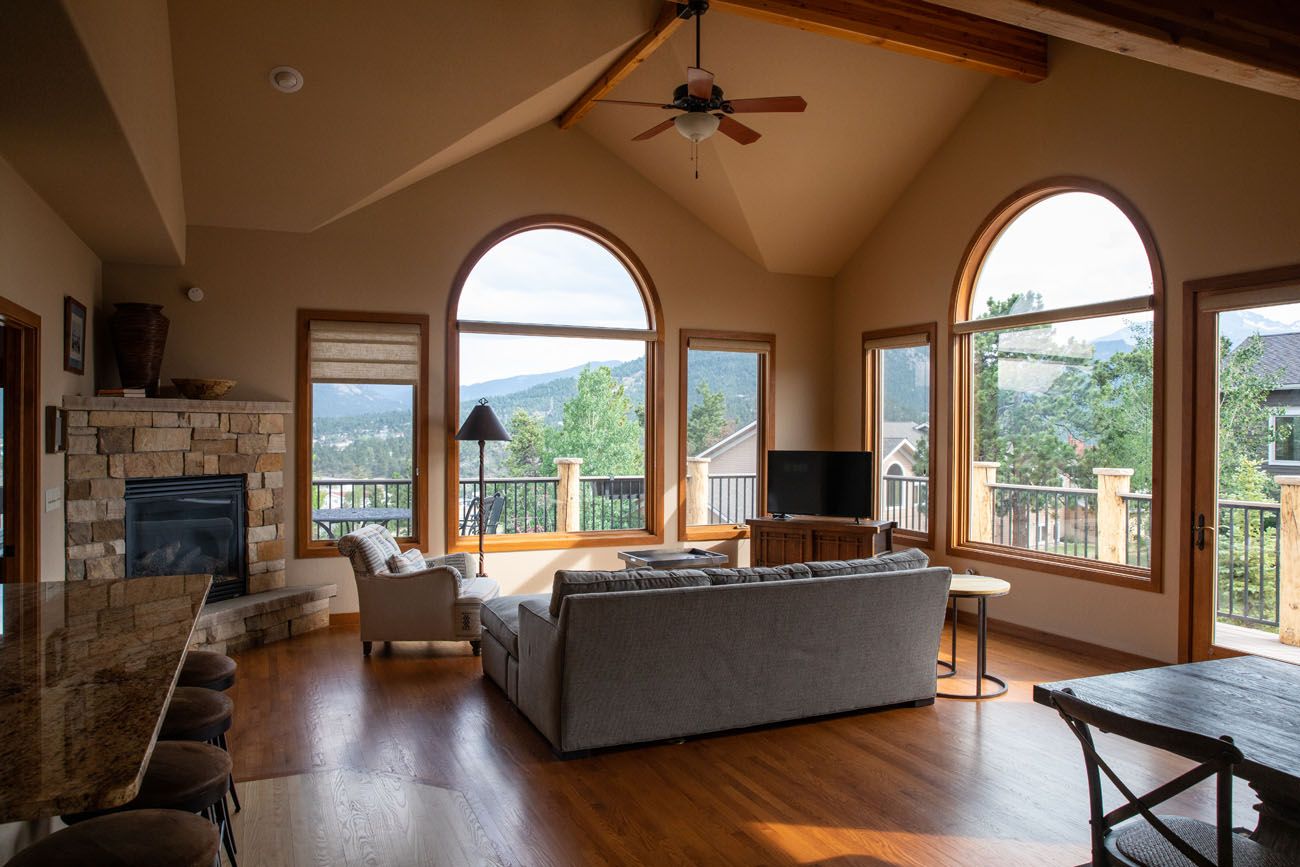 Photos of residence #402
MID-RANGE: WorldMark Estes Park. This very highly rated property offers two-bedroom apartments that can accommodate up to six people. It is located just outside of Estes Park, on the south side, an excellent location for driving into Rocky Mountain National Park.
MID-RANGE: The Inn on Fall River & Fall River Cabins. This property is located west of Estes Park on Fall River Road, so you will have a longer drive to get into the heart of the park. However, this property gets rave reviews. You can stay in a cozy cabin with a river view or a well-decorated suite. There is even a three-bedroom house that can accommodate up to nine people.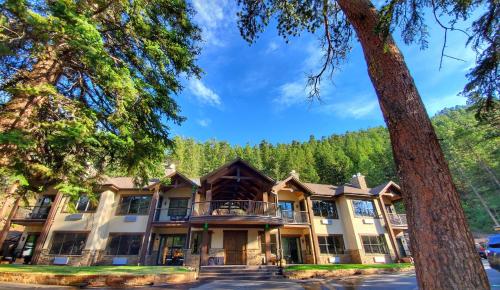 The Inn on Fall River & Fall River Cabins
BUDGET: Murphy's River Lodge. Remodeled in 2011, this lodge is located two blocks from downtown Estes Park and sits on Fall River. Some rooms have river views and some rooms are pet friendly.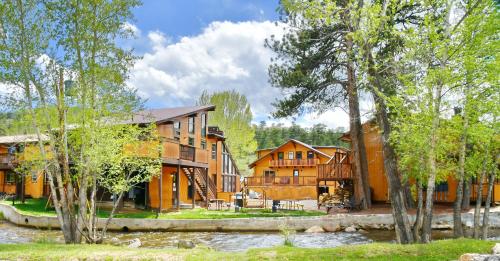 Murphy's River Lodge
BUDGET: Blue Door Inn. This property gets excellent reviews on both Booking.com and Trip Advisor. Rooms can accommodate two to four people and there is an outdoor pool and basketball court.
Best of Estes Park: On a Map
How to Use This Map: Click the icons on the map to get more information about each point of interest. Click the star next to the title of the map to add this map to your Google Maps account. To view it on your phone or computer, open Google Maps, click the menu button, go to "Your Places," click Maps, and you will see this map on your list.
Note: The header photo for this post was taken from the Twin Sisters peak in Rocky Mountain National Park. From these two peaks you get great views over Estes Park and of Longs Peak in Rocky Mountain National Park.
---
If you have plans to visit Estes Park and Rocky Mountain National Park and have any questions, let us know in the comment section below.
More Information about Colorado
ROCKY MOUNTAIN NATIONAL PARK: For an overview of Rocky Mountain National Park and links to all of our RMNP articles, take a look at our Rocky Mountain National Park Travel Guide. To help you plan your trip, we also have articles about the best things to do in Rocky Mountain National Park, the best hikes in the park, and how to plan the perfect itinerary.
NATIONAL PARKS IN COLORADO: In our guide to the National Parks in Colorado, learn about all 4 national parks: Rocky Mountain, Black Canyon of the Gunnison, Great Sand Dunes, and Mesa Verde. Learn how to combine them all together into one epic road trip in our 10 Day Colorado Itinerary.
SCENIC DRIVES IN COLORADO: Pikes Peak, the Million Dollar Highway, and the Peak to Peak Scenic Byway is just a short list of the scenic drives you can do in Colorado. For the full list, read our article about the Best Scenic Drives in Colorado.
GREAT SAND DUNES: In our article Best Things to Do in Great Sand Dunes National Park, we cover the top experiences, plus how to plan your time, where to stay, and more.
FOR FAMILIES: If you have children, here are 12 great national parks to take your kids.
Note: This post contains affiliate links. When you make a purchase using one of these affiliate links, we get paid a small commission at no extra cost to you.
All rights reserved © Earth Trekkers. Republishing this article and/or any of its contents (text, photography, etc.), in whole or in part, is strictly prohibited.