The Ute Trail to Tombstone Ridge is a wonderful, short, easy hike to do in Rocky Mountain National Park. For the entire hike, you are walking along the alpine tundra with unobstructed views of Longs Peak and Forest Canyon.
If you are looking for an easy hike with spectacular views of Rocky Mountain Park, put this hike at the top of your list. For very little effort, the views you get are unbelievable.
This is a great hike to do with kids. The amazing views start as soon as your feet hit the trail. You don't even have to hike the entire 4 miles…simply turn around when you are ready.
This is a great hike to add onto your drive along Trail Ridge Road, and from the trailhead, it is just a 15-minute drive to the Alpine Visitor Center.
Ute Trail to Tombstone Ridge Hiking Stats
Distance: 4 miles out-and-back
Difficulty: Easy
Total Elevation Gain: 520 feet
Starting Elevation: 11,455 feet
Length of Time: 2 to 3 hours
When to go: This hike can be done from the end of May through October, when Trail Ridge Road is open.
The Ute Trail is a historic trail. The Ute and Arapaho Indians walked this same ridge when traveling between their summer and winter hunting grounds. The name "Trail Ridge" comes from the footpaths they left behind.

Ute Trail to Tombstone Ridge elevation profile
Please practice the seven principles of Leave No Trace: plan ahead, stay on the trail, pack out what you bring to the hiking trail, properly dispose of waste, leave areas as you found them, minimize campfire impacts, be considerate of other hikers, and do not approach or feed wildlife.
Hiking the Ute Trail to Tombstone Ridge
Step-By-Step Trail Guide
Getting to the Trailhead
The trail starts on Trail Ridge Road (Highway 34), 1 mile east of the Forest Canyon Overlook. There is a very small parking lot at the trailhead that can hold about eight cars. Within walking distance of the trailhead are several other turnouts that can hold approximately 10 more cars.
We arrived at 6:30 am in early July and we were the first ones on the trail. If you arrive past 8 am, keep your fingers crossed that you will get a parking space. Fortunately, this is a short hike, so turnover at the parking lots will be high all day.
Hiking to Tombstone Ridge
This is a mostly flat hike (for Colorado 😉). There will be two short sections where you will hike uphill, but they are short and nothing too strenuous.
The trail starts on the south side of Trail Ridge Road. There is a trail marker at the trailhead, so it's easy to find. The entire trail is easy to follow so there is no need for maps or GPS.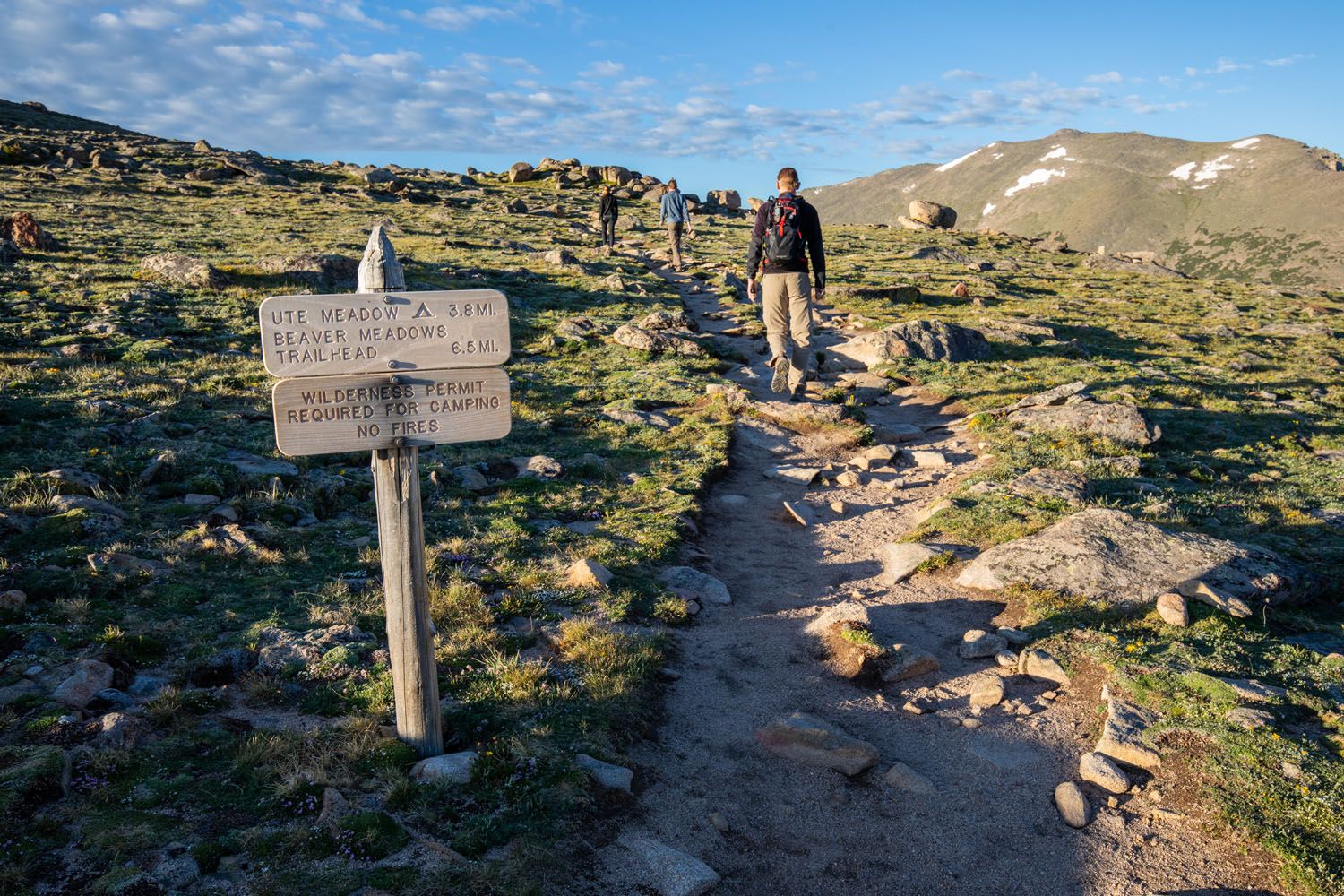 The first climb starts right at the start of the hike. If you can handle this brief uphill, no worries for the rest of the hike.
Once on top of the first hill, the views really open up. In front of you is Longs Peak, the highest point in Rocky Mountain National Park. For roughly one mile, you will hike across the wide, flat tundra.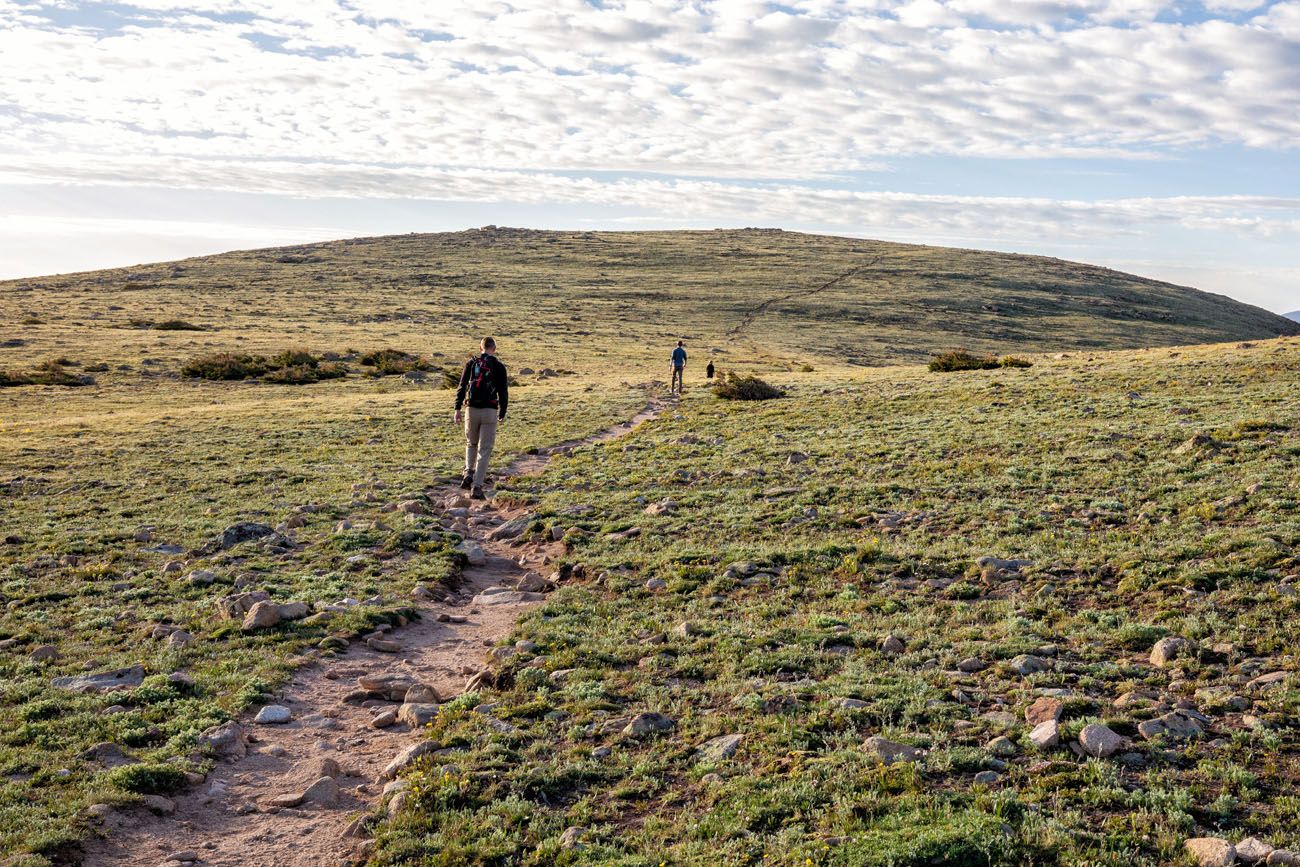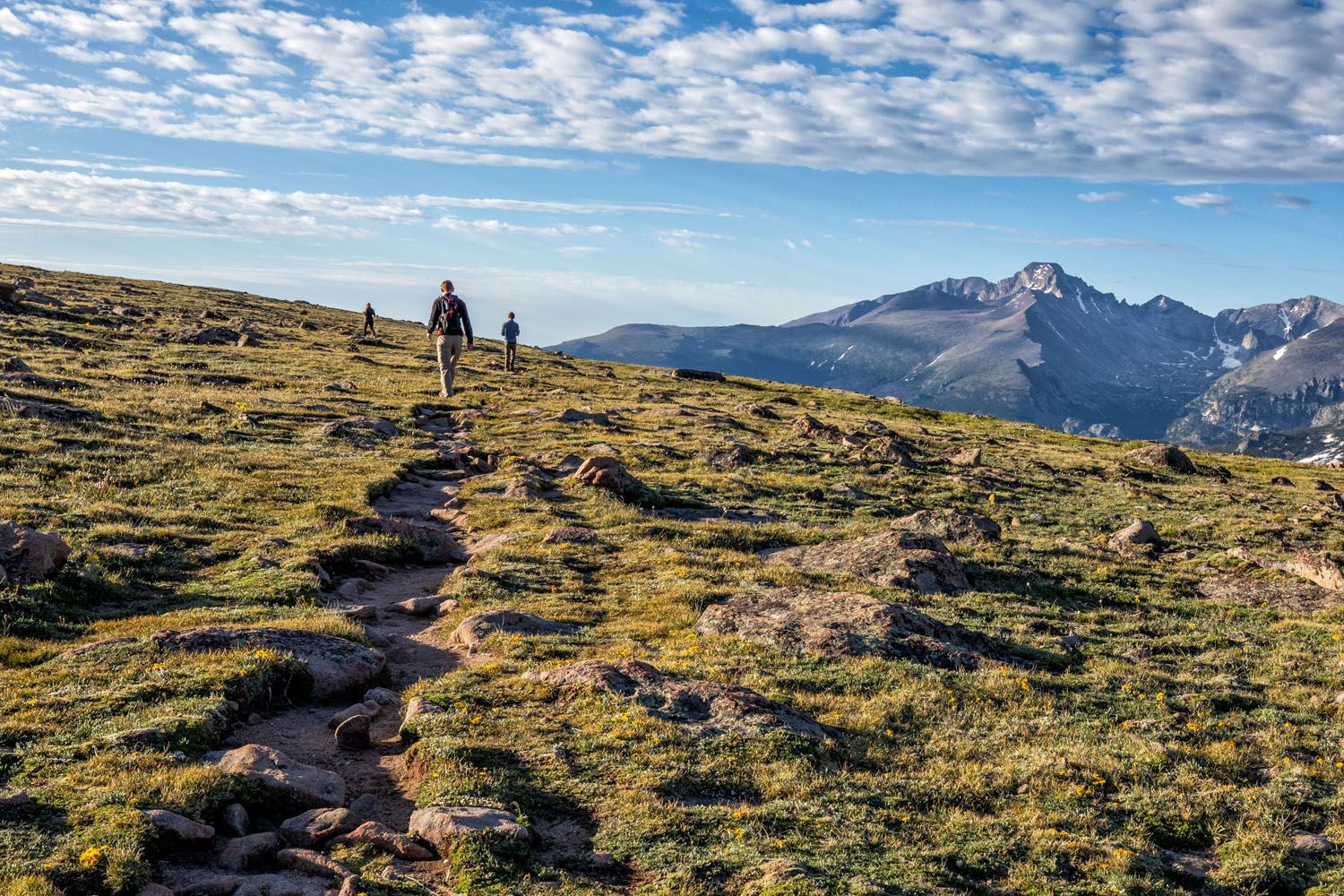 Once you hike to the top of the second hill, the views get even better.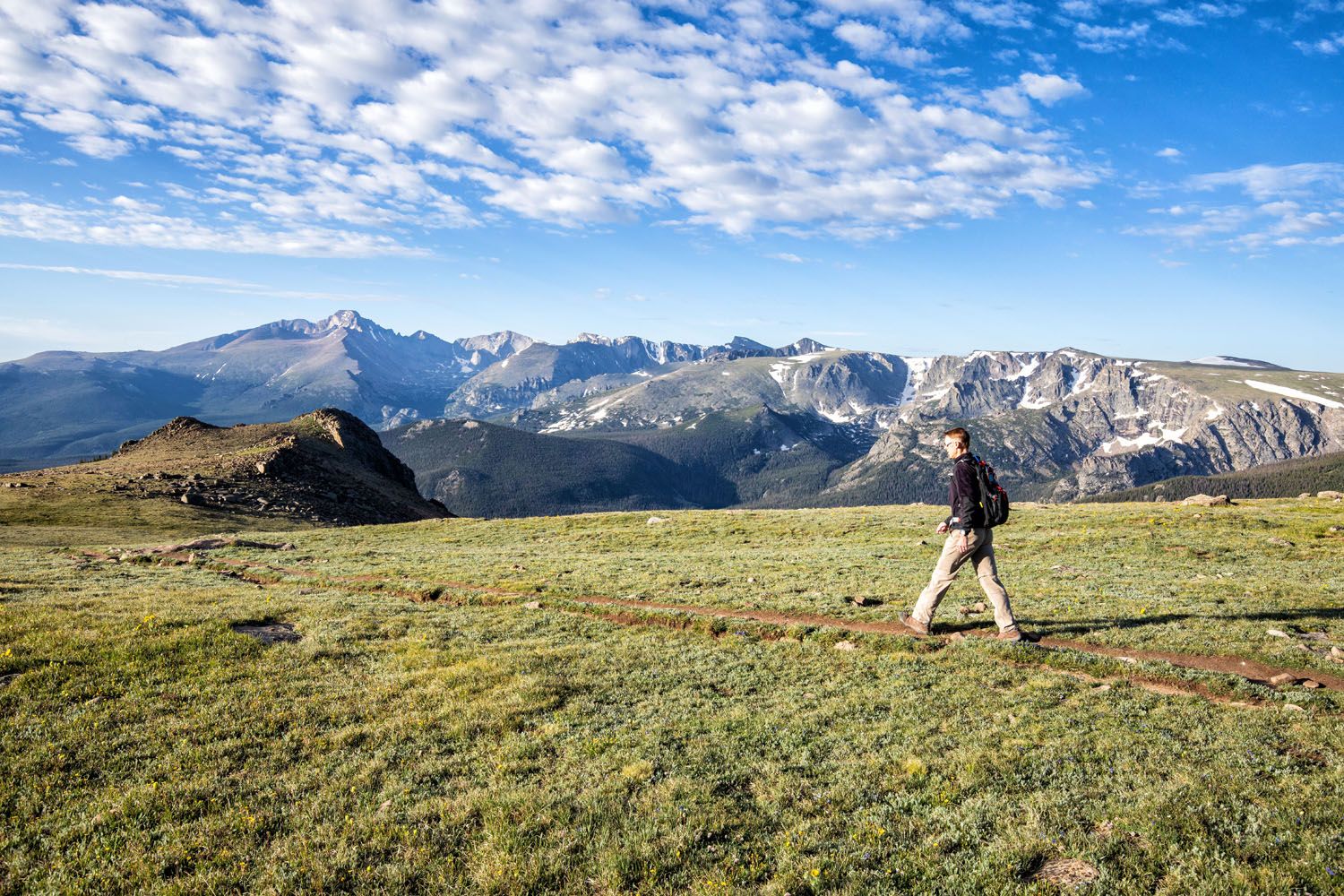 The trail dips down to Tombstone Ridge. Once you get to the rocky outcropping on the left, the trail steeply descends down to Ute Meadow, Moraine Park, and Beaver Meadows. At this point, you hiked 2 miles, the turn-around point for this hike. You can continue, but since you will be heading down into a forest, you will lose the views and have a hefty climb to get back to your car.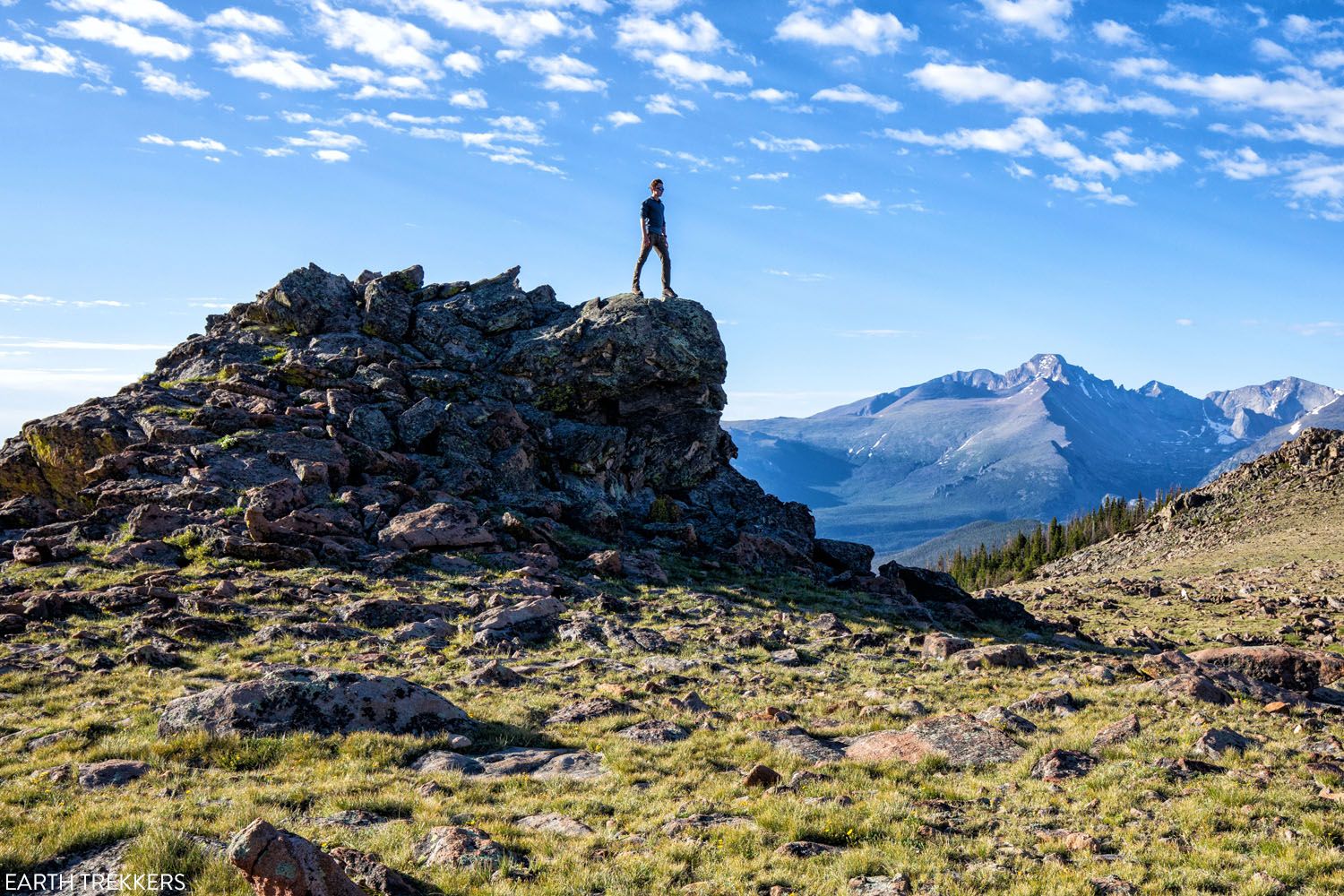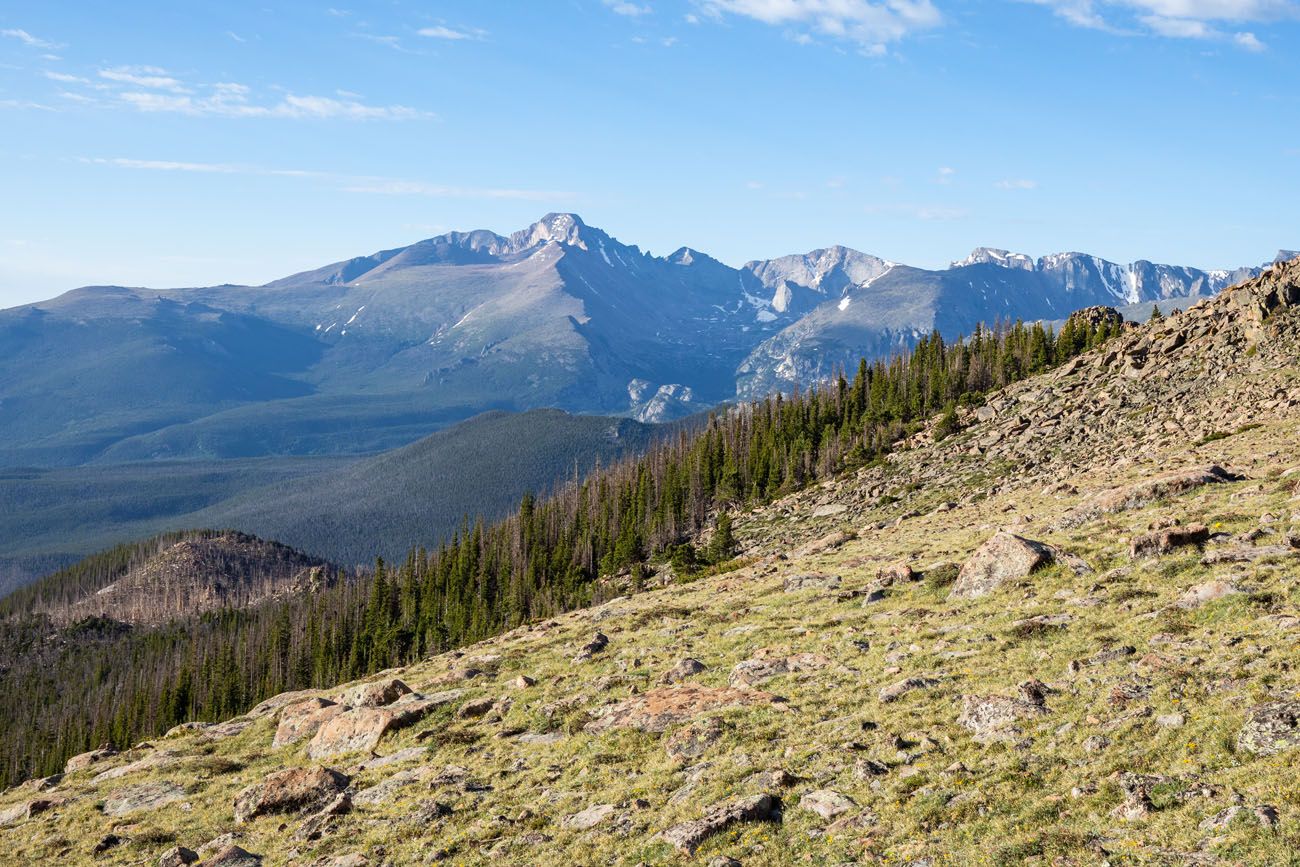 One of the great things about this hike are the views you get in both directions. To get back to your car, retrace your steps. Now, you are looking towards Trail Ridge Road. Once again, the views are spectacular. It's an overall downhill walk back to the parking lot, with two short climbs along the way.
Here are photos on the return to the parking lot.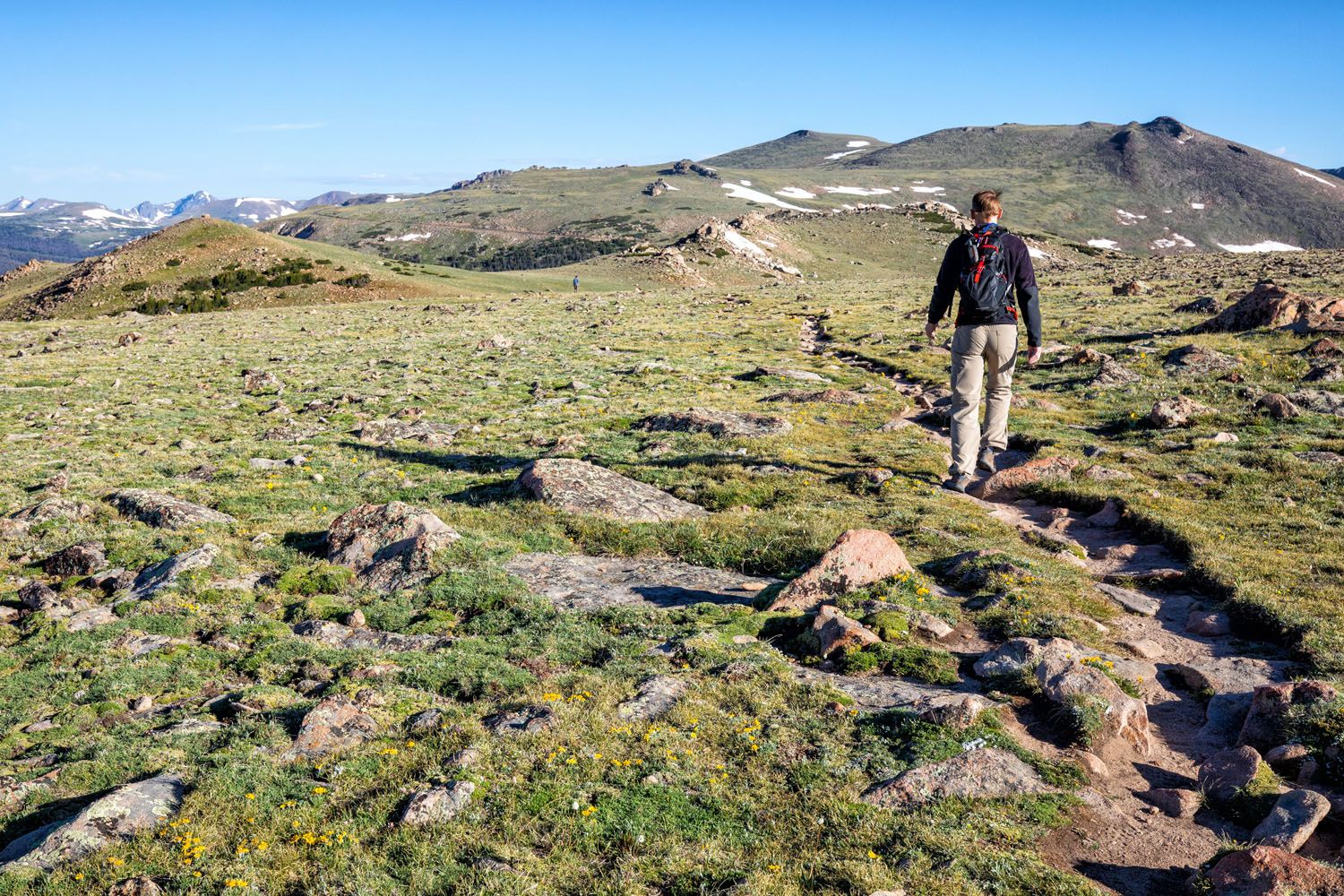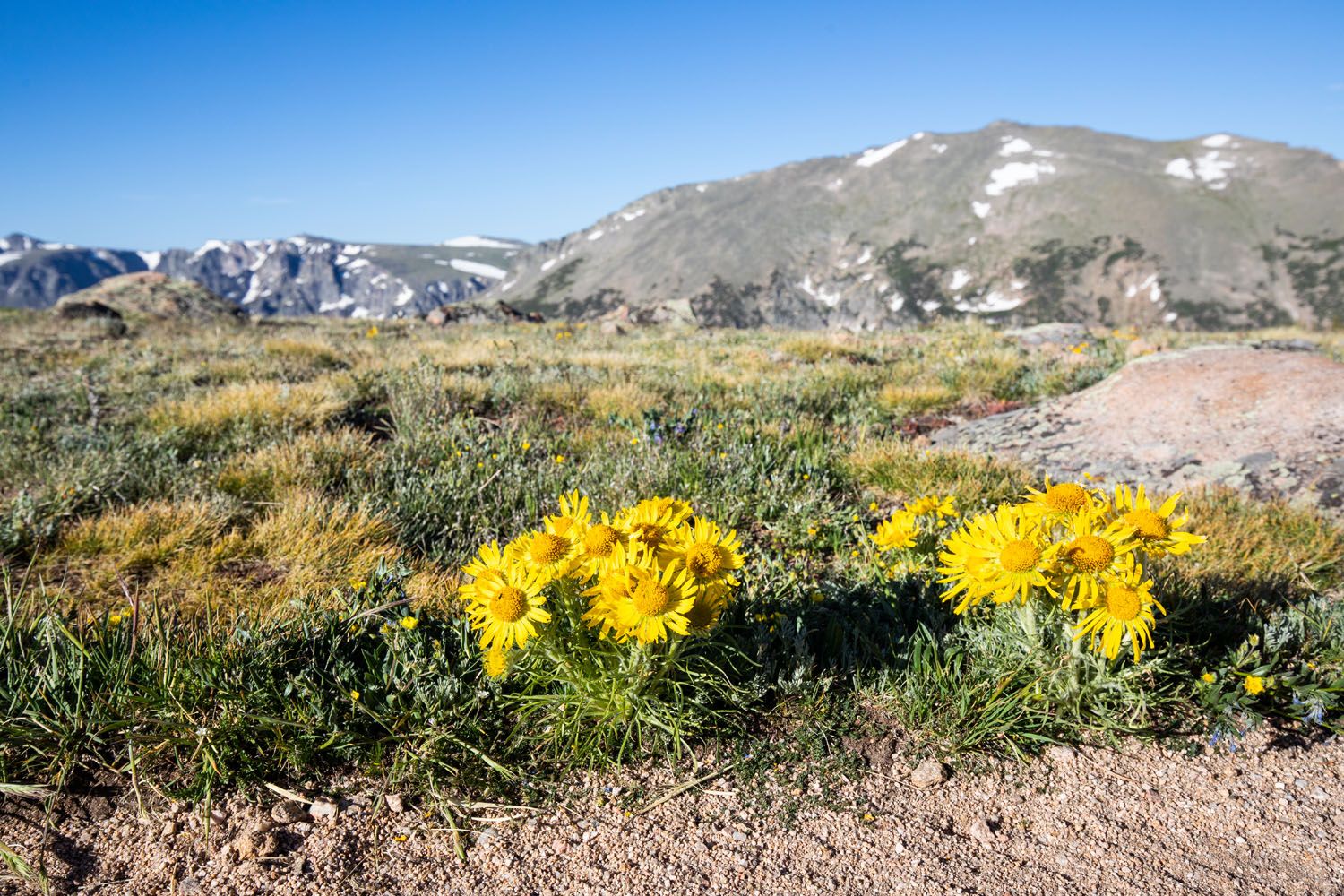 Tips to Have the Best Experience
For your best chance at getting a parking spot, arrive at the trailhead by 7:30 am. This parking lot is tiny, with room for only 8 cars, with additional parking (and additional walking) along Trail Ridge Road.
If you plan to visit Rocky Mountain National Park from late Spring through early fall, you will need a Timed Entry Permit for some areas of the park. Learn more here.
Since you are walking above the tree line, this hike can be very windy. It can also be very cool, even during the summer months, because of the high altitude. Wear warm clothing and pack a few extra layers. The temperature in Estes Park can be much warmer than along Trail Ridge Road near the Alpine Visitor Center.
Keep a lookout for thunderstorms. This trail is completely exposed and not the place to be during a thunderstorm. In the summer months, storms typically occur during the early afternoon.
Trail closures in RMNP. As you plan your trip, and just before your visit, go to the National Park Service website for information on road closures and trail closures in the park.
What to Bring on the Hike
Hiking shoes or a good pair of walking shoes. As long as there is not snow on the ground, a good pair of walking shoes or running shoes are sufficient. The trail is rocky and uneven but hiking shoes are not necessary for this hike.
Sunscreen, hat, and sunglasses. For the entire hike you will be above the trees, in direct sunlight.
Camera. Even a smartphone will do. For great photos of the trail and the mountains, use the panorama feature of your smartphone.
Warm clothing. On a windy day, consider wearing a rain jacket or windbreaker. And wear several layers of clothing, even in the summer. A hat and gloves might even be necessary on cold days.
If you are new to hiking or are curious about what you should bring on a hike, check out our Hiking Gear Guide. Find out what we carry in our day packs and what we wear on the trails.
---
If you have any questions about hiking the Ute Trail to Tombstone Ridge, let us know in the comment section below. Happy hiking!!
More Information about RMNP & Colorado
COLORADO: To read all of our articles about Colorado, check out our Colorado Travel Guide.
ROCKY MOUNTAIN NATIONAL PARK: For an overview of Rocky Mountain National Park and links to all of our RMNP articles, take a look at our Rocky Mountain National Park Travel Guide. To help you plan your trip, we also have articles about the best things to do in Rocky Mountain National Park, the best hikes in the park, and how to plan the perfect itinerary.
HIKES IN RMNP: We also have detailed guides on the Continental Divide Trail to Mt. Ida, Deer Mountain, Sky Pond, Gem Lake, and Emerald and Dream Lakes.
GREAT SAND DUNES: In our article Best Things to Do in Great Sand Dunes National Park, we cover the top experiences, plus how to plan your time, where to stay, and more.
BLACK CANYON OF THE GUNNISON NATIONAL PARK: Check out our Black Canyon of the Gunnison National Park Travel Guide for important travel planning tips, sample itineraries, advice on when to go, where to stay, and more.
BEST NATIONAL PARKS IN THE USA:
Looking for your next big adventure? Read our article about the
15 Best National Parks,
where we narrow down the long list into 15 must-see parks.
If this is part of a bigger road trip through the USA, visit our United States Travel Guide for more inspiration and travel planning tips.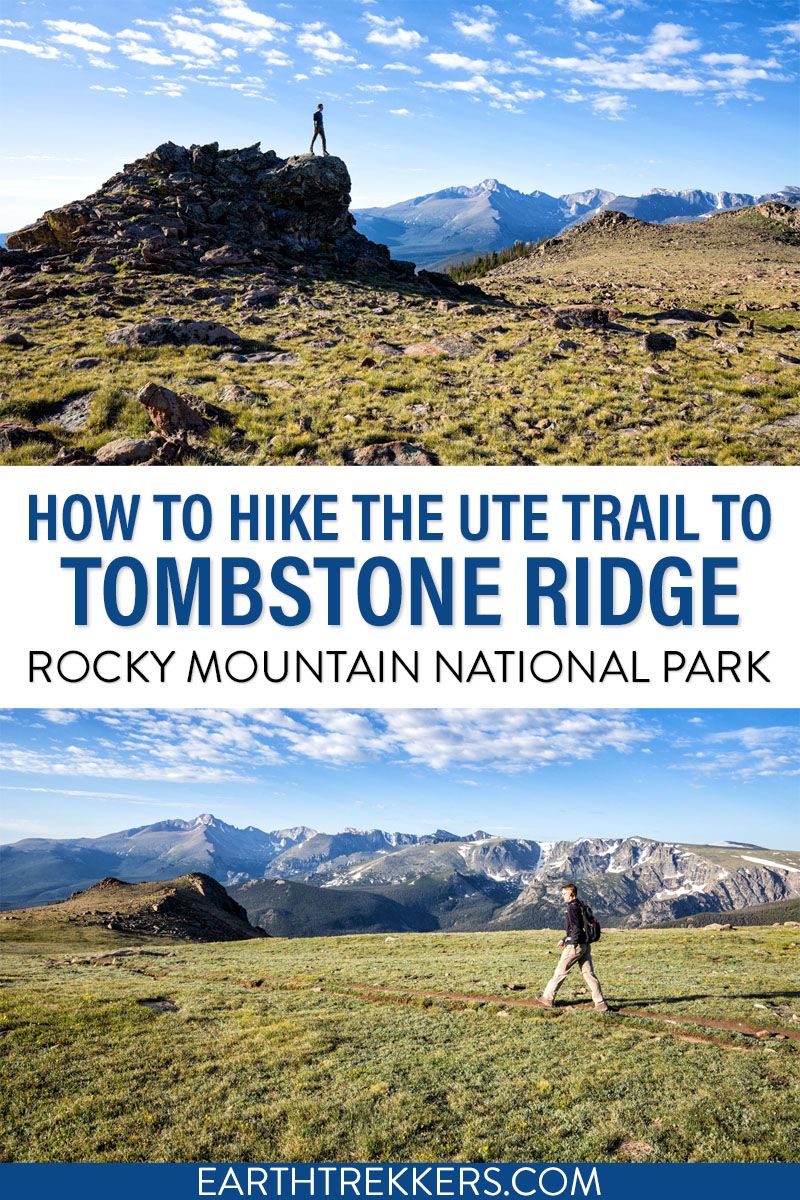 All rights reserved © Earth Trekkers. Republishing this article and/or any of its contents (text, photography, etc.), in whole or in part, is strictly prohibited.