If you have plans to hike to Half Dome, you must have a Half Dome permit. A maximum of 300 permits are awarded per day in a lottery system.
Why do you need a permit?
Since 2010, the National Park Service has required hikers to have a permit to climb Half Dome.
Before 2010, overcrowding on the cables created a dangerous situation. On peak days before 2010, there would be as many as 1,200 daily visitors to Half Dome. In 2009, 2 people died while climbing the cables.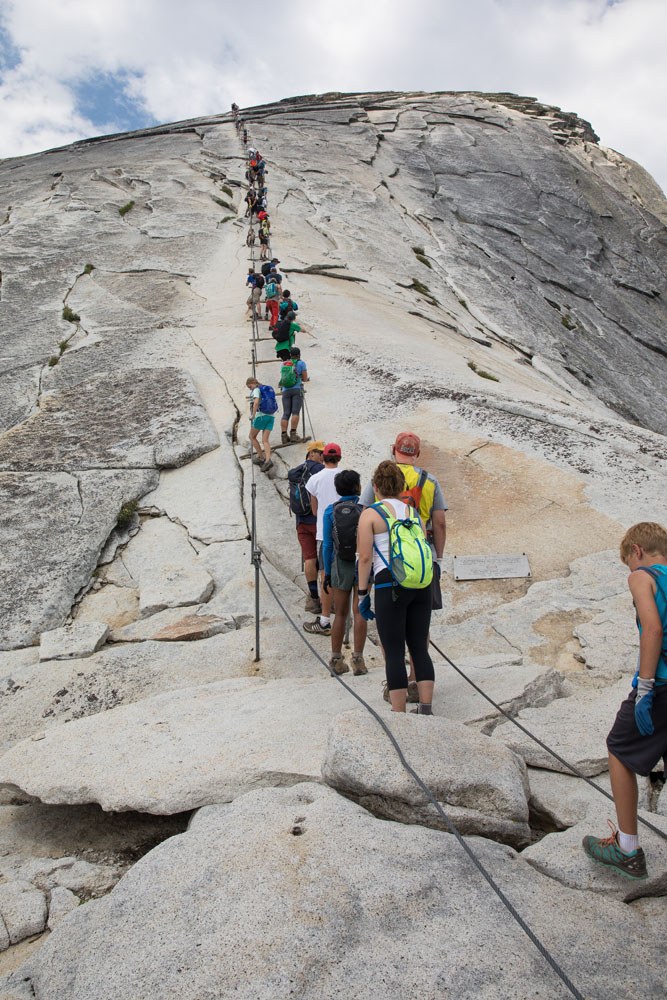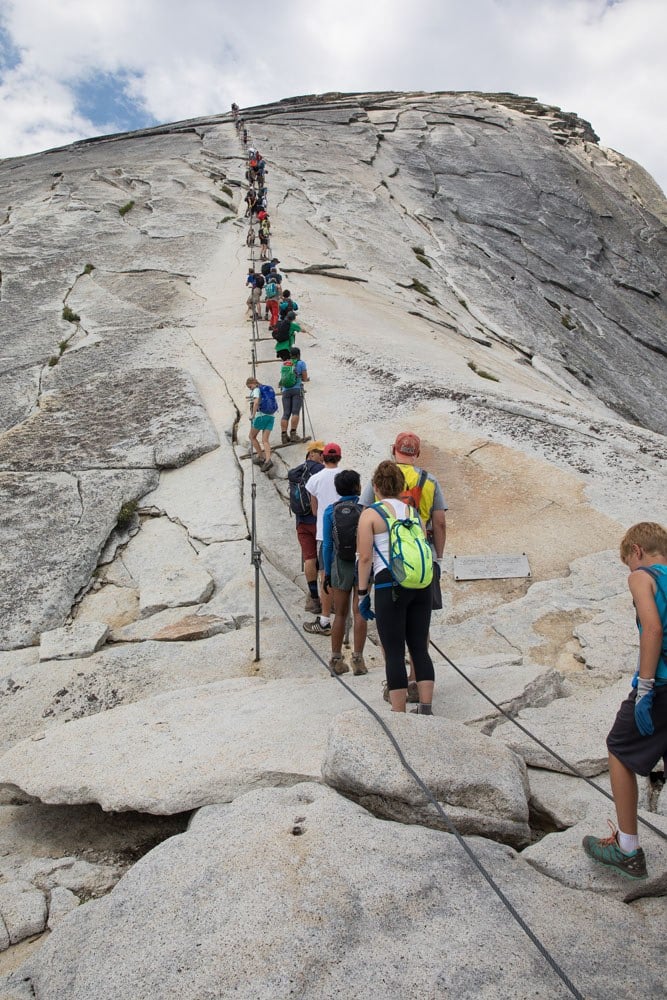 Now, only 300 people per day are allowed to climb Half Dome, and to do so, you must have a permit.
So, how do you get to be one of the lucky permit holders?
Preseason Lottery
Permits are awarded in a preseason lottery for the entire summer hiking season.
A maximum of 300 permits are awarded per day, with 225 for day hikers and 75 for backpackers.
Applications are accepted during the month of March, regardless if you are hiking in June or September.
On the application, one person (called the team leader) can apply for up to six people for 7 different dates. The team leader is only allowed to apply once per lottery. If you apply multiply times, all of your applications will be removed from the lottery.
The trip leader or the alternate person listed on the application must be present at the sub-dome when the permits are checked. The permits are not transferable to other hikers.
It costs $10 to file an application, regardless of the number of people listed on the application.
We submitted two applications, one under Tim's name and one under my name. We spoke to a National Park Service representative on the telephone to make sure that this was acceptable and they told us that this is allowed. Every person in your team is allowed to file a separate application.
The lucky lottery winners are notified in mid-April. Tim was our lucky winner with a set date of July 6, 2017. My lottery entry was unsuccessful.
Once you are notified by email, you then have to two weeks to pay the $10 per person for the permit. The permit is refundable.
To get more information, visit the National Park Service website.
To file an applicaton, visit the recreation.gov website.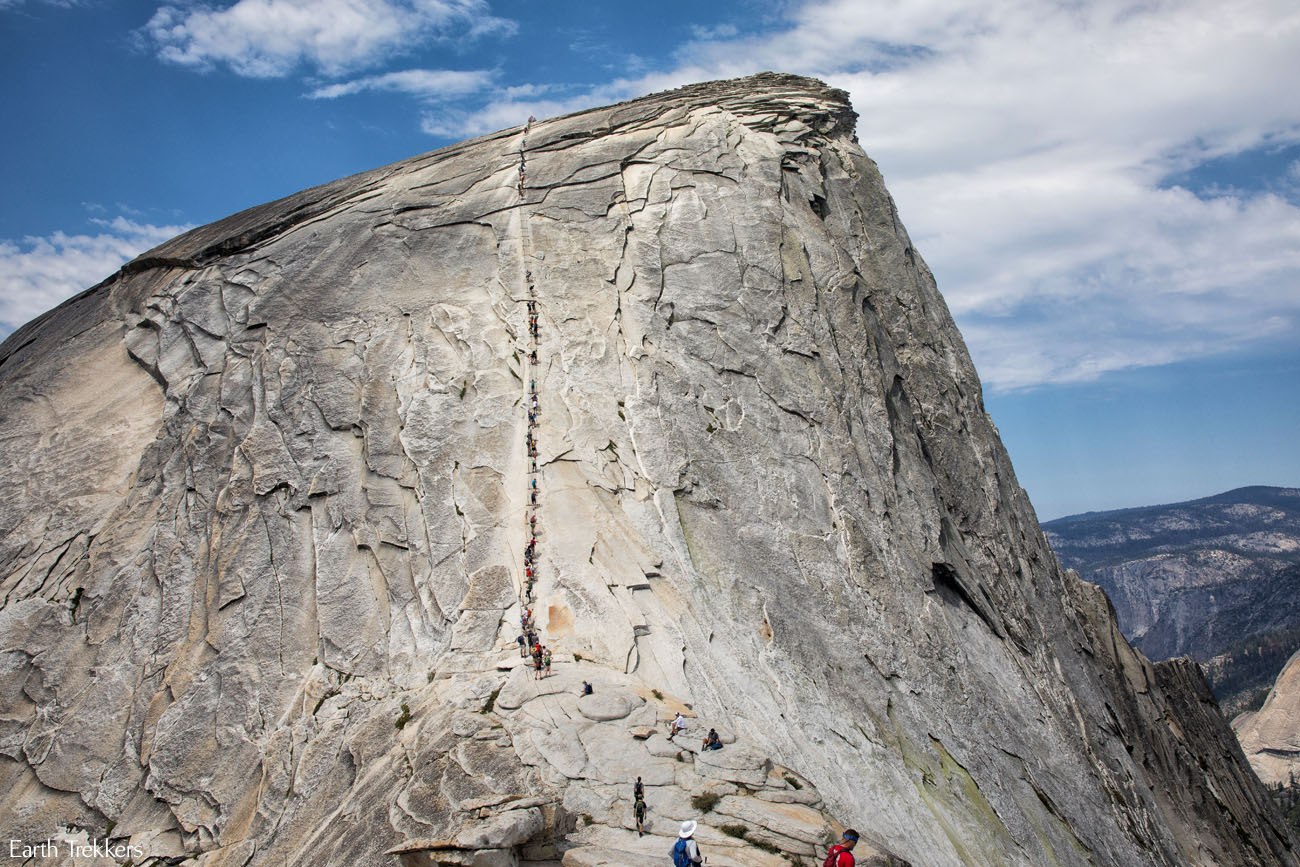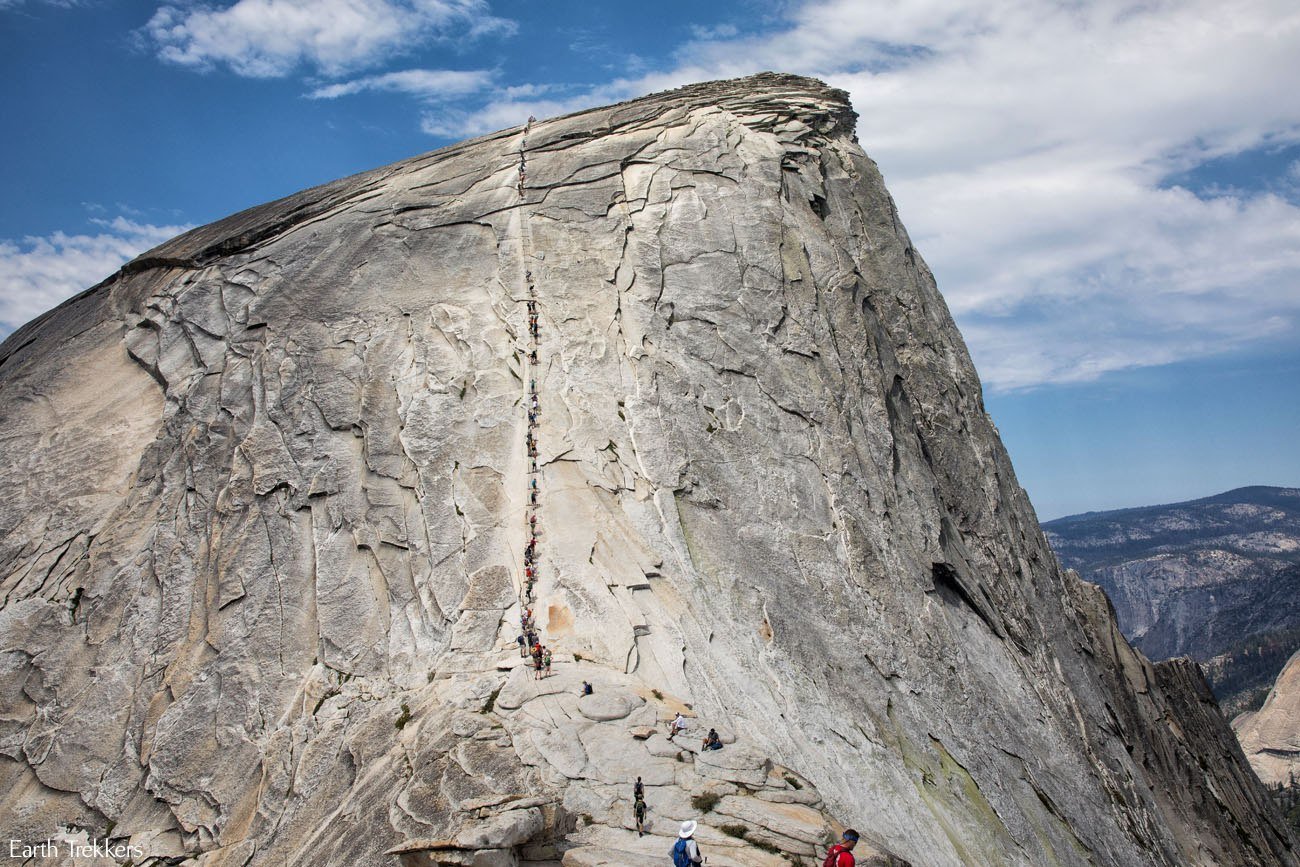 Daily Lottery
Another 50 permits are awarded on a daily basis, depending on cancellations of other permits and no-shows on the trail. You can apply online for these permits two days before your anticipated hiking date. Visit recreation.gov to file your application for a daily permit.
What Are Your Chances of Getting a Permit?
As the Half Dome hike grows in popularity, your chance of scoring a Half Dome permit decreases.
In 2016, there was a 24% chance you would be awarded a permit. Compare that to 2015, with a 35% success rate and 2014 with a 45% success rate. In 2017, on weekends there were 18,000 applications for just 300 spots.
Does this sound discouraging?
To get a permit, you do need to be lucky, but there are some ways you can increase your chances.
If you can be flexible in your travel dates, you can greatly increase your odds of being one of the lucky permit holders.
Monday through Thursday are much less popular than Friday, Saturday, or Sunday. It's almost impossible to get a permit for Sunday.
September and October are the months with the fewest number of applications so it is easier to get a permit. In general, Yosemite will be a little quieter during this time also, since summer holidays are over.
For the month of July, July 5 has an over 50% success rate, the best day of the month! We applied for July 5, 6, and 7, and were awarded lottery tickets for July 6 (a day with a 30% success rate).
Where am I getting all of these numbers? The National Park Service website has excellent data on lottery applications and success rates for the entire season. If you want to plan your Yosemite trip around your best odds for getting a Half Dome permit, I highly recommend that you take a look at their lottery statistics.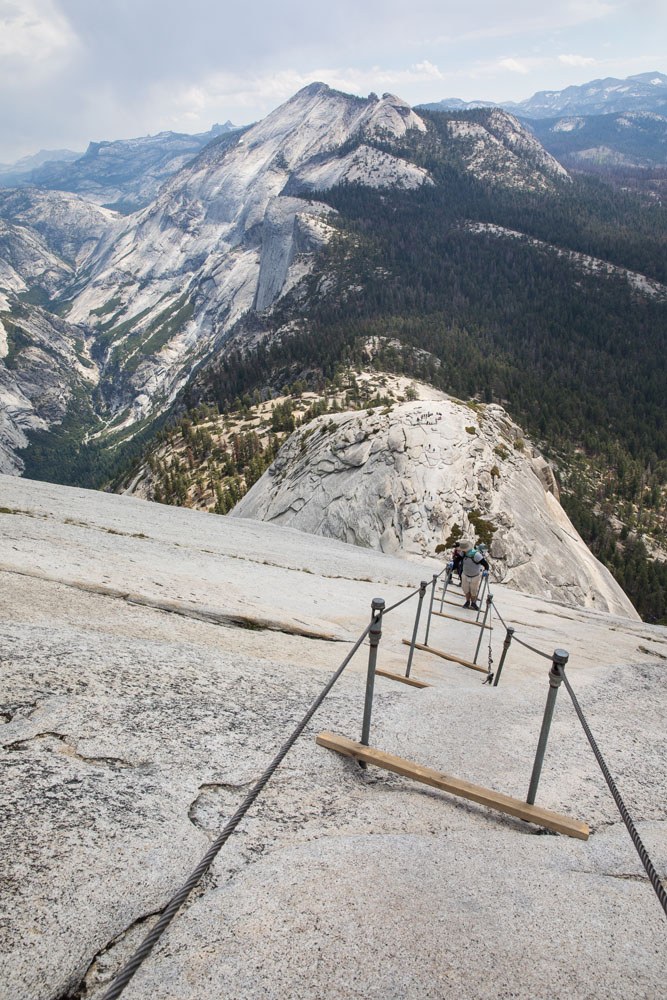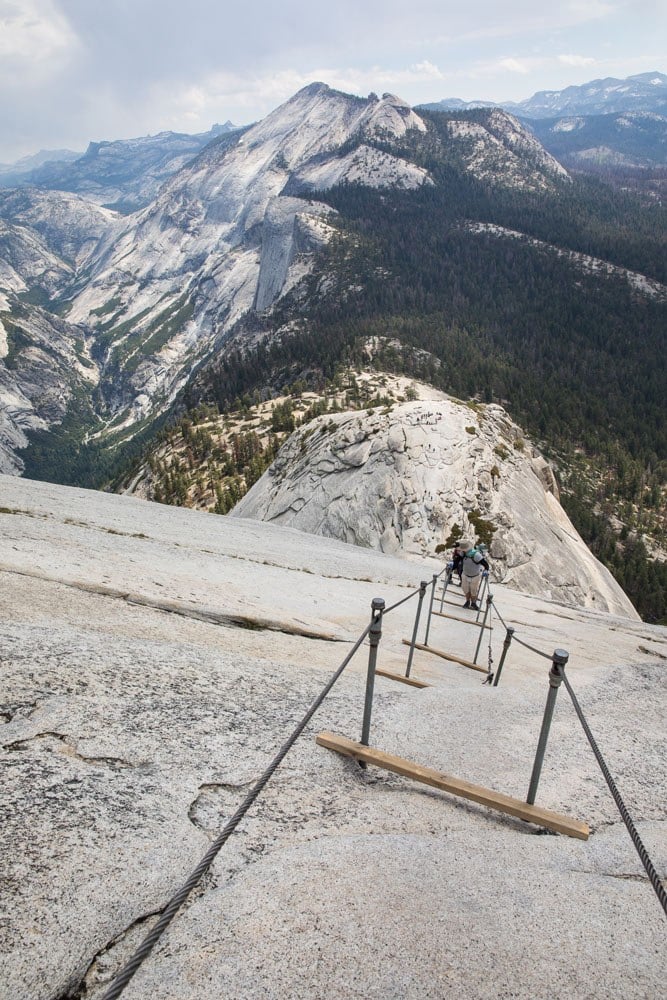 Hiking without a permit
What if you want to take your chances and hike without a permit? Rangers on the trail check permits just before the sub-dome and at other spots along the trail.
If you hike Half Dome without a permit, you risk paying a $5,000 fine and/or 6 months in jail.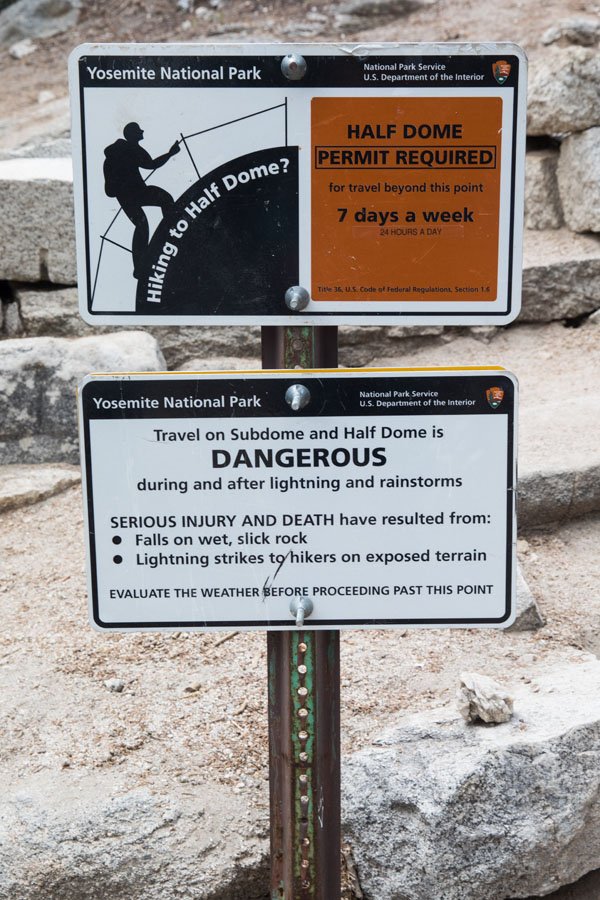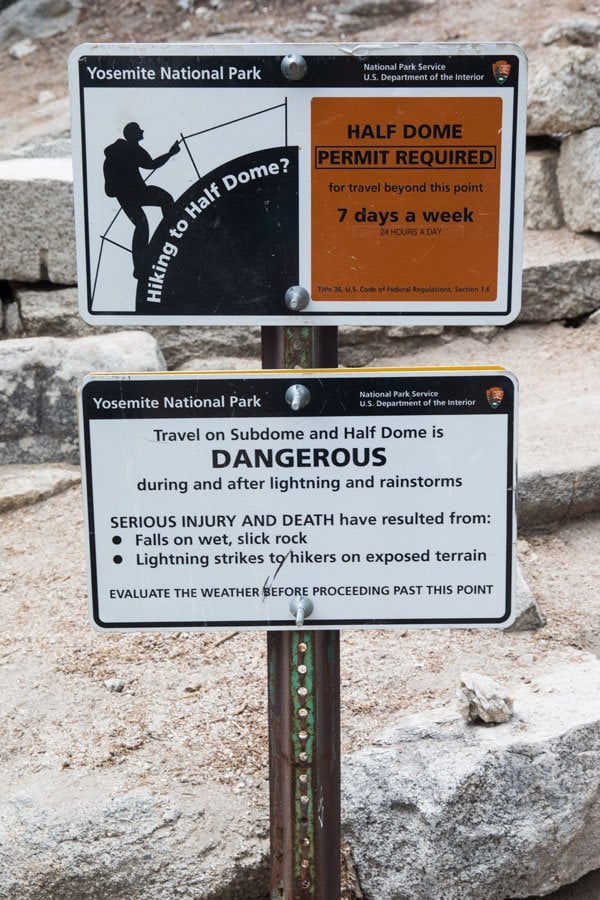 Do you have any more questions? Visit the National Park Service website for more information or comment below.
You Might Also Like: