Kings Canyon and Sequoia National Parks sit side by side in central California. Filled with alpine peaks, deep canyons, and the largest trees in the world, you could spend several days here. However, if you only have one day, you have just enough time to visit the highlights of both parks.
We visited Kings Canyon and Sequoia National Park on a road trip through California. Our day started in Mariposa, located just outside of Yosemite National Park. In the morning, we drove south to Kings Canyon, spent the day exploring both parks, and ended in a small, nearby town. Here is our one day itinerary for Kings Canyon and Sequoia National Parks.
One Day in Kings Canyon & Sequoia
9:00 am: Arrive no later than 9:00 to Kings Canyon. Even earlier is better.
9:00 am – 1:00 pm: General Grant Grove, Kings Canyon Scenic Byway, and Zumwalt Meadows
1:00 pm: Lunch at Grant Grove Village
2:00 pm: Drive Generals Highway into Sequoia National Park
2:30 – 3:30 pm: General Sherman Tree, Giant Forest
3:30 – 6:00 pm: Moro Rock, Tunnel Log, and Crescent Meadows
Kings Canyon
There are two main sections to Kings Canyon: General Grant Grove and Cedar Grove/Zumwalt Meadows.
General Grant Grove is home to the largest sequoia trees in Kings Canyon, including General Grant, the second largest tree in the world. Cedar Grove and Zumwalt Meadows are located in the valley of Kings Canyon. This is a gorgeous place to visit and for those who want to explore the backcountry of Kings Canyon, this area is the jumping off point.
General Grant Grove
The only vehicular entrance into Kings Canyon is at the west side of the park near General Grant Grove. For us, it was a 2.5-hour drive from Mariposa to get here. We started very early in the day (leaving at 6:30 am from our hotel) in order to maximize our time to explore both parks.
General Grant Grove is located just beyond the entrance to Kings Canyon. The General Grant tree is the world's second largest tree. Walk the 0.3-mile loop and feel tiny as you stand next to these giants.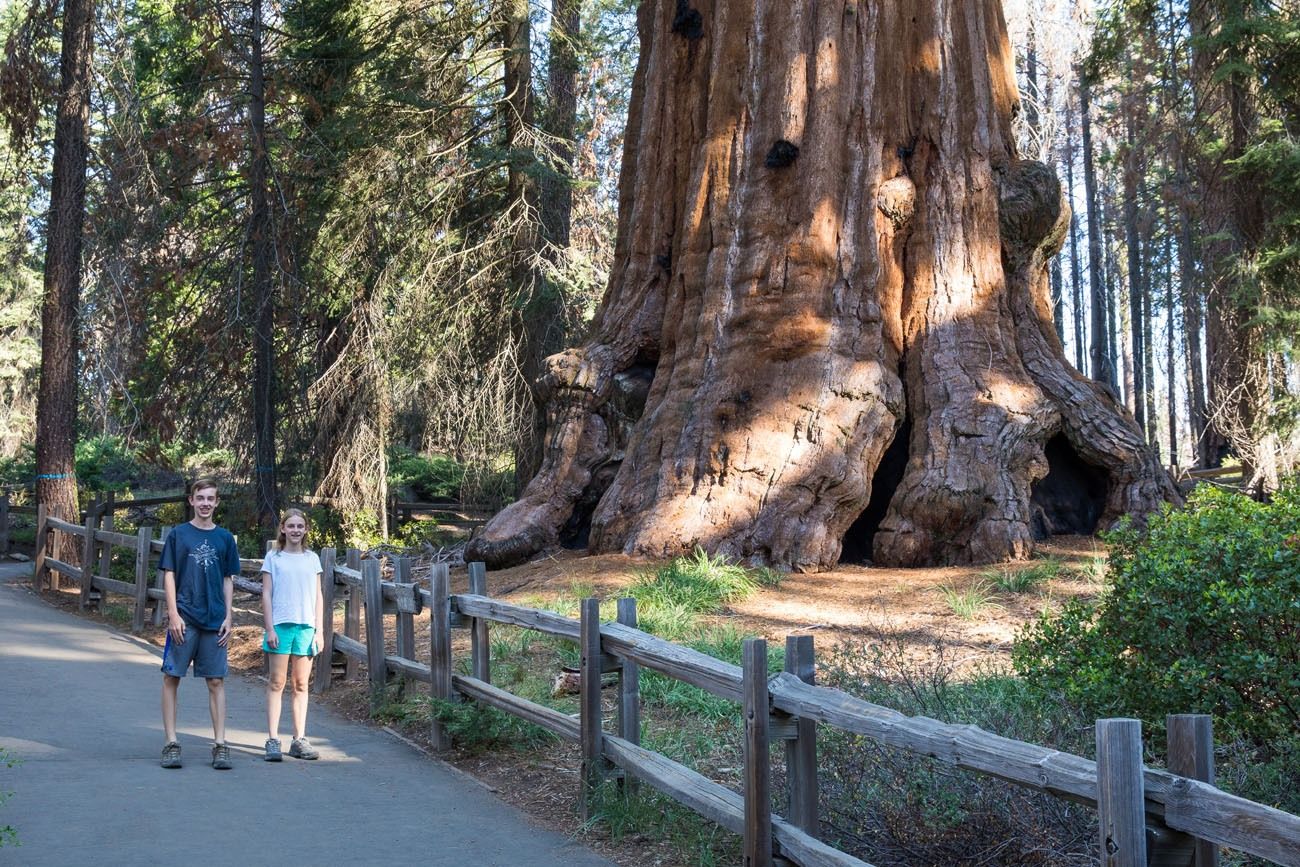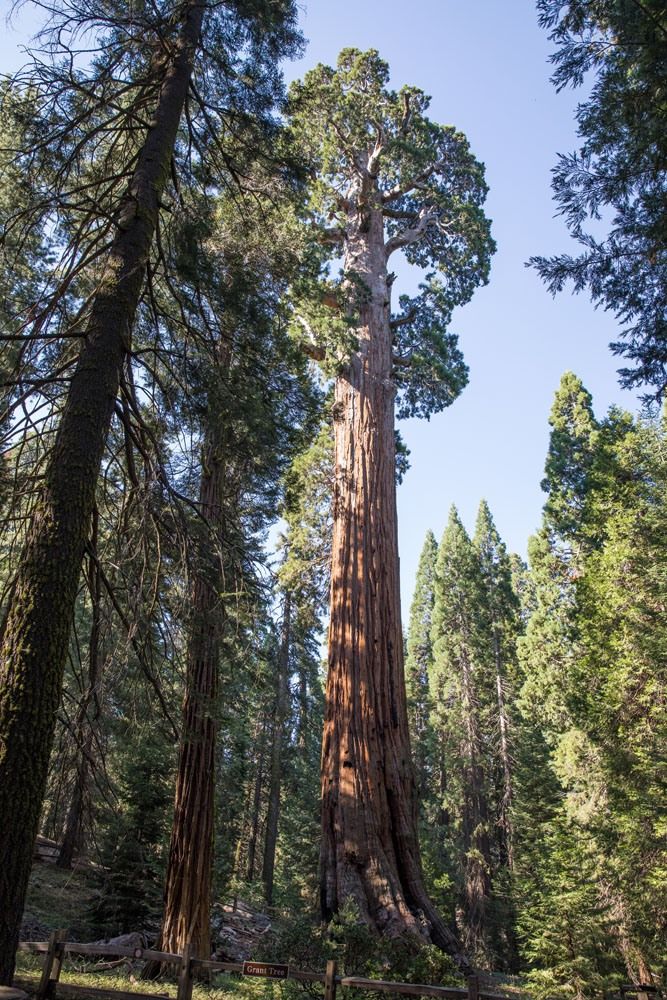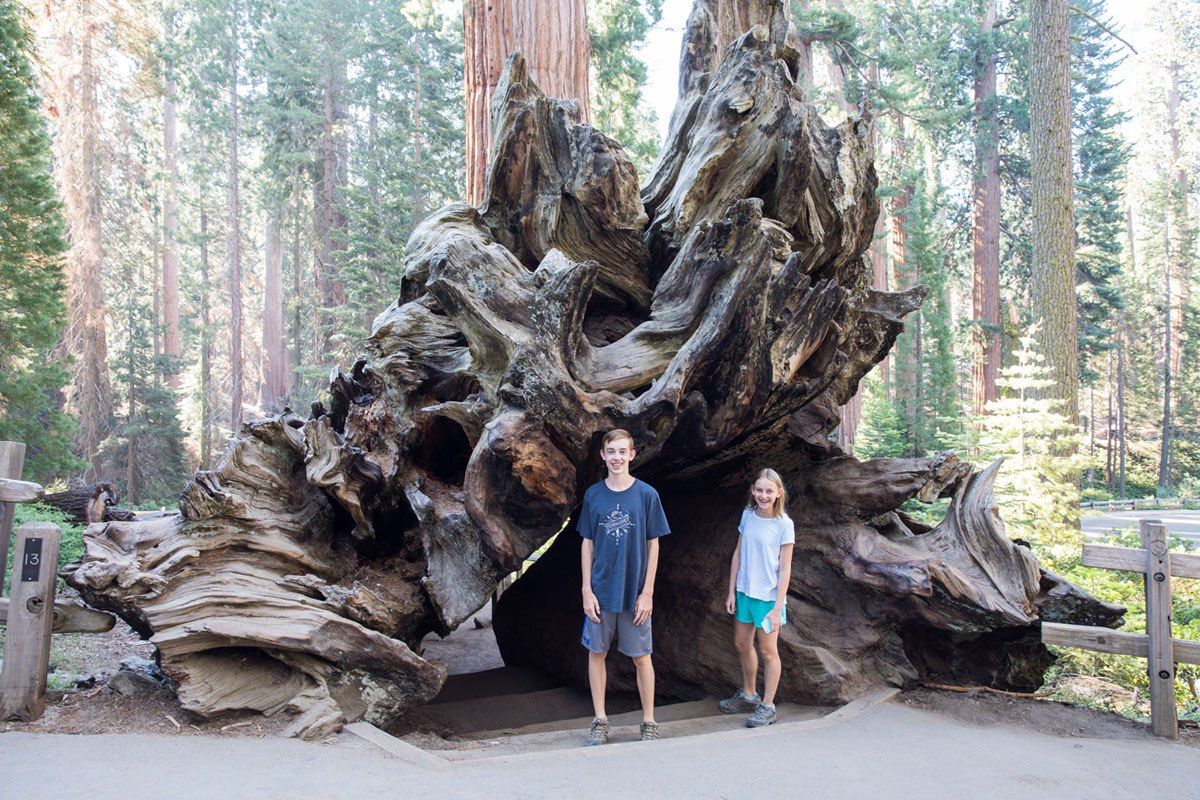 The General Grant tree is also known as the nation's Christmas tree. On the second Sunday of December, you can "Trek to the Tree," an annual Christmas celebration in the park.
While in Kings Canyon and Sequoia National Parks, please practice the seven principles of Leave No Trace: plan ahead, stay on the trail, pack out what you bring to the hiking trail, properly dispose of waste, leave areas as you found them, minimize campfire impacts, be considerate of other hikers, and do not approach or feed wildlife.
Kings Canyon Panoramic Point
After Grant Grove, we crossed Highway 180 and drove on a very narrow and very curvy road to Kings Canyon Panoramic Point. It takes about 30 minutes of driving round trip to get to this point and enjoy the view.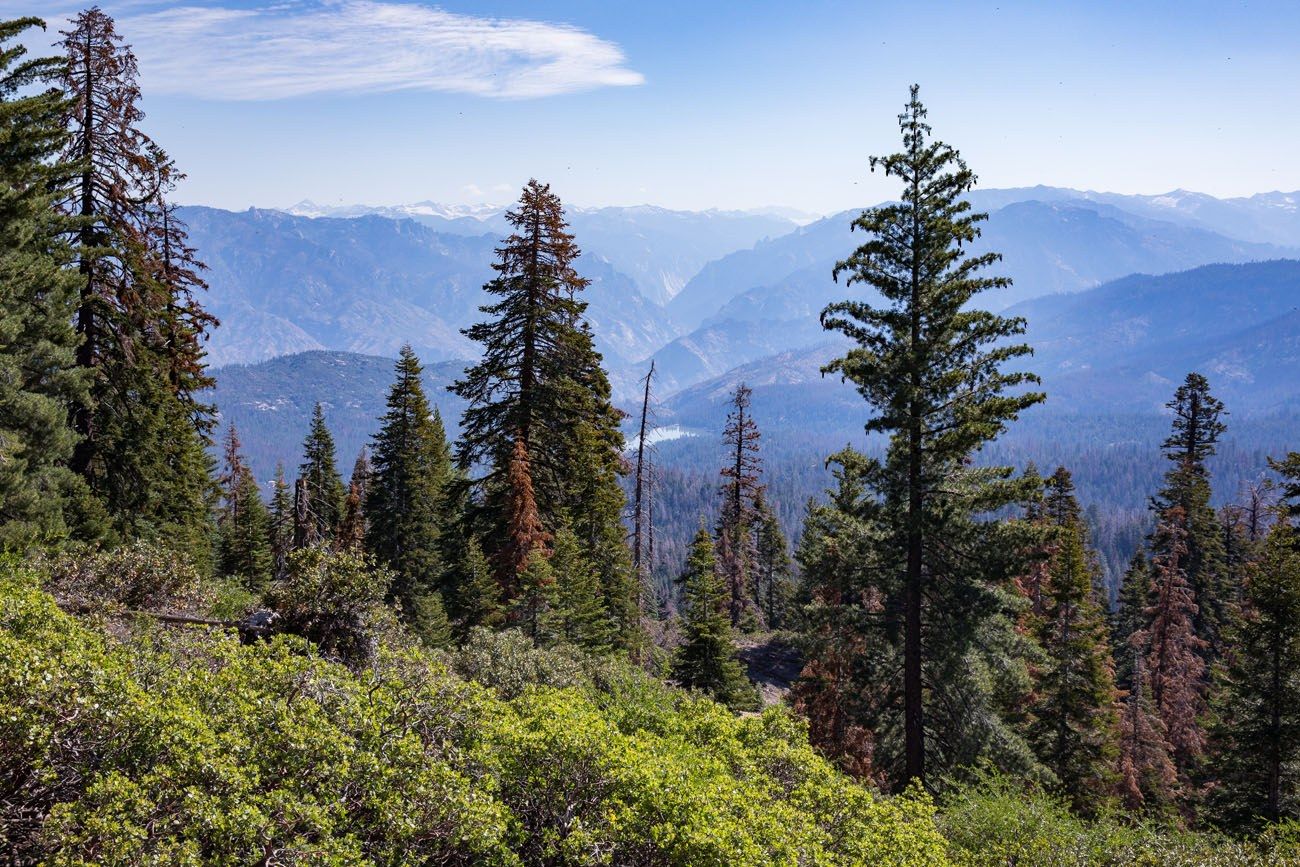 Is it worth it? It's a nice view but it is skippable if you just want to move on to the more popular sites.
Kings Canyon Scenic Byway
The Kings Canyon Scenic Byway is Highway 180. It is 50 miles long, starting at the Hume Lake Ranger District (located west of Kings Canyon, outside of the park) to Cedar Grove.
The drive from Grant Grove to Zumwalt Meadows on this road is 30 miles long and takes between 45 minutes and an hour. It is a beautiful drive, but don't expect the wide, awe-inspiring panoramas you would see at Yosemite or Yellowstone. The road winds along the mountains, descending down into Kings Canyon. There are several spots for photos at the scenic overlooks.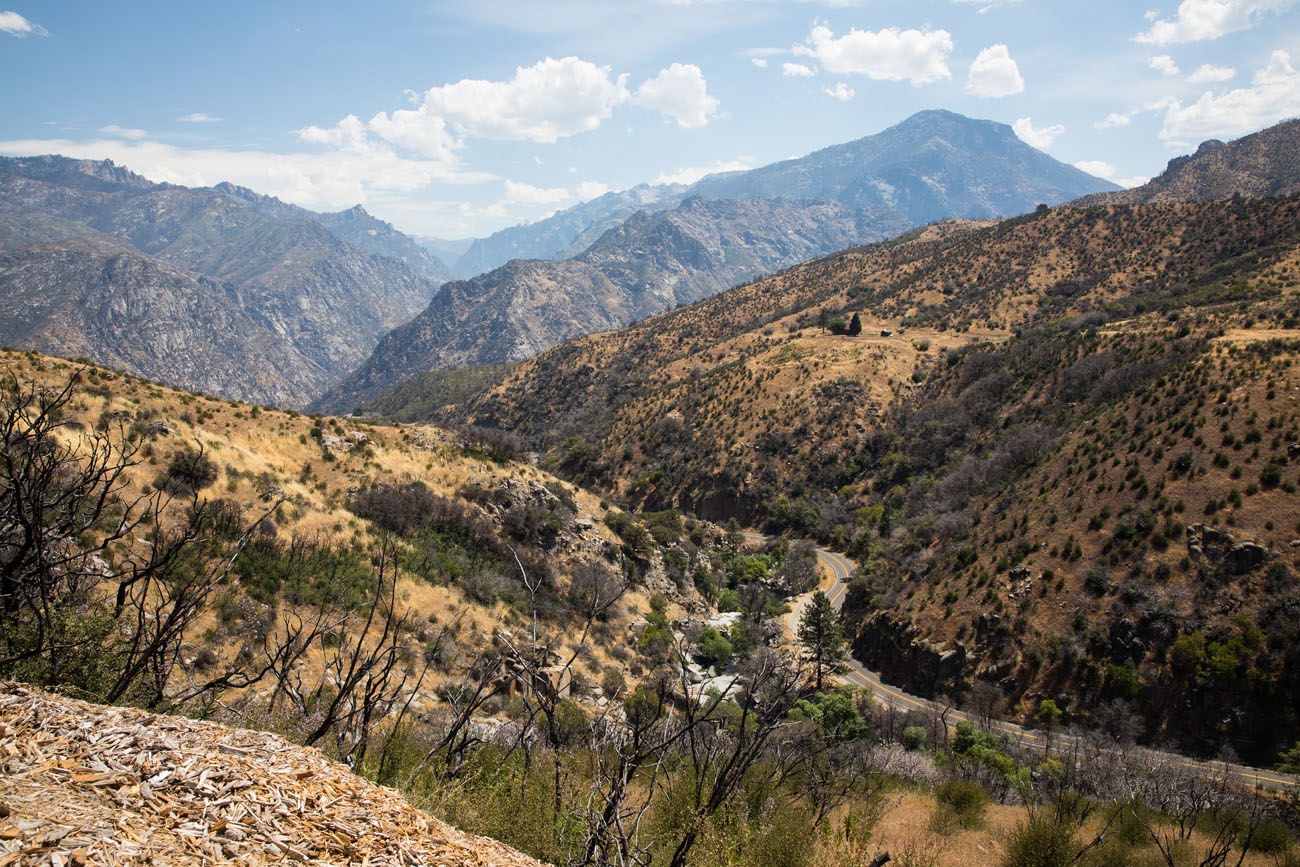 PRO TRAVEL TIP #1: This is a very, very windy road. If you suffer from motion sickness, make sure you take your Dramamine or anti-nausea medication before starting this drive.
PRO TRAVEL TIP #2: The Kings Canyon Scenic Byway is only open from mid-May through mid-October.
Zumwalt Meadows and Cedar Grove
At the end of the Scenic Byway is a parking area. Get out, stretch your legs, and go for an easy walk. There is a flat walking trail into the Zumwalt Meadows. You are now down in the heart of Kings Canyon, with the mountains looming overhead.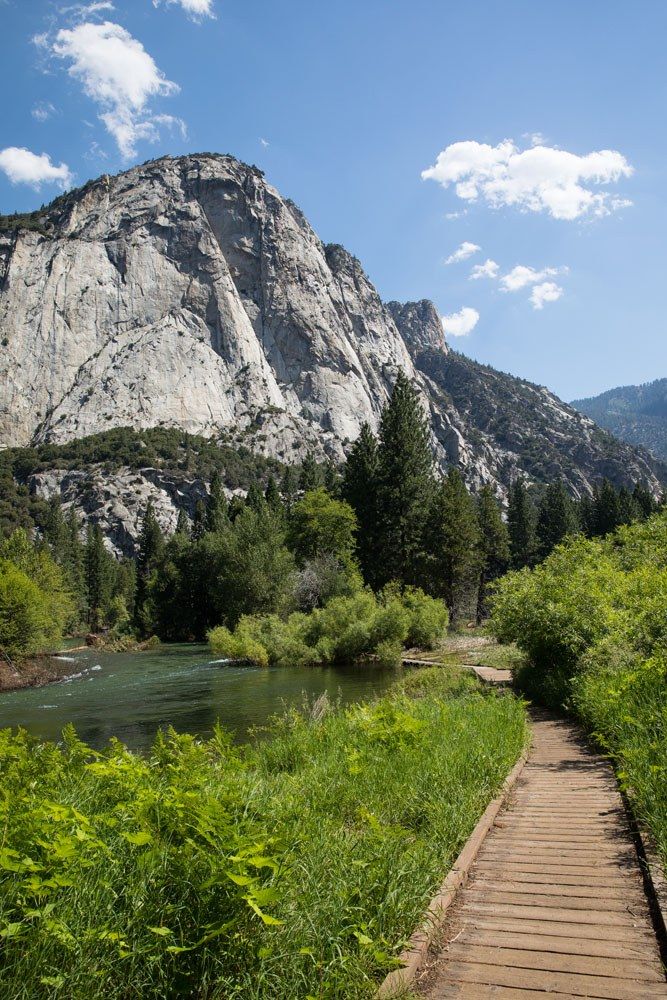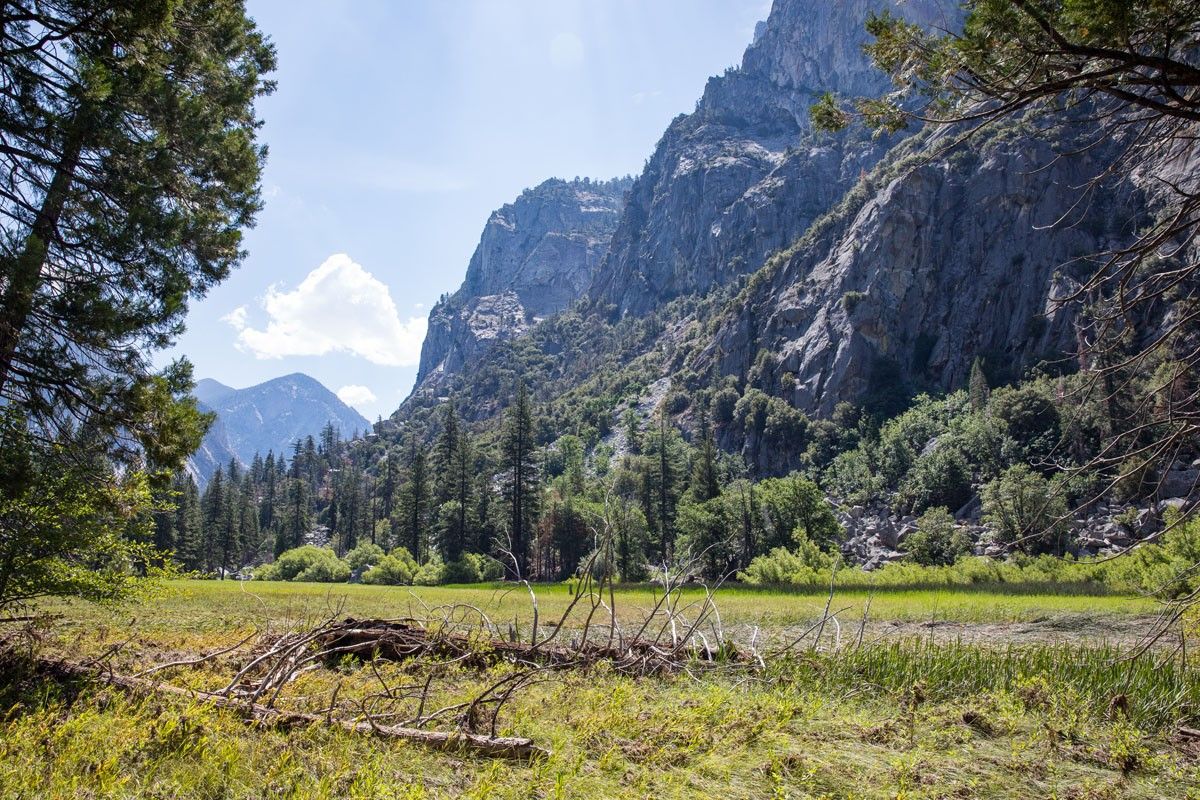 Nearby, you can also visit Grizzly Falls, located just off the road near Cedar Grove.
From Zumwalt Meadows, travel back along the Scenic Byway. Next up is Sequoia National Park.
Planning a visit to the US national parks? Visit our Guide to the National Parks to learn more about the parks, with important travel planning tips, sample itineraries, advice on when to go, where to stay, and more.
---
Sequoia National Park
Sequoia National Park is home to the General Sherman tree, the largest tree in the world. Did you know that Sequoia National Park is also home to Mt. Whitney, the tallest mountain in the contiguous United States?
Sequoia National Park is the more popular of the two parks. During the summer months, expect to share the views with lots of people. These giant trees attract quite the crowd.
To get to Sequoia National Park from Kings Canyon, drive south past Grant Grove and follow the signs for Sequoia National Park. Now you will be driving on Generals Highway, the scenic road that connects the two parks together.
The drive from Zumwalt Meadows in Kings Canyon to our first stop in Sequoia, the General Sherman tree, takes 1.5 to 2 hours (63 miles). Along the way, you can stop at the Grant Grove Restaurant (Kings Canyon) or at the Lodgepole Deli (Sequoia) for lunch.
General Sherman Tree
The General Sherman Tree is the world's largest tree, by volume. It is 275 feet tall (almost as tall as the Statue of Liberty) and has been growing for 2,300 to 2,700 years. Just think about how much human history has taken place during this one tree's lifetime.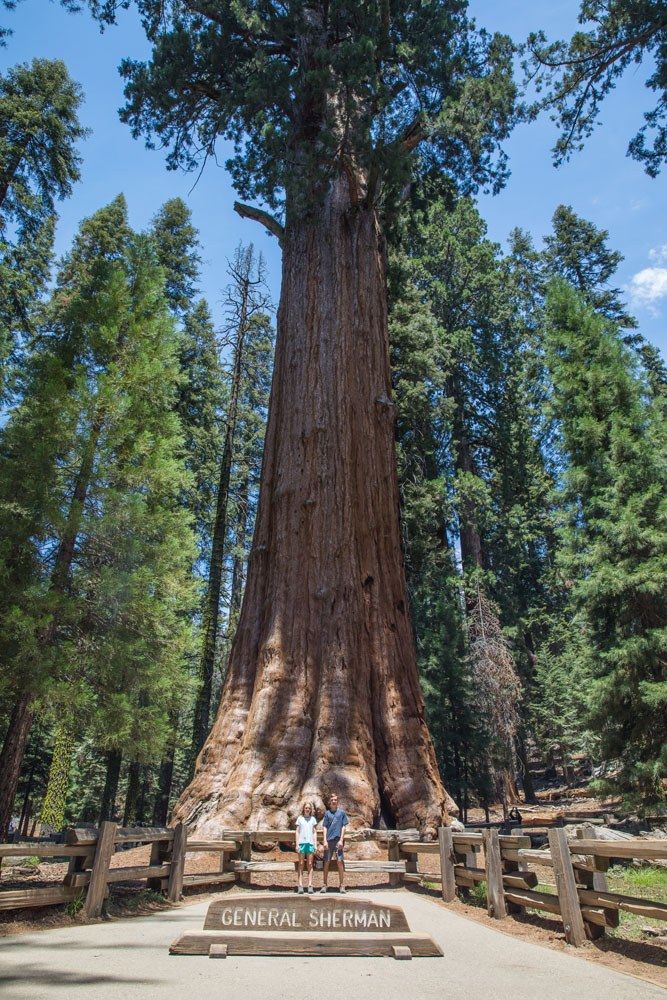 The General Sherman Tree is located in the Giant Forest. There are many giant sequoias here, but finding the General Sherman is easy. Not only is the General Sherman massive in size, it will also be the tree with a crowd of people standing around it.
Walk the General Sherman Trail, a short walking trail that wanders through this grove of giant trees.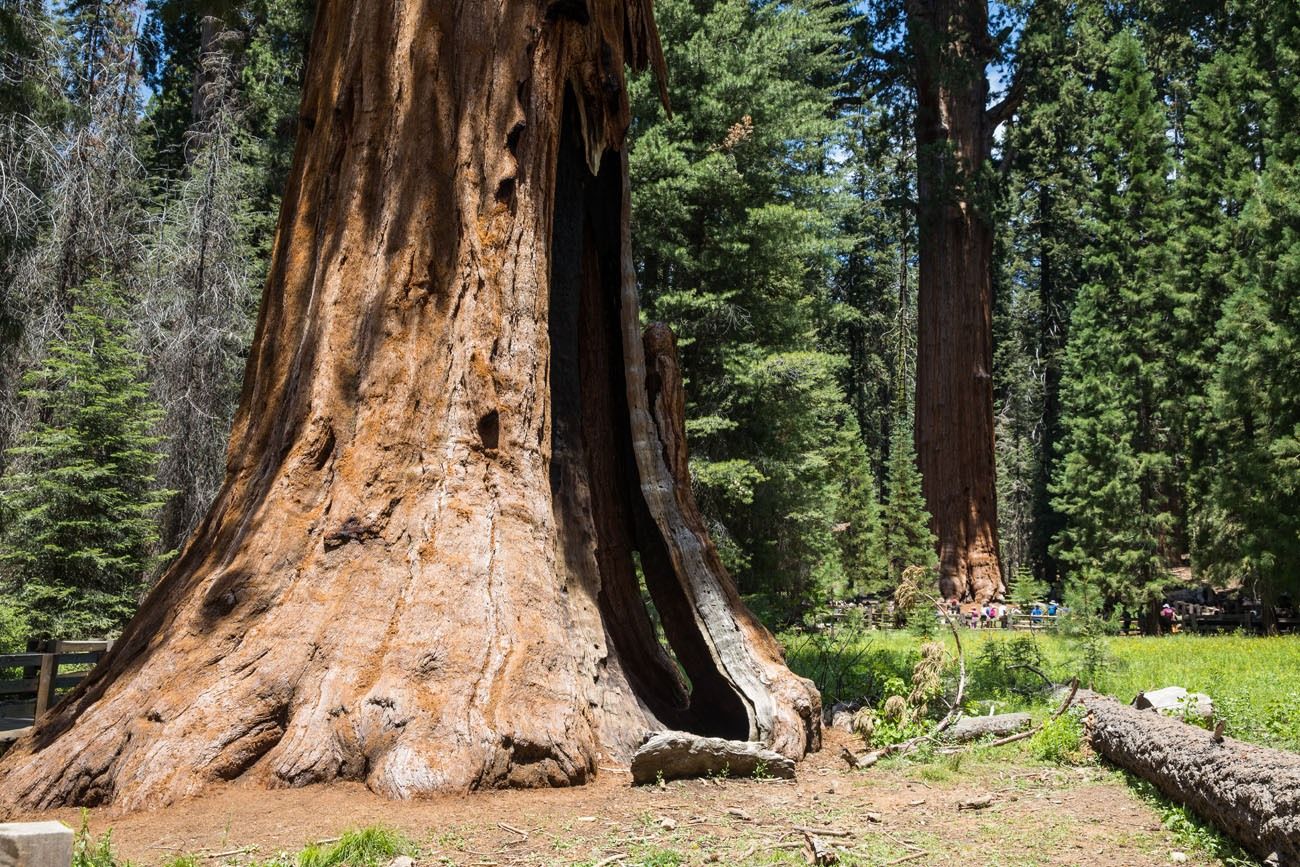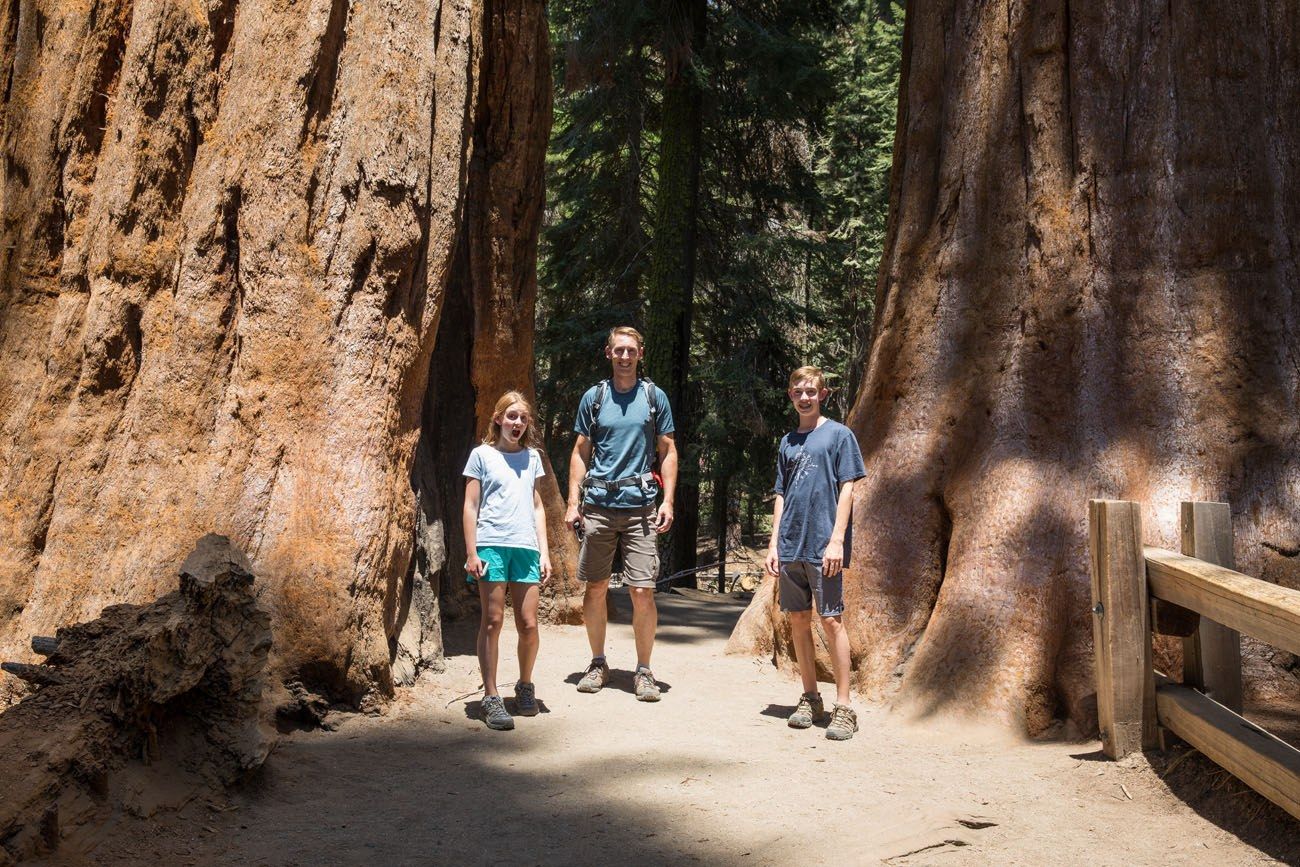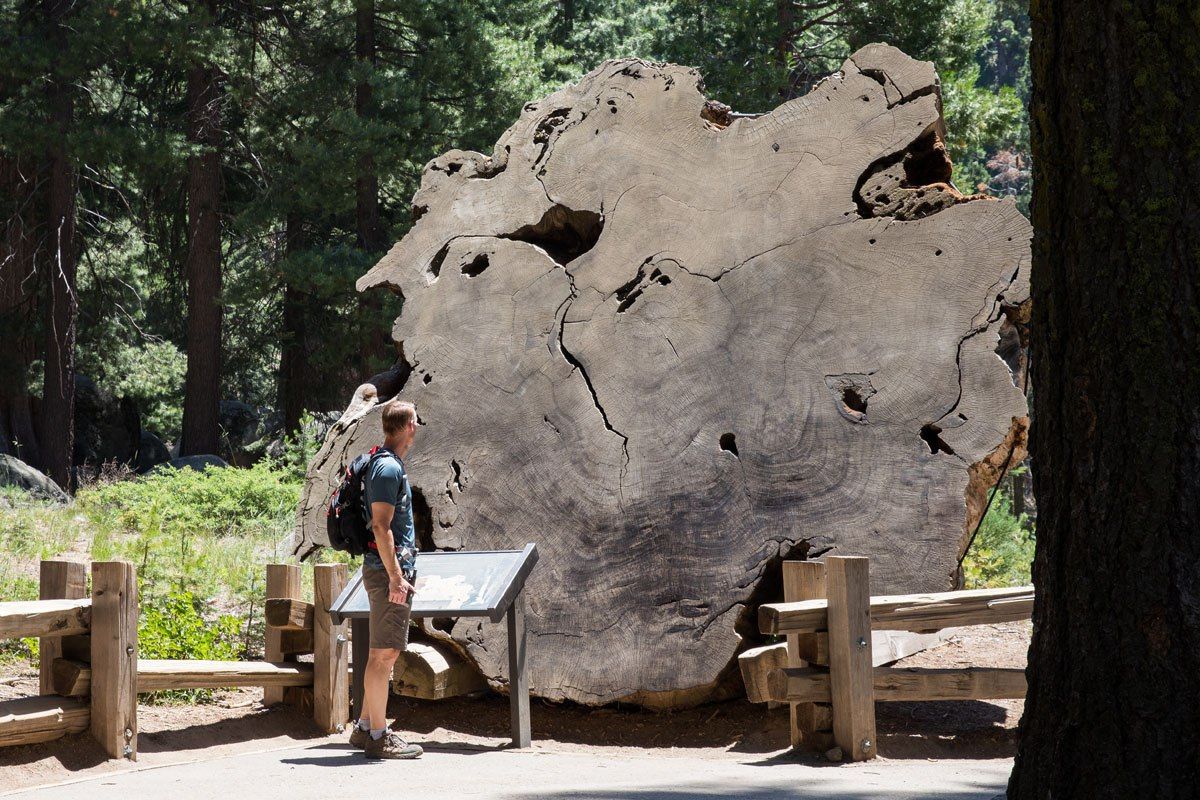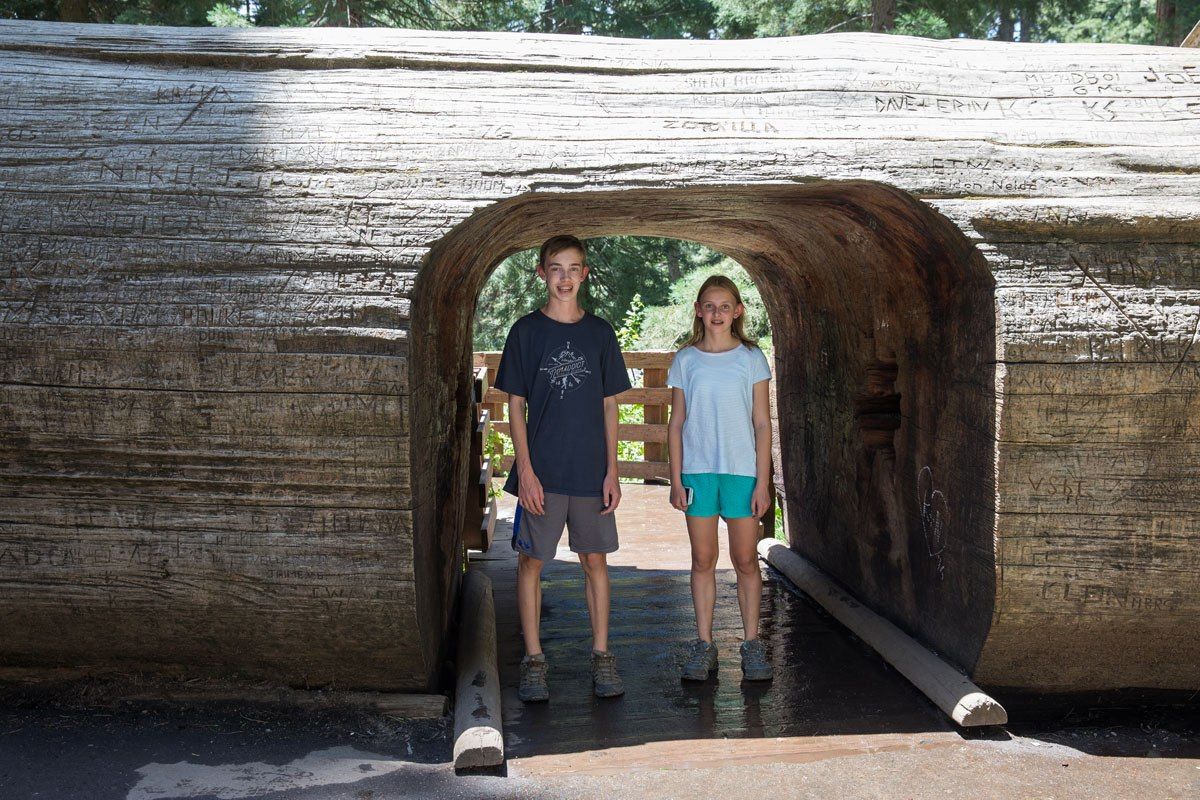 If you want to explore further, walk the Congress Loop, a 2-mile loop that heads further into the forest.
Moro Rock
Moro Rock is a short but strenuous climb to a fabulous viewpoint in Sequoia National Park. This is well worth the effort.
To get to the top, you will climb 400 steps (0.6 miles round trip) to the summit of a granite dome. For us, this was our favorite viewpoint of the day.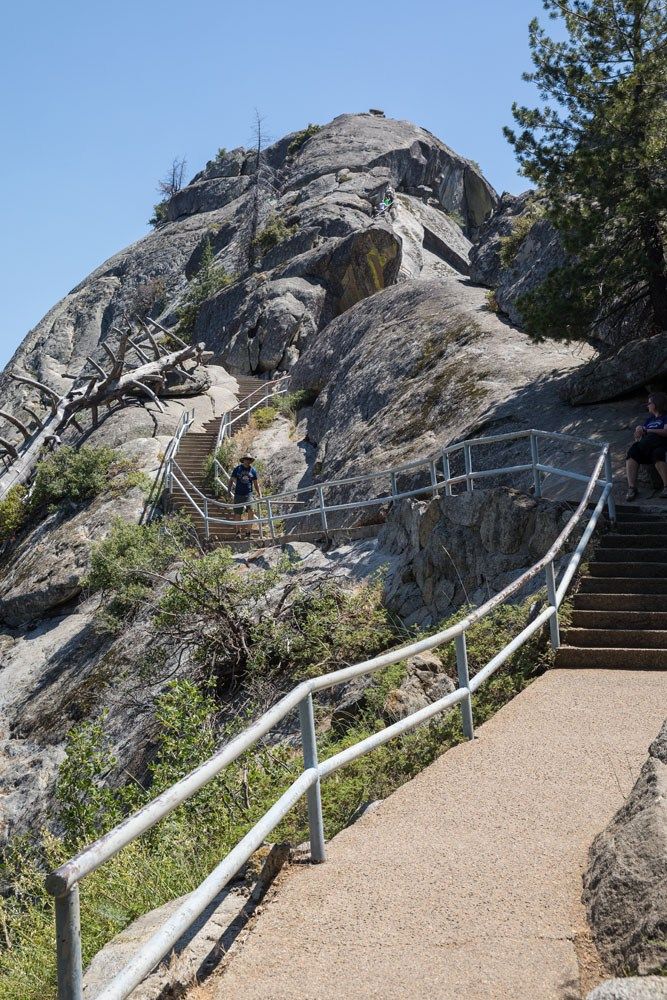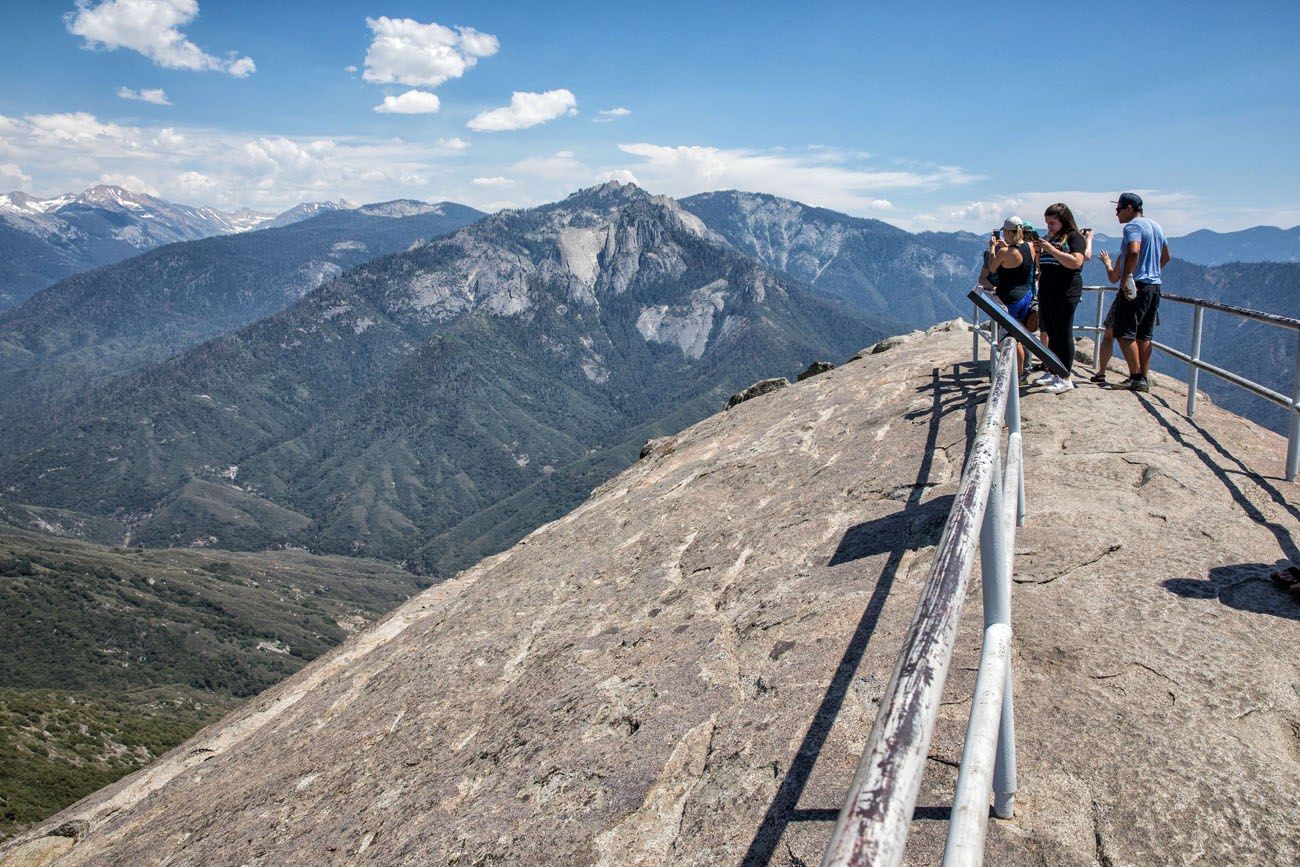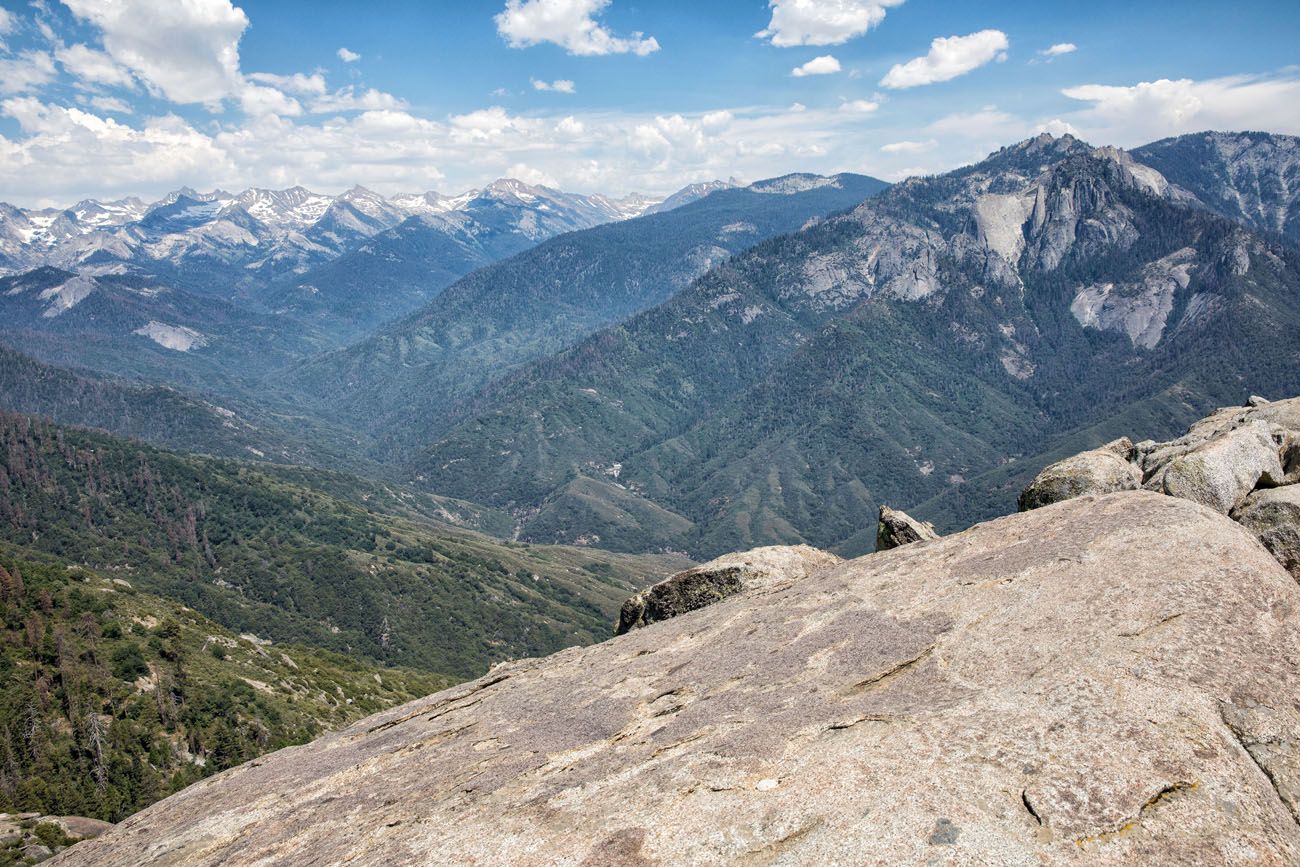 Getting here: On weekdays, you can drive directly to Moro Rock on Crescent Meadow Road, but parking is limited. Consider taking the free shuttle from the Giant Forest Museum. On weekends and holidays, the road is closed to private vehicles and the only way to get here is via the shuttle. During the winter months, the road is closed, so the only way to get to Moro Rock is by hiking the 2 miles to it from the Giant Forest Museum.
Tunnel Log
Tunnel Log is a passageway that was carved into a fallen sequoia tree. Visitors to the park can drive through this tunnel, but only on weekdays when Crescent Meadow Road is open. We were here on a Saturday so we had to take the shuttle. During our visit, the shuttle drove right past Tunnel Log so we could only see it on a drive-by.
You do have the option to walk here from Moro Rock. It is a 0.75-mile walk one way and should take about 15 minutes to get there.
Crescent Meadow
Crescent Meadow is a quiet meadow located at the end of Crescent Meadow Road. There is a 2-mile leisurely walk (Crescent Meadow Loop) through alpine forests and a meadow filled with wildflowers during the summer months.
Crystal Cave
Go underground and explore this marble cavern. To visit Crystal Cave, you can only do so on a tour. Tours last 50 minutes and they are offered from mid-May through November. There is an additional fee to tour this cave.
We skipped Crystal Cave. To get here, it is one hour of driving round trip from the Giant Forest Museum. Add in the time for the tour and this little excursion takes about half of a day. For us, the thought of walking through a cave on a guided tour sounded uninteresting. With the limited time we had, we would rather wander among the giant sequoia trees and explore Kings Canyon.
Even though we didn't do it, I still wanted to include Crystal Cave in this post since this is a popular spot to visit in Sequoia National Park.
Learn more about Crystal Cave.
Exit the Park
From Moro Rock, we drove south on Generals Highway, exited Sequoia National Park, and drove to Visalia. Visalia is a good-sized Californian town with lots of options for accommodations and restaurants. We stayed at the brand new Holiday Inn Express.
Another place to consider is Three Rivers. This town is a short drive from southern entrance to Sequoia National Park. It's a very small town with limited options for accommodations and restaurants, but it is close to the park entrance.
---
Things to Know Before You Go
Park Entrance Fee
The National Park Service charges $35 for a vehicle pass. This fee includes both Kings Canyon and Sequoia National Park and is valid for up to 7 days. To save time at the entrance, you can purchase your ticket online in advance.
Hours of Operation
Kings Canyon and Sequoia National Parks are open 24 hours a day 365 days per year. However, road closures due to snow will limit access to several areas of the park from October through May.
Be Prepared for Crowds
In this itinerary, the most crowded spots will be the General Sherman Tree, the General Grant Tree, and Moro Rock. During our visit on a Saturday in July, parking in Sequoia National Park was extremely limited. We found a parking spot on the side of Generals Highway and had to walk up to the Giant Forest and to the shuttle for Moro Rock.
The National Park Service operates a shuttle in Sequoia National Park. This shuttle connects Moro Rock, the Giant Forest Museum, and the General Sherman tree for free. Learn more about the shuttle service here.
To avoid the worst of the crowds, especially during the summer months, it helps to get an early start to the day (7 am is ideal). By 9 am, Kings Canyon and Sequoia are filling with people. The earlier you get here, the more you can do crowd-free.
Guided Audio Tour
GetYourGuide offers an audio tour of Kings Canyon and Sequoia National Parks. This audio tour provides interesting facts and history for both parks. We have not used it, so I don't know how it lines up with our itinerary, but for $10 it sounds like a good deal if you like to learn more about what you are seeing.

---
Are you going to Kings Canyon and Sequoia National Parks? If you have any questions, comment below.
More Information for Your Trip to California
YOSEMITE NATIONAL PARK: Check out our article Best Things to Do in Yosemite for important travel information, sample itineraries, and how to plan your visit. In our Half Dome Hiking Guide, learn what it takes to hike this challenging trail. We also have detailed guides about how to hike Upper Yosemite Falls and the Mist and Muir Trails.
SAN FRANCISCO: For more information about San Francisco, read our article Best Things to Do in San Francisco and how to cycle across the Golden Gate Bridge.
DEATH VALLEY: Here are 5 reasons why Death Valley should be the next national park you visit.
USA ROAD TRIPS: Planning your next big adventure in the USA? Check our our USA Road Trip Guide for travel ideas and sample itineraries.
NATIONAL PARKS: In our Guide to the US National Parks, get the full list of national parks with important travel planning information, such as things to do in the parks and sample itineraries. You can also learn more about the national parks and get a FREE printable checklist in our US National Parks Checklist.
Note: This post contains affiliate links. When you make a purchase using one of these affiliate links, we get paid a small commission at no extra cost to you.
All rights reserved © Earth Trekkers. Republishing this article and/or any of its contents (text, photography, etc.), in whole or in part, is strictly prohibited.