Have you ever wondered what it is like to climb the Half Dome cables? Did you even know that hiking Half Dome was something you could do?
I will admit it, when I saw my first photos of people clinging to the steel cables on Half Dome, climbing one of Yosemite's most famous icons, this hike got added to our bucket list. In 2017, with a trip to Yosemite, we got our chance to hike up the Half Dome cables. In March we applied for our permits and in April we found out we were one of the lucky 225 applicants for July 6, 2017.
This was a thrilling experience for our family. It's challenging for fit adults, but Kara was almost 13 and Tyler was 14 when we did this hike. This is a major accomplishment for all ages, but Tyler and Kara continue to amaze us, with their endurance, stamina, and love of crazy experiences like this, just like their parents.
Stats on the Half Dome Hike
Distance: 17 miles round trip from Yosemite Valley
Total Ascent: 5,457 feet
Difficulty: Extremely strenuous
Length of Time: 10 – 14 hours
Our day started at 6 am, when we took our first steps on the Mist Trail from Yosemite's valley floor. For four hours we hiked uphill, past Vernal Fall, past Nevada Fall, past campsites, and then higher than Yosemite Falls and Glacier Point.
From the sub dome, which is a smaller version of Half Dome, we got our first real view of those infamous cables.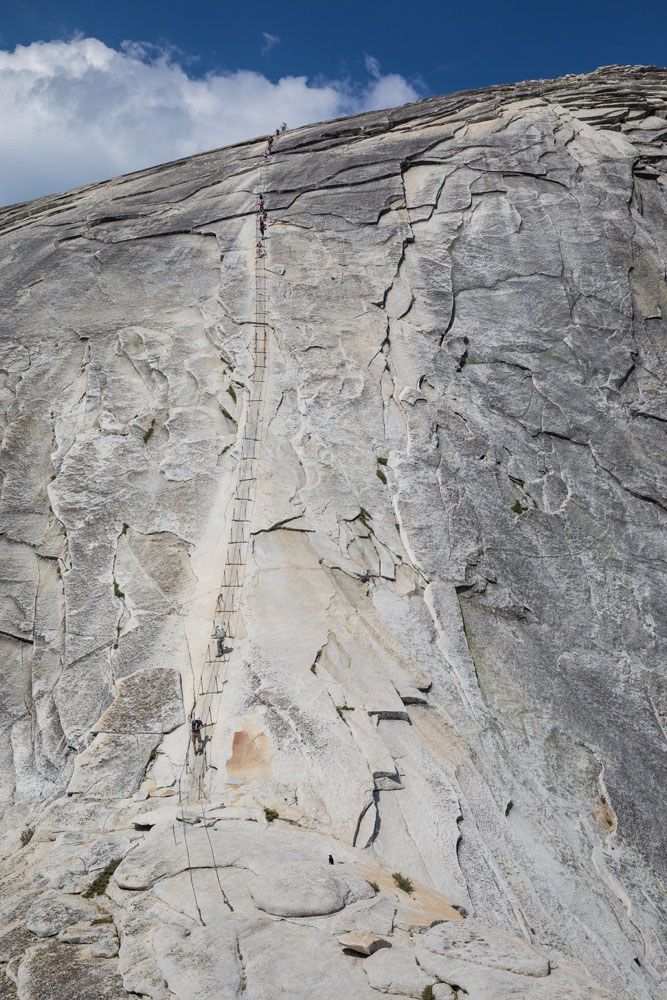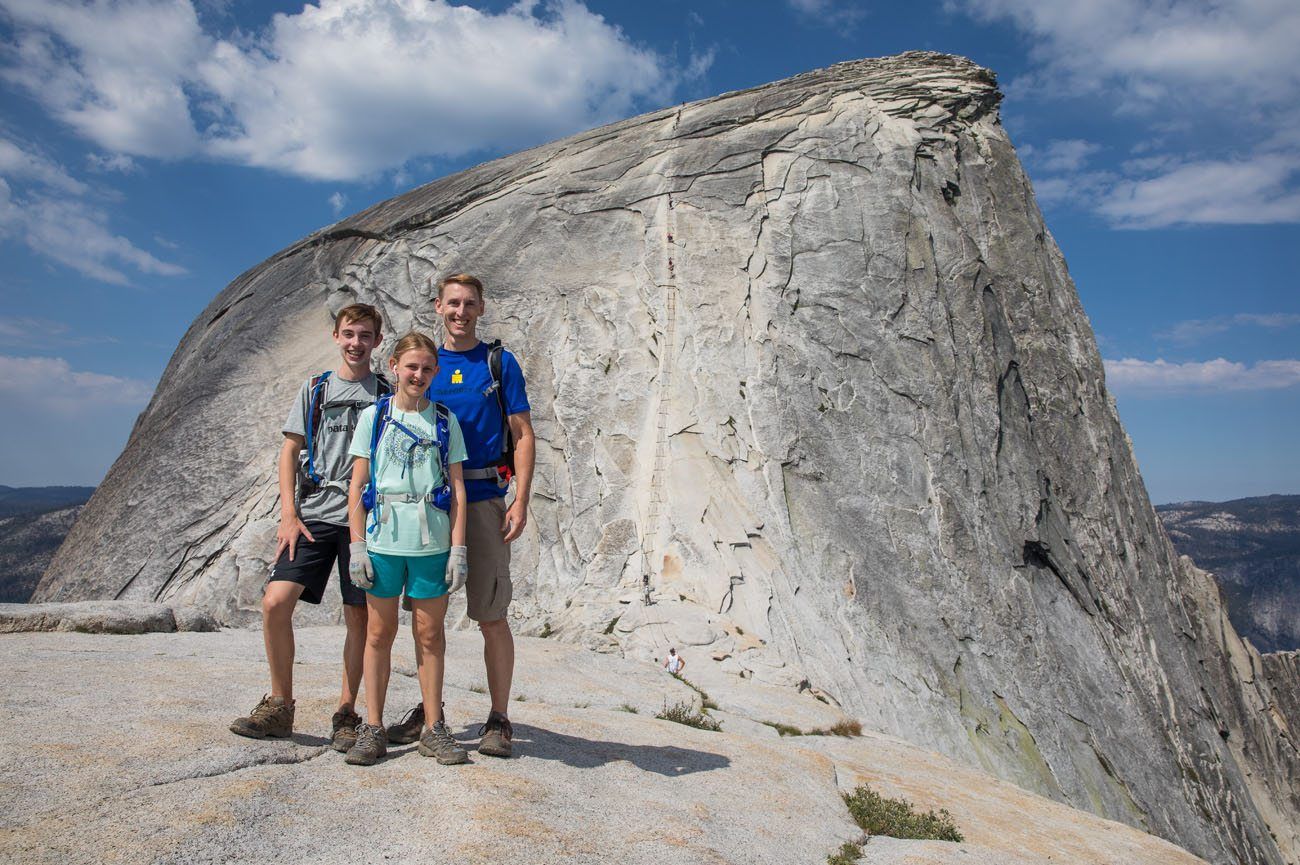 At 10 am we were staring up at Half Dome. With our early morning start and fast hiking pace (yes, even with kids) we got here before the main crowds arrived.
Until 2010, Half Dome could be hiked without a permit. If you see photos from this time, there would literally be hundreds of people clinging to the cables. This created a dangerous situation, with too many people precariously hanging onto the cables. One wrong move could mean disaster. In fact, more than 20 people have died climbing Half Dome, either from falling off the cables, having a heart attack, being struck by lightning, or from failed base jumps.
Now, with the permit system in place, the number of people on Half Dome is much more manageable. Still, it helps to get here early, not only to avoid the crowds but also to avoid afternoon thunderstorms. Half Dome is NOT a place you want to be in rain, thunder and lightning.
The Climb Up the Half Dome Cables
Our climb up was quick since there were very few people in front of us. I knew to expect a steep incline and slick surfaces, but even so, the difficulty of this climb took me a little by surprise. This climb is hard! Don't underestimate it.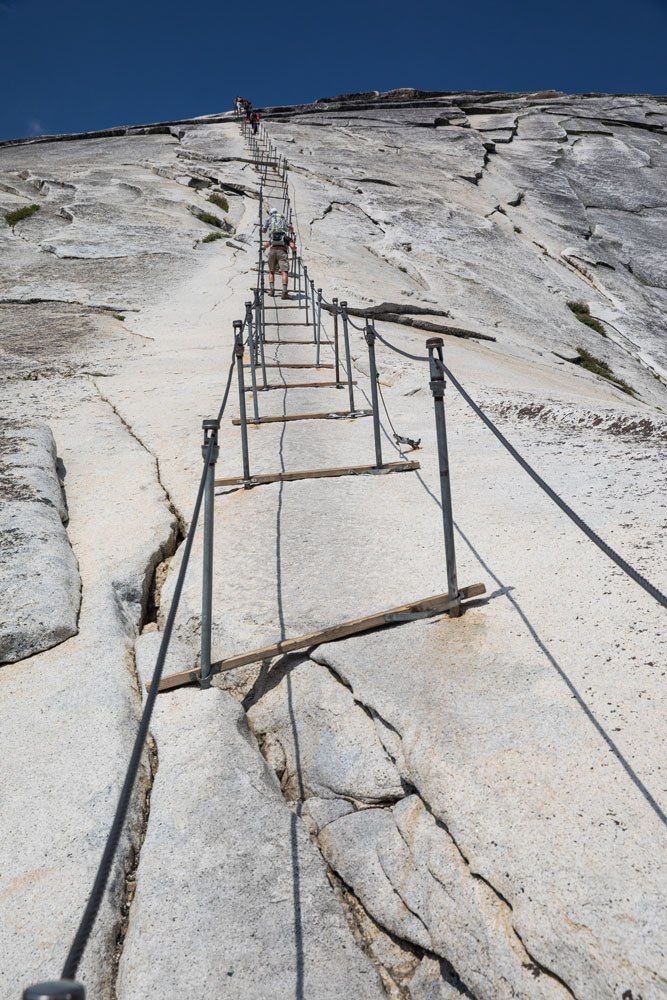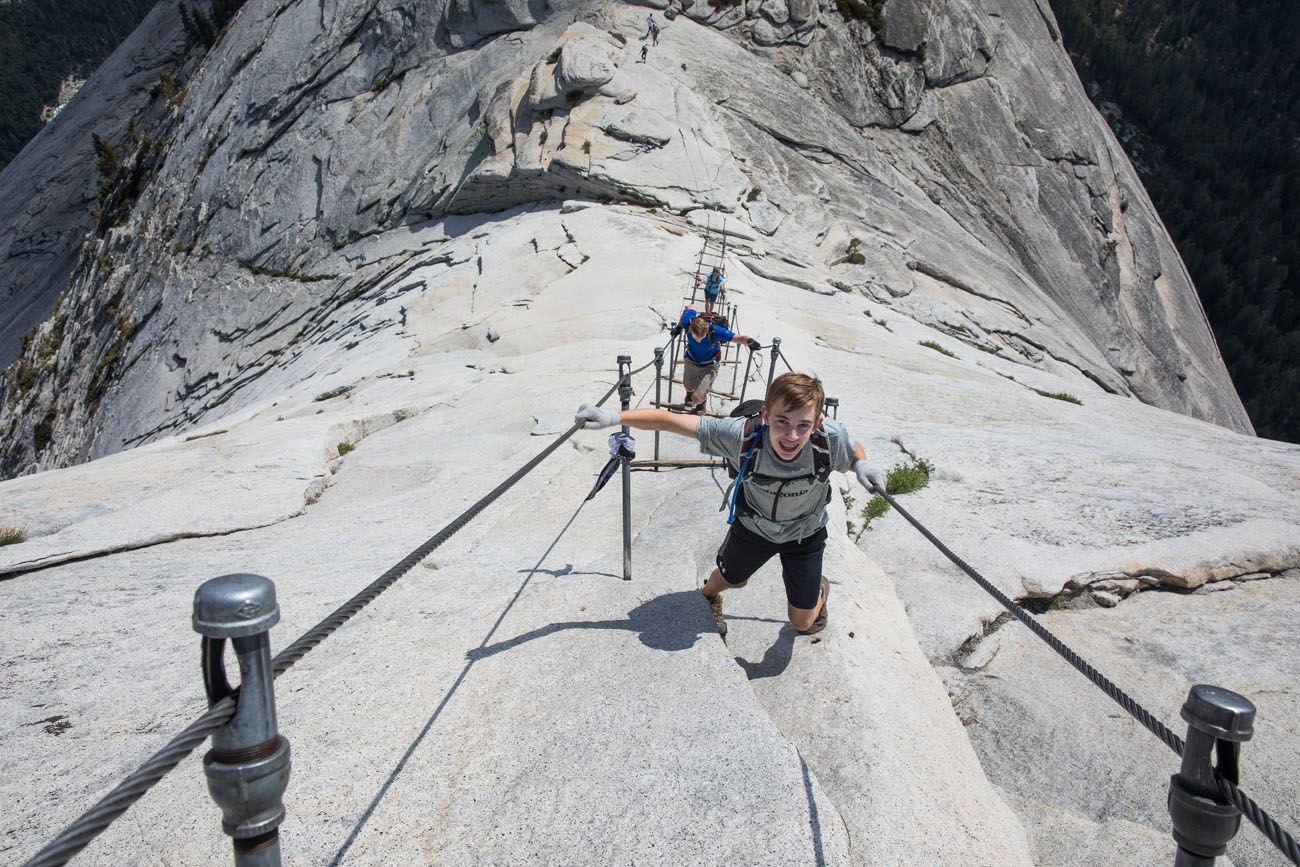 The granite surface has been worn smooth by the shoes of the thousands of people before us. The climb is so steep that we pulled ourselves up more with our upper body strength than by walking up with our feet. And since the elevation is now over 8,000 feet, it doesn't take much to get out of breath. Plus, we already hiked for 4 hours, so we were already fatigued.
This is not easy. But it is thrilling.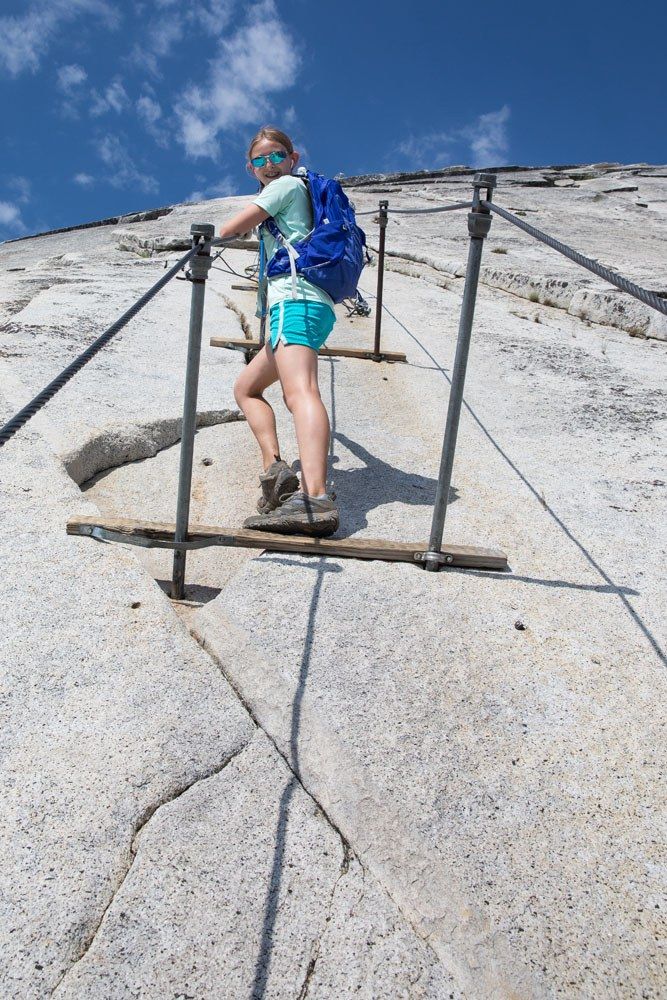 We would climb a short distance, rest and catch our breath, and then keep going. It's exhilarating, looking out at Yosemite and down the cables.It's a relief to finally reach the top. We made it!! Now we could take in the view and enjoy our accomplishment.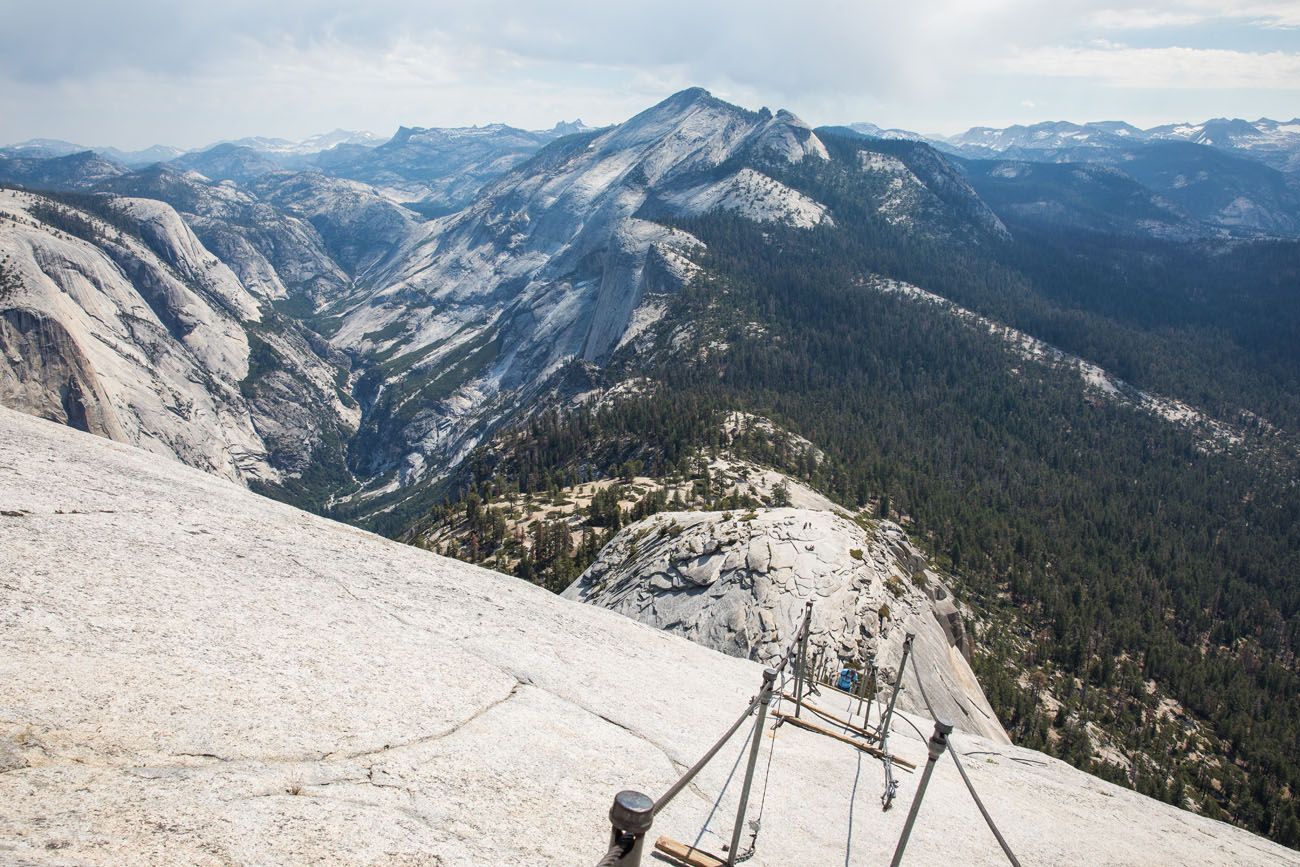 On Top of Half Dome
I planned on a longer stay here than what we actually did. But rain clouds were in the area, and now knowing just how steep and slippery Half Dome is, we did not want to be on those cables if it started raining. After a few photos we headed back down the cables.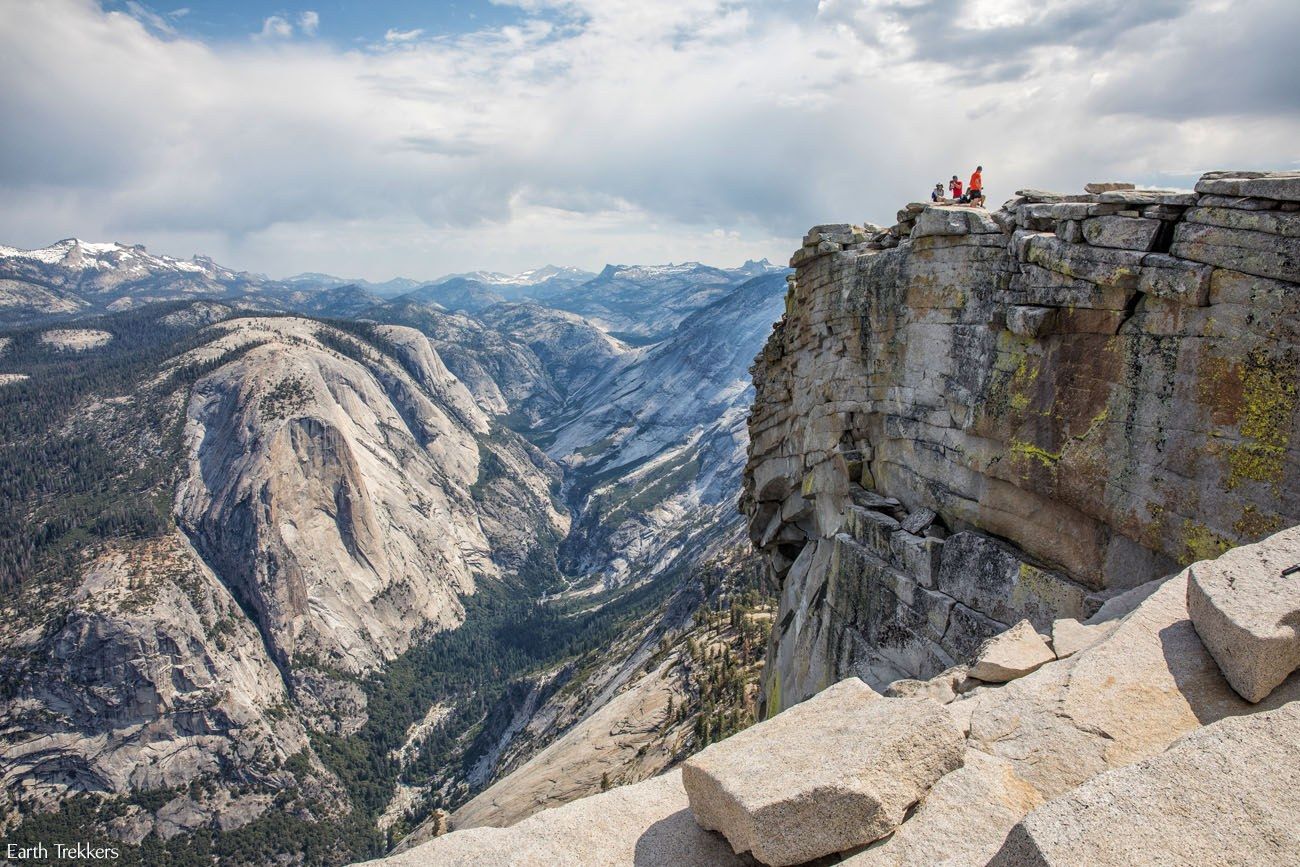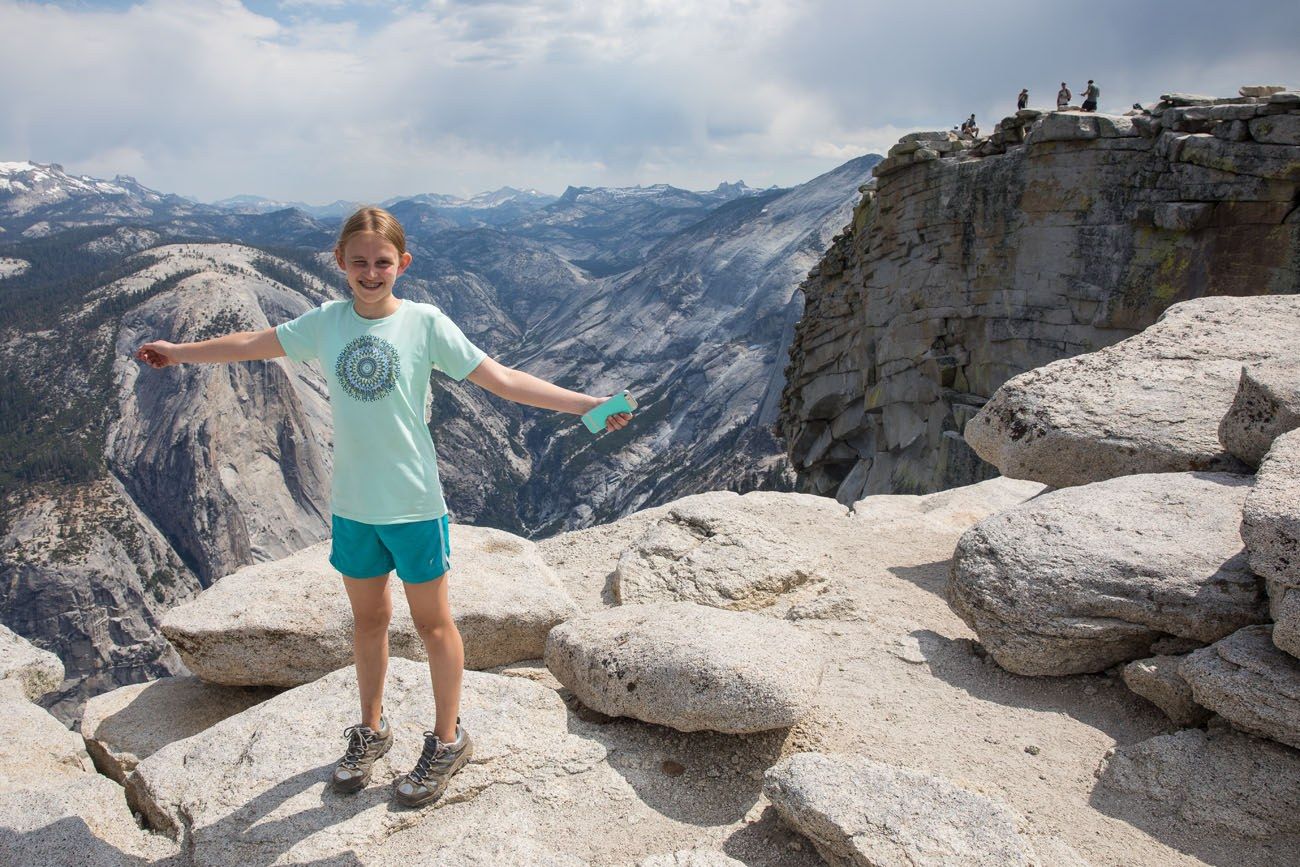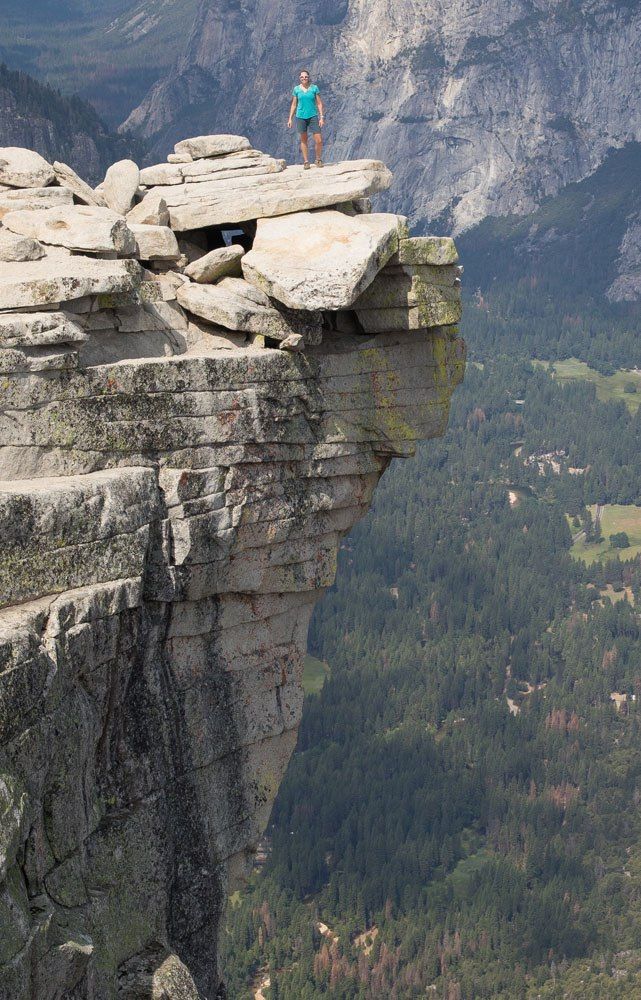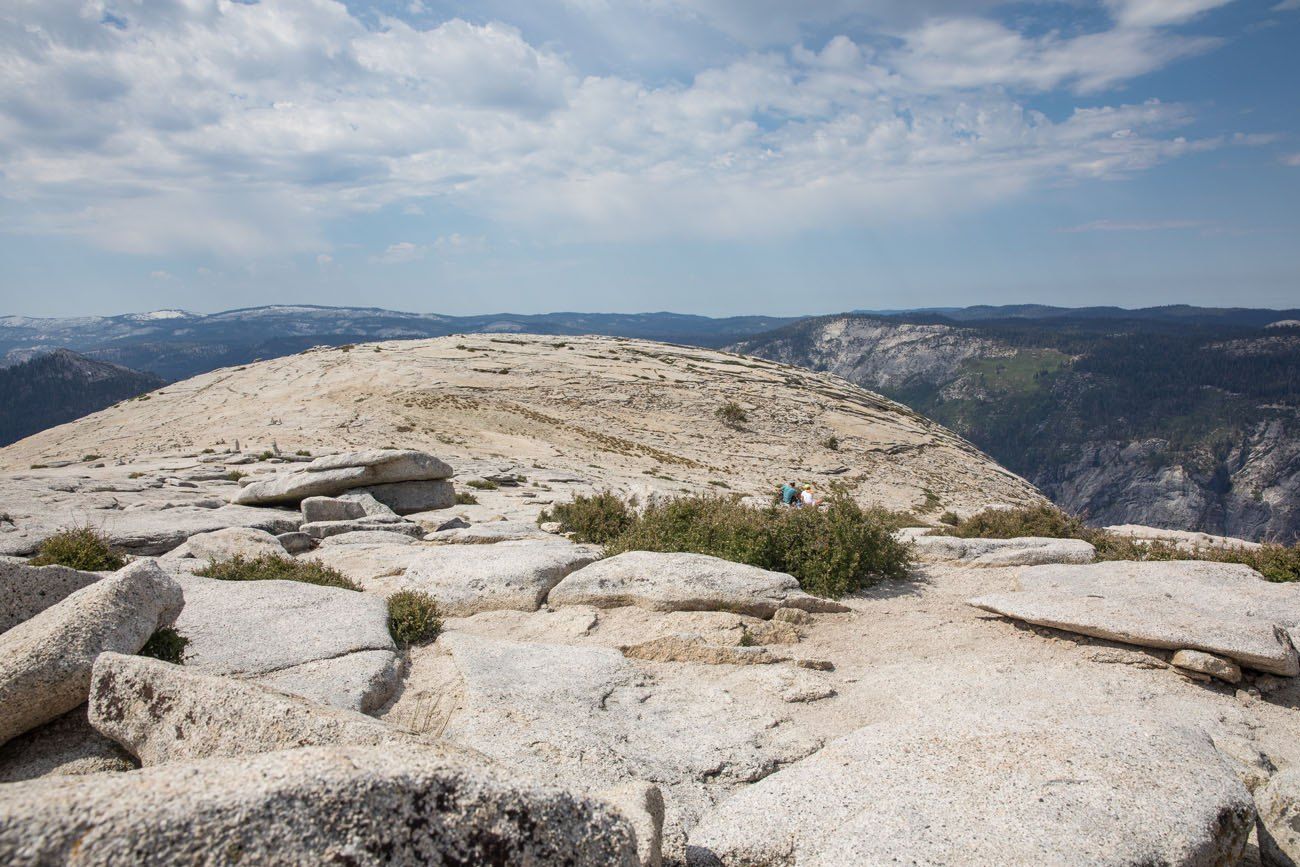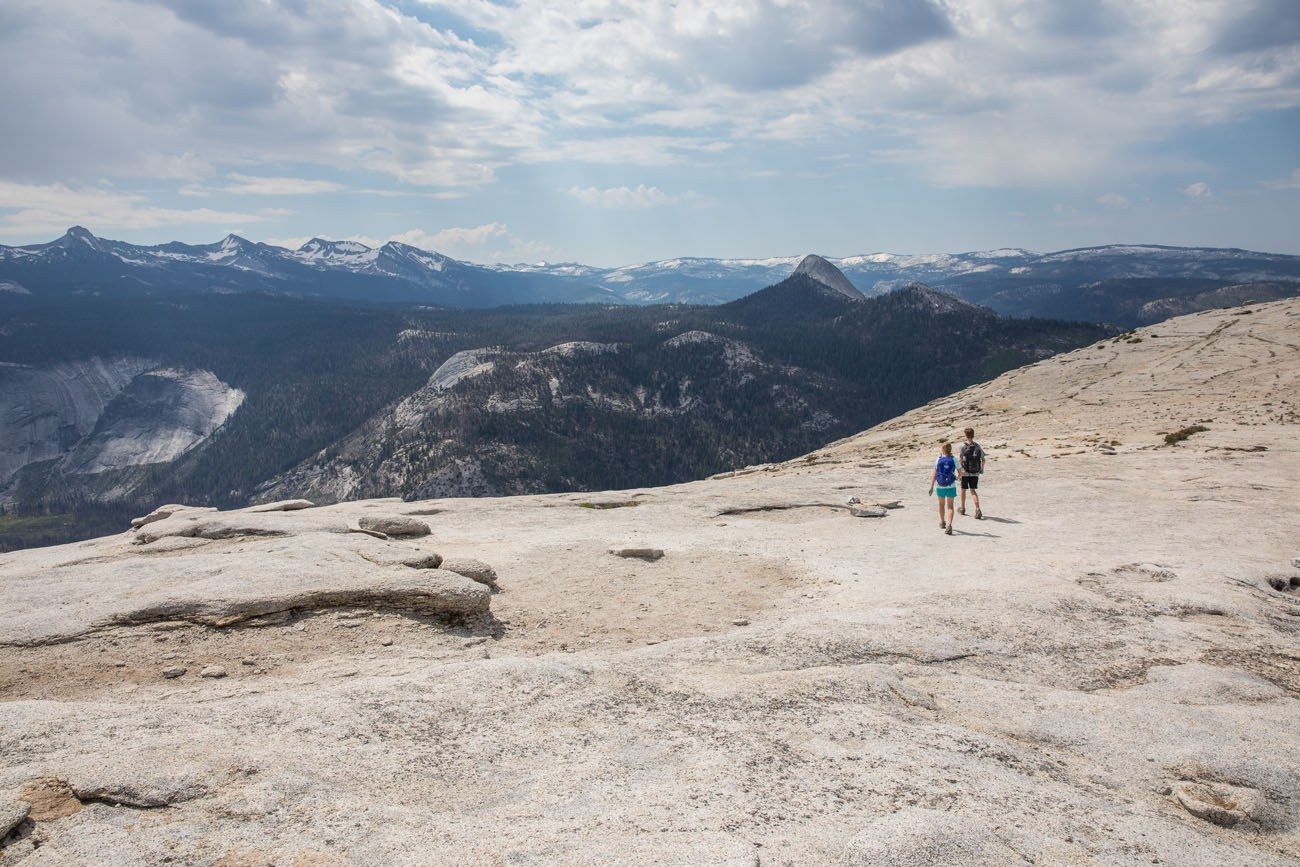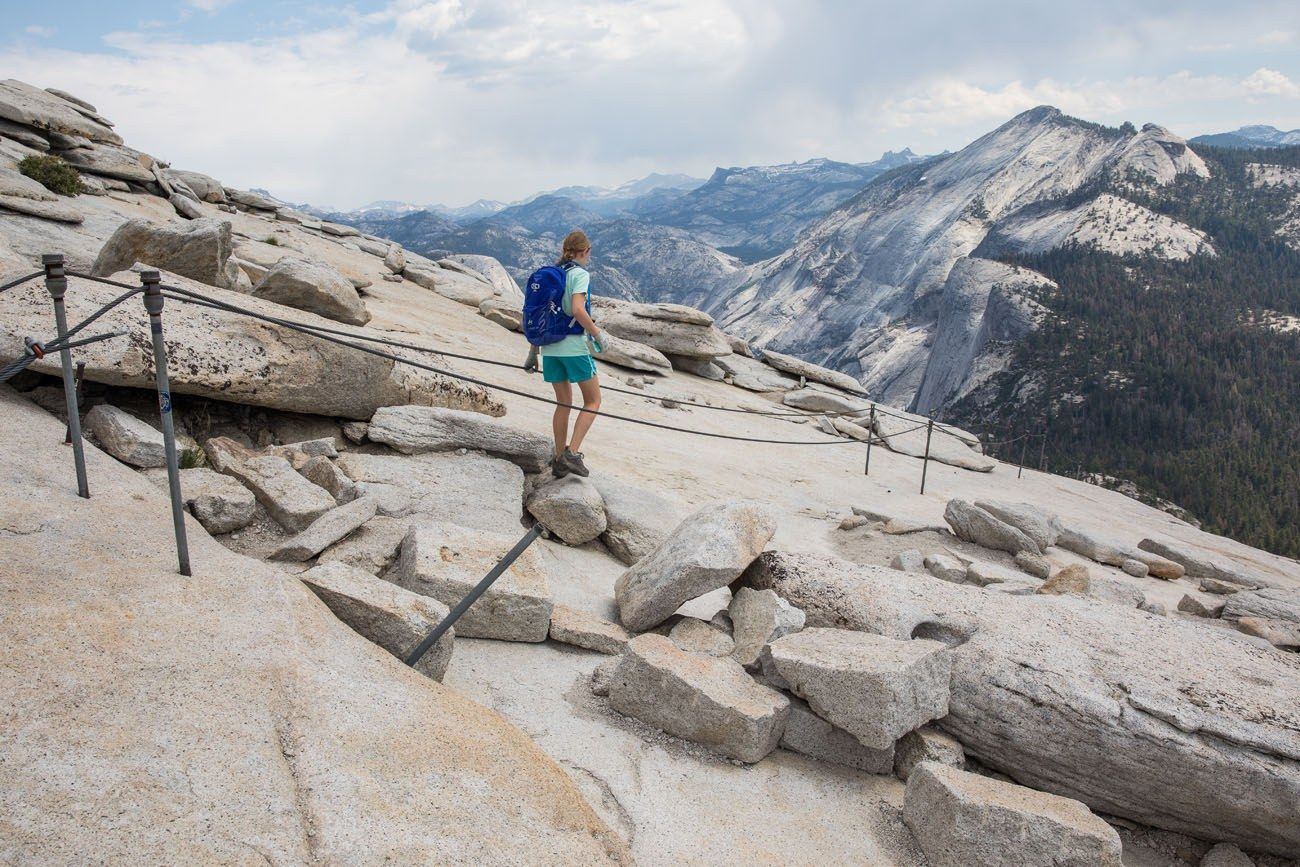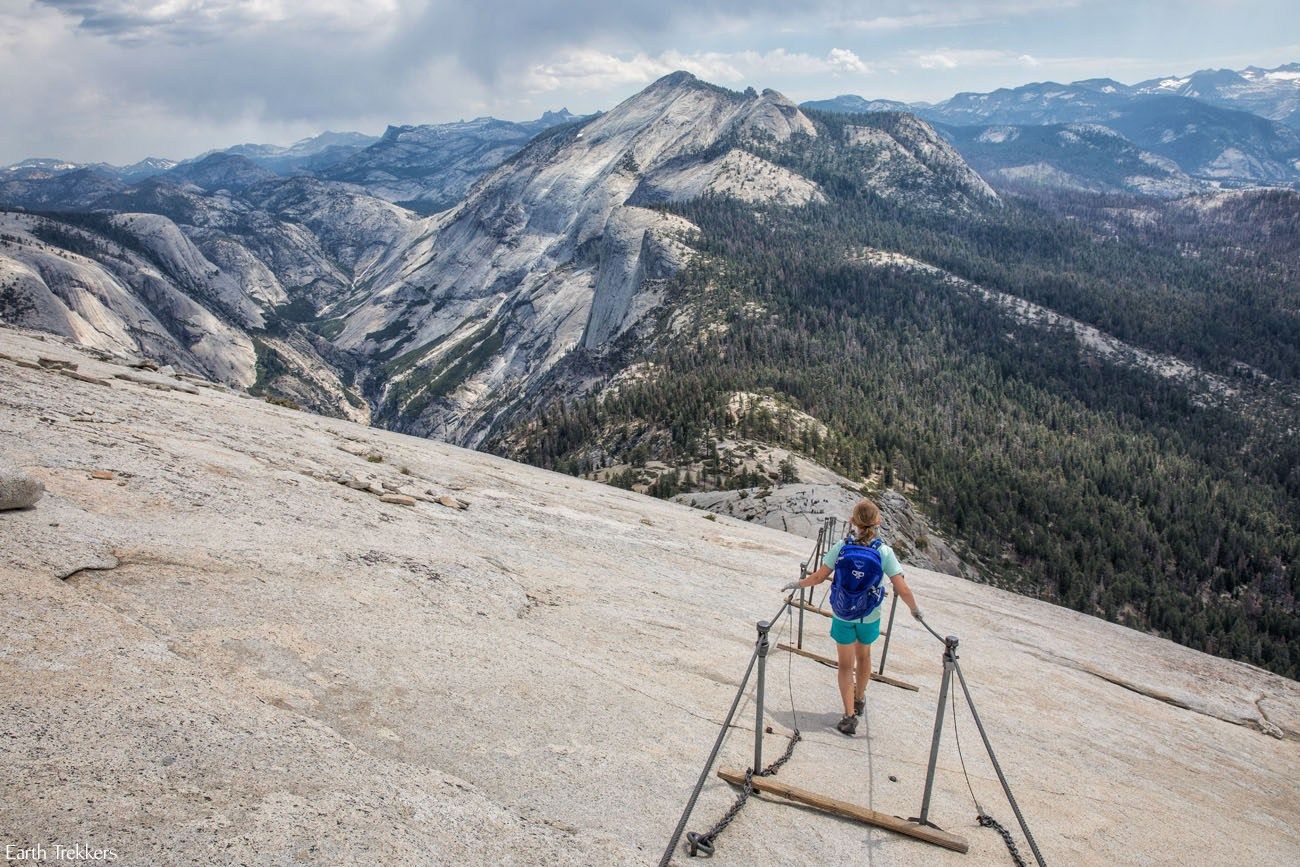 Climbing Down the Half Dome Cables
If you are not afraid of heights, going down is much easier than going up.
We figured out that turning around and walking down backwards is much easier than facing forwards. Plus, wearing gloves is a must!! As you slide down, your hands rub on the cables. Without gloves, you will rub the palms of your hands raw.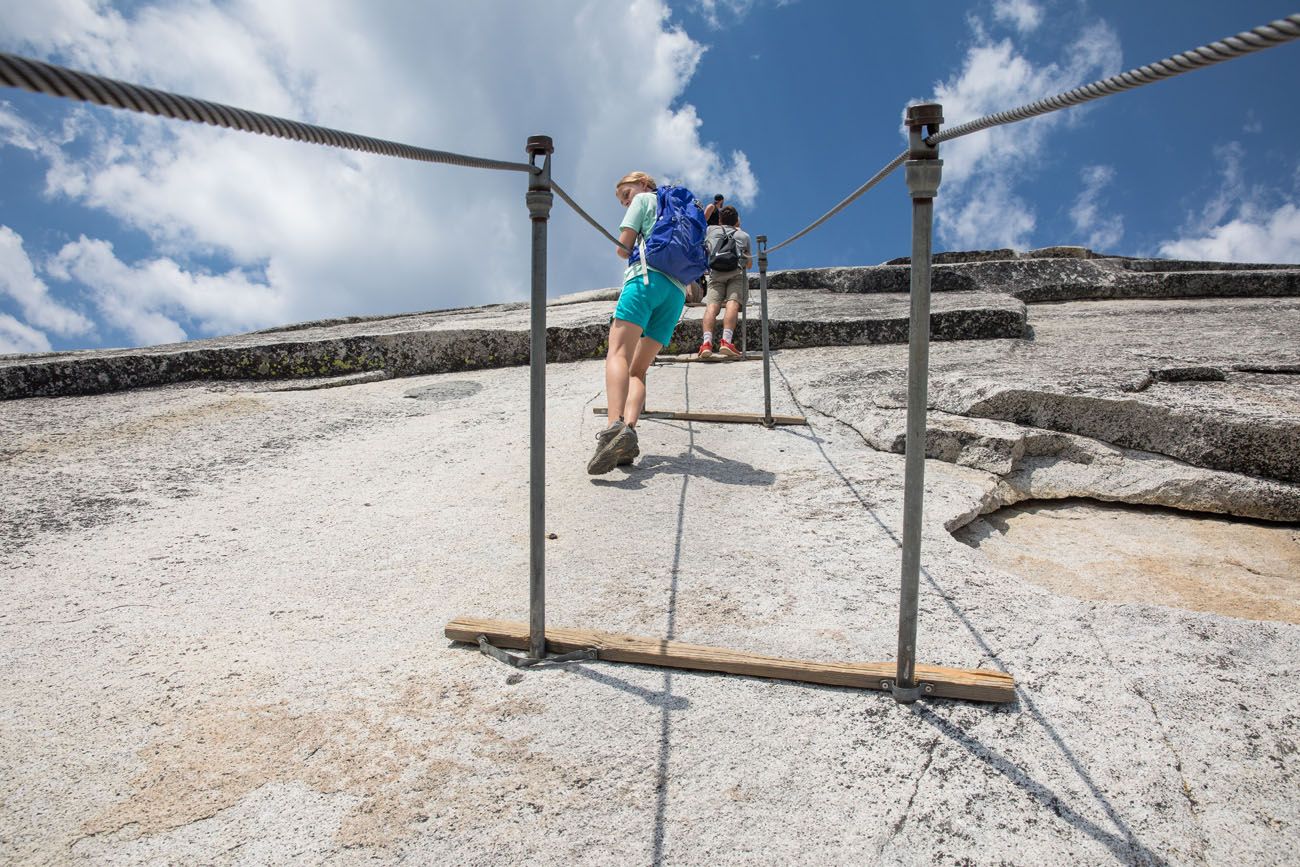 During our brief rest on top of Half Dome, many more people arrived at the cables. It took longer going down since now we had to wait to leapfrog around other climbers. But that gave us more time to enjoy the view and take photos. For us, being on the cables was thrilling and we loved every minute of it.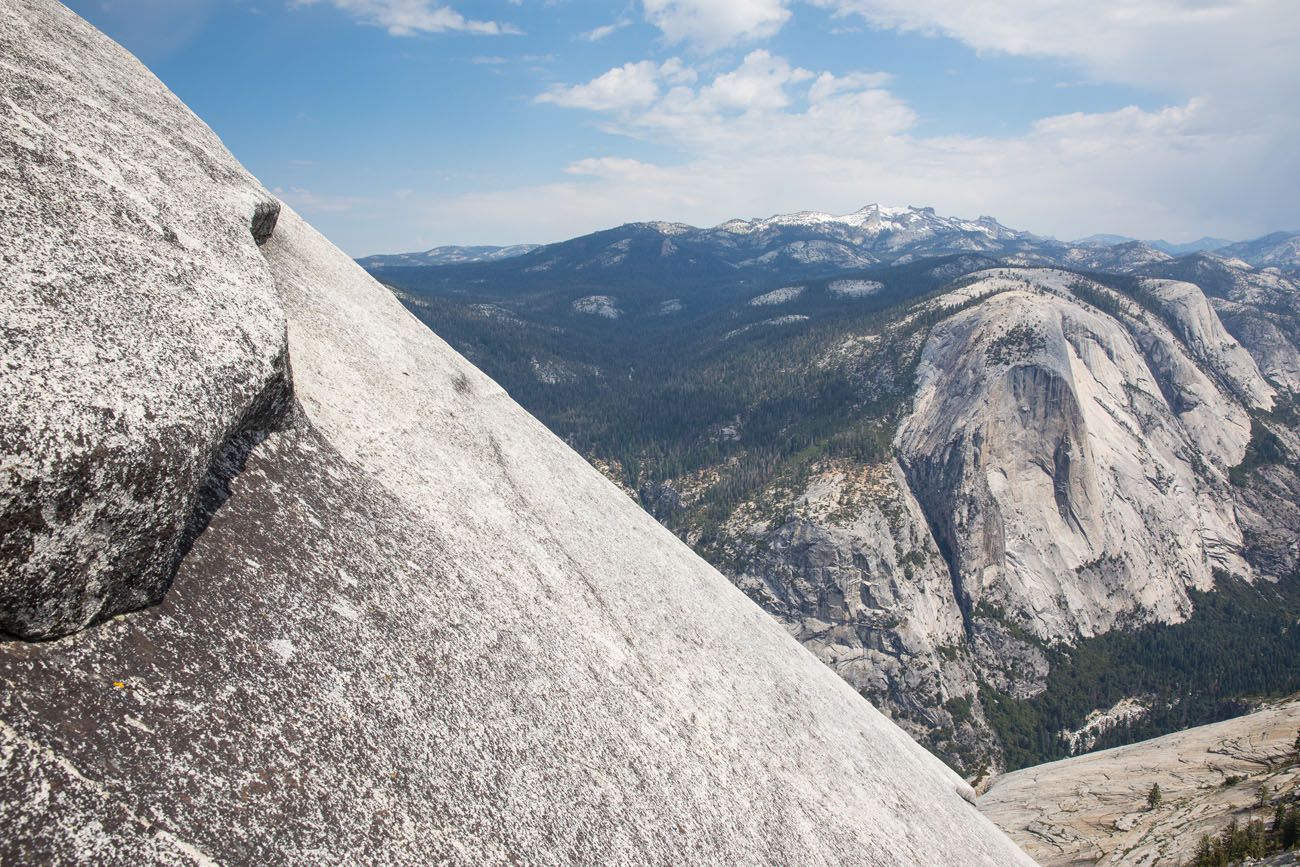 All four of us made it safely to the bottom. After getting one last look at the cables, we hiked down the sub dome (and it did rain…a little bit), and then to Yosemite Valley.Climbing the Half Dome cables was a thrilling experience, probably one of our favorite family experiences of all time.
We will never look at Half Dome the same way again.

How Long Does it Take to Climb the Half Dome Cables?
It took us just under 20 minutes to climb up the cables. Traffic was light so we did not have to wait for anyone in front of us.
We spent 25 minutes on top of Half Dome, which is not much time. We wanted to stay longer but we could see rain clouds in the distance.
To get down the cables it took us 30 minutes. We did have to stop and wait frequently since there was now two way traffic on the cables.
Tips for Climbing the Half Dome Cables
Watch the weather. If it is raining or storm clouds are in the area, do not hike up Half Dome. People have been struck by lightning while on the Half Dome cables. Plus, the granite rock is already slippery…if it is wet, climbing the cables becomes very, very dangerous.
Bring gloves. Without gloves, you risk rubbing the palms of your hands raw while climbing and descending the cables. While we were here, there was a pile of discarded gloves at the bottom of the cables you can borrow.
Wear hiking shoes or boots with excellent traction.
Take your time. Be patient with slower hikers.
While climbing the cables, we pulled ourselves up with one hand on each cable. There are plywood boards spanning the cable route at each of the poles. This is a good place to stop and rest. Climb to the next board, take a short break, and then climb to the next board. It's harder to pause in between boards because the granite rock is so slippery.
When descending, it's easier to turn around and walk down backwards. Keep both hands on the cables. Again, pause on the plywood boards, not on the slick granite trail.
You have the option to bring a harness and clip onto the cables. This is the best way to stay safe while climbing and descending the cables. If you plan to do this, you will need a harness, carabiners, and a Y-shaped lanyard. If we did it again, we would use a harness, and we highly recommend it to stay safe on the cables.
For more information on hiking Half Dome, check out our Half Dome Trail Guide and our guide on How to Get a Half Dome Permit.
---
If you have any questions about the Half Dome cables, let us know in the comment section below.
More Information for Your Trip to California
YOSEMITE: Check out our Yosemite National Park Travel Guide for important travel planning tips, sample itineraries, advice on when to go, where to stay, and more.
KINGS CANYON & SEQUOIA: Learn how to spend one day in Kings Canyon and Sequoia National Parks.
SOUTHERN CALIFORNIA ROAD TRIP: Go on a road trip from Las Vegas to San Diego, visiting Joshua Tree and Death Valley National Parks, as well as Anza-Borrego Desert and the Mojave National Preserve.
NATIONAL PARKS: In our Guide to the US National Parks, get the full list of national parks with important travel planning information, such as things to do in the parks and sample itineraries.
TRAVEL PHOTOGRAPHY: For more information about the camera gear we carry, check out our Travel Photography Gear Guide.
If you are looking for more epic hiking ideas, how about:
How to Hike the Grand Canyon Rim-to-Rim
The Kjeragbolten Hike: A Complete Guide
The Tongariro Alpine Crossing: New Zealand's Best Single Day Hike
Angels Landing Survival Guide: Things to Know Before You go
How to Hike the Zion Narrows from the Top-Down
The Walker's Haute Route: Chamonix, France to Zermatt, Switzerland
15 Amazing Hikes to Do in the Dolomites, Italy
Or check out our Hiking Page for more awesome hikes around the world.
All rights reserved © Earth Trekkers. Republishing this article and/or any of its contents (text, photography, etc.), in whole or in part, is strictly prohibited.