Northern Ireland is a hot destination for Game of Thrones fans. With numerous sites to visit, like the ruins of old castles, scenic coastlines, and dark hedges of trees, Northern Ireland is perfect for filming scenes in Westeros.
The movie sets in the Game of Thrones are amazing. Wouldn't it be awesome to see them in real life?!
We added one day onto our Ireland itinerary to tour some of the more popular filming locations. And our day turned out to be somewhat of a disappointment. Keep reading to find out why (especially if you are considering touring these same sites!!).
What's It Really Like?
We arrived in Belfast on a Sunday morning, flying in from Glasgow, Scotland. It was the beginning of August, peak season for tourism in Northern Ireland. Once in our rental car, our self-guided tour began in Belfast.
Titanic Studios
Belfast is the location of Titanic Studios, where many scenes for the Game of Thrones are filmed. We drove by the studio, not expecting to see anything, but it would have been awesome to spot Kit Harrington or Lena Headey. Well, we were not that lucky.
What is more interesting about the area is that the Titanic was built here in 1909. For those interested, visit the museum within walking distance of Titanic Studios.
Shillanavogy Valley
Forty-five minutes north of Belfast is Shillanavogy Valley, land of the Dothraki. This green valley was transformed into Vaes Dothrak. In real life, it's not that impressive. A lot of computer generated effects turned this view into the much more impressive scenes we see in the Game of Thrones.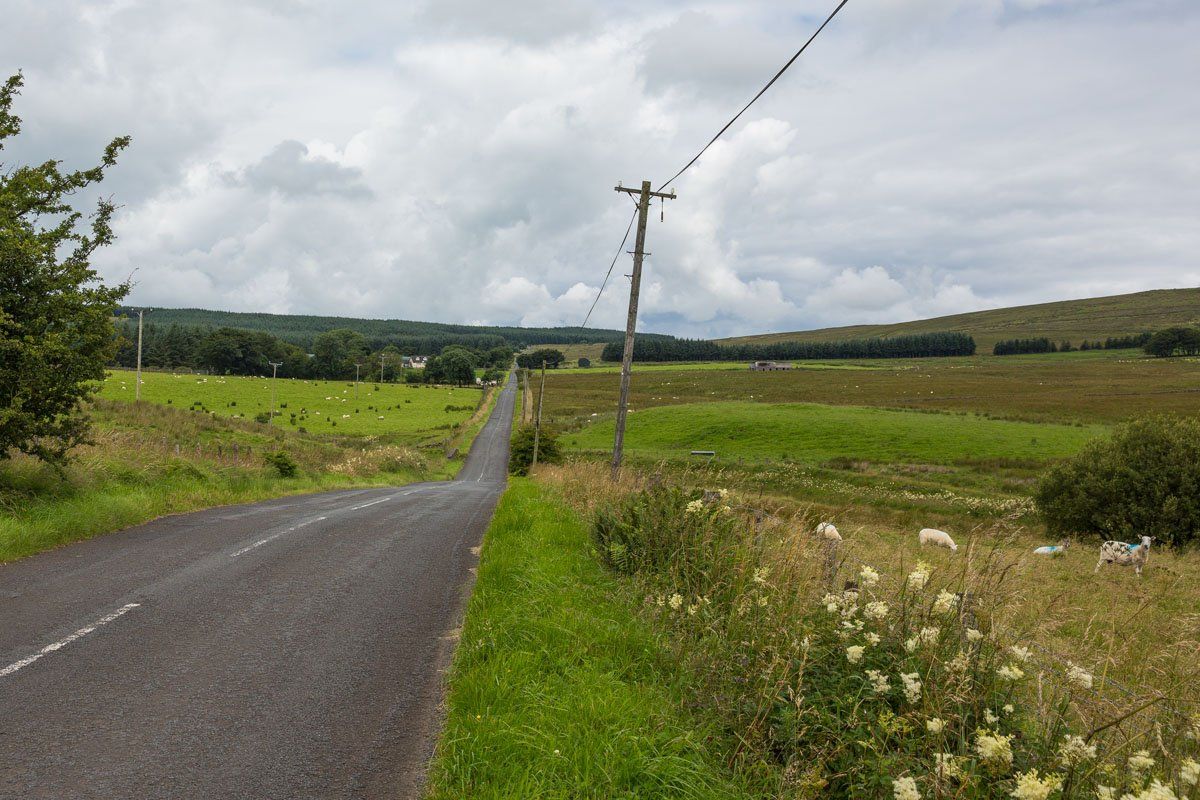 Cushenden Caves
Our drive continued northeast to the coastline. The Cushenden Caves are where Melisandre gives birth to the shadowy creature that becomes King Renly's undoing.
This was a little more interesting that Shillanavogy Valley and there were not many people here. That was about to change!!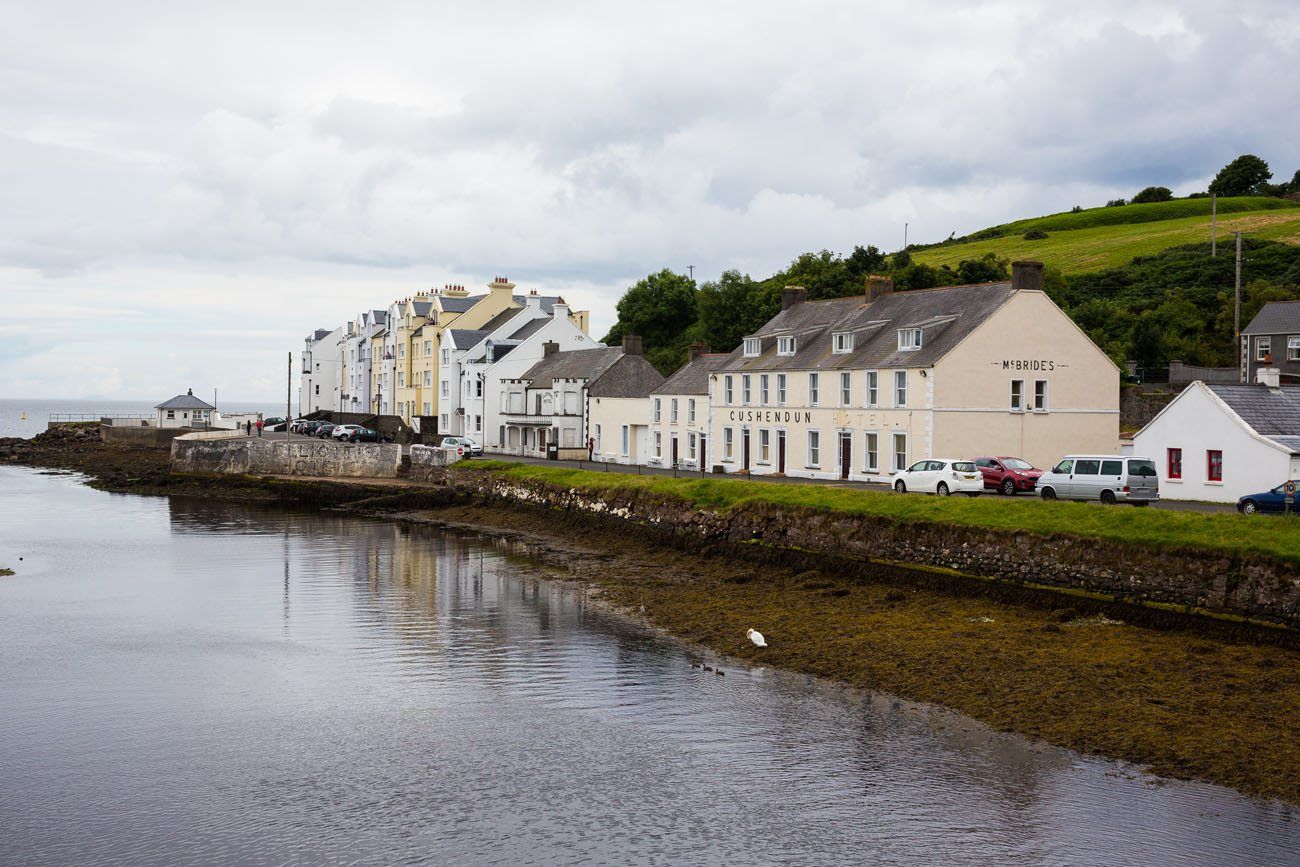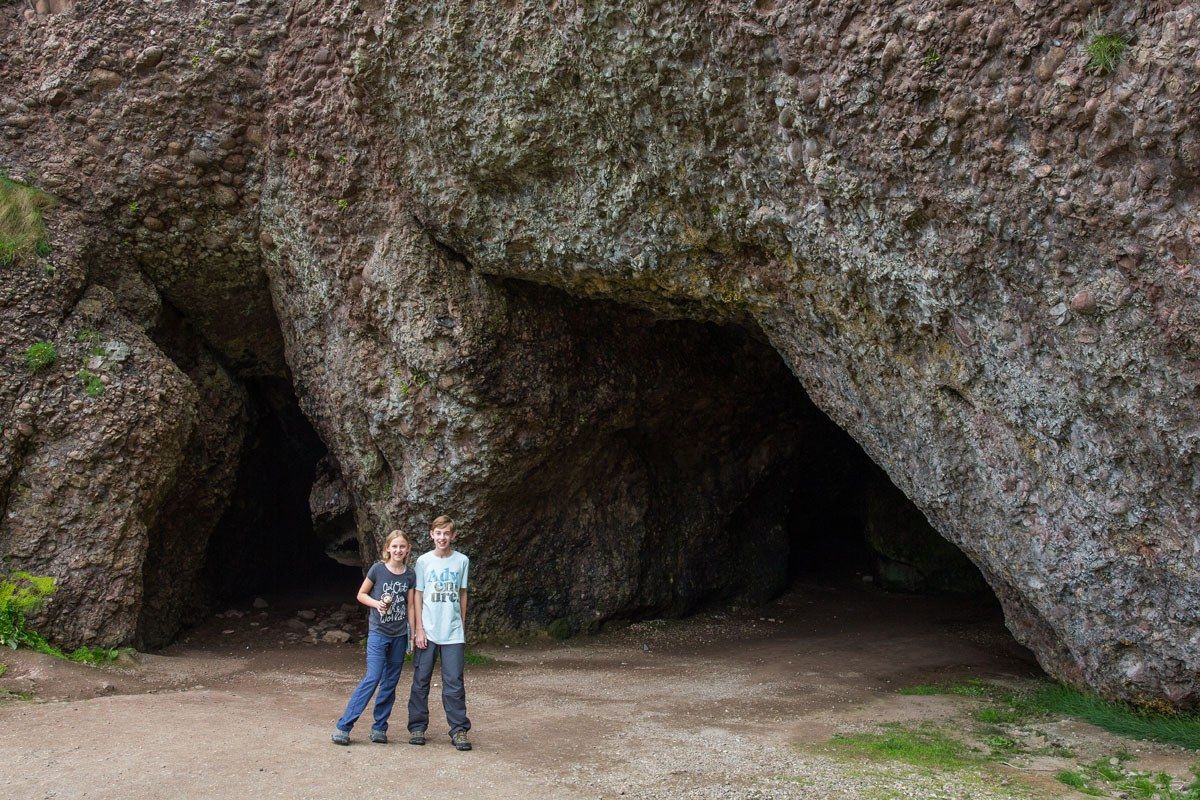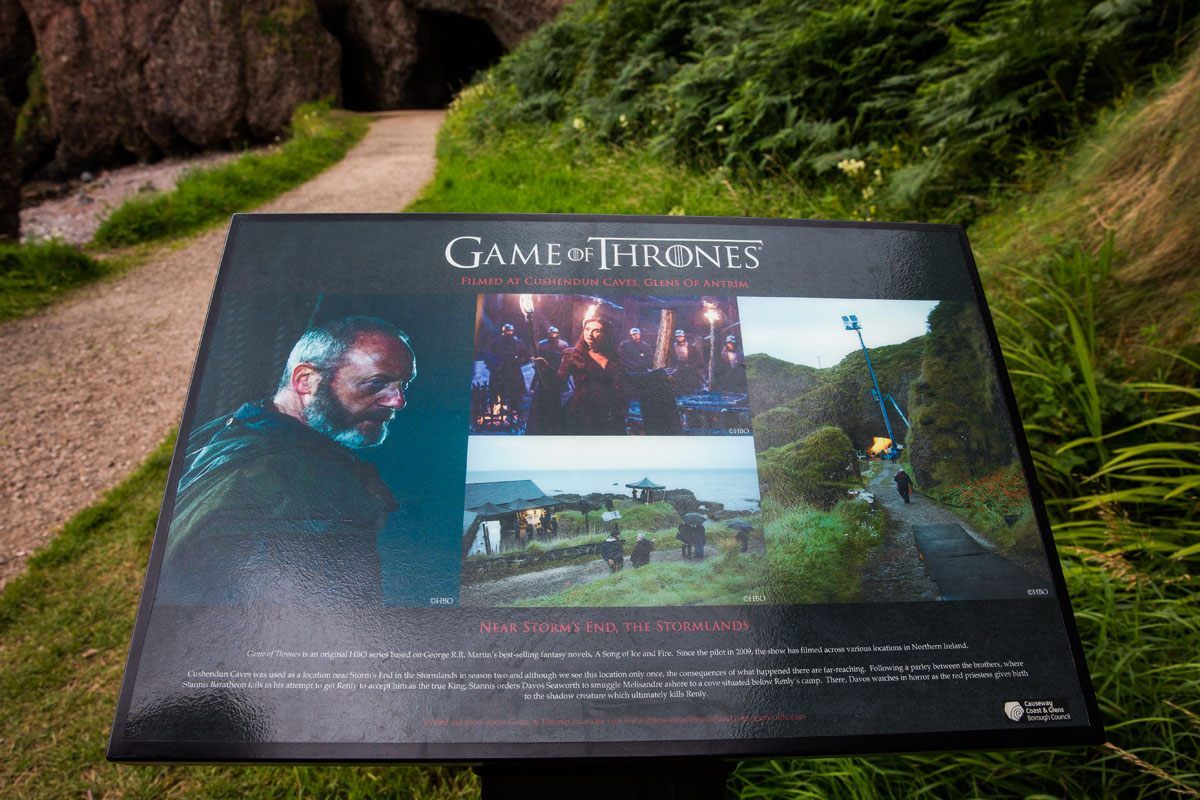 Murlough Bay
Murlough Bay was our next stop. This is where Davos was rescued after the Battle of Blackwater and also where Theon road on horseback with his sister Yara. Murlough Bay looks gorgeous in photos.
But we never made it here. A local parade was going on, so we were turned around a several miles from the coastline. It was disappointing, but we still had lots of great places to see.
Carrick-A-Rede Rope Bridge
This is not a Game of Thrones filming location, but it is one of the most popular places to visit in Northern Ireland. Since we were nearby, we wanted to check it out.
By now, it was 2:30 pm. There were so many cars just trying to enter the parking lot that the road was backed up in both directions. We sat and waited for a few minutes, barely moving, and then gave up. I couldn't imagine waiting a half hour or more just to park our car in order to walk on a rope bridge. So, we skipped Carrick-A-Rede Rope Bridge.
The Dark Hedges
This just may be the most popular Game of Thrones filming location in Northern Ireland. The Dark Hedges is a short road lined with twisted, mature beech trees. This is the Kingsroad.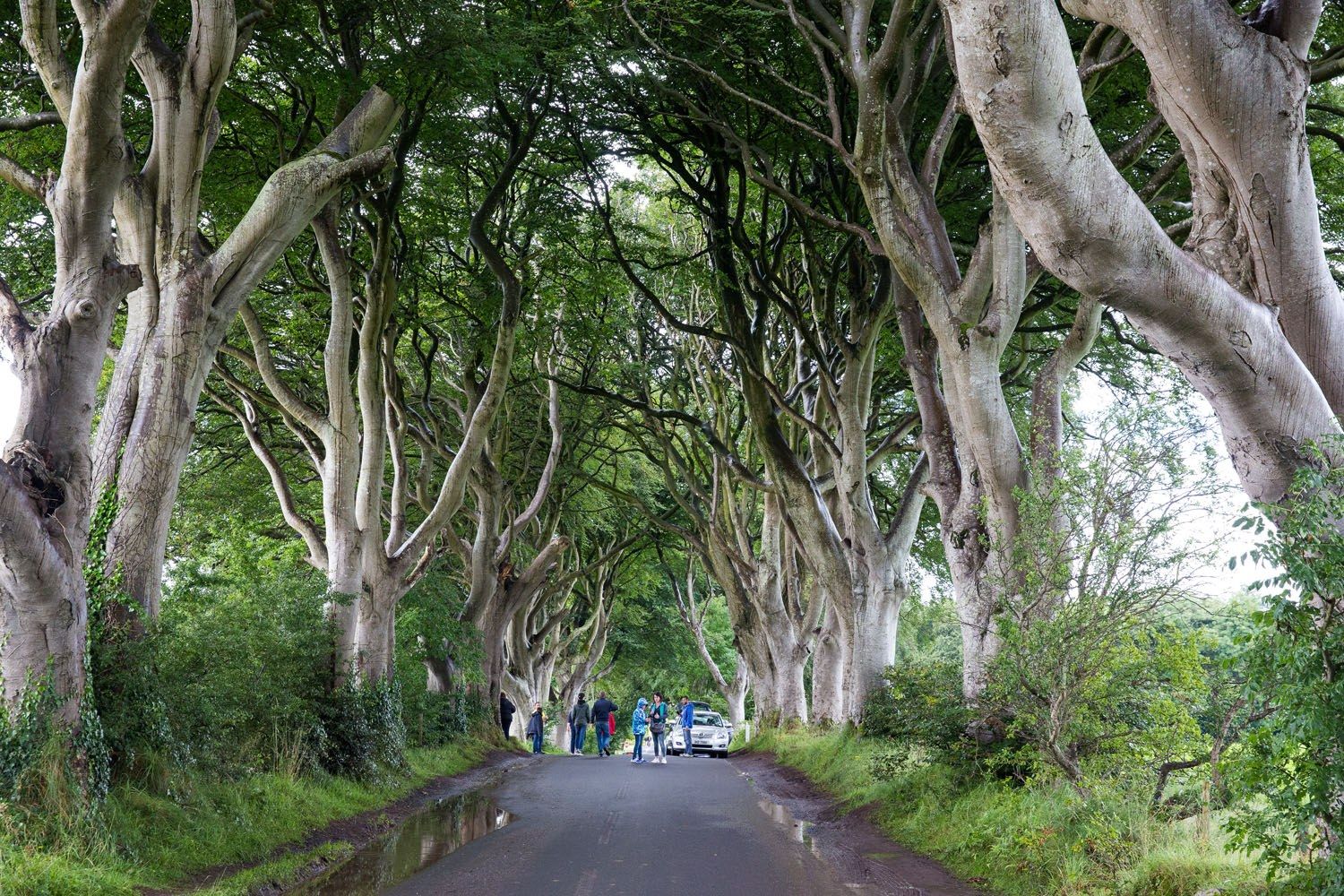 We were shocked when we saw the Dark Hedges. The road was lined with cars and there were so many people here! Just then a giant, bright white tour bus pulled up and parked smack in the middle of the road.
It had just rained, so cars driving on the road were splashing muddy water on people nearby. It was impossible to get a decent photo.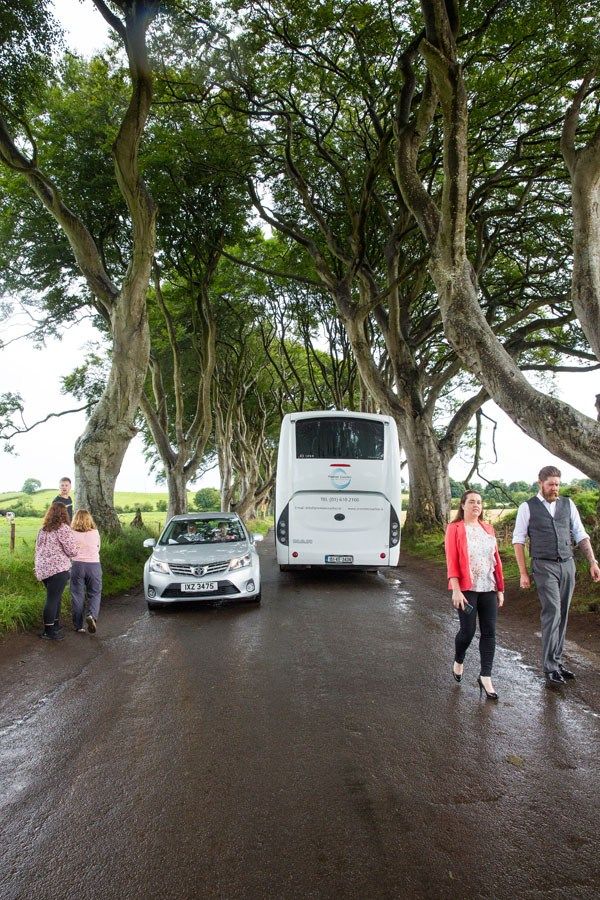 By now, we were so frustrated with our Game of Thrones tour and this was the final straw. It was so frustrating it actually became quite comical.
By now, we learned our lesson: the real life filming locations bear little resemble to the Game of Thrones shows, and these places are so crowded in the summer months that going to these places is hardly enjoyable.
Please note: If you are visiting The Dark Hedges, do not be one of those lazy people that parks right on the road, ruining everyone's experience. There is a car park across the street. Please park here!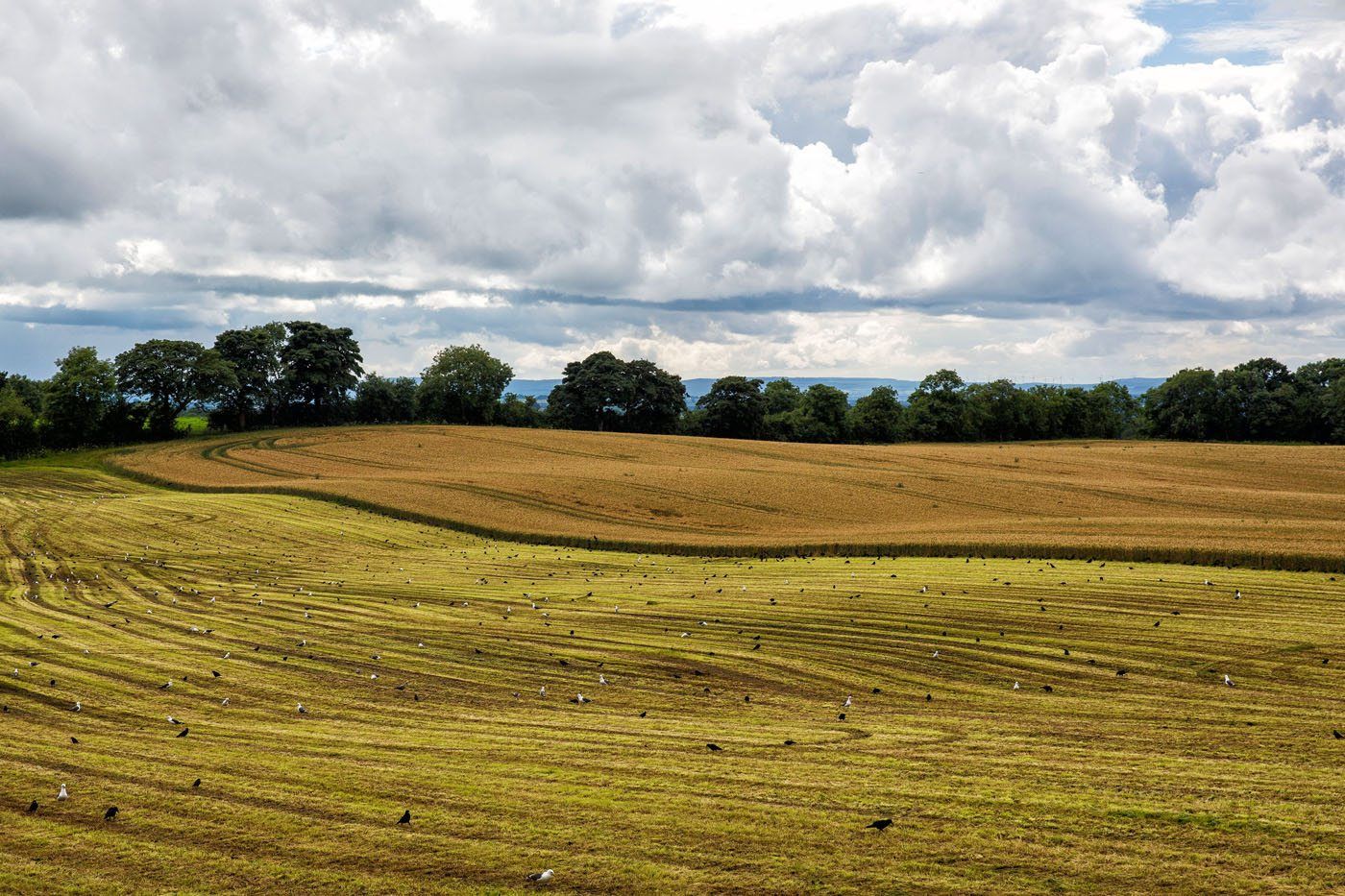 By the way, this is the view from the Kingsroad
Dunluce Castle
After dinner in the beautiful little town of Portrush, we visited Dunluce Castle. This is the filming site of Pyke of House Greyjoy.
By now it was 7 pm. The sun was getting low on the horizon and most people were finished with their tours for the day. We shared Dunluce Castle with a few other people, making this one of our better experiences of the day. Dunluce Castle is worth the visit, but there is a lot of CGI (computer-generated imagery) that goes into transforming these ruins into the pillars of Pyke.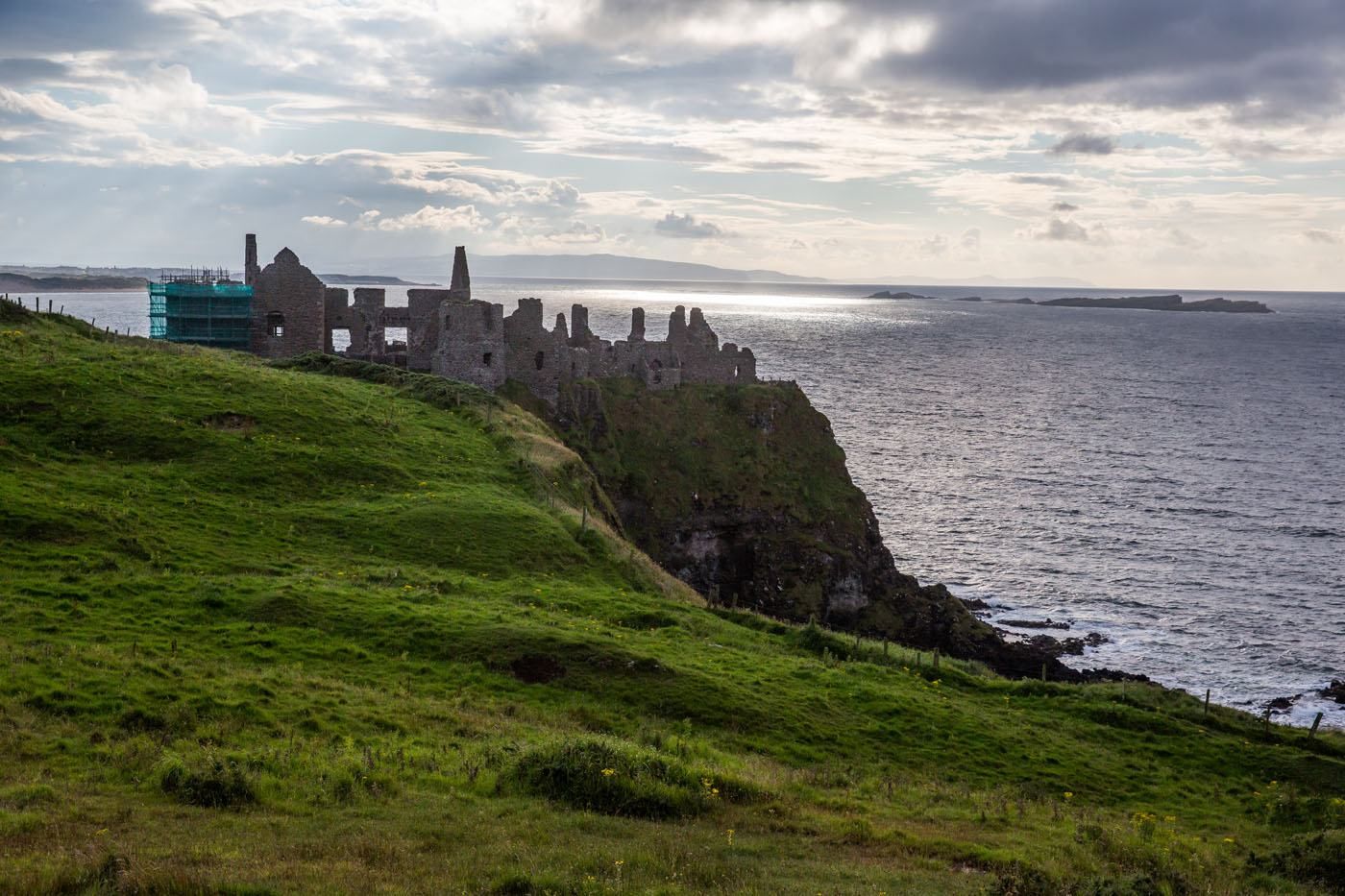 Giant's Causeway
Again, this is not a Game of Thrones filming spot. But if you go to one place in Northern Ireland, it should be here. This coastline is spectacular in its uniqueness. Come here at sunset; it just may be the highlight of your day.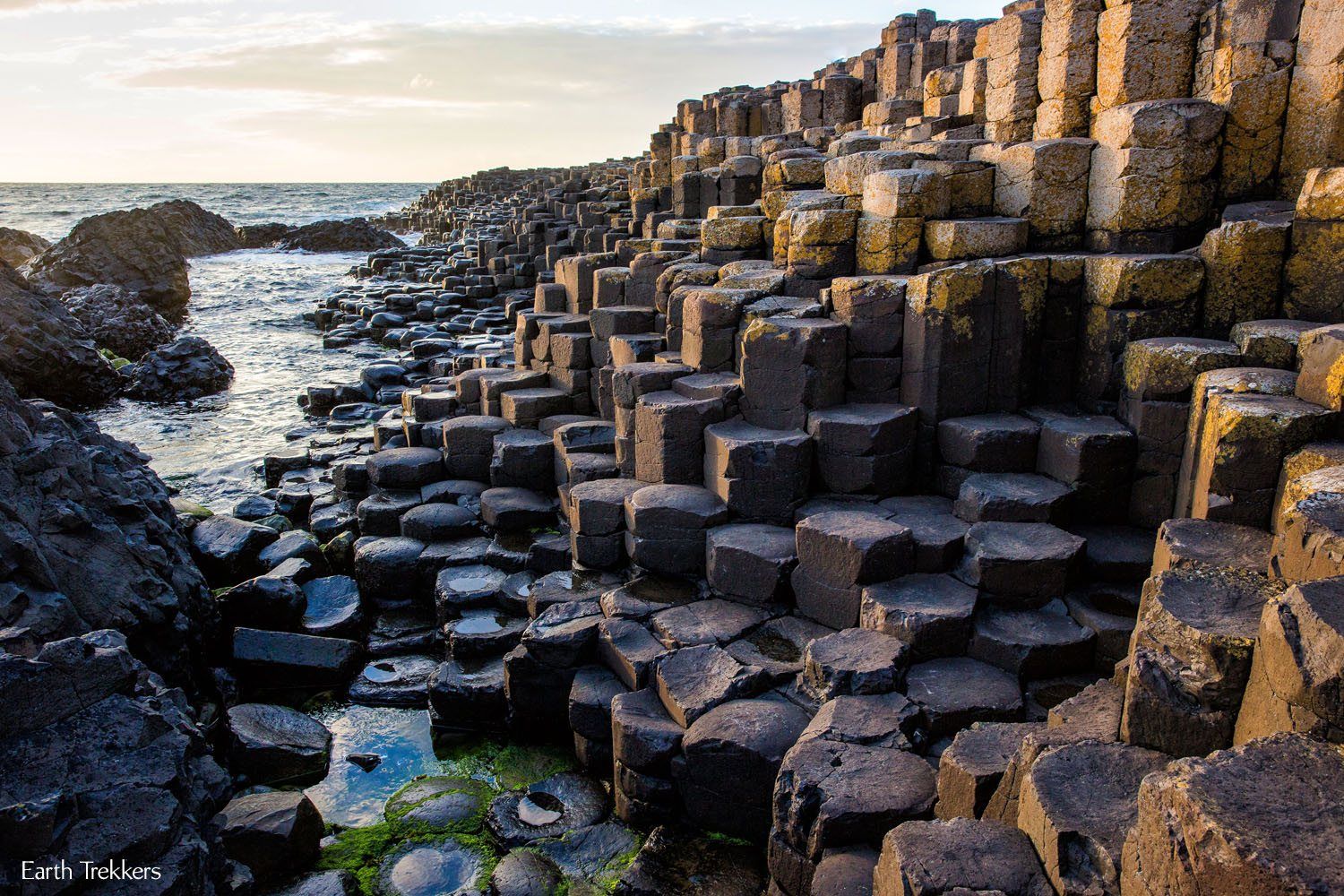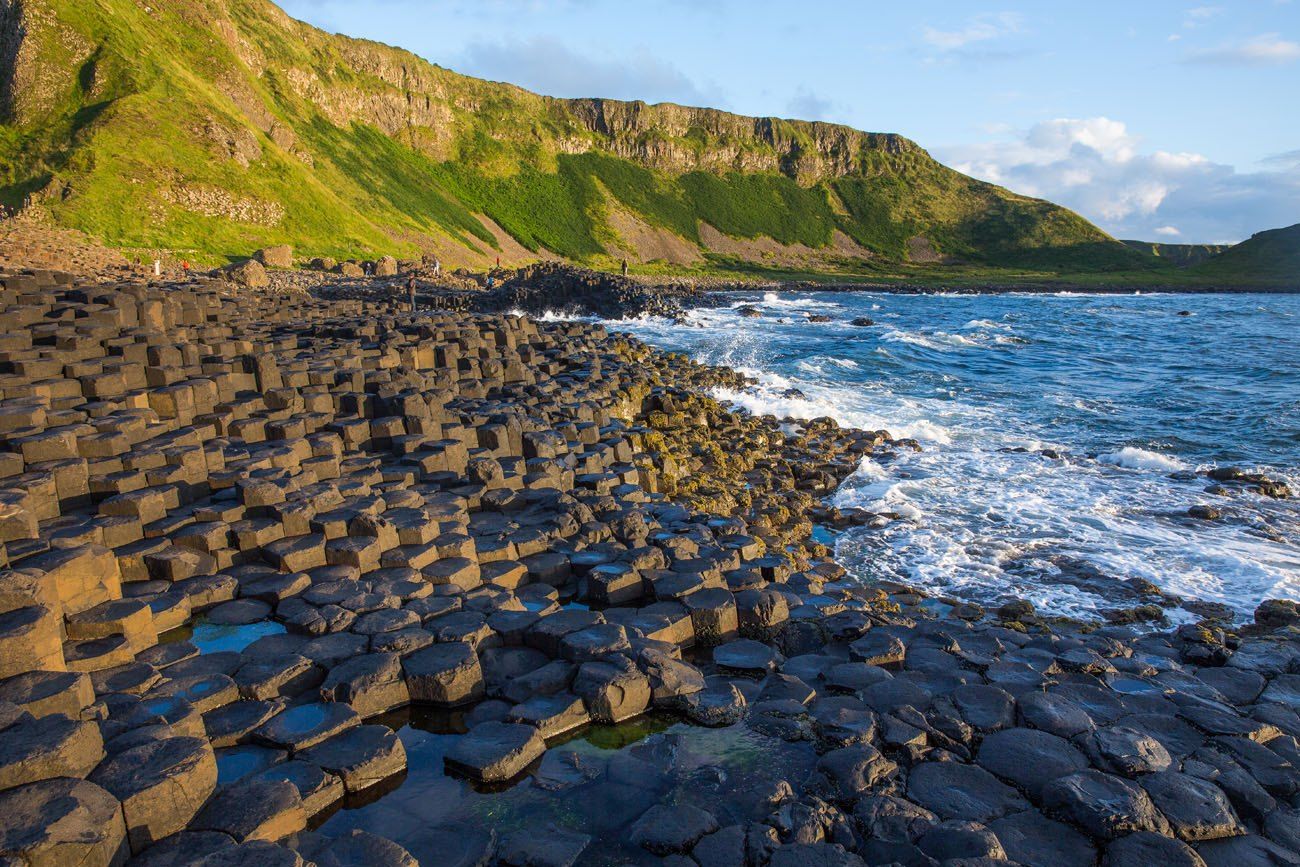 Binevenagh Mountain and Forest
We made a quick visit to Binevenagh Mountain on our second day in Northern Ireland as we drove into Ireland.
The area around Binevenagh Mountain was used as the Dothraki Sea in Season 5. This is where Daenerys finds wounded Drogon and is later taken prisoner by Dothraki riders. The view from the top of the mountain is spectacular and absolutely worth visiting (albeit a little out of the way from the normal tourist route). You can drive to the top and walk one minute on a dirt path to get this amazing view. It is worth it to come here, just for the view, even if it looks nothing like we know from Game of Thrones.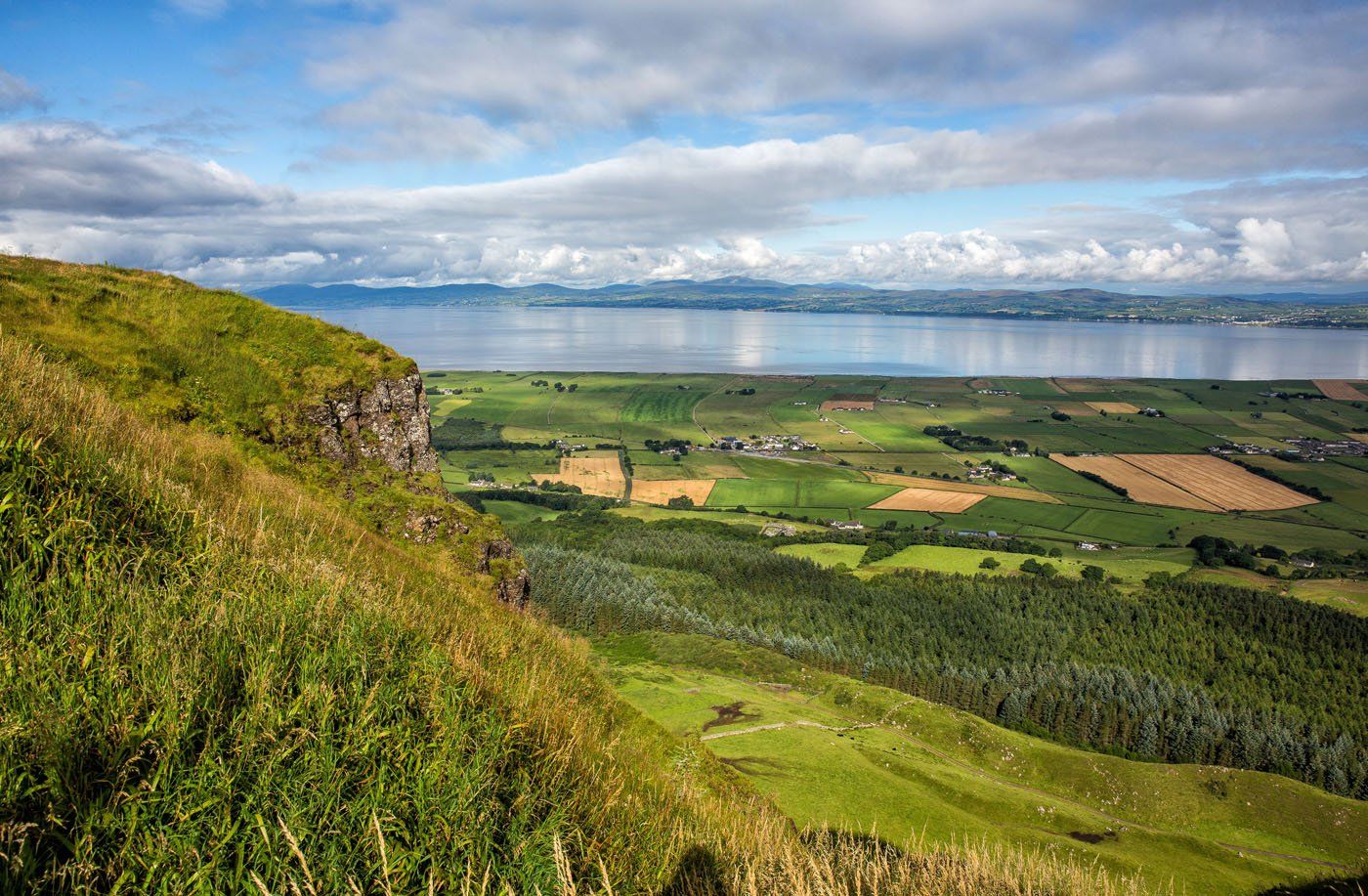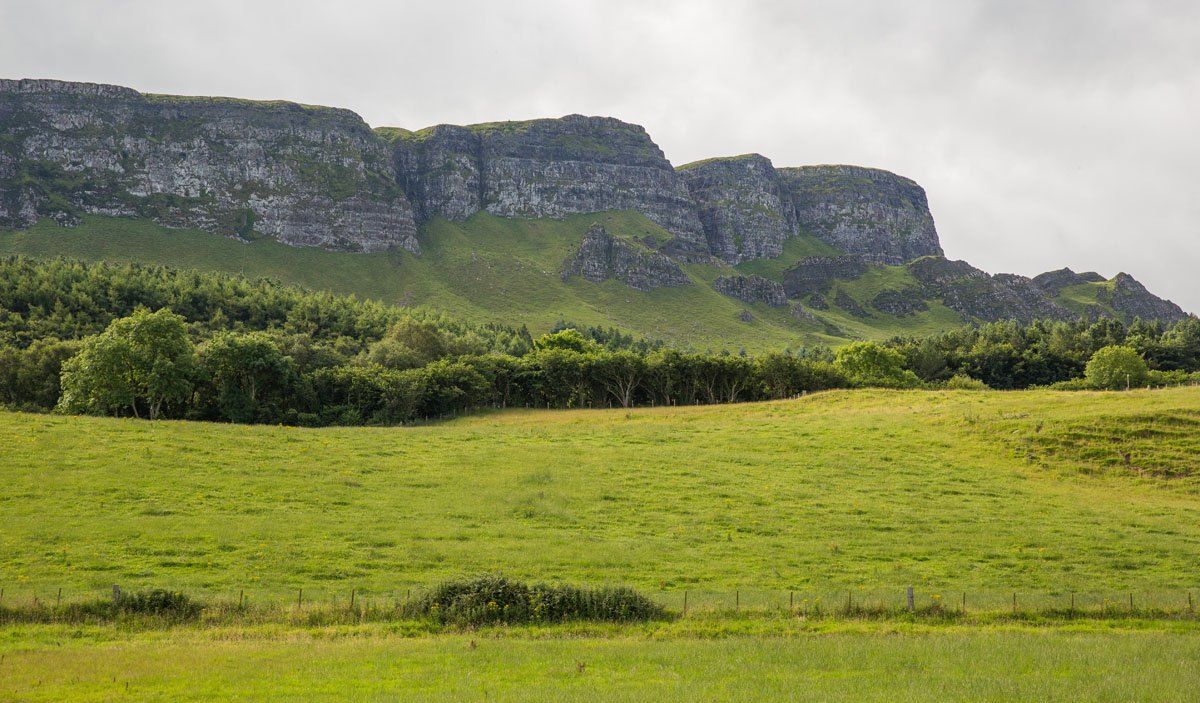 There is a scenic drive along the bottom of the mountain. Again, it is a lovely drive, but a lot of CGI goes into transforming Northern Ireland into Westoros.
O
ur
Experience
Honestly, we were disappointed. Before traveling here, we were not expecting these landscapes to look exactly like what we see in the Game of Thrones. But we were shocked that some places barely resembled what we see on TV. It takes a lot of imagination to really enjoy touring some of these places. There is a lot of CGI that goes into transforming these landscapes into what we see on TV.
Also, these sites can be extremely crowded during the peak travel months. Not only will there be people doing their own self-guided tour, but there are numerous tour companies that take people on Game of Thrones tours through Northern Ireland. Don't be surprised to see tour buses on the Kingsroad and mobs of people at Dunluce Castle.
We have toured other filming locations in the world and had a wonderful experience. I cannot say the same thing about the Game of Thrones filming locations in Northern Ireland.
We visited Northern Ireland and Ireland in August 2016.
Here's what you should do in Northern Ireland
If you have one day in Northern Ireland, here are our recommended places to visit.
Giant's Causeway. Do not miss this! If you do one thing in Northern Ireland, it should be this. Actually, it is worth traveling to Northern Ireland just to see this.
Portrush. This quaint coastal town is a great place to have dinner or even spend the night. We stayed at the Albany Lodge and had dinner at Ramore Restaurant and we recommend both!
Dunluce Castle. Medieval ruins of an old castle. Very cool to see. It is a Game of Thrones filming location.
The Dark Hedges. This is the Kingsroad in Game of Thrones. Go early or go late in the day for the best experience. Expect to have lots of people and cars on the road. It is still worth seeing, whether or not you are a Game of Thrones fan.
Do you have plans to visit the Game of Throne sites in Northern Ireland? If you have any questions, let us know in the comment section below.
More Information about Northern Ireland & Ireland
IRELAND ITINERARY: In 10 days, you can go on a road trip through Ireland and Northern Ireland, visiting the highlights. Get the full details in our 10 Day Ireland Itinerary.
BEST OF IRELAND: For a list of top experiences in Ireland, read our post Best Things to Do in Ireland. Walk the Cliffs of Moher, drive the Ring of Kerry, visit Dublin, and explore the Dingle Peninsula.
DRIVING IN EUROPE: If you have plans to rent a car in Europe, read our article Things to Know Before Renting a Car in Europe for lots of helpful tips.
TRAVEL INSPIRATION: Here are 15 fairytale destinations to visit around the world. For more great travel destinations, check out our article 10 Cool Travel Spots to Put on Your Wish List.
All rights reserved © Earth Trekkers. Republishing this article and/or any of its contents (text, photography, links, etc.), in whole or in part, is strictly prohibited.