The Natural Pool, also known as "Conchi" in Papaimiento, is a small, naturally occurring pool on the rugged, rocky, volcanic coastline of Aruba. Located in Arikok National Park, getting here is half the fun and adds an element of adventure to your vacation. If you want to take a break from sipping tropical drinks in the shade of a palm tree, consider a visit to the Natural Pool.
Don't think it's worth it? Check out our photos below!
How to get to the Natural Pool
There are two ways to get to Natural Pool. The most common way is to enter Arikok National Park and hire a guide with a 4×4 or ATV vehicle to drive you out to the pool. You can drive your own 4×4 but you need to make sure you have authorization from your rental car company. This is a tricky road to drive so don't underestimate it!
The second way to get to Natural Pool is to drive to Daimari Beach and hike to the Pool from here. This is what we did. And it was a great experience.
Getting to Daimari Beach
Accessing the Natural Pool from Daimari Beach requires you to enter Arikok National Park from an unauthorized access. There is a fee to enter the park ($11 per person as of October 2020, children under 17 years old are free), but there is no ticket booth or park ranger at the Daimari Beach entrance. Therefore, you should visit the Arikok National Park visitor center first, pay your fee, and then drive out to Daimari Beach. It is a seven minute drive between the visitor center and the start of the dirt road that takes you out to Daimari Beach.
The road to Daimari Beach is a rough, dirt road lined with cacti. This part of Aruba looks nothing like the western side, with its long, white sandy beaches and resorts. Getting to see this side of Aruba is one of the best parts of making this excursion.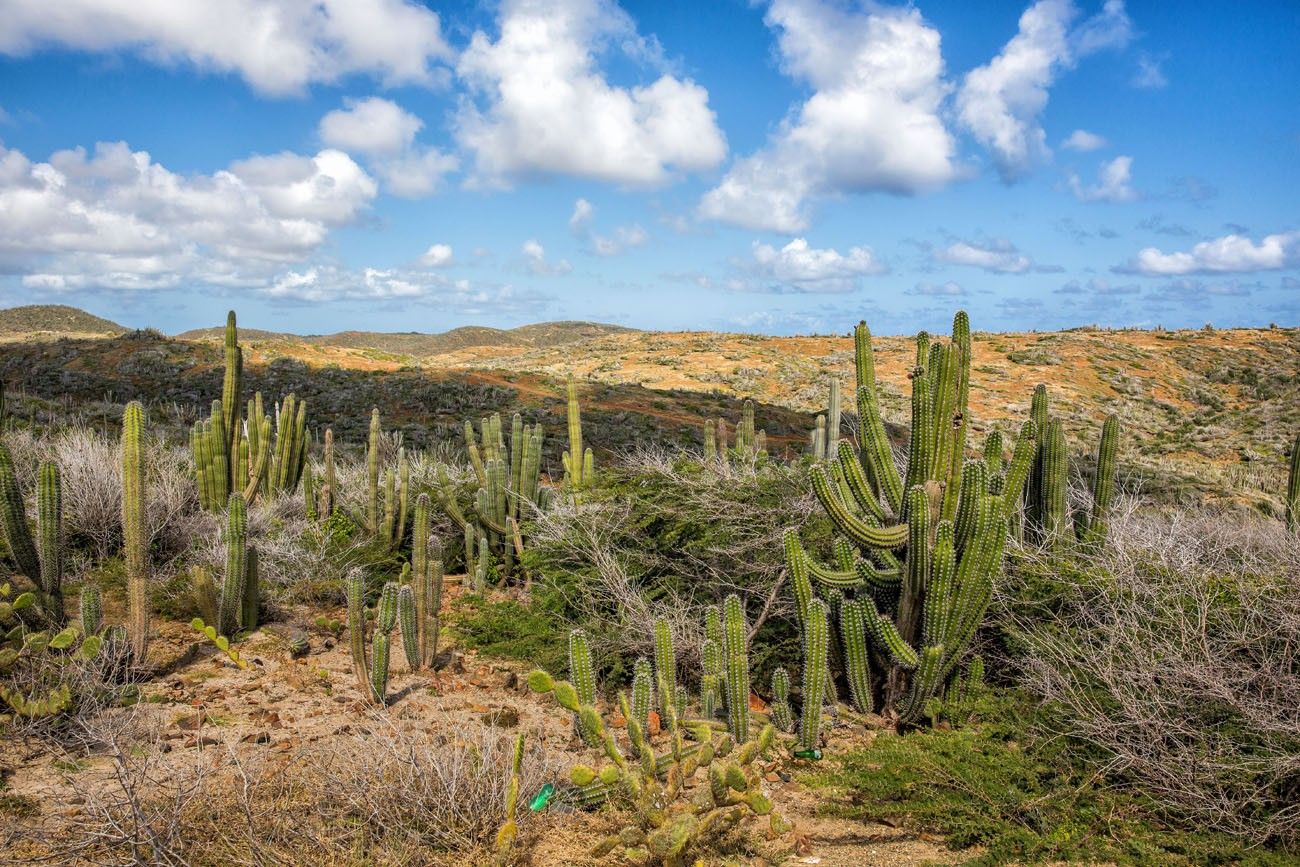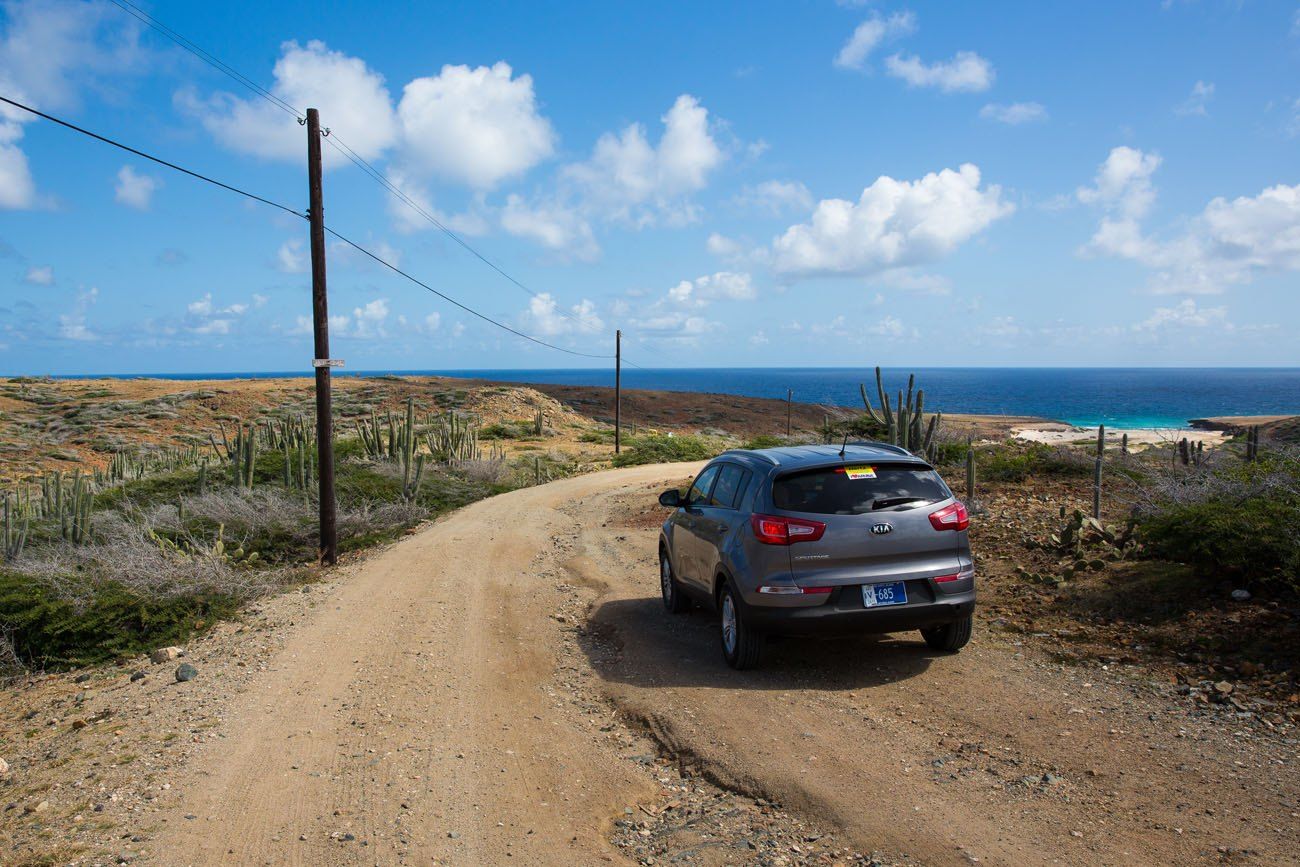 To drive this road, a 4×4 is ideal. However, we did this in a SUV (a Kia Sportage) and had no problems. I would not recommend making this drive in a car. There are several steep hills and the roads are rutted and very rough. You don't want to risk getting stranded out here!
Please note: the above photo shows the road in relatively good condition. There are sections of the road that are very rutted and rocky.
Before leaving your hotel, put Daimari Beach and the Arikok National Park visitor center into Google Maps. Cache this route on your phone and follow this map to drive from the visitor center to Daimari Beach.
The dirt road ends on top of a hill, overlooking Rancho Daimari. Park your car at the top of the hill. From here, you can see Daimari Beach.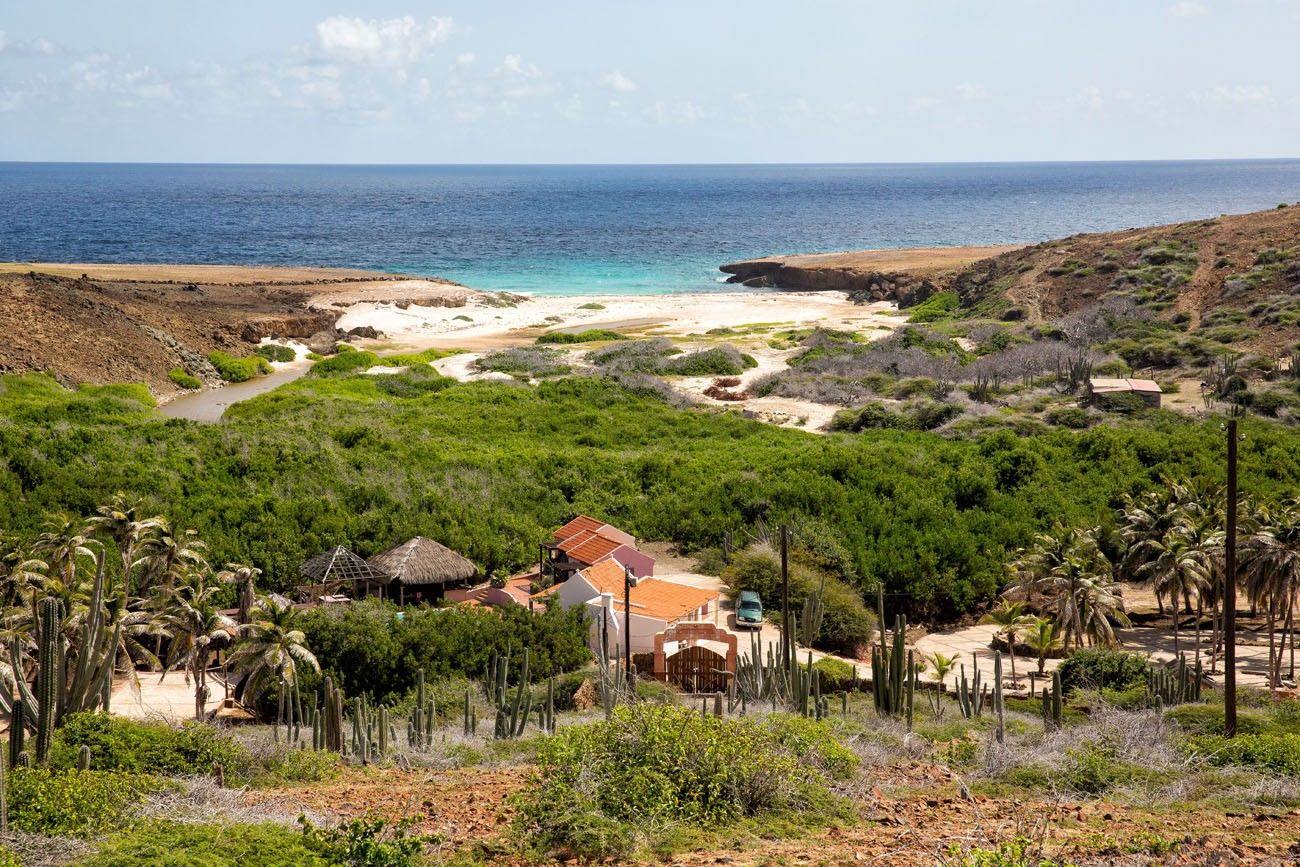 Hiking to the Natural Pool
Here is a map of the hiking trail from Daimari Beach to Natural Pool.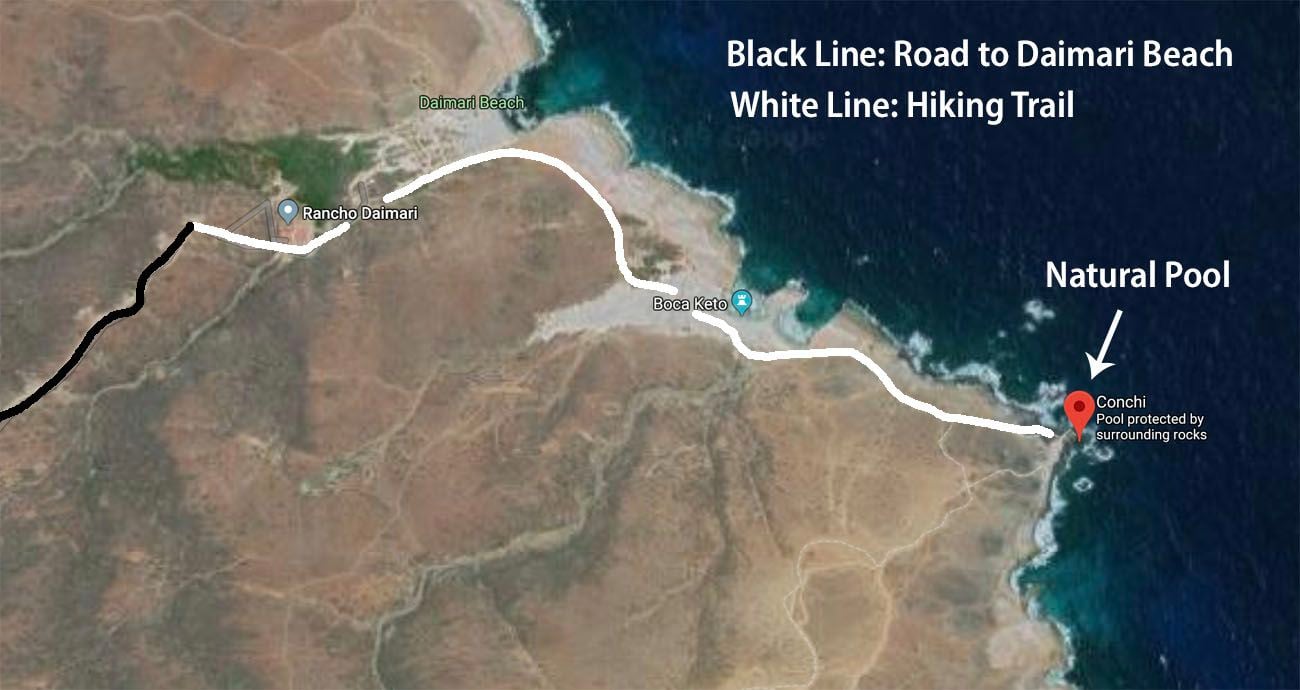 Walk down the steep dirt road, pass Rancho Daimari, and enter Arikok National Park. Follow the wide, dirt trail out to the coastline.
If you like, you can make a detour to Daimari Beach. It's a pretty spot and most likely you will have it all to yourself. The water here is extremely rough, so it is not a spot to go swimming. Plus, the beach is littered with trash and kelp. You can make this a quick visit or just keep going. The next beach is phenomenal!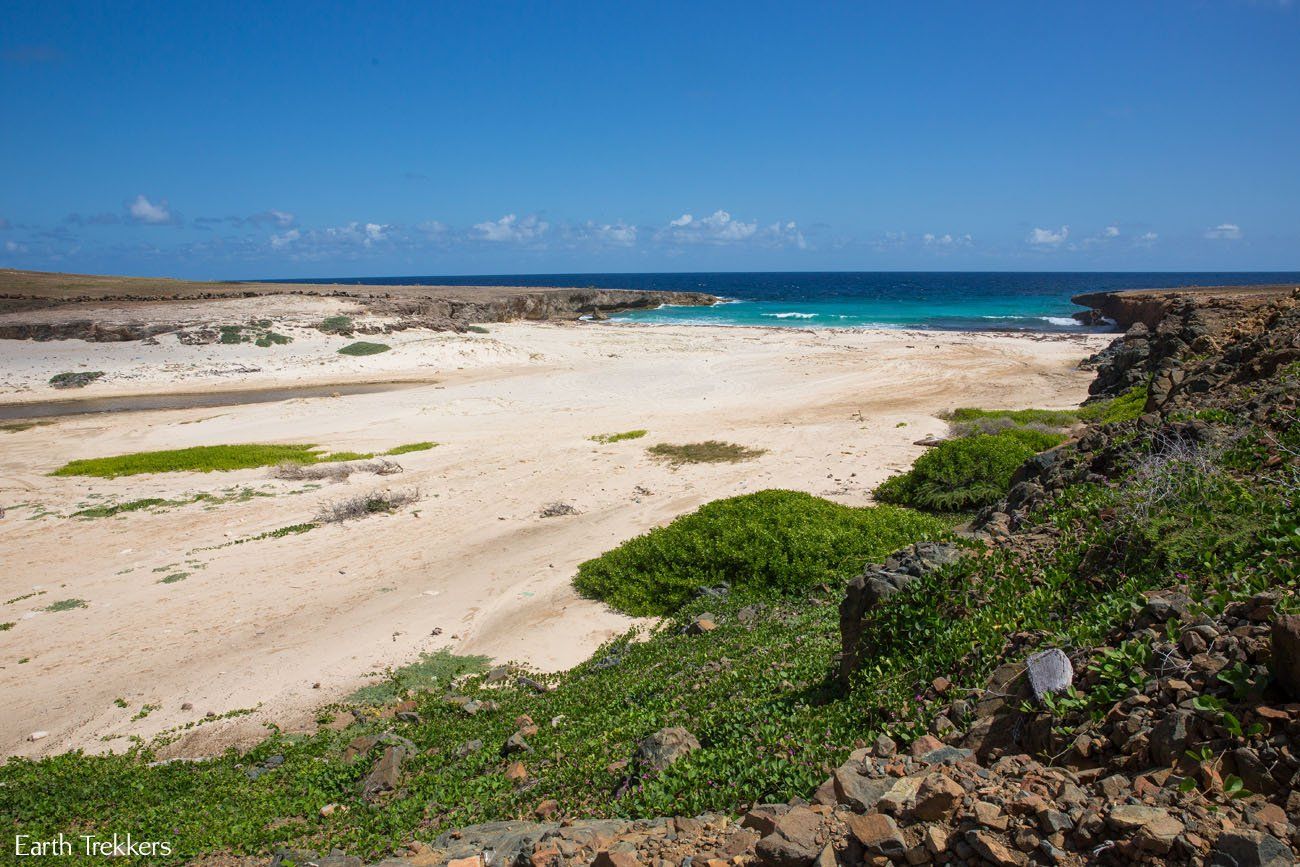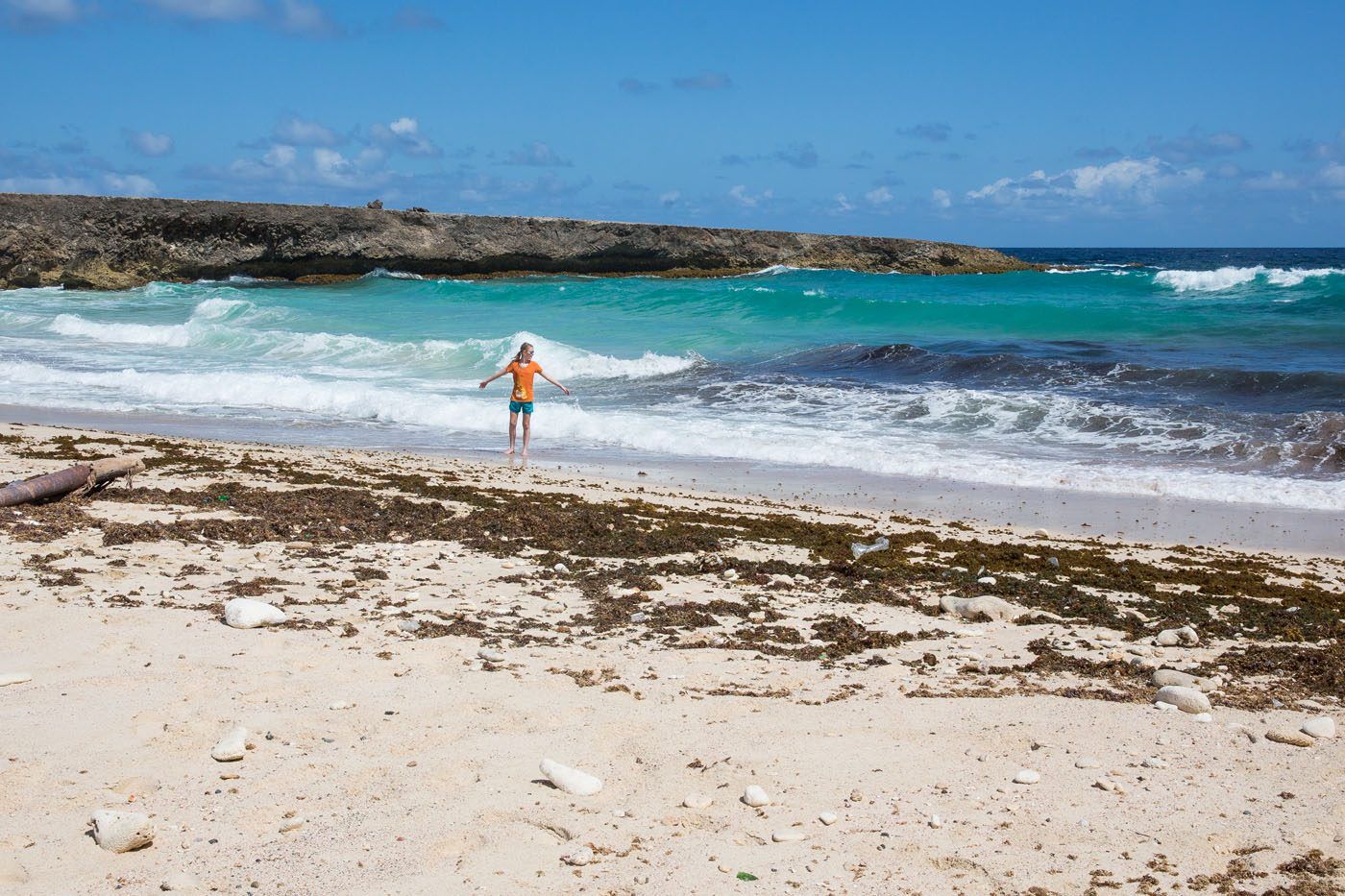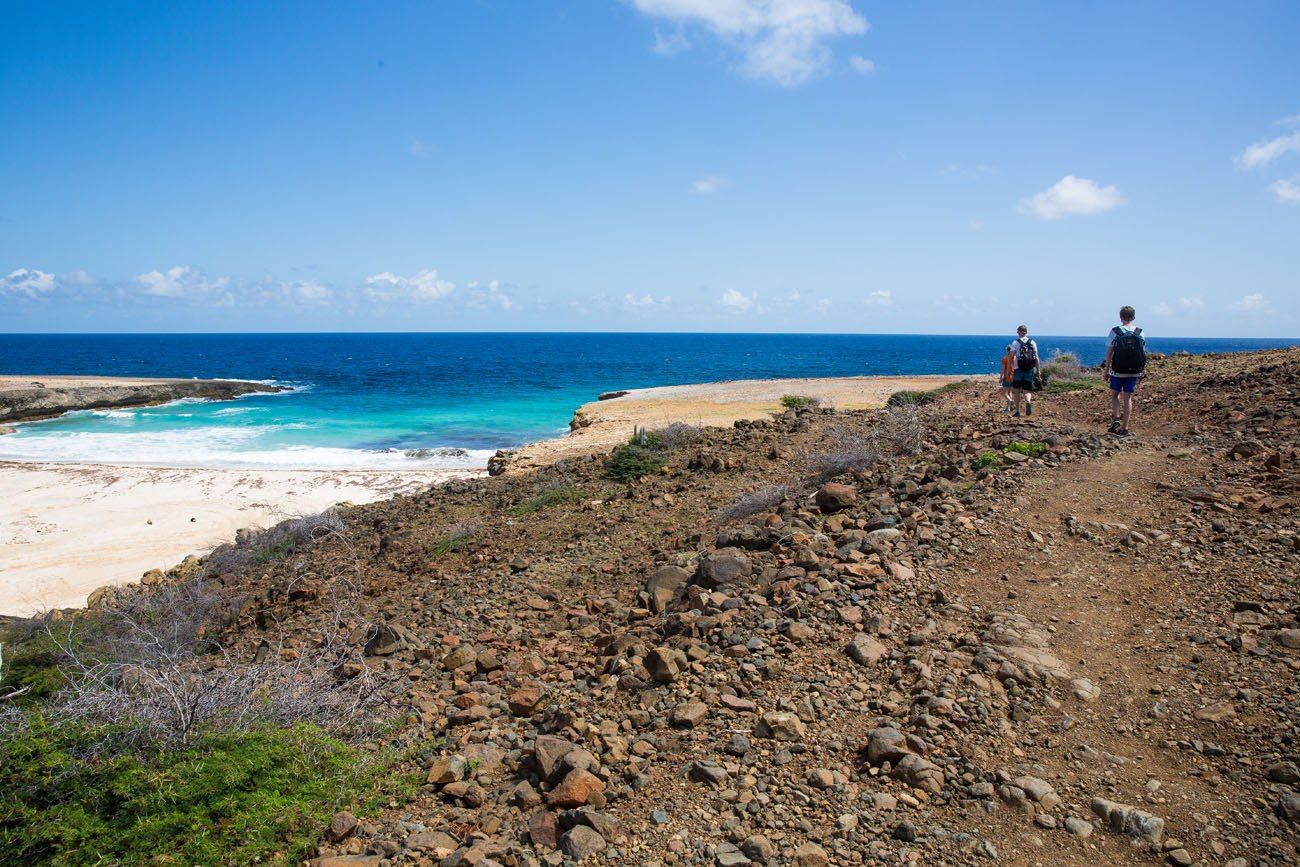 Follow the trail south along the coast. You will hike up a huge sand dune that is blinding in its brilliance on a sunny day. This would be an excellent spot to go sandboarding!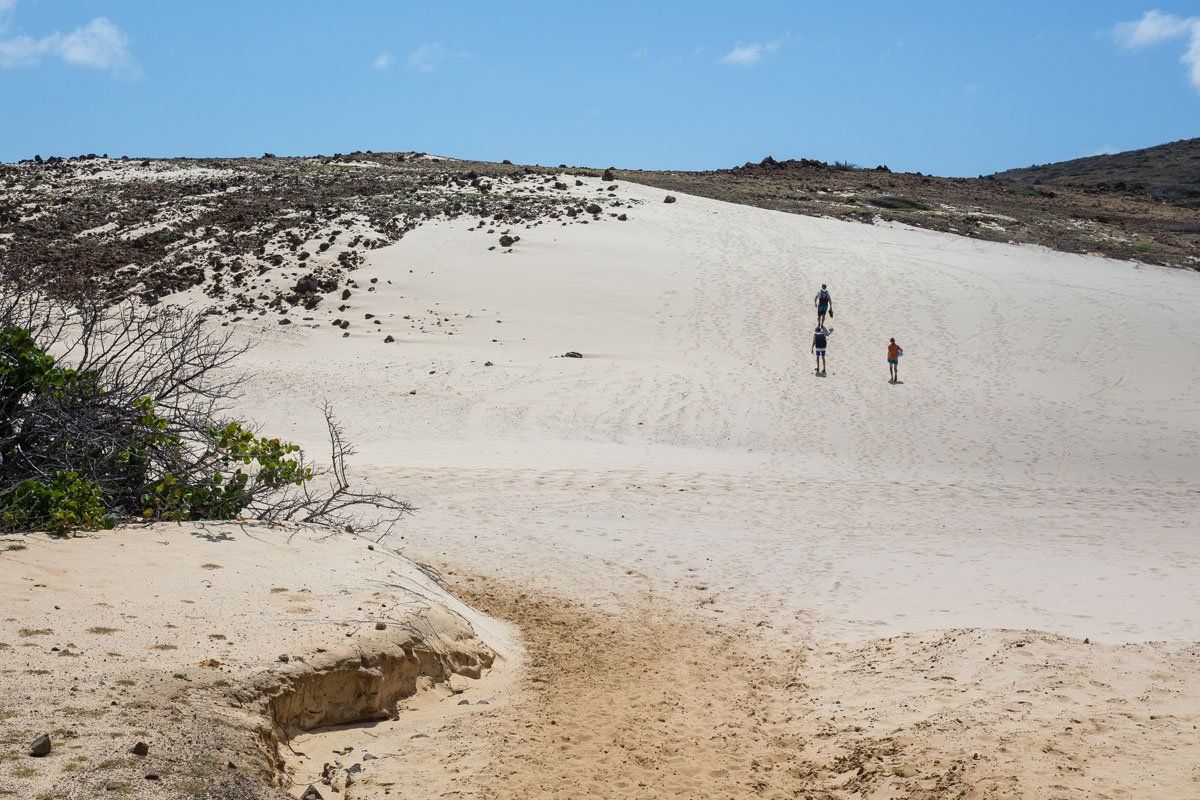 From the top of this dune, the view opens open to the most spectacular view of this hike. This second beach is a beauty.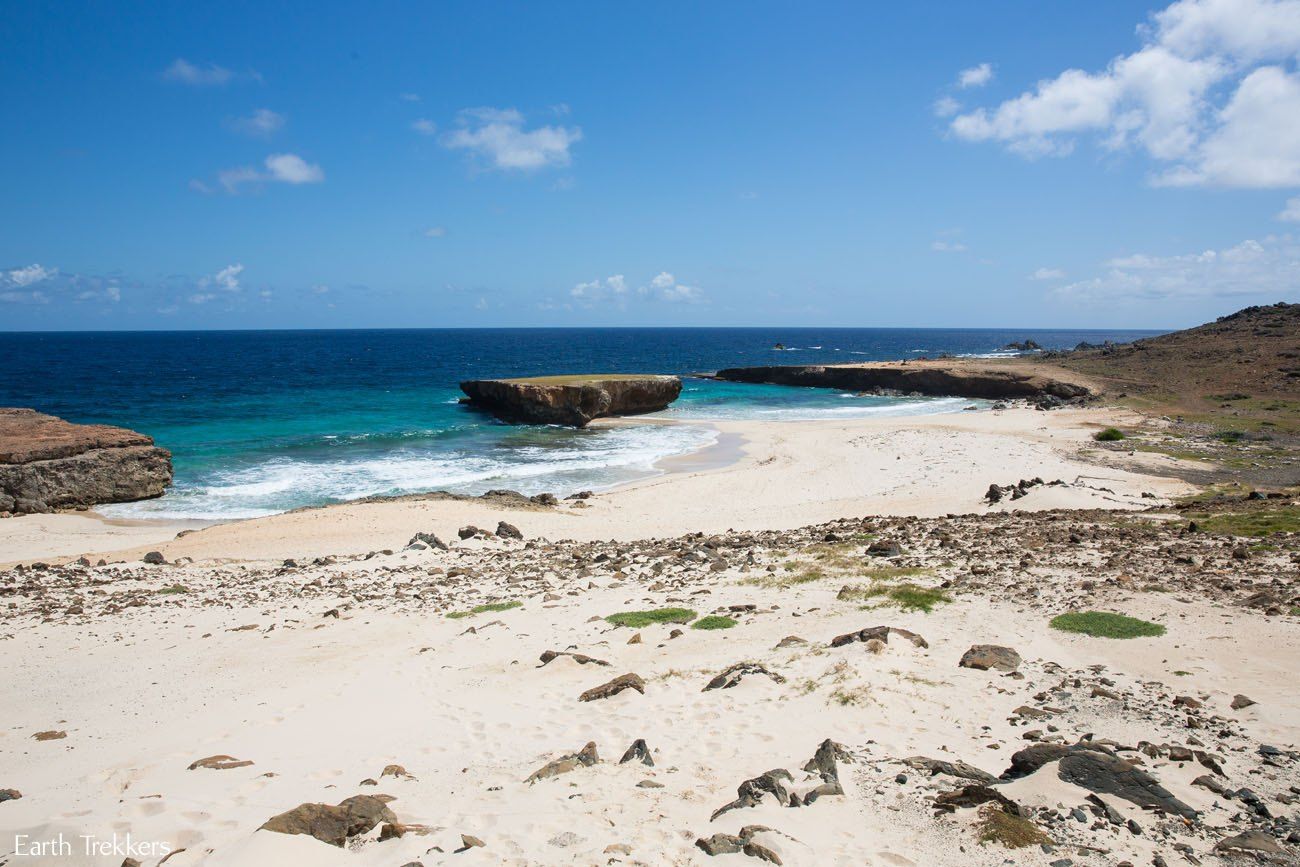 Feel free to linger here or continue on the Natural Pool. You're not too far away now.
To continue on the trail, walk across the beach, picking up the trail on the other side.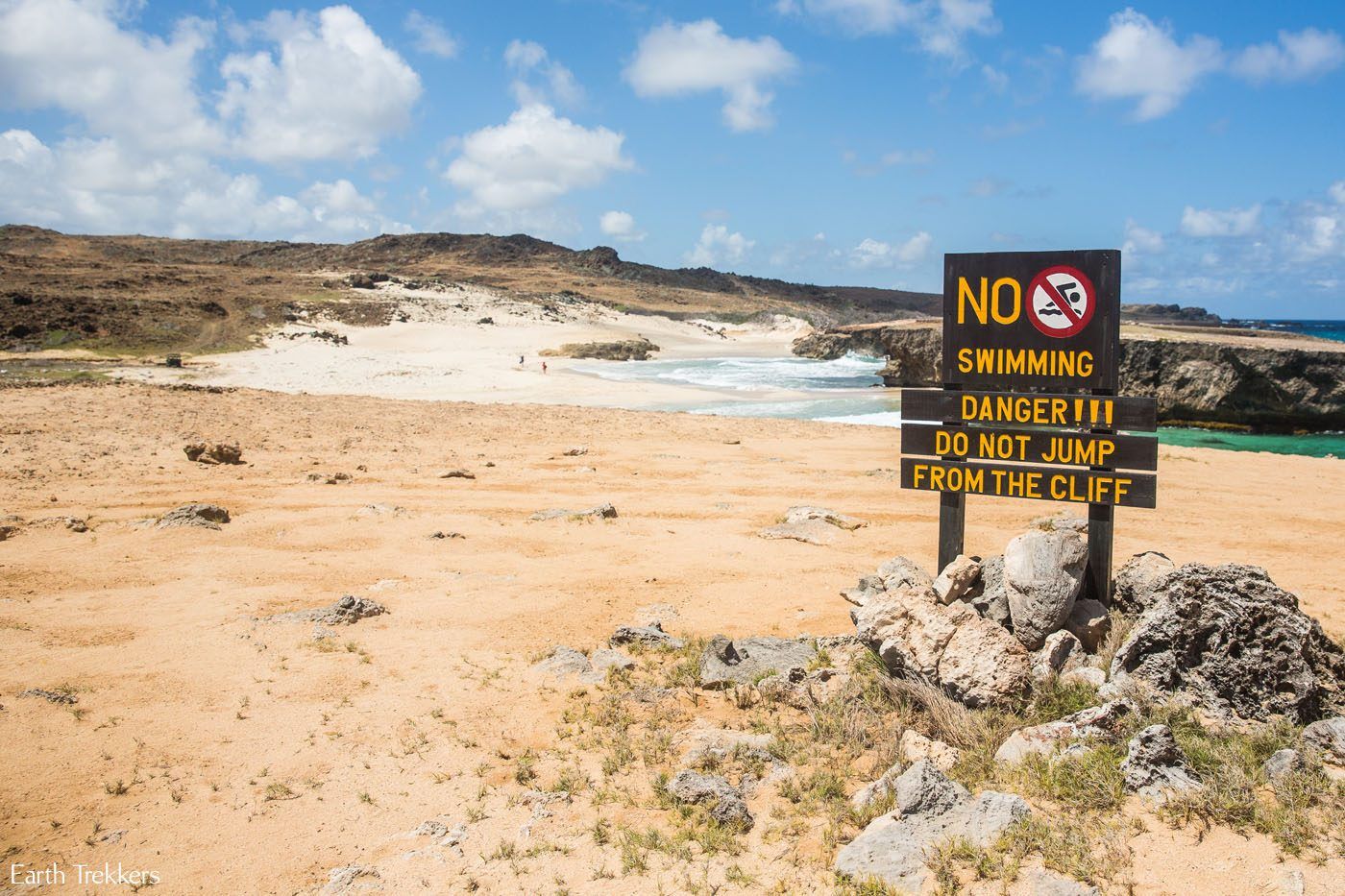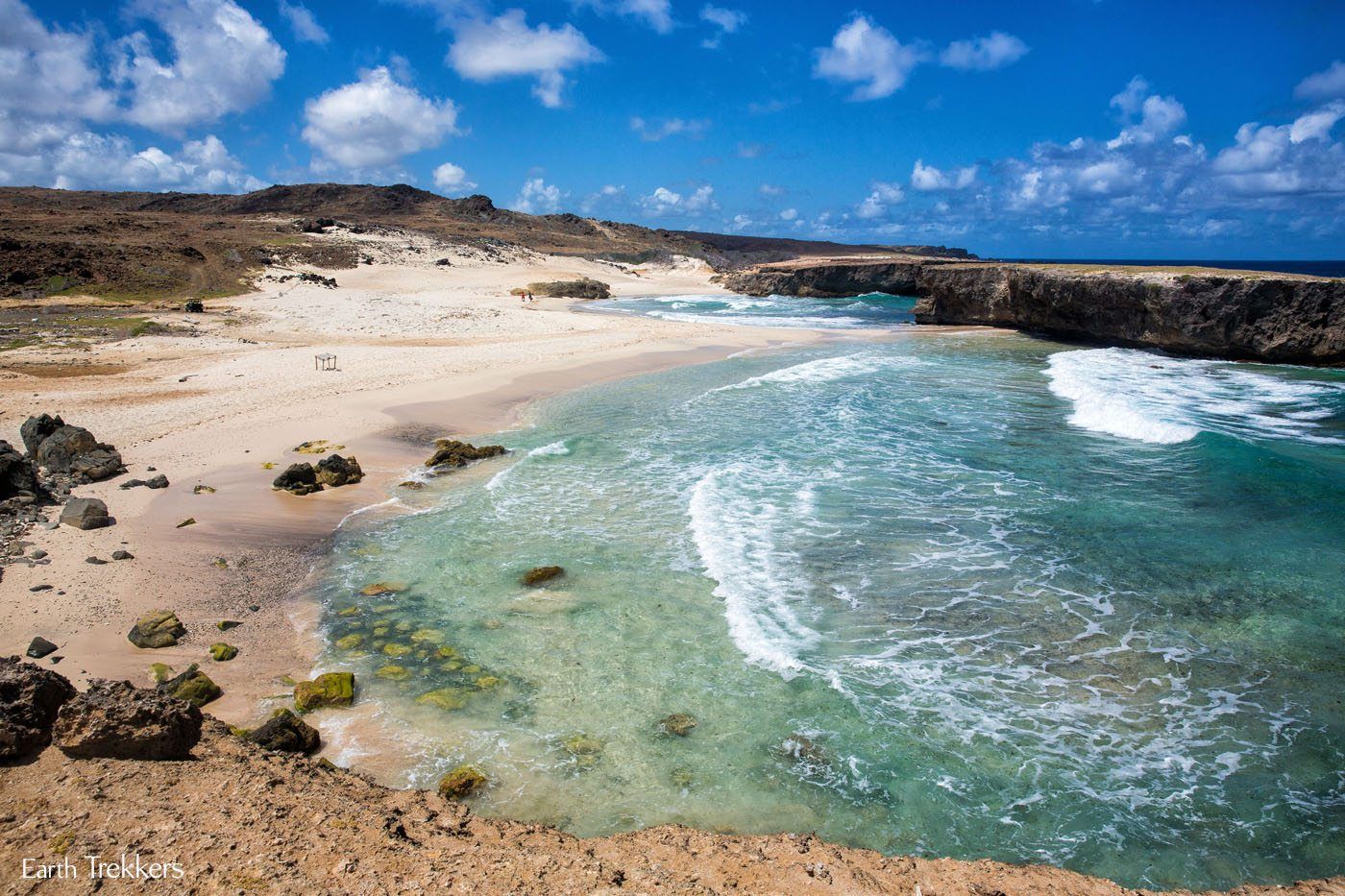 The terrain changes yet again. Now, the coastline is lined with jagged, black volcanic rock. It's windy, it's warm, it's Aruba! One of the best parts about doing this hike is to see how much the landscape changes in just a short distance.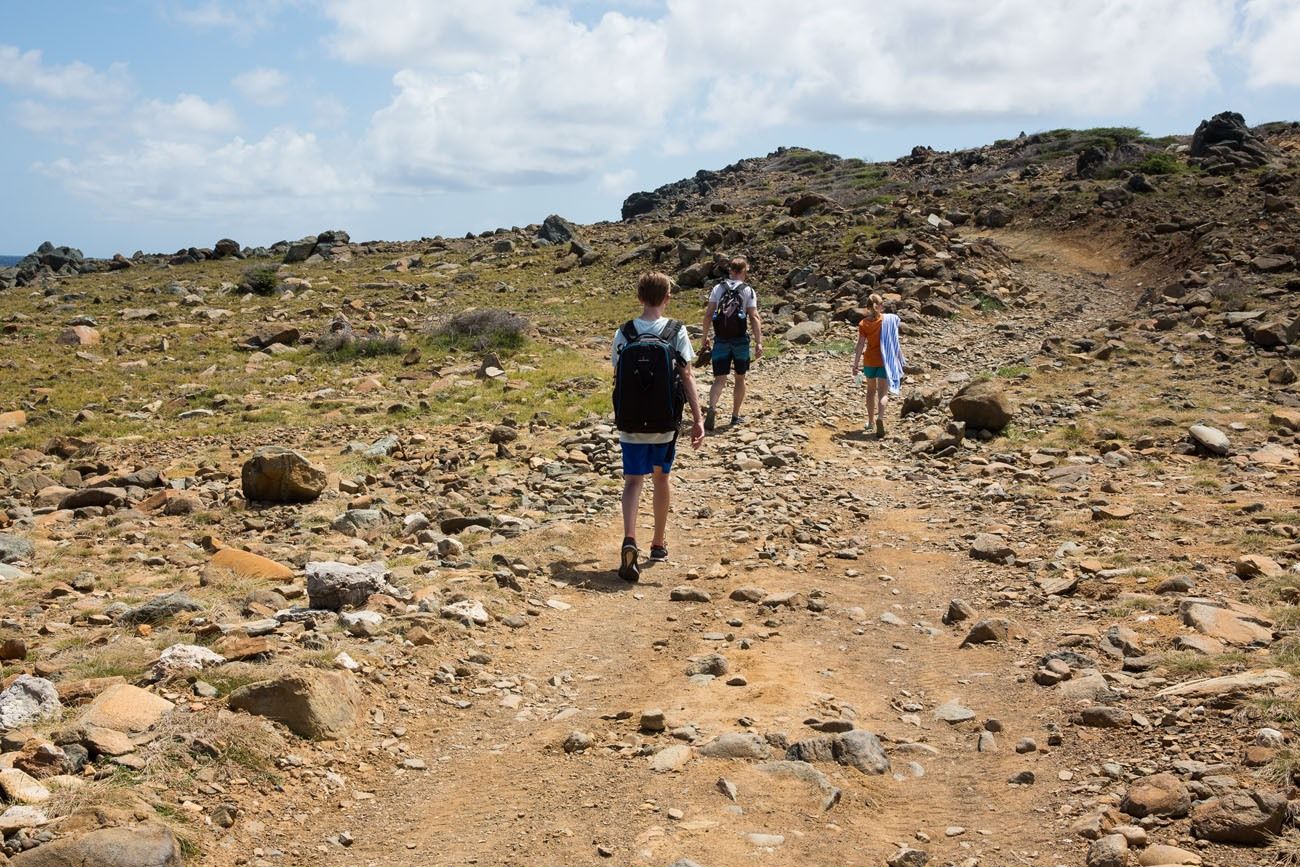 Swimming in the Natural Pool
The Natural Pool is a small, secluded, protected pool amidst all of that volcanic rock. This is a great place for swimming and snorkeling.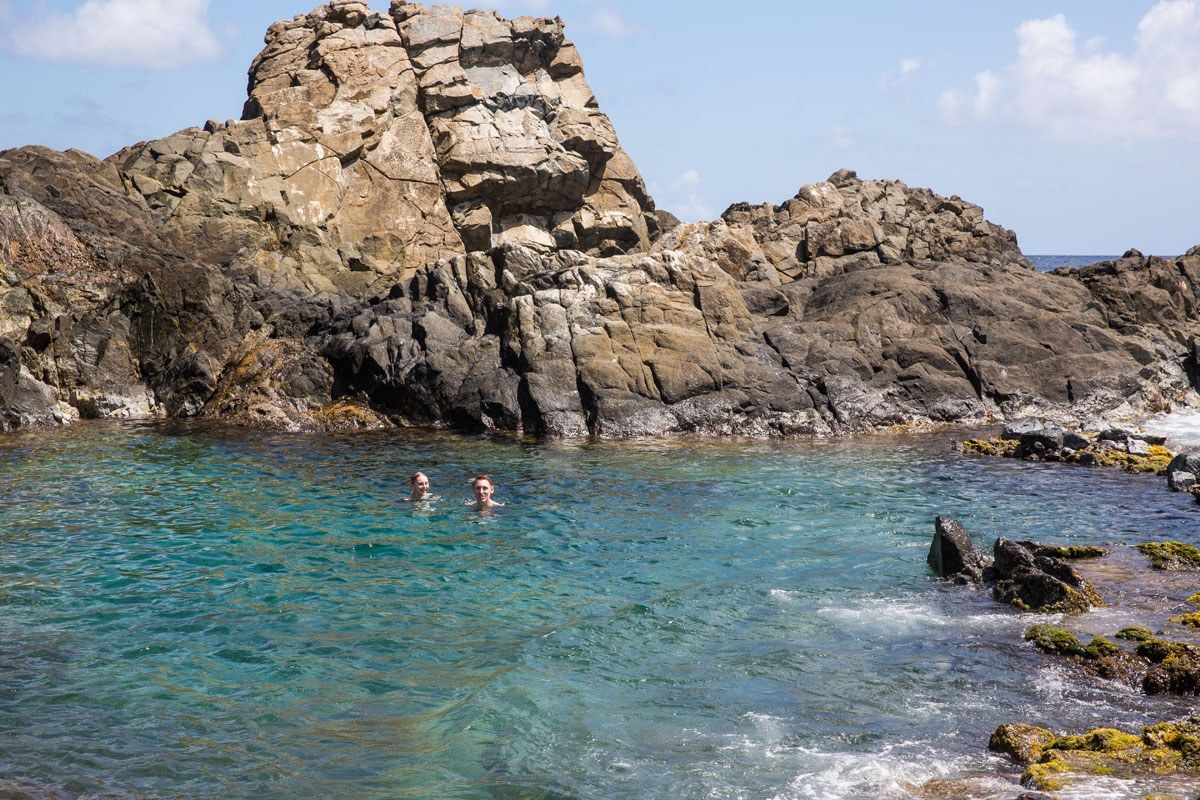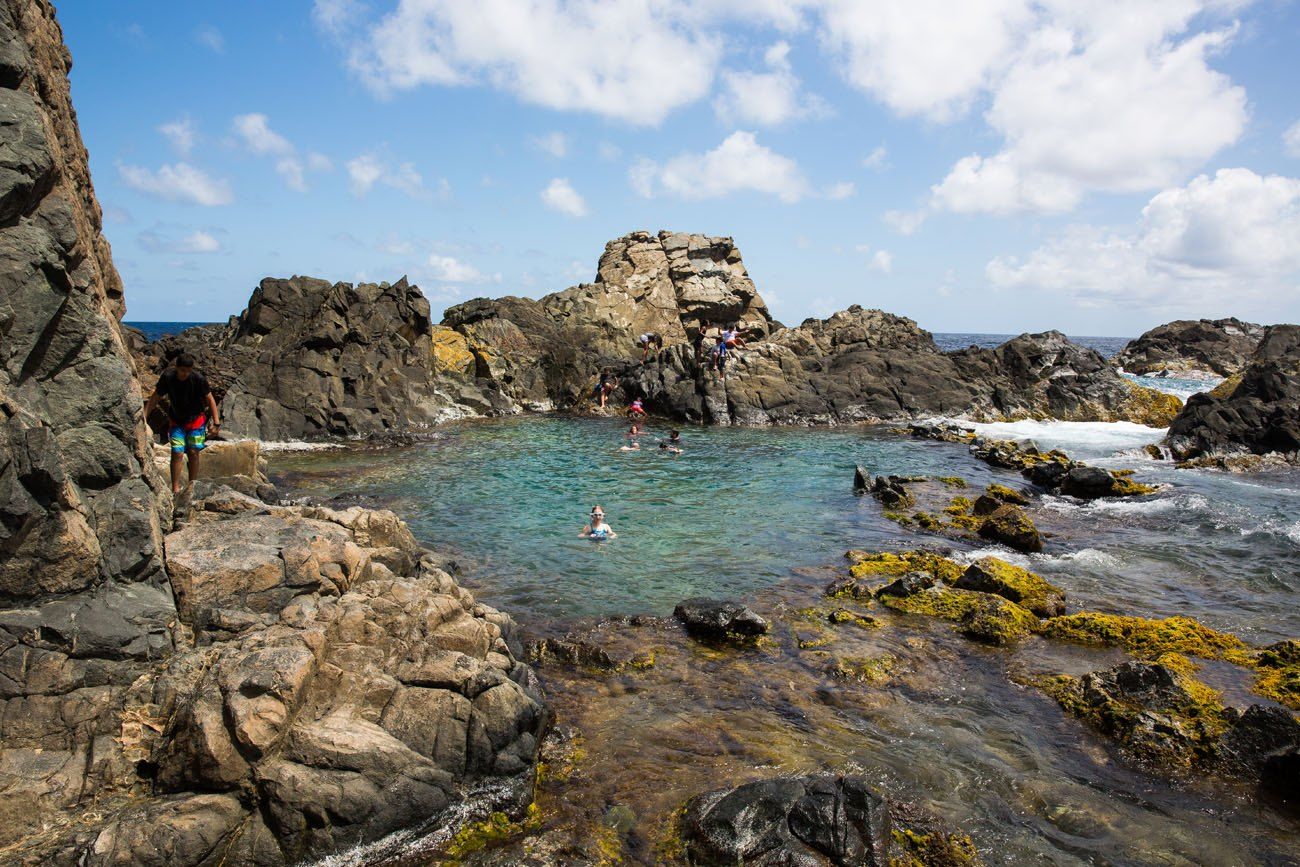 Be careful climbing into and out of the Pool. The wet rocks are slippery and can be treacherous.For the most part, the Natural Pool is safe for swimming. However, the Pool may close during high surf and high winds, when the water gets too rough for swimming.
Enjoy your swim and have a great time snorkeling. Keep a lookout for the crabs that walk on the rocks. They are so cool!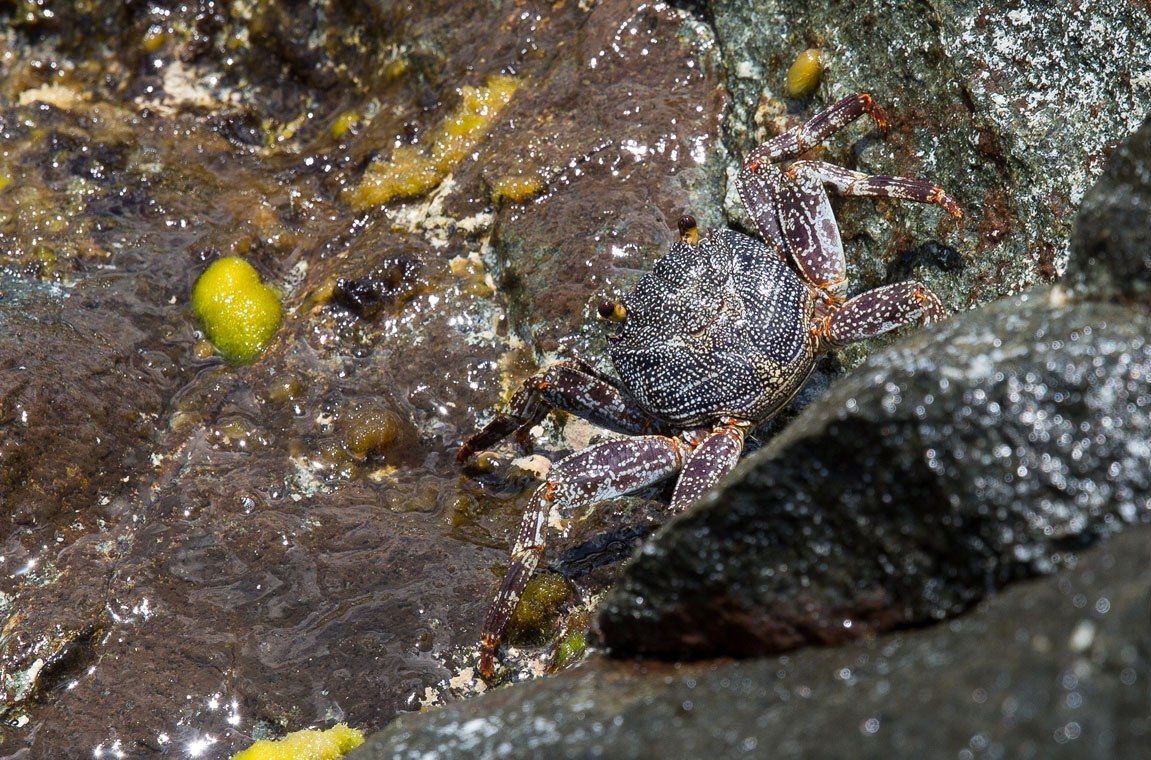 After you had your fill of the Natural Pool, return to your vehicle the same way you came.
Things to Know Before You Go
Allow three to four hours for this entire excursion. Most people stay at the Natural Pool for 30 to 45 minutes. It is roughly one mile of walking between Daimari Beach and the Natural Pool.
Make sure you are wearing sunscreen! You will be in the sun the entire time.
Bring lots of water, at least one liter per person.
Wear sturdy shoes. Tennis shoes or hiking shoes are ideal. Our daughter did the entire walk in water shoes without a problem.
So, what if you don't want to go hiking?
You can join a tour. There are Jeep tours that will drive you out to the Natural Pool.
Here are two companies offering tours to the Natural Pool:
Or, you can join one of these tours:
What to do next?
Continue your exploration of Arikok National Park. Re-enter the park at the visitor center. Other places worth visiting are Fontein and Quadirikiri Caves and another beautiful beach, Boca Prins.
You can also head north and visit Andicuri Beach and Blackstone Beach.
---
Do you have any questions or comments? Let us know in the comment section below!
More Information about Aruba
Learn how to plan your visit to Aruba and get information on the best things to do in our Guide to Aruba. In our article Best Beaches in Aruba, we list 10 beautiful beaches to visit on the island.
Related Destinations & Travel Inspiration
US VIRGIN ISLANDS: If the US Virgin Islands is on your travel wish list, check out our 7-day US Virgin Islands Itinerary, plus our articles on Things to Do in St. Thomas and Things to Do in St. John. On your trip, don't miss Virgin Islands National Park, one of the most beautiful national parks in the USA.
KEY WEST & THE FLORIDA KEYS: Learn how to plan the perfect trip to the Florida Keys with our Miami, Florida Keys, and Key West Itinerary. We also have detailed guides on Things to Do in Key West, the Best Restaurants in Key West, and top experiences along the Florida Keys. From Key West, learn how to plan a day trip to Dry Tortugas National Park.
TRAVEL INSPIRATION: For more travel ideas, here are 10 unique destinations to put on your travel wish list. If Europe is calling your name, here are 25 itineraries that just take a week of your time. And if you have plans to visit the United States, don't miss our article about the Best Road Trips in the USA.
Note: This post contains affiliate links. When you make a purchase using one of these affiliate links, we get paid a small commission at no extra cost to you.
All rights reserved © Earth Trekkers. Republishing this article and/or any of its contents (text, photography, etc.), in whole or in part, is strictly prohibited.