Aruba is home to some of the most beautiful beaches in the world. Long, white stretches of sand, crystal clear aquamarine water, palm trees, and a steady sea breeze to keep you cool…the beaches in Aruba are fabulous!
In Aruba, each beach offers a slightly different experience. Some are good for snorkeling, some are secluded and (almost) private, and some are filled with tons of things to do. If you are looking for that perfect beach in Aruba, check out our list below.
So, grab your favorite swimsuit and snorkel gear, and start exploring!
Our Top Ten Beaches in Aruba
Palm Beach
Palm Beach is where most of the action is in Aruba. This is where most of the resorts call home. So this is also going to be one of the busiest, most crowded beaches on the island.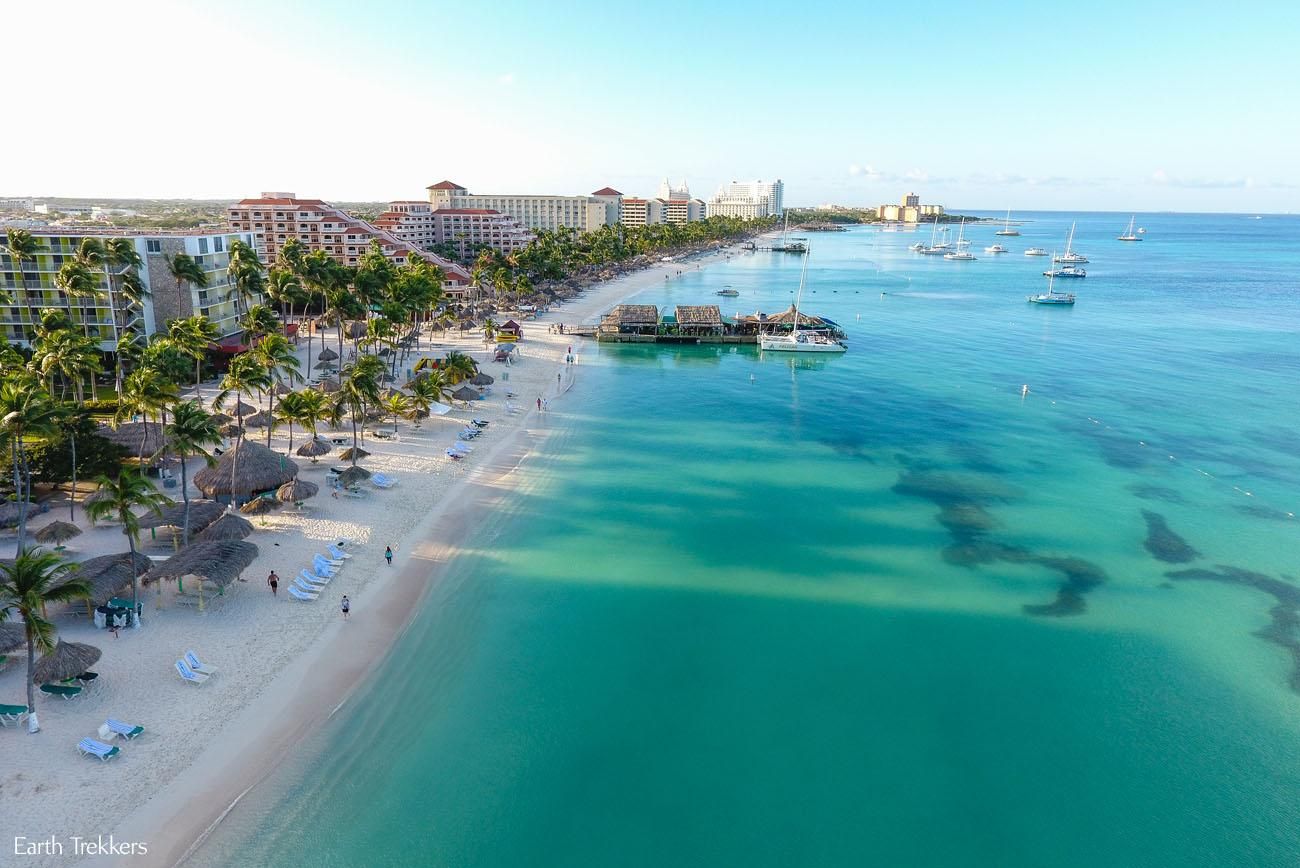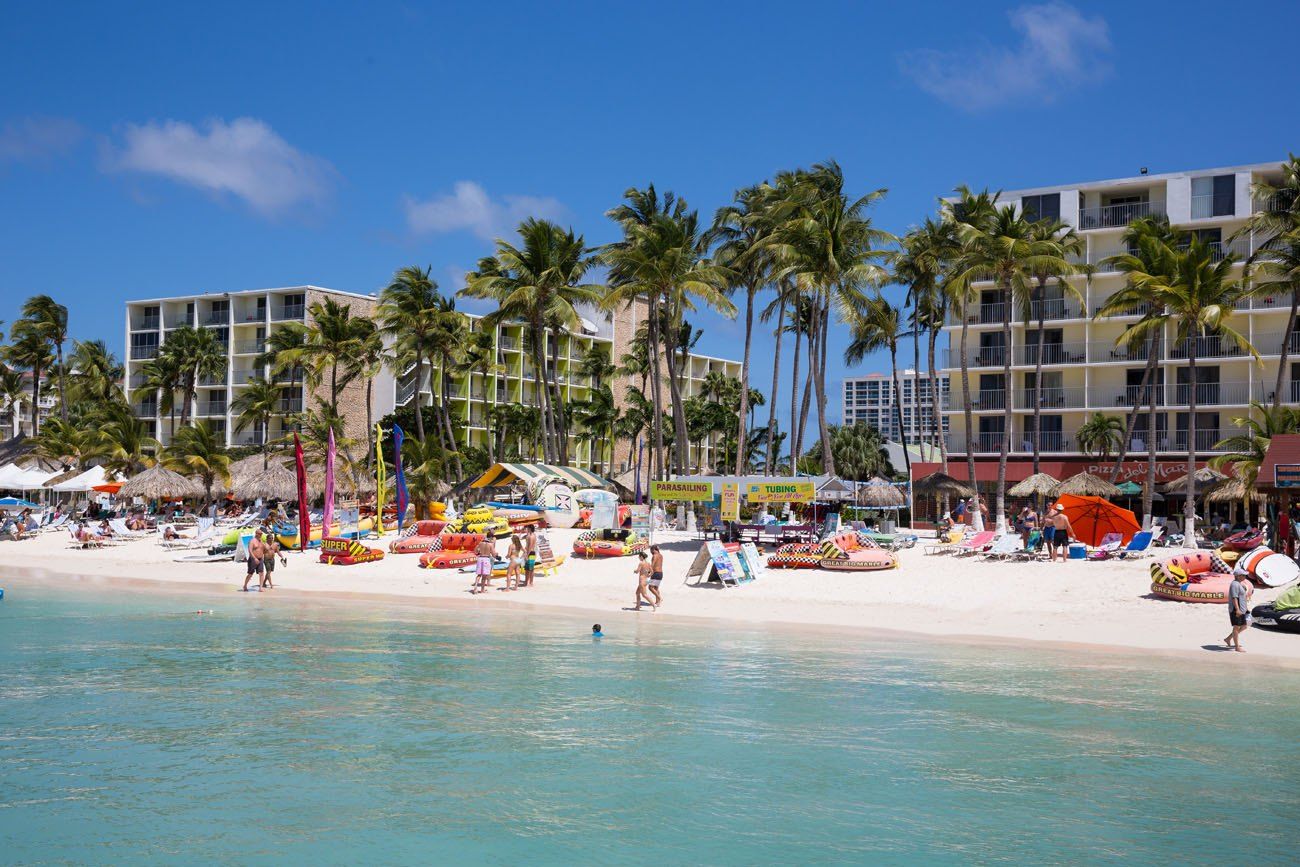 The beach is wide and filled with cabanas and lounge chairs that sit in the shade of tall palm trees. The water is calm and perfect for water sports, like paddle boarding, banana boat rides, and flyboarding. On shore, small cafes and restaurants can be found in abundance. For families, this is the perfect beach.
Eagle Beach
Some people say that Eagle Beach is the most beautiful beach on the island. The Travel Channel rates Eagle Beach as one of the prettiest beaches in the Caribbean. In 2017, Trip Advisor rated Eagle Beach as the third best beach in the world!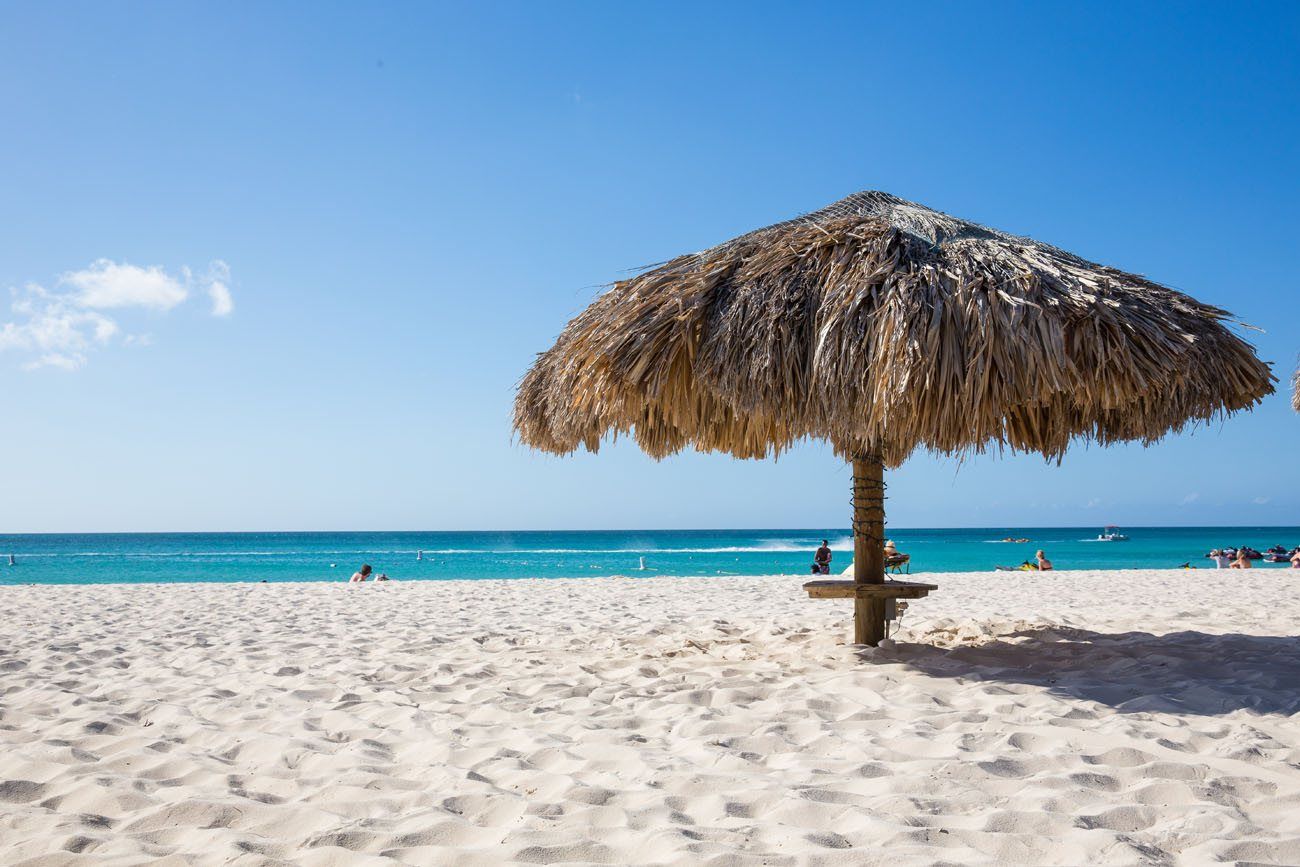 Eagle Beach is located just south of Palm Beach. This beach is very wide and less crowded than Palm Beach. Get here early, grab a cabana, and spend a day here, gazing out at this beautiful spot in Aruba.
Arashi Beach
If you are looking to get away from the crowds and the water sports, head north to Arashi Beach. This is located just a short distance from the main resort area, so it is easy to get to if you have a car.
This is another gorgeous spot in Aruba. Few people, awesome views, and a great snorkeling spot are what makes this beach special. The beach is a little bit rockier than Palm or Eagle Beach, but that is what makes it a better destination for snorkeling.
Malmok Beach & Boca Catalina Cove
This is one of the best places to go snorkeling in Aruba. Much of the coastline here is rocky and reef-like, making this is an excellent spot to go snorkeling.
There is a small beach to access the water. Spend however long your heart desires, swimming in this small, protected cove, searching for Angelfish, Blue Tangs, Butterflyfish, and more.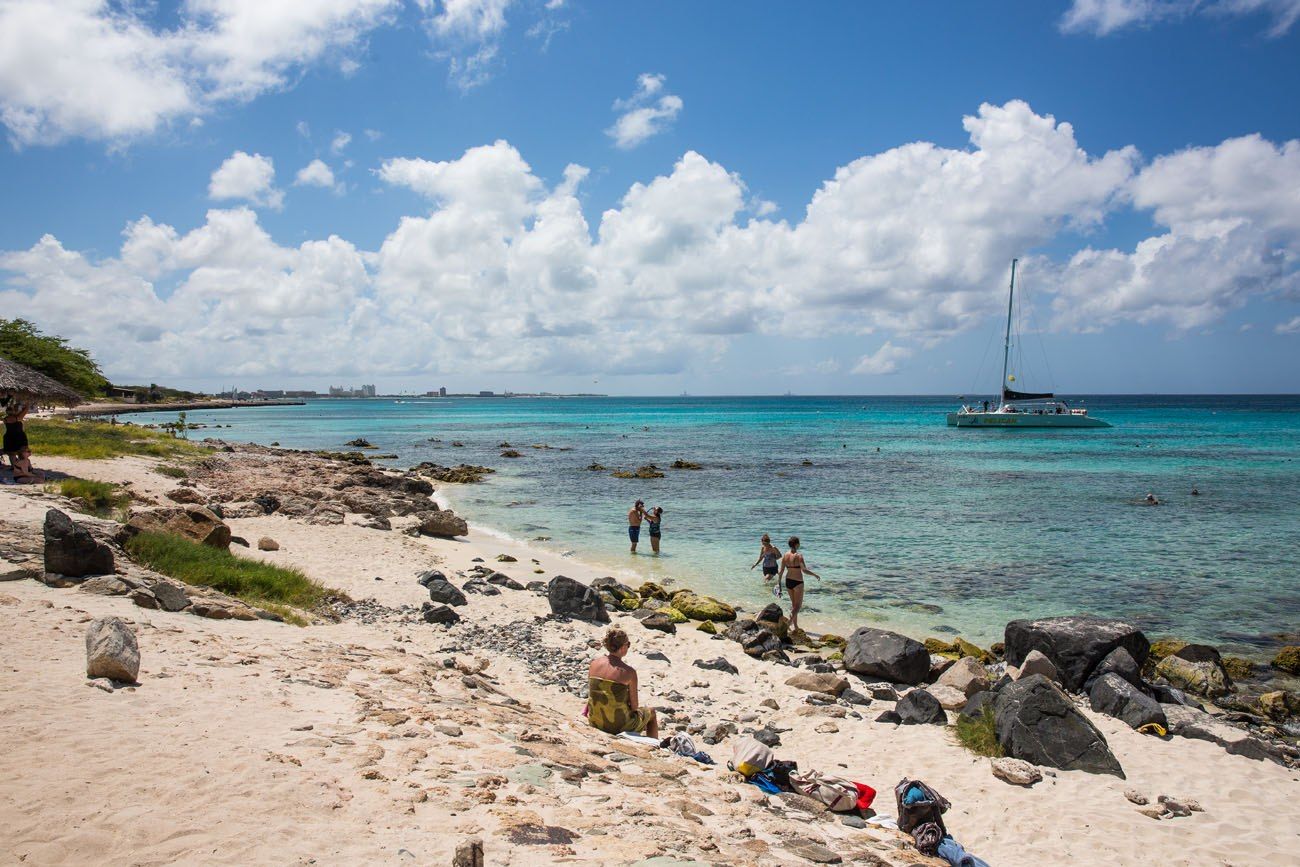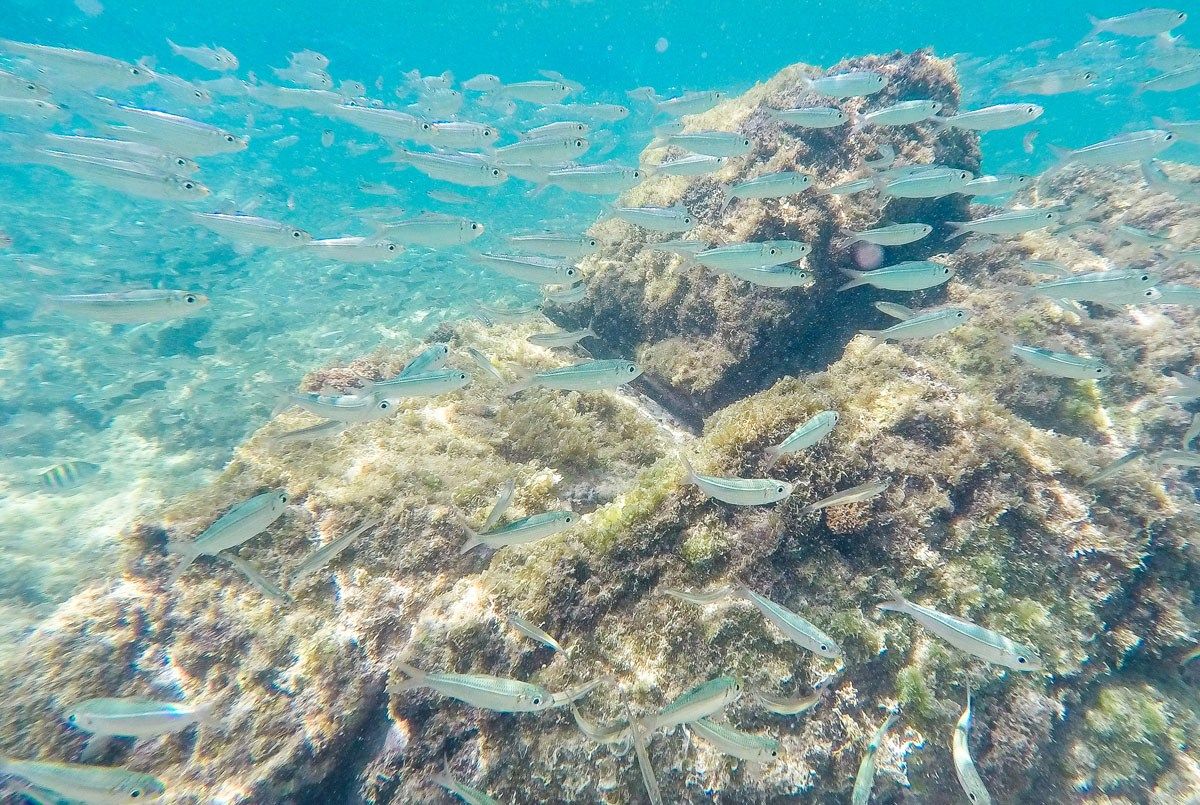 Hadicurari Beach
For kitesurfers and windsurfers, Hadicurari Beach is your destination. The wind is strong here, perfect for these sports. There are rental facilities on the beach and you can take lessons if you are a first-timer.
Even if you don't want to go kitesurfing, this beach is worth a quick visit. It's awesome watching people who really know how to kitesurf. Plus, the views up and down the coastline are phenomenal!
Boca Keto
Boca Keto gets our vote for best beach on the island. Why? It's gorgeous, it's secluded, and there really is almost no one here.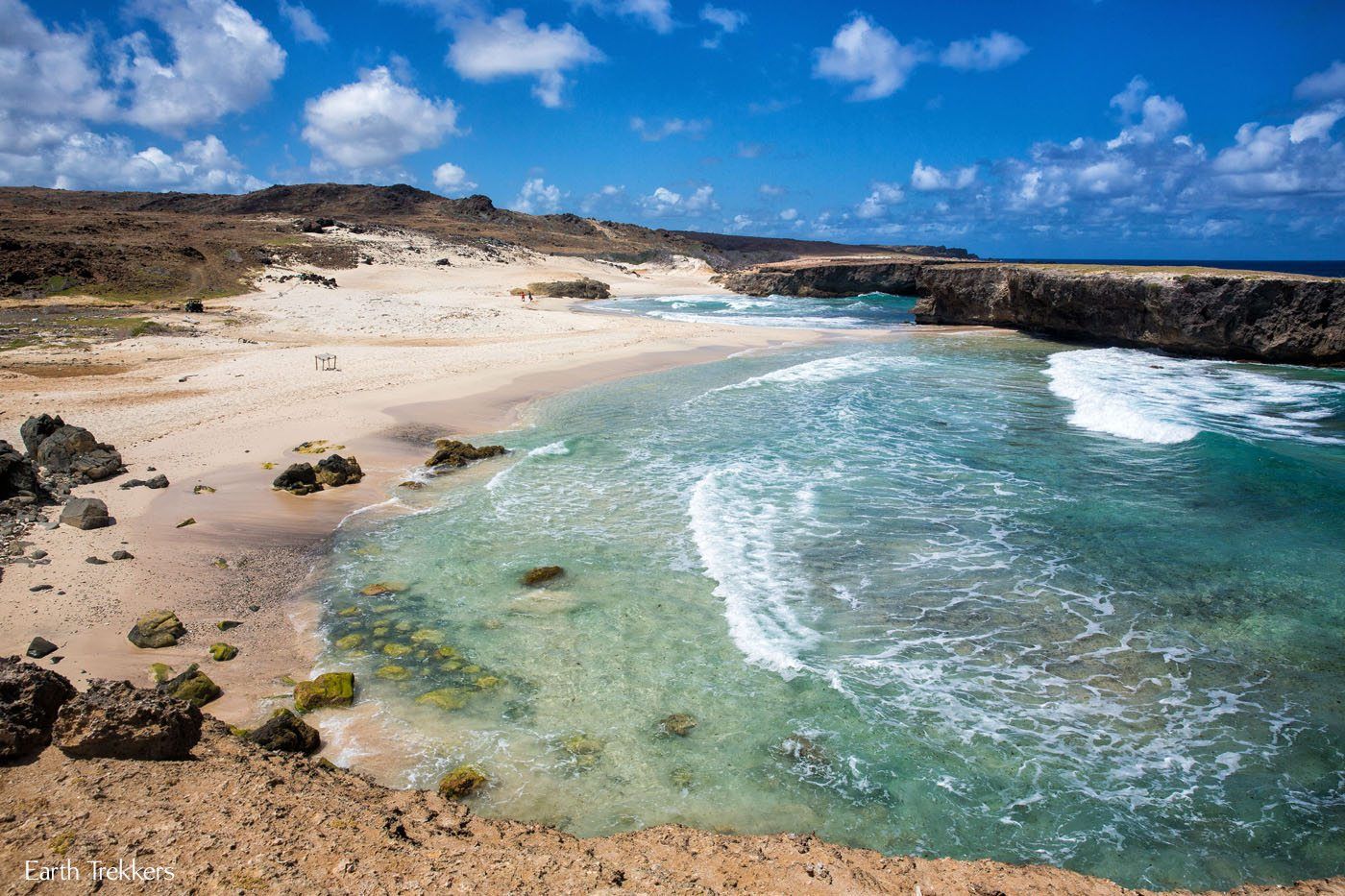 Getting to Boca Keto is not easy, but it's worth it. Located in Arikok National Park, it requires driving on dirt roads, followed by a short hike or a ride in an ATV. What you get for your effort are views like this and if you are lucky, you can have this beach all to yourself. The water at this beach is too rough for swimming, but it was our favorite because of its beauty and seclusion.
Boca Keto was an unexpected surprise for us that we "discovered" on a hike to the Natural Pool, just a very short distance away.
Daimari Beach
Daimari Beach is another quiet, secluded spot in Aruba. It is also located in Arikok National Park, just north of Boca Keto. The water here is rough and the beach is littered with some trash, so it's not perfect, but it is a pretty spot.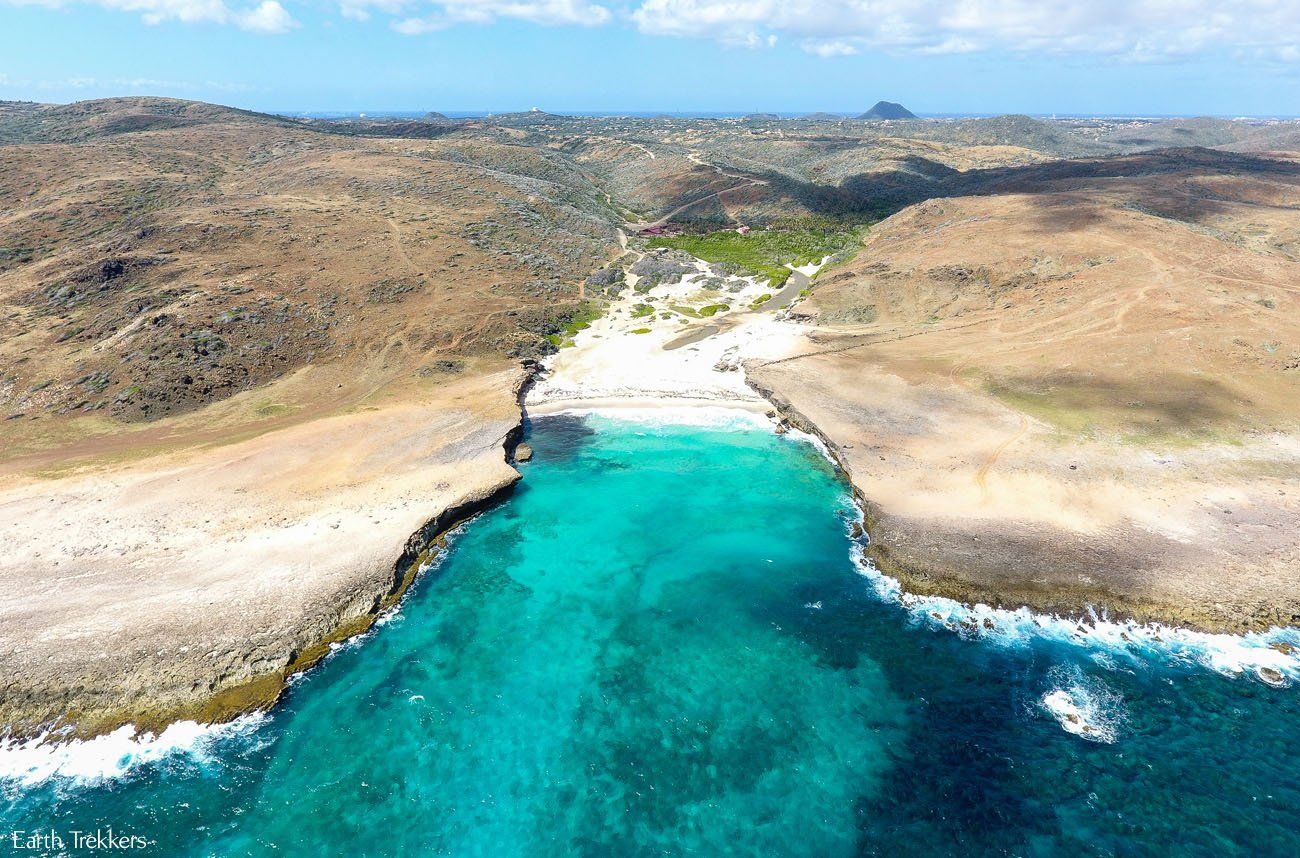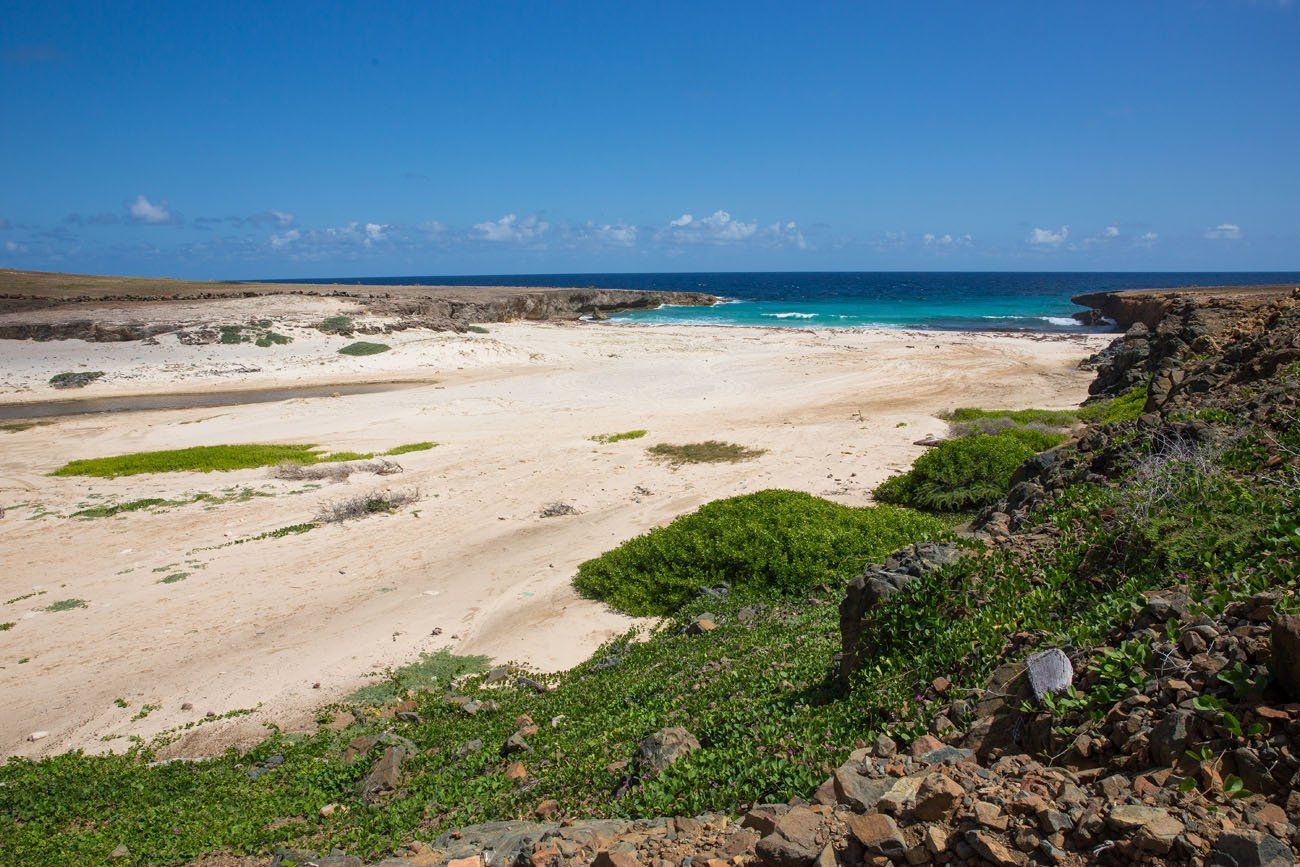 Andicuri Beach
Andicuri Beach is popular with boogie boarders and body surfers. This is one of the few spots on the island where you can brave the waves.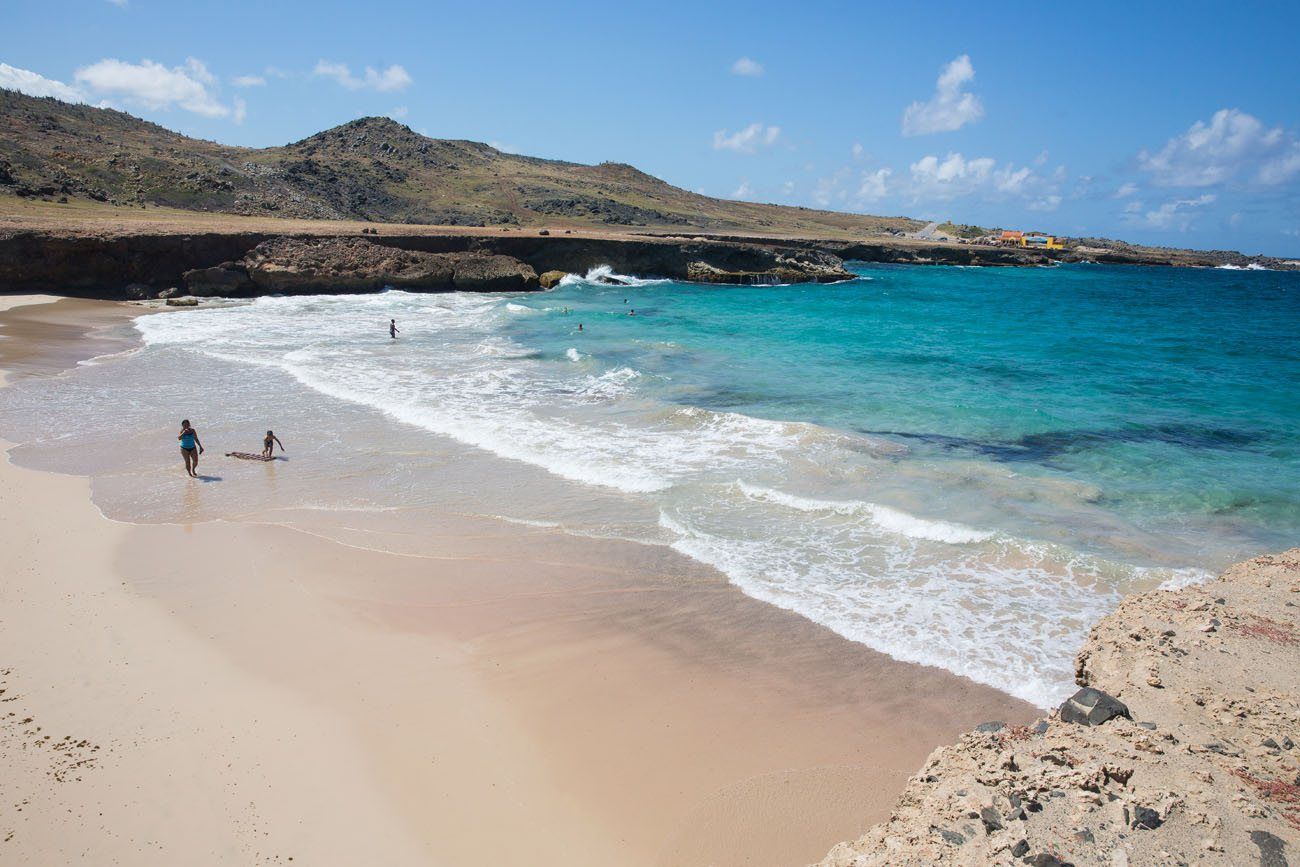 This is another quiet beach away from the crowds of tourists. To get here, you need at least an SUV, preferably a 4×4, for the dirt road that leads to the beach.
Blackstone Beach
From Andicuri, a five-minute walk will get you to Blackstone Beach. This is not a place to go swimming (because the water is so rough), but it is worth the visit to see this unique beach made of black stone.
This is more of a scenic spot than a "hang out all day at the beach spot." If you are bummed that you can't see the Natural Bridge because it has fallen, you can see several similar but smaller arches here.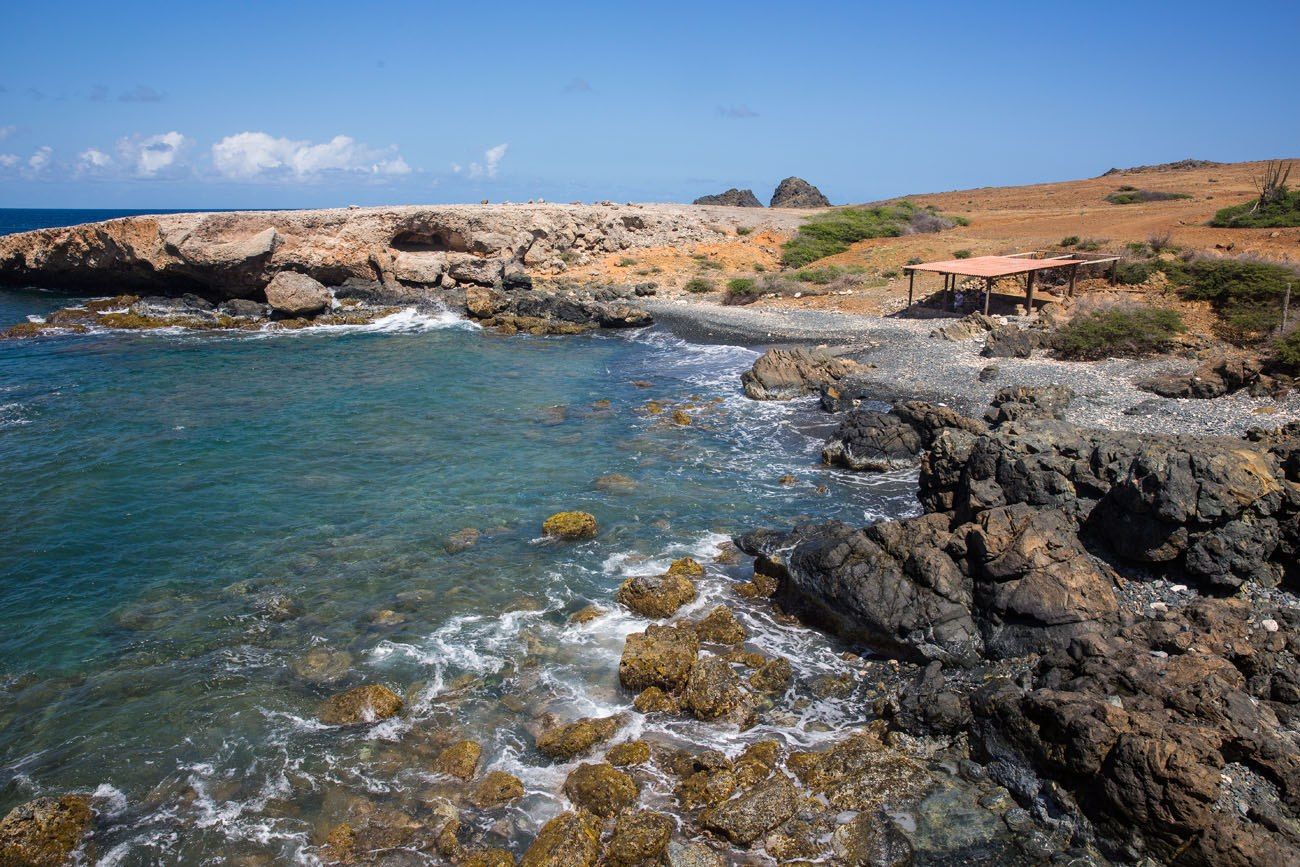 Baby Beach
Baby Beach is located at the southern point of Aruba. This is a popular spot for locals and another place to get away from the crowds of tourists.
Baby Beach gets mixed reviews but I thought it was worth mentioning in this post. It can be a long drive to get here. There is some trash on the beach and your views will be out to an oil refinery. People usually either love or hate this beach. We got here right at sunset, which was nice, but we had very limited time to enjoy this beach. From the short time amount of time we spent here, I would say that Baby Beach is not worth the drive…visit the other beaches on this list first.
Bonus! Renaissance Beach (Pink Flamingo Beach)
This is another beach worth mentioning. The Renaissance Hotel and Resort owns a small, private island with several beaches and a spa. Flamingo Beach is the most popular beach, named for the pink flamingos that can be found here.
Renaissance Island is free for guests of the resort. If you are not a guest, the charge is $125 per person for the day and there is a limit to the number of people allowed on the island. Make your reservations in advance if you want to see the flamingoes…tickets can sell out days in advance.
PRO TRAVEL TIP: If you are traveling as a couple or as a group of two or more people, it might be more economical to book a hotel room. It is possible to book a hotel room for as low as $260, which is just slightly more than you would spend as two or more people. Check hotel prices on Booking.com.
Best Beaches in Aruba: On a Map
---
What are your favorite beaches in Aruba? Do you think visiting Flamingo Beach is worth the price? Let us know in the comment section below.
More Information about Aruba & the Caribbean
ARUBA: Learn how to plan your visit to Aruba and get information on the best things to do in our Guide to Aruba. And don't miss beautiful Arikok National Park and Natural Pool, one of the best adventures in Aruba.
KEY WEST & THE FLORIDA KEYS: Learn how to plan the perfect trip to the Florida Keys with our Miami, Florida Keys, and Key West Itinerary. We also have detailed guides on Things to Do in Key West, the Best Restaurants in Key West, and top experiences along the Florida Keys. From Key West, learn how to plan a day trip to Dry Tortugas National Park.
US VIRGIN ISLANDS: If the US Virgin Islands is on your travel wish list, check out our 7-day US Virgin Islands Itinerary, plus our articles on Things to Do in St. Thomas and Things to Do in St. John. On your trip, don't miss Virgin Islands National Park, one of the most beautiful national parks in the USA.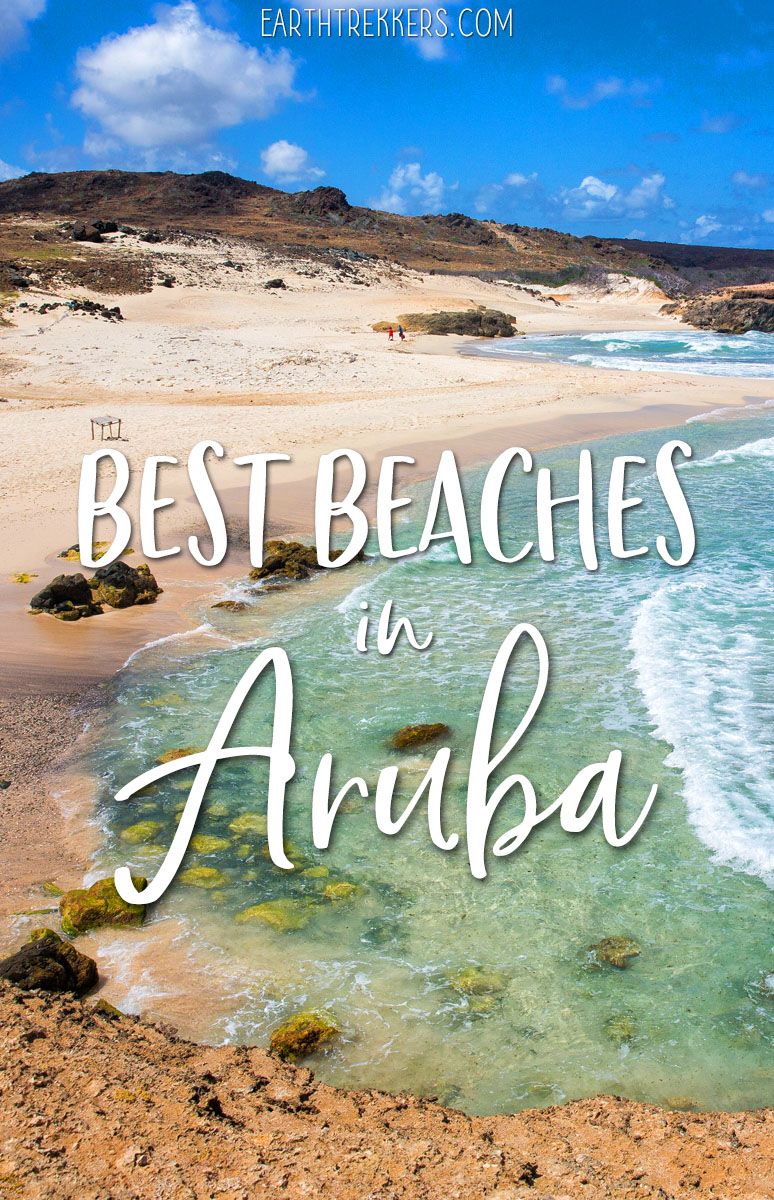 Note: This post contains affiliate links. When you make a purchase using one of these affiliate links, we get paid a small commission at no extra cost to you.
All rights reserved © Earth Trekkers. Republishing this article and/or any of its contents (text, photography, etc.), in whole or in part, is strictly prohibited.