One of the best things to do in Kenai Fjords National Park is to cruise through the fjords, to see the glaciers that carved out this beautiful landscape. And if you are looking for adventure, kayak to Aialik Glacier, one of the more remote glaciers in Kenai Fjords National Park, Alaska.
This experience combines a fjord cruise with glacier kayaking. On the cruise out to Aialik Bay, you have the chance to spot wildlife such as seals, otters, orcas, and Humpback whales. You also get to see some of the most dramatic coastal scenery in the park.
Once in Aialik Bay, spend roughly 3 hours kayaking. Keep an eye out for glacier calving and more wildlife. The excursion ends with a cruise back to Seward.
In this guide, we share our experience Aialik Glacier kayaking, with lots of photos, important planning information, and whether or not it is worth it.
Aialik Glacier Kayaking
Liquid Adventures
For this cruise and kayaking combo, we used Liquid Adventures, which is based in Seward. They also have a partnership with Exit Glacier Guides, who run land-based tours (our experience ice climbing on the Exit Glacier with them was awesome) and Major Marine Tours (who runs fjord cruises).
Liquid Adventures runs numerous tours in Kenai Fjords, from various kayaking excursions, including multi-day kayaking trips. You can also paddle board in front of Bear Glacier.
We chose Liquid Adventures based on their impeccable reviews.
Tour Information
Cost: $499 per person
Time: 10 hours
Difficulty: Easy
Group Size: 12
Minimum Age: 10
Time of Year: Mid-May through early September
Website: Visit the official website for updated pricing and to make your reservation.
We chose Liquid Adventure's Aialik Glacier Kayaking tour to round out our experience in Kenai Fjords National Park. During our visit here, we also spent a day ice climbing on the Exit Glacier and a day cruising to Northwestern Fjord, the most remote fjord in the park. In choosing Aialik, we got to see another part of the park (Aialik Bay) and some different scenery on the wildlife cruise.
Note: We chose Liquid Adventures based on their great reviews and we paid 100% of the excursion cost. When we travel, we do not ask for discounts or free experiences, so we can give our unbiased opinions about the experience. We don't even make it known that we run this blog (we do not expect any special treatment, so we get the same experience as everyone else, and can accurately write about it in these guides).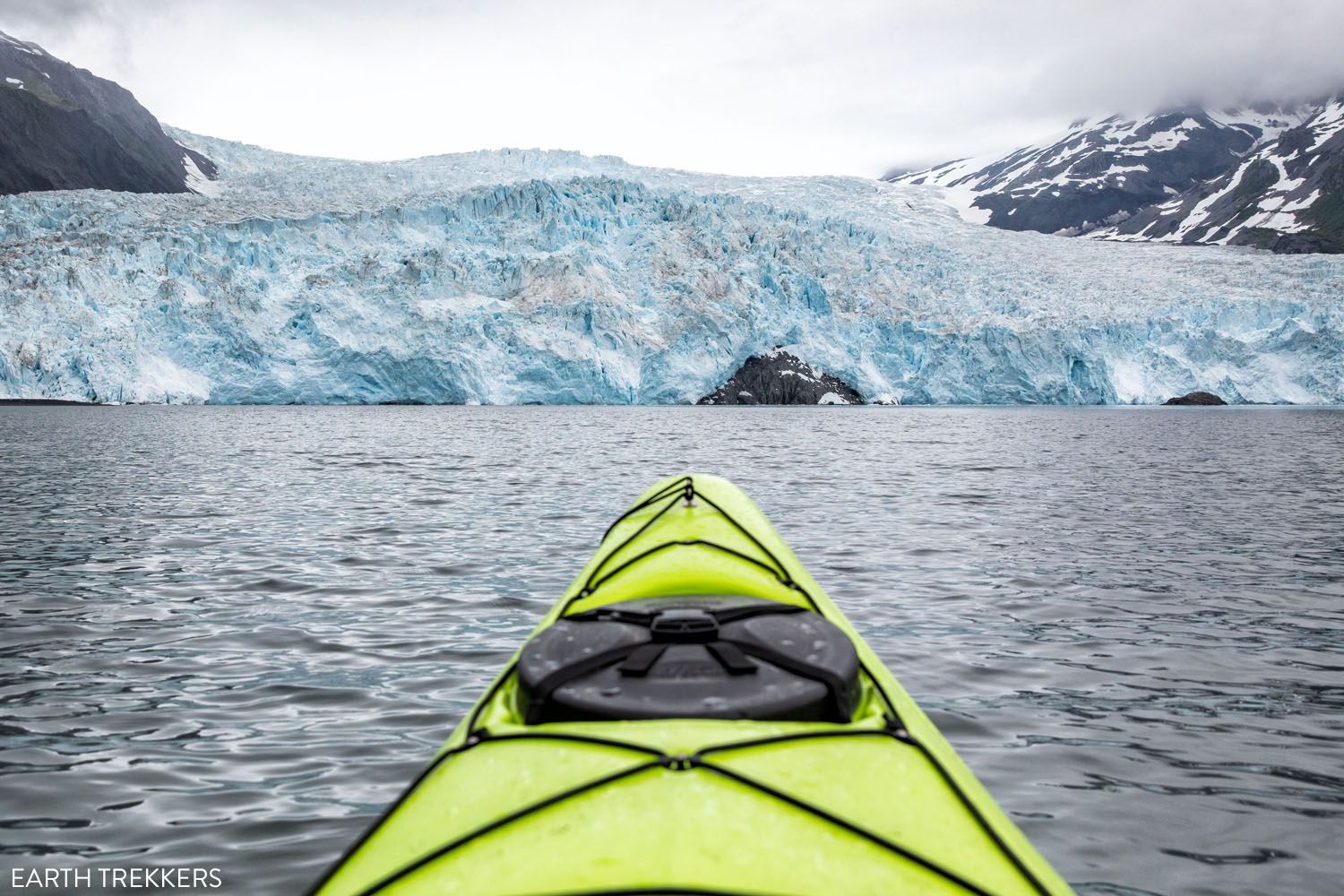 The Aialik Glacier Kayaking Experience
Here is an overview of the Aialik Glacier kayaking experience with Liquid Adventures, from start to finish.
Getting Geared Up
Time: About 1 hour
The start time for this experience is bright and early, at 7 am.
At the Liquid Adventures office in Seward, staff got us sized with paddling boots and gloves. They also provided a dry bag for our gear and you have the option to purchase lunch and snacks in advance (which we did and I recommend it…the sandwiches come from the barbecue restaurant next door to the office).
We had several bags of gear that we brought with us. In our own backpacks were extra clothes, snacks, water, and camera gear. Once in Aialik Bay, we left our backpacks on the boat and transferred some of those things to the dry bag during the kayaking part of the excursion.
From their office, it was a short van ride to the Seward harbor.
Getting on the Water Taxi
Time: 30 minutes
At the harbor, we boarded a small water taxi with the rest of our group. This water taxi is also used by several other tour companies, so you could see some new faces.
The water taxi has indoor and outdoor seating. Indoors, it is relatively warm and a good place to sit on cool, rainy day, like we had. But if it is bright and sunny, sit outside, in the back of the boat, for the best views.
Cruising to Aialik Bay
Time: 2.5 hours
It takes about 2.5 hours to cruise from Seward to Aialik Bay. Along the way, the boat captain stopped for wildlife sights. On the cruise, we saw otters, seals, and Dall porpoise.
One of my favorite parts of the entire experience was cruising past the sea stacks. You get to these right after cruising past Bear Glacier. It was something we did not get to see on our cruise of the Northwestern Fjord.
Kenai Fjords sea stacks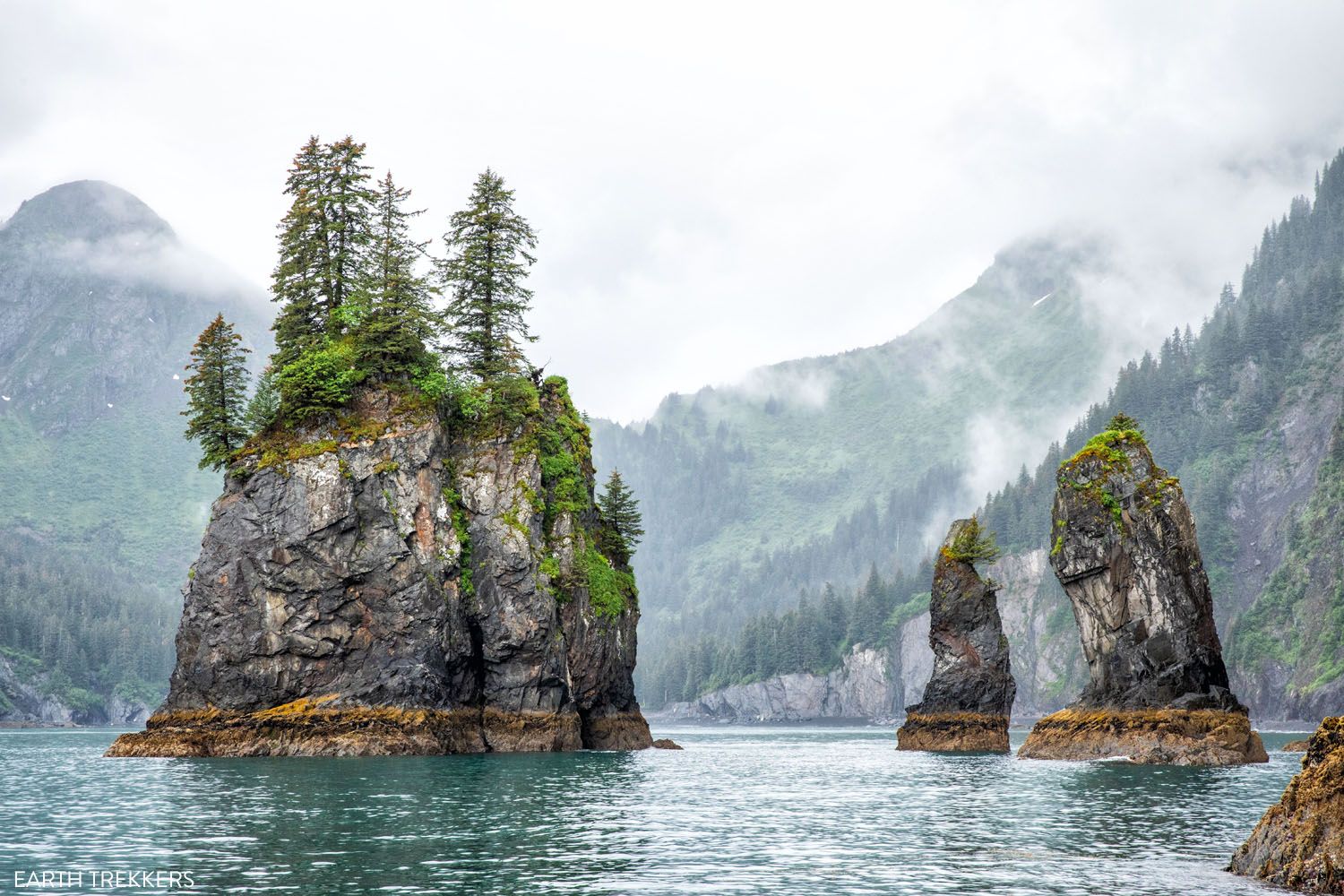 From Resurrection Bay, the water taxi made a turn into Aialik Bay. We were dropped off at a small beach, the starting point for part 2 of this adventure. Some passengers stayed on board and were dropped off after us in a different part of Aialik Bay, since they were on a different excursion.
The water taxi at the "beach" in Aialik Bay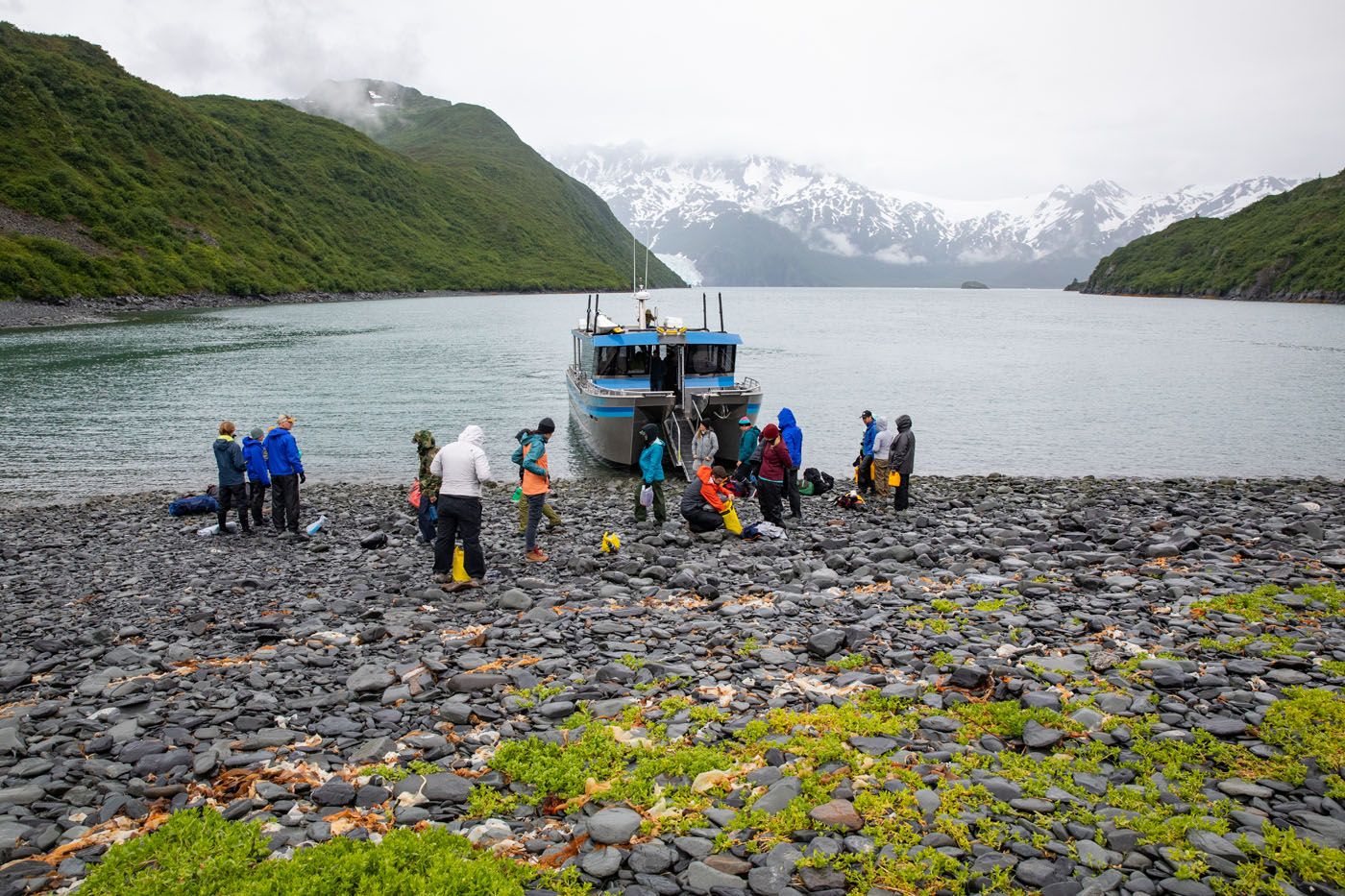 Off in the distance, you can see a sliver of Aialik Glacier. To the left is the coastline of the fjord and to the right is Slate Island.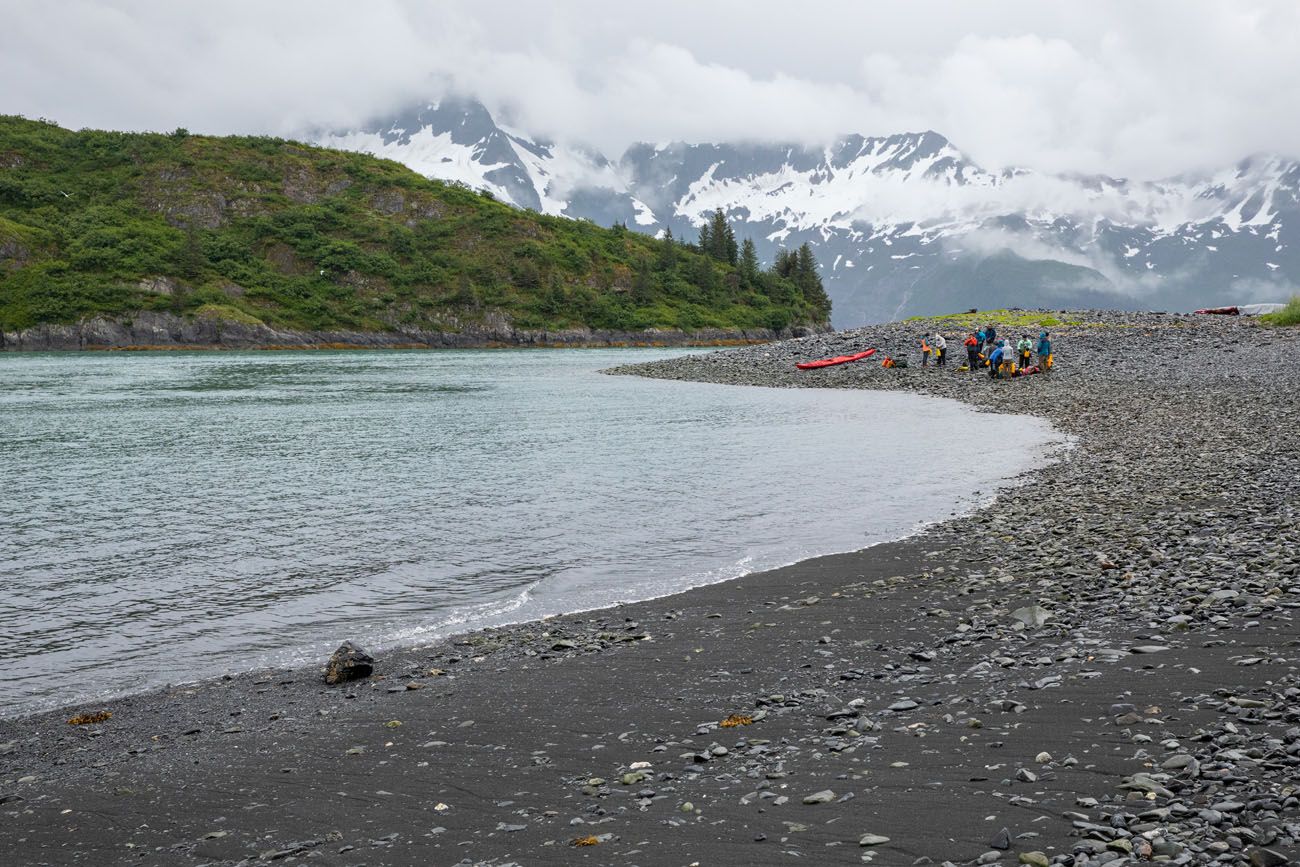 One more view of the Aialik Bay beach. That group is part of a different kayaking tour.
Kayaking in Aialik Bay
Time: 3 hours
The kayaks are kept under a tarp high up on the beach. We all pitched in to carry the kayaks to the water's edge.
We got suited up in our rain gear, paddling boots, and of course, the fashionable spray skirt. After a quick kayaking lesson, we got into the kayaks started our paddling tour of Aialik Bay.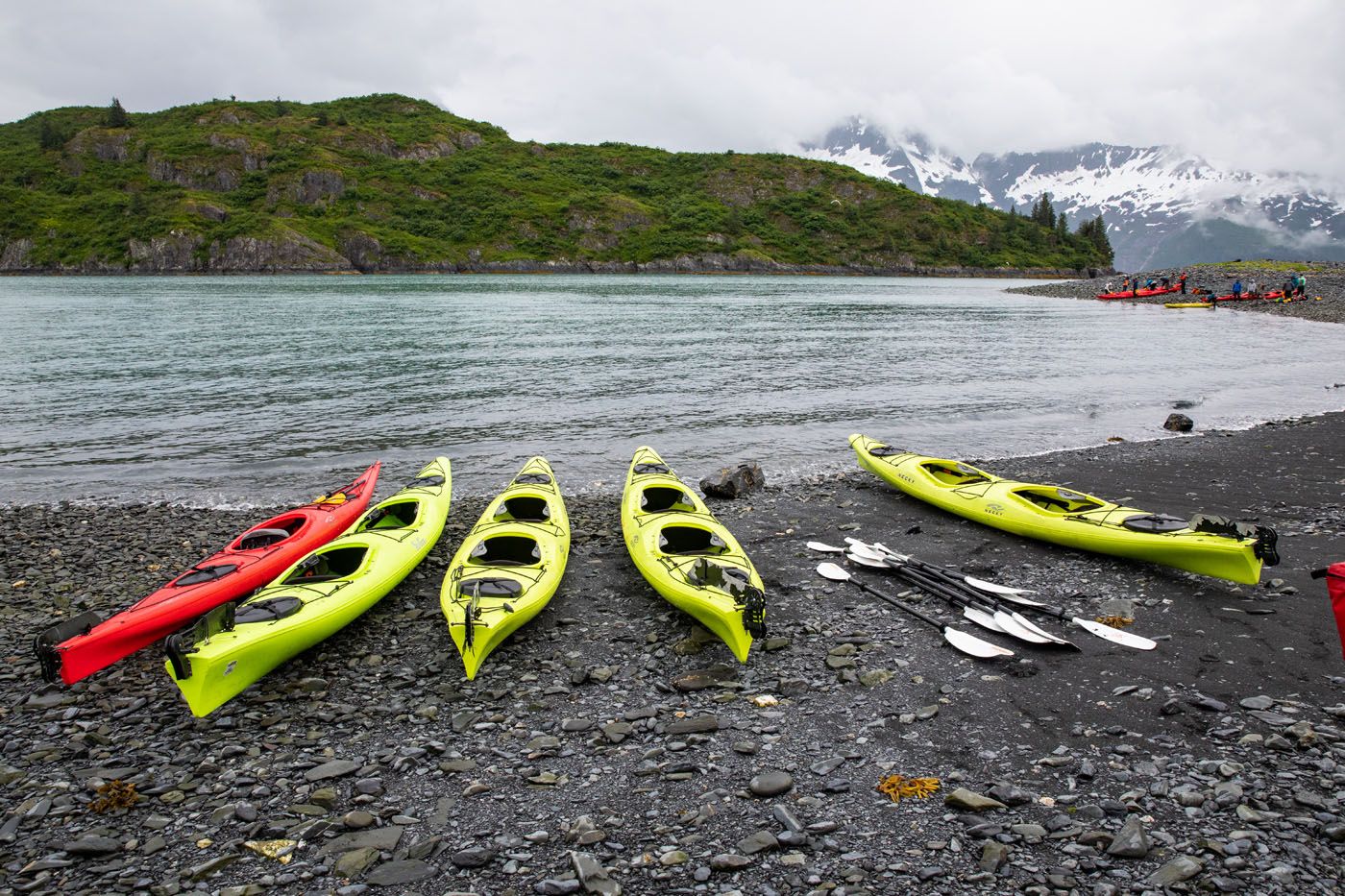 On the day we did this, we had a group size of 8 people plus our guide (the red kayak).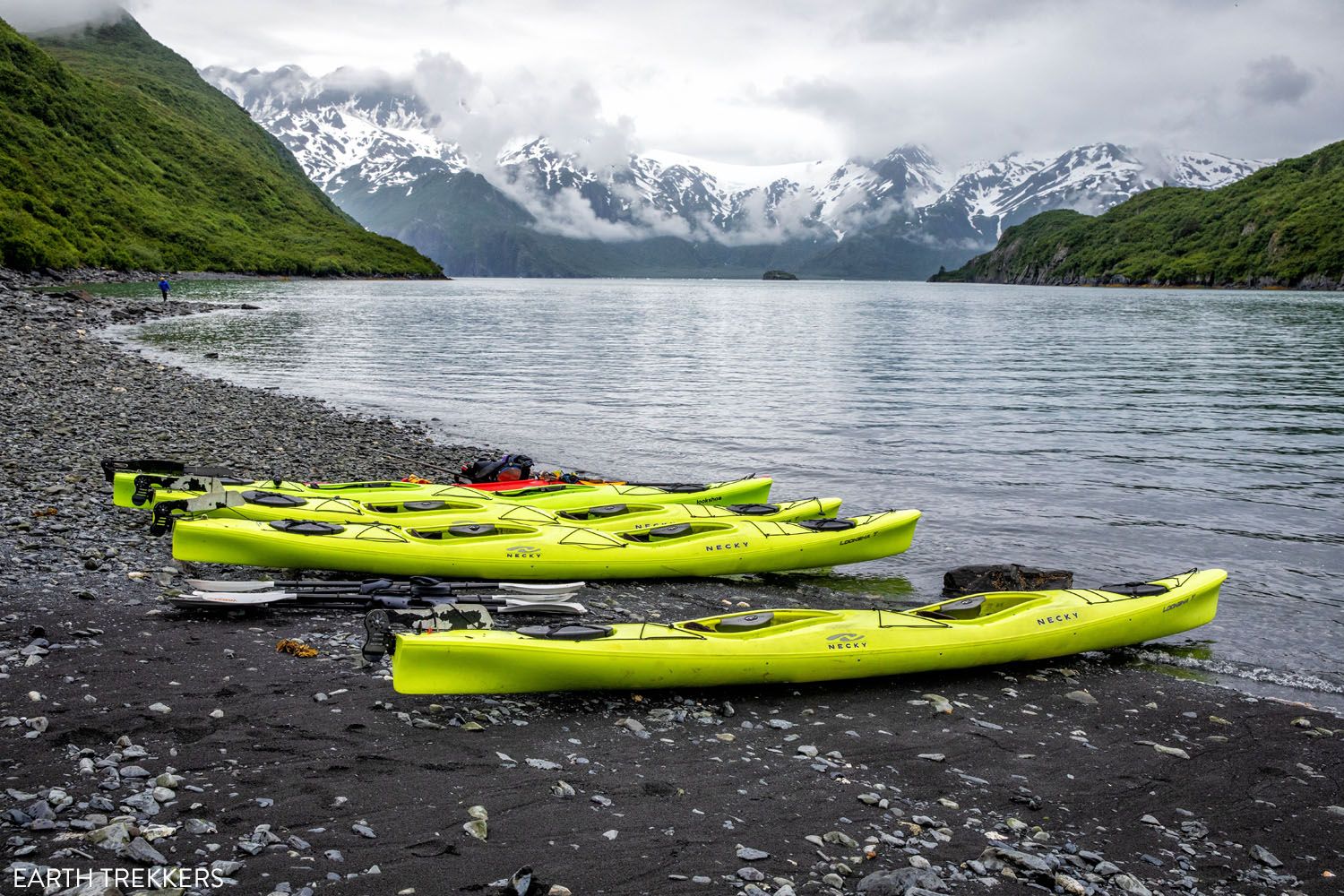 From the beach, we were quite a distance from Aialik Glacier (I believe our guide said it was about 1 mile away). You spend a lot of time kayaking to get to it, and then back to the beach. But this is done as a loop, so you get to see new and different scenery in the bay.
There is a small island, Slate Island, that sits in the bay. We kayaked along the east side of the island and along the way, our guide pointed out wildlife and interesting facts about the plants that thrive here.
Conditions were just right that we could kayak into a sea cave and kayak through a notch in the rocks on the south side of the island (if water levels are too high, you will have to skip these for safety reasons).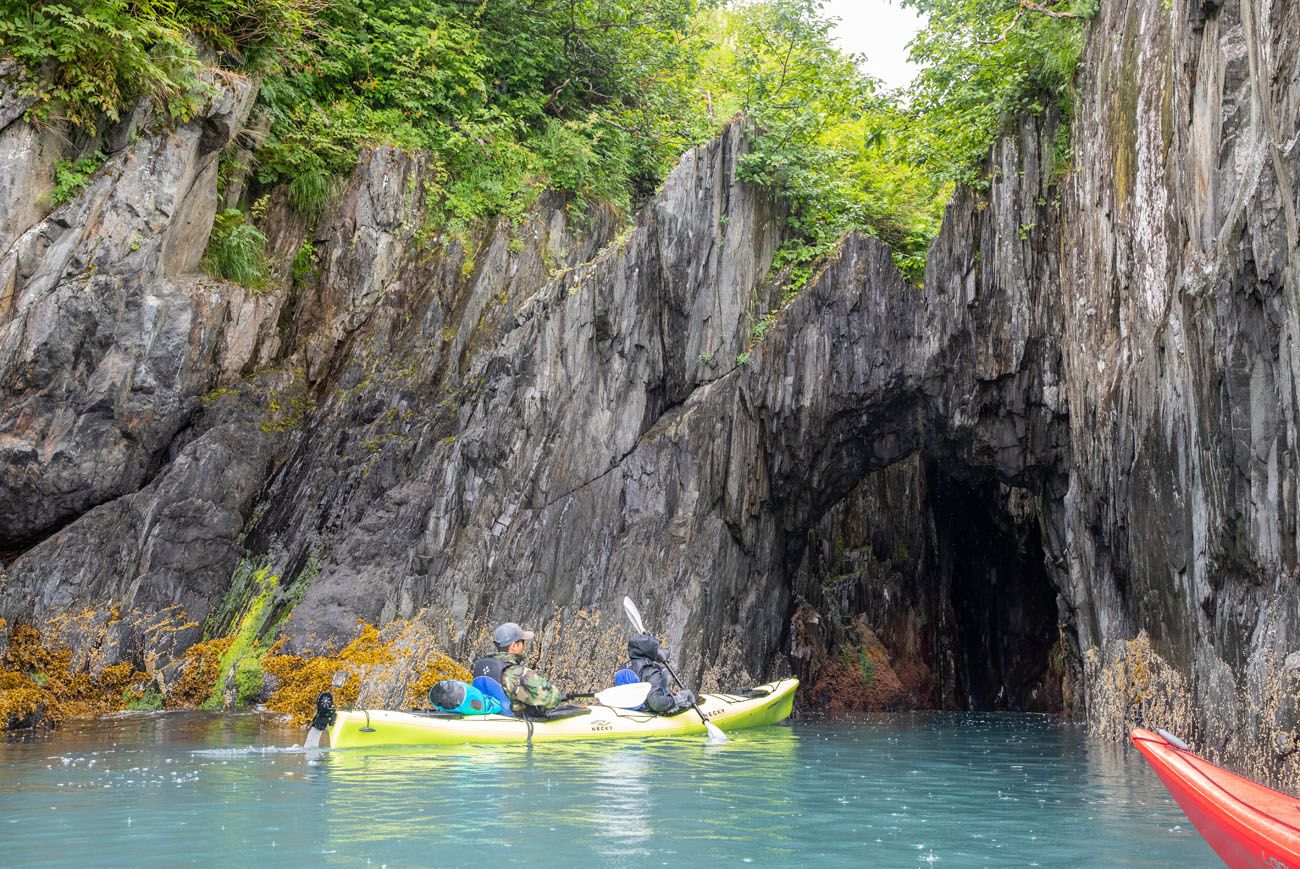 Slate Island sea cave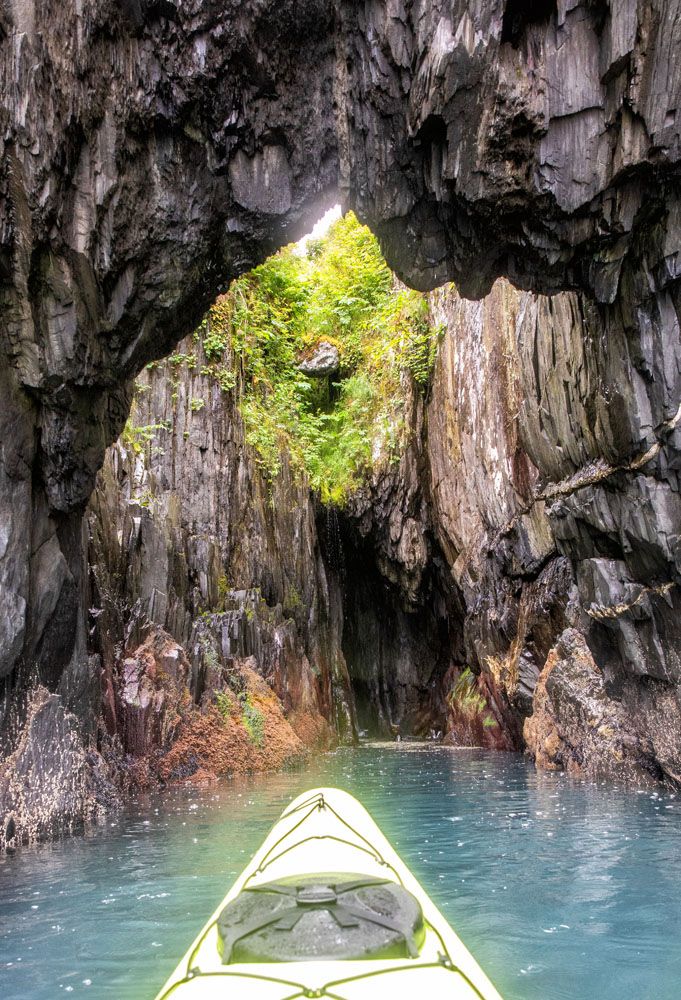 Kayaking into the cave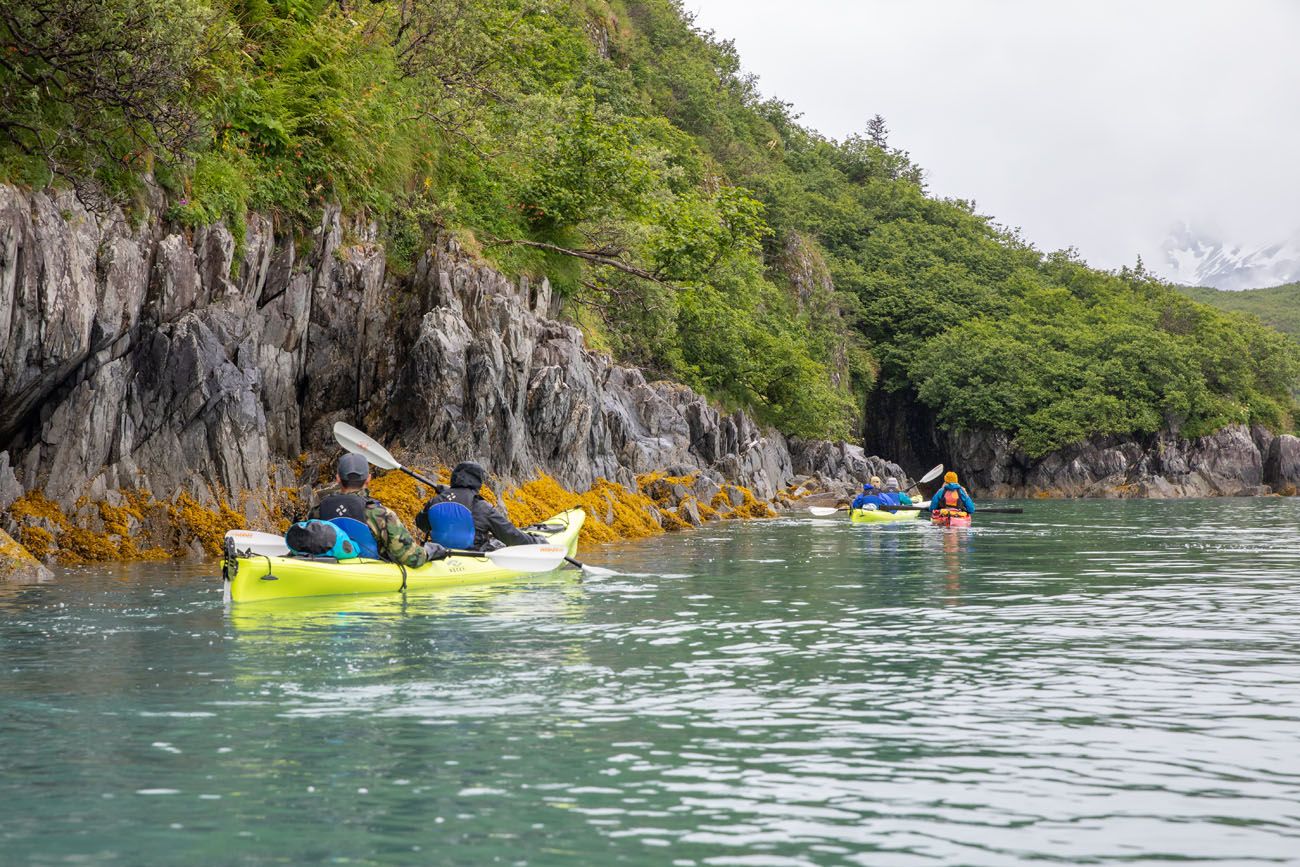 Paddling along Slate Island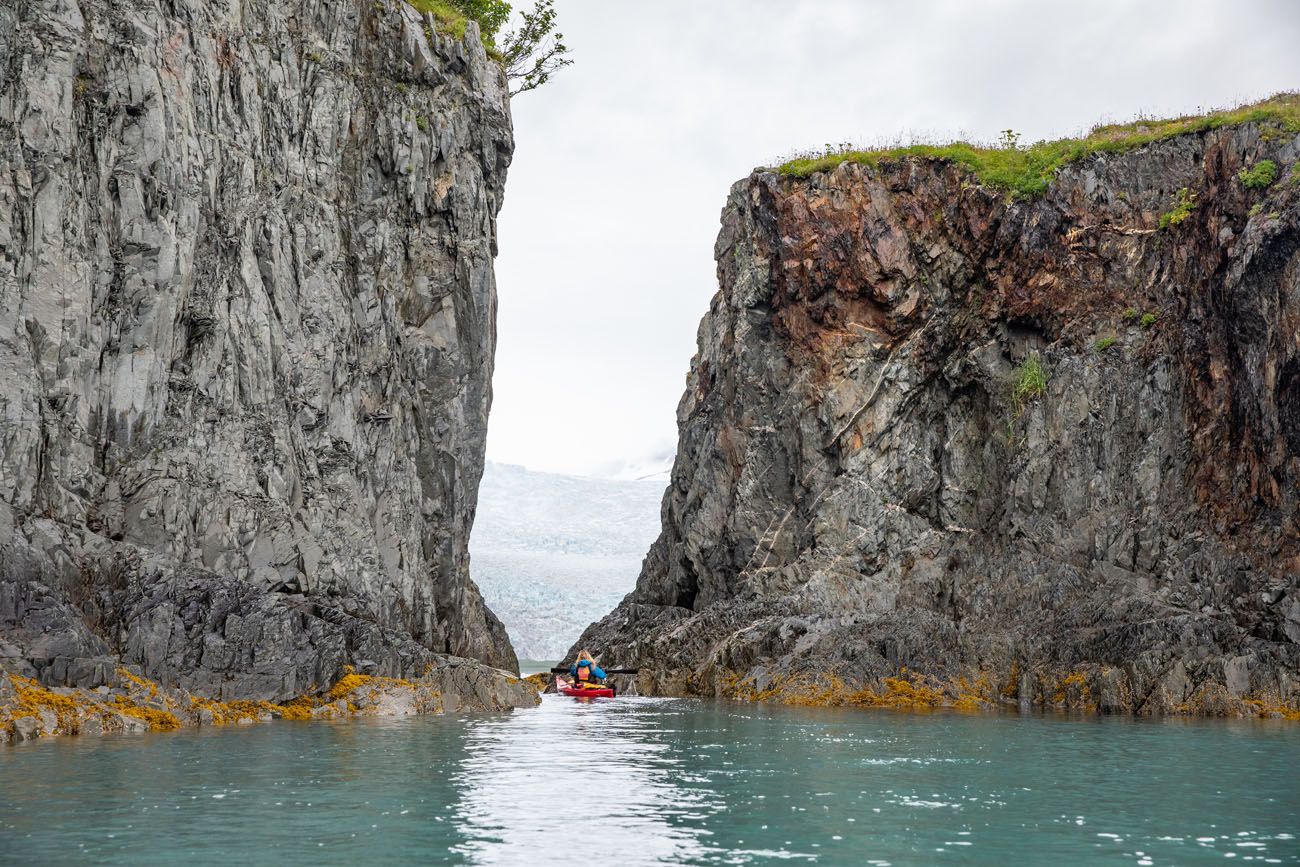 The notch at the far end of Slate Island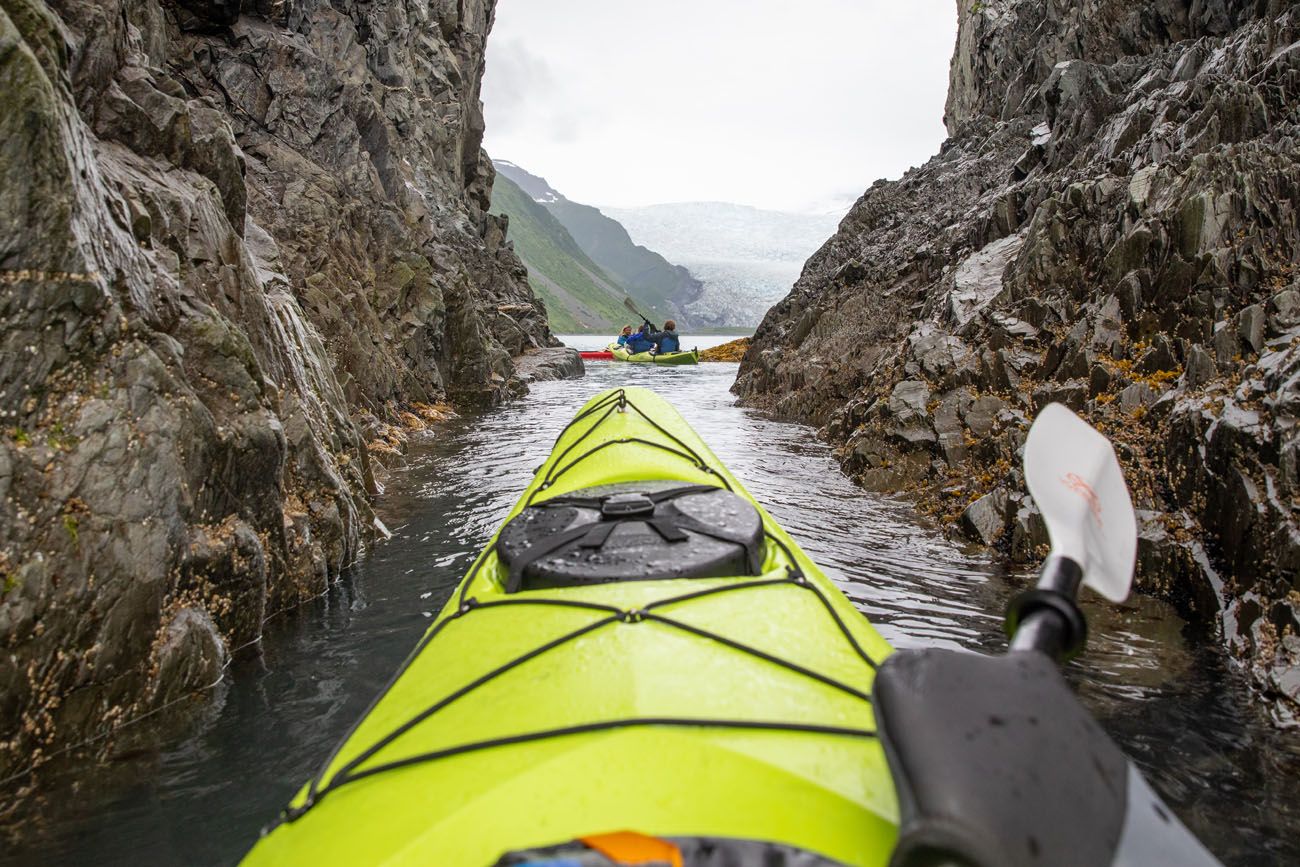 From the island, it was a straight shot to Aialik Glacier. Once in front of the glacier, we ate our lunch and watched as the glacier calved into the bay. This was the best part of the day and the main reason for doing this excursion.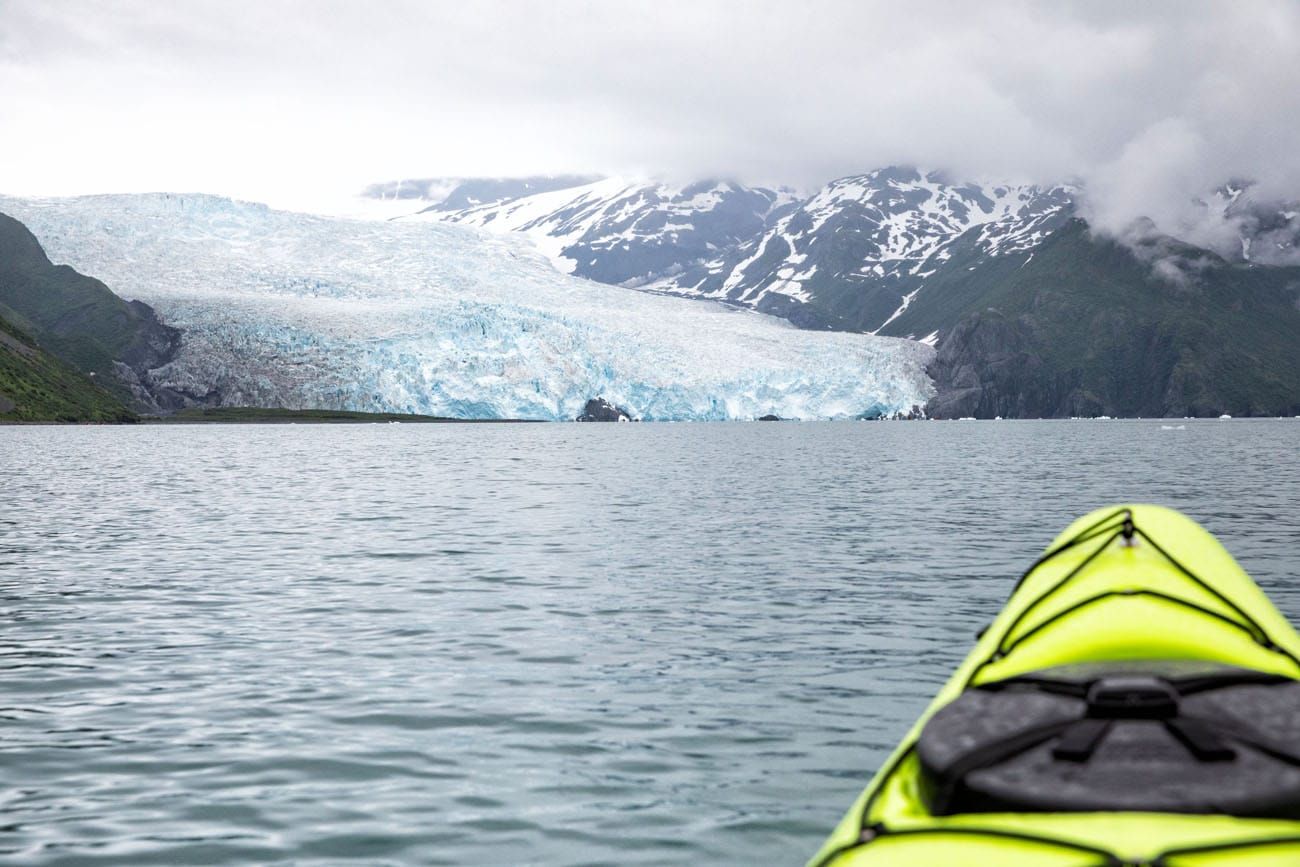 First view of Aialik Glacier once we kayaked past Slate Island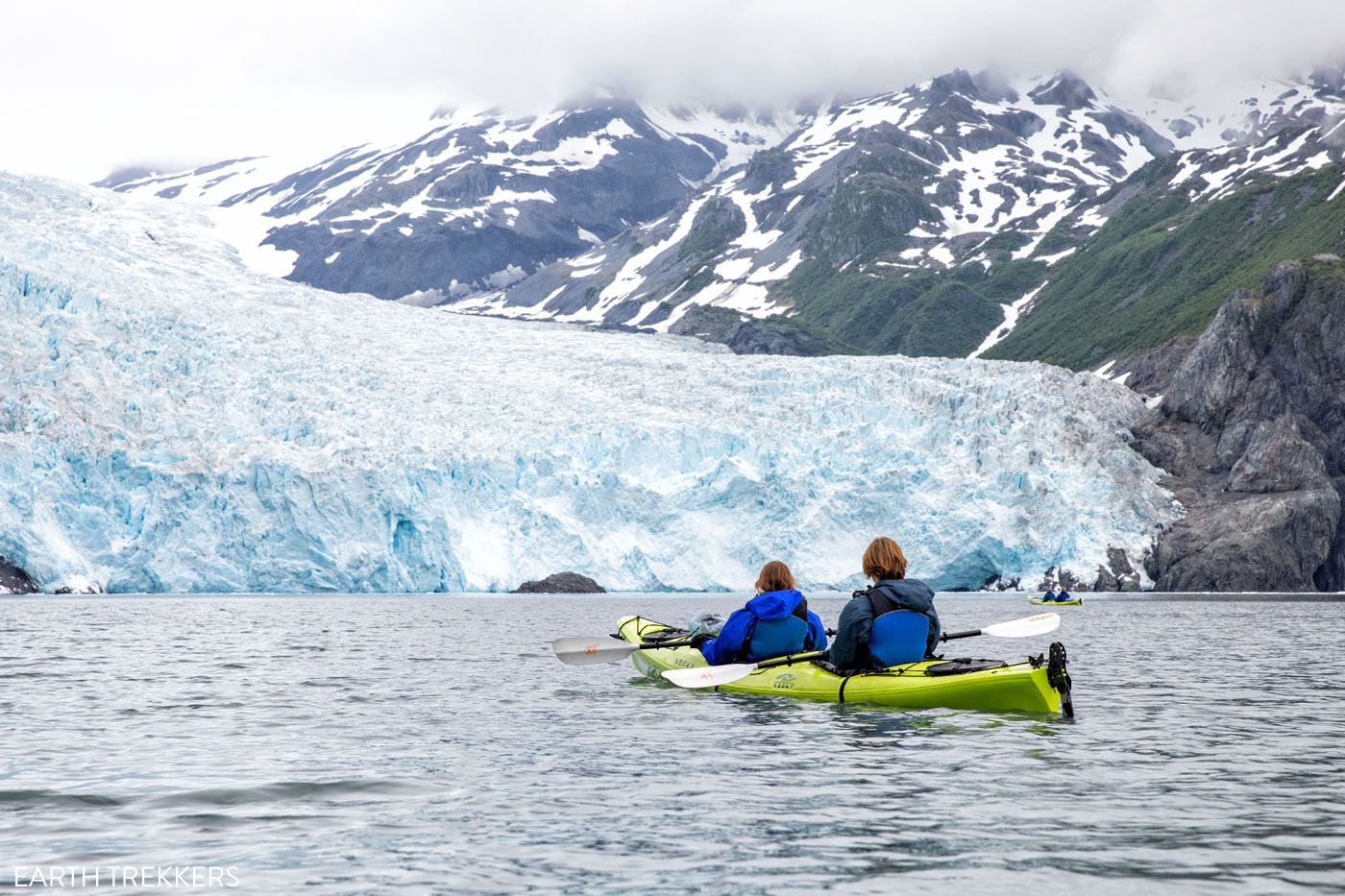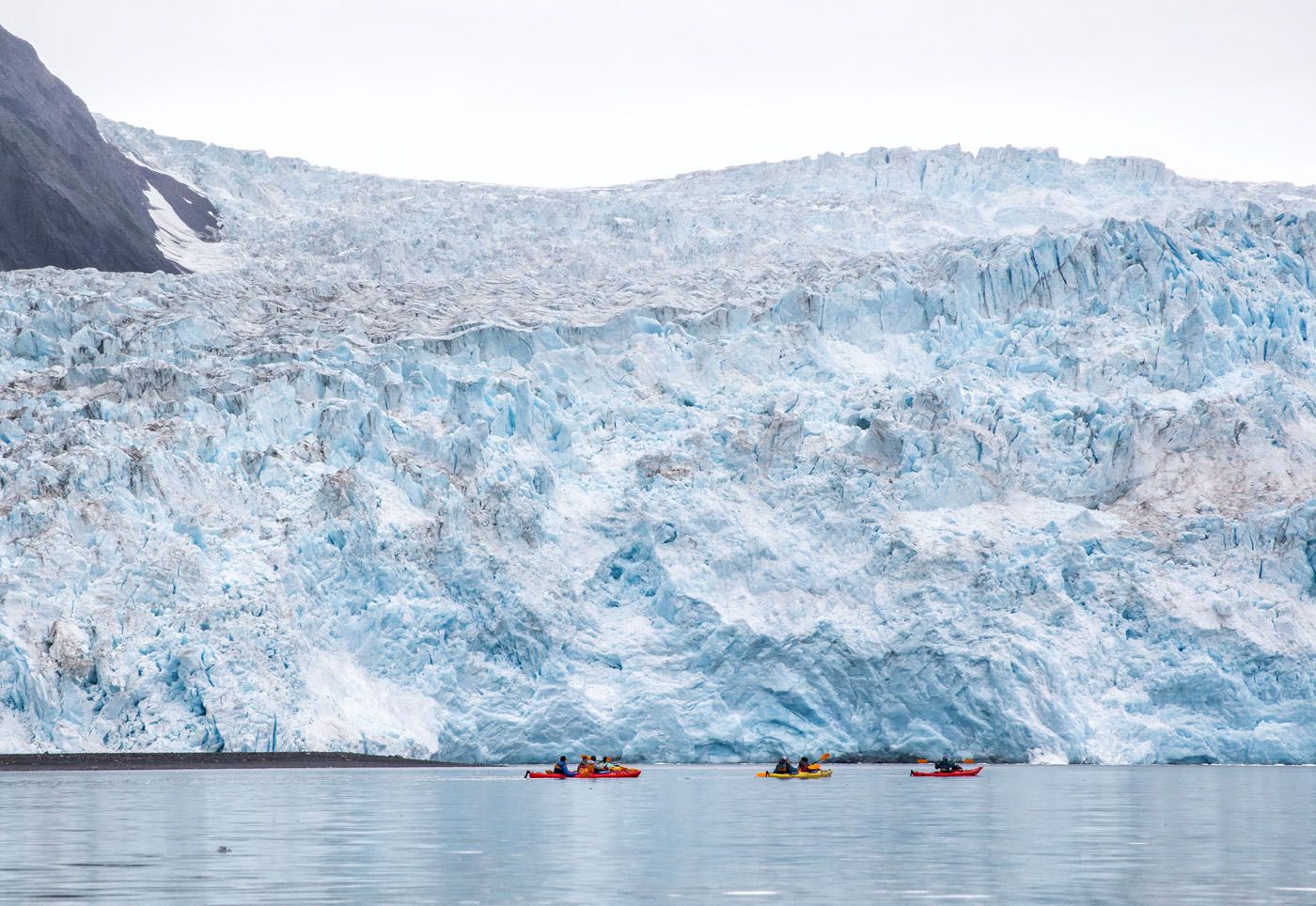 How is this for a picnic spot? For lunch, we grouped our kayaks together and enjoyed the view while eating our sandwiches.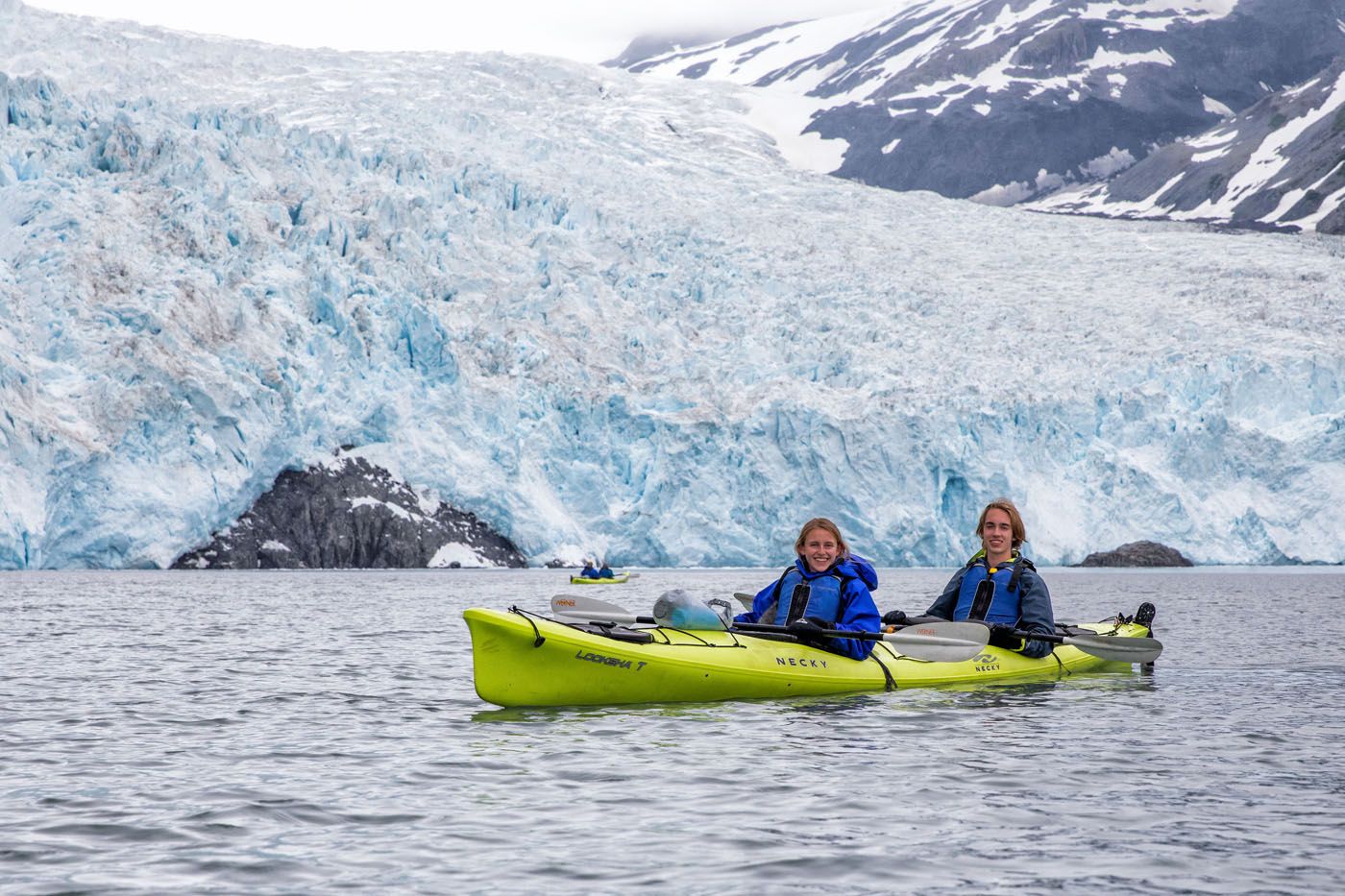 From Aialik Glacier, we kayaked back to the beach, no detours this time. This is the most tiring part of the day, since you are not pausing to look at a bird and learn about a plant.
Once back on land, we took off our gear and stacked the kayaks on top of the beach.
PRO TRAVEL TIP: Bring mosquito repellent. We got swarmed by mosquitoes while on the beach, both before and after kayaking. But the mosquitoes won't follow you to the water, so once you are kayaking, you are free of these pesky little buggers.
Cruise to Seward
Time: 2 hours
The cruise to Seward is slightly shorter than the cruise to Aialik Bay. On the return cruise, the boat captain makes fewer stops for wildlife sightings, unless they spot something really good, like a Humpback whale or an orca.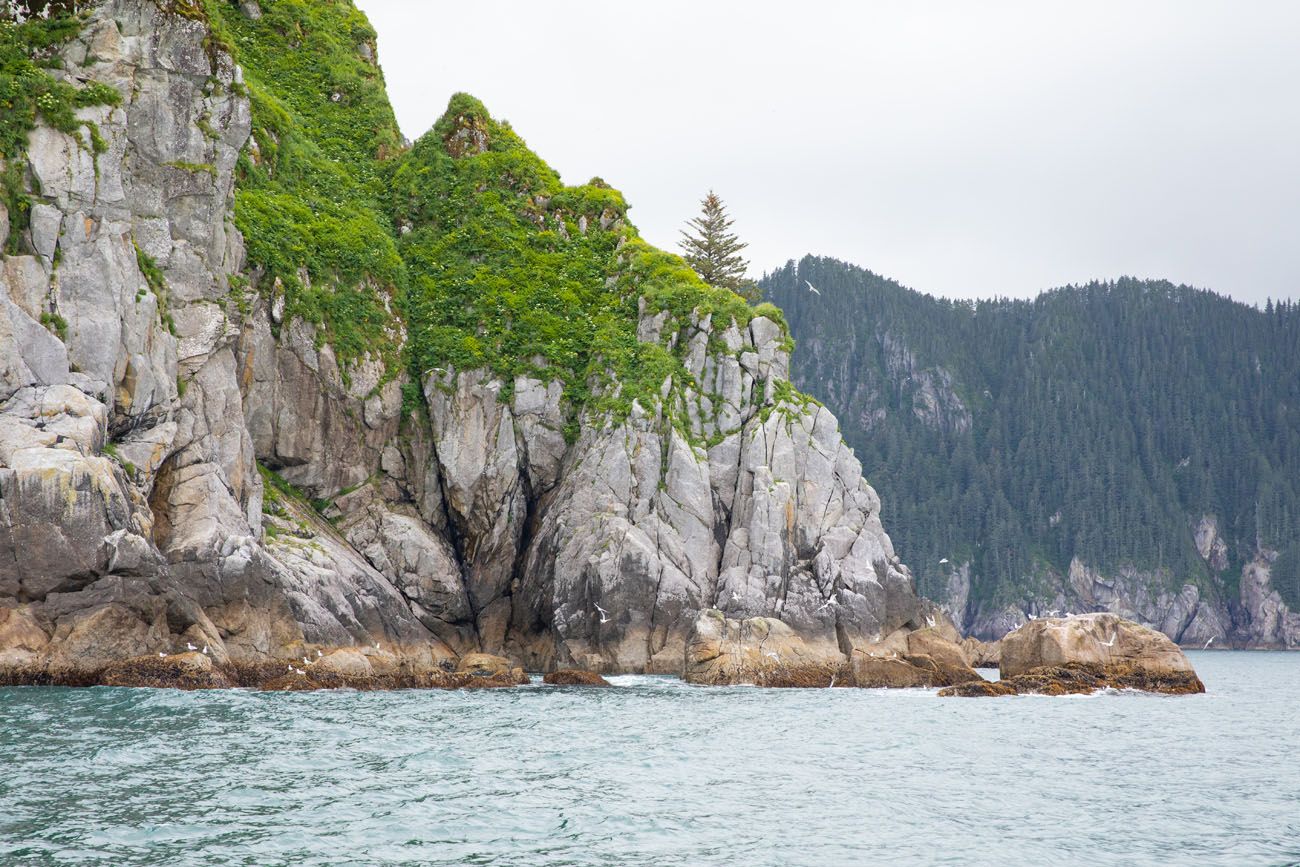 Scenery on the return cruise to Seward
Seward
Time: 30 minutes
From Seward harbor, it was a short van ride to the office. We returned our gear and tipped our guide. By this point, it is about 5 pm, the perfect time to get dinner in Seward.

What to Bring
It feels colder on the water taxi and at Aialik Glacier than it does in Seward. Bring lots of extra clothing. We kept a backpack on the water taxi with our dry clothes, rather than stashing that bag on the beach.
Lots of layers: both a short and long-sleeved shirt, a fleece or sweatshirt, and a rain jacket.
Long pants: Kara and I wore thick, water-resistant pants. Tim and Tyler wore rain proof pants over their hiking pants.
Two pairs of socks
Hat
Insect repellent
Sunscreen
Sunglasses
Snacks
At least 1 liter of water
Camera and/or GoPro
Liquid Adventures provides paddling boots, paddling gloves, kayak, spray skirt, dry bags, and waterproof phone bags. They also provide rain jackets and waterproof pants if you don't have your own.
Frequently Asked Questions
Did You Have Issues with Seasickness?
We did not have issues with seasickness. In Resurrection Bay, the water taxi stayed close to the land, where the water is calmer. It gets a little rough as the water taxi makes the turn into Aialik Bay. Once in Aialik Bay, the water is very calm. No one on board the water taxi got seasick but if you are prone to seasickness, I recommend taking Dramamine as a precaution.
Did You Bring Your Camera?
I brought my camera (a Canon 5D Mark IV) and used it both on the water taxi and while kayaking. I kept it on a strap around my neck so I wouldn't drop it into the water. While kayaking, I kept the camera in my personal dry bag, only taking it out when shooting a photo. While kayaking, everything gets wet, so if you plan to bring a camera, keep it on a strap and bring a small dry bag that you can keep it in when not using it.
Is Aialik Glacier Kayaking Worth It?
Yes, Aialik Glacier kayaking is worth it. On this excursion, you get to cruise Resurrection Bay, spot wildlife, and see the iconic Kenai Fjords sea stacks. You also get the adventure of kayaking in Aialik Bay and watching as Aialik Glacier calves into the sea.
In Kenai Fjords, we also took the Northwestern Fjord Cruise. This cruise goes farther into Resurrection Bay and you get to see the Northwestern Fjord, a large, beautiful, remote, and very active glacier. The wildlife sightings were better (in our experience) on this cruise, since you go farther out to see.
If you want to see more wildlife, do the Northwestern Fjord Cruise. But if you like the idea kayaking in front of a glacier, then put Aialik Glacier kayaking on your to-do list.
We also kayaked Columbia Glacier out of Valdez, Alaska. This is a spectacular place to go glacier kayaking, and even better than Aialik Glacier, in my opinion. The Columbia Glacier is one of the most active glaciers in Alaska and the amount of icebergs you see is astonishing. However, we had terrible weather, so our experience (and photos) weren't the best. But if you did this on a better weather day…wow, it would be epic.
---
If you have any questions about Aialik Glacier kayaking, or if you want to share your experience, let us know in the comment section below.
More Information about Alaska
BEST OF KENAI FJORDS: Top things to do include ice climbing on the Exit Glacier, hiking the Harding Icefield Trail, and cruising the Northwestern Fjord. For the full list, read our article best things to do in Kenai Fjords National Park.
WRANGELL-ST. ELIAS NATIONAL PARK: For a full list of our Wrangell-St. Eilas National Park articles, plus important planning tips, check out our Wrangell-St. Elias National Park Travel Guide.
BEST OF DENALI NATIONAL PARK: For a list of top experiences, read our article Best things to do in Denali National Park. We also have a guide to the best hikes in Denali.
BEST OF KATMAI: The best thing to do in Katmai is to watch the brown bears feasting on salmon at Brooks Falls. But you can also visit the Valley of 10,000 Smokes which is the site of one of the largest volcanic eruptions in recent history.
DRIVING IN ALASKA: The Seward Highway connects Anchorage and Seward is one of the most popular scenic drives in Alaska. We also have a detailed guide to driving from Anchorage to Valdez, yet another amazing road trip.
TRAVEL PHOTOGRAPHY: For more information about the camera gear we carry, check out our Travel Photography Gear Guide. And tips and tricks for taking great photos in our article How to Take Better Photos while Traveling.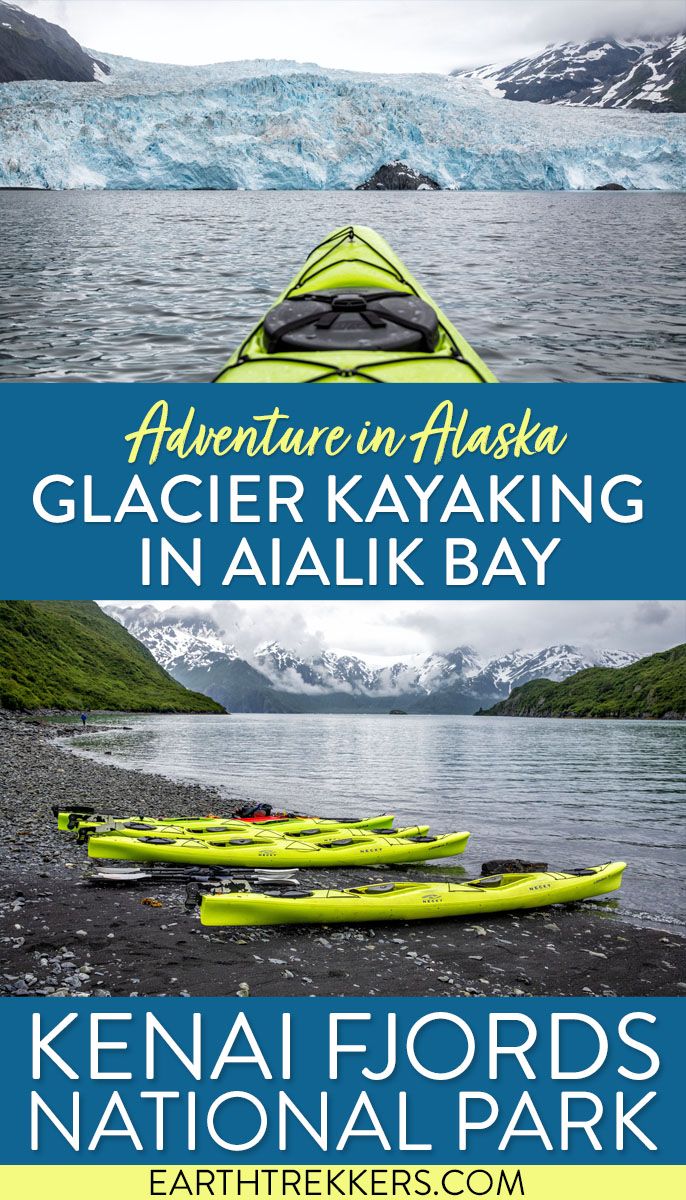 All rights reserved © Earth Trekkers. Republishing this article and/or any of its contents (text, photography, etc.), in whole or in part, is strictly prohibited.