If you want to witness the power of one of the world's most active glaciers in action, then add the Columbia Glacier to your Alaskan itinerary. With roughly 13 million tons of ice breaking off of the Columbia Glacier everyday, there is a good chance that you will be able to watch a calving event take place.
From within Columbia Bay you can watch for calving events from three separate faces of the Columbia Glacier. The Columbia Glacier faces range from 200 to 400 feet high, making your tour boat or kayak look tiny in comparison. We were able to position our kayaks such that we could watch for calving events from all three faces by just turning our heads.
There is more to this experience than witnessing a calving event. You are also likely to hear the thundering sounds of the Columbia Glacier movement, sounds that are amplified by the echo bouncing off the surrounding mountains. And you are likely to see icebergs from the calving events drifting out of Columbia Bay and into Prince William Sound.
The Columbia Glacier
The Columbia Glacier, named after Columbia University, is one of the most rapidly changing glaciers in the world. It is a tidewater glacier, which means the Columbia Glacier flows from the mountains to the ocean. The terminus of the glacier started retreating in the early 1980's and has since retreated over 12 miles (over 19 km), losing more than half of its volume.
Scientists predict that once the glacier retreats a total distance of 15 miles it will be in shallow enough water that the calving rate of the glacier will slow down. But it is unclear as to when this will happen.
How to See the Columbia Glacier
Tours to the glacier operate out of Valdez. There are options for kayaking tours, boat cruises, and helicopter rides. Kayaking tours include a boat cruise to a landing site within Columbia Bay where you then kayak to the glacier faces.
Both the kayaking tour and boat cruises need to pass through a portion of Prince William Sound to get from Valdez to the Columbia Glacier. Therefore, both of these tours also offer the opportunity to spot marine wildlife. A helicopter tour offers the experience of landing on the Columbia Glacier.
You do need to stay a safe distance away from the glacier face in case a calving event occurs. For example, kayaking tours will stay at least a quarter-of-a-mile away from the glacier face. That didn't seem to be a problem at all during our kayaking tour as we still had good visibility of the glacier faces.
Boat cruises take at least 6 hours while kayaking tours can be 10 hours or longer. A helicopter experience can range from 1.5 to 2.5 hours.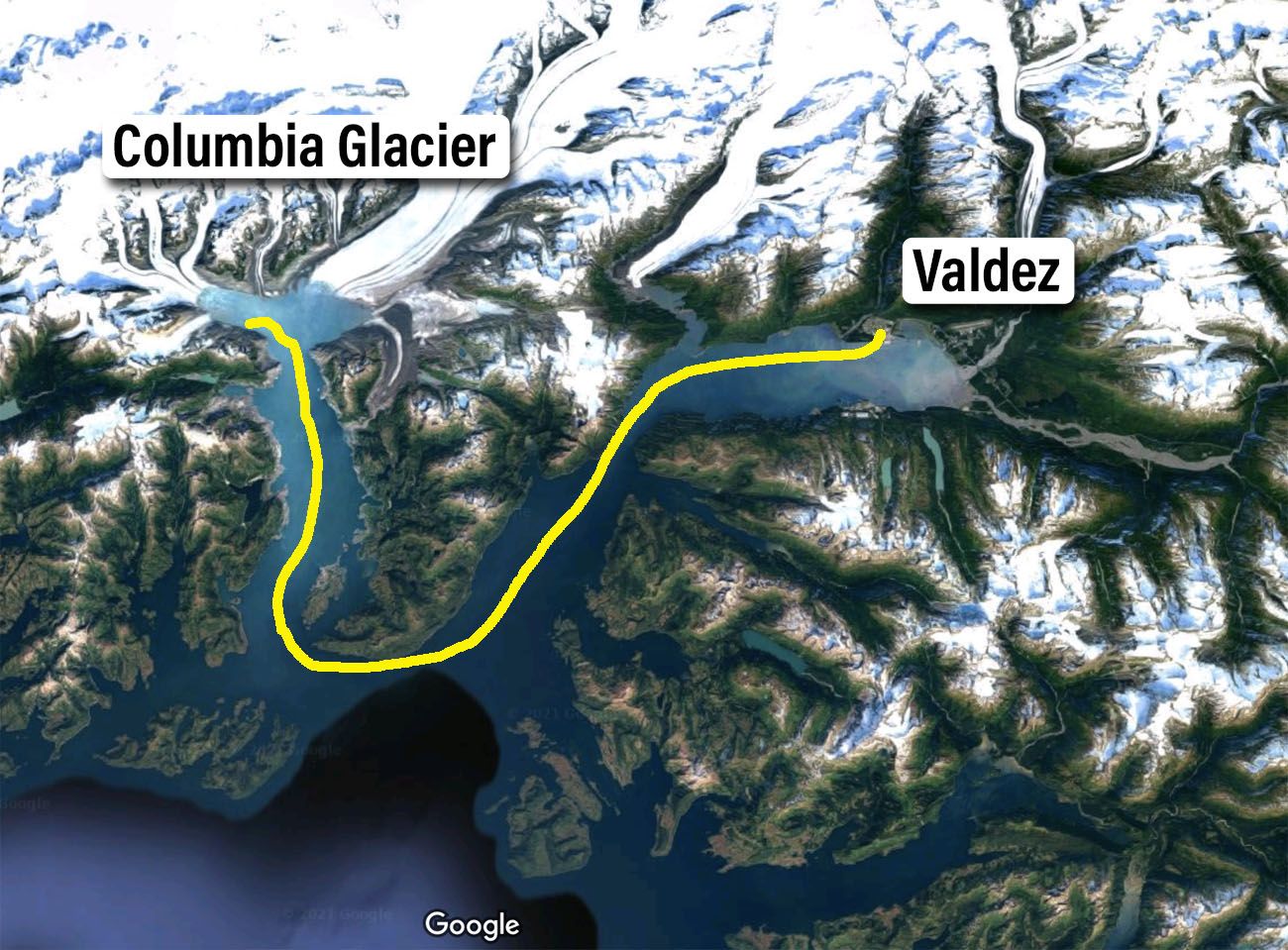 Tour Operators of the Columbia Glacier
Kayak Tours
Pangaea Adventures offers a "Columbia Glacier Day Tour". This is promoted as a 10 hour tour that involves 1 hour of gear preparation, 4.5 hours of cruising to/from Columbia Bay, 3 hours of kayaking, and ½ hour for lunch. This tour costs $329 per person with a 10% discount for kids 13 and under.
Anadyr Adventures offers a "Columbia Glacier Face" tour. This is promoted as a 10 hour tour that involves 1 hour of gear preparation, 4 hours of cruising to/from Columbia Bay, 4 hours of Kayaking, and 1 hour of relaxing or hiking. This tour costs $329 per person.
Cruises
Stan Stephens Glacier & Wildlife Cruises offers a "Columbia Glacier Cruise". This is promoted as a 6 hour tour. This tour cost $145 per person. Children (3 yrs to 12 yrs) are 50% off and infants (2 yrs and under) are free.
Lu-Lu Belle Glacier & Wildlife Cruises offers an "Alaska's Columbia Glacier, Whale, and Wildlife Cruise". This is promoted as a 7+ hour tour. This tour cost $170 per person.
Helicopter Rides
VS Helicopters offers flightseeing tours of Prince William Sound and the Chugach Mountains which can include the Columbia Glacier. The Deluxe version of their "Glacier Explorer Tour" flies by the Columbia Glacier. This tour cost $575 per person and lasts 1.5 hours. And their "The Everything Tour" offers an option to land on the Columbia Glacier. This tour cost $665 per person and last just under 2.5 hours.
Best Time to Visit the Columbia Glacier
Each tour operator will have its own operating schedule, but the main tourist season runs from June through August. Before adding the Columbia Glacier to your itinerary, check with the tour operators to confirm availability for your desired dates. We also recommend that you make an advance reservation in order to guarantee your seat.
Setting Your Expectations
Weather
Valdez receives a lot of precipitation throughout the year. Focusing on the main tourist season:
June – average of 3 inches of rain over 15 days
July – average of 3.8 inches of rain over 17 days
August – average of 6.6 inches of rain over 17 days
So, during these months you can expect it to rain half of the days of the month. Therefore, you need to be prepared for rainy weather. If you are taking a kayaking tour then make sure you know what gear the tour company is providing and what they expect you to bring.
Ice in Columbia Bay
If there is too much ice in Columbia Bay as a result from calving events from the Columbia Glacier, then tour operators might deem it unsafe to enter. Conditions can change very quickly. We noticed a dramatic difference within just the few hours we were kayaking in Columbia Bay. At the beginning of our time in the kayaks, we were able to kayak right down the middle of Columbia Bay. However, when heading out of Columbia Bay we had to stay on the outer fringe of the bay since so much ice had accumulated.
When making your reservation, I recommend checking with the tour operator to see what alternative they offer if they you unable to enter Columbia Bay.
Conditions of Prince William Sound
If the conditions of Prince William Sound are too rough, then your boat cruise or kayaking tour may be canceled. Make sure you know the cancelation policy of your tour company.
Seeing a Calving Event
While Columbia Glacier is very active, there is no guarantee you will see a calving event. We only saw one event during our kayak tour, although we did hear a lot more.
Marine Life in Prince William Sound
Being on the water within Prince William Sound gives you the opportunity to look for sea otters, harbor seals, Stellar sea lions, Dall's porpoise, humpback whales, and orcas.
During the boat cruise portion of our kayaking tour we spotted a few sea lions and otters. Our guide spotted a Dall's porpoise following in the wake of the boat for a few moments and one of the passengers on our boat got a quick glimpse of an Orca.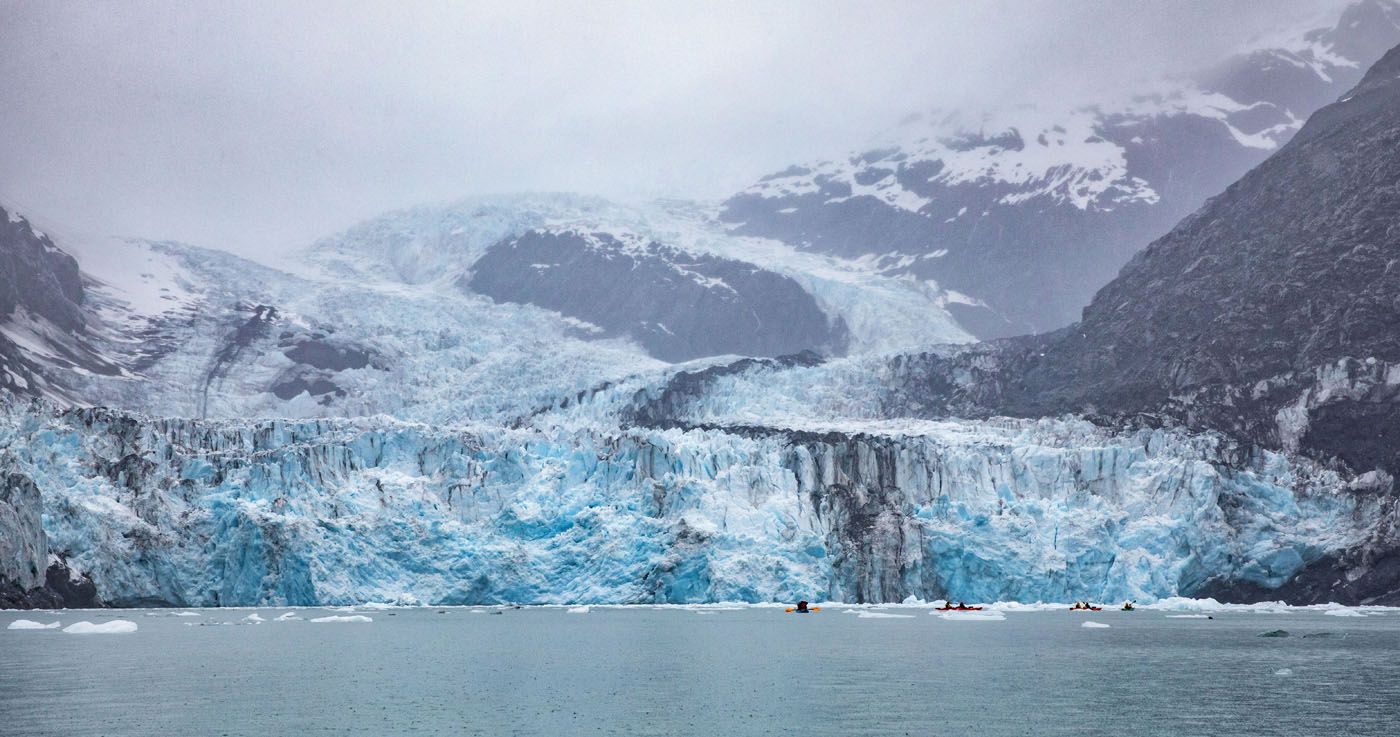 About Our Experience
Getting Geared Up
We awoke to a chilly rainy morning and unfortunately this unfavorable weather stayed with us all day. This area of Alaska gets a lot of precipitation year-round and the historical averages show that half of the summer days will be rainy.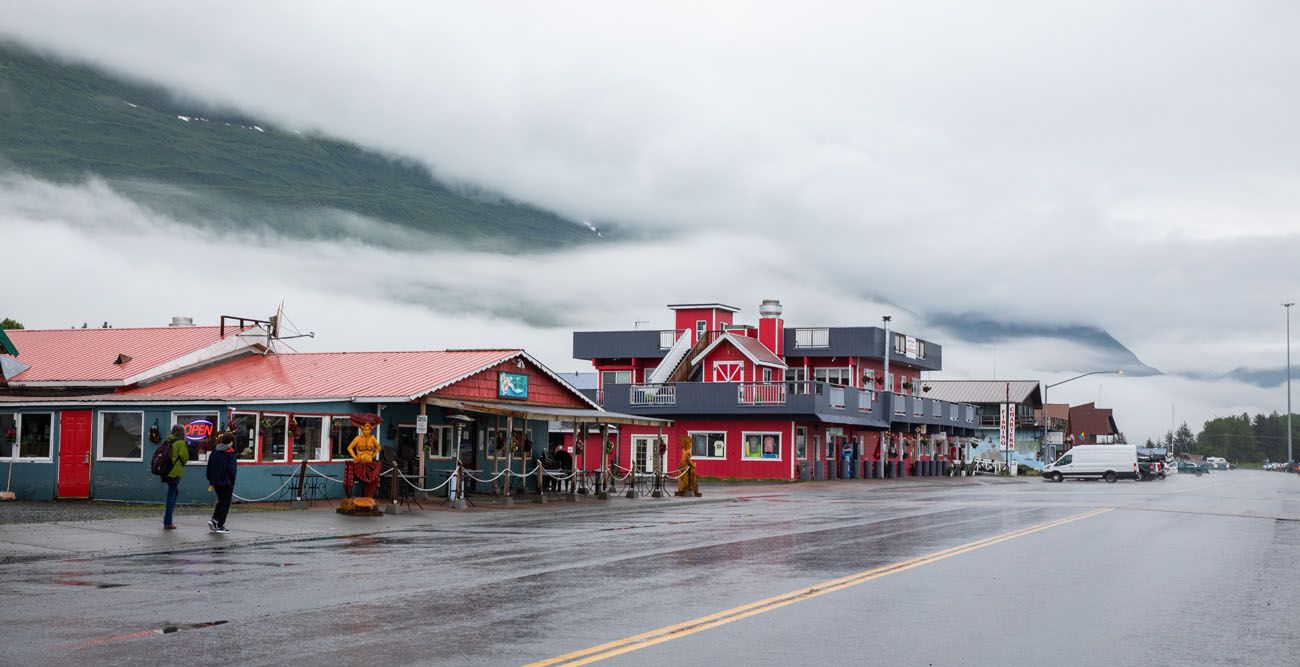 Valdez on the morning we took this kayaking tour. Low-lying clouds and fog would hide most of the views along the cruise in the Prince William Sound.
We checked in at the Pangaea Adventures office, which overlooks the Valdez marina, at 8:00am. They handed out rain pants, rain jackets, rubber boots, and dry bags. To limit what was brought onto the boat, they had us transfer anything we wanted to bring from our backpacks to the dry bag. We changed out of our shoes into their rubber boots. They asked us to leave our shoes and backpacks in the locked equipment shed next to their office, but you could lock these in your car if you prefer. After one quick bathroom break, we walked to the marina and boarded their boat.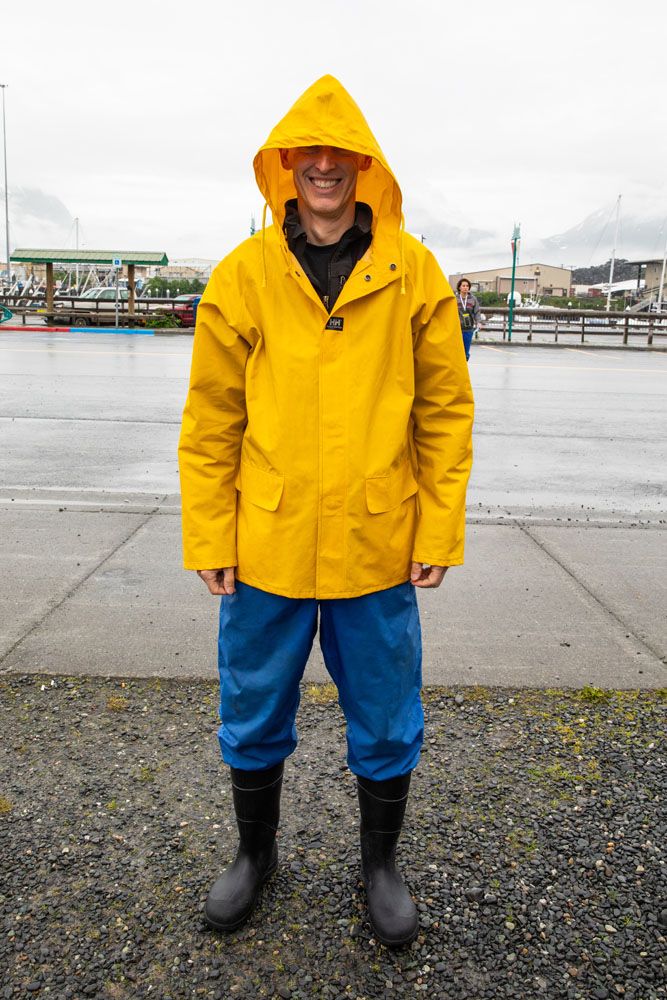 Here is Tim, modeling the rain jacket, rain pants, and boots provided by Pangaea Adventures.
The Cruise to Columbia Bay
The boat had indoor seating and a bathroom with a manual pump toilet. During the cruise, you are allowed to walk out to the front or rear of the boat to look at the surrounding scenery, to search for marine wildlife, and to gaze at the icebergs.
The 2 hour and 15 minute boat ride (almost 40 miles) to Columbia Bay was pleasant. The boat slowed so we could watch sea lions and otters. We also passed by countless icebergs of various shapes and sizes.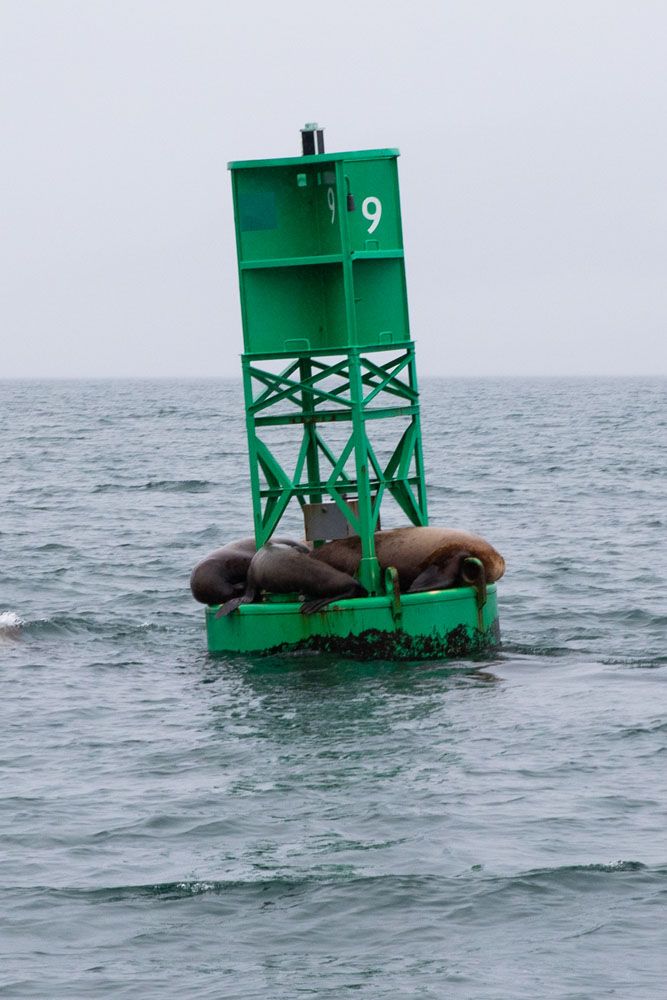 Sea lions
Kayaking in Columbia Bay
In Columbia Bay, the boat pulled up to a rocky shore and the kayaks were offloaded. We were given spray skirts, life jackets, pogies (paddle mittens), paddles, and two-seater kayaks. After some instruction the guides helped us with attaching our spray skirts and making adjustments to the rudder foot pedals.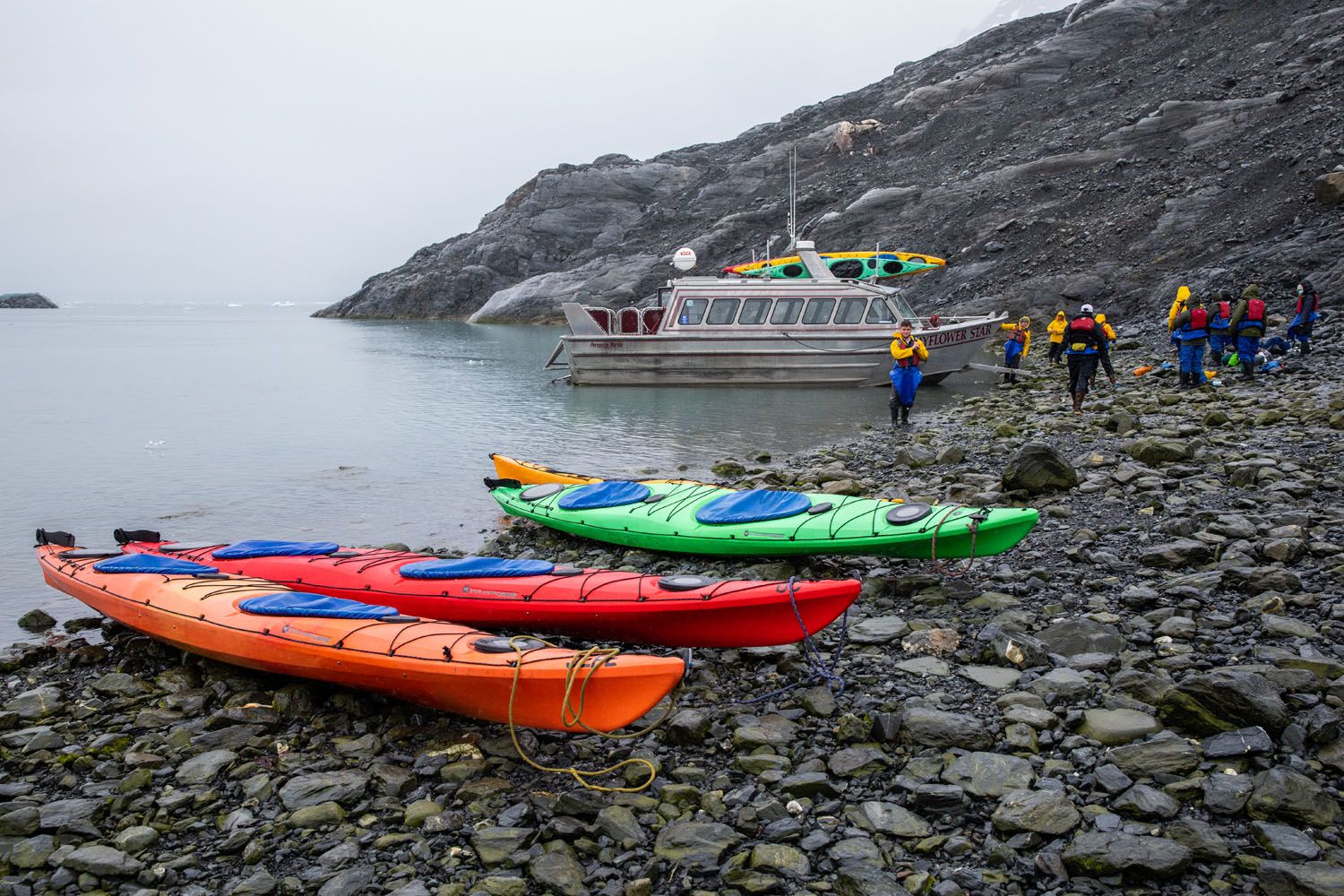 Our landing spot in Columbia Bay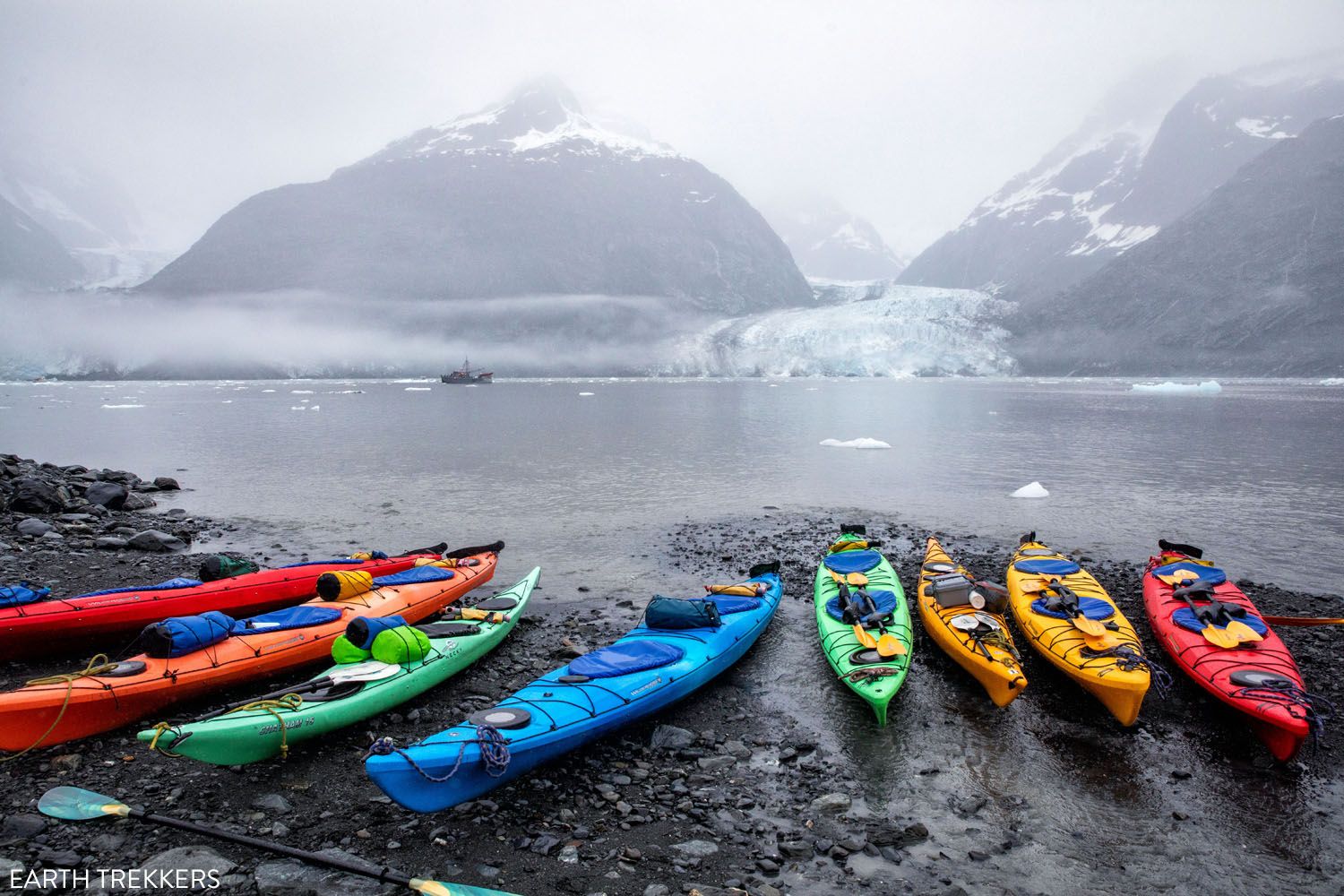 The colorful kayaks brighten up the bay. Hopefully when you do this you will have much better weather.
We kayaked down the middle of Columbia Bay, weaving around small icebergs as we paddled in the direction of the Columbia Glacier. As we would approach larger icebergs, we paused to admire the stunning blue color they reflect. In the distance, we could hear the thunderous sounds from the calving of the Columbia Glacier as it echoed off the mountains.
It took a bit of paddling before we were in front of the first glacier face. Keep in mind that you have to stay at least a quarter-of-a-mile away from the glacier face for safety reasons, but that didn't seem to be an issue. The glacier faces are plenty large enough that you can watch them from a safe distance.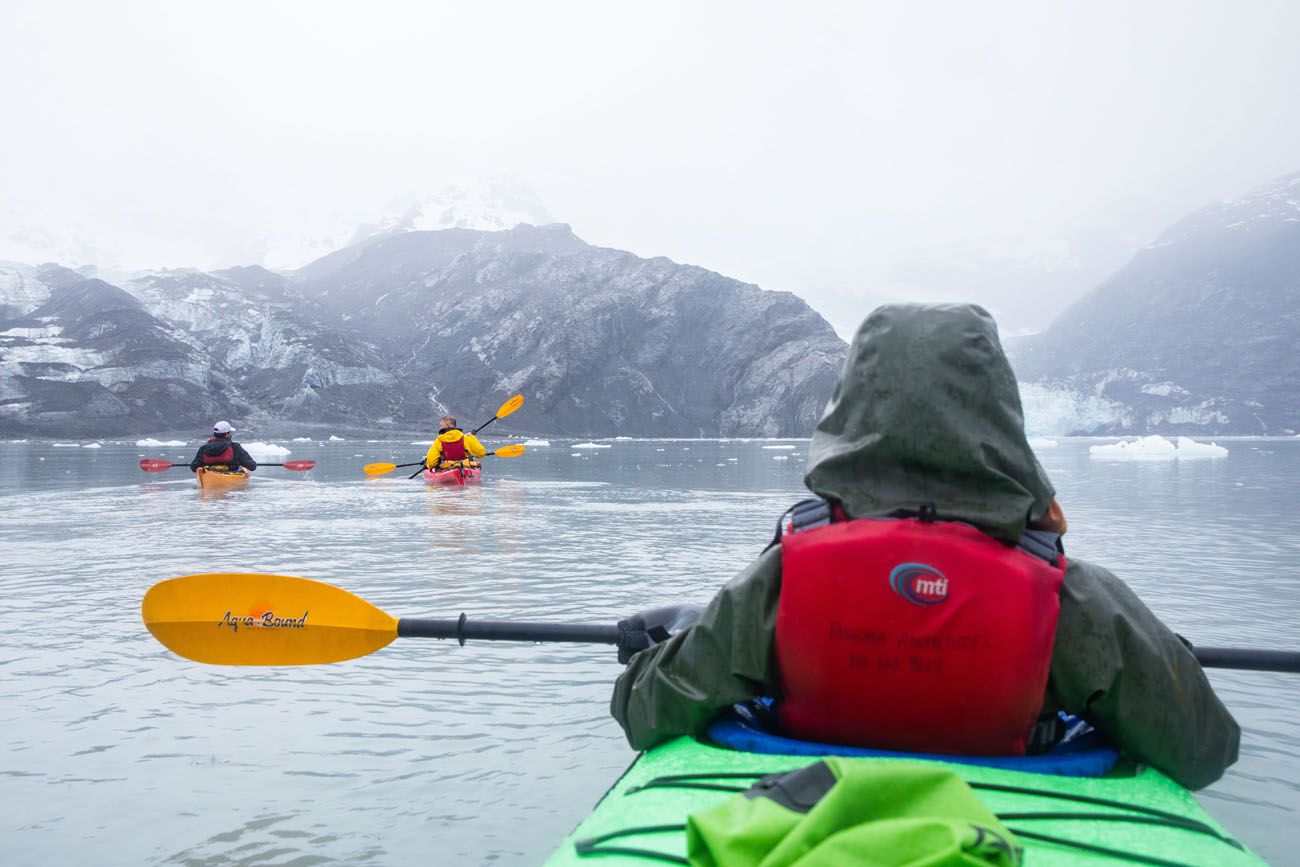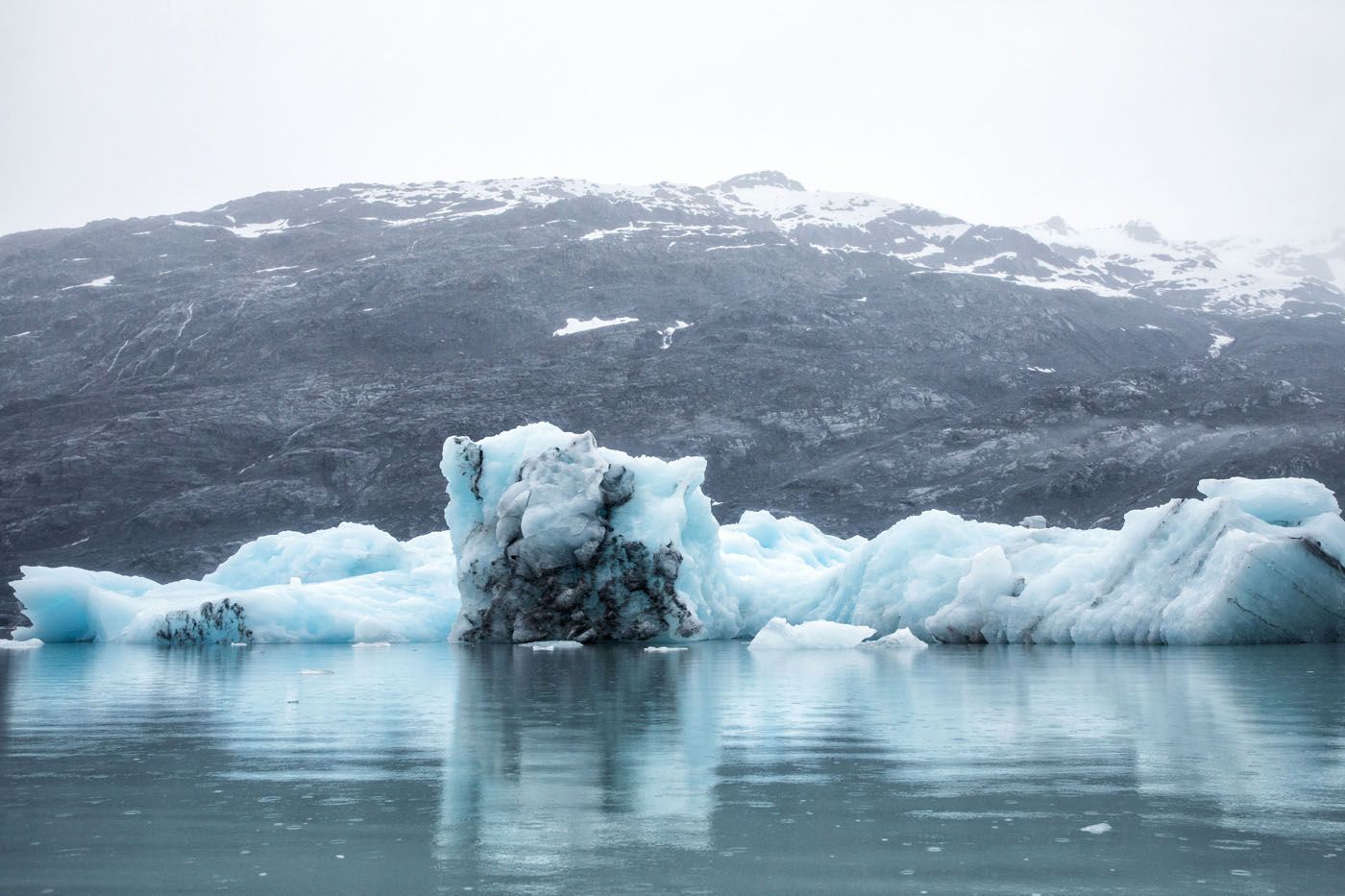 Icebergs floating in Columbia Bay.
At this point we kayaked to a rocky shore opposite of the glacier face and had lunch.
In Columbia Bay, it is 10 to 15 degrees cooler than in Valdez. As the air passes over the glacier, it cools down and then moves across the bay. When we did this, the high temperature in Columbia bay was in the high 30's.
Our guide made hot chocolate for everyone and just holding the warm cup was a delight to warm up our hands.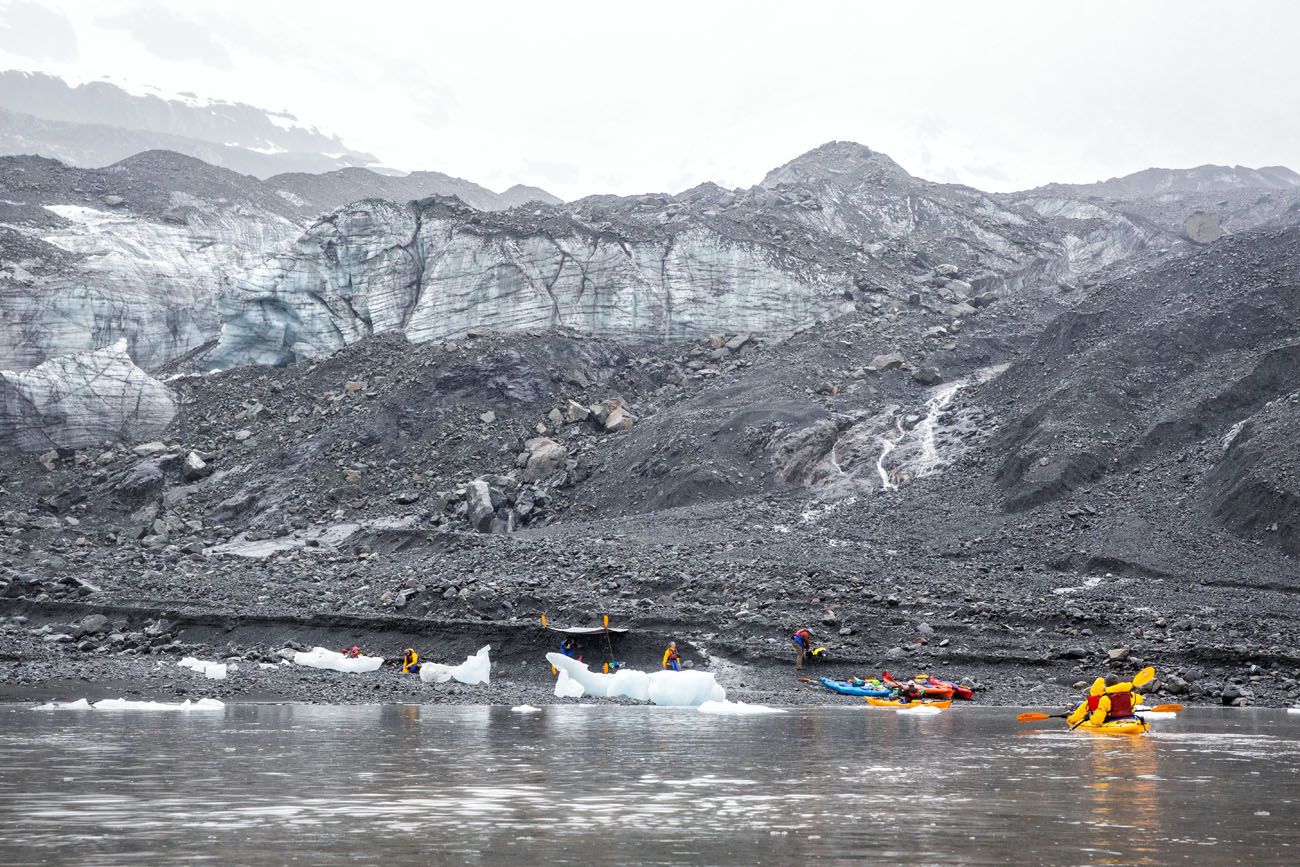 Our lunch spot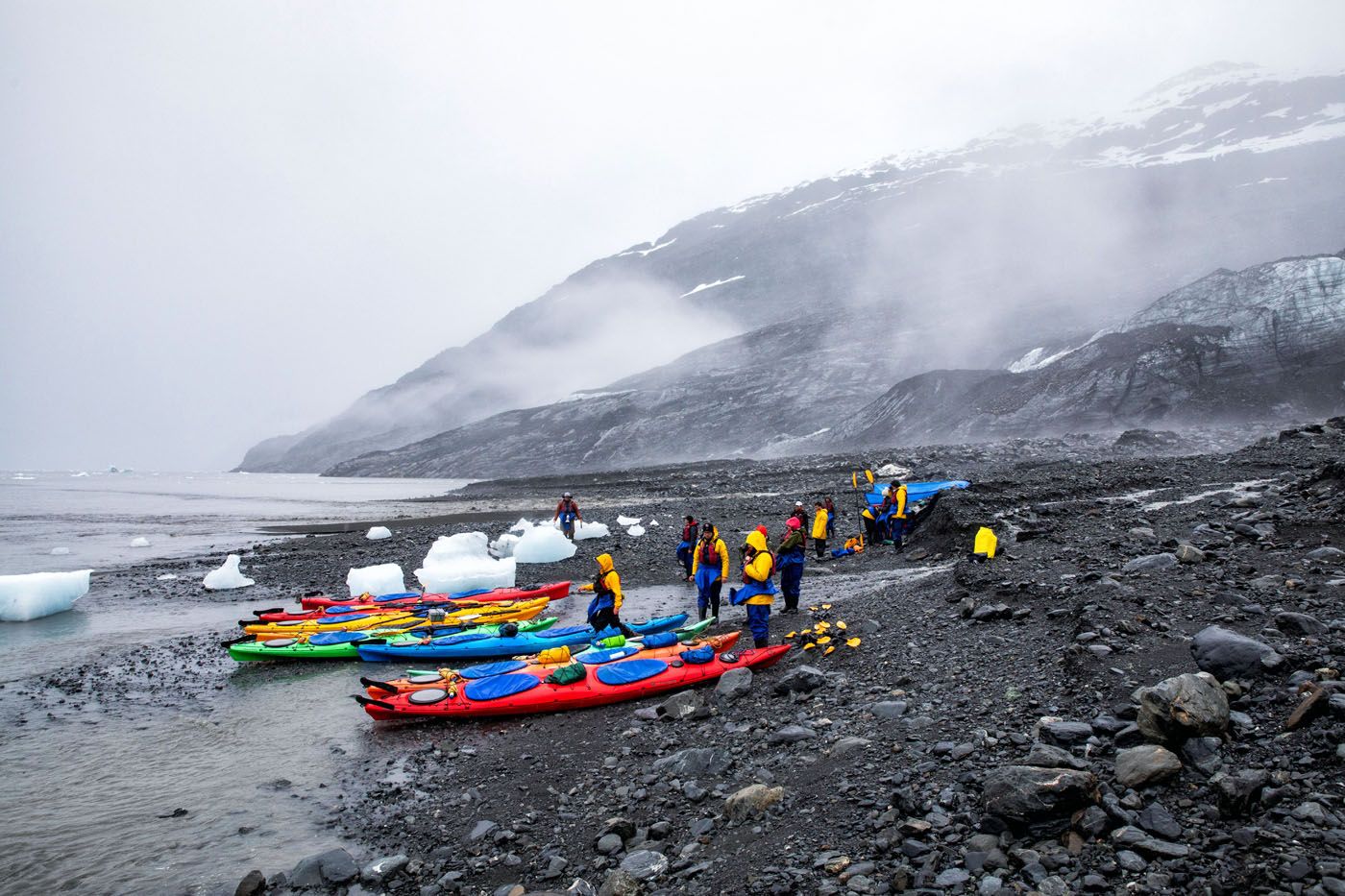 Another view of our lunch spot.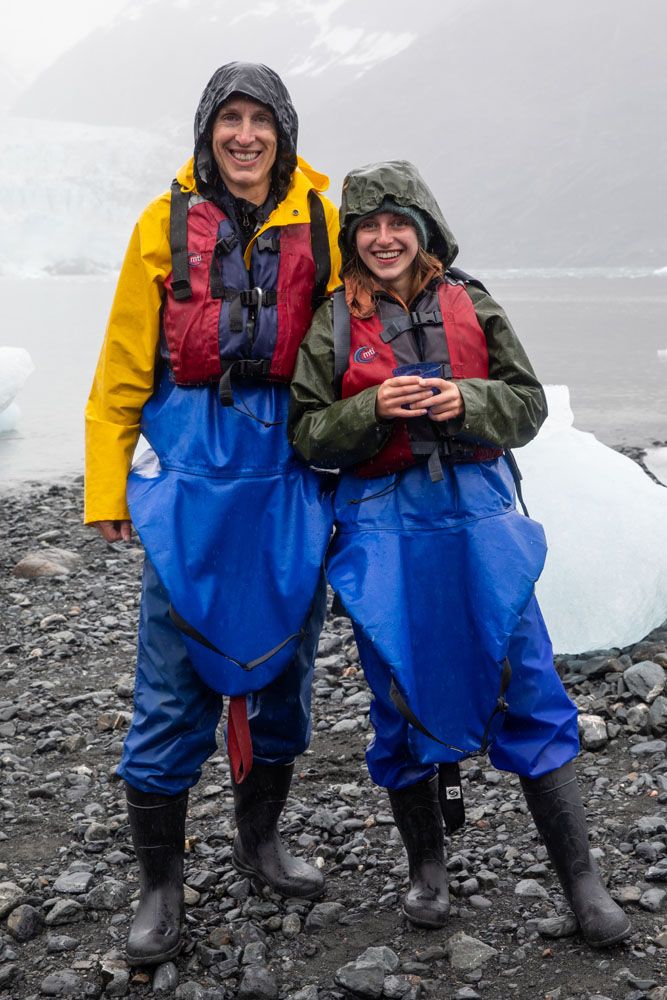 Kara and I, having hot chocolate before getting back into the kayaks. In this photo, you can see all of the gear we had to wear. In addition to rain gear, we are also wearing life jackets and spray skirts.
We were warmer when we were paddling so the lunch break was kept to 30 minutes. After lunch, we paddled further into Columbia Bay and positioned the kayaks so we could watch for calving events from the three separate glacier faces. We heard lots of thunderous sounds coming from the glacier but only saw one calving event.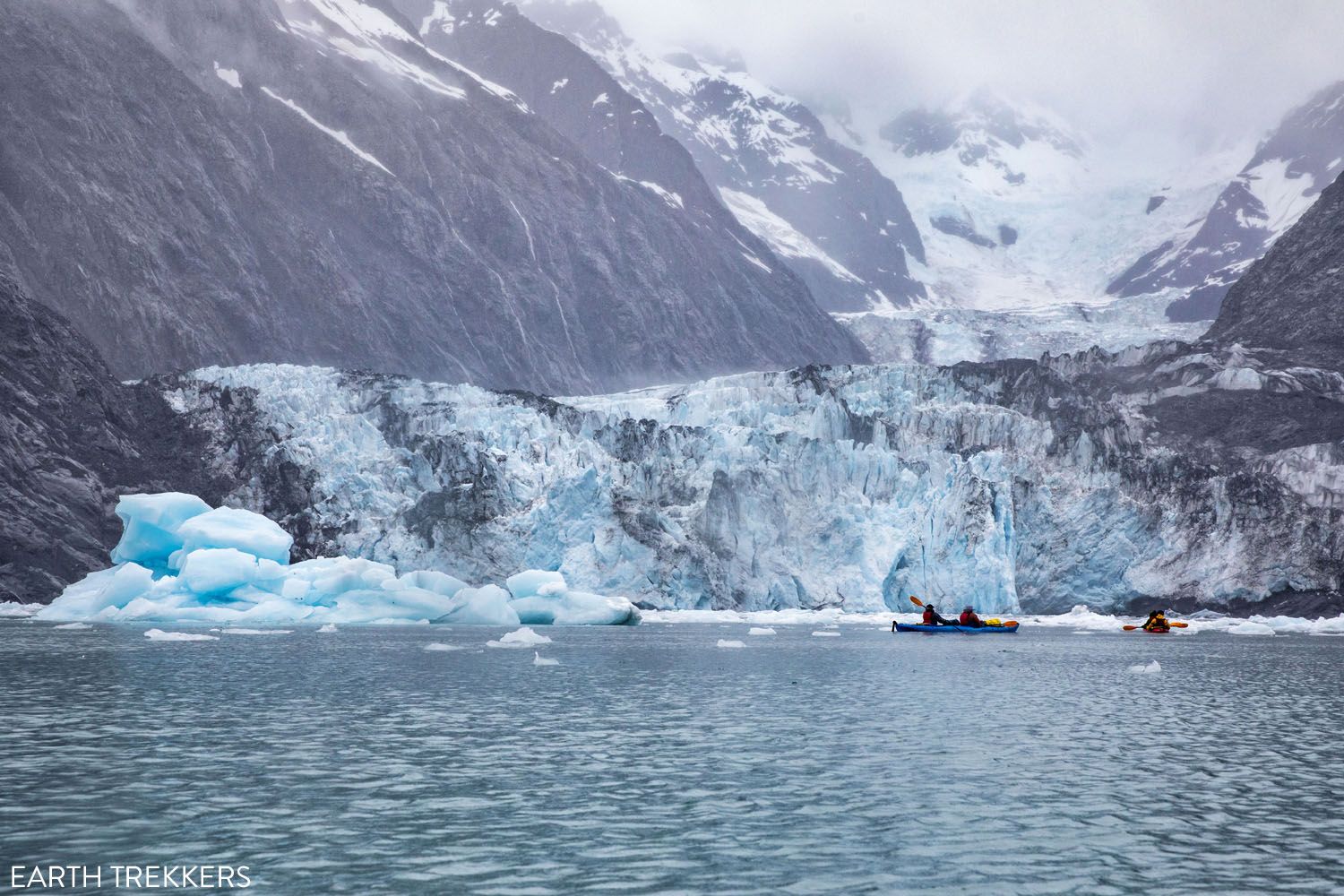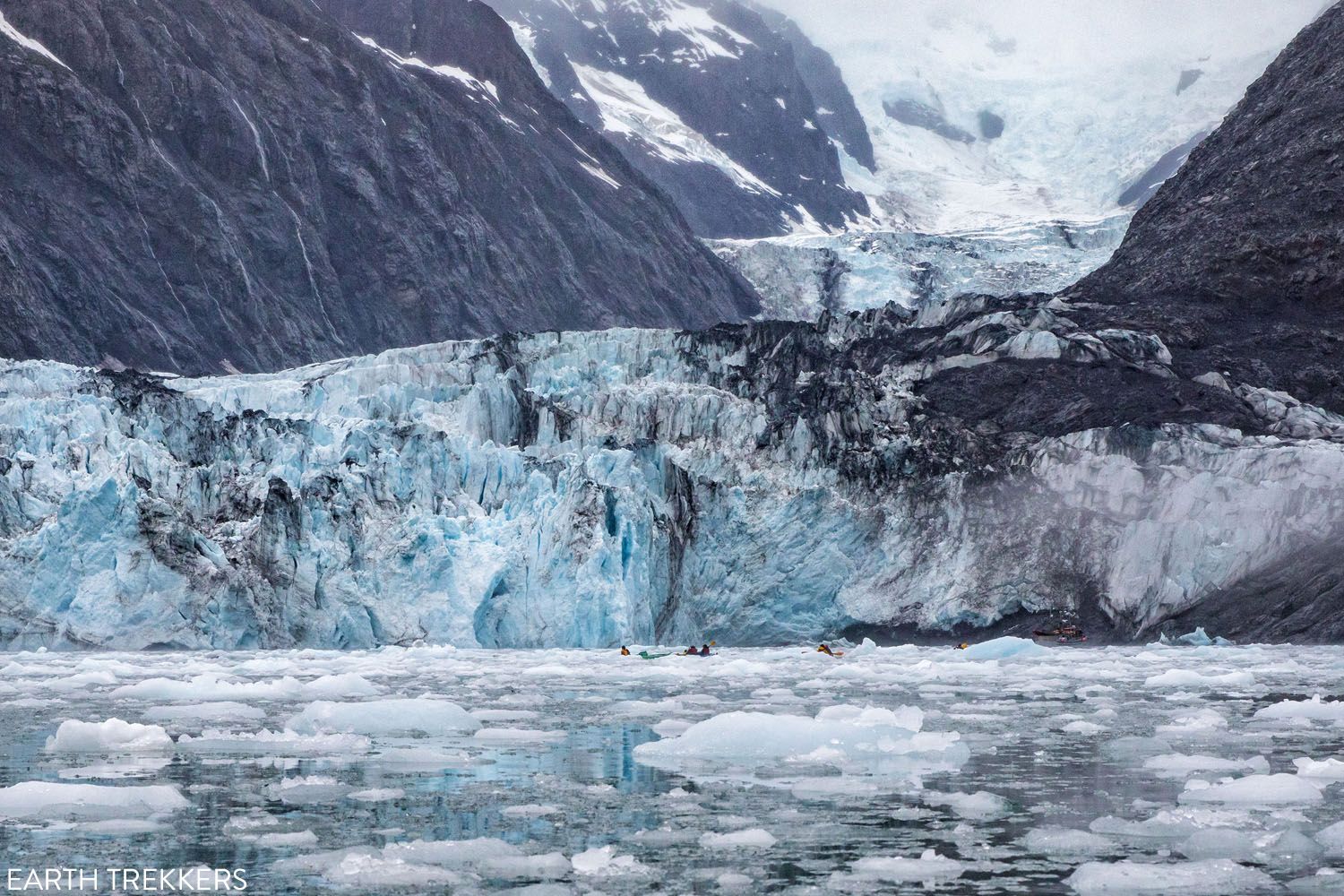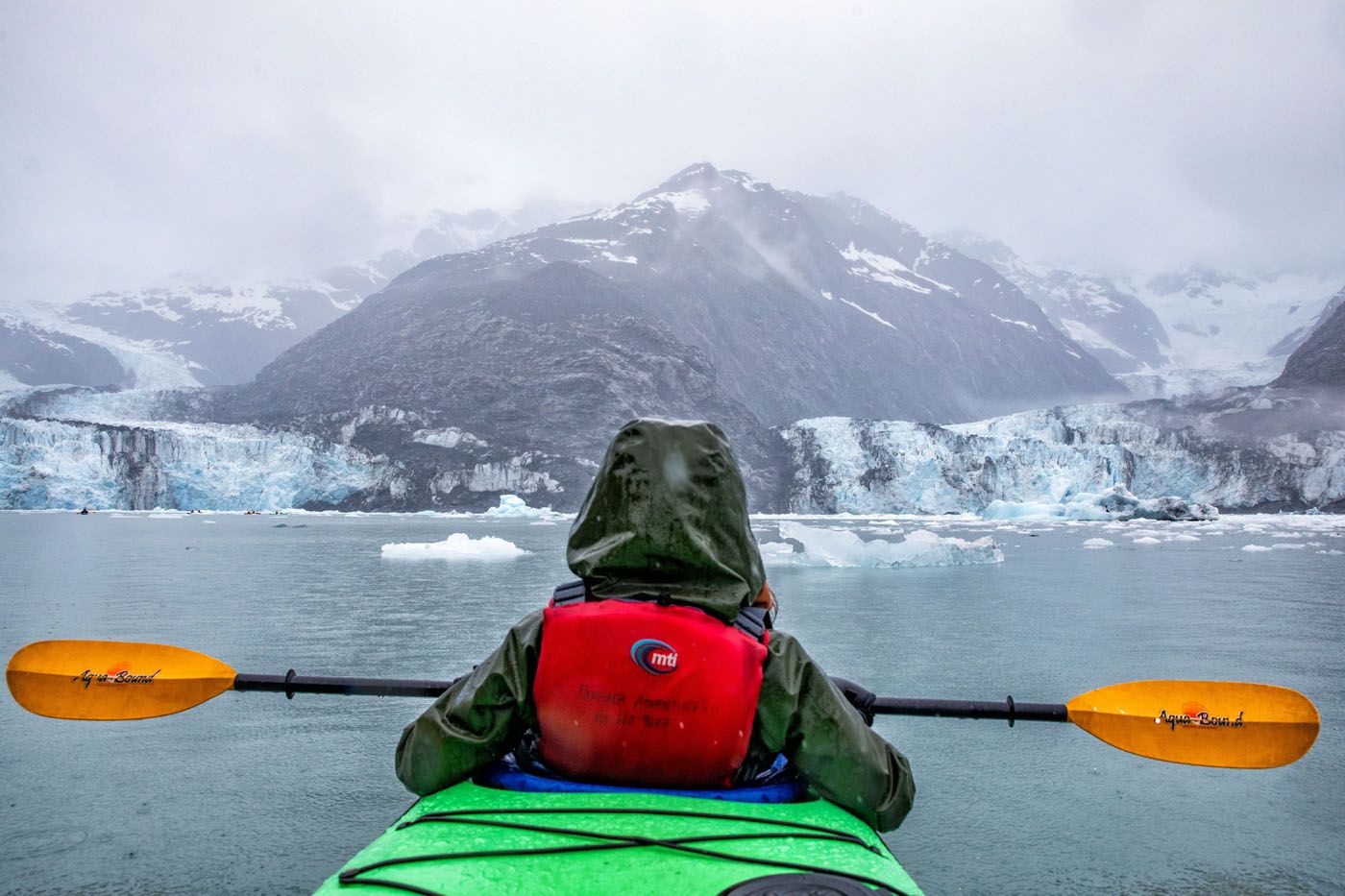 It was now time to paddle back to the shore where the boat dropped us off. It was interesting to see how much Columbia Bay changed over the few hours we had been kayaking. The bay filled up with enough ice chunks from the Columbia Glacier that we had to stay close to the shoreline.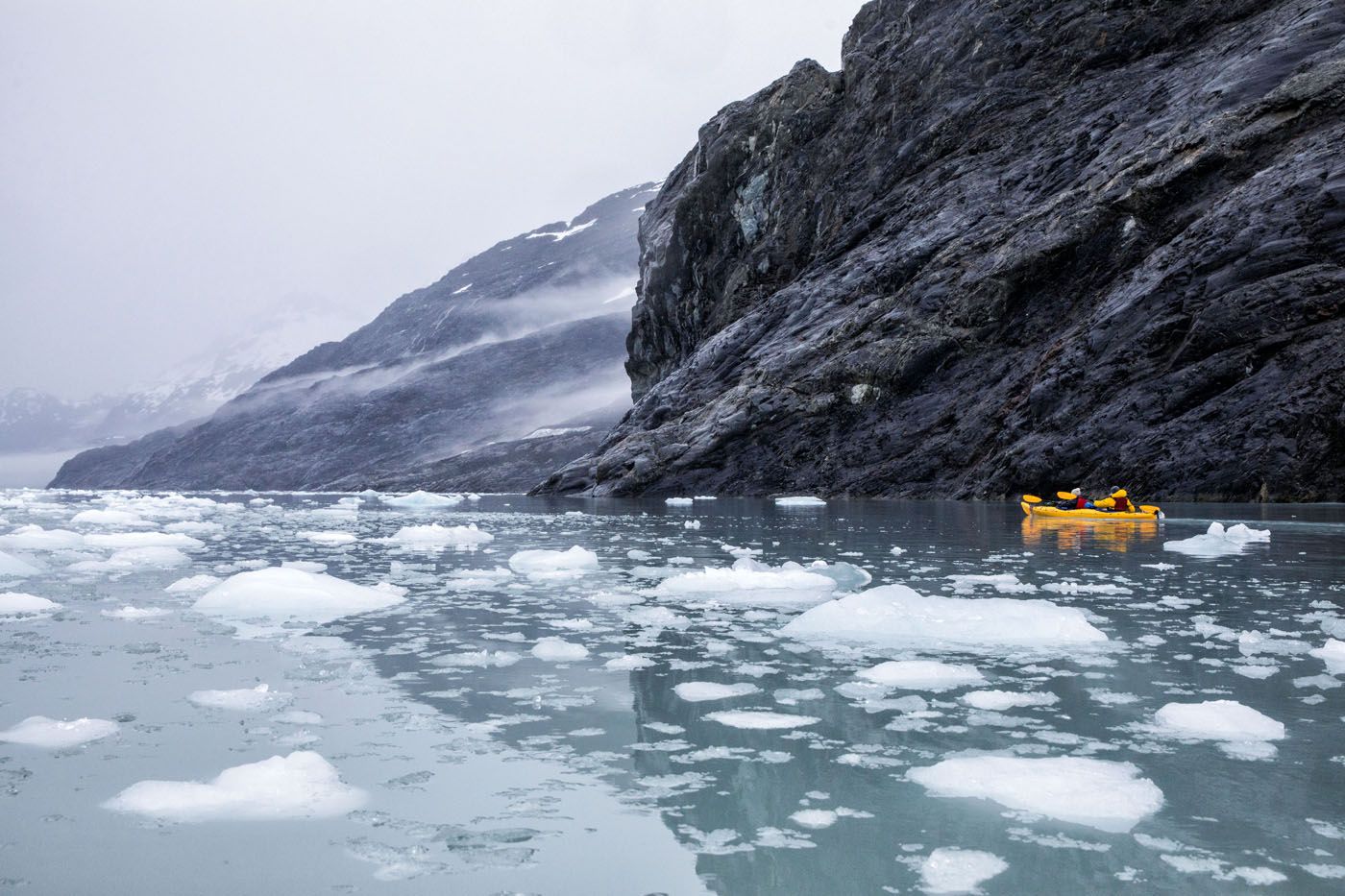 Three hours of kayaking was definitely plenty of time. A couple of teenagers had exhausted themselves to the point where our guide had to tow them back to the boat.
Once we reached the shore, everything was packed up and we boarded the boat for the return trip to Valdez.
The Return Cruise to Valdez
During the three hours we spent kayaking, conditions dramatically changed in the Prince William Sound. Now, huge swells rocked the boat and made any kind of forward progress challenging.
For a brief period of time, the swells were large enough that people on the boat began to get nervous. The size of the swells seemed to be reaching the limit to what the boat could handle and the captain was tense. This went on for about 45 minutes, until we finally reached the calmer waters closer to Valdez. The 2 hour and 15 minute return trip ended up taking 3 hours.
Some passengers onboard questioned if the tour should have been allowed to operate today, based on conditions in Prince William Sound. The captain seemed to know what he was doing and got us safely back to Valdez. But everyone onboard was certainly relieved once our feet hit solid ground.
Reasons we Picked Pangaea Adventures over Anadyr Adventures
These are the factors we considered when selecting Pangaea over Anadyr. We encourage you to inquire with both companies so you pick the one that is best suited for you.
Rain gear: Pangaea supplies rain gear (top and bottom) whereas Anadyr states that they provide "basic rain gear" while encouraging you to bring your own. We brought rain jackets/pants with us to Alaska but the rain gear Pangaea provided was certainly more ideal for being in rainy weather while kayaking for several hours.
Deposit and Cancellation Policies: Pangaea doesn't require a deposit whereas Anadyr requires a 25% deposit. Pangaea also allows you to cancel without a penalty up to 2 days before the tour, whereas Anadyr charges a 10% penalty if you cancel up to 4 days before the tour. Once you are beyond the cancellation dates, the tour becomes non-refundable. The Pangaea policies were more favorable to us, especially since we were doing this tour on our third day in Alaska. If we had any issues getting to Alaska, then we could still cancel without a penalty.
Boat: The Pangaea website shows a picture of the boat they use so I had a better idea of what the 4.5 hours of cruising would be like. Anadyr stated that they use a 28′ sportfisher or a 40′ catamaran landing craft depending on the number of guests. They further stated that these boats have comfortable seating in the cabin as well as deck space outside (as does the Pangaea boat). But it was unclear if this would be any more comfortable than the boat Pangaea uses so we went with Pangaea.
Ratings: They both get 4.5 out of 5.0 on Trip Advisor and we didn't see anything in the reviews that persuaded us one way or the other. So, this wasn't a factor in our decision making.
How to Get to Valdez
On the Road
To get to Valdez, it is a gorgeous drive. On the drive, you get to see sights such as the picturesque mountains of Wrangell-St. Elias in the distance, Worthington Glacier, Thompson Pass, Keystone Canyon, Bridal Veil Falls and Horsetail Falls, and more!
Driving Distances from Nearby Destinations:
105 miles (170 km) from Cooper Center
250 miles (400 km) from Tok
300 miles (480 km) from Anchorage
350 miles (560 km) from Denali National Park
By Boat
The Alaska Marine Highway System offers ferry service from Whittier to Valdez (which takes just about 6 hours). The ferry also serves many locations along the southern coast of Alaska.
By Air
Ravn Alaska and Midnight Air LLC provide air service to Valdez. Ravn Alaska has a set flight schedule between Anchorage and Valdez on most days of the week. Flights take about 45 minutes. They also offer charted flights, as does Midnight Air LLC, from a variety of locations.
Location of Valdez, Alaska
Where to Stay
MID-RANGE: Totem Hotel and Suites. We were hoping to reserve a room in their new building but they were sold out for our travel dates.
MID-RANGE: Best Western. Budget accommodations with a midrange price. The place is a bit dated and in need of a makeover. We stayed here because the Totem was sold out.
Where to Eat
The Fat Mermaid: They serve breakfast, lunch, and dinner. We had dinner here our first night in Valdez and the seafood did not disappoint. They also have burgers, sandwiches, pizza, and more on their lunch and dinner menus.
The Roadside Potatohead (aka The Potato): They serve breakfast, lunch, and dinner. We did not eat here while in Valdez but we ate at their location in McCarthy and the food was awesome. Everyone raves about their Rosemary Garlic Fries and we agree.
Nat Shack: They serve burritos, tacos, and crunchwraps for lunch and dinner. Don't know what a crunchwrap is? Then you have got to find out! Our guides recommended this place and the Nat Shack Cruchwrap hit the spot after our long kayaking tour.
---
If you have any questions about the Columbia Glacier or what to expect on a Columbia Glacier kayaking tour, or if you would like to share your experience, let us know in the comment section below.
More Information about Alaska
BEST OF WRANGELL-ST. ELIAS: While in Wrangell-St. Elias, more top experiences include taking a flightseeing tour and hiking to Bonanza Mine. For the full list, read our article Best Things to Do in Wrangell-St. Elias. We also have more important planning information in our Wrangell-St. Elias Travel Guide.
KENAI FJORDS NATIONAL PARK: While in Kenai Fjords National Park, hike the Harding Icefield Trail, cruise the Northwestern Fjord, go ice climbing on the Exit Glacier, or go kayaking in front of Aialik Glacier.
HIKES IN DENALI: There is a long list of hikes to do in Denali. Several top hikes include the Savage Alpine Trail, Mount Healy Overlook, and the Horseshoe Lake Trail. Get the full list in our Denali Hiking Guide.
KATMAI NATIONAL PARK: In our article Best Things to Do in Katmai, we cover the top experiences in the park.
ALASKA ITINERARY: Take the guesswork out of planning your trip to Alaska with our Alaska road trip itineraries.
Note: This post contains affiliate links. When you make a purchase using one of these affiliate links, we get paid a small commission at no extra cost to you.
All rights reserved © Earth Trekkers. Republishing this article and/or any of its contents (text, photography, etc.), in whole or in part, is strictly prohibited.