Aldeyjarfoss and Hrafnabjargafoss are two off-the-beaten-path waterfalls located in northern Iceland. To get here, you will need a 4×4, but you will leave the crowds behind and get to see two of Iceland's very unique and beautiful waterfalls.
A visit here can be easily combined with a visit to Godafoss. Here's how to do it.
Where are Aldeyjarfoss and Hrafnabjargafoss?
These two waterfalls are located near Godafoss in northern Iceland. If you have plans to tour the Ring Road, Godafoss will already be on your "to-do" list. To visit Aldeyjarfoss and Hrafnabjargafoss, you will need roughly three hours of extra time and a 4×4.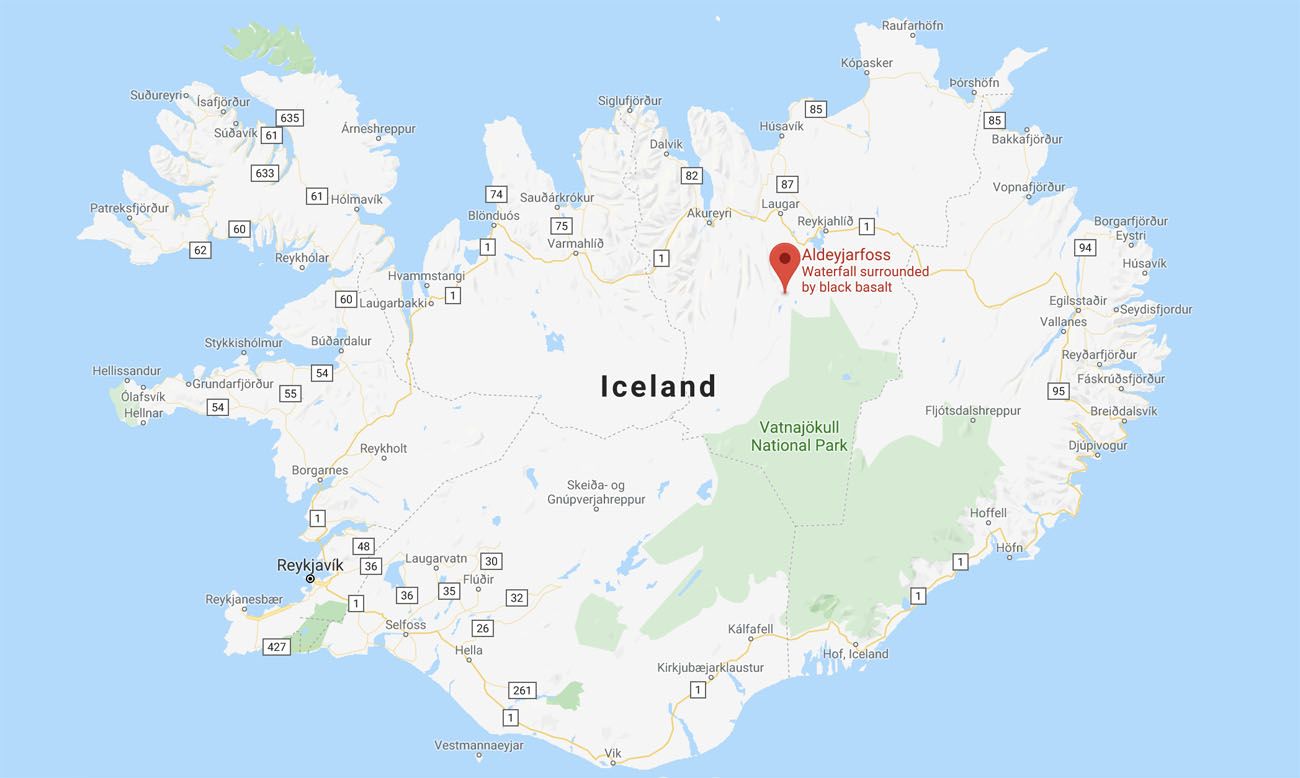 How to Get to Aldeyjarfoss
To get to Aldeyjarfoss, it is a 45-minute drive through the Bárðardalur valley from Godafoss. From Route 1 (the Ring Road), take route 844 south. This is a long, straight, flat, dirt road that follows along the Skjálfandafljót river, the same river that feeds Godafoss. Honestly, it's a boring drive with not much to look at along the way, which is very uncharacteristic of Iceland. You will pass farms and small cottages, but that's about it.
This is a dirt road but it is suitable for vehicles without a 4×4. When we did this drive in 2019, this road was in good condition. Just watch out for sheep crossing the road (this happens frequently).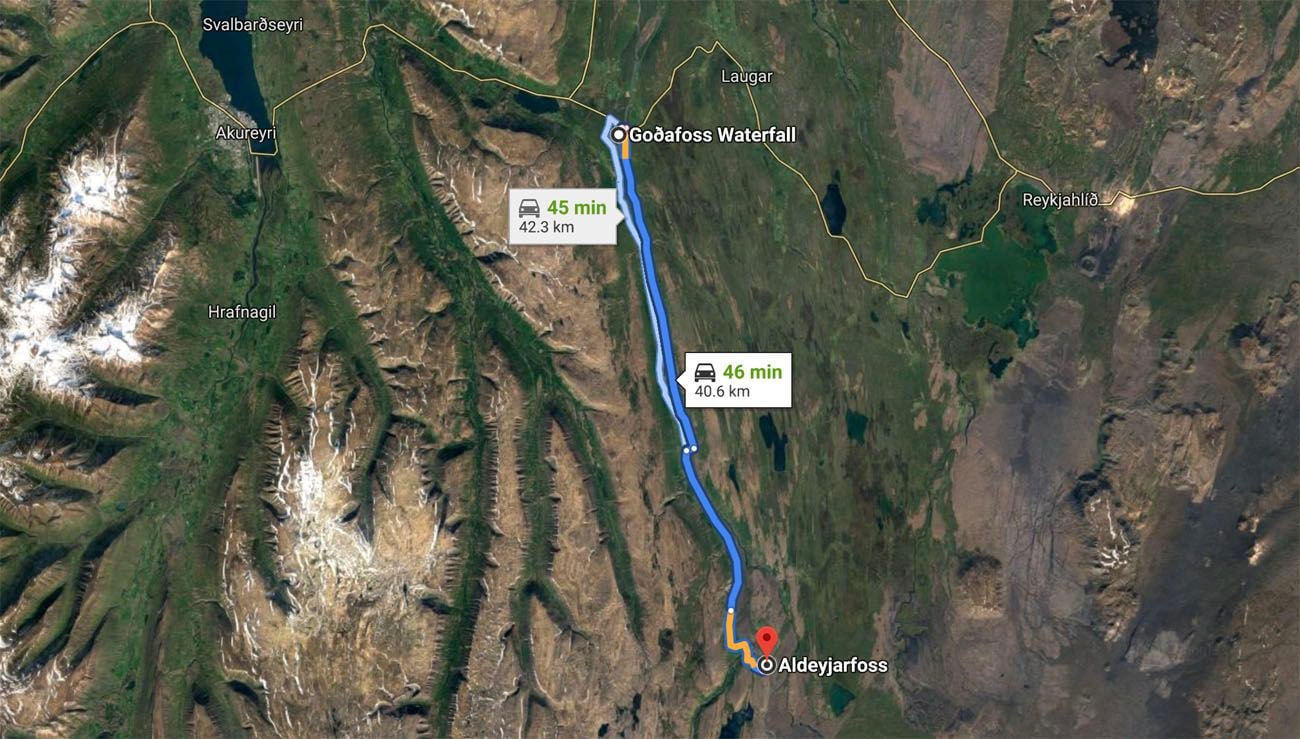 A little more than halfway into the drive you will cross over this one-lane bridge.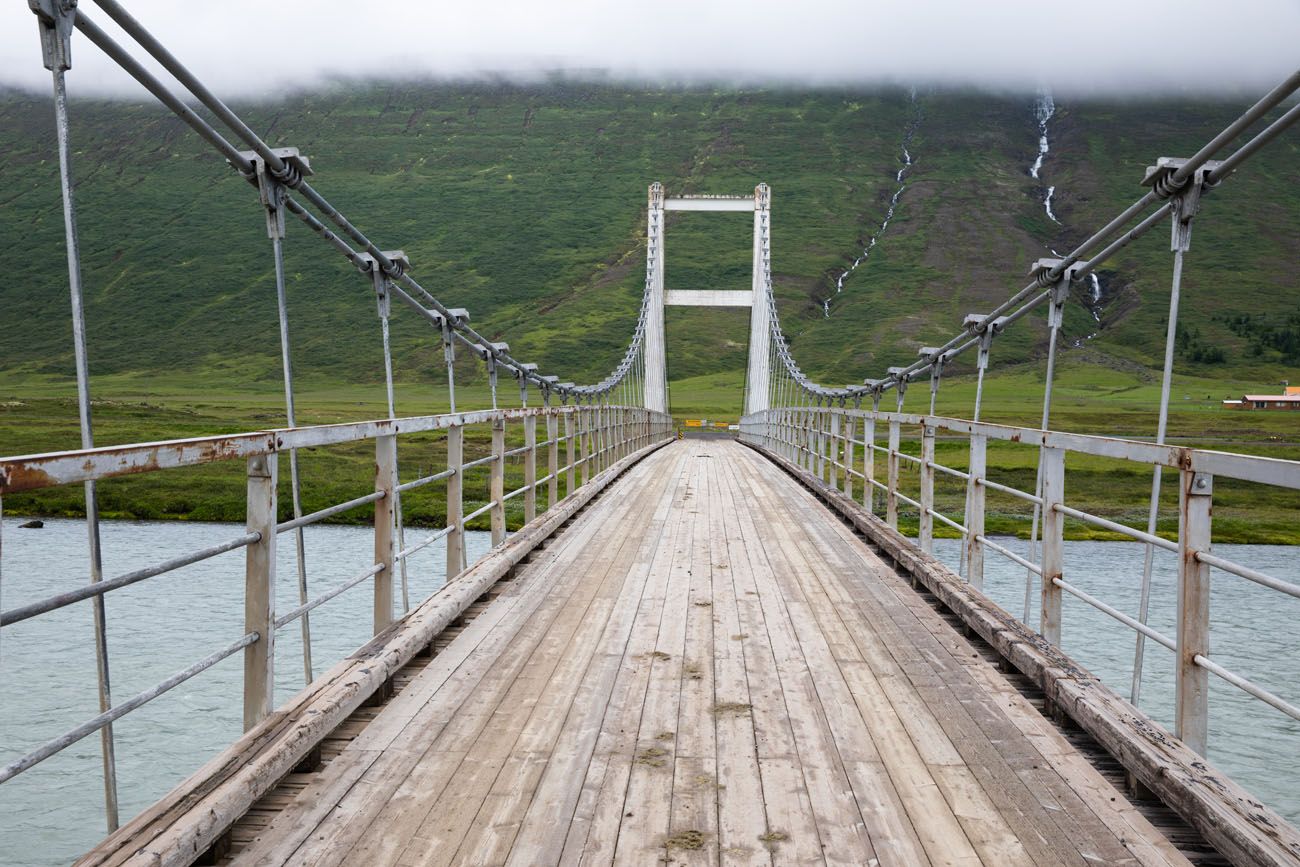 About 6 km before arriving at Aldeyjarfoss, the road changes to F-26. It's at this point that you must have a 4×4 in order to continue down the road. If you do not have a 4×4, you can park here and walk the rest of the way. We saw one couple doing this.
I have read in other posts that there is a gate that marks the change from 844 to F-26. During our visit in 2019, there was no gate here, just this sign.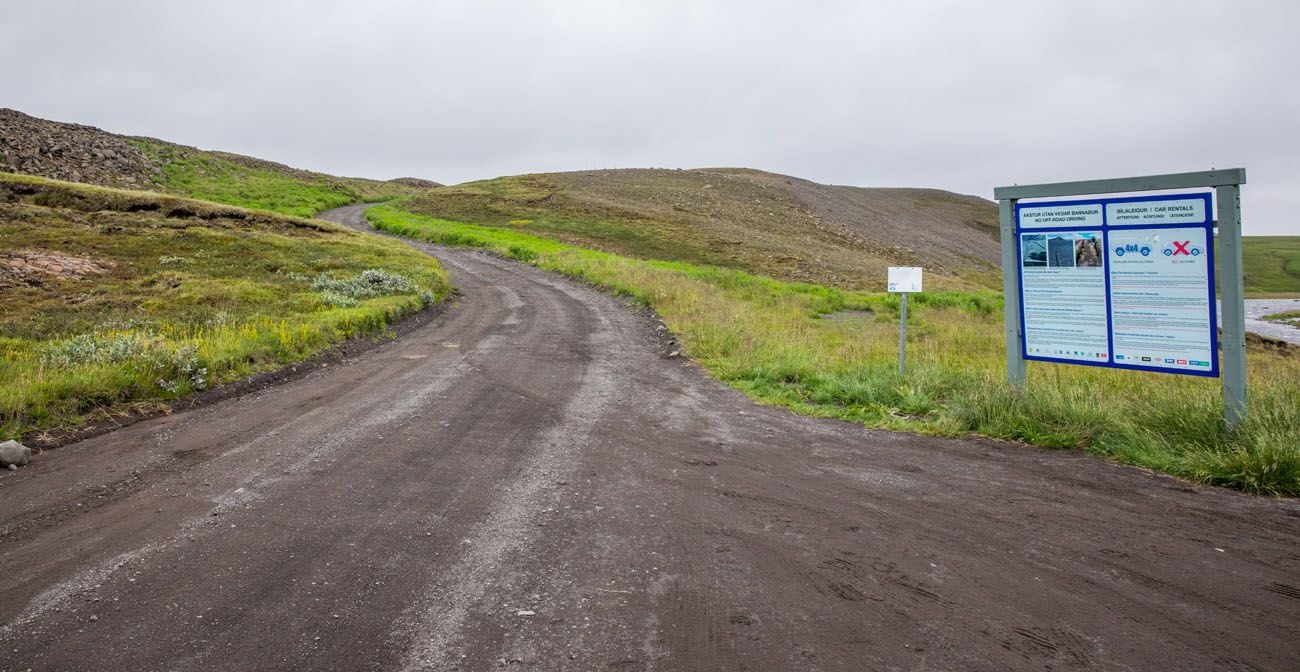 The road narrows, becomes rockier and rougher, which is why the 4×4 is necessary.
Park in the parking lot (it's surprisingly big, and since there were only two other cars here when we arrived, it felt wonderfully empty, especially after Godafoss). There is even a toilet here.
Aldeyjarfoss
From the parking lot, it's a 10-minute downhill walk to get to the viewpoint of Aldeyjarfoss. This short walk takes you through the Báðardalshraun lava field, which was formed from an eruption 9,000 years ago.
This same lava eruption formed the basalt columns that makes Aldeyjarfoss so unique.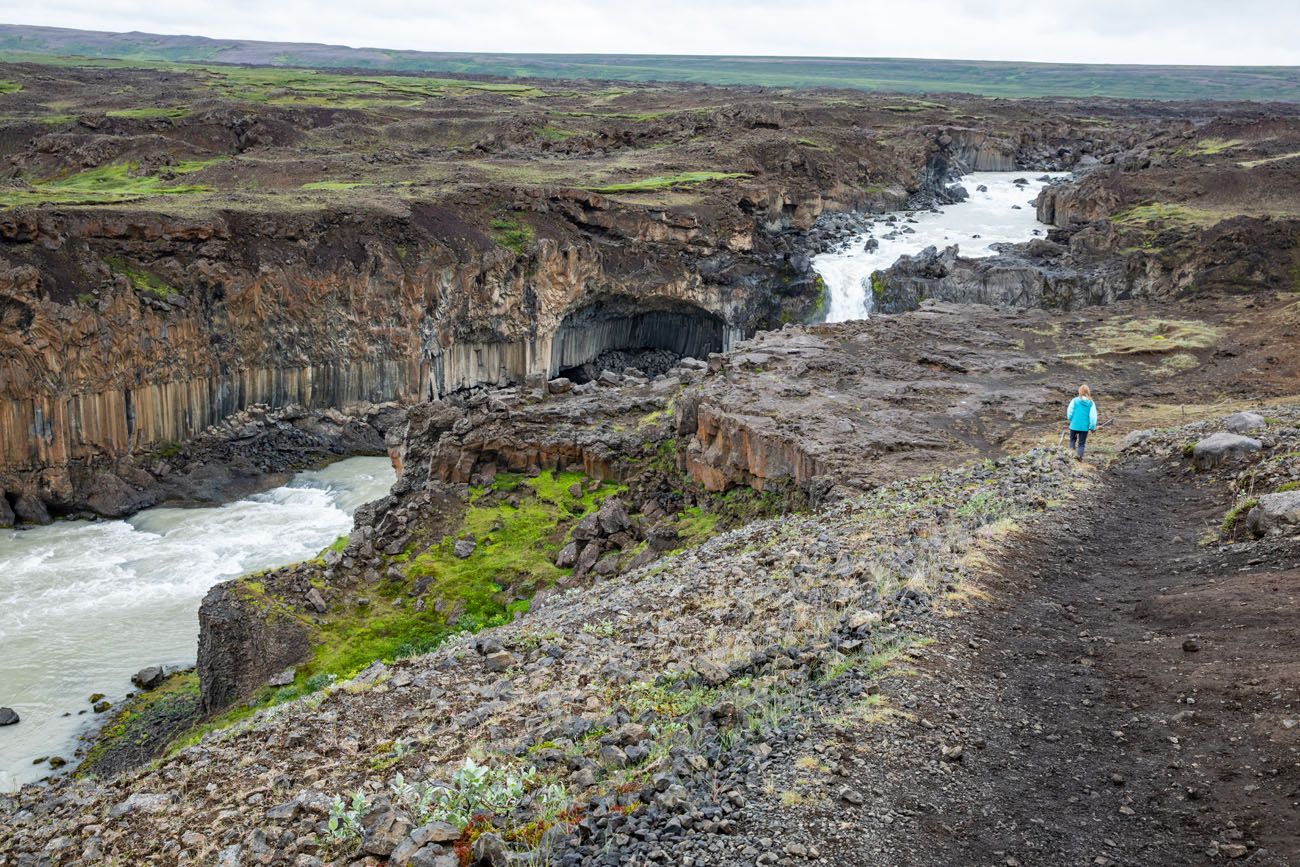 From the higher riverbank, this is the view of Aldeyjarfoss.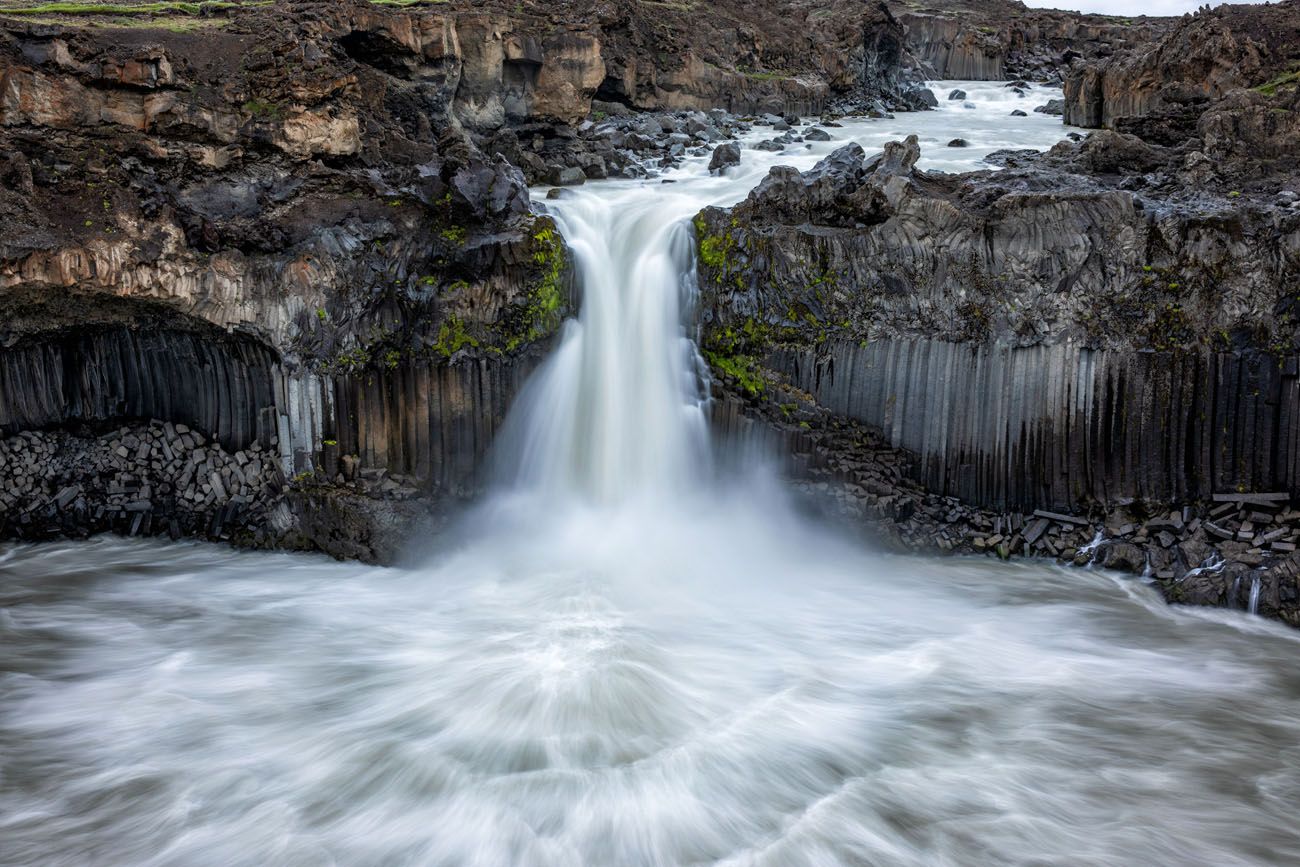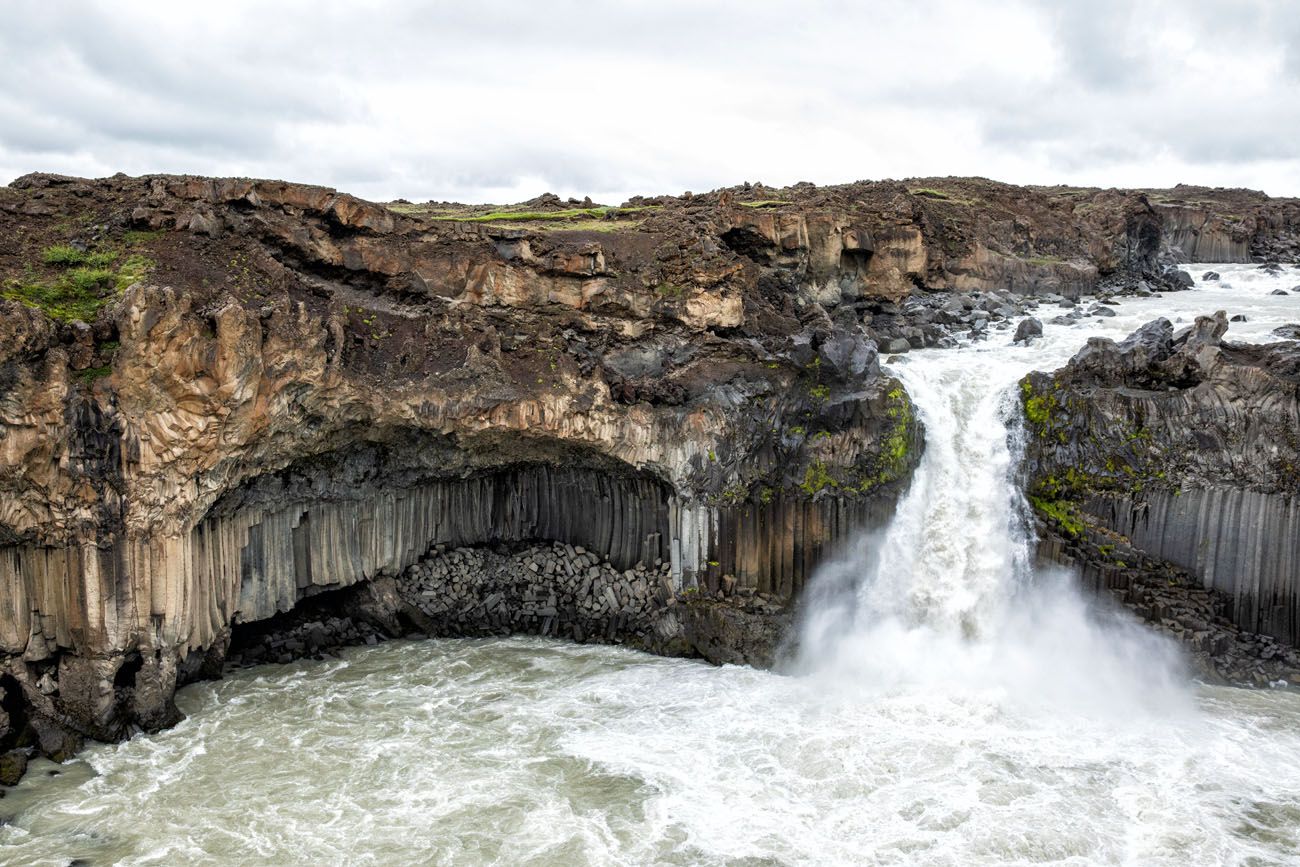 If you want a view from the river, it's a steep, tough, downhill hike/scramble to a viewpoint closer to the river. If you don't like the idea of a steep climb back uphill, rock scrambling, or getting dirty, just enjoy the view from the upper viewpoint. These steep, muddy hillsides are slippery and even a bit dangerous, so I would only recommend doing this if you have experience rock scrambling and don't mind getting dirty in the process.
But here is the view you get.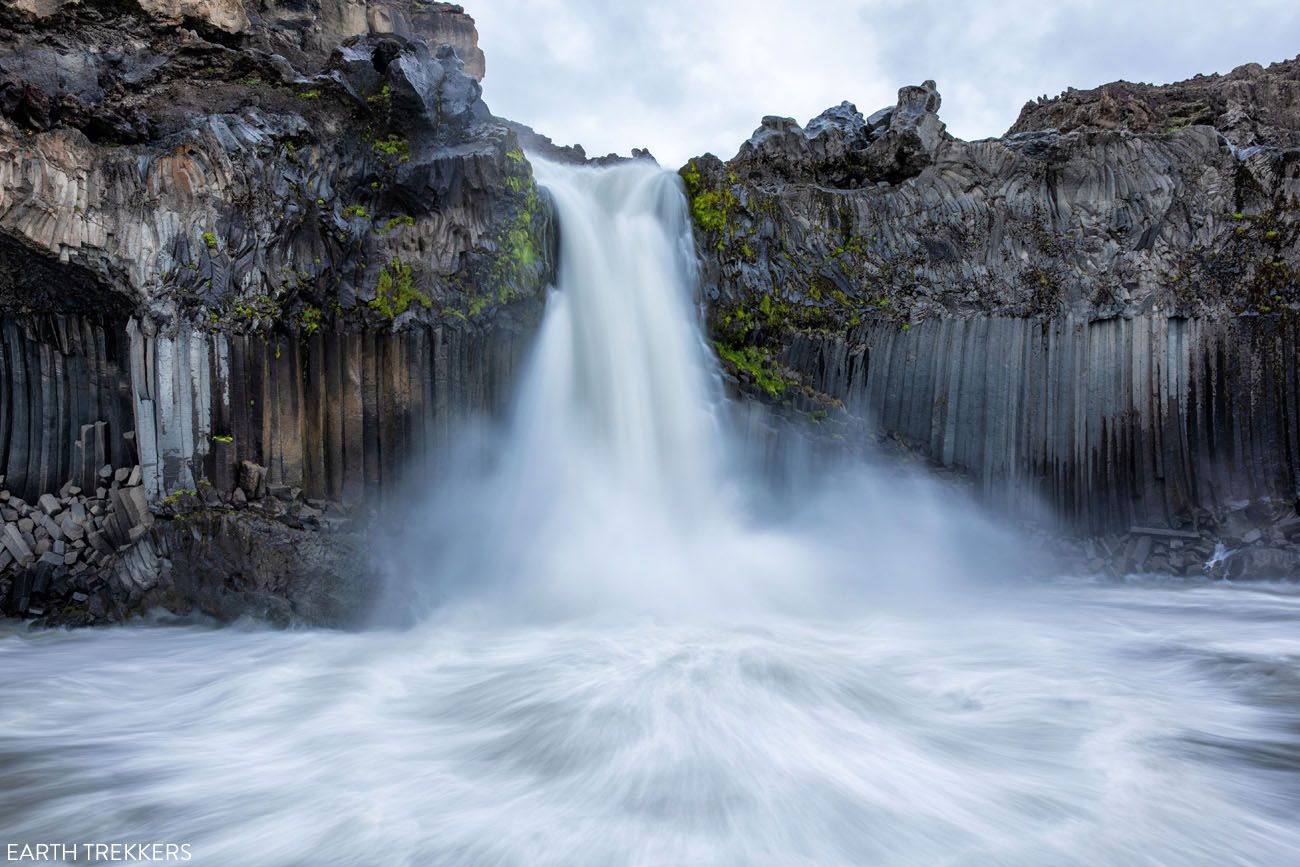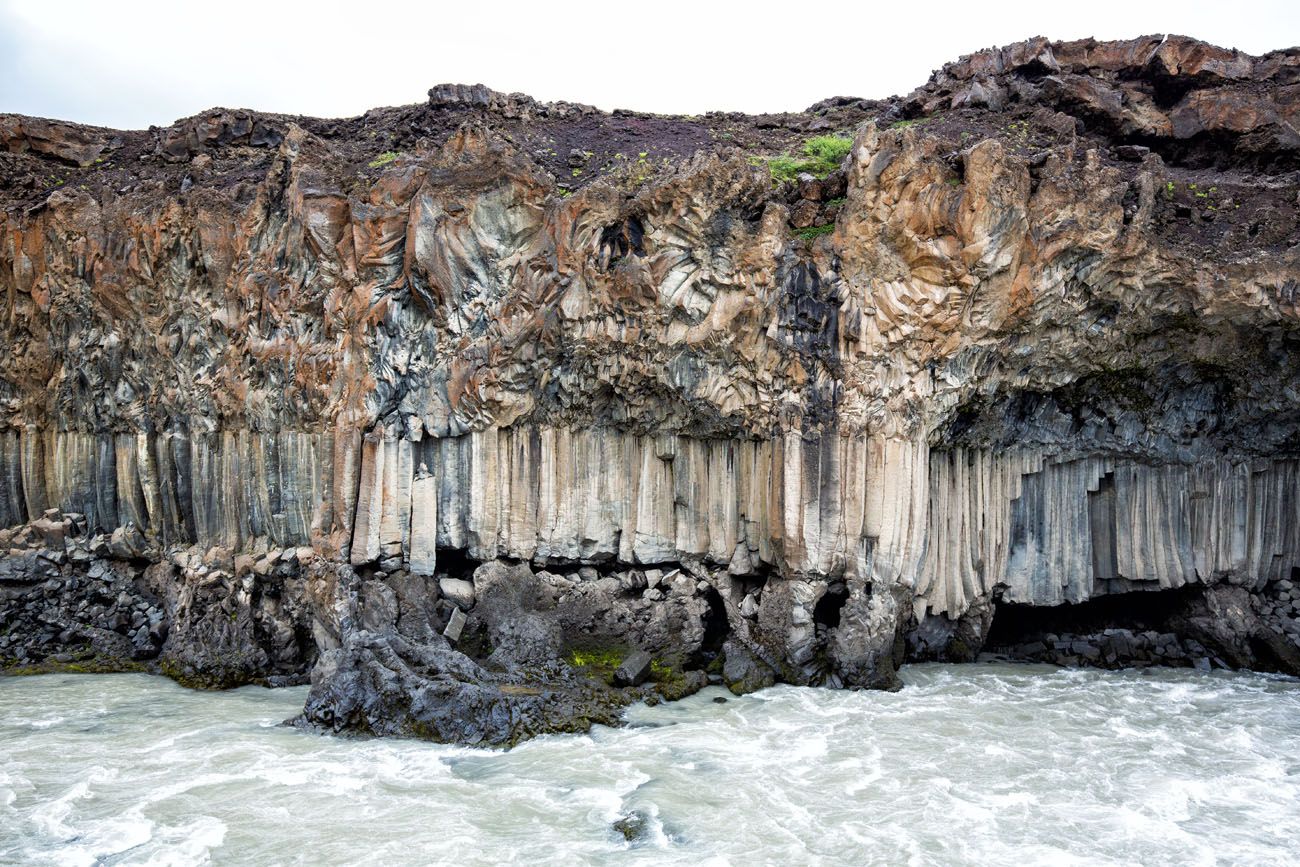 Aldeyjarfoss, with its basalt columns and remote location, makes this an extraordinary waterfall to visit in Iceland. And since we had it all to ourselves, at least for a little bit, the experience was even more magical.
And just 3 km away sits a second wonderful waterfall, Hrafnabjargafoss, so you get two for one for this long drive down from Godafoss.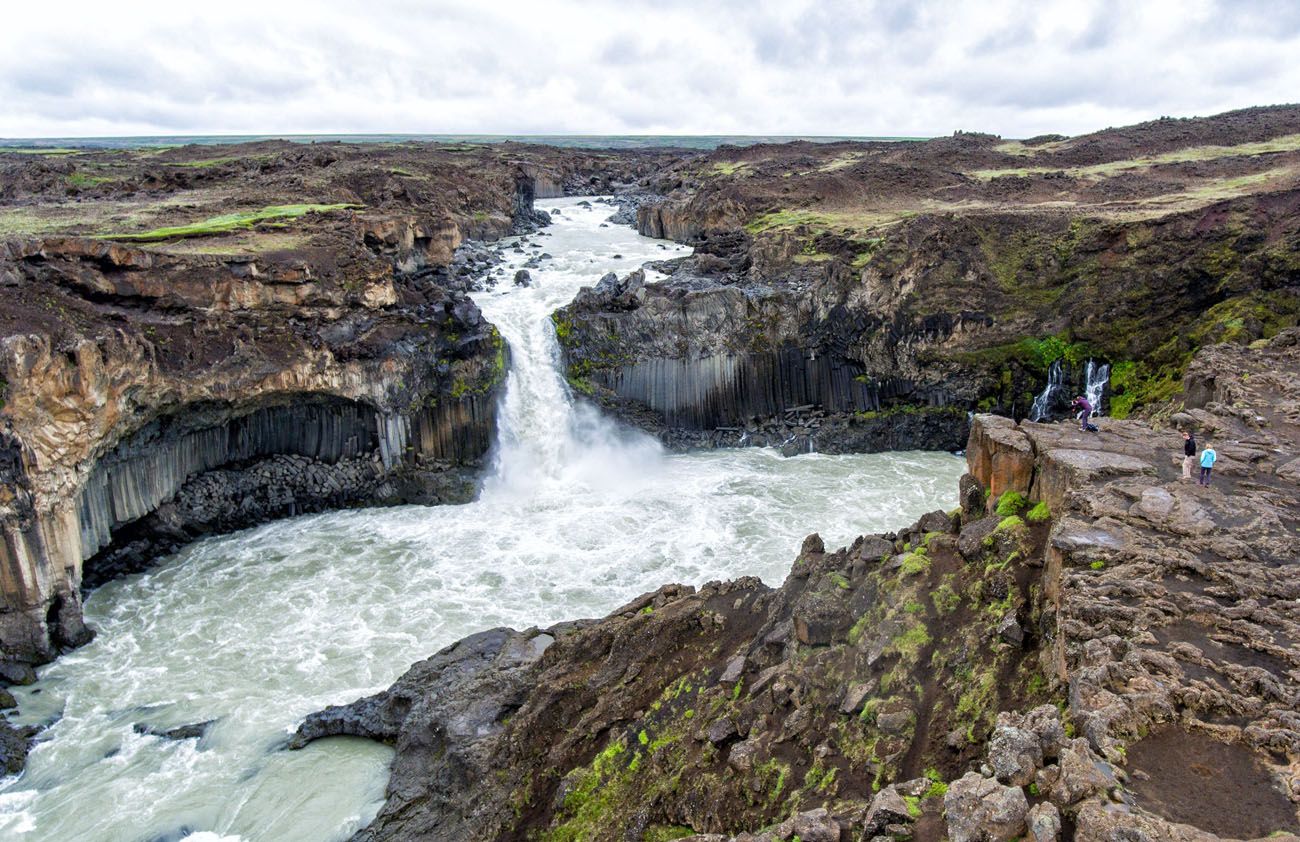 Drone photo of Aldeyjarfoss. We are standing at the upper viewpoint and you can see the lower viewpoint, and the muddy cliff trail, to get to it.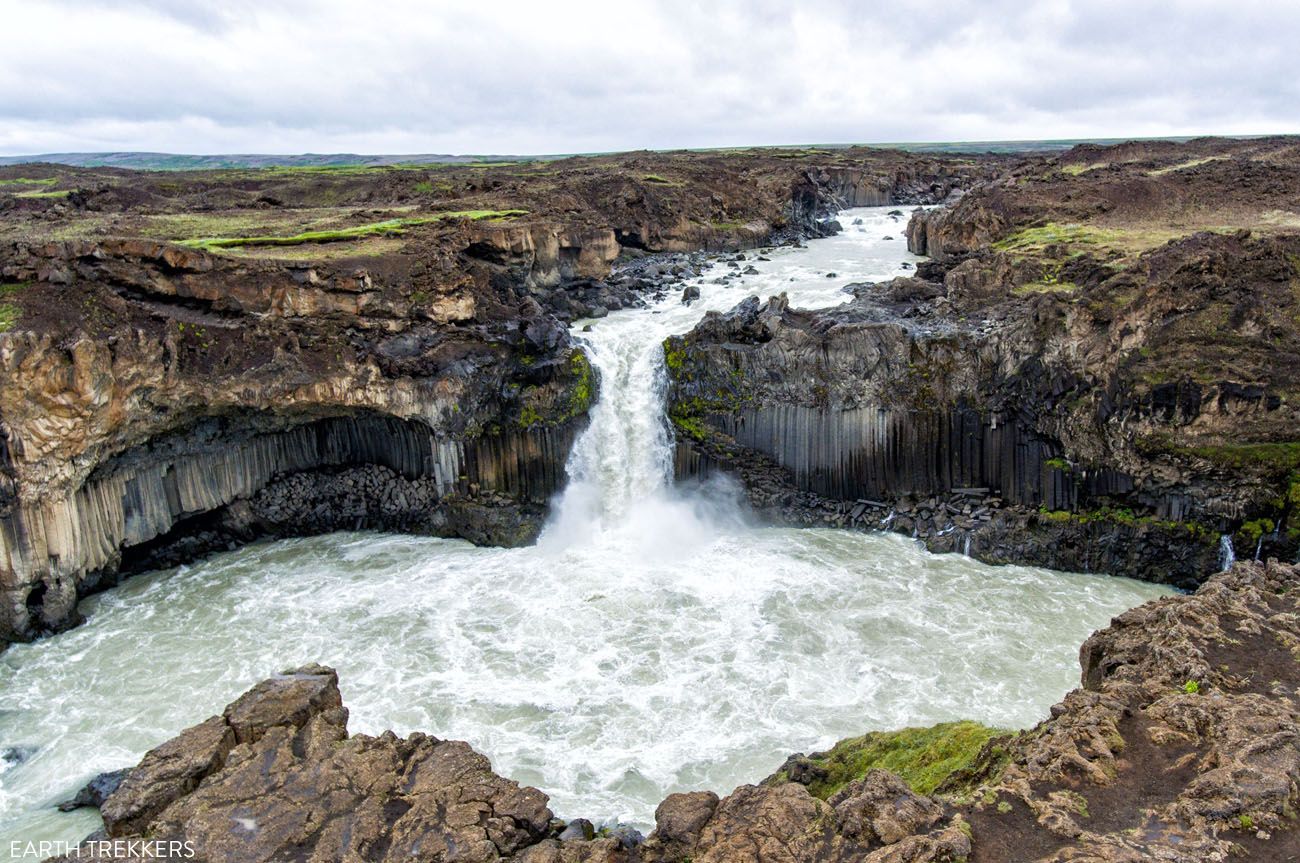 Another aerial photo of Aldeyjarfoss.
Hrafnabjargafoss
Hop back into your car and continue 3 km down F-26 to Hrafnabjargafoss.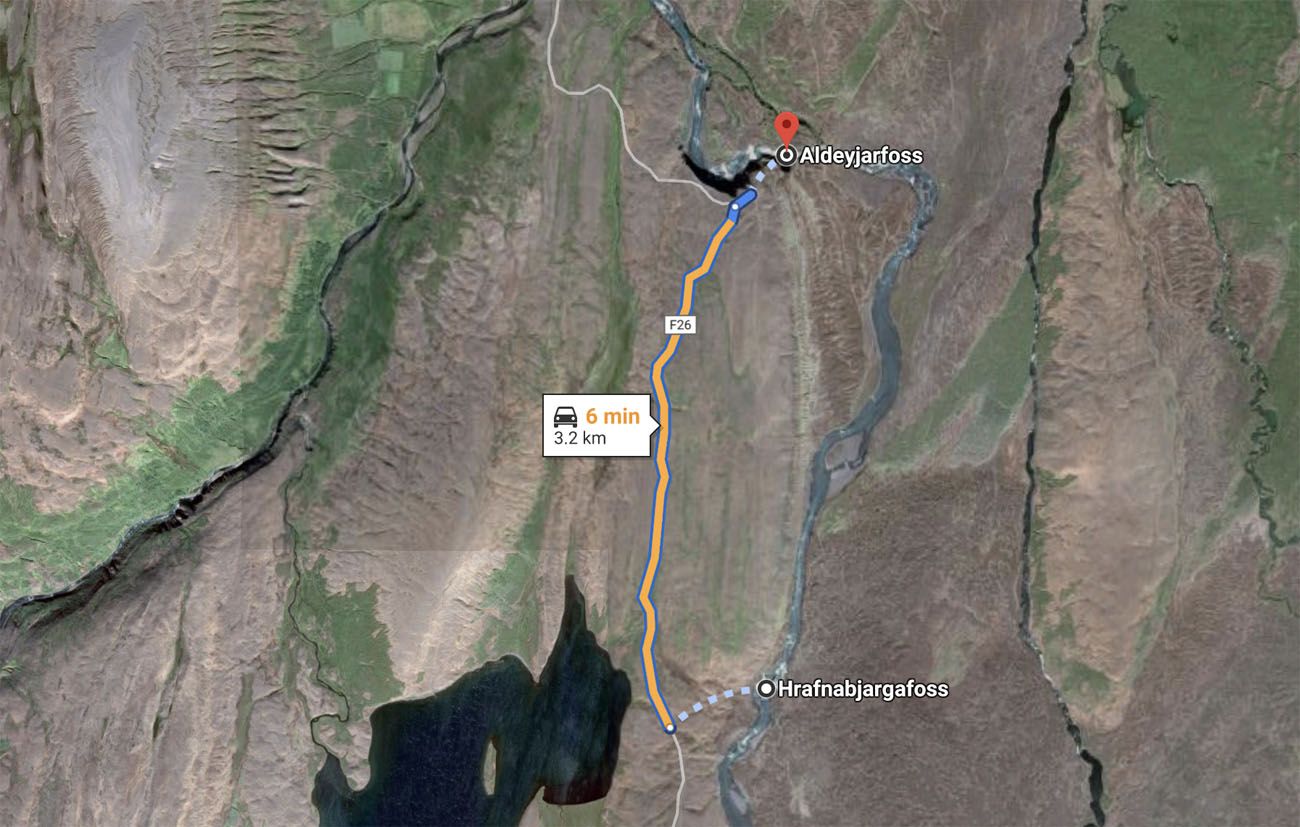 The car park for Hrafnabjargafoss is smaller than the one for Aldeyjarfoss and there are no toilets here. However, it is a very short walk to get to the waterfall.
Once here, you are standing out in the middle of a dark, barren landscape, formed from an ancient lava flow. The water from the river cascades down Hrafnabjargafoss, which resembles a smaller version of Godafoss.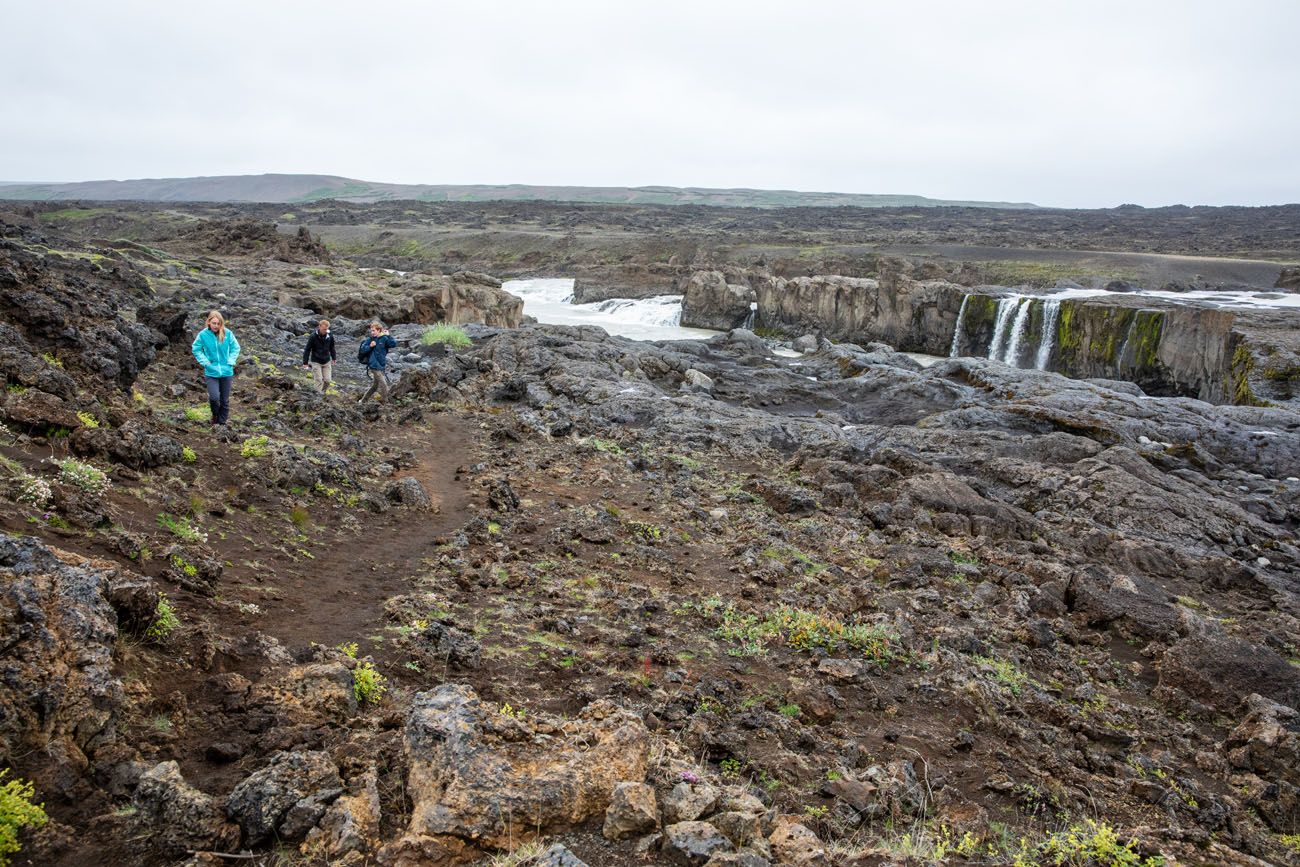 Hiking trail to the waterfall (Kara, Tim and Tyler are walking back to the car park at the end of our visit.)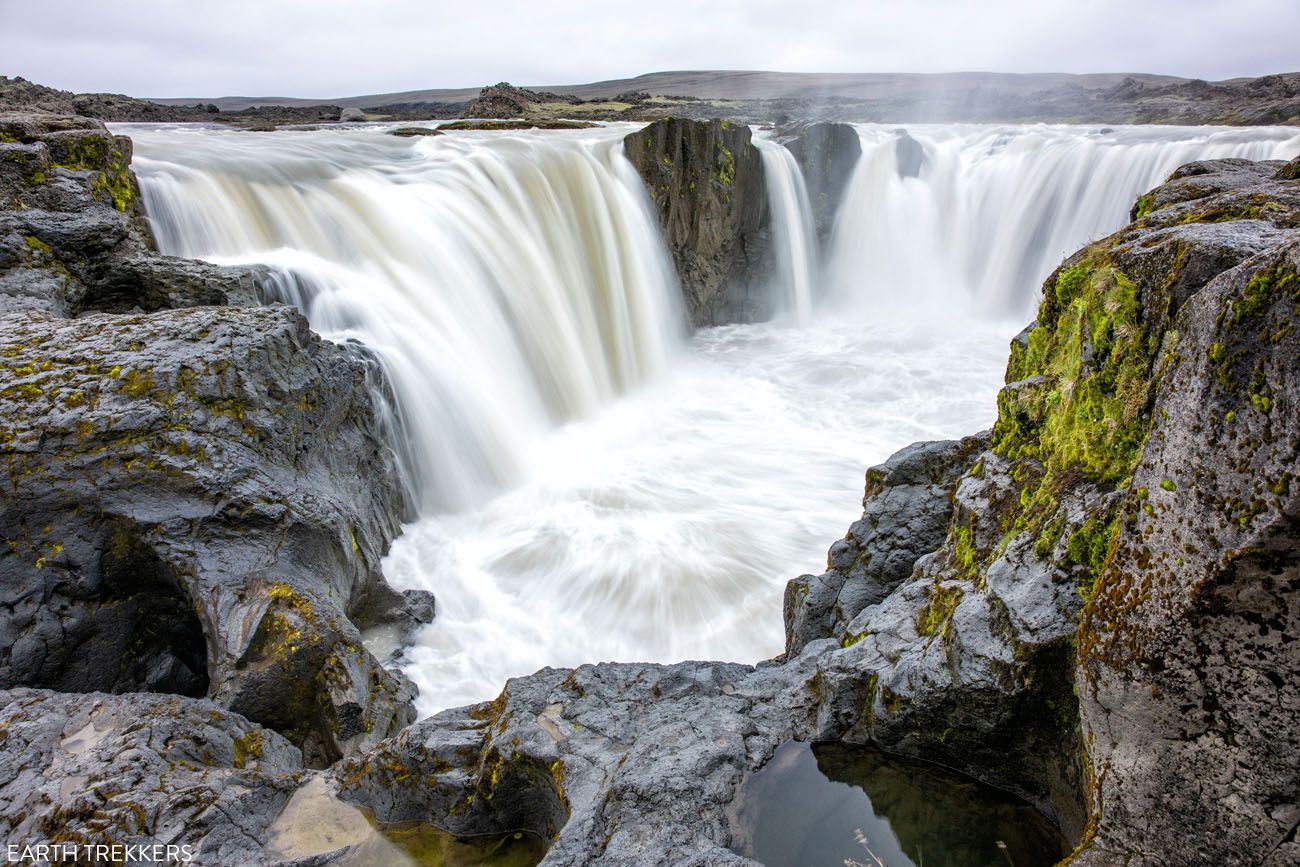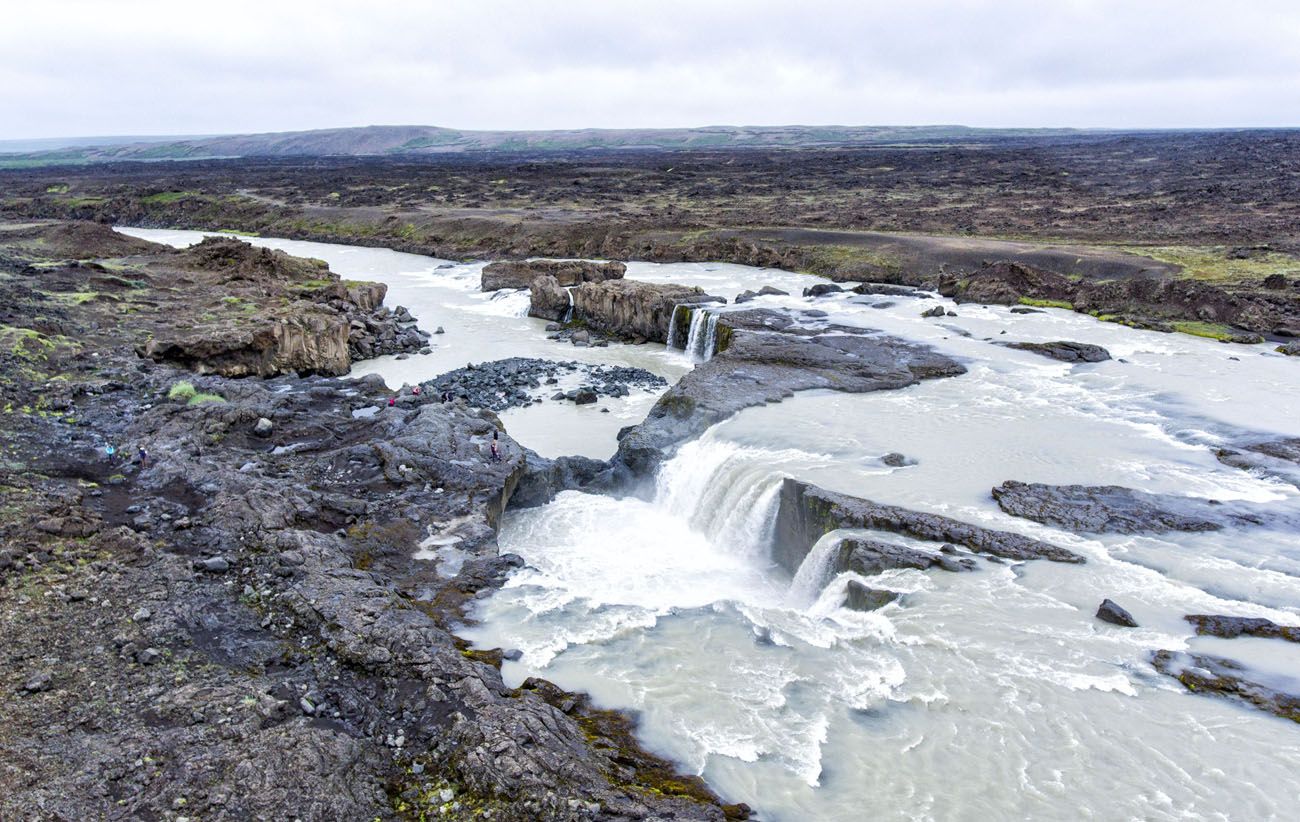 Drone photo of Hrafnabjargafoss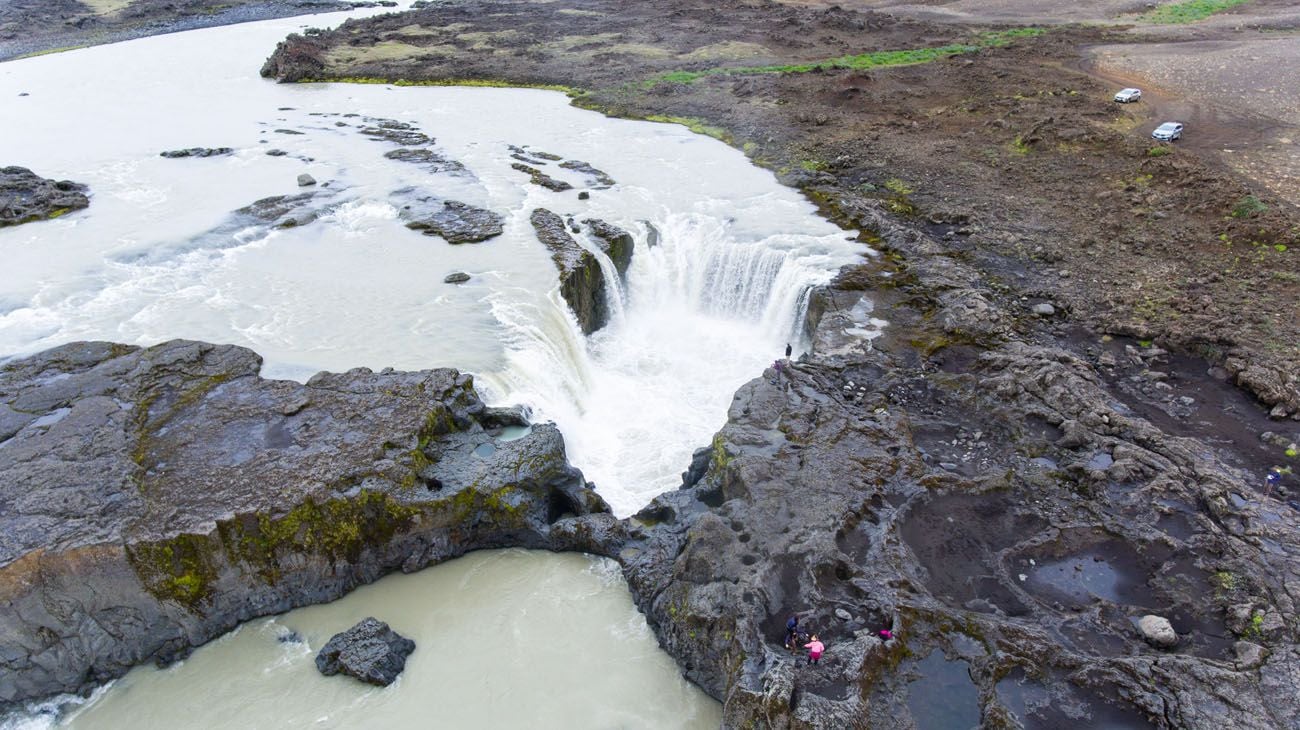 Another drone photo of Hrafnabjargafoss. In this photo, you can see the very small parking lot.
Being here feels wild and remote, and most likely, you will be on your own, or just sharing this experience with a handful of other visitors.
To get back to the Ring Road, you will retrace the drive on F-26 and route 844.
Planning Your Visit
From Godafoss, here are your trip totals:
Round-trip distance to Hrafnabjargafoss: 88km
Total Driving Time: 1 hour 45 minutes
Total Visit: Up to 3 hours, depending on how much time you spend at each waterfall
Are Aldeyjarfoss and Hrafnabjargafoss Worth It?
If you have a few extra hours of time, a 4×4, and want to visit a quiet, seldom visited spot in Iceland, the road trip to these two waterfalls is worth it.
In fact, I personally liked Aldeyjarfoss more than Godafoss.
I think that Aldeyjarfoss is the more interesting of the two waterfalls, but since Hrafnabjargafoss is so close (only a 3 km drive from Aldeyjarfoss) it's worth the quick add-on.
A Few Tips on Visiting Godafoss
Godafoss is located on the Ring Road, right where 844 meets Route 1. You can visit Godafoss before or after making the drive to Aldeyjarfoss and Hrafnabjargafoss. We visited Godafoss first.
You can visit Godafoss from both sides of the river. On the west side of the river, there is a parking lot and from here it is a quick, easy walk to great viewpoints of the waterfall.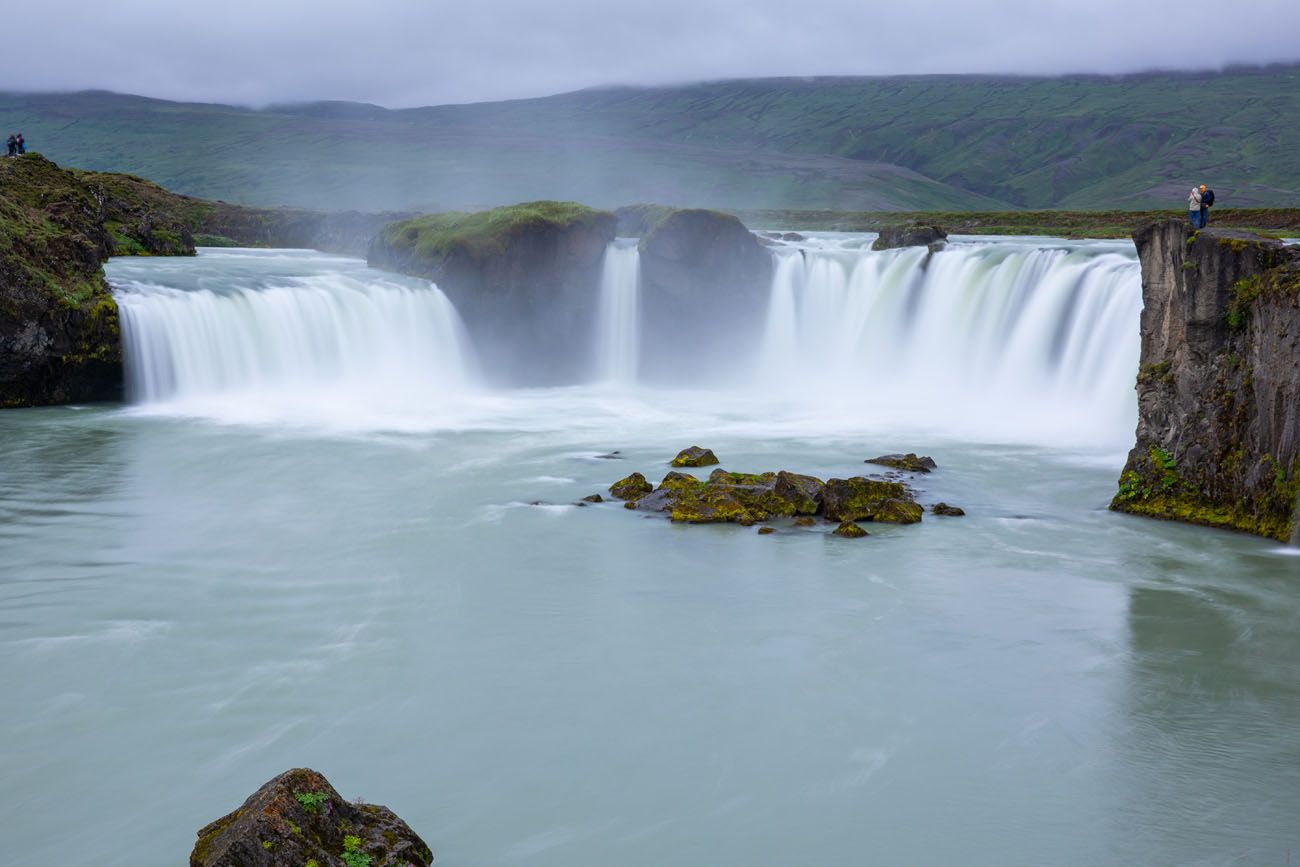 To visit the east side, you can either walk across the bridge from the west side or get back in your car and drive to the small parking lot on the other side. On the east side of Godafoss, there are restrooms and restaurants. Numerous paved paths take visitors to different views of the waterfall. My favorite viewpoint was down by the river's edge.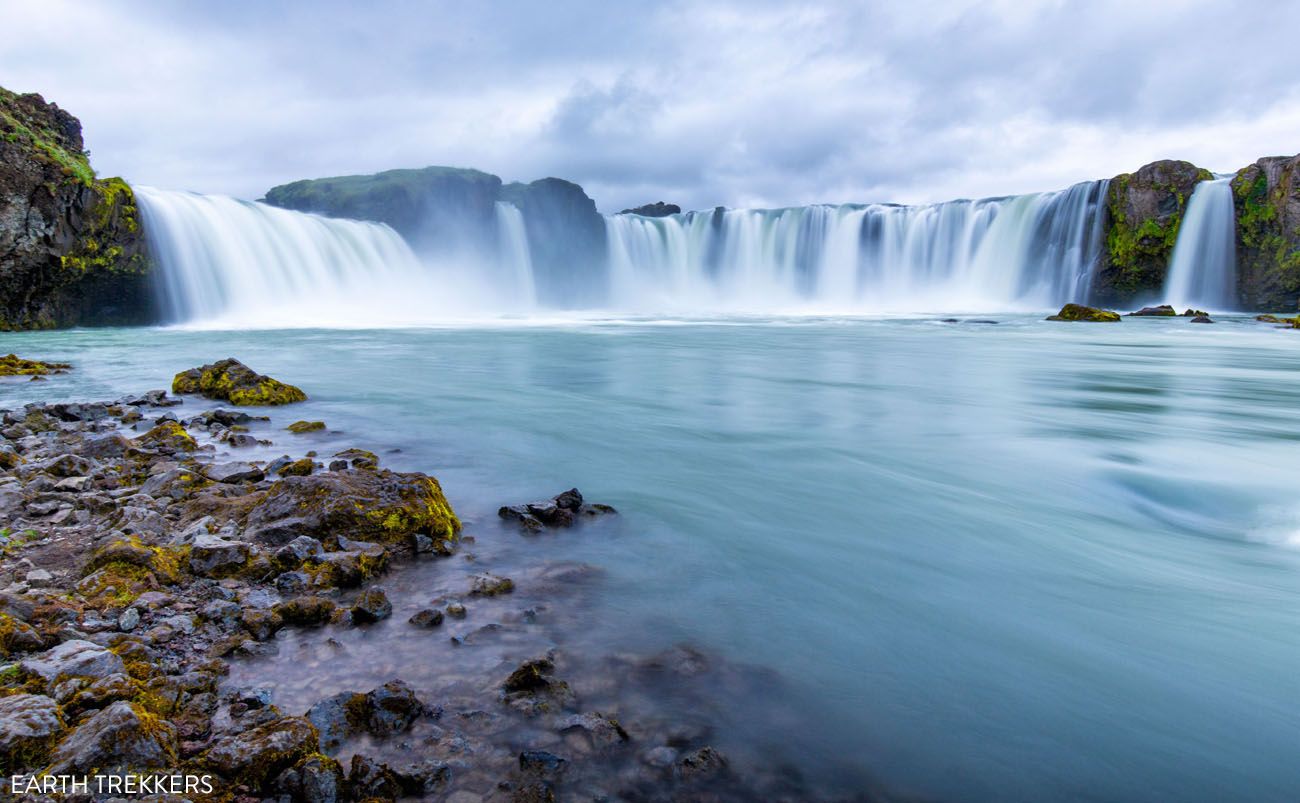 Expect big crowds at Godafoss. We were here midday and had trouble finding a parking space on the west side of the waterfall.
A visit to Godafoss takes about one hour if you visit both sides of the river. Visit the west side first, and then the east side. The Godafoss parking lot on the east side is located on Route 844, the same road you take to get to Aldeyjarfoss and Hrafnabjargafoss.
It is free to visit Godafoss, Aldeyjarfoss, and Hrafnabjargafoss.
Before you go, check road conditions on road.is.
---
If you have any questions about how to get to Aldeyjarfoss and Hrafnabjargafoss, let us know in the comment section below.
More Information for Your Trip to Iceland
MORE WATERFALLS IN ICELAND: Here are 20 beautiful waterfalls to visit in Iceland. We have detailed guides on how to visit Haifoss, Sigöldugljúfur, Dettifoss, and Brúarfoss. You can also hike to Glymur Waterfall, one of the tallest waterfalls in Iceland.
ICELAND ITINERARIES: There are several ways to put together a trip to Iceland. If you have 10 days, here are four different ways to spend your time in Iceland. This two week Iceland itinerary includes the entire Ring Road and main highlights of Iceland.
RING ROAD ITINERARY: With 7 to 10 days, you can drive the entire Ring Road and experience the highlights of Iceland. Learn how to do it in our Ring Road Itinerary.
BEST OF ICELAND: For a list of top experiences in Iceland, don't miss our Iceland Bucket List. If you are a hiker, we also have a hiking guide with 10 epic day hikes to do in Iceland.
TRAVEL PHOTOGRAPHY: For more information about the camera gear we carry, check out our Travel Photography Gear Guide.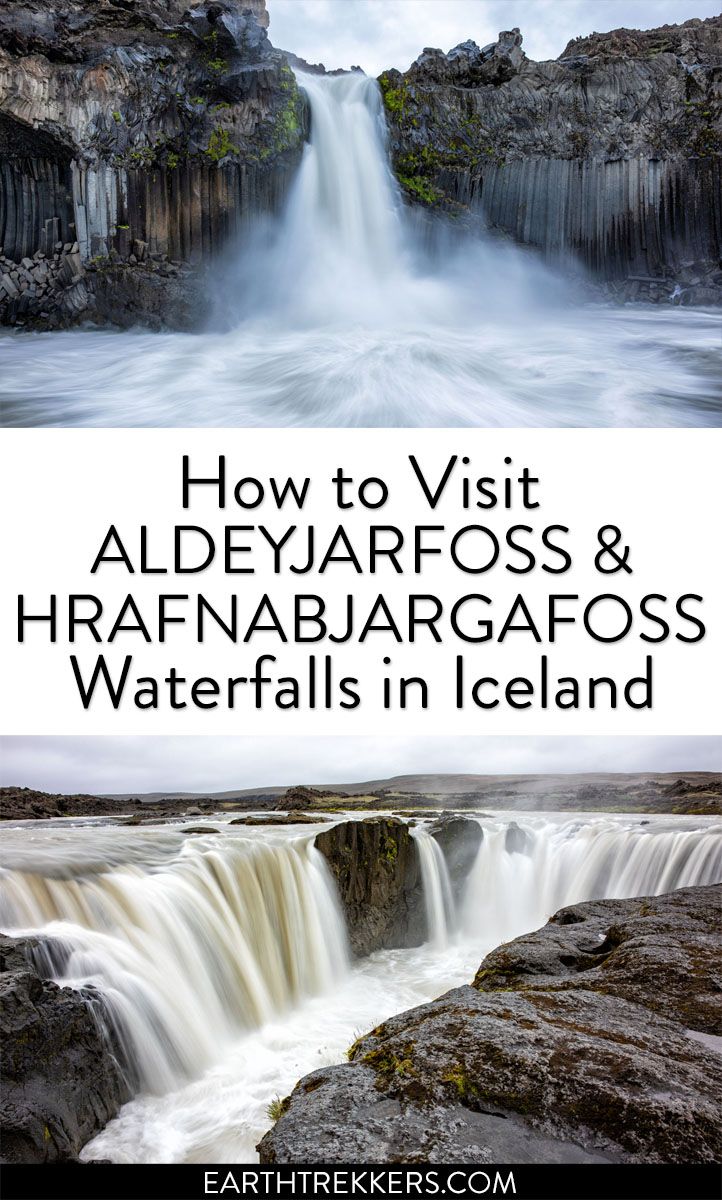 All rights reserved © Earth Trekkers. Republishing this article and/or any of its contents (text, photography, etc.), in whole or in part, is strictly prohibited.