Iceland…the land of fire and ice…and more waterfalls than you can count. If you are planning a trip to Iceland, you've heard of Gulfoss, seen photos of Skógafoss, and you are probably planning to walk behind Seljalandsfoss. These are just a handful of the best waterfalls in Iceland to visit.
In this post, we list 20 of the best waterfalls in Iceland. These range from the most popular waterfalls to off-the-beaten-path destinations. For some, you can just pop out of your car and take a photo. For others, you will have to do some hiking, but that's an amazing experience all to itself.
Here are 20 great waterfalls to add to your Iceland trip, with directions on how to get to each one. At the end of this article, you can see them on a map.
Best Waterfalls in Iceland
In no particular order, here are 20 of the best waterfalls in Iceland to visit.
1. Gullfoss
Gullfoss, Thingvellir National Park, and the Geysir Geothermal Area form the Golden Circle, a triad of three of the most popular places to visit in Iceland. Gullfoss is the most popular waterfall to visit in Iceland.
Gullfoss is also called "Golden Falls." The Golden Circle gets its name from this waterfall.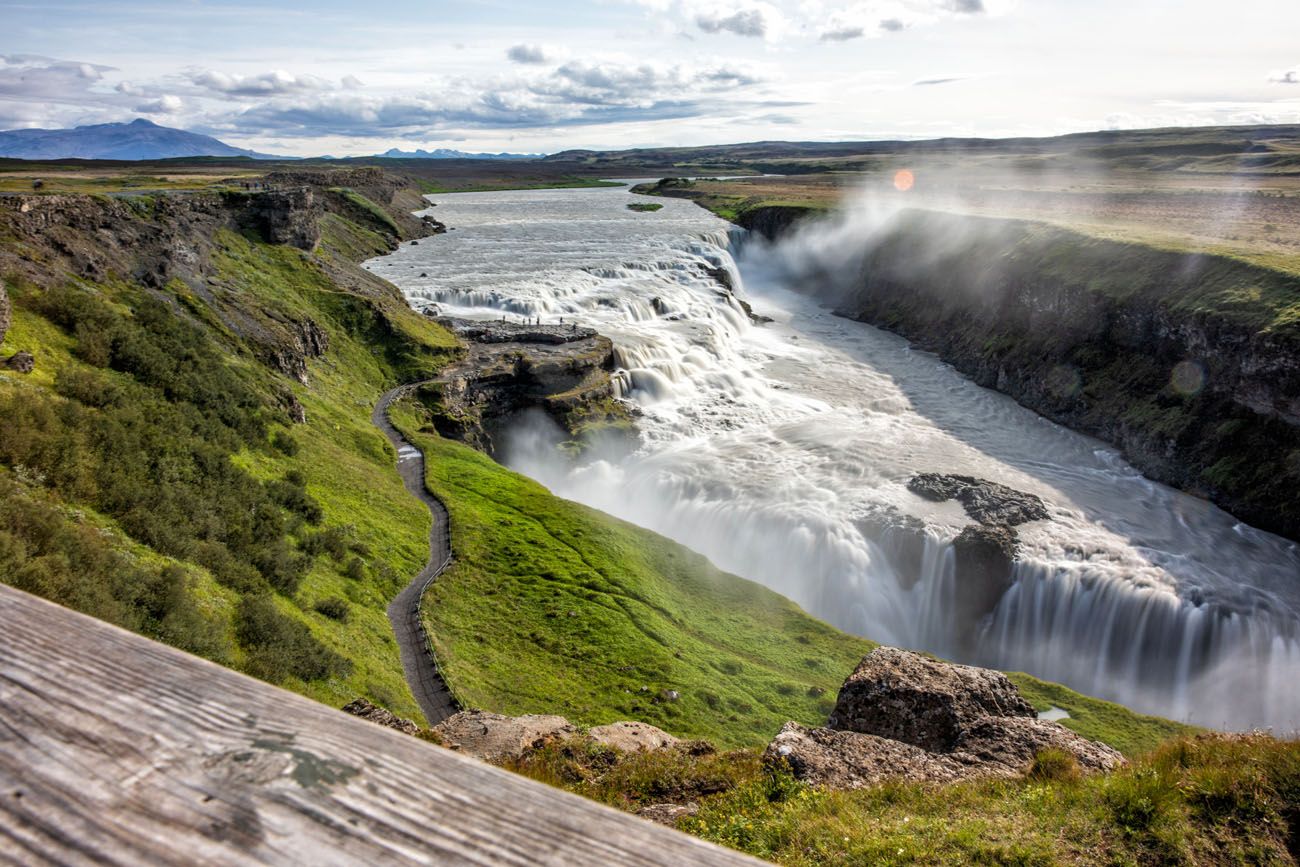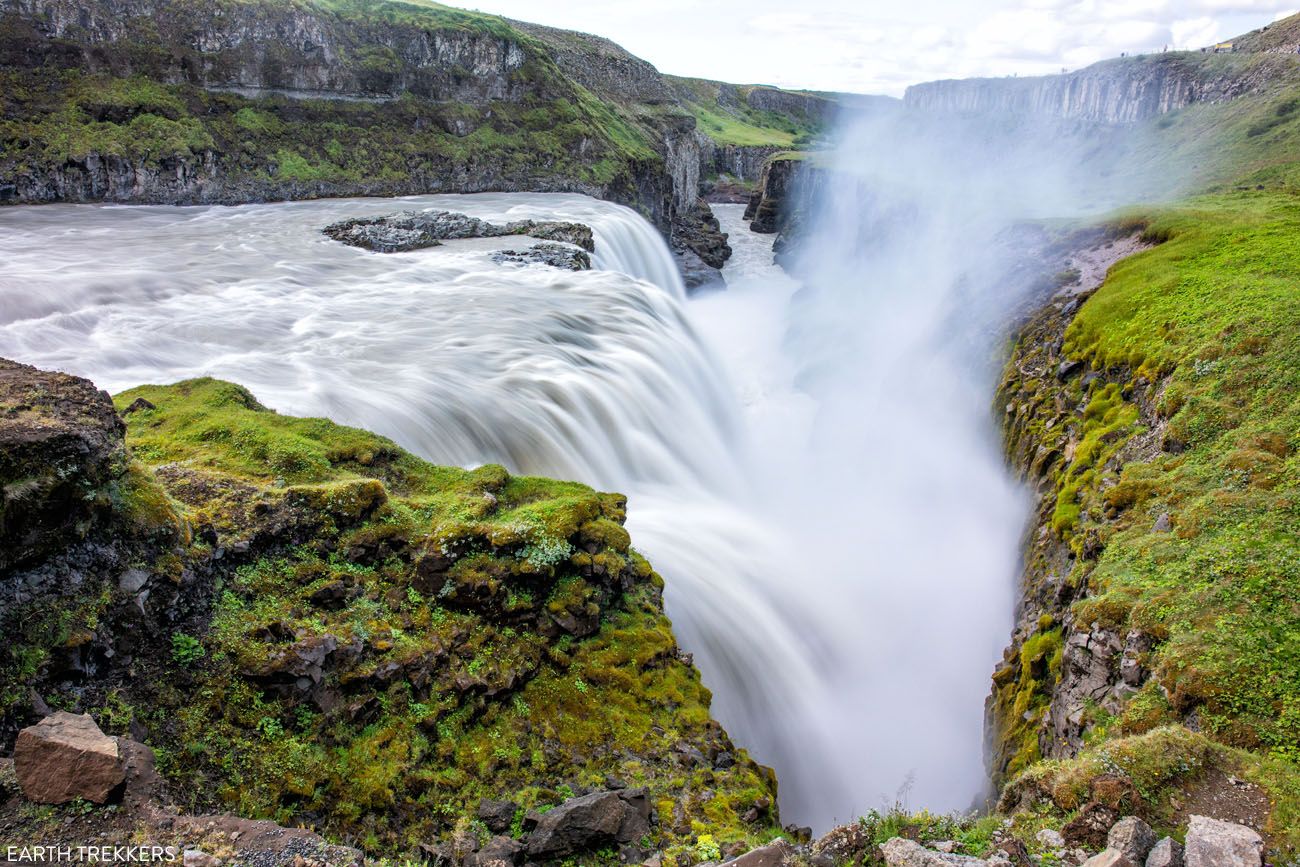 How to Visit Gullfoss: Gullfoss is located on the Golden Circle. You can get here by car or by tour. Day tours of the Golden Circle from Reykjavik are extremely popular. The visit to Gullfoss is free. Simply park in the large parking lot and walk to the various viewpoints. A visit here takes 30 to 60 minutes.
2. Öxarárfoss
Öxarárfoss is a small but beautiful waterfall in Thingvellir National Park. While touring the park, walk along the gravel and boardwalk trails to get here. A visit is quick, lasting just a few minutes to see the waterfall.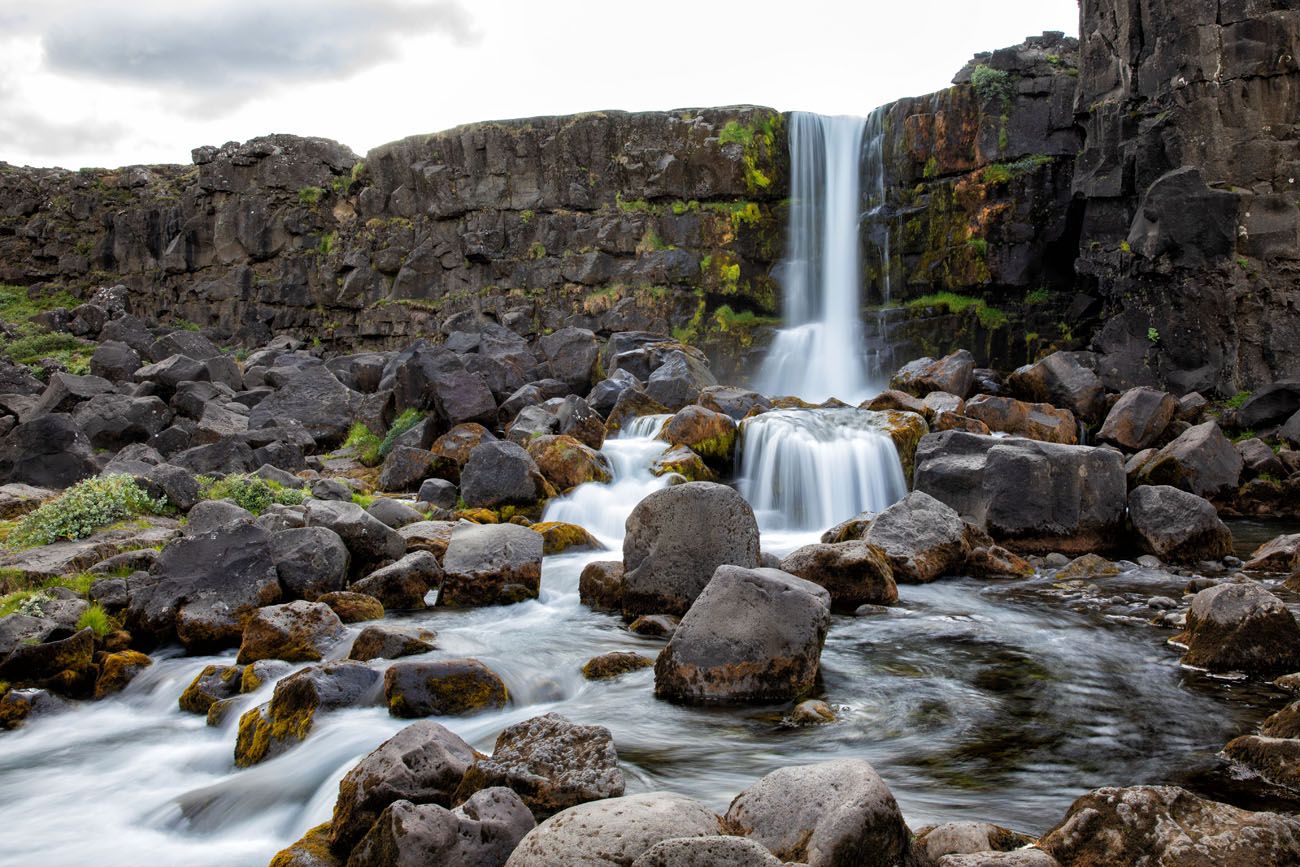 How to Visit Öxarárfoss: This waterfall is included to your visit to Thingvellir National Park. It is free to enter the park but you will have to pay to park your car in the parking lot. The parking fee is 750 ISK.
3. Brúarfoss
Brúarfoss waterfall is famous for its brilliantly blue color. In fact, it's called "Iceland's Bluest Waterfall." The waterfall is fed by the Brúará River, which is glacier melt from Langjökull glacier. This glacial water is what gives Brúarfoss its sky-blue color.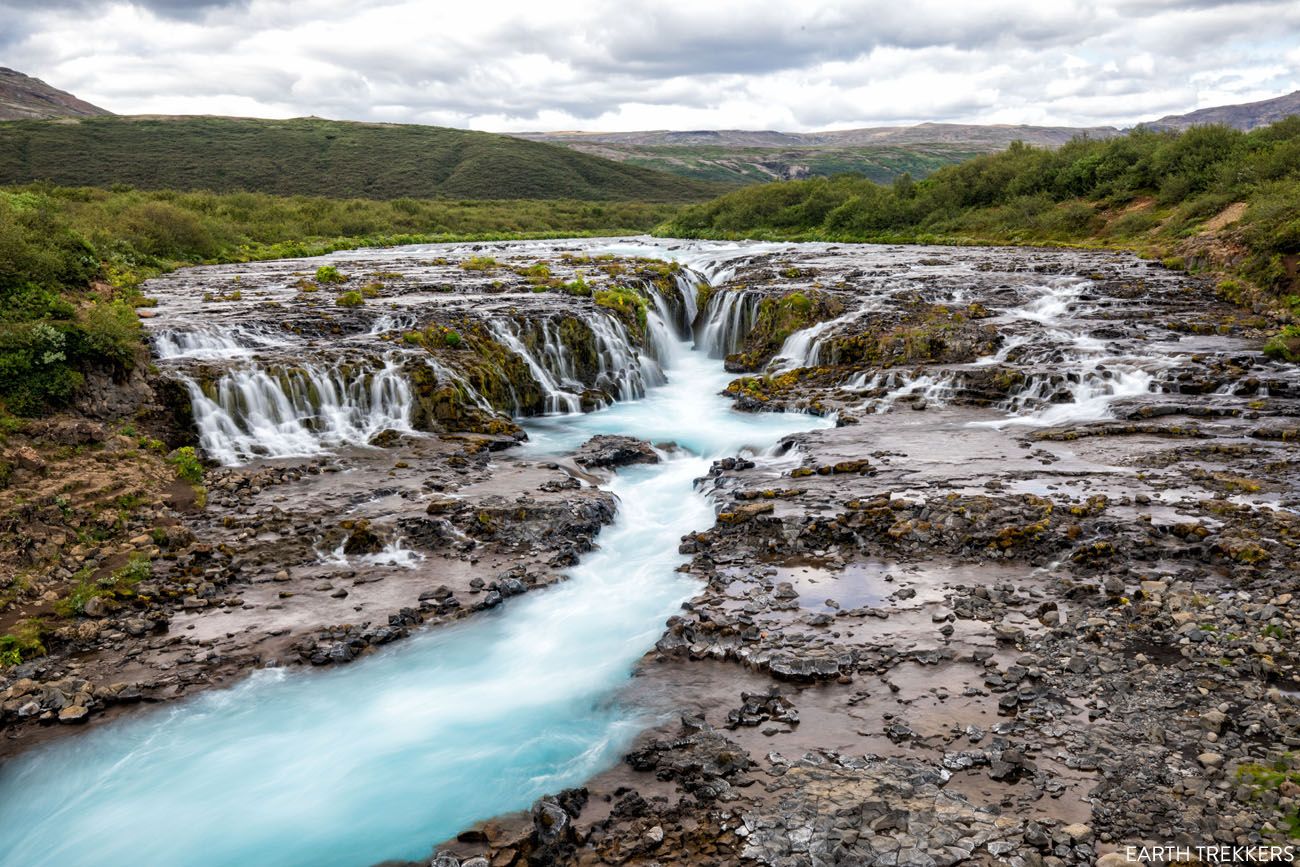 How to Visit Brúarfoss: The only way to see Brúarfoss is by hiking. A visit to Brúarfoss requires a 7 km (4.4 mile) round trip walk and roughly 2 to 3 hours of your time. Get all of the details in our article about Brúarfoss.
4. Glymur Waterfall
Glymur Waterfall is Iceland's second tallest waterfall. You can only get to it by hiking, but what a beautiful hike it is. This hike features a short walk through a cave, two river crossings, and many amazing views of the waterfall. It's relatively short, it's fun, and it's located near Reykjavík, so this hike can be added to even quick trips to Iceland.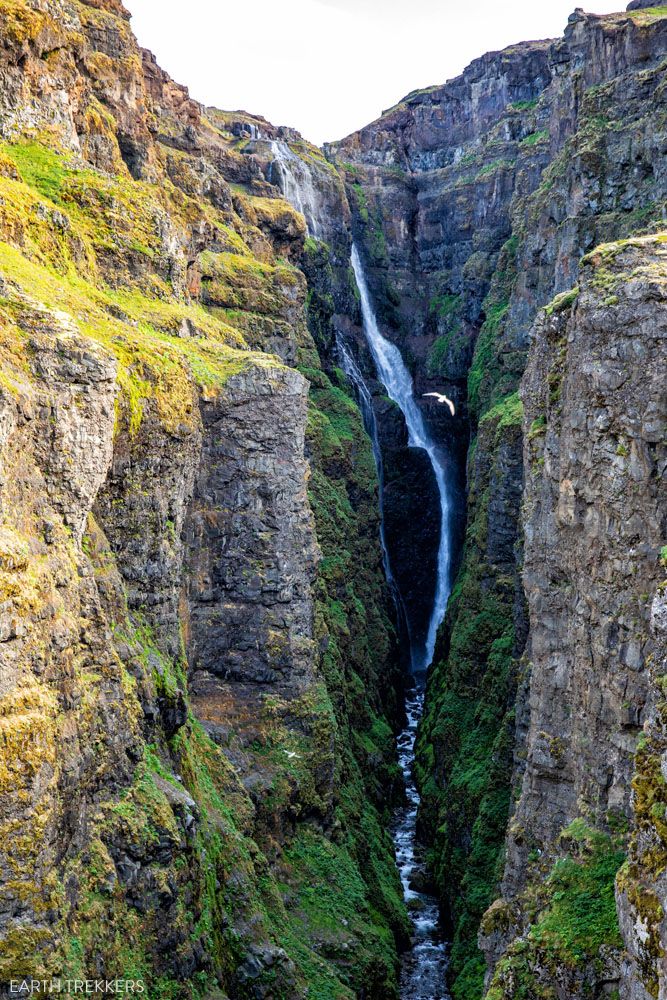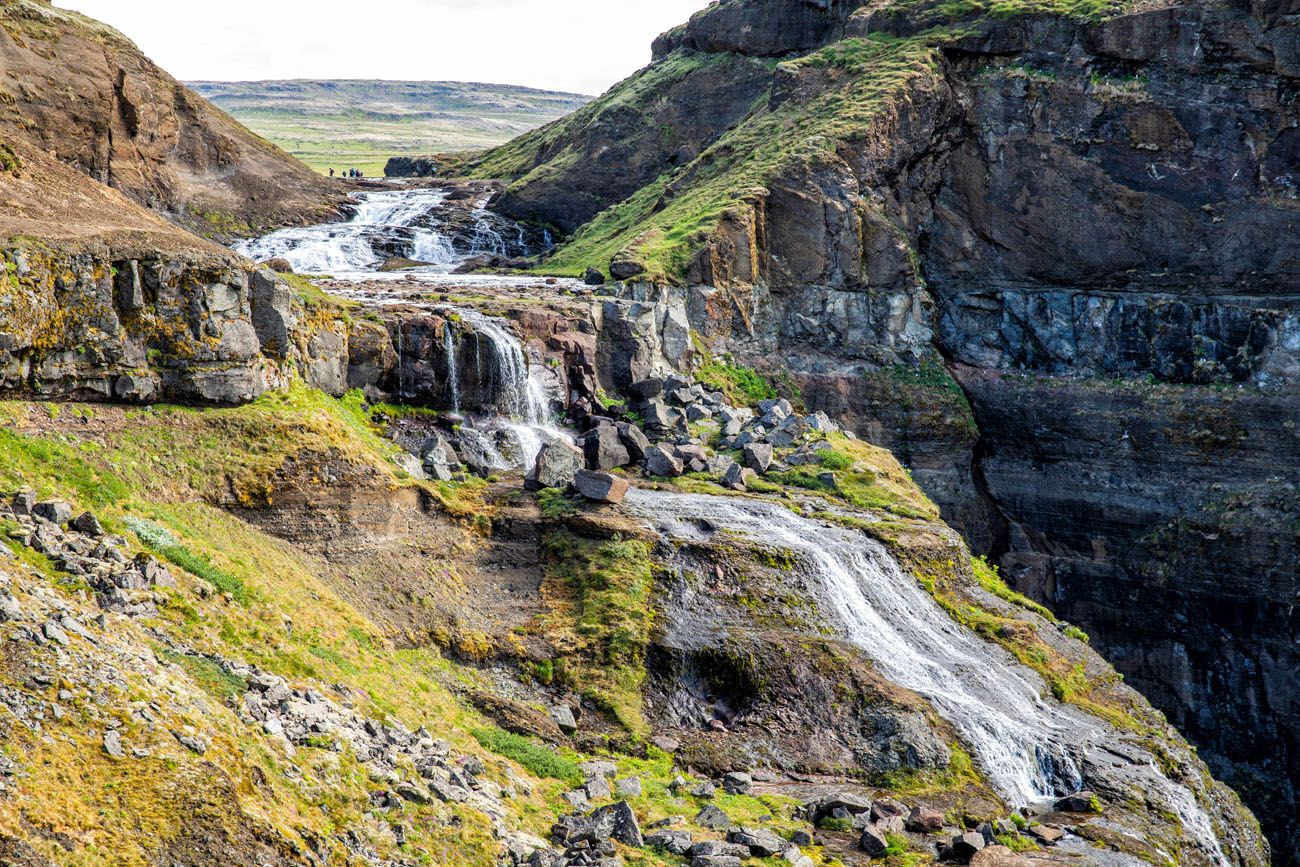 The top of Glymur Waterfall. If you look closely, you can see people crossing the river.
How to Visit Glymur Waterfall: This hike is 7.1 km (4.4 miles) total and takes 3 to 4 hours. It is best done in the summer months, when the trail is free of snow and the log is in place for the first river crossing. Yes, you have the option to cross the river twice (and the second time will be by foot…but it's a lot of fun!). Get all of the details in our Glymur Hiking Guide.
5. Goðafoss
Goðafoss, aka "waterfall of the gods," is another massive waterfall in Iceland. It is located right on the Ring Road in north Iceland so it is quick and easy to visit.
There are viewpoints on either side of the river. Here is the view from the west side of the river.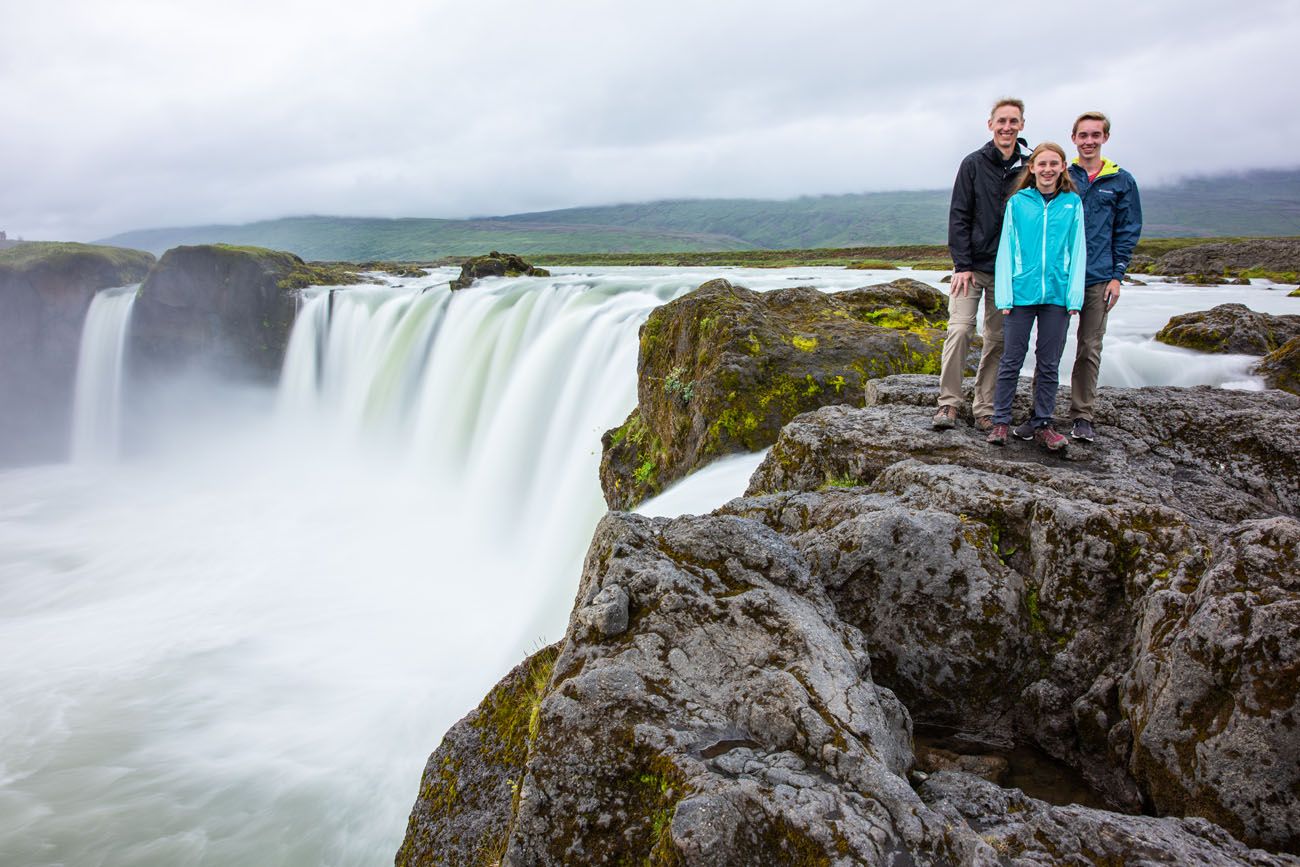 This is the view from the east side of the river (and the cover photo for this post is also of Goðafoss).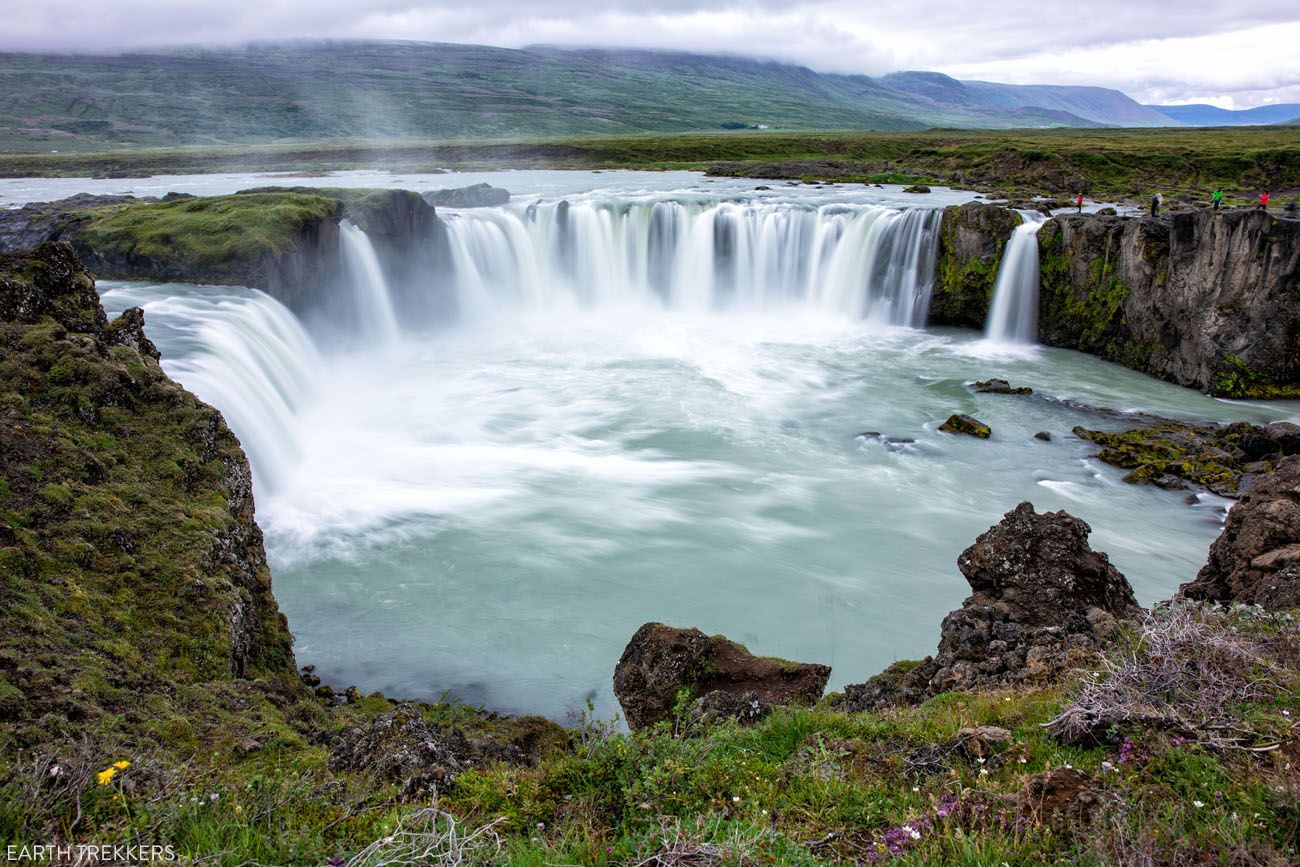 How to Visit Godafoss: Goðafoss is located in northern Iceland on the Ring Road, about 45 minutes west of Mývatn. A visit here is free. There are viewpoints on either side of the waterfall and a visit here lasts about one hour.
6 & 7. Aldeyjarfoss & Hrafnabjargafoss
I'm grouping these two waterfalls together since the sit almost side by side.
Aldeyjarfoss and Hrafnabjargafoss are two off-the-beaten-path waterfalls located in northern Iceland. To get here, you will need a 4×4, but you will leave the crowds behind and get to see two waterfalls in Iceland that are very unique. A visit here can be easily combined with a visit to Goðafoss.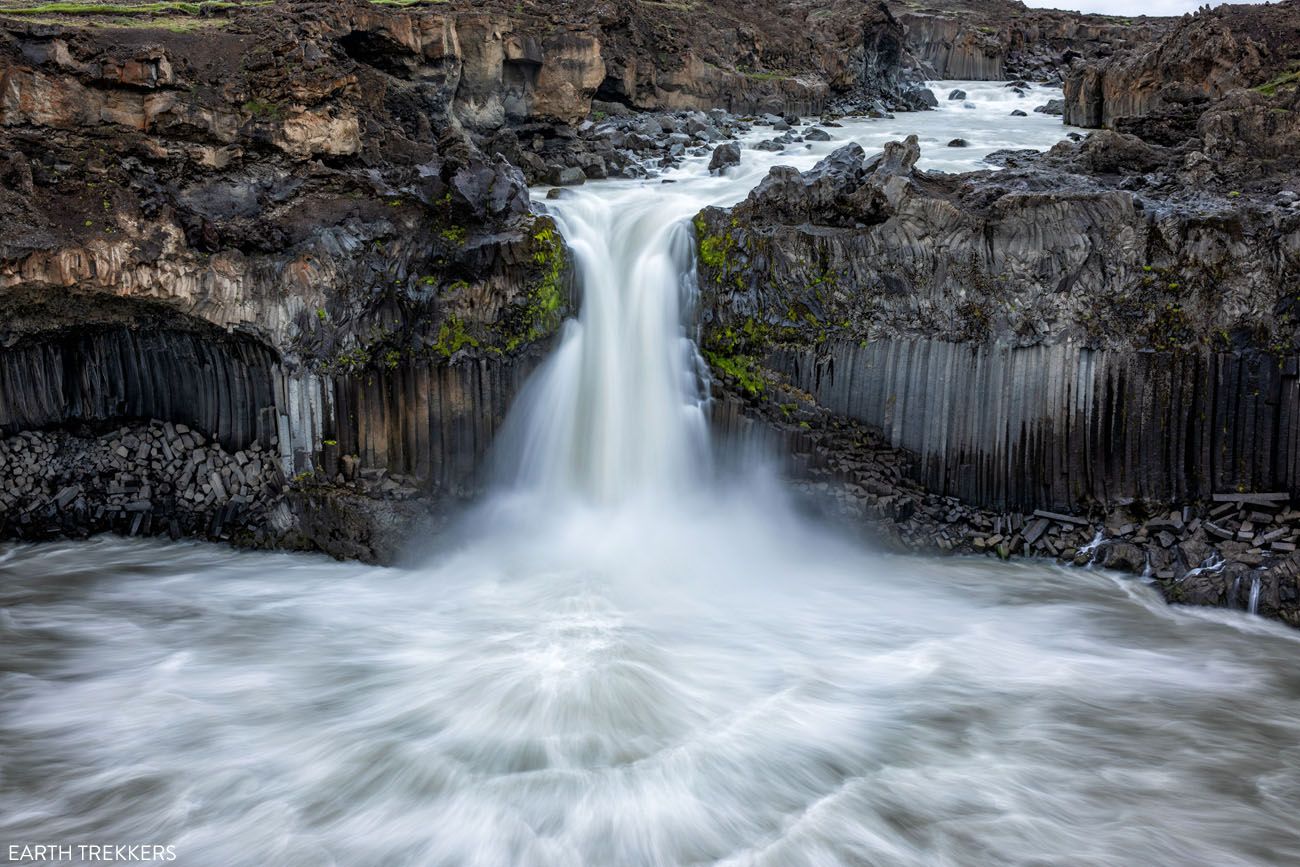 Aldeyjarfoss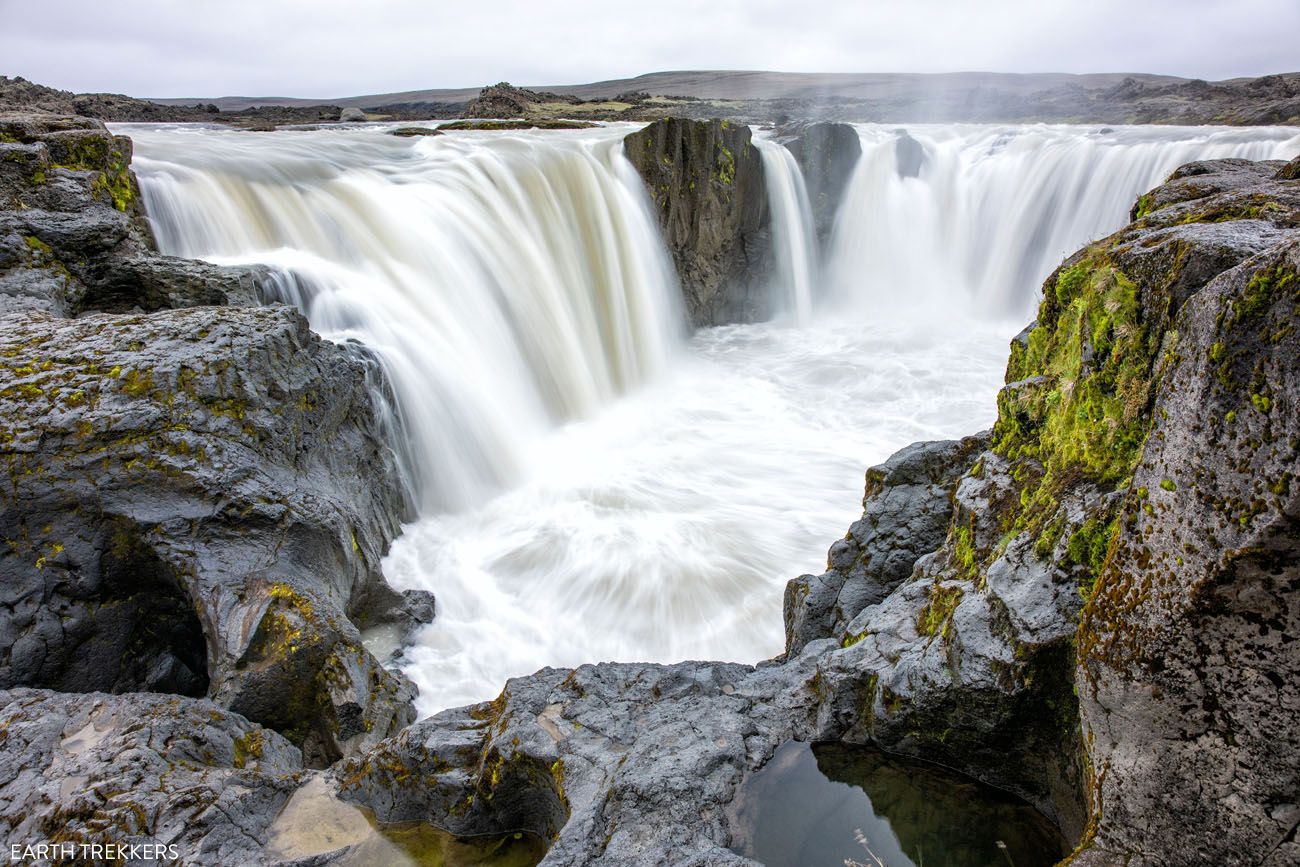 Hrafnabjargafoss
How to visit Aldeyjarfoss and Hrafnabjargafoss: These two waterfalls are located south of Goðafoss. To get here, you will need a 4×4 and roughly three hours of free time. Learn how to plan your visit in our Guide to Aldeyjarfoss and Hrafnabjargafoss.
8 & 9. Dettifoss & Selfoss
Similar to Aldeyjarfoss and Hrafnabjargafoss, Dettifoss and Selfoss are two waterfalls that practically sit side by side.
Dettifoss is one of Europe's most powerful waterfalls (and some sources state that this is the most powerful waterfall in Europe), making this one of the best waterfalls in Iceland to visit. The power of this waterfall is astounding. When you get right up to Dettifoss, the ground literally shakes underneath your feet.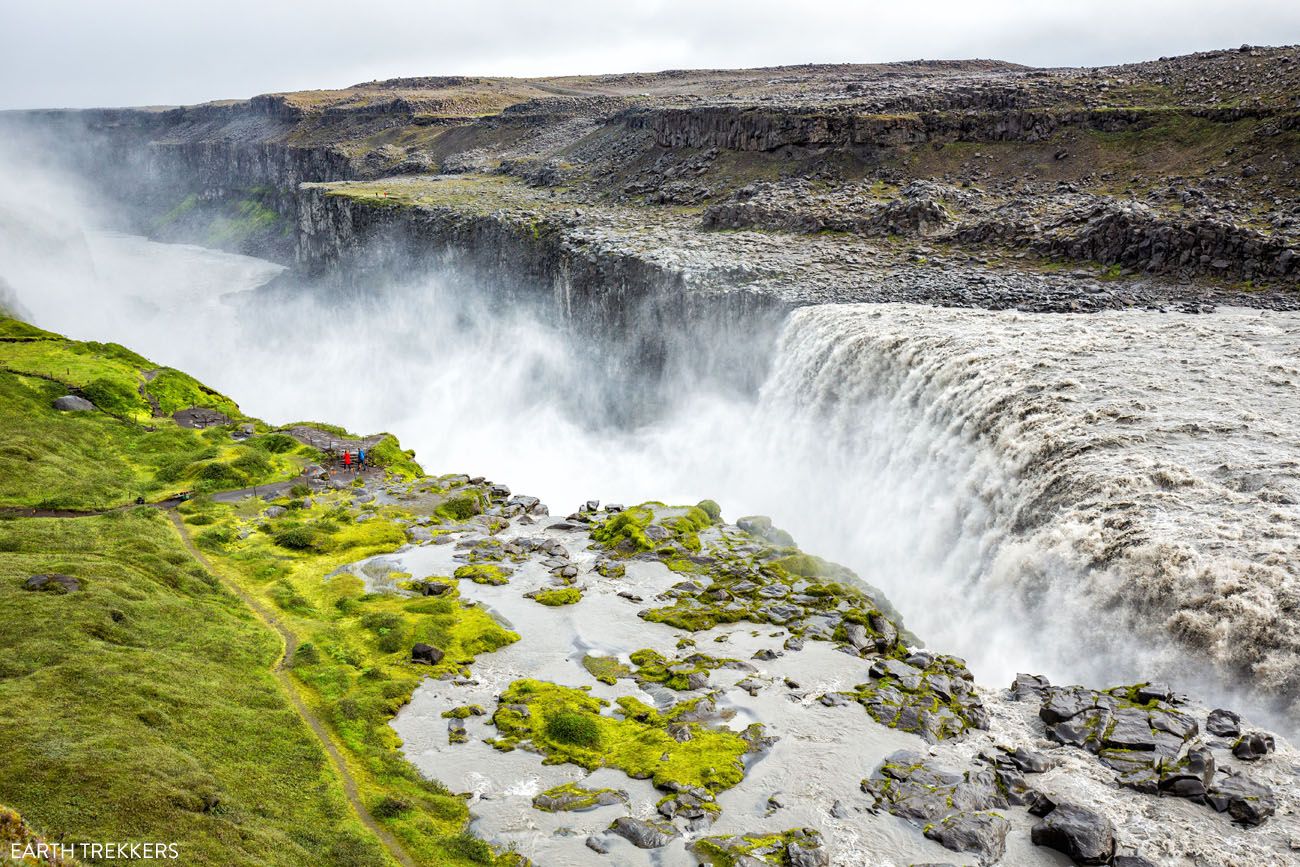 Dettifoss from the west side of the river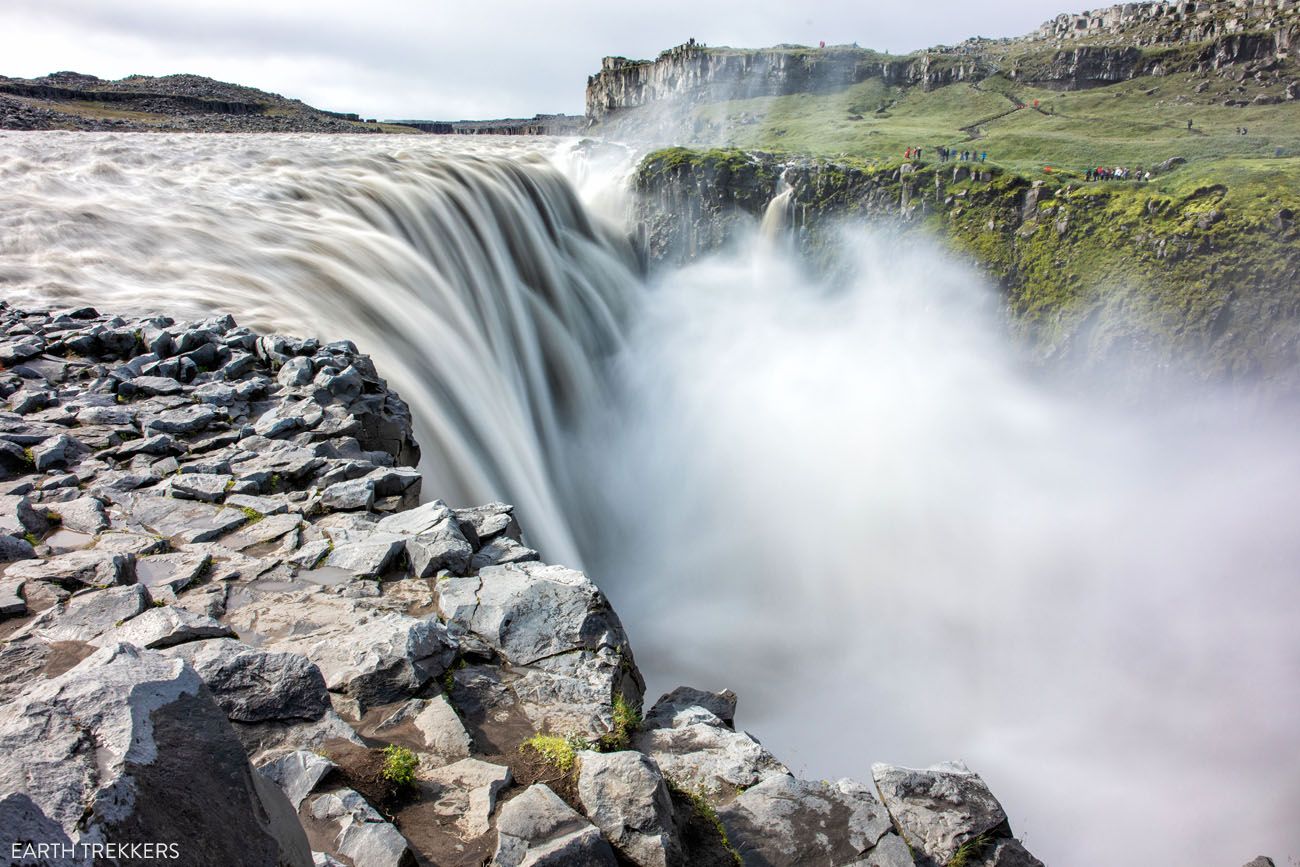 Dettifoss from the east side of the river
A short distance upstream from Dettifoss is Selfoss. This waterfall may not have the impressive flow of water like Dettifoss, but it what it lacks in power it makes up for in appearance. This wider, more docile waterfall is beautiful, with its numerous smaller waterfalls.
Selfoss from the west side of the river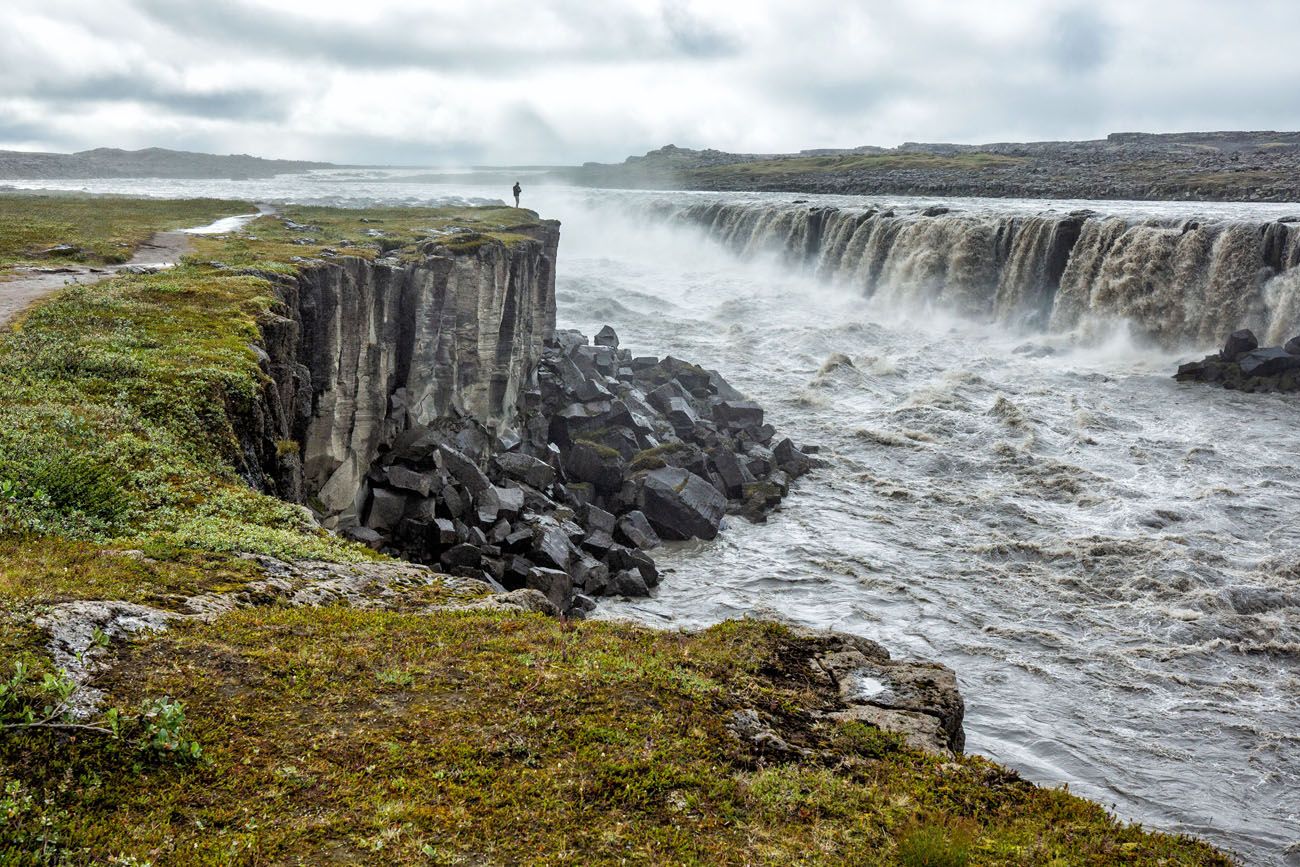 Selfoss from the east side of the river
How to Visit Dettifoss and Selfoss: You can visit Dettifoss and Selfoss from the east and west sides of the Jökulsá á Fjöllum river. The west side is easier to get to and is equipped to handle more visitors. However, the views are better from the east side (in our opinion), but you will have to drive a long distance on dirt roads to get here. Learn how to visit Dettifoss and Selfoss from both sides of the river (and see many more photos) in our Guide to Dettifoss and Selfoss.
10. Hafragilsfoss
Hafragilsfoss is a much smaller waterfall that is located just a short drive from Dettifoss and Selfoss. From the viewpoint over the waterfall, you get an awesome view of the Jökulsárgljúfur canyon.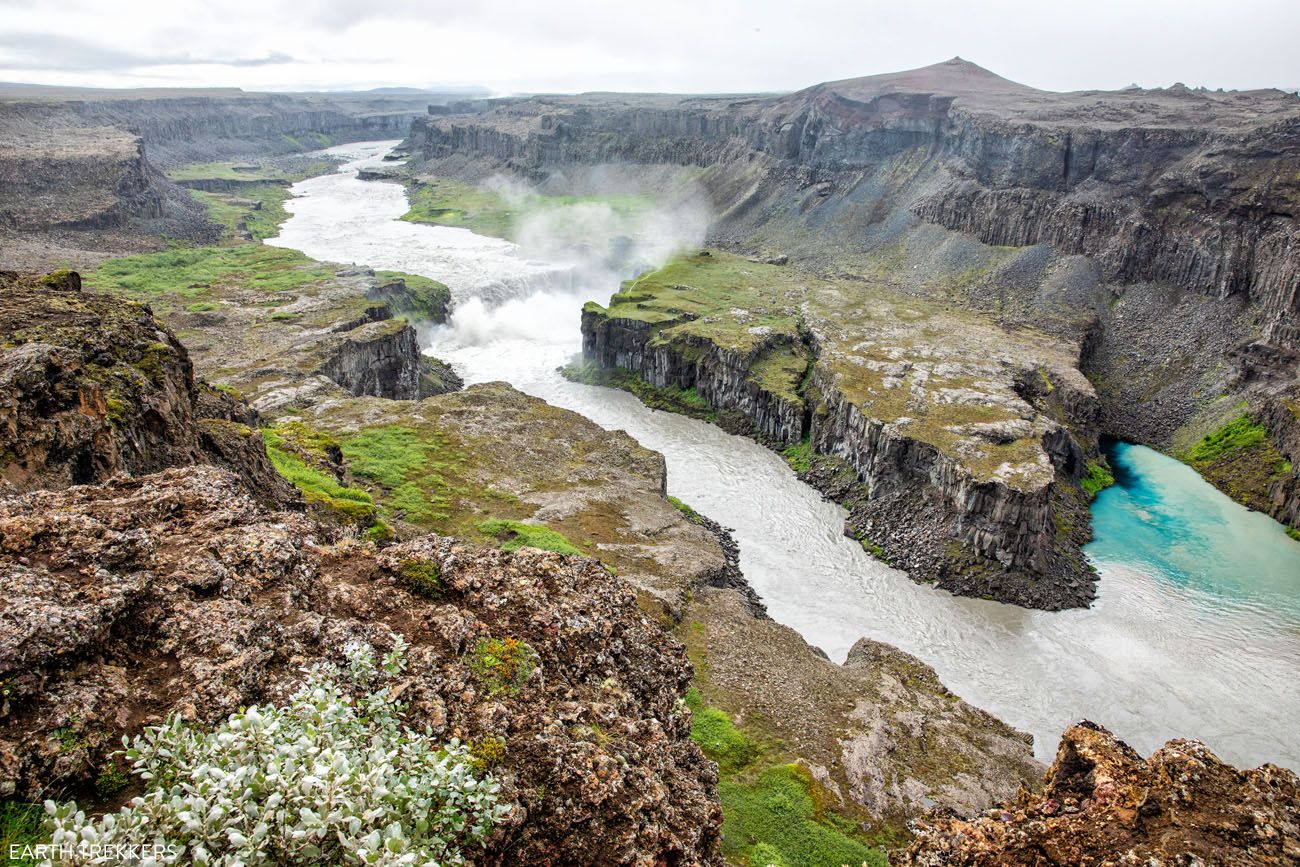 How to Visit Hafragilsfoss: From the parking lot of Dettifoss and Selfoss on the east side of the Jökulsá á Fjöllum river, it is just a 5-minute drive to the Hafragilsfoss parking lot. It's a 5-minute walk to the viewpoint over the canyon. Learn how to get here in our article about Dettifoss and Selfoss.
11. Skógafoss
Skógafoss, without a doubt, is one of the best waterfalls in Iceland to visit. This waterfall is massive and to truly appreciate its size, stand right in front of it and witness its power.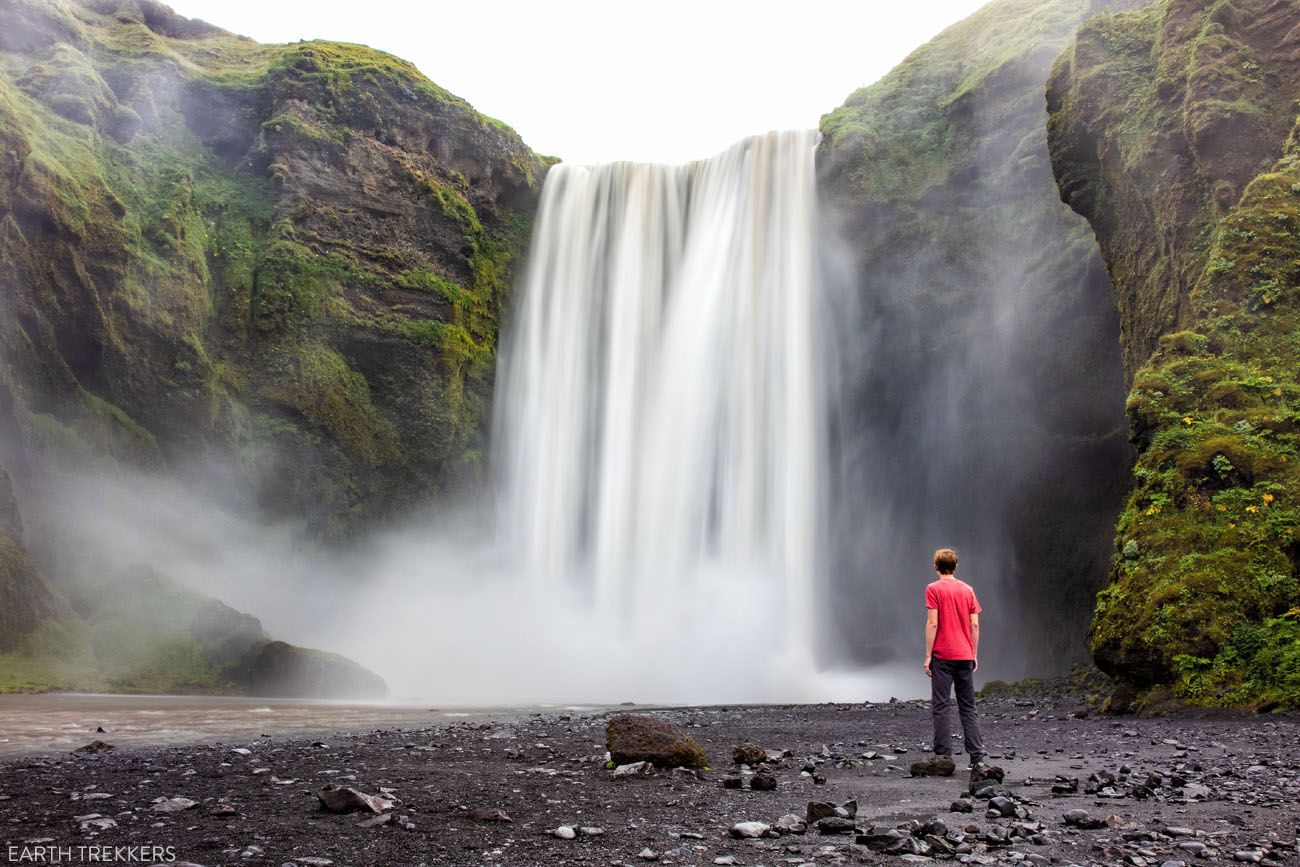 Pro Travel Tip: If you want to have Skógafoss to yourself, get here early in the morning, ideally around 7 am. We visited the waterfall two mornings in a row and had it all to ourselves, at least for a little bit.
How to Visit Skógafoss: Skógafoss is located in Skógar on south Iceland. Park in the large, free parking lot, and from here it is a one-minute walk to the waterfall.
12. Waterfall Way
Waterfall Way, also called the Skógafoss Waterfall hike or the Skógá Trail, is one of Iceland's most underrated experiences.
This trail starts at the might Skógafoss waterfall and follows the Skógá River upstream for 8 km (5 miles). As you hike through this lush, green landscape, you get to see 25 more waterfalls, dramatic canyons, and glacier-capped volcanoes off in the distance. It is a beautiful, breathtaking walk and it just might be one of your highlights on a visit to Iceland.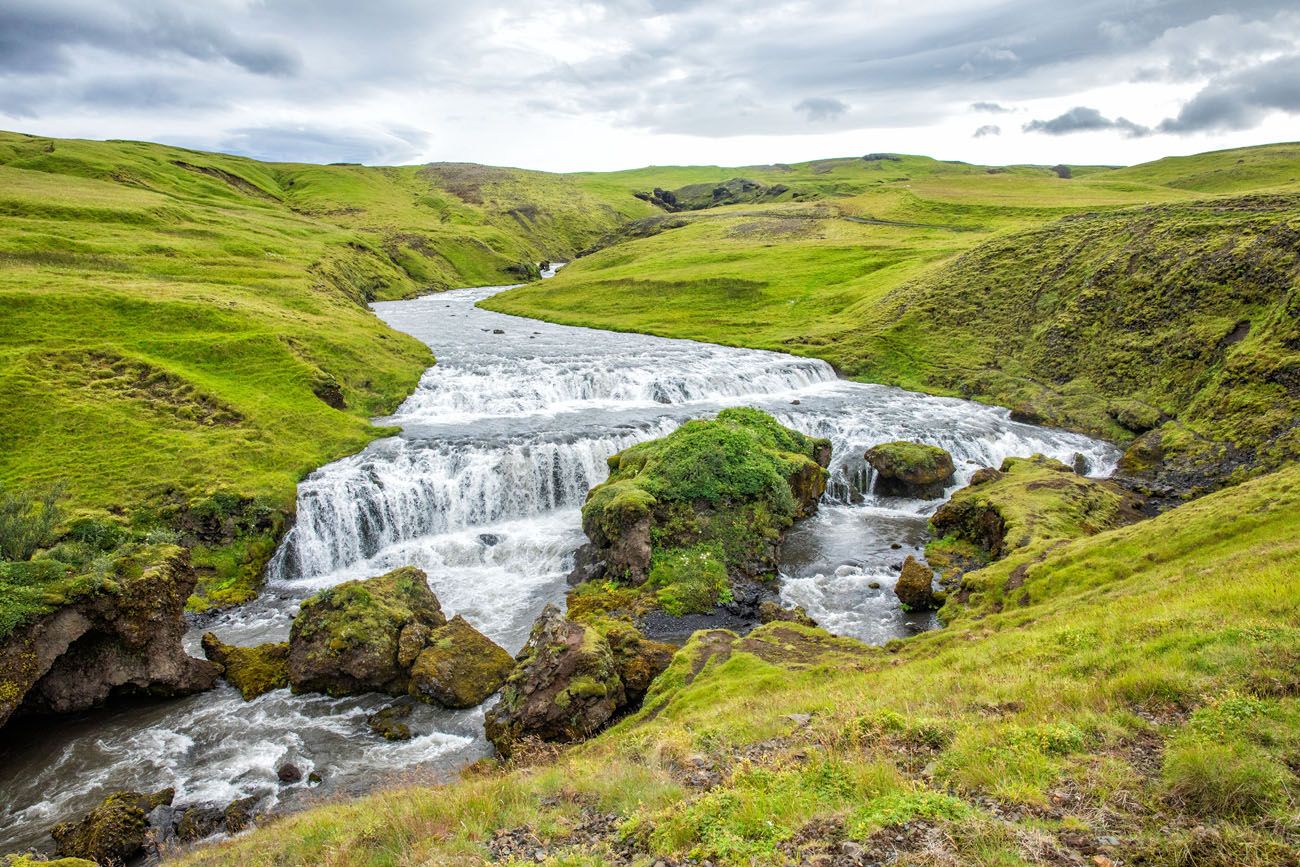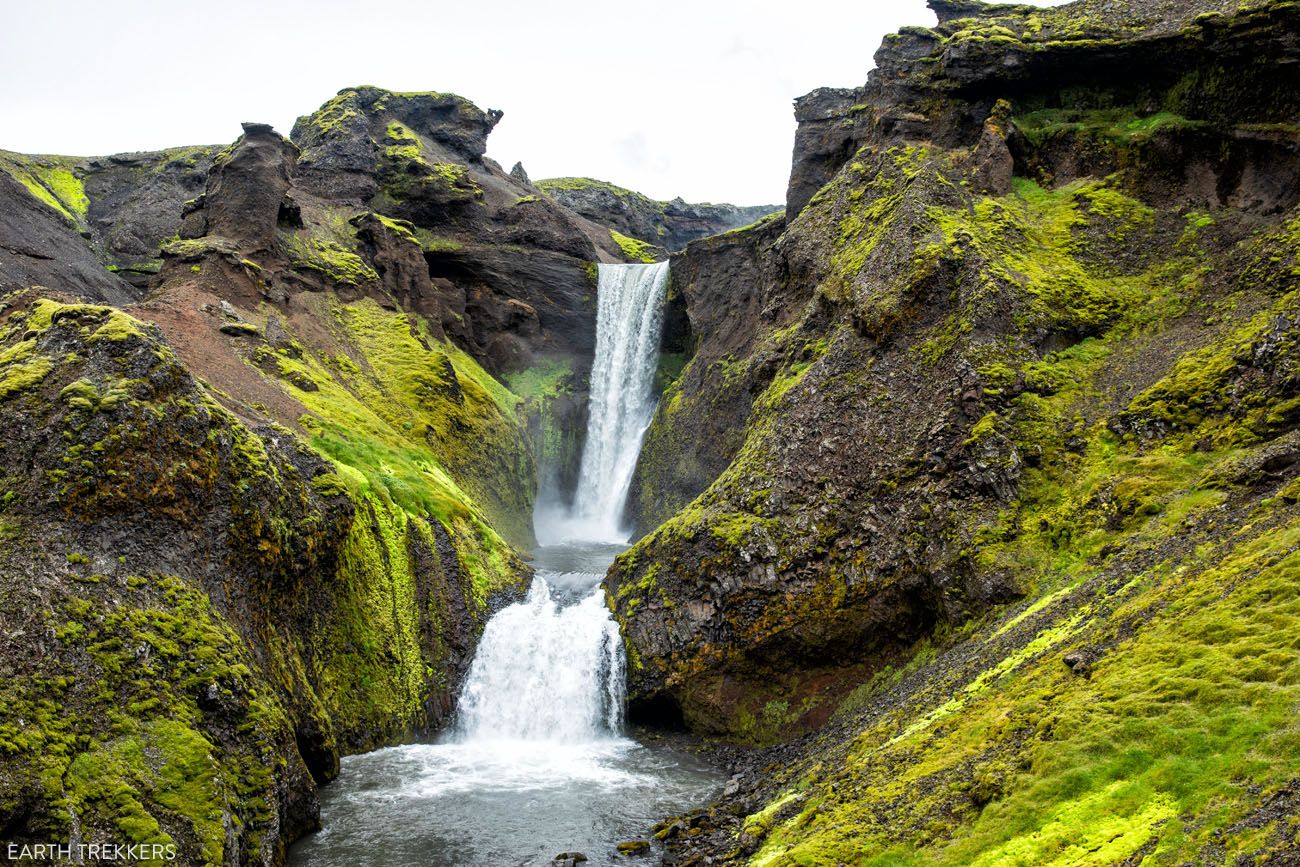 How to Hike Waterfall Way: The entire hike is 16 km (10 miles) round trip but you can turn around at any point that you like. It is an easy hike that most people can do. This is also the first part of the spectacular Fimmvörðuháls day hike. It is best to do this hike from June to September, when the trail is free of snow. Allow 4 to 6 hours to hike the entire trail. Learn more in our Waterfall Way Hiking Guide.
13. Seljalandsfoss
Seljalandsfoss is one of the most unique waterfalls in Iceland. It's also extremely popular.
Walk behind Seljalandsfoss and capture a rainbow in the water spray on a sunny day. This also makes a breathtaking sunset destination in Iceland.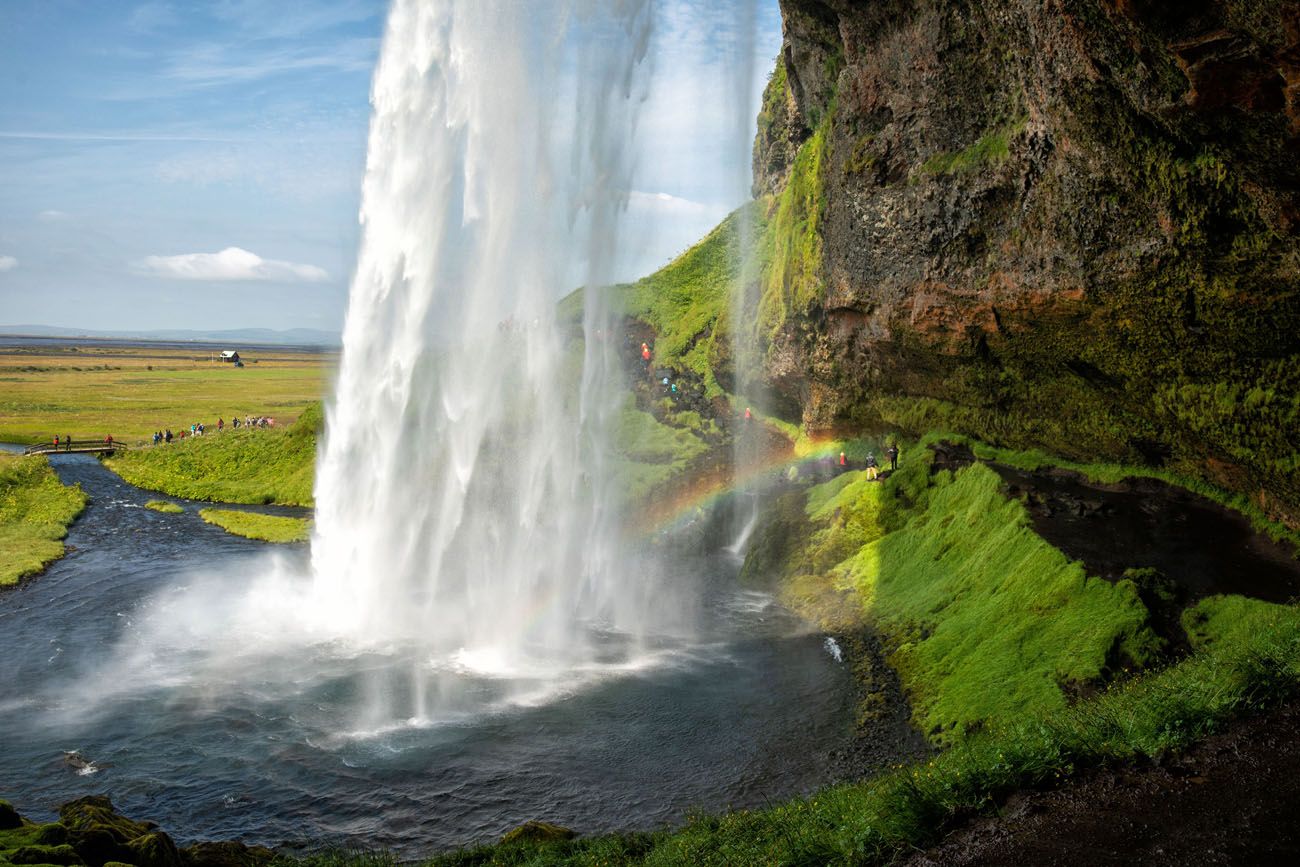 How to Visit Seljalandsfoss: Seljalandsfoss is free to visit but you will have to pay for parking (700 ISK). Park in the large parking lot and pay your fee at the ticket booth. It's less than a 5-minute walk to the waterfall.
14. Gljúfrabúi
Gljúfrabúi is a small waterfall that is tucked away in a canyon. To see this waterfall up close, you will have to walk along stepping stones in a stream, but it's a fun experience, just as long as you don't mind taking the risk of getting your feet wet.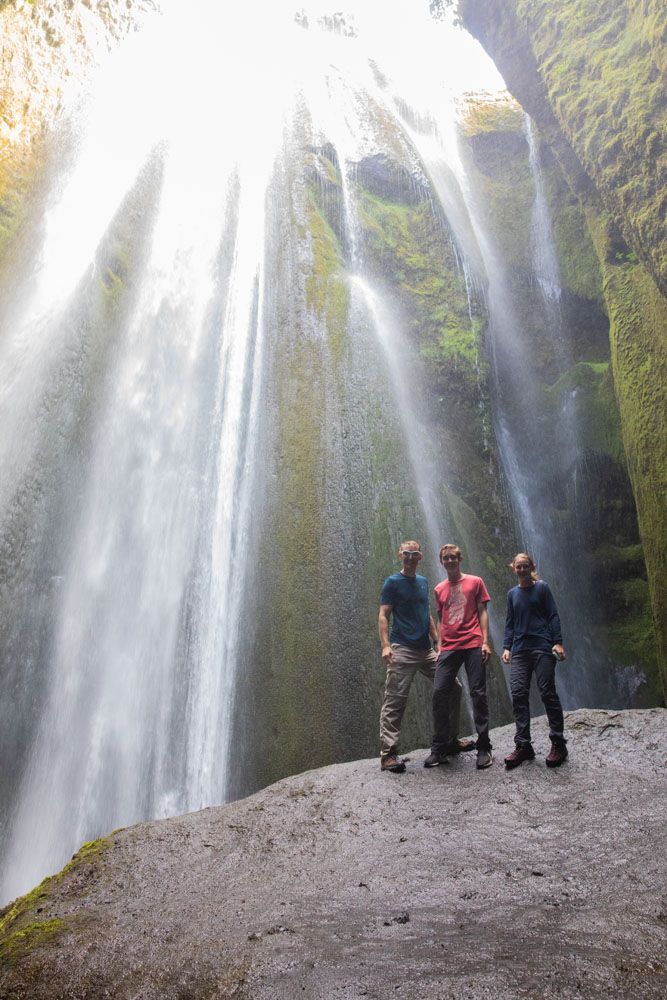 How to Visit Gljúfrabúi: Gljúfrabúi sits right next to Seljalandsfoss. Both of these waterfalls share the same parking lot. To visit Seljalandsfoss and Gljúfrabúi together, it takes 30 to 60 minutes.
15. Kvernufoss
Kvernufoss is another beautiful waterfall in Iceland. It's similar to Seljalandsfoss, in that you can walk behind it. However, it is much smaller and it is also a lot less crowded.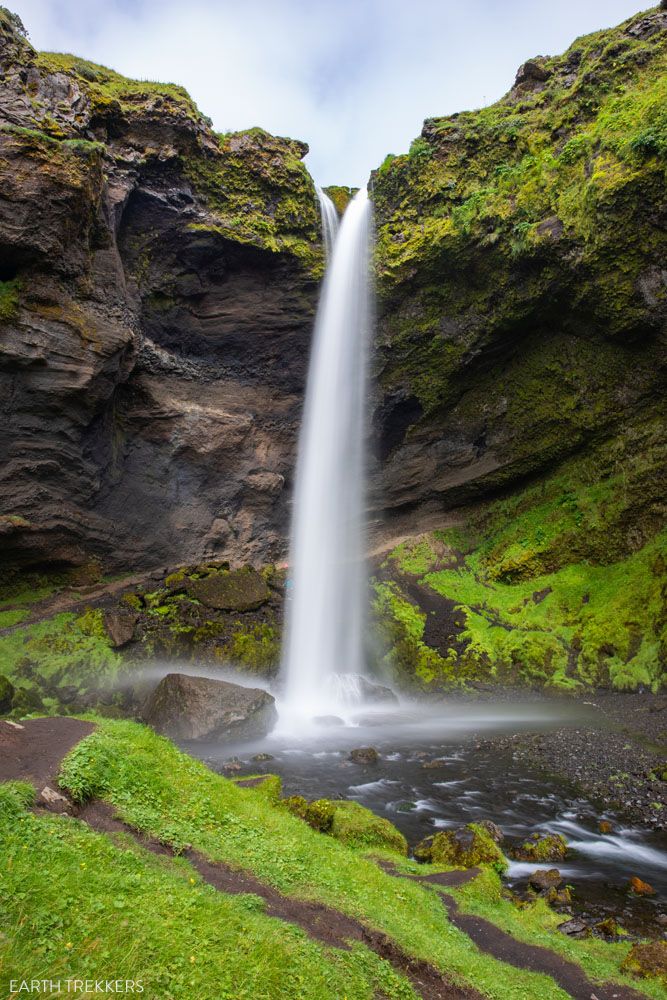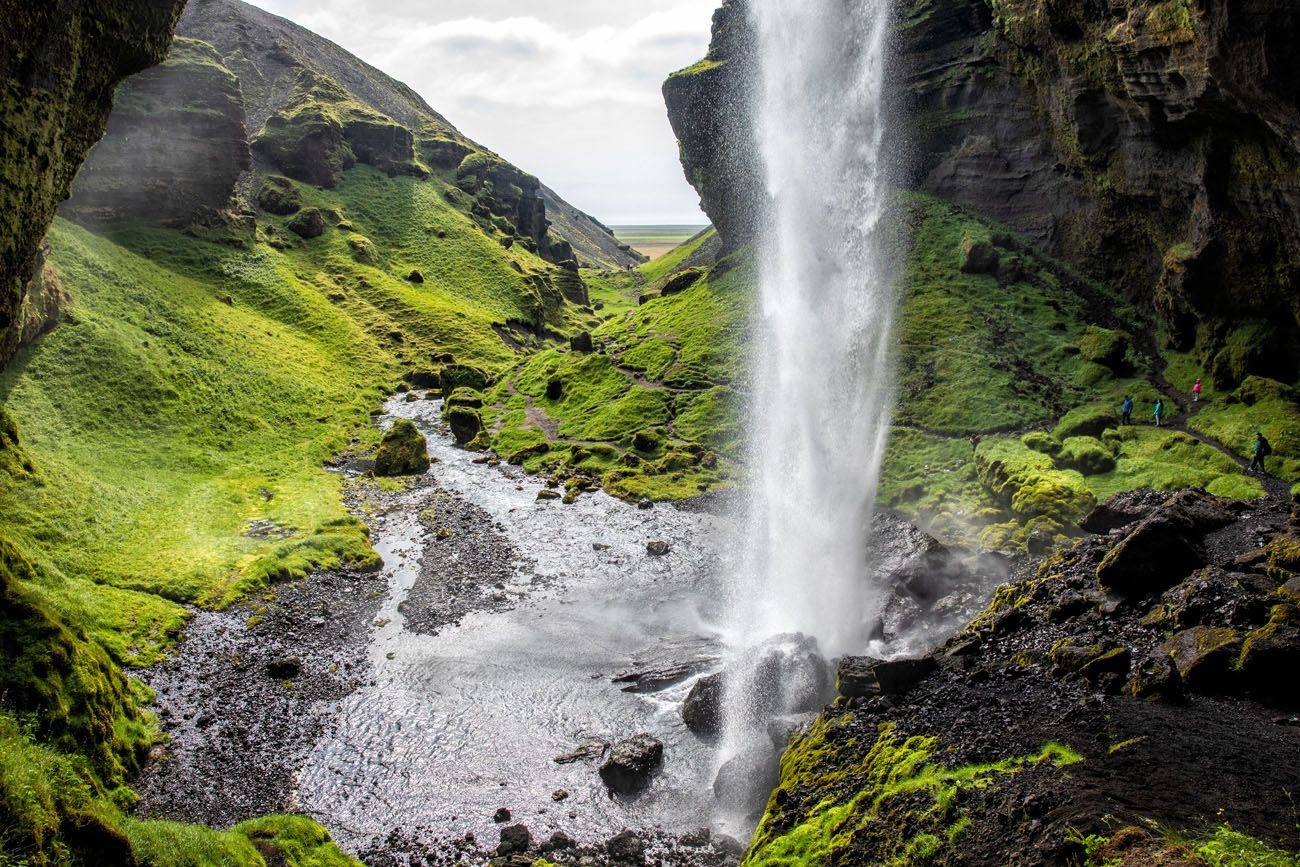 How to Visit Kvernufoss: A visit to Kvernufoss can easily be combined with Skógafoss, since they are located near one another. Park at the Skógar Museum and it is a 10-minute walk to get to the waterfall.
Important Note: This waterfall is located on private property. Stay on the trail and do not litter or leave behind any trash. Even if you do not have plans to visit the Skógar Museum, you will have to pay a small fee to park here.
16. Svartifoss
This unique waterfall inspired the design for the Hallgrimskirkja church in Reykjavík. Its thin stream of water washes over black, volcanic basalt columns, making this a very photogenic waterfall.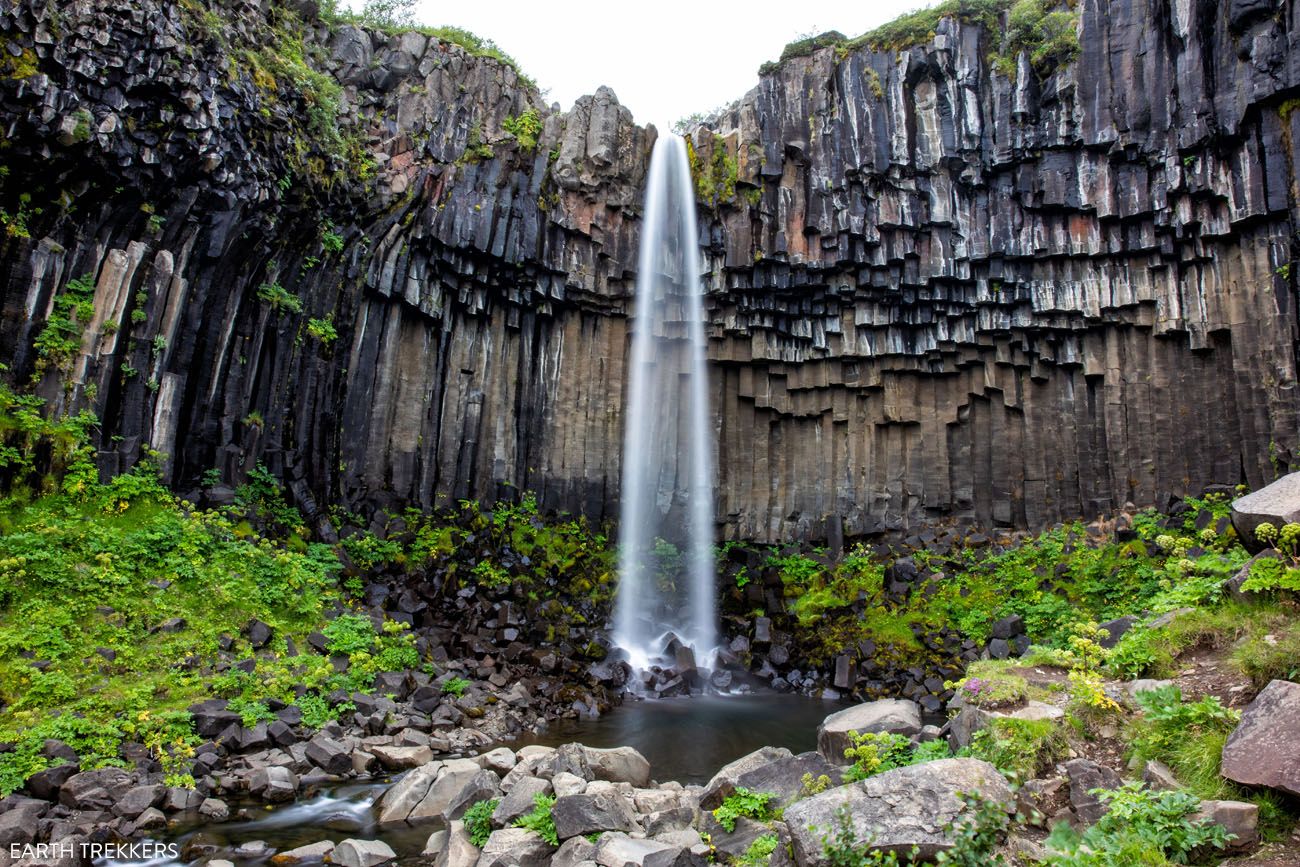 How to Visit Svartifoss: Svartifoss is located in Skaftafell and you will have to hike to get here. It is 3 km round trip and takes about an hour and a half. From the Skaftafell visitor center, it's a mostly uphill walk to the waterfall.
17. Háifoss
Háifoss is one of the tallest waterfalls in Iceland. In the early 20th century, it was believed to be the tallest waterfall in Iceland, earning it the name "high waterfall." Since that time, several taller waterfalls have been discovered in Iceland.
Háifoss makes a great detour on a road trip around the Golden Circle or during the drive out to Landmannalaugar.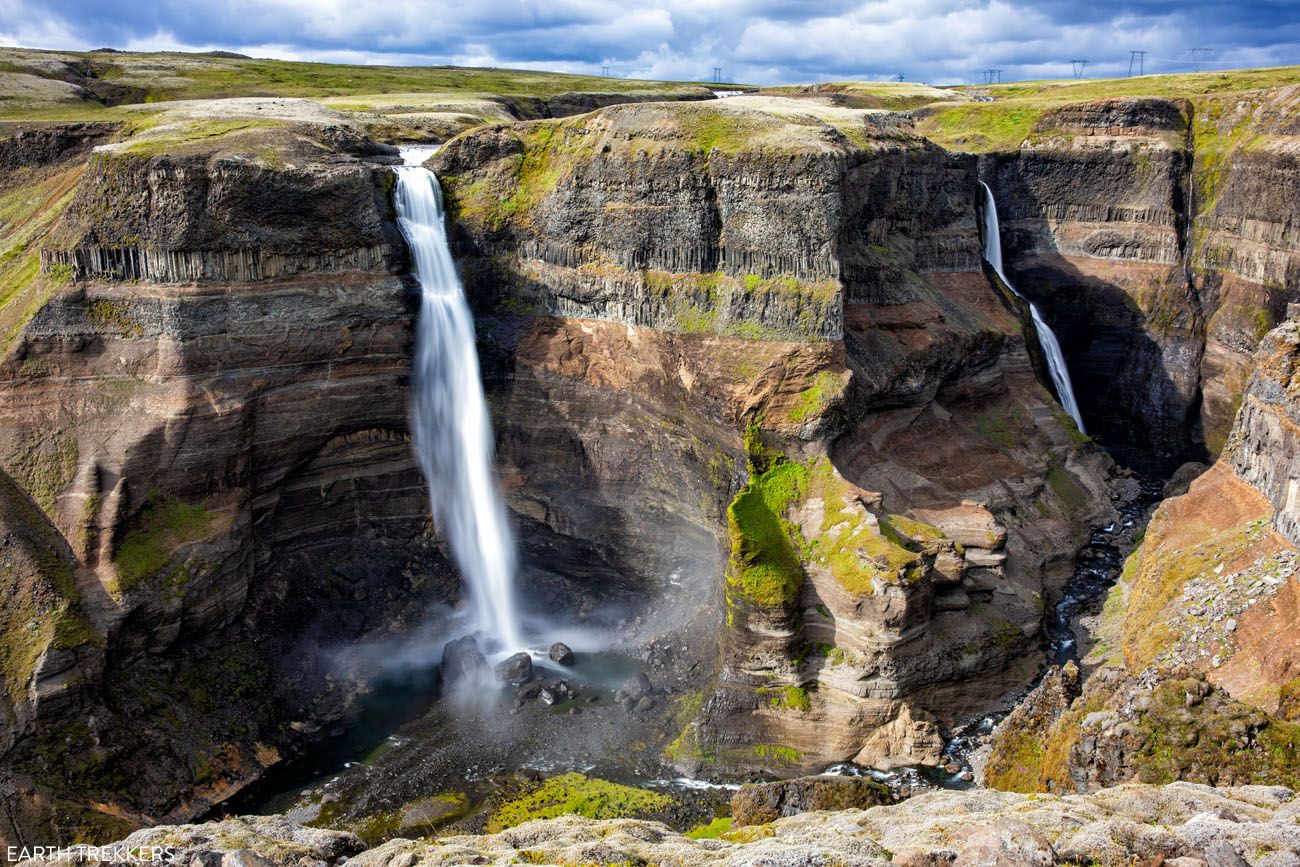 How to Visit Háifoss: Háifoss Waterfall is located in the Þjórsárdalur Valley, a beautiful valley that sits to the east of the Golden Circle. To get here, we recommend having a 4×4. From the Golden Circle, a visit here takes roughly 3 hours round trip. If you want to add on another waterfall to this visit, Hjalparfoss, a beautiful two-tiered waterfall, is just down the road. Read our Guide to Háifoss for full details on how to visit both.
18. Sigöldugljúfur
Sigöldugljúfur canyon is one of Iceland's best off-the-beaten path locations. This beautiful canyon, with its wall of waterfalls, is often overlooked or unknown to many visitors to Iceland.
To get here, you will need a 4×4, since it is located on an F-road, but it's worth the journey. And if you are already planning a visit to Landmannalaugar, this is very easy to add into your itinerary. You can also combine a visit here with Háifoss.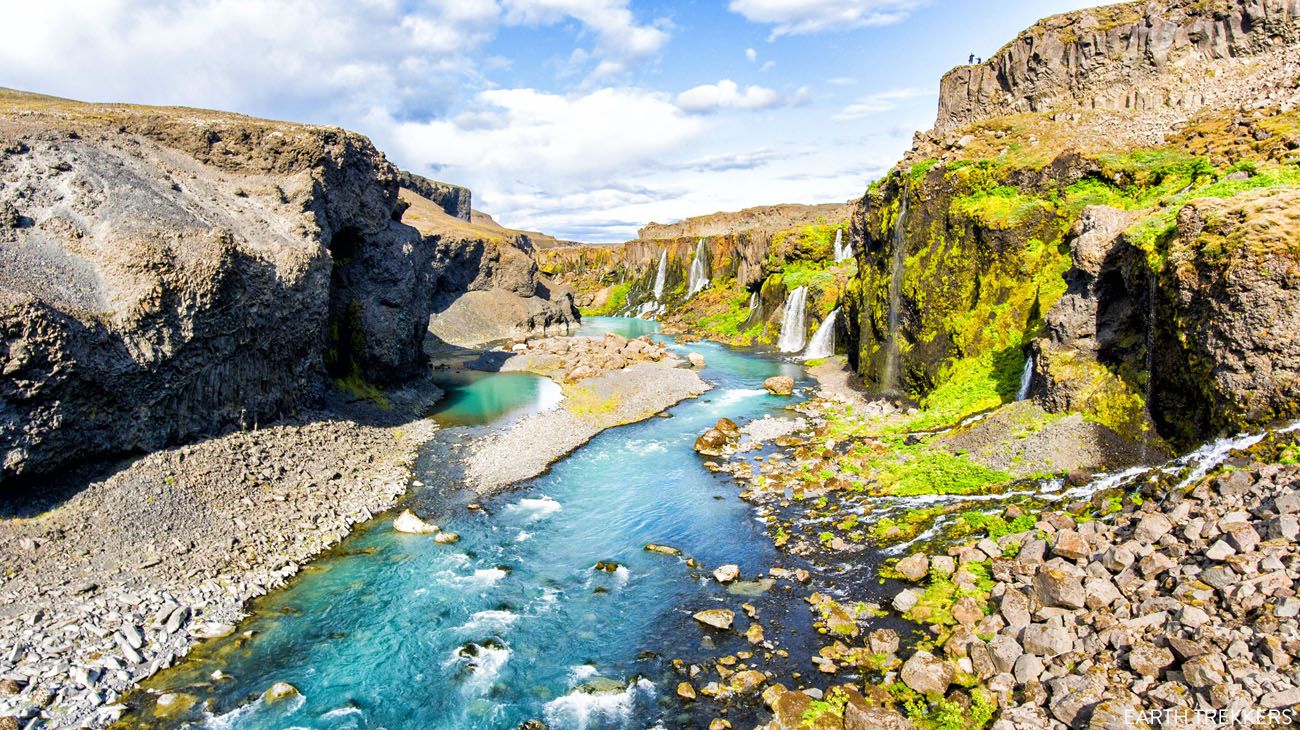 Drone photo of Sigöldugljúfur
How to Visit Sigöldugljúfur: Since it is located on a F-road you will need a 4×4 to get here. Sigöldugljúfur is located on F208, one of the main roads that leads to Landmannalaugar. From the car park, it is a 10-minute walk to the canyon. Learn how to get here in our Guide to Sigöldugljúfur.
19. Kirkjufellsfoss
Kirkjufellsfoss is the waterfall that you see in photos of Kirkjufell, one of Iceland's most famous mountains.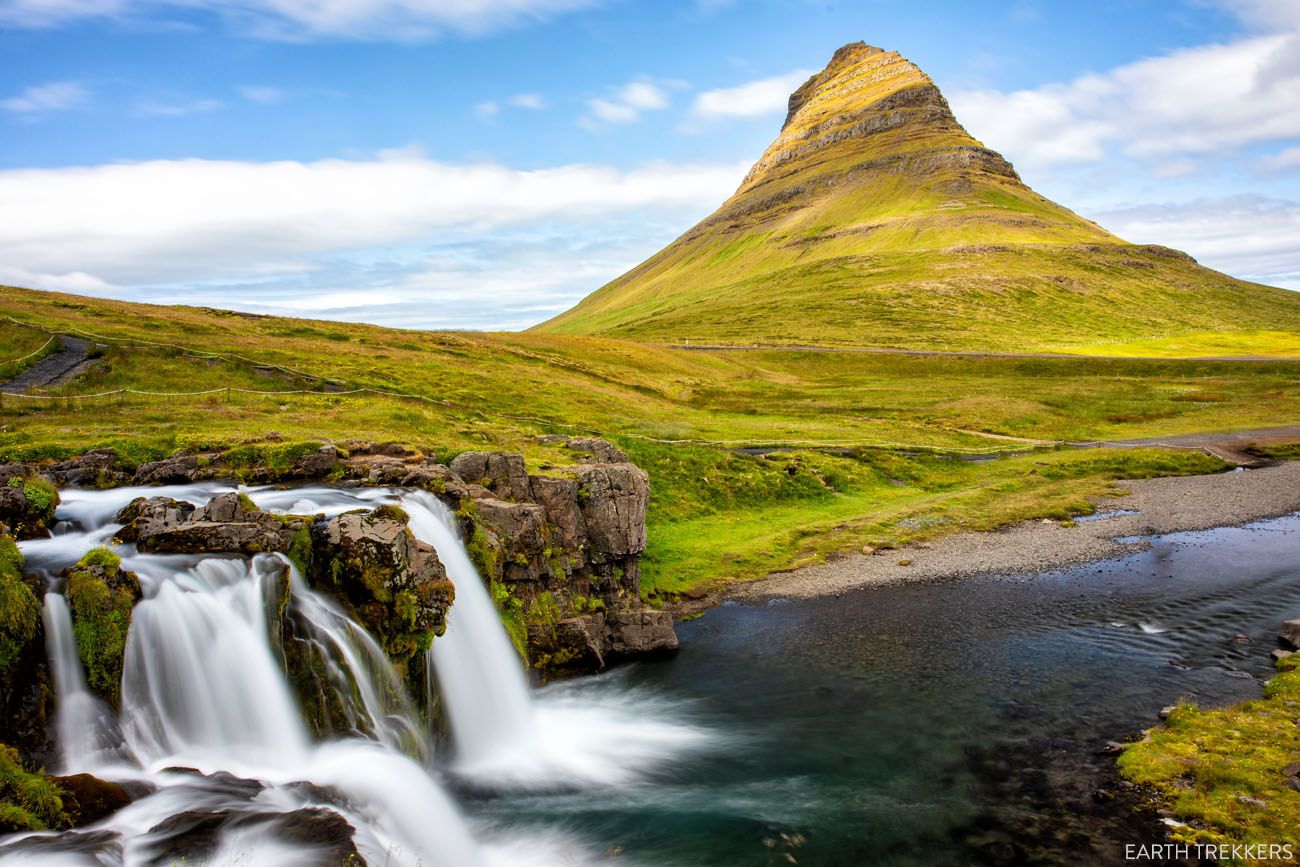 How to Visit Kirkjufellsfoss: This waterfall is located on the Snaefellsnes Peninsula. Park in the (too small) parking lot on highway 54. Midday it can take a bit of luck to get a spot here. There is no fee for parking. Walk up the short trail and enjoy the view.
20. Dynjandi Waterfall
Located within the remote Westfjords of Iceland is the spectacular waterfall named Dynjandi. For approximately 100 meters, a wall of water cascades over multiple layers of rock, creating a waterfall with a bridal veil appearance.
This is a waterfall that is still on our "to-do" list for Iceland, but you can see photos here.
How to Visit Dynjandi Waterfall: Dynjandi waterfall is located in the Westfjords of Iceland. Park in the parking lot for Dynjandi waterfall and it is just a short walk to get a closer view.
Best Waterfalls in Iceland on a Map
How to Use This Map: Click the icons on the map to get more information about each waterfall. Click the star next to the title of the map to add this map to your Google Maps account. To view it on your phone or computer, open Google Maps, click the menu button, go to "Your Places," click Maps, and you will see this map on your list.
Tips for Photographing Waterfalls
To capture the blur of the moving water, you will need a tripod. On a bright day, you will also need a neutral density filter.
A neutral density filter is like putting sunglasses on your camera. It darkens the scene you are photographing, allowing you to shoot with a slower shutter speed.
To create the frozen waterfall effect, shoot in manual mode. I set the ISO to 100 and experiment with shutter speeds from 0.5 seconds to 2 seconds (adjusting the aperture for proper exposure).
How long you choose to leave the shutter opens depends on the amount of light available and what kind of effect you want to produce with the water flow. Longer shutter speeds result in a very blurry, frozen effect whereas shorter shutter speeds can still blur the water but preserve a little bit of the detail. I recommend experimenting with a few different shutter speeds and pick your favorites later when viewing them on your computer.
It also helps to use a polarizing filter. Polarizing filters reduce the glare on the water and can make your colors more vibrant.
A waterproof cover for your camera is worth having. Not only do you risk your camera getting wet while photographing the waterfalls, but it rains (and snows) a lot in Iceland, so this will help protect your camera. Bring a microfiber cloth to wipe the water spray off of the front of your lens.
Best Time to Photograph the Waterfalls in Iceland
For long days, lots of sunlight, and relatively warm weather, visit Iceland between June and September. In June, you will have 24 hours of daylight, plenty of time to fill your memory card with beautiful waterfall photos. However, you won't get to see sunrise or sunset.
If you want to capture the sunrise and sunset in your photos, visit Iceland in August or even early September.
Some of the waterfalls on this list can only be visited in the summer months, when the F-roads are open (Sigöldugljúfur and Háifoss fall into this category).
For snowy landscapes and the chance to capture the Northern Lights, visit Iceland in the spring and autumn months.
During the winter, days are very short with little daylight, and road closures due to snow and ice are common, making this the most challenging time of year to visit Iceland.
About Our Visit: All of these photos were taken during the month of July.
Important Links
Check the road conditions before you go on www.road.is.
Get updated weather conditions here.
---
If you have any questions about the best waterfalls in Iceland to visit, or if you want to share your favorite waterfalls, let us know in the comment section below.
Planning Your Trip to Iceland
Here are more articles on our website to help you plan your trip to Iceland.
Iceland Itineraries
Inspiration and More Places to Go
BEST OF ICELAND: For a list of top experiences in Iceland, don't miss our Iceland Bucket List. If you are a hiker, we also have a hiking guide with 10 epic day hikes to do in Iceland.
DAY TRIPS FROM REYKJAVÍK: If you are planning a short visit to Iceland with Reykjavík as your home base, here are 10 great day trips to take from Reykjavík.
SNAEFELLSNES PENINSULA: Plan the perfect visit to the Snaefellsnes Peninsula with our Guide to the Snaefellsnes Peninsula, which covers the best things to do, where to stay and sample itineraries.
ADVENTURES IN ICELAND: Iceland is full of wonderful adventures. Go off the beaten path and explore Kerlingarfjöll. Spend one day in Landmannalaugar, hike the epic Fimmvorduhals trail (one of our favorite day hikes in the world), and go glacier hiking. Learn how to put all of this together in our 10 Day Iceland Adventure Itinerary.
ICELAND TRAVEL ADVICE: First time in Iceland? Here are essential things to know about Iceland, including driving tips, sample costs, SIM cards, when to visit, and more.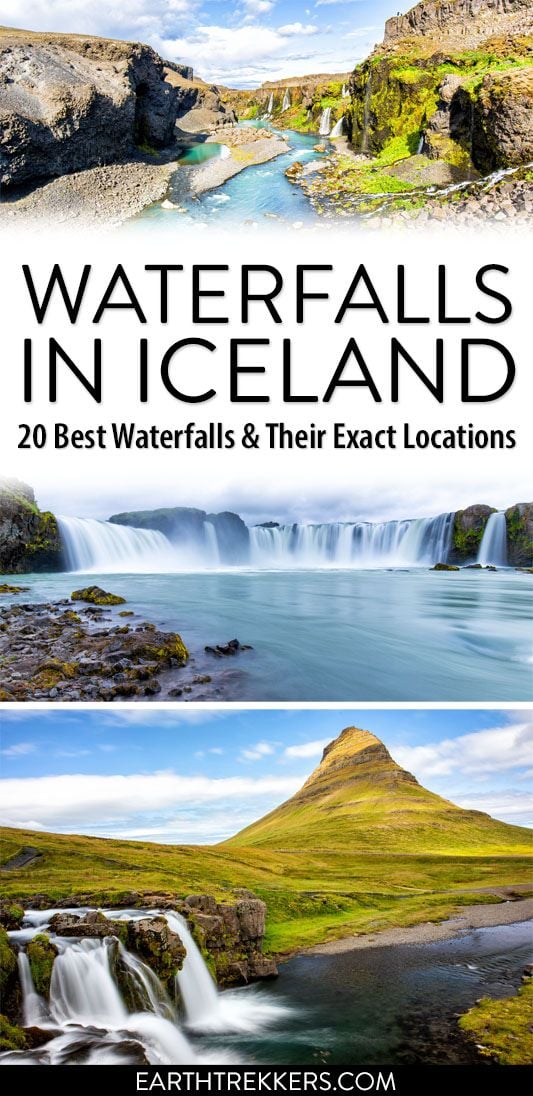 All rights reserved © Earth Trekkers. Republishing this article and/or any of its contents (text, photography, etc.), in whole or in part, is strictly prohibited.