Brúarfoss waterfall is famous for its brilliantly blue color. In fact, it's called "Iceland's Bluest Waterfall."
To get here, you have two options. You can hike the trail that we outline below, or you can park in the brand new Brúarfoss parking lot that just opened in April 2023. From this parking lot, it is only a 5 minute walk to get to the waterfall.
If you choose to do the hike, it is 7 km (4.4 miles) out-and-back. Not only do you get to see Brúarfoss, but you also get to see several smaller waterfalls along the trail.
If you only want to see Brúarfoss, then park in the new lot and the entire experience will take about 30 minutes. If you like the idea of doing a short easy hike and seeing a few smaller waterfalls, then hike the trail that we outline below.
Facts About Brúarfoss
Brúarfoss means "bridge waterfall," named for a stone archway that once crossed the river. That arch fell hundreds of years ago, but the name remains the same.
The waterfall is fed by the Brúará River, which is glacier melt from Langjökull glacier. This glacial water is what gives Brúarfoss its sky blue color.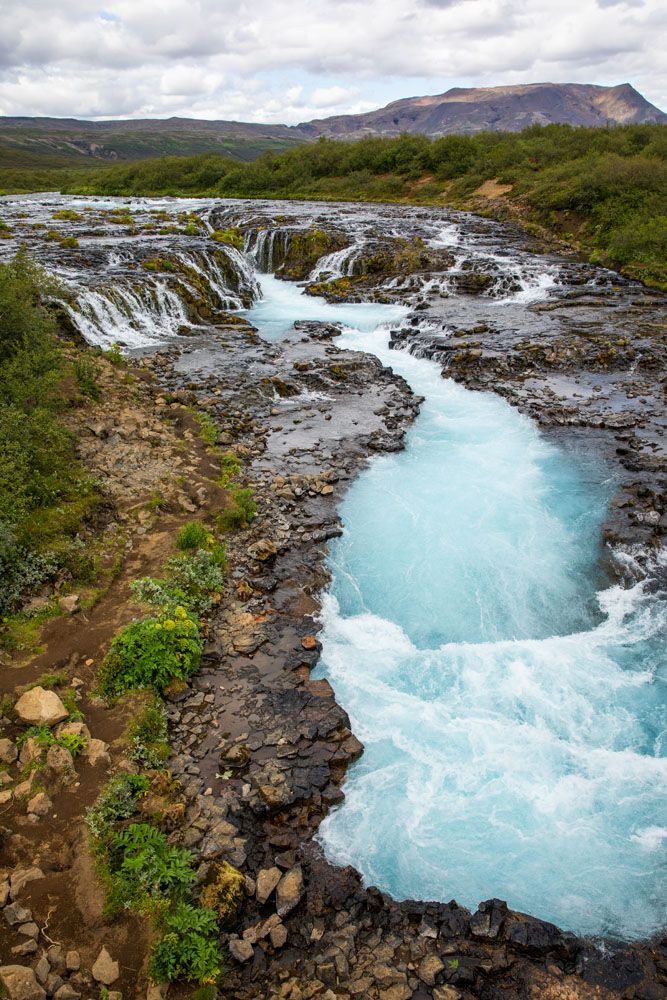 Where is Brúarfoss?
Brúarfoss is located in southwest Iceland, right off of the Golden Circle. If you are touring the Golden Circle, this makes a nice addition to your day.
Here are the distances and driving times from nearby destinations:
Reykjavik: 90 km, 1.5 hours
Gullfoss: 25 km, 20 minutes
Geysir: 15 km, 12 minutes
Thingvellir National Park: 45 km, 40 minutes
Fludir: 21 km, 22 minutes
Parking for Brúarfoss Waterfall
There are two parking lots for Brúarfoss waterfall.
As of April 2023, there is a brand new parking lot for Brúarfoss. From this parking lot, it is only a 5 minute walk to get to Brúarfoss, so this makes a great alternative to hiking the full trail outlined below. To get to this parking lot (which is labeled Brúarfoss Parking on Google Maps, or click here to see it on Google Maps), it is a rough, rocky road to the lot. There is a parking fee of 750 ISK for a standard vehicle or SUV, more for a campervan or small bus. From this parking lot, it is only a 5 minute walk to get to Brúarfoss, so this makes a great alternative to hiking the full trail outlined below. If you hike this short trail and would like to let other readers know what it is like, let us know in the comment section below. And thank you Andi for the update!!
The second parking area is located on Route 37. On Google Maps, it is called Brúarfoss Trail – Parking. There is room here for roughly 25 cars and there are no restrooms. It is free to park in this lot (as of the most recent update of this article).
WHICH ONE IS BETTER? If you are short on time or don't want to hike a 7 km trail (which takes most people about 2 hours), then park at the closer, brand new parking lot. If you don't want to spend 750 ISK to park and/or like the idea of hiking past the other waterfalls, then park at the Brúarfoss Trail – Parking lot.
Hiking to Brúarfoss
To hike to Brúarfoss, it is a mostly flat walk along the Brúará River. It's an easy walk so people of all ages can do this hike.
From the Brúarfoss Trail – Parking lot, it is 3.5 km (2.2 miles) one-way to get to Brúarfoss. It takes roughly one hour to walk to Brúarfoss waterfall.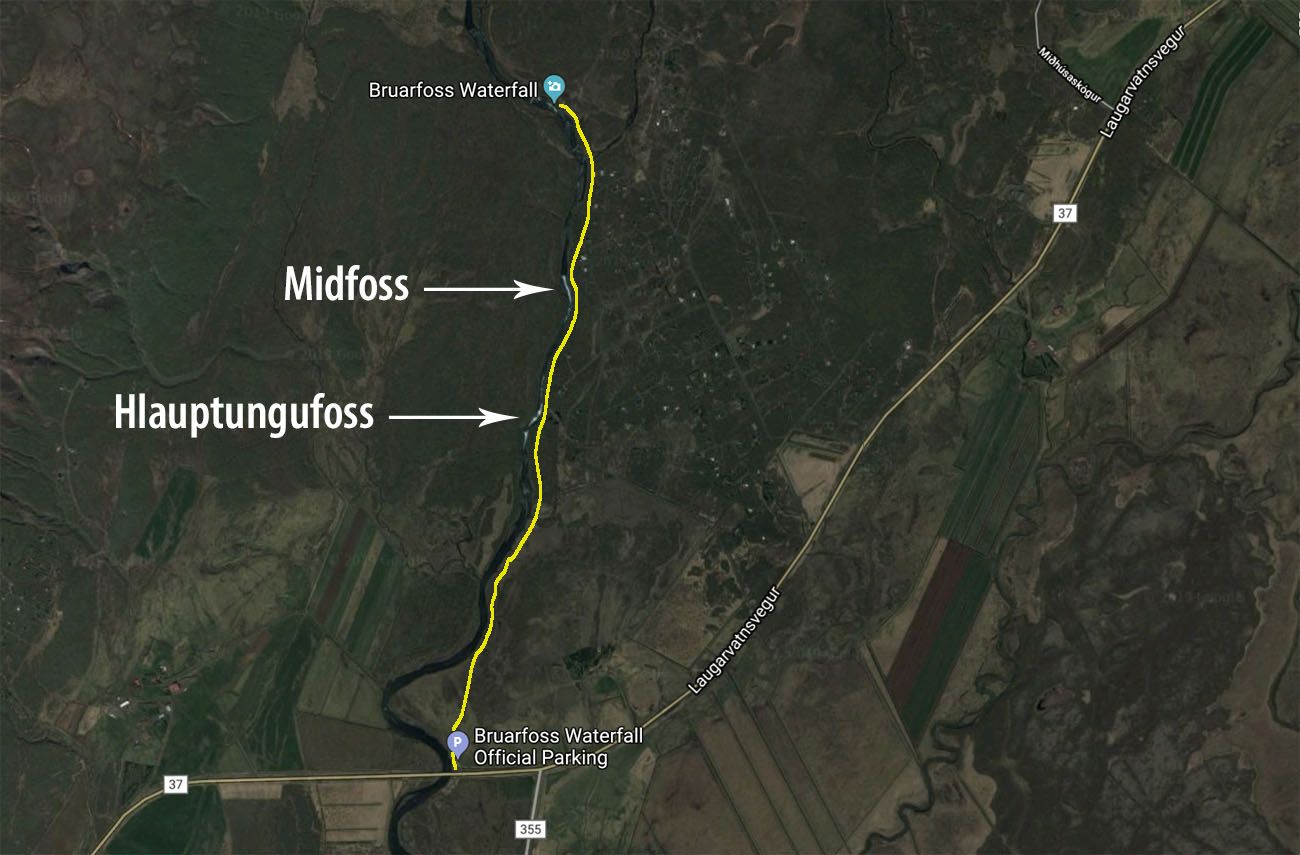 From the parking lot, follow the wide gravel path north. Stay straight to take a short cut across the small peninsula of land that sits in the bend of the Brúará River. There is a secondary path that breaks off to the left, following the river. This will get you to the waterfall too, but it will add some time and distance onto this hike. We know, because we made the mistake and followed this trail.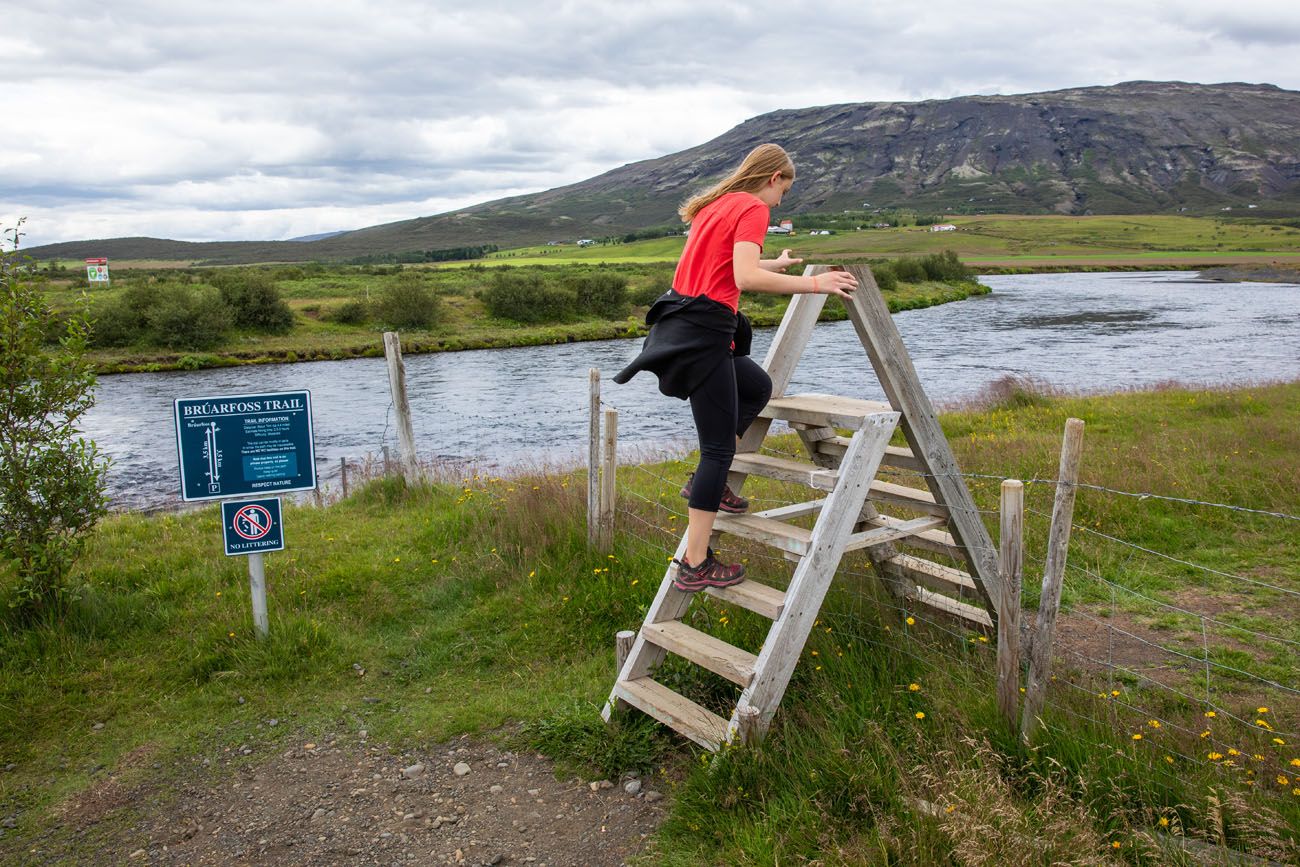 Kara climbing the stile from the parking lot to get onto the hiking trail.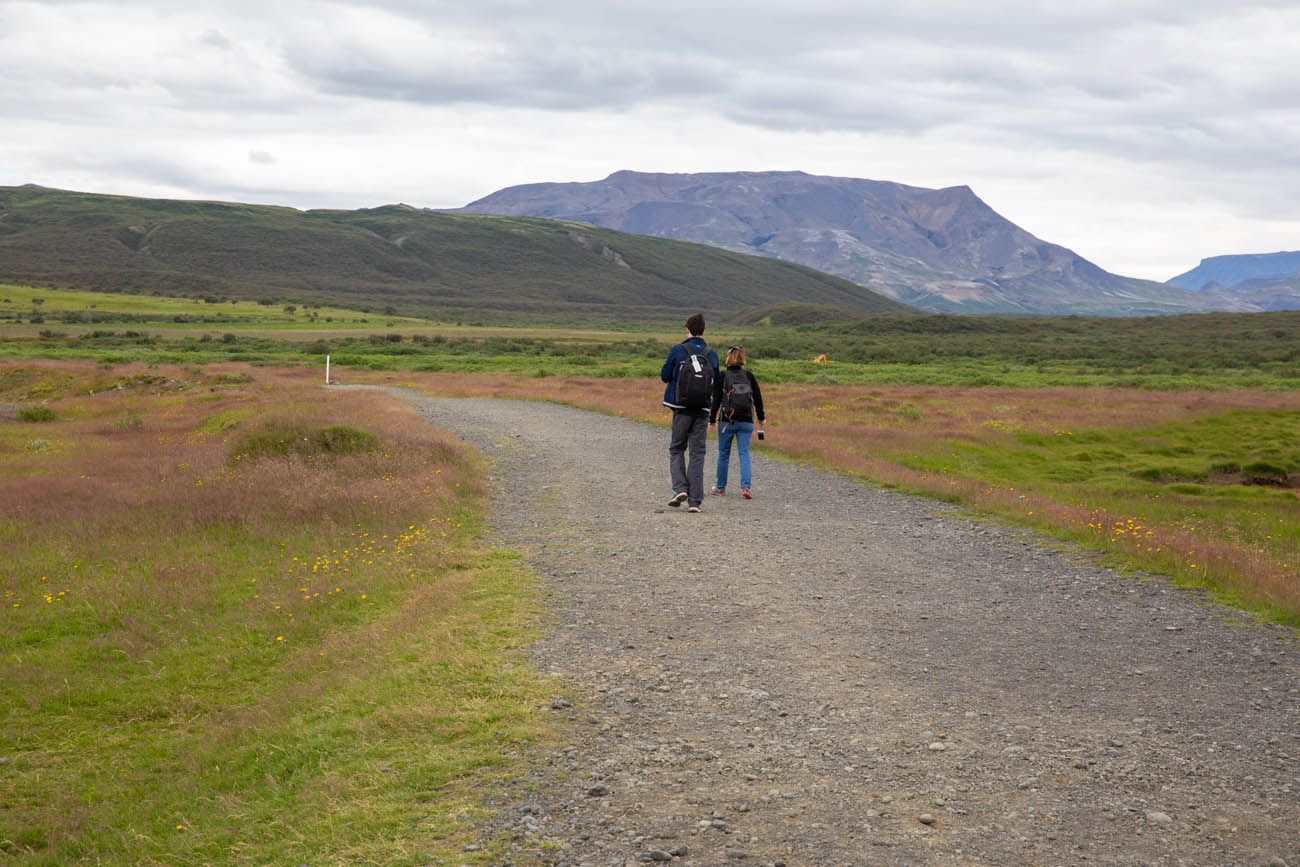 First section of the trail after it leaves the parking lot.
Once the trail rejoins Brúará River, it narrows and it's a very slight uphill walk to get to Brúarfoss. For part of the hike, you will walk through a dense forest of small trees. But for most of the hike, you will be on a narrow trail next to the river.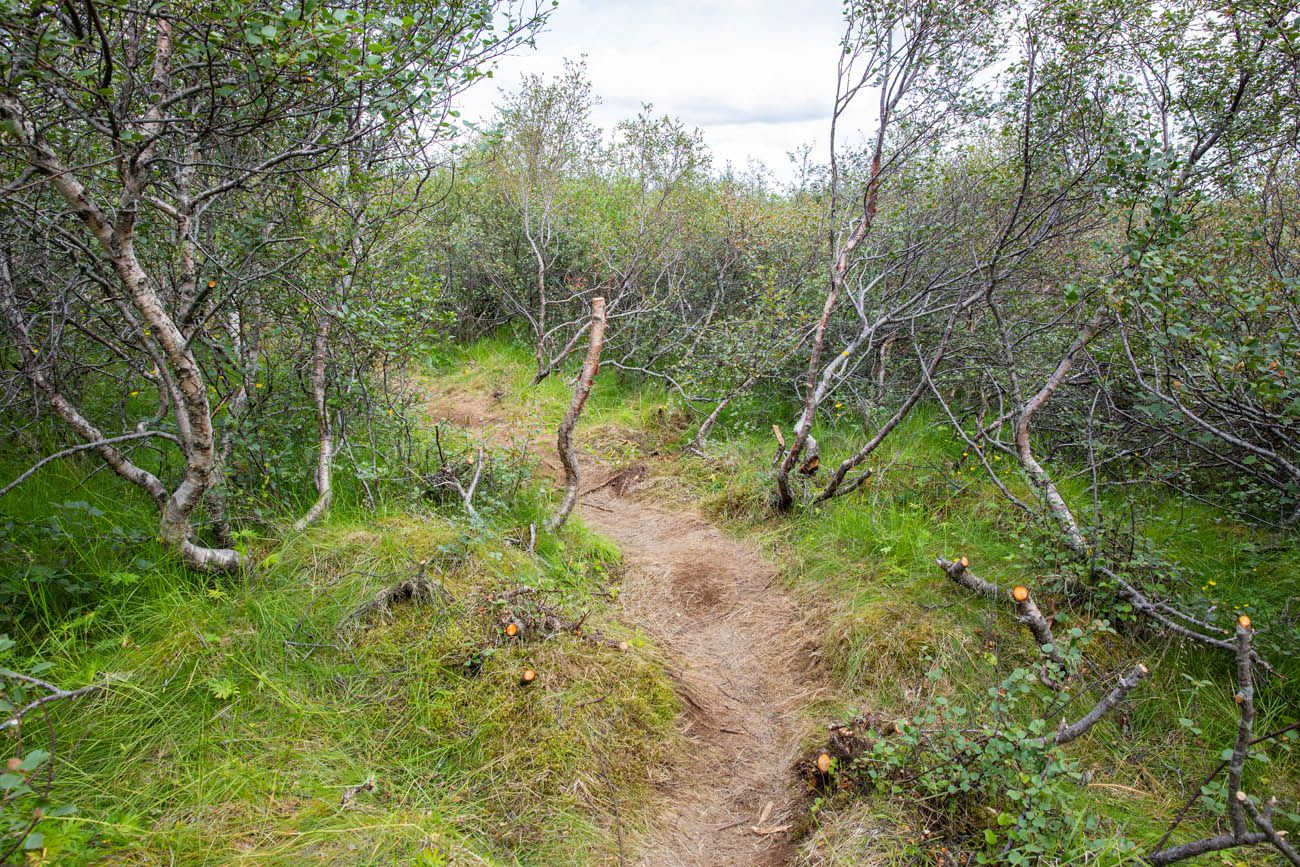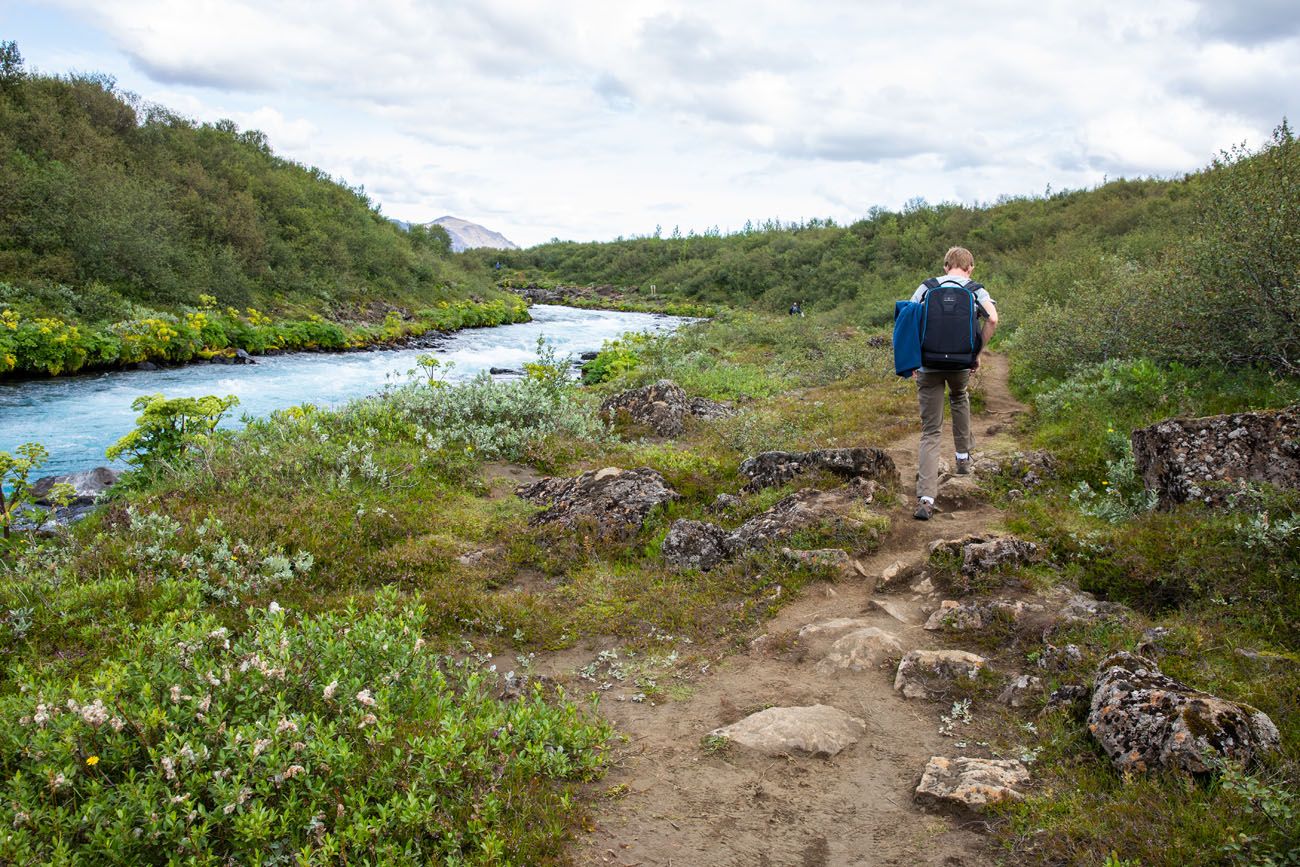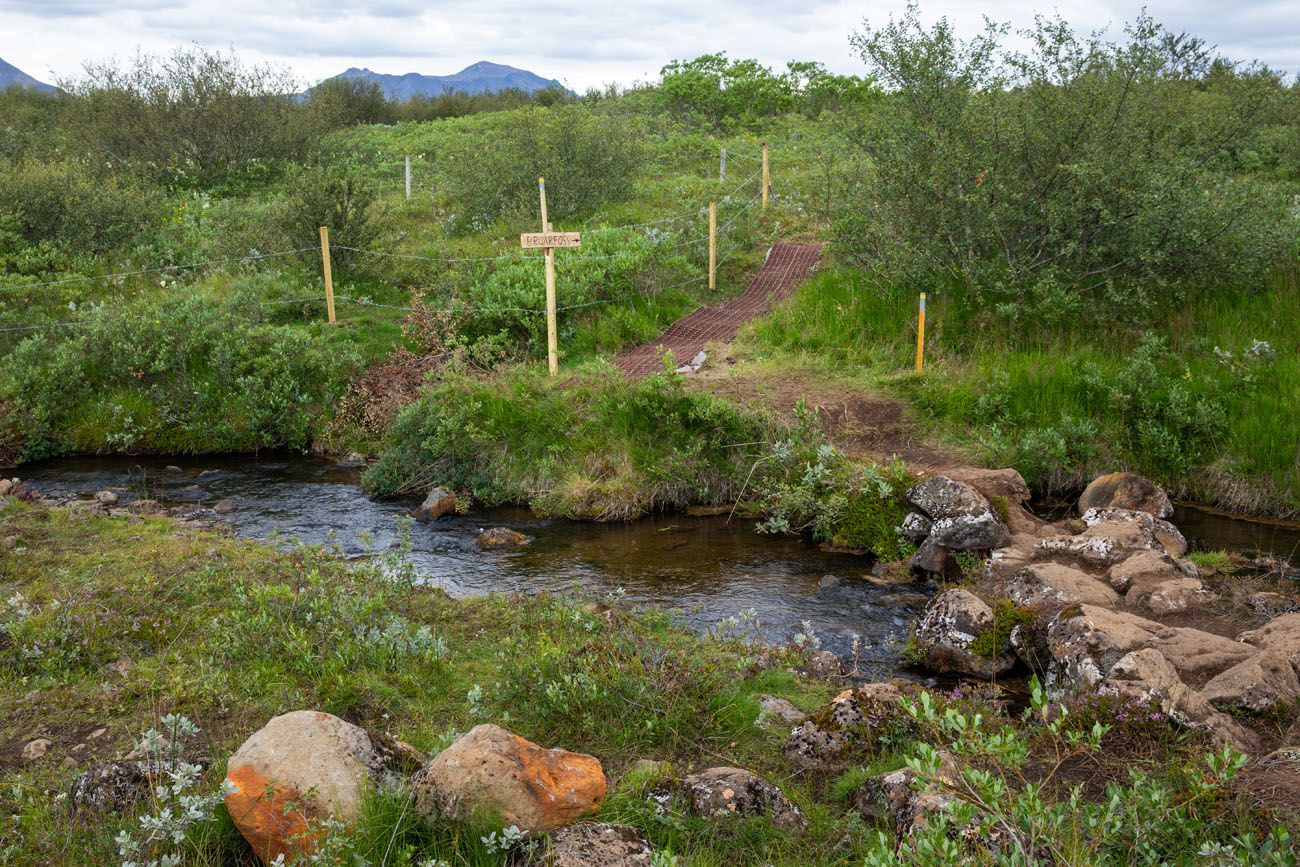 If it is wet or raining, this trail will get muddy. If it is muddy, try to stay on the trail, to prevent further damage to the landscape (or save this visit for a drier day if you can).
Along the way, you will see two smaller waterfalls.
Hlauptungufoss sits at about the halfway point to Brúarfoss.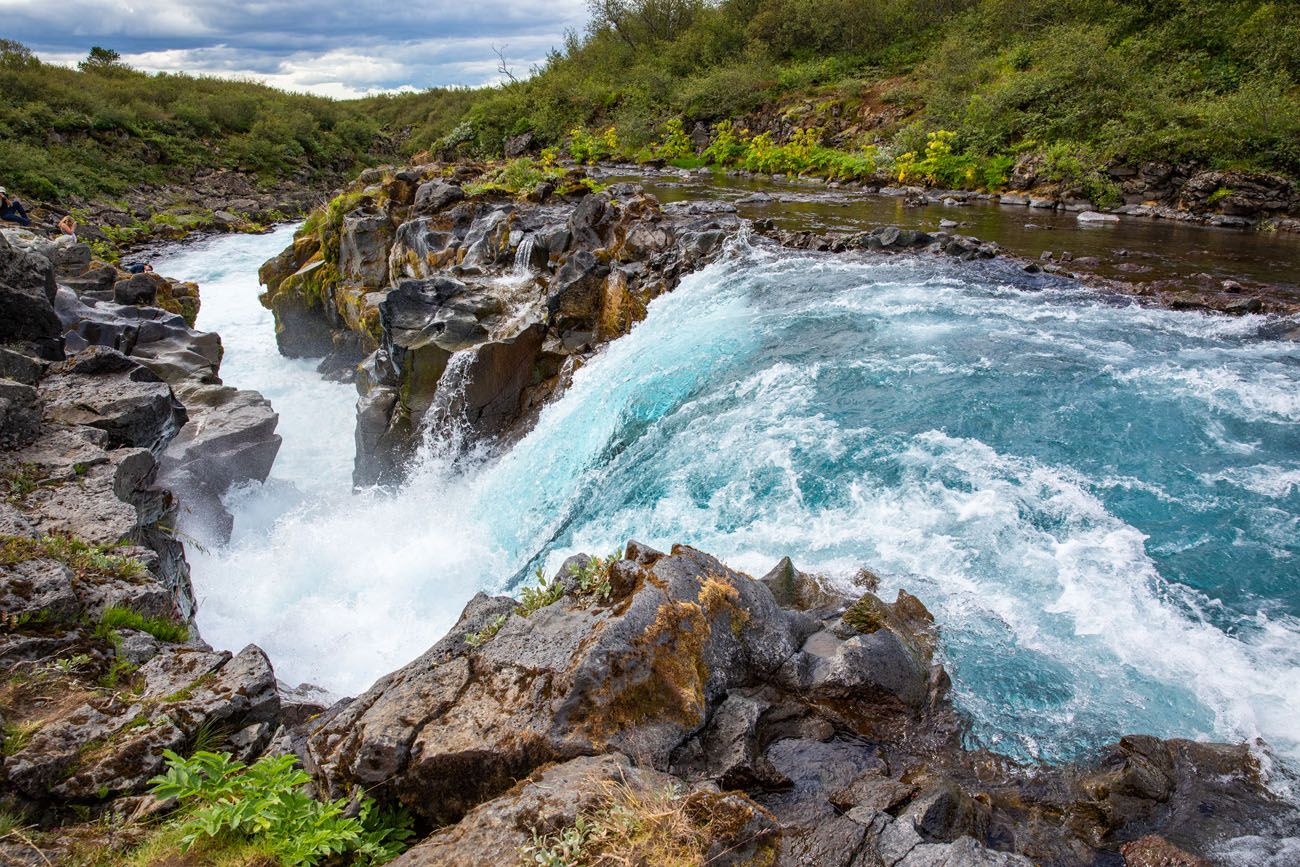 Just a short walk later you arrive at Midfoss.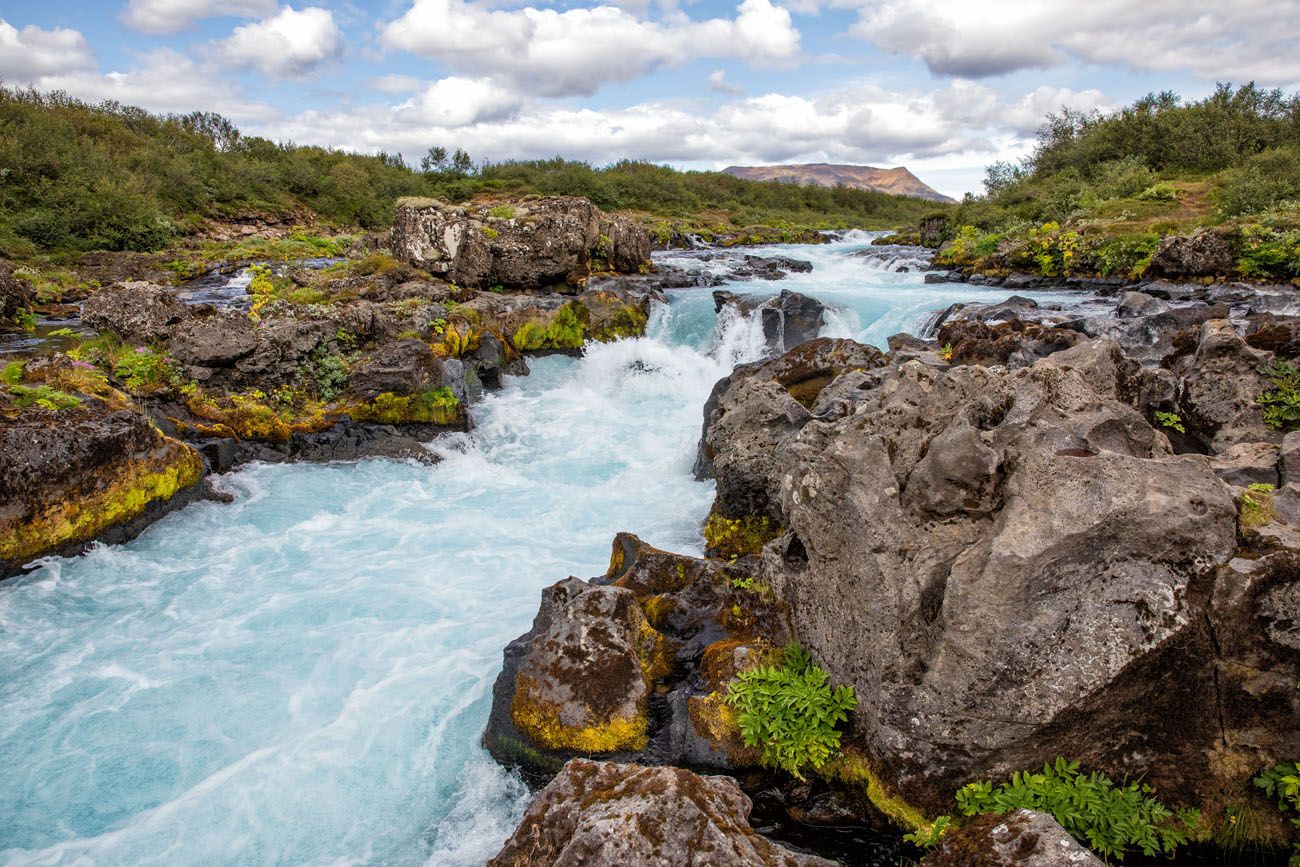 Drone photo of Midfoss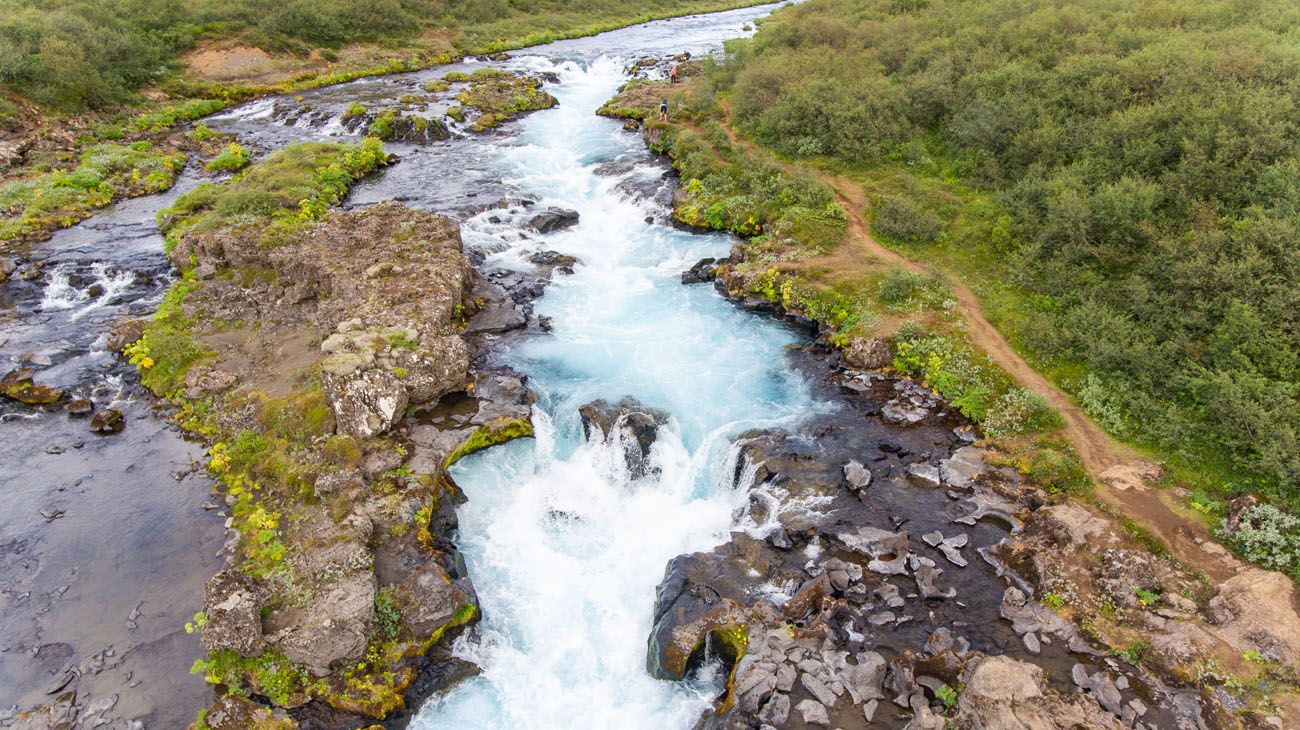 Another drone photo of Midfoss and the trail alongside the river.
After a little more walking, you will arrive at Brúarfoss. There is a wooden bridge spanning the river, a great place to take photos.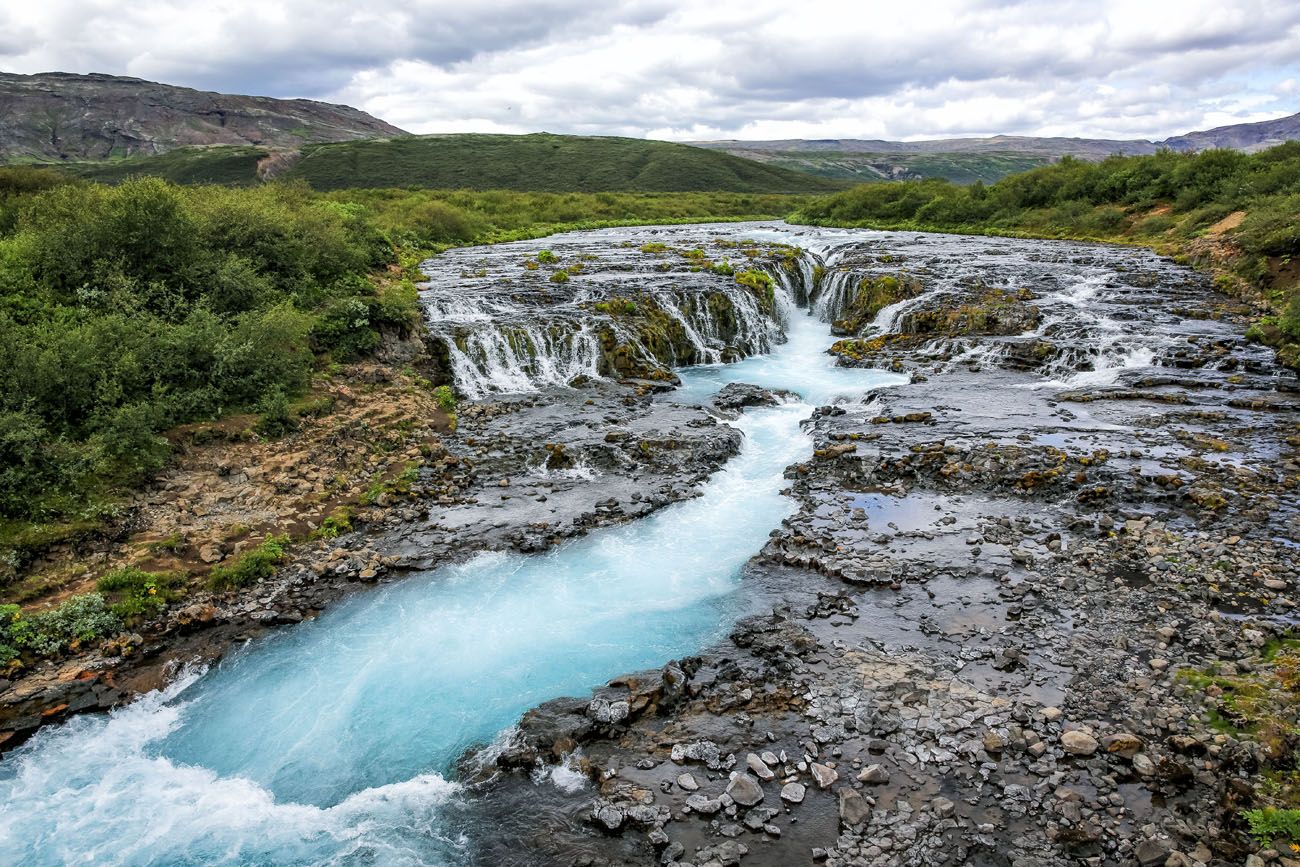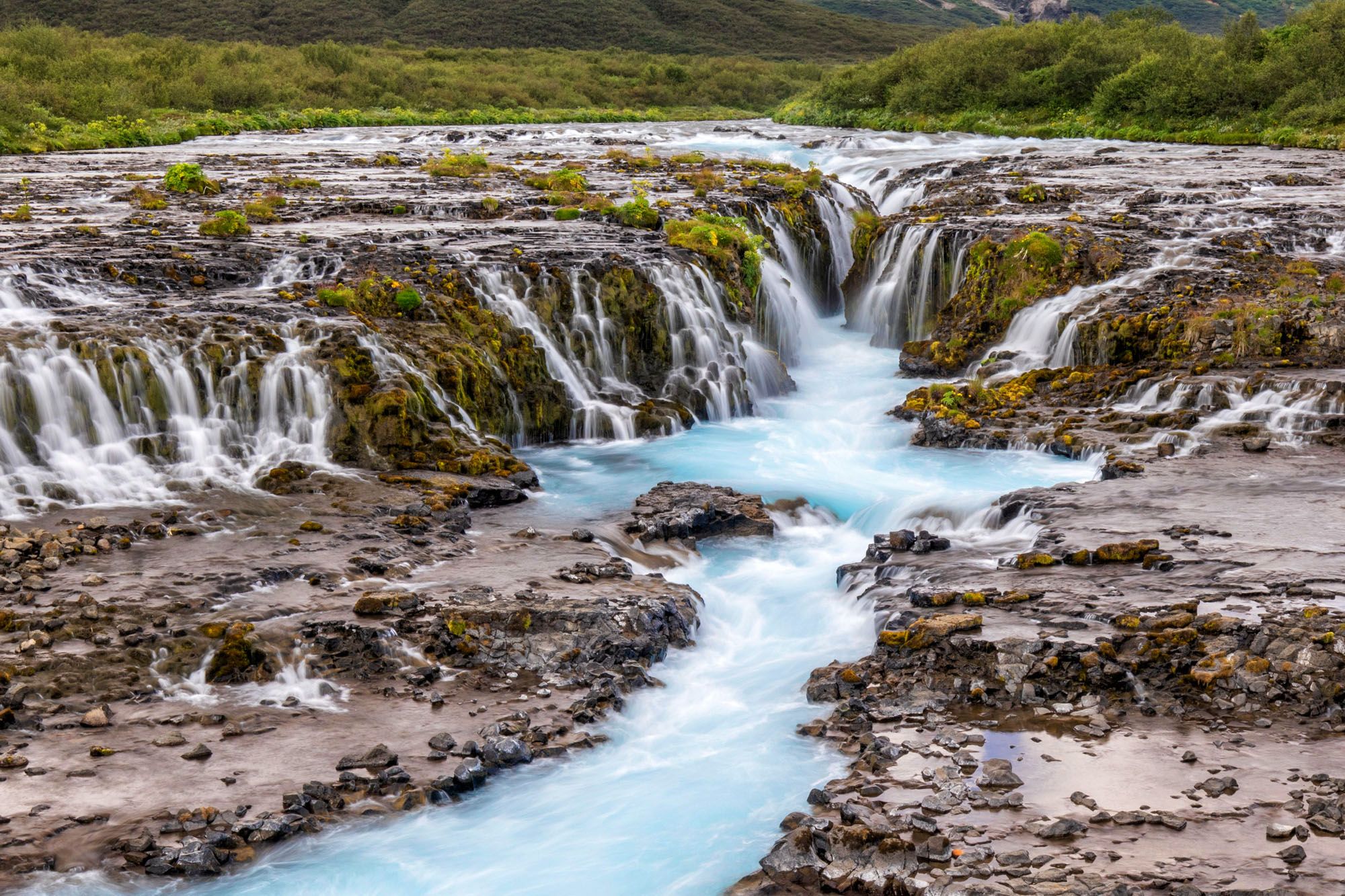 To take photos at the water's edge, cross the bridge and walk down to the riverbank.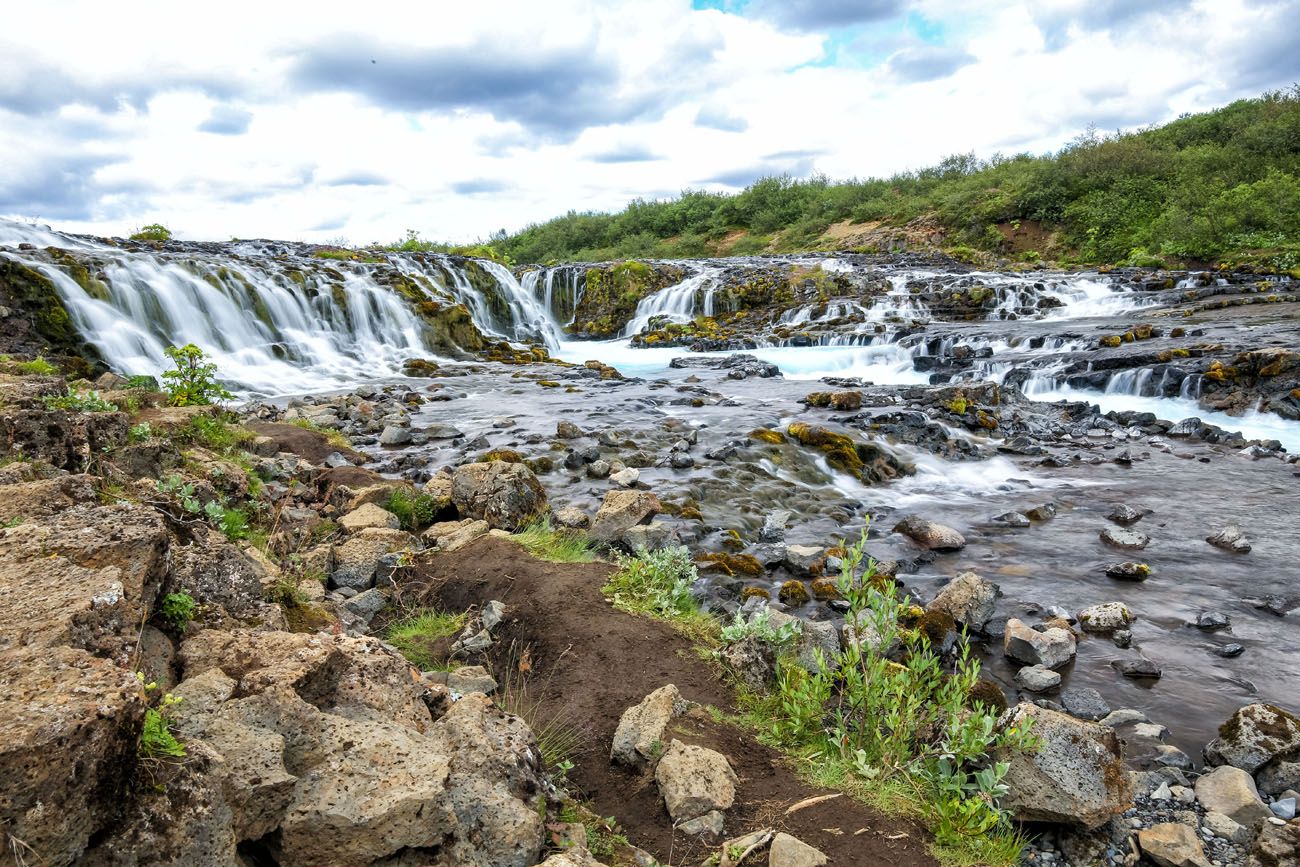 Here is an aerial view of Brúarfoss and the bridge taken with our drone.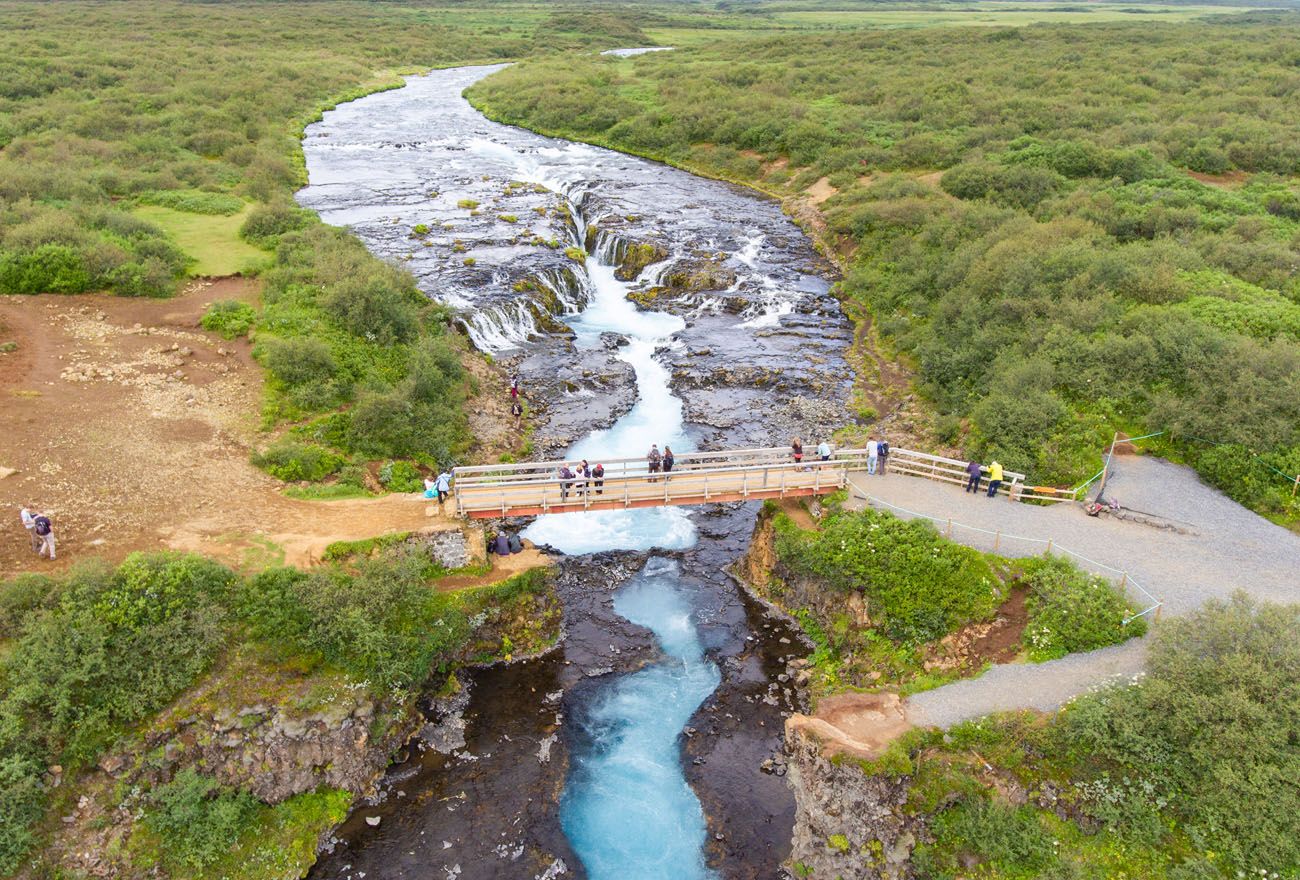 Return to your car on the same path.
Is Brúarfoss Worth It?
As far as things to do and places to go in Iceland, we thought that this was just so-so. It's a long, somewhat unexciting walk to Brúarfoss, even with Hlauptungufoss and Midfoss. Brúarfoss is a nice waterfall, but it's not one of our favorites.
If you are short on time, or if you don't feel like hiking 7 km round trip to see a waterfall, skip Brúarfoss. However, with the new parking lot, you can visit Brúarfoss in much less time, with a lot less walking, just be aware of the parking fee.
If you are looking for more to do while touring the Golden Circle, or you love waterfalls, Brúarfoss is worth the visit.
I'm glad we saw it, but there are many other places I would recommend before taking the time to trek to Brúarfoss. Check out our article on 40 epic things to do in Iceland for ideas. For more amazing waterfalls, read our post 20 Best Waterfalls in Iceland.
---
If you have any questions about visiting Brúarfoss, let us know in the comment section below.
More Information for
Y
our
Trip to Iceland
WATERFALLS IN ICELAND: Here are 20 beautiful waterfalls to visit in Iceland. We have detailed guides on how to visit Haifoss, Sigöldugljúfur, Aldeyjarfoss, and Dettifoss. You can also hike to Glymur Waterfall, one of the tallest waterfalls in Iceland.
SOUTH COAST OF ICELAND: The south coast is filled with some of the top sights in Iceland. Go glacier hiking and visit Skogafoss and walk the amazing Waterfall Way trail. For the full list, check out our Guide to the South Coast of Iceland.
ICELAND ITINERARIES: There are several ways to put together a trip to Iceland. If you have 10 days, here are four different ways to spend your time in Iceland. This two week Iceland itinerary includes the entire Ring Road and main highlights of Iceland.
ICELAND TRAVEL ADVICE: First time in Iceland? Here are essential things to know about Iceland, including driving tips, sample costs, SIM cards, when to visit, and more.
TRAVEL PHOTOGRAPHY: For more information about the camera gear we carry, check out our Travel Photography Gear Guide.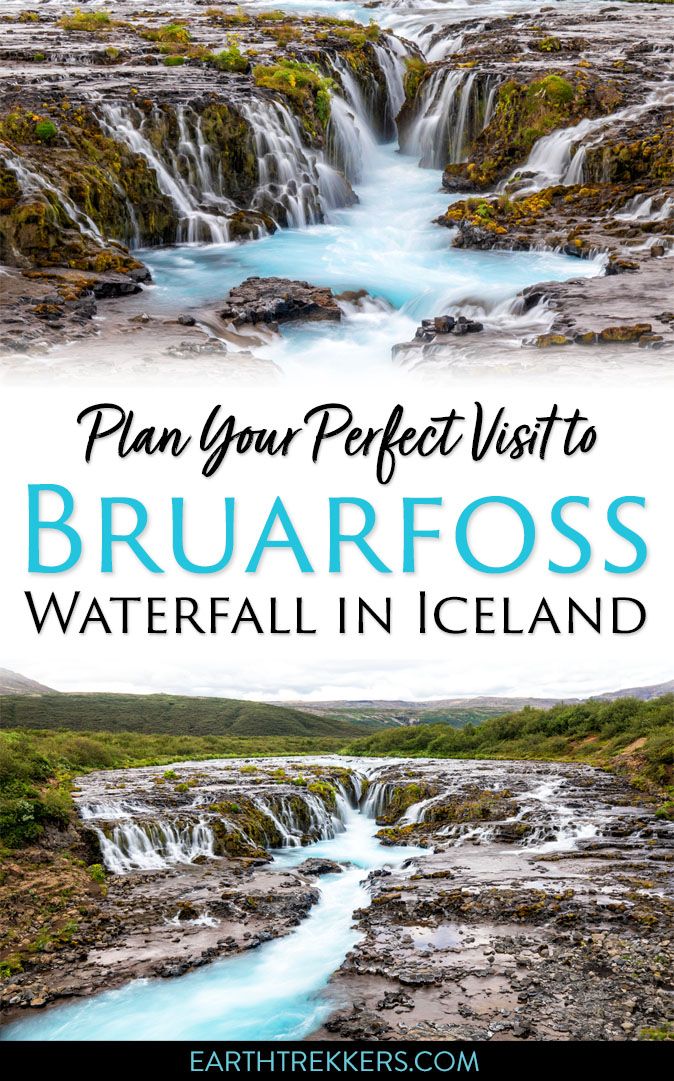 All rights reserved © Earth Trekkers. Republishing this article and/or any of its contents (text, photography, links, etc.), in whole or in part, is strictly prohibited.