Sigödugljúfur canyon is one of Iceland's best off-the-beaten path locations. This beautiful canyon, with its wall of waterfalls, is often overlooked or unknown to many visitors to Iceland.
The first time I saw images of Sigödugljúfur online, I thought they were fake. How could this beautiful canyon with its wall of waterfalls be real?
Well, I can assure you, it is real. And what makes it even more special is its location. To get here, you will drive through kilometers of barren, rocky terrain and feel like you are in the middle of nowhere. You'll park your car in a gravelly parking lot and then walk one more kilometer on a gray, dusty road.
And then you approach the edge of the canyon. Stretched out in front of you is an oasis in central Iceland. Along the right wall of the canyon it is lush and green, where the waterfalls spill out from the canyon walls. It's an amazing sight to see.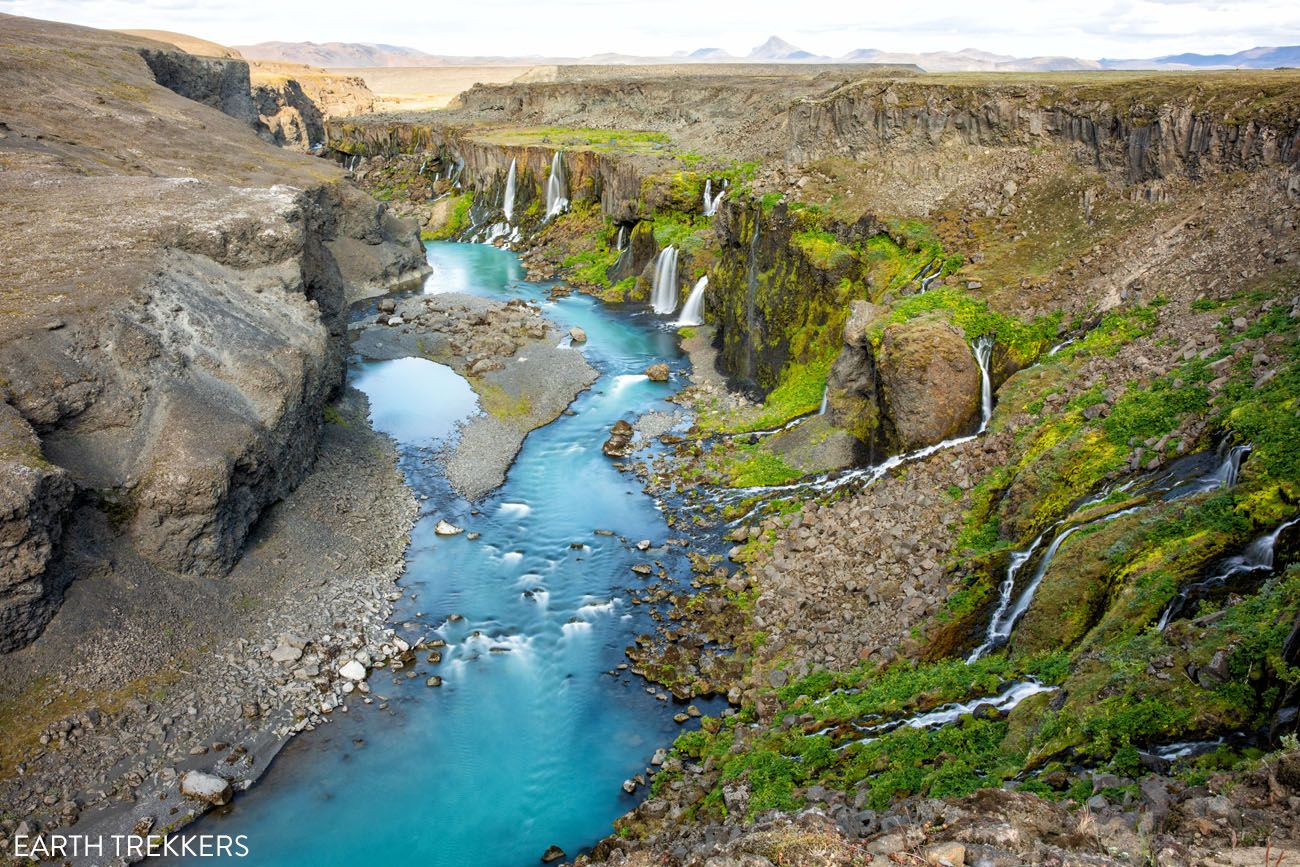 To get here, you will need a 4×4, since it is located on an F-road, but it's worth the journey. And if you are already planning a visit to Landmannalaugar, this is very easy to add into your itinerary.
Here's how to do it.
Where is Sigödugljúfur?
Sigödugljúfur is located near the Golden Circle and Landmannalaugar. Here is its location in Iceland.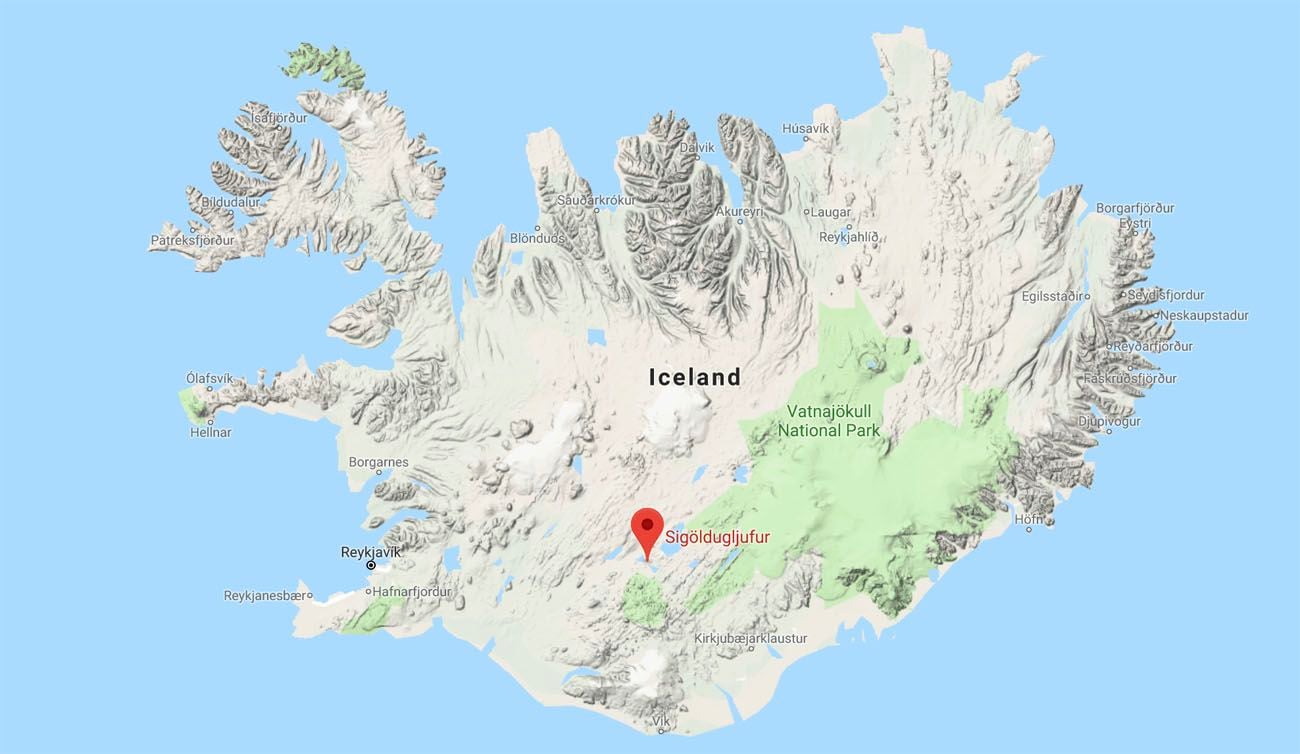 Sigödugljúfur is the name of the canyon. The waterfalls are named the Lekafossar waterfalls.
Here are driving distances and times for nearby locations:
Landmannalaugar: 24 km, 45 minutes
Reykjavik: 170 km, 2.5 hours
Selfoss: 115 km, 1.75 hours
Fludir: 93 km, 1.5 hours
How to Get to Sigödugljúfur
Since it is located on a F-road, you must have a 4×4 to get here.
If you do not have a 4×4, it is possible to visit Sigödugljúfur on a tour (we do not have any specific tours to recommend). I am not aware of any way that you can get here by public transportation.
F208 is one of the main roads to take to Landmannalaugar. Sigödugljúfur is located on this road, not far past the point where the gravel section of F208 begins.
As you take F208 south, you will pass a power plant. This is the point where it changes from paved road to a gravel road. And this stretch of F208 is very rocky and rough. As you get closer to Landmannalaugar (past Sigödugljúfur), the road actually improves, at least in our experience in 2019.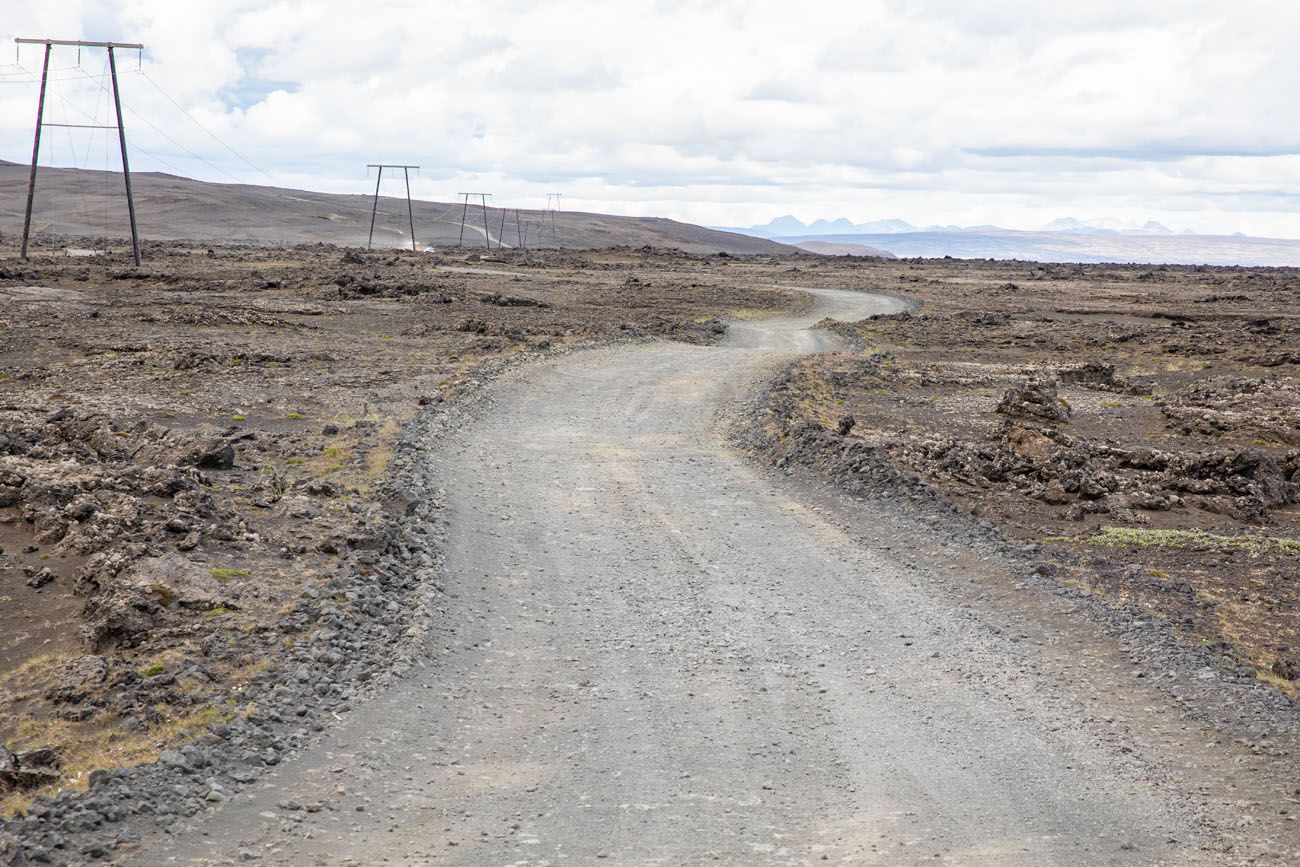 F208 near Sigödugljúfur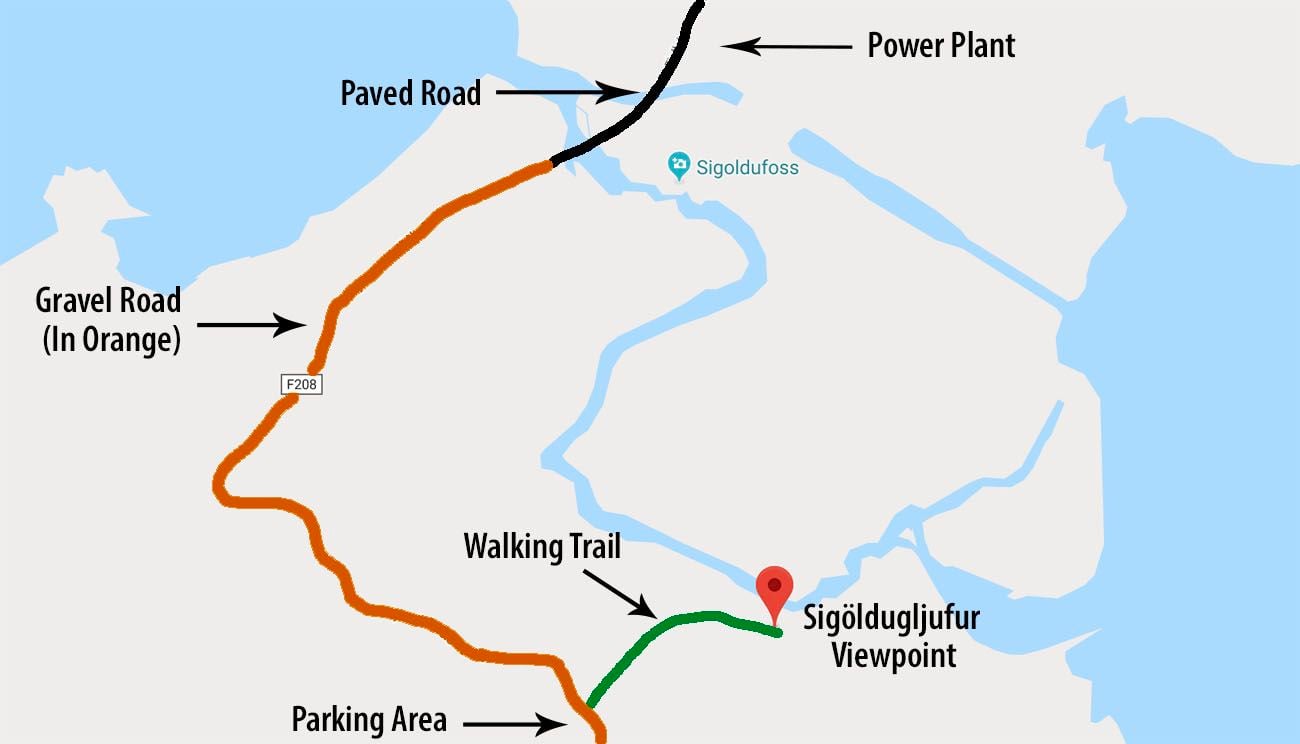 Once you pass the power station, drive approximately 3 km. At the bottom of the hill will be the parking lot to your right. There is enough room here for about 10 to 15 cars. Here are the GPS coordinates of the parking lot: 64°9'20.754″ N 19°8'18.257″ W.
From the parking lot, cross F208 to the access road. Visitors are not permitted to drive down this road (there is a sign here stating that this road is for staff only). Walk on this road to get to the viewpoint over Sigödugljúfur canyon.
A view of F208 from the parking lot. Cross F208 towards the yellow sign. Then, follow the road to the viewpoint of Sigödugljúfur.
It is a 1 km (0.6 mile) easy walk on this road to the viewpoint.
Once here, enjoy the view. You can also walk along the rim of the canyon for more views.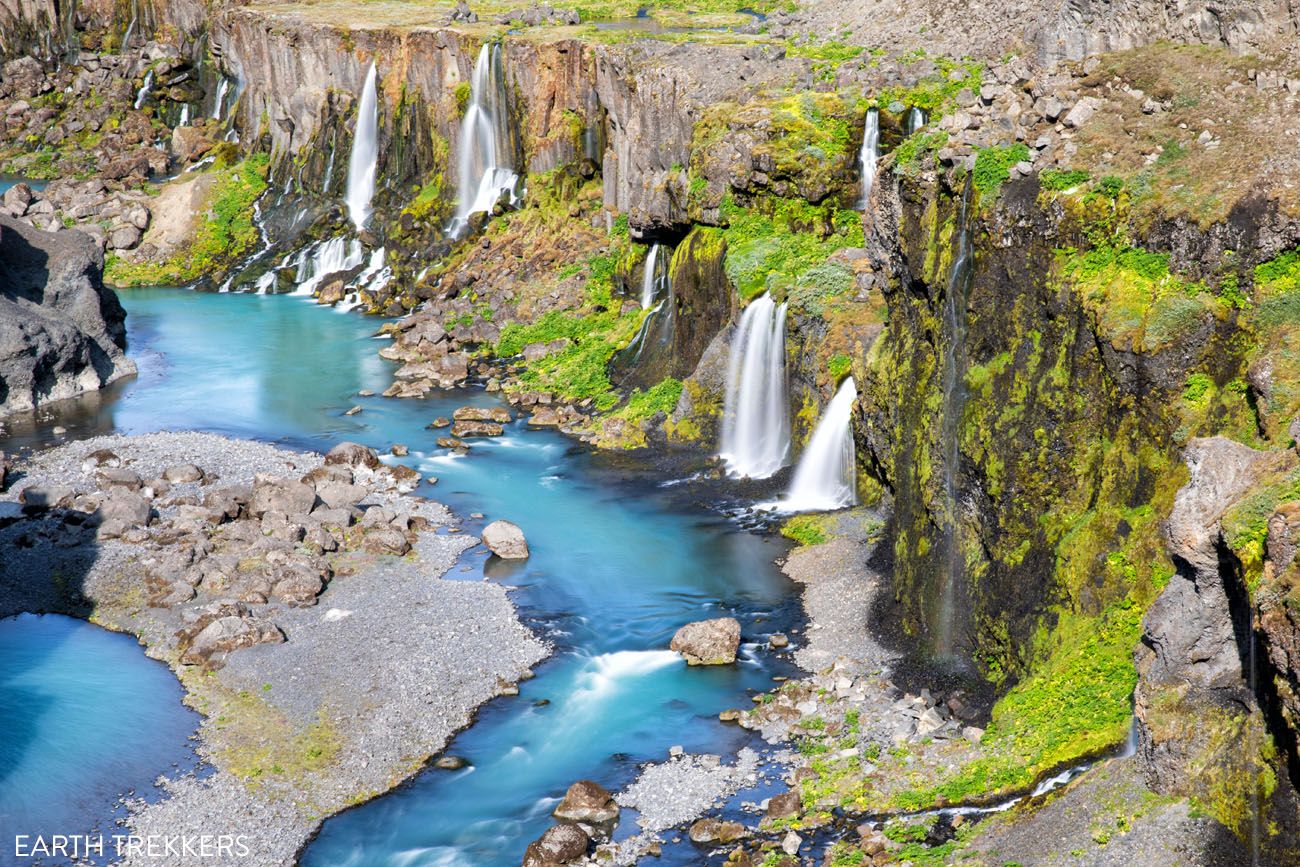 How Long Should You Spend Here?
If you just want to walk out to the rim and photograph the waterfalls, one hour is all you need.
Allow more time to walk along the rim for different views of the canyon.
With even more time, you can also visit Sigoldufoss, which is located several kilometers away near the power plant. Enter "Sigoldufoss" into Google Maps for its exact location.
We spent almost an hour and a half here, photographing the waterfalls. Tyler also took some awesome drone clips which you can see near the end of this article.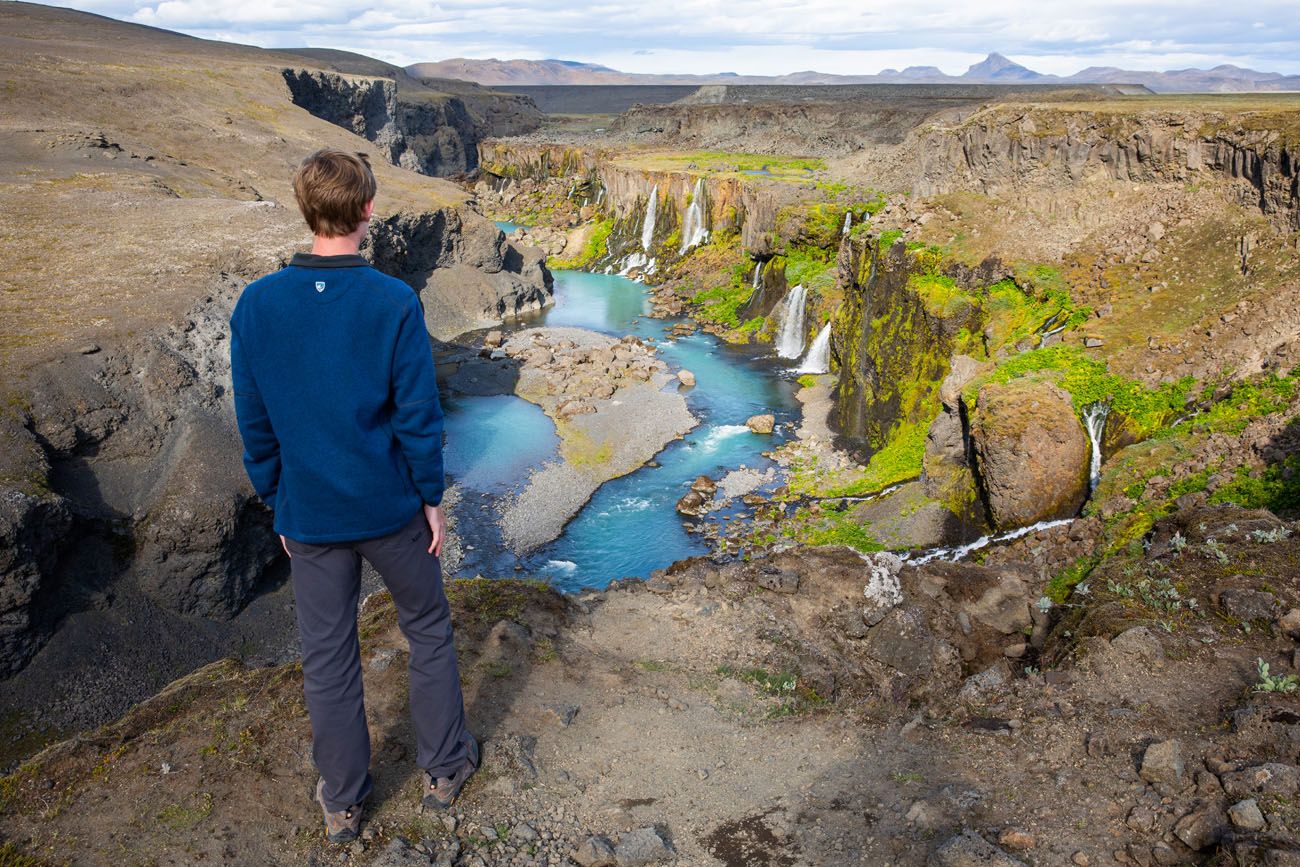 Going to Landmannalaugar?
If you already have plans to visit Landmannalaugar, this is very easy to add on to your day. You will literally drive right past Sigödugljúfur, so you can visit the canyon on the way to Landmannalaugar or during the drive back from Landmannalaugar.
What We Did
We were staying in Flúðir near the Golden Circle. In the morning, we drove out to Landmannalaugar and spent the day here doing day hikes. This is an incredible area and if you have the time in your itinerary, it's worth spending at least one day here.
On the drive back to Flúðir we stopped at Sigödugljúfur. It surpassed all of our expectations. This is one of those places that looks so much better in person than in photos. There's just something about seeing all of these waterfalls flowing at the same time. What a unique landscape!
Sigödugljúfur Video
Want to see more? Check out Tyler's drone video of Sigödugljúfur.
Important Links
Before you go, check road conditions on road.is.
If you want updated weather reports, here is the link to en.verdur.is, the most reliable source for weather reports.
---
If you plan to visit Sigödugljúfur on your visit to Iceland, I hope you have a great experience! And if you have any questions, or if you want to share your experience, please comment below.
More Information about Iceland
You Might Also Like: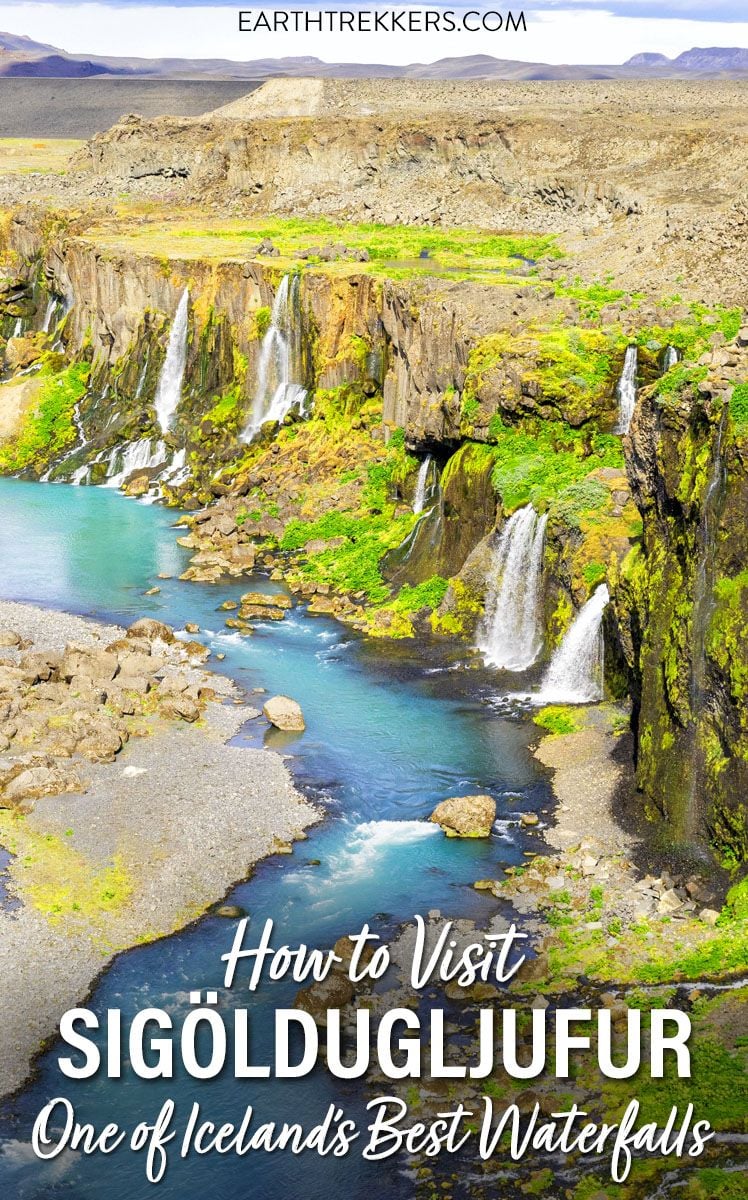 All rights reserved © Earth Trekkers. Republishing this article and/or any of its contents (text, photography, etc.), in whole or in part, is strictly prohibited.