Imagine a place where more than 2,000 arches dot the landscape. Add in fins of sandstone rock, hidden canyons, sweeping vistas of the La Sal Mountains, and a few hoodoos, and you have Arches National Park.
This small, easy to visit national park is a joy to explore. You can see several arches and unique rock formations without ever stepping out of your car. With just a little bit of walking, you can get to many of the top sights in Arches National Park, such as the Windows and Double Arch. And for those who like hiking, don't miss the Devils Garden Trail, a thrilling hike where you get to see eight arches and hike on a primitive trail.
This is one of our favorite US national parks and we have spent quite a bit of time here. I can't wait to share what we have learned with you in this guide.  
ARCHES NATIONAL PARK STATS
Founded: November 12, 1971
Annual Visitors: 1.5 million in 2022
Size: 77,000 acres
Location: Utah
Entrance Fee: $30 per vehicle, valid for 7 days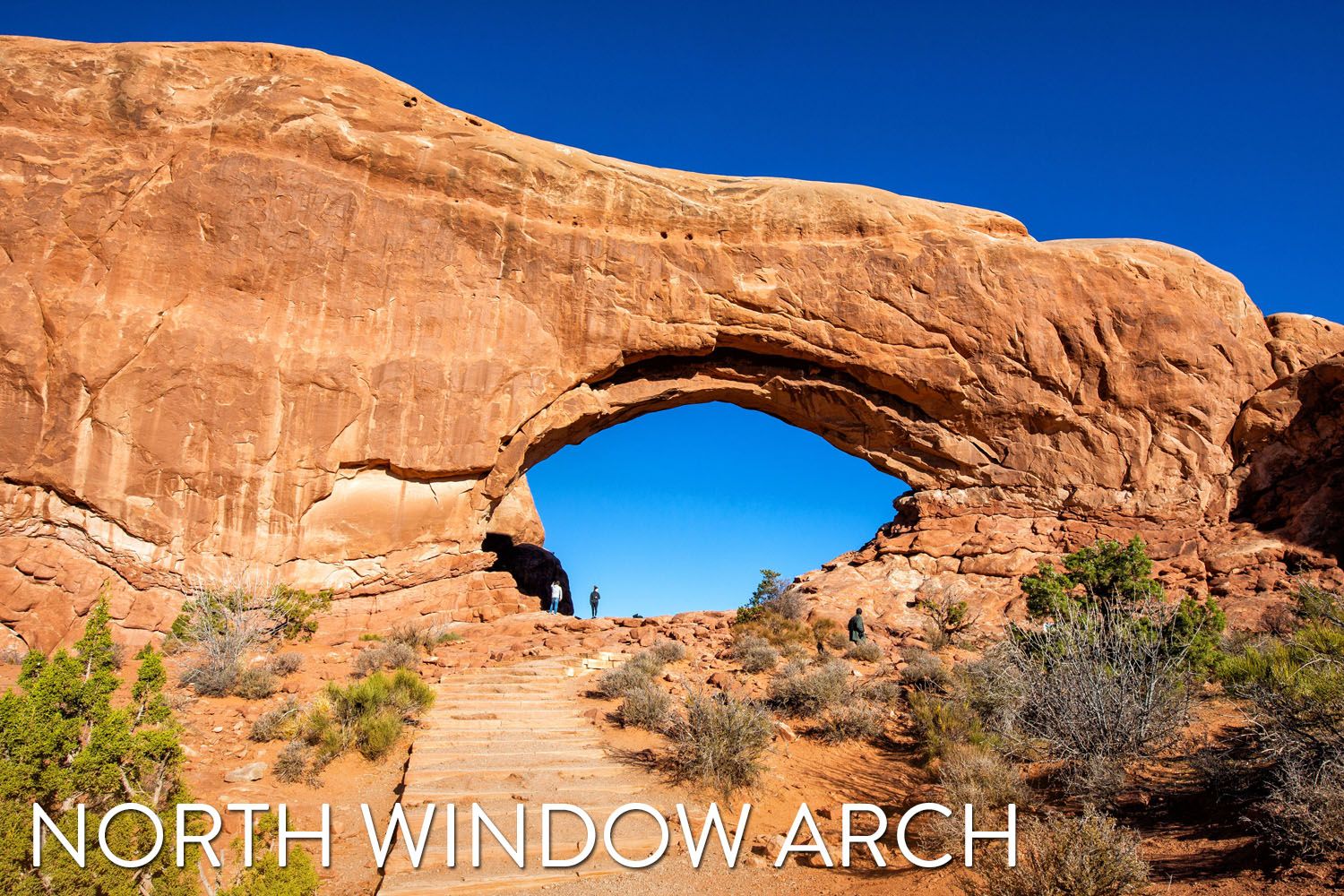 Drive Arches Scenic Drive. Arches Scenic Drive is the main road that runs through the park. It is 19 miles long and most of the top sights in the park are found right along this road or off of short access roads.
Hike through Park Avenue. This 1 mile, easy hike (one-way) wanders past massive rock formations such as the Three Gossips and the Courthouse Towers.
See Balanced Rock. Going for a short stroll around this famous rock formation is one of the most popular sights to see in Arches National Park. You drive right past it on the main road but it is worth pulling over for a quick visit. There is a short loop trail that circles around the base of Balanced Rock for closer views.
Watch the Sunset at Delicate Arch. Delicate Arch is the top attraction in Arches National Park and the only way to get here is on your own two feet. It's a 3-mile round trip hike over slickrock and sandy trails. For the best experience, time your visit for the end of the day when the setting sun illuminates Delicate Arch.
Visit the Windows and Turret Arch. The Windows and Turret Arch are several of the most popular arches to visit in the park. They can all be combined on an easy loop that is less than 1 mile in length.
Double Arch. Double Arch is the tallest arch in the park. It is a short walk to get here and this is one of the few places where you can climb on the rocks under the arch. You might recognize it from the movie Indiana Jones and the Last Crusade.
Hike to Landscape Arch.  This is another extremely popular arch to visit, and like Delicate Arch, the only way to see it is by hiking. Landscape Arch is located on the Devils Garden Trail. To get here, it is an easy 1.6 mile hike.
Visit Sand Dune Arch. Sand Dune Arch is tucked away between fins of sandstone rock so it's a much different experience than many other arches in this park. To get here it is a short, easy walk on sandy trails.
Take a Tour of the Fiery Furnace. Named for the reddish glow it gets at sunset, the Fiery Furnace is one of the neatest non-arch spots in Arches National Park. The best way to experience the Fiery Furnace is by a ranger-guided hike. This 2 mile strenuous hike takes you through a maze of canyons formed by sandstone fins.
Enjoy the Panoramic Views from the Garden of Eden. The Garden of Eden, with its knobby hoodoos and sandstone rock formations, is a great spot to visit. But our favorite reason to visit the Garden of Eden is for the panoramic views of Arches National Park and the La Sal Mountains.
When to Visit Arches National Park
The best time to visit Arches National Park is in the spring (March through May) and the fall (mid-September through November), when temperatures are mild.
During the summer months, temperatures soar in Utah, and it is not unusual for temperatures to go above 100°F. If you plan your visit for the summer, be prepared for intense midday heat. Try to do most of your hiking and sightseeing in the morning and evening, taking a break midday.
In the winter, it can be quite cold. In January, the average high lingers around 42°F with freezing temperatures at night. Snow is a possibility from November through February, but for the most part, the weather is dry and skies are clear.
Our favorite time to visit Utah is in October, with great weather and lower crowds than you typically see in the summer months. If you want decent weather and low crowds, November and March are also good times to visit Arches National Park.
Arches National Park appears in our Best US National Parks Month-By-Month series as a great park to visit in January, March, November, and December.
How Many Days Should You Spend in Arches?
One full day will give you enough time to visit the highlights of Arches National Park. It will be a very busy but memorable day.
Two days allows you to break up the hikes, add on a ranger-guided tour of the Fiery Furnace, and take your time at the other arches. Plus, you can also visit some quieter, less crowded arches that aren't mentioned above on our top 10 list.
ONE DAY IN ARCHES
One day in Arches National Park gives you just enough time to hike part or all of the Devils Garden Trail, see the main arches and rock formations along Arches Scenic Drive, and hike to Delicate Arch for sunset. 
If you are planning a trip to Utah, we have several road trip itineraries that include Arches National Park and the top sights in Utah.
Utah's Mighty 5 is a collection of five national parks in Utah (including Arches National Park). With 7 to 10 days, you can visit all of them on one great road trip.
For those who like the idea of traveling slower and visiting off-the-beaten-path destinations, spend 10 days in Arches, Canyonlands, and Capitol Reef National Parks. This is one of our favorite 10 day road trips in the USA.
With two weeks in the American Southwest, go on an epic road trip to the Grand Canyon, Monument Valley, Zion, Bryce Canyon, Capitol Reef, Canyonlands, and Arches National Park.
In our Utah National Parks Itinerary Guide, we give an overview of five different ways to visit Utah's Mighty 5, ranging from 7 to 14 days.
Delicate Arch is one of the most famous geologic structures in the world.
It may not look like it in photos, but Delicate Arch is massive. The opening below the arch is 46 feet high, making this the largest free-standing arch in Arches National Park. It's not until you see a photo of someone standing under the arch (or you stand under it yourself) that you get an idea of just how big it is.
The Olympic torch was carried under Delicate Arch for the 2002 Winter Olympics.
If you are not up for a 3-mile hike, you can still see Delicate Arch from a distance at the Lower and Upper Delicate Arch Viewpoints.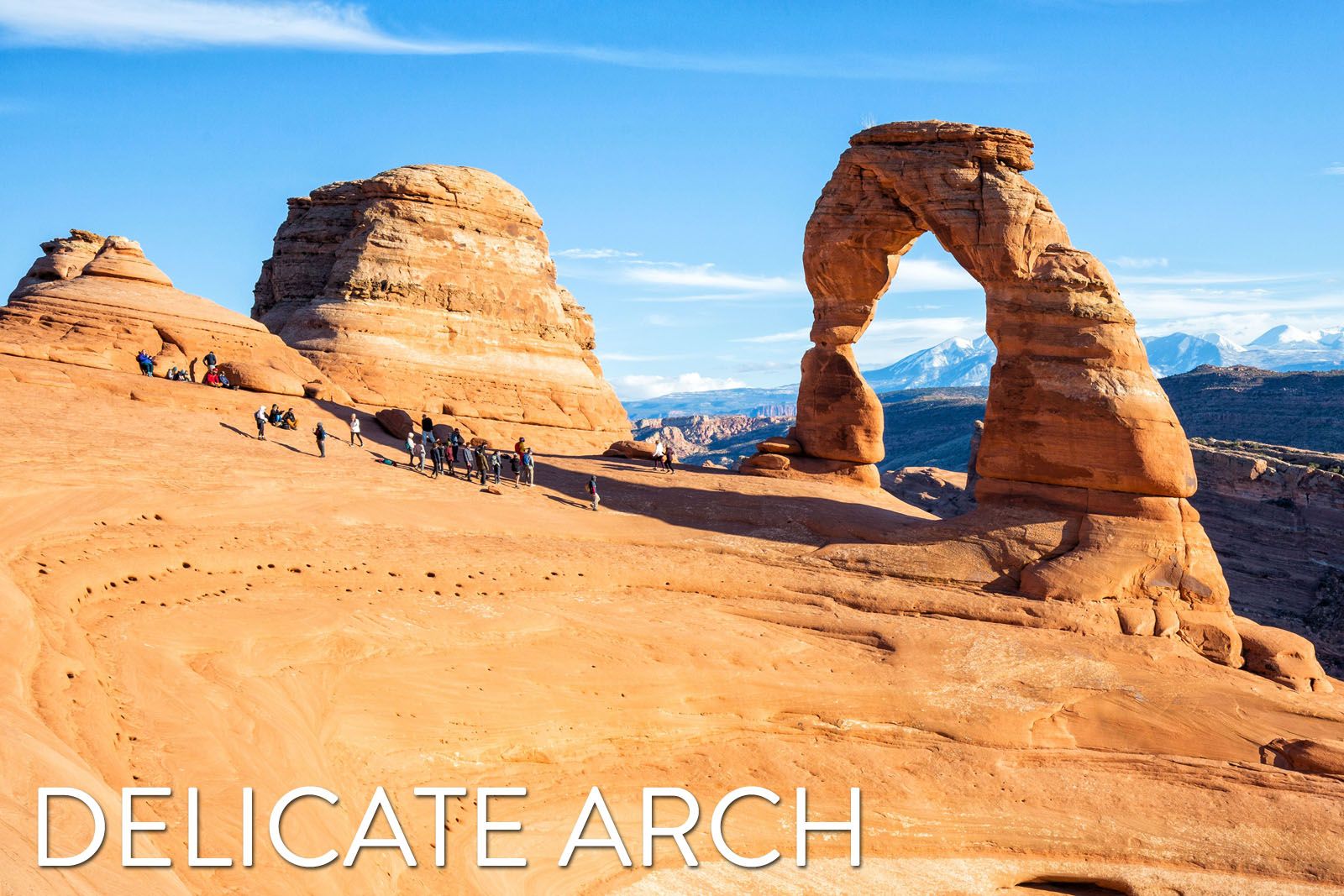 Arches National Park Map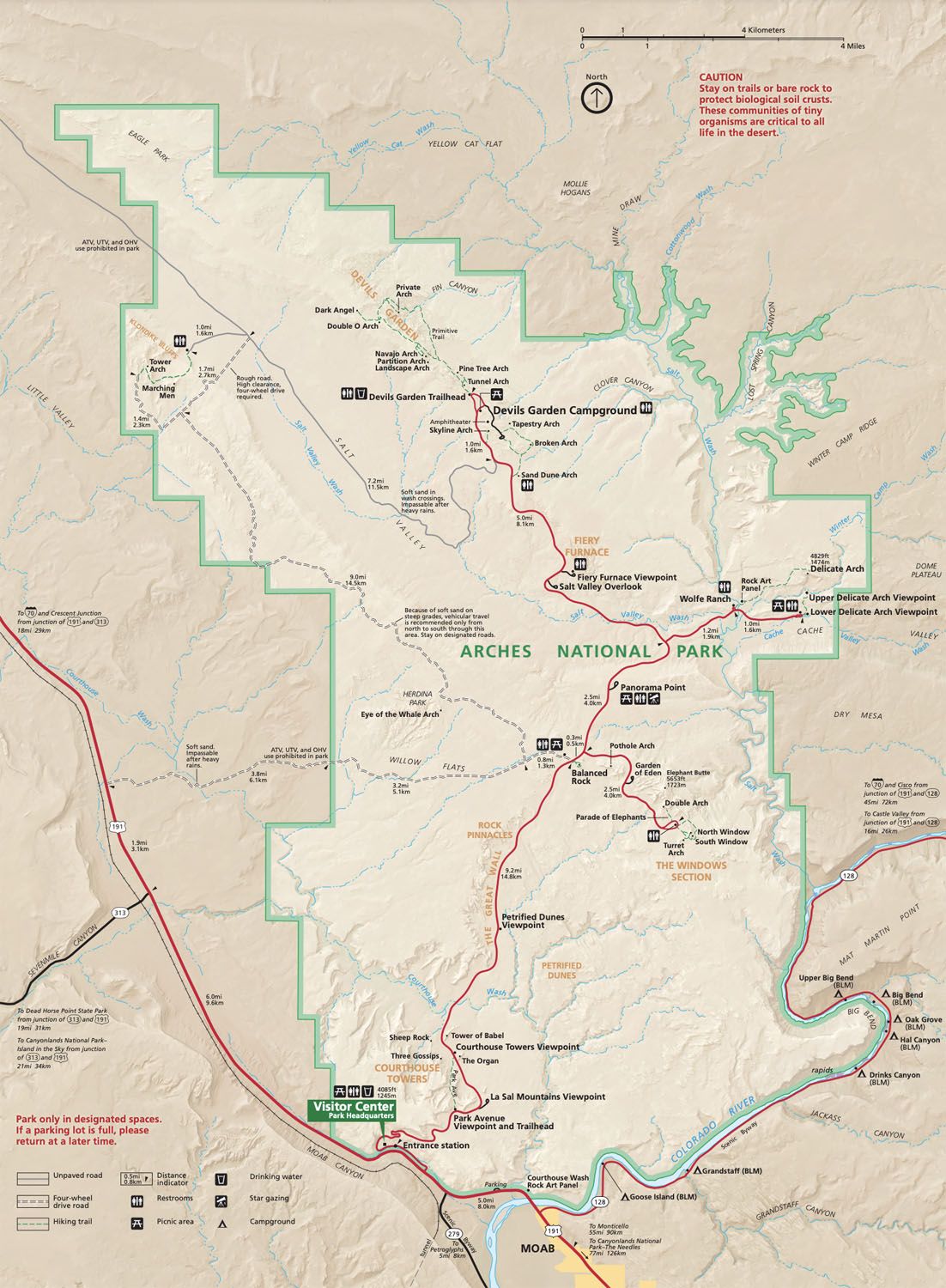 Arches National Park in Photos
In our US National Parks List, get information on all of the US national parks, including interesting facts, the most and least visited national parks, and a FREE printable national parks checklist with map.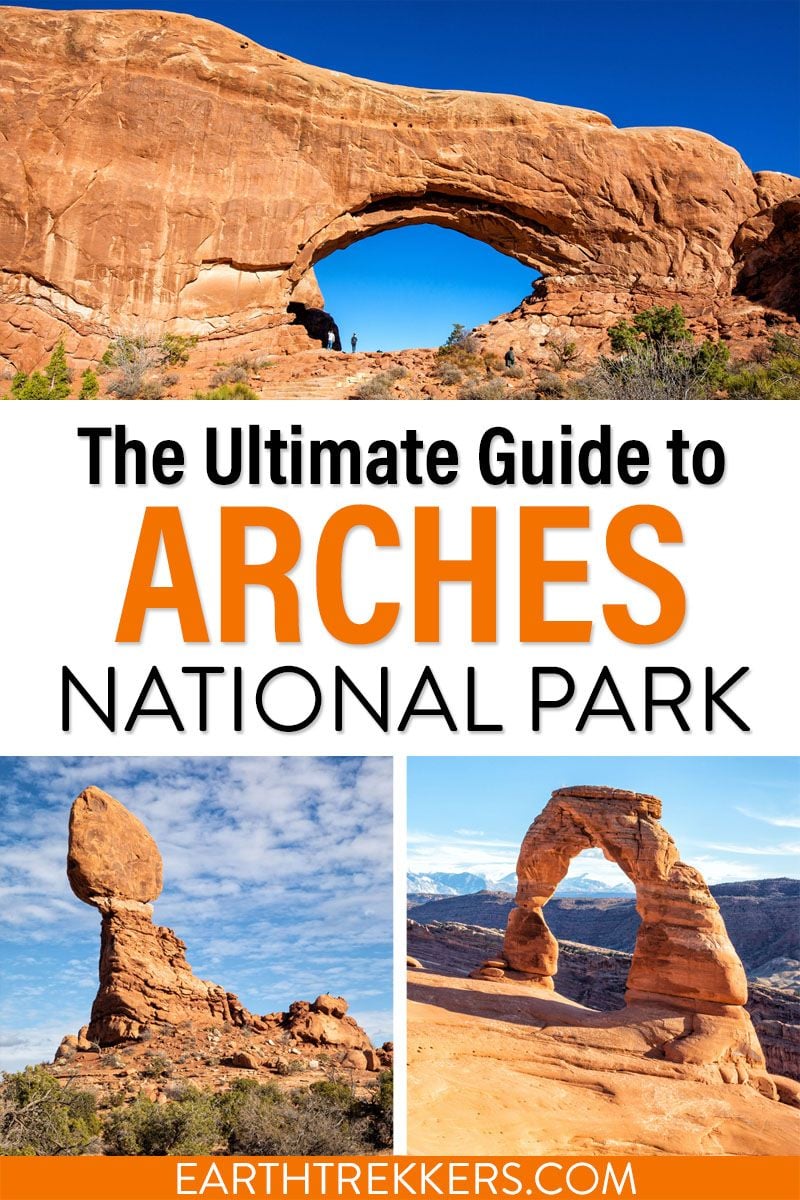 Note: This page contains affiliate links. When you make a purchase using one of these affiliate links, we get paid a small commission at no extra cost to you.
Visit More National Parks