The hike to Cassidy Arch is one of the most thrilling trails in Capitol Reef National Park. Easily accessible from Scenic Drive, this short hike features stunning scenery, views over the Grand Wash, and the chance to stand on Cassidy Arch. On this hike, you can view the arch from afar or walk across it for one of the most unique photo ops in Capitol Reef National Park.
Cassidy Arch Hiking Stats
Distance: 3.4 miles out-and-back
Difficulty: Moderate
Total Ascent: 845 feet
Starting Elevation: 5,400 feet
Highest Elevation (Cassidy Arch): 6,000 feet
Length of Time: 2 to 3 hours
When to go: You can do this hike year round. In the summer, expect hot conditions midday. In the winter months, snow is possible. Spring and fall are the best times to do this hike, when crowds are low and temperatures are mild.

Cassidy Arch hike elevation profile
Please practice the seven principles of Leave No Trace: plan ahead, stay on the trail, pack out what you bring to the hiking trail, properly dispose of waste, leave areas as you found them, minimize campfire impacts, be considerate of other hikers, and do not approach or feed wildlife.
How Cassidy Arch Got Its Name
The arch was named for Butch Cassidy, aka Robert LeRoy Parker, who was a bank robber and the leader of group of outlaws known as the "Wild Bunch." He would use these hills as one of his many hideouts.
How to Hike to Cassidy Arch
Step-By-Step Trail Guide
Getting to the Trailhead
From Scenic Drive, turn left onto Grand Wash Road, which is a gravel road that is suitable for standard cars. Take Grand Wash Road to the end and park in the parking lot. There are restrooms here if you need one.
Two trails start from the same trailhead: the Grand Wash Trail and the Cassidy Arch Trail. In fact, you will briefly hike a portion of the Grand Wash Trail before turning onto the Cassidy Arch Trail.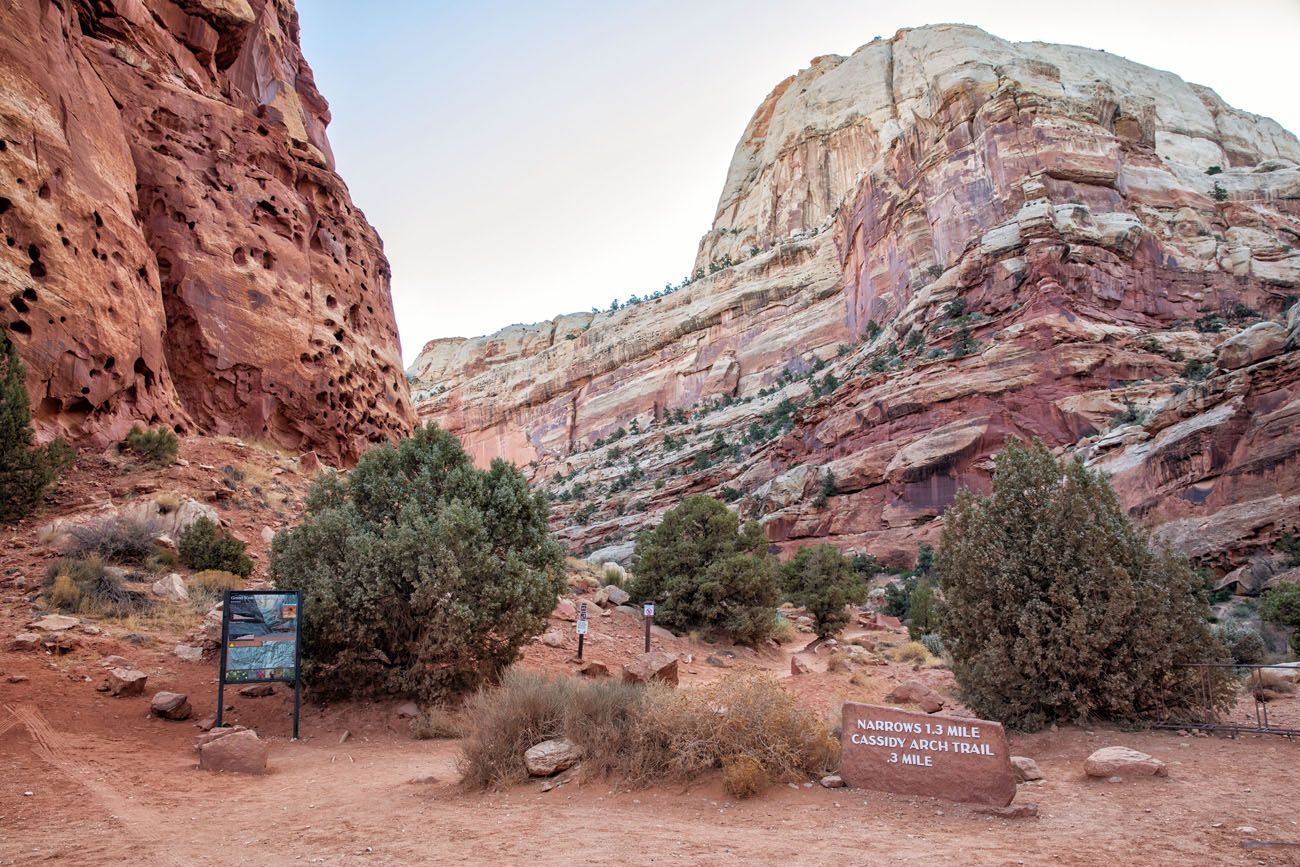 Grand Wash Trail
The first 0.2 miles of this hike is on the Grand Wash Trail. This is a flat, easy trail that heads into a large, wide canyon. Keep an eye out for Cassidy Arch Trail, which will be on your left.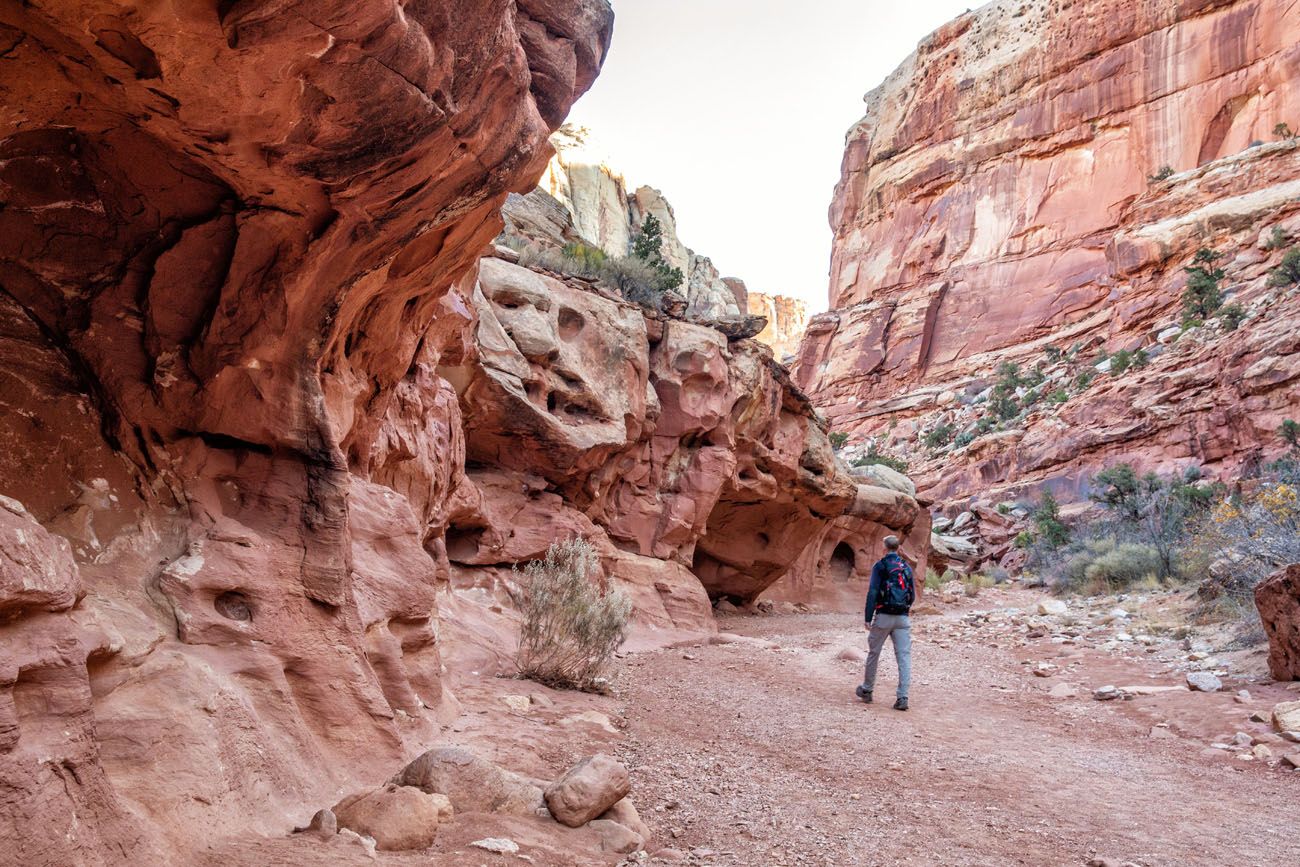 The Cassidy Arch Trail is well marked with this sign.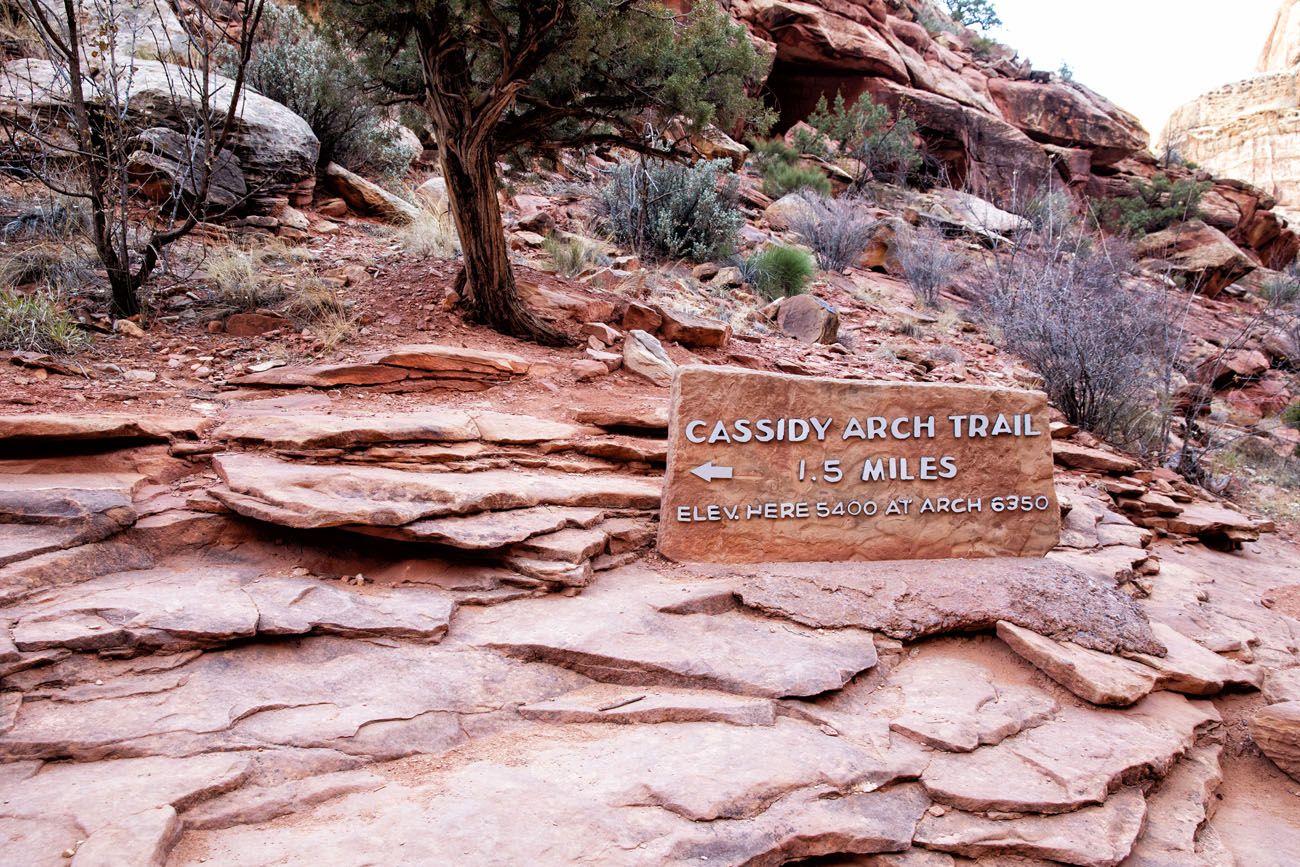 This sign has the wrong elevation for Cassidy Arch. Our GPS, and other sources we have read, measure the elevation at Cassidy Arch at 6,000 feet.
Cassidy Arch Trail
The first part of the Cassidy Arch Trail is the most challenging of the hike. A series of tight switchbacks climb out of the canyon and up into the colorful hills. This section does not last long, about a quarter of a mile. And it's worth it, because for the rest of the hike to Cassidy Arch the views are wonderful.
For the next quarter of a mile, it's a slight uphill walk that will be easy. To your right you will have a great view over Grand Wash Road.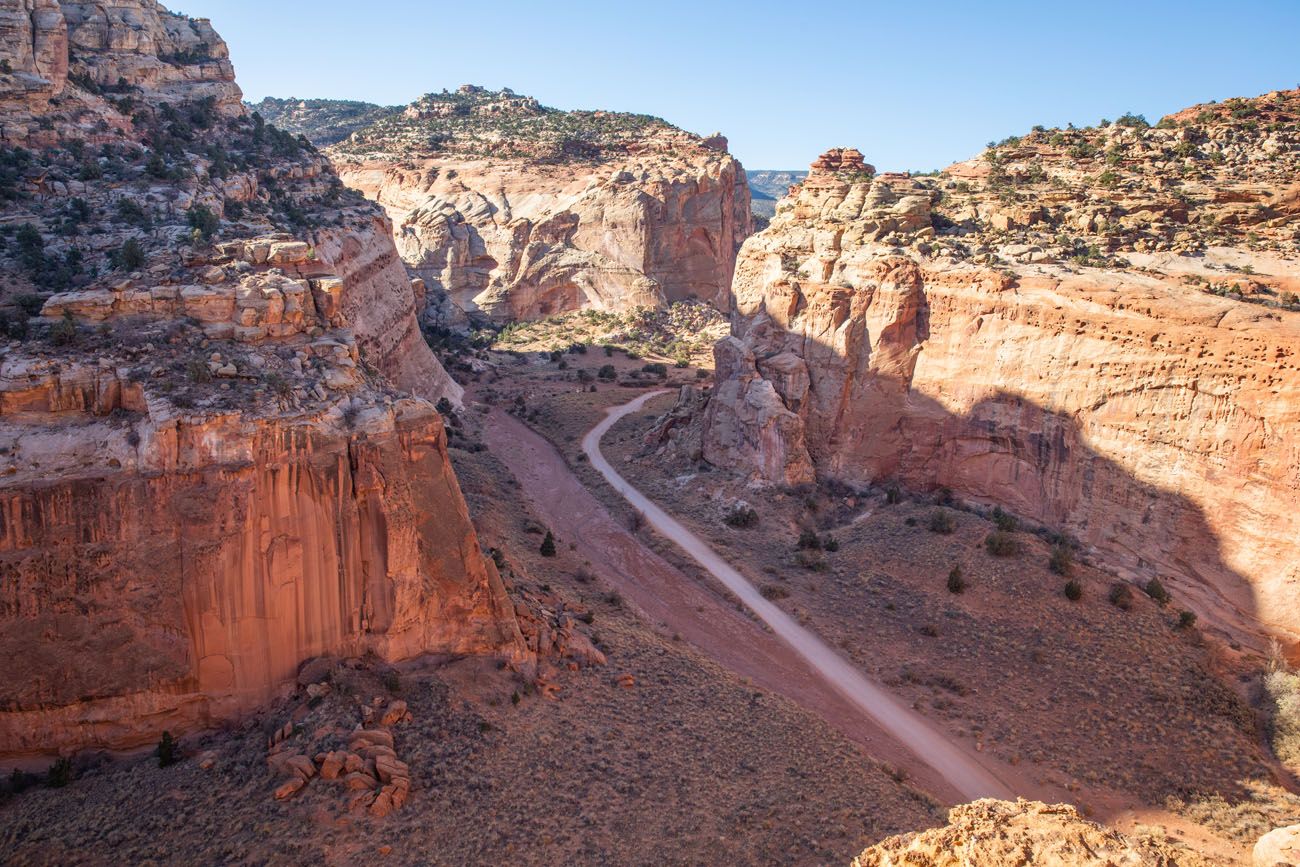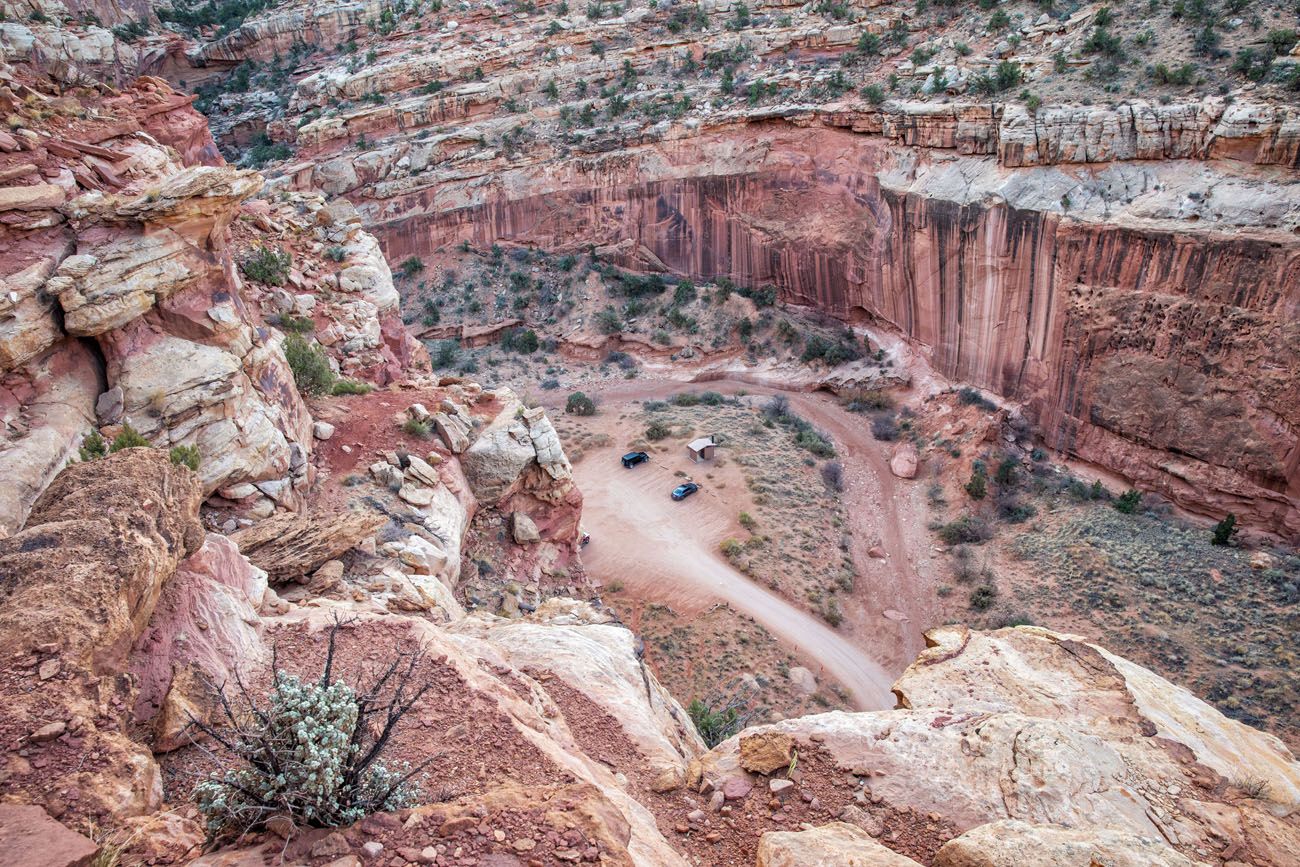 A view of the parking lot.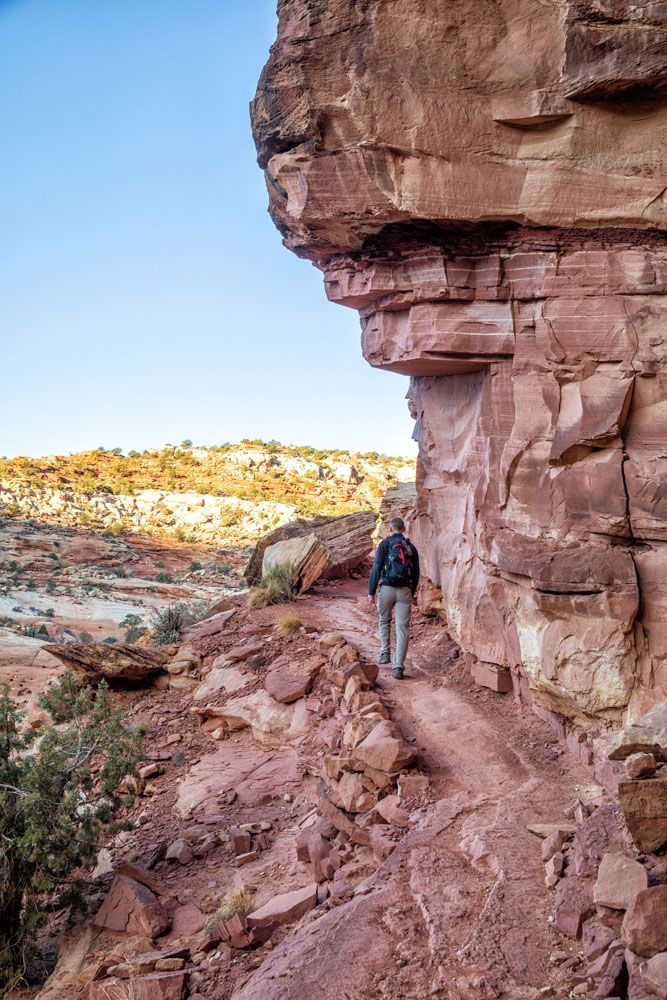 Soon, the views open up even more, and you will be able to see Cassidy Arch off in the distance. From here, it looks more like a cave than an arch.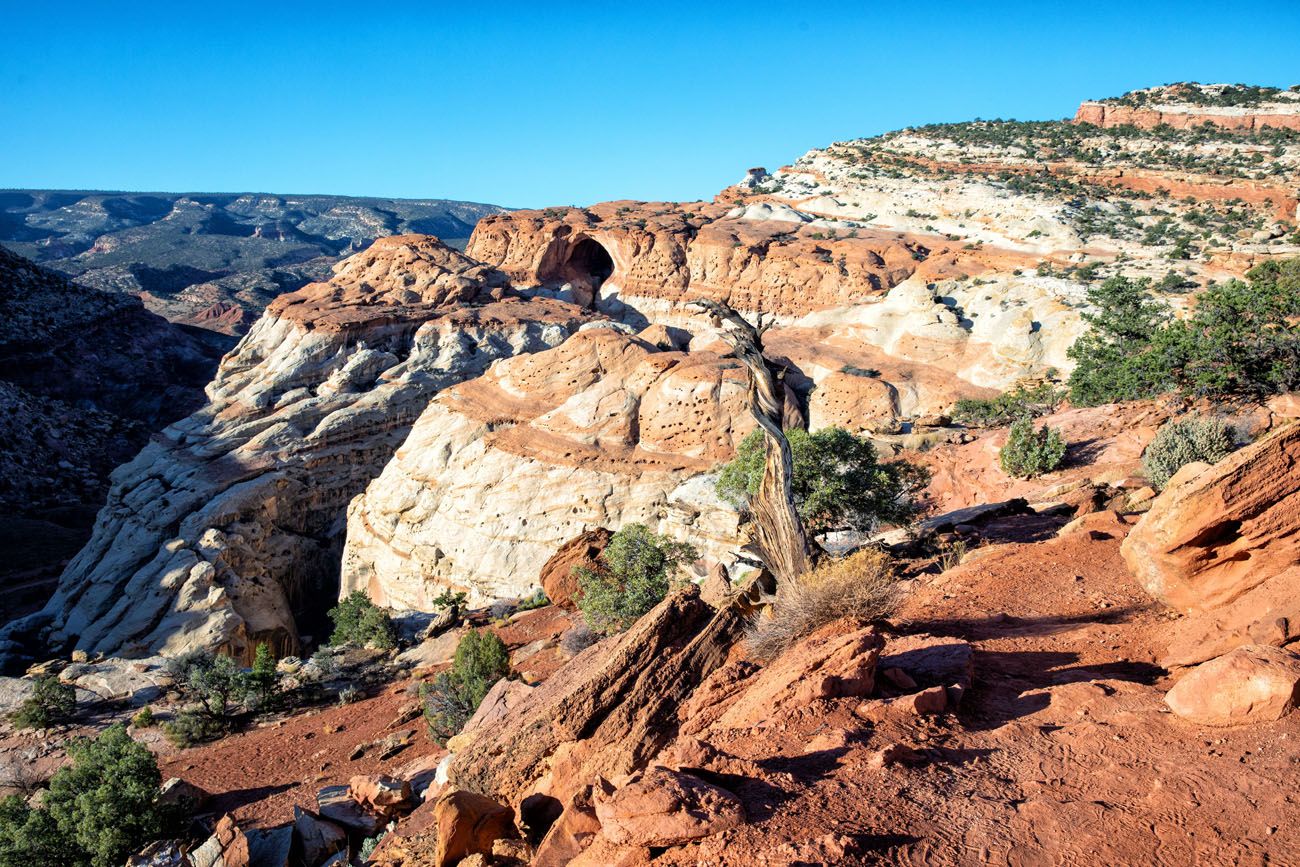 Roughly one mile from the Grand Wash Trail, about 1.2 miles into the hike, the trail will split. Take the trail to the left to continue to Cassidy Arch. If you go right, you will be on the Frying Pan Trail, which takes you north through the park to Cohab Canyon.
From this split, the trail gets a bit difficult to follow. The last section of trail heads up and over large bands of slickrock. Since there is no obvious dirt trail to follow, it can be easy to lose the trail. When we did this, there were a few rock cairns but these were hard to spot.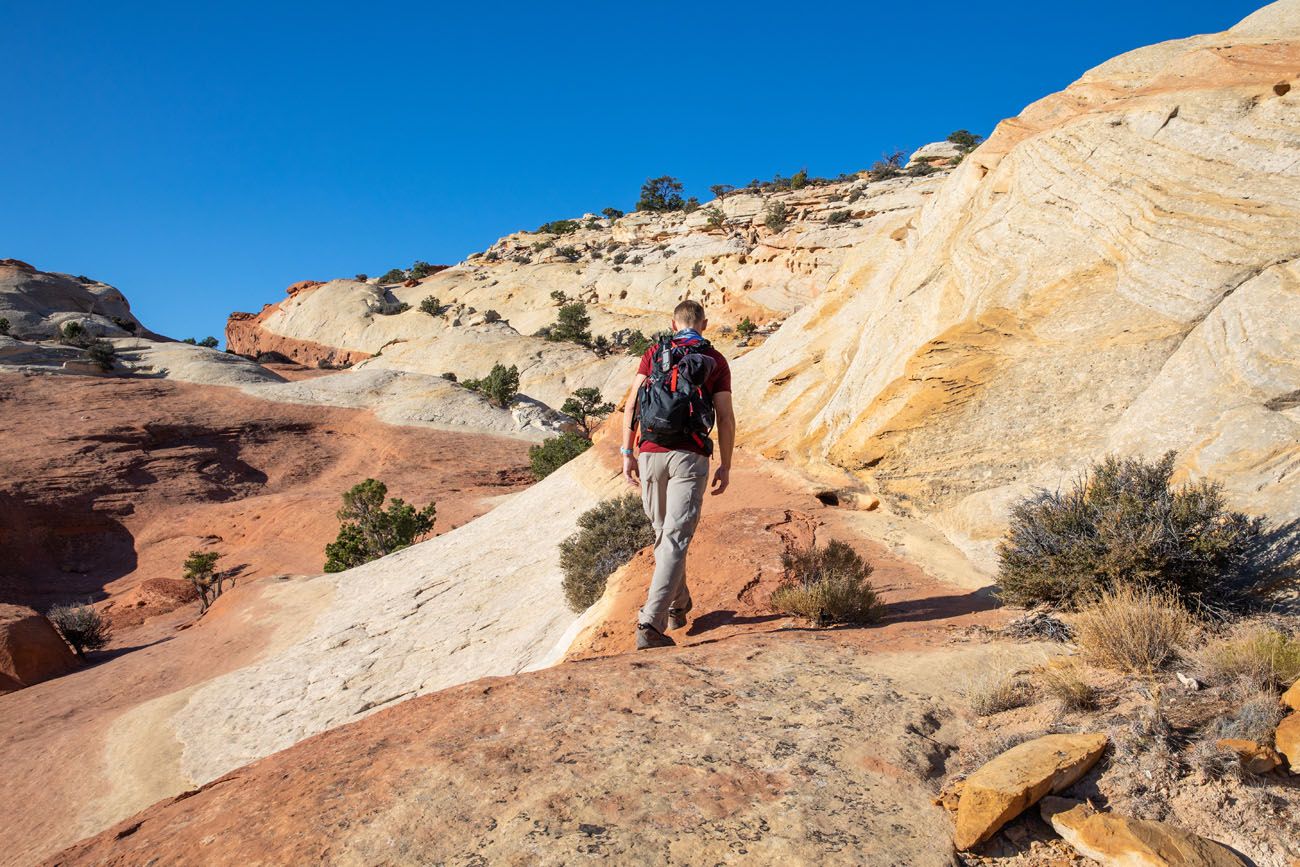 When you reach the slickrock, stay to the left. In the photo below, I marked the "trail" with a white line. Basically, you want to stay to left of the giant knobs of white sandstone.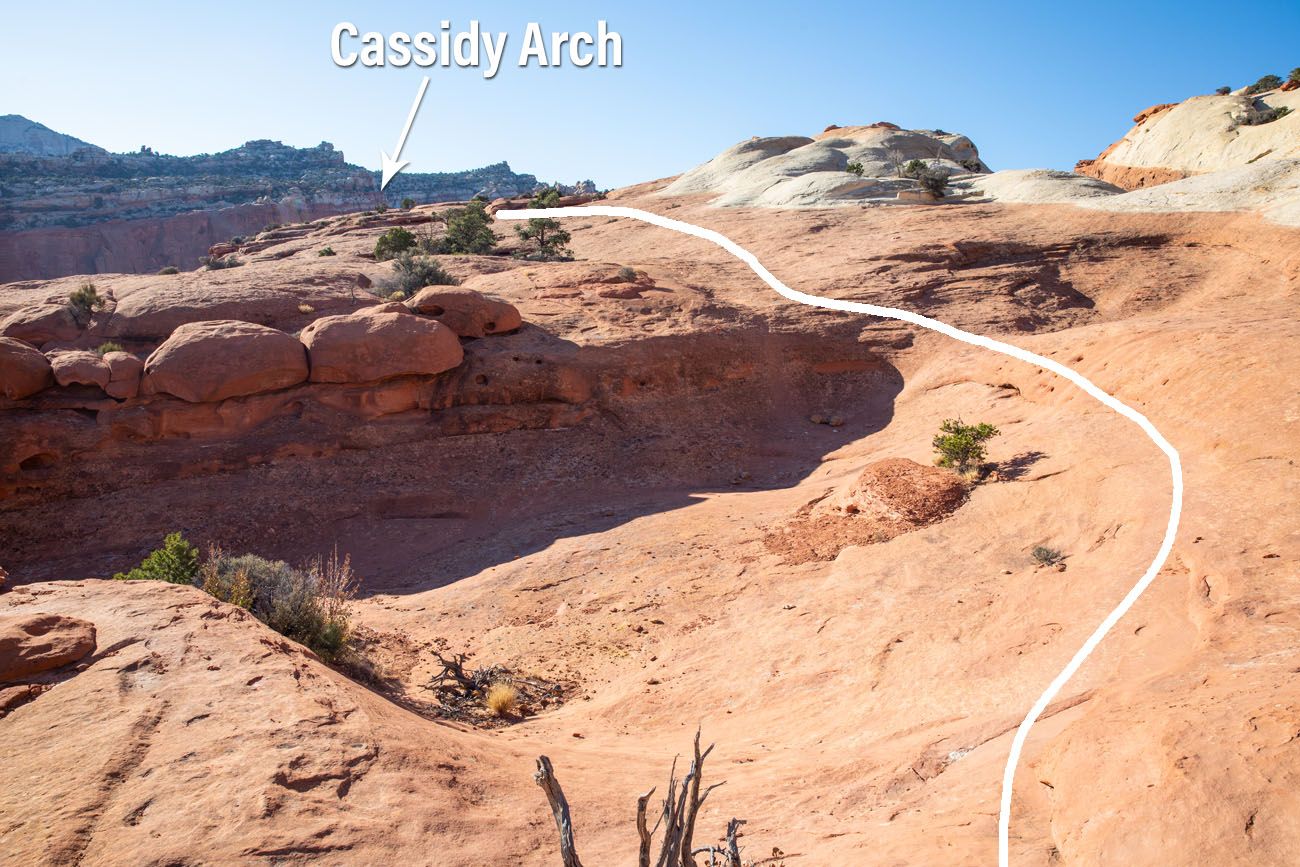 It's an uphill walk over these giant slabs of sandstone. In a few spots, you might have to do a bit of rock scrambling. At the top, the arch will come into view. At first, it looks like an enormous hole in the ground. On the opposite side of this hole is Cassidy Arch.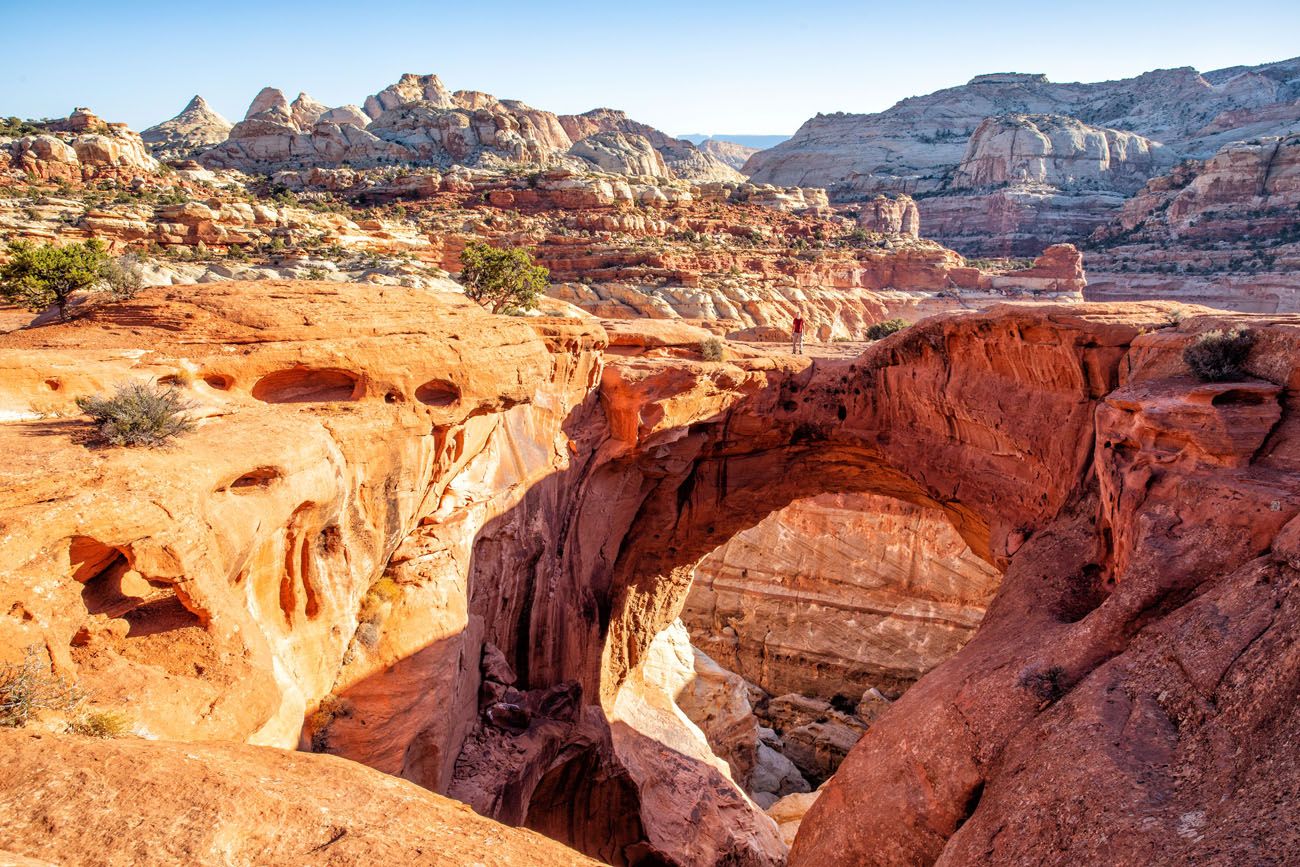 To get onto the arch, you can walk around either side of the giant hole. Cassidy Arch is very wide. It's wide enough that if you have a fear of heights, you might be able to stand on the arch without any issues. However, I would not leave young kids unattended here, or anywhere near the hole in the ground.
To complete the hike, retrace your steps back to your car.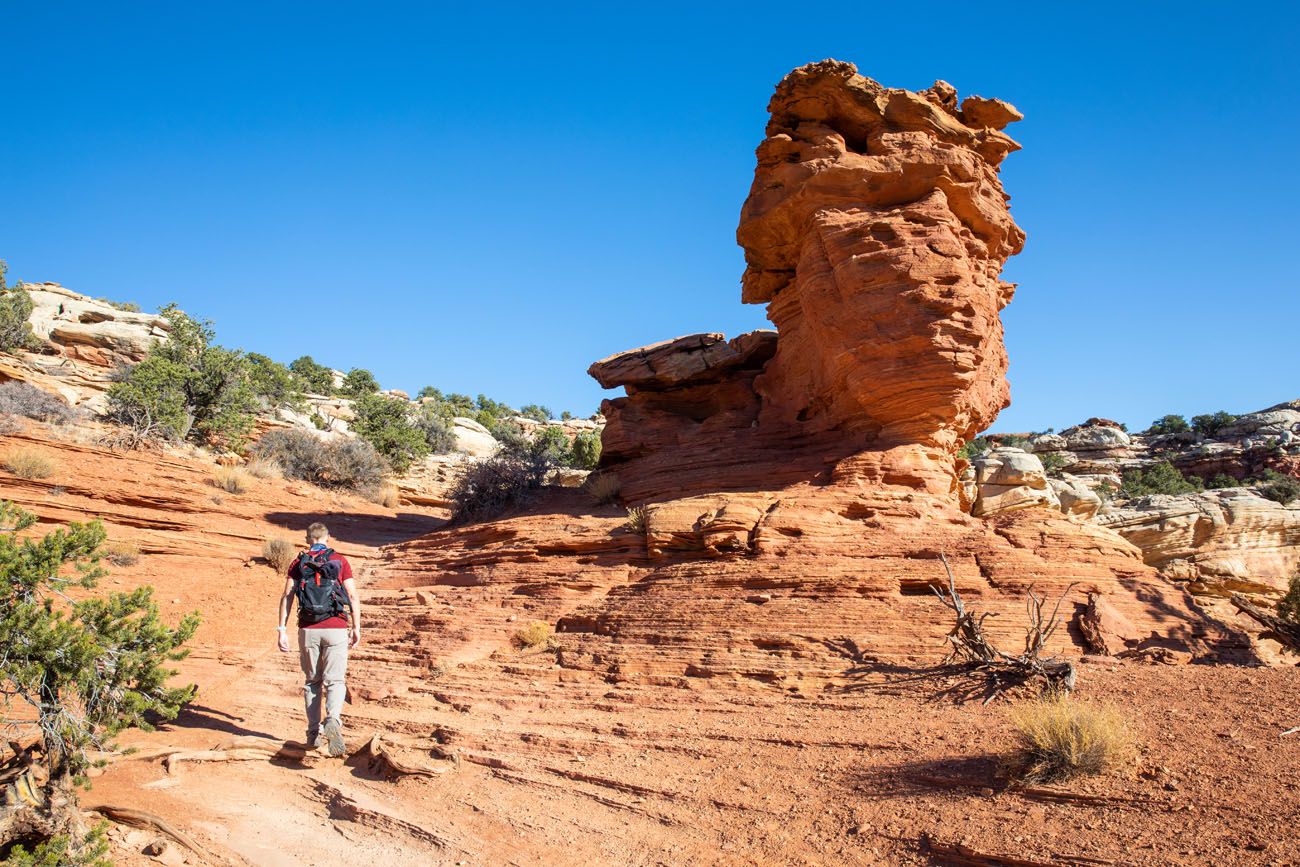 Optional Detour: The Grand Wash Trail to the Narrows
The Grand Wash Trail is another great hike to do in Capitol Reef National Park. You already hiked a small portion of this trail to get onto the Cassidy Arch Trail, so rather than backtracking to your car, you can continue down the Grand Wash a little farther.
We hiked the entire Grand Wash Trail and the best section is the middle third, which is called The Narrows. At this point, the canyon walls close in to their narrowest point, forming a large slot canyon that resembles the Narrows in Zion, only without the Virgin River.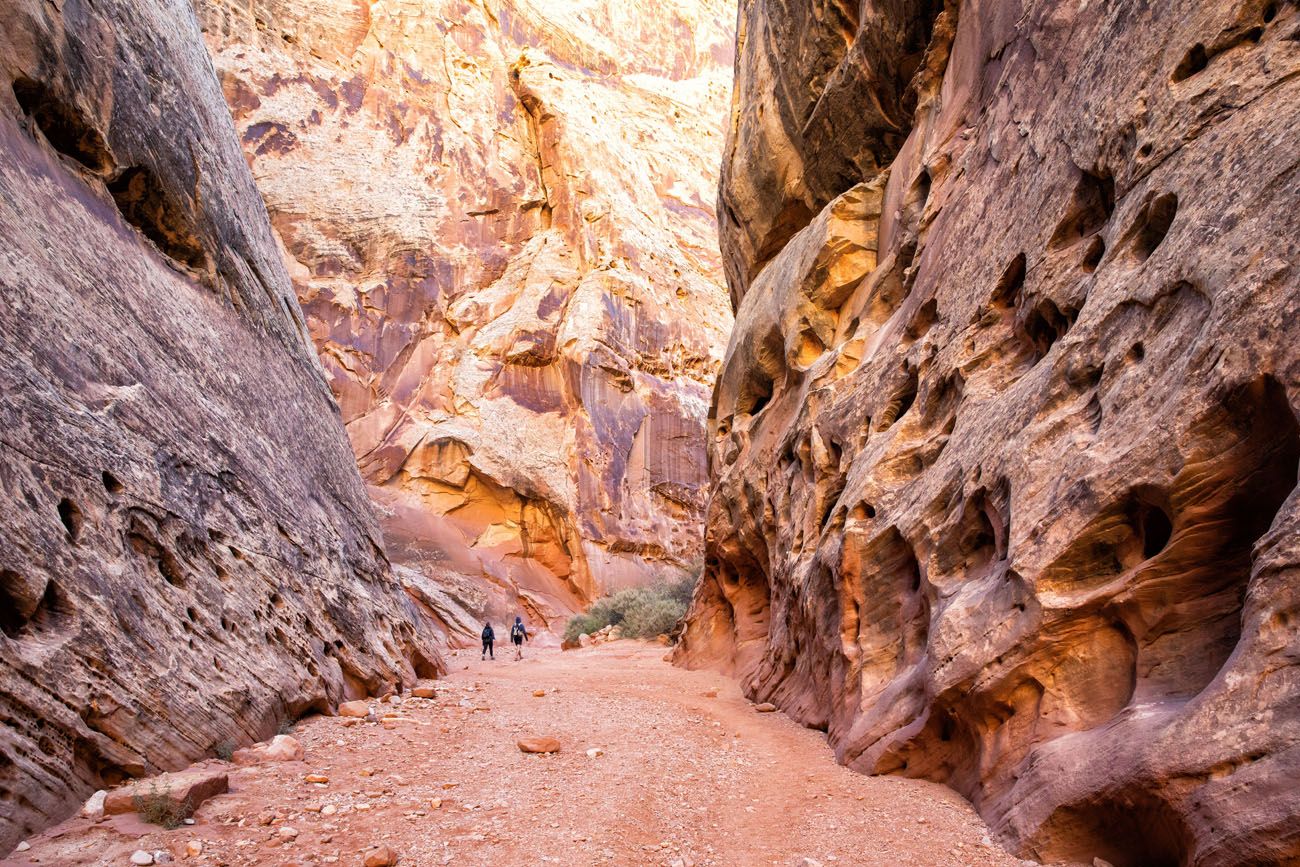 This add-on is an easy way to hike through a large slot canyon and it is well worth the time and extra steps, especially if you have never done something like this before.
The Grand Wash Trail is flat and easy to walk. From the Cassidy Arch Trail, you will walk 0.9 miles to get into the Narrows. The Narrows lasts about a half mile. To get back to your car, retrace your steps on the Grand Wash Trail until you reach the parking lot.
Factoring in the return hike to your car, this detour adds 2.8 miles and a minimal amount of elevation gain onto the Cassidy Arch hike, for a total distance of 6.3 miles.
Tips to Have the Best Experience
Do not attempt this hike in the rain or when storms are in the area. To hike to Cassidy Arch, you will be parking and then hiking in a slot canyon. During storms, flash floods are a possibility and these can be deadly if you are in slot canyon.
This is a great hike for kids. The trail is short, scenic, and very fun to hike. We saw a bunch of kids on the trail when we did this, some as young as 7, and they looked like they were having a great time.
Bring sunscreen and sunglasses. There is very little shade on the trail.
Get updates on trail and park conditions on the National Park Service website before you visit Capitol Reef.
If you are new to hiking or are curious about what you should bring on a hike, check out our Hiking Gear Guide. Find out what we carry in our day packs and what we wear on the trails.

---
If you have any questions about hiking to Cassidy Arch, or if you want to share your experience, let us know in the comment section below.
More Information about Utah
HIKES IN CAPITOL REEF: Capitol Reef has a long list of hiking trails, including Cassidy Arch and Navajo Knobs. Get the full list in our Capitol Reef Hiking Guide.
BEST OF CAPITOL REEF: Top experiences in Capitol Reef include hiking Cassidy Arch, driving through Cathedral Valley, and hiking one of the many trails in the park. For the full list, read our article Best Things to Do in Capitol Reef.
LITTLE WILD HORSE CANYON: Little Wild Horse Canyon is a narrow slot canyon that is a blast to hike. It can be visited while driving between Moab and Capitol Reef National Park. Goblin Valley State Park sits nearby so these can be combined in the same visit.
BRYCE CANYON: Take a look at our Bryce Canyon National Park Travel Guide for important travel planning tips, sample itineraries, advice on when to go, where to stay, and more.
ARCHES AND CANYONLANDS: If you have limited time, learn how to visit Arches and Canyonlands National Parks in one day.
HIKES IN ZION: Angels Landing, the Zion Narrows, Observation Point, and the Watchman Trail are some of the top hiking trails in Zion. For the full list, read our Best Hikes in Zion guide.
NATIONAL PARKS: In our Guide to the US National Parks, get the full list of national parks with important travel planning information, such as things to do in the parks and sample itineraries.
All rights reserved © Earth Trekkers. Republishing this article and/or any of its contents (text, photography, etc.), in whole or in part, is strictly prohibited.