Arches National Park is a wonderland of desert vistas, short hiking trails, strange rock formations, and you guessed it, arches. Not only will you find over 2,000 arches here, but you will also see hoodoos, fins of sandstone rocks, massive mesas, and balanced rocks. Here are the best things to do in Arches National Park.
About Our Experiences in Arches NP
The first time I visited Arches was in 1996. I was only 22 years old and it was my first visit out west. I was literally awestruck by the beauty here.
One year later I returned with Tim…I just had to share this magical place with him. We day tripped out to Arches, taking a break from skiing in Colorado. It was the last week in December and Arches NP was a very quiet spot. In fact, we had Delicate Arch all to ourselves. How times have changed.
On this most recent trip to Utah (December 2018) we wanted Tyler and Kara to see this awesome place. Once again, it was the final week of December. This time, the park would be more crowded and a government shutdown was in effect, so the Visitor Center was closed but at least the roads were open.
Every time I visit Arches, it never fails to amaze me. I hope you enjoy this extraordinary place as much as we do.
Best Things To Do in Arches NP
1. Arches Scenic Drive
There is one road that travels through Arches National Park and that is Arches Scenic Drive. It is 19 miles in length, from Highway 191 to the Devils Garden trailhead in the back of the park.
It takes about a half an hour to drive the total distance, but it will take much longer than that, as you ooh and aah at the arches and detour to various viewpoints and hiking trails.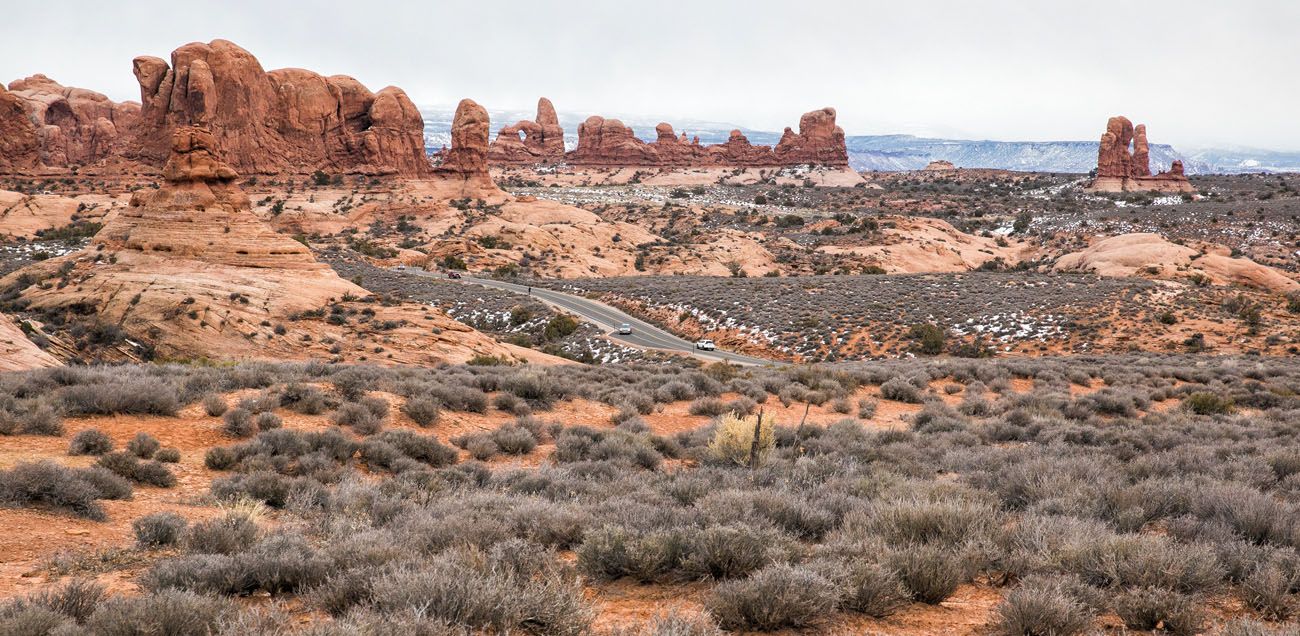 2. Park Avenue
This short, easy hike wanders past massive rock formations such as the Three Gossips and the Courthouse Towers. There are no arches but it is still a wonderful walk.
Distance: 1 mile (1.6 km) one-way
Length of Time: 30 to 45 minutes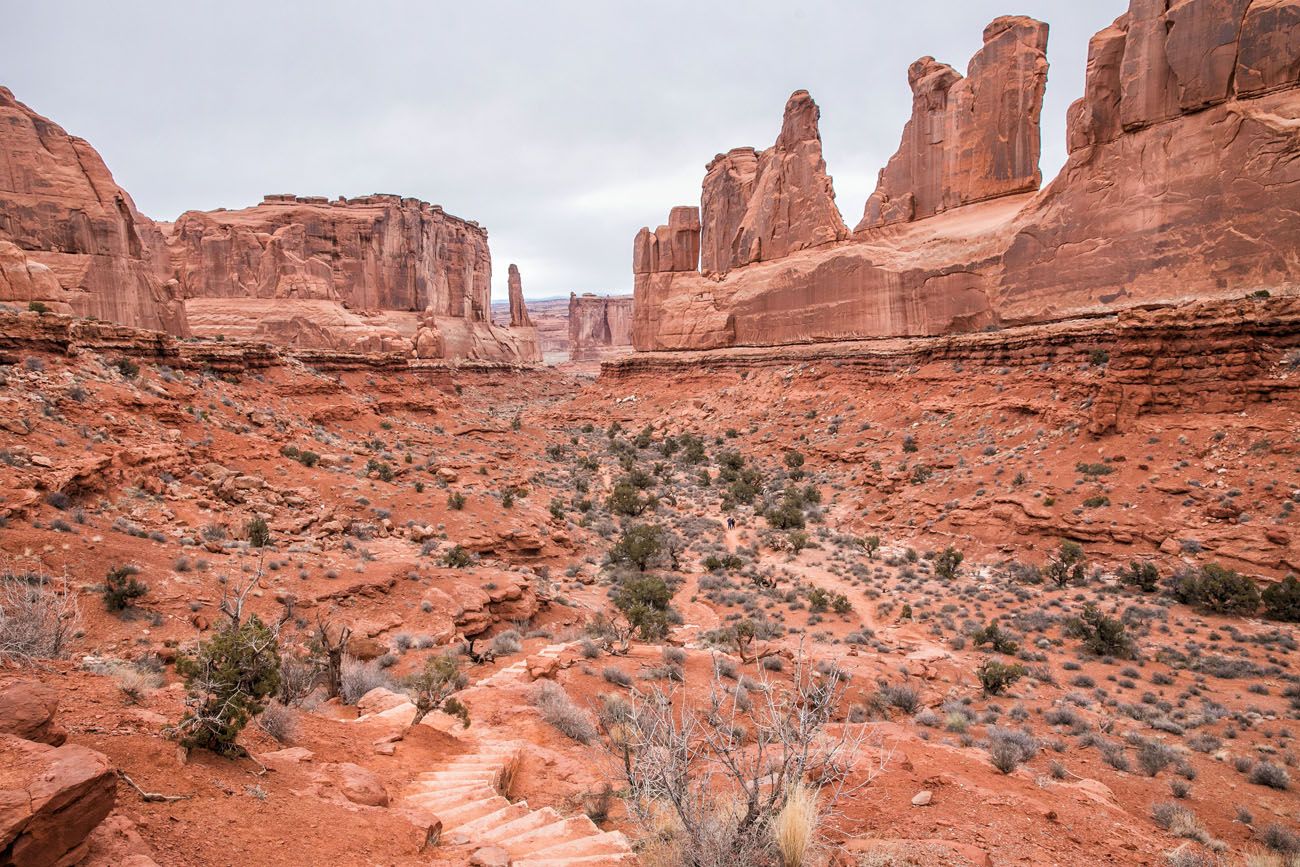 The best way to do this is as a point-to-point hike. If there is someone in your group who does not mind skipping the walk, they can drop hikers off at the trailhead and pick them up at the end point. Otherwise, you will have to do this as a 2 mile round trip hike.
Pro Travel Tip: For a mostly downhill walk, start at the Park Avenue trailhead and end at the Courthouse Towers Viewpoint. If you do it in the opposite direction, it will be a mostly uphill walk with 300 feet of elevation gain.
3. La Sal Mountains Viewpoint
This is the first viewpoint you will come to as you drive into Arches NP. Again, there are no arches in view but you do get a 360° panoramic view not only of the park but also of the La Sal Mountains off in the distance.
We liked this a lot more than the nearby Courthouse Towers Viewpoint since you are higher and have a better view over the rocky landmarks at the front of the park.
4. Balanced Rock
This famous rock formation is a must-see. You drive right past it on the main road but it is worth pulling over for a quick visit. There is a small parking lot and from here you can walk around Balanced Rock for an up-close view.
Distance: 0.3 miles (0.5 km) round trip
Length of Time: 15 minutes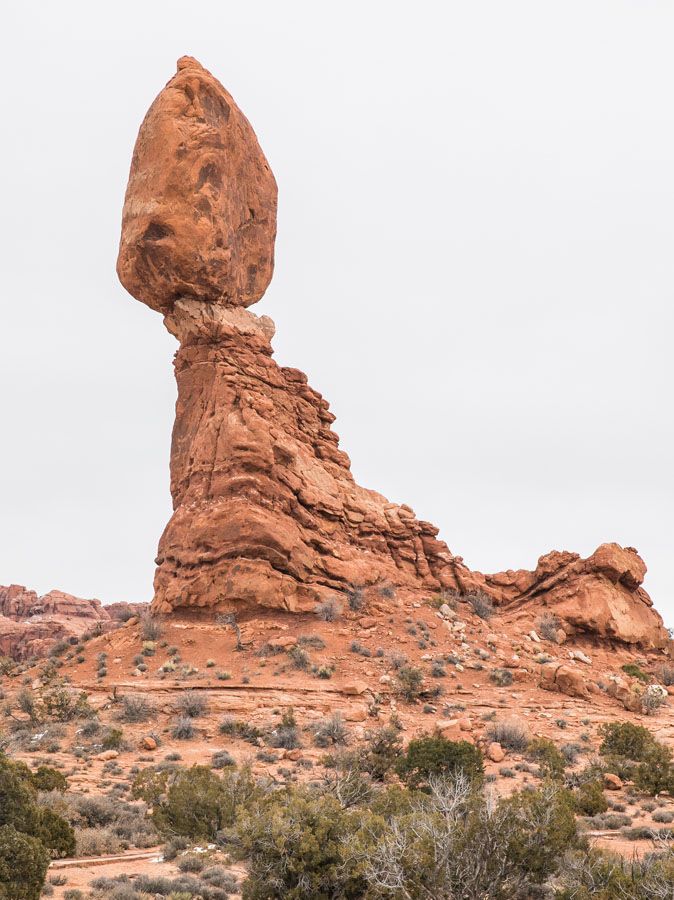 5. The Windows and Turret Arch
On this short hike you get to see three very cool arches: North Window, South Window, and Turret Arch. These arches are connected by one hiking trail. To get to Turret Arch, take the spur trail just a short distance.
You can hike back to your car via the Primitive Trail. This trail is not as well marked as the main trail and you will need to follow the cairns (piles of rocks used as trail markers) to find your way. The primitive trail adds about 0.5 miles to the hike.
Distance: 0.7 miles (1.1 km) round trip
Length of Time: 30 to 45 minutes
How to Get Here: From Arches Scenic Drive, turn right onto The Windows Road. This road ends at a loop connecting two car parks, one at the trailhead to the Windows and one at the trailhead for Double Arch. You will come to the parking lot for the Windows first. We parked here and visited the Windows and Double Arch without bothering to move our car (during crowded times it can be very difficult to find parking here).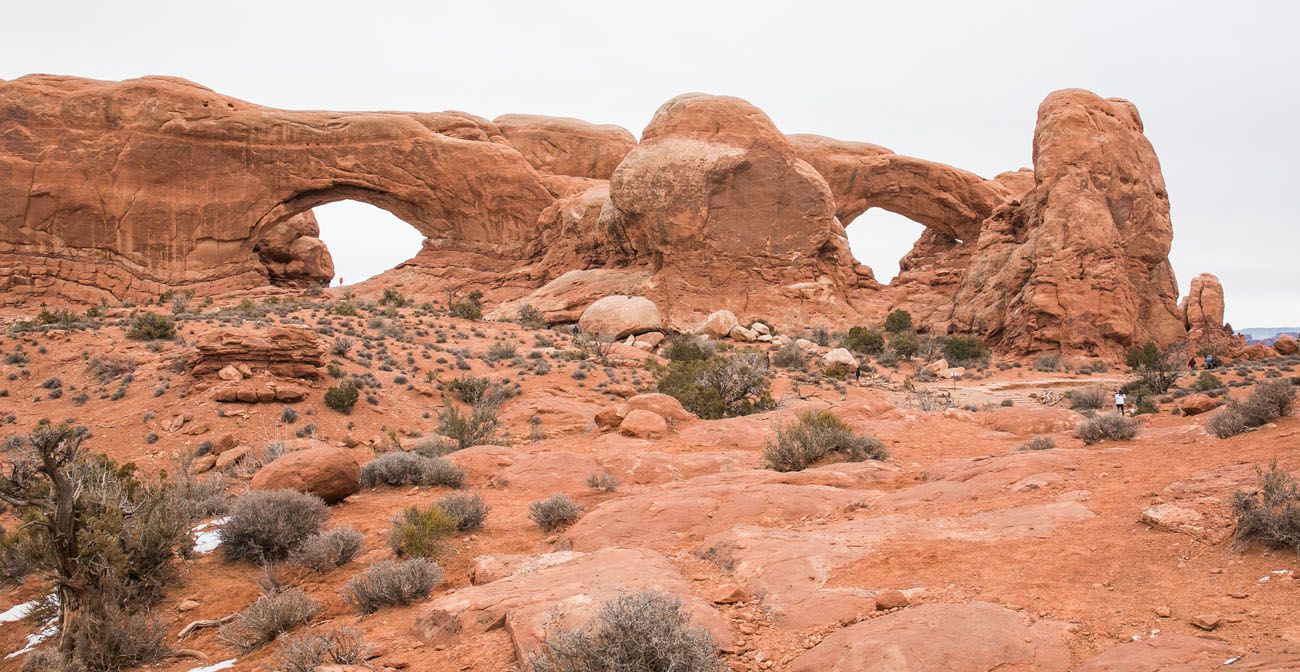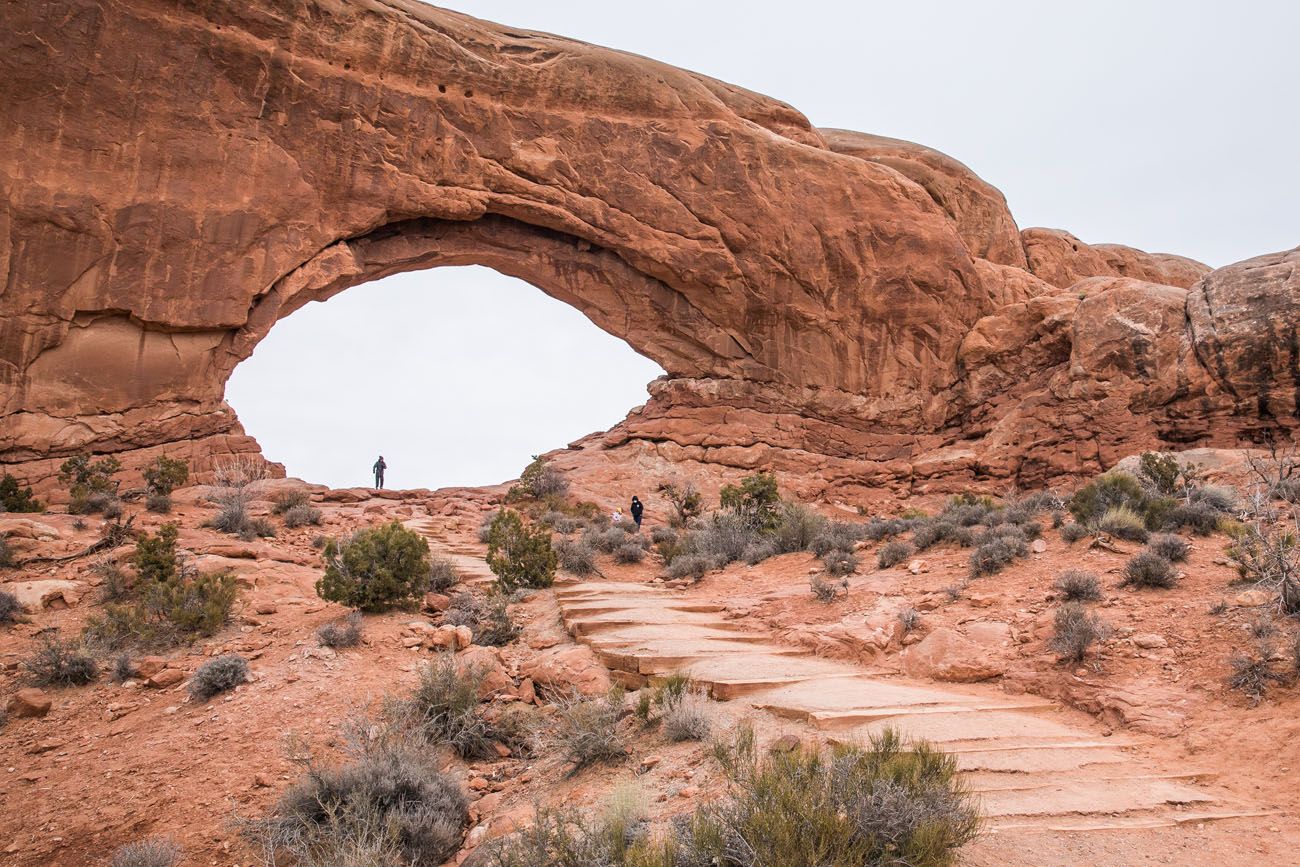 North Window Arch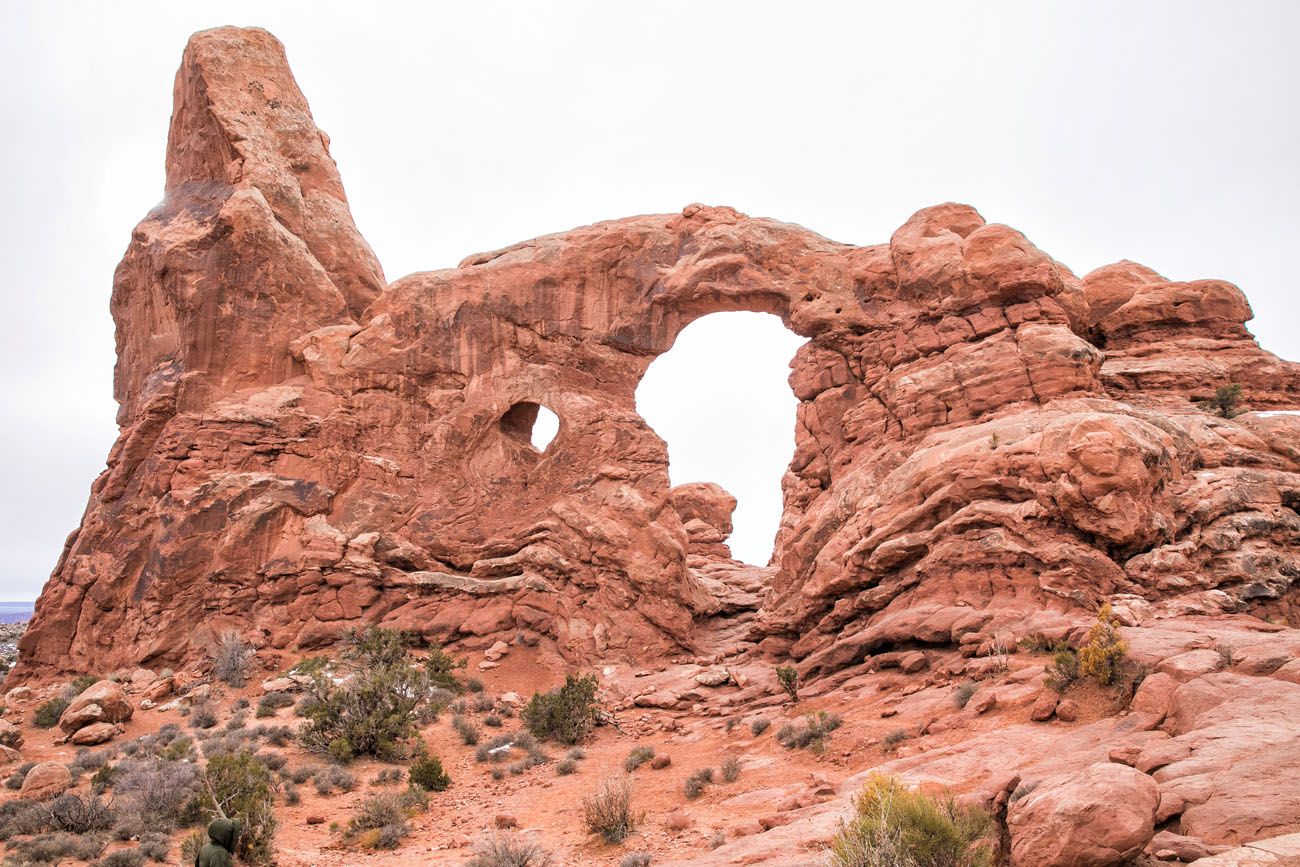 Turret Arch
6. Double Arch
It may look small from a distance but these arches are massive. In fact, Double Arch is the tallest arch in the park. It is a short walk to get here and this is one of the few places where you can climb on the rocks under the arch.
Distance: 0.5 miles (0.8 km) round trip
Length of Time: 30 minutes
How to Get Here: From the parking lot at the end of The Windows Road.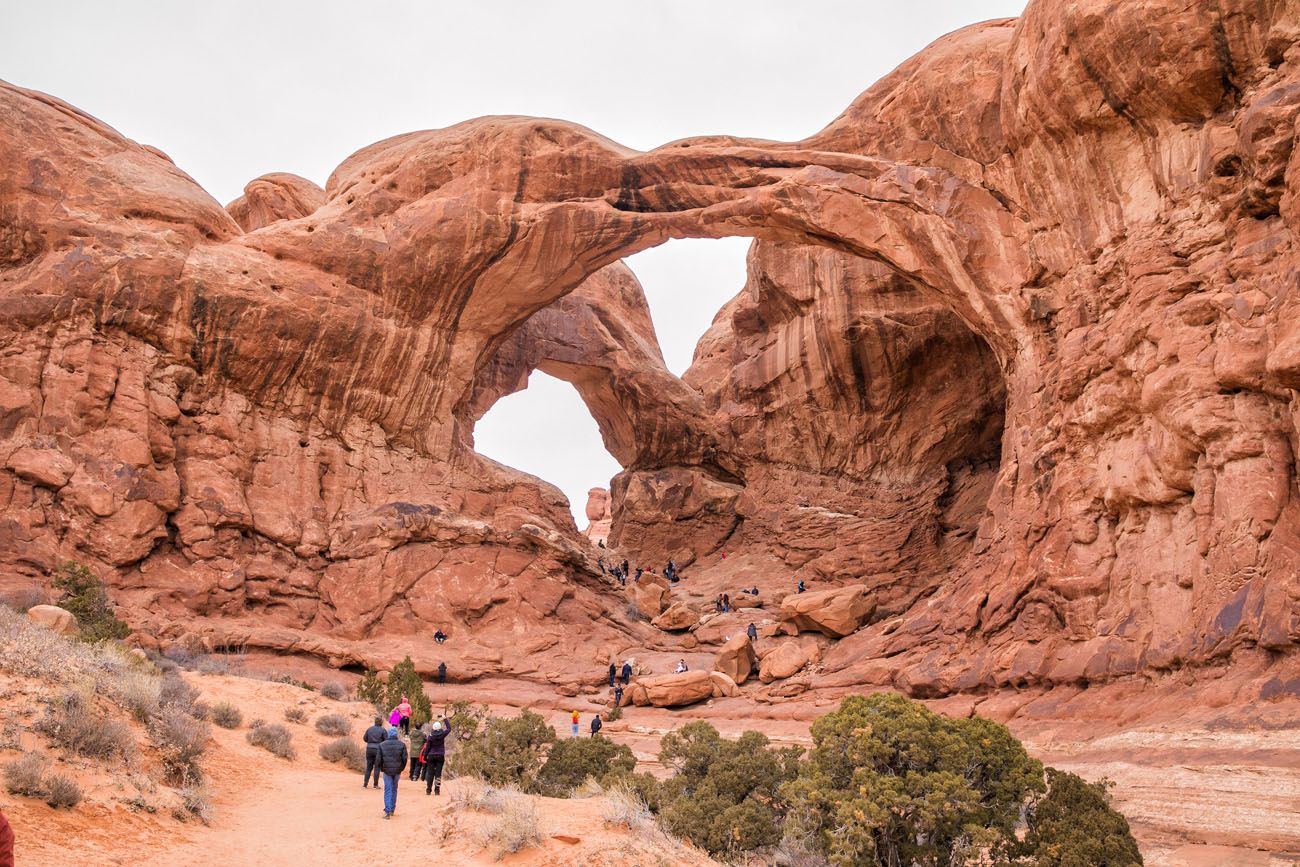 Pro Travel Tip: As you drive down The Windows Road, you will pass an overlook over the Garden of Eden. It's worth a quick stop to see these knobby hoodoos and sandstone rock formations.
7. Delicate Arch
This is the main attraction in Arches National Park. People from all around the world travel to Arches to see this arch. So expect big crowds and a busy trail.
To get an up close view of Delicate Arch you are going to have to do some hiking. It's a 3-mile round trip hike over slickrock and sandy trails. From the car park you will walk uphill most of the way to get to the arch.
There is one short section of trail with a drop-off on one side. This is located just before you get to Delicate Arch. Kids can do this hike but you will need to keep an eye on them, especially as you walk this short section.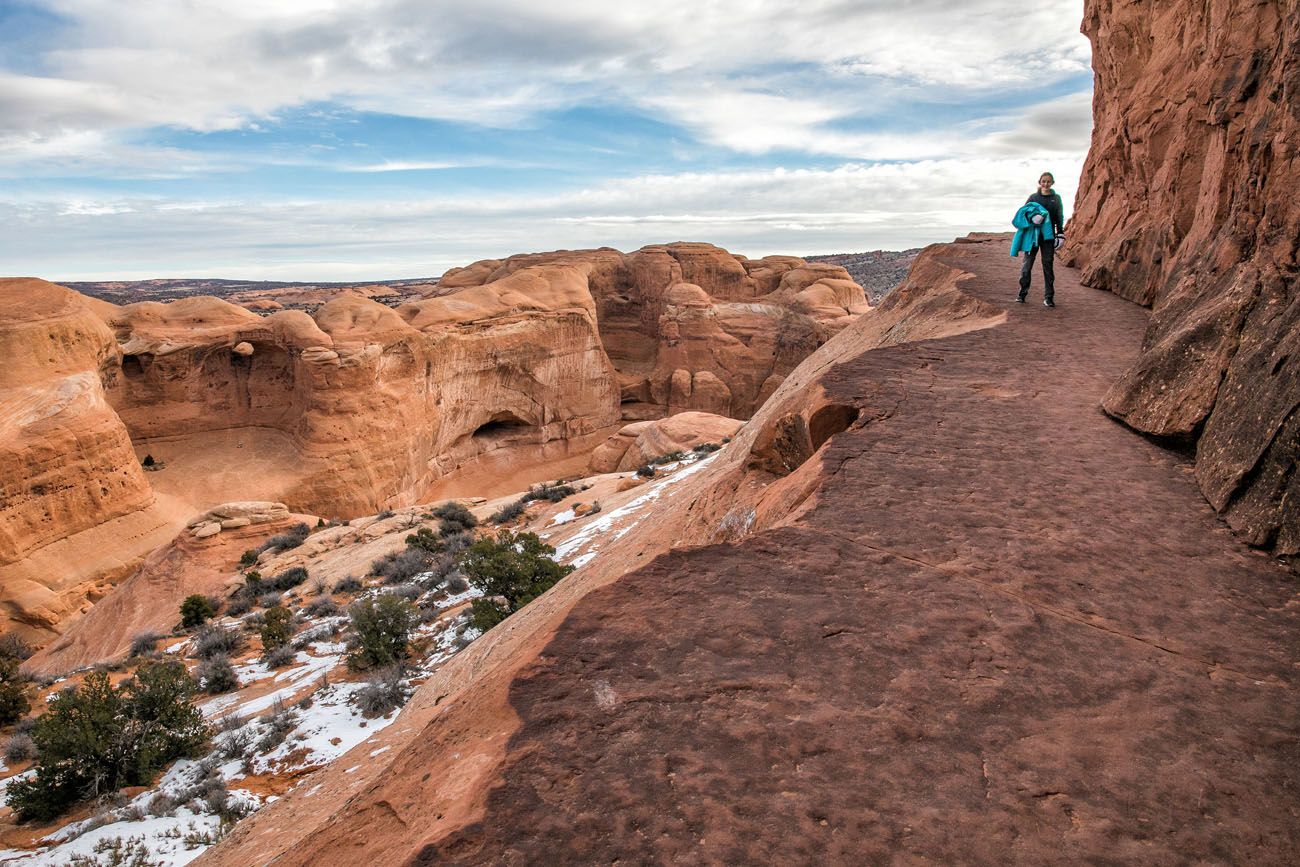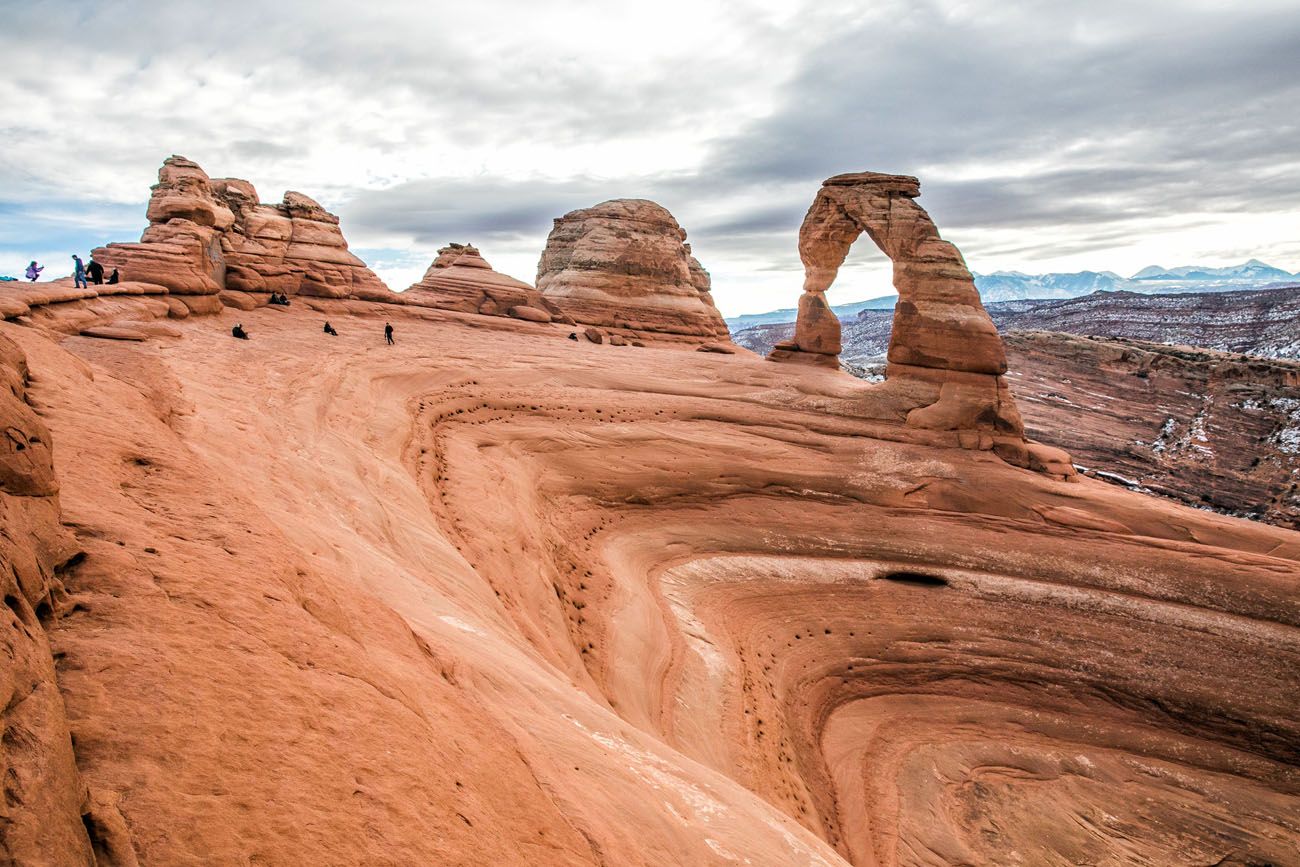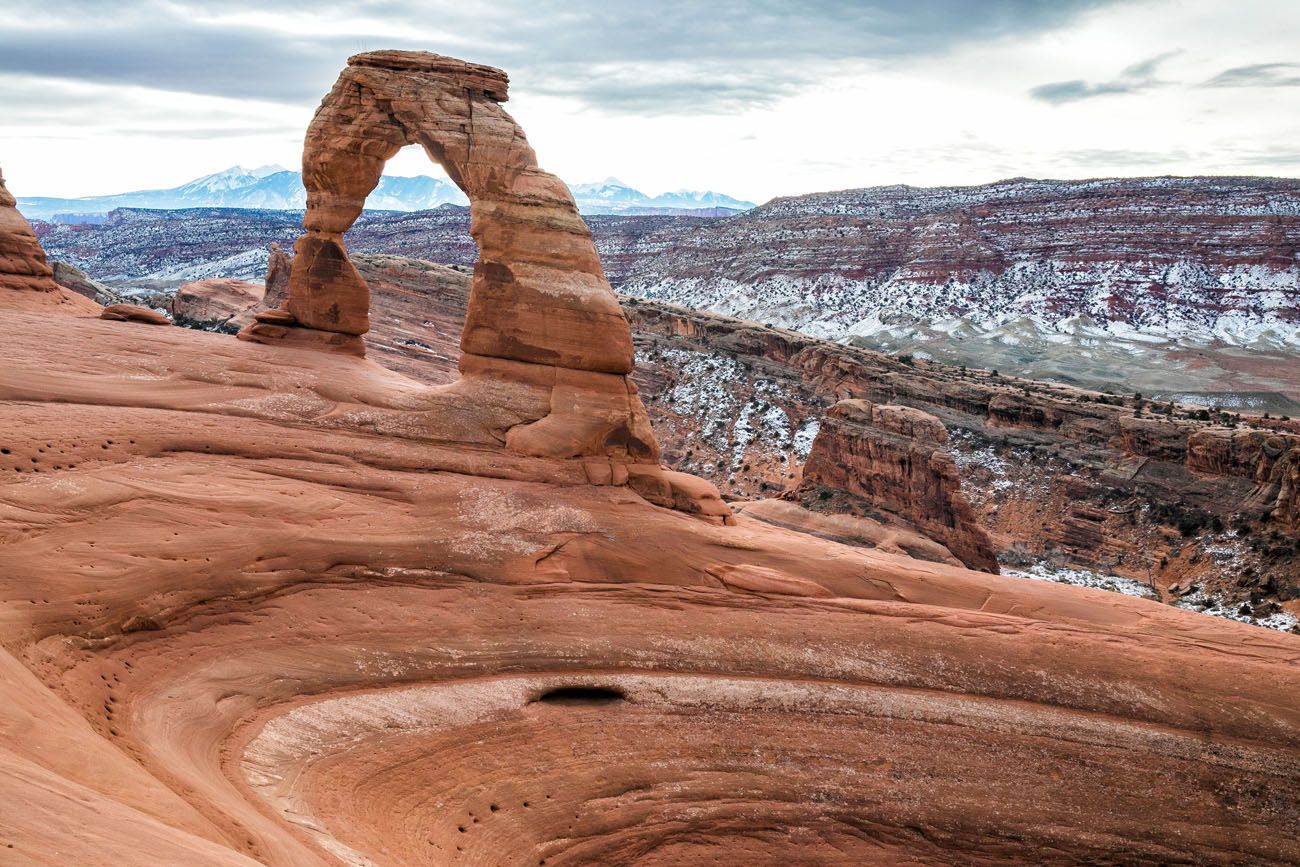 Distance: 3 miles (4.8 km) round trip
Elevation Gain: 480 feet gain on the hike from the parking lot to Delicate Arch
Length of Time: 1.5 to 3 hours
How to Get Here: Park in the Wolfe Ranch parking lot on Delicate Arch Road.
Best Time To Visit Delicate Arch:
The best time for photography is at sunrise, in the late afternoon, and at sunset. For most of the morning and midday, the sun will be behind the arch, making it backlit and difficult to photograph. Later in the day, the sun illuminates the front of the arch, which is better for photography. We got lucky. We were here in the morning but cloudy skies toned down the harshness of the sunlight.
The best time to avoid the crowds is during the early morning hours. This is also one of the worst times for photography. So you will have to decide if you want fewer crowds (go first thing in the morning) or better lighting conditions (late afternoon and sunset).
8. Upper Delicate Arch Viewpoint
To get a view of Delicate Arch without going on a strenuous hike, visit Upper Delicate Arch Viewpoint. You will still have to do some walking, but it is shorter and easier than the walk to Delicate Arch.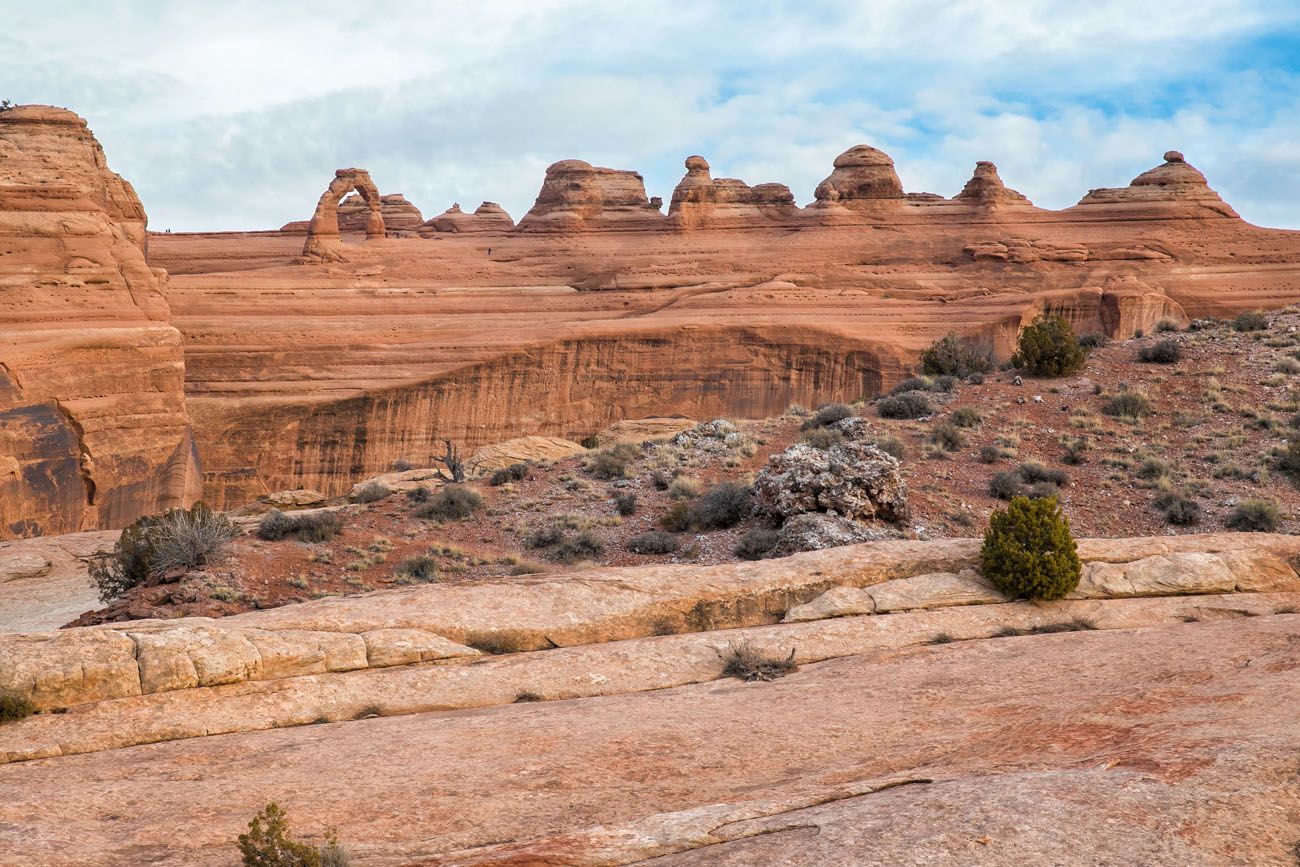 There is a second viewpoint, Lower Delicate Arch Viewpoint, which you can visit from the same car park, with even less walking. However, you are so far away from the arch that it is hardly worth the effort.
Distance: 0.6 miles (0.9 km) round trip
Length of Time: 15 to 30 minutes
How to Get Here: Drive past the Wolfe Ranch parking lot on Delicate Arch Road for one mile until you get to the large parking lot for Delicate Arch Viewpoint.
9. Fiery Furnace
Named for the reddish glow it gets at sunset, the Fiery Furnace is one of the neatest non-arch spots in Arches National Park.
There are two ways to experience the Fiery Furnace: by viewpoint or by a guided ranger hike.
The easiest way to see the Fiery Furnace is to park your car in the parking lot and walk the very short distance to an overlook. Here's the view.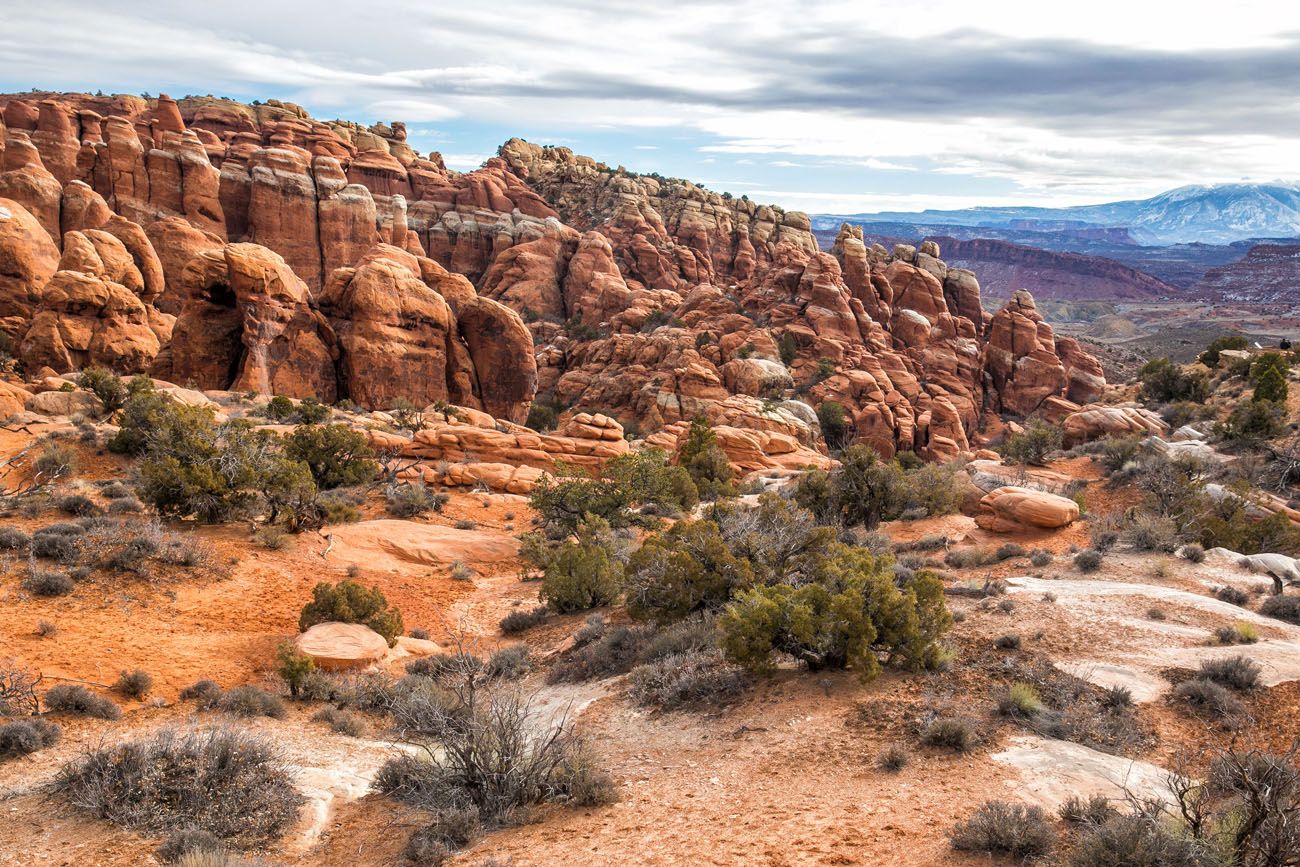 The best way to experience the Fiery Furnace is by a ranger-guided hike. This 2 mile strenuous hike takes you through a maze of canyons formed by sandstone fins. Spots fill up fast so if this sounds like something you would like to do, make your reservation in advance. Visit the National Park website for full details.
10. Devils Garden and Landscape Arch
Devils Garden is the best hike to do in Arches National Park.
What makes it so great? Not only can you visit the amazing Landscape Arch, but you can also see seven more arches and some of the best landscapes in the park.
On the way to Landscape Arch, visit Pine Tree Arch and Tunnel Arch. Once you see Landscape Arch, you can turn around and hike back to your car. Or, keep going. The hiking gets to be more fun, and more challenging, as you walk on massive sandstone fins and enjoy views across the park. Visit Navajo Arch, Partition Arch, and Double O Arch, an arch that looks strangely similar to Double Arch.
Retrace your steps to the car park or practice your route finding skills on the primitive trail (and get to see the 6th arch, Private Arch).
Whether you hike just a short section of the Devils Garden Trail or the entire loop, you are in for a treat.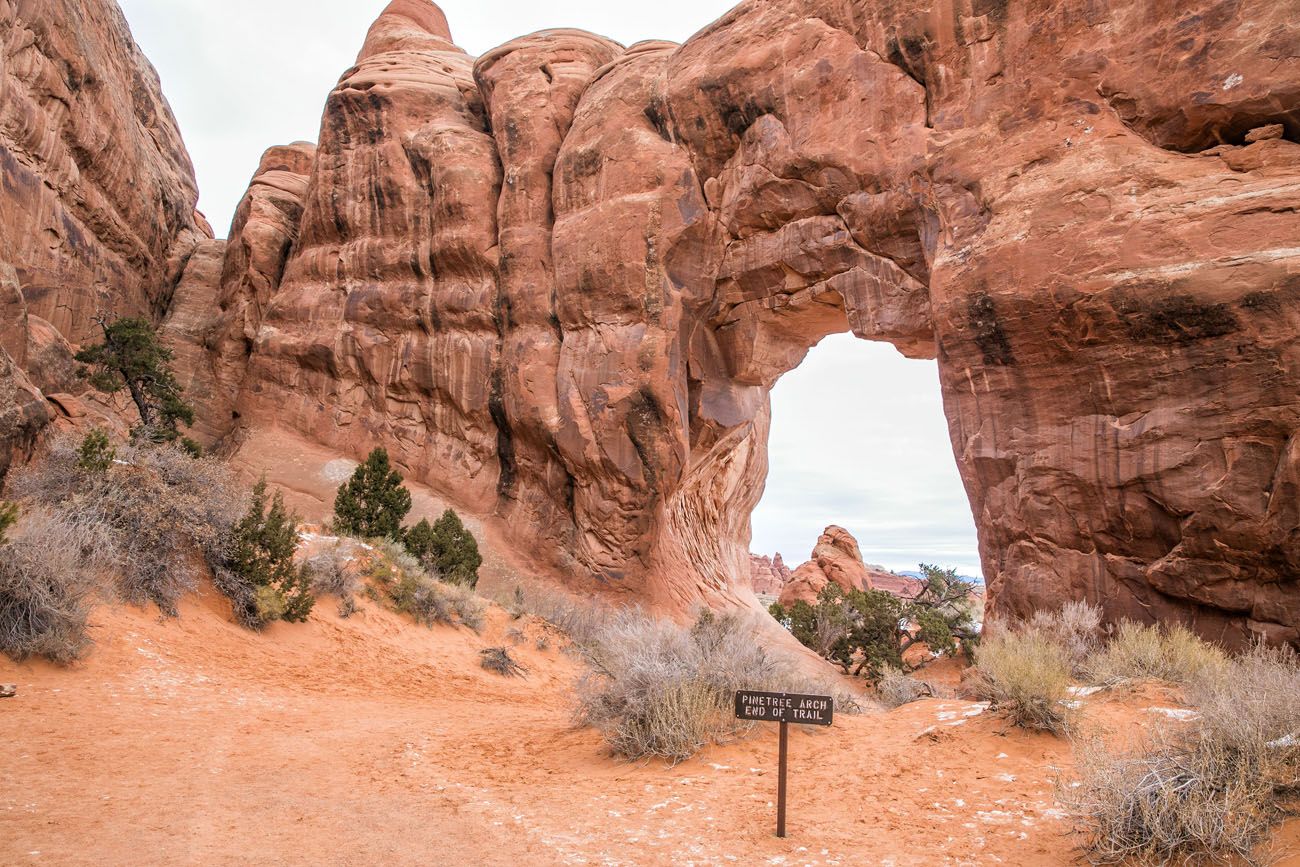 Pine Tree Arch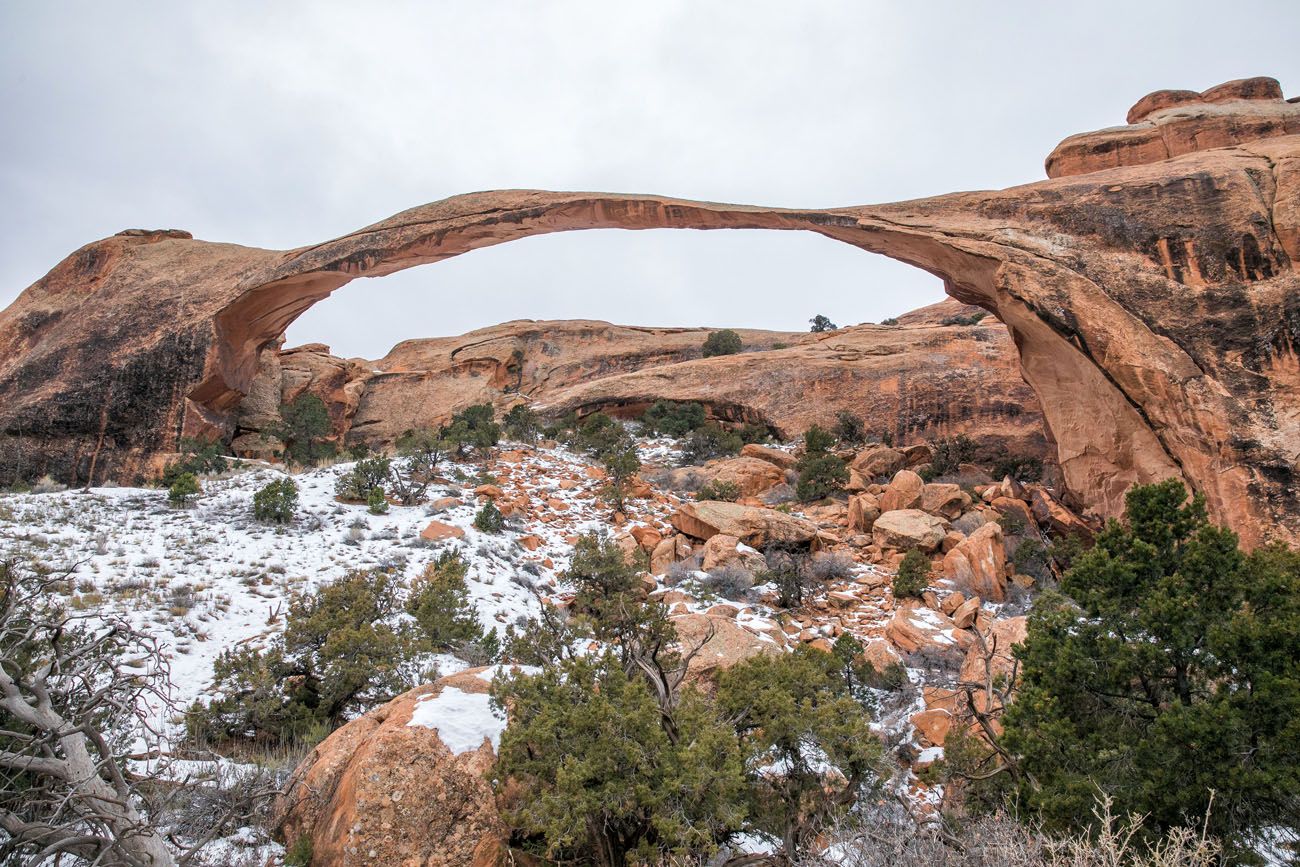 Landscape Arch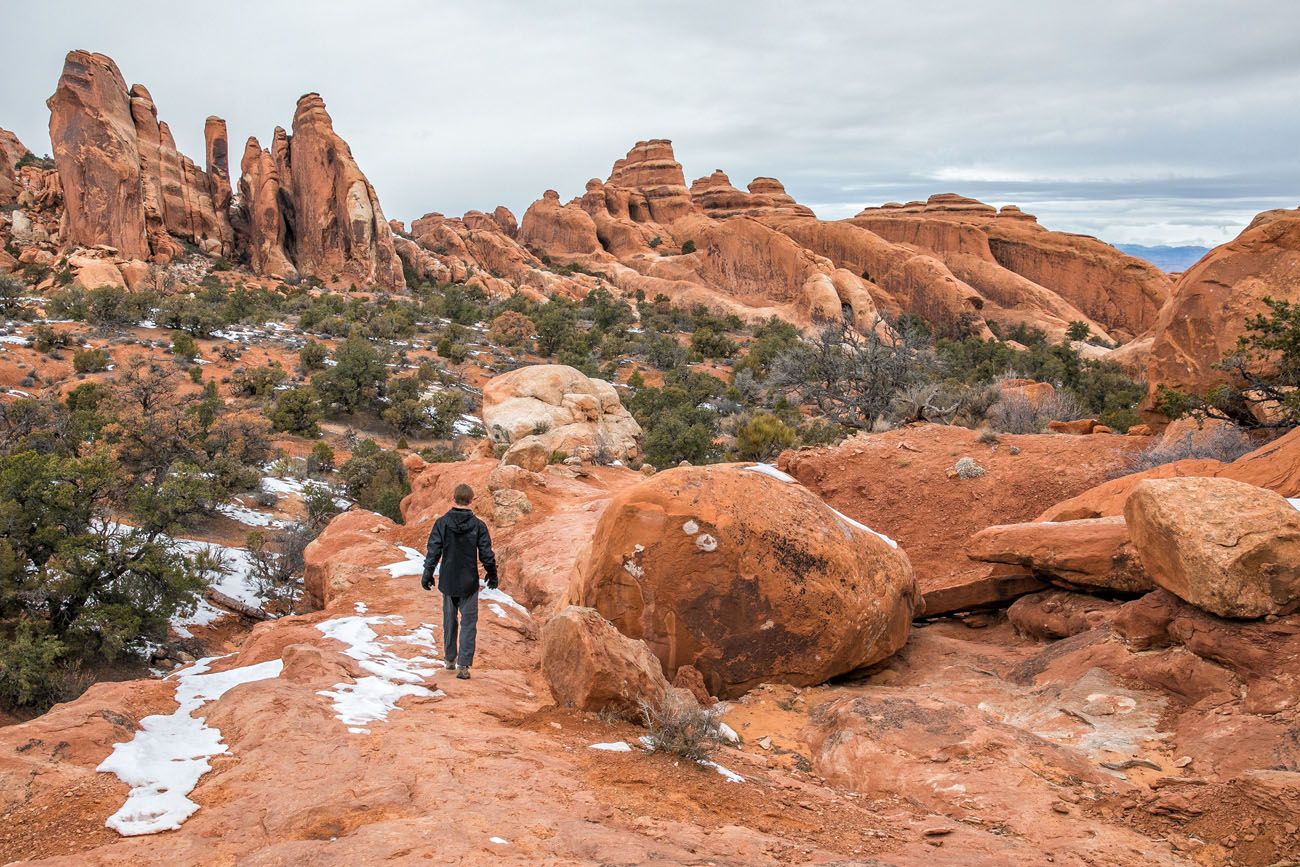 Hiking to Double O Arch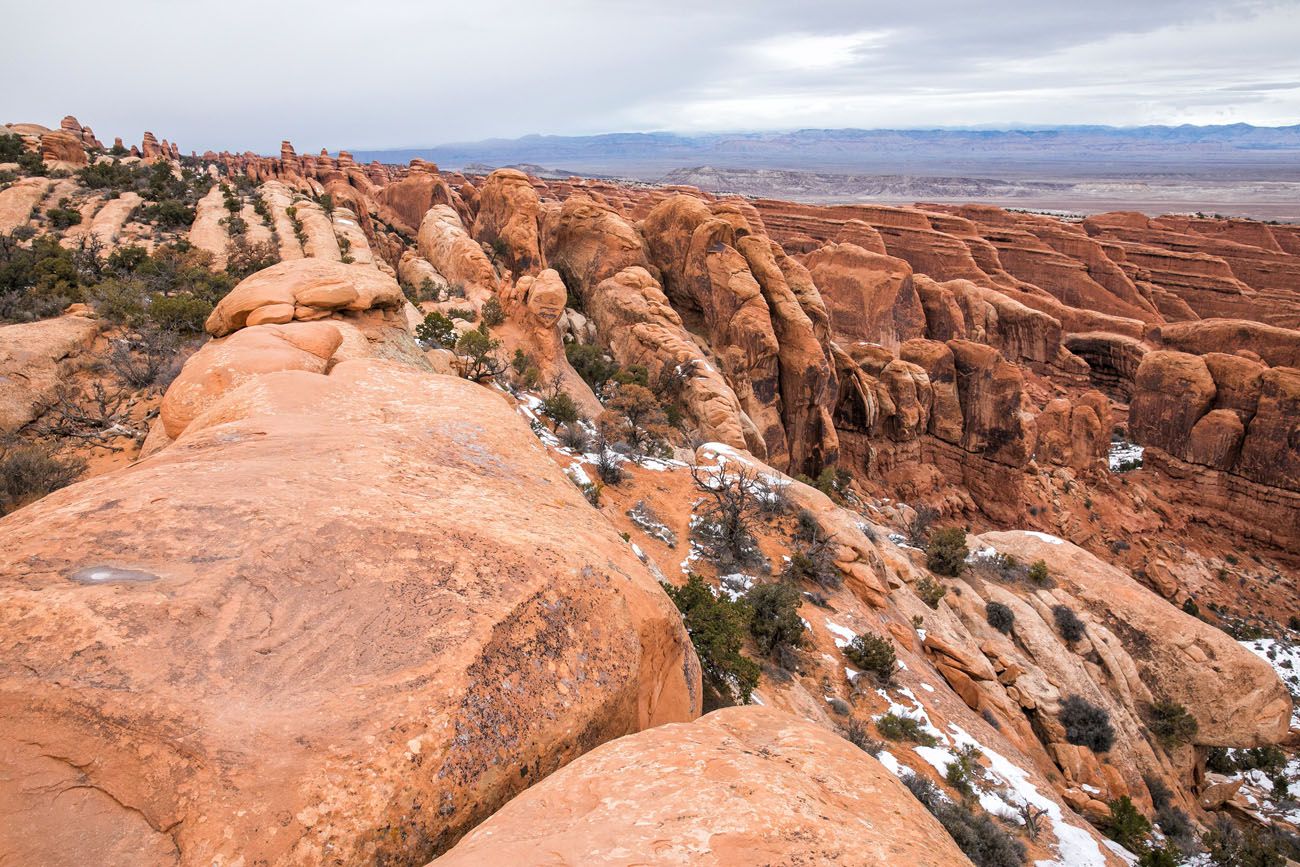 Another view of the trail
Distances:
Round trip to Landscape Arch: 1.6 miles (2.6 km)
Round trip to Double O Arch: 4.2 miles (6.7 km)
To Double O Arch and back via the primitive trail: 5.9 miles (9.5 km)
Pine Tree and Tunnels arches add 0.5 miles (0.8 km)
Navajo and Partition arches add 0.8 miles (1.3 km)
Allow an hour for the hike to Landscape Arch and add more time if you choose to go farther.
How to Get Here: The Arches Scenic Drive ends at a large car park. This is the access point for the Devils Garden trailhead. There are restrooms here.
Want to learn more about this hike? We have an entire article about hiking Devils Garden, with maps, tips and tricks, and more photos. Check it out:
Things to Know Before You Go
Getting to Arches National Park: Arches National Park is located in southeastern Utah. The closest city is Moab, just a 10-minute drive from the park.
Best Time to Go to Arches: The spring and fall months are the best times to visit. Weather conditions are pleasant and you can avoid the big crowds that flood the park in the summer. During the summer months, expect soaring temperatures, large crowds, and difficulty finding parking at many viewpoints. During the winter months, it is much less crowded, but temperatures get below freezing and snow is likely.
The National Park website has a great graph showing the busiest times to visit Arches NP, as well as tips on how to avoid the crowds.
Entrance Fees: It costs $30 per vehicle to enter the park and this is good for seven days. For $55 you can purchase a Southeast Utah parks pass, which also gets you into Canyonlands National Park. You can also purchase an annual National Parks pass (called the America the Beautiful Pass) for $80. With this pass you can visit over 2,000 federal recreation sites. This is worth it if you also plan to visit more of Utah's Mighty 5, including Capitol Reef, Zion, Bryce Canyon, or any other US National Park within the year.
There are no restaurants in the park. If you plan to stay all day you will need to pack a picnic lunch. However, there are restrooms at many of the main viewpoints and trailheads inside of the park.
Don't expect the cellular service on your phone to work. You may get a weak signal near the Visitor Center at the front of the park but we did not have any cellular service at the back of the park.
Planning a trip to Utah's Mighty 5? Don't miss our Mighty 5 travel guide. Learn how to plan a road trip through all five national parks (Zion, Bryce Canyon, Canyonlands, Arches, and Capitol Reef) with details on the best things to do, where to stay, and more.
Where We Stayed in Moab
We stayed at 57 Robbers Roost in Moab. This small building has five apartments of varying sizes to choose from. We stayed in apartment #5, the penthouse apartment with three bedrooms, three bathrooms, a full kitchen, and a living room. It was a little larger than what we needed but having the extra space and the kitchen was wonderful. We could cook breakfast before touring the parks and we had lots of space to spread out in after a day of hiking. This was perfect for us, especially because the sun set at 5:15 pm during our visit. On a return visit to Moab we plan to stay here again.
---
If you are planning a trip to Arches National Park and have any questions let us know in the comment section below!
More Information for Your Trip to Utah:
You Might Also Like: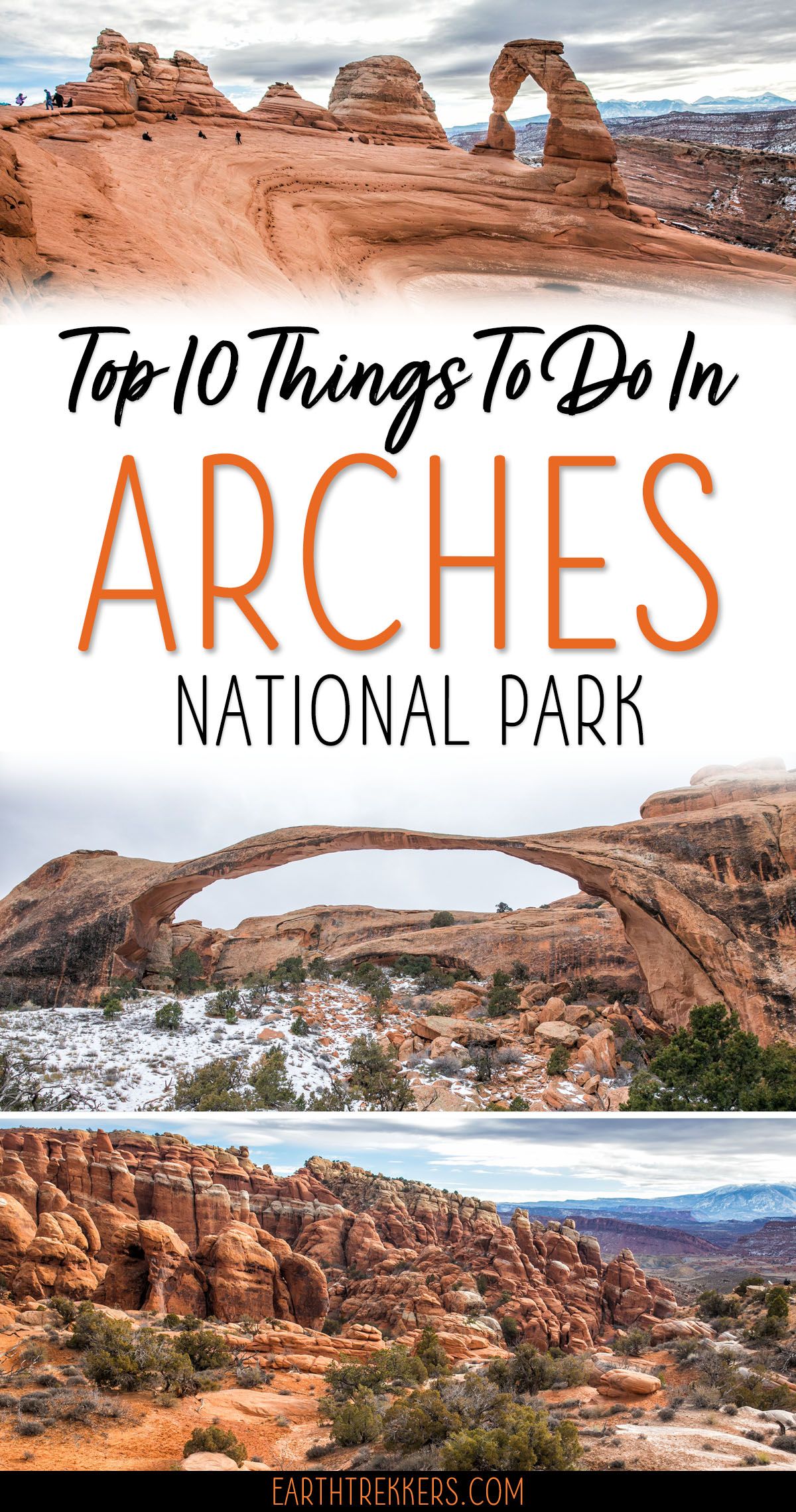 Note: This post contains affiliate links. When you make a purchase using one of these affiliate links, we get paid a small commission at no extra cost to you.
All rights reserved © Earth Trekkers. Republishing this article and/or any of its contents (text, photography, etc.), in whole or in part, is strictly prohibited.