Arches National Park is a wonderland of desert vistas, short hiking trails, strange rock formations, and you guessed it, arches. Not only will you find over 2,000 arches here, but you will also see hoodoos, fins of sandstone rocks, massive mesas, and balanced rocks. Here are the best things to do in Arches National Park.
About Our Experiences in Arches National Park
The first time I visited Arches was in 1996. I was only 22 years old and it was my first visit out west. I was literally awestruck by the beauty here.
One year later I returned with Tim…I just had to share this magical place with him. We day tripped out to Arches, taking a break from skiing in Colorado. It was the last week in December and Arches NP was a very quiet spot. In fact, we had Delicate Arch all to ourselves. How times have changed.
More recently, we have visited Arches National Park in December 2018 and November 2020. We just can't stay away. And every time we are here, we keep discovering more wonderful places to visit, which we will share with you in this post.
Every time I visit Arches, it never fails to amaze me. I hope you enjoy this extraordinary place as much as we do.
TIMED ENTRY PERMIT: In order to enter Arches National Park from April 3 to October 2, 2022, you must have a timed entry permit. These tickets are released three months in advance (for example, permits for all of July are released on April 1).
Best Things To Do in Arches National Park
1. Arches Scenic Drive
There is one road that travels through Arches National Park and that is Arches Scenic Drive. It is 19 miles in length, from Highway 191 to the Devils Garden trailhead in the back of the park.
It takes about a half an hour to drive the total distance, but it will take much longer than that, as you ooh and aah at the arches and detour to various viewpoints and hiking trails.
There is a self-guided driving tour that you can purchase and download before your visit. As you drive through Arches National Park, this audio tour gives you information about the sights on Scenic Drive.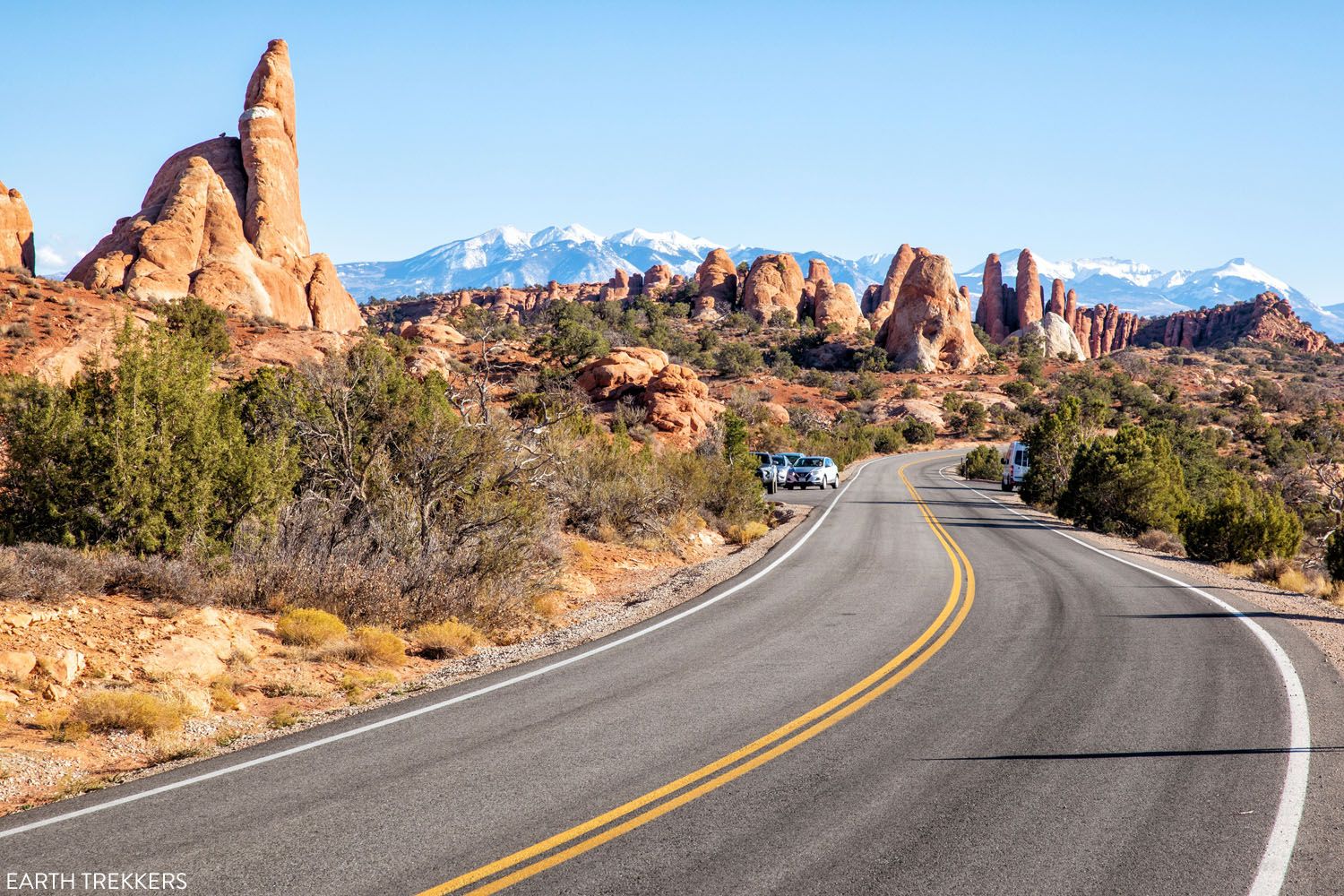 2. Park Avenue
This short, easy hike wanders past massive rock formations such as the Three Gossips and the Courthouse Towers. There are no arches but it is still a wonderful walk.
Distance: 1 mile (1.6 km) one-way
Length of Time: 30 to 45 minutes
The best way to do this is as a point-to-point hike. If there is someone in your group who does not mind skipping the walk, they can drop hikers off at the trailhead and pick them up at the end point. Otherwise, you will have to do this as a 2 mile round trip hike.
PRO TRAVEL TIP: For a mostly downhill walk, start at the Park Avenue trailhead and end at the Courthouse Towers Viewpoint. If you do it in the opposite direction, it will be a mostly uphill walk with 300 feet of elevation gain.
3. La Sal Mountains Viewpoint
This is the first viewpoint you will come to as you drive into Arches NP. Again, there are no arches in view but you do get a 360° panoramic view not only of the park but also of the La Sal Mountains off in the distance.
We liked this a lot more than the nearby Courthouse Towers Viewpoint since you are higher and have a better view over the rocky landmarks at the front of the park.
The time of day you are here makes a big impact on your photos. Here are two photos, taken one day apart, at different times of the day. The first photo was taken mid-afternoon. The second photo was taken the following morning about two hours after sunrise.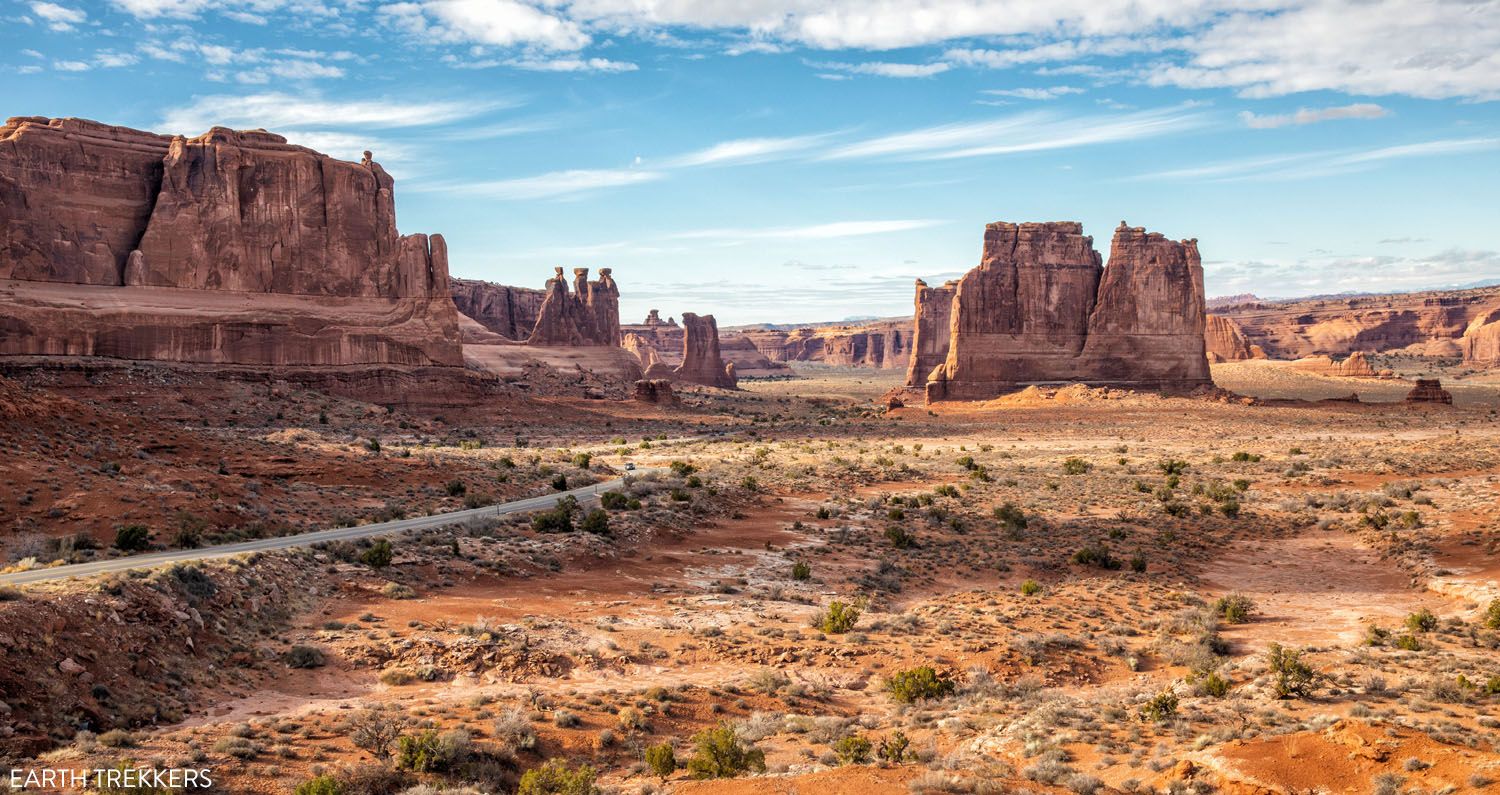 La Sal Mountains viewpoint in the afternoon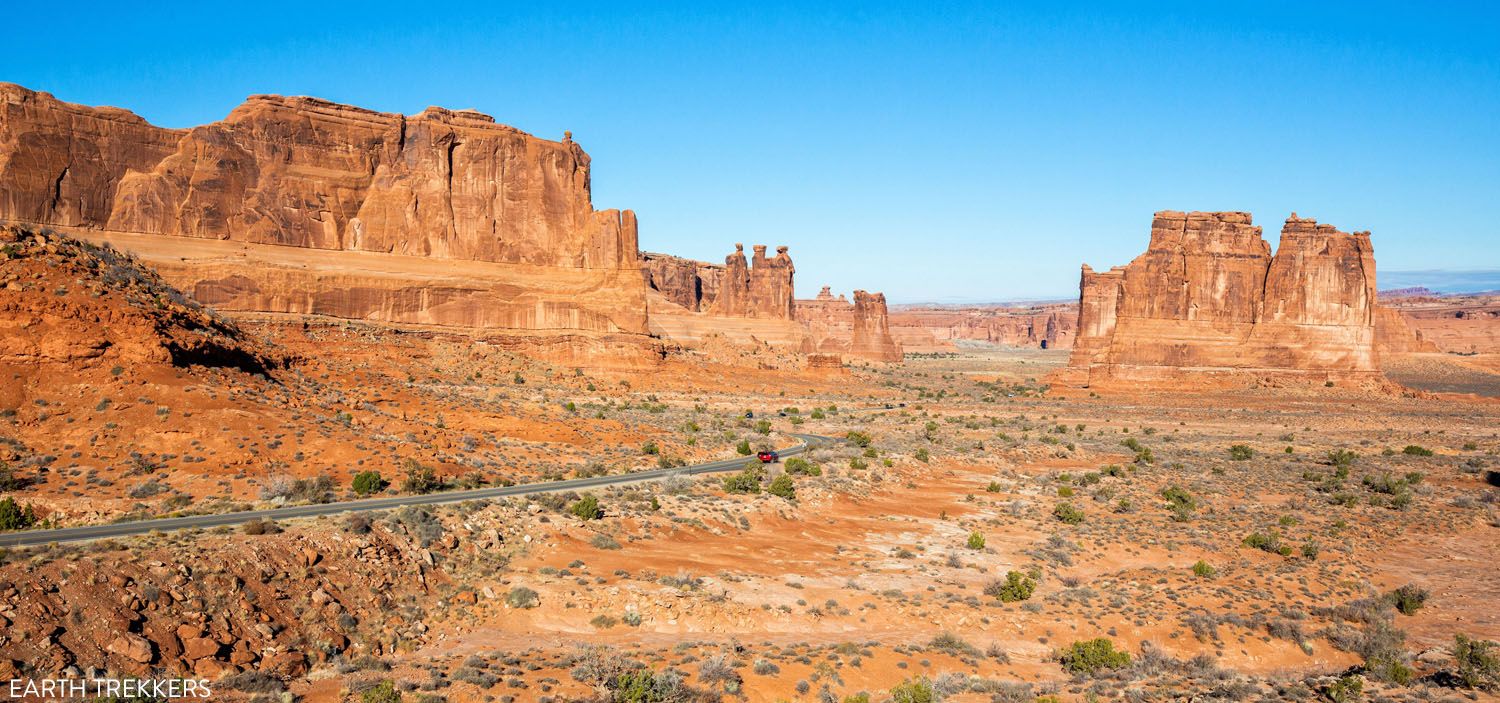 La Sal Mountains viewpoint in the morning
4. Balanced Rock
This famous rock formation is a must-see. You drive right past it on the main road but it is worth pulling over for a quick visit. There is a small parking lot and from here you can walk around Balanced Rock for an up-close view.
Distance: 0.3 miles (0.5 km) round trip
Length of Time: 15 minutes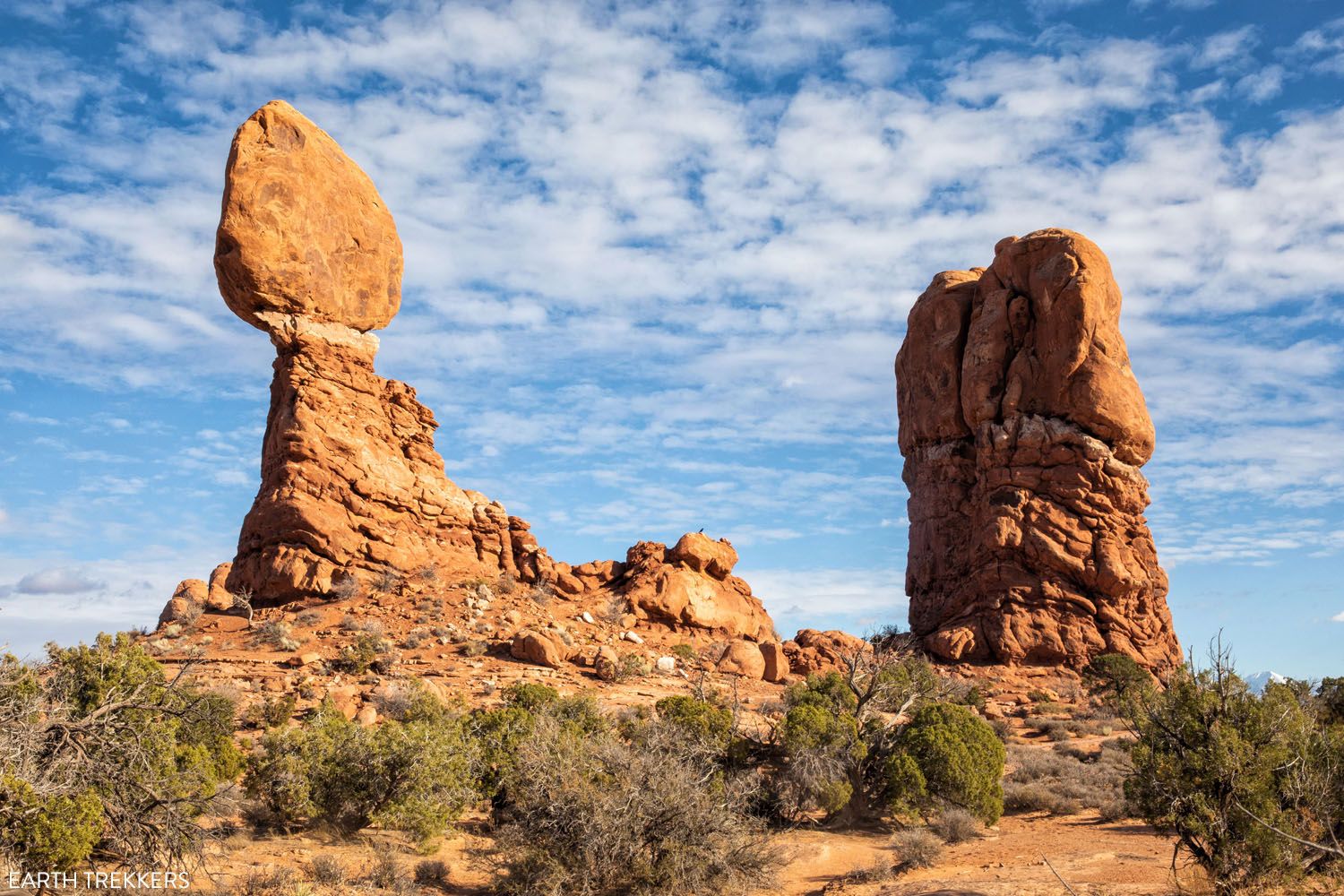 5. The Windows and Turret Arch
On this short hike you get to see three very cool arches: North Window, South Window, and Turret Arch. These arches are connected by one hiking trail. To get to Turret Arch, take the spur trail just a short distance.
You can hike back to your car via the Primitive Trail. This trail is not as well marked as the main trail and you will need to follow the cairns (piles of rocks used as trail markers) to find your way. The primitive trail adds about 0.5 miles to the hike.
Distance: 0.7 miles (1.1 km) round trip
Length of Time: 30 to 45 minutes
How to Get Here: From Arches Scenic Drive, turn right onto The Windows Road. This road ends at a loop connecting two car parks, one at the trailhead to the Windows and one at the trailhead for Double Arch. You will come to the parking lot for the Windows first. We parked here and visited the Windows and Double Arch without bothering to move our car (during crowded times it can be very difficult to find parking here).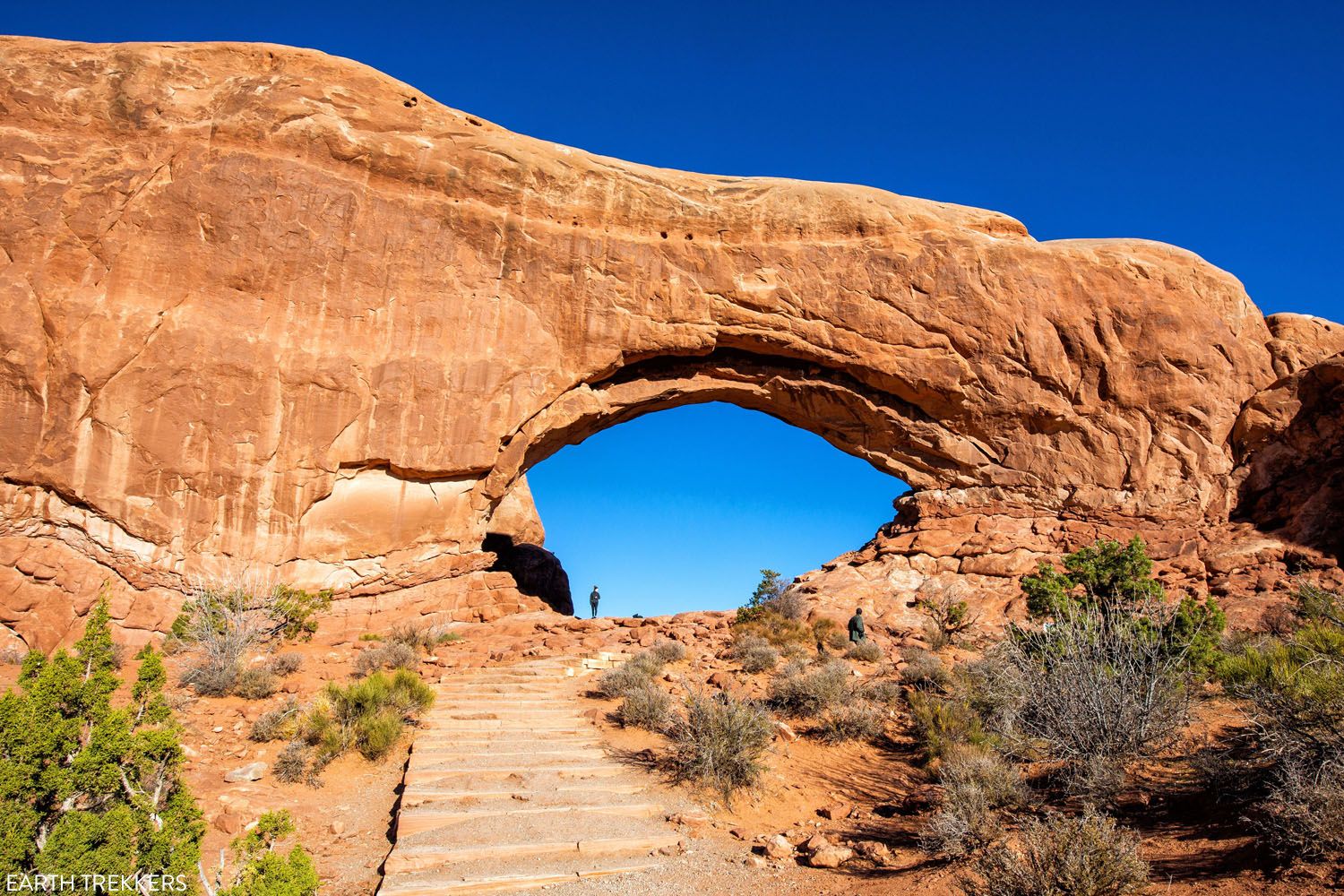 North Window Arch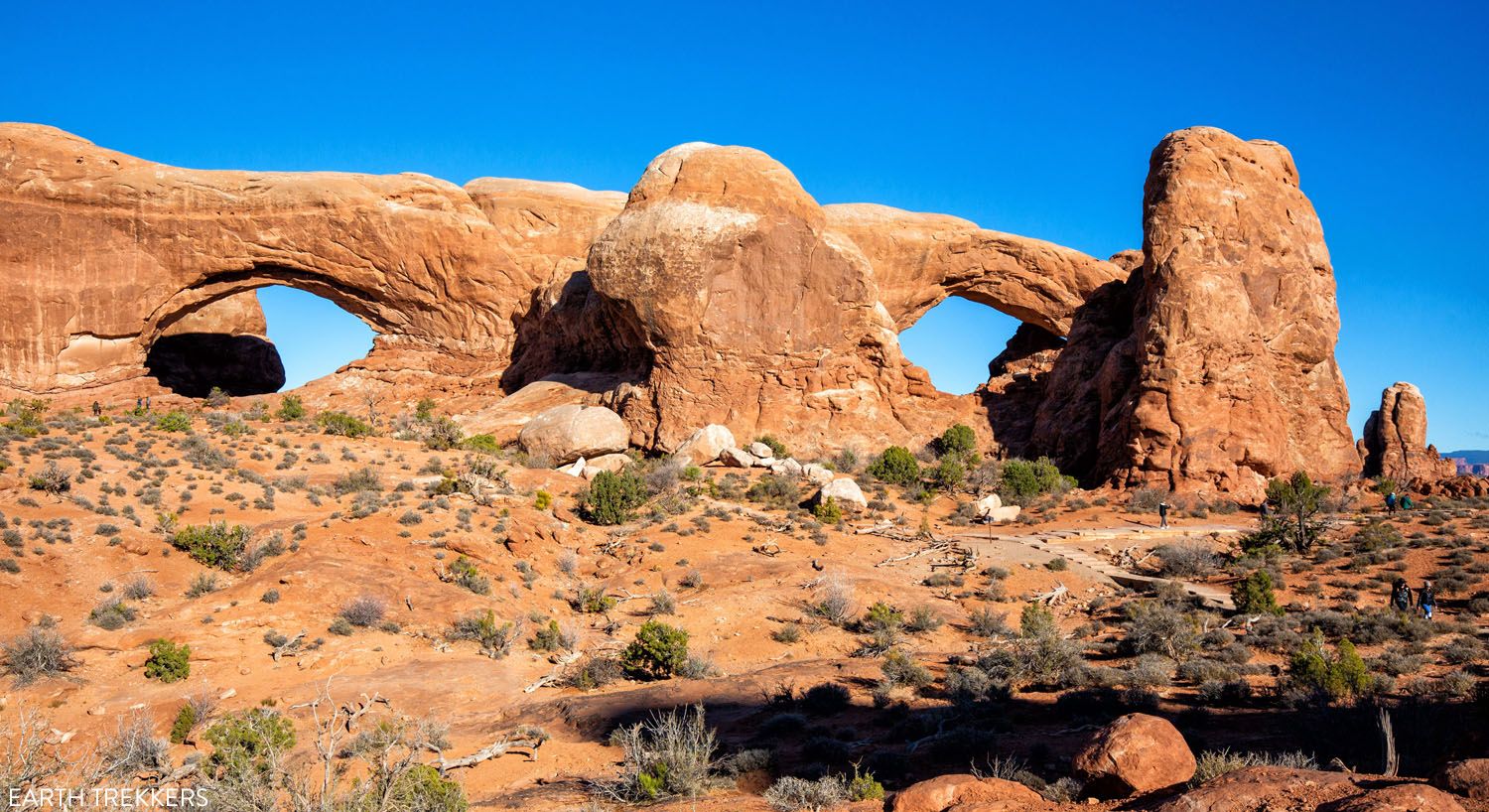 North and South Window Arches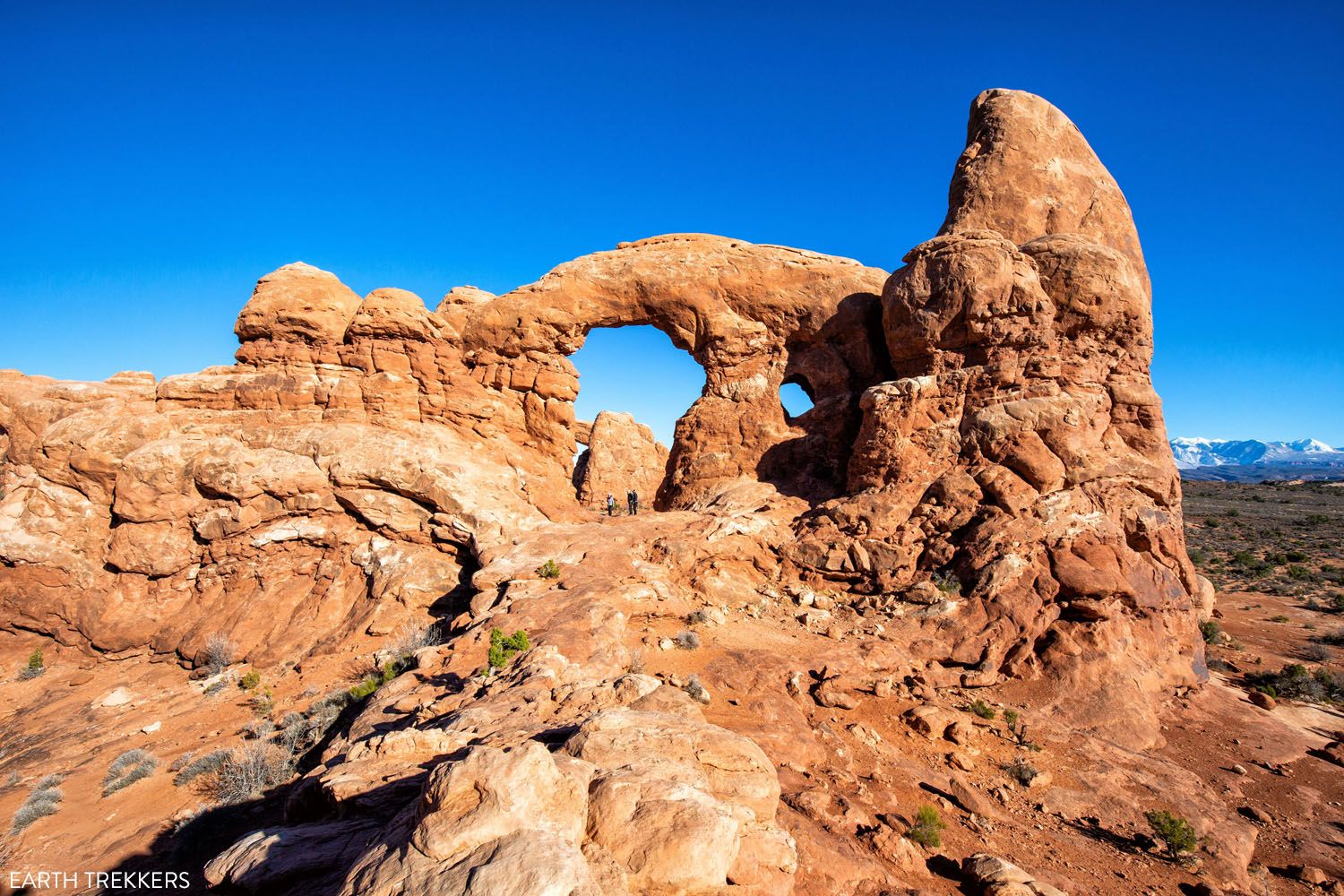 Turret Arch
How to Photograph Turret Arch through North Window Arch
For a cool photo, you can photograph Turret Arch through the North Window Arch.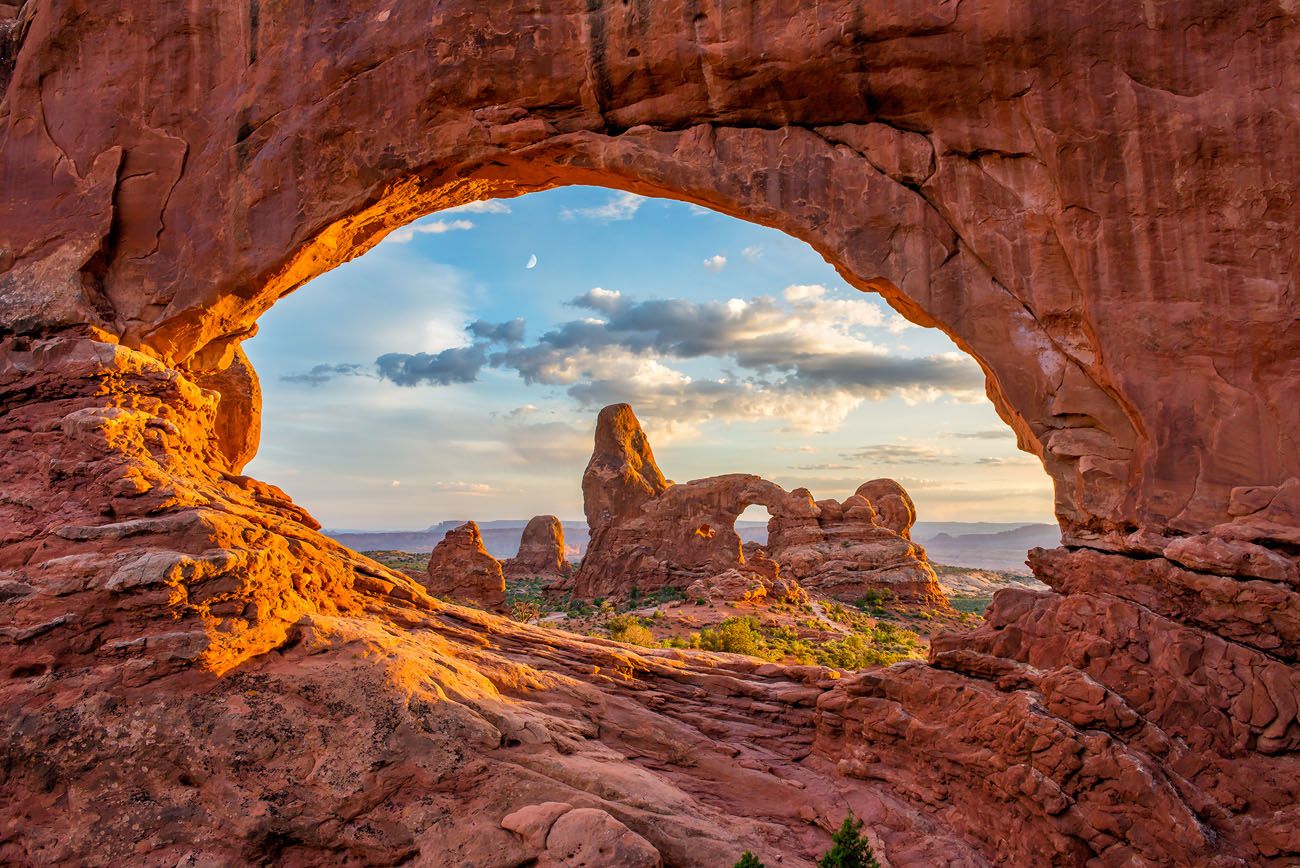 Photo credit: anthony heflin/shutterstock.com
The best time to do this is at sunrise and early in the morning. Sunset also works, but the time of the year matters. If you want to take a sunset photo, it's best during the summer months, when the sun is located farther north in the sky. We were here in the late afternoon in November, a terrible time to try to take this photo, as both Turret Arch and the Windows are completely backlit by the setting sun. Guess we will be back to Arches one more time so I can retake this photo. 😊
6. Double Arch
It may look small from a distance but these arches are massive. In fact, Double Arch is the tallest arch in the park. It is a short walk to get here and this is one of the few places where you can climb on the rocks under the arch.
Distance: 0.5 miles (0.8 km) round trip
Length of Time: 30 minutes
How to Get Here: From the parking lot at the end of The Windows Road.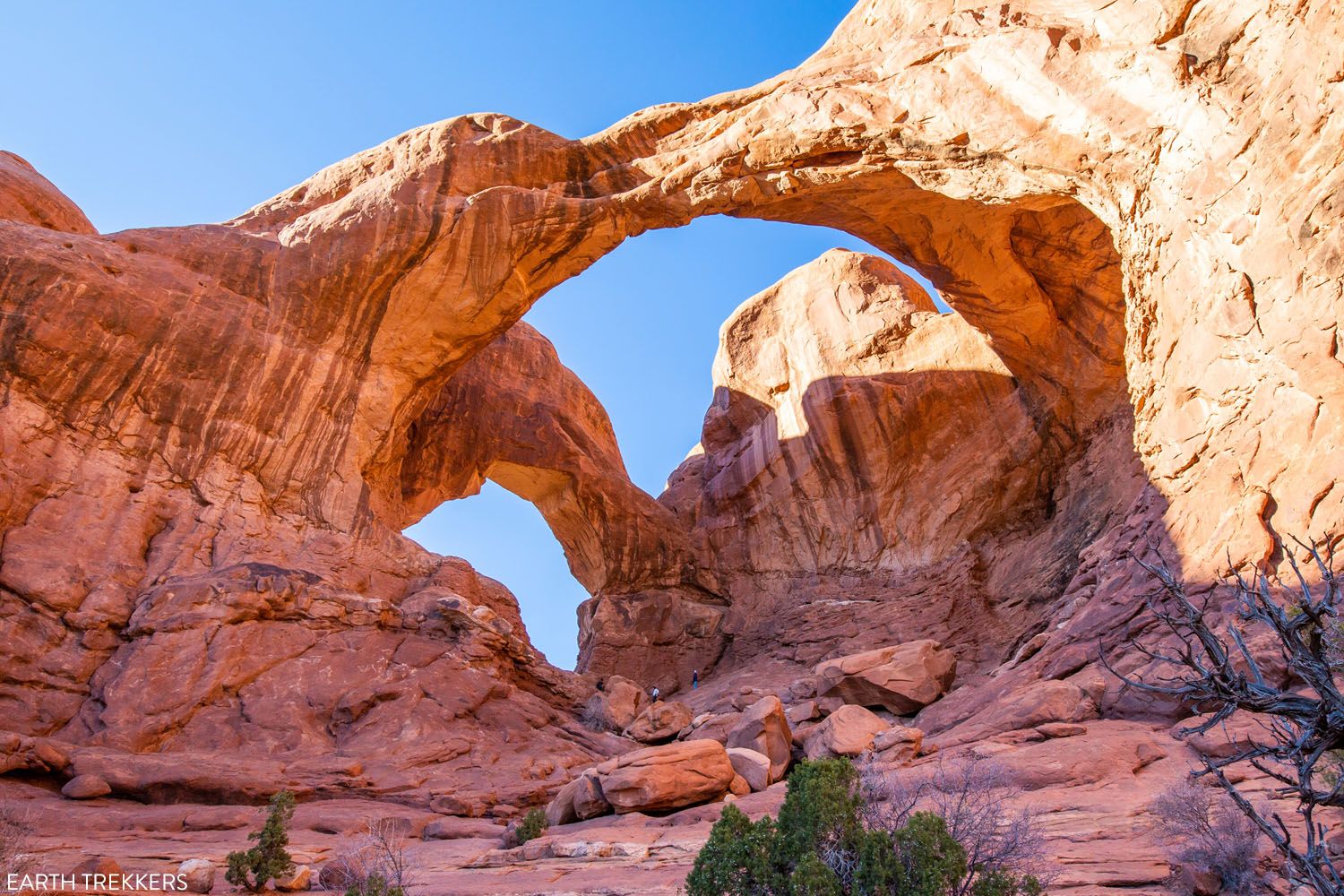 7. Garden of Eden
This is worth the quick stop to see these knobby hoodoos and sandstone rock formations. Just before you reach the Garden of Eden, there is a pull-out for a panoramic view of the Windows and Turret Arches against the backdrop of the La Sal Mountains.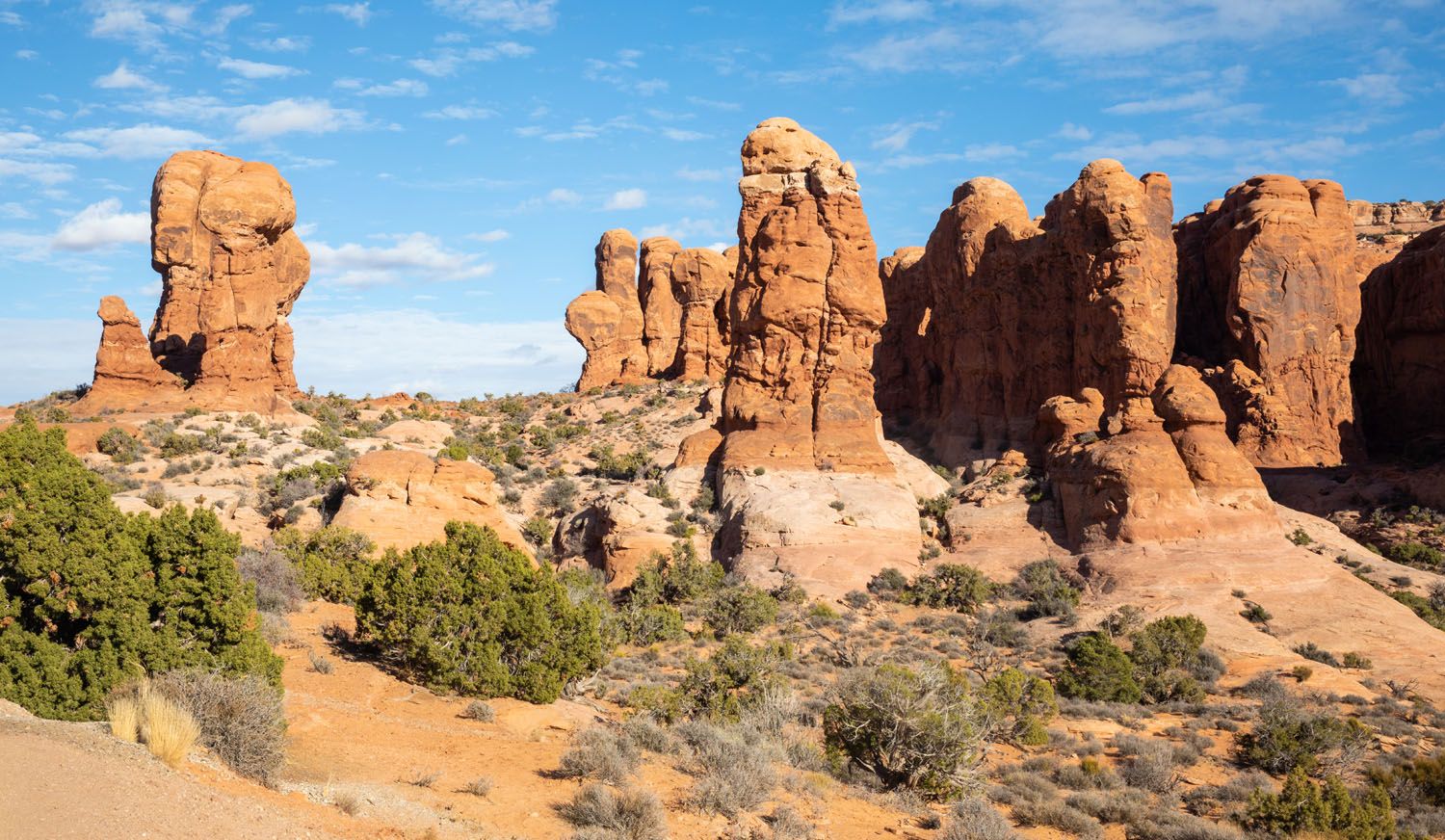 Garden of Eden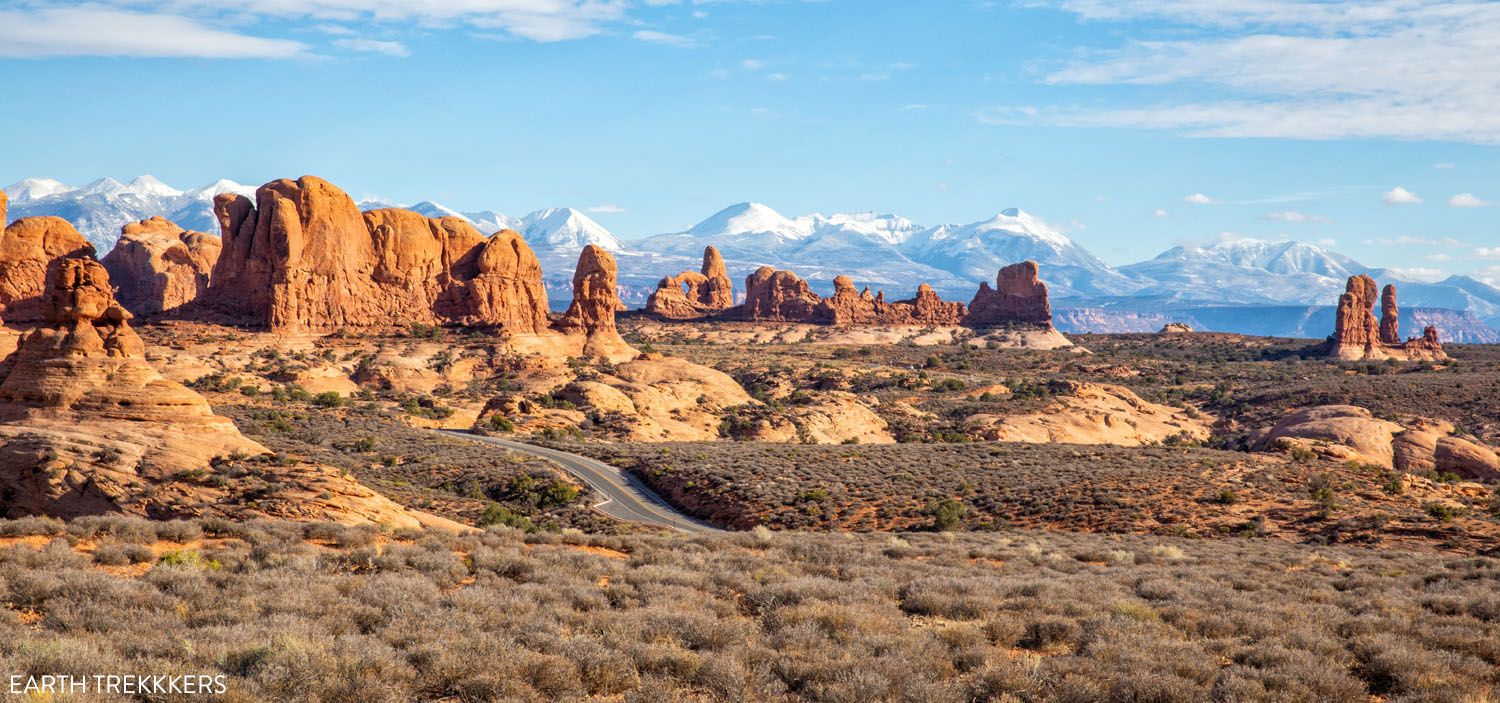 View from the Garden of Eden
Getting Here: From The Windows Road, turn onto Garden of Eden Viewpoint Road. You can do this before or after visiting Double Arch, the Windows, and Turret arches.
8. Hike to Delicate Arch
This is the main attraction in Arches National Park. People from all around the world travel to Arches to see this arch. So expect big crowds and a busy trail.
To get an up close view of Delicate Arch you are going to have to do some hiking. It's a 3-mile round trip hike over slickrock and sandy trails. From the car park you will walk uphill most of the way to get to the arch.
There is one short section of trail with a drop-off on one side. This is located just before you get to Delicate Arch. Kids can do this hike but you will need to keep an eye on them, especially as you walk this short section.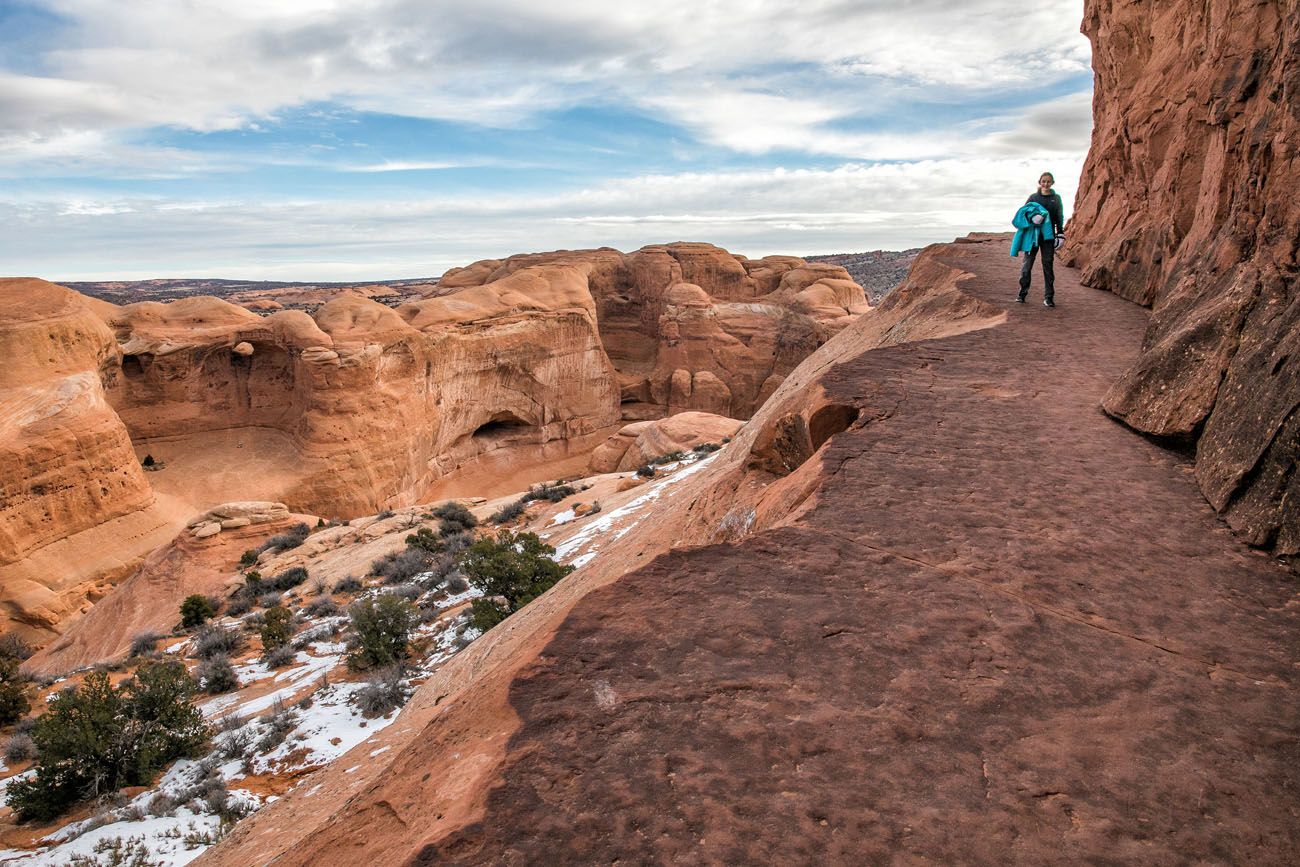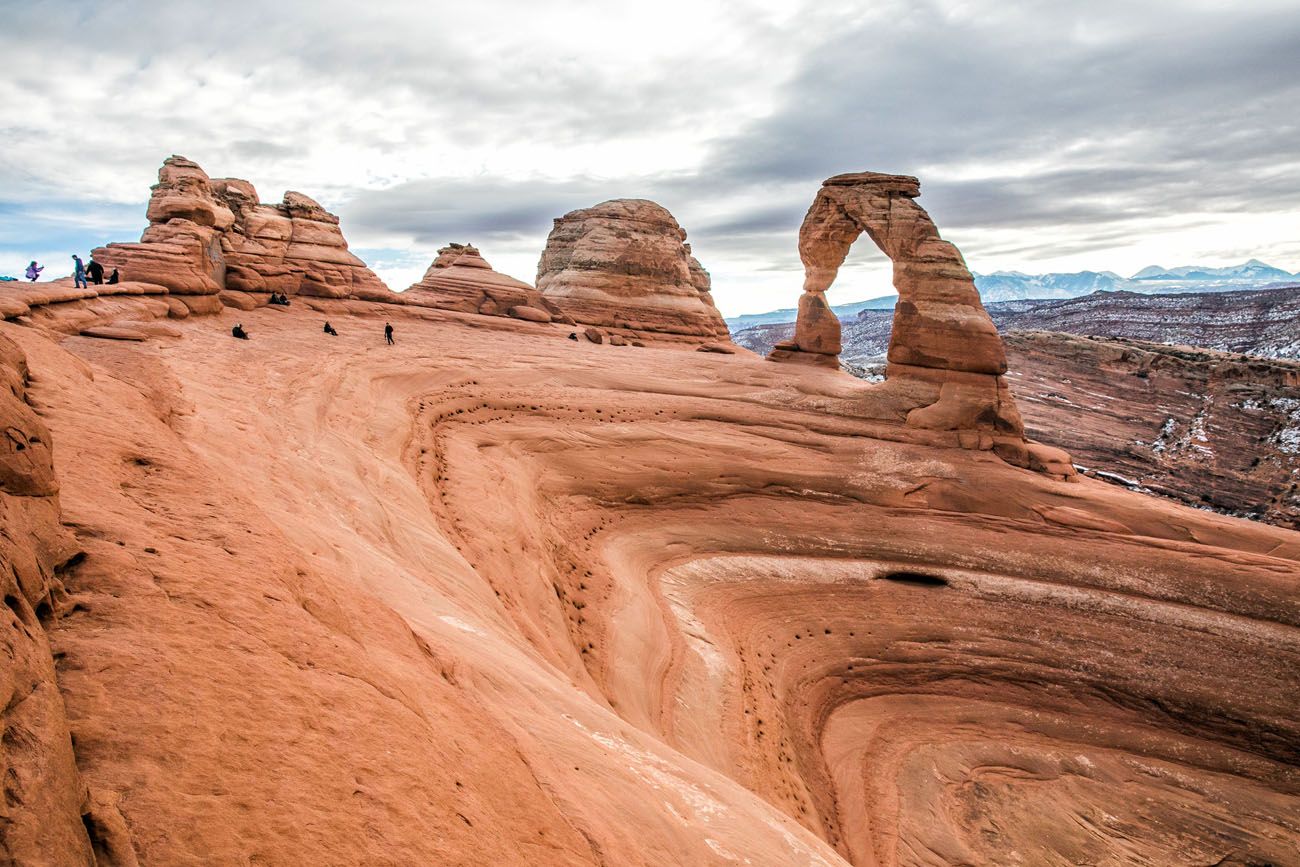 Delicate Arch at sunrise in December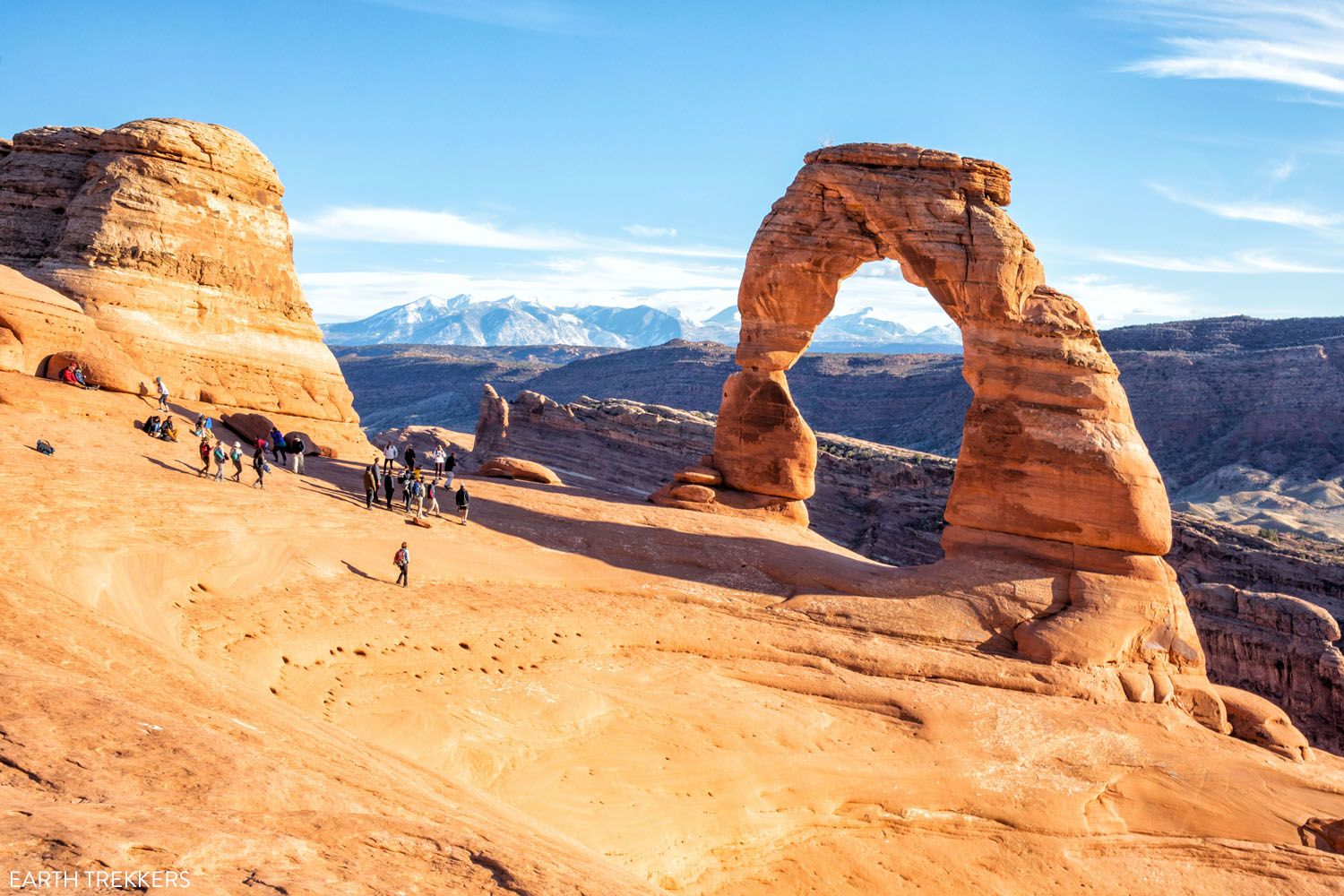 Delicate Arch in the late afternoon in November
Distance: 3 miles (4.8 km) round trip
Elevation Gain: 480 feet gain on the hike from the parking lot to Delicate Arch
Length of Time: 1.5 to 3 hours
How to Get Here: Park in the Wolfe Ranch parking lot on Delicate Arch Road.
Best Time To Visit Delicate Arch:
The best time for photography is at sunrise, in the late afternoon, and at sunset. For most of the morning and midday, the sun will be behind the arch, making it backlit and difficult to photograph. Later in the day, the sun illuminates the front of the arch, which is better for photography. We got lucky. We were here in the morning but cloudy skies toned down the harshness of the sunlight.
The best time to avoid the crowds is during the early morning hours. This is also one of the worst times for photography. So you will have to decide if you want fewer crowds (go first thing in the morning) or better lighting conditions (late afternoon and sunset).
9. Upper Delicate Arch Viewpoint
To get a view of Delicate Arch without going on a strenuous hike, visit Upper Delicate Arch Viewpoint. You will still have to do some walking, but it is shorter and easier than the walk to Delicate Arch. If you want a close-up view of Delicate Arch from this angle, make sure you pack a zoom lens.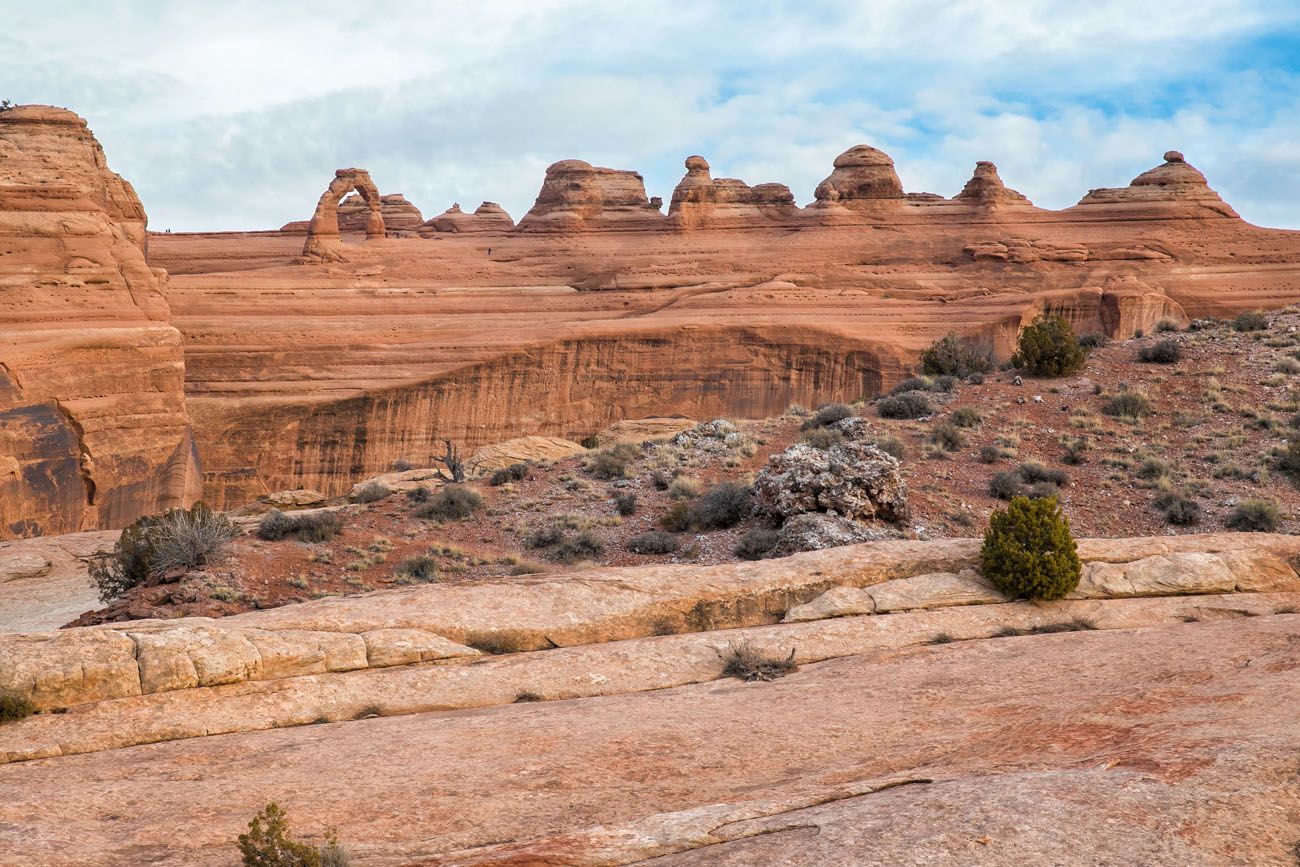 There is a second viewpoint, Lower Delicate Arch Viewpoint, which you can visit from the same car park, with even less walking. However, you are so far away from the arch that it is hardly worth the effort.
Distance: 0.6 miles (0.9 km) round trip
Length of Time: 15 to 30 minutes
How to Get Here: Drive past the Wolfe Ranch parking lot on Delicate Arch Road for one mile until you get to the large parking lot for Delicate Arch Viewpoint.
10. Fiery Furnace
Named for the reddish glow it gets at sunset, the Fiery Furnace is one of the neatest non-arch spots in Arches National Park.
There are three ways to experience the Fiery Furnace: by viewpoint, by a guided ranger hike, or on your own with a backcountry permit.
The easiest way to see the Fiery Furnace is to park your car in the parking lot and walk the very short distance to an overlook. Here's the view.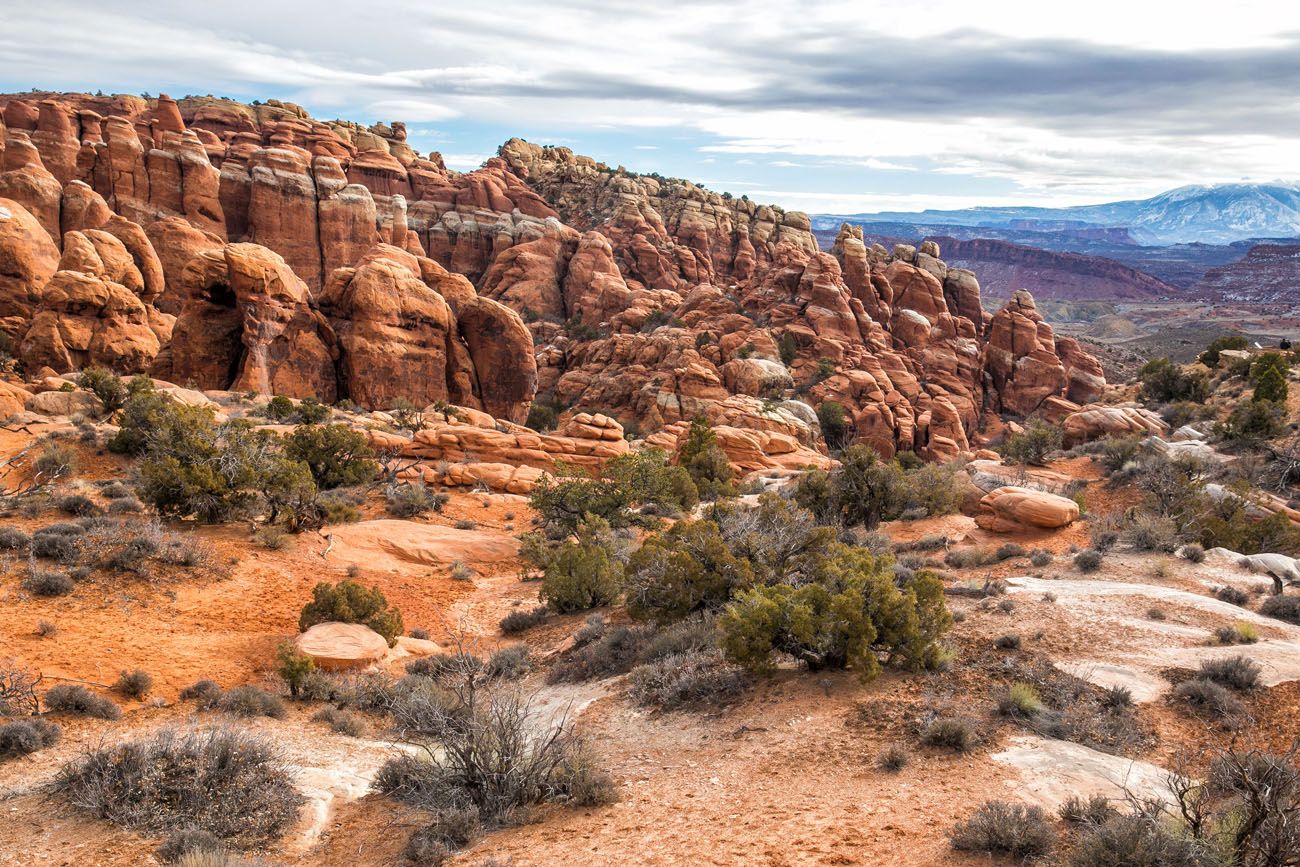 The best way to experience the Fiery Furnace is by a ranger-guided hike. This 2 mile strenuous hike takes you through a maze of canyons formed by sandstone fins. Spots fill up fast so if this sounds like something you would like to do, make your reservation in advance. Visit the National Park website for full details.
11. Devils Garden and Landscape Arch
Devils Garden is the best hike to do in Arches National Park.
What makes it so great? Not only can you visit the amazing Landscape Arch, but you can also see seven more arches and some of the best landscapes in the park.
On the way to Landscape Arch, visit Pine Tree Arch and Tunnel Arch. Once you see Landscape Arch, you can turn around and hike back to your car. Or, keep going. The hiking gets to be more fun, and more challenging, as you walk on massive sandstone fins and enjoy views across the park. Visit Navajo Arch, Partition Arch, and Double O Arch, an arch that looks strangely similar to Double Arch.
Retrace your steps to the car park or practice your route finding skills on the primitive trail (and get to see the 6th arch, Private Arch).
Whether you hike just a short section of the Devils Garden Trail or the entire loop, you are in for a treat.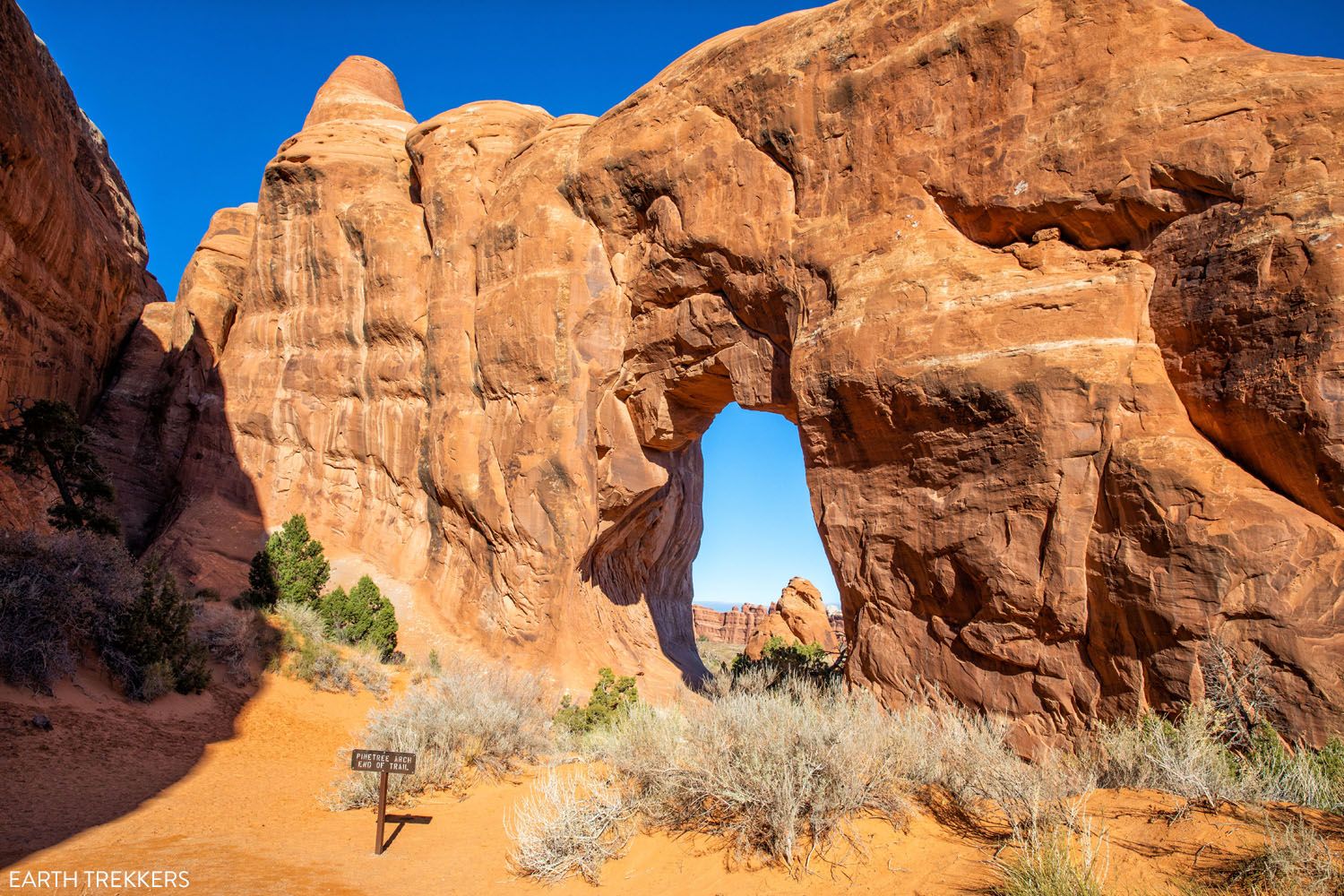 Pinetree Arch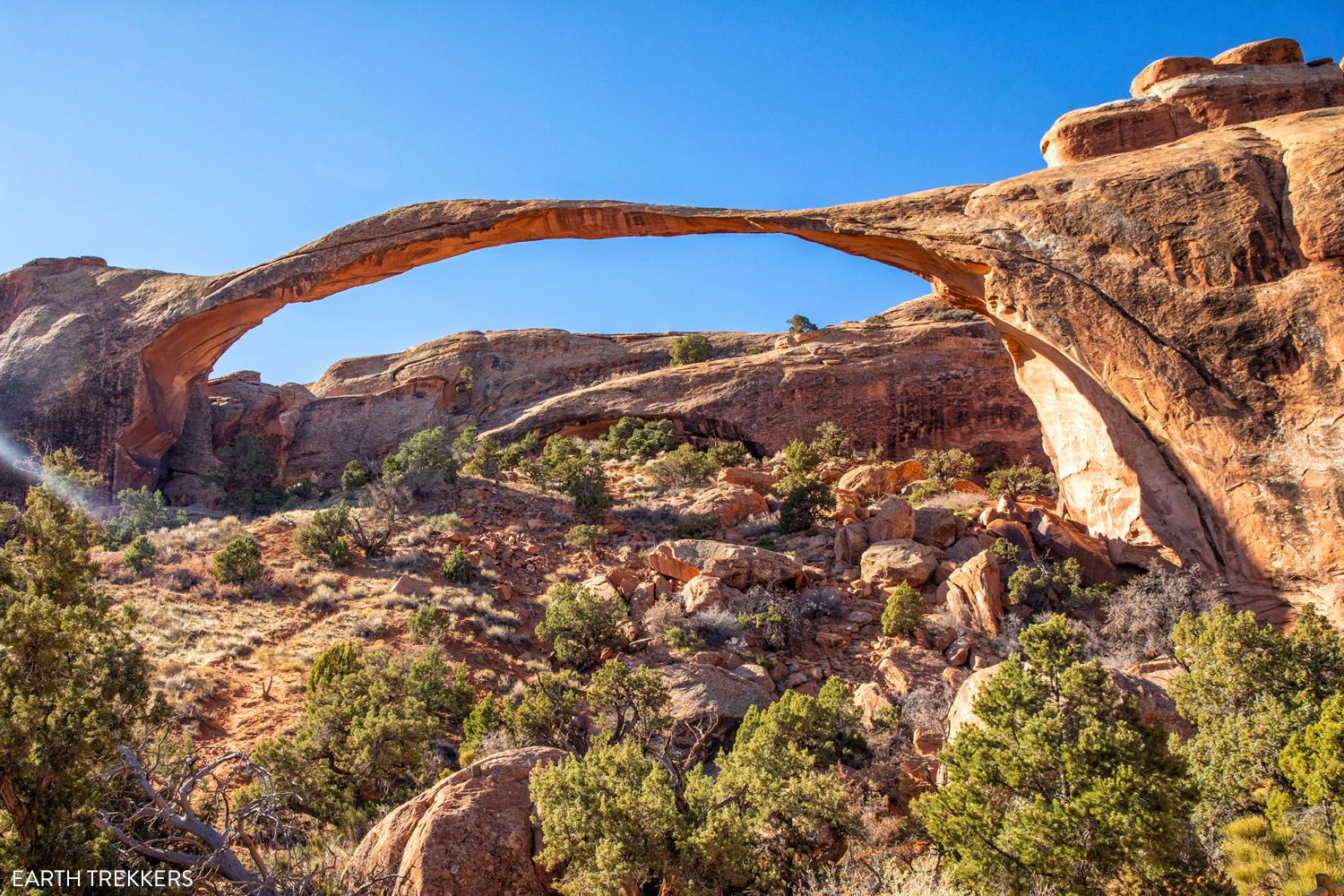 Landscape Arch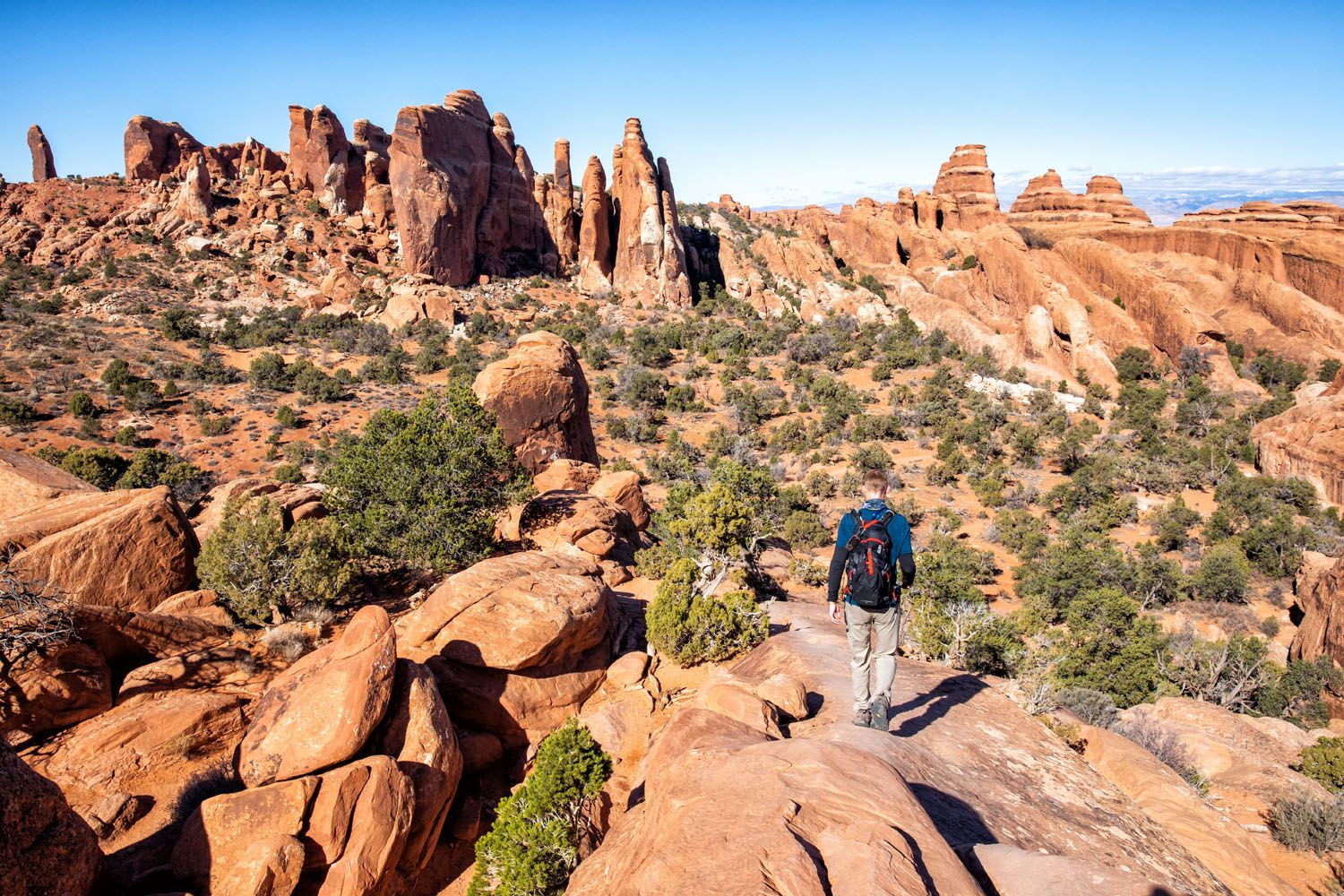 Hiking to Double O Arch
Distances:
Round trip to Landscape Arch: 1.6 miles (2.6 km)
Round trip to Double O Arch: 4.2 miles (6.7 km)
To Double O Arch and back via the primitive trail: 5.9 miles (9.5 km)
Pine Tree and Tunnels arches add 0.5 miles (0.8 km)
Navajo and Partition arches add 0.8 miles (1.3 km)
Allow an hour for the hike to Landscape Arch and add more time if you choose to go farther.
How to Get Here: The Arches Scenic Drive ends at a large car park. This is the access point for the Devils Garden trailhead. There are restrooms here.
Want to learn more about this hike? We have an entire article about hiking Devils Garden, with maps, tips and tricks, and more photos. Check it out:
12. Skyline Arch
Distance: 0.2 miles (0.3 km) one-way
Length of Time: 10 to 15 minutes
This arch is quick and easy to visit. From the small car park on Scenic Drive Road, it's a short walk to the viewpoint for Skyline Arch.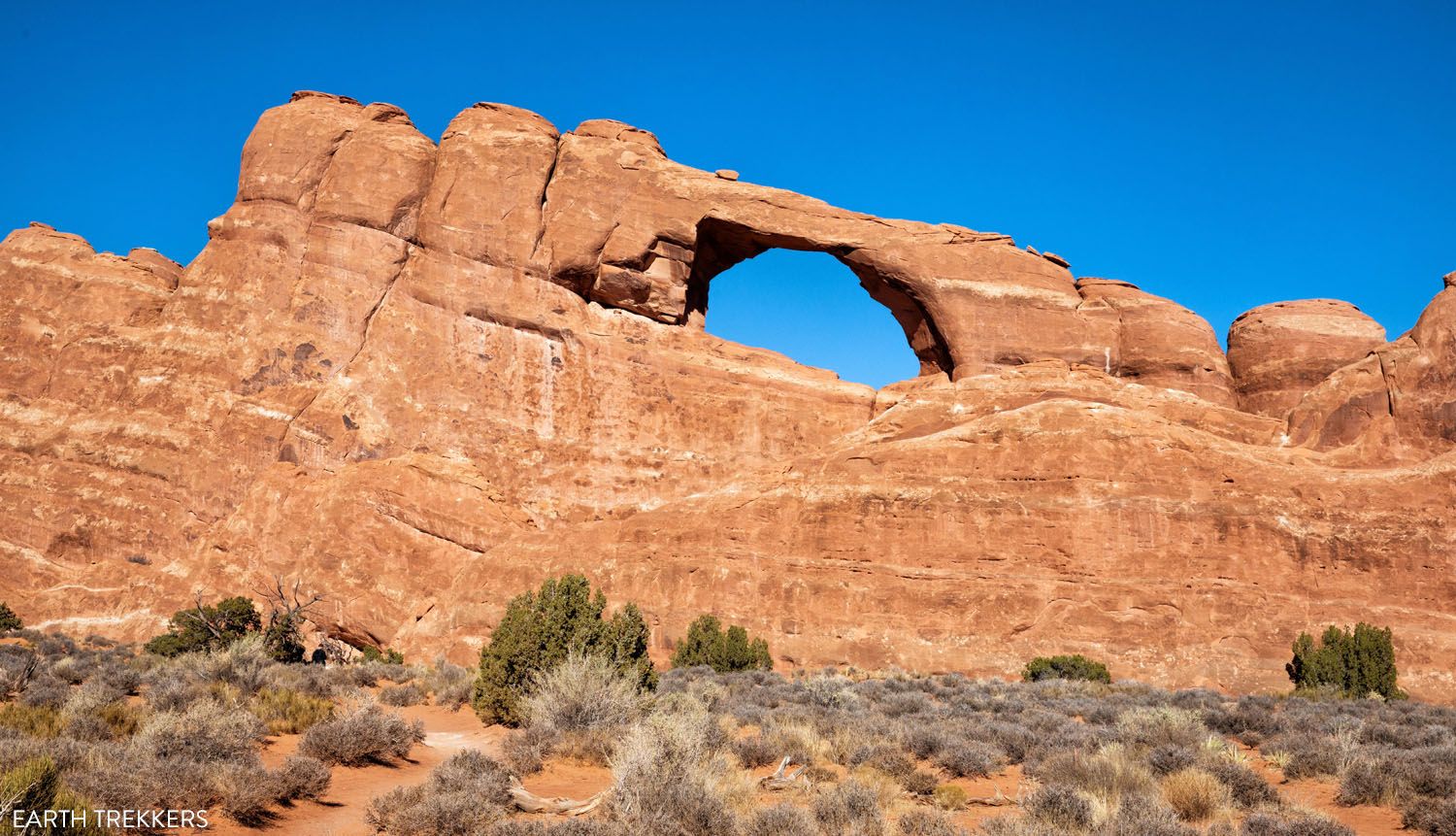 13. Sand Dune Arch
Distance: 0.4 miles (0.3 km) round-trip
Time: 15 minutes
This is such a cool arch! It's tucked away between fins of sandstone rock so it's a much different experience than many other arches in this park.
To get here, it's a short, easy walk on a sandy trail that leads in between the tall walls of sandstone. Since it is mostly in the shade, this is a cooler spot to visit during the hot, summer months. Kids will love this short hike.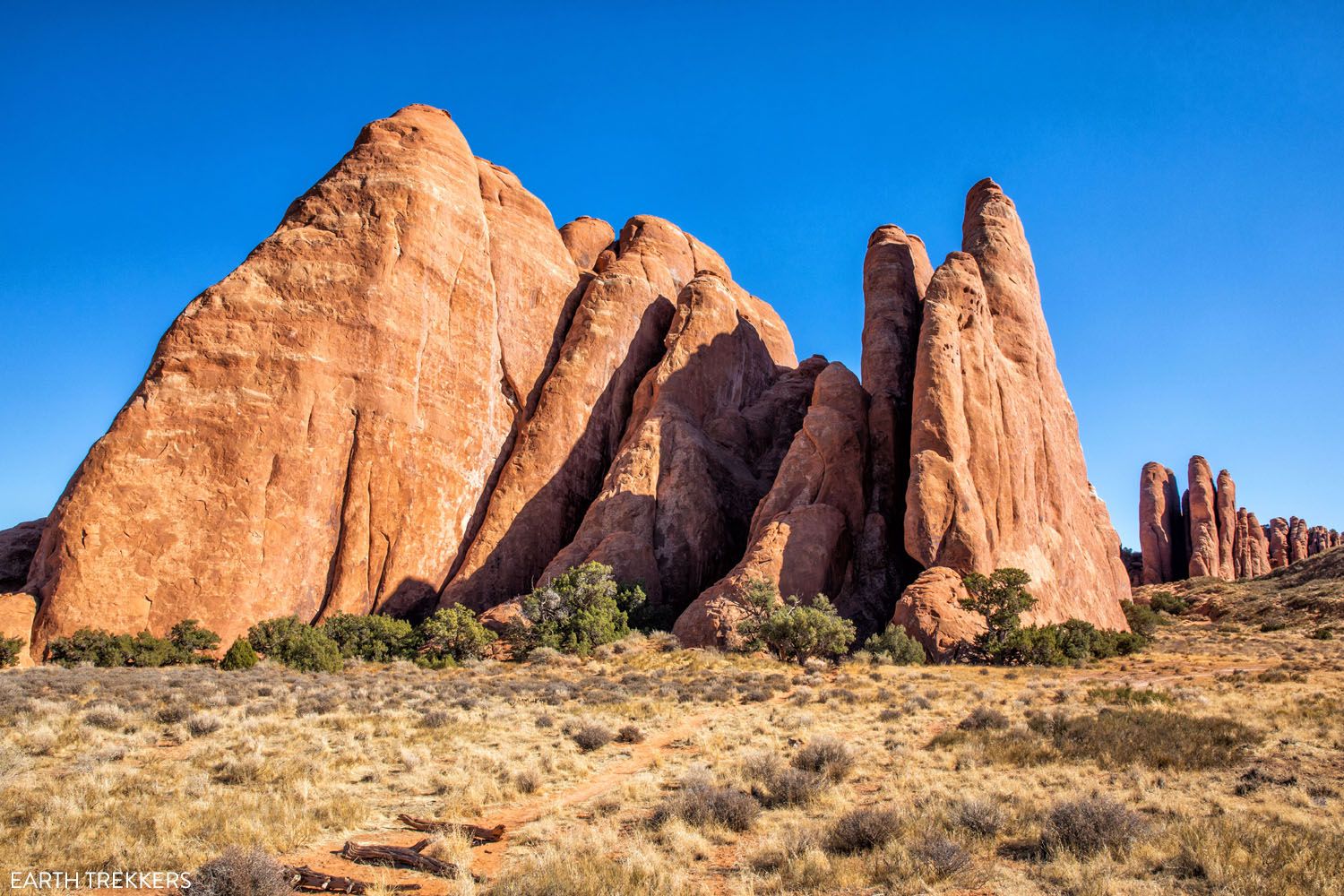 Sand Dune Arch is located in between these fins of sandstone rock.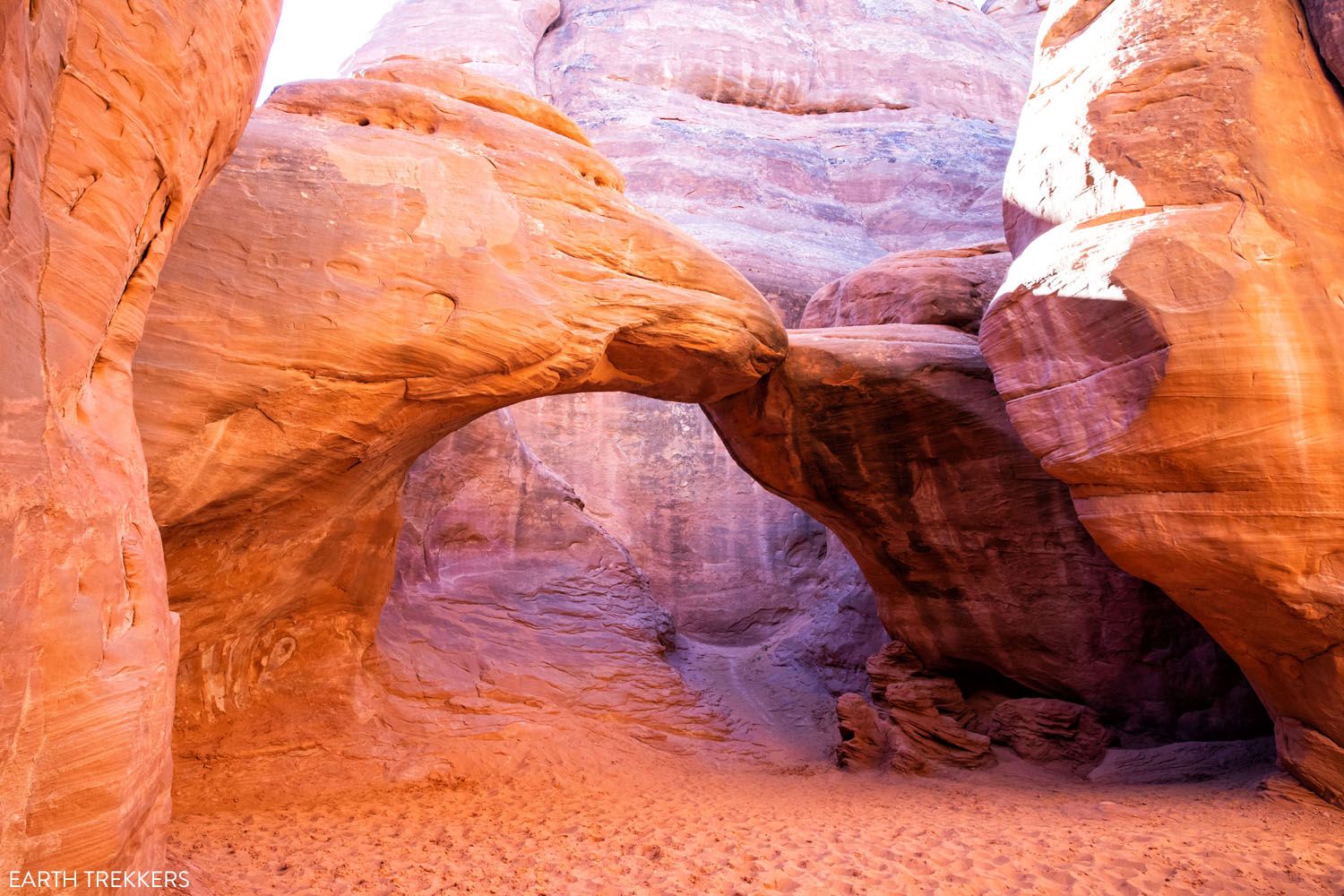 Sand Dune Arch
14. Broken Arch
Distance: 1.2 miles (2 km) round-trip
Time: 30 to 45 minutes
Distance (Broken Arch + Sand Dune Arch): 1.8 miles round trip
Time: 1 to 1.5 hours
Broken Arch shares the same trailhead as Sand Dune Arch and these two arches can easily be combined into one hike.
The walk to Broken Arch is flat and fast but there is no shade at all along the trail. You can see the arch from the parking lot but if you don't mind the walk, this is another arch that it worth the close-up experience. You can hike through the arch, see it from the opposite side, and even continue the hike, if you want to. The trail continues to Tapestry Arch and the Devils Garden campground.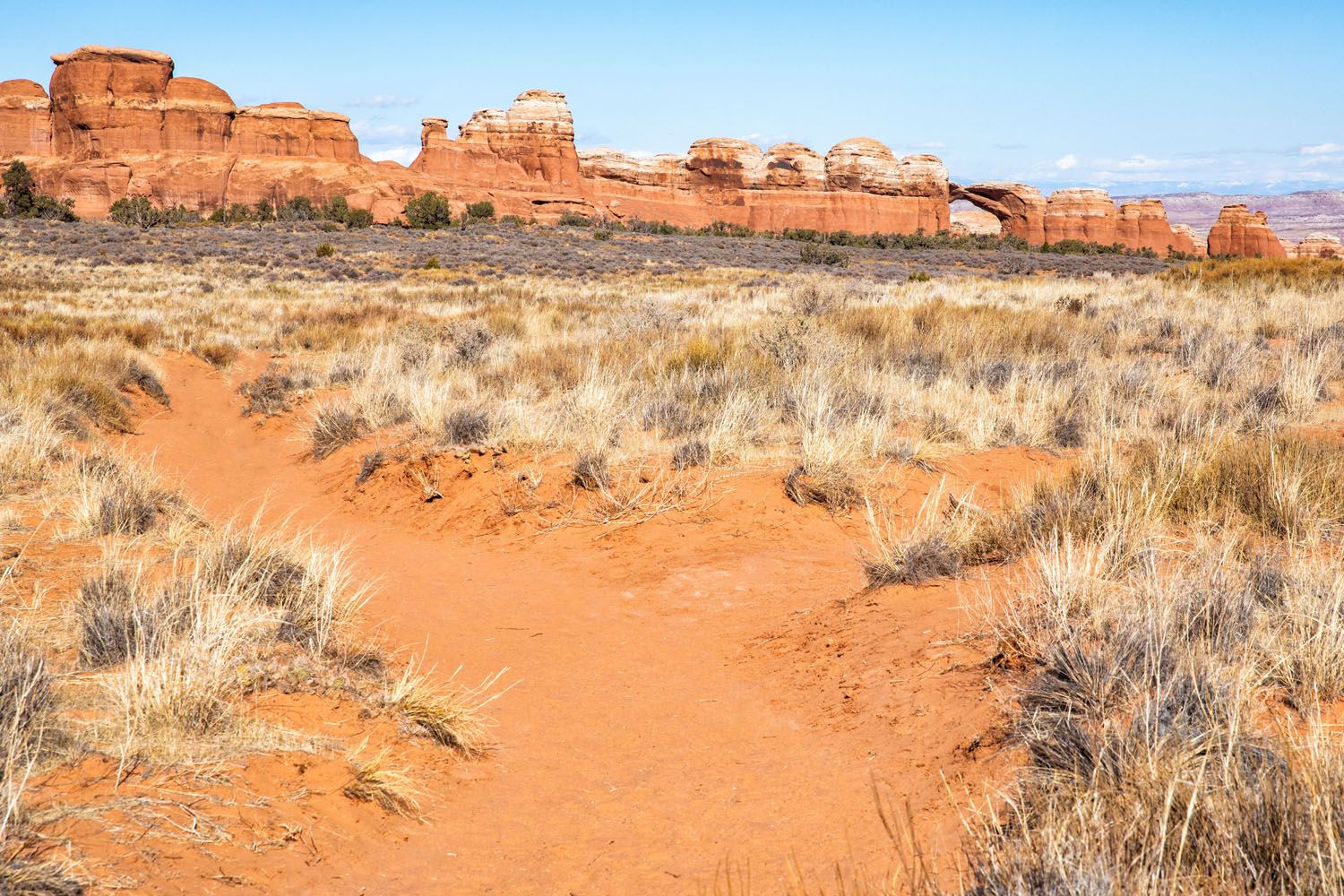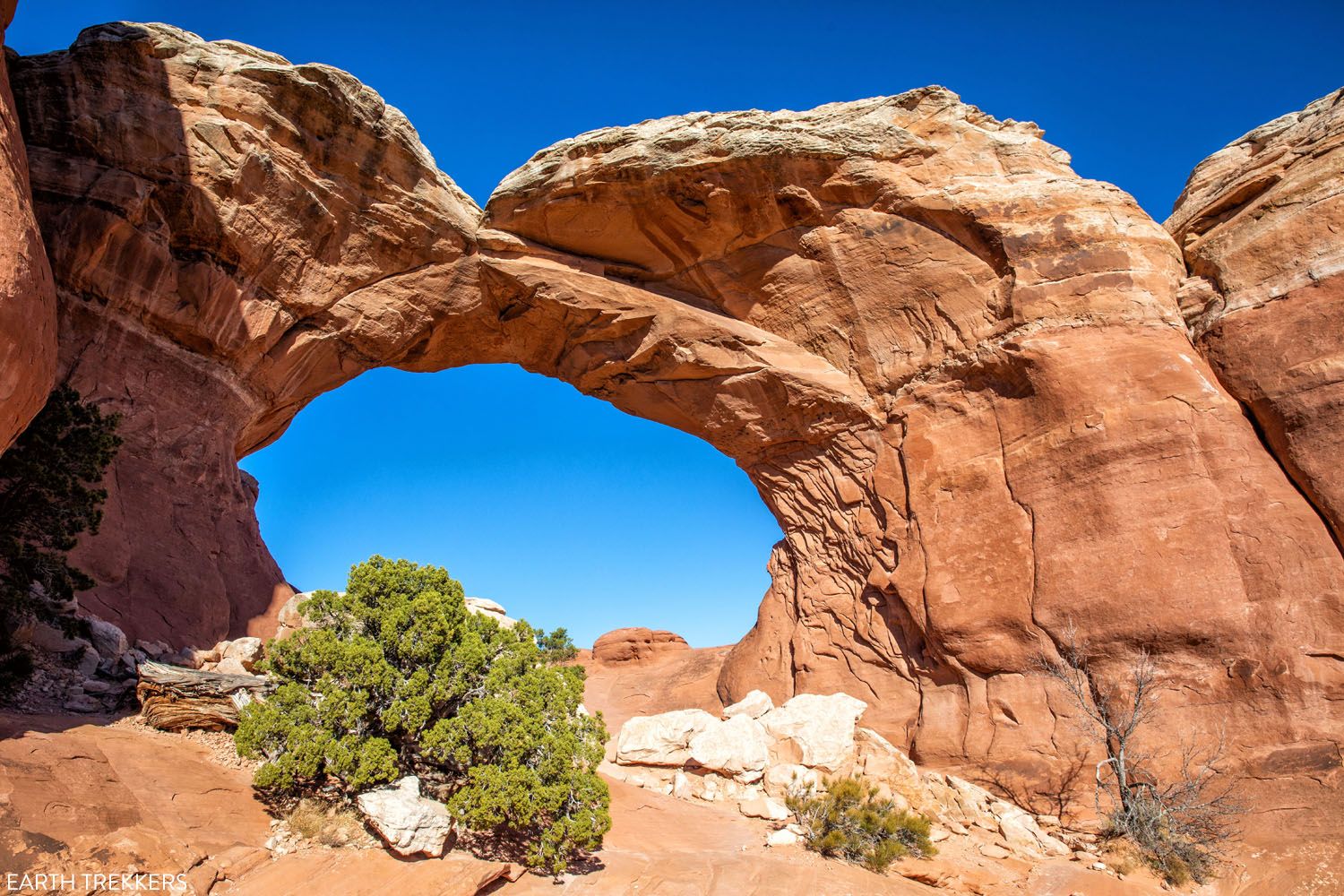 Broken Arch
15. Tapestry Arch
Distance: 0.3 miles
Time: 30 minutes
Where: There is a very small parking lot in Devils Garden Campground at the trailhead. There are restrooms here if you need one.
If you want to escape the crowds and visit another arch, put Tapestry Arch on your list. This arch is tucked away behind Devils Garden campground, so very few people venture out this way.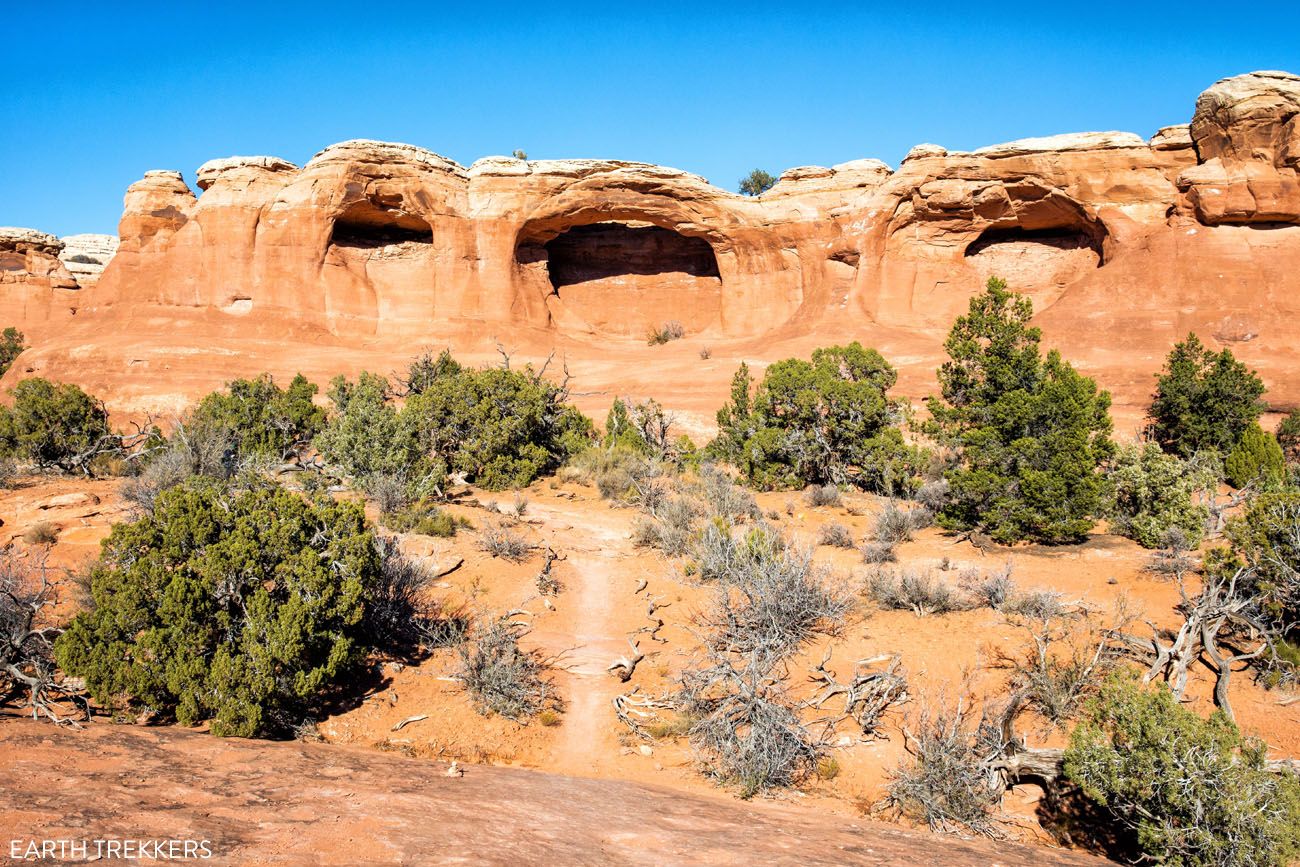 Sand Dune Arch, Broken Arch & Tapestry Arch Loop
You can combine all three arches into one loop. Starting at the Sand Dune Arch parking lot on Scenic Drive Road, hike to Sand Dune Arch and continue onto Broken Arch. Hike through Broken Arch to Tapestry Arch. The trail will pass through Devils Garden campground and then loop back to your starting point. This hike is 2.8 miles and takes between 1 to 2 hours.
16. Tower Arch
This recommendation is a bit off of the beaten path, but if you like the idea of visiting a secluded arch that is located in a less visited part of the park, Tower Arch is worth adding to your to do list.
There are several ways to get here and all of them require at least a short drive on a rough, gravel road. From Klondike Bluffs, it is a 2.5 mile moderate round trip hike to get to the arch. If you have a 4×4, you can drive to the west side of the arch and then hike 0.3 miles to the arch.
If you don't have a 4WD vehicle, you can join one of these tours which takes you to Tower Arch and several more off-the-beaten path locations in Arches National Park.
Things to Do in Arches National Park: On a Map
How to Use This Map: Click the icons on the map to get more information about each point of interest. Click the star next to the title of the map to add this map to your Google Maps account. To view it on your phone or computer, open Google Maps, click the menu button, go to "Your Places," click Maps, and you will see this map on your list.
Top 10 Things to do in Arches National Park
We just listed a lot of things to do in Arches National Park. Unless you move very quickly, you won't be able to do everything we list in just one day. To help narrow things down, here are our top 10 things to do in Arches National Park:
1. Drive Scenic Drive Road
2. Hike to Delicate Arch (sunset is ideal)
3. Hike the Devils Garden Trail
4. See Balanced Rock
5. Visit Windows and Turret Arches
6. Visit Double Arch
7. Panoramic View from the Garden of Eden
8. Hike Park Avenue
9. Take a ranger guided tour of the Fiery Furnace
10. Visit Sand Dune Arch
How Many Days Do You Need in Arches National Park?
To visit the highlights of Arches National Park, plan on spending one day here. Get an early start (no later than 8 am) and pack a picnic lunch, so you can spend all day in the park. We recommend starting in the "back" of the park, at Devils Garden, and visiting the sights along Scenic Drive as you head back towards the park entrance.
Click here to learn how to spend one perfect day in Arches National Park.
With two days in Arches National Park, you can visit the sights listed above at a slower pace, so it doesn't feel like a race.
If you are very limited in time, it is possible to visit both Arches and Canyonlands (Island in the Sky) in one day, but I don't recommend it. There is a lot to see and do in both of these parks and it's best to spend at least one day in each of them. With that being said, there is an awesome tour that takes you on Shafer Canyon Road and part of the White Rim Road in Canyonlands National Park and ends with a 4×4 tour of Arches National Park. We have driven the White Rim Road and it is epic. If you only have one day, this 4×4 tour of Canyonlands and Arches is a very unique and memorable way to visit these two parks.
Things to Know Before You Go
Timed Entry Permit: In order to enter Arches National Park from April 3 to October 2, 2022, you must have a timed entry permit. These tickets are released three months in advance (for example, permits for all of July are released on April 1).
Getting to Arches National Park: Arches National Park is located in southeastern Utah. The closest city is Moab, just a 10-minute drive from the park.
Best Time to Go to Arches: The spring and fall months are the best times to visit. Weather conditions are pleasant and you can avoid the big crowds that flood the park in the summer. During the summer months, expect soaring temperatures, large crowds, and difficulty finding parking at many viewpoints. During the winter months, it is much less crowded, but temperatures get below freezing and snow is likely.
The National Park website has a great graph showing the busiest times to visit Arches NP, as well as tips on how to avoid the crowds.
Entrance Fees: It costs $30 per vehicle to enter the park and this is good for seven days. For $55 you can purchase a Southeast Utah parks pass, which also gets you into Canyonlands National Park. You can also purchase an annual National Parks pass (called the America the Beautiful Pass) for $80. With this pass you can visit over 2,000 federal recreation sites. This is worth it if you also plan to visit more of Utah's Mighty 5, including Capitol Reef, Zion, Bryce Canyon, or any other US National Park within the year.
Leave No Trace. Please practice the seven principles of Leave No Trace: plan ahead, stay on the trails, pack out what you bring to the hiking trails, properly dispose of waste, leave areas as you found them, minimize campfire impacts, be considerate of other visitors, and do not approach or feed wildlife.
There are no restaurants in the park. If you plan to stay all day you will need to pack a picnic lunch. However, there are restrooms at many of the main viewpoints and trailheads inside of the park.
Cellular Service. We had spotty cellular service in the park, even as far back as Devils Garden. Even so, I wouldn't depend on using your phone to text, check emails, or send photos.
Day Tour from Salt Lake City. If you have plans to visit Arches National Park from Salt Lake City, this private tour takes you to the highlights of the park. It's a great option if you don't plan to rent a car or if you prefer to sit back, relax, and visit the park with a guide and driver.
Planning a trip to Utah's Mighty 5? Don't miss our Mighty 5 travel guide. Learn how to plan a road trip through all five national parks (Zion, Bryce Canyon, Canyonlands, Arches, and Capitol Reef) with details on the best things to do, where to stay, and more.
Where to Stay
There is no lodging inside of Arches National Park. The only campground is the Devils Garden Campground but sites tend to be reserved well in advance. Click here to learn more.
The best place to stay is in Moab. This small town has many hotels and restaurants, as well as gas stations and grocery stores.
UPSCALE: Hoodoo Moab. This is one of the newest hotels in Moab and this is where we stayed on our most recent visit. I have mixed reviews about this hotel. The location is great, right in the heart of Moab with a walk or short drive to most restaurants. The hotel is gorgeous. The décor and the layout are impeccable and our room was very comfortable. However, the walls are paper thin. We could clearly hear our neighbor's conversations and they weren't being overly loud. If you are a light sleeper, you might want to consider staying in a different hotel. But if a little bit of noise doesn't bother you, and you want to stay in the nicest hotel in Moab, stay at the Hoodoo.
MID-RANGE: Red Cliffs Lodge. This property gets rave reviews. Every room has a patio with views of the river. Onsite is a restaurant, bar, pool, tennis courts, winery, museum, and horse corral. Red Cliffs Lodge is located outside of Moab, on Highway 128, in a beautiful setting along the Colorado River. It's just a short drive into town and Arches National Park.
MID-RANGE: Homewood Suites. This is another property that gets excellent reviews. All suites have kitchenettes and some suites can accommodate up to six people. There is a small indoor pool and gym onsite.
MID-RANGE: Hyatt Place Moab. This is a newer hotel in Moab and very highly rated. It is located on the north end of town, so from here, it is a very quick drive to enter Arches National Park.
BUDGET: MainStay Suites Moab. Rooms come equipped with a kitchenette. Some suites can accommodate up to six people so this is a great budget choice for families.
Tours of Arches National Park
---
If you have any questions about the best things to do in Arches National Park, or if you want to share your experience, let us know in the comment section below.
Where Are You Going Next?
Here are some more ideas for your road trip through Utah.
We have TONS more information about things to do and where to go in Utah in our Utah Travel Guide.
You Might Also Like: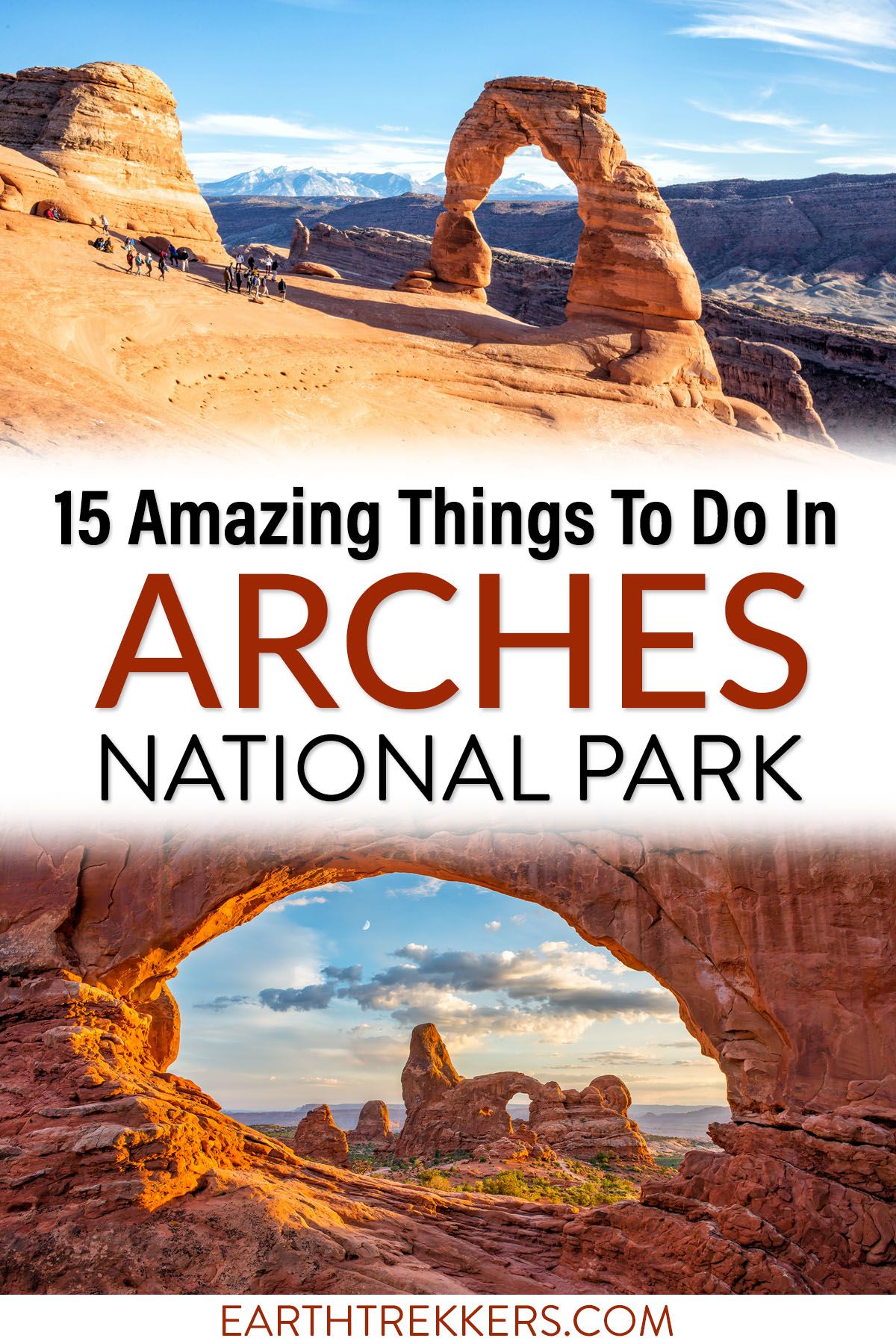 Note: This post contains affiliate links. When you make a purchase using one of these affiliate links, we get paid a small commission at no extra cost to you.
All rights reserved © Earth Trekkers. Republishing this article and/or any of its contents (text, photography, etc.), in whole or in part, is strictly prohibited.