Wrangell – St. Elias National Park & Preserve is home to some of the most rugged, mountainous, ice-covered scenery in the United States. If you want to see mountain peaks, glaciers, and an immense ice field that stretches as far as the eye can see, consider taking a flightseeing tour from McCarthy, Alaska.
Wrangell Mountain Air, the flightseeing company that operates from McCarthy, offers several different flightseeing tours.
We took two of their tours. Our first experience was the Thirteen Glacier Tour, which flies over the Wrangell Mountains and offers a great overview of the heart of the park.
Since this national park is so massive, we wanted to go farther on our next tour. We booked Wrangell Mountain Air's 120 minute tour, which can be customized to your interests. In our case, Tim and I really wanted to see the Bagley Icefield and Mount St. Elias, the second tallest peak in the United States.
This flightseeing tour was incredible. I thought it would be hard to beat the Thirteen Glacier Tour, but it did. To see the sprawling, endless line of the Chugach Mountains, fly over the largest icefield in North America, and see Mount St. Elias rising out of the field of ice was unforgettable.
In this guide, get an overview of our route, important planning information, and, most importantly, journey over Wrangell – St. Elias National Park & Preserve in photos.
Bagley Icefield Flight Route
From the McCarthy Airport, we flew south towards the Gulf of Alaska. Wrangell – St. Elias National Park is immense. Mount St. Elias is located on the border with Canada, near the Gulf of Alaska. From McCarthy, it is about an 80-mile flight to get out this way and it takes about 30 minutes.
On this flight, once we got to the Bagley Icefield, our pilot headed east. We could see Mount St. Elias right outside of our windows, before heading back north to McCarthy. On the flight back, we flew over the University Range and the Wrangell Mountains.
The flight lasted 120 minutes. We did this at the very end of June 2021.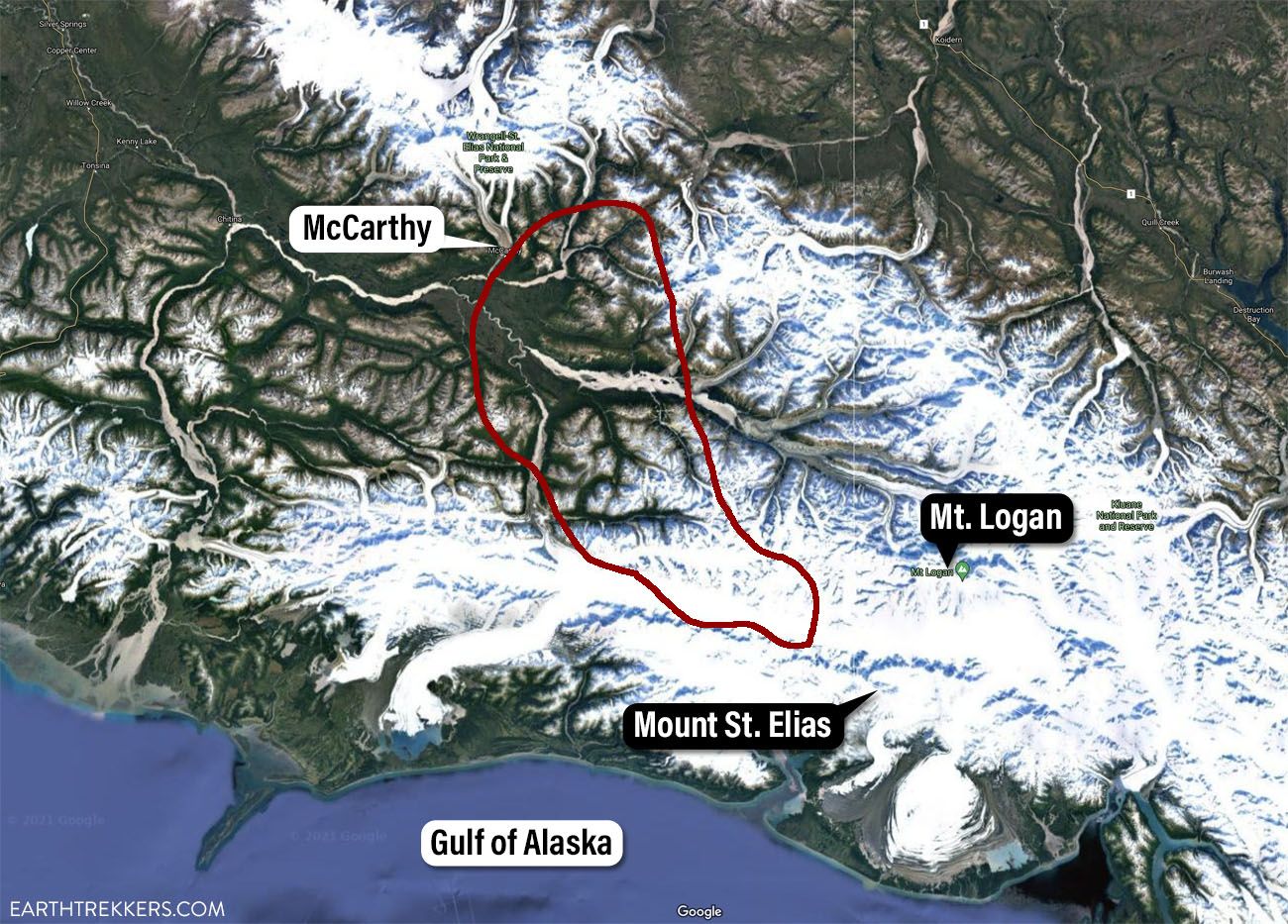 Map of the flightseeing route
Bagley Icefield and Mount St. Elias Flightseeing Tour in Photos
Our experience started at McCarthy Airport. We met Kelly, our pilot with Wrangell Mountain Air and got situated in the airplane, which coincidentally was the same plane as our prior flight. Wrangell Mountain Air has a fleet of airplanes and they seem to be constantly shuttling people around, either as a taxi service or on flightseeing tours.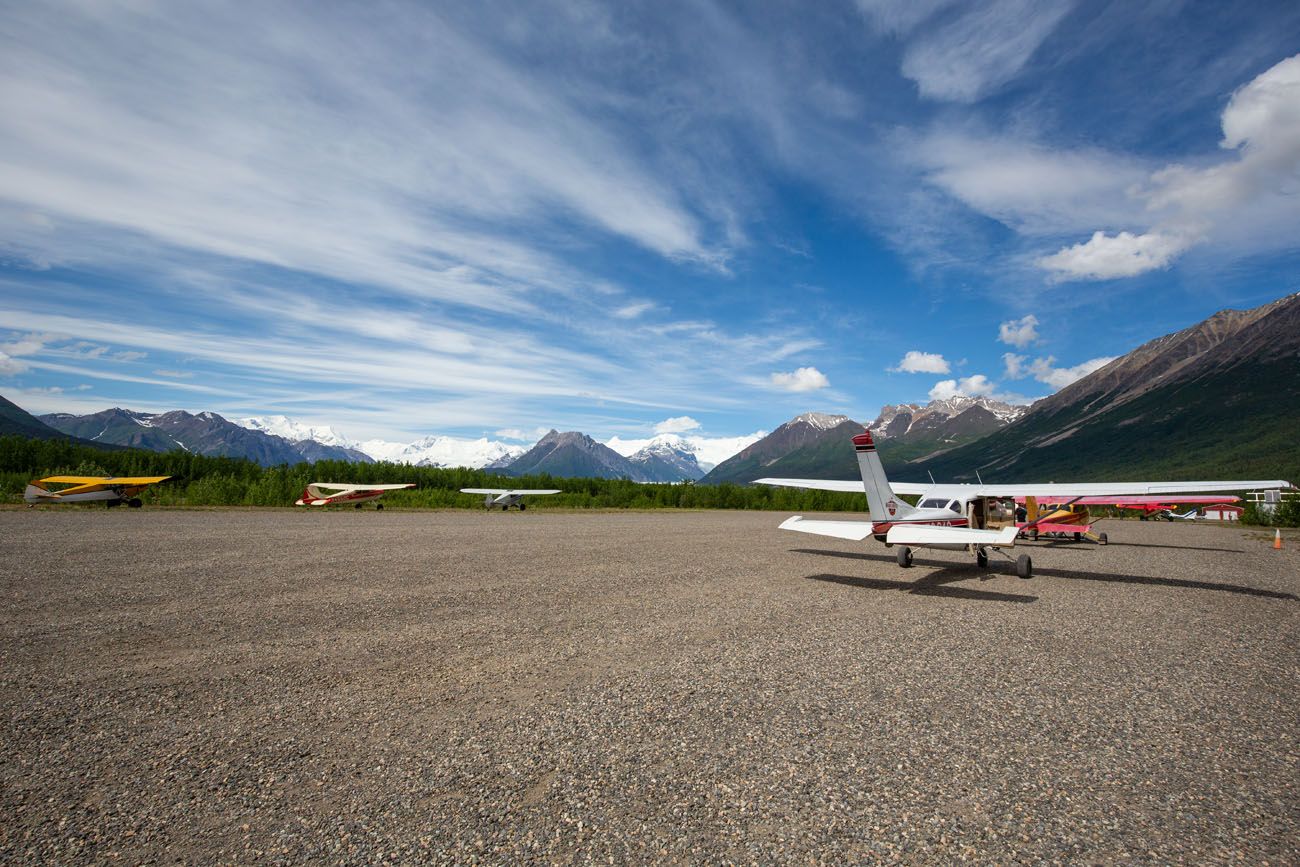 McCarthy Airport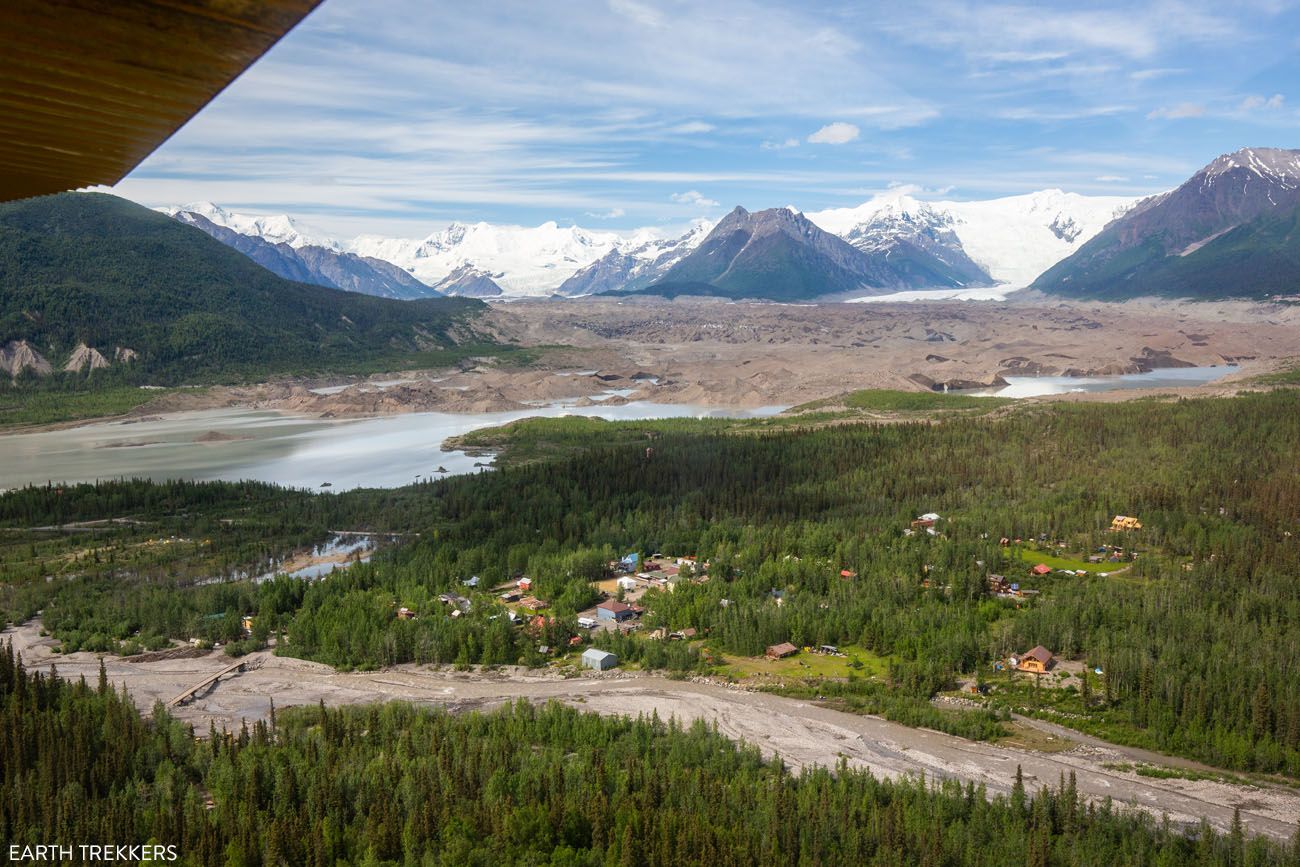 McCarthy, Alaska and the Wrangell Mountains
From McCarthy, we flew south towards the coast and the Gulf of Alaska. On the first part of the flight, we flew over numerous river valleys, all of which are fed by the melting of the glaciers.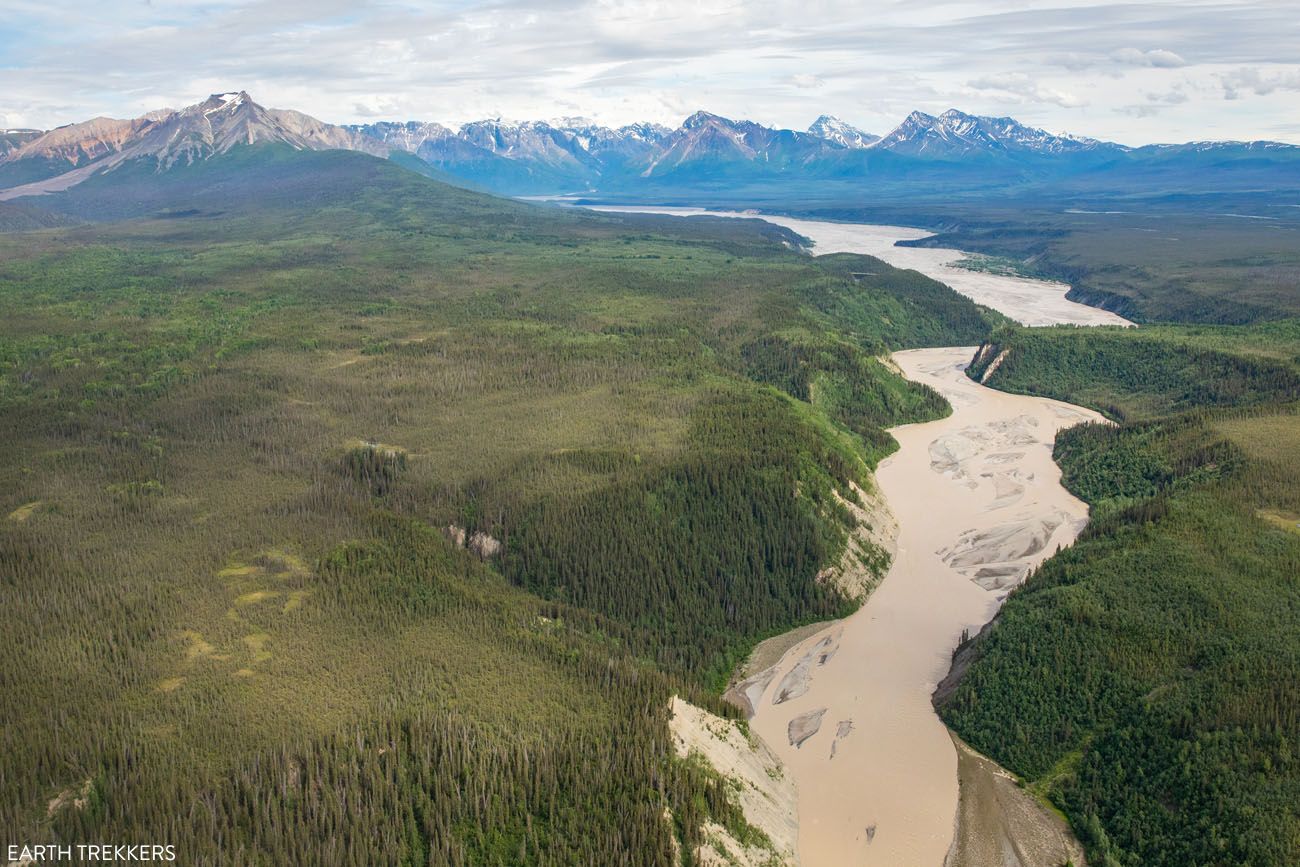 Chitina River
Before our visit to Alaska, I hadn't heard of the Chugach Mountain Range. I don't know why, because it is enormous. If you drive from Anchorage to Glennallen, Valdez, or McCarthy, you will drive right along this sprawling mountain range.
We flew over the Chugach Mountain Range twice on this flightseeing tour and it is impressive. Snow-capped mountain peaks stretched as far as we could see. It was jaw-dropping just how many peaks we saw today…far too many to count.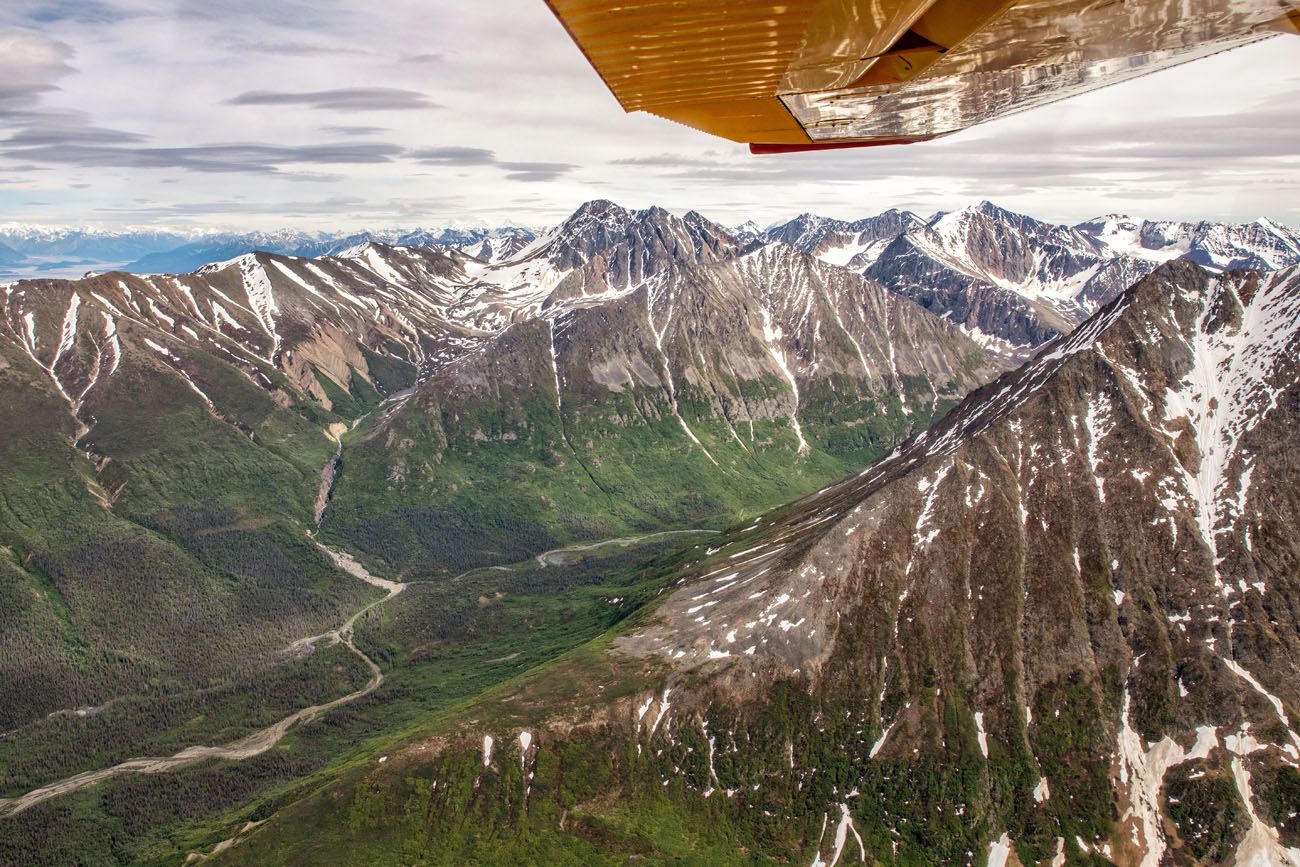 Chugach Mountains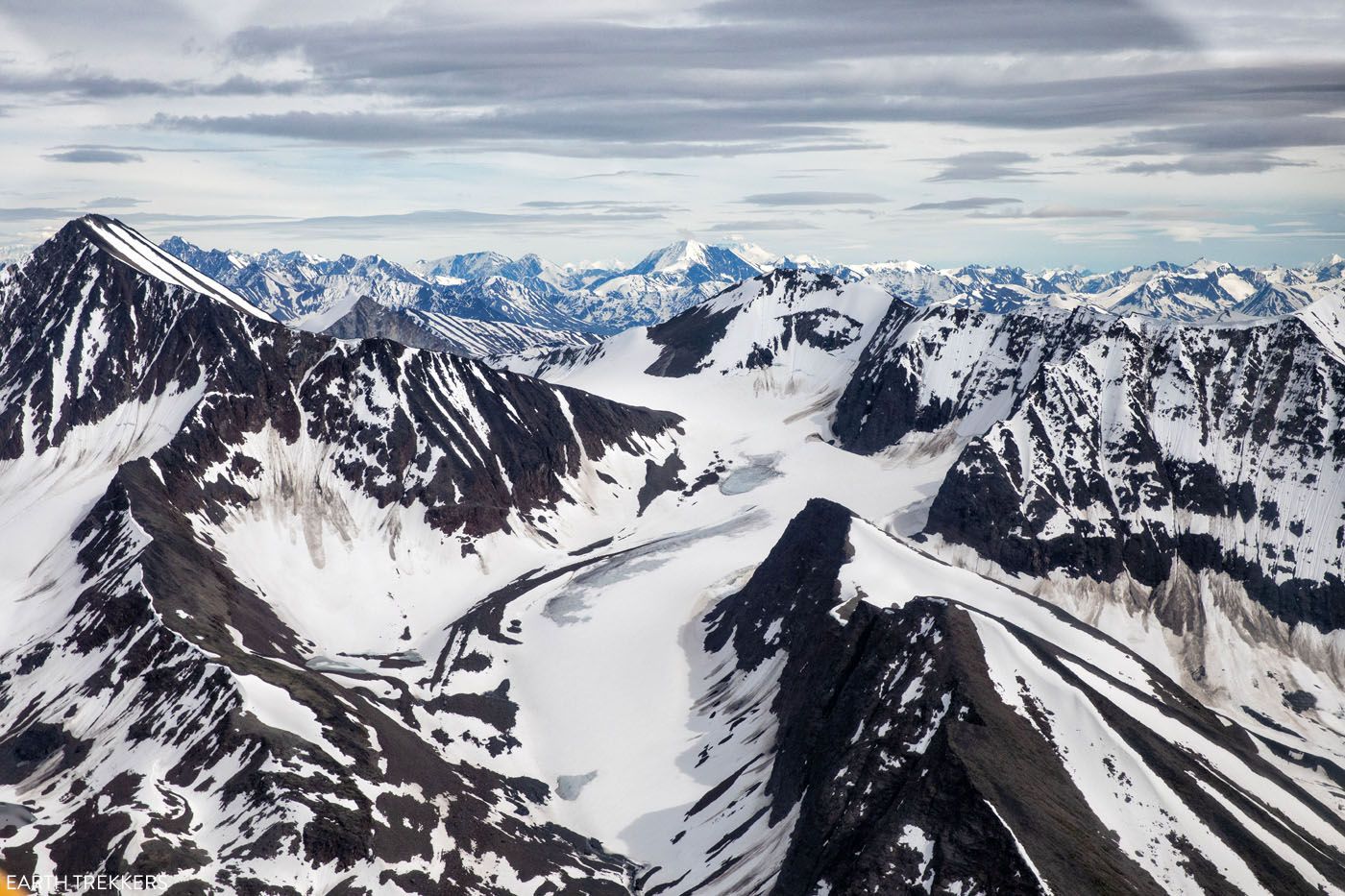 Chugach Mountains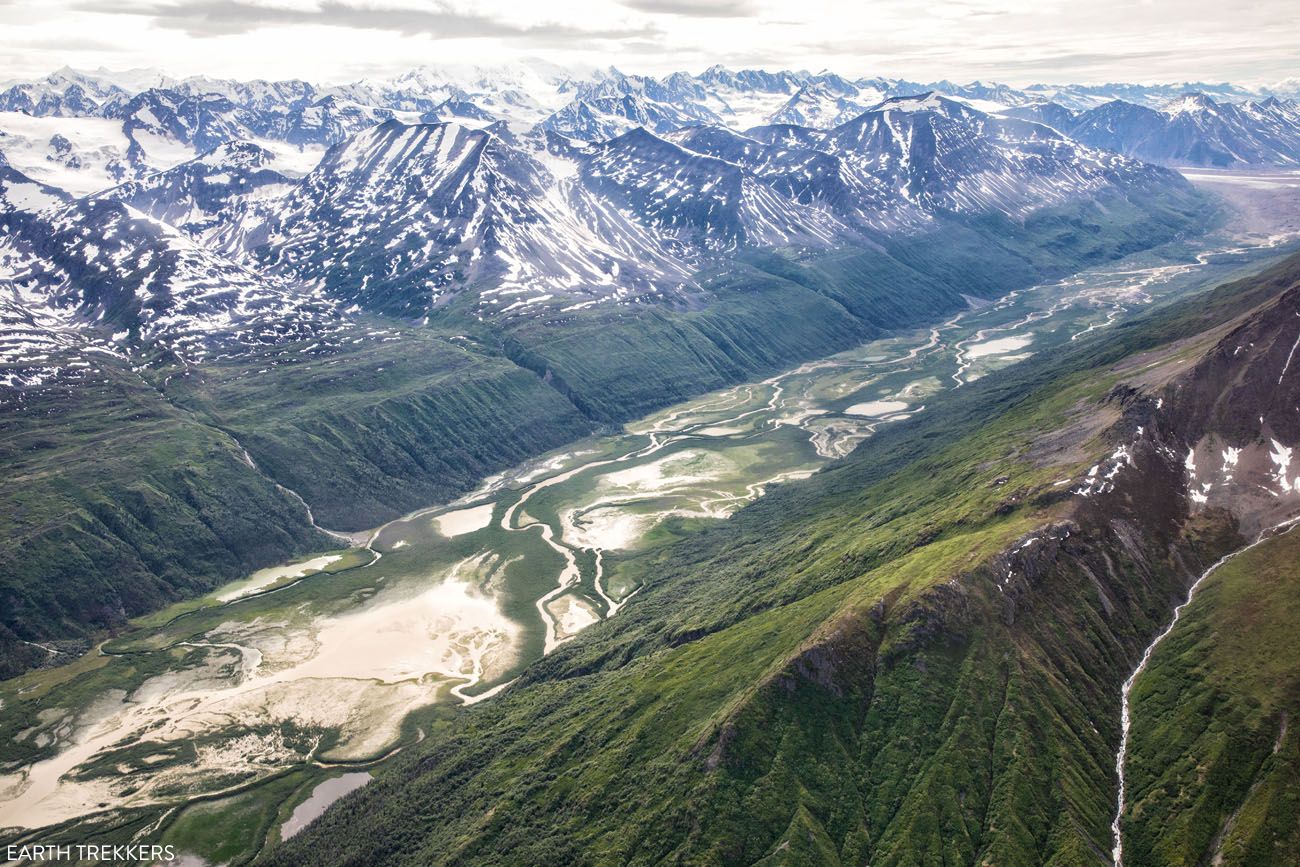 Another view of the Chitina River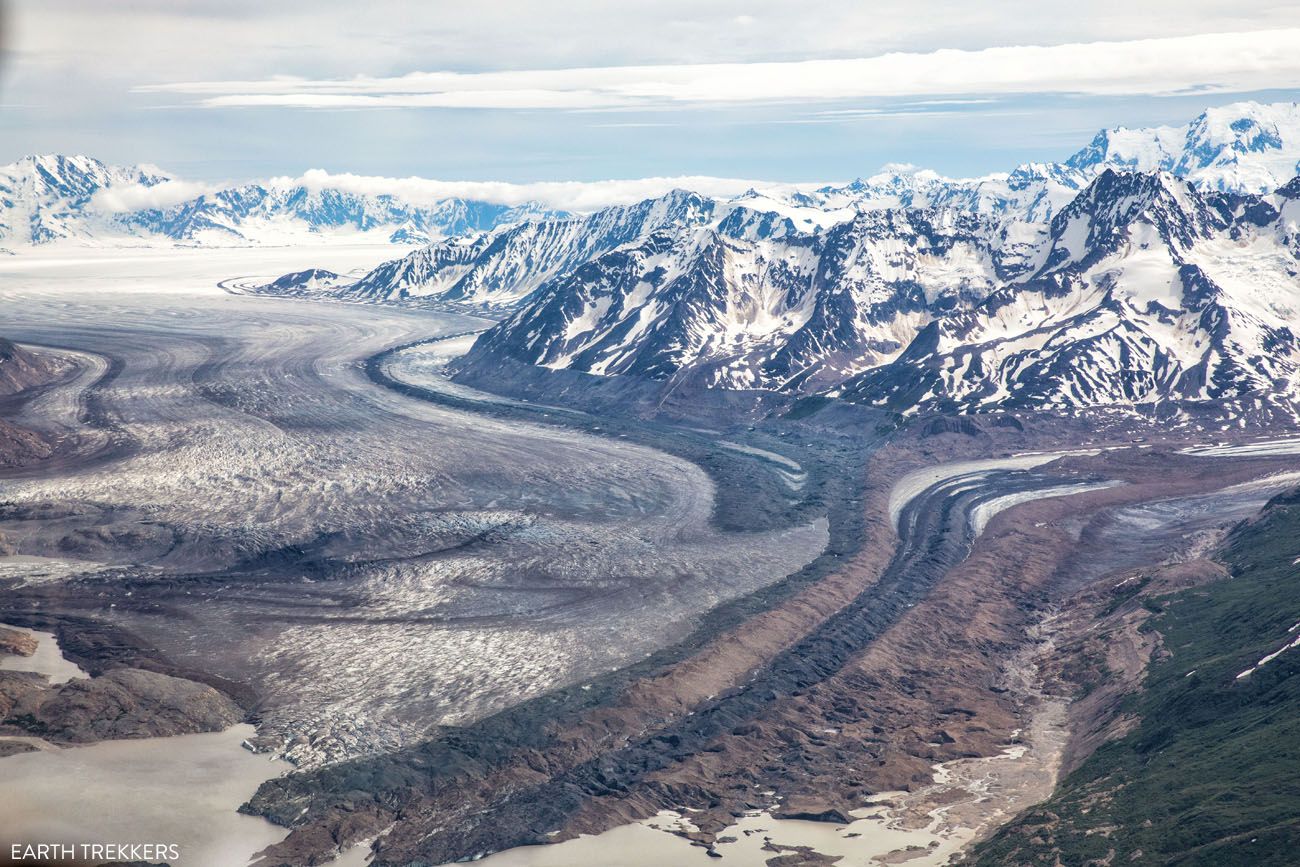 Tana Glacier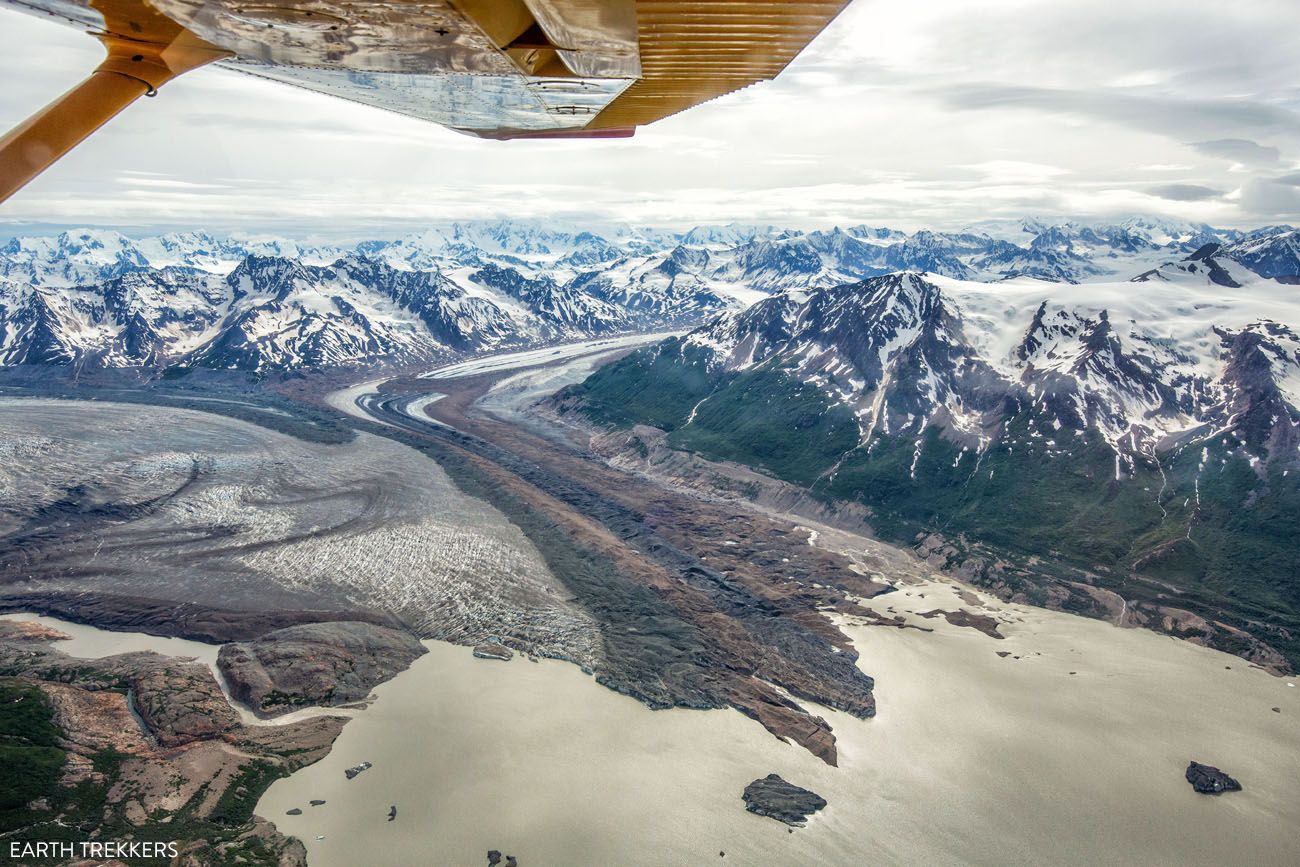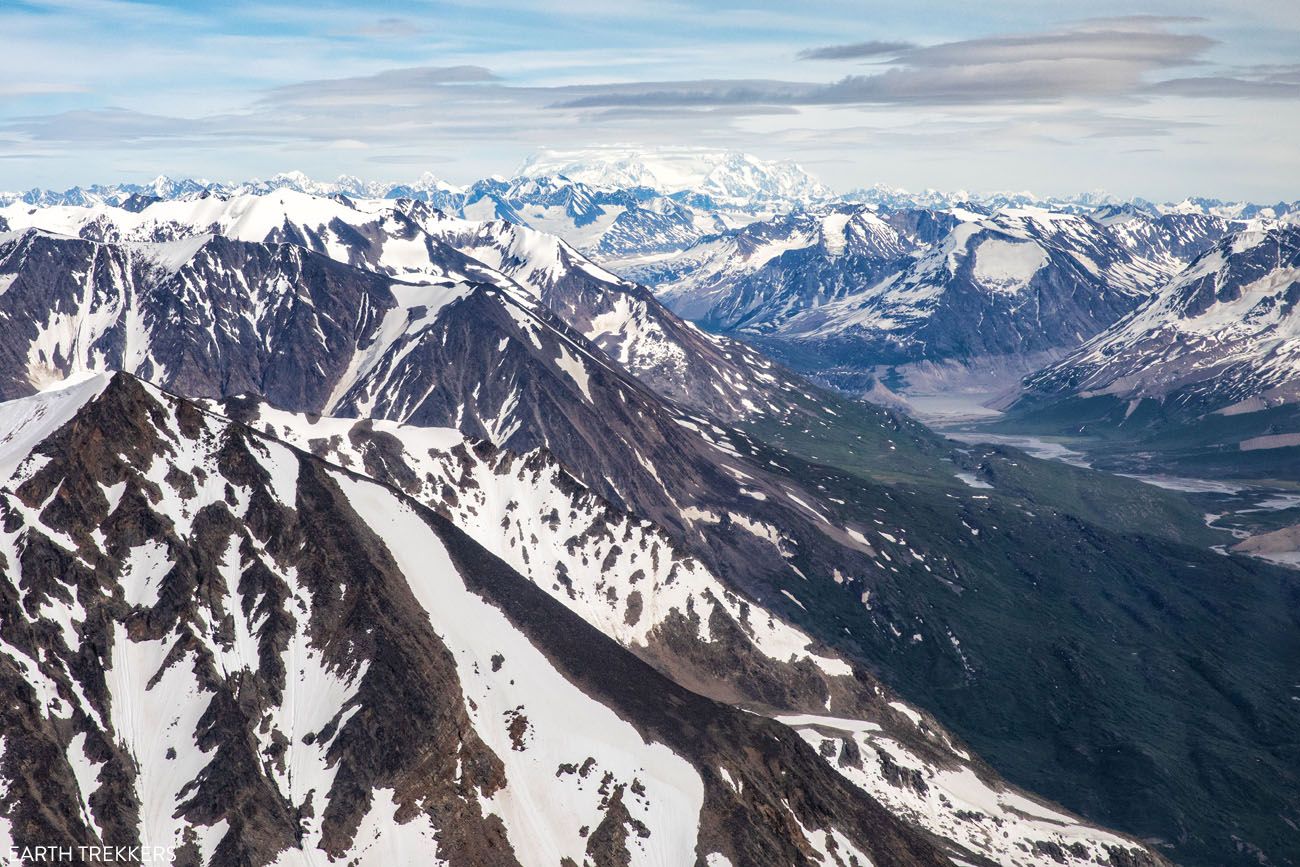 Granite Range
Beyond the Chugach Mountains is the Bagley Icefield. This is the largest nonpolar icefield in North America. It is 127 miles (200 km) long, 6 miles (10 km) wide, and 3,000 feet (1 km) thick. This icefield feeds numerous glaciers and peeking out of the top of this icefield are jagged mountain peaks.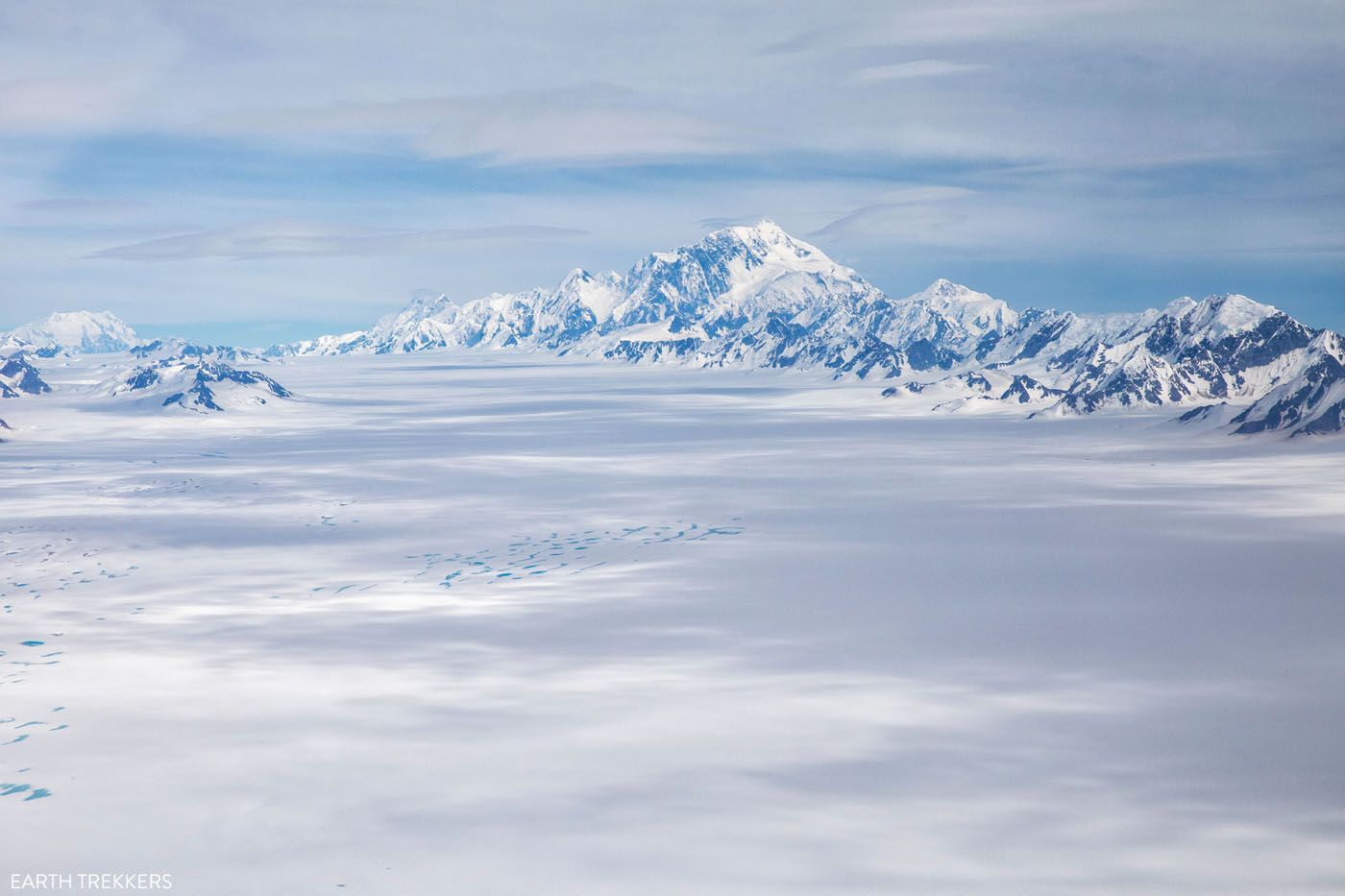 The Bagley Icefield and Mount St. Elias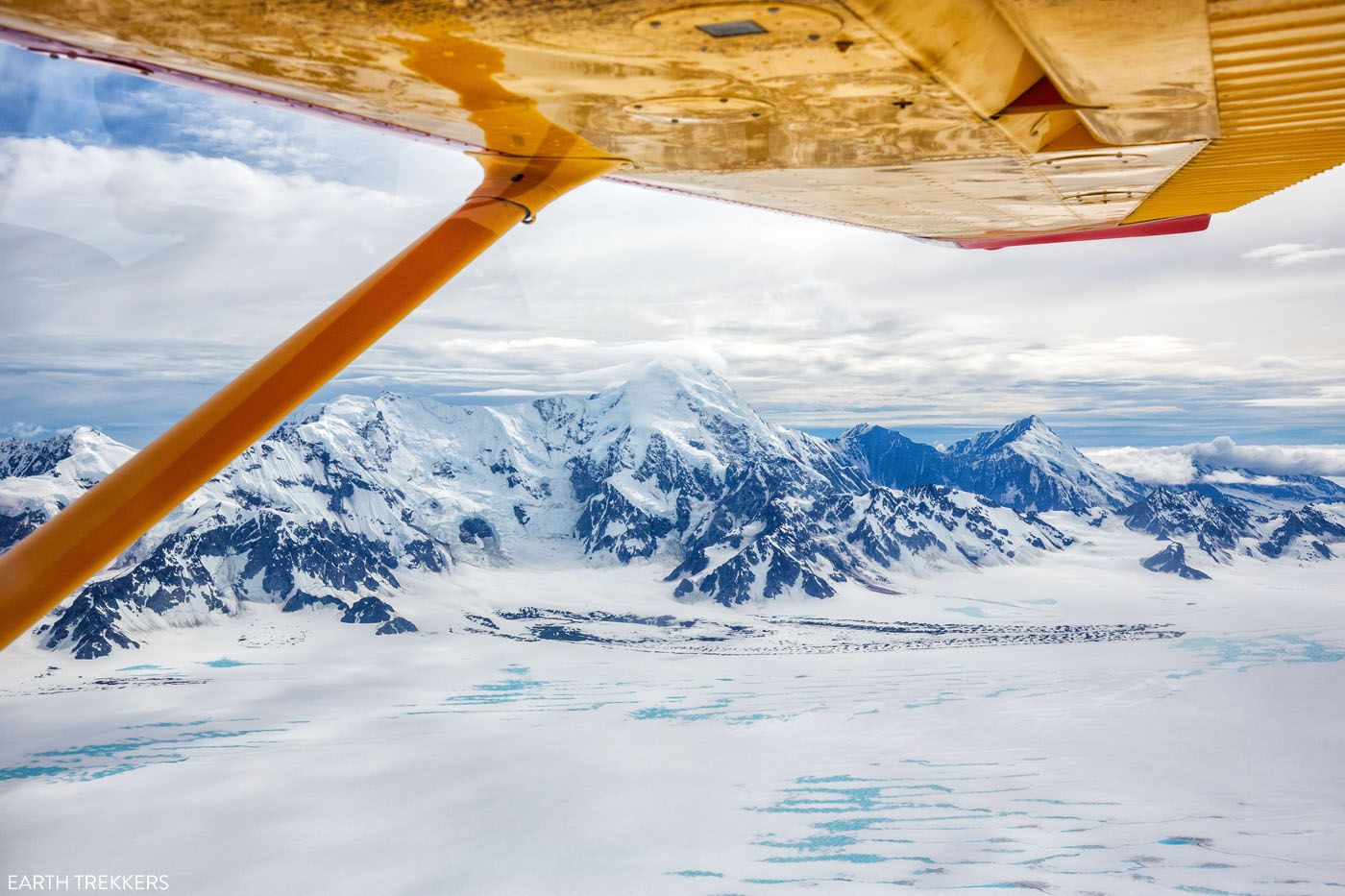 Some of those jagged mountain peaks are among the tallest in the world. Mount St. Elias, at 18,008 feet (5489 meters) is the second tallest peak in the United States and Canada. Just to the east we could also see Mount Logan (19,551 feet, 5959 meters), the tallest peak in Canada.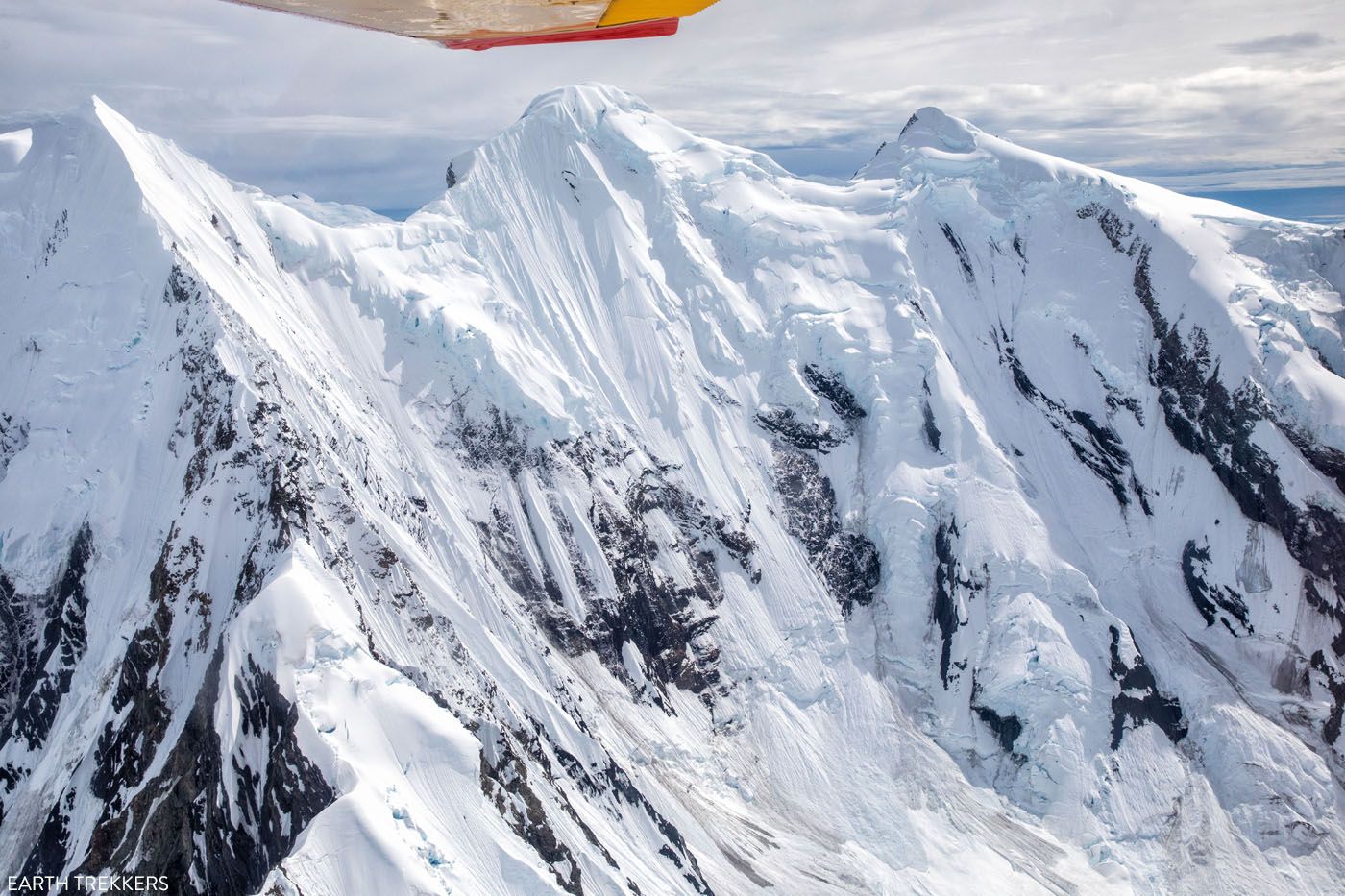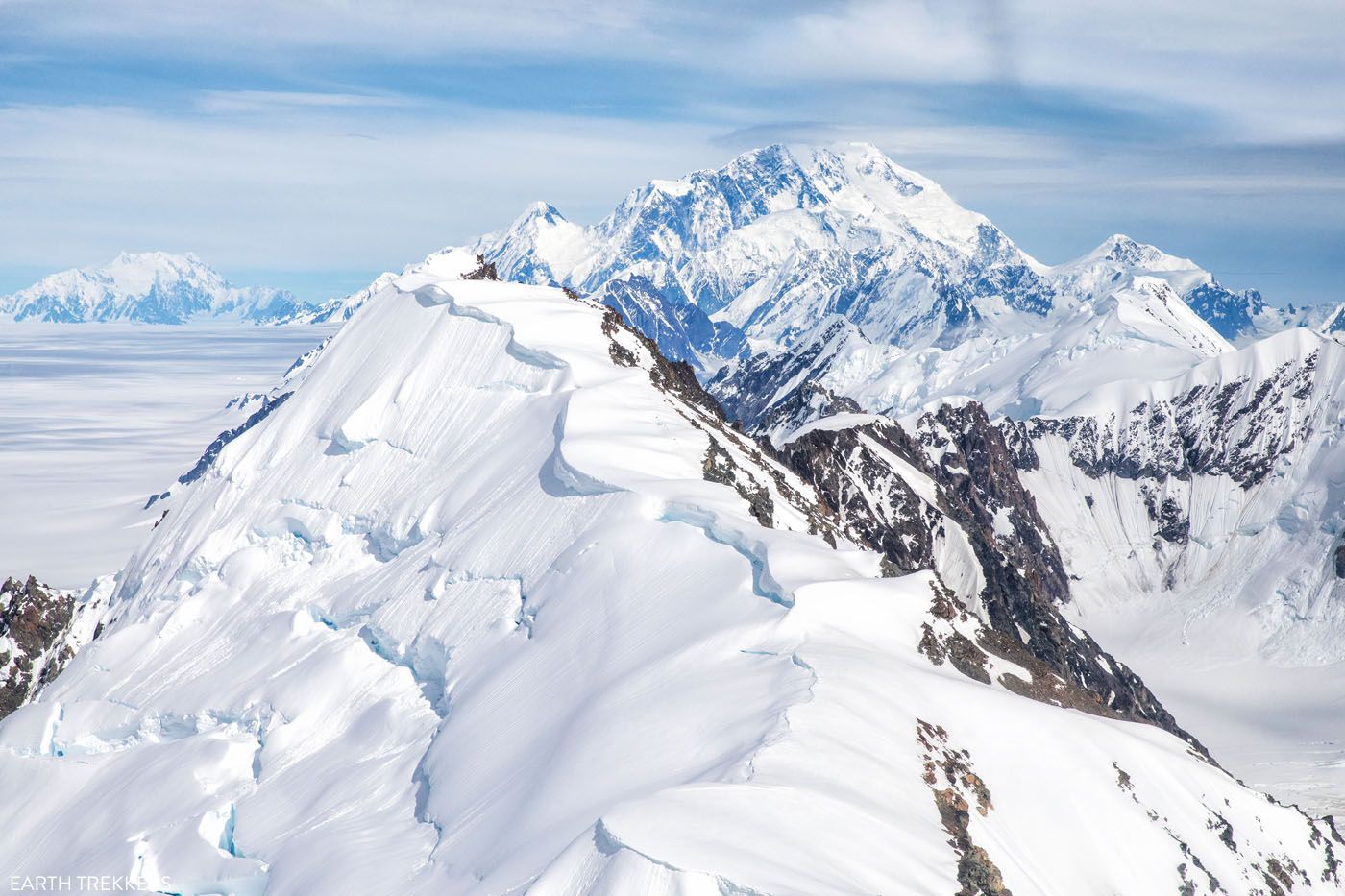 Mount St Elias is the rocky mountain behind the snow-covered ridge in the foreground.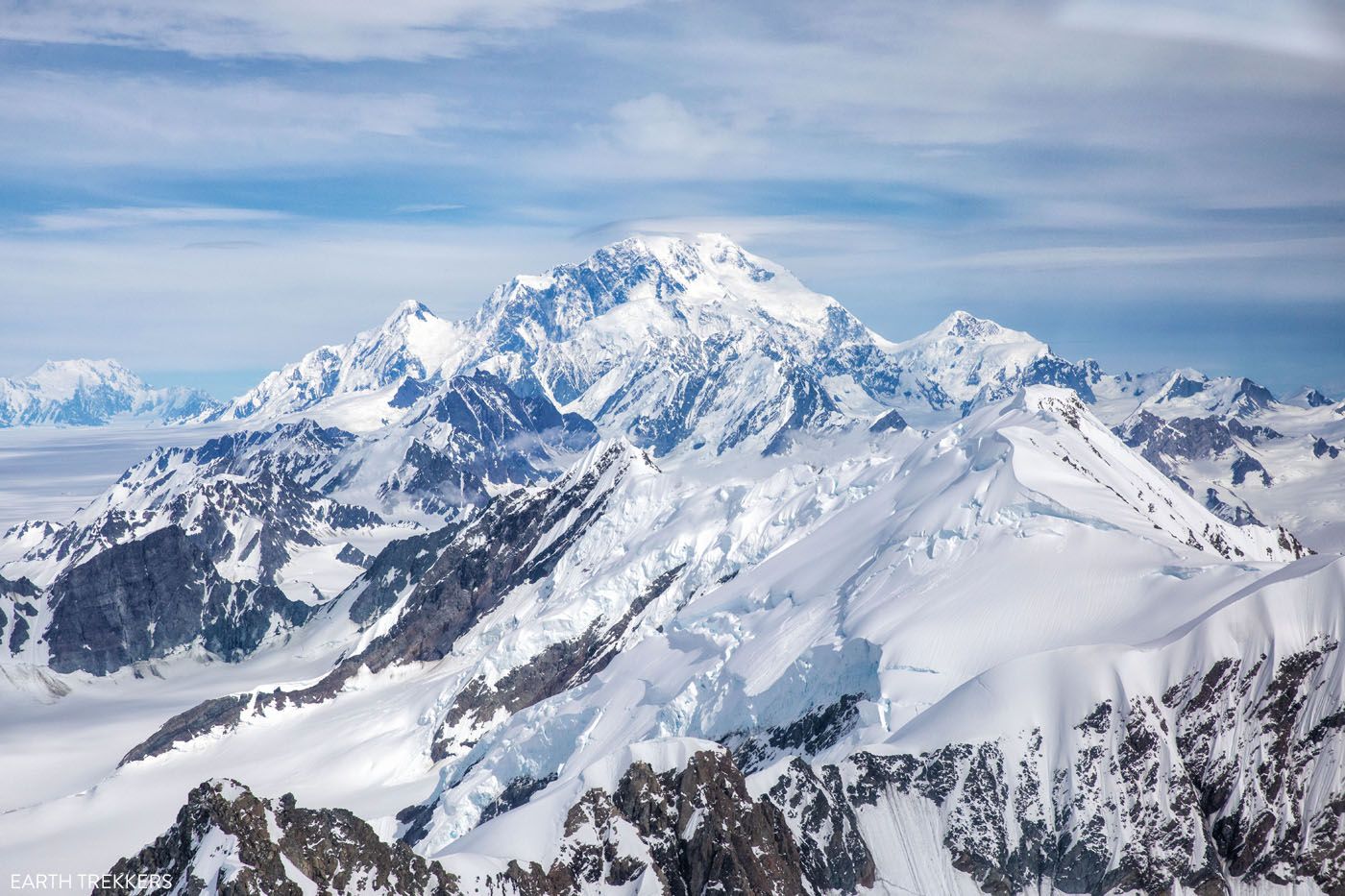 Mount St. Elias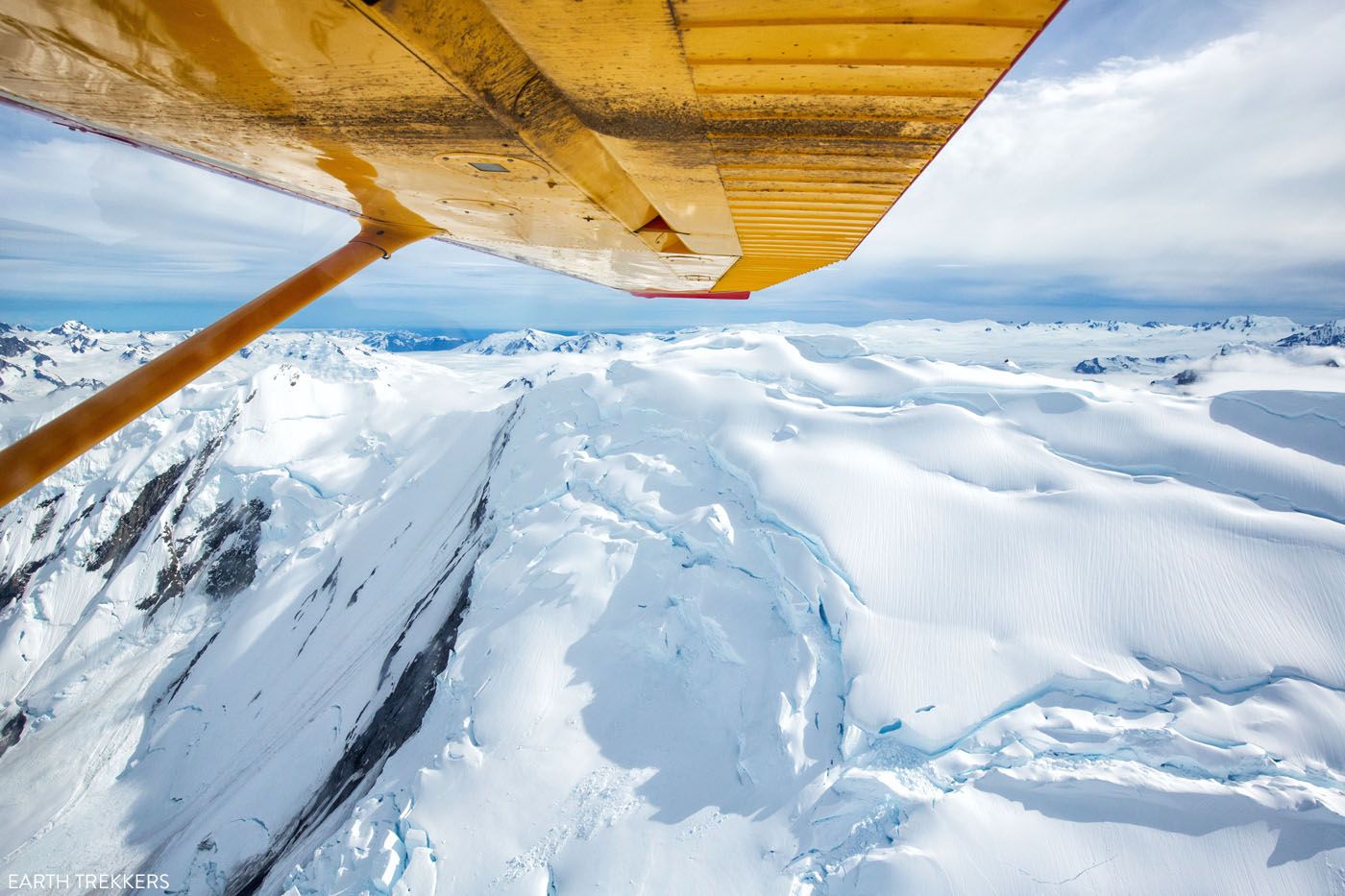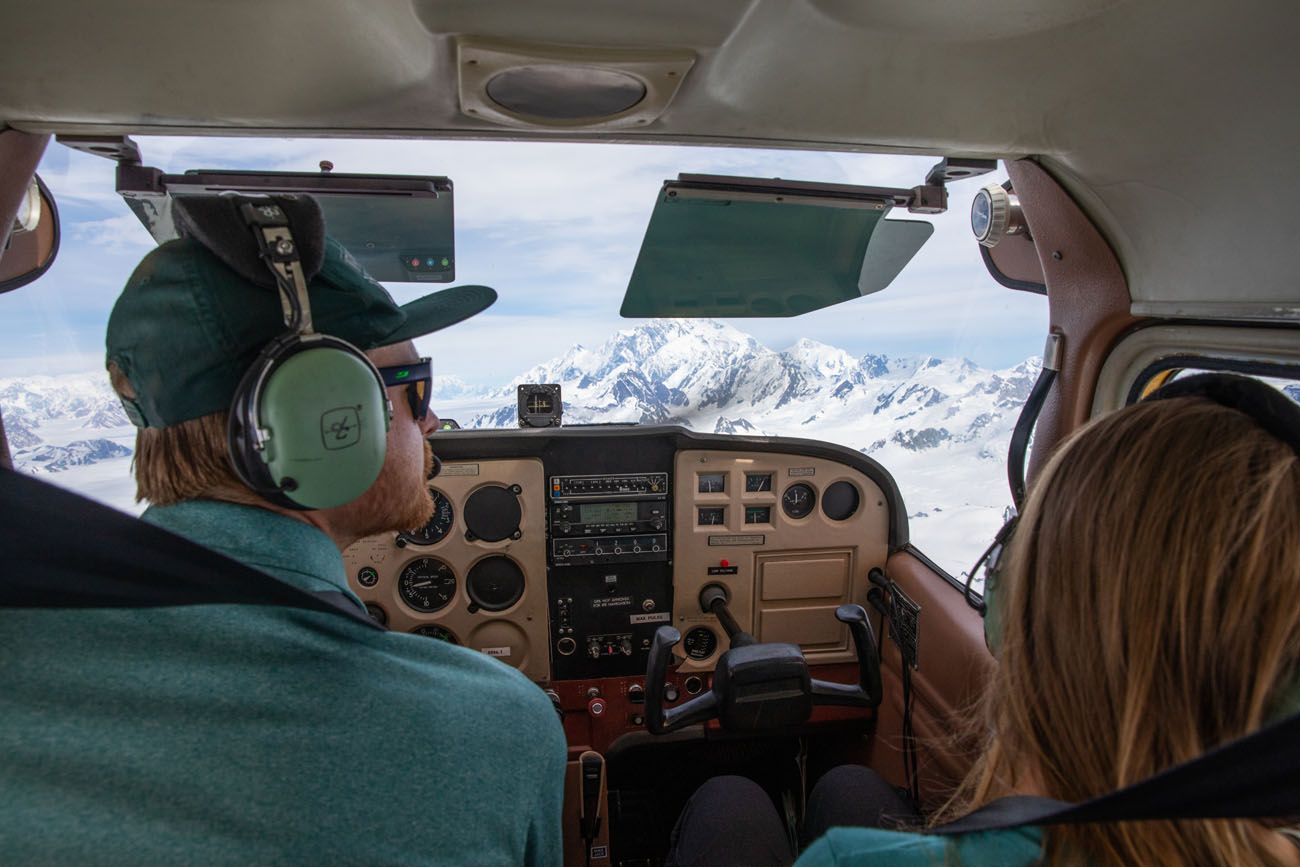 Kelly, our pilot, and Kara in the cockpit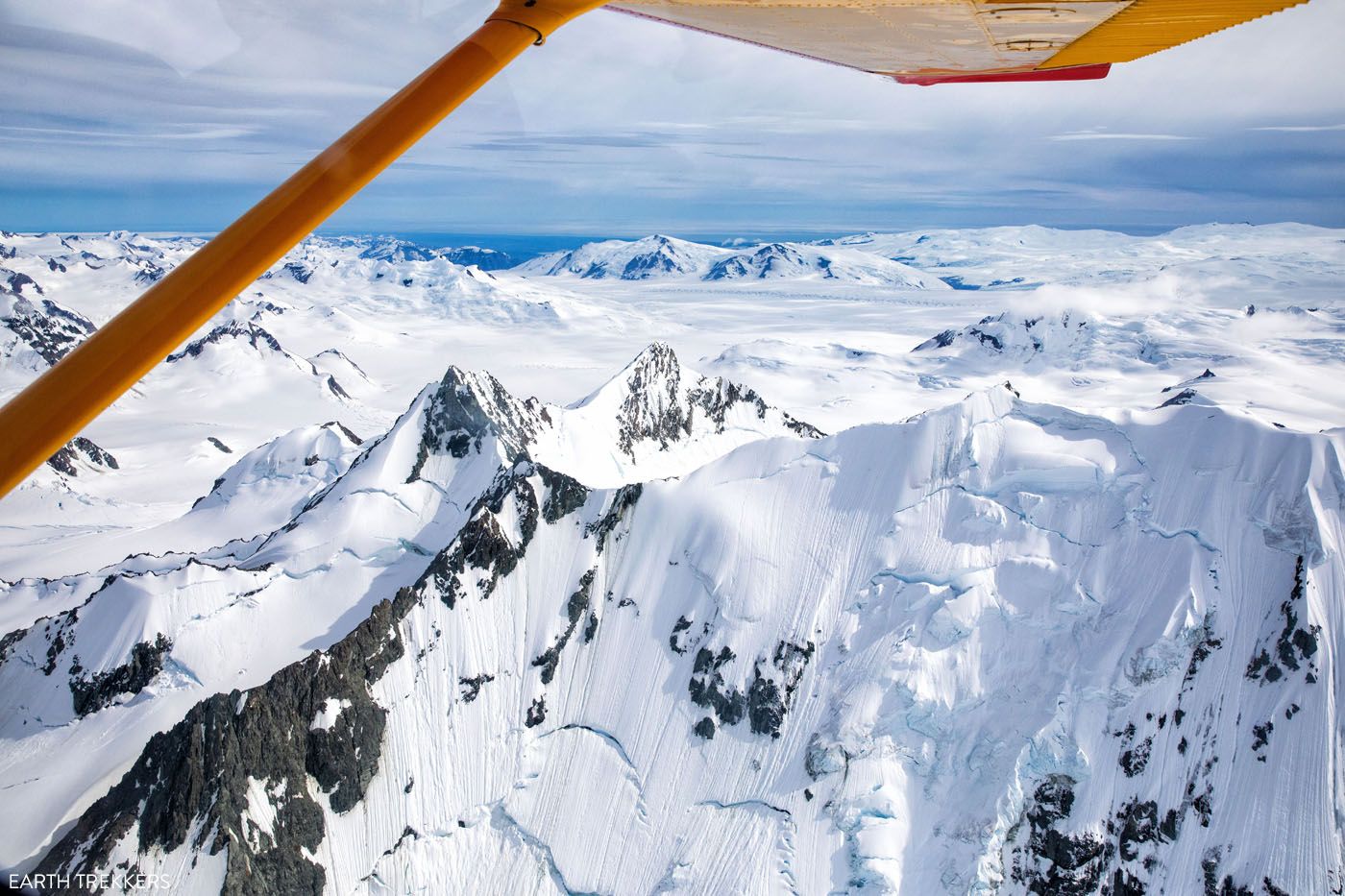 Just beyond the mountains you can see the Gulf of Alaska.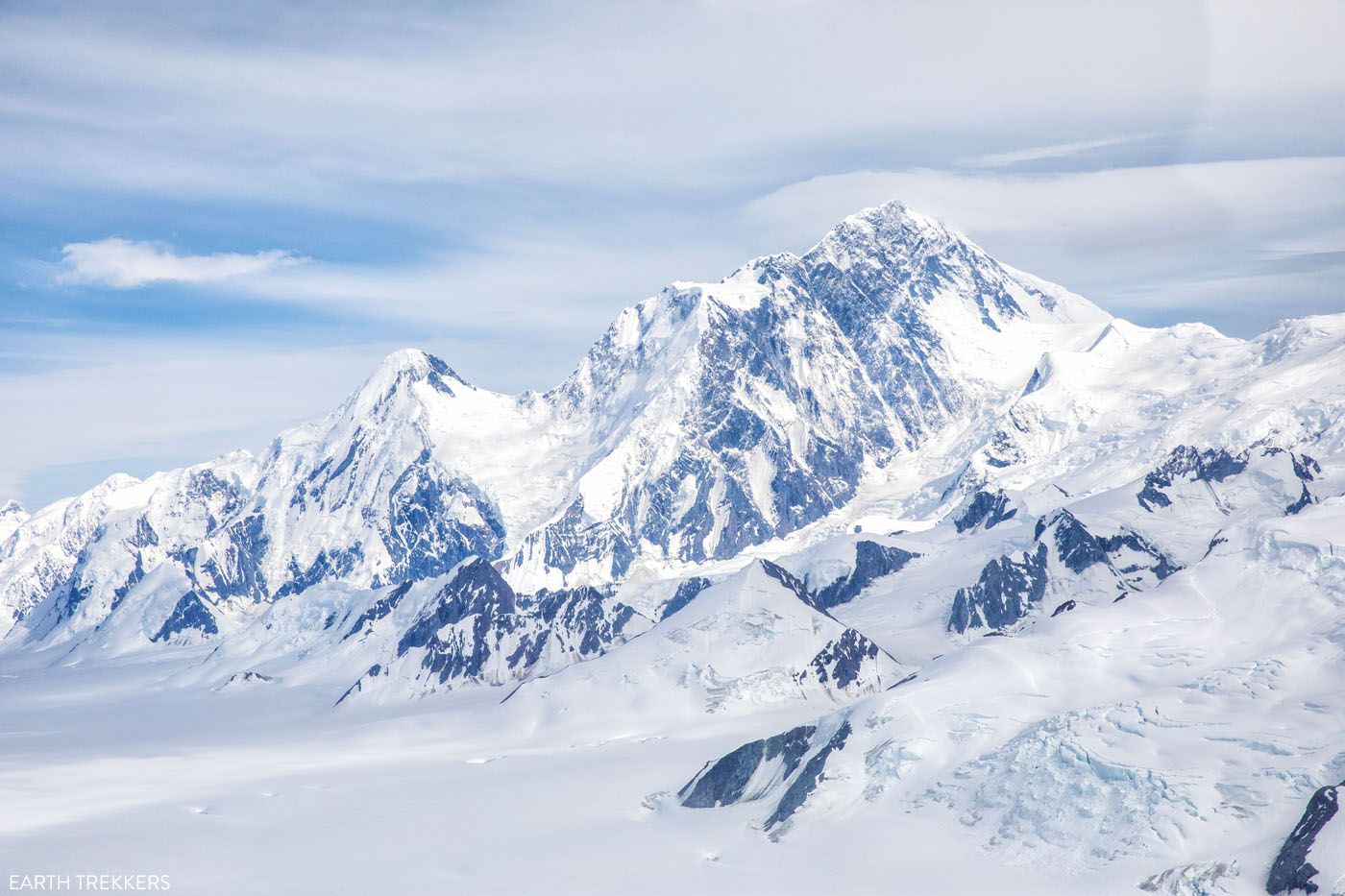 Another view of Mount St. Elias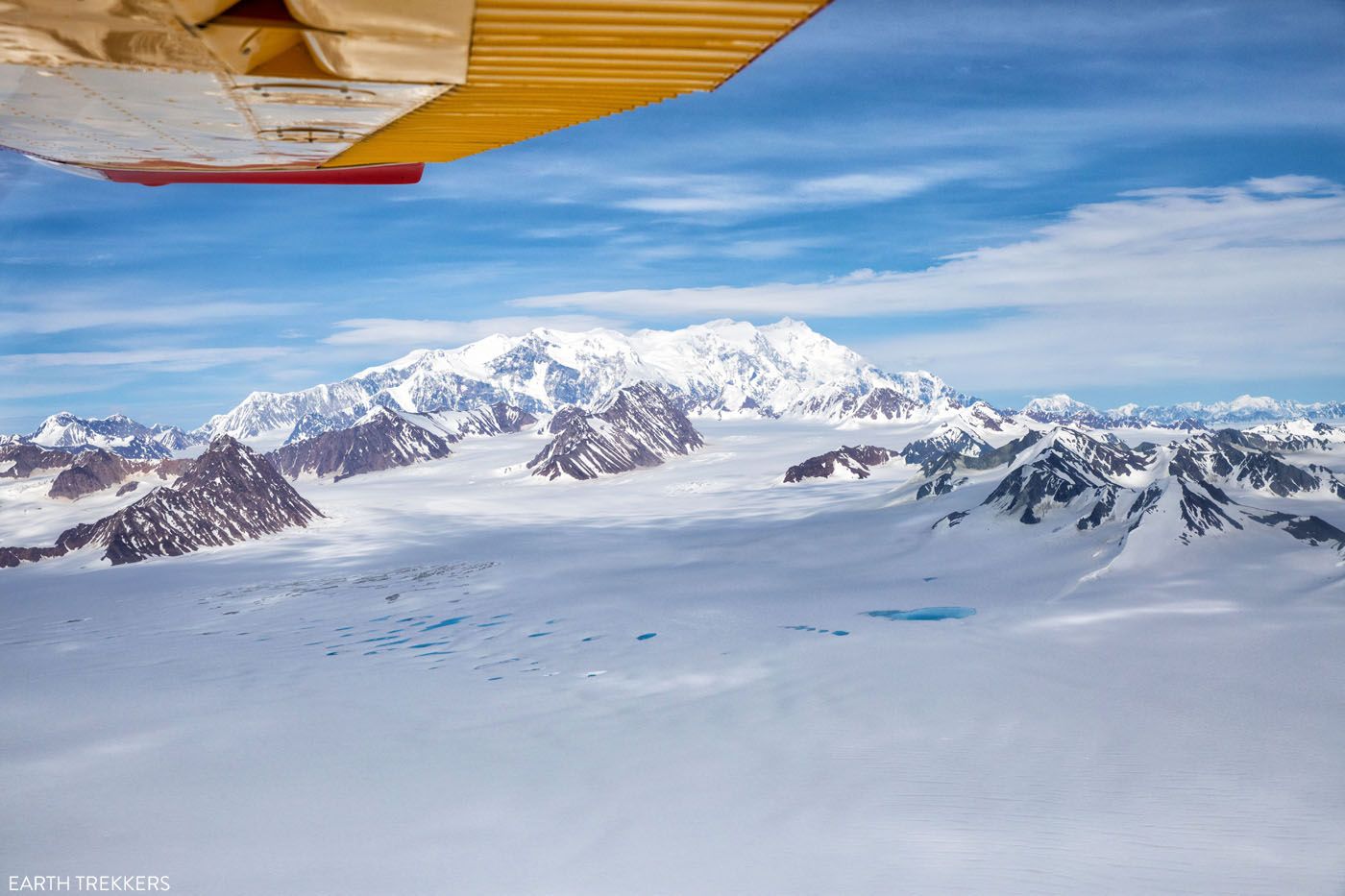 Mt Logan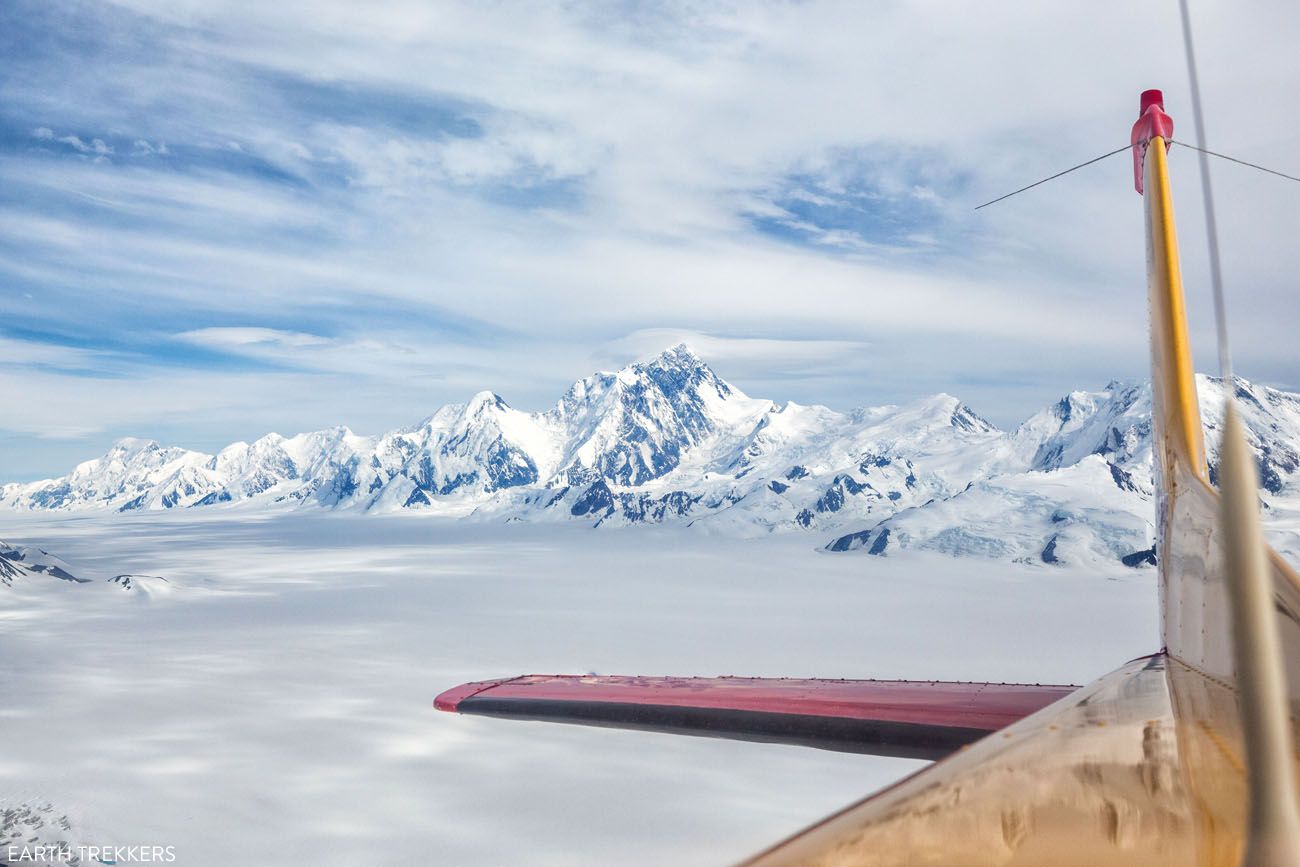 Flying north, away from Mount St. Elias
To get back to McCarthy, we flew a slightly different route. Kelly took us through the University Range and then back to McCarthy.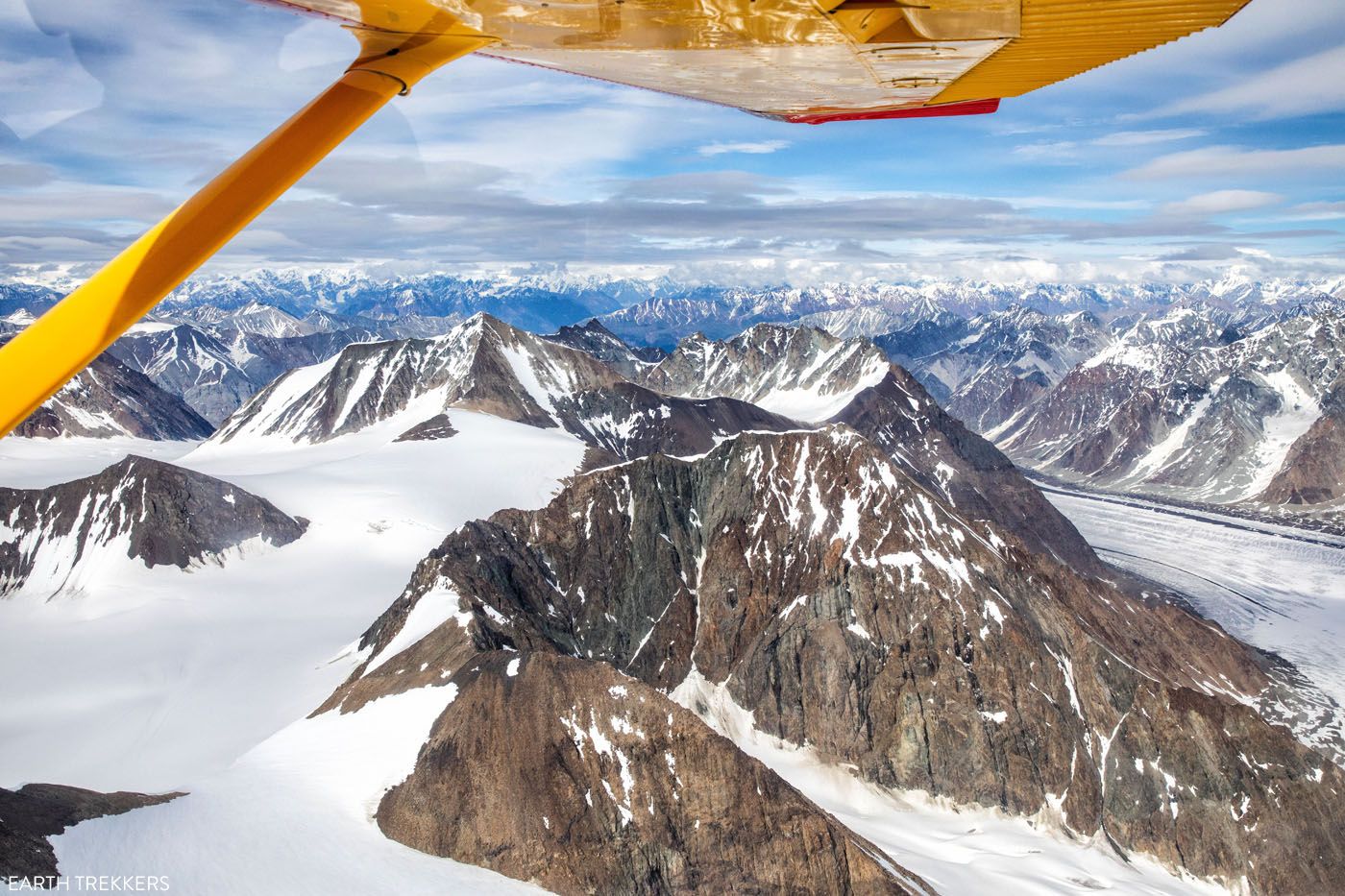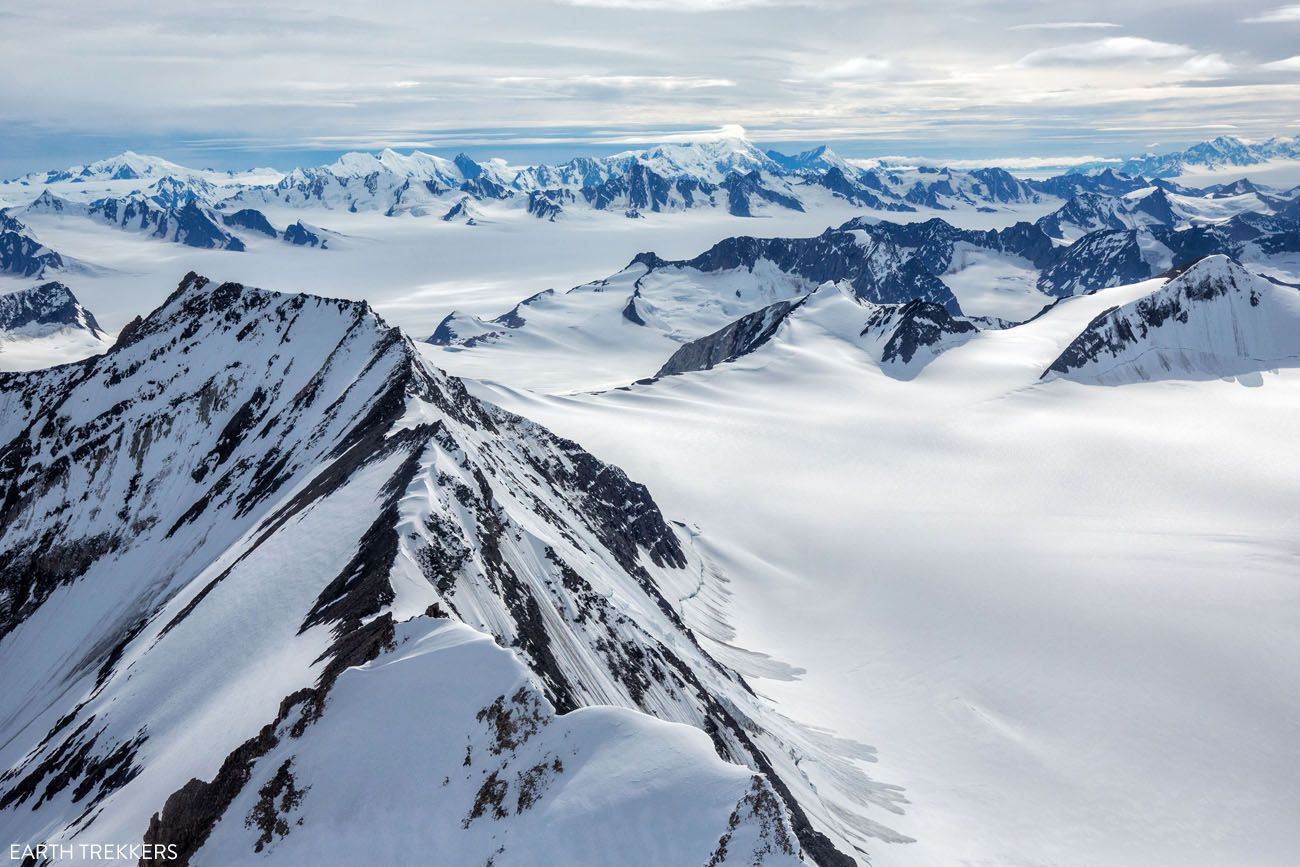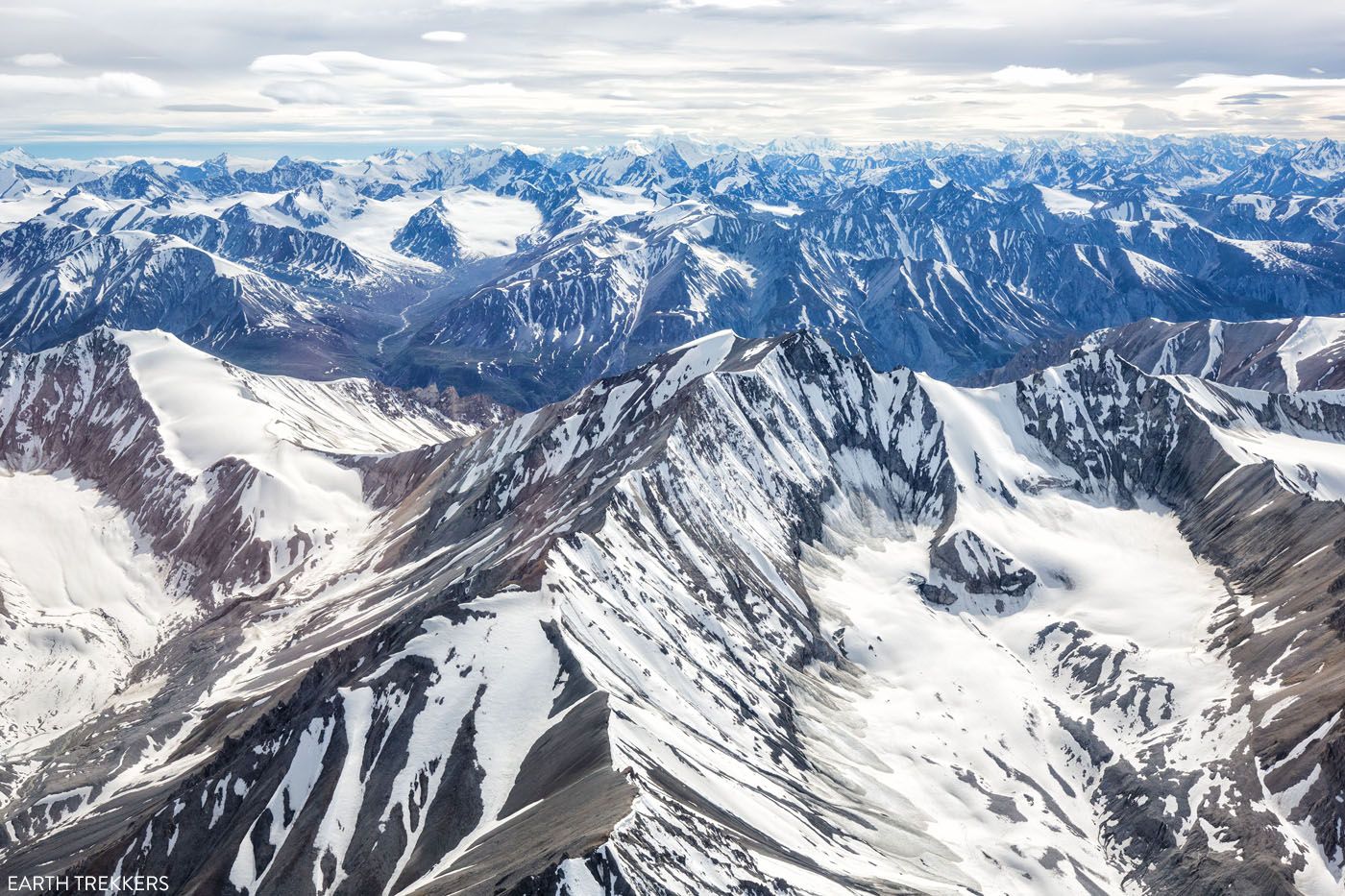 The number of mountains is incredible!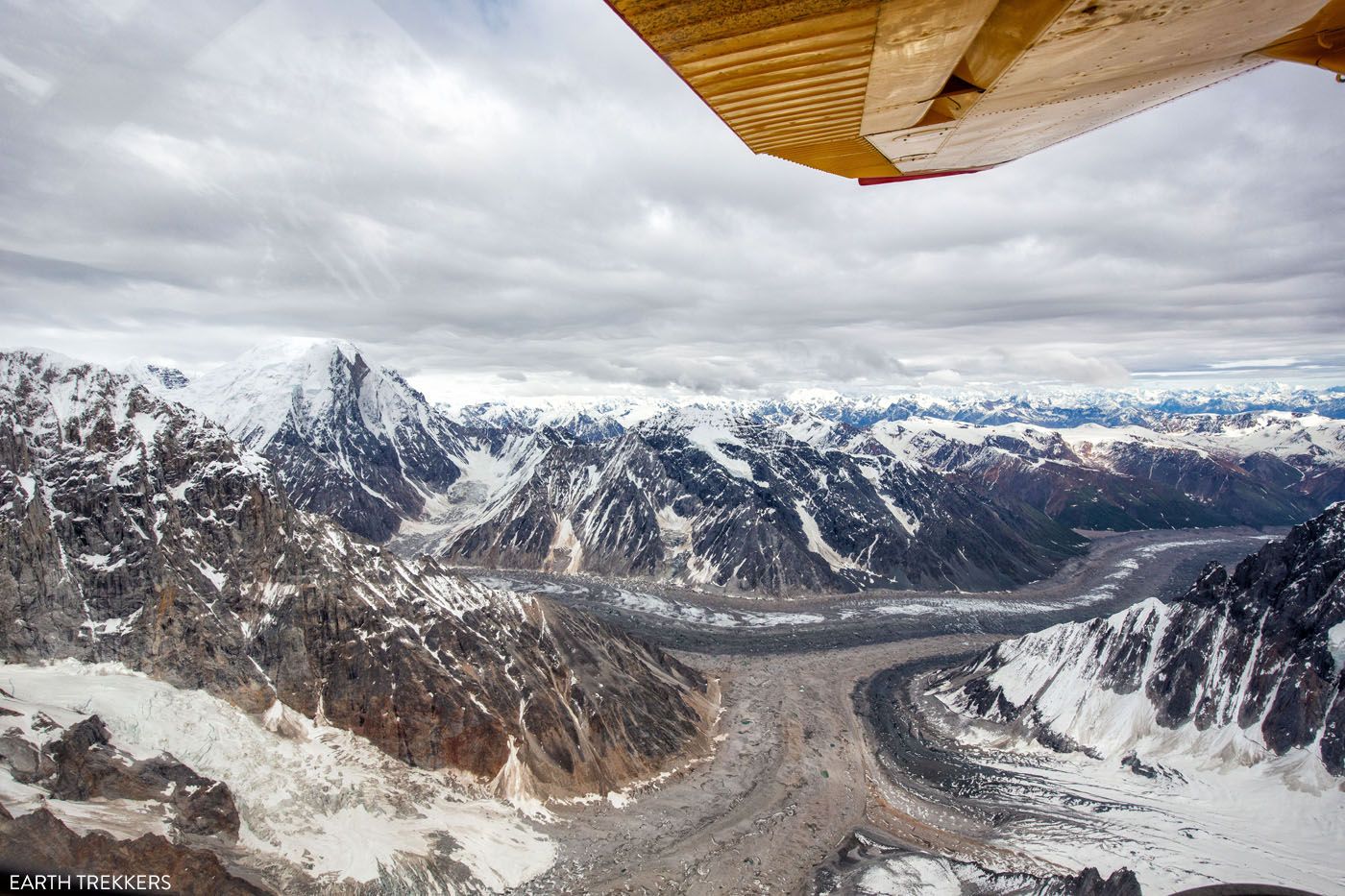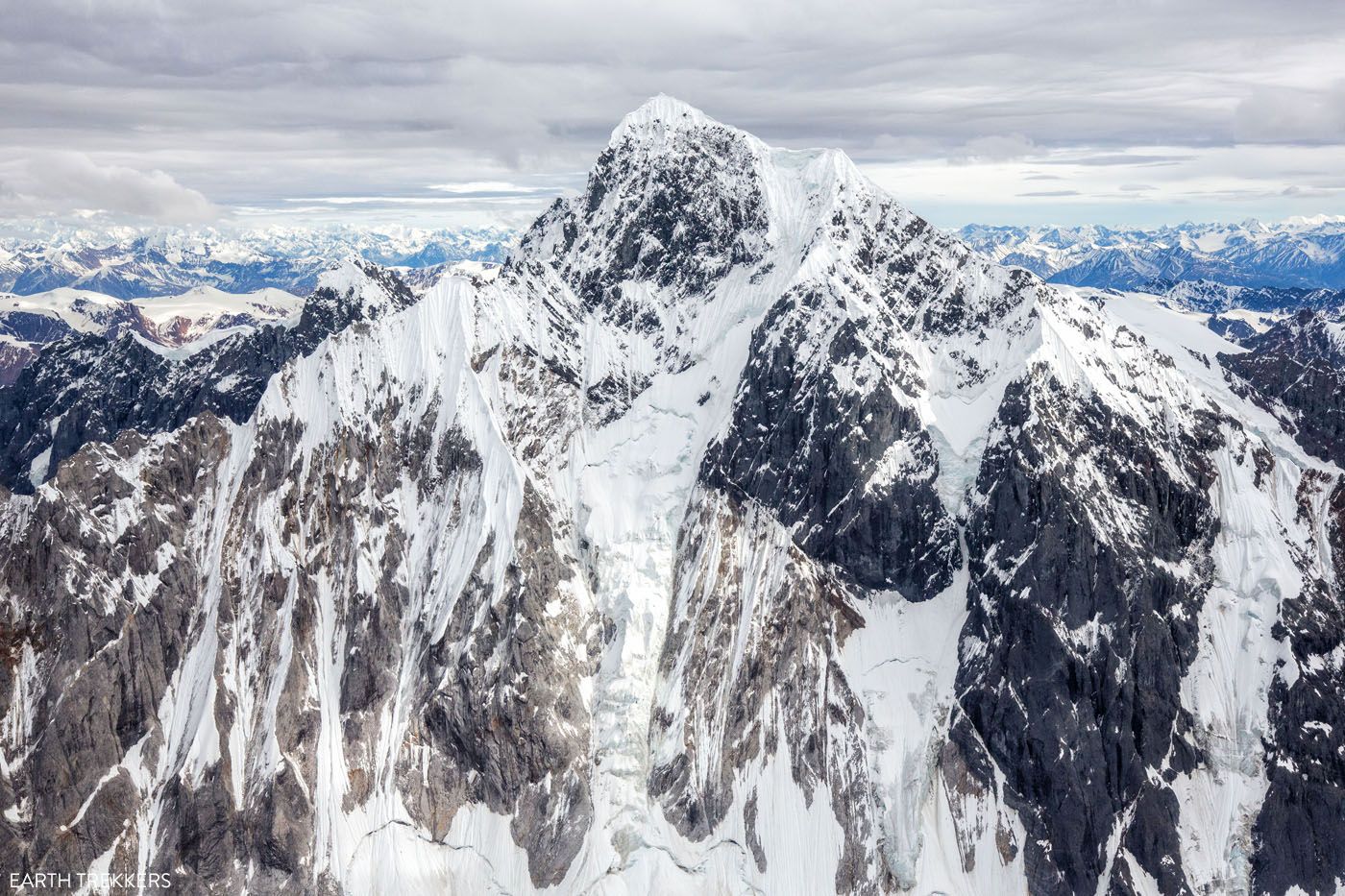 University Range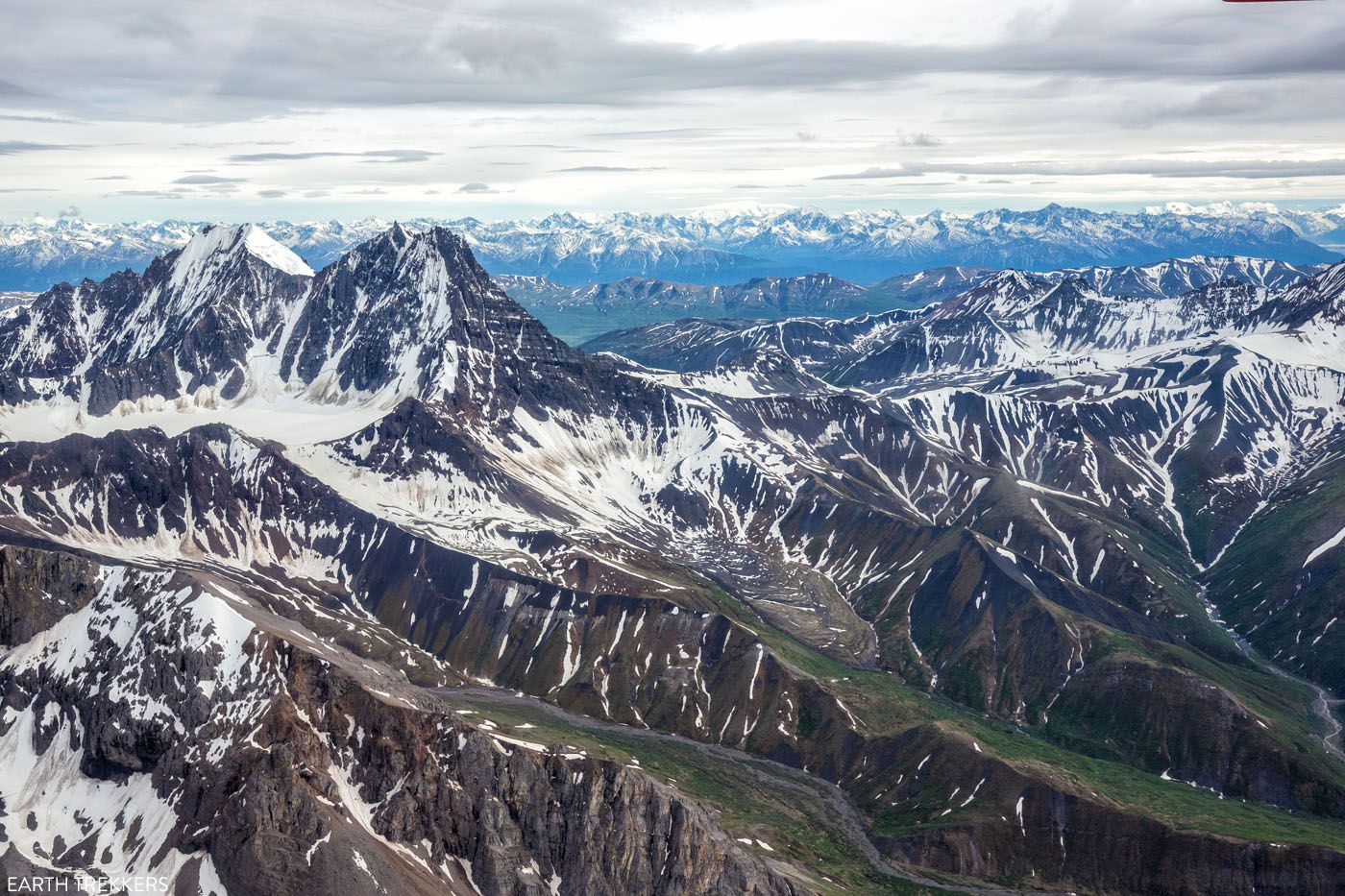 Wrangell Mountains
Tim, Kara, and I loved this experience. To see the seemingly endless range of mountain peaks, look out over the Bagley Icefield and numerous glaciers, and to fly right past Mount St. Elias was incredible. I highly recommend this tour if want to see some of the tallest peaks and largest stretches of ice in North America.
About this Flightseeing Tour
Company: Wrangell Mountain Air
Cost: $475 per person
Duration: 120 minutes
The cost of the flightseeing tour includes the shuttle service from McCarthy and Kennicott. We also tipped our pilot.
Tips to Have the Best Experience
Wrangell Mountain Air also offers other flightseeing tours of Wrangell – St. Elias National Park & Preserve. To learn more, read our Guide to Flightseeing Tours of Wrangell – St. Elias National Park.
Arrange your flightseeing trip in advance, because they can sell out. We arranged our flightseeing trip two months in advance and had no issue getting the date and time we wanted.
Flightseeing trips can be cancelled during bad weather. If your flight is cancelled, there is a chance that it can be rescheduled later in the day or the following day, depending on availability. If your flight is cancelled due to bad weather, you will get a refund of your payment.
Wear long pants and a long-sleeved shirt. It gets chilly inside the plane once you get up to 7,000 feet.
---
If you have any questions about taking a flightseeing tour in Wrangell – St. Elias National Park & Preserve, let us know in the comment section below.
More Information about Alaska
WRANGELL-ST. ELIAS NATIONAL PARK: For a full list of our Wrangell-St. Eilas National Park articles, plus important planning tips, check out our Wrangell-St. Elias National Park Travel Guide.
BEST OF WRANGELL-ST. ELIAS: Top experiences in Wrangell-St. Elias include hiking the Root Glacier Trail, taking a flightseeing tour, and hiking to Bonanza Mine. For the full list, read our article Best Things to Do in Wrangell-St. Elias.
KENAI FJORDS NATIONAL PARK: While in Kenai Fjords National Park, hike the Harding Icefield Trail, cruise the Northwestern Fjord, go ice climbing on the Exit Glacier, or go kayaking in front of Aialik Glacier.
BEST OF DENALI NATIONAL PARK: For a list of top experiences, read our article Best things to do in Denali National Park. We also have a guide to the best hikes in Denali.
TRAVEL PHOTOGRAPHY: For more information about the camera gear we carry, check out our Travel Photography Gear Guide. And tips and tricks for taking great photos in our article How to Take Better Photos while Traveling.
NATIONAL PARKS: In our Guide to the US National Parks, get the full list of national parks with important travel planning information, such as things to do in the parks and sample itineraries.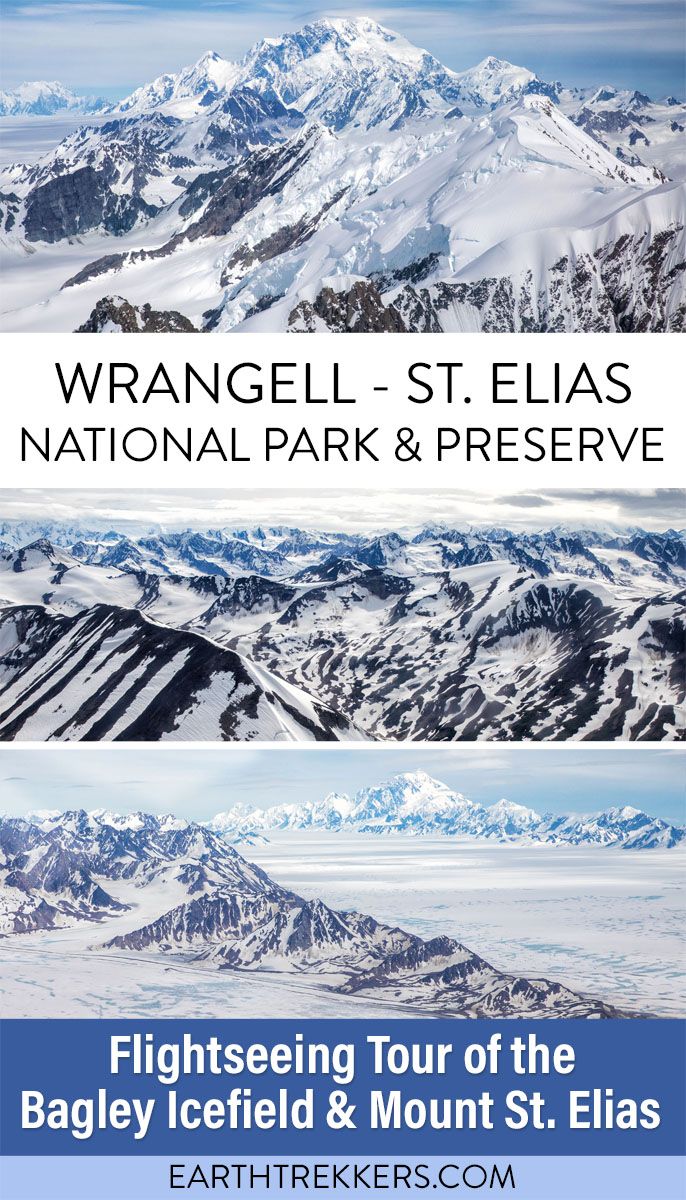 All rights reserved © Earth Trekkers. Republishing this article and/or any of its contents (text, photography, etc.), in whole or in part, is strictly prohibited.