Hiking the Root Glacier Trail is one of the best things to do in Wrangell – St. Elias National Park and Preserve. This national park is covered with a huge amount of glacial ice and the Root Glacier is the most accessible glacier in the park.
Whether or not you have been glacier hiking before, this is an awesome experience. Not only do you get to see the uniquely striped glacial ice of the Root Glacier, but you are also surrounded by mountain peaks and one of the highest icefalls in the world.
Glaciers are dangerous, so in order to hike the Root Glacier Trail, it is highly recommended that you only do this with an experienced guide and the proper equipment.
Root Glacier Trail Hiking Stats
There are two parts to these hiking stats: (1) the hike from Kennecott to the Root Glacier and (2) the hike on the Root Glacier.
Kennecott to the Root Glacier
Here are stats for the one-way hike from Kennecott to the Root Glacier.
Distance: 2.4 miles
Difficulty: Easy to moderate
Total Ascent to the Root Glacier: 380 feet
Total Ascent returning to Kennecott: 450 feet
Length of Time: 70 minutes one-way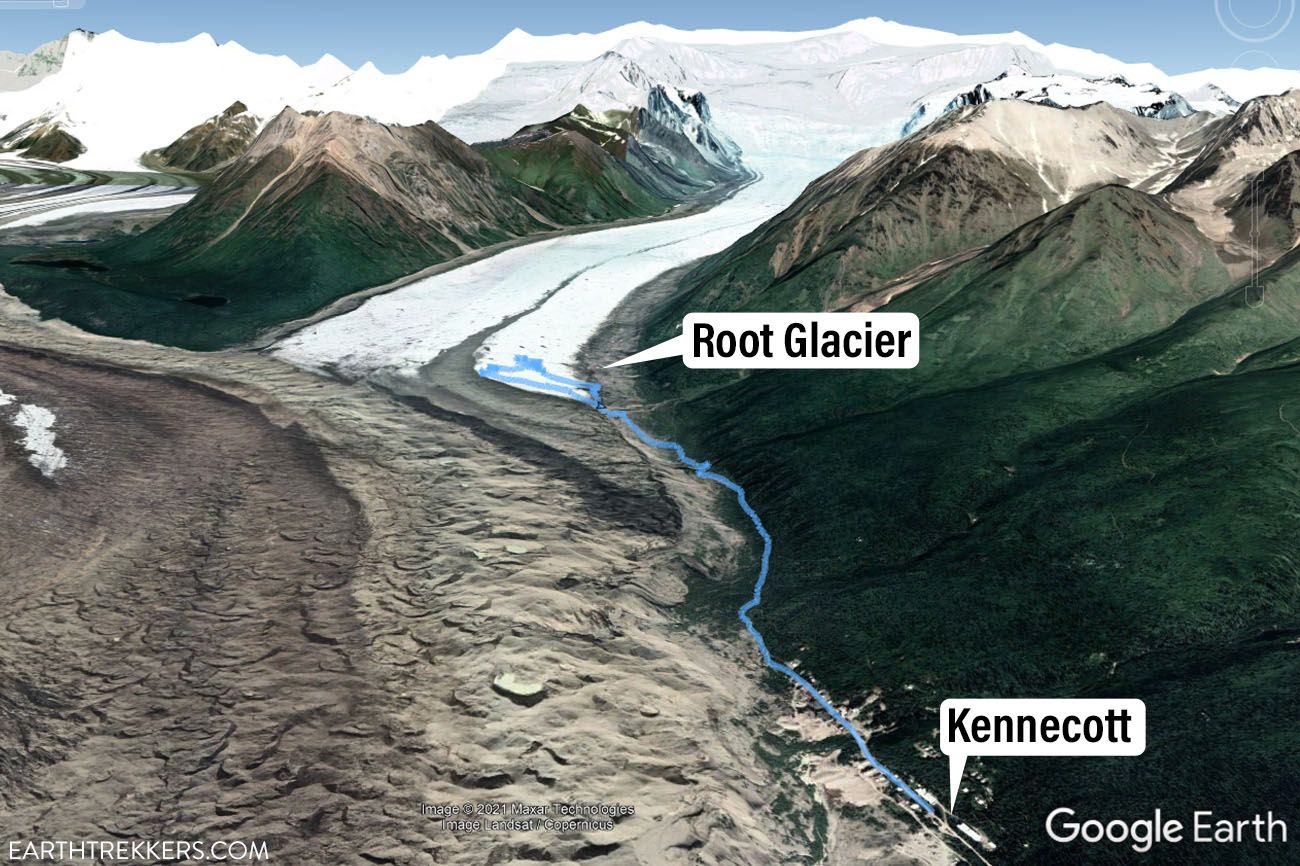 Overview of the route from Kennecott to the Root Glacier.
This is the elevation profile for the one-way hike from Kennecott to the Root Glacier. It does not include any hiking on the Root Glacier. To return to Kennecott, you will follow this graph in reverse.
Hiking Stats on the Root Glacier
These are the stats for the hiking that we did on the Root Glacier. This can vary based on the tour guide and activity level of your group.
Distance: 2.2 miles round trip
Difficulty: Easy to moderate
Total Ascent: 670 feet
Length of Time: 3 hours
This adds up to 7 miles and 1,500 feet of total ascent over the entire hike. Our total time, including getting outfitted with crampons prior to the hike, was 6 hours.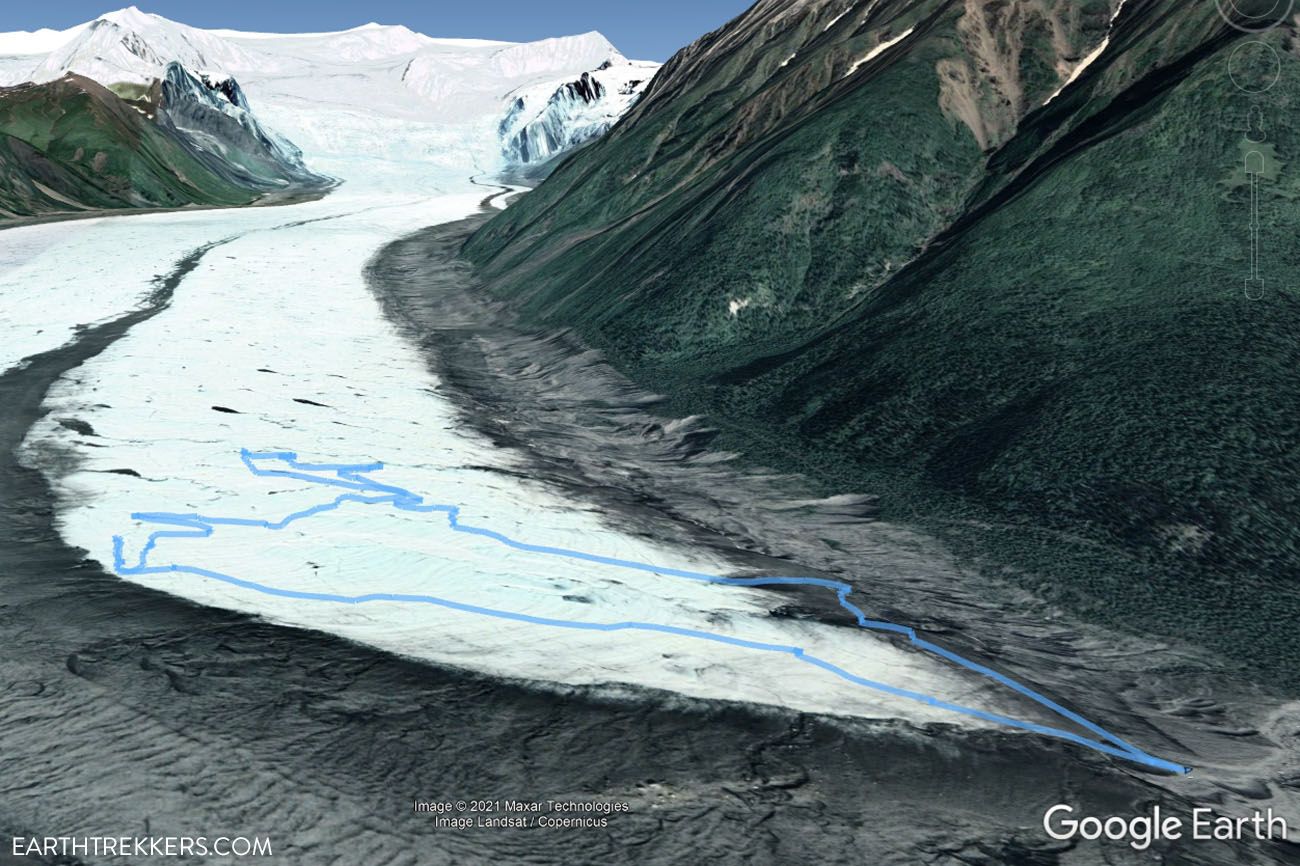 Our hiking route on the Root Glacier. This will vary based on your guide and your group.

Elevation profile for our hike on the Root Glacier.
Root Glacier Trail Guides
There are two guiding companies that lead tours out onto the Root Glacier: St. Elias Alpine Guides and Kennicott Wilderness Guides.
We used St. Elias Alpine Guides and highly recommend them. From start to finish, the guides and the staff were friendly, knowledgeable, and very professional.
We took their half-day glacier hike tour, which includes the hike out to the glacier plus several hours hiking on the glacier. You can turn this into a full day experience by spending more time on the glacier or adding on a visit to an ice cave. They also offer ice climbing on the Root Glacier. We went ice climbing in Kenai Fjords National Park and it is awesome! The Root Glacier would be a great place to do this, too.
To see more of what St. Elias Alpine Guides has to offer, plus pricing and links to reserve your tour, click here to visit their website.
Kennicott Wilderness Guides also offer half and full day tours on the Root Glacier, as well as ice climbing. Since we did not use them, I can't speak about their services from experience, but they also get great reviews. Click here to visit their website.
By the way, both of these companies offer many more guided tours than just a hike on Root Glacier. You can also hike to Bonanza Mine with a guide or take your pick from backcountry multi-day experiences.
How to Hike the Root Glacier Trail
Step-By-Step Trail Guide
The Trailhead
The Root Glacier Trail starts at the Kennecott Mill Town. Follow the road in front of the Kennicott Glacier Lodge towards the Kennecott Mill and the road will eventually turn into a trail. If you are doing this with a guide, your hike will start at their check-in location, which will most likely be located across from the Kennicott Glacier Lodge. Our hiking stats start from there.
Before setting off on your hike, you will meet your guide and they will get you fitted with crampons.
From Kennecott, the trail heads north, away from the mill and the town.
On the Root Glacier Trail
It is a mostly flat 2.4 mile hike to get out to the Root Glacier. This walk is along a dirt trail and there is not much to look at, as you are mostly in the trees. Bring along insect repellent, because mosquitoes can be an issue for this part of the hike. But once out on the glacier, the air is wonderfully mosquito free.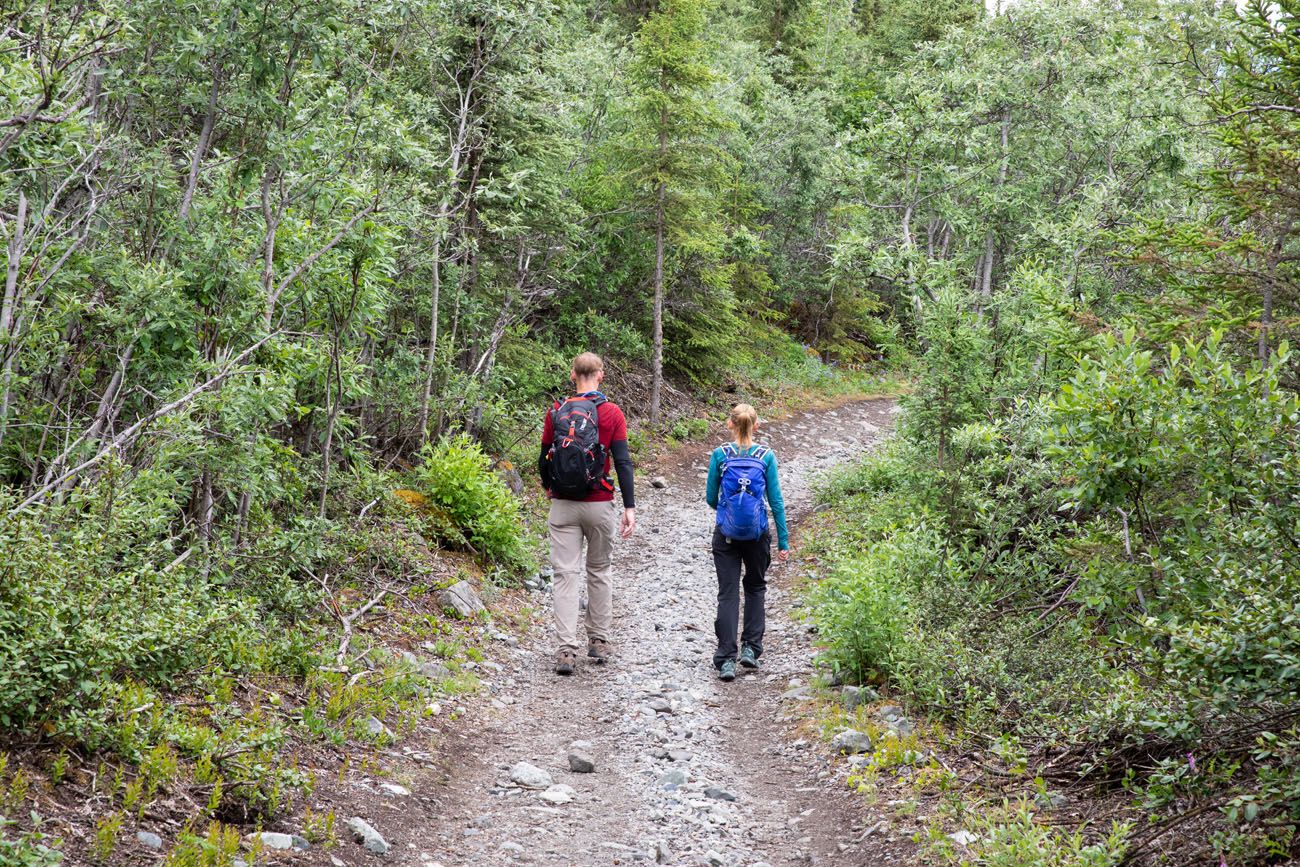 There will be two creek crossings along the trail, but there are small foot bridges for both of them.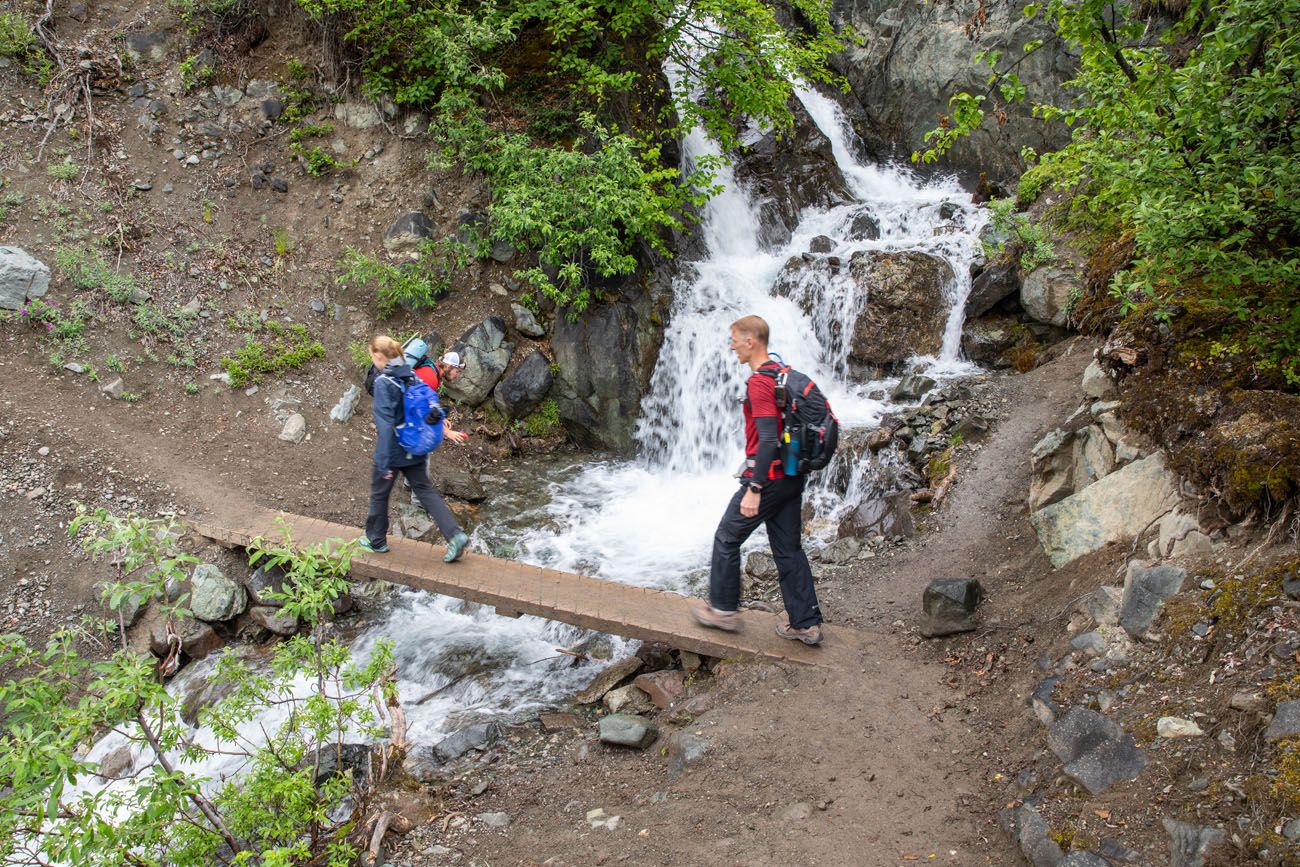 Jumbo Creek
Once you cross Jumbo Creek, you will take the spur trail to the left to reach the Root Glacier. If you go straight here, the trail continues up to the Erie Mines.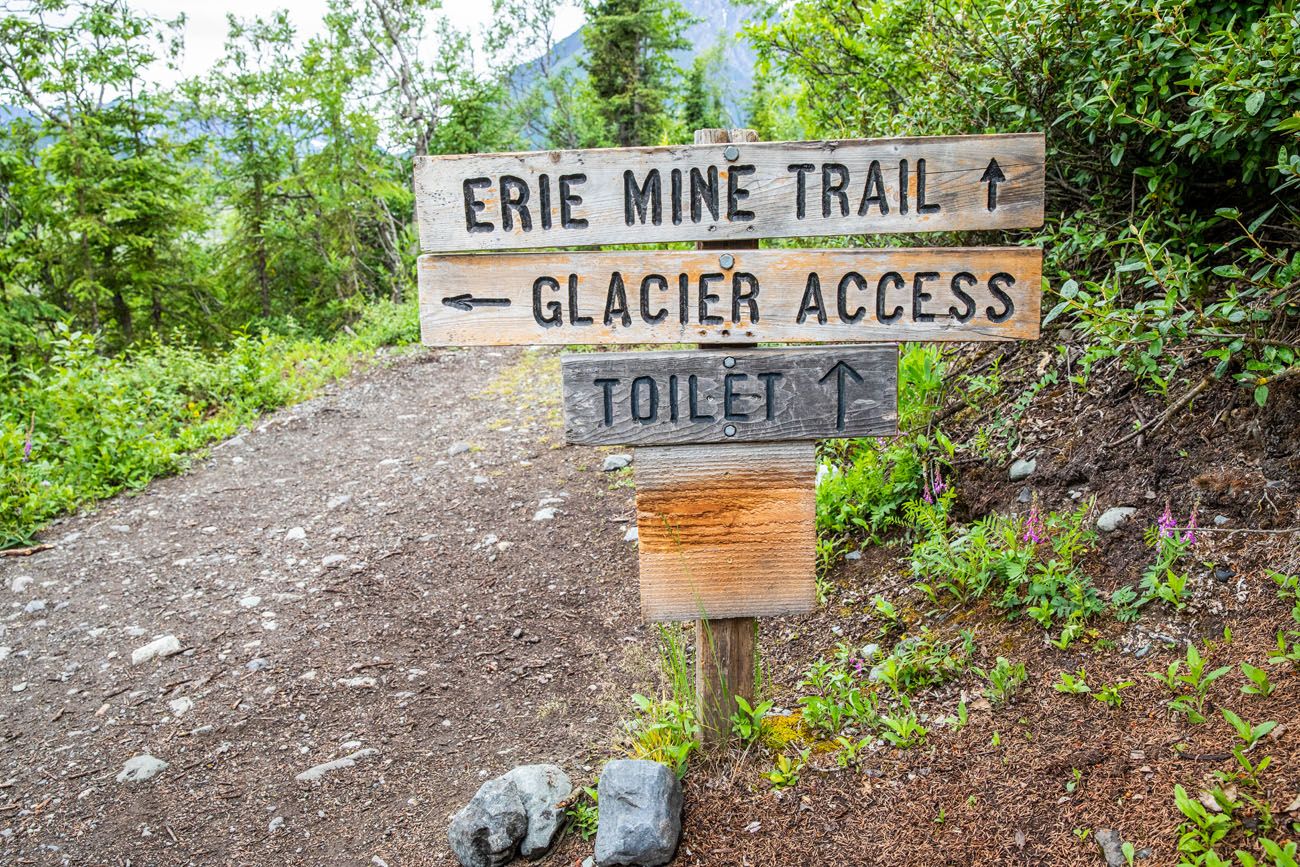 Once on the spur trail, it's a downhill walk to the Root Glacier. The view from this part of the trail is awesome. In front of you is the Root Glacier and Donoho Peak. At this point, you are walking a loose, gravelly trail. This is the lateral moraine of the Root Glacier.
As the Root Glacier recedes, this part of the hike will get slightly longer each year. We did this hike in 2021.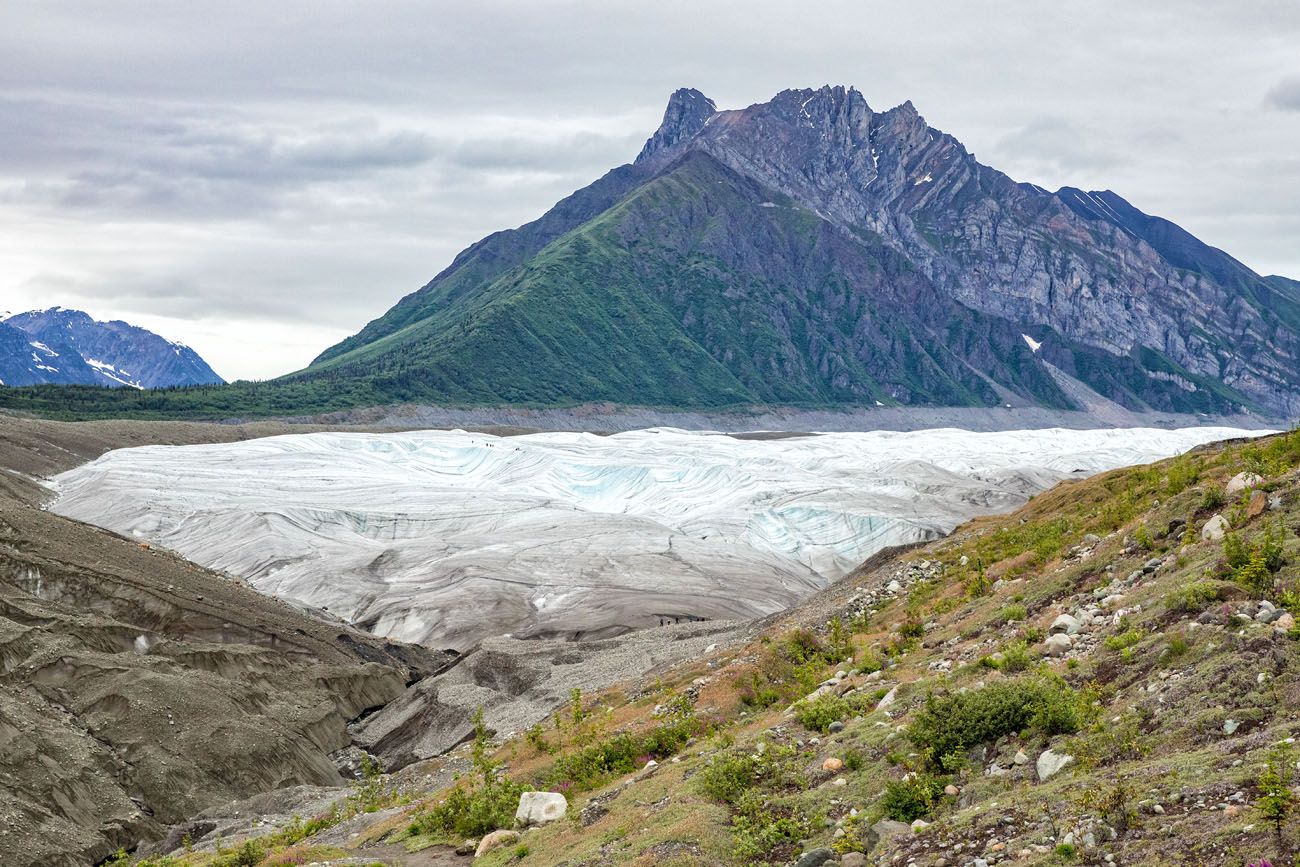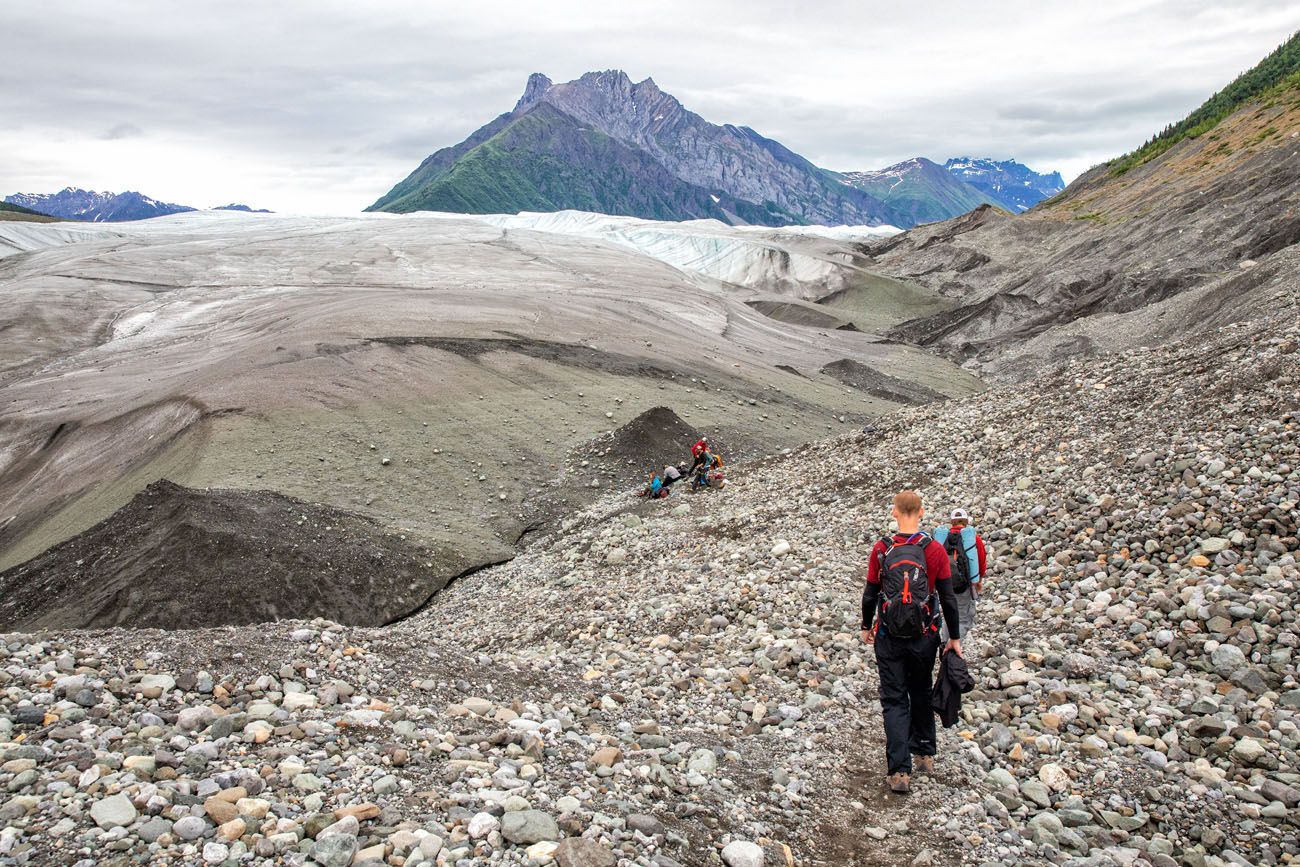 On the Root Glacier
Once you get to the glacier face, you will put on your crampons and receive a safety briefing from your guide, if you are doing this as a tour.
Then the fun begins!
There are no set trails on the glacier. The Root Glacier is constantly changing, which is part of its beauty, and its danger.
Our guide, Jake, led our small group around the glacier for 3 hours. We hiked past blue pools of water, crevasses, and small canyons made of blue ice. We also got to see several moulins, giant holes in the glacier that have been formed by the flowing water.
Not too far off in the distance is the Stairway Icefall, the second largest icefall in the world. The Khumbu Icefall in Nepal is the world's largest.
Since there is no set trail, our small group could decide where we wanted to go. We got lucky in that we had a very active group, so we hiked all over the glacier.
Here are photos from our hike on the Root Glacier.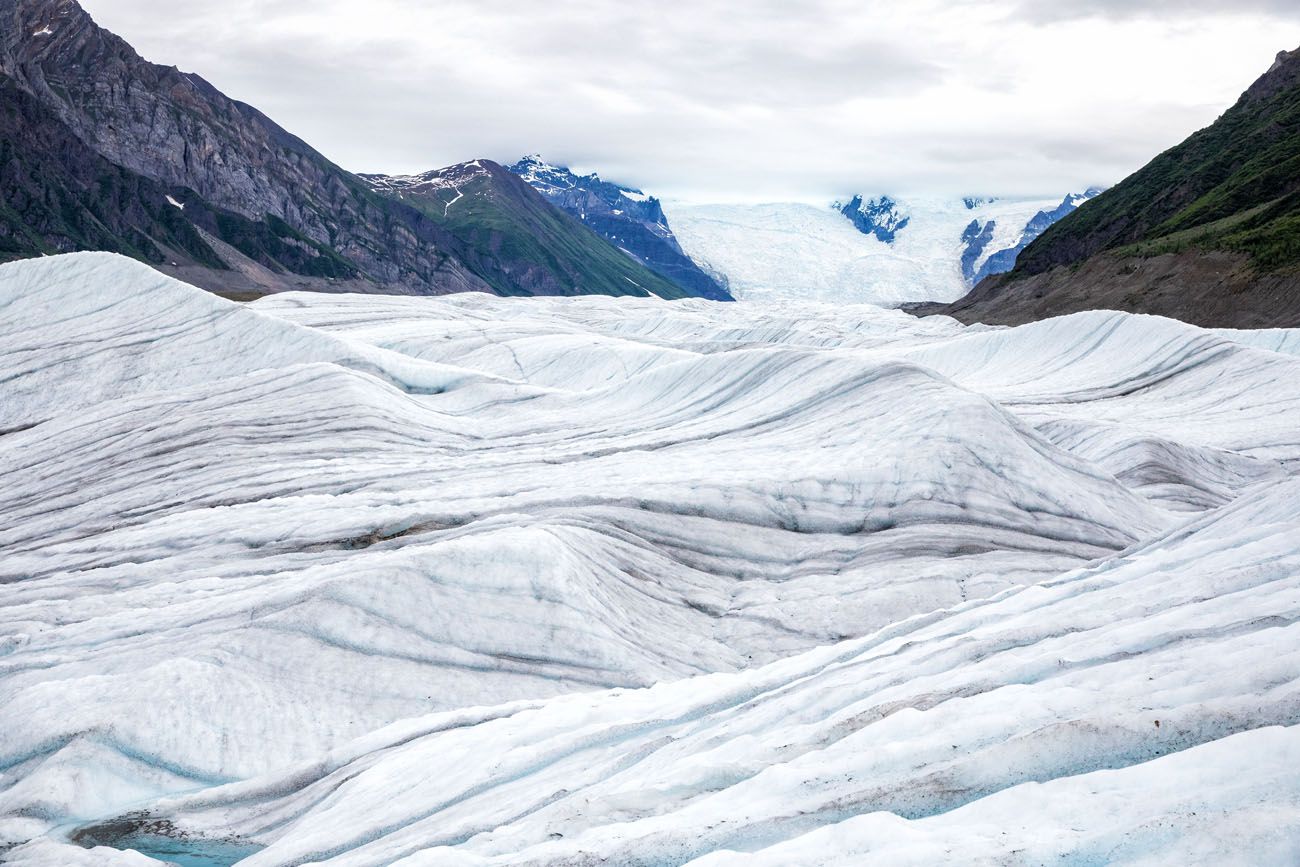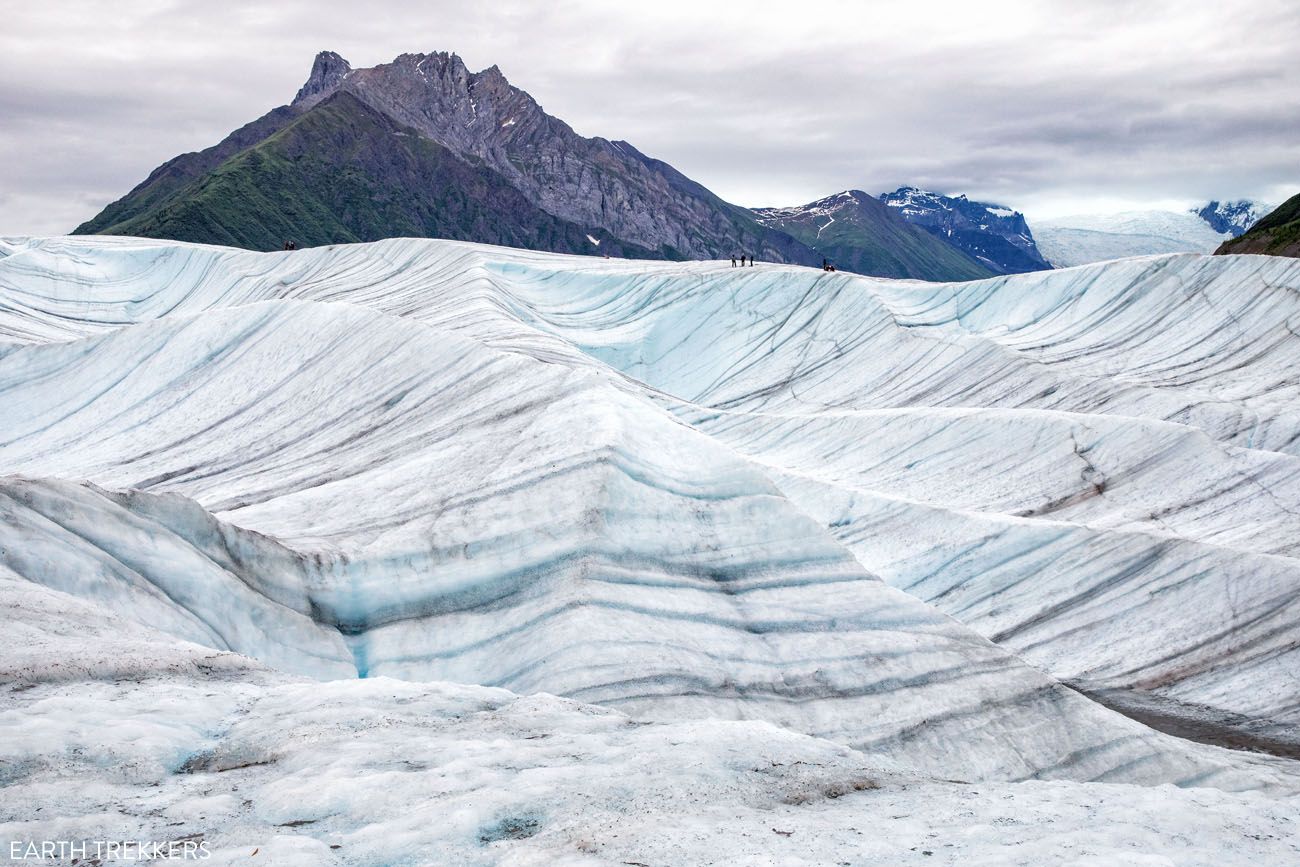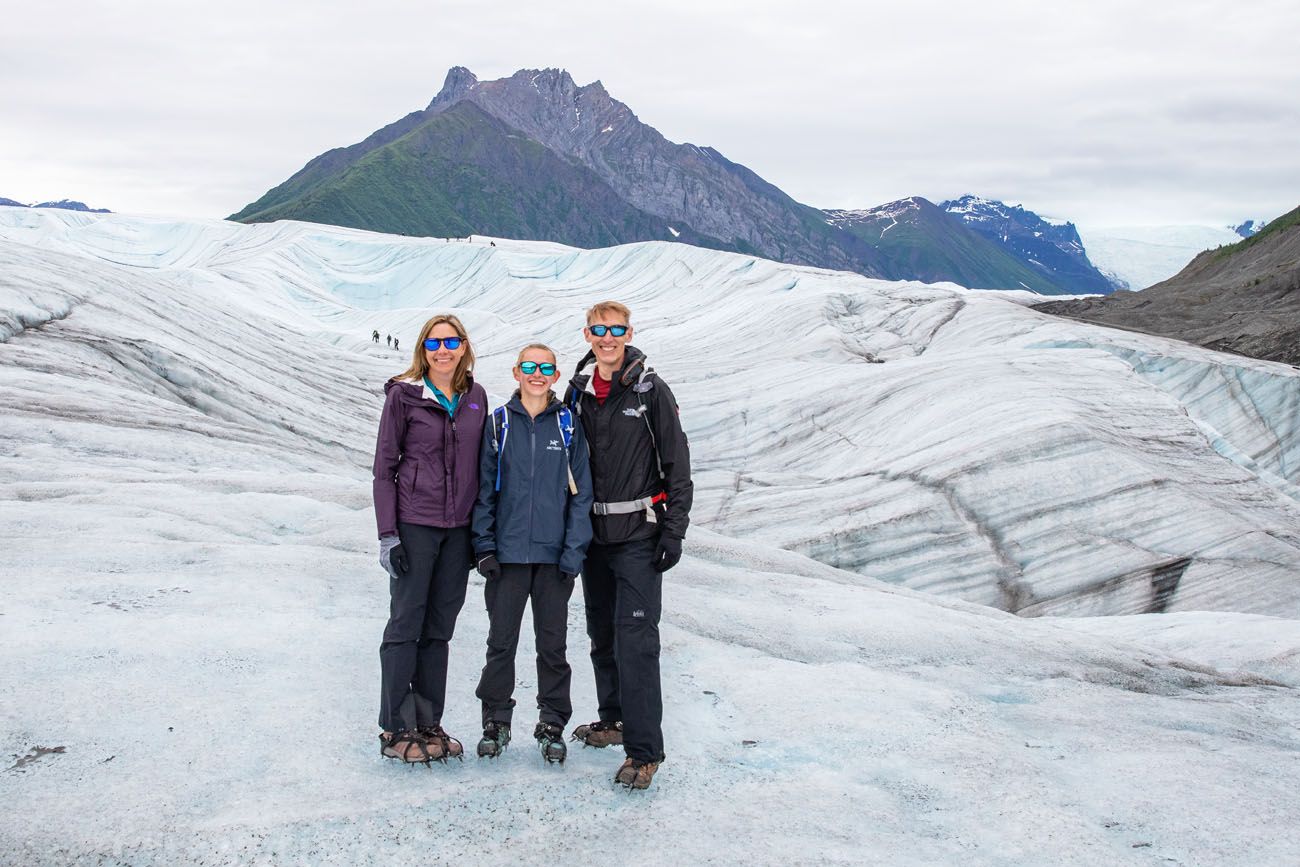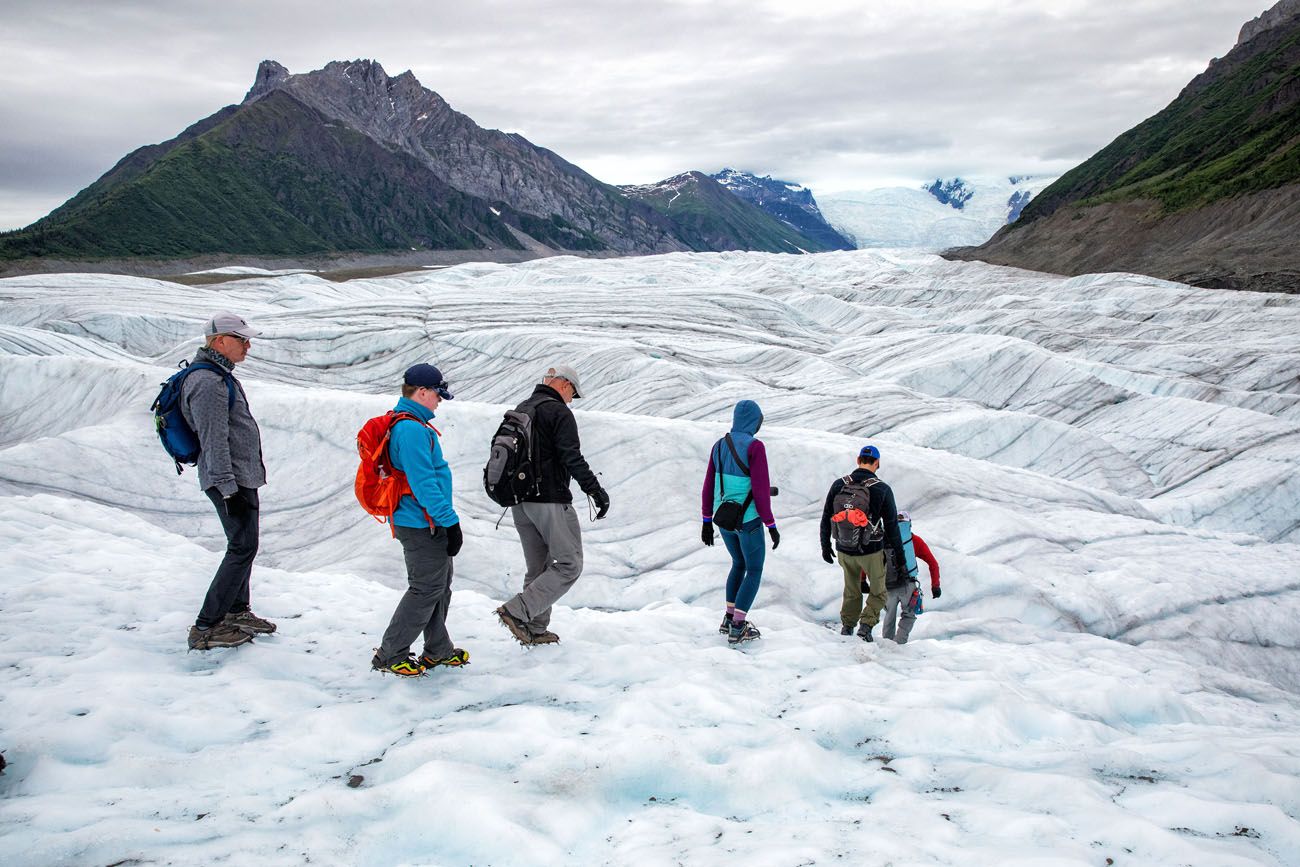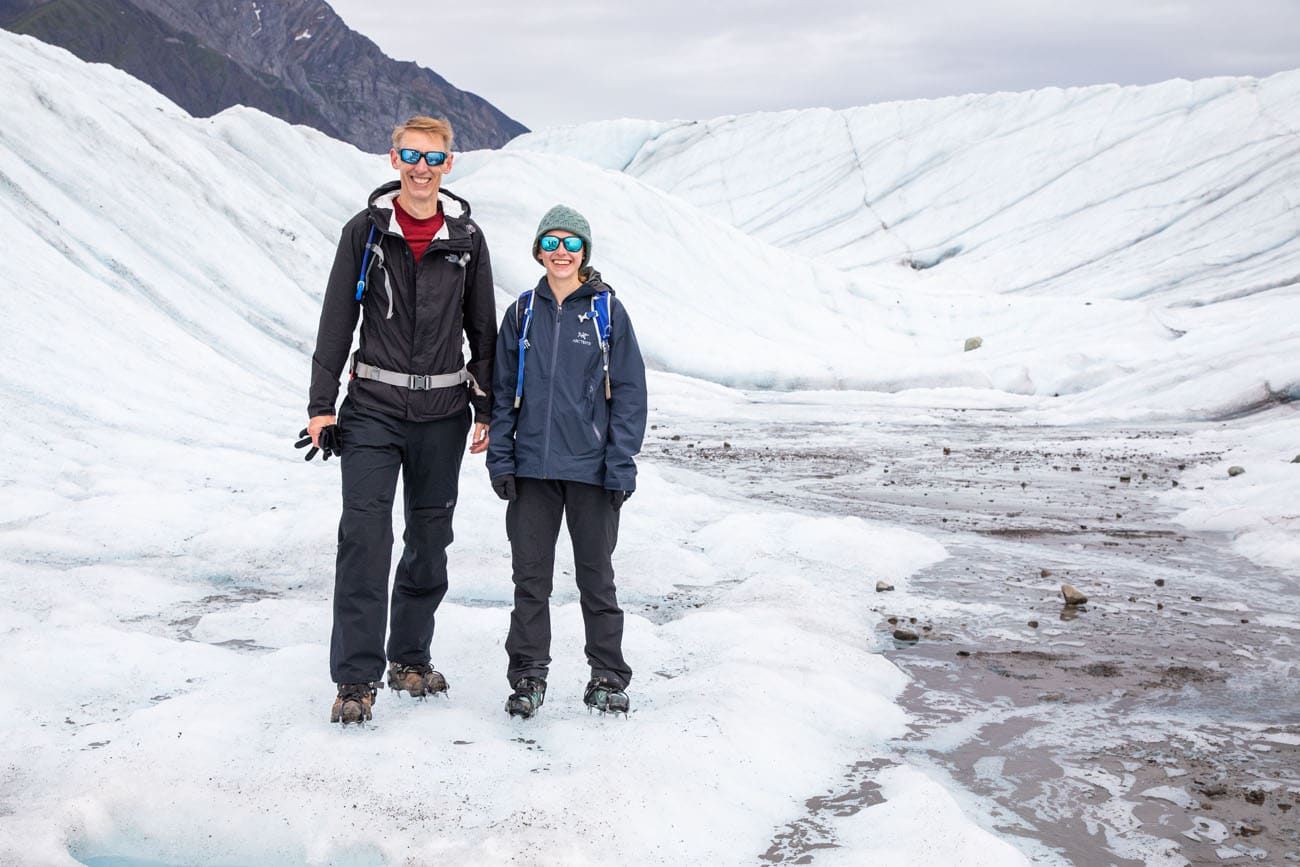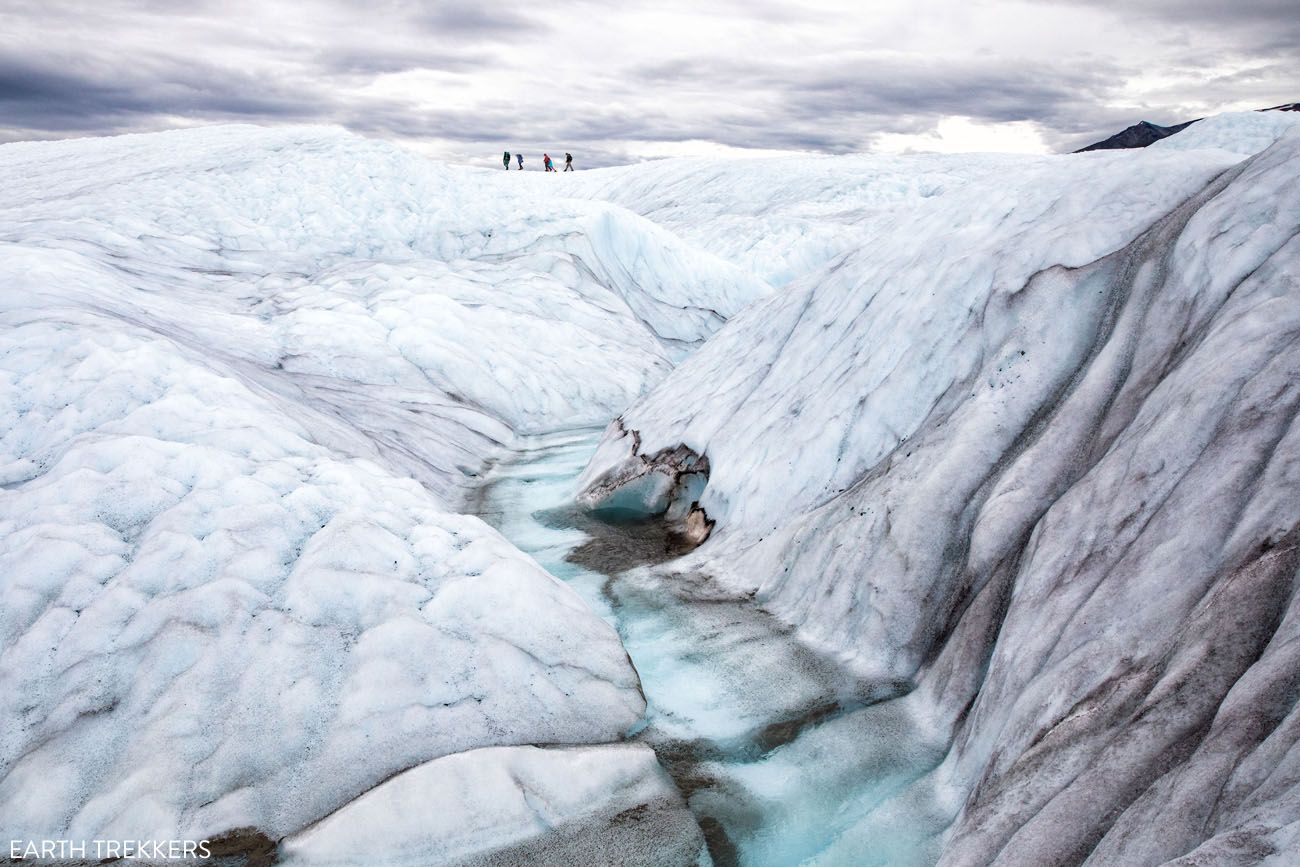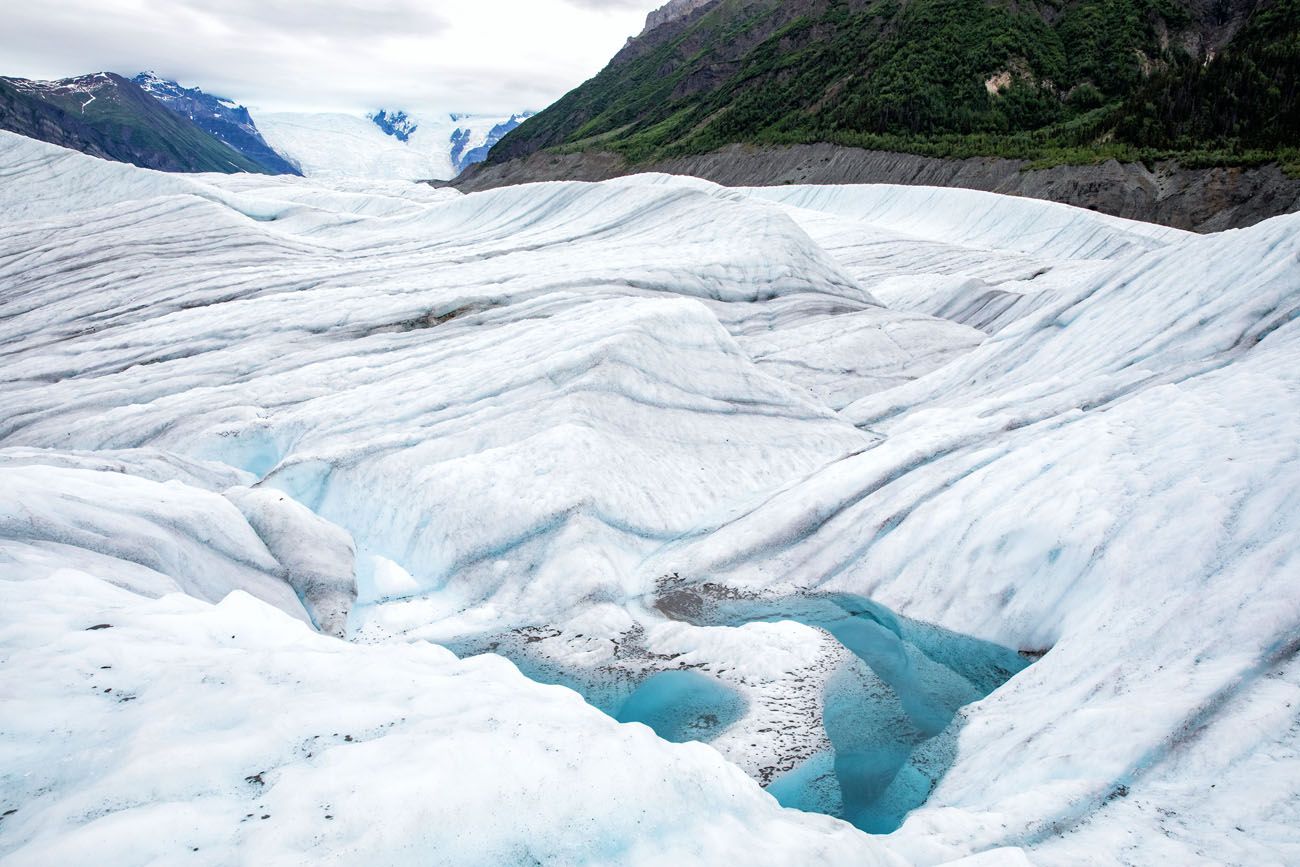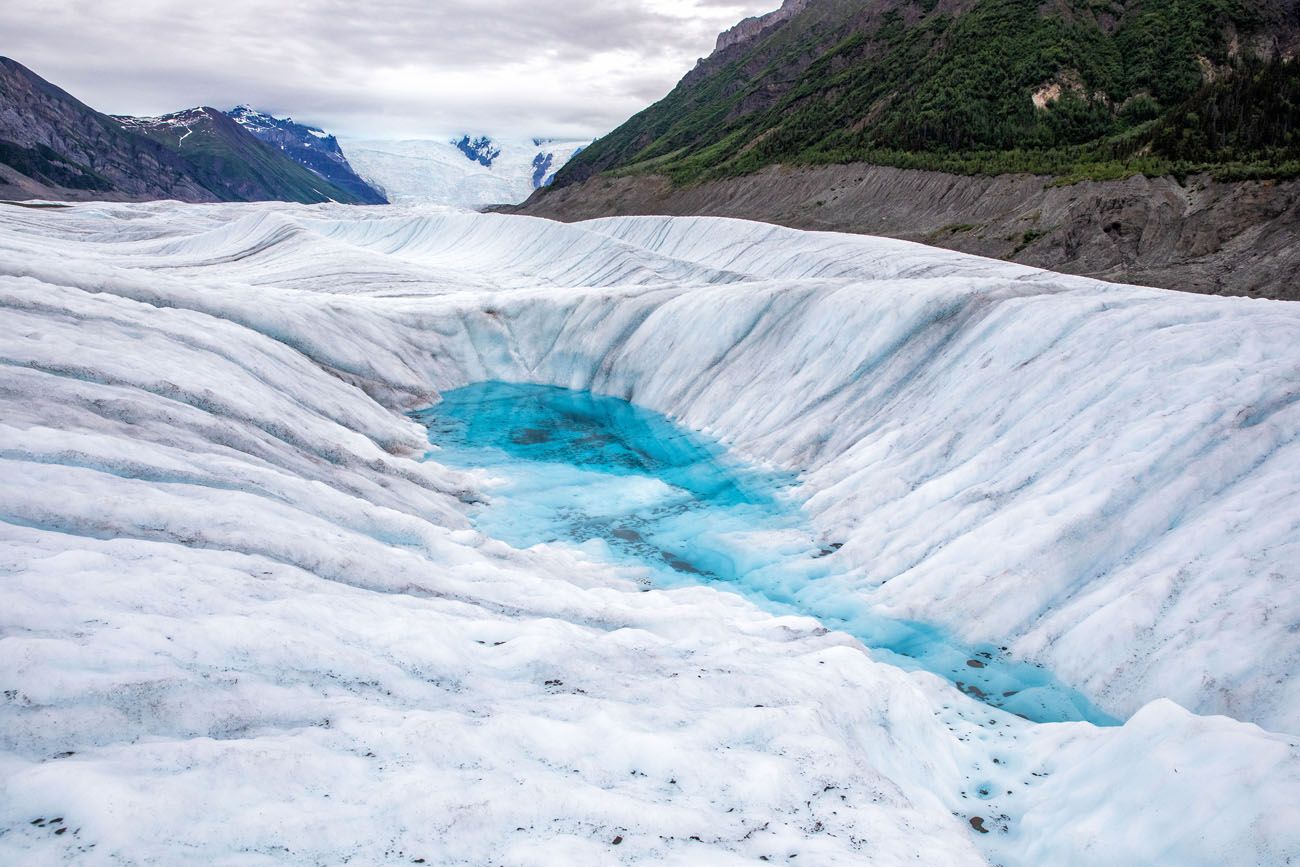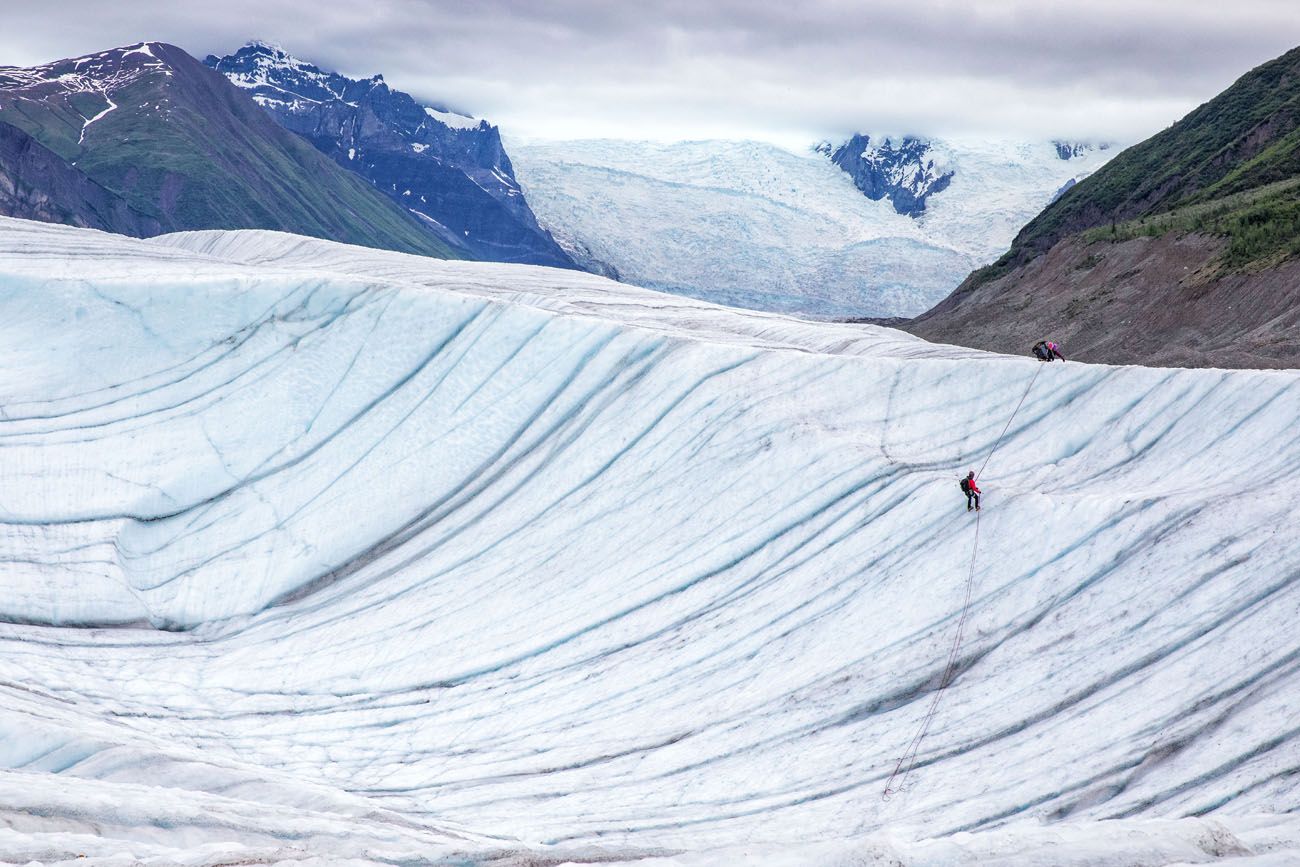 People ice climbing on the Root Glacier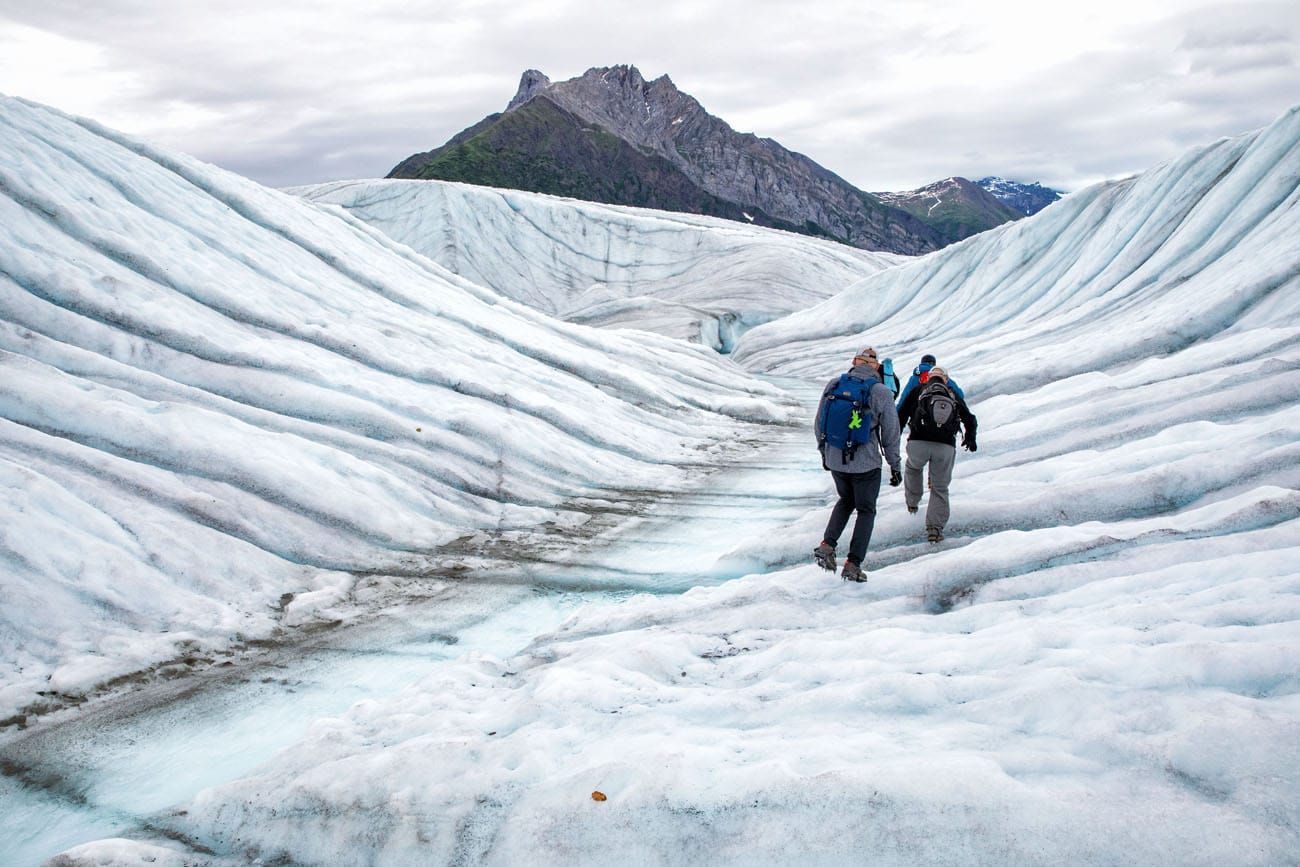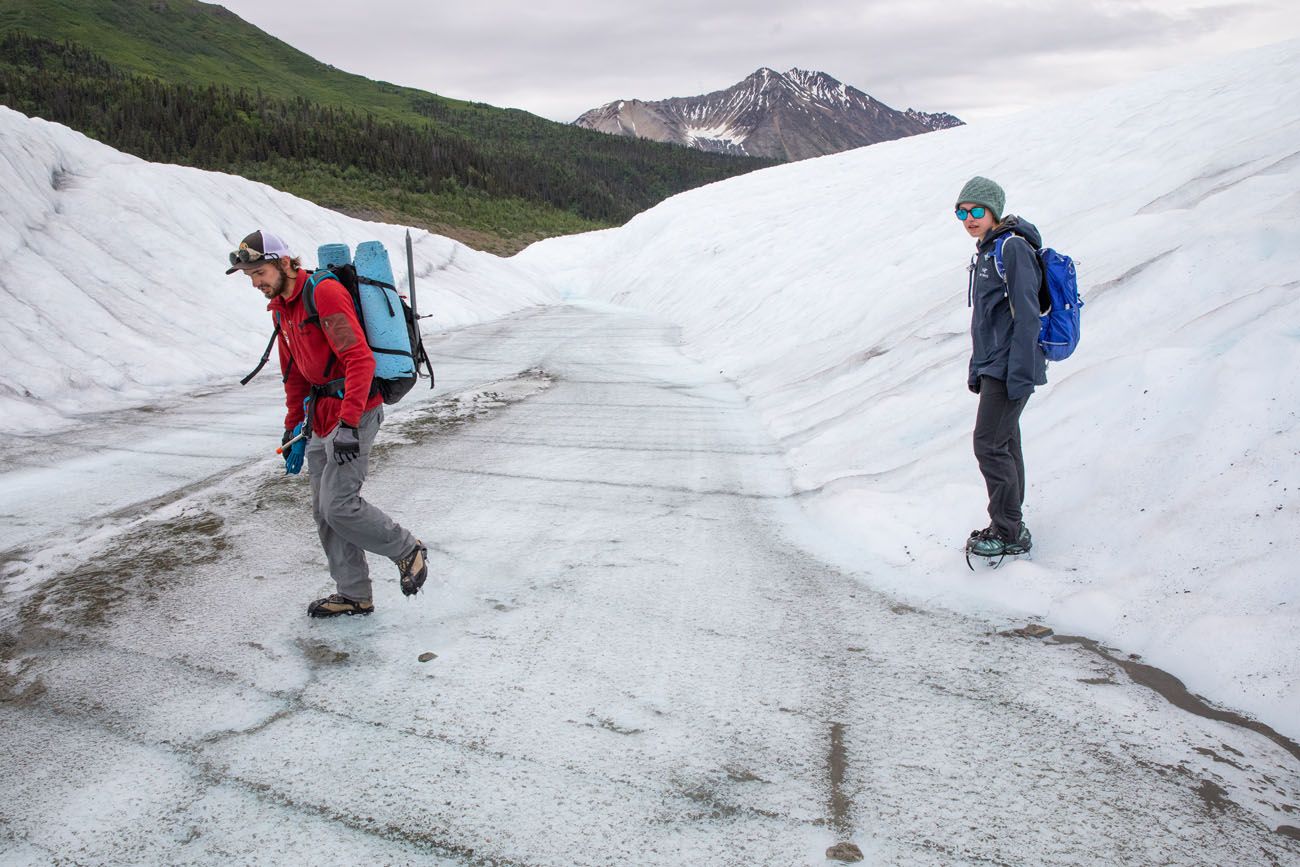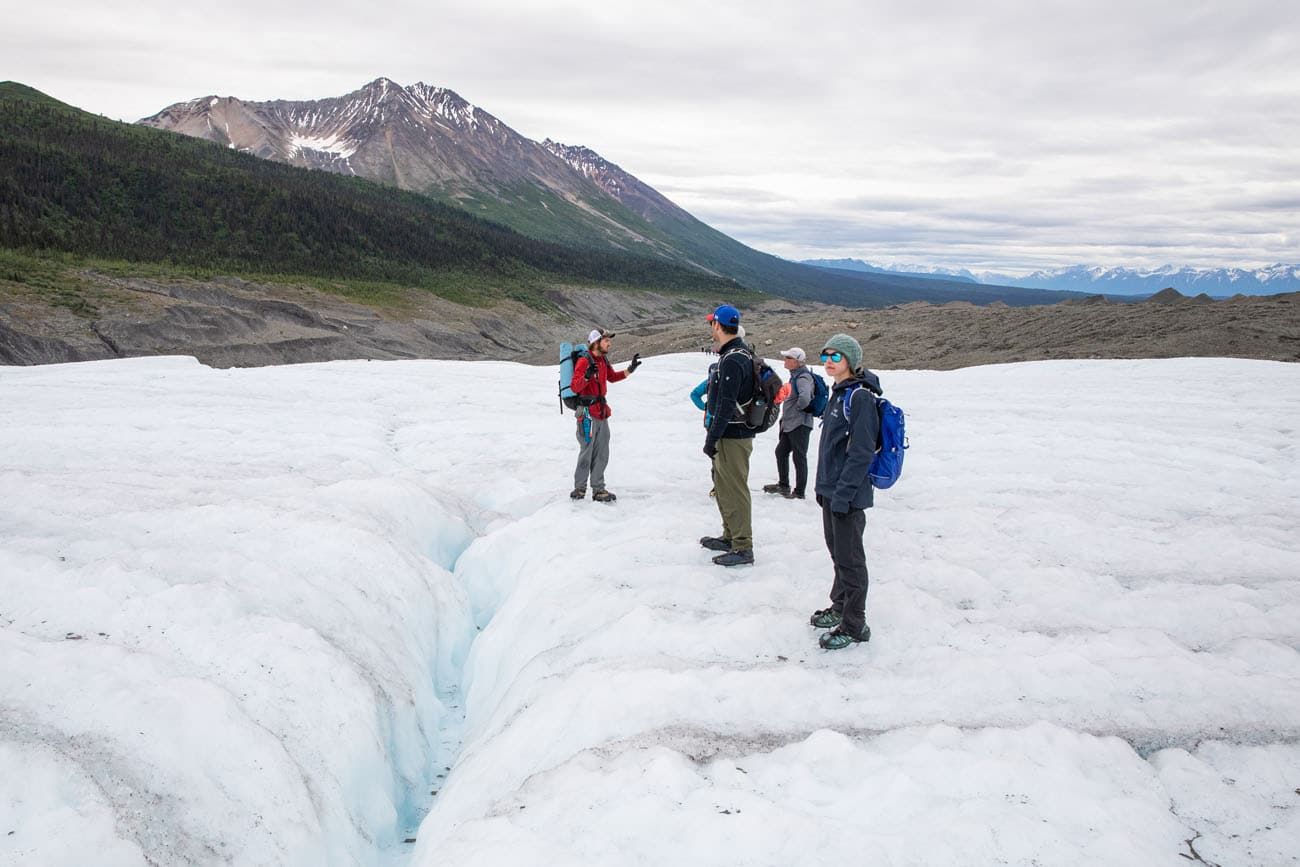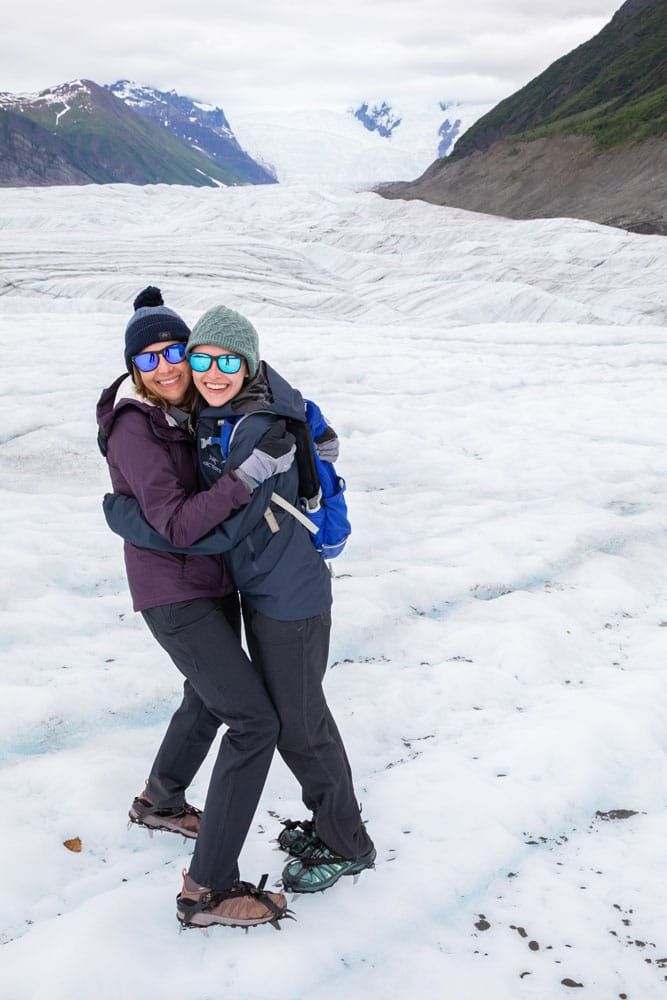 It's also really cool hiking onto the lateral moraine and looking back at the immense wall of ice.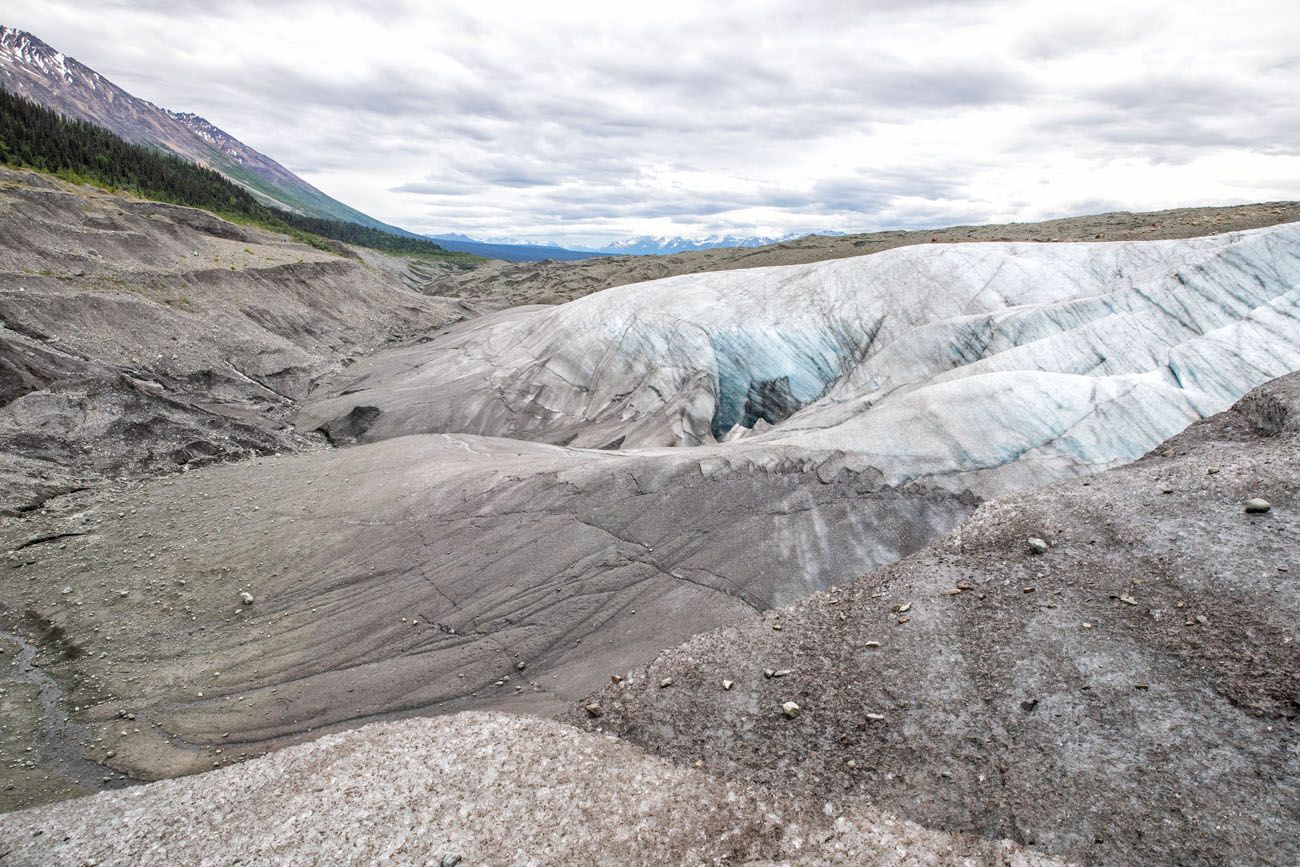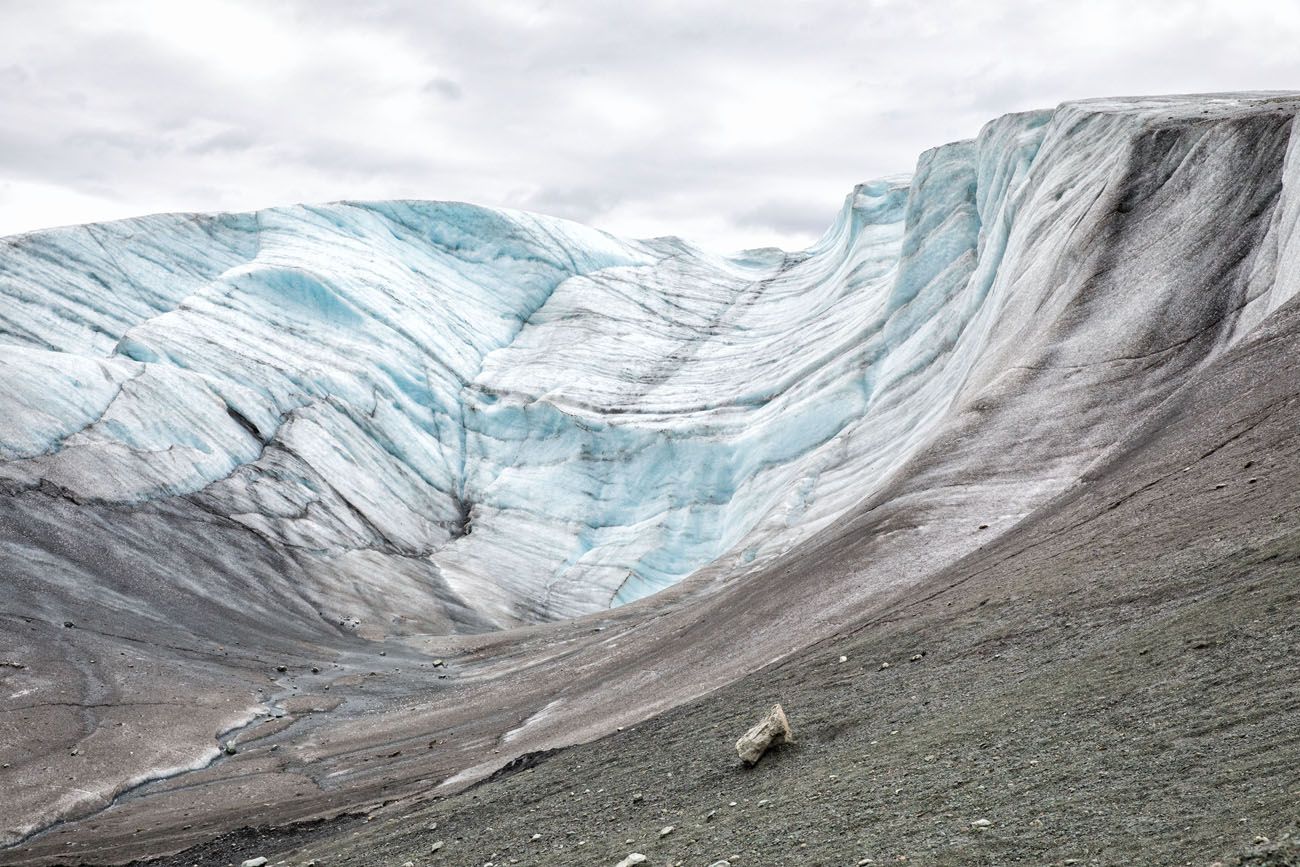 After the three hours on the glacier, we stepped off the ice, removed our crampons, and walked back to Kennecott.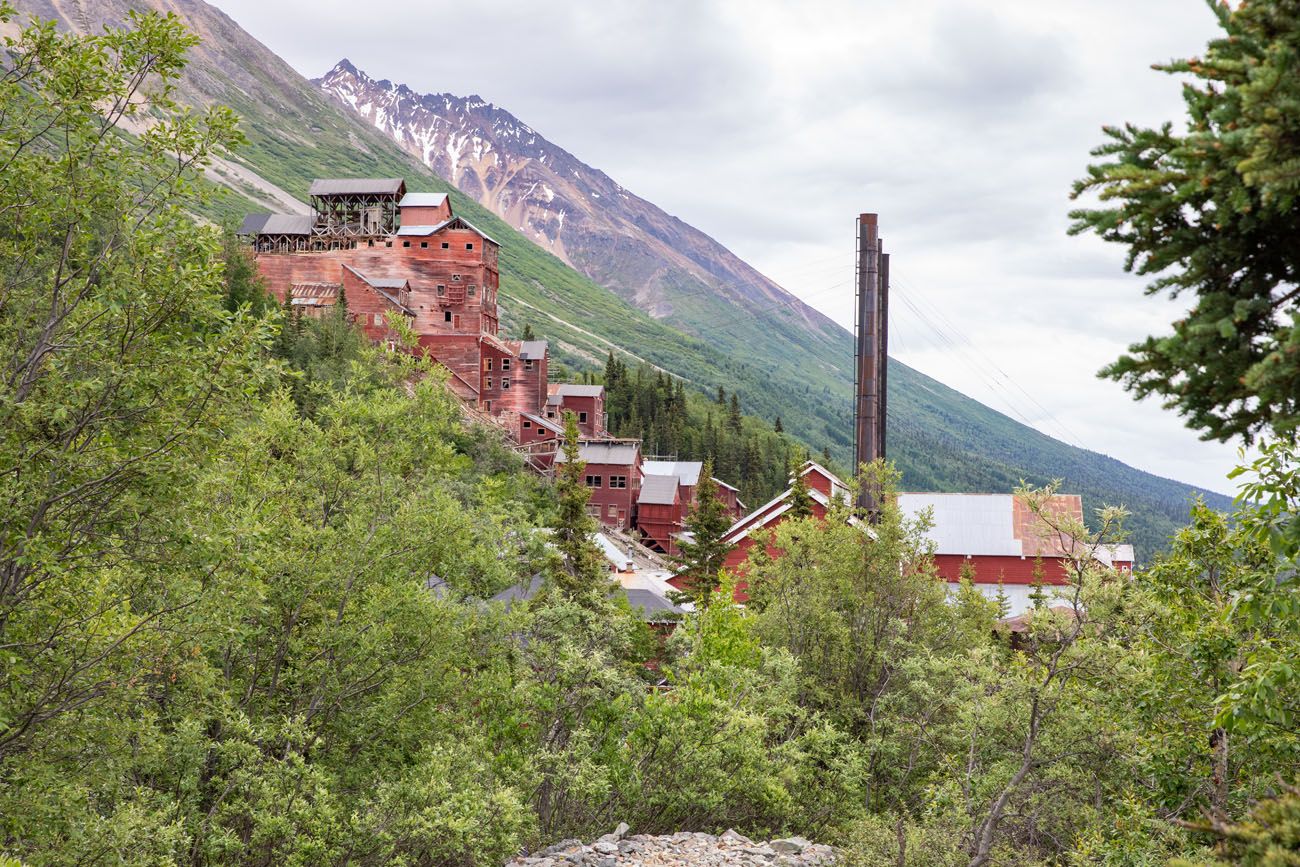 On the walk back to Kennecott, keep an eye for a lookout from the trail where you can get this view of the mill.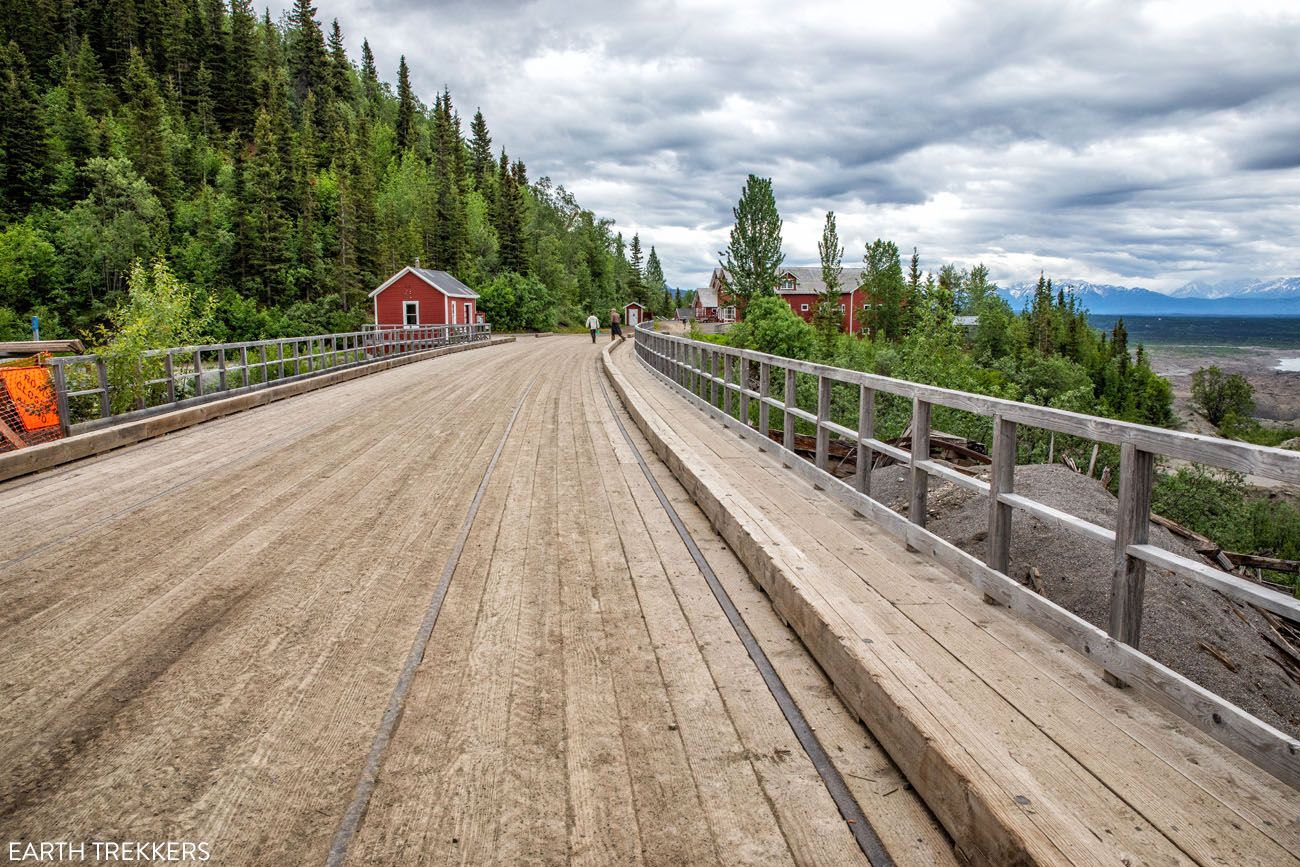 In total, this tour took six hours. A half hour to meet our guides and get fitted with crampons, just over one hour to walk the Root Glacier Trail to the Root Glacier, 3 hours on the ice, and a 70 minute walk back to Kennecott.
What to Bring on the Root Glacier Hike
We did this hike on June 28, 2021. As you can see from our photos, it was an overcast day. It was very chilly and we wore lots of layers to stay warm. But if the sun is out, it can feel much warmer.
At first, I was disappointed to have such a cloudy day. But our guide, Jake, told us that cloudy days are preferable. You can see the colors of the glacier better on a cloudy day, and you won't have as much sun glare.
Here are things to bring on the Root Glacier hike:
Sunglasses.

These are absolutely necessary. A lot of light reflects off of the Root Glacier, even on cloudy days.

Lots of layers.

It is much colder on the glacier than in Kennecott. We wore a long sleeve shirt, a short-sleeved shirt, and a rain jacket. Kara and I wore water resistant pants by Kuhl. Tim wore a pair of waterproof pants over his hiking pants.

Waterproof pants.

To keep you dry if it is raining. We used these a lot in Alaska.

Hat and gloves

Two pairs of socks

Sunblock.

Make sure you put it on under your chin because of the light reflecting off of the glacier.

Hiking boots.

These have a sturdy sole and work well with the crampons. Tennis shoes are just OK but because of their flexibility, might pop out of the crampons occasionally. We hiked across a few streams on the glacier and waterproof hiking shoes or boots will also help keep your feet dry.

Water bottle.

You can fill it up in the glacial streams as you hike on the glacier.

Lunch and snacks

Camera

Mosquito repellent

Day pack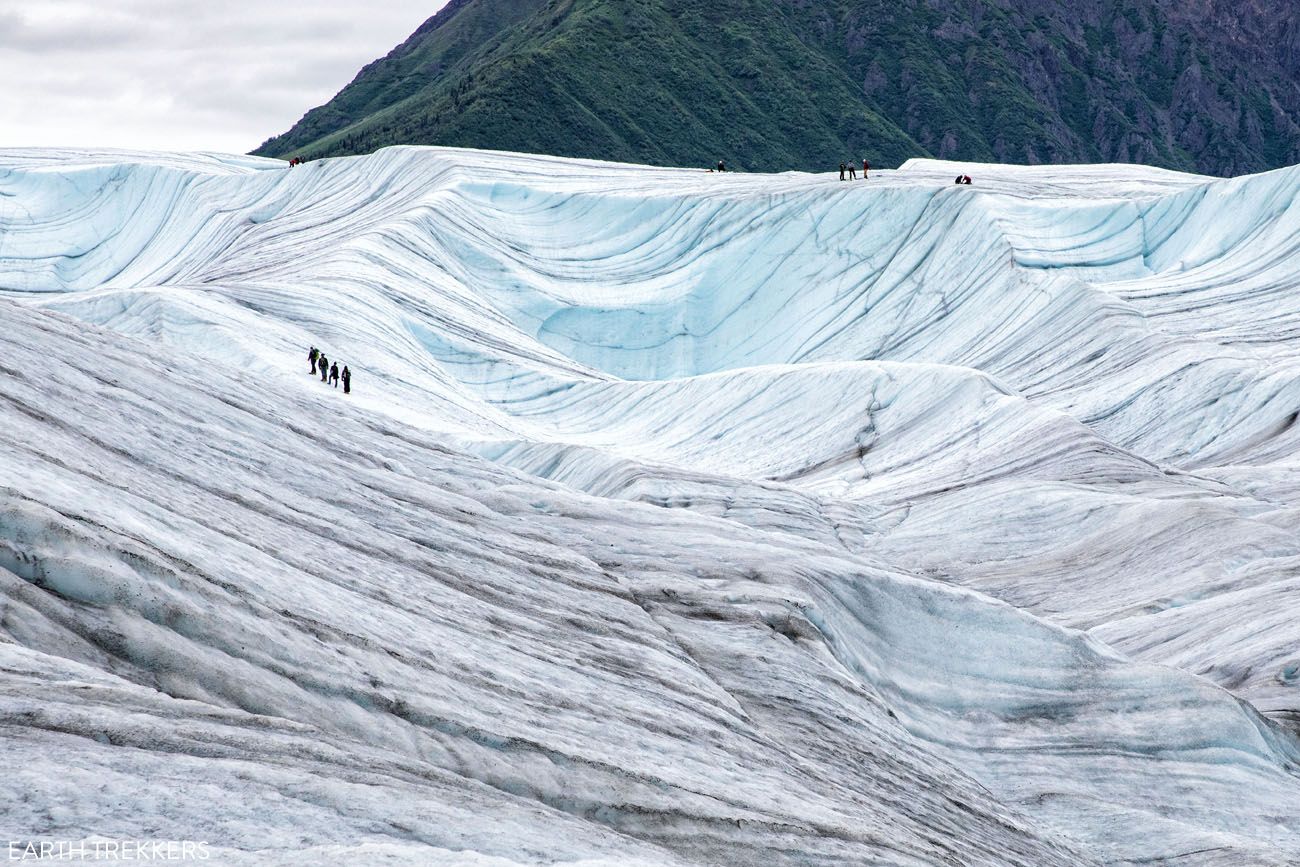 Things to Know Before You Go
Unless you have lots of experience glacier hiking, you should only hike on Root Glacier with a guide.
Guided hikes are offered from the end of May through early September.
Along the trail from Kennecott to the Root Glacier, both moose and bear sightings are common. Make noise and stay alert. Bear can sometimes also be seen on the Root Glacier.
Bring more layers than you think you will need. It can be cold on the Root Glacier and you can always take off layers and stuff them into your day pack.
---
If you have any questions about how to hike the Root Glacier Trail, or if you want to share your experience, let us know in the comment section below.
More Information about Alaska
BEST OF WRANGELL-ST. ELIAS: While in Wrangell-St. Elias, more top experiences include taking a flightseeing tour and hiking to Bonanza Mine. For the full list, read our article Best Things to Do in Wrangell-St. Elias. We also have more important planning information in our Wrangell-St. Elias Travel Guide.
KENAI FJORDS NATIONAL PARK: Check out our Kenai Fjords National Park Travel Guide for important travel planning tips, sample itineraries, advice on when to go, where to stay, and more.
DRIVING IN ALASKA: The Seward Highway connects Anchorage and Seward is one of the most popular scenic drives in Alaska. We also have a detailed guide to driving from Anchorage to Valdez, yet another amazing road trip.
COLUMBIA GLACIER: The Columbia Glacier is one of the most active glaciers in the world and can be visited from Valdez. Learn how to see in our Guide to the Columbia Glacier.
BEST OF DENALI NATIONAL PARK: For a list of top experiences, read our article Best things to do in Denali National Park. We also have a guide to the best hikes in Denali.
NATIONAL PARKS: In our Guide to the US National Parks, get the full list of national parks with important travel planning information, such as things to do in the parks and sample itineraries.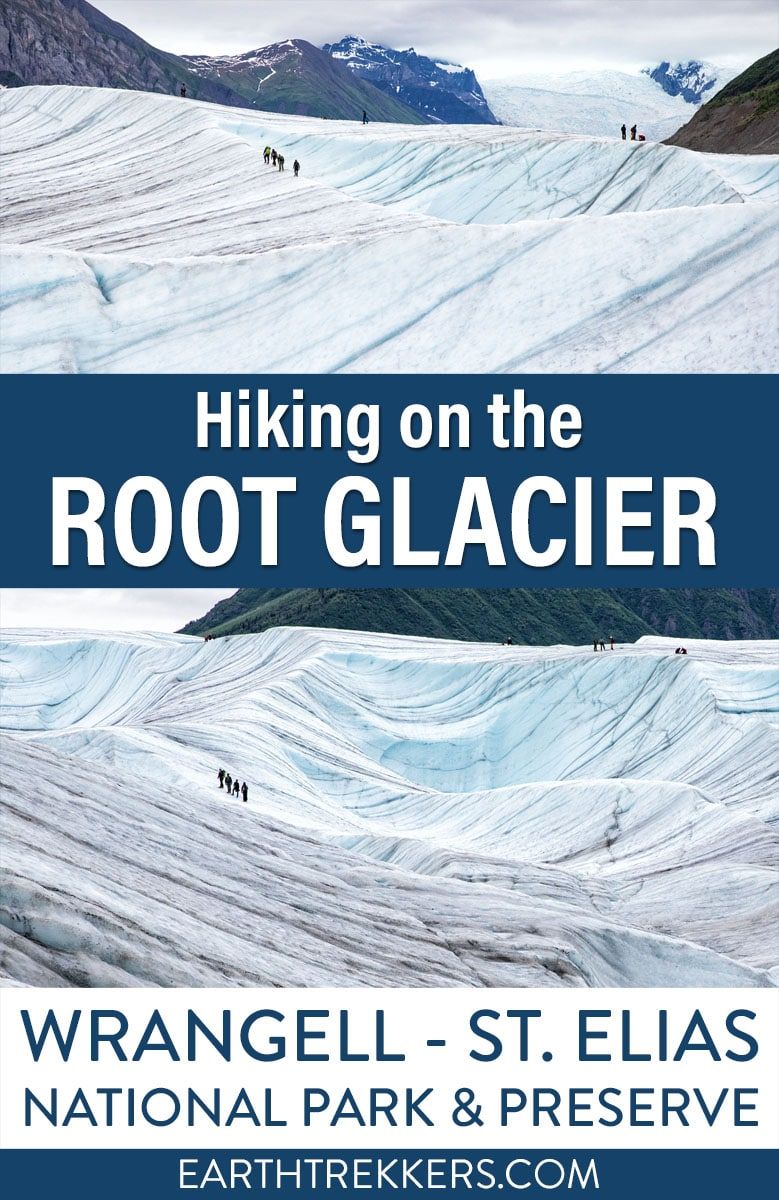 All rights reserved © Earth Trekkers. Republishing this article and/or any of its contents (text, photography, etc.), in whole or in part, is strictly prohibited.