The Thirteen Glacier Flightseeing Tour is a 70-minute tour of Wrangell – St. Elias National Park & Preserve that is offered by Wrangell Mountain Air.
This flightseeing tour offers spectacular views of the Wrangell Mountains. On this tour, we flew over numerous glaciers, spotted Dall sheep clinging to the cliffs, soared over the Kennecott and Erie mines, and got close up views of the Stairway Icefall, Mount Regal, and Mount Blackburn. It was 70 minutes of awe inspiring views and one of our most memorable national park experiences.
Thirteen Glacier Flightseeing Tour in Photos
It is very hard to put into words just how awesome this experience is. Here are our photos from the flightseeing tour and these will do a much better job showing you the beauty of Wrangell – St. Elias National Park then my writing could ever do.
Our flightseeing adventure started at the tiny McCarthy Airport. We met Brendan, our pilot, who helped get us situated inside of the airplane. He gave us a quick safety briefing and then we were on our way.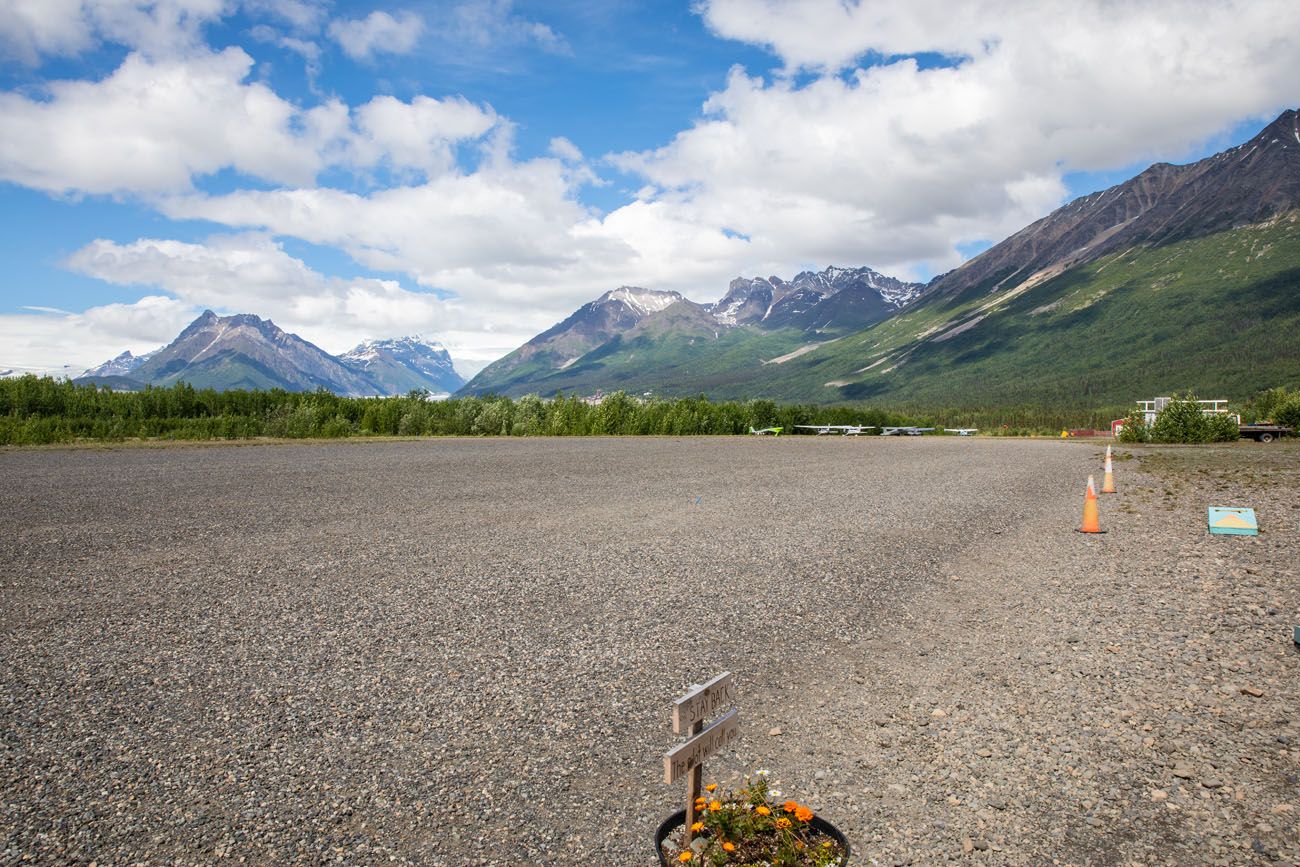 McCarthy Airport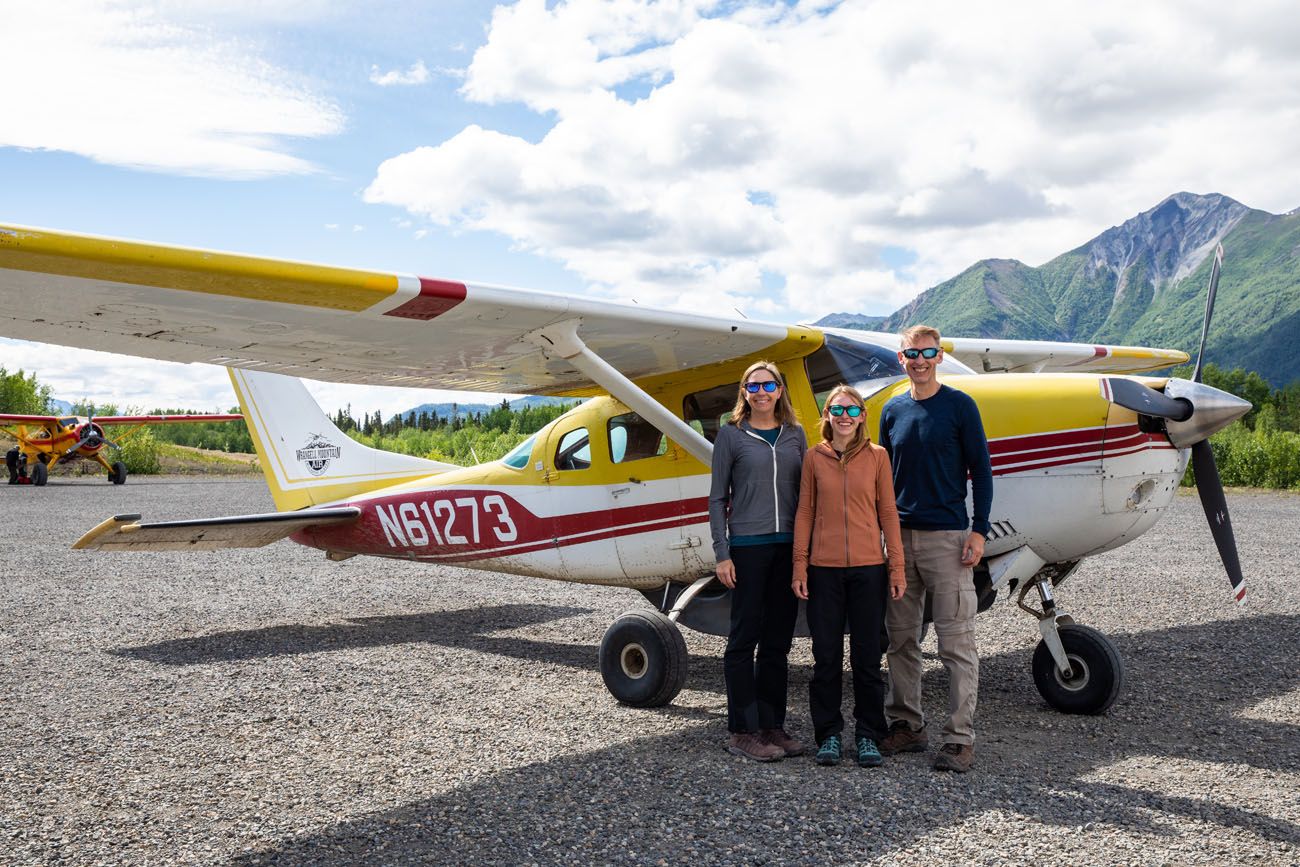 Take off was exhilarating. Immediately we were treated to awesome views over McCarthy and the McCarthy River.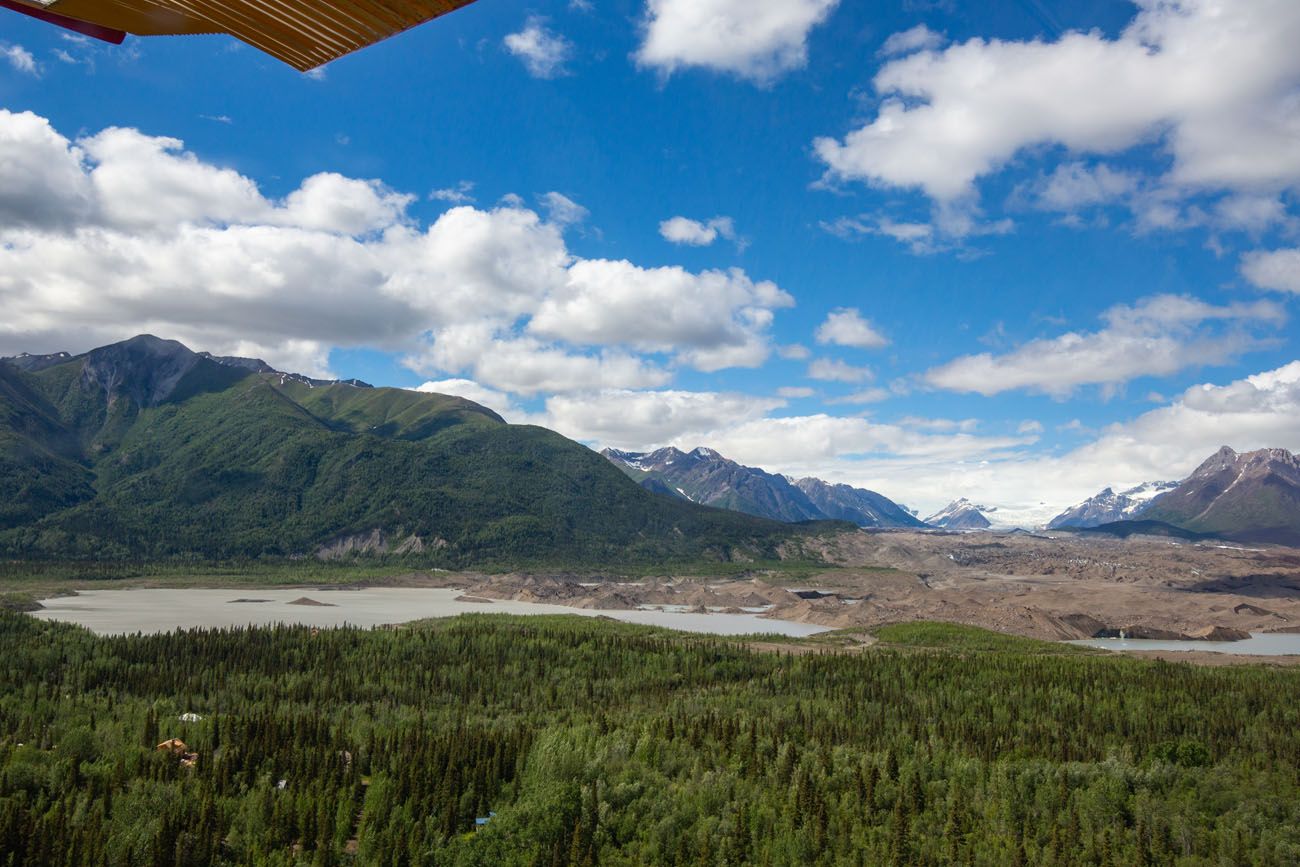 First views from the sky. Looking back to the Kennicott Glacier, McCarthy & Kennicott
For the next 70 minutes, Brendan pointed out rock glaciers, Dall sheep, mountains, glaciers, historical sights, and icefalls. It was a bit of a bumpy ride with small pockets of air turbulence, but nothing too bad. The bumping up and down of the plane sometimes made taking photos difficult, but that was also part of the fun.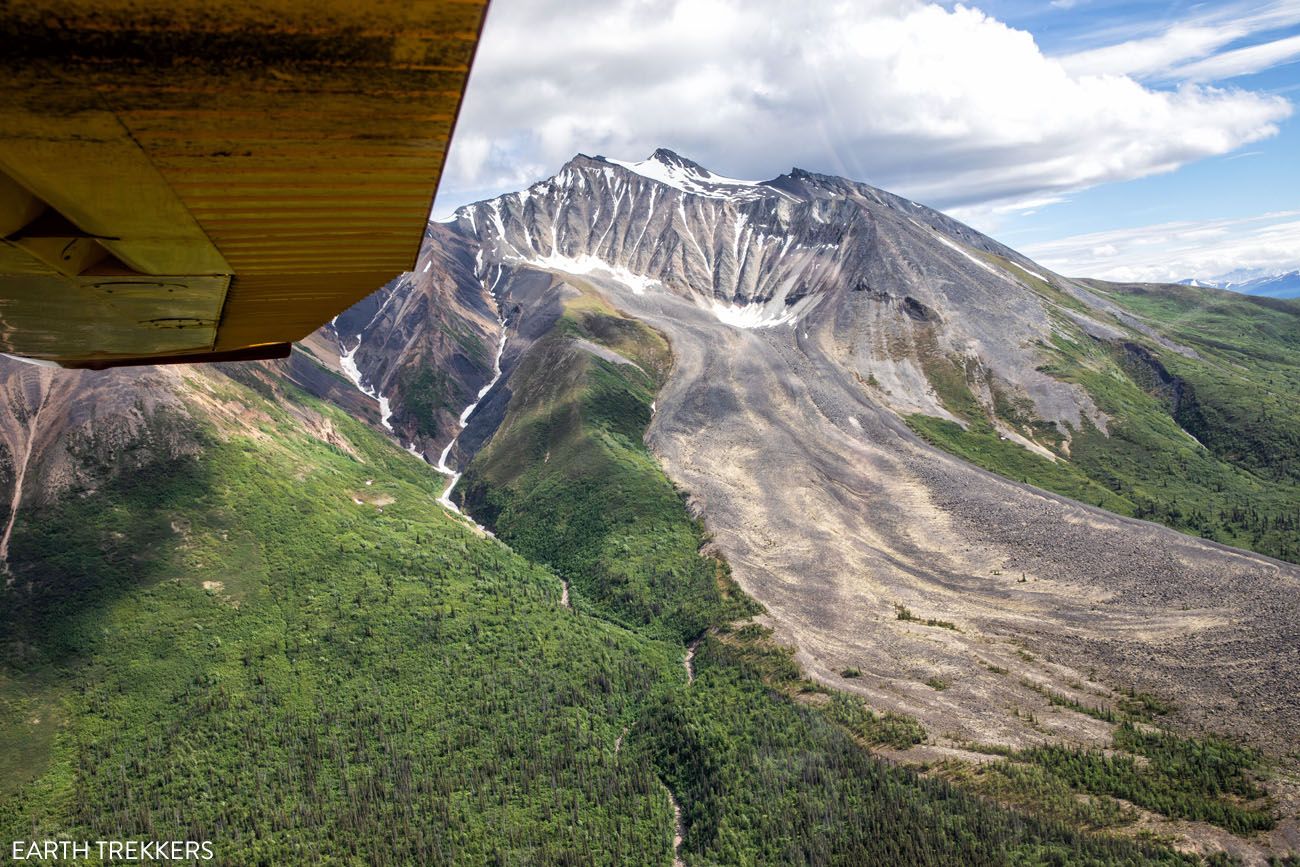 Sourdough Peak rock glacier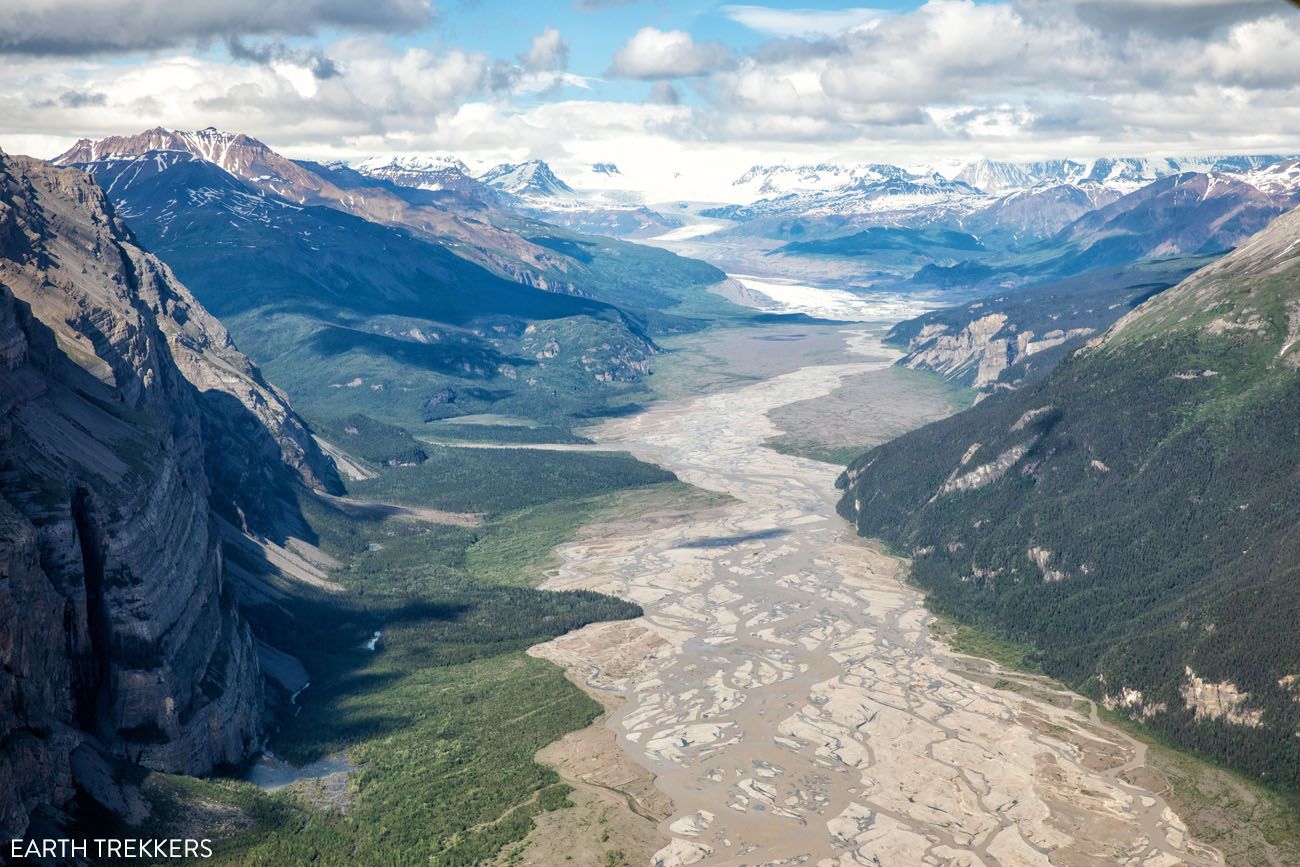 Nizina river valley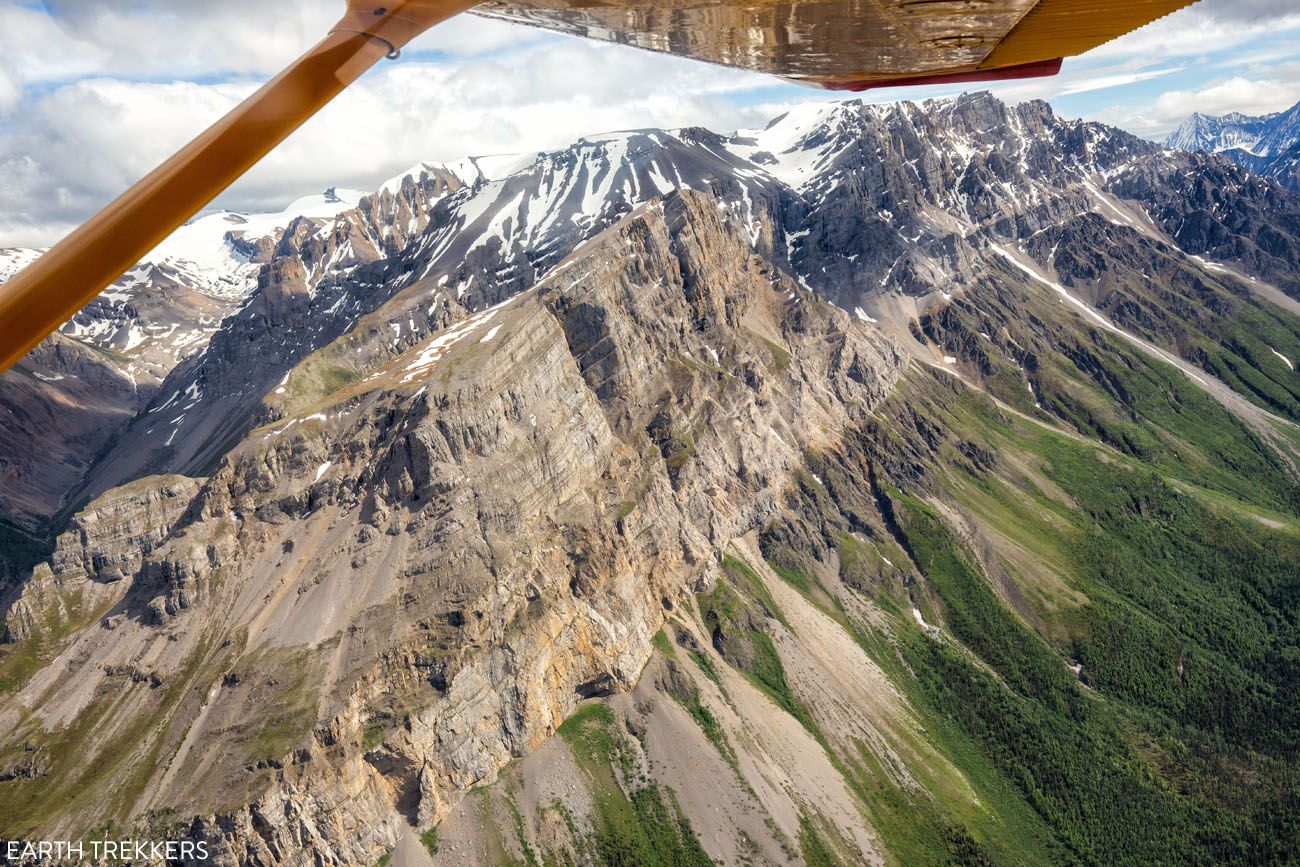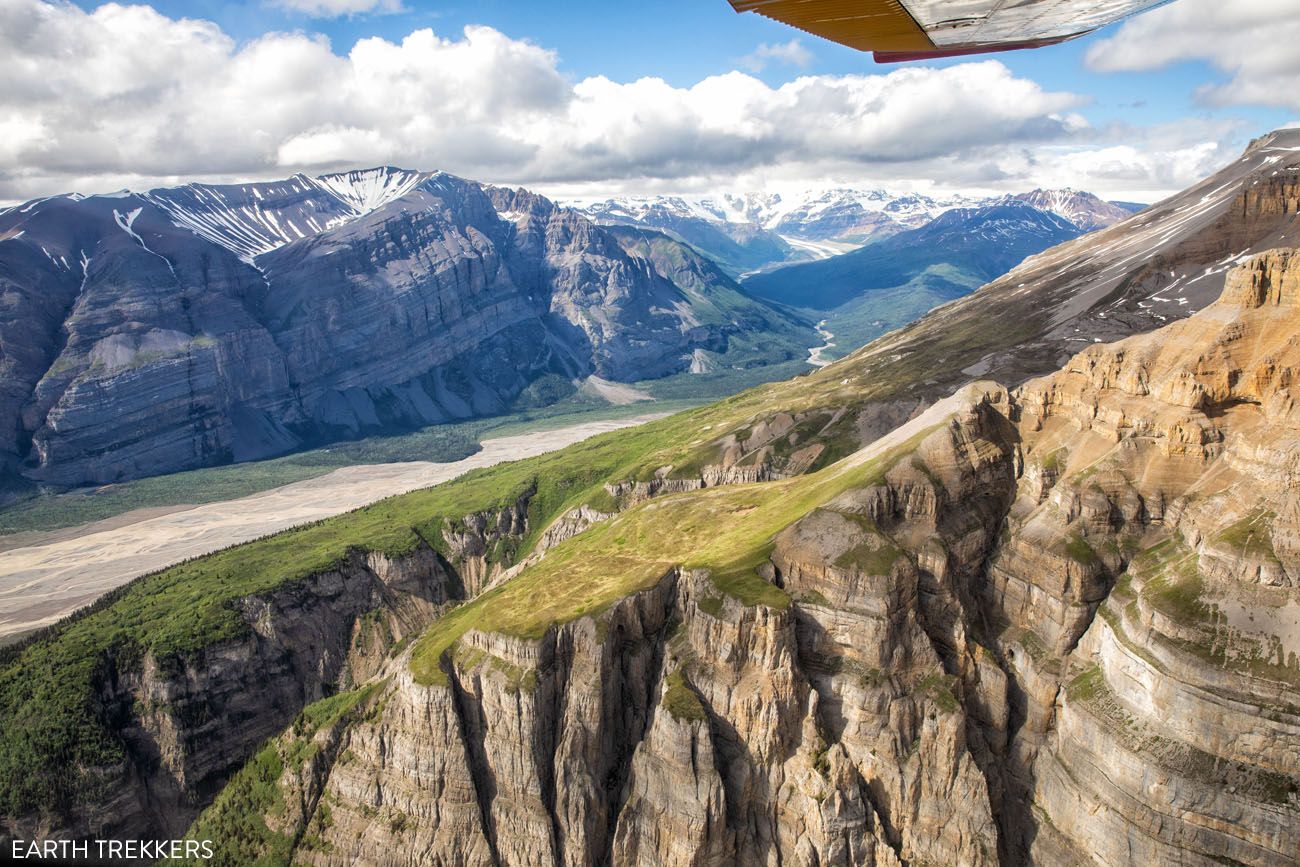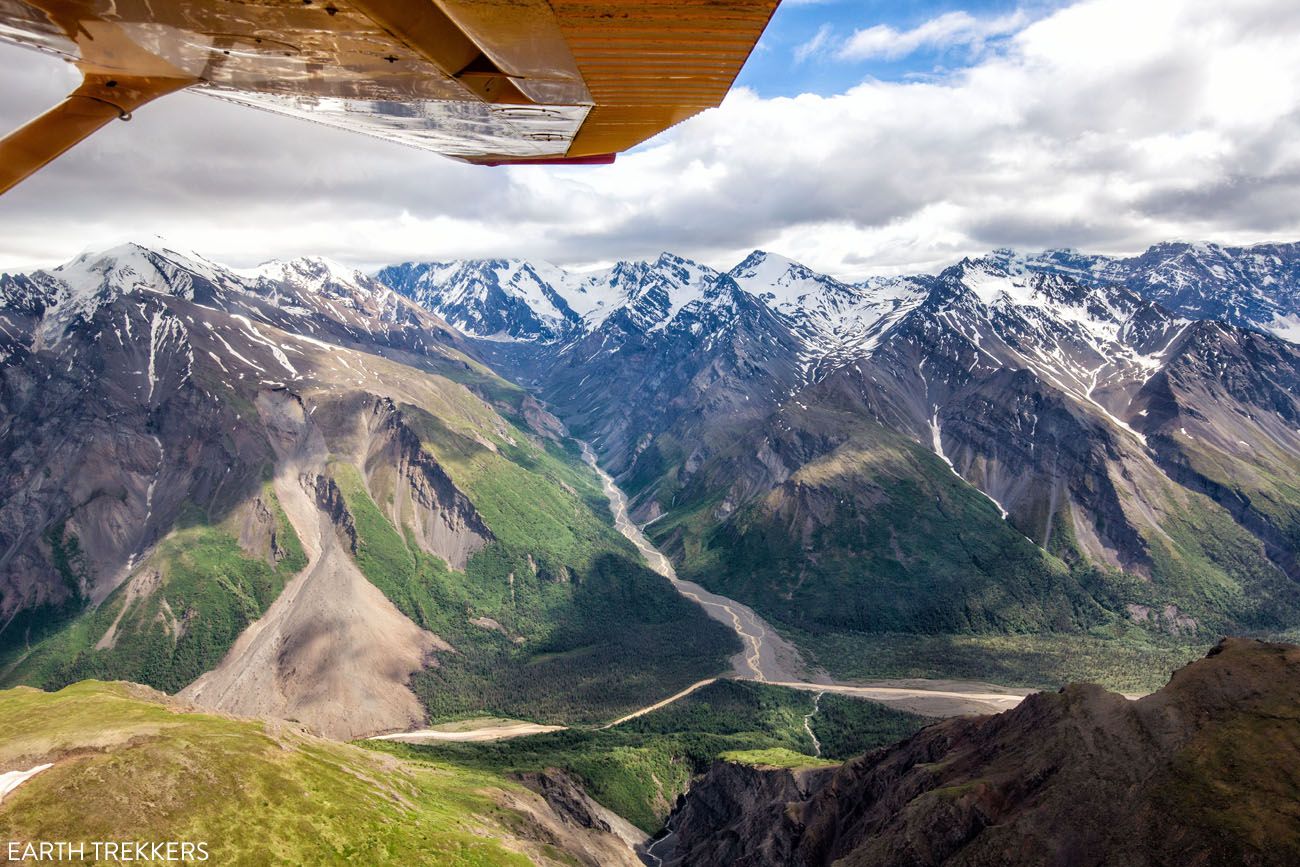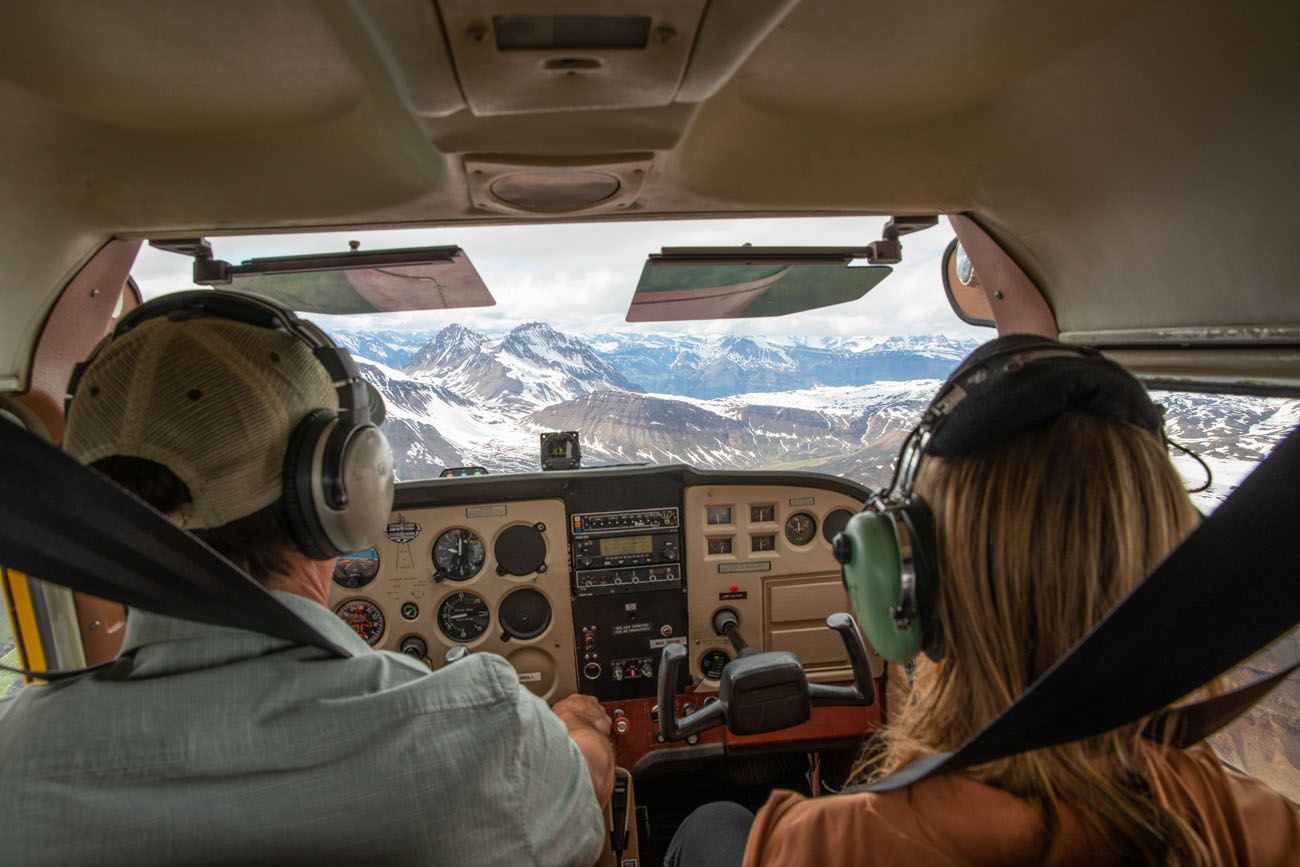 View of the cockpit, our pilot Brendan, and Kara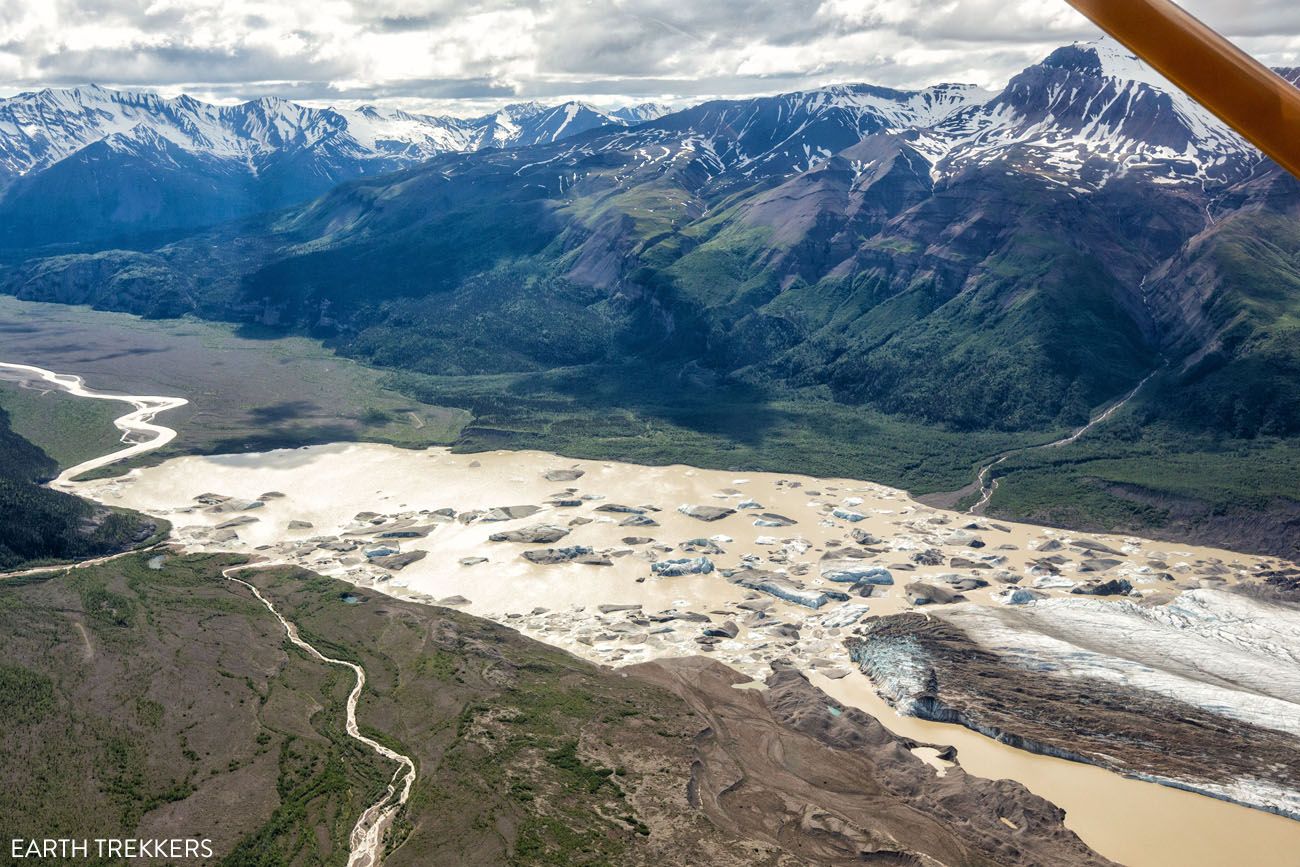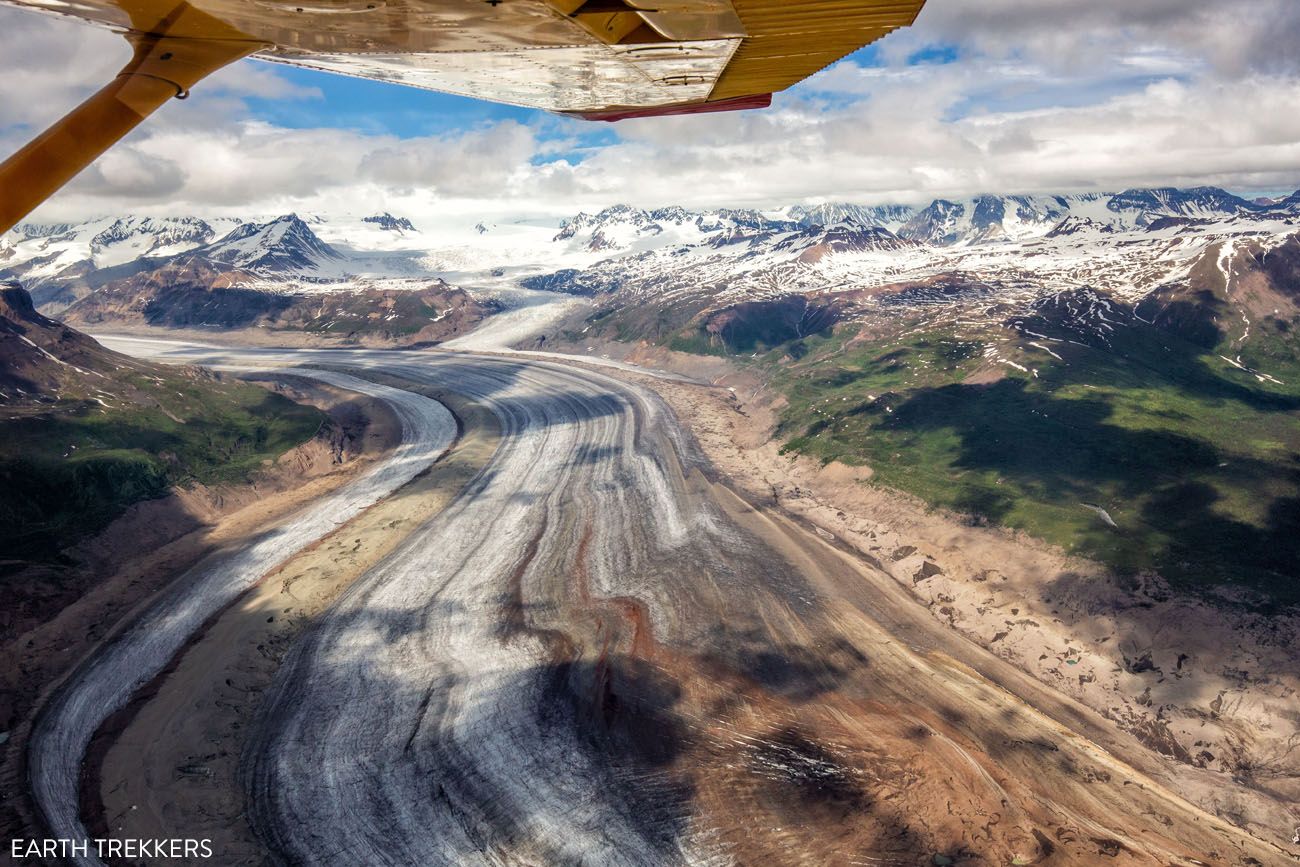 My favorite part of the flightseeing tour was when we were at our highest, at about 7,500 feet. At times, we were so close to the mountains that it looked like we could reach out and touch them. To look out across these peaks was amazing! But even so, we were just seeing a small fraction of this national park on this tour.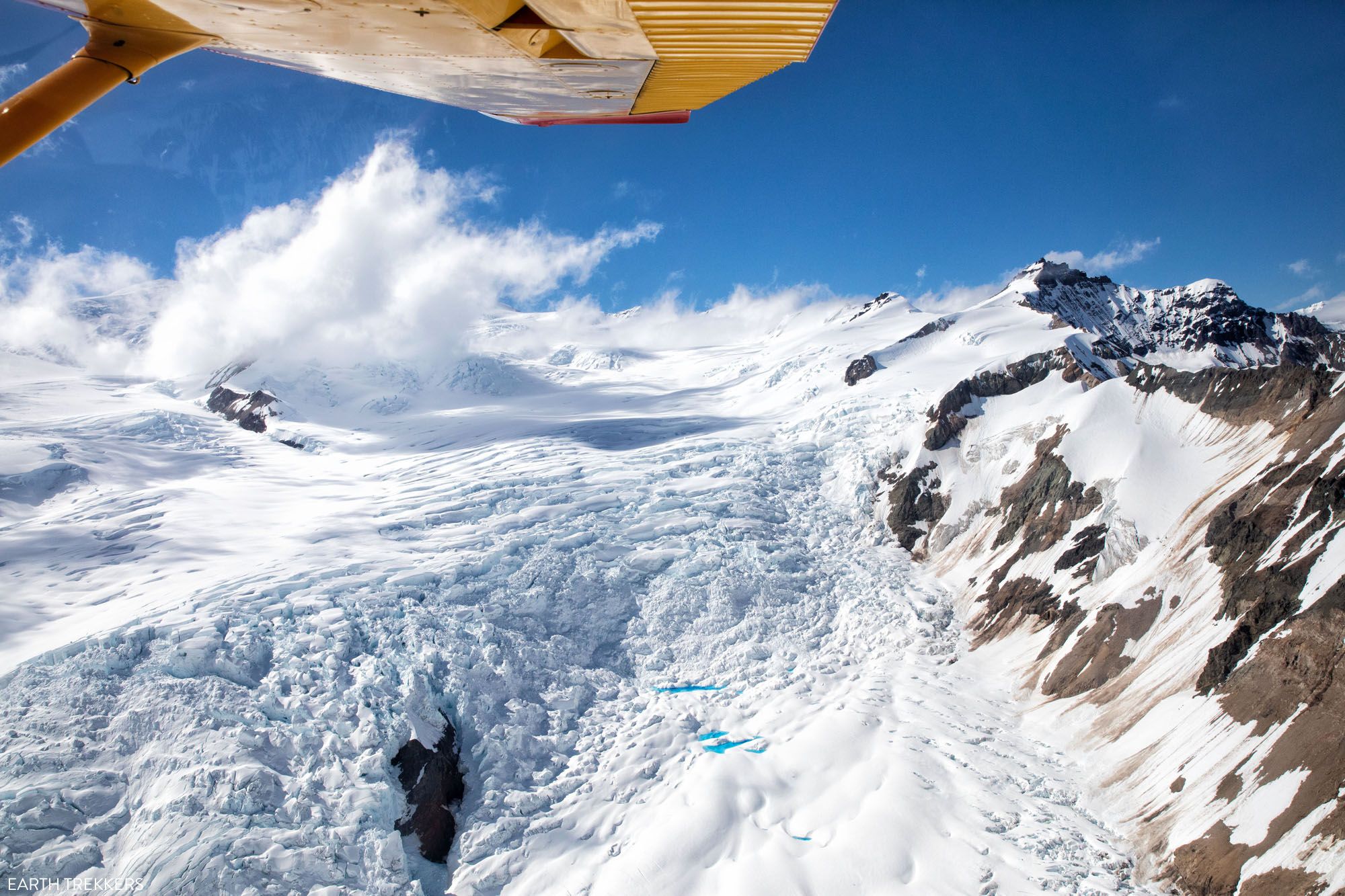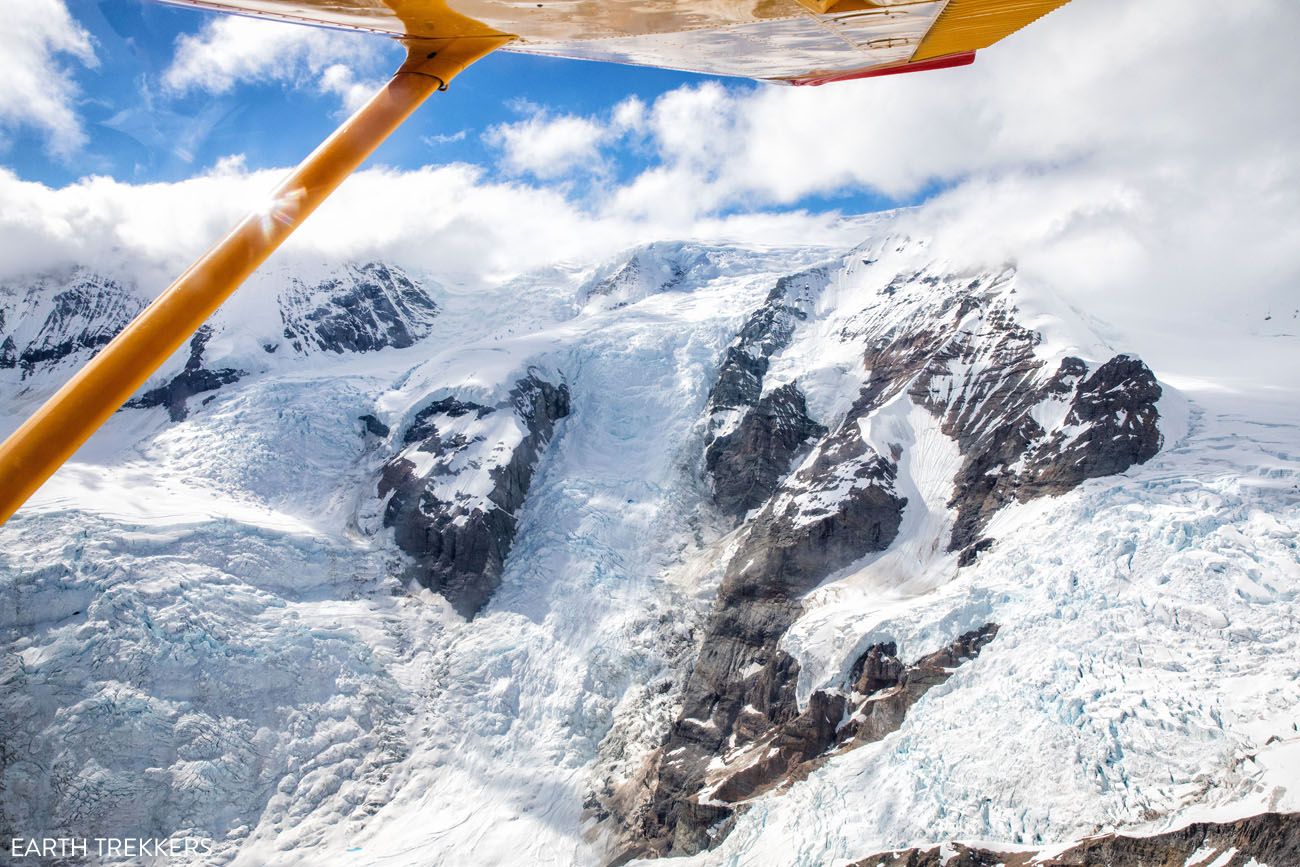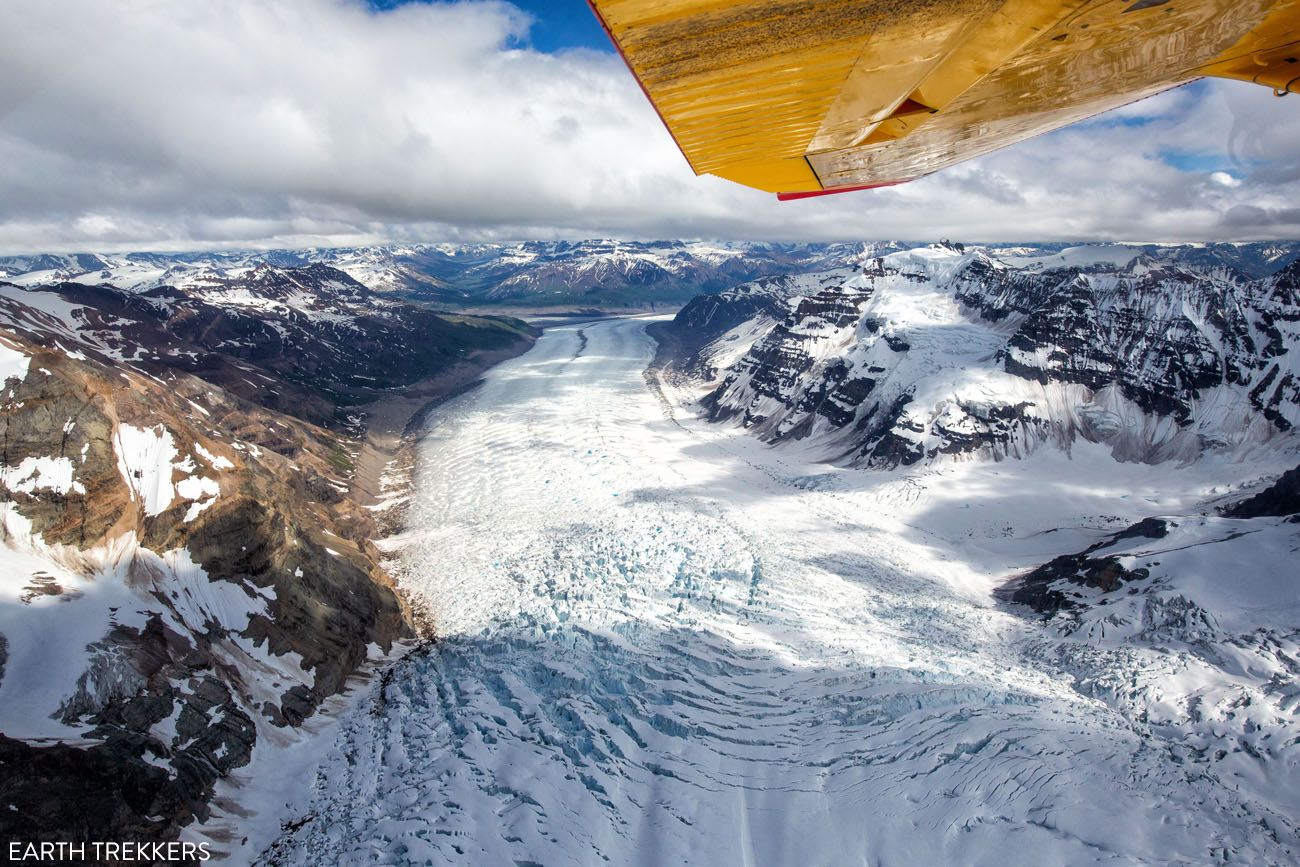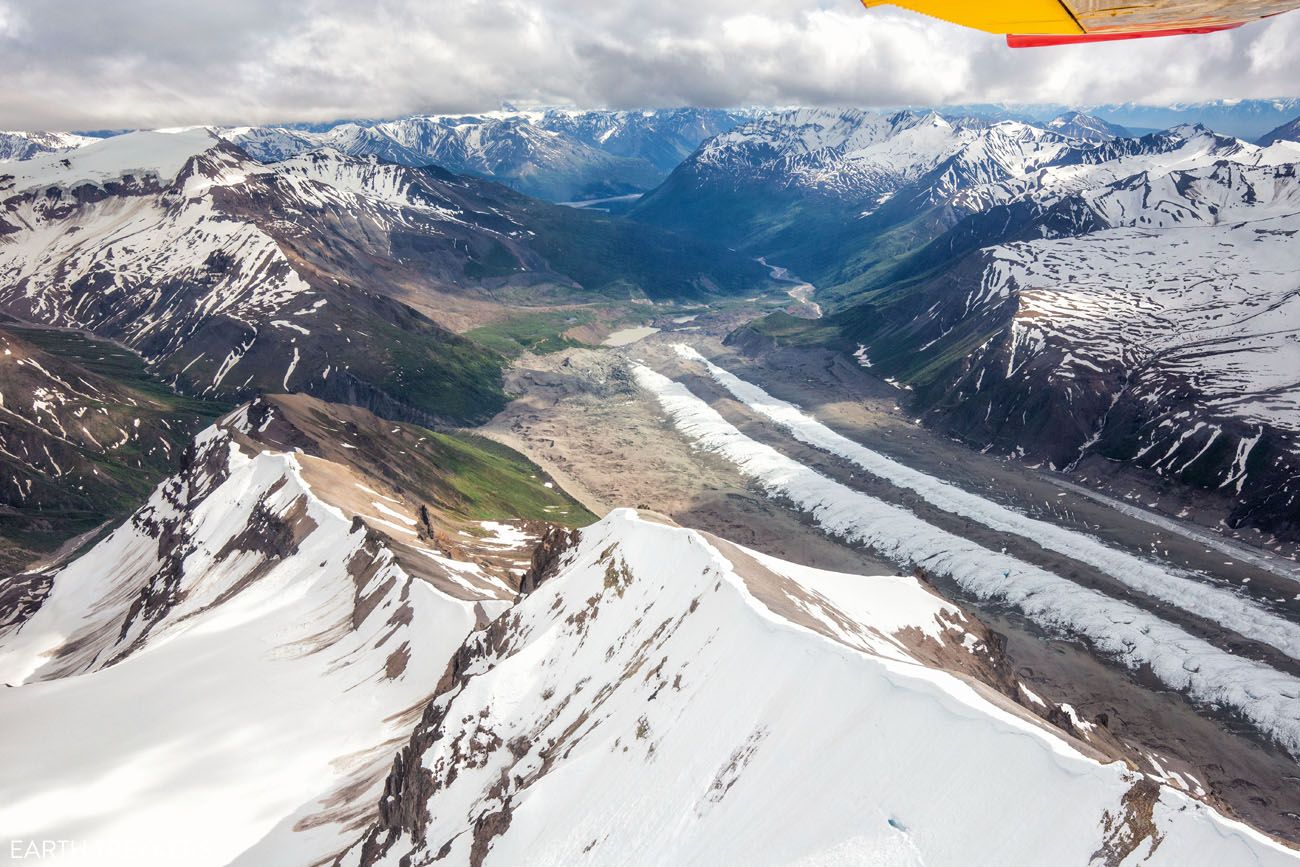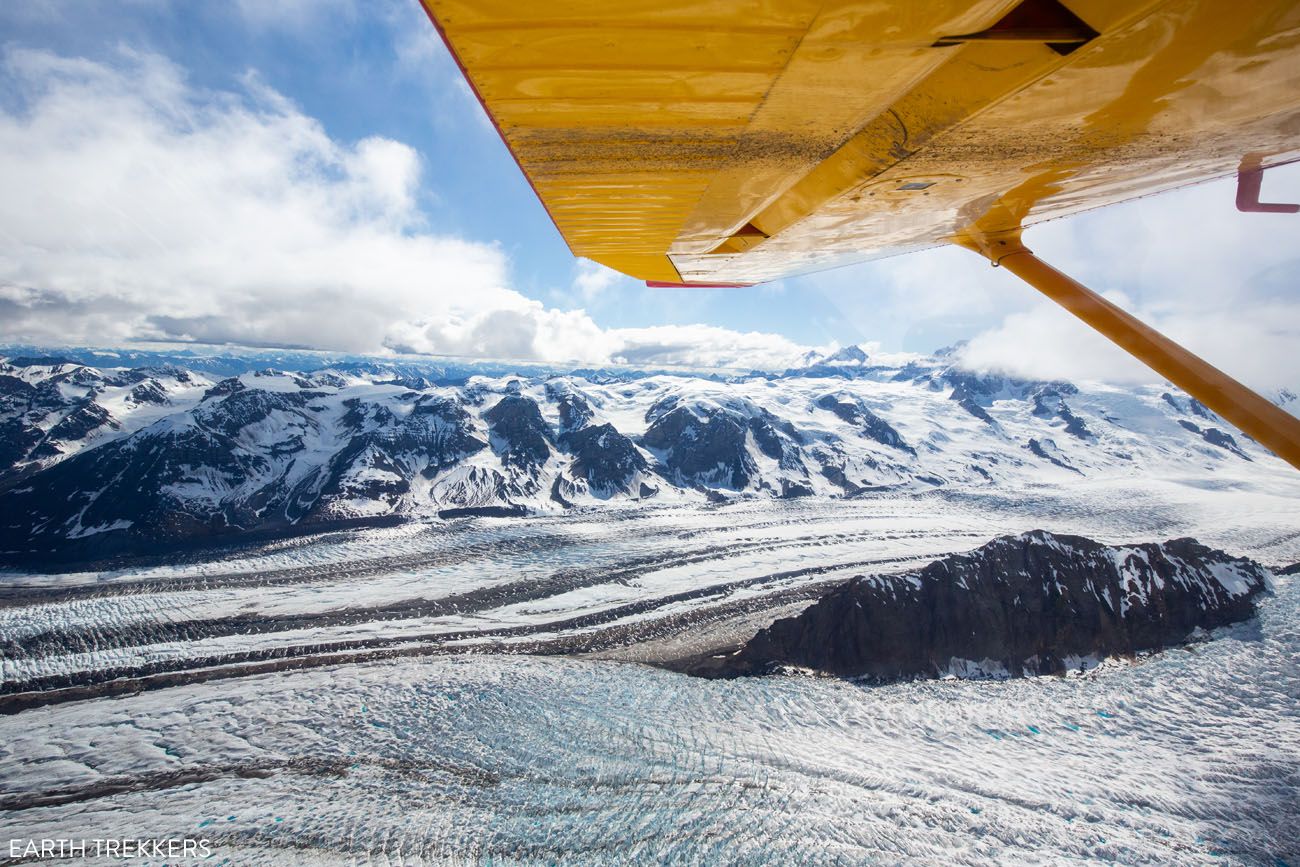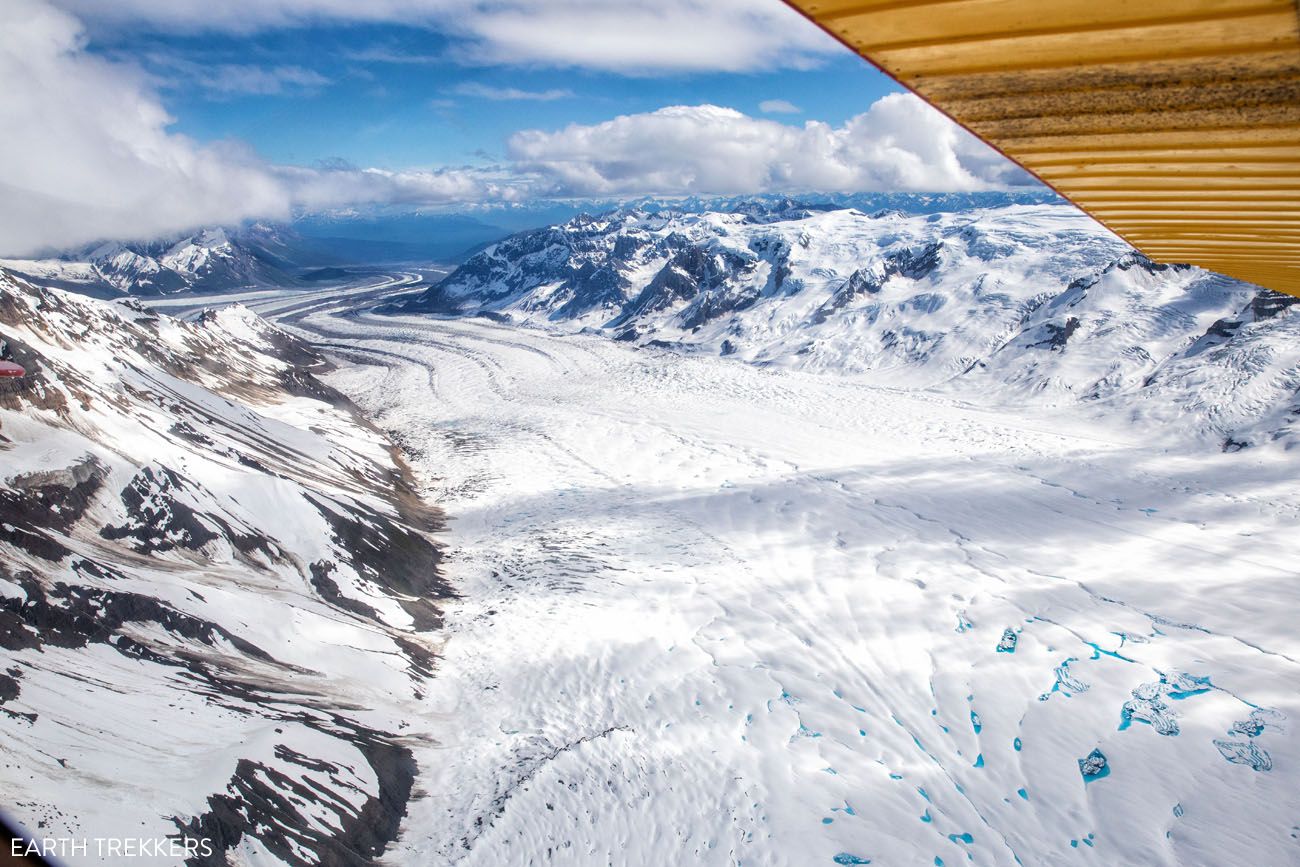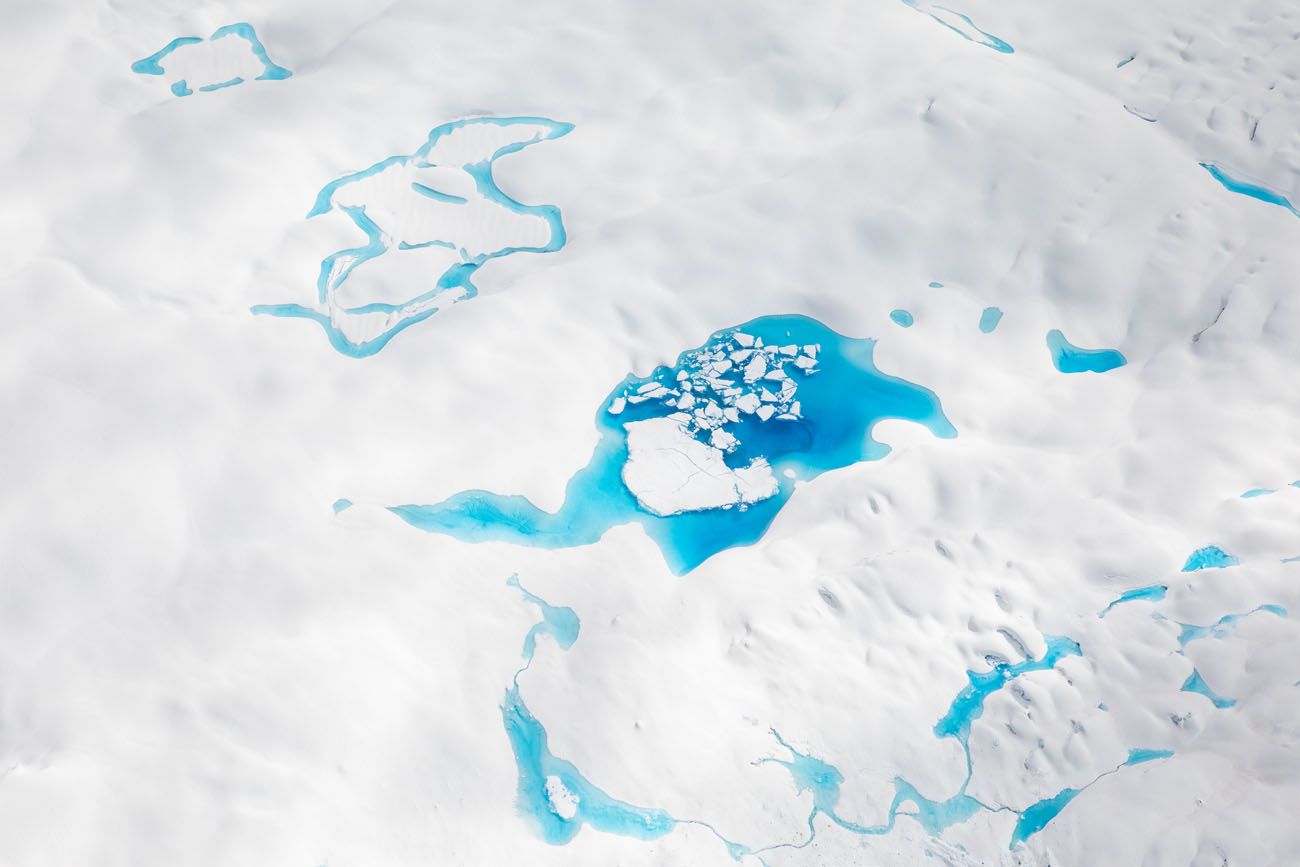 Pools of water on the glacier.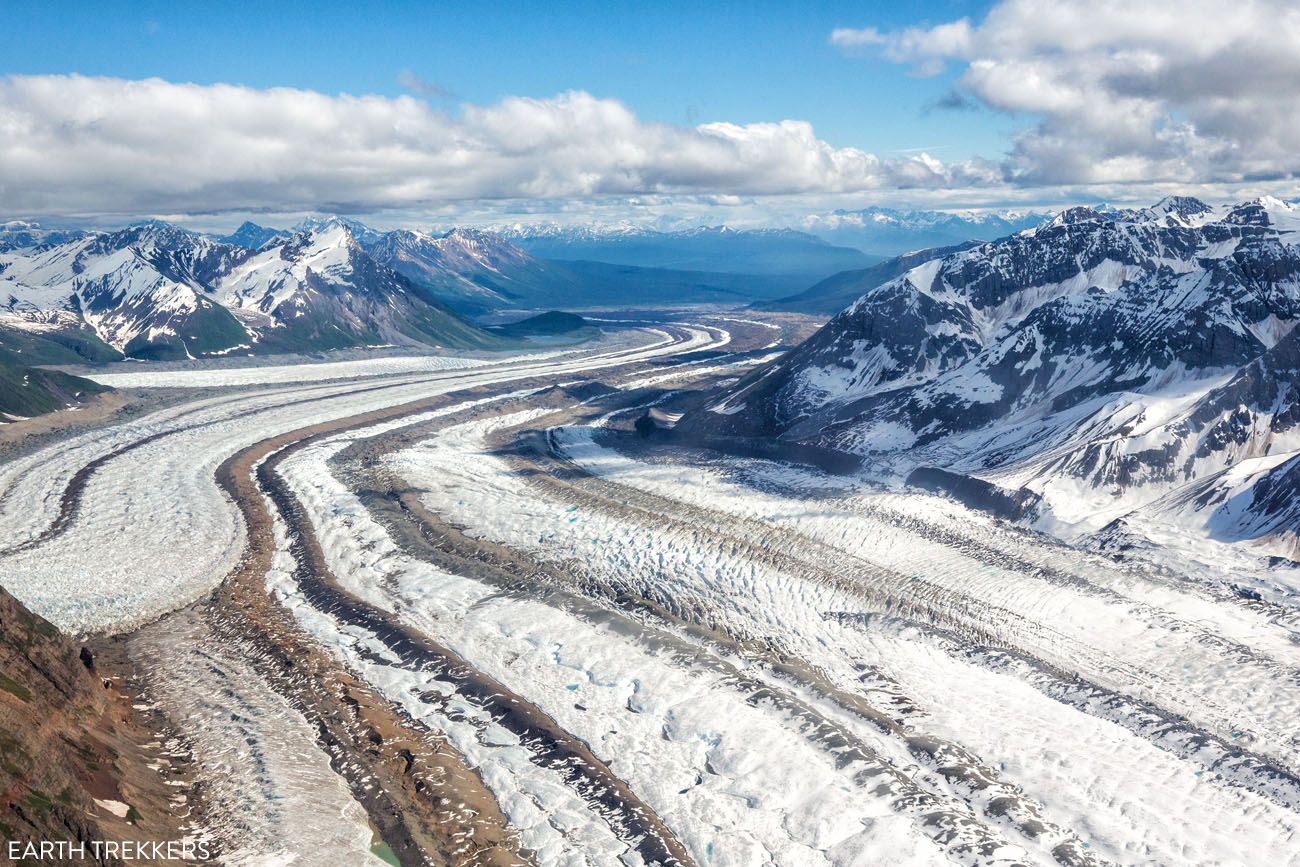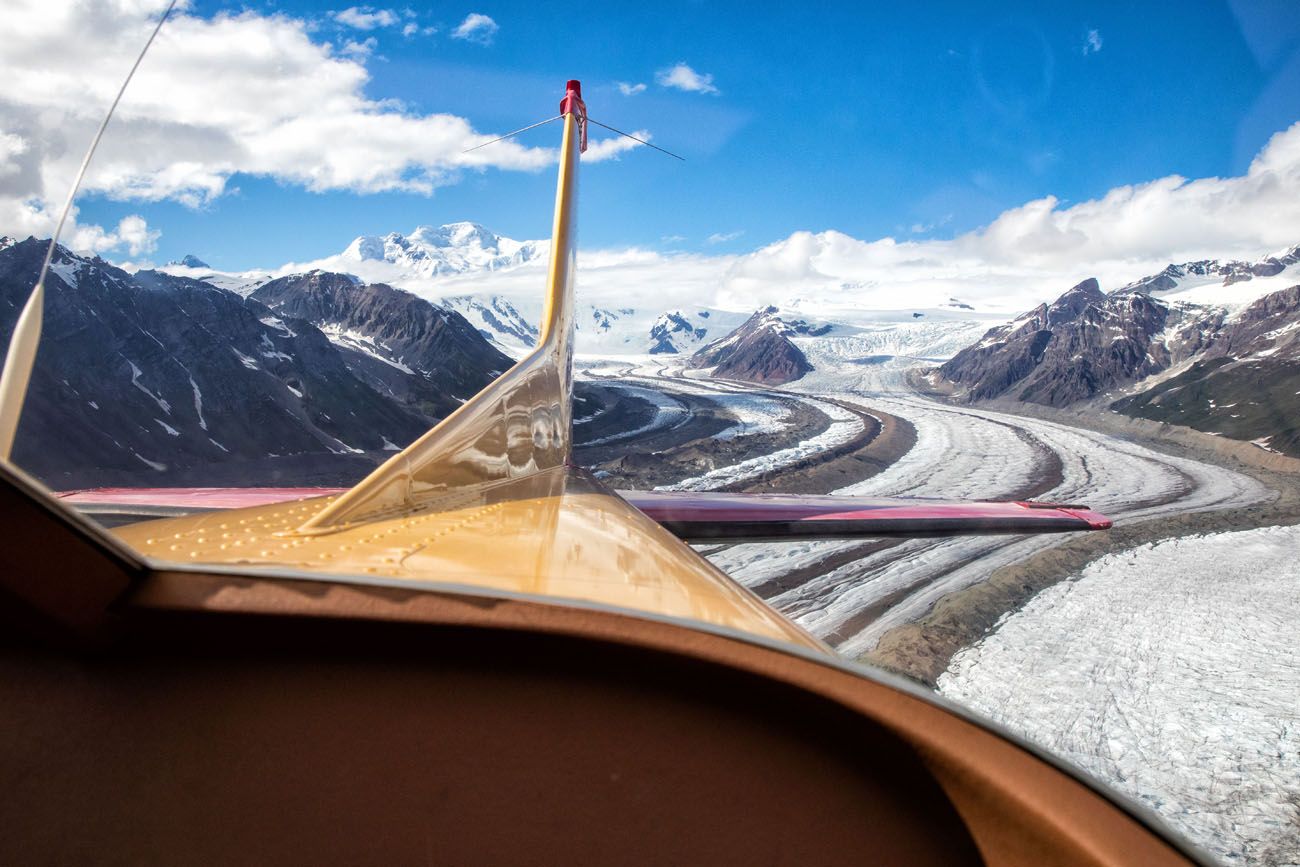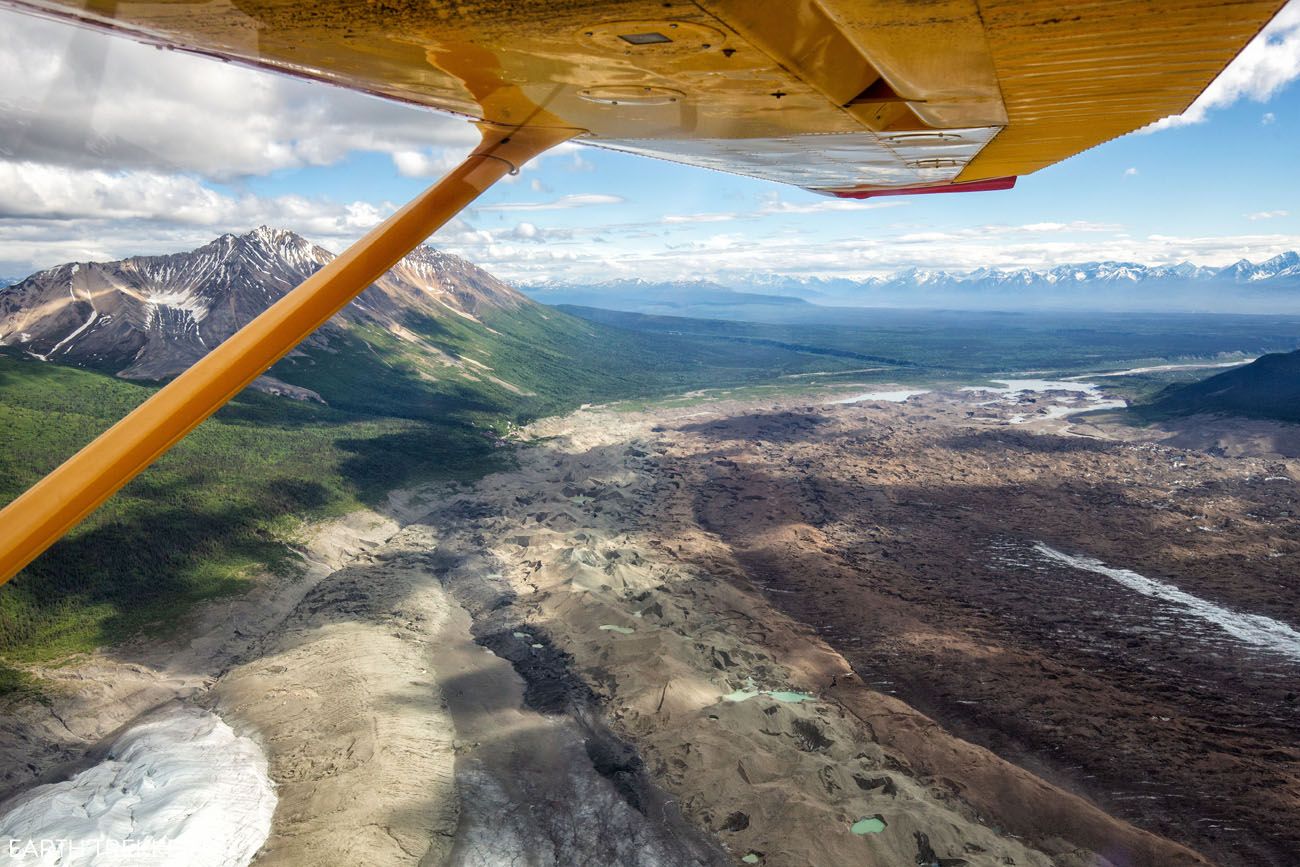 View of the moraine of the Root Glacier.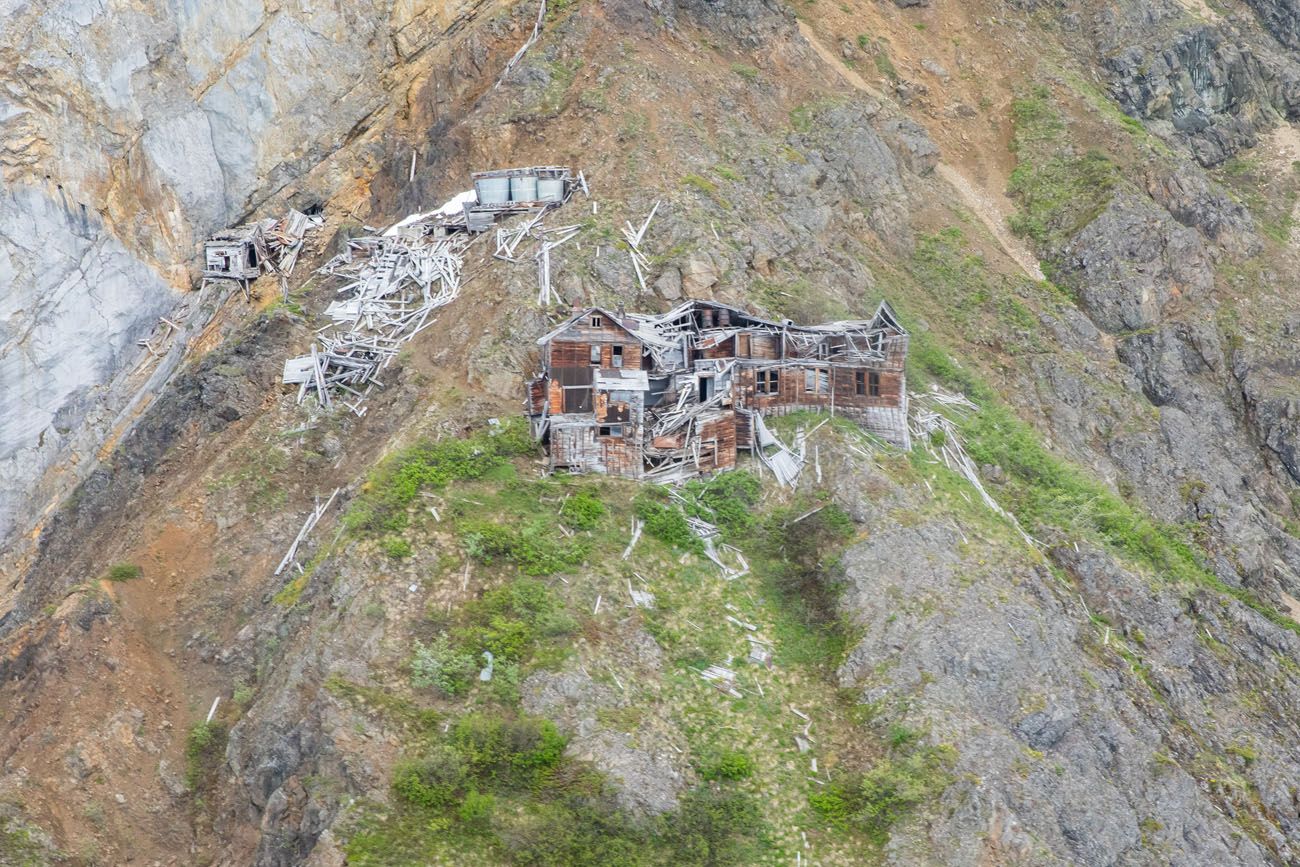 Erie Mine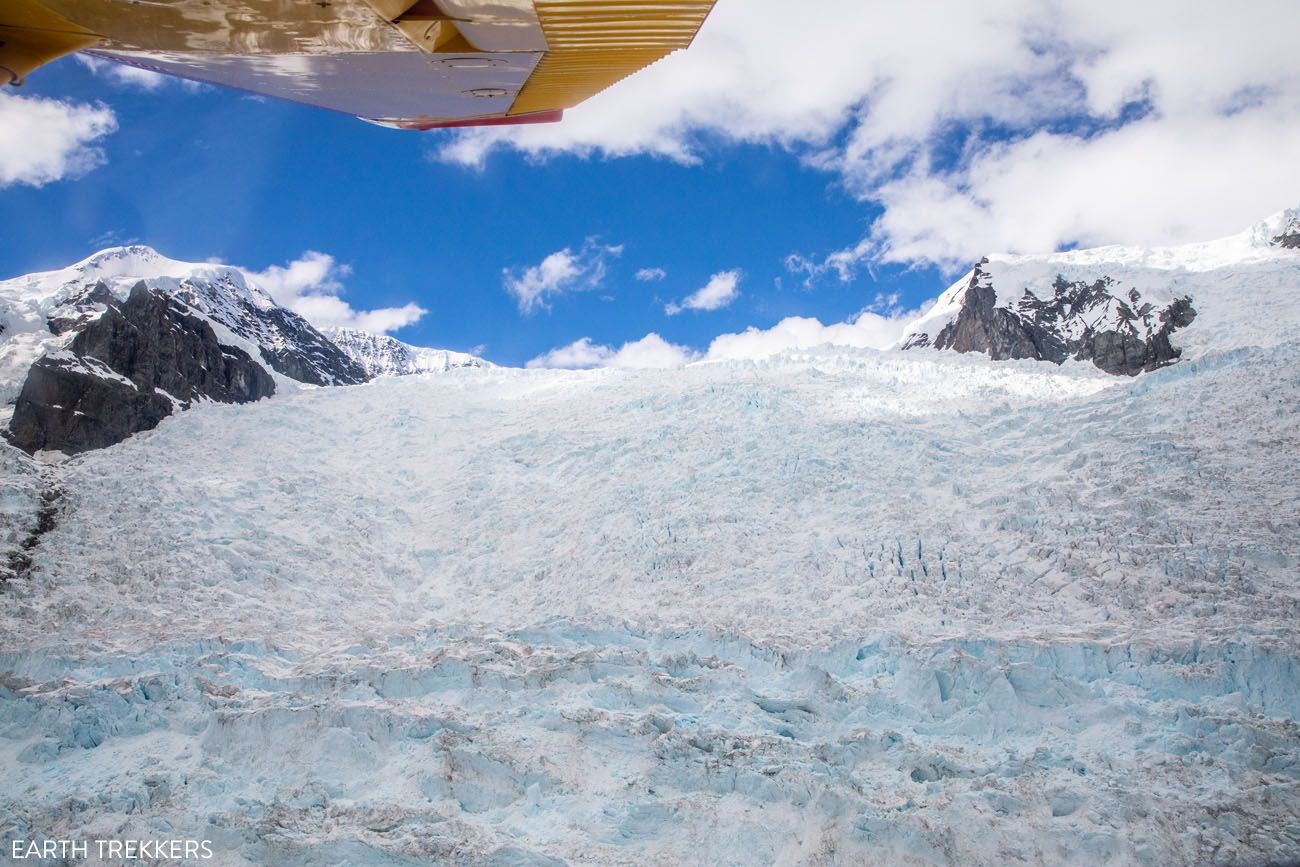 Top of the Stairway Icefall, the second largest icefall in the world.
Root Glacier
The Thirteen Glacier Tour ended by flying over the historic Kennecott Mine and the massive Root Glacier.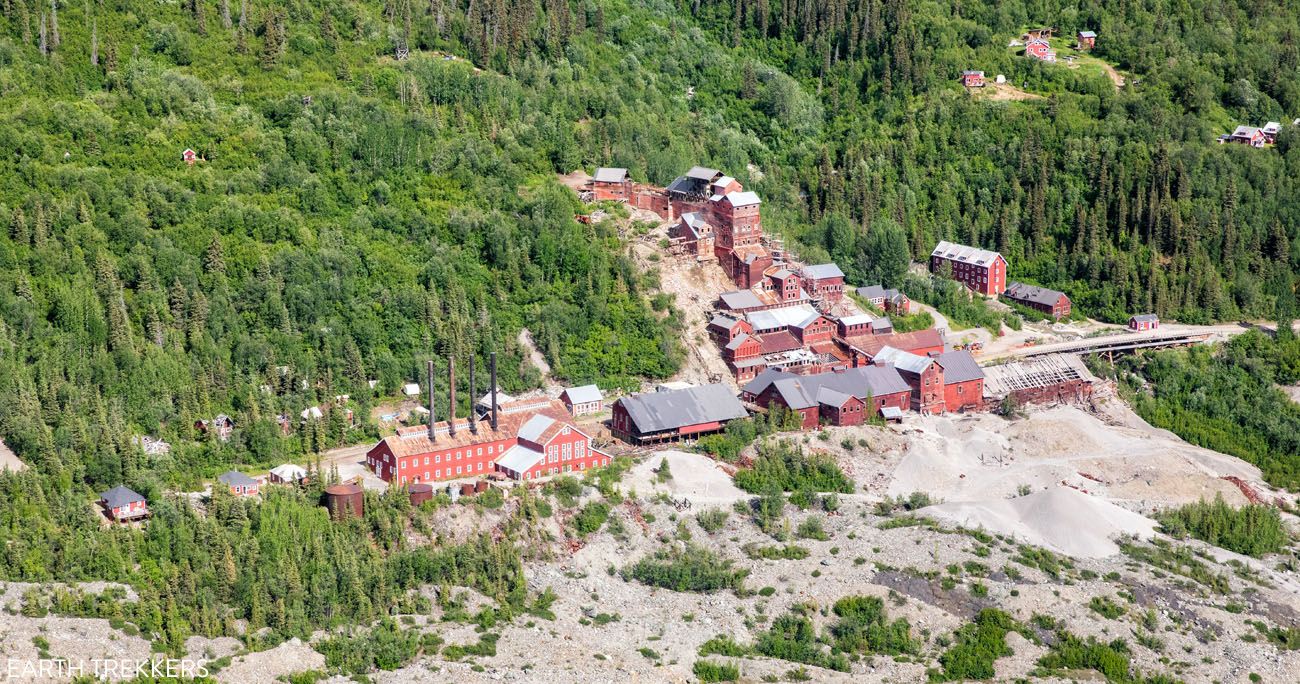 Kennecott Mine
And what was it like landing on a small gravel runway? Surprisingly smooth. In fact, it was less jarring than some landings on commercial airlines.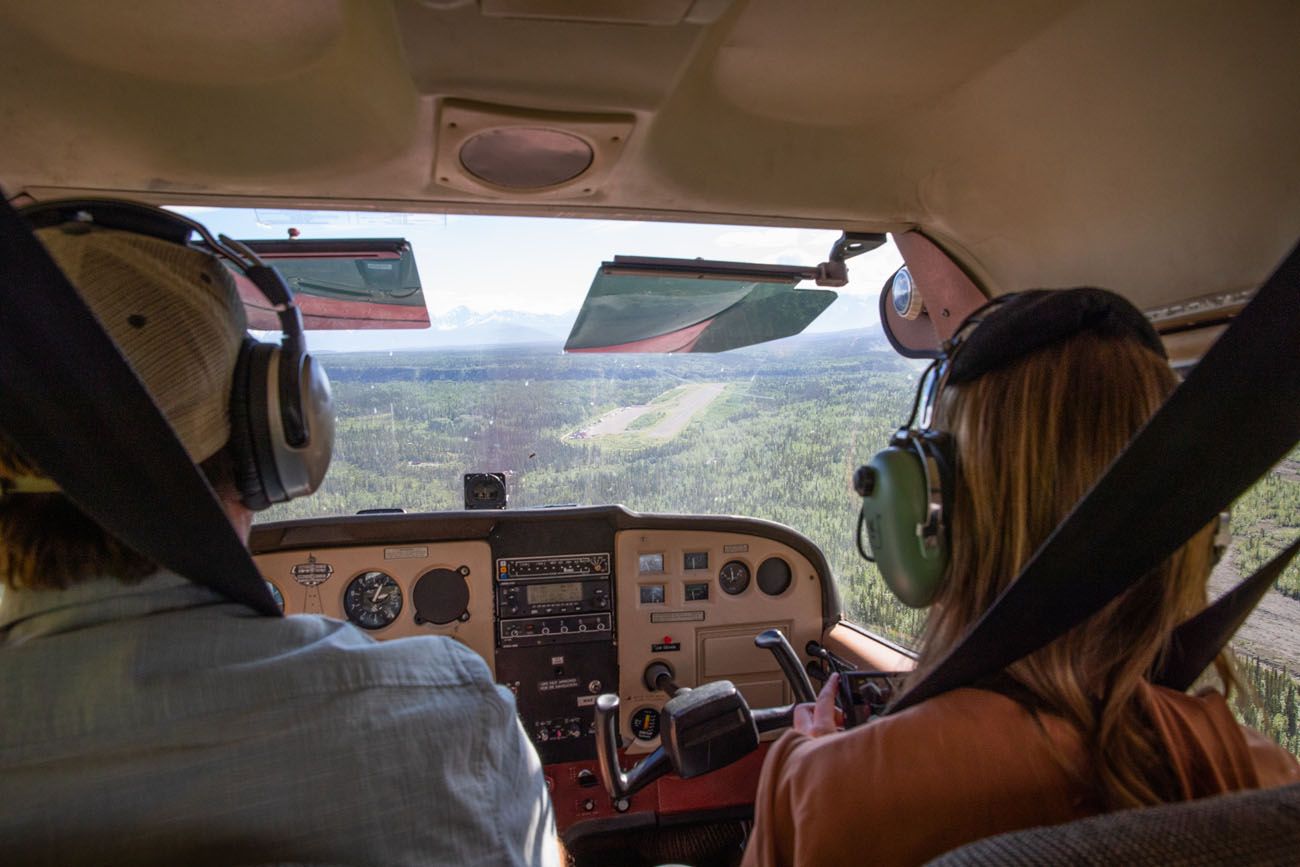 View of the McCarthy Airport from the plane.
All three of us were thrilled with the experience and so thankful that we had such great weather, especially after our cold and wet kayaking experience the day before at the Columbia Glacier.
If this sounds like something you would like to do, I highly recommend the experience. We also took a 120 minute tour with Wrangell Mountain Air and wrote a guide about what to expect on a Wrangell – St. Elias flightseeing tour, if you want to learn more.
About the Thirteen Glacier Tour
Company: Wrangell Mountain Air
Cost: $360 per person
Duration: 70 minutes
The cost of the flightseeing tour includes the shuttle service from McCarthy and Kennicott. We also tipped our pilot.
Tips to Have the Best Experience
Wrangell Mountain Air also offers other flightseeing tours of Wrangell – St. Elias National Park & Preserve. To learn more, read our Guide to Flightseeing Tours of Wrangell – St. Elias National Park.
Arrange your flightseeing trip in advance, because they can sell out. We arranged our flightseeing trip two months in advance and had no issue getting the date and time we wanted.
Flightseeing trips can be cancelled during bad weather. If your flight is cancelled, there is a chance that it can be rescheduled later in the day or the following day, depending on availability. If your flight is cancelled due to bad weather, you will get a refund of your payment.
Wear long pants and a long-sleeved shirt. It gets a little chilly inside the plane once you get up to 7,000 feet.
---
If you have any questions about taking a Wrangell St. Elias National Park flightseeing tour, or if you want to share your experience, let us know in the comment section below.
More Information about Alaska
BEST OF WRANGELL-ST. ELIAS: Top experiences in Wrangell-St. Elias include hiking the Root Glacier Trail, taking a flightseeing tour, and hiking to Bonanza Mine. For the full list, read our article Best Things to Do in Wrangell-St. Elias.
BEST OF DENALI: Eielson is one of the most spectacular areas in Denali to visit since it offers some of the best views of Denali. Taking a Denali flight seeing trip is also a great thing to do, as are hiking one of the many trails in the park.
KENAI FJORDS NATIONAL PARK: Check out our Kenai Fjords National Park Travel Guide for important travel planning tips, sample itineraries, advice on when to go, where to stay, and more.
DRIVING IN ALASKA: The Seward Highway connects Anchorage and Seward is one of the most popular scenic drives in Alaska. We also have a detailed guide to driving from Anchorage to Valdez, yet another amazing road trip.
BEST NATIONAL PARKS IN THE USA: Looking for your next big adventure? Read our article about the 15 Best National Parks, where we narrow down the long list into 15 must-see parks.
NATIONAL PARKS: In our Guide to the US National Parks, get the full list of national parks with important travel planning information, such as things to do in the parks and sample itineraries. You can also learn more about the national parks and get a FREE printable checklist in our US National Parks Checklist.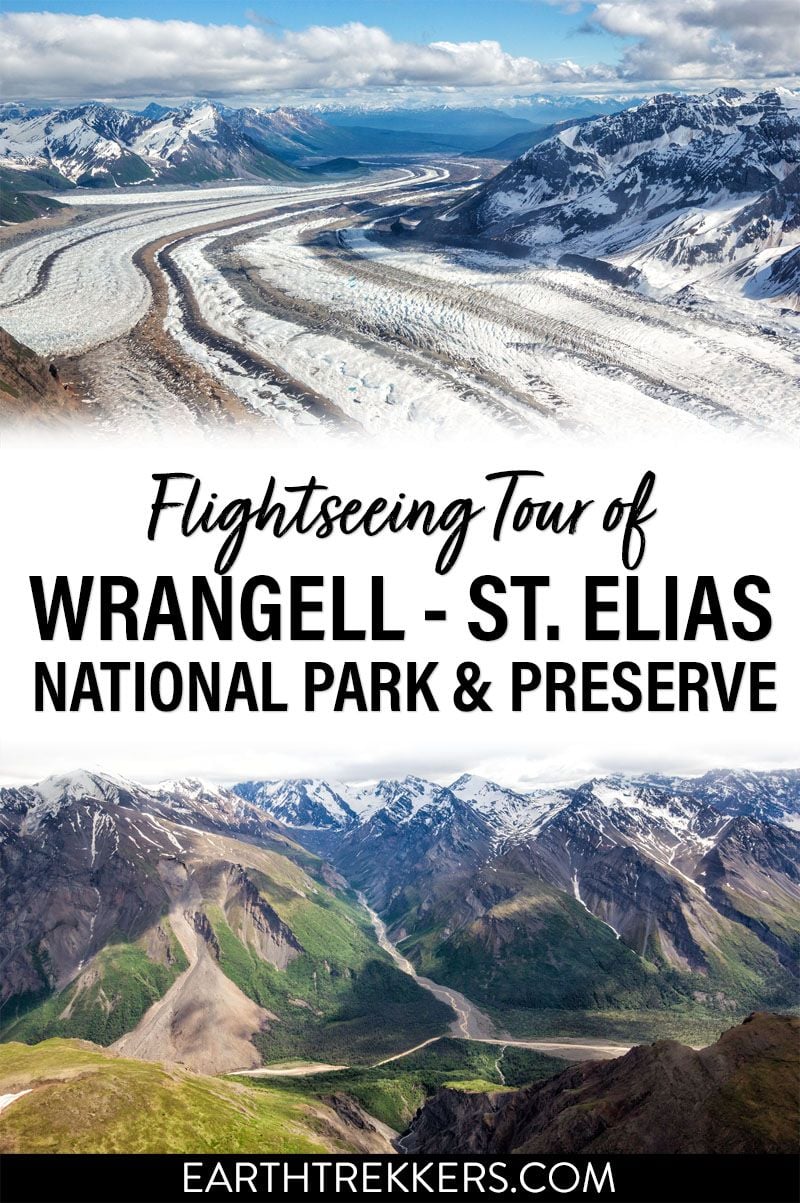 All rights reserved © Earth Trekkers. Republishing this article and/or any of its contents (text, photography, etc.), in whole or in part, is strictly prohibited.