Santorini is a popular destination on many traveler's wish lists, for good reason. The beaches, the photogenic villages, and the breathtaking sunsets in Oia attract a lot of visitors to this tiny island. If you are planning your Santorini itinerary, we have some suggestions for you. Whether you have 1, 2, or 3 days in Santorini, learn how to plan your time so that you can have an unforgettable experience.
Sample Santorini Itineraries
1 Day in Santorini
1 day in Santorini gives you just enough time to visit the highlights. Ideally, plan to spend two nights on Santorini, so that you have one full day to explore the island.
Option #1: Fira to Oia & Sunset Views in Oia
This option works best if you don't have a full day on the island (for example, you are arriving from Mykonos on a morning ferry). This also works well if you want to explore part of the island without taking a tour or renting a car. And since walking from town to town and watching the sunset is free, if you are a budget traveler, this is a great way to spend 1 day in Santorini.
The walk from Fira to Oia allows you to explore four wonderful little villages (Fira, Firostefani, Imerovigli, and Oia), get breathtaking views along the caldera, and end with dramatic sunset views on Oia.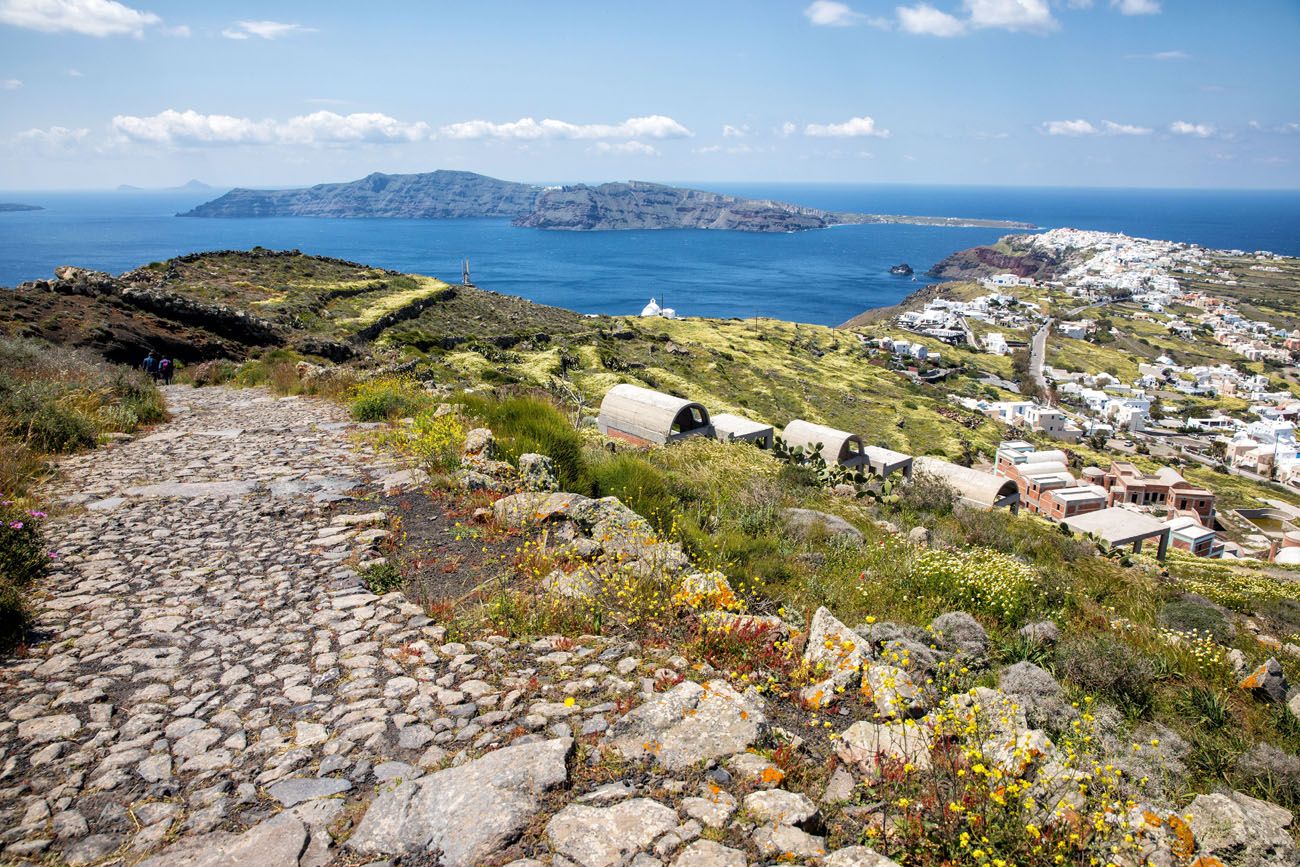 Start in Fira and end in Oia. The walk is 10 km (6 miles) and can take 3 to 5 hours, depending on your pace and how frequently you stop. End the day by exploring Oia, cliff jumping in Ammoudi Bay, and with sunset views in Oia.
Sunset in Oia | Santorini Itinerary
Option #2: Tour of Santorini
If you only have one day in Santorini and have no desire to walk from town to town, consider taking a tour of the island.
There are a number of land tours that will take you around the island, where you visit popular spots such as the black and red sand beaches, Akrotiri Archaeological Site, Profitis Ilias, and one of Santorini's wineries. It's a great way to explore the island without the hassle of driving.
On this full day guided tour, visit the main highlights of Santorini, taste local wine at the Wine Museum, and watch the sunset in Oia.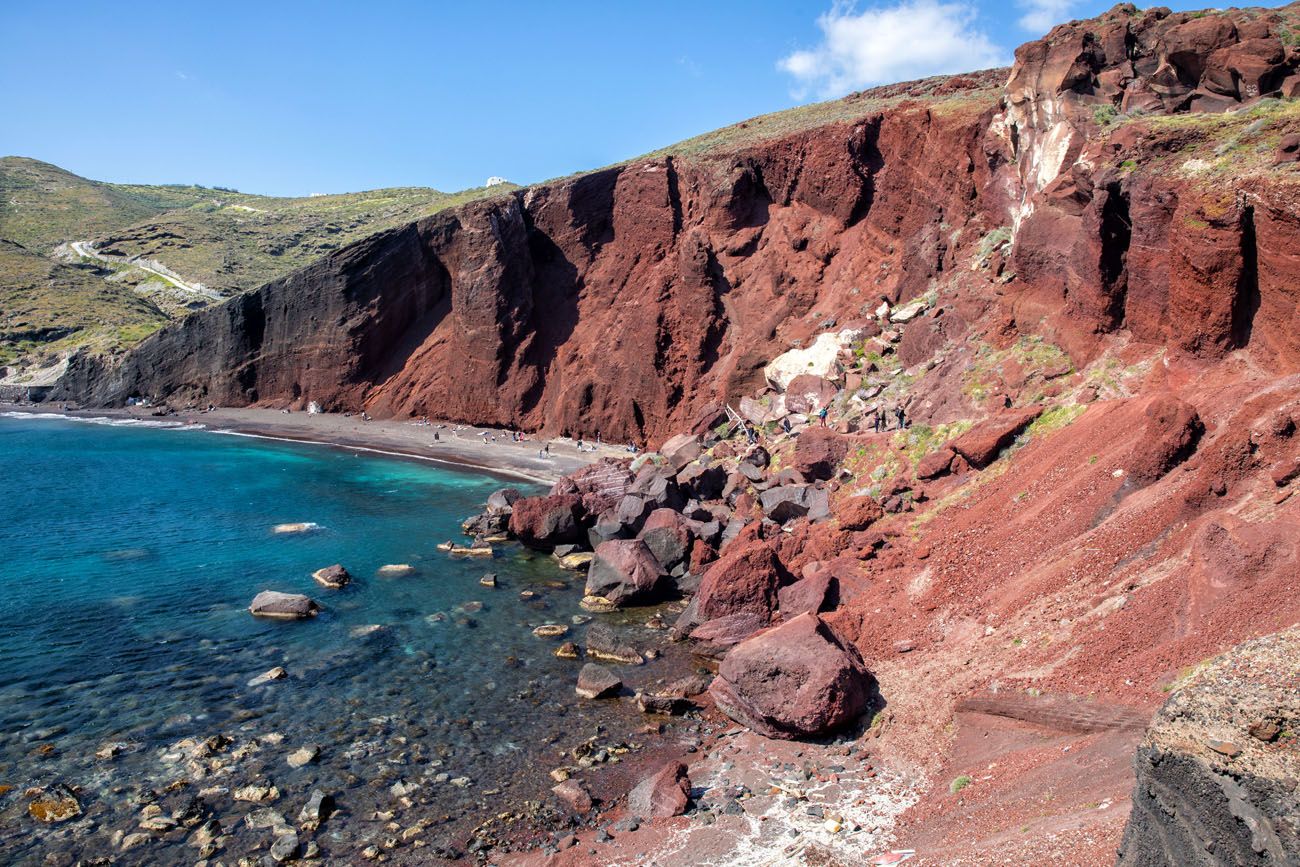 Red Beach | Santorini Itinerary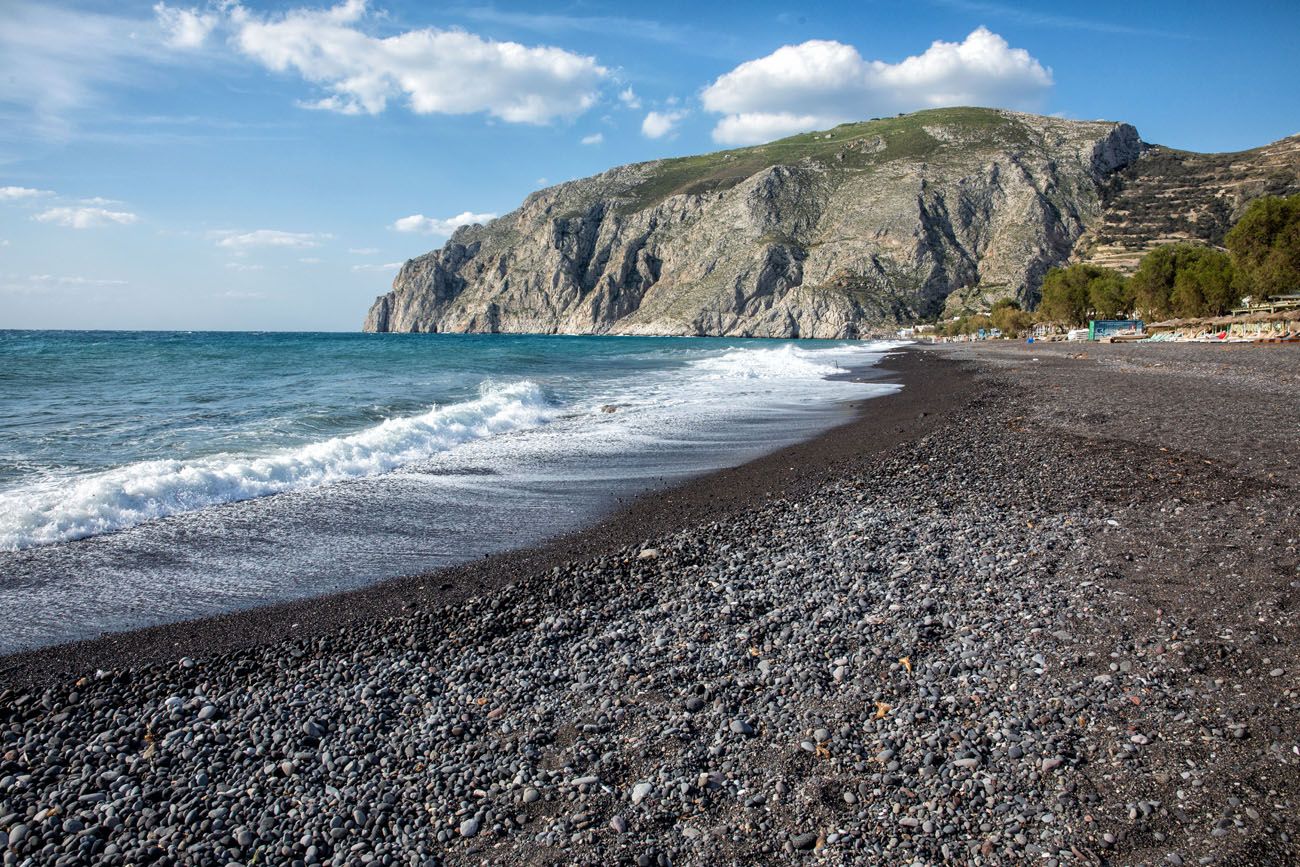 Kamari Beach | Santorini Itinerary
If you would rather get out on the water, then take a cruise in the caldera of Santorini. Many cruises last 5 hours and visit nearby islands, hot springs, or beaches. Many will include lunch or dinner and the opportunity to go snorkeling. If you book an evening cruise, your day will end with sunset views from the water.
2 Day Santorini Itinerary
With two days in Santorini, you can easily visit many of the main sites without feeling like you are in a race.
These are our recommended sites to visit on this 2-day Santorini itinerary:
Sunset Views in Oia
Explore Oia
Visit the black sand beach at Kamari or Perissa
Take a cruise
Visit a winery
Eat!! Sample as many restaurants as possible
Walk from Fira to Oia
If you are a history buff, a visit to the Akrotiri Archaeological site (Santorini's version of Pompeii) or Ancient Thira are worth adding on.
If you are traveling with kids, spend some time at the beach. For a unique beach experience, consider going to Vlychada Beach, which almost looks like a lunar landscape.
If you like the idea of visiting small villages, Pyrgos is a good one to add to the list.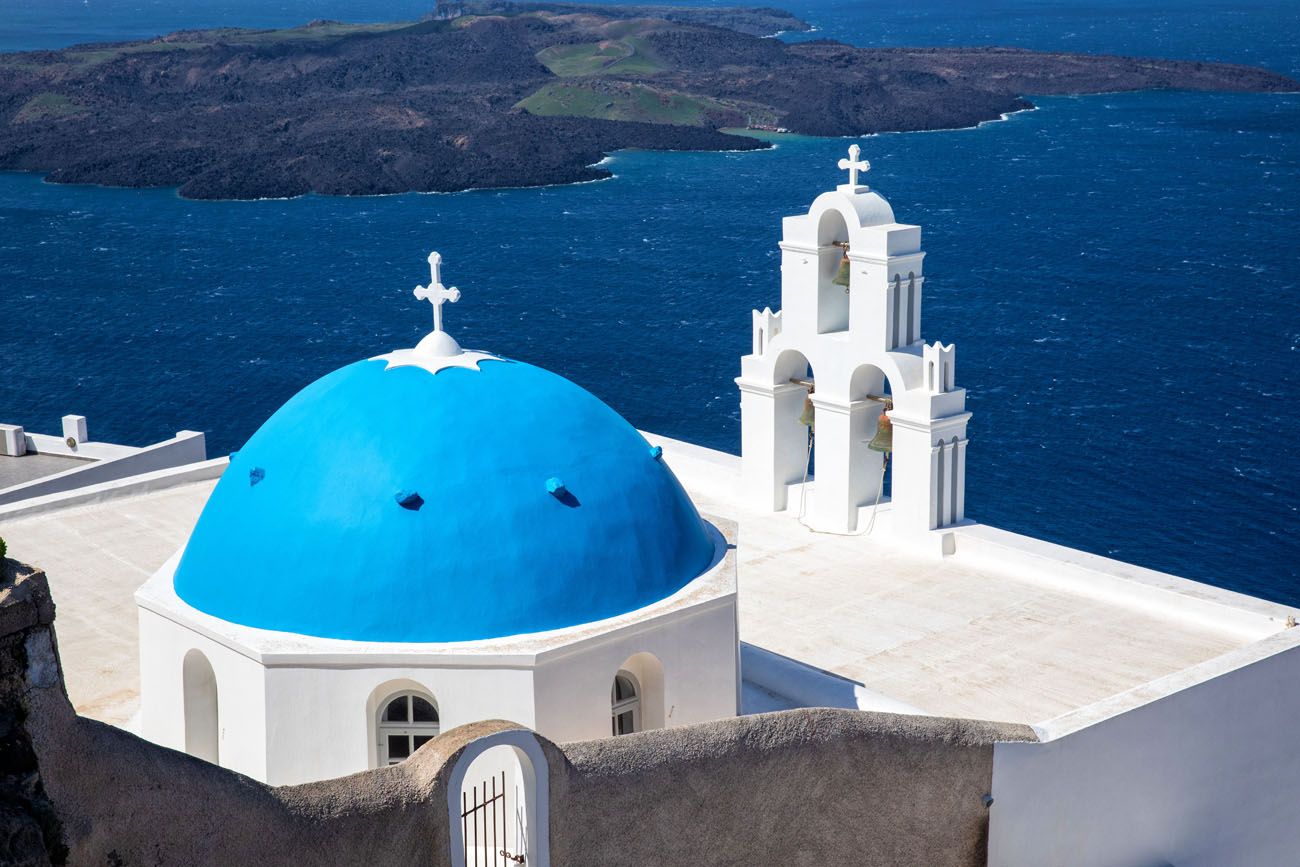 Three Bells of Fira | Santorini Itinerary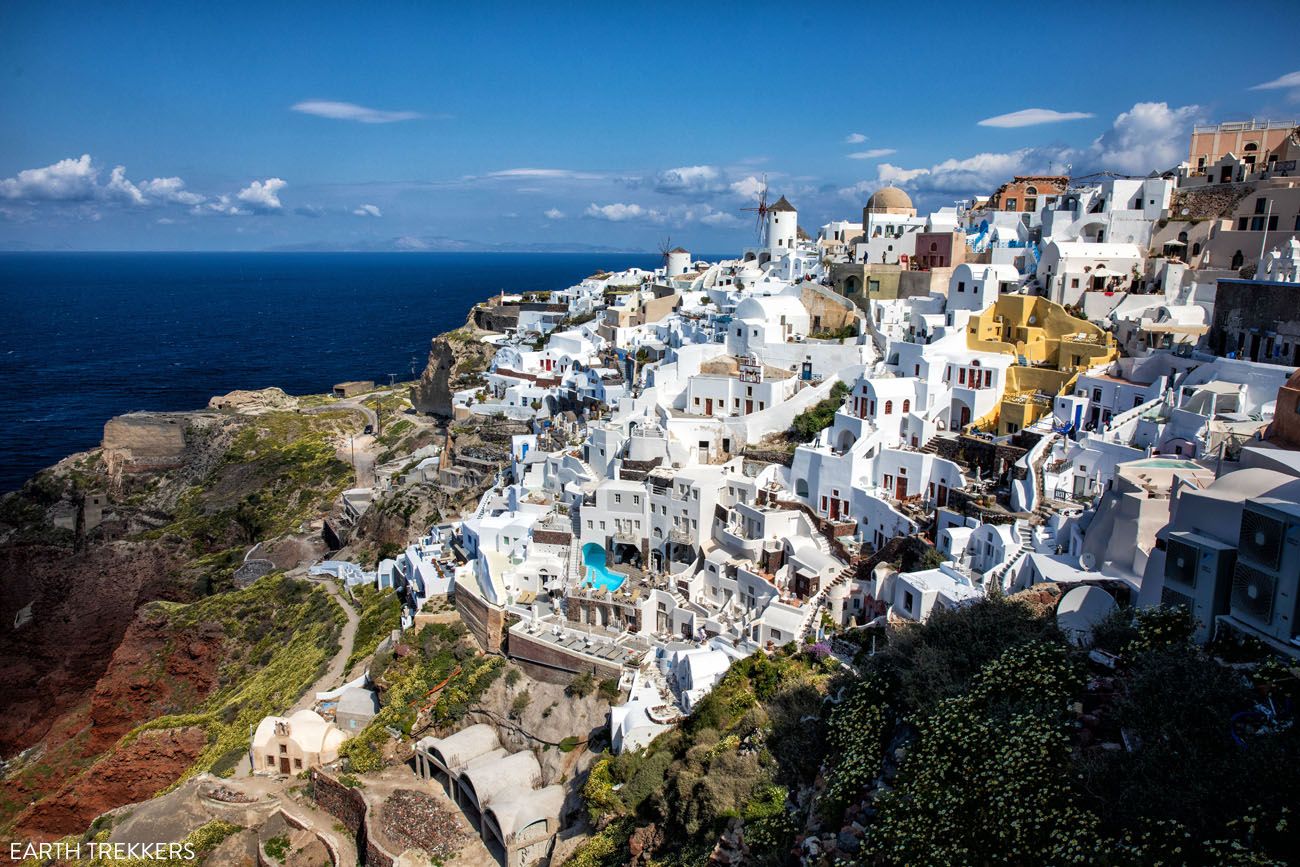 Oia | Santorini Itinerary
Day 1
On day 1, tour the island. In order to avoid the hassle of driving (we usually love the freedom of renting a car but Santorini is one place that we did not enjoy having a car) consider taking a tour of the island.
Many tours will include a visit to the Akrotiri Archaeological site, one or two beaches, a village, the drive up Profitis Ilias, and a visit to a winery.
Tours that cater to larger groups will be considerably cheaper, but they will also have to drive around the island to pick everyone up, and later drop them off. This can add an hour to beginning and end of the tour.
Small group and private tours will cost more, but you avoid the long pick-up process and get a more personalized experience with the guide.
End your day in Oia with dinner and sunset views of the caldera.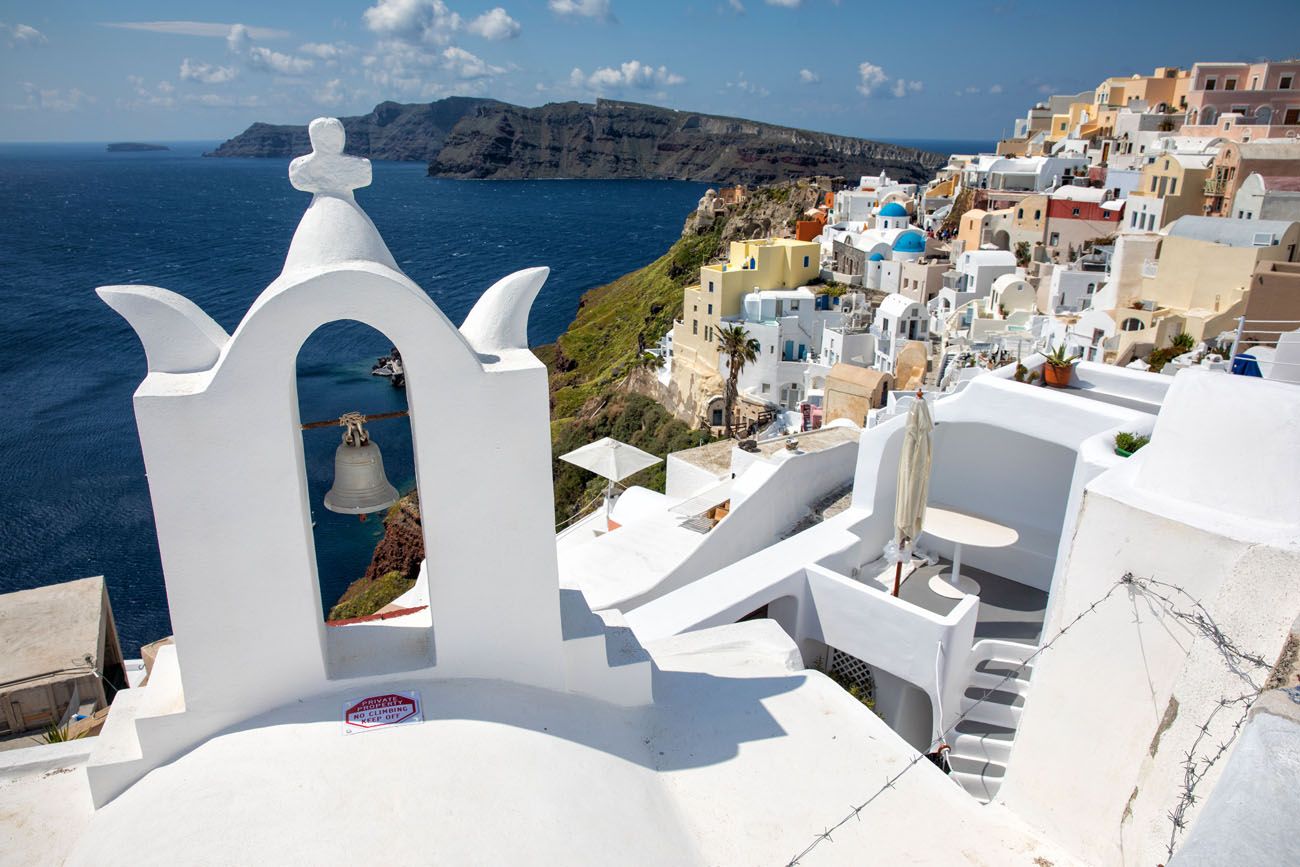 Day 2
On day 2 of this Santorini itinerary, cruise in the caldera of Santorini. Many cruises last 5 hours and will take you to the hot springs, one or two beaches on Santorini, and provide lunch or dinner.
If you take an early cruise, your afternoon and evening will be available for dinner and another magical sunset from the rim of the caldera. There are some wonderful restaurants in Imerovigli (see our article about Santorini for suggestions) and this is another great place to watch the sunset. If you are staying at a hotel with a hot tub or plunge pool, try to get back to your room in time to enjoy the sunset from the privacy of your balcony.
If you book a cruise for the afternoon, your day will end with dinner and sunset views from the catamaran. In the morning, you can walk from Fira to Oia (or Oia to Fira).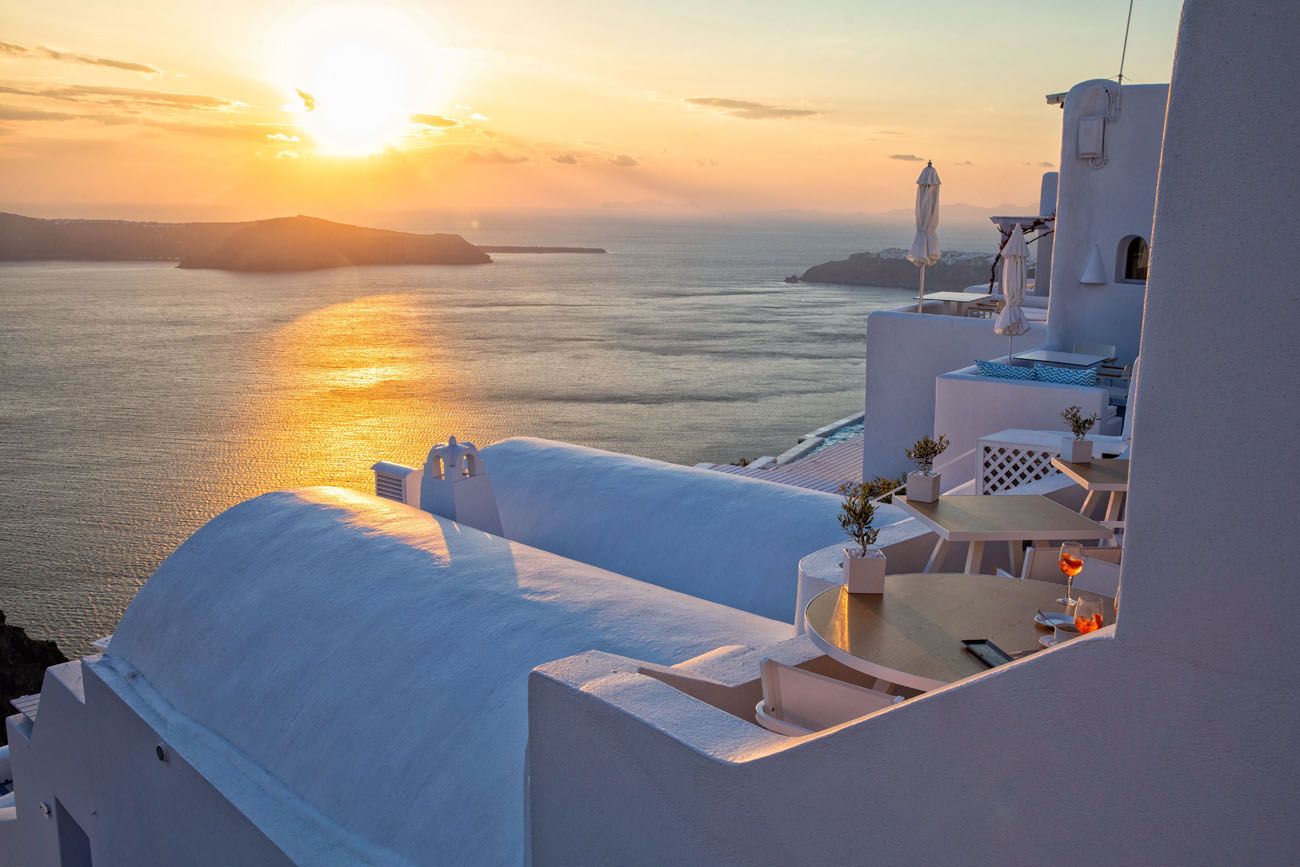 Sunset in Imerovigli | Santorini Itinerary
3 Day Santorini Itinerary
3 days in Santorini is perfect. You can see the best of Santorini, relax on the beach or at your hotel, sample several restaurants, watch the sunsets, and cruise the caldera.
Spend one day touring the island by car, tour, or private driver. Spend another day cruising the caldera, and spend your third day walking from Fira to Oia. With your free time, relax on the beach, take a wine tour, go shopping, or lounge at your hotel.
Here is a sample 3-day Santorini itinerary:
Day 1: Arrive in Santorini in the morning/midday. Check into your hotel. Walk from Fira to Oia. Watch the sunset in Oia.
Day 2: Take a land tour of the island. In the evening, go out to dinner or take a sunset wine tour.
Day 3: Cruise the caldera. Use the time before or after the cruise to go to the beach, relax at your hotel, or go out to dinner (if you do a day cruise).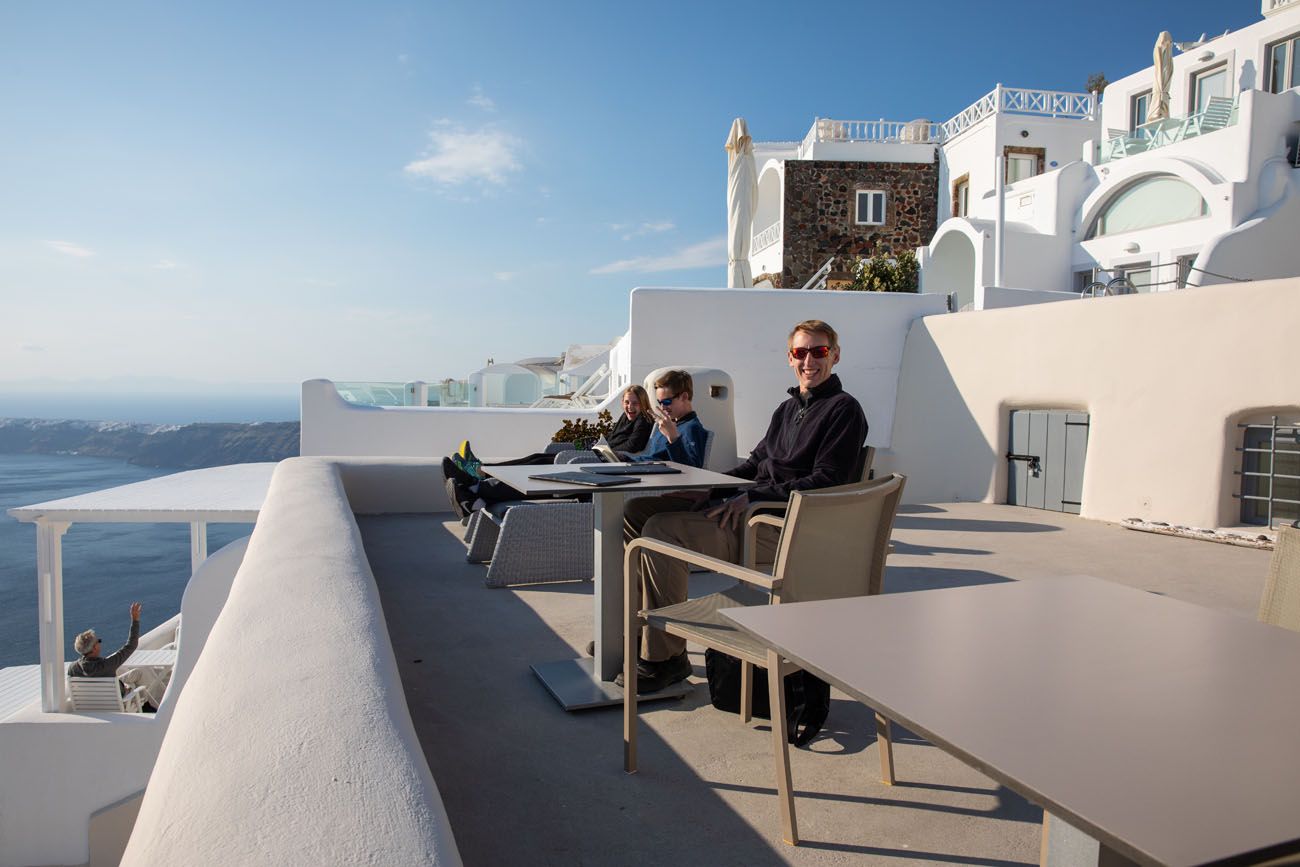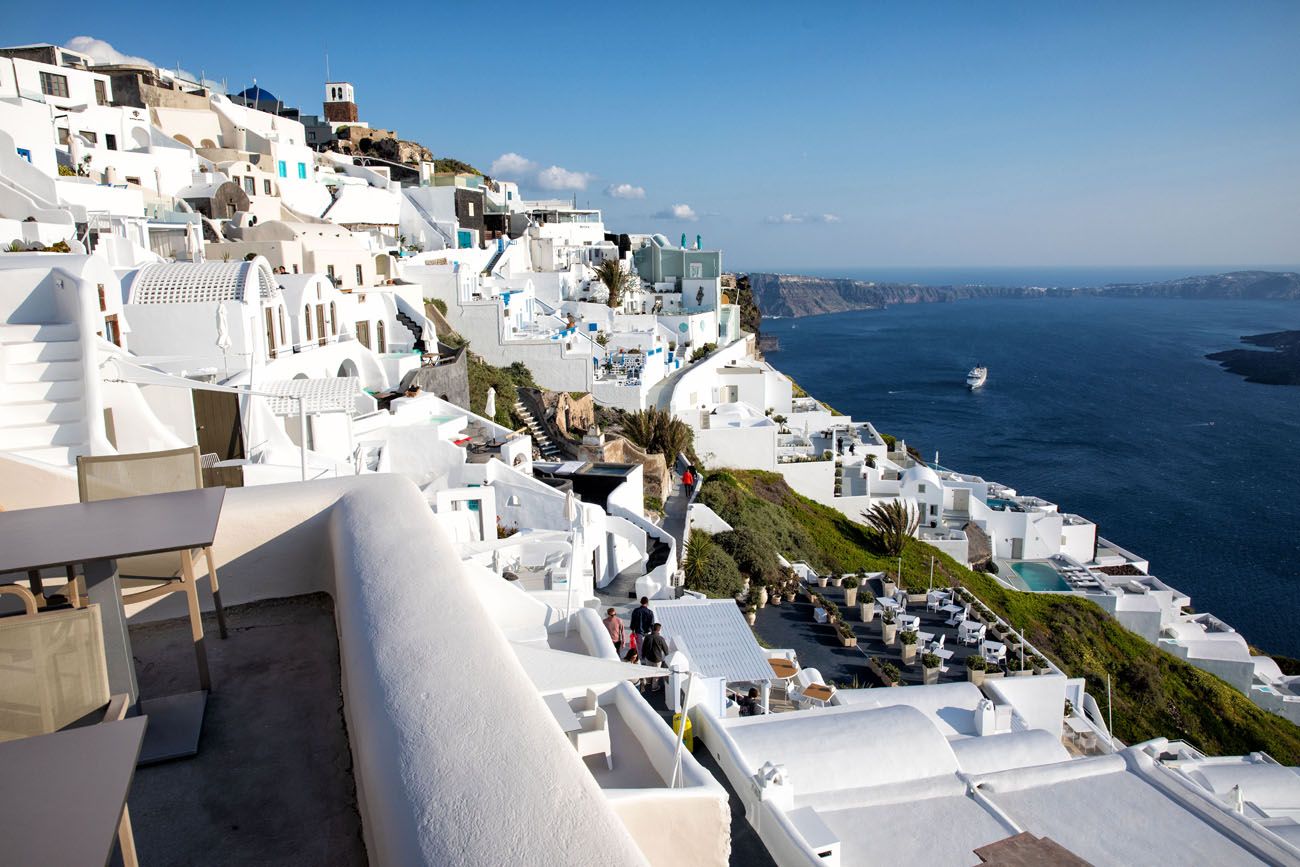 Imerovigli | Santorini Itinerary
Getting Around Santorini
Arriving at the Ferry Port
All ferries to Santorini arrive at the same place, the ferry port. From the port, it's a long, switchback road to get up onto the rim of the caldera. Don't expect to walk from the port to Fira, or anywhere else on the island. You will need some form of transportation.
Taxis are hard to get. On our visit, we only saw one available taxi when we arrived in Santorini. There are buses but during busy periods you may have to wait if the buses are filled.
The best thing to do is to arrange a private transfer to your hotel before you arrive in Santorini. Many hotels will provide this for free. It's worth paying the money to have a driver ready to take you directly to your hotel. If your hotel does not provide transportation, you can use this transfer service.
There are "express" shuttles that will take you for a smaller price. However, you will be loaded into a van with other travelers. Then, the shuttle will drive from town to town, dropping off passengers. Santorini make look small, but if you are the last one off of the shuttle (for example, if you are staying in Oia), this could add up to an hour to your day.
Should You Rent a Car?
That depends.
Driving does give you the freedom to visit everything on the island at your own pace. However, driving the narrow, twisting, busy roads can be a headache and finding a parking space can sometimes be a nightmare.
If you are only on the island for a day or two, your best bet is to take a private or semi-private tour, use the bus, or use the taxis to get around the island.
We had a car during our 3 day visit to Santorini but found that having a car was a hassle. By our third day on the island, we left our car in its parking space and used a taxi to get around. It was a much more pleasant experience.
If you plan to visit Santorini for 3 or more days, having a car might be worth it. It allows you to tour the island on your own and at a cheaper price than joining a private or small group tour. Just be prepared for narrow roads, traffic, and the joy of finding a parking space. But if you are sitting on the fence about whether or not to rent a car, I say pass on the rental car and take tours and use the taxi/buses instead.
Should You Rent an ATV?
My answer would be no. When researching how to get around Santorini, I read multiple horror stories of accidents involving ATV's where tourists were injured, or worse, while touring the island.
Three days before our visit to Santorini, a young couple tragically died while touring the island by ATV.
ATV's look like a lot of fun but they don't seem worth the risk, in my opinion.
Public Transportation
Public buses connect most sites on the island. Fira, which is centrally located, is the main hub for getting around by bus.
For the public bus schedule and prices, click here. Buses run approximately every 30 to 60 minutes.
Taxis
Taxis are more expensive than the bus but can be quicker and more convenient. Expect to pay €15 to €25 depending on how far you are traveling on Santorini. However, it can be hard to find an available taxi, especially during the peak season months. I read online that there are only 30 taxis on the island.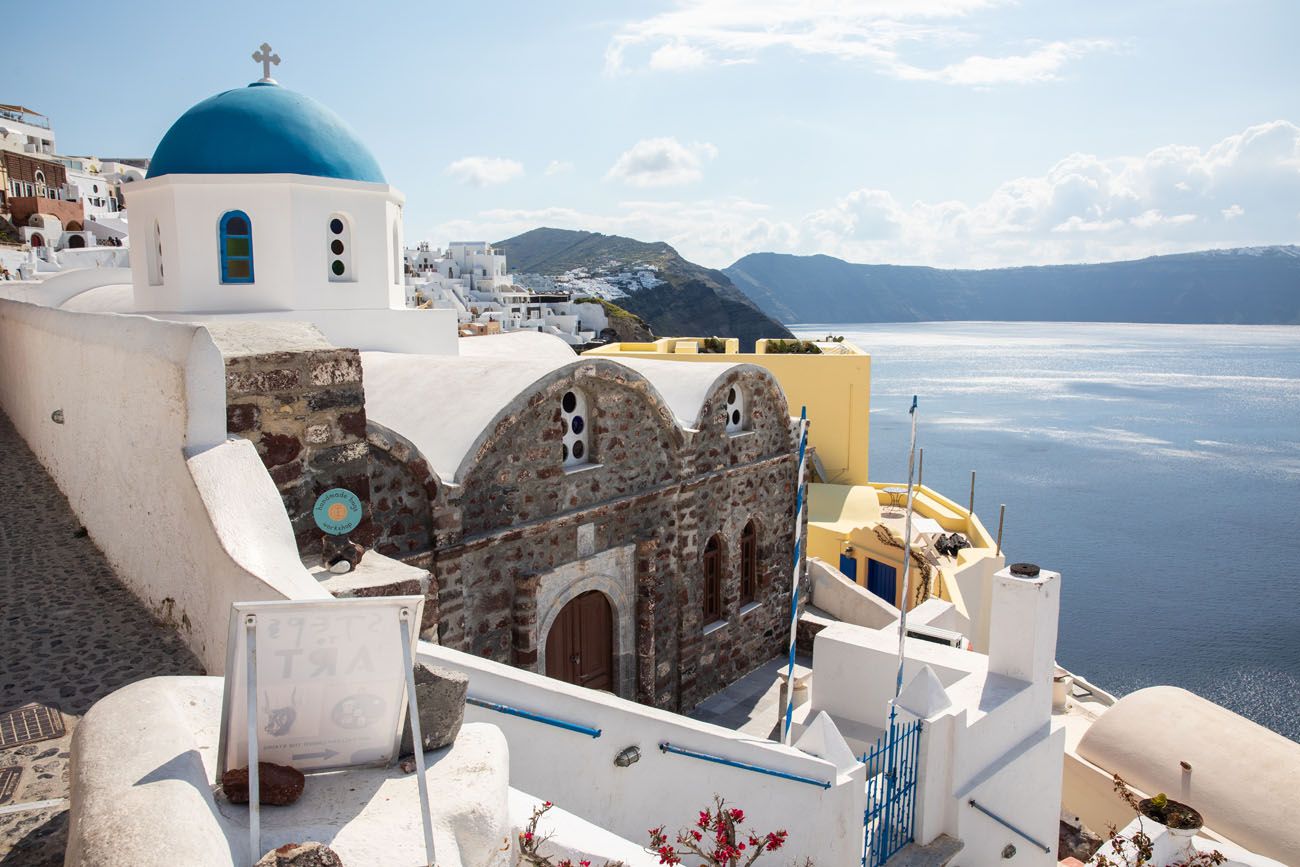 Getting to Santorini
By Plane
There are multiple flights every day between Athens and Santorini. Flying from Athens is the quickest way to get to Santorini.
There are also direct flights to Santorini from international destinations such as Amsterdam, Paris, Vienna, London, Zürich, Madrid, and Oslo.
You can also take a short flight to Mykonos and several other Greek islands. These schedules change according to the season so I recommend searching Skyscanner.com to check flight schedules.
By Ferry
To/From Athens
From Athens, it's a long trip by ferry to get to Santorini. Seajet offers the fastest route on their catamarans, but seasickness can be an issue for some (it was for us) and these smaller boats are the first to be cancelled in bad weather. It takes about 4.5 – 5 hours to travel from Athens to Santorini on Seajet.
Blue Star offers the most comfortable ride but it takes 8 hours to cruise from Athens to Santorini. Hellenic Seaways has a high-speed ferry that takes 5.5 hours.
To/From Mykonos
By ferry, it takes between 2 and 5 hours to sail between Santorini and Mykonos. When booking your tickets, make sure you choose a direct ferry because some ferries will make stops in Naxos, Ios, or Paros.
To/From Paros
Average travel time is between 2 and 5 hours.
To/From Naxos
Average travel time is between 1 and 3 hours.
Booking Your Ferry Tickets
If you are visiting Greece during the summer months, book your tickets in advance because they do sell out (especially the smaller Seajet ferries).
You can book your tickets online in advance directly on the ferry company's website or you can use FerryHopper.com. We used Ferry Hopper and highly recommend it. Their website is easy to use and there is no additional booking fee for using their service.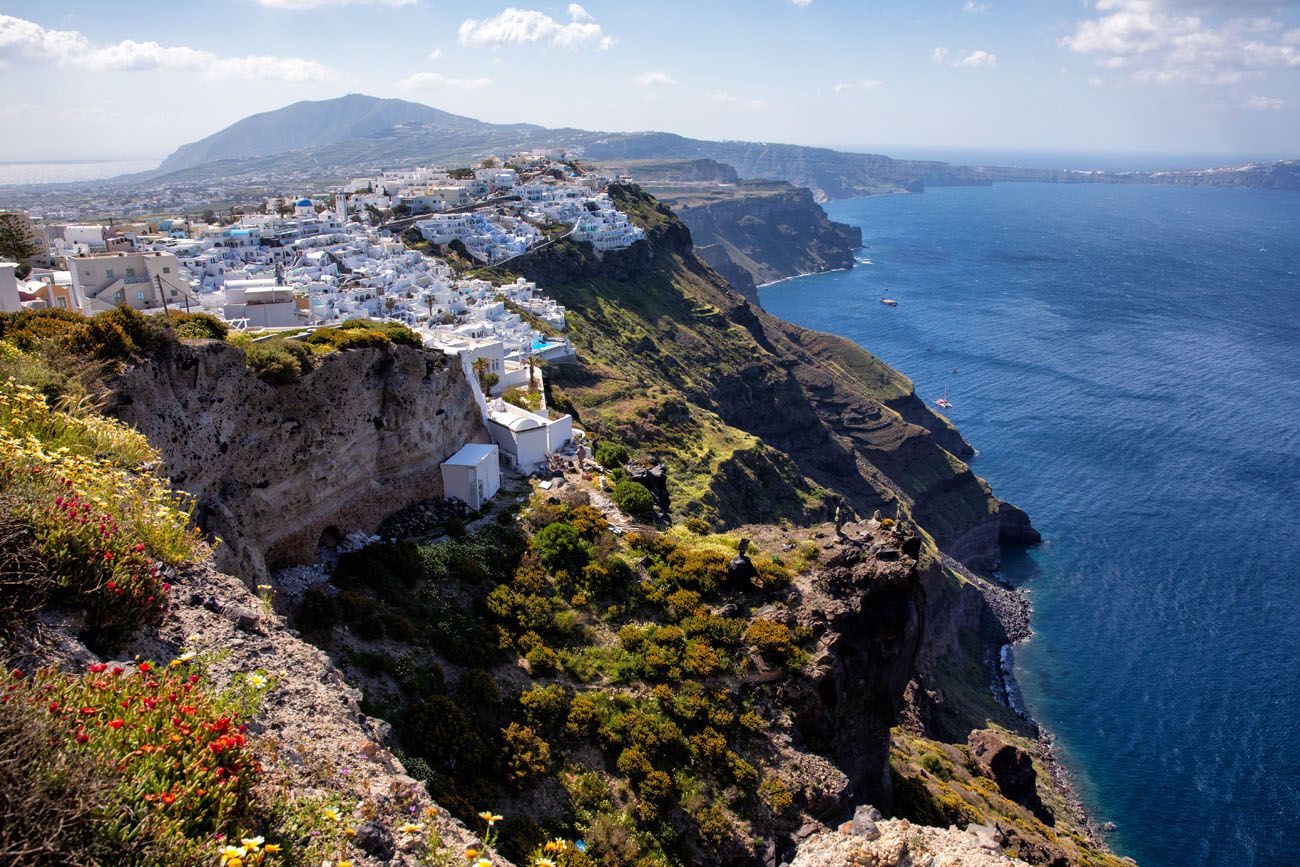 Where to Eat on Santorini
One of our favorite things to do in Santorini was to eat, drink, and search out the best restaurants with sunset views. In our article about the best things to do in Santorini, you can read about our recommendations for Oia, Fira, Imerovigli, and Metaxi Mas.
Where to Stay on Santorini
We stayed at Absolute Bliss in Imerovigli. This was a big splurge for us, but if we were ever going to pay for a hot tub with a view, Santorini would be the place to do it.
Tim and I stayed in room #12. We had a large room with a private terrace and a hot tub with a view of the caldera. Tyler and Kara stayed in room #17. They had their own pool and even a sauna in their room. During our visit, temperatures struggled to hit 16°C (60°F) and with 25 to 35 mile an hour winds, it was too cold to get in the pool. But we did use the hot tub every night.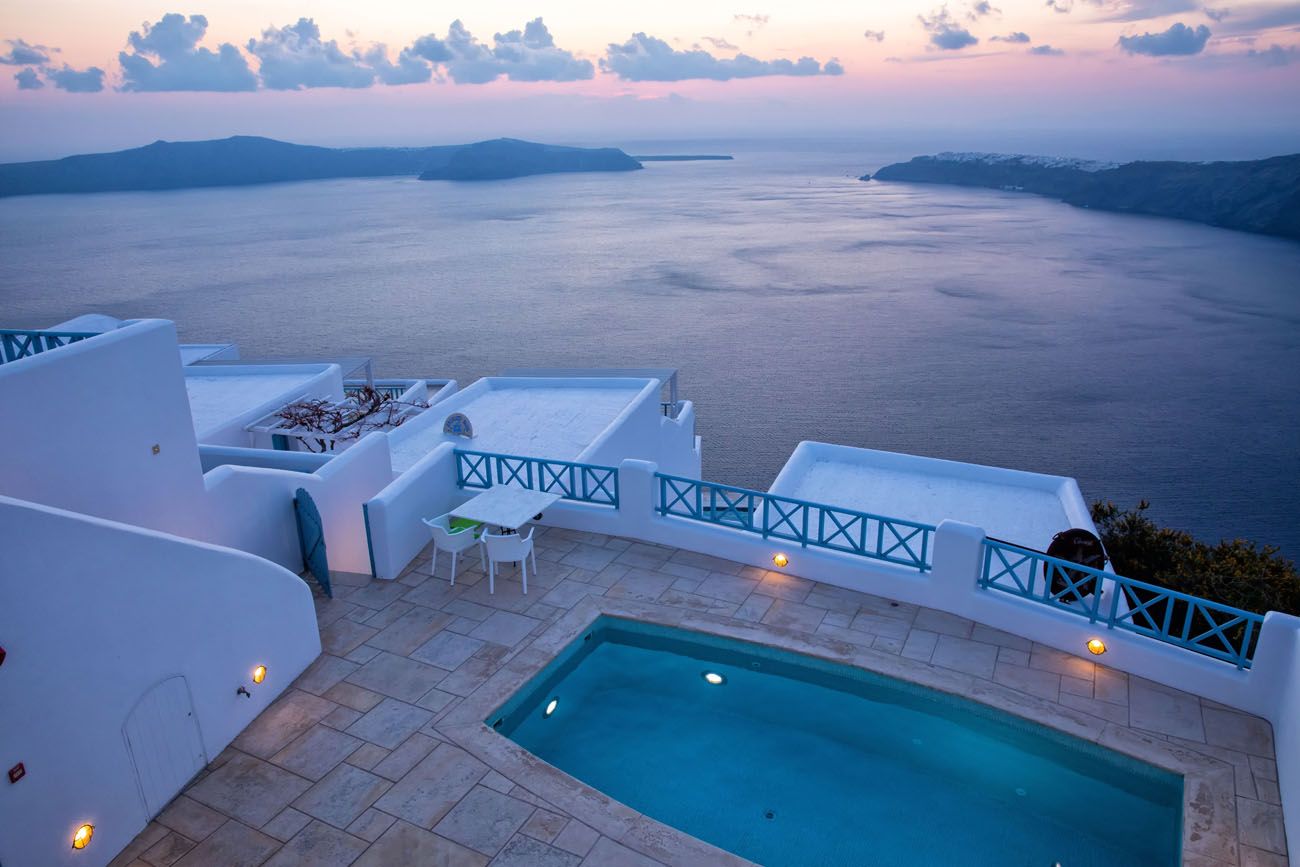 Absolute Bliss | Santorini Itinerary
We had a wonderful experience at this hotel. It's quiet, it's private, the views are amazing, the service is 5-star, and we loved it that they brought us breakfast to our room every morning.
For more recommendations on where to stay, read our Best Hotels and Towns Guide for Santorini. Learn where to stay for a great view of the caldera and get recommendations whether you are looking for a budget hotel, luxury hotel, or if you are traveling as a family.
---
If you have any questions about this Santorini itinerary, comment below.
More Information for Your Trip to Greece
THINGS TO DO IN SANTORINI: For a full list of things to do, read our article Best Things to Do in Santorini. We also have detailed guides on How to Walk from Fira to Oia and the Best Places to Watch the Sunset in Oia.
MYKONOS: Learn about things to do and how to get around Mykonos in our Guide to Mykonos.
NAXOS: Learn how to plan your visit to Naxos in our article Best Things to Do in Naxos. We also have information on hiking to Mount Zas, how to hike to Apano Kastro, and a detailed guide to hiking the Village Trail to Melanes, Myli, and the Kouroi.
ATHENS: Plan your visit to Athens with our 2 Days in Athens Itinerary. We also have a detailed list of Things to do in Athens and a guide to How to Visit the Acropolis.
GREECE ITINERARY: Learn how to visit Athens, Santorini, Naxos and Mykonos in our 10 Day Greece Itinerary.
TRAVEL ADVICE: First time in Greece? Here are essential things to know about Greece, from SIM cards to booking the ferries to renting a car.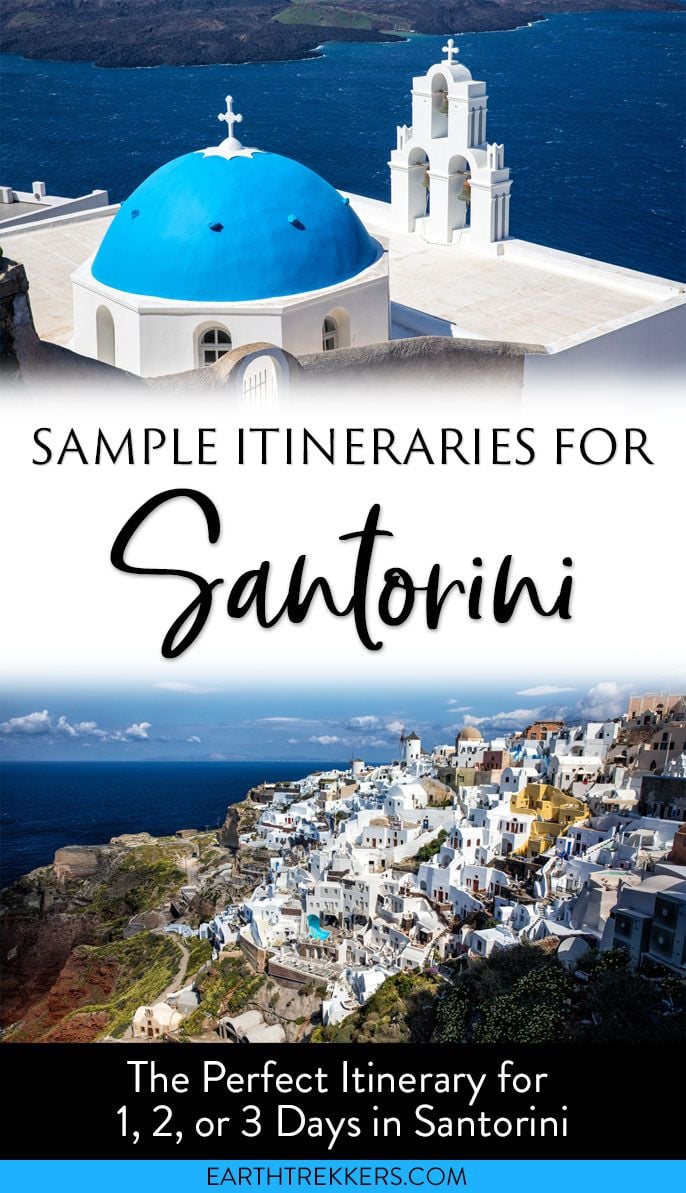 Note: This post contains affiliate links. When you make a purchase using one of these affiliate links, we get paid a small commission at no extra cost to you.
All rights reserved © Earth Trekkers. Republishing this article and/or any of its contents (text, photography, etc.), in whole or in part, is strictly prohibited.