If you are making a decision about where to stay in Gdansk, you have a lot of options. Gdansk is filled with many highly rated, midrange hotels, making this city perfect for budget or midrange travelers. In Gdansk, it's easy to find a great place to stay without spending a fortune…the trick is narrowing down the long list of options.
When it comes to choosing where to stay in Gdansk, you'll find that many of the best places are located in the old town of the city. Dlugi Targ, also called the Long Market or the Royal Way, is the main thoroughfare through the old town. The majority of what you will see, do, and eat while in Gdansk is within walking distance of this street.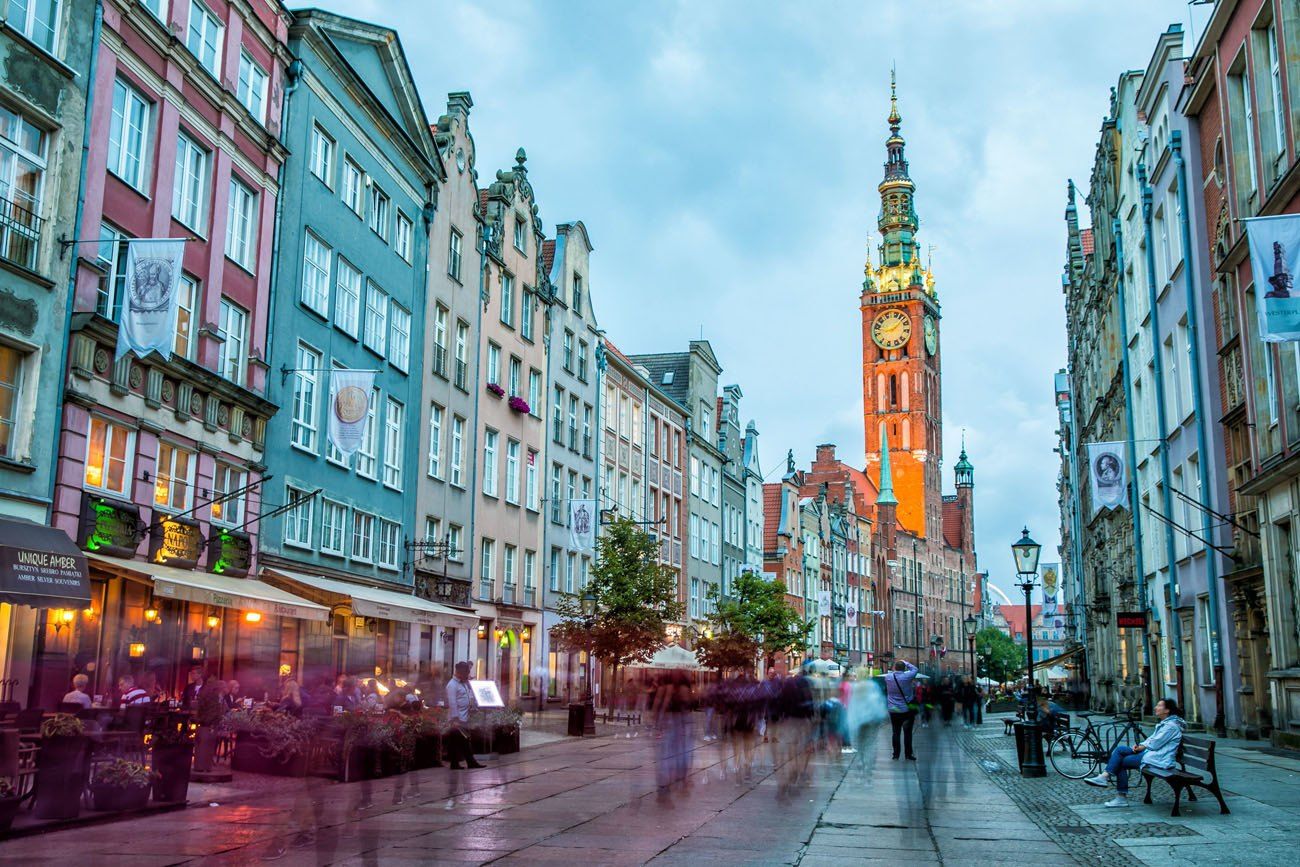 Dlugi Targ at twilight
You can save some money by staying outside of the old town, but you will spend time and money commuting back and forth. Gdansk is a lot cheaper than most European cities and this is one of the few places where you can stay in heart of the city without spending a fortune.
All of the hotels and apartments listed in this article are located in the old town of Gdansk. For their exact locations, take a look at the map at the end of the article.
Where to Stay in Gdansk
Luxury Hotels
If you are looking for a high-end, ultra luxury hotel, you're not going to get that in Gdansk. However, there are several five star hotels to choose from, and these five star hotels cost less than a midrange hotel in a city like Paris or London.
Podewils Old Town Gdansk. Podewils is a Baroque mansion built during the 18th century. This is a small hotel that offers nine rooms decorated with antique furnishings and decor. The hotel is located on Granary Island. From here, it is a 10 to 15 minute walk to Dlugi Targ and St. Mary's Basilica. From the hotel, you can look across the Motlawa River to the historic crane. All rooms have air conditioning. Stay here if you want a five-star experience in a small, historic hotel.
Radisson Blu Hotel. This five-star hotel has a prime location on Dlugi Targ near the Green Gate. Our mothers, Kathy and Valerie, stayed here during our trip to Gdansk. The Radisson Blu is also located in a historic building, the Gothic tenement house. Rooms are large and comfortable and come with heated bathroom floors (perfect for the winter months) and air conditioning (a nice bonus during the summer months). Stay here if you want a five star experience in the heart of Gdansk.
PRO TRAVEL TIP: If you are traveling to Gdansk during the summer months, it's worth checking if the hotel offers air conditioning. Temperatures are mild during the summer months but there is always the chance that you could visit during a heat wave. In that case, air conditioning sure would be nice!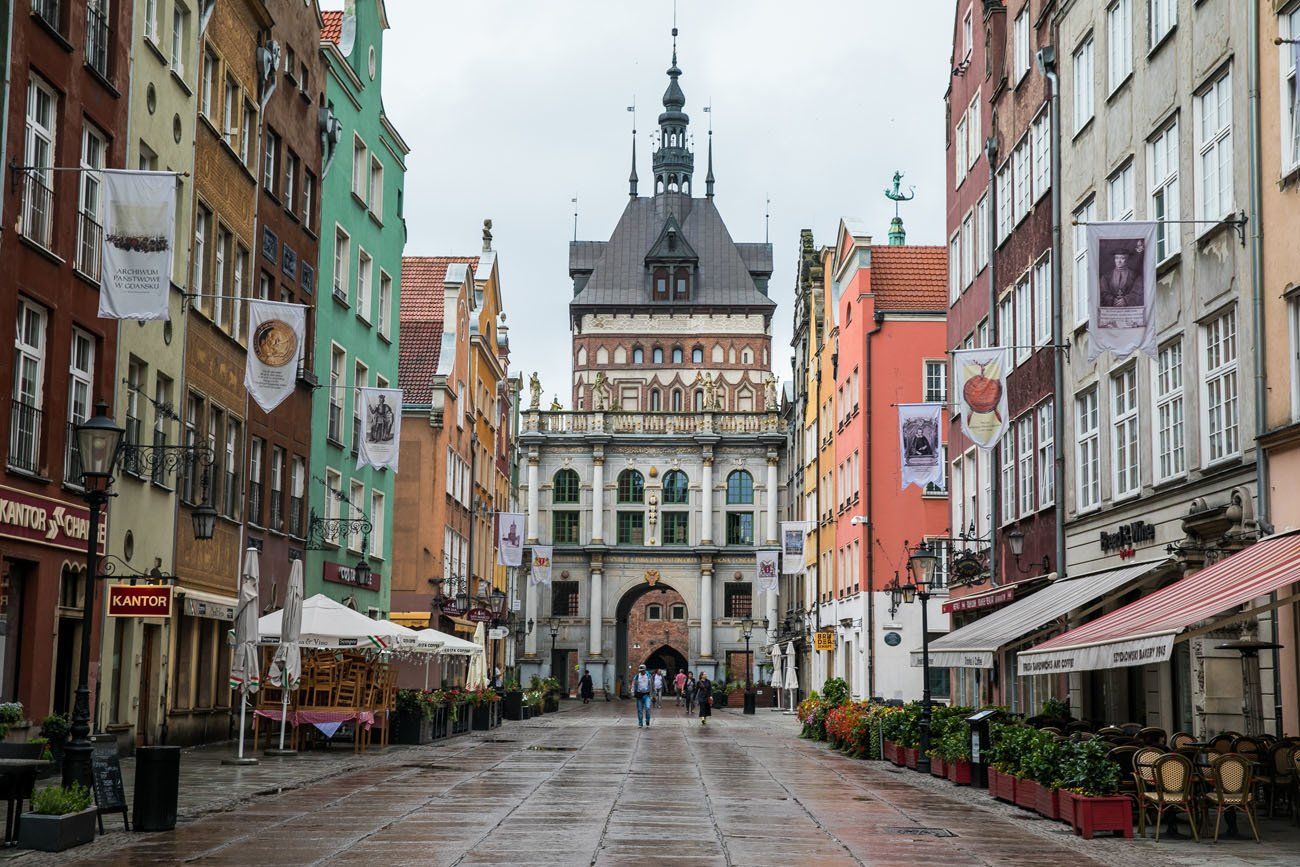 The Golden Gate and Dlugi Targ
Upscale Hotels
PURO Gdansk Stare Miasto. This boutique hotel features ultra-modern décor and amenities. From an iPad you can control the TV, lights, and heating in your room. Have a drink at the hotel bar on the 8th floor and enjoy the view over Gdansk. If you are traveling with kids, you can rent Xbox and Playstation consoles. They even offer complimentary bike rentals. Stay here if you are looking for a modern, trendy hotel in the old town of Gdansk.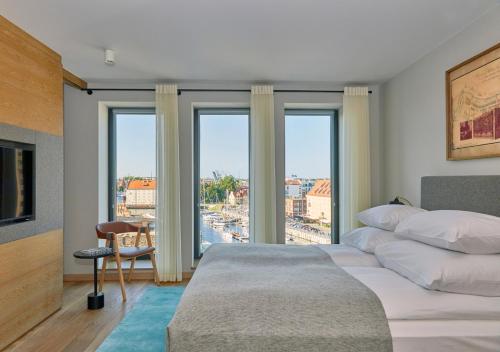 PURO Gdansk Stare Miasto
Midrange Hotels
Craft Beer Central Hotel. Curious about the name? This is a new property that combines a luxury hotel with a brewery. The rooms are spacious and beautifully decorated. On property is the PG4 Brewery, where you can go for a tasting or for a meal. This hotel is located next to the train station, which is great if you are traveling through Poland by train, but expect a 10 to 15 minute walk to most of the sites in the old town.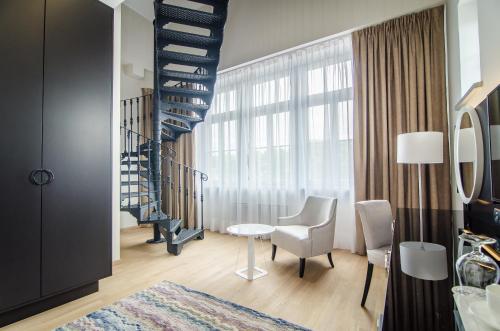 Craft Beer Central Hotel
Stay Inn Hotel. This 3-star hotel has a prime location in the heart of the old town. It's located across the street from St. Mary's Basilica. This is one of the few hotels on this list that can accommodate more than two people in one room. This hotel offers a studio that can accommodate up to six people. The only downside to staying here is sleeping through the ringing of the bells of St. Mary's Basilica at night. The rooms have soundproofing but you still may be able to hear the bells. If you are a light sleeper, you may want to stay in a property that is not located right next to St. Mary's Basilica.
PRO TRAVEL TIP: The bells of St. Mary's Basilica toll every hour, day and night. We stayed in an apartment near the church and can attest to the fact that the bells play periodically during the nighttime hours. Most of the time, the bells ring only a few times. At other times, the bells can ring for 30 seconds or longer. If you are a light sleeper, look for a property that is several blocks away from St. Mary's Basilica.
Budget Hotels
Five Point Hostel. This hostel offers beds in dorm rooms and private double, triple, and quadruple rooms. The bathrooms are shared and this property does not offer air conditioning. However, this hostel gets rave reviews and it is a very good option if you are traveling on a budget.
Apartments
If you are traveling in groups of three or more, staying in an apartment may be your best option. It can be challenging to find a hotel in Gdansk with rooms that will accommodate four or more people.
We stayed in a two-bedroom apartment and it was wonderful. Not only did we have two bedrooms, but we also had a nice sized living room with a small kitchen and a washing machine. So, if you are traveling as a group or are planning a long stay in Gdansk, consider one of these apartment options.
Family Luxury Nature Apartment. This is where we stayed. We had a two-bedroom, one-bathroom apartment with a small kitchen, living room, and a washing machine. From the apartment, it was just a five-minute walk to get to the Neptune fountain on Dlugi Targ. This place worked great for us…excellent location, plenty of space for our family of four, and the wifi worked very well. Our only complaint, and it's relatively minor, is that we could easily hear the hourly tolling of the bells at St. Mary's Basilica. The apartment does not have air-conditioning, so on the one or two nights we tried to sleep with the windows open, the bells woke us up.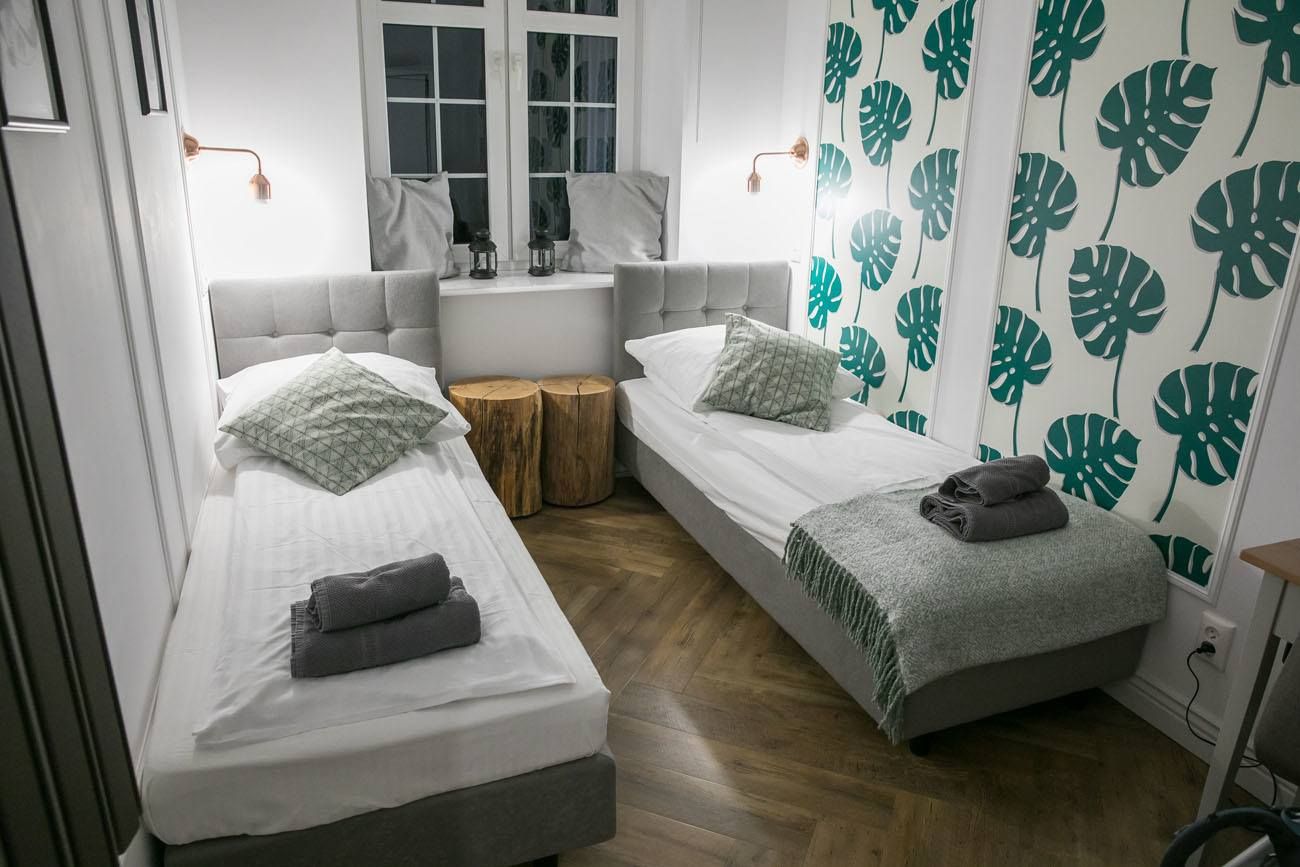 Nature Old City Apartment
Apartamenty Chleb i Wino. This property gets exceptional reviews. The rooms are modern and tastefully decorated. Even though this is listed as an apartment, the rooms resemble hotel rooms more than apartments. They have a small living area but no kitchen. I think Chleb i Wino works best for couples, since the rooms are small and the bathroom walls are made of glass (there are curtains for privacy). This place is great if you want to stay somewhere that is centrally located and gets almost perfect reviews from prior guests.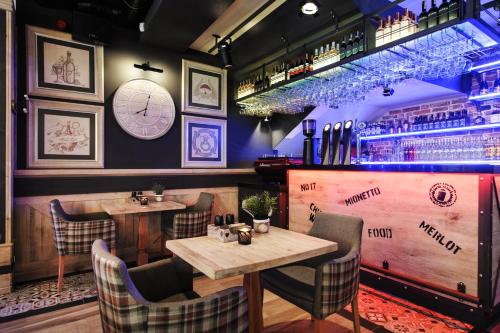 Apartamenty Chleb i Wino
Waterlane by Vivendi Properties. If you are traveling as a family, take a look at this place! Rooms can accommodate up to 6 people in multiple bedrooms. All apartments have a kitchenette. Some have a terrace, some even have a pool table. There is an indoor pool and spa in the hotel. It is located slightly outside of the city center but still within walking distance of Dlugi Targ.
Waterlane by Vivendi
Are you visiting Gdansk soon? Comment below if you have any questions about where to stay or if you want to offer advice to future readers. Cheers!
More Information for Your Trip to Poland
GDANSK: Start off with our list of the Best Things to Do in Gdansk. We also have 3 different ways on how to spend 2 Days in Gdansk and information on how to day trip to Malbork Castle and how to day trip to Sopot and Gdynia.
KRAKOW:Discover what there is to do in our article Best Things to Do in Krakow. Plan your visit with our 3 Day Krakow Itinerary and get hotel recommendations in our guide on Where to Stay in Krakow.
WARSAW: For a list of the top experiences, take a look at our guide to the Best Things to Do in Warsaw and learn how to plan your time with our 2 Day Warsaw Itinerary.
POLAND ITINERARY: In our 10 day Poland Itinerary, visit Gdansk, Warsaw, and Krakow.
TRAVEL INSPIRATION: Here are 30 great travel books and a list of the best travel movies to feed your wanderlust.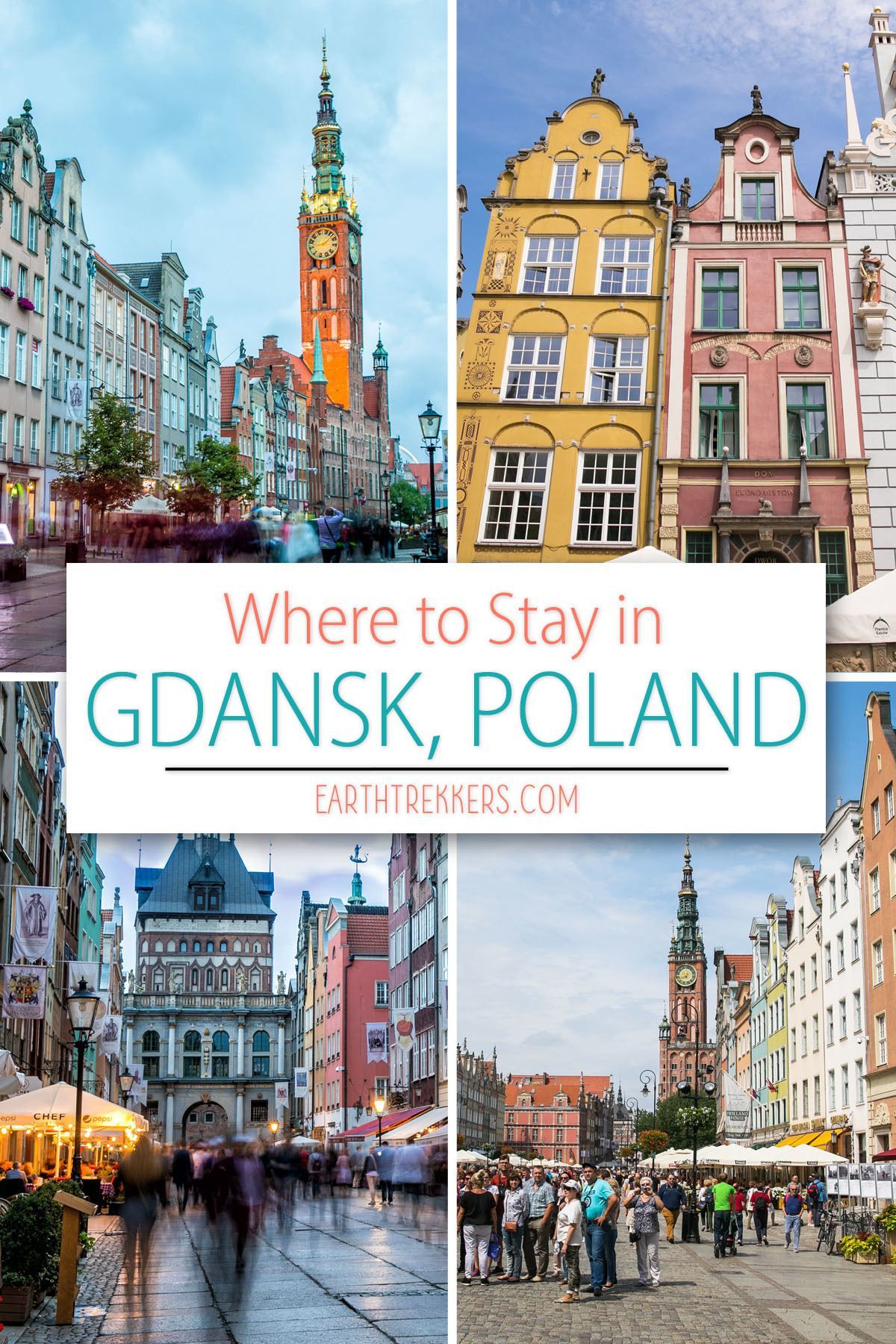 Note: This post contains affiliate links. When you make a purchase using one of these affiliate links, we get paid a small commission at no extra cost to you.
All rights reserved © Earth Trekkers. Republishing this article and/or any of its contents (text, photography, etc.), in whole or in part, is strictly prohibited.